Pope, Jessie
·
Little And Good by Jessie Pope
·
War Girls by Jessie Pope
Little And Good
Young Thompson was a bit too short,
But hard as nails and level-headed,
And in his soul the proper sort
Of dogged pluck was deeply bedded ;
To join the ranks he almost ran,
But saw the weedy supersede him ;
Though he was every inch a man,
His country didn't need him.
He read each passionate appeal
On wall and window, cab and cart ;
How impotent they made him feel !
He tried once more, though sick at heart.
In vain ! He saw the sergeants smirk ;
He argued, but they would not heed him ;
So sullenly trudged back to work
His country didn't need him.
But, now the standard height's curtailed,
Again he goes to join the ranks ;
Though yesterday he tried and failed
To-day they welcome him with thanks.
Apparently, he's just as small,
But since his size no more impedes him,
In spirit he is six foot tall
Because his country needs him.
Jessie Pope
(1868 – 1941)
Little And Good
From: War Poems
• fleursdumal.nl magazine
More in: *War Poetry Archive, Archive O-P, Pope, Jessie, WAR & PEACE
---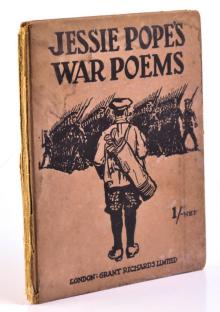 War Girls
There's the girl who clips your ticket for the train,
And the girl who speeds the lift from floor to floor,
There's the girl who does a milk-round in the rain,
And the girl who calls for orders at your door.
Strong, sensible, and fit,
They're out to show their grit,
And tackle jobs with energy and knack.
No longer caged and penned up,
They're going to keep their end up
Till the khaki soldier boys come marching back.
There's the motor girl who drives a heavy van,
There's the butcher girl who brings your joint of meat,
There's the girl who cries 'All fares, please!' like a man,
And the girl who whistles taxis up the street.
Beneath each uniform
Beats a heart that's soft and warm,
Though of canny mother-wit they show no lack;
But a solemn statement this is,
They've no time for love and kisses
Till the khaki soldier-boys come marching back.
Jessie Pope
(1868 – 1941)
War Girls
From: War Poems
• fleursdumal.nl magazine
More in: *War Poetry Archive, Archive O-P, Pope, Jessie, WAR & PEACE
---
Thank you for reading FLEURSDUMAL.NL - magazine for art & literature