Archive W-X
·
Karel van de Woestijne: Vlaanderen, o welig huis (Gedicht)
·
Karel van de Woestijne: De Dichter (Gedicht)
·
Karel van de Woestijne: Er komt iemand bij mij (Gedicht)
·
Karel van de Woestijne: De meiskens uit de taveernen (Gedicht)
·
Bert Bevers: Tilt. Gedicht bij de muziek van Scott Walker
·
Carina van der Walt: LocHal (gedicht)
·
Useless Magic: Lyrics and Poetry by Florence Welch
·
In de man zit nog een jongen. Willem Wilmink – De biografie door Elsbeth Etty
·
The Annotated Prison Writings of Oscar Wilde
·
Music, stories, absinthe and more during 'The Green Hour' with Oscar Wilde
·
The Fix (Poetry) by Lisa Wells
·
Eye Level. Poems by Jenny Xie
Vlaanderen, o welig huis
Vlaandren, o welig huis waar we zijn als genoden
aan rijke taaflen! – daar nu glooiend zijn de weiên
van zomer-granen, die hunne aêmende ebbe breien
naar malvend Ooste' en statig dagerade-roden,
dewijl de morge' ontwaakt ten hemel en ter Leië -:
wie kan u weten, en in 't harte niet verblijên;
niet danke' om dagen, schoon als jonge zege-goden,
gelijk een beedlaar dankt om warme tarwe-broden?…
o Vlaandren, blijde van uw gevens-rede handen,
zwaar, daar ge delend gaat, in paarse en gele wade,
der krachten die uw schoot als rodend ooft beladen.
– Vlaandren, wie wéet u en de zomer-dageraden,
en voelt geen rilde liefde in zijne leden branden
'lijk deze morgen door de veië Leië-landen?
Karel van de Woestijne
(1878 – 1929)
Vlaanderen, o welig huis
Portret van Karel van de Woestijne (1937) door Henri van Straten (1892 – 1944)
• fleursdumal.nl magazine
More in: Archive W-X, Archive W-X, Woestijne, Karel van de
---
De Dichter
Geen zomer-schaâuwe is schoon als 't beeld, in volle teilen,
der welv'ge melk die ront, van roerig licht ommaald.
Mijn schamel huis, waar zoel een geur van peren draalt,
weegt teerder in mijn schroom dan 't hele herfst-verwijlen.
En, waar van 't winter-dak een schone mane daalt,
'n weifelt ijl een hele lente in hare wijle,
o mijn gezóende blik, en moe van eigen-peilen?
– Geen zoen is goed, dan die vergeten zorg verhaalt…
Aldus wie zijn geluk in 't noden van een teken
gelijk een geurig brood meewarig-blij durft breken,
en nut de zuurste zemel-korst in heil'ge waan;
om bij het heil dat weende en 't vreemde leed dat lachte,
en in de hoede van uw deemstren, o Gedachte,
eens, als een schone vraag, glim-lachend heen te gaan.
De Boom-Gaard der Vogelen en der Vruchten (1903 – 1905)
Karel van de Woestijne
(1878 – 1929)
De Dichter
Portret van Karel van de Woestijne (1937) door Henri van Straten (1892 – 1944)
• fleursdumal.nl magazine
More in: Archive W-X, Archive W-X, Woestijne, Karel van de
---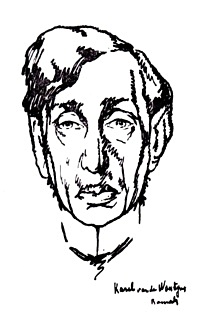 Er komt iemand bij mij
Er komt iemand bij mij, die 'k nimmer zag,
en uit-der-mate vriendlijk, die mij zegt:
'Gij weet, ik berg iemand in mijne woon.
Neen: er verbergt zich iemand in mijn woon.
Ik zie hem niet, maar ben in hem begaan.
Ik ken hem, en hij is mijn liefst bezit…'
– Ik durf niet zeggen dat die vreemdling liegt.
Ik durf niet zeggen dat zijn gast de mijne is. Ach!
ik durf niet zèggen dat hij niet bestaat, misschien.
Want hij bestaat in mij.
Karel van de Woestijne
(1878 – 1929)
Er komt iemand bij mij
Portret: Karel van de Woestijne, Ramah – Journal Het Roode Zeil, 15 April 1920
• fleursdumal.nl magazine
More in: Archive W-X, Archive W-X, Woestijne, Karel van de
---
De meiskens uit de taveernen
De meiskens uit de taveernen,
Zij hebben een malsen schoot.
Zij zien er de jongens geerne.
Zij baren haar kindren dood.
Zij dragen van vurige zijde
een keursken dat spant en splijt.
We ontwaken aan haar zijde
met den houten mond van de spijt.
De ronde zee waar wij zwalken,
die eindeloos wenkt en geeuwt,
en ons doet van begeren balken,
en ons verre vrouwe verweêwt:
wij ankren in de taveernen
waar geniepig een rust ons smijt.
Daar wachten ons rood de deernen.
Daar raken wij 't leven kwijt.
Karel van de Woestijne
(1878 – 1929)
De meiskens uit de taveernen
• fleursdumal.nl magazine
More in: Archive W-X, Archive W-X, Woestijne, Karel van de
---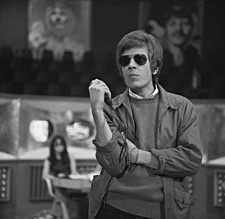 Tilt
Bij de muziek van Scott Walker
I
Slagschaduw van hand met potlood
over de ontcijfering van wat hier klinkt:
links en rechts brandbaar geheimen rollen
in elkaar tot wat een steekspel wordt.
Hij
daar met die neiging, veraf en zo dichtbij
zoals ik hier nu jou reeds weet,
beweegt zich buigend en verlangend
zinvol tasten in. Op zoek naar evenwicht.
II
Deze kluizenaar vermoedt onder kousen sproetjes.
Bezweert binnensmonds nachtmerries en
helt zoals hij denkt in cirkelend
weerkaatsen – luidop maar ongezien,
liefst.
Cimbalen laat hij klateren als water.
Toch hangt van dit geluid zijn leven amper af.
O the Luzerner Zeitung never sold out,
never sold out
III
Over zinnen laat hij zilvergrijze sluiers vallen.
Niemand vraagt waarom. Zo is het dan ook goed.
Zingen is voor deze stem geen afdoend woord:
plofjes adem blijven hangen tussen microfoon en
oren.
Dan zweeft hij tussen fluisteren en fluiten door
op weg naar waterweegbree, webben en de lippen
van een meisje dat met open mond probeert
een mooie ronde o te neuriën
IV
Wereldvreemde man schept eigen logica.
Wie die niet volgen kan mag heel gewoon
een straatje om. Zie je hem dan de pijn niet lijden
van monsters in de nacht, van schaduwen in
regen?
De monnik wist verhalen uit, tegels almaar donkerder
rond de voeten. Hoofdvol galmen wonderen.
In geval van dij, in geval van dij. Hij kust gaten
voor de kogels in geval van dij.
V
Zie hoe het zeil spant. Onder de verse huif
telt hij de rimpels in zijn handen, met die
van zijn vader vol overeenkomsten, net
als de verse verdragen voor toekomst.
Nat
de lakzegel nog. Krullend van heimwee
naar een tijd van jagers stort hij zich
een aanval binnen. Vurig smeedt hij daarin
gulle plannen. Vurig.
Bert Bevers
Verschenen in Gierik & Nieuw Vlaams Tijdschrift, Antwerpen, 1998
In memoriam Scott Walker (born Noel Scott Engel; January 9, 1943 – March 22, 2019)
Photo: Scott Walker – Dutch TV programme Fenklup 1968 – Beeld en Geluid Wiki
• fleursdumal.nl magazine
More in: Archive A-B, Archive W-X, Art & Literature News, Bevers, Bert, In Memoriam, Scott Walker
---
LocHal
(naar Majakovski)
planten druipen
gordijnen vallen
gewoven in vislijn
zilveren ringen
zilveren haken
vissen mensen van het beton
vangen ze op uit het café à la kroeg
schrapen ze van de dansvloer af
hijsen ze langs de trappen op
mens! ga toch lezen
zoek een woord op
luister naar een lezing
door een oververhit brein
blaas een kubus van glas
kennis is zacht als hout
kennis is hard als staal
BARST
door je eigen glazen plafond
Carina van der Walt
Gedicht: LocHal (naar Majakovski)
# new poetry
Carina van der Walt is a South-African born
poet and writer. Since many years she
lives and works in Tilburg NL.
LocHal is a historical Locomotive Shelter in Tilburg
that has been rebuild into a public library.
photo: cvdw2019
• fleursdumal.nl magazine
More in: Archive W-X, Archive W-X, Art & Literature News, Carina van der Walt, Majakovsky, Vladimir, Photography, Walt, Carina van der
---
Songs can be incredibly prophetic, like subconscious warnings or messages to myself, but I often don't know what I'm trying to say till years later.
Or a prediction comes true and I couldn't do anything to stop it, so it seems like a kind of useless magic.
The first book from songwriter and Florence + the Machine frontwoman Florence Welch, Useless Magic brings together 288 pages of lyrics, never-before-seen poetry and sketches.
Taken from Welch's own scrapbook-style journals, the book offers an extraordinary chance to see inside the creative alchemy behind some of Florence + The Machine's chart-topping anthems.
It also offers unique personal insights into Welch's own life from her experiences of suffering with an eating disorder to her thoughts on love and what it means to live your life in the glare of the spotlight. .
Useless Magic:
Lyrics and Poetry
by Florence Welch
Publisher Penguin Books Ltd
Imprint Fig Tree
London, 5 July 2018
Number of pages: 288
Language English
ISBN-10: 0241347939
ISBN-13: 978-0241347935
€ 28,95
# New books
Florence Welch
Lyrics and Poetry
• fleursdumal.nl magazine
More in: - Book News, - Bookstores, Archive W-X, Archive W-X, Art & Literature News, Florence Welch
---
Willem Wilmink (1936-2003) is een van de meest geliefde dichters van Nederland.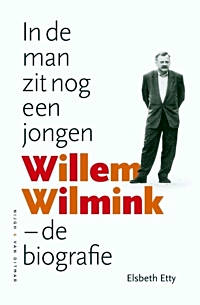 Zijn eenvoudige maar treffende gedichten en liedjes, veelal geschreven voor legendarische tv-programma's als De Stratemakeropzeeshow, J.J. de Bom en De film van Ome Willem, spreken iedereen aan. 'De oude school', 'Deze vuist op deze vuist' en 'Ben Ali Libi' behoren tot de canon van de Nederlandse literatuur. Hetzelfde geldt voor Wilminks hertalingen van Middeleeuwse klassiekers. Hij was een groot kenner van poëzie uit alle tijdvakken en in al haar verschijningsvormen.
Zijn werk is doortrokken van heimwee naar een veilige kinderwereld die nooit heeft bestaan. Naar eigen zeggen is Wilmink altijd elf jaar gebleven, wat aanvankelijk zijn loopbaan en privéleven ernstig frustreerde, maar tegelijkertijd zijn poëtische kapitaal bleek. Met humor en zelfspot maakte hij zijn lange tijd door miskenning en afwijzing getekende leven leefbaar.
Voor In de man zit nog een jongen sprak neerlandicus en journalist Elsbeth Etty met tientallen tijdgenoten en intimi van Wilmink. Het resultaat is een intiem en niets verhullend portret.
Elsbeth Etty (1951) is literair criticus, columnist en voormalig bijzonder hoogleraar literaire kritiek. Ze publiceerde o.a. verschillende essay- en columnbundels. Voor Liefde is heel het leven niet, haar biografie van Henriette Roland Holst, werd ze genomineerd voor de AKO Literatuurprijs en bekroond met de Gouden Uil en de Busken Huetprijs.
In de man zit nog een jongen
Willem Wilmink – De biografie
Auteur: Elsbeth Etty
Uitgeverij: Nijgh & van Ditmar
NUR: 321
Taal Nederlands
Bladzijden 552 pp.
Bindwijze Hardcover
ISBN: 9789038806112
Publicatiedatum: 22-01-2019
Prijs: € 34,99
# New books
Willem Wilmink – De biografie
Auteur: Elsbeth Etty
• fleursdumal.nl magazine
More in: #Biography Archives, - Book News, - Book Stories, - Bookstores, Archive E-F, Archive W-X, Archive W-X, Art & Literature News, Willem Wilmink
---
"And I? May I say nothing, my lord?" With these words, Oscar Wilde's courtroom trials came to a close. The lord in question, High Court justice Sir Alfred Wills, sent Wilde to the cells, sentenced to two years in prison with hard labor for the crime of "gross indecency" with other men.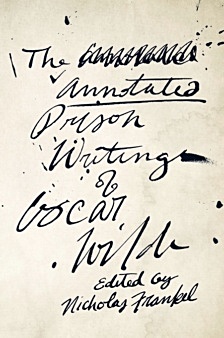 As cries of "shame" emanated from the gallery, the convicted aesthete was roundly silenced.
But he did not remain so. Behind bars and in the period immediately after his release, Wilde wrote two of his most powerful works—the long autobiographical letter De Profundis and an expansive best-selling poem, The Ballad of Reading Gaol.
In The Annotated Prison Writings of Oscar Wilde, Nicholas Frankel collects these and other prison writings, accompanied by historical illustrations and his rich facing-page annotations. As Frankel shows, Wilde experienced prison conditions designed to break even the toughest spirit, and yet his writings from this period display an imaginative and verbal brilliance left largely intact.
Wilde also remained politically steadfast, determined that his writings should inspire improvements to Victorian England's grotesque regimes of punishment. But while his reformist impulse spoke to his moment, Wilde also wrote for eternity.
At once a savage indictment of the society that jailed him and a moving testimony to private sufferings, Wilde's prison writings—illuminated by Frankel's extensive notes—reveal a very different man from the famous dandy and aesthete who shocked and amused the English-speaking world.
Nicholas Frankel is Professor of English at Virginia Commonwealth University.
"Frankel provides a valuable service in comprehensively editing these works for a fresh generation of readers." — Joseph Bristow, University of California, Los Angeles
The Annotated Prison Writings of Oscar Wilde
Oscar Wilde
Edited by Nicholas Frankel
Harvard University Press
Paperback
408 pages
Publication: May 2018
ISBN 9780674984387
€17.00
# more books
The Annotated Prison Writings of Oscar Wilde
-Clemency Petition to the Home Secretary, 2 July 1896
-De Profundis
-Letter to the Daily Chronicle, 27 May 1897
-The Ballad of Reading Gaol
-Letter to the Daily Chronicle, 23 March 1898
• fleursdumal.nl magazine
More in: - Book News, - Book Stories, Archive W-X, Archive W-X, Art & Literature News, CRIME & PUNISHMENT, REPRESSION OF WRITERS, JOURNALISTS & ARTISTS, Wilde, Oscar, Wilde, Oscar
---
Literary and music group Feest der Poëzie brings a theatrical lecture on the life and work of Oscar Wilde and one of his favorite beverages – absinthe. This Saturday at the Pianola Museum, 8.30 PM.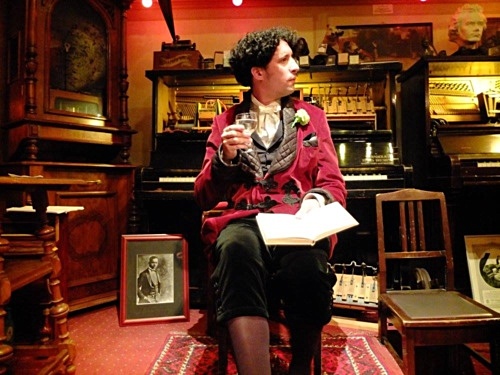 Immerse yourself in the story of one of the best-loved writers in the English language with prose, poetry, songs and drama by Oscar Wilde and his contemporaries, on a journey through his rise and fall.
Poet and absintheur David Kwa will demonstrate the absinthe ritual and read manifold roles, such as that of the dreaded Marquess of Queensberry.
Daan van de Velde (piano) and Susanne Winkler (soprano) will perform Irish and English art songs, as performing poet Simon Mulder takes on the roles of narrator and Oscar Wilde (indeed, wearing a contemporary pair of silk breeches) in the fascinating story of his life.
Also, Van de Velde and Mulder will bring the very special performance of a long lost work for piano and voice on Wilde's 'Ballad of Reading Gaol' by early 20th century composer Henri Zagwijn.
The Poetry Bar will bring you carefully prepared absinthe, along with a decadent sonnet.
Saturday the 24th of November 2018
venue open: 8 PM
start: 8.30PM
(English spoken)
venue:
Pianola Museum
Westerstraat 116
Amsterdam
Tickets: € 15/12.50
www.feestderpoezie.nl
trailer: www.youtube.com/watch?v=-V6yx3X8rwg
Music, stories, absinthe and more during 'The Green Hour' with Oscar Wilde
fleursdumal.nl magazine
More in: # Music Archive, Archive M-N, Archive W-X, Art & Literature News, Literary Events, THEATRE, Wilde, Oscar, Wilde, Oscar
---
Proceeding from Hélène Cixous's charge to "kill the false woman who is preventing the live one from breathing," The Fix forges that woman's reckoning with her violent past, with her sexuality, and with a future unmoored from the trappings of domestic life.
These poems of lyric beauty and unflinching candor negotiate the terrain of contradictory desire—often to darkly comedic effect.
In encounters with strangers in dive bars and on highway shoulders, and through ekphrastic engagement with visionaries like William Blake, José Clemente Orozco, and the Talking Heads, this book seeks the real beneath the dissembling surface.
Here, nothing is fixed, but grace arrives by diving into the complicated past in order to find a way to live, now.
Often I am permitted to return to this kitchen
tipsy, pinned to the fridge, to the precise
instant the kiss smashed in.
When the jaws of night are grinding
and the double bed is half asleep
the snore beside me syncs
to the traffic light, pulsing red, ragged up
in the linen curtain.
(From "Woman Seated with Thighs Apart")
Lisa Wells is a poet and nonfiction writer who lives in Tucson, Arizona. Her work has appeared in Best New Poets, the Believer, Denver Quarterly, Rumpus, Third Coast, and the Iowa Review.
Lisa Wells (Author)
The Fix
Publisher: University Of Iowa Press
1 edition (April 15, 2018)
Series: Iowa Poetry Prize
Language: English
Product Dimensions:
6 x 0.3 x 8 inches
ISBN-10: 1609385470
ISBN-13: 978-1609385477
Paperback
70 pages
$19.95
new poetry
lisa wells: the fix
fleursdumal.nl magazine
More in: - Book News, - Bookstores, Archive W-X, Archive W-X
---
Jenny Xie's award-winning debut, Eye Level, takes us far and near, to Phnom Penh, Corfu, Hanoi, New York, and elsewhere, as we travel closer and closer to the acutely felt solitude that centers this searching, moving collection.
"Magnificent . . . [Jenny Xie] braids in the lonesomeness and sorrow of being unmoored and on your own."—The Paris Review, Staff Picks

Animated by a restless inner questioning, these poems meditate on the forces that moor the self and set it in motion, from immigration to travel to estranging losses and departures. The sensual worlds here―colors, smells, tastes, and changing landscapes―bring to life questions about the self as seer and the self as seen.
As Xie writes, "Me? I'm just here in my traveler's clothes, trying on each passing town for size." Her taut, elusive poems exult in a life simultaneously crowded and quiet, caught in between things and places, and never quite entirely at home. Xie is a poet of extraordinary perception―both to the tangible world and to "all that is untouchable as far as the eye can reach."
Jenny Xie was born in Hefei, China, and raised in New Jersey. She holds degrees from Princeton University and New York University, and has received fellowships and support from Kundiman, the Fine Arts Work Center in Provincetown, the Elizabeth George Foundation, and Poets & Writers. She is the recipient of the 2017 Walt Whitman Award of the Academy of American Poets for Eye Level and the 2016 Drinking Gourd Chapbook Prize for Nowhere to Arrive. Her poems have appeared in the American Poetry Review, Harvard Review, the New Republic, Tin House, and elsewhere. She teaches at New York University.
"For years now, I've been using the wrong palette.
Each year with its itchy blue, as the bruise of solitude reaches its expiration date.
Planes and buses, guesthouse to guesthouse.
I've gotten to where I am by dint of my poor eyesight,
my overreactive motion sickness.
9 p.m., Hanoi's Old Quarter: duck porridge and plum wine.
Voices outside the door come to a soft boil."
(from "Phnom Penh Diptych: Dry Season")
Title Eye Level
Subtitle Poems
Author Jenny Xie
Publisher Graywolf Press
Format Paperback
ISBN-10 1555978029
ISBN-13 9781555978020
Publication Date 03 April 2018
Main content page count 80
$16.00
new poetry
fleursdumal.nl magazine
More in: - Book News, - Bookstores, Archive W-X, Archive Y-Z, Art & Literature News
---
Older Entries »
Thank you for reading FLEURSDUMAL.NL - magazine for art & literature