MUSIC
·
Kunstenfestival Watou 2018 nog t/m 2 september
·
41ste editie Uitmarkt van 24 tot 26 augustus 2018 in Amsterdam
·
Useless Magic. Lyrics and Poetry by Florence Welch
·
Patti Smith: The New Jerusalem – Bilingual edition – Nexus Library
·
Boekpresentatie: Nicht verloren laufen met lino's van Walter Kerkhofs en Ivo van Leeuwen
·
David Hajdu: Positively 4th Street
·
Michelle Witen: James Joyce and Absolute Music
·
Viking Eggeling: Four frames from "Diagonal-Symphonie"
·
Leonard Cohen: The Flame. Poems, Notebooks, Lyrics, Drawings
·
Out now: Kerouac on Record. A Literary Soundtrack
·
Vincent Berquez: Sibelius
·
Patti Smith: The New Jerusalem (Nexus Bibliotheek – Tweetalige uitgave)
Elke zomer opnieuw slaat het Kunstenfestival van Watou haar tenten op in het gelijknamige kunstdorpje aan de Franse grens.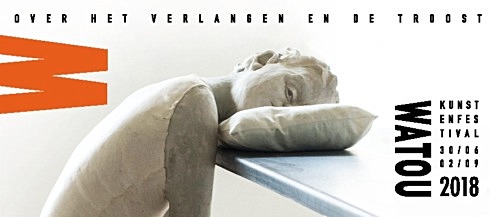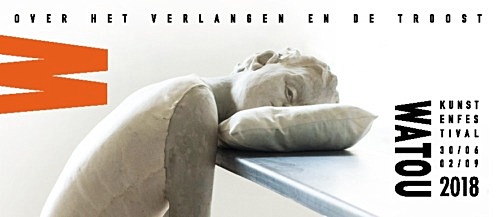 Dichters en beeldend kunstenaars, aanstormend talent en gevestigde waarden, kunstwerken uit binnen- en uit buitenland strijken er neer en vormen een bijzonder kunstenparcours. Het dorp is de setting en biedt een tiental karakteristieke locaties als tentoonstellingsruimte: een voormalig klooster, een oude boerderij of de kelder van een brouwerij. De wisselwerking tussen die verrassende, nostalgische ruimtes met hedendaagse beeldende kunst en poëzie zorgt telkens weer voor een unieke kunstbeleving. Zomeren in Watou is dan ook prikkelen en onthaasten tegelijk. Kleine momenten van gelukzaligheid.
Iedere editie van het Kunstenfestival kadert in een ander thema, waarrond intendant Jan Moeyaert en poëziecurator Willy Tibergien beeld en taal samenbrengen. Schrijvers, dichters en kunstenaars palmen gedurende een zomer het dorp in en bieden de bezoekers een caleidoscoop aan inzichten en perspectieven rond een bepaald onderwerp.
De afgelopen edities van Kunstenfestival Watou groeide er gestaag een nieuwe poëtische lijn in het dorp. Ook dit jaar selecteerde poëziecurator Willy Tibergien gedichten van gevestigde waarden in het Nederlandstalig poëzielandschap om hen een permanente plaats te geven in Watou.
Aan het werk van Eddy van Vliet, Paul Snoek, Remco Campert, Hugues C. Pernath, Jean-Claude Pirotte, Leo Vroman, Miriam Van hee, Stefan Hertmans, Gerrit Kouwenaar en Marc Insingel, Leonard Nolens, Christine D'Haen, Joost Zwagerman, Jotie T'Hooft, Charles Ducal en Luuk Gruwez worden dit jaar gedichten van Anna Enquist, Eva Gerlach en Frans Deschoemaeker toegevoegd.
STRING CARPET – GIDEON KIEFER – KUNSTENAARSGESPREK – ZONZO COMPAGNIE – ELS DEJONGHE – HET VLIEGEND TAPIJT – VRIJDAG VIERT FEEST – KRISTIN VERELLEN – POSTKANTOOR 00/00/00 – LIZE PEDE – BERNARD DEWULF – ALICJA GESCINSKA – DE TROOSTWINKEL – DOWN TIGER DOWN – SIEL EN LARISSA – NELLY AGASSI – IK ZIE MENSEN – POËZIE POËZIE POËZIE – DEREK & RENAUD – WIM CHIELENS – DE PLUIZENTUIN – WALLY DEDONCKER – ANT AND … – IK BEN WEER VELEN – STEPHANIE STRUIJK –  BERNARD DEWULF – MENNO WIGMAN – GRAHAM FAGEN – GERRIT KOUWENAAR – FRANS DESCHOEMAEKER – ANNA ENQUIST – EVA GERLACH – FRAUKE WILKEN – SAM DURANT – SIGRID VON LINTIG – PAUL SNOEK – MAUD BEKAERT -PETER VERHELST- DENIS VERCRUYSSE – MOHAMED EL BAZ – PARSE/ERROR – KATRIN DEKONINCK – ARPAÏS DU BOIS – GRZEGORZ GWIAZDA – SHIMABUKU – PETER DE MEYER – ROBINE CLIGNETT – ELS LESAGE – RADNA FABIAS – RY ROCKLEN – CHAIM VAN LUIT – SYLVIA EVERS – TORI WRÅNES – RONNY DELRUE – PETER MORRENS – HERVÉ MARTIJN – THÉ VANBERGEN – HANNE VAN ROMPAEY – STEFAN HERTMANS – TOM VAN DEEL – DANIELLE VAN ZADELHOFF – ANTON COTTELEER – SU-MEI TSE – POLIEN BOONS – JONAS VANSTEENKISTE – GURT SWANENBERG – ARANTHELL – GEERTJE VANGENECHTEN – MAARTEN VANDEN EYNDE – DOMINIQUE DE GROEN – JANI LEINONEN – JOSÉ COBO – TATJANA GERHARD – NADIA NAVEAU – HESTER KNIBBE – LUK VAN SOOM – JEROEN VAN KAN – CAROL ANN DUFFY – IRINA RATUSHINSKAYA – YEHUDA AMICHAI – NIDAA KHOURY – ZIYA MOHAVED – HANS OP DE BEECK- MASSIMO UBERTI -VAJIKO CHACHKHIANI – MOYA DE FEYTER – SHEILA HICKSEMMA VAN ROEY – BERNARDÍ ROIG -PETER THEUNYNCK – GIDEON KIEFER – EDITH DEKYNDT – THOMAS LEROOY – RANDALL CASAER- CHRISTINA MIGNOLET – GERD KANZ- GREET DESAL – HANNAH VAN BINSBERGEN – MELIK OHANIAN – JOHAN CLARYSSE – SOPHIE BOUVIER AUSLÄNDER – HANS DEFER- LUDOVIC LAFFINEUR – ARNE QUINZE – MARIJE LANGELAAR – TANYA SCHULTZ – ERLEND VAN LANDEGHEM – ROLAND JOORIS – LUKA FINEISEN – MEKHITAR GARABEDIAN – FRANZ SCHMIDT – CLARISSE BRUYNBROECK – FRANCIS PONGE – DAVID DE POOTER – RUTGER KOPLAND – JAN VANRIET – HUGO CLAUS – NELLY AGASSI – K. MICHEL – MICHAL MARTYCHOWIEC – PAUL DEMETS – STEPHAN MUIS – SAMMY BALOJI – TANG NANNAN – ADEL ABDESSEMED – LAURENS HAM – TODD ROBINSON – PANAMARENKO – GILLES BARBIER – HELEN DUNMORE – CASPER BRAAT – SYLVIE MARIE – CHANTAL POLLIER – EZRA VELDHUIS – HARLINDE DE MOL – ELEANOR CROOK – ANNO DIJKSTRA

Kunstenfestival Watou 2018 loopt nog tot en met 2 september
Open: woensdag tot zondag van 11u tot 19u – maandag en dinsdag gesloten, behalve op feestdagen
Adres:
Watouplein 12
8978 Watou
Poperinge (België)
De start van het Kunstenfestival is te vinden in het Festivalhuis (Watouplein 12), op het marktplein naast de Spar. Opg  elet! Voor alle weekend-events zijn de plaatsen beperkt. Een plaats reserveren kan enkel de dag zelf aan de kassa, bij aankoop van uw ticket.
# meer informatie op website kunstenfestival Watou
Kunstenfestival Watou 2018
fleursdumal.nl magazine
More in: # Music Archive, #Editors Choice Archiv, #More Poetry Archives, - Book Lovers, - Book Stories, Art & Literature News, Exhibition Archive, FDM Art Gallery, LITERARY MAGAZINES, PRESS & PUBLISHING, STREET POETRY, THEATRE, Watou Kunstenfestival
---
De Uitmarkt vindt evenals vorig jaar plaats rond het Oosterdok en het Marineterrein Amsterdam. Traditiegetrouw in het laatste weekend van augustus, dit jaar van vrijdag 24 tot en met zondag 26 augustus. Gedurende deze drie dagen zijn er op zo'n 25 podia circa 300 optredens te bewonderen, met op zondagavond de populaire Musical Sing a Long als afsluiter.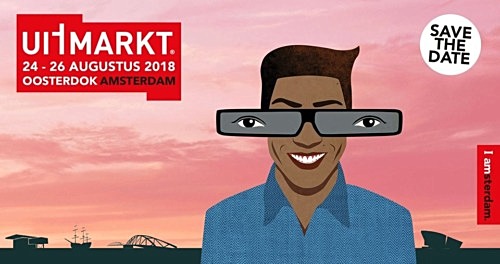 De Uitmarkt vormt de start van het culturele seizoen. Het laat bezoekers proeven van het diverse culturele aanbod dat Nederland te bieden heeft. Door het succes van de afgelopen editie heeft Stichting Uitmarkt ervoor gekozen om de Uitmarkt 2018 wederom op en rond het Oosterdok te laten plaatsvinden. Met toegang tot onder andere het Scheepvaartmuseum, NEMO Science Museum en het Marineterrein Amsterdam heeft deze locatie de bezoeker veel variatie te bieden.
Meer nog dan vorig jaar, door de uitbreiding met een extra stuk terrein. Het Scheepvaartmuseum vormt opnieuw het prachtige decor van het hoofdpodium.
'Bezoekers hebben vorig jaar enthousiast gereageerd op de nieuwe locatie. Dit in combinatie met de goede infrastructurele voorzieningen, was voor ons reden genoeg om dit gebied opnieuw in te richten voor de 41 ste editie van de Uitmarkt', zegt Jan de Rooij, voorzitter Stichting Uitmarkt.
Bezoekers van de Uitmarkt krijgen een gratis voorproefje van wat er in het seizoen 2018-2019 in de theaters, musea en concertzalen te beleven is. Artiesten vanuit het hele land en van verschillende genres zijn aanwezig. Naast de gevestigde orde is er ook volop ruimte voor nieuwkomers. Bijvoorbeeld in de Remix Area waar urban talent uit de verschillende Amsterdamse stadsdelen zich presenteren of de jonge theatermakers op het Fringe podium.
# Meer informatie over het programma op website www.uitmarkt.nl
41ste editie van de Uitmarkt – hét startsein van het Nederlandse culturele seizoen – vindt plaats rond het Oosterdok en op het Marineterrein Amsterdam van 24 tot 26 augustus 2018.
fleursdumal.nl magazine
More in: - Book News, - Bookstores, Art & Literature News, AUDIO, CINEMA, RADIO & TV, DANCE, Exhibition Archive, LITERARY MAGAZINES, MUSIC, STREET POETRY, THEATRE
---
Lyrics and never-before-seen poetry and sketches from the iconic musician of Florence and the Machine
Songs can be incredibly prophetic, like subconscious warnings or messages to myself, but I often don't know what I'm trying to say till years later.
Or a prediction comes true and I couldn't do anything to stop it, so it seems like a kind of useless magic.
Since forming Florence + The Machine in 2007, Florence Welch has written three albums, Lungs, Ceremonials, and How Big How Blue How Beautiful, all of which have been chart toppers all over the world, and she has been nominated and has won numerous international awards.
Useless Magic
Lyrics and Poetry
By Florence Welch
Hardcover
Publ. Jul 10, 2018
288 Pages
$35.00
Published by Crown Archetype
ISBN 9780525577157
new books
fleursdumal.nl magazine
More in: #Editors Choice Archiv, Archive W-X, Art & Literature News, Florence Welch
---
The New Jerusalem, the latest book by Patti Smith – poet, punk legend and author of the bestsellers Just Kids and M Train – is now available for order. A stunning long prose poem in the tradition of St. John and William Blake, The New Jerusalem presents a prophetic vision of art and humanity, faith and freedom; a vision of escape from the rituals of power and the mechanisms of social control.
Illustrated with colour photographs and art work by Patti Smith, this beautiful hardbound volume is a true collector's item and will be irresistible to bibliophiles. With an introduction by Rob Riemen exploring the connection between art and spirituality in Patti Smith's poem and in art more broadly, The New Jerusalem can serve as a reminder of the prophetic power of poetry and a guide to all who need it in these times of resistance.
The New Jerusalem was presented at the Nexus Symposium with Patti Smith 'An Education in Counterculture', 26 May 2018 in Amsterdam.
The New Jerusalem, the new book by poet and punk legend Patti Smith. This long prose poem in the tradition of John's Revelation and the poetry of William Blake shows a prophetic vision of art and humanity, faith and freedom; an image of the escape from the rituals of power and the mechanisms of social control.
This beautiful bilingual (English & Dutch), bound edition features color illustrations and photos by Patti Smith and is irresistible to the real bibliophile. The introduction by Rob Riemen discusses the relationship between art and spirituality in the poem by Patti Smith and in art in a general sense.
Patti Smith
United States, 1946
Patti Smith is a singer and poet. As the 'Godmother of Punk', she protested against social conventions, mindless factory labour and the commercialised world with her powerful and controversial music. She grew up with the music of Bob Dylan, lived together with photographer Robert Mapplethorpe and became a familiar face in the turbulent art scene of New York City. In 1974 Smith started performing with guitarist Lenny Kaye, forming the core of The Patti Smith Group. Her debut album Horses (1975) is considered to be one of the most influential albums in the history of rock music. With Bruce Springsteen she wrote Because the Night, her biggest hit. In addition to many albums, Smith also published poetry and books, including Just Kids (2010), her award-winning autobiography on life in New York in the seventies and her relation with Mapplethorpe.
Rob Riemen
The Netherlands, 1962
Rob Riemen is the founder and president of the Nexus Institute, established in 1994. He has also been editor-in-chief of the journal Nexus since its creation in 1991. In Nexus, prominent and original thinkers and writers reflect on important contemporary issues in essays on art, culture, politics and society. Riemen is the author of Nobility of Spirit. A Forgotten Ideal (2008), on the ideals of European humanism, translated into eighteen languages, and To Fight Against this Age (2018), with essays on the eternal return of fascism and on the European spirit.
The New Jerusalem – Bilingual edition – Nexus Library
ISBN: 9789090309798
Publisher: Nexus Institute
Publication Date: May 26th, 2018
Pages: 76
By Patti Smith, Rob Riemen (Introduction By), Onno Kosters (Translator)
Bilingual English-Dutch, hardbound, illustrated colour edition
Translation Onno Kosters (The New Jerusalem), Liz Waters (introduction)
The New Jerusalem is available for sale in the United States at:
McNally Jackson, New York City
Book Culture, New York City
Strand Bookstore, New York City
Rizzoli Bookstore, New York City
Mast Books, New York City
Greenlight Bookstore, Brooklyn
# more information on website Nexus Institute
fleursdumal.nl magazine
More in: #Biography Archives, #Editors Choice Archiv, - Book News, - Bookstores, Archive S-T, Archive S-T, Art & Literature News, Nexus Instituut, Patti Smith, Smith, Patti
---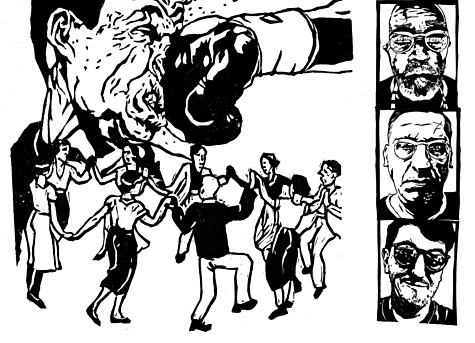 Nicht verloren laufen
Een boek met lino's van Walter Kerkhofs en Ivo van Leeuwen.
Handgedrukt, oplage 70.
Gebonden door Liesbeth Huyben
Grafiek expositie met werk van Walter Kerkhofs en Ivo van Leeuwen. Verder is naast grafiek van boven genoemde kunstenaars, ook werk te zien van de Hamburgse kunstenaar: Dragan Prgomelja.
Tijdens de presentatie worden drie muziekstukken uitgevoerd, die werden gecomponeerd door Frans Kerkhofs op gedichten van Nabokov.

Uitvoerenden: Lizette van Beek, mezzo-sopraan en Doré van Deijk, piano.
Nicht verloren laufen
16 juni 2018 op 16.00 uur
NS-Plein 16, Tilburg
Expositie open 17/23/14 juni van 12.00 tot 17.00
new art work
fleursdumal.nl magazine
More in: # Music Archive, - Book Lovers, - Book News, Art & Literature News, Exhibition Archive, Ivo van Leeuwen, PRESS & PUBLISHING
---
The story of how four young bohemians on the make – Bob Dylan, Joan Baez, Mimi Baez, and Richard Farina – converged in Greenwich Village, fell into love, and invented a sound and a style that are one of the most lasting legacies of the 1960s
When Bob Dylan, age twenty-five, wrecked his motorcycle on the side of a road near Woodstock in 1966 and dropped out of the public eye, he was recognized as a genius, a youth idol, and the authentic voice of the counterculture: and Greenwich Village, where he first made his mark as a protest singer with an acid wit and a barbwire throat, was unquestionably the center of youth culture.
So embedded are Dylan and the Village in the legend of the Sixties–one of the most powerful legends we have these days–that it is easy to forget how it all came about. In Positively Fourth Street, David Hajdu, whose 1995 biography of jazz composer Billy Strayhorn was the best and most popular music book in many seasons, tells the story of the emergence of folk music from cult practice to popular and enduring art form as the story of a colorful foursome: not only Dylan but his part-time lover Joan Baez – the first voice of the new generation; her sister Mimi – beautiful, haunted, and an artist in her own right; and her husband Richard Farina, a comic novelist (Been Down So Long It Looks Like Up To Me) who invented the worldliwise bohemian persona that Dylan adopted–some say stole–and made as his own.
David Hajdu
Positively 4th Street
The Lives and Times of Joan Baez, Bob Dylan, Mimi Baez Farina, and Richard Farina
illustrated
English
24x209x141 mm
2011
ISBN10 0312680694
ISBN13 9780312680695
Picador USA
328 pages
paperback
fleursdumal.nl magazine
More in: #Beat Generation Archives, #Biography Archives, - Book Lovers, - Book Stories, Archive G-H, Bob Dylan
---
Drawing on draft manuscripts and other archival material, James Joyce and Absolute Music, explores Joyce's deep engagement with musical structure, and his participation in the growing modernist discourse surrounding 19th-century musical forms.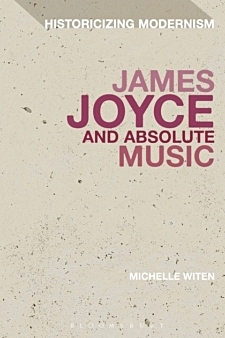 Michelle Witen examines Joyce's claim of having structured the "Sirens" episode of his masterpiece, Ulysses, as a fuga per canonem, and his changing musical project from his early works, such as Dubliners and A Portrait of the Artist as a Young Man.
Informed by a deep understanding of music theory and history, the book goes on to consider the "pure music" of Joyce's final work, Finnegans Wake.
Demonstrating the importance of music to Joyce, this ground-breaking study reveals new depths to this enduring body of work.
Towards a Modernist Condition of Absolute Music – Joyce's Early Use of Music – Joyce's fuga per canonem: A Case of Structure – Joyce's fuga per canonem: A Case of Effect – Voided Fugue in "Circe" – "It's Pure Music": Finnegans Wake
Michelle Witen is Postdoctoral Teaching and Research Fellow at the University of Basel, Switzerland.
Michelle Witen
James Joyce and Absolute Music
Published: 22-02-2018
Format: Hardback
Edition: 1st
Extent: 320 p.
ISBN: 9781350014220
Imprint: Bloomsbury Academic
Series: Historicizing Modernism
Illustrations: 9 bw illus
Dimensions: 234 x 156 mm
RRP: £85.00
literature and music
fleursdumal.nl magazine
More in: # Music Archive, Archive I-J, Archive I-J, Art & Literature News, Joyce, James, Joyce, James
---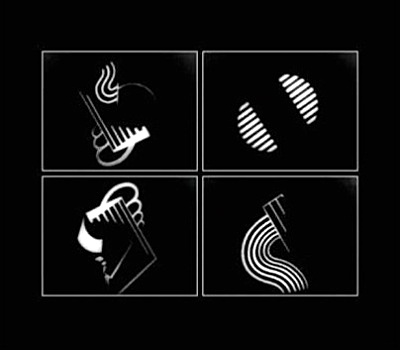 Four frames from "Diagonal-Symphonie"
Film still of "Diagonal Symphonie"
by Viking Eggeling (1880-1925)
fleursdumal.nl magazine
More in: AUDIO, CINEMA, RADIO & TV, Dada, DADA, Dadaïsme, MUSIC, Viking Eggeling
---
The final collection of the seminal musician and poet, which he was determined to complete before his death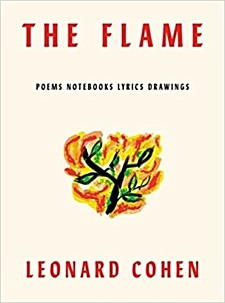 Just weeks before his death in late 2016, Leonard Cohen told The New Yorker that he was ready for the end to come. He just wanted enough time to put his last book in order. Fortunately, that time was granted. The Flame is Cohen's eloquent farewell, a valedictory collection of lyrics, poems, notebook sketches, and self-portraits that maps his singular creative journey. As noted in the Rock and Roll Hall of Fame's citation, "For six decades, Leonard Cohen revealed his soul to the world through poetry and song―his deep and timeless humanity touching our very core."
In addition to new poems about war, desire, regrets, lamb chops, and hummingbirds, and lyrics from his last three albums, including the chart-topping "You Want It Darker," The Flame includes carefully selected excerpts from Cohen's voluminous notebooks, which he kept faithfully over the years. Readers will find in these pages the subjects that have always preoccupied Cohen: the dimensions of love, the secret code of existence, and the hope for transcendence in a broken world.
In the words of Cohen's longtime manager and friend, Robert Kory, The Flame "reveals to all the intensity of his inner fire" to the end.
Leonard Cohen was a hugely influential Canadian poet, songwriter, and cultural icon who died on the eve of the 2016 presidential election. His "Hallelujah" is widely considered the redemptive song of the resistance. Cohen's many canonical songs ("Suzanne," "So Long, Marianne," "Famous Blue Raincoat," "Dance Me to the End of Love," and others) have earned him a place in the small pantheon that includes Bob Dylan and Patti Smith. Cohen's many honors include a Grammy Lifetime Achievement Award, a Prince of Asturias Award for Literature, and election to the Rock and Roll Hall of Fame.
Leonard Cohen (Author)
The Flame: Poems and Notebooks
Publish. date: October 2, 2018!
Hardcover – $28.00
304 pages
Publisher: Farrar, Straus and Giroux
Language: English
ISBN-10: 0374156069
ISBN-13: 978-0374156060
new books
fleursdumal.nl magazine
More in: - Book Lovers, - Book Stories, Archive C-D, Archive C-D, Art & Literature News, Bob Dylan, Leonard Cohen, Patti Smith
---
Out now:
Kerouac on Record ◊ A Literary Soundtrack
Edited by Simon Warner and Jim Sampas

Co-edited by Jack Kerouac's nephew, including pieces written by Kerouac himself as well as interviews from major literary and musical figures including Allen Ginsberg, Lee Konitz and David Amram, Kerouac on Record gives a unique insight into how Kerouac brought his passion for jazz to his full creative output.
Kerouac on Record is the touchstone for the music of Kerouac – Kerouac's love for music, the depth of its influence on his work, and the influence that his work continues to extend to waves of contemporary musicians, from David Bowie and Janis Joplin to Sonic Youth. It is a book rife with the work of cultural icons, essential for any fan of the Beat Generation and popular music alike.
About Kerouac on Record
He was the leading light of the Beat Generation writers and the most dynamic author of his time, but Jack Kerouac also had a lifelong passion for music, particularly the mid-century jazz of New York City, the development of which he witnessed first-hand during the 1940s with Charlie Parker, Dizzy Gillespie and Thelonious Monk to the fore.
The novelist, most famous for his 1957 book On the Road, admired the sounds of bebop and attempted to bring something of their original energy to his own writing, a torrent of semi-autobiographical stories he published between 1950 and his early death in 1969.
Yet he was also drawn to American popular music of all kinds – from the blues to Broadway ballads – and when he came to record albums under his own name, he married his unique spoken word style with some of the most talented musicians on the scene.
Kerouac's musical legacy goes well beyond the studio recordings he made himself: his influence infused generations of music makers who followed in his work – from singer-songwriters to rock bands.
Some of the greatest transatlantic names – Bob Dylan and the Grateful Dead, Van Morrison and David Bowie, Janis Joplin and Tom Waits, Sonic Youth and Death Cab for Cutie, and many more – credited Kerouac's impact on their output.
In Kerouac on Record, we consider how the writer brought his passion for jazz to his prose and poetry, his own record releases, the ways his legacy has been sustained by numerous more recent talents, those rock tributes that have kept his memory alive and some of the scores that have featured in Hollywood adaptations of the adventures he brought to the printed page.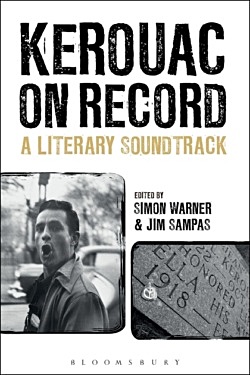 1. Jack Kerouac's Jazz Scene Jim Burns – 2. 2nd Chorus: Blues: Jack Kerouac Larry Beckett – 3. Duet for Saxophone and Pen: Lee Konitz and the Direct Influence of Jazz on the Development of Jack Kerouac's 'Spontaneous Prose' Style Marian Jago Interview 1: Lee Konitz Marian Jago – 4. Jack Kerouac Goes Vinyl: A Sonic Journey into Kerouac's Three LPs: Poetry for the Beat Generation; Blues and Haikus; and Readings by Jack Kerouac on the Beat Generation Jonah Raskin  – 5. Art Music: Listening to Kerouac's 'Mexico City Blues' A. Robert Lee Interview 2: David Amram Pat Thomas – 6. Beat Refrains: Music, Milieu and Identity in Jack Kerouac's The Subterraneans, the Metro-Goldwyn-Mayer Film Adaptation Michael Prince – 7. Bob Dylan's Beat Visions (Sonic Poetry) Michael Goldberg – 8. Carrying a Torch for Ti Jean Paul Marion Interview 3: Richard Meltzer Michael Goldberg – 9. The Grateful Dead: Jack Manifested as Music Brian Hassett – 10. Driver Mark Bliesener – 11. Jim Morrison/Angel of Fire Jay Jeff Jones – 12. Light is Faster than Sound: Texans, the Beats and the San Francisco Counterculture Holly George-Warren – 13. Hit the Road, Jack: Van Morrison and On the Road Peter Mills – 14. Detecting Jack Kerouac and Joni Mitchell: A Literary/Legal (Not Musicological) Investigation into the Search for Influence Nancy Grace – 15. Kerouac and Country Music Matt Theado – 16. 'Straight from the Mind to the Voice': Spectral Persistence in Jack Kerouac and Tom Waits Douglas Field Interview 4: Barney Hoskyns Simon Warner – 17. From Beat Bop Prosody to Punk Rock Poetry: Patti Smith and Jack Kerouac; Literature, Lineage, Legacy Ronna Johnson Poems: Marc Zegans  Interview 6: Allen Ginsberg Pat Thomas – 18. Tramps Like Them: Jack and Bruce and the Myth of the American Road Simon Morrison Interview 5: Graham Parker Pat Thomas – 19. Punk and New Wave James Sullivan – Interview 7: Jim DeRogatis on Lester Bangs James Sullivan – 20. The Tribute Recordings Jim Sampas and Simon Warner  –  Jack Kerouac Biography –  Jack Kerouac Discography Dave Moore  –  Tribute Discography –  Kerouac/Cassady Song List Dave Moore/Horst Spandler
Simon Warner
is a journalist, lecturer and broadcaster who teaches Popular Music Studies at the University of Leeds in the UK. He has, over a number of years, written live reviews and counterculture obituaries for The Guardian and The Independent, and has a particular interest in the relationship between the Beat Generation writers–Jack Kerouac, Allen Ginsberg, William Burroughs and others–and rock culture. His previous books include Rockspeak: The Language of Rock and Pop (1996) and Howl for Now: A Celebration of Allen Ginsberg's epic protest poem (2005). – Writes: Popular Music, North American Literature – Author of : Kerouac on Record, Text and Drugs and Rock 'n' Roll
Jim Sampas
is a music and film producer. His musical works often focuses on major cultural figures such Jack Kerouac (who is his Uncle), The Beatles, Bruce Springsteen, The Smiths, Bob Dylan, and The Rolling Stones. He has persuaded a galaxy of stars to partake of a unique aesthetic marriage, as vintage works are resurrected in contemporary arrangements in projects covered by such major news outlets as People Magazine, NPR, The New York Times, Entertainment Weekly, Rolling Stone, and many others. – Writes: Popular Music, North American Literature – Author of: Kerouac on Record
Following Text and Drugs and Rock 'n' Roll: The Beats and Rock Culture (2013), Simon Warner partners with Literary Executor of the Estate of Jack Kerouac, Jim Sampas, to go deeper into his exploration of the connections between the great figures of the Beat generation and the music of the so-called 'rock era.' Interspersed with exclusive interviews of the likes of Lee Konitz, Graham Parker, Lester Bangs, and Allen Ginsberg, the twenty chapters are signed by an impressive array of journalists, music industry professionals, rock critics, writers, film makers and academics from all over the world. Addressing such issues as the influence of jazz on Kerouac's 'spontaneous prose' style, the lineage between his 'Beat bop prosody' and Patti Smith's 'punk rock poetry,' or his inspiring 'the myth of the American road' in Bruce Springsteen's lyrics, they shed light on what appears to be a two-way relationship between popular music and the work of the author of On the Road. As Warner puts it: 'if, for Kerouac, it was jazz that would have the principal impact, then it was rock on which the writer would have the main effect.'" – Olivier Julien, Lecturer in the History and Musicology of Popular Music, Paris-Sorbonne University, France
Kerouac on Record
A Literary Soundtrack
By: Simon Warner, Jim Sampas
Published: 08-03-2018
Format: Hardback
Edition: 1st
Extent: 480
ISBN: 9781501323348
Imprint: Bloomsbury Academic
Dimensions: 229 x 152 mm
RRP: £28.00
Kerouac on Record
A Literary Soundtrack
fleursdumal.nl magazine
More in: # Music Archive, #Beat Generation Archives, - Book Stories, Archive G-H, Archive G-H, Archive K-L, Archive K-L, Art & Literature News, AUDIO, CINEMA, RADIO & TV, Bob Dylan, Dylan, Bob, Ginsberg, Allen, Joni Mitchell, Kerouac, Jack, Patti Smith
---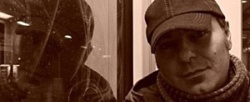 Sibelius
Sibelius symphony number eight
On his lips he sounded natures
cry, natures sinewy sigh
and gripped in encapsulation
its voices in dots and dashes.
His work swept the oceans
searching for ringing melodies,
the cosmos dancing in rhythm
through its internal magnetism.
Sounds from the milky way
readily formed within him,
carbon from the core twinkling,
vibrating, the many strings flying
in rich tones, in its resurrection
when death looked imminent
awoke when barely conscious.
He took the new and ancient
and slanted the nucleus
of his vivid expression
into the pool of swirling
existence.
And when the structure
was created,
when the monument was built,
the music gasping for
the air of existence,
for the universe to burst
he burnt the lot
and fell inward, into silence,
where his voice lived only
for his wife and children.
He sat down quietly
and never again lifted
his psyche to varnish sound
with brilliant shimmers.
21.09.07
Vincent Berquez
Poem: Sibelius
Vincent Berquez is a London–based artist and poet
fleursdumal.nl magazine
More in: Archive A-B, Berquez, Vincent, MUSIC, Vincent Berquez
---
Het besluit van president Trump de Amerikaanse ambassade in Israël naar Jeruzalem te verhuizen inspireerde Patti Smith tot het schrijven van een gedicht, The New Jerusalem.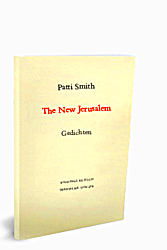 Dit nieuwe, nog ongepubliceerde werk van de beroemde punkpoëet verschijnt exclusief bij Nexus als tweetalige uitgave in de Nexus Bibliotheek. Naast The New Jerusalem zal deze uitgave ook een drietal eerdere gedichten bevatten. De vertaling van de gedichten wordt verzorgd door Onno Kosters. The New Jerusalem wordt gepresenteerd bij het Nexus-symposium 'An Education in Counterculture', 26 mei in Amsterdam.
. . .these things we saw written on the immense screen once known as sky. And these things we heard as prophecy's lullaby. The mountain is the mountain. The Lord is the Lord. The holy city belongs to none. The mountains of Judah belong to none. The yielding seed belongs to none. And we are the new Jerusalem.
Patti Smith, USA 1946, is zangeres en dichteres. Als 'Godmother of Punk' protesteerde zij met krachtige, controversiële muziek tegen de gevestigde orde en wezenloze fabrieksarbeid in de vercommercialiseerde wereld. Ze groeide op met de muziek van Bob Dylan, leefde samen met fotograaf Robert Mapplethorpe en werd een bekend gezicht in de turbulente New Yorkse kunstscene.
In 1974 begon Smith op te treden met gitarist Lenny Kaye, met wie ze nog steeds de kern van de band The Patti Smith Group vormt. Haar debuutalbum Horses (1975) wordt gezien als een van de invloedrijkste albums in de geschiedenis van de rockmuziek. Samen met Bruce Springsteen schreef ze Because the Night, haar grootste hit. Naast vele albums schreef Smith ook dichtbundels en boeken, waaronder Just Kids (2010), haar bekroonde autobiografie over het leven in New York in de jaren zeventig en haar relatie met Mapplethorpe.
Nexus Bibliotheek
Patti Smith:
The New Jerusalem (mei 2018)
Nexus Bibliotheek deel XII,
tweetalige,
gebonden editie
Patti Smith
Spreker bij:
An Education in Counterculture
Nexus-symposium
26 mei 2018
13.30 – 17.30
DeLaMar Theater Amsterdam
fleursdumal.nl magazine
More in: #Editors Choice Archiv, - Book Lovers, Archive S-T, Archive S-T, Art & Literature News, Bob Dylan, Literary Events, LITERARY MAGAZINES, Nexus Instituut, Patti Smith, Smith, Patti
---
Older Entries »
Thank you for reading FLEURSDUMAL.NL - magazine for art & literature