MUSIC
·
Dichter Jules Deelder overleden
·
Kerouac on Record. A Literary Soundtrack
·
Scott Walker and the Song of the One-All-Alone by Scott Wilson
·
Oliver Sacks: Everything in Its Place. First Loves and Last Tales
·
Nexus-Symposium The Magic Mountain Revisited. Cultivating the Human Spirit in Dispirited Times
·
Bob Dylan's Poetics. How the Songs Work by Timothy Hampton
·
Eardrums. Literary Modernism as Sonic Warfare by Tyler Whitney
·
Crosby, Stills, Nash and Young. The Wild, Definitive Saga of Rock's Greatest Supergroup by David Browne
·
Edinburgh Art Festival 25 July—25 August 2019
·
Kate Tempest nieuwe CD: Book of Traps and Lessons
·
OEROL – 14 / 23 juni 2019 – TERSCHELLING
·
Onias Landveld, stadsdichter van Tilburg, organiseert de 3e editie van The Stage
Op 19 december 2019 is – na een zeer kort ziekbed – overleden dichter J.A. (Jules) Deelder. De dichter werd volgens zijn familie "tot zijn eigen verbazing" 75 jaar oud.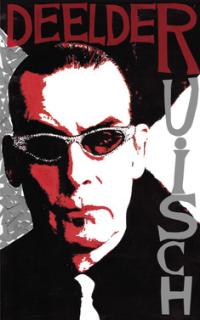 Jules Deelder (Rotterdam, 1944 – 2019) was een opvallende verschijning en erg geliefd als schrijver, dichter, muzikant en performer. Hij was zijn leven lang een groot liefhebber van Jazz en fan van de Rotterdamse voetbalclub Sparta. De club riep hem, kort voor zijn dood, nog uit tot lid van verdienste. Verder stond Deelder bekend als 'De nachtburgemeester van Rotterdam'.
Jules Deelder werd gerekend tot de 'performance poets' ( of 'popdichters') een beweging die aansloot bij de 'Beat Generation' van Amerikaanse dichters als Allen Ginsberg en Jack Kerouac.
De familie van Deelder en uitgeverij De Bezige Bij, staan met dit gedicht stil bij zijn overlijden:
Zijn gaan is
een komen
Zijn komen
een gaan
Hij houdt niet
van zitten
Hij blijft
liever staan
Zichzelf
en de wereld
een raadsel
(Uit: De Zwarte Jager – J.A. Deelder, 1973)
I.M.
Jules Deelder
(1944 – 2019)
• fleursdumal.nl magazine
More in: # Music Archive, #Archive A-Z Sound Poetry, #Beat Generation Archives, #Editors Choice Archiv, Archive C-D, Archive C-D, In Memoriam, Jules Deelder
---
Kerouac on Record.
A Literary Soundtrack
He was the leading light of the Beat Generation writers and the most dynamic author of his time, but Jack Kerouac also had a lifelong passion for music, particularly the mid-century jazz of New York City, the development of which he witnessed first-hand during the 1940s with Charlie Parker, Dizzy Gillespie and Thelonious Monk to the fore.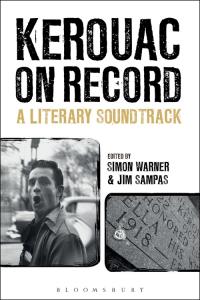 The novelist, most famous for his 1957 book On the Road, admired the sounds of bebop and attempted to bring something of their original energy to his own writing, a torrent of semi-autobiographical stories he published between 1950 and his early death in 1969. Yet he was also drawn to American popular music of all kinds – from the blues to Broadway ballads – and when he came to record albums under his own name, he married his unique spoken word style with some of the most talented musicians on the scene.
Kerouac's musical legacy goes well beyond the studio recordings he made himself: his influence infused generations of music makers who followed in his work – from singer-songwriters to rock bands. Some of the greatest transatlantic names – Bob Dylan and the Grateful Dead, Van Morrison and David Bowie, Janis Joplin and Tom Waits, Sonic Youth and Death Cab for Cutie, and many more – credited Kerouac's impact on their output.

In Kerouac on Record, we consider how the writer brought his passion for jazz to his prose and poetry, his own record releases, the ways his legacy has been sustained by numerous more recent talents, those rock tributes that have kept his memory alive and some of the scores that have featured in Hollywood adaptations of the adventures he brought to the printed page.
Simon Warner is a journalist, lecturer and broadcaster who teaches Popular Music Studies at the University of Leeds in the UK. He has, over a number of years, written live reviews and counterculture obituaries for The Guardian and The Independent, and has a particular interest in the relationship between the Beat Generation writers–Jack Kerouac, Allen Ginsberg, William Burroughs and others–and rock culture. His previous books include Rockspeak: The Language of Rock and Pop (1996) and Howl for Now: A Celebration of Allen Ginsberg's epic protest poem (2005).
Jim Sampas is a music and film producer. His musical works often focuses on major cultural figures such Jack Kerouac (who is his Uncle), The Beatles, Bruce Springsteen, The Smiths, Bob Dylan, and The Rolling Stones. He has persuaded a galaxy of stars to partake of a unique aesthetic marriage, as vintage works are resurrected in contemporary arrangements in projects covered by such major news outlets as People Magazine, NPR, The New York Times, Entertainment Weekly, Rolling Stone, and many others.
Kerouac on Record
A Literary Soundtrack
Editor(s): Simon Warner, Jim Sampas
Hardback £25.20
Paperback £16.19
Published: 2018
Format: Hardback
Extent: 480 p.
ISBN: 9781501323348
Imprint: Bloomsbury Academic
Dimensions: 229 x 152 mm
£28.00
# more books
Jack Kerouac
• fleursdumal.nl magazine
More in: # Music Archive, - Book News, - Book Stories, Archive K-L, Archive K-L, Art & Literature News, AUDIO, CINEMA, RADIO & TV, Bob Dylan, David Bowie, Kerouac, Jack
---
Scott Walker and the Song of the One-All-Alone offers, in detailed interpretative commentaries of his best songs, a sustained assessment of the work and career of Scott Walker, one of the most significant and perplexing artists of the late 20th and 21st century.
For Brian Eno, Walker was not only a great composer and a superlative lyricist but also a significant contemporary poet. Marc Almond goes further, 'an absolute musical genius, existential and intellectual and a star right from the days of The Walker Brothers'. As Almond suggests, Walker's work is marked by a continual engagement with existentialist philosophy informing his approach to art, politics and life. In particular, the device of the solitary figure or 'one-all-alone' evoked in his songs provides the basis for his lyrical exploration of the singularity of existence – in all its darkness as well as light.
Through following his own path, Walker arrived at a unique sound according to his own method that produced a genuinely new form of song. Looking closely at these songs, this book also considers the wider political implications of his approach in its rejection of external authorities and common or consensual ideals.
Scott Wilson is Professor of Media and Psychoanalysis at Kingston University, London, UK. He is the author of Stop Making Sense: Music from the Perspective of the Real (Karnac, 2015) and the editor of Melancology: Black Metal Theory and Ecology (Zone Books, 2014).
Scott Walker and the Song of the One-All-Alone
By: Scott Wilson
Published: 03-10-2019
Format: Paperback
Edition: 1st
Extent: 232 pg
ISBN: 9781501332555
Imprint: Bloomsbury Academic
Series: EX:CENTRICS
Dimensions: 216 x 140 mm
RRP: £22.99
# more music books
Scott Walker
• fleursdumal.nl magazine
More in: - Book News, - Book Stories, Art & Literature News, AUDIO, CINEMA, RADIO & TV, Scott Walker
---
From the best-selling author of Gratitude and On the Move, a final volume of essays that showcase Sacks's broad range of interests–from his passion for ferns, swimming, and horsetails, to his final case histories exploring schizophrenia, dementia, and Alzheimer's.
Oliver Sacks, scientist and storyteller, is beloved by readers for his neurological case histories and his fascination and familiarity with human behavior at its most unexpected and unfamiliar. Everything in Its Place is a celebration of Sacks's myriad interests, told with his characteristic compassion and erudition, and in his luminous prose.
Dr. Oliver Sacks (1933 – 2015) spent more than fifty years working as a neurologist and writing books about the neurological predicaments and conditions of his patients, including The Man Who Mistook His Wife for a Hat, Musicophilia, and Hallucinations. The New York Times referred to him as "the poet laureate of medicine," and over the years he received many awards, including honors from the Guggenheim Foundation, the National Science Foundation, the American Academy of Arts and Letters, the American Academy of Arts & Sciences, and the Royal College of Physicians. His memoir On the Move was published shortly before his death in August 2015.
Everything in Its Place
First Loves and Last Tales
By Oliver Sacks
Category: Science | Psychology
Hardcover
Apr 23, 2019
ISBN 9780451492890
Hardcover: 288 pages
Publisher: Knopf
Language: English
ISBN-10: 0451492897
ISBN-13: 978-0451492890
$24.26
# new books
Oliver Sacks
Everything in Its Place
First Loves and Last Tales
• fleursdumal.nl magazine
More in: - Book News, - Book Stories, Archive S-T, DRUGS & MEDICINE & LITERATURE, MUSIC, Oliver Sacks, Psychiatric hospitals
---
♦ Nexus-Symposium ♦ The Magic Mountain Revisited♦ Cultivating the Human Spirit in Dispirited Times
∗ Zaterdag 21 september 2019 ∗ 9.15 – 17.00 uur ∗ Nationale Opera & Ballet Amsterdam
'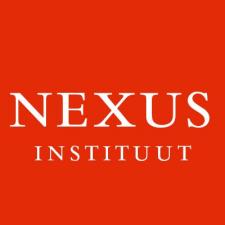 Intellectuele helderheid scheppen over het leven zelf', dat was de ambitie van Thomas Mann met zijn meesterwerk De toverberg.

In die geest brengt het Nexus Instituut inmiddels al een kwart eeuw de belangrijkste denkers en kunstenaars van over de hele wereld bijeen.

Om de 25e verjaardag in stijl te vieren, staat het bijzondere Nexus-symposium, 'The Magic Mountain Revisited', geheel in het teken van de thematiek en muziek uit De toverberg.
Als een hedendaagse Settembrini en Naphta gaan Bernard-Henri Lévy en Aleksandr Dugin met elkaar de strijd aan over Verlichting en anti-Verlichting.

Vervolgens discussiëren vooraanstaande intellectuelen en kunstenaars over leven, dood, cultuur en politiek; gevolgd door Toverberg-muziek verzorgd door de wereldberoemde tenor Ian Bostridge.

Ten slotte bespreekt een groep geëngageerde jongeren wat dit alles betekent voor hun generatie: wat voor Bildung krijgen zij, welke keuzes kunnen zij maken, wat zijn de uitdagingen voor de toekomst?
programma
9.15 uur Opening door Rob Riemen
9.30 uur Debat Bernard-Henri Lévy en Aleksandr Dugin
10.30 uur Koffiepauze
11.00 uur Eerste gespreksronde
12.45 uur Lunch
13.30 uur Muziek Ian Bostridge (zang) en Saskia Giorgini (piano)
14.15 uur Tweede gespreksronde
16.00 uur Einde zaalprogramma
17.00 uur Einde
Spreker(s)
Edoardo Albinati – Italiaanse romanschrijver
Ian Bostridge – wereldberoemd tenor
Antonio Damasio – hersenonderzoeker
Aleksandr Dugin – politiek filosoof en adviseur van Poetin
Rebecca Foon – componist en klimaatactivist
Saskia Giorgini – pianist
Intissar Kherigi – mensenrechtenactivist in Tunesië
Flavia Kleiner – politiek activist
Nadine Labaki – Libanees filmmaker
Bernard-Henri Lévy – Frankrijks bekendste publieke intellectueel
Joan Magrané Figuera – componist
Andrea Marcolongo – classica en schrijver
Celeste Marcus – student Joodse ideeëngeschiedenis
Sari Nusseibeh – Palestijns filosoof
Pamela Paul – hoofdredacteur New York Times Book Review
Jesse Paris Smith – musicus en klimaatactivist
Wojtek Wieczorek – student en dichter
Leon Wieseltier – publiek intellectueel
Nexus-Symposium
The Magic Mountain Revisited
Cultivating the Human Spirit in Dispirited Times
Zaterdag 21 september 2019
9.15 – 17.00 uur
Nationale Opera & Ballet Amsterdam
NEXUS INSTITUUT
Postadres
Nexus Instituut
Kollenbergweg 1
1101 AT AmsterdamTelefoon 085 0471229
E-mail info[at]nexus-instituut.nl
# meer informatie website NEXUS INSTITUUT
• fleursdumal.nl magazine
More in: # Music Archive, - Book News, - Book Stories, Art & Literature News, AUDIO, CINEMA, RADIO & TV, DICTIONARY OF IDEAS, Nexus Instituut
---
The 2016 Nobel Prize in Literature recognized Bob Dylan as a major modern artist, elevating his work beyond the world of popular music.

In this book, Timothy Hampton focuses on the details and nuances of Dylan's songs, showing how they work as artistic statements designed to create meaning and elicit emotion.
With Bob Dylan's Poetics, Hampton offers a unique examination of both the poetics and politics of Dylan's compositions. He studies Dylan not as a pop hero, but as an artist, as a maker of songs.
F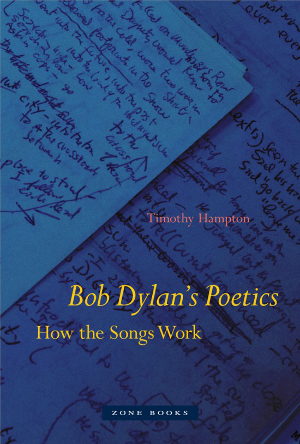 ocusing on the interplay of music and lyric, Hampton traces Dylan's innovative use of musical form, his complex manipulation of poetic diction, and his dialogues with other artists, from Woody Guthrie to Arthur Rimbaud.
Moving from Dylan's earliest experiments with the blues through his mastery of rock and country to his densely allusive more recent recordings, Hampton offers a detailed account of Dylan's achievement.
Locating Dylan in the long history of artistic modernism, he examines the relationships among form, genre, and the political and social themes that crisscross Dylan's work. With this book, Hampton offers both a nuanced engagement with the work of a major artist and a meditation on the contribution of song at times of political and social change.
Title Bob Dylan's Poetics
Subtitle How the Songs Work
Author Timothy Hampton
Publisher MIT Press
Title First Published 01 March 2019
Format Hardcover
ISBN-10 1942130155
ISBN-13 9781942130154
Hardcover – $29.95
# more books
Bob Dylan's Poetics.
How the Songs Work
by Timothy Hampton
• fleursdumal.nl magazine
More in: - Book News, - Bookstores, Archive C-D, Archive C-D, Archive G-H, AUDIO, CINEMA, RADIO & TV, Bob Dylan, Dylan, Bob
---
In this innovative study, Tyler Whitney demonstrates how a transformation and militarization of the civilian soundscape in the late nineteenth and early twentieth centuries left indelible traces on the literature that defined the period.

Both formally and thematically, the modernist aesthetics of Franz Kafka, Robert Musil, Detlev von Liliencron, and Peter Altenberg drew on this blurring of martial and civilian soundscapes in traumatic and performative repetitions of war.

At the same time, Richard Huelsenbeck assaulted audiences in Zurich with his "sound poems," which combined references to World War I, colonialism, and violent encounters in urban spaces with nonsensical utterances and linguistic detritus—all accompanied by the relentless beating of a drum on the stage of the Cabaret Voltaire.
Eardrums is the first book-length study to explore the relationship between acoustical modernity and German modernism, charting a literary and cultural history written in and around the eardrum. The result is not only a new way of understanding the sonic impulses behind key literary texts from the period. It also outlines an entirely new approach to the study of literature as as the interaction of text and sonic practice, voice and noise, which will be of interest to scholars across literary studies, media theory, sound studies, and the history of science.
Tyler Whitney is an assistant professor of German at the University of Michigan.
Tyler Whitney (Author)
Eardrums.
Literary Modernism as Sonic Warfare
Cloth Text – $99.95
ISBN 978-0-8101-4022-6
Paper Text – $34.95
ISBN 978-0-8101-4021-9
Northwestern University Press
Publication Date June 2019
Literary Criticism
232 pages
Price: $24.00
# new books
Tyler Whitney
Eardrums.
Literary Modernism as Sonic Warfare
• fleursdumal.nl magazine
More in: # Music Archive, #Archive A-Z Sound Poetry, *War Poetry Archive, - Book News, - Book Stories, Archive W-X, AUDIO, CINEMA, RADIO & TV, DADA, Dadaïsme, Kafka, Franz, Modernisme, Visual & Concrete Poetry
---
The first and most complete narrative biography of Crosby, Stills, Nash and Young, by acclaimed music journalist and Rolling Stone senior writer David Browne.
Even in the larger-than-life world of rock and roll, it was hard to imagine four more different men.

David Crosby, the opinionated hippie guru. Stephen Stills, the perpetually driven musician. Graham Nash, the tactful pop craftsman. Neil Young, the creatively restless loner.

But together, few groups were as in sync with their times as Crosby, Stills, Nash and Young. Starting with the original trio's landmark 1969 debut album, the group embodied much about its era: communal musicmaking, protest songs that took on the establishment and Richard Nixon, and liberal attitudes toward partners and lifestyles. Their group or individual songs–"Wooden Ships," "Suite: Judy Blue Eyes," "After the Gold Rush," "For What It's Worth" (with Stills and Young's Buffalo Springfield), "Love the One You're With," "Long Time Gone," "Just a Song Before I Go," "Southern Cross"–became the soundtrack of a generation.
But their story would rarely be as harmonious as their legendary and influential vocal blend. In the years that followed, these four volatile men would continually break up, reunite, and disband again–all against a backdrop of social and musical change, recurring disagreements and jealousies, and self-destructive tendencies that threatened to cripple them both as a group and as individuals.
In Crosby, Stills, Nash and Young: The Wild, Definitive Saga of Rock's Greatest Supergroup, longtime music journalist and Rolling Stone writer David Browne presents the ultimate deep dive into rock and roll's most musical and turbulent brotherhood on the occasion of its 50th anniversary. Featuring exclusive interviews with David Crosby and Graham Nash along with band members, colleagues, fellow superstars, former managers, employees, and lovers-and with access to unreleased music and documents–Browne takes readers backstage and onstage, into the musicians' homes, recording studios, and psyches, to chronicle the creative and psychological ties that have bound these men together–and sometimes torn them apart.

This is the sweeping story of rock's longest-running, most dysfunctional, yet pre-eminent musical family, delivered with the epic feel their story rightly deserves.
Crosby, Stills, Nash and Young:
The Wild, Definitive Saga of Rock's Greatest Supergroup
by David Browne (Author)
Hardcover: 480 pages
Publisher: Da Capo Press;
1st Edition edition April 2, 2019
Language: English
ISBN-10: 0306903288
ISBN-13: 978-0306903281
April 2, 2019
Hardcover
$20.23
# more books
Crosby, Stills, Nash and Young:
The Wild, Definitive Saga of Rock's Greatest Supergroup
• fleursdumal.nl magazine
More in: # Music Archive, #Biography Archives, - Book News, - Book Stories, Archive A-B, AUDIO, CINEMA, RADIO & TV, Crosby, Stills, Nash and Young, Opium-Eaters
---
Founded in 2004, Edinburgh Art Festival is the platform for the visual arts at the heart of Edinburgh's August festivals,

bringing together the capital's leading galleries, museums and artist-run spaces in a city-wide celebration of the very best in visual art.
Each year, the Festival features leading international and UK artists alongside the best emerging talent, major survey exhibitions of historic figures, and a special programme of newly commissioned artworks that respond to public and historic sites in the city.

The vast majority of the festival is free to attend. Find out more about our programme and previous Festivals on the website.
# Website Edinburgh Art Festival 2019
Edinburgh Art Festival 25 July—25 August 2019
• fleursdumal.nl magazine
More in: Art & Literature News, AUDIO, CINEMA, RADIO & TV, Exhibition Archive, Literary Events, MUSIC, Street Art, STREET POETRY, THEATRE
---
Kate Tempest is een Londense rapper, dichter en toneelschrijfster. Ze bracht al twee soloalbums uit, namelijk 'Everybody Down' in 2014 en 'Let Them Eat Chaos' in 2016, beiden werden genomineerd voor een Mercury Prize.
Ook bracht ze meerdere dichtbundels en een roman uit en schreef ze drie toneelstukken, maar nu is het tijd voor haar derde album.
Net als haar vorige twee albums zal 'The Book Of Traps And Lessons' een narratief karakter kennen en bestaan uit meerdere nummers die bedoeld zijn om in één zitting te beluisteren.

Tempest werkte de afgelopen vijf jaar aan dit album.
Nadat producer Rick Rubin contact met haar zocht, maakte ze enkele demo's, maar die sloten niet aan bij wat de twee samen wilden maken.

Daarom werd het maken van 'The Books Of Traps And Lessons' even op pauze gezet en verscheen 'Let Them Eat Chaos' eerder (in 2016).
Ondertussen werd er langzaam doorgewerkt aan het album, samen met Rubin trad Tempest in detail en ging op zoek naar de kern van haar werk, de tekst die los kwam te staan van de beat.

Het is dan ook niet gek dat we op dit album minder begeleidende muziek horen dan op haar eerdere twee albums.
Kate Tempest hoopt dat mensen zich met het album zullen vereenzelvigen en als gevolg beter met zichzelf en met anderen gaan verbinden.
Tracklist
1. Thirsty
2. Keep Moving Don't Move
3. Brown Eyed Man
4. Three Sided Coin
5. I Trap You
6. All Humans Too Late
7. Hold Your Own
8. Lessons
9. Firesmoke
10. Holy Elixir
11. People's Faces
Artiest: Kate Tempest
Releasedatum: 14 juni 2019
Label: Universal Music
EAN 0602577583872
CD (ALBUM)
Standard Edition
1 disk
Speelduur 45:00
Stereo
Taal: Engels
Alternative Hip hop
# more on website kate tempest
# New CD
Kate Tempest
Book of Traps and Lessons
2019
• fleursdumal.nl magazine
More in: # Music Archive, #Archive A-Z Sound Poetry, Archive S-T, Archive S-T, Art & Literature News, AUDIO, CINEMA, RADIO & TV, Kate Tempest, Poetry Slam, STREET POETRY, Street Poetry, Tempest, Kate
---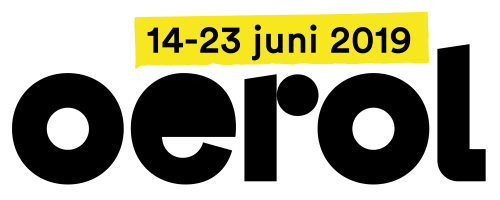 De vaak gehoorde verspreking 'op Oerol' in plaats van 'op Terschelling' geeft aan dat Oerol de functie heeft gekregen van een plek. In 2019 kantelt Oerol de perspectieven.
K a n t e l e n d e  perspectieven
Oerol laat dit jaar de vergezichten, de perspectieven van de makers, en ook hun zorgen en hoop voor de toekomst zien. Een wereld waarin je wordt uitgedaagd je eigen inzichten tegen het licht te houden. Een tijdelijke samenleving waarin iedere deelnemer telt en de verwondering centraal staat.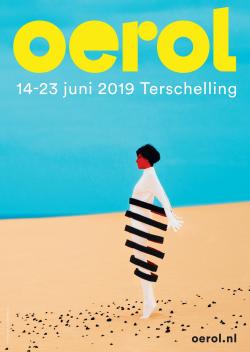 Naast een sterk vernieuwend aanbod van Theater, Pop-up performances en Expedities, is er muziek uit alle werelddelen te beluisteren.
Nieuw dit jaar zijn onder andere de Secret Garden Sessions. Deze concertreeks met neo-klassieke muziek van Nederlandse en buitenlandse artiesten vindt plaats in de idyllische omgeving van Zelfpluktuin Groenhof.
Het geheel van Oerol Talks biedt ruimte voor reflectie voor zowel makers als bezoekers. Ook de kunstvorm spoken-word krijgt een eigen plek in verschillende onderdelen van de programmering.
Oerol 2019 – 14 t/m 23 juni
Oerol is een vrijstaat voor makers en publiek. Al meer dan 37 jaar biedt het festival ruimte voor talentontwikkeling, experiment en dialoog.
# meer informatie op website oerol
• fleursdumal.nl magazine
More in: Art & Literature News, AUDIO, CINEMA, RADIO & TV, DANCE, MUSIC, Natural history, Oerol, STREET POETRY, THEATRE
---
Na de succesvolle tweede editie van The Stage op het Tilt festival 2019, organiseert Onias Landveld, stadsdichter van Tilburg, de laatste Stage van het seizoen.
The Stage is een podium waar verschillende literaire en muzikale artiesten met diverse achtergronden het publiek ontmoeten. Voor de laatste editie is dit keer de tuin van de Nieuwe Vorst het podium. Op 14 Juni om 20.00 uur vindt daar "Zoete Zomer" plaats.
Geheel naar het concept van The Stage zijn er vijf verschillende literaire performances en één muzikale act. Dit keer zal het podium o.a. verwarmd worden met de tonen van funk soul band EME uit België. Op het "warmste" podium van Tilburg staan als literaire/Spoken Word acts ook:
Elten Kiene (Rotterdam)
Elten Kiene is spoken word-artiest, presentator, organisator, rapper en workshopdocent. Hij is medeoprichter en -organisator van het platform Woorden Worden Zinnen (opgericht in 2010) en was onderdeel van het hiphopcollectief Brandwerk. Als spoken word-artiest heeft Elten vele podia betreden, onder andere bij Paginagroots, Mensen Zeggen Dingen en Late Night Poetry Jam.
M. (Rotterdam)
Deze Rotterdammer ziet en vertaald de schoonheid van het hedendaagse. Vertellend over een krantenwijk alsof het een ambacht is of over een blik in iemands ogen alsof we ooit allemaal op die manier uit onze ogen hebben gekeken. M. acteert niet. Hij is op zoek naar het wezenlijke. Zijn poëzie is authentiek.
Samira Saleh ( Antwerpen)
Samira heeft een manier gevonden om haar gevoelens te vertalen naar Spoken Word. Niet alleen haar serieuze teksten bevatten een stevige inhoud, ook haar humoristische teksten geven een diepe boodschap mee voor de goede luisteraar. Ze was deel van het winnende Team Zuid in het Slam 't Stad slam Poetry toernooi in Antwerpen en heeft voor verschillende projecten opgetreden over heel België. Zij is winnares van de Bill Award in de categorie spreken en ze was medeorganisator van Mama's Open mic in Antwerpen. This revolution will not be televised. It will be heard.
Seckou Ouologuem Winnaar Van Dale Spoken Awards 2015 (Antwerpen)
Seckou Ouologuem is een pionier binnen de Vlaamse slam Poetry scene. Hij stond al op verschillende poëzie- en toneelpodia in bijna alle continenten. In 2009 won hij de Kifkif Awards en in 2015 Spoken Van Dale in de categorie lyrics. Naast het geven en organiseren van lezingen, geeft Seckou ook lessen slam, rap en expressie aan (muziek)scholen, universiteiten en gevangenissen.
Karlijn Vlaardingerbroek (Tilburg)
Karlijn (29) is dichter en kunstdocent. Ze schrijft teksten en liedjes over grote en kleine dingen in het leven. Ze maakt het alledaagse bijzonder en benadert serieuze thema's op een luchtige en speelse manier. Als voormalig lid van de Poetry Circle 013 heeft ze meermalen op verschillende podia in Nederland gestaan. Naast haar voorliefde voor schrijven en performen is zij een drijvende kracht in de organisatie van het Tilburgs Literair podium Woordenaars.
EME (Antwerpen)
Emeraude Kabeya, geboren in Kinshasa, Congo begon op de middelbare school te experimenteren met coverbands en nam deel aan enkele hiphopprojecten. In 2014 werd ze gevraagd om te zingen in een All Star-bluesproject, georganiseerd door de in Leuven gevestigde Radio Scorpio. Dat is waar ze contact maakte met de muzikanten die later haar band werden. Haar lyriek in combinatie met haar geweldige soulstem, die zowel zacht als krachtig klinkt, sloegen bij de 6 andere muzikanten in als een bom. EME brengt "Soul 'n' B": een mix van soul en R & B met een funky smaak en een vleugje rock. Live neemt de band de taak op zich om mensen te laten dansen, van headbangen tot slijpen. In 2015 won EME de publieksprijs van Rockvonk en in hetzelfde jaar haalden ze de shortlist van 'De Nieuwe Lichting' van Studio Brussel. De laatste beschreef haar geluid als pakkend, funky en sensueel.
Onias Landveld, stadsdichter van Tilburg, organiseert 'Zoete Zomer', de 3e editie van The Stage
De Nieuwe Vorst
Willem II-straat 49
5038 BD Tilburg
Kaarten & info
013 – 532 85 20
info@denieuwevorst.nl
# meer informatie op website de nieuwe vorst
• fleursdumal.nl magazine
More in: Archive K-L, Art & Literature News, City Poets / Stadsdichters, Landveld, Onias, Literary Events, MUSIC, STREET POETRY, THEATRE
---
Older Entries »
Thank you for reading FLEURSDUMAL.NL - magazine for art & literature