MUSEUM OF LOST CONCEPTS – invisible poetry, conceptual writing, spurensicherung
·
William S. Burroughs: "The Revised Boy Scout Manual". An Electronic Revolution
·
Bettina Röhl: "Die RAF hat euch lieb". Die Bundesrepublik im Rausch von 68 – Eine Familie im Zentrum der Bewegung
·
Everything Has Already Been Written: Moscow Conceptualist Poetry and Performance by Gerald Janecek
·
Old Angel Midnight by Jack Kerouac
·
Dražen Grubiic & Olinka Vitica: Das Museum der zerbrochenen Beziehungen
·
Expositie Christian Boltanski in de Oude Kerk Amsterdam
·
PHILIP GLASS tijdens Amsterdam Dance Event naar Melkweg op 22 en 23 oktober
·
Fiona TAN in Museum Depont Tilburg: Ascent
·
Museum Dr. GUISLAIN: Een andere wereld. Laboratorium van waan en fantasie
·
TOM AMERICA: THAT TINY PEA (pretty and blue)
·
JAN FABRE: TRIBUTE TOT HIERONYMUS BOSCH IN CONGO
·
IN ALMOST EVERY PICTURE #7 – UPDATED – PHOTOS RIA VAN DIJK
Before the era of fake news and anti-fascists, William S. Burroughs wrote about preparing for revolution and confronting institutionalized power.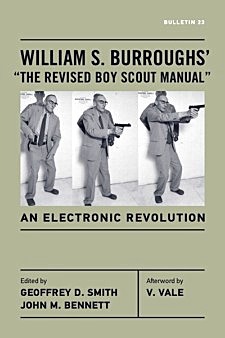 In this work, Burroughs' parody becomes a set of rationales and instructions for destabilizing the state and overthrowing an oppressive and corrupt government. As with much of Burroughs' work, it is hard to say if it is serious or purely satire. The work is funny, horrifying, and eerily prescient, especially concerning the use of language and social media to undermine institutions.
The Revised Boy Scout Manual was a work Burroughs revisited many times, but which has never before been published in its complete form.
Based primarily on recordings of a performance of the complete piece found in the archives at the OSU libraries, as well as various incomplete versions of the typescript found at Arizona State University and the New York Public Library archives, this lost masterpiece of satiric subversion is finally available in its entirety.
"He's up there with the pope . . . you can't revere him enough . . . he's the greatest mind of our times." — Patti Smith
"Well, he's a writer." —Samuel Beckett
"The Revised Boy Scout Manual offers easy-to-read proof that the uncensored human imagination allowed to freely extrapolate about future social change can offer outrageous scenarios and fresh language capable of inspiring readers decades into the future." —V. Vale, founder and publisher of RE/Search
The Revised Boy Scout Manual
An Electronic Revolution
by William S. Burroughs
Edited by John M. Bennett, Geoffrey D. Smith
Publisher Ohio State University Press
Language: English
Format Paperback
Nb of pages: 144
ISBN-10 0814254896
ISBN-13 9780814254899
Publication 01 September 2018
$12.65
# new books
William S. Burroughs
The Revised Boy Scout Manual
fleursdumal.nl magazine
More in: #Beat Generation Archives, - Book News, Archive A-B, Art & Literature News, AUDIO, CINEMA, RADIO & TV, Burroughs, William S., Conceptual writing, Samuel Beckett, Smith, Patti
---
Bettina Röhl über ihre letzten gemeinsamen Jahre mit ihrer Mutter Ulrike Meinhof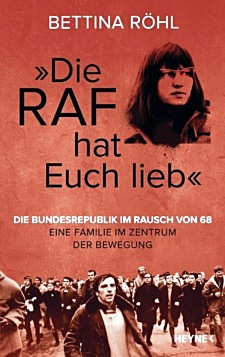 Brauchte die Bundesrepublik die Revolte von 68? Ist 68 gar das Jahr einer "Neugründung" der heutigen Bundesrepublik? Die APO-Bewegung – und ihre "Speerspitze", die RAF – ist das wohl meist beschriebene Thema der neueren politischen Geschichte des Landes. Mit bisher unbekannten Fakten und den Stimmen neuer Zeitzeugen unterlegt, liefert Bettina Röhl, die als Kind die Gründung der RAF hautnah miterlebte, eine spannende Analyse und erzählt die scheinbar bekannte Geschichte neu. Bei ihren Recherchen fand Bettina Röhl zahlreiche bisher unveröffentlichte Briefe, Dokumente und Fotos, die den Leser die damalige Zeit hautnah miterleben und nachvollziehen lassen.
Bettina Röhl wurde 1962 in Hamburg geboren, wo sie 1982 Abitur machte. 1986 begann sie neben ihrem Studium der Geschichte und Germanistik ihr Volontariat bei der Zeitschrift TEMPO. Sie arbeitete für Spiegel TV, Welt online, Cicero, Wirtschaftswoche und viele andere Medien und veröffentlichte zahlreiche Buchbeiträge. 2001 wurde sie mit ihren Veröffentlichungen zu Joschka Fischers Gewaltvergangenheit in stern und BILD bekannt. Nach "So macht Kommunismus Spaß" ist "Die RAF hat euch lieb" ihr zweites historisch-biographisches Buch über die linke Geschichte der Bundesrepublik.
Bettina Röhl
"Die RAF hat euch lieb"
Die Bundesrepublik im Rausch von 68
Eine Familie im Zentrum der Bewegung
Gebundenes Buch mit Schutzumschlag,
640 Seiten,
13,5 x 21,5 cm mit 16 S. Bildteil
ISBN: 978-3-453-20150-7
€ 24,00
Verlag: Heyne Verlag
Erschienen: 10.04.2018
Sprache: Deutsch
new books
fleursdumal.nl magazine
More in: - Book News, - Book Stories, Archive Q-R, Art & Literature News, BIOGRAPHY, Galerie Deutschland, Protests of MAY 1968, Spurensicherung
---
In this book, Gerald Janecek provides a comprehensive account of Moscow Conceptualist poetry and performance, arguably the most important development in the arts of the late Soviet period and yet one underappreciated in the West.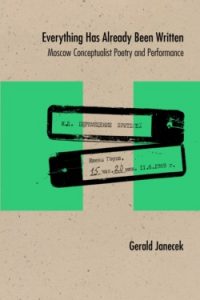 Such innovative poets as Vsevolod Nekrasov, Lev Rubinstein, and Dmitry Prigov are among the most prominent literary figures of Russia in the 1980s and 1990s, yet they are virtually unknown outside Russia. The same is true of the numerous active Russian performance art groups, especially the pioneering Collective Actions group, led by the brilliantly inventive Andrey Monastyrsky.
Everything Has Already Been Written strives to make Moscow Conceptualism more accessible, to break the language barrier and to foster understanding among an international readership by thoroughly discussing a broad range of specific works and theories. Janecek's study is the first comprehensive analysis of Moscow Conceptualist poetry and theory, vital for an understanding of Russian culture in the post-Conceptualist era.
Gerald Janecek is professor emeritus of Russian and Eastern Studies at the University of Kentucky. He is the author of The Look of Russian Literature: Avant-Garde Visual Experiments, 1900-1930; ZAUM: The Transrational Poetry of Russian Futurism; and Sight and Sound Entwined: Studies of the New Russian Poetry.
Gerald Janecek (Author)
Everything Has Already Been Written
Moscow Conceptualist Poetry and Performance
Paper Text – $39.95
ISBN 978-0-8101-3901-5
Cloth Text – $120.00
ISBN 978-0-8101-3902-2
Publication Date: December 2018
Series: Studies in Russian Literature and Theory
Literature & Criticism
Russia Drama & Performance Studies
Page Count 312 pages
Northwestern University Press
new books
fleursdumal.nl magazine
More in: #More Poetry Archives, - Book News, - Bookstores, Archive I-J, Art & Literature News, Conceptual writing, EXPERIMENTAL POETRY, Performing arts, Visual & Concrete Poetry
---
Old Angel Midnight is a treasure trove of Kerouac's experiments with automatic writing, a method he practiced constantly to sharpen his imaginative reflexes.
Recorded in a series of notebooks between 1956-1959, what Kerouac called his "endless automatic writing piece" began while he shared a cabin with poet Gary Snyder.
Kerouac tried to emulate Snyder's daily Buddhist meditation discipline, using the technique of "letting go" to free his mind for pure spontaneous writing, annotating the stream of words flowing through his consciousness in response to auditory stimuli and his own mental images.
Kerouac continued his exercise in spontaneous composition over the next three years, including a period spent with William Burroughs in Tangiers. He made no revisions to the automatic writing entries in his notebooks, which were collected and transcribed for publication as originally written.
Old Angel Midnight attests to the success of Kerouac's experiment and bears witness to his commitment to his craft, and to the pleasure he takes in writing: "I like the bliss of mind."
"Kerouac's ambition to capture the living moment (crucially for him, recapitulating memory) developed poetic form in 1954 with his collection San Francisco Blues, and it reached greater fulfilment with the sixty-seven free-association passages of Old Angel Midnight. This new edition from City Light Books adds one more, found among Kerouac's papers by John Sampas, concluding 'Eyes of Ray Charles see Me here realize O Holy.' Mostly written during April 1956 when Kerouac shared a shack with Gary Snyder in rural Mill Valley, outside San Francisco, Old Angel Midnight was likely facilitated by the 'letting go' technique he observed from Snyder's Buddhist meditation." – Jules Smith – The Times Literary Supplement
"Tried to warn all of you, essence of stuff wont do
— God why did you make the world?
Answer: –Because I gwt pokla renamash ta va in
ming the atss are you forever with it?
I like the bliss of mind.
Awright I'll call up all the fuckin Gods, right now!
Parya! Arrive! Ya damn hogfuckin lick lip twillerin
fishmonger! Kiss my purple royal ass baboon! Poota!
Whore! You and yr retinues of chariots & fucks! Devadatta!
Angel of Mercy! Prick! Lover! Mush! Run on
ya dog eared kiss willying nilly Dexter Michigan ass—
warlerin ratpole! The rat in my cellar's an old canuck who
wasnt fooled by rebirth but b God gotta admit I was born for
the same reason I bring this glass to my lip — ?
Rut! Old God whore, the key to ecstasy is forevermore
furthermore blind! Potanyaka! God of Mercy!"
Excerpt from 'Old Angel Midnight' by Jack Kerouac
Old Angel Midnight
Jack Kerouac
Preface by Ann Charters, Michael McClure
Collection City Lights/Grey Fox
Publisher City Lights Publishers
Paperback, $13.95
Pages 94
Publication 2016
ISBN-10 087286703X
ISBN-13 9780872867031
fleursdumal.nl magazine
More in: - Book Lovers, - Book Stories, Archive K-L, Art & Literature News, Automatic writing, Kerouac, Jack, Opium-Eaters
---
Das Museum der zerbrochenen Beziehungen: Was von der Liebe übrig bleibt – Geschichten und Bilder.
Olinka und Dražen waren mal ein Paar. Irgendwann waren sie es aber nicht mehr. Zum Liebeskummer gesellte sich bei ihnen eine unangenehme Frage: Wer kriegt was?
Es gab Sachen, die eine Art Souvenir ihrer Beziehung waren, und da wurde es schwierig. Man will ja nichts im Regal haben, das einen jeden Tag an das Scheitern erinnert. Wegschmeißen? Geht nicht. Behalten? Würde das nicht immer wieder wehtun?
Die beiden fanden eine Lösung: Sie machten ein Museum auf.
Das Museum of Broken Relationships in Zagreb ist inzwischen weltbekannt. Mittlerweile zeigt es auch in einer Wanderausstellung rund um den Globus und einer Filiale in Los Angeles Relikte vergangenen Glücks und erzählt die dazugehörigen Geschichten.
Unter den Exponaten sind keine getrockneten Rosen, kaum Briefe. Kein Ring. Was von einer Beziehung übrig Draen Grubiic, Olinka Vitica blieb, ist beispielsweise ein türkisblauer Aschenbecher voller Zigarettenstummel.
Dazu schreibt die Person aus Köln, die ihn abgegeben hat: «Häufig wurde ich nachts wach und er lag nicht neben mir. Mein Ex-Freund fand oft keinen Schlaf, saß er stundenlang im Dunkeln auf dem Balkon, hörte Musik und rauchte. Nach unserer Trennung habe ich es nie geschafft, den Aschenbecher ein letztes Mal zu leeren, geschweige denn, ihn vom Balkon zu verbannen. Ich rauche nicht.» Die Geschichten zu den Exponaten liest man mit dem Gefühl, heimlich in fremden Tagebüchern zu blättern, doch man spürt, wie sich Neugier in Mitgefühl verwandelt. – Ein Geschenkbuch und Coffee-Table-Book der nie dagewesenen Art, mit vierfarbigen Fotos und ganz viel Herz.
Olinka Vištica und Dražen Grubišić, beide geboren im Jahr 1972, sind heute mit neuen Partnern glücklich. Vištica ist Unternehmerin. Sie hat eine eigene Produktionsfirma für Dokumentar- und Animationsfilme. Grubišić ist Grafiker und Produktionsdesigner.
Olinka Vištica, Dražen Grubišic:
Das Museum der zerbrochenen Beziehungen
Was von der Liebe übrig bleibt –
Geschichten und Bilder
Verlag: Rowohlt
Erscheinungstermin: 24.01.2018
128 Seiten
ISBN: 978-3-498-07068-7
Aus dem Englischen von Marcus Gärtner
Die Originalausgabe erschien 2017 unter dem Titel
«The Museum of Broken Relationships» bei
Grand Central Publ. Book/Hachette Book Group Inc., New York.
Deutsche Erstausgabe
1. Auflage Februar 2018
Copyright © 2018 by Rowohlt Verlag GmbH,
Reinbek bei Hamburg
Copyright © 2017 by Olinka Vištica & Dražen Grubišicc
Innengestaltung Daniel Sauthoff
Satz Abril OTF (InDesign) im Verlag und bei
Pinkuin Satz und Datentechnik, Berlin
Lithografie Cleeves Reprotechnik, Hamburg
Druck und Bindung CPI books GmbH, Leck, Germany
Hardcover €15,00
new books
fleursdumal.nl magazine
More in: - Book News, - Book Stories, - Objets Trouvés (Ready-Mades), Archive G-H, Archive U-V, Exhibition Archive, FDM Art Gallery, Spurensicherung
---
Christian Boltanski creëert een nieuwe compositie in de Oude Kerk. Boltanski plaatst verschillende monumentale installaties om te speculeren over de vraag wat er gebeurt nadat ons leven ten einde is gekomen (NA).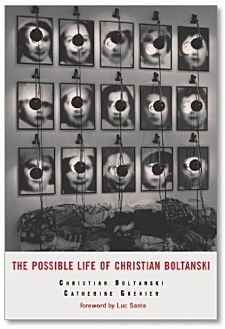 Op de zerkenvloer ontwierp de kunstenaar een landschap van tombes die vanaf de graven verrijzen. Dit werk creëert een nieuw perspectief en maakt een architectonische laag zichtbaar die onze aandacht op onze voorgangers vestigt. Zelf kun je ook bijdragen aan de tentoonstelling.

In een eigentijdse biechtstoel fluister je een aantal namen van mensen die in de Oude Kerk begraven liggen. Een opname van het gefluister wordt in de weken die volgen afgespeeld in het koor. Na verloop van tijd vormt al het gefluister bij elkaar een uitgebreid muzikaal panorama dat blijft bestaan als een immateriëel onderdeel van de Oude Kerk.

Boltanski is van mening dat zijn werk herhaalbaar is en, net als muzikale composities, keer op keer kan worden uitgevoerd, ook wanneer de componist er niet meer is.
Gefascineerd door collectieve herinneringen, vergankelijkheid en het verstrijken van tijd, ontwikkelde Christian Boltanski (Parijs, 1944) een indrukwekkend oeuvre van sculpturen, films en installaties die deze onderwerpen direct of indirect aan de orde stellen.
NA – Christian Boltanski
Curator: Jacqueline Grandjean
24 november 2017 t/m 29 april 2018
Oude kerk, Oudekerksplein (wallen), Amsterdam
Prijs: 10 euro (museumkaart, vrienden van de oude kerk, icom card, I Amsterdam city card, stadspas vrij entree)
Openingstijden: dagelijks 10 – 18 uur m.u.v. zondag 13 – 17:30 uur
Oude Kerk
Oudekerksplein 23
Amsterdam
020 625 8284
#  Meer  info  op  website  oude  kerk  amsterdam
art exposition
fleursdumal.nl magazine
More in: Art & Literature News, Exhibition Archive, FDM Art Gallery, Spurensicherung
---
De Amerikaan Philip Glass kan zonder twijfel worden gerekend tot de belangrijkste componisten van de laatste vijftig jaar.
Al enkele jaren is hij een graag geziene gast hier in Melkweg. Het is namelijk alweer de vijfde keer sinds 2011. Dit jaar komt de componist wederom naar Amsterdam met zijn eigen Days And Nights Festival programma. Een festival dat is ontstaan in het Philip Glass Center for the Arts, Science, and the Environment en draait om culturele vernieuwing.
In het kader van Amsterdam Dance Event voert hij op zondag 22 oktober drie van zijn pianowerken uit. Vergezeld door Maki Namekawa en Dennis Russell Davies zijn dit 'Mad Rush' (1980), 'Four Movements For Two Pianos' (2008) en 'The Suite from Les Enfants Terribles' (1996).
Daarnaast presenteren het Amstel Saxophone Quartet & DJ/producer Kypski 'Glass On The Roof' ter gelegenheid van de 80e verjaardag van de componist. 'Glass on the Roof' bestaat uit drie werken waarbij de turntablist Kypski en het Quartet hun gezamenlijke sound aftasten en ontdekken.
zondag, 22 oktober 2017 – 20:00
Melkweg Rabozaal, Amsterdam
Philip Glass – Music For Piano
Amsterdam Dance Event – Days and Nights Festival
Philip Glass / Maki Namekawa / Dennis Russell Davies / Kypski & Amstel Quartet
De reeds 80-jarige pionier Philip Glass komt terug naar Amsterdam Dance Event met zijn Days And Nights Festival programma. Daarnaast presenteren het Amstel Saxophone Quartet & DJ/producer Kypski 'Glass On The Roof' ter gelegenheid van de 80e verjaardag van de componist. Glass, vergezeld door Maki Namekawa en Dennis Russell Davies, voert hij drie van zijn pianowerken uit, namelijk 'Mad Rush' (1980), 'Four Movements For Two Pianos' (2008) en 'The Suite from Les Enfants Terribles' (1996). 'Glass on the Roof' bestaat uit drie werken waarbij de turntablist Kypski en het Quartet hun gezamenlijke sound aftasten en ontdekken. Dit belooft een zeer speciale avond te worden!
Maandag 23 oktober staat weer in het teken van Philip Glass & Friends met dit jaar het Alma Kwartet, cellist Matt Haimowitz, pianist Maki Namekawa en meer als special guests. Met een avond vol verrassingen zullen zij deze ongetwijfeld naar een buitengewoon muzikaal hoogtepunt stuwen.
Philip Glass & Friends
Days and Nights Festival
maandag, 19:30
Melkweg Rabozaal, Amsterdam
Philip Glass / Special Guest: Maki Namekawa / Matt Haimovitz / Alma Quartet / The Photographer Ensemble
​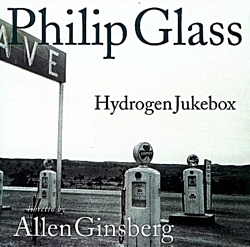 Zonder enige twijfel kan Philip Glass tot de belangrijkste componisten van de laatste vijftig jaar worden gerekend. Hij is hier een graag geziene gast en zal deze avond diverse bevriende muzikanten uitnodigen, zoals het Alma Kwartet, cellist Matt Haimowitz, pianist Maki Namekawa, The Photographer Ensemble en meer. Zij zullen deze avond ongetwijfeld naar een buitengewoon muzikaal hoogtepunt stuwen.
Glass wordt vaak de "Godfather of Minimal Music" genoemd – een naam waar hij inmiddels afstand van heeft genomen – zijn productie is dat allerminst. Zijn revolutionaire stijl vol meedogenloze herhalingen en complexe ritmes heeft overal een stempel op gedrukt, van klassiek via pop tot dance.
Melkweg
Lijnbaansgracht 234a
1017 PH Amsterdam
Telefoon: 020-5318181
E-mail: info@melkweg.nl
   # Meer info op website Melkweg

Philip Glass tijdens Amsterdam Dance Event weer naar Melkweg op 22 en 23 oktober 2017
fleursdumal.nl magazine
More in: Art & Literature News, AUDIO, CINEMA, RADIO & TV, MUSEUM OF LOST CONCEPTS - invisible poetry, conceptual writing, spurensicherung, Philip Glass
---
De internationaal bekroonde kunstenaar Fiona Tan (Indonesia, 1966) is een goede bekende van museum De Pont, waar ze in 2003 haar eerste grote tentoonstelling in Nederland kreeg en ook ruim vertegenwoordigd is in de collectie.
Haar tweede tentoonstelling in Tilburg, in de onlangs geopende nieuwe vleugel van het museum, biedt de bezoeker een meeslepende audiovisuele ervaring. Hier is de tweedelige installatie Ascent te zien die Tan maakte in opdracht van het Izu Photo Museum in Shizuoka, Japan. Ascent is samengesteld als een montage van meer dan 4000 foto's van de berg Fuji die werden aangeleverd door het publiek of geselecteerd uit de collectie van het Izu Photo Museum.
Geen berg is zo vaak gefotografeerd als de Fuji: van alle kanten, van dichtbij, van veraf en van boven, op elk moment van de dag en in elk jaargetijde. Vereerd als een god en ingezet als symbool van Japan als natiestaat heeft de vulkaan mythische betekenis. Mount Fuji is icoon én cliché, zoiets als molens en klompen voor Nederland.
Ascent is een bespiegeling over deze voor de Japanners zo bijzondere berg, maar ook een studie van de beeldcultuur en een eerbetoon aan de geschiedenis van zowel fotografie als film.
Tan combineerde de beelden met een fictief verhaal, waarmee de grens tussen stilstaand en bewegend beeld wordt verlegd en zij een uniek gebied blootlegt waar fotografie en film elkaar ontmoeten en een verbinding aangaan. Het verhaal, waarin de klim naar de top van de berg weerklinkt, zigzagt tussen vertelling en geschiedenis, van westers imperialisme tot hedendaags toerisme, van de beginjaren van de fotografie tot de huidige tijd. Behalve de film omvat de tentoonstelling in De Pont ook twee andere video installaties en daarmee verbonden werken op papier. The Changeling (2006) en Depot (2015) balanceren eveneens op de grens tussen stilstaande en bewegende beelden.
Fiona Tan:
Ascent
tot en met 11 juni 2017
Museum De Pont Tilburg
Wilhelminapark 1
5041 EA Tilburg
T 013 – 543 8300
# Meer informatie op website Museum De Pont Tilburg
february 2017
fleursdumal.nl magazine
More in: Art & Literature News, AUDIO, CINEMA, RADIO & TV, DICTIONARY OF IDEAS, Exhibition Archive, FDM Art Gallery, Photography, Spurensicherung
---
Waar ligt de grens tussen fantasie en werkelijkheid? Hoe onderscheid je droom van delirium, waan van wens, hallucinatie van inzicht? Op welke manier kan je onderzoeken of verbeelden wat zich ergens anders afspeelt? De tentoonstelling neemt, vertrekkend van de vele vragen rond psychose, hallucinatie en waan, twee eeuwen in ogenschouw. Niet om een historisch verhaal te vertellen, maar om uit die periode vijf eigenzinnige oeuvres te lichten die balanceren tussen kunst, kunde en wetenschap. J.J. Grandville, Gustav Mesmer, Gerard Heymans, Jean Perdrizet en Mathew Kneebone schiepen of brachten elk een ander universum in kaart en trachtten zo het ongrijpbare op hun eigen manier te vatten. Het zijn werelden waarin potloden wandelen, fietsen zweven, de afstand tussen twee evenwijdige lijnen variabel is, typemachines in contact staan met de overledenen en straatlichten stoppen met schijnen wanneer je er voorbijwandelt. Een andere wereld creëert passages: van deze naar de andere, tussen die andere onderling, en – misschien – ook van die andere terug naar deze wereld.
Een andere wereld
Laboratorium van waan en fantasie
22.10.16 – 28.05.17
Museum Dr. Guislain
Jozef Guislainstraat 43
B-9000 Gent
+32 (0)9 216 35 95
info@museumdrguislain.be
# meer informatie op website Museum Dr. Guislain
fleursdumal.nl magazine
More in: Art & Literature News, DICTIONARY OF IDEAS, Exhibition Archive, Psychiatric hospitals, Spurensicherung
---
It was 47 years ago on July 16, 1969, that the Apollo 11 Mission to the moon with a Saturn-V rocket was launched. The astronauts Buzz Aldrin, Michael Collins and Neil Armstrong, the commander of this expedition, were those onboard. On July 24, eight days later, they landed safely in the Pacific. NASA chose Armstrong to be the first person on the moon, in part, because they believed Armstrong was a man lacking a large ego. Although he was actually a test pilot and a man of few words, he beautifully articulated several phrases regarding his experience on viewing planet Earth from the moon; some of which still impress today.
Given the current Zeitgeist, I consider his words crucial, while simultanuously retaining a poetic quality. To amplify this aspect of deep insight, as well as the emotions it invokes, I translated these words into French. The text is recited by Aurélie Camil. This work became the core of the musical composition, "That tiny pea". Visual Artist Paul Bogaers added film images to the clip at a later stage.
"It suddenly struck me that that tiny pea, pretty and blue,
was the Earth. I put up my thumb and shut one eye,
and my thumb blotted out the planet Earth.
I didn't feel like a giant.
I felt very, very small."
– Neil Armstrong –
https://www.youtube.com/watch?v=0n38Jks9v04
Tom America: NeilAmstrong and Apollo 11
fleursdumal.nl magazine

More in: Art & Literature News, DICTIONARY OF IDEAS, Spurensicherung, Tom America
---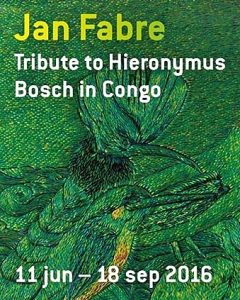 Tribute to Hieronymus Bosch in Congo
Jan Fabre
Nog te zien t/m 18 september 2016
De wereldberoemde Belgische kunstenaar Jan Fabre (Antwerpen, 1958) maakte tussen 2011 en 2013 een serie monumentale 'mozaïekpanelen' onder de titel 'Tribute to Hieronymus Bosch in Congo'.
De serie maakt deel uit van zijn kritische reflecties over het koloniale verleden van België, een thema dat sinds 2002 veelvuldig voorkomt in het werk van Fabre.
Beeldtaal Jheronimus Bosch: Tribute to Hieronymus Bosch in Congo is een symbolische verbeelding van de wreedheden en de absurditeit die Congo heeft ondergaan, gebruik makend van de beeldtaal uit de schilderijen van Jheronimus Bosch. Het beeld van elk mozaïekpaneel wordt gevormd door het toepassen van natuurlijk geruid iriserende prachtkever dekschilden . Het geeft ze een mysterieuze, onwerkelijks uitstraling, letterlijk en figuurlijk.
De werken van Jan Fabre maken duidelijk dat de beeldtaal van Jheronimus Bosch niets aan relevantie heeft verloren in de 500 jaar sinds zijn overlijden. Met de huidige generatie kunstenaars krijgt de beeldtaal van Bosch weer een nieuw publiek en een andere stem. Tegelijkertijd zijn deze werken van Fabre, met hun grote formaat en uniek materiaalgebruik, totaal anders dan het werk van Bosch zelf.
Bosch Grand Tour: Deze tentoonstelling maakt onderdeel uit van Bosch Grand Tour. Zeven vooraanstaande Brabantse musea presenteren in 2016 een hedendaags tentoonstellingsprogramma rondom Jheronimus Bosch. Laat u inspireren en verrassen tijdens een ontdekkingstocht langs actuele kunst, design en cultuur in 's-Hertogenbosch, Breda, Eindhoven en Tilburg.
Het Noordbrabants Museum
Verwersstraat 41
's-Hertogenbosch
# meer info website Noordbrabants Museum
fleursdumal.nl magazine
More in: Art & Literature News, Exhibition Archive, Jheronimus Bosch, Spurensicherung
---
Collected & edited
by Erik Kessels
and Joep Eijkens
Thanks to Ria van Dijk
For 80 years Ria has been bang on target. To mark this impressive milestone 'in almost every picture #7' is being re-released this year in the form of a special anniversary edition with eight new shots and an exhibition in Tilburg.
Ria van Dijk shot her first photo at the Tilburg fair in 1936 when she was 16 years old. It started at in Ria's hometown of Tilburg, but throughout the years she followed the fair from town to town. It became a tradition and Ria continued shooting (guns and photos) year after year. And the bullseye is that Ria kept every single photo as if they were her trophies.
In 2008 Erik Kessels and Joep Eijkens collected Ria's photographs in the book 'in almost every picture #7'. In 2016 Ria returns to the fair, she will shoot on July 22nd her 80th photo at the opening of the Tilburgse Kermis. For the occasion, KesselsKramer and City Marketing Tilburg publish this celebratory updated edition of In almost every picture #7.
Colour / black & white,
155 x 200 mm, 136 pages,
soft cover.
ISBN 978-90-704784-5-2
KesselsKramer Publishing,  24,95 Euro

# Website KesselsKramer Publishing
# Website Brabants Licht met foto's en artikel van Joep Eijkens
fleursdumal.nl magazine
More in: - Objets Trouvés (Ready-Mades), Art & Literature News, Joep Eijkens, Joep Eijkens Photos, Photography, PRESS & PUBLISHING, Spurensicherung
---
Older Entries »
Thank you for reading FLEURSDUMAL.NL - magazine for art & literature