EXPERIMENTAL POETRY
·
Avant-garde in Groningen. De Ploeg 1918-1928
·
James Joyce: The Twilight Turns
·
Everything Has Already Been Written: Moscow Conceptualist Poetry and Performance by Gerald Janecek
·
Them. A Memoir of Parents by Francine Du Plessix Gray
·
Mijnheer Cros: Charles Cros
·
Hugo Ball: Die Ersten
·
Johannes Theodor Baargeld: Typische Vertikalklitterung als Darstellung des Dada Baargeld
·
Guillaume Apollinaire: La Chanson Du Malaime
·
Guillaume Apollinaire: La Dame
·
James Joyce: Lean Out of the Window
·
Hugo Ball: Bagatelle
·
Michelle Witen: James Joyce and Absolute Music
In deze grote overzichtstentoonstelling maken we kennis met het spannende culturele klimaat in Groningen aan het begin van de 20ste eeuw: de periode waarbinnen De Ploeg is ontstaan.

Het museum laat ruim honderd werken zien, waaronder schilderijen, tekeningen, drukwerk en grafiek van Ploegleden zoals Jan Wiegers, Johan Dijkstra en Jan Altink. In contrast met werk van coryfeeën zoals Jozef Israëls, H.W. Mesdag, Otto Eerelman en tijdgenoten. Het toont hoe de 'jonge wilden' zich losmaakten van de toenmalige gevestigde orde. Daarnaast is er aandacht voor het werk van Ernst Ludwig Kirchner en Vincent van Gogh, die beiden van groot belang zijn geweest voor de schilderkunstige ontwikkeling binnen De Ploeg.
Avant-garde in Groningen. De Ploeg 1918-1928
100 jaar De Ploeg
Nog t/m 04 november 2018
Groninger museum, Museumeiland 1, 9711 ME Groningen
http://www.groningermuseum.nl
Het ontstaan van De Ploeg in 1918
Kunstkring De Ploeg ontstond in juni 1918 als reactie op de "Tentoonstelling van werk van Groningsche Kunstenaars" in het Kunstlievend Genootschap Pictura. Hierbij was een groot aantal jonge kunstenaars niet uitgenodigd. Voor schilders zoals Jan Wiegers, Jan Altink en Johan Dijkstra was het duidelijk dat de negentiende-eeuwse schilderkunstige idealen afgeschud moesten worden. Zij zochten aansluiting bij meer contemporaine ontwikkelingen in de beeldende kunst. Het toeval zou hen daarbij een handje helpen. Jan Wiegers die gedurende een gezondheidskuur in Davos (1920-1921) in Zwitserland bevriend was geraakt met Ernst Ludwig Kirchner, introduceerde in Groningen een schilderkunst, die verwant is aan het Duitse expressionisme.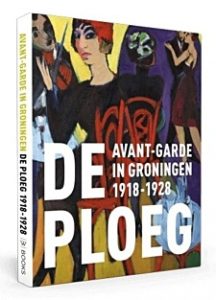 Publicatie bij de tentoonstelling
Bij de tentoonstelling is het boek Avant- garde in Groningen. De Ploeg 1918-1928 verschenen, waarin niet alleen het ontstaan maar ook de voorgeschiedenis van De Ploeg aan bod komt.
De publicatie komt tot stand vanuit een samenwerking van het Groninger Museum met de Stichting 100 jaar De Ploeg en WBOOKS. Het boek verscheen tijdens de Boekenweek in maart 2018.
Avant-garde in Groningen- De Ploeg 1918-1928
Auteurs: Anneke de Vries, Doeke Sijens, Egge Knol, Han Steenbruggen, Henk van Os, Jikke van der Spek, Kees van der Ploeg, Mariëtta Jansen, Mieke van der Wal, Peter Vroege
€ 29,95
ISBN 9789462582484
Aantal pagina's 272
Illustraties ca 350 afbeeldingen
Formaat 24,5 x 31 cm
Uitvoering Gebonden
Taal Nederlands
2018
Uitg. W-Books
In samenwerking met Groninger Museum & Stichting 100 jaar De Ploeg
new books
fleursdumal.nl magazine
More in: - Book News, - Book Stories, Archive U-V, Art & Literature News, De Ploeg, Hendrik Nicolaas Werkman, Werkman, Hendrik Nicolaas
---
The Twilight Turns
The twilight turns from amethyst
To deep and deeper blue,
The lamp fills with a pale green glow
The trees of the avenue.
The old piano plays an air,
Sedate and slow and gay;
She bends upon the yellow keys,
Her head inclines this way.
Shy thought and grave wide eyes and hands
That wander as they list — –
The twilight turns to darker blue
With lights of amethyst.
James Joyce
(1882-1941)
The Twilight Turns
fleursdumal.nl magazine
More in: Archive I-J, Archive I-J, Joyce, James, Joyce, James
---
In this book, Gerald Janecek provides a comprehensive account of Moscow Conceptualist poetry and performance, arguably the most important development in the arts of the late Soviet period and yet one underappreciated in the West.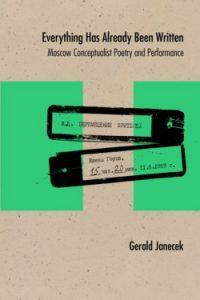 Such innovative poets as Vsevolod Nekrasov, Lev Rubinstein, and Dmitry Prigov are among the most prominent literary figures of Russia in the 1980s and 1990s, yet they are virtually unknown outside Russia. The same is true of the numerous active Russian performance art groups, especially the pioneering Collective Actions group, led by the brilliantly inventive Andrey Monastyrsky.
Everything Has Already Been Written strives to make Moscow Conceptualism more accessible, to break the language barrier and to foster understanding among an international readership by thoroughly discussing a broad range of specific works and theories. Janecek's study is the first comprehensive analysis of Moscow Conceptualist poetry and theory, vital for an understanding of Russian culture in the post-Conceptualist era.
Gerald Janecek is professor emeritus of Russian and Eastern Studies at the University of Kentucky. He is the author of The Look of Russian Literature: Avant-Garde Visual Experiments, 1900-1930; ZAUM: The Transrational Poetry of Russian Futurism; and Sight and Sound Entwined: Studies of the New Russian Poetry.
Gerald Janecek (Author)
Everything Has Already Been Written
Moscow Conceptualist Poetry and Performance
Paper Text – $39.95
ISBN 978-0-8101-3901-5
Cloth Text – $120.00
ISBN 978-0-8101-3902-2
Publication Date: December 2018
Series: Studies in Russian Literature and Theory
Literature & Criticism
Russia Drama & Performance Studies
Page Count 312 pages
Northwestern University Press
new books
fleursdumal.nl magazine
More in: #More Poetry Archives, - Book News, - Bookstores, Archive I-J, Art & Literature News, Conceptual writing, EXPERIMENTAL POETRY, Performing arts, Visual & Concrete Poetry
---
Tatiana du Plessix, the wife of a French diplomat, was a beautiful, sophisticated "white Russian" who had been the muse of the famous Russian poet Vladimir Mayakovsky.
Alexander Liberman, the ambitious son of a prominent Russian Jew, was a gifted magazine editor and aspiring artist. As part of the progressive artistic Russian émigré community living in Paris in the 1930s, the two were destined to meet. They began a passionate affair, and the year after Paris was occupied in World War II they fled to New York with Tatiana's young daughter, Francine.
There they determinedly rose to the top of high society, holding court to a Who's Who list of the midcentury's intellectuals and entertainers. Flamboyant and outrageous, bold and brilliant, they were irresistible to friends like Marlene Dietrich, Salvador Dalí, and the publishing tycoon Condé Nast. But to those who knew them well they were also highly neurotic, narcissistic, and glacially self-promoting, prone to cut out of their lives, with surgical precision, close friends who were no longer of use to them.
Tatiana became an icon of New York fashion, and the hats she designed for Saks Fifth Avenue were de rigueur for stylish women everywhere. Alexander Liberman, who devotedly raised Francine as his own child from the time she was nine, eventually came to preside over the entire Condé Nast empire. The glamorous life they shared was both creative and destructive and was marked by an exceptional bond forged out of their highly charged love and raging self-centeredness. Their obsessive adulation of success and elegance was elevated to a kind of worship, and the high drama that characterized their lives followed them to their deaths. Tatiana, increasingly consumed with nostalgia for a long-lost Russia, spent her last years addicted to painkillers. Shortly after her death, Alexander, then age eighty, shocked all who knew him by marrying her nurse.
Them: A Portrait of Parents is a beautifully written homage to the extraordinary lives of two fascinating, irrepressible people who were larger than life emblems of a bygone age. Written with honesty and grace by the person who knew them best, this generational saga is a survivor's story. Tatiana and Alexander survived the Russian Revolution, the fall of France, and New York's factory of fame. Their daughter, Francine, survived them.
Francine du Plessix Gray is a regular contributor to The New Yorker and the author of numerous essays and books, including Simone Weil, At Home with the Marquis de Sade: A Life, Rage and Fire, Lovers and Tyrants, and Soviet Women. She lives with her husband, the painter Cleve Gray.
Francine Du Plessix Gray
Them
A Memoir of Parents
Paperback
$18.00
Penguin Books
2006
544 Pages
ISBN 9780143037194
books
fleursdumal.nl magazine
More in: - Book News, - Book Stories, Archive O-P, Majakovsky, Vladimir
---
Mijnheer Cros gaat op een bijzondere manier in op het leven van Charles Cros (1842-1888).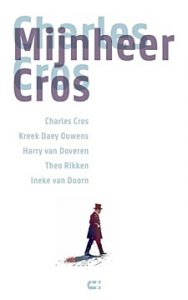 Deze literaire ingenieur (Liesbeth van Nes) en boeiende buitenstaander (Bernlef) kan worden genoemd als de literaire voorloper op Dada, het surrealisme en het absurdisme, maar ook als de commercieel weinig gewiekste uitvinder van de fonograaf, de kleurenfotografie en (met een knipoog) de communicatie met andere planeten.
Een bescheiden selectie van zijn poëzie en monologen vormt in samenhang met zijn hinkende privéleven, de springplank voor losjes op zijn leven geïnspireerde schetsen, in proza, poëzie en beeld van Harry van Doveren, Kreek Daey Ouwens, Theo Rikken en Ineke van Doorn.
Charles Cros (1842-1888) was een Frans dichter. Hij mag worden gezien als een van de literaire voorlopers van het dadaïsme, het surrealisme en het absurdisme. Daarnaast was hij uitvinder van de fonograaf en de kleurenfotografie. Het lukte hem echter niet deze uitvindingen te gelde te maken.
Mijnheer Cros
Cros, Charles
Rikken, Theo – Doveren, Harry van – Doorn, Ineke van – Daey Ouwens, Kreek
ISBN 978-90-8684-162-2
Formaat: 12.5 x 20 cm.
Omvang: 128 pag.
€17,50
2018
Uitgeverij IJzer
new books
fleursdumal.nl magazine
More in: - Book News, Archive C-D, Art & Literature News, Cros, Charles, DADA, Ouwens, Kreek Daey, Photography, SURREALISM
---
Die Ersten
Die Ersten sinds, sie sind im besten Zug
Vom willenlosen Haufen sich zu lösen.
Erkennend eitel Schimmer, seichten Trug
Der großen Reden abgenützte Blößen,
Klangvolle Phrasen, ein vereinter Schwall
Der überflutet Erdehöhen und Täler,
Allüberall der gleiche Wiederhall,
Der gleiche Köder und der gleiche Wähler.
Wohl wächst der Massen Schrei nach Glück und Brot
Doch übertönt er nicht die Worte der Vertreter,
Es fallen Opfer tiefster Seelennot,
Die Masse fällt dein Zeichen der Verräter.
So lausch ich freudig, wenn mit wildem Schrei
Die Brust erfüllt von froher Zukunft ahnen
Sich einer ringt vom Heerdentaumel frei
Kraftvoll empor auf selbstgewollten Bahnen.
Hugo Ball
(1886 – 1927)
Erstdruck in:
Der Revoluzzer (Zürich),
2. Jg., Nr. 4/5, Mai 1916.
fleursdumal.nl magazine
More in: Archive A-B, Ball, Hugo, Dada, DADA, Dadaïsme
---
Johannes Theodor Baargeld (1892-1927)
Typische Vertikalklitterung als Darstellung des Dada Baargeld (Typical Vertical Mess as Depiction of the Dada Baargeld – Typique amalgame vertical en tant que représentation du Dada Baargeld)), 1920, collage
fleursdumal.nl magazine
More in: Baargeld, Johannes Theodor, Dada, DADA, Dadaïsme, Galerie Deutschland
---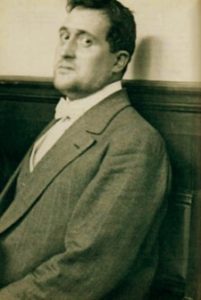 La Chanson Du Malaime
Un soir de demi-brume à Londres
Un voyou qui ressemblait à
Mon amour vint à ma rencontre
Et le regard qu'il me jeta
Me fit baisser les yeux de honte
Je suivis ce mauvais garçon
Qui sifflotait mains dans les poches
Nous semblions entre les maisons
Onde ouverte de la mer Rouge
Lui les Hébreux moi Pharaon
Qui tombent ces vagues de briques
Si tu ne fus pas bien aimée
Je suis le souverain d'Egypte
Sa sœur-épouse son armée
Si tu n'es pas l'amour unique.
Guillaume Apollinaire
(1880 – 1918)
La Chanson Du Malaime
fleursdumal.nl magazine
More in: Apollinaire, Guillaume, Archive A-B, Guillaume Apollinaire
---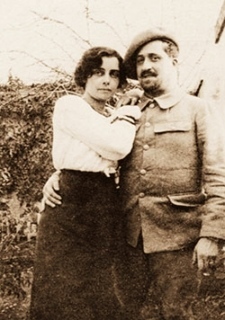 La Dame
Toc toc Il a fermé sa porte
Les lys du jardin sont flétris
Quel est donc ce mort qu'on emporte
Tu viens de toquer à sa porte
Et trotte trotte
Trotte la petite souris
Guillaume Apollinaire
(1880 – 1918)
La Dame
Alcools – poèmes 1898-1913
Paris : Éditions de la Nouvelle Revue française,
troisième édition, 1920
fleursdumal.nl magazine
More in: Apollinaire, Guillaume, Archive A-B, Guillaume Apollinaire
---
Lean Out of the Window
Lean out of the window,
Goldenhair,
I hear you singing
A merry air.
My book was closed,
I read no more,
Watching the fire dance
On the floor.
I have left my book,
I have left my room,
For I heard you singing
Through the gloom.
Singing and singing
A merry air,
Lean out of the window,
Goldenhair.
James Joyce
(1882-1941)
Lean Out of the Window
fleursdumal.nl magazine
More in: Archive I-J, Archive I-J, Joyce, James, Joyce, James
---
Bagatelle
Vor meinem Fenster,
Im Sonnenschein
Sitzen Engelein.
Eins, zwei, drei Engelein
Und äugeln herein.
Sie hauchen an die Scheiben
Und kichern sich an,
Und schreiben
Deinen Namen hin.
Und kichern sich an
Und verwischen ihn.
Und blinzeln gar boshaft
Und neckisch herein,
Und flattern fort
Die drei Engelein.
Hugo Ball
(1886-1927)
Bagatelle
fleursdumal.nl magazine
More in: Archive A-B, Ball, Hugo, Dada, DADA, Dadaïsme
---
Drawing on draft manuscripts and other archival material, James Joyce and Absolute Music, explores Joyce's deep engagement with musical structure, and his participation in the growing modernist discourse surrounding 19th-century musical forms.
Michelle Witen examines Joyce's claim of having structured the "Sirens" episode of his masterpiece, Ulysses, as a fuga per canonem, and his changing musical project from his early works, such as Dubliners and A Portrait of the Artist as a Young Man.
Informed by a deep understanding of music theory and history, the book goes on to consider the "pure music" of Joyce's final work, Finnegans Wake.
Demonstrating the importance of music to Joyce, this ground-breaking study reveals new depths to this enduring body of work.
Towards a Modernist Condition of Absolute Music – Joyce's Early Use of Music – Joyce's fuga per canonem: A Case of Structure – Joyce's fuga per canonem: A Case of Effect – Voided Fugue in "Circe" – "It's Pure Music": Finnegans Wake
Michelle Witen is Postdoctoral Teaching and Research Fellow at the University of Basel, Switzerland.
Michelle Witen
James Joyce and Absolute Music
Published: 22-02-2018
Format: Hardback
Edition: 1st
Extent: 320 p.
ISBN: 9781350014220
Imprint: Bloomsbury Academic
Series: Historicizing Modernism
Illustrations: 9 bw illus
Dimensions: 234 x 156 mm
RRP: £85.00
literature and music
fleursdumal.nl magazine
More in: # Music Archive, Archive I-J, Archive I-J, Art & Literature News, Joyce, James, Joyce, James
---
Older Entries »
Thank you for reading FLEURSDUMAL.NL - magazine for art & literature