EXPERIMENTAL POETRY
·
James Joyce: Alone
·
Guillaume Apollinaire: Hôtels
·
James Joyce: Love Came to Us
·
Hugo Ball: Die Sonne
·
James Joyce: Sleep Now, O Sleep Now
·
Hugo Ball: Früh, eh der Tag
·
James Joyce: O Cool Is The Valley Now
·
Robert Desnos: Faire part
·
Hugo Ball: Ick bin in Tempelhof jebore
·
Ysabelle Lacamp: Ombre parmi les ombres (Roman)
·
INSEL, the only novel by Mina Loy
·
Guillaume Apollinaire: Mon Lou je veux te reparler
Alone
The noon's greygolden meshes make
All night a veil,
The shorelamps in the sleeping lake
Laburnum tendrils trail.
The sly reeds whisper to the night
A name– her name-
And all my soul is a delight,
A swoon of shame.
James Joyce
(1882-1941)
Alone
fleursdumal.nl magazine
More in: Archive I-J, Archive I-J, Joyce, James, Joyce, James
---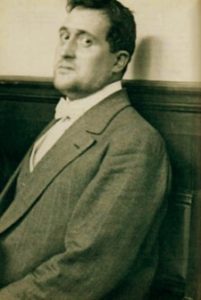 Hôtels
La chambre est veuve
Chacun pour soi
Présence neuve
On paye au mois
Le patron doute
Payera-t-on
Je tourne en route
Comme un toton
Le bruit des fiacres
Mon voisin laid
Qui fume un âcre
Tabac anglais
Ô La Vallière
Qui boite et rit
De mes prières
Table de nuit
Et tous ensemble
Dans cet hôtel
Savons la langue
Comme à Babel
Fermons nos portes
À double tour
Chacun apporte
Son seul amour
Guillaume Apollinaire
(1880 – 1918)
Hôtels
Alcools – poèmes 1898-1913
Paris : Éditions de la Nouvelle Revue française,
troisième édition, 1920
fleursdumal.nl magazine
More in: *Concrete + Visual Poetry A-E, Apollinaire, Guillaume, Archive A-B, Guillaume Apollinaire
---
Love Came to Us
Love came to us in time gone by
When one at twilight shyly played
And one in fear was standing nigh — –
For Love at first is all afraid.
We were grave lovers. Love is past
That had his sweet hours many a one;
Welcome to us now at the last
The ways that we shall go upon.
James Joyce
(1882-1941)
Love Came to Us
fleursdumal.nl magazine
More in: Archive I-J, Archive I-J, Joyce, James, Joyce, James
---
Die Sonne
Zwischen meinen Augenlidern fährt ein Kinderwagen.
Zwischen meinen Augenlidern geht ein Mann mit einem Pudel.
Eine Baumgruppe wird zum Schlangenbündel und zischt in den Himmel.
Ein Stein hält eine Rede. Bäume in Grünbrand. Fliehende Inseln.
Schwanken und Muschelgeklingel und Fischkopf wie auf dem Meeresboden.
Meine Beine strecken sich aus bis zum Horizont. Eine Hofkutsche knackt
Drüber weg. Meine Stiefel ragen am Horizont empor wie die Türme einer
Versinkenden Stadt. Ich bin der Riese Goliath. Ich verdaue Ziegenkäse.
Ich bin ein Mammuthkälbchen. Grüne Grasigel schnüffeln an mir.
Gras spannt grüne Säbel und Brücken und Regenbögen über meinen Bauch.
Meine Ohren sind rosa Riesenmuscheln, ganz offen. Mein Körper schwillt an
Von Geräuschen, die sich gefangen haben darin.
Ich höre das Meckern
Des großen Pan. Ich höre die zinnoberrote Musik der Sonne. Sie steht
Links oben. Zinnoberrot sprühen die Fetzen hinaus in die Weltnacht.
Wenn sie herunterfällt, zerquetscht sie die Stadt und die Kirchtürme
Und alle Vorgärten voll Krokus und Hyazinthen, und wird einen Schall geben
Wie Blech von Kindertrompeten.
Aber es ist in der Luft ein Gegeneinanderwehen von Purpur und Eigelb
Und Flaschengrün: Schaukeln, die eine orangene Faust festhält an langen Fäden,
Und ist ein Singen von Vogelhälsen, die über die Zweige hüpfen.
Ein sehr zartes Gestänge von Kinderfahnen.
Morgen wird man die Sonne auf einen großrädrigen Wagen laden
Und in die Kunsthandlung Caspari fahren. Ein viehköpfiger Neger
Mit wulstigein Nacken, Blähnase und breitem Schritt wird fünfzig weiß-
Juckende Esel halten, die vor den Wagen gespannt sind beim Pyramidenbau.
Eine Menge blutbunten Volks wird sich stauen:
Kindsbetterinnen und Ammen,
Kranke im Fahrstuhl, ein stelzender Kranich, zwei Veitstänzerinnen.
Ein Herr mit einer Ripsschleifenkrawatte und ein rotduftender Schutzmann.
Ich kann mich nicht halten: Ich bin voller Seligkeit. Die Fensterkreuze
Zerplatzen. Ein Kinderfräulein hängt bis zum Nabel aus einem Fenster heraus.
Ich kann mir nicht helfen: Die Dome zerplatzen mit Orgelfugen. Ich will
Eine neue Sonne schaffen. Ich will zwei gegeneinanderschlagen
Wie Zymbeln, und meiner Dame die Hand hinreichen. Wir werden entschweben
In einer violetten Sänfte über die Dächer euerer
Hellgelben Stadt wie Lampenschirme aus Seidenpapier im Zugwind.
Hugo Ball
(1886 – 1927)
Erstdruck in:
Die Aktion (Berlin),
4. Jg., Nr. 22, Mai 1914
fleursdumal.nl magazine
More in: Archive A-B, Ball, Hugo, Dada, DADA, Dadaïsme
---
Sleep Now,
O Sleep Now
Sleep now, O sleep now,
O you unquiet heart!
A voice crying "Sleep now"
Is heard in my heart.
The voice of the winter
Is heard at the door.
O sleep, for the winter
Is crying "Sleep no more."
My kiss will give peace now
And quiet to your heart — –
Sleep on in peace now,
O you unquiet heart!
James Joyce
(1882-1941)
Sleep Now, O Sleep Now
fleursdumal.nl magazine
More in: Archive I-J, Archive I-J, Joyce, James, Joyce, James
---
Früh, eh der Tag
Früh, eh der Tag seine Schwingen noch regt,
Alles noch schlummert und träumet und ruht,
Blümchen noch nickt in der Winde Hut,
Eh noch im Forste ein Vogel anschlägt,
Schreitet ein Engel
Durchs tauweiße Land
Streut ans den Segen
Mit schimmernder Hand.
Und es erwachet die Au und der Wald.
Blumen bunt reiben die Äuglein sich klar,
Staunen und flüstern in seliger Schar.
Aufstrahlt die Sonne, ein Amselruf schallt.
Aber der Engel
Zog längst schon landaus.
Flog wieder heim
In sein Vaterhaus.
Hugo Ball
(1886-1927)
Gedicht: Früh, eh der Tag
fleursdumal.nl magazine
More in: Archive A-B, Ball, Hugo, Dada, DADA, Dadaïsme
---
O Cool Is The Valley Now
O cool is the valley now
And there, love, will we go
For many a choir is singing now
Where Love did sometime go.
And hear you not the thrushes calling,
Calling us away?
O cool and pleasant is the valley
And there, love, will we stay.
James Joyce
(1882-1941)
O Cool Is The Valley Now
fleursdumal.nl magazine
More in: Archive I-J, Archive I-J, Joyce, James, Joyce, James
---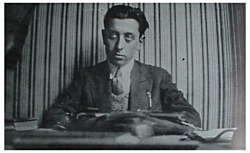 Faire part
Sur le pont du navire la couturière fait le point
couturière taille-moi un grand paon de mercure
je fais ce soir ma dernière communion
La dernière hirondelle fait l'automne
D'entre les becs de gaz blêmes
Se lève une figure sans signification.
Statues de verre flacon simulacre de l'amour
Vient la fameuse dame
Facteur de soustraction
avec une lettre pour moi
Mon cher Desnos Mon cher Desnos
Je vous donne rendez-vous
dans quelques jours
On vous préviendra
Vous mettrez votre habit d'outre monde
Et tout le monde sera bien content.
Robert Desnos
(1900 – 1945)
Faire part
fleursdumal.nl magazine
More in: Archive C-D, Archive C-D, Desnos, Robert, Holocaust, REPRESSION OF WRITERS, JOURNALISTS & ARTISTS, SURREALISM
---
Ick bin in Tempelhof jebore
Ick bin in Tempelhof jeboren
Der Flieder wächst mich aus die Ohren.
In meinem Maule grast die Kuh.
Ick geh zuweilen sehr und schwanger
Auf einem Blumen-i-o-anger
Mein Vater, was sagst Du dazu?
Wir gleichen sehr den Baletteusen,
Pleureusen – Dösen – Schnösen – lösen.
Gewollt zu haben – selig sein.
Verehrte Herrn, verehrte Damen,
Die um mich hören herzu kamen
Dies widmet der Gesangverein.
Und Jungfraun kamen wunderbar
Geschmeide scheidegelb im Haar
Mit schlankgestielten Lilien.
Der Kakagei und Papadu
Die sahen auch dabei dazu
Und kamen aus Brasilien.
(Klarinetta Klaball)
Hugo Ball
(1886-1927)
Ick bin in Tempelhof jebore
fleursdumal.nl magazine
More in: Archive A-B, Ball, Hugo, Dada, DADA, Dadaïsme
---
L'histoire : Mai 45, libération du camp de Terezin. Un air de jazz siffloté par un petit tchèque aux oreilles en choux-fleurs bouleverse l'un des rescapés des camps qui vient d'échouer ici, au terme d'une longue marche de la mort.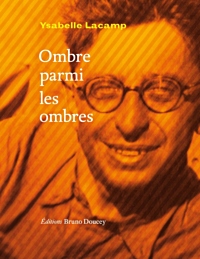 L'enfant s'appelle Leo Radek. Il est le dernier enfant survivant de Terezin, antichambre de la mort pour des milliers de juifs, où les nazis parquèrent des artistes pour servir de vitrine en une sordide mascarade. Lui aussi est bouleversé par la rencontre qu'il vient de faire : cet homme décharné, fiévreux, au regard bienveillant et si transparent, parle ce français qu'il aime, et c'est un poète.
Il s'appelle Robert Desnos. Comme un grand frère protecteur, le poète qui se meurt, trouve encore une fois les mots. Une rencontre inoubliable où la poésie triomphe sur la barbarie, et où l'humour est plus fort que la mort.
Quand Ysabelle Lacamp écrit, c'est une vibration tellurique qui la parcourt, la transcende et la brûle. Lorsque cette fièvre s'empare d'elle, elle fait la fête au verbe, rêve puissamment ses personnages, et nous emporte avec eux. Voilà pourquoi sa rencontre avec Robert Desnos, le poète volcanique qui fit danser les mots et les morts jusqu'à son dernier souffle, est une évidence de la vie. Dans ce camp de Terezin où elle nous entraîne, l'émotion est toujours à fleur de rire. Elle est l'auteure de nombreux romans, dont L'Homme sans fusil (Seuil, 2002), Le Jongleur de nuages (Flammarion, 2008) et, plus récemment, Marie Durand, Non à l'intolérance religieuse (Actes Sud junior, 2012). Son roman Ombre parmi les ombres est paru aux Éditions Bruno Doucey en 2018.
Ysabelle Lacamp:
Ombre parmi les ombres
(Roman)
Pages: 192
Prix: €16
ISBN : 978-2-36229-165-4
Format : Broché
Dimensions : 14cm X 18cm
Date de parution : 04/01/2018
ISBN : 978-2-36229-165-4
EAN : 9782362291654
Doucey éditions
new books
fleursdumal.nl magazine
More in: - Book News, - Book Stories, Archive C-D, Archive K-L, Art & Literature News, Desnos, Robert, WAR & PEACE
---
Insel, the only novel by the surrealist master Mina Loy, is a book like no other—about an impossible friendship amid the glamorous artistic bohemia of 1930s Paris.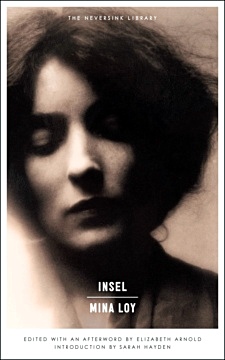 German painter Insel is a perpetual sponger and outsider—prone to writing elegant notes with messages like "Am starving to death except for a miracle—three o'clock Tuesday afternoon will be the end"—but somehow writer and art dealer Mrs. Jones likes him.
Together, they sit in cafés, hatch grand plans, and share their artistic aspirations and disappointments. And they become friends. But as they grow ever closer, Mrs. Jones begins to realize just how powerful Insel's hold over her is.
Unpublished during Loy's lifetime, Insel—which is loosely based on her friendship with the painter Richard Oelze—is a supremely surrealist, deliberately excessive creation: baroque in style, yet full of deft comedy and sympathy. Now, with an alternate ending only recently unearthed in the Loy archives, Insel is finally back in print, and Loy's extraordinary achievement can be appreciated by a new generation of readers.
Mina Loy was born in London in 1882 and began her artistic career as painter; she was influenced by Impressionism and achieved success in the Parisian art world before turning to poetry and other forms of visual art, including lampshades and "junk collages." She was at the heart of the modernist movement (as well as Dada, Futurism, and Surrealism) and had close friendships with Djuna Barnes and Gertrude Stein, among many others. Her frank and rigorously experimental writing earned her both praise and censure, as did her unconventional life: she spent many years living in Greenwich Village and on the Bowery, befriending bums, drunks, and other down-and-outs. Her work has recently been collected inThe Lost Lunar Baedeker (FSG) and Stories and Essays of Mina Loy (Dalkey Archive). She died in 1966 in Aspen, Colorado.
Elizabeth Arnold, a scholar and poet, is the author of Effacement and two other collections.
Sarah Hayden is a postdoctoral fellow at the University of Cork, where her focus is on Mina Loy and avant-garde artistic movements.
Insel
Mina Loy
Edited by Elizabeth Arnold,
with an Introduction by Sarah Hayden
Trade Paperback
Novel, 2014
180 pages
ISBN 9781612193533
Publisher Melville House
Part of The Neversink Library
"Is there anyone in America except you, Bill [William Carlos Williams,] and Mina Loy who can write anything of interest in verse?" — Ezra Pound, letter to Marianne Moore
fleursdumal.nl magazine
More in: - Book Lovers, Archive K-L, Archive K-L, Art & Literature News, Loy, Mina, SURREALISM
---
Mon Lou je veux te reparler
Mon Lou je veux te reparler maintenant de l'Amour
Il monte dans mon cœur comme le soleil sur le jour
Et soleil il agite ses rayons comme des fouets
Pour activer nos âmes et les lier
Mon amour c'est seulement ton bonheur
Et ton bonheur c'est seulement ma volonté
Ton amour doit être passionné de douleur
Ma volonté se confond avec ton désir et ta beauté
Ah ! Ah ! te revoilà devant moi toute nue
Captive adorée toi la dernière venue
Tes seins ont le goût pâle des kakis et des figues de Barbarie
Hanches fruits confits je les aime maa chérie
L'écume de la mer dont naquit la déesse
Évoque celle-là qui naît de ma caresse
Si tu marches Splendeur tes yeux ont le luisant
D'un sabre au doux regard prêt à se teindre de sang
Si tu te couches Douceur tu deviens mon orgie
Et le mets savoureux de notre liturgie
Si tu te courbes Ardeur comme une flamme au vent
Des atteintes du feu jamais rien n'est décevant
Je flambe dans ta flamme et suis de ton amour
Le phénix qui se meurt et renaît chaque jour
Chaque jour
Mon amour
Va vers toi ma chérie
Comme un tramway
Il grince et crie
Sur les rails où je vais
La nuit m'envoie ses violettes
Reçois-les car je te les jette
Le soleil est mort doucement
Comme est mort l'ancien roman
De nos fausses amours passées
Les violettes sont tressées
Si d'or te couronnait le jour
La nuit t'enguirlande à son tour
Guillaume Apollinaire
(1880 – 1918)
Poèmes à Lou
Mon Lou je veux te reparler
fleursdumal.nl magazine
More in: *Concrete + Visual Poetry A-E, Apollinaire, Guillaume, Archive A-B, Guillaume Apollinaire
---
Older Entries »
Thank you for reading FLEURSDUMAL.NL - magazine for art & literature