//load extra-editor-styles.css in tinymce add_editor_style('extra-editor-style.css'); add_filter('tiny_mce_before_init', 'myCustomTinyMCE' ); /* Custom CSS styles on TinyMCE Editor */ if ( ! function_exists( 'myCustomTinyMCE' ) ) { function myCustomTinyMCE($init) { $init['theme_advanced_styles'] = 'Architects Daughter=ArchitectsDaughterRegular; Arial =Arial; Bentham =BenthamRegular; Bodonitown=BodonitownRegular; CarbonType=CarbonTypeRegular; Communist=CommunistRegular; Copystruct=CopystructNormal; EB Garamond=EBGaramondRegular; Garogier=GarogierRegular; Gentium Basic=GentiumBasicRegular; Goudy Bookletter1911=GoudyBookletter1911Regular; Idolwild=IdolwildRegular; Impact Label=ImpactLabelRegular; Latin Modern Mono=LatinModernMono10Regular; Liberation Mono=LiberationMonoRegular; Limelight=LimelightRegular; Luxi Mono=LuxiMonoRegular; MyUnderwood=MyUnderwoodRegular; Negotiate=NegotiateFree; NewAthena=NewAthenaUnicodeRegular; Puritan=Puritan; SF Cartoonist Hand=SFCartoonistHandRegular; Scratch=ScratchRegular; Sorts Mill Goudy=SortsMillGoudyRegular; Times New Roman=TimesNewRoman; Ubuntu Regular=UbuntuRegular; Underwood Champion=UnderwoodChampionRegular; Verdana=Verdana; Verily=VerilySerifMonoBook; Vollkorn=VollkornRegular; Groot=groot; Rood=rood; Zwarte Rand dik=zwarterand5px; Zwarte Rand dun=zwarterand1px; Polaroid type 1=polaroid; Polaroid type 2 gedraaid=polaroid5deg; Polaroid type 2=polaroid2; Polaroid type 2 gedraaid=polaroid2-5deg ; Afgerond=afgerond; Rood blok=roodblok; Geel blok=geelblok; Blauw blok=blauwblok; Grijs blok=grijsblok; Zwart blok=zwartblok; Gedraaid plaatje=gedraaidplaatje;'; return $init; } } ?>
Archive E-F
·
Agnita Feis: De Soldaat (gedicht)
·
Agnita Feis: De slag (gedicht)
·
Eerste Grote Poëzieprijs voor Radna Fabias
·
Régine Foloppe: Baudelaire et la vérité poétique
·
Lawrence Ferlinghetti (100 years old on March 24) with new novel: Little Boy
·
Antoine de Saint-Exupéry: Du vent, du sable et des étoiles.
·
In de man zit nog een jongen. Willem Wilmink – De biografie door Elsbeth Etty
·
Chronicles of a Liquid Society by Umberto Eco
·
This is Not the End of the Book by Umberto Eco & Jean-Claude Carrière
·
In Her Own Words. The Life and Poetry of Aelia Eudocia by Brian P. Sowers
·
The Choice. Embrace the Possible by Edith Eva Eger
·
Hans-Dieter Rutsch: Der Wanderer. Das Leben des Theodor Fontane
De Soldaat.
 
Geen mensch.
Geen dier.
Geen plant:
Een ding.
 
 
Het mort
noch klaagt:
Zijn kracht
verging.
 
 
Het lijdt.
Het sjouwt.
Het torst
gewicht.
 
 
Geen vreugd.
Geen lach
op zijn
gezicht.
 
 
Vraag.
 
 
O mensch,
mijn vriend,
waar gaat
dat heen?
 
 
Antwoord.
 
 
Het vuur,
de dood,
't Is mij
heusch één!
Agnita Feis
(1881 – 1944)
Uit: Oorlog. Verzen in Staccato (1916).
De Soldaat
• fleursdumal.nl magazine
More in: *Concrete + Visual Poetry F-J, *War Poetry Archive, Agnita Feis, Antony Kok, Archive E-F, Archive E-F, DADA, De Stijl, Feis, Agnita, Theo van Doesburg (I.K. Bonset)
---
De slag.

De zon.
Een woud.
Een veld.
Een vliet:

't Is geel,
groen, blauw,
maar rood
is 't niet.

Gerij.
Gedraaf.
Geschut.
Gedreun:

Gegil!
Gekerm!
Gezucht!
Gekreun!

Geen zon.
Geen woud.
Geen mensch!
Geen hart!

't Is bloed!
't Is rood!
't Is grijs!
't Is zwart!
Agnita Feis
(1881 – 1944)
Uit: Oorlog. Verzen in Staccato (1916).
De Slag
• fleursdumal.nl magazine
More in: - Book Stories, Agnita Feis, Archive E-F, Archive E-F, De Stijl, Feis, Agnita, Theo van Doesburg
---
Met haar succesdebuut Habitus wint Radna Fabias na de C. Buddingh'-prijs 2018 en de Awater Poëzieprijs en Herman De Coninckprijs 2019 óók deze eerste editie van De Grote Poëzieprijs.

De prijs, € 25.000,- voor de beste Nederlandstalige bundel van het jaar, werd op de slotdag van het gouden Poetry International Festival uitgereikt samen met de C. Buddingh'-prijs, die naar Roberta Petzoldt ging, voor haar debuut Vruchtwatervuurlinie'. Habitus is daarmee zonder meer de meest prijswinnende debuutbundel ooit.
Ook werden op het festival prijzen uitgereikt door jongeren, een initiatief van School der Poëzie.

De School der Poëzie-Communityprijs ging naar Ted van Lieshout voor Ze gaan er met je neus vandoor,

Roelof ten Napel kreeg de Jongerenprijs voor Het woedeboek waarmee hij ook kans maakte op De Grote Poëzieprijs én de C. Buddingh'-prijs. Met het uitreikingsprogramma 'Prijs de poëzie!' sloot Poetry International het gouden jubileumfestival even feestelijk af als dat het begon.
De Grote Poëzieprijs voor Radna Fabias
De Grote Poëzieprijs is dé prijs voor Nederlandstalige poëzie en bekroont de beste Nederlandstalige bundel van het jaar met € 25.000,-.

De jury van De Grote Poëzieprijs 2019 kreeg 150 bundels ter lezing en nomineerde er niet vijf maar zes, vanwege het hoge aantal inzendingen, de verlengde periode waarover werd gejureerd en de aangetroffen kwaliteit.
Opnieuw gaat de hoofdprijs dus naar Radna Fabias: "Fabias graaft net zo lang in wat bedenkelijk is – waarbij ze ook zichzelf niet spaart – totdat de complexiteit van een probleem zich openbaart.

Dit maakt dat Habitus (Arbeiderspers) deelneemt aan het 'gesprek van de dag', maar tegelijk – en belangrijker – dat de bundel er ook een krachtig tegengif tegen is.

Niets is eenvoudig in deze bundel, niets is op te lossen met een paar slimme oneliners of standpunten. Fabias maakt het persoonlijke politiek en het politieke persoonlijk," oordeelde de jury.
De C. Buddingh'-prijs voor Roberta Petzoldt
De prijs voor beste Nederlandstalige poëziedebuut – jaarlijks uitgereikt op het Poetry International Festival – gaat dit jaar naar Roberta Petzoldt.
Haar debuut Vruchtwatervuurlinie (Van Oorschot) gaat over verlies en is strijdbaar, humoristisch, prikkelend en fel maar boven alles een rigoureus allerindividueelst onderzoek waarbij de dichter, sneller dan de eigen schaduw, de poëzie zelf op de staart probeert te trappen of 'zonder vliegtuig de wolken raken / bewegen door / een getraind gevoel voor humor / en een eenzame logica'.

Op intieme wijze creëert de dichter een verrassend nieuw poëtisch universum, wat weergaloze gedichten en tijdloze regels oplevert: 'ik weet dat mensen op hun honden lijken, maar jij / lijkt op de hond van iemand anders'", aldus de jury.
Jongerenprijzen bij De Grote Poëzieprijs
School der Poëzie reikte op de slotavond van Poetry International twee prijzen uit namens de Poëzie Community en namens scholieren uit Nederland en Vlaanderen.

De Poëzie Community van School der Poëzie koos unaniem voor Ze gaan er met je neus vandoor (Leopold) van Ted van Lieshout, omdat het "een avontuur was om te lezen." Jongeren van scholen uit Antwerpen, Amsterdam, Rotterdam en Gent namen deel aan workshops van School der Poëzie en lieten zich inspireren door de gedichten van de zes genomineerden. Zij kenden hun Jongerenprijs toe aan Roelof ten Napel voor Het woedeboek (Hollands Diep) "omdat het over woede gaat én over liefde."
De jury van De Grote Poëzieprijs bestond uit Joost Baars, Yra van Dijk, Adriaan van Dis, Cindy Kerseborn en Maud Vanhauwaert.

Zij nomineerden naast Habitus van Radna Fabias ook Nachtboot van Maria Barnas, Stalker van Joost Decorte, Het woedeboek van Roelof ten Napel, Genadeklap van Willem Jan Otten en Onze kinderjaren van Xavier Roelens. De jury van de C. Buddingh'-prijs bestond uit Els Moors, Tsead Bruinja en Kila van der Starre. Zij nomineerden ook Obelisque van Obe Alkema, Dwaallichten van Gerda Blees en Het woedeboek van Roelof ten Napel.
Eerste Grote Poëzieprijs voor Radna Fabias
Roberta Petzoldt wint 'de Buddingh'
Jongerenprijzen voor Ted van Lieshout en Roelof ten Napel
• fleursdumal.nl magazine
More in: #Editors Choice Archiv, #More Poetry Archives, - Book News, - Bookstores, Archive E-F, Archive E-F, Archive K-L, Archive M-N, Archive O-P, Art & Literature News, Awards & Prizes, Lieshout, Ted van, Poetry International, ·
---
Quelle force de vérité accorder à la poésie? Apparemment aucune selon Baudelaire.
C'est pourtant lui qui assure le passage décisif vers une poésie qui remet en question ses fondements, son devenir, sa nécessité, une poésie qui exige d'être sans cesse perception à valeur existentielle.
La réflexivité poétique qui s'exerce entre apparence et tréfonds de l'homme exacerbe le poétique et le menace. Où, quand, comment et vers quoi se joue le vrai du poème ?
Pourquoi cette oeuvre pose-t-elle les enjeux de la modernité ?
Se débattant contre tout Idéal absolu, la poétique baudelairienne désire la liberté incarnée et douloureuse de l'artiste, de l'humain.
Régine Foloppe, est l'auteur de plusieurs recueils poétiques, notamment : Tributaires du vent (Le Castor Astral, prix Max-Pol Fouchet) et Famines (Belin). Elle a publié des articles et des poèmes dans des revues (PO&SIE, Eidôlon, Friches, Diérèse…). Agrégée de lettres modernes, docteure en littérature française, elle enseigne à l'Université de Montpellier.
Baudelaire et la vérité poétique
Auteur: Régine Foloppe
Editeur : Editions L'Harmattan
Collection : La philosophie en commun
19 février 2019
Format : 15,5 x 24 cm
Broché
464 pages
Langue : Français
ISBN-10: 2343157642
ISBN-13: 978-2343157641
EUR 42,00
• fleursdumal.nl magazine
More in: - Book News, - Bookstores, Archive A-B, Archive A-B, Archive E-F, Art & Literature News, Baudelaire, Baudelaire, Charles
---
Lawrence Ferlinghetti, poet and founder of City Lights Books (San Francisco), author of A Coney Island of the Mind and Pictures of the Gone World, among numerous other books, has been drawing from life since his student days in Paris where he frequented the Academie Julien and where he did his first oil painting.
Little Boy
A Novel
Lawrence Ferlinghetti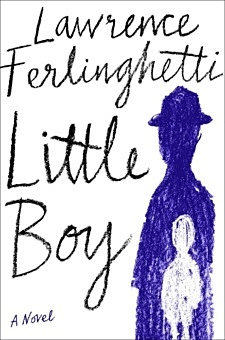 In this unapologetically unclassifiable work Lawrence Ferlinghetti lets loose an exhilarating rush of language to craft what might be termed a closing statement about his highly significant and productive 99 years on this planet.
The "Little Boy" of the title is Ferlinghetti himself as a child, shuffled from his overburdened mother to his French aunt to foster childhood with a rich Bronxville family. Service in World War Two (including the D-Day landing), graduate work, and a scholar gypsy's vagabond life in Paris followed.
These biographical reminiscences are interweaved with Allen Ginsberg-esque high energy bursts of raw emotion, rumination, reflection, reminiscence and prognostication on what we may face as a species on Planet Earth in the future. Little Boy is a magical font of literary lore with allusions galore, a final repository of hard-earned and durable wisdom, a compositional high wire act without a net (or all that much punctuation) and just a gas and an inspiration to read.
"Publisher-poet Lawrence Ferlinghetti's next book, due out less than a week before his 100th birthday, has been dubbed a 'closing statement' on an almost impossibly fecund life, and an energetic take on what the near future might hold in store for the rest of us… He was and continues to be a reticent cultural gatekeeper, an unassuming curator."—Lit Hub, "Most Anticipated Books of 2019"
Title Little Boy
Subtitle A Novel
Author Lawrence Ferlinghetti
Publisher Doubleday
Format Hardcover
ISBN-10 0385544782
ISBN-13 9780385544788
Publication Date 19 March 2019
192 pages
$24.00
LAWRENCE FERLINGHETTI was born in Yonkers, New York in 1919. Founder of the famed City Lights Booksellers and Publishers, he is an activist, painter, and author of numerous works of poetry, prose, and drama. His A Coney Island of the Mind is one of the bestselling poetry books of all time. Among his many honors are the Los Angeles Times' Robert Kirsch Award, the NBCC's Ivan Sandrof Award, and the ACLU's Earl Warren Civil Liberties Award. He is also a Commander of the French Order of Arts and Letters. He lives in San Francisco, close by to the bookstore he founded.
# new books
Lawrence Ferlinghetti
Little Boy. A Novel
Lawrence Ferlinghetti 100 years
on March 24, 2019
more on:  #Ferlinghetti100
• fleursdumal.nl magazine
More in: #Beat Generation Archives, - Book News, - Book Stories, - Bookstores, Archive E-F, Art & Literature News
---
Antoine de Saint-Exupéry (1900-1944) aspirait à un monde où l'action et le rêve fussent intimement liés, convaincu qu'en cette coïncidence résidait la vérité de l'expérience vécue.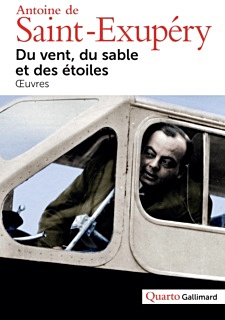 Sa voie fut celle du consentement au risque : le désert et les périls aériens, qui ouvrent alors au trésor caché de l'existence, à la révélation de ce qui nous tient fraternellement et spirituellement aux nôtres et au monde.
Saint-Exupéry s'est appuyé sur son exceptionnelle expérience d'aviateur pour affirmer sa confiance dans la grandeur humaine, accessible à chacun par l'engagement librement consenti. Toute son œuvre littéraire – ici resituée dans le mouvement biographique qui l'a vue naître – est une tentative admirable pour restituer poétiquement la substance même de l'existence, sa vérité intime et sincère – celle du cœur.
Réunissant les œuvres littéraires d'Antoine de Saint-Exupéry, de ses premiers contes et poèmes de jeunesse, inspirés par son apprentissage de pilote, à Citadelle, incluant ses quatre grands romans et Le Petit Prince, cette édition est enrichie de très nombreux documents inédits ou méconnus, se fonde sur les plus récentes découvertes et offre pour la première fois dans la collection Quarto un volume illustré en couleurs.
Antoine de Saint-Exupéry
Du vent, du sable et des étoiles. Œuvres
Littérature française
XXe siècle
Édition d'Alban Cerisier
Éditions Gallimard
Collection Quarto
Parution : 15-11-2018
1680 pages
602 ill.
sous couverture illustrée, 140 x 205 mm
ISBN : 9782072742422
Gencode : 9782072742422
Code distributeur : G00982
32€
# New books
Antoine de Saint-Exupéry
Œuvres
• fleursdumal.nl magazine
More in: - Book News, - Bookstores, Antoine de Saint-Exupéry, Archive E-F, Art & Literature News
---
Willem Wilmink (1936-2003) is een van de meest geliefde dichters van Nederland.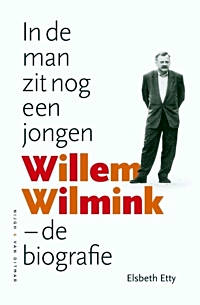 Zijn eenvoudige maar treffende gedichten en liedjes, veelal geschreven voor legendarische tv-programma's als De Stratemakeropzeeshow, J.J. de Bom en De film van Ome Willem, spreken iedereen aan. 'De oude school', 'Deze vuist op deze vuist' en 'Ben Ali Libi' behoren tot de canon van de Nederlandse literatuur. Hetzelfde geldt voor Wilminks hertalingen van Middeleeuwse klassiekers. Hij was een groot kenner van poëzie uit alle tijdvakken en in al haar verschijningsvormen.
Zijn werk is doortrokken van heimwee naar een veilige kinderwereld die nooit heeft bestaan. Naar eigen zeggen is Wilmink altijd elf jaar gebleven, wat aanvankelijk zijn loopbaan en privéleven ernstig frustreerde, maar tegelijkertijd zijn poëtische kapitaal bleek. Met humor en zelfspot maakte hij zijn lange tijd door miskenning en afwijzing getekende leven leefbaar.
Voor In de man zit nog een jongen sprak neerlandicus en journalist Elsbeth Etty met tientallen tijdgenoten en intimi van Wilmink. Het resultaat is een intiem en niets verhullend portret.
Elsbeth Etty (1951) is literair criticus, columnist en voormalig bijzonder hoogleraar literaire kritiek. Ze publiceerde o.a. verschillende essay- en columnbundels. Voor Liefde is heel het leven niet, haar biografie van Henriette Roland Holst, werd ze genomineerd voor de AKO Literatuurprijs en bekroond met de Gouden Uil en de Busken Huetprijs.
In de man zit nog een jongen
Willem Wilmink – De biografie
Auteur: Elsbeth Etty
Uitgeverij: Nijgh & van Ditmar
NUR: 321
Taal Nederlands
Bladzijden 552 pp.
Bindwijze Hardcover
ISBN: 9789038806112
Publicatiedatum: 22-01-2019
Prijs: € 34,99
# New books
Willem Wilmink – De biografie
Auteur: Elsbeth Etty
• fleursdumal.nl magazine
More in: #Biography Archives, - Book News, - Book Stories, - Bookstores, Archive E-F, Archive W-X, Archive W-X, Art & Literature News, Willem Wilmink
---
The final book from one of Europe's cultural giants: an entertaining collection of essays about the modern world – from unbridled individualism to mobile phones.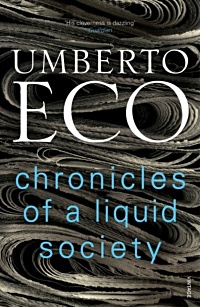 Umberto Eco was an international cultural superstar. A celebrated essayist as well as novelist, in this, his last collection, he explores many aspects of the modern world with irrepressible curiosity and wisdom written in his uniquely ironic voice.
Written by Eco as articles for his regular column in l'Espresso magazine, he brings his dazzling erudition, incisiveness and keen sense of the everyday to bear on topics such as popular culture and politics, unbridled individualism, conspiracies, the old and the young, mobile phones, mass media, racism, good manners and the crisis in ideological values.
It is a final gift to his readers – astute, witty and illuminating.
" A swan song from one of Europe's great intellectuals…Eco entertains with his intellect, humor, and insatiable curiosity…there's much here to enjoy and ponder ".  Tim Parks, Guardian
Chronicles of a Liquid Society
by Umberto Eco
Paperback
ISBN 9781784705206
Hardback
ISNB 9781911215318
2017/2018
Harvill Secker / Vintage
320 pages
Language & Literary Studies
# New books
Chronicles of a Liquid Society
by Umberto Eco
• fleursdumal.nl magazine
More in: - Book News, - Bookstores, Archive E-F, Art & Literature News, AUDIO, CINEMA, RADIO & TV, DICTIONARY OF IDEAS, MONTAIGNE, Museum of Literary Treasures, NONFICTION: ESSAYS & STORIES, Umberto Eco
---
The perfect gift for book lovers: a beautifully designed hardcover in which two of the world's great men have a delightfully rambling conversation about the future of the book in the digital era, and decide it is here to stay.
'The book is like the spoon: once invented, it cannot be bettered.' Umberto Eco These days it is almost impossible to get away from discussions of whether the 'book' will survive the digital revolution.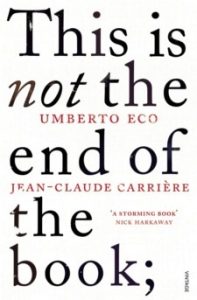 Blogs, tweets and newspaper articles on the subject appear daily, many of them repetitive, most of them admitting they don't know what will happen. Amidst the twittering, the thoughts of Jean-Claude Carrière and Umberto Eco come as a breath of fresh air. There are few people better placed to discuss the past, present and future of the book. Both avid book collectors with a deep understanding of history, they have explored through their work the many and varied ways ideas have been represented through the ages.
This thought-provoking book takes the form of a long conversation in which Carrière and Eco discuss everything from what can be defined as the first book to what is happening to knowledge now that infinite amounts of information are available at the click of a mouse. En route there are delightful digressions into personal anecdote. We find out about Eco's first computer and the book Carrière is most sad to have sold.
Readers will close this entertaining book feeling they have had the privilege of eavesdropping on an intimate discussion between two great minds. And while, as Carrière says, the one certain thing about the future is that it is unpredictable, it is clear from this conversation that, in some form or other, the book will survive.
Umberto Eco (1932–2016) wrote fiction, literary criticism and philosophy. His first novel, The Name of the Rose, was a major international bestseller. His other works include Foucault's Pendulum, The Island of the Day Before, Baudolino, The Mysterious Flame of Queen Loana, The Prague Cemetery and Numero Zero along with many brilliant collections of essays.
Jean-Claude Carrière is a writer, playwright and screenwriter. He is notably the co-author of Conversations About the End of Time (with Stephen Jay Gould, Umberto Eco, etc.) He has also worked with Peter Brook, Milos Forman, Buñuel, Godard and the Dalaï Lama.
This is Not the End of the Book
A conversation curated by Jean-Philippe de Tonnac
By Umberto Eco, Jean-Claude Carrière
Language & Literary Studies
Paperback
ISBN 9780099552451
2012
Vintage Publ.
352 pages
$24.99
# new books
This is Not the End of the Book
Umberto Eco & Jean-Claude Carrière
fleursdumal.nl magazine
More in: - Book Lovers, - Book News, - Book Stories, - Bookstores, Archive C-D, Archive E-F, Art & Literature News, The Art of Reading, Umberto Eco
---
In Her Own Words: The Life and Poetry of Aelia Eudocia is the first full-length study to examine Eudocia's writings as a unified whole and to situate them within their wider fifth-century literary, social, and religious contexts.
Responsible for over 3,000 lines of extant poetry, Eudocia is one of the best-preserved ancient female poets. Because she wrote in a literary mode frequently suppressed by proto-orthodox (male) leaders, much of her poetry does not survive, and what does survive remains understudied and underappreciated.
This book represents a detailed investigation into Eudocia's works: her epigraphic poem in honor of the therapeutic bath at Hammat Gader, her Homeric cento—a poetic paraphrase of the Bible using lines from Homer—and her epic on the fictional magician-turned-Christian, Cyprian of Antioch.
Reading her poetry as a whole and in context, Eudocia emerges as an exceptional author representing three unique late-antique communities: poets interested in preserving and transforming classical literature; Christians whose religious views positioned them outside and against traditional power structures; and women who challenged social, religious, and literary boundaries.
Brian P. Sowers is Assistant Professor of Classics at Brooklyn College, City University of New York.
In Her Own Words
The Life and Poetry of Aelia Eudocia
Brian P. Sowers
Hellenic Studies Series 80
Harvard University Press
Paperback
ISBN 9780674987371
275 pages
€22.50
Publication: January 2019
# new books
Aelia Eudocia
Life and work – poetry
fleursdumal.nl magazine
More in: - Book News, Archive E-F, Archive E-F, Archive S-T, Art & Literature News, CLASSIC POETRY
---
It's 1944 and sixteen-year-old ballerina and gymnast Edith Eger is sent to Auschwitz.

Separated from her parents on arrival, she endures unimaginable experiences, including being made to dance for the infamous Josef Mengele. When the camp is finally liberated, she is pulled from a pile of bodies, barely alive.
The horrors of the Holocaust didn't break Edith. In fact, they helped her learn to live again with a life-affirming strength and a truly remarkable resilience. The Choice is her unforgettable story.
"Edith's strength and courage are remarkable…her life and work are an incredible example of forgiveness, resilience, and generosity."— Sheryl Sandberg
Edith Eva Eger
An eminent psychologist and one of the few remaining Holocaust survivors old enough to remember life in the camps, Dr. Edith Eger has worked with veterans, military personnel, and victims of physical and mental trauma. She lives in La Jolla. The Choice is her first book.
"One of those rare and eternal stories that you don't want to end and that leave you forever changed." — Desmond Tutu, Nobel Peace Prize Laureate
The Choice.
Embrace the Possible
by Edith Eva Eger
Winner of the 2017 National Jewish Book Award and 2018 Christopher Award
Publisher: Scribner Book Company
Language: English
Hardcover: 304 pages
(September 5, 2017)
Paperback: 320 pages
(September 2018)
# new novel
Dr. Edith Eva Eger
fleursdumal.nl magazine
More in: - Book News, - Book Stories, Archive E-F, Art & Literature News, Holocaust
---
Theodor Fontane ist der große Dichter des alten Preußen – und er war zugleich ein zutiefst moderner Charakter. Hans-Dieter Rutsch entdeckt diesen Fontane neu.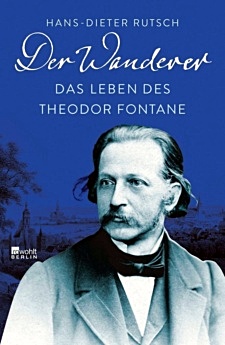 Er erzählt sein Leben und erkundet seine Welt, seine Orte in ihrer historischen Dimension wie in ihrer Gegenwart. In Neuruppin, Fontanes Kindheitsstadt, steht noch die Apotheke, die der Vater durch Spielschulden verlor. Auch der Sohn wurde Apotheker, begann zu schreiben und wurde politisch.
In der Revolution 1848 kämpfe Fontane auf den Berliner Barrikaden, und mit dreißig entschloss er sich zu einem Leben als freier Schriftsteller. Seine Wege führten ihn als Kriegsberichterstatter nach Paris, wo er als Spion verhaftet wurde, nach London, wo der die Nachtseiten der Industrialisierung sah; da ist aber auch das Sehnsuchtsland Schlesien; und immer wieder Brandenburg, wo der Romancier das Menschliche studierte.
Für Fontane waren diese Reisen literarisch-journalistischer Auftrag, seine Familie ließ er oft in prekären Bedingungen zurück. Dieses Buch entdeckt einen hellsichtigen, in seiner Zeit neuartigen Dichter, der rastlos das frühmoderne Deutschland beschrieb und darin auch unsere Gegenwart, der sich schon damals nach Entschleunigung, Schlichtheit sehnte – einen doppelten Fontane, der unser Zeitgenosse ist.
Hans-Dieter Rutsch, geboren 1954, arbeitete als Dramaturg, Autor und Regisseur beim DEFA Studio für Dokumentarfilme in Babelsberg. 1995 begründete er die Havel-Film Babelsberg. Er realisierte über fünfzig Dokumentationen, Features und Reportagen vor allem zu Themen der ostdeutschen und osteuropäischen Zeitgeschichte. 2012 erschien sein Buch «Die letzten Deutschen. Schicksale aus Schlesien und Ostpreußen».
"Von unseren großen Schriftstellern ist er der unterhaltsamste und von unseren unterhaltsamsten der intelligenteste." Marcel Reich-Ranicki über Theodor Fontane
Titel: Der Wanderer.
Das Leben des Theodor Fontane
Autor: Hans-Dieter Rutsch
1. Auflage
20. November 2018
Rowohlt Berlin
Gebunden
400 Seiten
Zahlreiche s/w Abbildungen
ISBN: 3737100268
EAN: 9783737100267
€ 26,00
# new books
Der Wanderer von Hans-Dieter Rutsch
Das Leben des Theodor Fontane
fleursdumal.nl magazine
More in: #Biography Archives, - Book News, - Bookstores, Archive E-F, Art & Literature News, Theodor Fontane
---
Older Entries »
Thank you for reading FLEURSDUMAL.NL - magazine for art & literature