Dadaïsme
·
'Metropolitan Museum -Tilburg' – Maandelijkse raamtentoonstellingen aan de Stedekestraat
·
ASSEMBLAGES WIJNAND VAN LIESHOUT IN 'METROPOLITAN MUSEUM – TILBURG'
·
All That Is Evident Is Suspect. Readings from the Oulipo, 1963 – 2018
·
Eardrums. Literary Modernism as Sonic Warfare by Tyler Whitney
·
The Milk Bowl of Feathers. Essential Surrealist Writings edited by Mary Ann Caws
·
Hugo Ball: Totentanz 1916
·
Hugo Ball: Der Henker
·
Hugo Ball: 1 Stern und 7 kazamogipuffel
·
DADA Poëziebal in Schouwburg De Lawei in Drachten met o.a. K. Schippers
·
Forum of Live Art Amsterdam 2018 in Arti et Amicitiae
·
Hugo Ball: Die Ersten
·
Johannes Theodor Baargeld: Typische Vertikalklitterung als Darstellung des Dada Baargeld
Op de route van het Tilburgse station naar het Museumkwartier, waar dagelijks veel passanten naar De Pont en het Textielmuseum langskomen, bevinden zich een tiental verlichte ramen met steeds wisselende exposities van kunstenaars uit Tilburg en wijde omgeving.
Dit particuliere initiatief biedt kleine tentoonstellingen die dagelijks dag en nacht voor iedereen gratis te zien zijn. Er is geen enkele drempel om er onbevangen van te genieten, het demonstratief te negeren of om er ongezouten commentaar op te leveren.
Sjon Brands en Dorith van der Lee begonnen met een paar beelden in de ramen aan de Stedekestraat. Om ze de buitenwereld te tonen en bij te dragen aan de levendigheid van een buurt die volop in ontwikkeling is. De belangstelling was boven elke verwachting, overweldigend zelfs, vaak staan er groepjes, vooral jongeren, foto's en filmpjes te maken. Er wordt volop gelachen en gediscussieerd. Dit heeft hen er toe gebracht om ook andere kunstenaars uit te gaan nodigen, om een paar namen te noemen: John Dohmen, Martijn de Boer, Nick Swarth, Wijnand van Lieshout, binnenkort Sanders Neijnens en Ivo van Leeuwen.
Deze lijn wordt de komende jaren voortgezet in de hoop dat het 'Metropolitan Museum – Tilburg' zijn ronkende naam gaat waar maken. Sjon en Dorith, niet gekweld door lokale bescheidenheid en met een knipoog naar de grootstedelijke ontwikkelingen in deze stad, konden het niet nalaten. Iedereen is van harte welkom.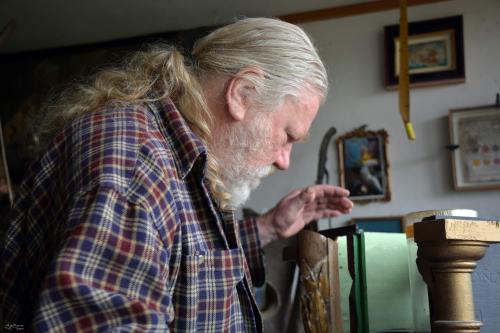 ASSEMBLAGES WIJNAND VAN LIESHOUT
Tot en met vrijdag 30 november 2019 is nog te zien de tentoonstelling: 'Wagon-Lits-Expresse' van Wijnand van Lieshout, de nestor onder de Tilburgse kunstenaars. Hij toont recent werk.
METROPOLITAN MUSEUM – TILBURG
'Metropolitan Museum -Tilburg'
Maandelijkse raamtentoonstellingen
15 Stedekestraat – 5041DM Tilburg – Netherlands
Email: post@metropolitanmuseum.nl
Website: www.metropolitanmuseum.nl
www.sjonbrands.nl
Dagelijks – dag en nacht – toegang vrij
• photos: sjon brands
• fleursdumal.nl magazine
More in: Art & Literature News, AUDIO, CINEMA, RADIO & TV, Dadaïsme, Ivo van Leeuwen, Nick J. Swarth, Sjon Brands, Spurensicherung, Surrealisme, Theater van de Verloren Tijd, Wijnand van Lieshout
---
    ASSEMBLAGES WIJNAND VAN LIESHOUT
• Tentoonstelling 'Wagon-Lits-Expresse' in het 'Metropolitan Museum – Tilburg'
• Wijnand van Lieshout, de nestor onder de Tilburgse kunstenaars, toont recent werk in de raam-tentoonstellingen aan de Stedekestraat ('Metropolitan Museum – Tilburg').
• Zijn tentoonstelling 'Wagon-Lits-Expresse' loopt van vrijdag 1 t/m vrijdag 30 november 2019, dag en nacht bereikbaar.
• fleursdumal.nl magazine
More in: - Objets Trouvés (Ready-Mades), Dadaïsme, Exhibition Archive, FDM Art Gallery, Sculpture, Sjon Brands, Surrealisme, Theater van de Verloren Tijd, Wijnand van Lieshout
---
Since its inception in Paris in 1960, the OuLiPo―ouvroir de littérature potentielle, or workshop for potential literature―has continually expanded our sense of what writing can do.
It's produced, among many other marvels, a detective novel without the letter e (and a sequel of sorts without a, i, o, u, or y); an epic poem structured by the Parisian métro system; a story in the form of a tarot reading; a poetry book in the form of a game of go; and a suite of sonnets that would take almost 200 million years to read completely.
Lovers of literature are likely familiar with the novels of the best-known Oulipians―Italo Calvino, Georges Perec, Harry Mathews, Raymond Queneau―and perhaps even the small number of texts available in English on the group, including Warren Motte's Oulipo: A Primer of Potential Literature and Daniel Levin Becker's Many Subtle Channels: In Praise of Potential Literature.
But the actual work of the group in its full, radiant collectivity has never before been showcased in English. ("The State of Constraint," a dossier in issue 22 of McSweeney's Quarterly Concern, comes closest.)
Enter All That is Evident is Suspect: the first collection in English to offer a life-size picture of the group in its historical and contemporary incarnations, and the first in any language to represent all of its members (numbering 41 as of April 2018 ). Combining fiction, poetry, essays and lectures, and never-published internal correspondence―along with the acrobatically constrained writing and complexly structured narratives that have become synonymous with oulipian practice―this volume shows a unique group of thinkers and artists at work and at play, meditating on and subverting the facts of life, love, and the group itself. It's an unprecedentedly intimate and comprehensive glimpse at the breadth and diversity of one of world literature's most vital, adventurous presences.
Sharks as poets and vice versa, the Brisbane pitch drop experiment, novel classifications for real or imaginary libraries, the monumental sadness of difficult loves, the obsolescence of the novel, the symbolic significance of the cup-and-ball game, holiday closures across the Francophone world, what happens at Fahrenheit 452, Warren G. Harding's dark night of the soul, Marcel Duchamp's imperviousness to conventional spacetime laws, bilingual palindromes, cartoon eodermdromes, oscillating poems, métro poems, metric poems, literary madness, straw cultivation.
Ian Monk is an English poet and Scott Moncrieff Award–winning translator who joined the Oulipo in 1998. He is the author of fifteen books of poetry in English and in French, most recently Vers de l'infini (Cambourakis, 2017), and has translated books by Raymond Roussel, Daniel Pennac, Marie Darrieussecq, Georges Perec, and various other Oulipians. He lives in Paris.
Title All That Is Evident Is Suspect
Subtitle Readings from the Oulipo, 1963 – 2018
Edited by Daniel Levin Becker, Ian Monk
Levin Becker, Daniel (Translator)
Marcel Duchamp (Contributor)
& 1 more
Publisher McSweeney's
Title First Published 01 November 2018
Format Hardcover
ISBN-10 1944211527
ISBN-13 9781944211523
Publication Date 01 November 2018
Hardcover
November 13, 2018
$32.00
# new books
All That Is Evident Is Suspect
Readings from the Oulipo, 1963 – 2018
Edited by Daniel Levin Becker, Ian Monk
• fleursdumal.nl magazine
More in: - Book News, - Book Stories, Art & Literature News, Dada, DADA, Dadaïsme, Georges Perec, Jef van Kempen, LITERARY MAGAZINES, Marcel Duchamp, OULIPO (PATAFYSICA), Surrealism, SURREALISM
---
In this innovative study, Tyler Whitney demonstrates how a transformation and militarization of the civilian soundscape in the late nineteenth and early twentieth centuries left indelible traces on the literature that defined the period.

Both formally and thematically, the modernist aesthetics of Franz Kafka, Robert Musil, Detlev von Liliencron, and Peter Altenberg drew on this blurring of martial and civilian soundscapes in traumatic and performative repetitions of war.

At the same time, Richard Huelsenbeck assaulted audiences in Zurich with his "sound poems," which combined references to World War I, colonialism, and violent encounters in urban spaces with nonsensical utterances and linguistic detritus—all accompanied by the relentless beating of a drum on the stage of the Cabaret Voltaire.
Eardrums is the first book-length study to explore the relationship between acoustical modernity and German modernism, charting a literary and cultural history written in and around the eardrum. The result is not only a new way of understanding the sonic impulses behind key literary texts from the period. It also outlines an entirely new approach to the study of literature as as the interaction of text and sonic practice, voice and noise, which will be of interest to scholars across literary studies, media theory, sound studies, and the history of science.
Tyler Whitney is an assistant professor of German at the University of Michigan.
Tyler Whitney (Author)
Eardrums.
Literary Modernism as Sonic Warfare
Cloth Text – $99.95
ISBN 978-0-8101-4022-6
Paper Text – $34.95
ISBN 978-0-8101-4021-9
Northwestern University Press
Publication Date June 2019
Literary Criticism
232 pages
Price: $24.00
# new books
Tyler Whitney
Eardrums.
Literary Modernism as Sonic Warfare
• fleursdumal.nl magazine
More in: # Music Archive, #Archive A-Z Sound Poetry, *War Poetry Archive, - Book News, - Book Stories, Archive W-X, AUDIO, CINEMA, RADIO & TV, DADA, Dadaïsme, Kafka, Franz, Modernisme, Visual & Concrete Poetry
---
An exciting new collection of the essential writings of surrealism, the European avant-garde movement of the mind's deepest powers
Originating in 1916 with the avant-garde Dada movement at the famous Café Voltaire in Zurich, surrealism aimed to unleash the powers of the creative act without thinking. Max Ernst, André Breton, Tristan Tzara, Paul Éluard, Philippe Soupault, and Louis Aragon created a movement that spread wildly to all corners of the globe, inspiring not only poetry but also artists like Joan Miro and René Magritte and cinematic works by Antonin Artaud, Luis Bunuel, and Salvador Dalí.
As the editor, Mary Ann Caws, says, "Essential to surrealist behavior is a constant state of openness, of readiness for whatever occurs, whatever marvelous object we might come across, manifesting itself against the already thought, the already lived."
Here are the gems of this major, mind-bending aesthetic, political, and humane movement: writers as diverse as Aragon, Breton, Dalí, René Char, Robert Desnos, Mina Loy, Paul Magritte, Alice Paalen, Gisele Prassinos, Man Ray, Kay Sage, and Elsa von Freytag-Loringhoven are included here, providing a grand picture of this revolutionary movement that shocked the world.
Title: The Milk Bowl of Feathers
Subtitle: Essential Surrealist Writings
Edited by Mary Ann Caws
Publisher: New Directions
Title First Published 25 September 2018
Format Paperback $13.95
ISBN-10 0811227073
ISBN-13 9780811227070
128 pages
# more books
The Milk Bowl of Feathers.
Essential Surrealist Writings
Edited by Mary Ann Caws
•fleursdumal.nl magazine
More in: - Book News, Art & Literature News, Artaud, Antonin, Dada, DADA, Dadaïsme, Desnos, Robert, Freytag-Loringhoven, Elsa von, Loy, Mina, Surrealism, SURREALISM, Surrealisme, Tzara, Tristan
---
Totentanz 1916
So sterben wir, so sterben wir
Und sterben alle Tage,
Weil es so gemütlich sich sterben lässt.
Morgens noch in Schlaf und Traum,
Mittags schon dahin,
Abends schon zu unterst im Grabe drin.
Die Schlacht ist unser Freudenhaus,
Von Blut ist unsre Sonne,
Tod ist unser Zeichen und Losungswort.
Kind und Weib verlassen wir:
Was gehen sie uns an!
Wenn man sich auf uns nur verlassen kann!
So morden wir, so morden wir
Und morden alle Tage
Unsere Kameraden im Totentanz.
Bruder, reck Dich auf vor mir!
Bruder, Deine Brust!
Bruder, der Du fallen und sterben musst.
Wir murren nicht, wir knurren nicht,
Wir schweigen alle Tage
Bis sich vom Gelenke das Hüftbein dreht.
Hart ist unsre Lagerstatt,
Trocken unser Brot,
Blutig und besudelt der liebe Gott.
Wir danken Dir, wir danken Dir,
Herr Kaiser für die Gnade,
Dass Du uns zum Sterben erkoren hast.
Schlafe Du, schlaf sanft und still,
Bis Dich auferweckt
Unser armer Leib, den der Rasen deckt.
Hugo Ball
(1886-1927)
Totentanz 1916
• fleursdumal.nl magazine
More in: Archive A-B, Ball, Hugo, Dada, DADA, Dadaïsme
---
Der Henker
Ich kugle Dich auf Deiner roten Decke.
Ich bin am Werk: blank wie ein Metzgermeister.
Tische und Bänke stehen wie blitzende Messer
der Syphiliszwerg stochert in Töpfen voll Gallert und Kleister.
Dein Leib ist gekrümmt und blendend und glänzt wie der gelbe Mond
deine Augen sind kleine lüsterne Monde
dein Mund ist geborsten in Wollust und in der Jüdinnen Not
deine Hand eine Schnecke, die in den blutroten Gärten voll Weintrauben und Rosen wohnte.
Hilf, heilige Maria! Dir sprang die Frucht aus dem Leibe
sei gebenedeit! Mir rinnt geiler Brand an den Beinen herunter.
Mein Haar ein Sturm, mein Gehirn ein Zunder
meine Finger zehn gierige Zimmermannsnägel
die schlage ich in der Christenheit Götzenplunder.
Als dein Wehgeschrei dir die Zähne aus den Kiefern sprengte
da brach auch ein Goldprasseln durch die Himmelssparren nieder.
Eine gigantische Hostie gerann und blieb zwischen Rosabergen stehen
ein Hallelujah gurgelte durch Apostel- und Hirtenglieder.
Da tanzten nackichte Männer und Huren in verrückter Ekstase
Heiden, Türken, Kaffern und Muhammedaner zumal
Da stoben die Engel den Erdkreis hinunter
Und brachten auf feurigem Teller die Finsternis und die Qual.
Da war keine Mutterknospe, kein Auge mehr blutunterlaufen und ohne Hoffen
Jede Seele stand für die Kindheit und für das Wunder offen.
Hugo Ball
(1886-1927)
Der Henker
fleursdumal.nl magazine
More in: Archive A-B, Ball, Hugo, Dada, DADA, Dadaïsme
---
1 Stern und 7 kazamogipuffel
1 Stern und 7 kazamogipuffel
macht 13 zakopaddogei
zubtrahiere 5 franschöse Männlin
macht 1 Libanotterbett
nehme 3 Quentlin Klotzpulfer
legs in himmelsdeifelsnamen
dabei, wirst sehen wohinst
kommst wnr bällt wnr heult
wnr pfaucht wnre Daugen däht
Hugo Ball
(1886-1927)
gedicht
fleursdumal.nl magazine
More in: Archive A-B, Ball, Hugo, Dada, DADA, Dadaïsme
---
Op zaterdag 6 oktober organiseert Museum Dr8888 (Drachten) het Dada Poëziebal in Schouwburg De Lawei.
Vanaf 19.30 uur presenteert het museum in de Kleine Zaal een verrassend en onvoorspelbaar programma met poëzie, performances, muziek, beeld en dans.
Optredens worden verzorgd door o.a. K. Schippers, Astrid Lampe, Nyk de Vries, Jan Ketelaar, Meindert Talma en Andries de Jong. Het Poëziebal is onderdeel van het buitenprogramma van Museum Dr8888 en vindt plaats in het kader van Leeuwarden-Friesland 2018.
De avond wordt een beleving op zich en laat zich het best omschrijven als extravagant, intiem, verrassend en een tikkeltje rebels. Het Dada Poëziebal begint om 19.30 uur en vindt plaats in de Kleine Zaal van De Lawei. Het wordt een avondvullend programma met een divers palet aan multidisciplinaire performances waarin tegelijkertijd en op meerdere plekken tegelijk wordt geprogrammeerd. Optredens worden verzorgd door K. Schippers, Astrid Lampe, Jan Ketelaar, Alison Isadora, Jaap Blonk, Tim Schouten, Felicity Provan en Laura Polence, studenten Beeld en Taal van de Gerrit Rietveld Academie, Meindert Talma, Tijdelijke Toon, Bram Zielman, Andries de Jong, Leendert Vooijce, Nyk de Vries, Redactielokaal met Jamila Faber en Arjan Hut, Natasja Hoekstra en dansers en Willie Darktrousers.
Presentator van de avond: Karel Hermans. Regie van de avond is in handen van Janneke de Haan i.s.m. Sanne van Balen.
# Kaarten zijn verkrijgbaar via: www.lawei.nl
Dada Poëziebal met o.a. Jan Ketelaar, K. Schippers en Astrid Lampe in Schouwburg De Lawei in Drachten op zaterdag 6 oktober 2018
more dada
fleursdumal.nl magazine
More in: Antony Kok, Art & Literature News, Dada, DADA, Dadaïsme, De Stijl, Doesburg, Theo van, Evert en Thijs Rinsema, K. Schippers, Kok, Antony, Kurt Schwitters, Kurt Schwitters, Performing arts, Schippers, K., Schwitters, Kurt, THEATRE, Theo van Doesburg, Tzara, Tristan, Visual & Concrete Poetry, Werkman, Hendrik Nicolaas
---
FLAM (Forum of Live Art Amsterdam) 2018 is een jaarlijks terugkerende tentoonstelling in Arti et Amicitiae, waarin de grote verscheidenheid aan uitingen binnen de hedendaagse performancekunst ruimte krijgt.
FLAM VIII
Look at me, then look at me again
FLAM LIVE: 4 – 7 SEPTEMBER
FLAM ENCOUNTER: 12 – 30 SEPTEMBER
De achtste editie vangt aan met FLAM Live: een intensieve week van live-kunst, waarin het lichaam met diens vele betekenissen het medium is. Deze editie wordt uitgebreid met FLAM Encounter: een tentoonstelling met installaties die op verschillende manieren hun oorsprong vinden in een performance. Middels deze transformatie biedt FLAM VIII een podium voor zowel de efemere als de materiële kant van diverse artistieke praktijken.
Om verschillende perspectieven op de werken te activeren hanteert FLAM VIII een metaforisch kader. De performances in de live-week worden opgevat als elementen van een wilde tuin; de toeschouwers worden uitgenodigd door de wilde tuin te dwalen, en samen met anderen de live-ervaring te delen.
De tentoonstelling wordt opgevat als een cruise-tuin, waarin objecten een beweging aansporen. FLAM Encounter nodigt het publiek uit om met een cruisende attitude de tentoonstellingszalen te betrekken, verschillende gezichtspunten in te nemen en een persoonlijke relatie aan te gaan met de objecten en andere lichamen in de ruimte. Het programma is ontworpen om onverwachte kruisbestuivingen te genereren tussen de kunstenaars, hun werk en het publiek.
Richard John Jones, Matthew Day, Richard John Jones, Maison JaJa, Dionisios Argyropoulos Ioannou, Sara Giannini, Pauline Jardin Curnier, Clementine Edwards, Tirza Kater, Wilfried Tomescu, Giorgos Tsiongas, Rabea Ridlhammer, Lukas Hoffmann, Clara Saito – Christopher Tym, Kurt Dickriot, Lady Dada, Natasha Papadopoulou, keyon gaskin, Rose Akras, Titus Nouwens, Olivia Reschofsky, Alice Pons, Emilia Thorin, Alina Lupu, Jan-Pieter 't Hart, Bea Correa, Katja Vercouteren, Alex Bailey, Roland Rauschmeier, Rebecca Chaillon, Tomislav Feller, Andrea Folache Zavala, Astrit Ismaili, Mami Kang, Maria Metsalu, Dora Longo Bahia, Harold Offeh, Marijn Ottenhof, Vincent Riebeek, Nicolas Roses, Mathias Ringgenberg, Antonia Steffens, Julian Weber, Philipp Gufler, Maria Metsalu, Hannah Perry, Sarah van Lamsweerde, Erin Hill
FLAM
Forum of Live Art
dinsdag 4 september 2018 t/m zondag 30 september 2018
Arti et Amicitiae
Rokin 112, 1012 LB Amsterdam
E-mailadres: arti@arti.nl
Telefoonnummer: 020-6245134
 # meer info op website Arti et Amicitiae 
Forum of Live Art Amsterdam 2018 in Arti et Amicitiae
fleursdumal.nl magazine
More in: # Music Archive, AUDIO, CINEMA, RADIO & TV, Dada, Dadaïsme, DANCE, Exhibition Archive, Performing arts, STREET POETRY, THEATRE
---
Die Ersten
Die Ersten sinds, sie sind im besten Zug
Vom willenlosen Haufen sich zu lösen.
Erkennend eitel Schimmer, seichten Trug
Der großen Reden abgenützte Blößen,
Klangvolle Phrasen, ein vereinter Schwall
Der überflutet Erdehöhen und Täler,
Allüberall der gleiche Wiederhall,
Der gleiche Köder und der gleiche Wähler.
Wohl wächst der Massen Schrei nach Glück und Brot
Doch übertönt er nicht die Worte der Vertreter,
Es fallen Opfer tiefster Seelennot,
Die Masse fällt dein Zeichen der Verräter.
So lausch ich freudig, wenn mit wildem Schrei
Die Brust erfüllt von froher Zukunft ahnen
Sich einer ringt vom Heerdentaumel frei
Kraftvoll empor auf selbstgewollten Bahnen.
Hugo Ball
(1886 – 1927)
Erstdruck in:
Der Revoluzzer (Zürich),
2. Jg., Nr. 4/5, Mai 1916.
fleursdumal.nl magazine
More in: Archive A-B, Ball, Hugo, Dada, DADA, Dadaïsme
---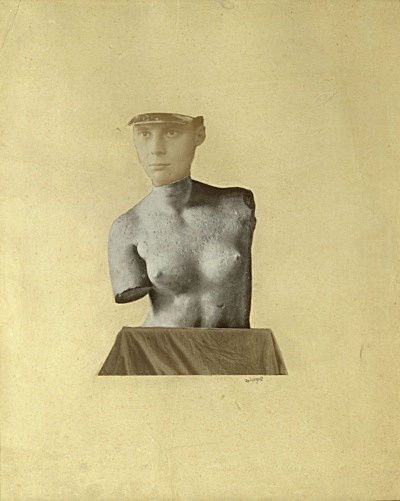 Johannes Theodor Baargeld (1892-1927)
Typische Vertikalklitterung als Darstellung des Dada Baargeld (Typical Vertical Mess as Depiction of the Dada Baargeld – Typique amalgame vertical en tant que représentation du Dada Baargeld)), 1920, collage
fleursdumal.nl magazine
More in: Baargeld, Johannes Theodor, Dada, DADA, Dadaïsme, Galerie Deutschland
---
Older Entries »
Thank you for reading FLEURSDUMAL.NL - magazine for art & literature