LIGHT VERSE
«« Previous page
·
Littérature et poésie – Nuit de la Poésie 2017 = 11 – 12 Novembre 2017
·
Festival Paris En Toutes Lettres 2017 du 9 au 20 novembre 2017
·
Ick kieke, staune, wundre mir: Berlinerische Gedichte von 1830 bis heute
·
Joshua Seigal: I Don't Like Poetry
·
Edward LEAR: The Quangle Wangles Hat
·
Edward LEAR: How pleasant to know Mr. Lear
·
Poëzieweek 2017 (26 januari t/m/ 1 februari) en Gedichtendag 2017 (26 januari)
·
Jules DEELDER schrijft het Poëziegeschenk 2017
·
LICHTEGEDICHTENDAG: Ivo de Wijs, Kees Torn, Erik van Muiswinkel e.a. in Concertzaal Tilburg
·
FRANK VAN PAMELEN: DE WRAAK VAN VONDEL
·
JONATHAN SWIFT: ADVICE TO THE GRUB STREET VERSE-WRITERS
·
EDWARD LEAR: THE OWL AND THE PUSSY-CAT
Pour la deuxième année consécutive, l'IMA et la Maison de la Poésie s'unissent pour convoquer, le temps d'une nuit, la poésie et célébrer la beauté du verbe, en mémoire des attentats de Paris en novembre 2015. Cette deuxième édition est aussi celle d'un nouveau partage : la Nuit 2017 résonnera, en même temps, à travers huit villes du monde arabe.
En mémoire des attentats de Paris du 13 novembre 2015, l'initiative a en 2016 rassemblé près d'une cinquantaine d'artistes de disciplines différentes, parlant l'arabe, le français ou l'hébreu. Plus de 3 000 personnes se sont réunies à l'IMA.
Dans la nuit du 11 au 12 novembre 2017, la deuxième édition de la Nuit de la Poésie offrira une nouvelle fois la possibilité de découvrir et d'apprécier la poésie – cette année en arabe, en français et en persan – à travers la lecture, le slam, le rap, le chant ou encore les arts du cirque.
#  la Nuit de la poésie Web IMA

Littérature et poésie
Nuit de la Poésie 2017
11 – 12 Novembre 2017
fleursdumal.nl magazine
More in: Art & Literature News, FDM in Paris, LIGHT VERSE, Literary Events, Maison de la Poésie, MODERN POETRY, MUSIC, Nacht van de Poëzie, THEATRE
---
---
Festival littéraire de la ville de Paris, Paris En Toutes Lettres est fondé sur les hybridations entre les genres littéraires et les formes artistiques, ainsi que sur les résonances entre la géographie parisienne et sa vie littéraire. À partir de la Maison de la Poésie-Scène littéraire, il se déploie dans une quinzaine de lieux alentours.
Revisitant l'actualité littéraire, le festival fait aussi la part belle aux créations mettant en regard littérature et musique. Parmi plus de cinquante lectures, rencontres ou concerts littéraires, on trouve également d'insolites conférences et de curieuses performances. À travers ce foisonnement de lieux et de propositions, c'est à un Paris vivant et traversé de littérature que le festival donne voix.
Festival
Paris En Toutes Lettres 2017
Du 9 au 20 novembre 2017
fleursdumal.nl magazine
More in: Art & Literature News, AUDIO, CINEMA, RADIO & TV, FDM in Paris, LIGHT VERSE, Literary Events, MODERN POETRY, MUSIC, STREET POETRY, THEATRE
---
Schon immer war Berlin von Zuwanderung geprägt. Die zur Metropole wachsende Stadt hat sich aller Sprachen bedient und ihre Mundart ausgeprägt: die »Berliner Schnauze«.
Von der Straße, aus den Dienstmädchenkammern und Hinterhöfen fand das Berlinerische seinen Weg auf die Bühnen der Schmalzstullentheater und bald auch in die Schreibstuben der Dichter.
Was mit Adolf Glaßbrenners Eckensteher anfing, wurde von Theodor Fontane, Erich Mühsam und Max Herrmann-Neiße aufgegriffen. Kurt Tucholsky entpuppte sich als Meister des mundsprachlichen Gelegenheitsgedichtes und Erich Weinert berlinerte noch aus dem Exil gegen die Nationalsozialisten an. Eine Mundart wurde hoffähig und manchmal auch frech und obszön.
Diese erste dokumentarische Anthologie, die sich der berlinerischen volksnahen Sprache widmet, umfasst über 250 Gedichte – von 1830 bis heute. Entstanden ist eine Berliner Kulturgeschichte »von unten«, die fast wie nebenbei auch die deutsche Geschichte der letzten zweihundert Jahre nachzeichnet – vom preußischen Selbstbewusstsein über den kaiserstädtischen Größenwahn, den Klassenkampf der Goldenen Zwanziger, den Jahren im Krieg, in denen vielen Autoren allein die Mundart als Stück Heimat blieb, bis hin zur Rückbesinnung in den Jahren deutsch-deutscher Teilung und deren Überwindung.
Ick kieke, staune, wundre mir
Berlinerische Gedichte von 1830 bis heute
Gesammelt und ediert von Thilo Bock, Wilfried Ihrig & Ulrich Janetzki, mit einem Vorwort von Hans Christoph Buch
Die Andere Bibliothek, Berlin
Erschienen: 05.2017
Seitenanzahl: 472
Extradrucke
Bandnummer: 387
Extradruck, gebunden,
farbiges Vorsatzpapier,
mit Lesebändchen,
Gestaltung: Susanne Bax, Berlin.
ISBN: 9783847720188
24,00 EUR
# Website Die Andere Bibliothek
new books
fleursdumal.nl magazine
More in: - Book Lovers, - Book News, - Book Stories, Art & Literature News, FDM in Berlin, Galerie Deutschland, LIGHT VERSE, POETRY ARCHIVE
---
Packed full of silly, funny, or downright hilarious poems (with a few serious ones mixed in) this brilliant collection from exciting young poet, Joshua Seigal is perfect for fans of Michael Rosen and anyone else who needs a giggle.

If you like poetry, you'll like this book. And if you don't like poetry you'll LOVE it!
Joshua Seigal is a poet, performer and workshop leader who spends his time visiting schools, libraries and theatres around the country and beyond. He has taken critically-acclaimed poetry shows to the Edinburgh Festival Fringe, but usually ends up performing in front of his mirror, using a hairbrush as a microphone. He has managed to gain the minimal skills required to make his own website – www.joshuaseigal.co.uk.
'When you read this book, the windows will burp and the grass will turn blue. That's how magic these poems are.' Michael Rosen
'If … you still think "I don't like poetry," this might be the collection for you: Joshua Seigal's very imaginative and wonderful collection." Nicolette Jones, The Times
Joshua Seiga writes: Poetry, Poetry 7+, Poetry 8+
Joshua Seiga is author of : Little Lemur Laughing, I Don't Like Poetry
I Don't Like Poetry by Joshua Seigal
Format: Paperback
Edition: 1st
ISBN: 9781472930033
Imprint: Bloomsbury Education
Illustrations: B&W
Dimensions: 198 x 129 mm
£5.99
new books
fleursdumal.nl magazine
More in: - Book Lovers, - Book News, Archive S-T, Archive S-T, Art & Literature News, EDITOR'S CHOICE, LIGHT VERSE
---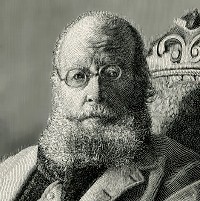 Edward Lear
The Quangle Wangles Hat
On the top of the Crumpetty Tree
The Quangle Wangle sat,
But his face you could not see,
On account of his Beaver Hat.
For his hat was a hundred and two feet wide,
With ribbons and bibbons on every side
And bells, and buttons, and loops, and lace,
So that nobody ever could see the face
Of the Quangle Wangle Quee.
The Quangle Wangle said
To himself on the Crumpetty Tree,
Jam; and jelly; and bread;
Are the best food for me!
But the longer I live on this Crumpetty Tree
The plainer than ever it seems to me
That very few people come this way
And that life on the whole is far from gay!'
Said the Quangle Wangle Quee.
But there came to the Crumpetty Tree,
Mr. and Mrs. Canary;
And they said, Did you ever see
Any spot so charmingly airy?
May we build a nest on your lovely Hat?
Mr. Quangle Wangle, grant us that!
O please let us come and build a nest
Of whatever material suits you best,
Mr. Quangle Wangle Quee!'
And besides, to the Crumetty Tree
Came the Stork, the Duck, and the Owl;
The Snail, and the Bumble-Bee,
The Frog, and the Fimble Fowl;
The Fimble Fowl, with a Corkscrew leg;
And all of them said, We humbly beg,
We may build our homes on your lovely Hat,
Mr. Quangle Wangle, grant us that!
Mr. Quangle Wangle Quee!
And the Golden Grouse came there,
And the Pobble who has no toes,
And the small Olympian bear,
And the Dong with a luminous nose.
And the Blue Babboon, who played the flute,
And the Orient Calf from the Land of Tute,
And the Attery Squash, and the Bisky Bat,
All came and built on the lovely Hat
Of the Quangle Wangle Quee.
And the Quangle Wangle said
To himself on the Crumpetty Tree,
When all these creatures move
What a wonderful noise there'll be!'
And at night by the light of the Mulberry moon
They danced to the flute of the Blue Babboon,
On the broad green leaves of the Crumpetty Tree,
And all were as happy as happy could be,
With the Quangle Wangle Quee.
Edward Lear (1812 – 1888)
The Quangle Wangles Hat
fleursdumal.nl magazine
More in: Archive K-L, Edward Lear, LIGHT VERSE
---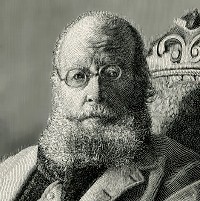 Edward Lear
How pleasant to know Mr. Lear
How pleasant to know Mr. Lear,
Who has written such volumes of stuff.
Some think him ill-tempered and queer,
But a few find him pleasant enough.
His mind is concrete and fastidious,
His nose is remarkably big;
His visage is more or less hideous,
His beard it resembles a wig.
He has ears, and two eyes, and ten fingers,
(Leastways if you reckon two thumbs);
He used to be one of the singers,
But now he is one of the dumbs.
He sits in a beautiful parlour,
With hundreds of books on the wall;
He drinks a great deal of marsala,
But never gets tipsy at all.
He has many friends, laymen and clerical,
Old Foss is the name of his cat;
His body is perfectly spherical,
He weareth a runcible hat.
When he walks in waterproof white,
The children run after him so!
Calling out, "He's gone out in his night-
Gown, that crazy old Englishman, oh!"
He weeps by the side of the ocean,
He weeps on the top of the hill;
He purchases pancakes and lotion,
And chocolate shrimps from the mill.
He reads, but he does not speak, Spanish,
He cannot abide ginger beer;
Ere the days of his pilgrimage vanish,
How pleasant to know Mr. Lear!
 
Edward Lear (1812 – 1888)
How pleasant to know Mr. Lear
fleursdumal.nl magazine
More in: Archive K-L, Edward Lear, LIGHT VERSE
---
 Gedichtendag  2017 (26 januari)
 Poëzieweek 2017 (26 januari t/m/ 1 februari)
Opening Poëzieweek 2017 (26 januari t/m/ 1 februari)
Met Gedichtendag gaat op de laatste donderdag van januari traditiegetrouw de Poëzieweek van start. Gedichtendag, sinds 2000 georganiseerd door Poetry International Rotterdam, is hét poëziefeest van Nederland en Vlaanderen. Poëzieliefhebbers in Nederland en Vlaanderen organiseren die dag een grote diversiteit aan eigen poëzieactiviteiten en ook de media klinken die dag een stuk poëtischer.
Voor de enorme hoeveelheid optredens, publicaties, poëzieprijzen, -programma's en -activiteiten is één dag simpelweg veel te kort!
Verspreid poëzie op social media
Breng poëzie in uw leven! Laat u inspireren door de foto-gedichten en deel het op social media met #Gedichtendag. Wijs vrienden en contacten op website poezieweek.com
Lees ook poëzie op website: fleursdumal.nl magazine
 Dicht mee!
More in: #Archive A-Z Sound Poetry, Art & Literature News, CLASSIC POETRY, CONCRETE , VISUAL & SOUND POETRY, EDITOR'S CHOICE, EXPERIMENTAL POETRY, LIGHT VERSE, Literary Events, MODERN POETRY, POETRY ARCHIVE, Poëzieweek, PRESS & PUBLISHING, STREET POETRY, The talk of the town
---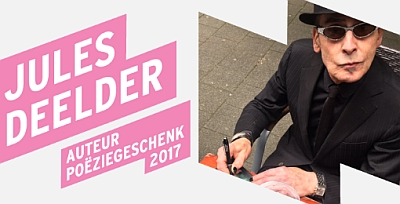 Humor en poëzie? "Jawel", zegt Jules Deelder (Rotterdam-Overschie, 1944), die het Poëziegeschenk 2017 zal schrijven. Met het thema humor in de Poëzieweek 2017 komt er aandacht voor gedichten die op de lachspieren werken, uit hilariteit, herkenbaarheid of uit ironie. Humor is in Deelders poëzie in ieder geval geen curiosum. Deze Nederlandse dichter van een omvangrijk oeuvre staat in binnen- en buitenland bekend om zijn memorabele performances, waarbij de Beat Generation nooit veraf lijkt.
Aan de vooravond van de Poëzieweek wordt in Nederland voor de 23ste keer de VSB Poëzieprijs uitgereikt en in Vlaanderen de Herman de Coninckprijs. De Poëzieweek start op donderdag 26 januari in Vlaanderen en Nederland met Gedichtendag en loopt t/m woensdag 1 februari; de prijsuitreiking van de Turing Gedichtenwedstrijd. Tijdens de Poëzieweek krijgen de klanten van de boekhandel bij aankoop van € 12,50 aan poëzie het Poëziegeschenk cadeau.
Gedichten worden in onze contreien eerder met ernst dan met humor geassocieerd. Het verdriet is eindeloos en de liefde hopeloos. Toch wordt er ook heel wat afgelachen in poëtenland. Soms is er de luide bulderlach bij een kolderiek nonsensgedicht, vaak is er ook een grijns van herkenning. De verwarrende situatie die de dichter beschrijft, hebben we zelf allemaal ook meegemaakt. Humor in poëzie kan ook wat ongemakkelijk zijn: valt hier wel om te lachen? Dichters gebruiken humor ook in de vorm van ironie of spot om een maatschappelijke wantoestand aan te klagen. Humor is bovenal een manier om met de meerduidigheid van de dingen om te gaan en dat is bij poëzie niet anders…
J.A. Deelder zette zijn eerste stappen in zijn carrière als performer in 1966. Na zijn poëziedebuut Gloria Satoria bij De Bezige Bij volgden nog vele bundels met als meest recente publicaties Tussentijds (2008), Ruisch (2011), Het graf van Descartes (2013) en Dag en nacht (2014). In zijn vaak absurdistische, maar steeds glasheldere poëzie wordt de jazz haast tastbaar. De onderwerpen die Deelder aansnijdt zijn de Tweede Wereldoorlog, Duitsland, Rotterdam, jazz en het leven van Deelder zelf. In 1982 debuteerde Deelder als prozaïst met Schöne Welt. Hierna verschenen een groot aantal verhalenbundels en gelegenheidsuitgaven waaronder Deelderama (2001), Swingkoning (2006) en Deelder lacht (2007). Deelder ontving voor zijn gehele oeuvre de Anna Blaman Prijs (1988), de Johnny Van Doorn-prijs voor de gesproken letteren (1999), en de Tollensprijs (2005). In 2005 mocht hij ook een Edison voor zijn cd Deelder blijft draaien in ontvangst nemen.
De Poëzieweek is een Nederlands-Vlaamse samenwerking van Stichting Poetry International, Poëziecentrum, Iedereen Leest Vlaanderen, Stichting Lezen Nederland, Awater, Poëzieclub, Het Literatuurhuis, Wintertuin, SLAG, Taalunie, SSS, het Nederlands Letterenfonds, Vlaams Fonds voor de Letteren, Turing Foundation, VSBfonds, Boek.be en de CPNB. Met de bundeling van deze activiteiten willen de organisatoren een groter bereik creëren voor poëzie.
fleursdumal.nl magazine
More in: Archive C-D, Art & Literature News, Jules Deelder, LIGHT VERSE, Literary Events, Poëzieweek
---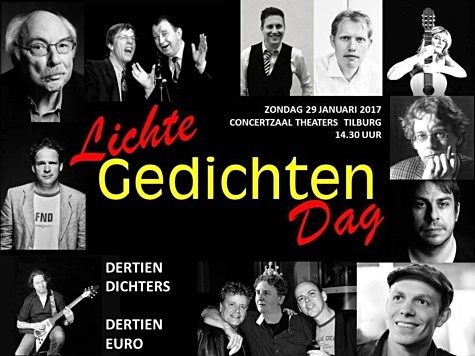 Het zijn er dertien. Natuurlijk. Want Tilburg. Dertien lichtvoetige dichters. Virtuoze taaltovenaars met gevoel voor humor. Nooit eerder kwamen zoveel gelauwerde woordkunstenaars in één voorstelling bijeen. Oude meesters als Ivo de Wijs, Pieter Nieuwint en Jan Boerstoel. Jong talent als Jan Beuving en Theo Danes. Verwacht verrassingen van alleskunner Erik van Muiswinkel, visuele ollekebollekes van Peter Knipmeijer en Frank Fabian van Keeren, hilarische liedjes van Dorine Wiersma en Roel C. Verburg. Zelfs Kees Torn stapt deze middag nog één keer op het podium. Kortom: deze unieke, eenmalige LichteGedichtenDag mag je gewoon niet missen.
De presentatie is in handen van Frank van Pamelen en Jan J. Pieterse. Dat maakt samen dertien dichters. Voor maar dertien euro. Natuurlijk. Want het is in Tilburg.
zondag 29 januari 2017 – 14:30u
Concertzaal Tilburg
LichteGedichtenDag
Ivo de Wijs, Kees Torn, Erik van Muiswinkel e.a.
cabaret – literair
# Meer informatie op website Theaters Tilburg
fleursdumal.nl magazine
More in: Art & Literature News, LIGHT VERSE, Literary Events, Pamelen, Frank van, POETRY ARCHIVE, The talk of the town, THEATRE, Wijs, Ivo de
---
De wraak van Vondel van Frank van Pamelen is een literair labyrint dat teruggaat naar de tijd van Vondel, naar de rederijkers uit de zeventiende eeuw en hun opvolgers. Op twaalf plaatsen in Amsterdam hebben zij sporen nagelaten, aanwijzingen die leiden naar het best bewaarde geheim uit de vaderlandse geschiedenis. Een geheim met gevolgen voor de troonswisseling. Aan journalist Maaike van Reede de taak om het mysterie op te lossen. Ze belandt in een doolhof van dichtregels en cryptische verwijzingen en heeft nog achttien uur tot de troonswisseling. De wraak van Vondel is voor de lezers van Dan Brown en IV van Arjen Lubach.
Frank van Pamelen werd op 17 juni 1965 geboren in Terneuzen, studeerde Letteren aan de Katholieke Universiteit Brabant en is schrijver, dichter en kleinkunstenaar. Hij woont met vrouw en dochters in Tilburg. Van Pamelen schrijft cabaretpogramma's, musicals, jeugdboeken, kinderliedjes, columns, gedichten en teksten voor radio en televisie.
Zijn werk was te horen en te lezen bij o.a. De Tweede Ronde, Brabants Dagblad, Trouw, Ook Dat Nog (KRO), VOF de Kunst, Vroege Vogels (VARA), NRC Next, Theater van het Sentiment (KRO), Dit is de Dag (EO) en Cappuccino (NCRV).
Zijn boeken verschijnen bij Ambo|Anthos (literaire thriller), Leopold (jeugdboeken) en Nijgh & Van Ditmar (light verse).
De wraak van Vondel
Een eeuwenoud mysterie, een apotheose in Amsterdam rond de troonswisseling van 2013
€ 19,99
Auteur: Frank van Pamelen
ISBN 9789026329906
Uitgever Ambo/Anthos Uitgevers
fleursdumal.nl magazine
More in: - Book News, Archive O-P, Art & Literature News, LIGHT VERSE, Pamelen, Frank van, Thrillers
---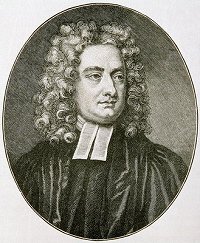 Jonathan Swift
(1667–1745)
Advice To The Grub Street Verse-writers
Ye poets ragged and forlorn,
Down from your garrets haste;
Ye rhymers, dead as soon as born,
Not yet consign'd to paste;
I know a trick to make you thrive;
O, 'tis a quaint device:
Your still-born poems shall revive,
And scorn to wrap up spice.
Get all your verses printed fair,
Then let them well be dried;
And Curll must have a special care
To leave the margin wide.
Lend these to paper-sparing Pope;
And when he sets to write,
No letter with an envelope
Could give him more delight.
When Pope has fill'd the margins round,
Why then recall your loan;
Sell them to Curll for fifty pound,
And swear they are your own.
Jonathan Swift poetry
fleursdumal.nl magazine
More in: Archive S-T, LIGHT VERSE, Swift, Jonathan
---
Edward Lear
(1812-1888)
The Owl and The Pussy-Cat
I
The Owl and the Pussy-cat went to sea
In a beautiful pea-green boat,
They took some honey, and plenty of money,
Wrapped up in a five-pound note.
The Owl looked up to the stars above,
And sang to a small guitar
'O lovely Pussy! O Pussy, my love,
What a beautiful Pussy you are,
You are,
You are!
What a beautiful Pussy you are!
II
Pussy said to the Owl, 'You elegant fowl!
How charmingly sweet you sing!
O let us be married! too long have we tarried;
But what shall we do for a ring?'
They sailed away, for a year and a day,
To the land where the Bong-tree grows
And there in the wood a Piggy-wig stood
With a ring at the end of his nose,
His nose,
His nose,
With a ring at the end of his nose.
III
'Dear Pig, are you willing to sell for one shilling
Your ring?' Said the Piggy, 'I will.'
So they took it away, and were married next day
By the Turkey who lives on the hill.
They dined on mince, and slices of quince,
Which they ate with a runcible spoon;
And hand in hand, on the edge of the sand,
They danced by the light of the moon,
The moon,
The moon,
They danced by the light of the moon.
Edward Lear poetry
fleursdumal.nl magazine
More in: Archive K-L, Edward Lear, LIGHT VERSE
---
Older Entries »
« Newer Entries
Thank you for reading FLEURSDUMAL.NL - magazine for art & literature