Archive W-X
·
Walt Whitman: The wound-dresser (Poem)
·
Walt Whitman: Give me the splendid silent sun
·
Walt Whitman: City of ships (Poem)
·
Karel van de Woestijne: Ween aan mijn borst (Gedicht)
·
Walt Whitman: Vigil strange I kept on the field one night (Poem)
·
Lawrence Weschler: En hoe gaat het met u, dokter Sacks?
·
Walt Whitman: As I lay with my head in your lap camerado (Poem)
·
Menno Wigman: Verzamelde gedichten
·
Karel van de Woestijne: O Blik vol Dood en Sterren (Gedicht)
·
Eardrums. Literary Modernism as Sonic Warfare by Tyler Whitney
·
'Antony Kok had me te pakken' vertelde Kees Verwey
·
Karel van de Woestijne: Stad (Gedicht)
 The wound-dresser
  1
An old man bending I come among new faces,
Years looking backward resuming in answer to children,
Come tell us old man, as from young men and maidens that love me,
(Arous'd and angry, I'd thought to beat the alarum, and urge relentless war,
But soon my fingers fail'd me, my face droop'd and I resign'd myself,
To sit by the wounded and soothe them, or silently watch the dead;)
Years hence of these scenes, of these furious passions, these chances,
Of unsurpass'd heroes, (was one side so brave? the other was equally brave;)
Now be witness again, paint the mightiest armies of earth,
Of those armies so rapid so wondrous what saw you to tell us?
What stays with you latest and deepest? of curious panics,
Of hard-fought engagements or sieges tremendous what deepest remains?
  2
O maidens and young men I love and that love me,
What you ask of my days those the strangest and sudden your talking recalls,
Soldier alert I arrive after a long march cover'd with sweat and dust,
In the nick of time I come, plunge in the fight, loudly shout in the rush of successful charge,
Enter the captur'd works–yet lo, like a swift-running river they fade,
Pass and are gone they fade–I dwell not on soldiers' perils or soldiers' joys,
(Both I remember well-many the hardships, few the joys, yet I was content.)
But in silence, in dreams' projections,
While the world of gain and appearance and mirth goes on,
So soon what is over forgotten, and waves wash the imprints off the sand,
With hinged knees returning I enter the doors, (while for you up there,
Whoever you are, follow without noise and be of strong heart.)
Bearing the bandages, water and sponge,
Straight and swift to my wounded I go,
Where they lie on the ground after the battle brought in,
Where their priceless blood reddens the grass the ground,
Or to the rows of the hospital tent, or under the roof'd hospital,
To the long rows of cots up and down each side I return,
To each and all one after another I drawn near, not one do I miss,
An attendant follows holding a tray, he carries a refuse pail,
Soon to be fill'd with clotted rags and blood, emptied, and fill'd again.
I onward go, I stop,
With hinged knees and steady hand to dress wounds,
I am firm with each, the pangs are sharp yet unavoidable,
One turns to me his appealing eyes-poor boy! I never knew you,
Yet I think I could not refuse this moment to die for you, if that would save you.
  3
On, on I go, (open doors of time! open hospital doors!)
The crush'd head I dress, (poor crazed hand tear not the bandage away,)
The neck of the cavalry-man with the bullet through and through I examine,
Hard the breathing rattles, quite glazed already the eye, yet life struggles hard,
(Come sweet death! be persuaded O beautiful death!
In mercy come quickly.)
From the stump of the arm, the amputated hand,
I undo the clotted lint, remove the slough, wash off the matter and blood,
Back on his pillow the soldier bends with curv'd neck and side-falling head,
His eyes are closed, his face is pale, he dares not look on the bloody stump,
And has not yet look'd on it.
I dress a wound in the side, deep, deep,
But a day or two more, for see the frame all wasted and sinking,
And the yellow-blue countenance see.
I dress the perforated shoulder, the foot with the bullet-wound,
Cleanse the one with a gnawing and putrid gangrene, so sickening, so offensive,
While the attendant stands behind aside me holding the tray and pail.
I am faithful, I do not give out,
The fractur'd thigh, the knee, the wound in the abdomen,
These and more I dress with impassive hand, (yet deep in my breast a fire, a burning flame.)
  4
Thus in silence in dreams' projections,
Returning, resuming, I thread my way through the hospitals,
The hurt and wounded I pacify with soothing hand,
I sit by the restless all the dark night, some are so young,
Some suffer so much, I recall the experience sweet and sad,
(Many a soldier's loving arms about this neck have cross'd and rested,
Many a soldier's kiss dwells on these bearded lips.)
Walt Whitman
(1819 – 1892)
The wound-dresser
From: Leaves of grass
• fleursdumal.nl magazine
More in: Archive W-X, Archive W-X, Whitman, Walt
---
Give me the splendid silent sun
1
Give me the splendid silent sun with all his beams full-dazzling,
Give me juicy autumnal fruit ripe and red from the orchard,
Give me a field where the unmow'd grass grows,
Give me an arbor, give me the trellis'd grape,
Give me fresh corn and wheat, give me serene-moving animals teaching content,
Give me nights perfectly quiet as on high plateaus west of the Mississippi, and I looking up at the stars,
Give me odorous at sunrise a garden of beautiful flowers where I can walk undisturb'd,
Give me for marriage a sweet-breath'd woman of whom I should never tire,
Give me a perfect child, give me away aside from the noise of the world a rural domestic life,
Give me to warble spontaneous songs recluse by myself, for my own ears only,
Give me solitude, give me Nature, give me again O Nature your primal sanities!
These demanding to have them, (tired with ceaseless excitement, and rack'd by the war-strife,)
These to procure incessantly asking, rising in cries from my heart,
While yet incessantly asking still I adhere to my city,
Day upon day and year upon year O city, walking your streets,
Where you hold me enchain'd a certain time refusing to give me up,
Yet giving to make me glutted, enrich'd of soul, you give me forever faces;
(O I see what I sought to escape, confronting, reversing my cries,
I see my own soul trampling down what it ask'd for.)
2
Keep your splendid silent sun,
Keep your woods O Nature, and the quiet places by the woods,
Keep your fields of clover and timothy, and your corn-fields and orchards,
Keep the blossoming buckwheat fields where the Ninth-month bees hum;
Give me faces and streets–give me these phantoms incessant and endless along the trottoirs!
Give me interminable eyes–give me women–give me comrades and lovers by the thousand!
Let me see new ones every day–let me hold new ones by the hand every day!
Give me such shows–give me the streets of Manhattan!
Give me Broadway, with the soldiers marching–give me the sound of the trumpets and drums!
(The soldiers in companies or regiments–some starting away, flush'd and reckless,
Some, their time up, returning with thinn'd ranks, young, yet very old, worn, marching, noticing nothing;)
Give me the shores and wharves heavy-fringed with black ships!
O such for me! O an intense life, full to repletion and varied!
The life of the theatre, bar-room, huge hotel, for me!
The saloon of the steamer! the crowded excursion for me! the torchlight procession!
The dense brigade bound for the war, with high piled military wagons following;
People, endless, streaming, with strong voices, passions, pageants,
Manhattan streets with their powerful throbs, with beating drums as now,
The endless and noisy chorus, the rustle and clank of muskets, (even the sight of the wounded,)
Manhattan crowds, with their turbulent musical chorus!
Manhattan faces and eyes forever for me.
Walt Whitman
(1819 – 1892)
Give me the splendid silent sun
From: Leaves of grass
• fleursdumal.nl magazine
More in: Archive W-X, Archive W-X, Whitman, Walt
---
City of ships
City of ships!
(O the black ships! O the fierce ships!
O the beautiful sharp-bow'd steam-ships and sail-ships!)
City of the world! (for all races are here,
All the lands of the earth make contributions here;)
City of the sea! city of hurried and glittering tides!
City whose gleeful tides continually rush or recede, whirling in and
out with eddies and foam!
City of wharves and stores–city of tall façades of marble and iron!
Proud and passionate city–mettlesome, mad, extravagant city!
Spring up, O city–not for peace alone, but be indeed yourself,
warlike!
Fear not–submit to no models but your own O city!
Behold me–incarnate me as I have incarnated you!
I have rejected nothing you offer'd me–whom you adopted I have
adopted,
Good or bad I never question you–I love all–I do not condemn any
thing,
I chant and celebrate all that is yours–yet peace no more,
In peace I chanted peace, but now the drum of war is mine,
War, red war is my song through your streets, O city!
Walt Whitman
(1819 – 1892)
City of ships
From: Leaves of grass
• fleursdumal.nl magazine
More in: Archive W-X, Archive W-X, Whitman, Walt
---
Ween aan mijn borst
Ween aan mijn borst den schat der tranen
die rijk me maken van uw leed,
ik die van wankelende wanen
als gij het talmend smeken weet;
ik die, mijn kind, op andre schouder
om eendre vreze heb geschreid,
maar van elke onmacht oud en ouder,
weer om een nieuwe hope lijd;
ik die het goud van alle transen
voor de as van oude zonnen ken,
maar van elk glorend morgen-glanzen
de huiverende minnaar ben…
Ween uwe tranen, lange en lijze,
die van uw lijden rijk me maakt:
straks ziet ge in 't oog des levens-wijzen
hoe stééds de wanen-lampe waakt…
Het huis in de stad (1908-1909)
Karel van de Woestijne
(1878 – 1929)
Ween aan mijn borst
Portret van Karel van de Woestijne (1937) door Henri van Straten (1892 – 1944)
• fleursdumal.nl magazine
More in: Archive W-X, Archive W-X, Woestijne, Karel van de
---
Vigil strange I kept on the field one night
Vigil strange I kept on the field one night;
When you my son and my comrade dropt at my side that day,
One look I but gave which your dear eyes return'd with a look I shall never forget,
One touch of your hand to mine O boy, reach'd up as you lay on the ground,
Then onward I sped in the battle, the even-contested battle,
Till late in the night reliev'd to the place at last again I made my way,
Found you in death so cold dear comrade, found your body son of responding kisses, (never again on earth responding,)
Bared your face in the starlight, curious the scene, cool blew the moderate night-wind,
Long there and then in vigil I stood, dimly around me the battle-field spreading,
Vigil wondrous and vigil sweet there in the fragrant silent night,
But not a tear fell, not even a long-drawn sigh, long, long I gazed,
Then on the earth partially reclining sat by your side leaning my chin in my hands,
Passing sweet hours, immortal and mystic hours with you dearest comrade–not a tear, not a word,
Vigil of silence, love and death, vigil for you my son and my soldier,
As onward silently stars aloft, eastward new ones upward stole,
Vigil final for you brave boy, (I could not save you, swift was your death,
I faithfully loved you and cared for you living, I think we shall surely meet again,)
Till at latest lingering of the night, indeed just as the dawn appear'd,
My comrade I wrapt in his blanket, envelop'd well his form,
Folded the blanket well, tucking it carefully over head and carefully under feet,
And there and then and bathed by the rising sun, my son in his grave, in his rude-dug grave I deposited,
Ending my vigil strange with that, vigil of night and battle-field dim,
Vigil for boy of responding kisses, (never again on earth responding,)
Vigil for comrade swiftly slain, vigil I never forget, how as day brighten'd,
I rose from the chill ground and folded my soldier well in his blanket,
And buried him where he fell.
Walt Whitman
(1819 – 1892)
Vigil strange I kept on the field one night
From: Leaves of grass
• fleursdumal.nl magazine
More in: Archive W-X, Archive W-X, Whitman, Walt
---
Begin jaren tachtig ontmoette Lawrence Weschler de toen nog hard aan de weg timmerende Oliver Sacks in New York.

Het was een onzekere periode voor de jonge neuroloog: Sacks' eerste boek Ontwaken in verbijstering was tien jaar eerder al verschenen, maar hij had het grote publiek nog niet bereikt.
Met de jaren groeide Sacks' bekendheid en werd de vriendschap tussen hem en Weschler hechter. Op zijn sterfbed vroeg Sacks zijn goede vriend of hij zijn verhaal zou willen optekenen. Dit boek is het resultaat van dat verzoek.

In En hoe gaat het met u, dokter Sacks? brengt Weschler Sacks' extravagante persoonlijkheid prachtig tot leven. We worden teruggevoerd naar Sacks' jongere jaren vol drugs en turbulentie, volgen hem in zijn werk als neuroloog en schrijver, zien hem patiënten helpen en vrienden vermoeien, en we volgen zijn strijd met medische en wetenschappelijke instellingen om aandacht te krijgen voor zijn belangrijkste bekommernis als neuroloog: de individuele menselijke ziel.
Weschler is erin geslaagd om Sacks' belangrijkste vraag voor zijn patiënten – Hoe gaat het met u? – terug te kaatsen naar de beroemde neuroloog zelf.
Lawrence Weschler (1952) schreef meer dan twintig jaar voor The New Yorker. Daarnaast gaf hij les aan prominente Amerikaanse universiteiten waaronder Princeton, Columbia, Brown en New York University. Aan de laatstgenoemde universiteit was hij tot 2013 directeur van het New York Institute for the Humanities. Weschlers oeuvre bestaat uit veelgeprezen literaire non-fictie over allerlei politieke en culturele onderwerpen.
En hoe gaat het met u, dokter Sacks?
Lawrence Weschler
Oorspronkelijke titel: And How AreYou, Dr. Sacks?
Paperback
De Bezige Bij 2019
Aantal pagina's 496
Paperback: 34,99
# new books
And How AreYou, Dr. Sacks?
Lawrence Weschler
• fleursdumal.nl magazine
More in: #Biography Archives, - Book News, - Book Stories, Archive S-T, Archive W-X, In Memoriam, Oliver Sacks, Psychiatric hospitals
---
As I lay with my head in your lap camerado
As I lay with my head in your lap camerado,
The confession I made I resume, what I said to you and the open air I
resume,
I know I am restless and make others so,
I know my words are weapons full of danger, full of death,
For I confront peace, security, and all the settled laws, to unsettle
them,
I am more resolute because all have denied me than I could ever have
been had all accepted me,
I heed not and have never heeded either experience, cautions,
majorities, nor ridicule,
And the threat of what is call'd hell is little or nothing to me;
And the lure of what is call'd heaven is little or nothing to me;
Dear camerado! I confess I have urged you onward with me, and still
urge you, without the least idea what is our destination,
Or whether we shall be victorious, or utterly quell'd and defeated.
Walt Whitman
(1819 – 1892)
As I lay with my head in your lap camerado
From: Leaves of grass
• fleursdumal.nl magazine
More in: Archive W-X, Archive W-X, Whitman, Walt
---
M
enno Wigman (1966-2018) was een van de grootste en eigenzinnigste dichters van Nederland.
Zijn stijl werd gekenmerkt door een zwart-romantische toon die, afgewisseld met een weemoedige blik, direct tot de verbeelding sprak. Zijn gedichten waren even toegankelijk als experimenteel, een combinatie van een uitgesproken intensiteit met de beleving van het alledaagse. Wigmans Verzamelde gedichten zijn samengesteld door Neeltje Maria Min en Rob Schouten, zijn goede vrienden en de beste kenners van zijn werk.
Van Menno Wigman (1966-2018) verschenen vijf dichtbundels, een dagboek, een essaybundel en vele vertalingen, bloemlezingen en gelegenheidsuitgaven. Tot de vele prijzen die hij kreeg, behoren de Gedichtendagprijs (2002), de Jan Campert-prijs (2002), de A. Roland Holstprijs (2015) en de Ida Gerhardt Poëzieprijs (2018).
Verzamelde gedichten
Menno Wigman
336 pagina's
Druk 1
Verschenen 27-09-19
Taal Nederlands
Poëzie
Gebonden
ISBN 9789044641936
Uitgever Prometheus
€ 29,99
# new poetry
menno wigman
• fleursdumal.nl magazine
More in: - Book News, - Book Stories, Archive W-X, Archive W-X, Art & Literature News, Wigman, Menno
---
O Blik vol Dood en Sterren
o Blik vol dood en sterren,
o hart vol licht en leed.
De dag is spijtig verre;
de nacht is hel en wreed.
Mijn mond vol wondre smaken
die géne vrucht verzaadt.
Niemand, o hunkrend waken,
die langs mijn venster gaat…
Wij zullen nimmer wezen
dan Godes angst'ge wezen.
– God, laat ons waan en schijn
dat we Uwe wezen zijn.
Karel van de Woestijne
(1878 – 1929)
O Blik vol Dood en Sterren
• fleursdumal.nl magazine
More in: Archive W-X, Archive W-X, Woestijne, Karel van de
---
In this innovative study, Tyler Whitney demonstrates how a transformation and militarization of the civilian soundscape in the late nineteenth and early twentieth centuries left indelible traces on the literature that defined the period.

Both formally and thematically, the modernist aesthetics of Franz Kafka, Robert Musil, Detlev von Liliencron, and Peter Altenberg drew on this blurring of martial and civilian soundscapes in traumatic and performative repetitions of war.

At the same time, Richard Huelsenbeck assaulted audiences in Zurich with his "sound poems," which combined references to World War I, colonialism, and violent encounters in urban spaces with nonsensical utterances and linguistic detritus—all accompanied by the relentless beating of a drum on the stage of the Cabaret Voltaire.
Eardrums is the first book-length study to explore the relationship between acoustical modernity and German modernism, charting a literary and cultural history written in and around the eardrum. The result is not only a new way of understanding the sonic impulses behind key literary texts from the period. It also outlines an entirely new approach to the study of literature as as the interaction of text and sonic practice, voice and noise, which will be of interest to scholars across literary studies, media theory, sound studies, and the history of science.
Tyler Whitney is an assistant professor of German at the University of Michigan.
Tyler Whitney (Author)
Eardrums.
Literary Modernism as Sonic Warfare
Cloth Text – $99.95
ISBN 978-0-8101-4022-6
Paper Text – $34.95
ISBN 978-0-8101-4021-9
Northwestern University Press
Publication Date June 2019
Literary Criticism
232 pages
Price: $24.00
# new books
Tyler Whitney
Eardrums.
Literary Modernism as Sonic Warfare
• fleursdumal.nl magazine
More in: # Music Archive, #Archive A-Z Sound Poetry, *War Poetry Archive, - Book News, - Book Stories, Archive W-X, AUDIO, CINEMA, RADIO & TV, DADA, Dadaïsme, Kafka, Franz, Modernisme, Visual & Concrete Poetry
---
Antony Kok (1882 – 1969)
Antony Kok, was met Theo van Doesburg en Piet Mondriaan oprichter en medewerker van het avant-gardistische kunsttijdschrift De Stijl (1917 – 1932). Hij was vooral actief als dichter en schrijver van aforismen.
---
Kees Verwey (1900 -1995)
Tijdens zijn leven, dat bijna een eeuw beslaat, maakte de kunstenaar verschillende ontwikkelingen in de schilderkunst mee. Al op jonge leeftijd kwam hij in aanraking met het werk van George Breitner en Floris Verster. Ook werd hij beïnvloed door Franse (post-)impressionisten en later door de moderne kunst van o.a. Karel Appel en Pablo Picasso. Omringd door de kunst van zijn idolen wordt in deze nieuwe tentoonstelling de enorme vaardigheid en veelzijdigheid van de schilder Verwey duidelijk.
Na hun ontmoeting (in Haarlem in 1953) verklaarde Kees Verwey:
'Antony Kok had me te pakken. Ruim een jaar ben ik met die ene man bezig geweest. Je zou zeggen dat zoiets ondenkbaar is, maar ik kon niet buiten de visie op die man. Het was een proces dat niet meer kon worden tegengehouden. Ik heb hem er wel eens over ondervraagd, toen zei hij: maar jij hebt die tekeningen niet gemaakt, ik heb ze gemaakt.'
In het eerste jaren van hun kennismaking maakte Verwey meer dan 30 portretten van Kok. De eerste serie zou begin jaren vijftig worden tentoongesteld in Amsterdam, Rotterdam en Haarlem. In 1955 was de serie uitgegroeid tot 40×1 en in Eindhoven te zien.
Lees meer over Kees Verwey, zijn vrienden en favoriete kunstenaars, zoals Karel Appel, Pablo Picasso, Edouard Vuillard, Floris Verster en Antony Kok in de bij de tentoonstelling verschenen publicatie: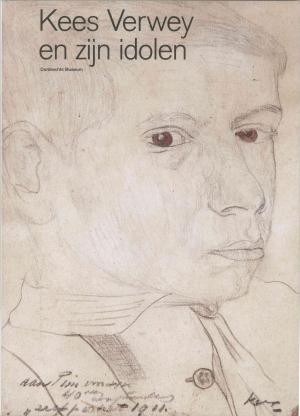 Kees Verwey
en zijn idolen
Dordrechts Museum
2019
ISBN 978-90-71722-30-1
Redactie: Laura van den Hout, Judith Spijksma, Linda Janssen
Publicatie ter gelegenheid van de tentoonstelling 'Kees Verwey en zijn idolen', die van 14 juli 2019 tot en met 5 januari 2020 plaatsvindt in het Dordrechts Museum. De tentoonstelling kwam tot stand in samenwerking met Stichting Kees Verwey.
I N H O U D
6
Max van Rooy
Portretten als stillevens en het atelier als goudmijn
12
Karlijn de Jong
De moeder van de moderne kunst
Kees Verwey en De Onafhankelijken
22
Tijdlijn
26
Barbara Collé
Kijk ik naar de een, dan vlamt de ander
Over kleurenparen in Moeders theetafel en Het gele jakje van Kees Verwey, en Stilleven met boeken van Henri Frédéric Boot
34
Iduna Paalman
Sigaretje
36
Ester Naomi Perquin
Bes
38
Maartje Smits
Door je kind getekend
40
Maarten Buser
Pirouettes draaien op een idee
Kees Verwey en de literatuur
46
Jorne Vriens
Gekoesterde intimiteit
50
Max van Rooy
De onderzoekende kracht van het kijken
54
Sascha Broeders
De kunstenaar en de museumdirecteur
Kees Verwey volgens Jup de Groot, voormalig directeur van het Dordrechts Museum
56
Hanneke van Kempen en Jef van Kempen
'Antony Kok had me te pakken'
66
Sandra Kisters
Het atelier van Kees Verwey – een kristal met vele facetten
75
Biografieën
76
Colofon
Tentoonstelling van 6 juli 2019 t/m 5 januari 2020
Kees Verwey en zijn idolen
Over Karel Appel, Pablo Picasso, Edouard Vuillard, Floris Verster, Antony Kok e.a.
Dordrechts Museum
Museumstraat 40, Dordrecht
3311 XP Dordrecht
www.dordrechtsmuseum.nl
'Antony Kok had me te pakken' sprak Kees Verwey
fleursdumal.nl magazine
More in: - Book News, - Book Stories, Antony Kok, Archive K-L, Archive W-X, Art & Literature News, Dada, DADA, De Stijl, Exhibition Archive, FDM Art Gallery, Hanneke van Kempen, Jef van Kempen, Kees Verwey, Kok, Antony, Piet Mondriaan, Theo van Doesburg
---
Stad
Verloren tijd, hoe schoon vind ik u weer,
waar elk herinnren wordt een nieuw verlangen.
o Steden-laan, wat zijn uw meisjes schoon.
Eens was ik jong, en 'k ben niet jong gebleven…
Ik wandel bij de bomen die mijn jeugd
beveiligd hebben en haar jonge liefde.
Water is de adem van een meisjes mond
De stad is heet en droog als een begeerte.
Er is, tussen de dubble glans der laan,
er is een maan, er is een andre maan.
De een is de maan; de andere is gene maan.
Het paard wringt als een zilvren vis. En de ijlte is rood
maar roder zet de galm des voermans de ijlte uit.
Hitte.
Mijn vriend, gij hebt de geur der grote magazijnen.
Zo zijn er meisjes, schraal en met een witte neus.
Leeg schelpje aan nachtlijke ebbe: ik; maar de stad
in duizend dake' als duizend diamanten.
Ik scheer de muren; – als een rechthoek ligt
naast mij mijn schaduw als een vals gedicht.
Menigte, uw geur bijt mijne lippen stuk.
o Menigte, gij doet mijne woorden bloeden.
Waarom te wenen in dit stenen woud?
Gij zult regeren als gij weet te lachen.
Jaag naar huis, o hart: gij vindt er
volle schotelen aan leed.
Stad: eind-punt; vierkant; rust en zekerheid.
'k Zet me op een paal; ik wacht de roep der ijlte.
Karel van de Woestijne
(1878 – 1929)
Stad
• fleursdumal.nl magazine
More in: Archive W-X, Archive W-X, Woestijne, Karel van de
---
Older Entries »
Thank you for reading FLEURSDUMAL.NL - magazine for art & literature