Archive W-X
·
An Old Man's Thought of School by Walt Whitman
·
Franz Werfel: Der Kuss
·
Respondez! by Walt Whitman
·
Look Down, Fair Moon by Walt Whitman
·
I Dream'd In A Dream by Walt Whitman
·
When I Heard at the Close of the Day by Walt Whitman
·
As If a Phantom Caress'd Me by Walt Whitman
·
By the Bivouac's Fitful Flame by Walt Whitman
·
A Woman's Game by Suzanne Wrack
·
A Noiseless Patient Spider by Walt Whitman
·
Cavalry Crossing a Ford by Walt Whitman
·
Among the Multitude by Walt Whitman
An Old Man's Thought of School
[The following poem was recited personally by the author
Saturday afternoon, October 31, at the inauguration
of the fine new Cooper Public School, Camden, New Jersey]
An old man's thought of school;
An old man, gathering youthful memories and
blooms that youth itself cannot,
Now only do I know you!
O fair auroral skies! O morning dew upon the
grass!
And these I see—these sparkling eyes,
These stores of mystic meaning—these young lives,
Building, equipping, like a fleet of ships—immortal
ships!
Soon to sail out over the measureless seas,
On the Soul's voyage.
Only a lot of boys and girls?
Only the tiresome spelling, writing, ciphering classes?
Only a public school?
Ah! more—infinitely more;
(As George Fox rais'd his warning cry, "Is it this
pile of brick and mortar—these dead floors,
windows, rails—you call the church?
Why this is not the church at all—the church is
living, ever living souls.")
And you, America,
Cast you the real reckoning for your present?
The lights and shadows of your future—good or evil?
This Union multiform, with all its dazzling hopes
and terrible fears?
Look deeper, nearer, earlier far—provide ahead—
counsel in time;
Not to your verdicts of election days—not to your
voters look,
To girlhood, boyhood look—the teacher and the
school.
Walt Whitman
(1819 – 1892)
Poem: An Old Man's Thought of School
Published in THE DAILY GRAPHIC, NEW YORK, Tuesday, November 3, 1874
• fleursdumal.nl magazine
More in: Archive W-X, Archive W-X, Whitman, Walt
---
Der Kuss
Du kamst des Wegs, durch den ich viel gelitten,
Du kamst, dem viel ich habe abzubitten,
Du Freund, du Feind, der über meinen Schritten
Einst herrschend hielt den Stab.
War's Tag, war's Traum? Die Stadt lag fremd im Lichte,
Von Wind durchbellt. Du schwanktest ohne Richte.
So blind! So grau! Ich las dir vom Gesichte
Das Grab, das fahle Grab.
Den ich vor wenig Wochen hier verlassen
Auf diesen Plätzen und in diesen Gassen,
Das war der Mann nicht mehr, stark und gelassen,
Den jetzt ich wankend traf.
Du sprachst zu mir. Ich hörte Worte fallen,
Sie schollen traurig und wie hohles Hallen.
Nicht Worte waren das, es war das Lallen,
Das trunkne, vor dem Schlaf.
In Weh und Scham von dir ich wollte weichen.
Du hobst die Hand, sie still mir herzureichen.
Da faßte mich ein Abschied ohnegleichen,
Daß Scham und Weh zerrann,
Und was sich niemals zwischen uns begeben:
Ein tiefer Kuß vereinte unser Leben,
Den noch kein Weib empfing, ein Kuß, so bebend,
Der Kuß von Mann zu Mann.
Nun kann ich nicht die Tür des Wachens finden.
Ich will den Traum des Kusses überwinden,
Verbergen mich, im Menschentag verschwinden,
Doch das Geheimnis brennt.
Ich fühl mich sprechen, lachen, schreiben, kramen.
Mein Herz ist schwarz geschluchzt, ach, und der Samen
Der fremden Liebe wächst, die keinen Namen
Und kein Geständnis kennt.
Franz Werfel
(1890 – 1945)
Der Kuss
• fleursdumal.nl magazine
More in: Archive W-X, Archive W-X, Werfel, Franz
---
R e s p o n d e z !
Respondez! Respondez!
(The war is completed the price is paid the title is settled beyond recall;)
Let every one answer! let those who sleep be waked! let none evade!
Must we still go on with our affectations and sneaking?
Let me bring this to a close I pronounce openly for a new distribution of roles;
Let that which stood in front go behind! and let that which was behind advance to the front and speak;
Let murderers, bigots, fools, unclean persons, offer new propositions!
Let the old propositions be postponed!
Let faces and theories be turn'd inside out! let meanings be freely criminal, as well as results!
Let there be no suggestion above the suggestion of drudgery!
Let none be pointed toward his destination! (Say! do you know your destination?)
Let men and women be mock'd with bodies and mock'd with Souls!
Let the love that waits in them, wait! let it die, or pass stillborn to other spheres!
Let the sympathy that waits in every man, wait! or let it also pass, a dwarf, to other spheres!
Let contradictions prevail! let one thing contradict another! and let one line of my poems contradict another!
Let the people sprawl with yearning, aimless hands! let their tongues be broken! let their eyes be discouraged! let none descend into their hearts with the fresh lusciousness of love!
(Stifled, O days! O lands! in every public and private corruption!
Smother'd in thievery, impotence, shamelessness, mountain-high;
Brazen effrontery, scheming, rolling like ocean's waves around and upon you, O my days! my lands!
For not even those thunderstorms, nor fiercest lightnings of the war, have purified the atmosphere;)
Let the theory of America still be management, caste, comparison! (Say! what other theory would you?)
Let them that distrust birth and death still lead the rest! (Say! why shall they not lead you?)
Let the crust of hell be neared and trod on! let the days be darker than the nights! let slumber bring less slumber than waking time brings!
Let the world never appear to him or her for whom it was all made!
Let the heart of the young man still exile itself from the heart of
the old man! and let the heart of the old man be exiled from that of the young man!
Let the sun and moon go! let scenery take the applause of the audience! let there be apathy under the stars!
Let freedom prove no man's inalienable right! every one who can tyrannize, let him tyrannize to his satisfaction!
Let none but infidels be countenanced!
Let the eminence of meanness, treachery, sarcasm, hate, greed, indecency, impotence, lust, be taken for granted above all! let writers, judges, governments, households, religions, philosophies, take such for granted above all!
Let the worst men beget children out of the worst women!
Let the priest still play at immortality!
Let death be inaugurated!
Let nothing remain but the ashes of teachers, artists, moralists, lawyers, and learn'd and polite persons!
Let him who is without my poems be assassinated!
Let the cow, the horse, the camel, the garden-bee let the mudfish, the lobster, the mussel, eel, the sting-ray, and the grunting pig-fish let these, and the like of these, be put on a perfect equality with man and woman!
Let churches accommodate serpents, vermin, and the corpses of those who have died of the most filthy of diseases!
Let marriage slip down among fools, and be for none but fools!
Let men among themselves talk and think forever obscenely of women! and let women among themselves talk and think obscenely of men!
Let us all, without missing one, be exposed in public, naked, monthly, at the peril of our lives! let our bodies be freely handled and examined by whoever chooses!
Let nothing but copies at second hand be permitted to exist upon the earth!
Let the earth desert God, nor let there ever henceforth be mention'd the name of God!
Let there be no God!
Let there be money, business, imports, exports, custom, authority, precedents, pallor, dyspepsia, smut, ignorance, unbelief!
Let judges and criminals be transposed! let the prison-keepers be put in prison! let those that were prisoners take the keys! Say! why might they not just as well be transposed?)
Let the slaves be masters! let the masters become slaves!
Let the reformers descend from the stands where they are forever bawling! let an idiot or insane person appear on each of the stands!
Let the Asiatic, the African, the European, the American, and the Australian, go armed against the murderous stealthiness of each other! let them sleep armed! let none believe in good will!
Let there be no unfashionable wisdom! let such be scorn'd and derided off from the earth!
Let a floating cloud in the sky let a wave of the sea let growing mint, spinach, onions, tomatoes let these be exhibited as shows, at a great price for admission!
Let all the men of These States stand aside for a few smouchers! let the few seize on what they choose! let the rest gawk, giggle, starve, obey!
Let shadows be furnish'd with genitals! let substances be deprived of their genitals!
Let there be wealthy and immense cities but still through any of them, not a single poet, savior, knower, lover!
Let the infidels of These States laugh all faith away! If one man be found who has faith, let the rest set upon him!
Let them affright faith! let them destroy the power of breeding faith!
Let the she-harlots and the he-harlots be prudent! let them dance on, while seeming lasts! (O seeming! seeming! seeming!)
Let the preachers recite creeds! let them still teach only what they have been taught!
Let insanity still have charge of sanity!
Let books take the place of trees, animals, rivers, clouds!
Let the daub'd portraits of heroes supersede heroes!
Let the manhood of man never take steps after itself!
Let it take steps after eunuchs, and after consumptive and genteel persons!
Let the white person again tread the black person under his heel! (Say! which is trodden under heel, after all?)
Let the reflections of the things of the world be studied in mirrors! let the things themselves still continue unstudied!
Let a man seek pleasure everywhere except in himself!
Let a woman seek happiness everywhere except in herself! (What real happiness have you had one single hour through your whole life?)
Let the limited years of life do nothing for the limitless years of death! (What do you suppose death will do, then?)
Walt Whitman
(1819 – 1892)
Respondez!
• fleursdumal.nl magazine
More in: Archive W-X, Archive W-X, WAR & PEACE, Whitman, Walt
---
Look Down, Fair Moon
Look down, fair moon, and bathe this scene;
Pour softly down night's nimbus floods,
on faces ghastly, swollen, purple;
On the dead, on their backs, with their arms toss'd wide,
Pour down your unstinted nimbus, sacred moon.
Walt Whitman
(1819 – 1892)
Look Down, Fair Moon
• fleursdumal.nl magazine
More in: Archive W-X, Archive W-X, Whitman, Walt
---
I Dream'd In A Dream
I dream'd in a dream,
I saw a city invincible to the attacks
of the whole of the rest of the earth;
I dream'd that was the new City of Friends;
Nothing was greater there than the quality
of robust love – it led the rest;
It was seen every hour in the actions
of the men of that city,
And in all their looks and words.
Walt Whitman
(1819 – 1892)
I Dream'd In A Dream
• fleursdumal.nl magazine
More in: Archive W-X, Archive W-X, Whitman, Walt
---
When I Heard at the Close of the Day
When I heard at the close of the day how my name had been receiv'd with plaudits in the capitol, still it was not a happy night for me that follow'd,
And else when I carous'd, or when my plans were accomplish'd, still I was not happy,
But the day when I rose at dawn from the bed of perfect health, refresh'd, singing, inhaling the ripe breath of autumn,
When I saw the full moon in the west grow pale and disappear in the morning light,
When I wander'd alone over the beach, and undressing bathed, laughing with the cool waters, and saw the sun rise,
And when I thought how my dear friend my lover was on his way coming, O then I was happy,
O then each breath tasted sweeter, and all that day my food nourish'd me more, and the beautiful day pass'd well,
And the next came with equal joy, and with the next at evening came my friend,
And that night while all was still I heard the waters roll slowly continually up the shores,
I heard the hissing rustle of the liquid and sands as directed to me whispering to congratulate me,
For the one I love most lay sleeping by me under the same cover in the cool night,
In the stillness in the autumn moonbeams his face was inclined toward me,
And his arm lay lightly around my breast – and that night I was happy.
Walt Whitman
(1819 – 1892)
Poem: When I Heard at the Close of the Day
(Published in the Leaves of Grass. 1900)
• fleursdumal.nl magazine
More in: Archive W-X, Archive W-X, Whitman, Walt
---
As If a Phantom Caress'd Me
As if a phantom caress'd me,
I thought I was not alone walking
here by the shore;
But the one I thought was with me as
now I walk by the shore,
the one I loved that caress'd me,
As I lean and look
through the glimmering light,
that one has utterly disappear'd.
And those appear that are hateful to me
and mock me.
Walt Whitman
(1819 – 1892)
Poem: As If a Phantom Caress'd Me
• fleursdumal.nl magazine
More in: Archive W-X, Archive W-X, Whitman, Walt
---
By the Bivouac's Fitful Flame
By the bivouac's fitful flame,
A procession winding around me, solemn and sweet and slow–but first I note,
The tents of the sleeping army, the fields' and woods' dim outline,
The darkness lit by spots of kindled fire, the silence,
Like a phantom far or near an occasional figure moving,
The shrubs and trees, (as I lift my eyes they seem to be stealthily watching me,)
While wind in procession thoughts, O tender and wondrous thoughts,
Of life and death, of home and the past and loved, and of those that are far away;
A solemn and slow procession there as I sit on the ground,
By the bivouac's fitful flame.

Walt Whitman
(1819 – 1892)
Poem: By the Bivouac's Fitful Flame
• fleursdumal.nl magazine
More in: Archive W-X, Archive W-X, Whitman, Walt
---
A Woman's Game explores the history of women's football from the Victorian era – with players in high-heeled boots – to the present day. It is the story of a rise, fall, and rise again: from the game's first appearance in England in the late nineteenth century; through the incredible teams which at their height in 1920 drew 53,000 spectators to Goodison Park; to its 50-year ban in the UK and the aftershocks when that ban was lifted.
Now, as the women's game is once again on an unstoppable upward trend, with internationally renowned players and a record 11.7m viewers for England's semi-final match against the USA in the 2019 World Cup, Suzanne Wrack considers what the next chapter of this incredible story might be. From its relationship to the worldwide fight against oppression, to its ability to inspire change in the wider world, this is both a history of football as played by women, and a manifesto for a better game.
Suzanne Wrack is the women's football correspondent for the Guardian and Observer. Her work has also been published in FourFourTwo, and she is a regular contributor to the Guardian's Football Weekly podcast. In 2020, her investigation on abuse at the Afghanistan Football Federation won an AIPS Sport Media Award. A Woman's Game is her first book.
A Woman's Game
by Suzanne Wrack
The astonishing history of the rise, fall, and rise again of women's football, from the late 19th century to the present day.
Format Paperback
Faber Publisher
ISBN 9781783352159
Date Published 16.06.2022
£14.99
• fleursdumal.nl magazine
More in: - Book News, - Bookstores, Archive W-X, NONFICTION: ESSAYS & STORIES
---
A noiseless patient spider
A noiseless patient spider,
I mark'd where on a little promontory it stood isolated,
Mark'd how to explore the vacant, vast surrounding,
It launched forth filament, filament, filament, out of itself.
Ever unreeling them, ever tirelessly speeding them.
And you O my soul where you stand,
Surrounded, detatched, in measureless oceans of space,
Ceaselessly musing, venturing, throwing, seeking the spheres to connect them.
Till the bridge you will need be form'd, till the ductile anchor hold,
Till the gossamer thread you fling catch somewhere, O my soul.
Walt Whitman
(1819 – 1892)
Poem: A noiseless patient spider
• fleursdumal.nl magazine
More in: Archive W-X, Archive W-X, Whitman, Walt
---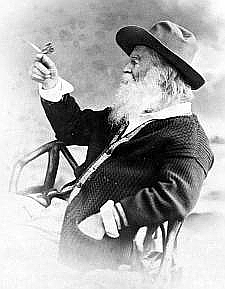 Cavalry Crossing a Ford
A line in long array where they wind betwixt green islands,
They take a serpentine course, their arms flash in the sun–hark to the musical clank,
Behold the silvery river, in it the splashing horses loitering stop to drink,
Behold the brown-faced men, each group, each person a picture, the negligent rest on the saddles,
Some emerge on the opposite bank, others are just entering the ford–while,
Scarlet and blue and snowy white,
The guidon flags flutter gayly in the wind.
Walt Whitman
(1819 – 1892)
Poem: Cavalry Crossing a Ford
• fleursdumal.nl magazine
More in: Archive W-X, Archive W-X, Whitman, Walt
---
Among the Multitude
Among the men and women the multitude,
I perceive one picking me out by secret and divine signs,
Acknowledging none else, not parent, wife, husband, brother, child,
any nearer than I am,
Some are baffled, but that one is not–that one knows me.
Ah lover and perfect equal,
I meant that you should discover me so by faint indirections,
And I when I meet you mean to discover you by the like in you.
Walt Whitman
(1819 – 1892)
Poem: Among the Multitude
• fleursdumal.nl magazine
More in: Archive W-X, Archive W-X, Whitman, Walt
---
Older Entries »
Thank you for reading FLEURSDUMAL.NL - magazine for art & literature