– Book Stories
·
Negrophobia. An Urban Parable by Darius James
·
Ocean Vuong: Op aarde schitteren we even
·
Albert Hagenaars over de nieuwe dichtbundel 'Nederzettingen' van Bert Bevers
·
Taeko Kono: Toddler Hunting, And Other Stories
·
Delirious – Jubileumeditie Lustwarande Tilburg – 2019
·
Fatima Bhutto: The Runaways
·
Occupying the Stage. The Theater of May '68 by Kate Bredeson
·
Lady Chatterley's Lover: keep this important piece of literary and social history in the UK
·
E. du Perronprijs 2018 voor Jan Leyers
·
World Press Freedom Day on May 3, 2019
·
Maxime Rovere: Le clan Spinoza. Amsterdam, 1677. L'invention de la liberté
·
Clemens J. Setz: Der Trost runder Dinge (Erzählungen)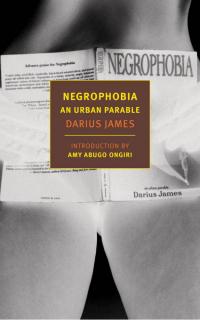 A screenplay for the mind, a performance on the page, a work of poetry, a mad mix of genres and styles, a novel in the tradition of William S. Burroughs and Ishmael Reed that is like no other novel, Negrophobia begins with the blonde bombshell Bubbles Brazil succumbing to a voodoo spell and entering the inner darkness of her own shiny being.
Here crackheads parade in the guise of Muppets, Muslims beat conga drums, Negroes have numbers for names, and H. Rap Remus demands the total and instantaneous extermination of the white race through spontaneous combustion. By the end of it all, after going on a weird trip for the ages, Bubbles herself is strangely transformed.
Title Negrophobia
Subtitle An Urban Parable
Author Darius James
Publisher New York Review Books
Series: NYRB Classics
Published 19 February 2019
Format Paperback
ISBN-10 1681373297
ISBN-13 9781681373294
Pages: 208
$14.95
# new books
Darius James
Negrophobia
• fleursdumal.nl magazine
More in: - Book News, - Book Stories, Archive I-J
---
De debuutroman van de dichter Ocean Vuong is een schokkend familieportret en een indringend relaas van een eerste liefde, waarin de bezwerende kracht van taal en verhalen wordt aangewend als middel om te overleven en kloven te overbruggen.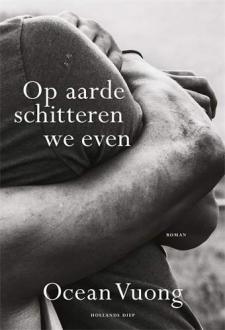 Op aarde schitteren we even is een brief van een zoon aan zijn moeder die niet kan lezen.

De schrijver van de brief, de achtentwintigjarige Hondje, legt een familiegeschiedenis bloot die voor zijn geboorte begon – een geschiedenis waarvan het brandpunt in Vietnam ligt. Daarnaast verschaft hij toegang tot delen van zijn leven waar zijn moeder nooit van heeft geweten, en doet hij een onvergetelijke onthulling.
De roman is behalve een getuigenis van de problematische maar onmiskenbare liefde tussen een alleenstaande moeder en haar zoon, ook een genadeloos eerlijk onderzoek naar ras, klasse en mannelijkheid. Op aarde schitteren we even stelt vragen die centraal staan in het Amerika van nu, dat ondergedompeld is in verslaving, geweld en trauma.

Het is een roman vol mededogen en tederheid over de kracht van je eigen verhaal vertellen en over de vernietigende stilte van niet gehoord worden.
Met verbluffende urgentie en elegantie schrijft Ocean Vuong over mensen die klem zitten tussen onverenigbare werelden, en onderzoekt hij hoe we elkaar kunnen genezen en redden zonder te verloochenen wie we zijn. De vraag hoe we moeten overleven, en hoe we daar een soort vreugde aan kunnen ontlenen, is de drijvende kracht van de belangrijkste debuutroman sinds jaren.
Ocean Vuong (1988) is dichter, essayist en schrijver. Stukken van zijn hand verschenen o.a. in The Atlantic, Harper's en The New Yorker. Hij werd geboren in Saigon en emigreerde in 1990 met zijn familie naar de VS. Zijn familie bestaat voor een groot deel uit dyslectici en zelf leerde hij pas op zijn elfde lezen. Desondanks won hij met zijn veelgeprezen poëziedebuut Night Sky With Exit Wounds een aantal grote literaire prijzen zoals de Whiting Award en de T.S Elliot Prize. Op aarde schitteren we even is zijn romandebuut.
Ocean Vuong
Op aarde schitteren we even
Vertaling: Johannes Jonkers
Uitgeverij Hollands Diep
Paperback
240 p.
ISBN: 9789048846832
Verschijnt op 03-09-2019
€ 21.99
# new books
Ocean Vuong
novel
• fleursdumal.nl magazine
More in: - Book News, - Book Stories, Archive U-V, Archive U-V, Art & Literature News, Ocean Vuong
---
In De Verborgen Hoek besteedt recensent Albert Hagenaars uitgebreid aandacht aan de meest recente dichtbundel 'Nederzettingen' van Bert Bevers en de verhouding daarvan tot zijn eerdere werk.
'Nederzettingen' verscheen bij uitgeverij Kleinood & Grootzeer. De bundel is verdeeld in drie reeksen: Nederzettingen, Uit de tijd en Gedichten uit een stadje in de heuvels en bevat dertig recente gedichten.
Bert Bevers is een dichter met een brede kijk op zijn onderwerpen en een onmiskenbaar eigen idioom.

Eerste druk 100 genummerde en door de auteur gesigneerde exemplaren. Boekje, 42 pagina's, gelijmd 21 x 10,5 cm. ISBN/EAN 978-90-76644-91-2. Prijs € 18,-
Bert Bevers (Bergen op Zoom, 1954) woont en werkt in Antwerpen. Keuzes uit zijn gedichten verschenen in de verzamelbundels Afglans (1997) en Eigen terrein (2013). Werk van zijn hand verscheen in literaire tijdschriften als Ballustrada, Bzzlletin, Deus ex Machina, Dietsche Warande & Belfort, Digther, Fleurs du mal.nl, Gierik & Nieuw Vlaams Tijdschrift, Hollands Maandblad, Meander, Poëziekrant, De Tweede Ronde, TZUM en Versindaba alsmede in vele bloemlezingen.
Albert Hagenaars (Bergen op Zoom, 1955) is dichter en schrijver. De belangrijkste thema's in zijn boeken zijn reizen, interculturele relaties, vervreemding en identiteit. Verder schrijft hij al jarenlang literaire recensies, meestal over poëzie.
# Albert Hagenaars: Kruisbestuivingen tussen tijd en plaats over Bert Bevers
# link naar literaire blog De Verborgen Hoek 

• fleursdumal.nl magazine
More in: - Book Lovers, - Book Stories, Archive A-B, Archive A-B, Archive G-H, Art & Literature News, Bevers, Bert, PRESS & PUBLISHING
---
Toddler-Hunting and Other Stories introduces a startlingly original voice. Winner of Japan's top literary prizes for fiction (among them the Akutagawa, the Tanizaki, the Noma, and the Yomiuri), Taeko Kono writes with a strange beauty, pinpricked with sadomasochistic and disquieting scenes.
In the title story, the protagonist loathes young girls, but compulsively buys expensive clothes for little boys so that she can watch them dress and undress. The impersonal gaze Taeko Kono turns on this behavior transfixes the reader with a fatal question: What are we hunting for? And why?
Multiplying perspectives and refracting light from the strangely facing mirrors of fantasy and reality, pain and pleasure, these ten stories present Kono at her very best.
Winner of Japan's top literary prizes (the Akutagawa, the Tanizaki, the Noma, and the Yomiuri), Taeko Kono writes with a strange beauty: her tales are pinpricked with disquieting scenes, her characters all teetering on self-dissolution, especially in the context of their intimate relationships. In the title story, the protagonist loathes young girls but compulsively buys expensive clothes for little boys so that she can watch them dress and undress. Taeko Kono's detached gaze at this alarming behavior transfixes the reader: What are we hunting for? And why? Multiplying perspectives and refracting light from the facing mirrors of fantasy and reality, pain and pleasure, Toddler-Hunting and Other Stories presents a major Japanese writer at her very best.
Toddler Hunting: And Other Stories
Taeko Kono
Publisher: New Directions Publishing Corporation
Publication date: Nov. 2018
Publication country:United States
Paperback
Pages:272
ISBN: 978-0-81122-827-5
17.00 €
# More books
Taeko Kono
Fiction
• fleursdumal.nl magazine
More in: - Book News, - Book Stories, Archive K-L
---
In 2019 jubileert Lustwarande. Delirious is de tiende expositie in De Oude Warande en de zesde overzichtseditie, met voor het merendeel nieuwe werken van vijfentwintig internationale kunstenaars.
Delirious
Jubileumeditie
15 juni – 20 oktober 2019
Opening: zaterdag 15 juni om 14.00
Evenals voorgaande overzichtsedities van Lustwarande presenteert Delirious recente ontwikkelingen in de hedendaagse sculptuur. Die recente ontwikkelingen worden gekenschetst door grote diversiteit. Naast reflecties op actuele thema's (vloeiende identiteit, migratie, wetenschappelijke innovaties, het veranderende besef over de verhouding tussen mens en natuur, de hyperversnelling van het alledaagse leven als gevolg van nieuwe technologieën en psychologische reacties hierop) is de nadruk die er op materiaal gelegd wordt onmiskenbaar en uiterst opmerkelijk. Dit is voor een groot deel het gevolg van de sterke focus op nieuwe denkmodellen die de laatste jaren in het beeldende kunstdiscours waarneembaar is.
Het is niet verwonderlijk dat dergelijke denkkaders directe invloed hebben op de hedendaagse kunstproductie. De onophoudelijke nadruk die er op het belang van materie gelegd wordt heeft ertoe geleid dat een nieuwe generatie kunstenaars de oude filosofische vraag weer op de voorgrond gesteld heeft hoe materie ons beïnvloed en hoe wij materie beïnvloeden. In de context van voortschrijdende technologie, toenemende digitalisering, alles nivellerende globalisering en noodzakelijke herdefiniëring van ons wereldbeeld, is er hernieuwde aandacht voor de fysieke productie van beelden en voor heronderzoek naar bestaande en nieuwe materialen. Net als midden jaren '80 van de vorige eeuw staat de huid van sculptuur opnieuw centraal, ditmaal echter in een niet eerder vertoonde mix van combinaties. Metalen, plastic, nieuwe kunststoffen, 3D prints, aarde, pigmenten, textiel, glas, klei, – en terug van weggeweest – hout en marmer en andere steensoorten en gevonden voorwerpen worden scrupuleus geassembleerd en gebricoleerd, veelal met een conceptuele inslag.
Dit vloeit niet alleen rechtstreeks voort uit bovengeschetste nieuwe theoretische modellen maar ook uit de fundamenteel veranderde eigenschappen van de hedendaagse beeldcultuur, die bijna vloeiend geworden is, uit de toenemende huidige mengmogelijkheden en uit de drang om die zowel digitaal als fysiek verder te onderzoeken, wat gepaard gaat met de noodzaak alle mogelijkheden opnieuw onder de loep te nemen, fysiek en ideologisch. En niet in de laatste plaats doordat kunstenaars een toenemende neiging ervaren zich van het beeldscherm af te wenden om weer in contact te komen met fysieke materialen. Of de kunstenaar het werk eigenhandig maakt of uitbesteedt aan producenten is daarbij van geen belang. De titel Delirious verwijst naar deze hang naar een hernieuwde fysieke sculptuurpraktijk, die zowel ongebreideld euforisch is als ook kritisch reflecterend.
Deelnemende kunstenaars
Isabelle Andriessen (NL)
Nina Canell (SE)
Steven Claydon (UK)
Claudia Comte (CH)
Morgan Courtois (FR)
Hadrien Gerenton (FR)
Daiga Grantina (LV)
Siobhán Hapaska (IR)
Lena Henke (DE)
Camille Henrot (FR)
Nicholas Hlobo (SA)
Saskia Noor van Imhoff (NL)
Sven 't Jolle (BE)
Sonia Kacem (CH)
Esther Kläs (DE)
Sarah Lucas (UK)
Justin Matherly (US)
Win McCarthy (US)
Bettina Pousttchi (DE)
Magali Reus (NL)
Jehoshua Rozenman (IL/NL)
Bojan Šarčević (FR)
Grace Schwindt (DE)
Eric Sidner (US)
Filip Vervaet (BE)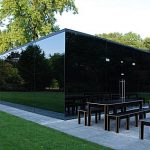 Publicatie
DELIRIOUS LUSTWARANDE – EXCURSIONS IN CONTEMPORARY SCULPTURE III
Ter gelegenheid van Delirious geeft Lustwarande in dit jubileumjaar de publicatie DELIRIOUS LUSTWARANDE – EXCURSIONS IN CONTEMPORARY SCULPTURE III uit. Naast documentatie van de werken in deze expositie wordt  tevens documentatie van alle werken in de voorgaande vier edities (Hybrids   (2018), Disruption (2017), Luster (2016) en Rapture & Pain (2015)) opgenomen. De vijf exposities samen geven een helder beeld van de stand van zaken in de hedendaagse sculptuur.
Om de exposities en de werken van een bredere context te voorzien, heeft Lustwarande drie auteurs uitgenodigd om speciaal voor deze publicatie een essay te schrijven: Dominic van den Boogerd, kunstcriticus en coördinator artistieke begeleiding en research bij De Ateliers, Amsterdam, Johan Pas, kunsthistoricus, auteur en hoofd Koninklijke Academie voor Schone Kunsten, Antwerpen, Domeniek Ruyters, kunsthistoricus en editor in chief Metropolis M, Utrecht
Locatie: park De Oude Warande
Bredaseweg 441
Tilburg
•Chris Driessen
artistiek directeur
•Heidi van Mierlo
zakelijk directeur
 # meer informatie website lustwarande 
• fleursdumal.nl magazine
More in: - Book News, - Book Stories, Art & Literature News, Art Criticism, Dutch Landscapes, Exhibition Archive, Fundament - Lustwarande, Sculpture
---
How far would you run to escape your life?
Anita lives in Karachi's biggest slum. Her mother is a maalish wali, paid to massage the tired bones of rich women. But Anita's life will change forever when she meets her elderly neighbour, a man whose shelves of books promise an escape to a different world.
On the other side of Karachi lives Monty, whose father owns half the city and expects great things of him. But when a beautiful and rebellious girl joins his school, Monty will find his life going in a very different direction.
Sunny's father left India and went to England to give his son the opportunities he never had. Yet Sunny doesn't fit in anywhere. It's only when his charismatic cousin comes back into his life that he realises his life could hold more possibilities than he ever imagined.
These three lives will cross in the desert, a place where life and death walk hand in hand, and where their closely guarded secrets will force them to make a terrible choice.
'Incredibly ambitious, extremely powerful and moving' – BBC Radio 4
Fatima Bhutto was born in Kabul. She is the author of a book of poetry, two works of non-fiction, including her bestselling memoir Songs of Blood and Sword, and the highly acclaimed novel The Shadow Of The Crescent Moon, which was longlisted in 2014 for the Bailey's Women's Prize for Fiction.
Fatima Bhutto
The Runaways
Penguin Books Ltd
Imprint: Viking
Fiction
English
Published: 07/03/2019
ISBN: 9780241346990
Hardcover
Length: 432 Pages
RRP: £14.99
# new novel
Fatima Bhutto
The Runaways
• fleursdumal.nl magazine
More in: - Book News, - Book Stories, Archive A-B, Archive A-B, Art & Literature News, Fatima Bhutto
---
Occupying the Stage: the Theater of May '68 tells the story of student and worker uprisings in France through the lens of theater history, and the story of French theater through the lens of May '68.

Based on detailed archival research and original translations, close readings of plays and historical documents, and a rigorous assessment of avant-garde theater history and theory, Occupying the Stage proposes that the French theater of 1959–71 forms a standalone paradigm called "The Theater of May '68."
The book shows how French theater artists during this period used a strategy of occupation-occupying buildings, streets, language, words, traditions, and artistic processes-as their central tactic of protest and transformation. It further proposes that the Theater of May '68 has left imprints on contemporary artists and activists, and that this theater offers a scaffolding on which to build a meaningful analysis of contemporary protest and performance in France, North America, and beyond.
At the book's heart is an inquiry into how artists of the period used theater as a way to engage in political work and, concurrently, questioned and overhauled traditional theater practices so their art would better reflect the way they wanted the world to be. Occupying the Stage embraces the utopic vision of May '68 while probing the period's many contradictions. It thus affirms the vital role theater can play in the ongoing work of social change.
Occupying the Stage
The Theater of May '68
Kate Bredeson (Author)
Publication Date: November 2018
Pages 232
Trim Size 6 x 9
Paper Text – $34.95
Northwestern University Press
Drama & Performance Studies
ISBN 978-0-8101-3815-5
# new books
Occupying the Stage
The Theater of May '68
Kate Bredeson
• fleursdumal.nl magazine
More in: #Editors Choice Archiv, - Book News, - Book Stories, Archive A-B, Art & Literature News, AUDIO, CINEMA, RADIO & TV, Protests of MAY 1968, THEATRE
---
English PEN have launched a crowdfunding campaign to ensure that a hand-annotated copy of Lady Chatterley's Lover used by the judge in its landmark obscenity trial can remain in the UK
During the trial, the presiding judge, the Hon. Sir Laurence Byrne, referred to a copy of the book which had been annotated by his wife. She had made notes of character names in the margins, underlined important sections, and had produced a list of page numbers relating to significant passages in the book ("love making", "coarse", etc).

Because of its unique crucial importance in British history, the arts minister, Michael Ellis, has determined that it should remain in the UK and has placed a temporary bar preventing its overseas export from being exported overseas if a UK-based bidder can match its price. English PEN have launched the GoFundMe campaign to raise the money required to keep the book in the UK.
Philippe Sands QC, President of English PEN, said:
DH Lawrence was an active member of English PEN and unique in the annals of English literary history. Lady Chatterley's Lover was at the heart of the struggle for freedom of expression, in the courts and beyond. This rare copy of the book, used and marked up by the judge, must remain in the UK, accessible to the British public to help understand what is lost without freedom of expression. This unique text belongs here, a symbol of the continuing struggle to protect the rights of writers and readers at home and abroad.
Lady Chatterley's Lover was published in Europe in 1928, but remained unpublished in the UK for thirty years following DH Lawrence's death in 1930. Its narrative – of an aristocratic woman embarking on a passionate relationship with a groundskeeper outside of her sexless marriage – challenged establishment sensibilities, and publishers were unwilling to publish it through fear of prosecution.
The 1960 obscenity trial of Lady Chatterley's Lover was one of the most important cases in British literary and social history, and led to a significant shift in the cultural landscape. The trial highlighted the distance between modern society and an out-of-touch establishment, shown in the opening remarks of Mervyn Griffith-Jones, the lead prosecutor:
Would you approve of your young sons, young daughters – because girls can read as well as boys – reading this book?
Is it a book that you would have lying around in your own house? Is it a book that you would even wish your wife or your servants to read?
However, it took the jury just three hours to reach a decision that the novel was not obscene, and, within a day, the book sold 200,000 copies, rising to more than 2 million copies in the next two years.
The verdict was a crucial step in ushering the permissive and liberal sixties and was an enormously important victory for freedom of expression.
We want to ensure this piece of our cultural history remains in the UK. Please support us and help spread the word.
# Support the campaign see website ENGLISH PEN
• fleursdumal.nl magazine
More in: - Book Stories, Archive K-L, D.H. Lawrence, Erotic literature, Lawrence, D.H., PRESS & PUBLISHING, REPRESSION OF WRITERS, JOURNALISTS & ARTISTS
---
De Vlaamse televisiemaker, muzikant en schrijver Jan Leyers (1958) is de winnaar van de E. du Perronprijs 2018.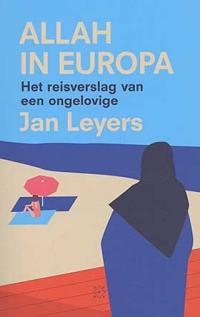 De jury honoreert zijn boek Allah in Europa: reisverslag van een ongelovige. Volgens de jury een: 'fascinerend boek waarin een veelheid aan ideeën en opinies aan de orde komt, waaraan de lezer zijn of haar eigen mening kan scherpen'.
De andere genomineerden voor de prijs waren Ilja Leonard Pfeijffer met Grand Hotel Europa en Jolande Withuis Raadselvader. 
Leyers krijgt 2500 euro voor de E. du Perronprijs, een initiatief van de gemeente Tilburg, de Tilburg School of Humanities & Digital Sciences van de Tilburgse universiteit en de organisatie Kunstloc Brabant.
E. du Perronprijs 2018 voor het boek Allah in Europa: reisverslag van een ongelovige van Jan Leyers
• fleursdumal.nl magazine
More in: - Book News, - Book Stories, Archive K-L, Art & Literature News, Awards & Prizes, MONTAIGNE, PRESS & PUBLISHING, WAR & PEACE
---
Every year, 3 May is a date which celebrates the fundamental principles of press freedom, to evaluate press freedom around the world, to defend the media from attacks on their independence and to pay tribute to journalists who have lost their lives in the exercise of their profession.
World Press Freedom Day was proclaimed by the UN General Assembly in 1993 following a Recommendation adopted at the twenty-sixth session of UNESCO's General Conference in 1991. This in turn was a response to a call by African journalists who in 1991 produced the landmark Windhoek Declaration (link is external) on media pluralism and independence.
At the core of UNESCO's mandate is freedom of the press and freedom of expression. UNESCO believes that these freedoms allow for mutual understanding to build a sustainable peace.
It serves as an occasion to inform citizens of violations of press freedom – a reminder that in dozens of countries around the world, publications are censored, fined, suspended and closed down, while journalists, editors and publishers are harassed, attacked, detained and even murdered.
It is a date to encourage and develop initiatives in favour of press freedom, and to assess the state of press freedom worldwide.
3 May acts as a reminder to governments of the need to respect their commitment to press freedom and is also a day of reflection among media professionals about issues of press freedom and professional ethics. Just as importantly, World Press Freedom Day is a day of support for media which are targets for the restraint, or abolition, of press freedom. It is also a day of remembrance for those journalists who lost their lives in the pursuit of a story.
WORLD PRESS FREEDOM DAY
May 3, 2019
# more information website unesco
• fleursdumal.nl magazine
More in: - Book Stories, Art & Literature News, AUDIO, CINEMA, RADIO & TV, LITERARY MAGAZINES, Photography, PRESS & PUBLISHING, REPRESSION OF WRITERS, JOURNALISTS & ARTISTS
---
1677. Un groupe d'intellectuels publie à Amsterdam un livre intitulé Œuvres posthumes avec pour nom d'auteur : B.d.S.
Qui se cache derrière ces initiales? Bento de Spinoza, certes… mais pas seulement.
Son livre est le produit d'échanges palpitants entre les savants de toute l'Europe, de querelles entre les communautés juives et chrétiennes mal unies, d'amitiés éternelles et même d'amours déçues.
Cette fantaisie historique et philosophique, entièrement fondée sur les faits et les textes, transforme la biographie du philosophe Spinoza en un fascinant portrait d'hommes et de femmes épris de liberté, lancés dans l'aventure de la raison moderne.
Synthèse de décennies de recherches collectives, le roman de Maxime Rovere éclaire la naissance et les enjeux d'une philosophie qui n'en finit pas de nous aider à comprendre le monde, et nous avec lui.
Maxime Rovere
Le clan Spinoza
Amsterdam, 1677.
L'invention de la liberté
Littérature française
Libres Champs
560 pages
109 x 178 mm
Broché
Paru le 23/01/2019
EAN : 9782081422506
ISBN : 9782081422506
Prix : €10,00
# more books
Maxime Rovere
Le clan Spinoza
Littérature française
• fleursdumal.nl magazine
More in: - Book News, - Book Stories, Archive Q-R, Archive S-T, Art & Literature News, Spinoza
---
Ein elsässischer Soldat im Ersten Weltkrieg entdeckt am Nachthimmel das Sternbild des Großen Burschen, das so schauderhaft ist, dass er niemandem davon erzählen kann.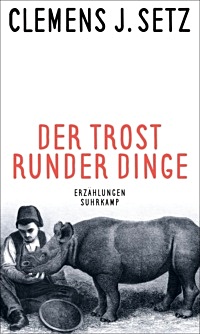 Ein junger Mann, der sich in die blinde Anja verliebt hat, muss feststellen, dass ihr Apartment von oben bis unten mit Beschimpfungen bekritzelt ist. Marcel, sechzehn Jahre alt, hinterlässt auf der Toilettenwand eines Erotiklokals seine Handynummer und den Namen Suzy.
Familie Scheuch bekommt eines Tages Besuch von einem Herrn Ulrichsdorfer, der vorgibt, in ihrem Haus aufgewachsen zu sein, und einen Elektroschocker unter seinem geliehenen Anzugjackett verbirgt.
Das ganz und gar Unerwartete bricht in das Leben von Clemens J. Setz' Figuren ein. Ihr Schöpfer erzählt davon einfühlsam, fast zärtlich. Durch Falltüren gestattet er uns Blicke auf rätselhafte Erscheinungen und in geheimnisvolle Abgründe des Alltags, man stößt auf Wiedergänger und auf Sätze, die einen mit der Zunge schnalzen lassen.
Der Trost runder Dinge ist ein Buch voller Irrlichter und doppelter Böden – radikal erzählt und aufregend bis ins Detail.
Clemens J. Setz wurde 1982 in Graz geboren, wo er Mathematik sowie Germanistik studierte und heute als Übersetzer und freier Schriftsteller lebt. 2011 wurde er für seinen Erzählband Die Liebe zur Zeit des Mahlstädter Kindes mit dem Preis der Leipziger Buchmesse ausgezeichnet. Sein Roman Indigo stand auf der Shortlist des Deutschen Buchpreises 2012 und wurde mit dem Literaturpreis des Kulturkreises der deutschen Wirtschaft 2013 ausgezeichnet. 2014 erschien sein erster Gedichtband Die Vogelstraußtrompete. Für seinen Roman Die Stunde zwischen Frau und Gitarre erhielt Setz den Wilhelm Raabe-Literaturpreis 2015.
Clemens J. Setz
Der Trost runder Dinge
Erzählungen
Erschienen: 11.02.2019
Gebunden
320 Seiten
ISBN: 978-3-518-42852-8
Suhrkamp Verlag AG
Mit Abbildungen
€ 24,00
# new books
Der Trost runder Dinge
Erzählungen
Clemens J. Setz
• fleursdumal.nl magazine
More in: #Short Stories Archive, - Book News, - Book Stories, Archive S-T, Art & Literature News, WAR & PEACE
---
Older Entries »
Thank you for reading FLEURSDUMAL.NL - magazine for art & literature