– Book Stories
·
Cyrille Offermans: Dagboeknotities. Een iets beschuttere plek misschien
·
Aslı Erdoğan: The Stone Building and Other Places
·
Die 70. Frankfurter Buchmesse von 10.-14. Oktober 2018
·
Frida Kahlo: Making Her Self Up in Victoria & Albert Museum London
·
The Great Nadar. The Man Behind the Camera by Adam Begley
·
Dagboek A.J.H. Dautzenberg: Ik bestaat uit twee letters
·
Banned Books Week 2018, the annual celebration of the freedom to read – Sept. 23 – 29, 2018
·
René Daniëls: Fragments from an Unfinished Novel
·
Europese Literatuurprijs naar 'Max, Mischa & het Tet-offensief' van de Noorse schrijver Johan Harstad
·
Curt Moreck: Das deutsche Babylon 1931. Ein Führer durch das lasterhafte Berlin
·
Ton van Reen: Het diepste blauw (070). Een roman als feuilleton
·
The Circus. A Visual History by Pascal Jacob
Heel 2017 schreef Cyrille Offermans aan wat je nog het beste zou kunnen omschrijven als een intellectueel journaal: een verzameling notities, beschouwingen, herinneringen, observaties en essayistische commentaren op gelezen boeken en gebeurtenissen in de wereld.
Dat de barre werkelijkheid voortdurend zijn plaats op de voorgrond opeist, zegt genoeg over onze tijd. Het boek (en dus het jaar) begint en eindigt met de doffe ellende in Syrië.
Daartussen presenteert zich een baaierd aan onderwerpen – van de Franse verkiezingen en de afnemende tekenvaardigheid van de schooljeugd tot en met uiteenzettingen over bibliomanie, de betekenis van carnaval, de eerste woordjes van een kleinkind of de ziekte van een vriendin.
Er is alles in de wereld. En er is alles in dit boek.
Cyrille Offermans (Geleen, 8 april 1945) is een Nederlandse schrijver, essayist en criticus. Hij publiceert met name in De Groene Amsterdammer, Vrij Nederland, De Standaard en Raster. Bij het laatste literair tijdschrift werkte hij tevens als redacteur. Hij publiceerde meer dan twintig boeken in uiteenlopende genres, vooral essayistiek in het grensgebied van literatuur, filosofie, cultuurgeschiedenis en politiek. Zijn werk werd diverse malen met prestigieuze prijzen bekroond.
Cyrille Offermans
Een iets beschuttere plek misschien
Dagboeknotities
Uitgeverij De Arbeiderspers
Privé-domein – Paperback
Publicatiedatum: 25-09-2018
ISBN: 9789029525794
NUR: 321
€ 25,99
# new books
cyrille offermans
fleursdumal.nl magazine
More in: - Book Lovers, - Book News, - Book Stories, Archive O-P, Art & Literature News, Art Criticism, AUDIO, CINEMA, RADIO & TV, LITERARY MAGAZINES, MONTAIGNE
---
Vivid stories from one of Turkey's most admired contemporary female authors, whose political activism has made her the target of state persecution.
Three interconnected stories feature women whose lives have been interrupted by forces beyond their control. Exile, serious illness, or the imprisonment of one's beloved are each met with versions of strength and daring, while there is no undoing what fate has wrought. These atmospheric, introspective tales culminate in an experimental, multi-voiced novella, whose "stone building" is a metaphor for the various oppressive institutions—prisons, police HQs, hospitals and psychiatric asylums—that dominate the lives of all of these characters. Here is a literary distillation of the alienation, helplessness, and controlled fury of exile and incarceration—both physical and mental—presented in a series of moving, allegorical portraits of lives ensnared by the structures of power.
Aslı Erdoğan (Istanbul, 1967) is a renowned, prize-winning author, journalist, and human rights activist whose fiction has been translated into many languages. She has published novels, collections of short stories and poetic prose, and selections from her political essays. As a journalist, she has covered controversial topics such as state violence, discrimination, and human rights, for which she has been persecuted in a variety of ways.
Erdogan was imprisoned for four months by the Turkish government in a sweeping roundup of dissident voices after the failed coup attempt of July 2016. The subject of both PEN International and PEN America advocacy campaigns, she was released from prison in late December 2016.
This is her second work to be translated into English.
"Aslı Erdoğan is an exceptionally perceptive and sensitive writer who always produces perfect literary texts."—Orhan Pamuk, author of The Red-Haired Woman
Title The Stone Building and Other Places
Author Aslı Erdoğan
Translated by Sevinç Türkkan
Publisher City Lights Publishers
literature in translation
Title First Published 27 February 2018
Format Paperback
ISBN-10 0872867501
ISBN-13 9780872867505
Publication Date 27 February 2018
Main content page count 174
List Price $15.95
# new novel
Aslı Erdoğan
fleursdumal.nl magazine
More in: - Book News, - Book Stories, Archive E-F, Ivo van Leeuwen, PRESS & PUBLISHING, REPRESSION OF WRITERS, JOURNALISTS & ARTISTS
---
Universelle Menschenrechte, internationale Vielfalt, boomendes Lizenzgeschäft und ein Fest für Autoren
Ein Blick auf die Themen der 70. Frankfurter Buchmesse
Die 70. Frankfurter Buchmesse (10.-14. Oktober 2018) fällt in eine bewegte Zeit: Während die Idee eines geeinten Europas in die Defensive gerät, gewinnen populistische Gruppierungen in vielen demokratischen Ländern an Zulauf.
Das politische Klima in Deutschland ist aufgeheizt – nicht zuletzt wegen der bevorstehenden Landtagswahlen in Bayern und Hessen. Gleichzeitig verändern sich die wirtschaftlichen Voraussetzungen der Buch- und Verlagsbranche grundlegend: Immer weniger Menschen beziehen ihre Informationen aus etablierten Medien; "alternative Fakten" sind längst Teil der Berichterstattung. Den demokratischen Meinungsbildungsprozess durch gut recherchierte Inhalte zu ermöglichen, hat für Branchenakteure oberste Priorität und ist mit Blick auf eine immer kleiner werdende Zahl von Lesern und Buchkäufern zugleich die größte Herausforderung.
"Angesichts der drängenden Themen, die unsere Gesellschaft heute beschäftigen, ist die Frankfurter Buchmesse eine wichtige öffentliche Plattform", sagte Juergen Boos heute auf einer Pressekonferenz in Berlin. "Die internationalste Buchmesse steht seit ihrer Wiedereröffnung nach dem Zweiten Weltkrieg 1949 für Meinungs- und Publikationsfreiheit, für internationale Vernetzung und Dialog. Auch die 70. Frankfurter Buchmesse wird unter politischen Vorzeichen stattfinden. Und für uns, wie für alle anderen internationalen Buchmessen, gilt: Diskussionen zuzulassen – auch und gerade zu kontroversen Themen.
Polarisierende Autoren und Meinungen auszuhalten und argumentativ zu widerlegen, sind Errungenschaften einer demokratischen Gesellschaft. Diese Grundsätze sind Teil unserer DNA."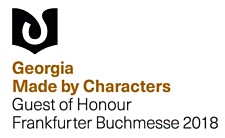 An fünf Tagen im Oktober werden in Frankfurt Geschäfte gemacht, wirtschaftliche Tendenzen analysiert, gesellschaftliche Phänomene diskutiert und kulturelle Trends präsentiert. Die Frankfurter Buchmesse bezieht mit einem Veranstaltungsprogramm im Zentrum Weltempfang (Halle 4.1 B 81) und im neuen Frankfurt Pavilion selbst Stellung: Hier geht es um Kunst im Spannungsfeld von Macht und Moral, um Strategien gegen antidemokratische Tendenzen, um Grenzbereiche politischer Kommunikation. Auf der Eröffnungs-Pressekonferenz am Dienstag, 9. Oktober 2018, spricht die nigerianische Autorin Chimamanda Ngozi Adichie, deren Manifest "We Should All Be Feminists" eine Diskussion über Feminismus ausgelöst hat. Hochrangige internationale Vertreter aus Politik und Gesellschaft haben ihr Kommen angekündigt, darunter Federica Mogherini, die Hohe Vertreterin der EU für Außen- und Sicherheitspolitik, Prof. Monika Grütters, Staatsministerin für Kultur und Medien, und Mamuka Bachtadse, Ministerpräsident Georgiens, dem Gastland der Frankfurter Buchmesse 2018.
Die Frankfurter Buchmesse ist mit über 7.300 Ausstellern aus 102 Ländern, rund 286.000 Besuchern, über 4.000 Veranstaltungen und rund 10.000 akkreditierten Journalisten und Bloggern die größte Fachmesse für das internationale Publishing.
Darüber hinaus ist sie ein branchenübergreifender Treffpunkt für Player aus den Bereichen Bildung, Filmwirtschaft, Games, Wissenschaft und Fachinformation. Einen inhaltlichen Schwerpunkt bildet seit 1976 der jährlich wechselnde Ehrengast, der dem Messepublikum auf vielfältige Weise seinen Buchmarkt, seine Literatur und Kultur präsentiert.

Die Frankfurter Buchmesse organisiert die Beteiligung deutscher Verlage an rund 20 internationalen Buchmessen und veranstaltet ganzjährig Fachveranstaltungen in den wichtigen internationalen Märkten.
Der Business Club, mit Premium Service, Networking-Formaten und Konferenzen wie THE MARKETS, ist ausschließlich zugänglich mit dem Business Ticket, der Premium-Option für B2B-Besucher.
Das 2016 entwickelte Format THE ARTS+ ist Messe, Business Festival und ein internationaler Treffpunkt der Kultur- und Kreativindustrie. Ziel ist es, die Potentiale der Digitalisierung für kreative Inhalte zu nutzen und neue Geschäftsfelder zu erschließen.
Frankfurt EDU, das internationale Bildungsformat der Frankfurter Buchmesse, präsentiert innovative Konzepte, Inhalte und Technologien für die Zukunft des Lernens.
Das Campus Weekend ist das Wochenende für Studierende auf der Frankfurter Buchmesse. Die Frankfurter Buchmesse ist ein Tochterunternehmen des Börsenvereins des Deutschen Buchhandels.
# website der Frankfurter Buchmesse
# more books
Frankfurter Buchmesse
fleursdumal.nl magazine
More in: - Book Lovers, - Book News, - Book Stories, - Bookstores, Art & Literature News, AUDIO, CINEMA, RADIO & TV, PRESS & PUBLISHING
---
Exhibition On now until Sunday, 4 November 2018
Frida Kahlo: Making Her Self Up
Experience a fresh perspective on Kahlo's compelling life story through her most intimate personal belongings
This exhibition presents an extraordinary collection of personal artefacts and clothing belonging to the iconic Mexican artist Frida Kahlo. Locked away for 50 years after her death, this collection has never before been exhibited outside Mexico.
Frida Kahlo: Making Her Self Up offers a fresh perspective on the life story of this extraordinary artist, whose charisma and powerful sense of style continue to captivate. Never before seen, specially commissioned photography, shot at the Casa Azul in Mexico City show her distinctive Mexican outfits along with her self-portraits, an unprecedented pairing that is enriched by iconic images of the artist.
Book: Frida Kahlo – Making Her Self Up – offers a fresh perspective on the life story of this extraordinary artist, whose charisma and powerful sense of style continue to captivate. Never before seen, specially commissioned photography, shot at the Casa Azul in Mexico City show her distinctive Mexican outfits along with her self-portraits, an unprecedented pairing that is enriched by iconic images of the artist.
♦Includes six inset booklets, containing photographs of Kahlo's most intimate possessions
♦16 page section showcasing Kahlo's wardrobe, specially conserved and mounted
♦Spectacular details of embellishments and textiles
About the authors C. Wilcox and C. Henestrosa
Claire Wilcox is Senior Curator of Fashion at the V&A and Professor in Fashion Curation at the London College of Fashion, University of the Arts London. She curated the exhibitions Vivienne Westwood (V&A, 2004), The Golden Age of Couture: Paris and London 1947–1957 (V&A, 2007) and Alexander McQueen: Savage Beauty (2015), and edited the accompanying catalogues. Circe Henestrosa is an independent curator and Head of the School of Fashion at LASALLE College of the Arts, Singapore. She curated the exhibition Appearances Can Be Deceiving: The Dresses of Frida Kahlo (Museo Frida Kahlo, Mexico City, 2012).
Format: Hardcover
ISBN 9781851779604
Dimensions 270 x 216 mm
Author: C.Wilcox and C.Henestrosa
Product code 153329
£30.00
Victoria and Albert Museum
Cromwell Road, London, SW7 2RL
# exhibition and publication
Frida Kahlo: Making Her Self Up
in Victoria and Albert Museum London
fleursdumal.nl magazine
More in: - Book News, - Book Stories, Art & Literature News, Exhibition Archive, FDM Art Gallery, FDM in London, Frida Kahlo, Galerie des Morts
---
A dazzling, stylish biography of a fabled Parisian photographer, adventurer, and pioneer.
A recent French biography begins, Who doesn't know Nadar? In France, that's a rhetorical question. Of all of the legendary figures who thrived in mid-19th-century Paris—a cohort that includes Victor Hugo, Baudelaire, Gustave Courbet, and Alexandre Dumas—Nadar was perhaps the most innovative, the most restless, the most modern.
The first great portrait photographer, a pioneering balloonist, the first person to take an aerial photograph, and the prime mover behind the first airmail service, Nadar was one of the original celebrity artist-entrepreneurs. A kind of 19th-century Andy Warhol, he knew everyone worth knowing and photographed them all, conferring on posterity psychologically compelling portraits of Manet, Sarah Bernhardt, Delacroix, Daumier and countless others—a priceless panorama of Parisian celebrity.
Born Gaspard-Félix Tournachon, he adopted the pseudonym Nadar as a young bohemian, when he was a budding writer and cartoonist. Later he affixed the name Nadar to the façade of his opulent photographic studio in giant script, the illuminated letters ten feet tall, the whole sign fifty feet long, a garish red beacon on the boulevard. Nadar became known to all of Europe and even across the Atlantic when he launched "The Giant," a gas balloon the size of a twelve-story building, the largest of its time. With his daring exploits aboard his humongous balloon (including a catastrophic crash that made headlines around the world), he gave his friend Jules Verne the model for one of his most dynamic heroes.
The Great Nadar is a brilliant, lavishly illustrated biography of a larger-than-life figure, a visionary whose outsized talent and canny self-promotion put him way ahead of his time.
Adam Begley is the author of Updike. He was the books editor of The New York Observer for twelve years. He has been a Guggenheim fellow and a fellow at the Leon Levy Center for Biography. His writing has appeared in The New York Times, The Guardian, The Financial Times, The London Review of Books, and The Times Literary Supplement. He lives with his wife in Cambridgeshire.
"Irresistible. . . . A richly entertaining and thoughtful biography. . . . Begley seems wonderfully at home in the Second Empire, and shifts effortlessly between historical backgrounds, technical explanation, and close-up scenes, brilliantly recreating Nadar at work." —Richard Holmes, The New York Review of Books
The Great Nadar
The Man Behind the Camera
By Adam Begley
Arts & Entertainment
Biographies & Memoirs
History
Paperback
Jul 10, 2018
256 Pages
$16.00
Published by Tim Duggan Books
ISBN 9781101902622
new books
biographie Nadar
fleursdumal.nl magazine
More in: #Biography Archives, - Book News, - Book Stories, - Objets Trouvés (Ready-Mades), Art & Literature News, History of Britain, Photography
---
In de vroege ochtend van 13 december 1967 wordt A.H.J. Dautzenberg geboren, drie minuten na zijn broer.
Pas enkele uren voor de bevalling hoort zijn moeder dat ze zwanger is van een tweeling, en in allerijl wordt een tweede naam bedacht.
Een halve eeuw later gaat Dautzenberg op zoek naar zijn gelukkige jeugd.
Hij trekt tijdelijk in bij zijn tweelingbroer die sinds enkele jaren in het ouderlijk huis woont en met wie hij een gecompliceerde relatie onderhoudt.
Uiterst consciëntieus houdt Dautzenberg een dagboek bij. Hij spaart zichzelf (en zijn omgeving) niet en bevraagt het idioom van de autobiografie. (uitgever)
A.H.J. Dautzenberg (Heerlen, 1967) debuteerde in 2010 met de verhalenbundel Vogels met zwarte poten kun je niet vreten. Sindsdien is hij niet meer weg te denken uit de Nederlandse letteren. Dautzenberg schrijft romans, verhalen, essays, gedichten en toneel. Zijn werk werd genomineerd voor verschillende literaire prijzen, waaronder de AKO Literatuurprijs en de J.M.A. Biesheuvelprijs. Hij werd door NRC Handelsblad uitgeroepen tot een van de belangrijke nieuwkomers van de afgelopen jaren. Zijn nieuwste roman Wie zoet is, verscheen 22 september. Op 26 november verschijnt de bloemlezing Vuur! over engagement in de literatuur, een verzameling hemelbestormende schrijvers en bezielde boeken. J.M.A. Biesheuvelprijs, 2015, shortlist (voor En dan komen de foto's) Mercur 2014, beste nieuwe tijdschrift, shortlist (voor de Quiet 500) Nieuwsmaker van het jaar 2013, Brabants Dagblad (voor de Quiet 500) Beste 25 romans van de afgelopen 5 jaar, 2013, NRC Handelsblad (voor Samaritaan) Beste boek van 2013, Nacht van de NRC (voor Extra tijd) A.L. Snijdersprijs, 2012, longlist (voor Lotusbloemen) AKO Literatuurprijs 2011, longlist (voor Samaritaan) Cutting Edge Beste Roman van 2011, shortlist (voor Samaritaan) Selexyz Debuutprijs 2011, shortlist (voor Vogels met zwarte poten kun je niet vreten)
A.J.H. Dautzenberg:
Ik bestaat uit twee letters
Serie: Privé-domein
Uitgever: De Arbeiderspers
publicatiedatum: 23-05-2018
640 pagina's
paperback
afm.: 115 x 195 x 44 mm
Illustraties
ISBN 9789029524117
NUR: 321
prijs: € 27,99
# new books
A.J.H. Dautzenberg
fleursdumal.nl magazine
More in: - Book News, - Book Stories, A.H.J. Dautzenberg, Archive C-D, Art & Literature News
---
Banned Books Week is the annual celebration of the Freedom to Read

The event is sponsored by a coalition of organizations dedicated to free expression, including: American Booksellers Association; American Library Association; American Society of Journalists and Authors; Association of University Presses; The Authors Guild; Comic Book Legal Defense Fund; Dramatists Legal Defense Fund; Freedom to Read Foundation; Index on Censorship; National Coalition Against Censorship; National Council of Teachers of English; PEN America; People for the American Way; and Project Censored. It is endorsed by the Center for the Book in the Library of Congress. Banned Books Week also receives generous support from DKT Liberty Project and Penguin Random House. © 2018 Banned Books Week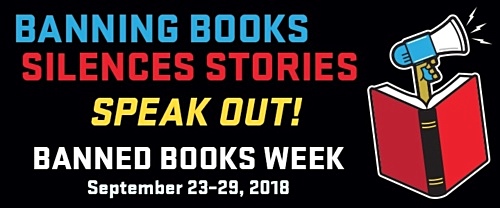 Banned Books Week is an annual event celebrating the freedom to read. Banned Books Week was launched in 1982 in response to a sudden surge in the number of challenges to books in schools, bookstores and libraries. Typically held during the last week of September, it highlights the value of free and open access to information. Banned Books Week brings together the entire book community — librarians, booksellers, publishers, journalists, teachers, and readers of all types — in shared support of the freedom to seek and to express ideas, even those some consider unorthodox or unpopular.
Banned Books Week 2018 will be held September 23 – 29. The 2018 theme, "Banning Books Silences Stories," is a reminder that everyone needs to speak out against the tide of censorship.
By focusing on efforts across the country to remove or restrict access to books, Banned Books Week draws national attention to the harms of censorship. The ALA Office for Intellectual Freedom (OIF) compiles lists of challenged books as reported in the media and submitted by librarians and teachers across the country. The Top Ten Challenged Books of 2017 are:
01
Thirteen Reasons Why written by Jay Asher
Originally published in 2007, this New York Times bestseller has resurfaced as a controversial book after Netflix aired a TV series by the same name. This YA novel was challenged and banned in multiple school districts because it discusses suicide.
02
The Absolutely True Diary of a Part-Time Indian written by Sherman Alexie
Consistently challenged since its publication in 2007 for acknowledging issues such as poverty, alcoholism, and sexuality, this National Book Award winner was challenged in school curriculums because of profanity and situations that were deemed sexually explicit.
03
Drama written and illustrated by Raina Telgemeier
This Stonewall Honor Award-winning, 2012 graphic novel from an acclaimed cartoonist was challenged and banned in school libraries because it includes LGBT characters and was considered "confusing."
04
The Kite Runner written by Khaled Hosseini
This critically acclaimed, multigenerational novel was challenged and banned because it includes sexual violence and was thought to "lead to terrorism" and "promote Islam."
05
George written by Alex Gino
Written for elementary-age children, this Lambda Literary Award winner was challenged and banned because it includes a transgender child.
06
Sex is a Funny Word written by Cory Silverberg and illustrated by Fiona Smyth
This 2015 informational children's book written by a certified sex educator was challenged because it addresses sex education and is believed to lead children to "want to have sex or ask questions about sex."
07
To Kill a Mockingbird written by Harper Lee
This Pulitzer Prize-winning novel, considered an American classic, was challenged and banned because of violence and its use of the N-word.
08
The Hate U Give written by Angie Thomas
Despite winning multiple awards and being the most searched-for book on Goodreads during its debut year, this YA novel was challenged and banned in school libraries and curriculums because it was considered "pervasively vulgar" and because of drug use, profanity, and offensive language.
09
And Tango Makes Three written by Peter Parnell and Justin Richardson and illustrated by Henry Cole
Returning after a brief hiatus from the Top Ten Most Challenged list, this ALA Notable Children's Book, published in 2005, was challenged and labeled because it features a same-sex relationship.
10
I Am Jazz written by Jessica Herthel and Jazz Jennings and illustrated by Shelagh McNicholas
This autobiographical picture book co-written by the 13-year-old protagonist was challenged because it addresses gender identity.
https://bannedbooksweek.org/
# Banned Books Week 2018, the annual celebration of the freedom to read – Sept. 23 – 29, 2018
fleursdumal.nl magazine
More in: - Book Lovers, - Book News, - Book Stories, Art & Literature News, Literary Events, PRESS & PUBLISHING, REPRESSION OF WRITERS, JOURNALISTS & ARTISTS
---
September at WIELS will be marked by the pictorial work and the poetic imagination of René Daniëls.
Come to discover over 75 paintings – several of which have never been exhibited and have been specially restored for the occasion – in addition to hundred drawings by the artist who has made his mark on the history of painting.
René Daniëls occupies a prominent place in the history of contemporary art from the latter half of the 20th century, despite the fact that his career was abruptly interrupted in 1987 after he suffered a stroke.
Emerging in the late 1970s, when figurative and expressive painting once again became popular, Daniëls soon developed an original, personal language. Although he enjoyed early recognition, Daniëls had no qualms about experimenting with different pictorial styles.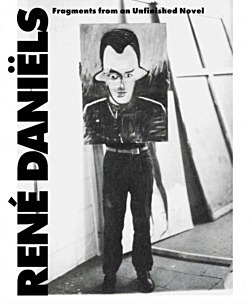 Nevertheless, certain motifs recur under constantly changing forms, following an associative, dream-like logic. Not unlike a composer, Daniëls devises variations on a theme. From 1984 onwards, one motif was to play a dominant role: that of an exhibition room seen in perspective. This form, resembling a bow tie, is reproduced in compositions in which he plays with mirroring effects, overlapping layers, or changes of direction.
Inspired by the title of one of the rare texts written by Daniëls, the exhibition Fragments from an Unfinished Novel explores the phenomenon of déjà vu and the relation between perception and memory, which lie at the heart of his practice.
Including historic paintings and several works never previously exhibited, the exhibition recounts the development of Daniëls' visual language by exploring the effects of repetition and variation inherent in his work. A wide selection of drawings completes the presentation, offering a closer understanding of the evolution of his vocabulary.
René Daniëls:
Fragments from an Unfinished Novel
07.09.2018 – 06.01.2019
WIELS
Kunst · Brussel (stad)
Contemporary Art Centre
Avenue Van Volxemlaan 354
1190 Brussels
# more on exhibition rené daniëls
rené daniëls exhibition
fleursdumal.nl magazine
More in: - Book Stories, Art & Literature News, Exhibition Archive, FDM Art Gallery, René Daniëls
---
De jury van de Europese Literatuurprijs 2018 kent de prijs toe aan de Noorse auteur Johan Harstad en zijn Nederlandse vertalers Edith Koenders en Paula Stevens voor de roman Max, Mischa & het Tet-offensief (Podium). Schrijver en vertalers ontvangen de prijs op woensdagavond 31 oktober op het Crossing Border Festival in Den Haag.
De Europese Literatuurprijs bekroont de beste hedendaagse Europese roman die vorig jaar in Nederlandse vertaling is verschenen. De vakjury bestond dit jaar uit voorzitter Anna Enquist, schrijver en recensent Kees 't Hart, boekhandelaren Nienke Willemsen (Literaire Boekhandel Lijnmarkt, Utrecht) en Hein van Kemenade (Boekhandel Van Kemenade & Hollaers, Breda), en literair vertaler Saskia van der Lingen (ELP-laureaat 2017).
Max, Mischa & het Tet-offensief is het verhaal van Max Hansen, die in de jaren zeventig en tachtig opgroeit in het Noorse Stavanger, waar hij uiting geeft aan zijn fascinatie voor de Vietnam-oorlog door met zijn vriendjes het Tet-offensief – de onverwachte aanval van de Vietcong op de Amerikanen – na te spelen. Als tiener verhuist hij (noodgedwongen) met zijn vader naar Amerika, naar New York. Daar probeert hij zin te geven aan zijn nieuwe bestaan samen met zijn beste vriend Mordecai, zijn geliefde Mischa en zijn oom en Vietnam-veteraan Owen, alle drie net als Max ontheemde migranten.
"Een overrompelende roman," aldus de jury, "die de lezer meesleurt in de achtbaan van de recente geschiedenis."
De vertalers hebben met deze duo-vertaling een tour de force geleverd, waarbij de vele verwijzingen van de auteur naar bestaande én fictieve kunstwerken, films en toneelstukken een bijzondere uitdaging vormden.
Ook zijn de juryleden onder de indruk van de kernachtige, met gevoel voor humor geformuleerde zinnen die de essentie van het leven raken, zoals op de laatste pagina van het 1.232 pagina's tellende boek: 'Dat alles beweging is. Stilstand bestaat niet. Er bestaan alleen te veel woorden.'
De jury heeft met deze prijs een roman willen bekronen die zij bewondert om haar briljante stijl en veelomvattendheid, een roman waarin de 'veelheid' als stijlfiguur dient om de onvermijdelijke loop der dingen in het leven voelbaar te maken.
Johan Harstad (Stavanger, 1979) debuteerde in 2001 met een bundel verzameld proza. Zijn debuutroman Buzz Aldrin, waar ben je gebleven? werd opgevolgd door de roman Hässelby, een David Lynch-achtig verhaal over een man die al 42 jaar bij zijn vader woont. In 2011 verscheen zijn young adult sf-roman Darlah. Voorafgaand aan zijn succesvolle roman Buzz Aldrin, waar ben je gebleven? publiceerde de Noorse schrijver Johan Harstad de verhalenbundel Ambulance. De Nederlandse vertaling van deze verhalenbundel verscheen in 2014. In 2017 verscheen zijn nieuwe roman Max, Mischa & het Tet-offensief. Naast zijn schrijverschap werkt Harstad als grafisch ontwerper onder het label LACKTR.
Paula Stevens verzorgde deze Harstad-vertalingen, en vertaalde werk van onder anderen Per Petterson, Roy Jacobsen, Lars Saabye Christensen, Åsne Seierstad en Karl Ove Knausgård.
Edith Koenders vertaalde eerder Deense auteurs als Dorthe Nors, Hans Christian Andersen, Søren Kierkegaard, Peter Høeg en Erling Jepsen. Over de vertaling van de nu bekroonde roman schreven ze voor de website van Athenaeum en het Letterenfonds.
Johan Harstad
Max, Mischa & het Tet-offensief
Vertaler: Edith Koenders & Paula Stevens
Uitgeverij Podium
Omslag: b'IJ Barbara
ISBN: 978 90 5759 849 4
Verschenen 08-05-2017
1232 pagina's
Paperback
€ 29,99
# Meer info op website www.europeseliteratuurprijs.nl
more books
fleursdumal.nl magazine
More in: - Book News, - Book Stories, Archive G-H, Art & Literature News, Awards & Prizes
---
Dieser Bestseller aus dem Jahr 1931 führt den Leser mitten hinein in die pulsierende Metropole Berlin auf dem Höhepunkt der »Goldenen Zwanziger«.
Folgen Sie dem Autor bei seinen Ausflügen zu den Hotspots des damaligen Nachtlebens – in sagenumwobene Varietés und Tanzpaläste, in Vergnügungsparks und Kaffeehäuser, in angesagte Bars und Schwulenkneipen, aber auch an die Orte der Prostitution und des Verbrechens.
Erweitere Neuausgabe des Klassikers – mit Glossar, Register und vielen historischen Fotos.
»Wer Erlebnisse sucht, Abenteuer verlangt, Sensationen sich erhofft, der wird im Schatten gehen müssen.« Curt Moreck
Curt Moreck, 1888 als Konrad Haemmerling in Köln geboren, war ein Schriftsteller und Journalist, der in den 1920er Jahren seinen Schwerpunkt auf Kultur- und Sittengeschichte legte. Während der Zeit des Nationalsozialismus war das Werk Curt Morecks verboten, nach 1945 konnte er nicht mehr an seine früheren Erfolge anknüpfen. Er starb 1957 in Berlin.
Das deutsche Babylon 1931
Curt Moreck
Ein Führer durch das lasterhafte Berlin
30 Schwarz-Weiß- Abbildungen – 2 Ktn
EAN: 9783898091497
ISBN: 389809149X
Libri: 4858158
Bebra Verlag
März 2018
208 Seiten
gebunden
€22,00
new books
fleursdumal.nl magazine
More in: - Book Lovers, - Book Stories, Archive M-N, Art & Literature News, Berber, Anita, FDM in Berlin
---
Het beeld springt over naar de groep eskimo's. Voor het eerst herkent hij Kemp tussen hen. Kemp met zijn brutale grijns. Mevrouw Lecoeur staat op en loopt het zaaltje uit. Mels wisselt de film. Hij wacht, maar mevrouw Lecoeur komt niet terug. Hij hoort haar naar buiten lopen.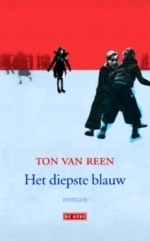 Dan draait hij de film maar voor zichzelf.
De aftiteling bestaat uit het logo van de meelfabriek. Mensen drommen samen in de hal van de Firma J.J. Hubben en Zonen. De pastoor zegent de nieuwe fabriek in. De mensen slaan een kruis.
De oud-directeur Frits, de zoon van de weduwe Hubben-Houba, voert het woord. Hij lijkt te vertellen over de fabriek en de mensen en dat ze één zijn en dat de fabriek bestaat voor de mensen en dat de mensen er zijn voor de fabriek. Mels kan het zich haast woordelijk herinneren. Bij elk feest zei hij hetzelfde. Hij komt niet goed uit zijn woorden, dat is te zien. Waarschijnlijk was hij dronken. Zijn beide zonen, Frans-Hubert en Frans-Joseph, luisteren niet en staan achter zijn rug te kletsen, vergetend dat ze worden gefilmd en voor altijd voor joker worden gezet.
Er zijn uitgebreide beelden van directeur Frits en zijn familie die champagne drinken. Ook aparte shots van de twee zonen die hem later hebben opgevolgd en als laatste daad het bedrijf hebben verkocht. Dan beelden van de werknemers en hun gezinsleden die op de broodjestafel aanvallen. Even later opnames van de lege schalen en de glunderende koppen van de eters. Dan nog een paar beelden van de fabriek. De maalderij met de zakkenvullers, nederig kijkend omdat de directeur bij hen staat, zijn arm om de schouder van een jonge inpakster. Later heeft hij bij dat meisje een kind verwekt. De jonge moeder heeft het direct na de geboorte af moeten staan voor adoptie. Om haar voor de schande in het dorp te behoeden, werd ze tewerkgesteld in de keuken van een klooster. Van de adoptie schijnt ook niets terecht te zijn gekomen. Men zegt dat de pastoor het kind heeft verkocht aan een zigeunerin die een kind wilde hebben om mee te bedelen.
De film is afgelopen. De tientallen verhalen die Mels aan het publiek had willen vertellen, zijn in zijn hoofd blijven steken. Het doet pijn. Op de tast zet hij de derde film op.
Iemand heeft geprobeerd de geschiedenis van het bedrijf te laten zien. De stem van meneer Zoetmulder, die lang de bedrijfsvoerder was in de fabriek. De man om wie het praktische werk had gedraaid. Zoetmulder repareerde alles zelf. Na zijn vertrek wist niemand nog hoe het bedrijf technisch functioneerde. Zoetmulder was werkelijk onmisbaar zodat na zijn afscheid de dingen vaak in de soep liepen. Met als grootste klap de explosie in de proefbakkerij waar veredelingsproducten door het meel werden gemengd, waarbij twee doden waren gevallen. Het luxe patentmeel voor fijn wittebrood, waaraan benzoylperoxide werd toegevoegd om het witter dan wit te maken, werd vanaf toen door het personeel buskruit genoemd.
Lange opnames van de watermolen en het maalwerk met de technische uitleg door Zoetmulder, pratend als een stomme kikker. Niet eens onderschriften. Foto's van de verhuizing naar de nieuwe fabriek, met een kletsende Zoetmulder, verdrinkend in details. Daarna vooral opnames van de directieleden in hun kantoor. Soms van hoog bezoek aan het bedrijf. Dan de ingebruikneming van de silo. De nieuwe hal. De rij vrachtwagens die van het bedrijf vertrekt, ingehuurd voor de promotiefilm, met uit hun raampjes wuivende chauffeurs. In werkelijkheid had de fabriek nooit meer dan één vrachtwagen gehad.
Nog steeds geen geluid. Mels mist het niet. Hij weet precies wat er in al die hoofden omging.
Hijzelf staat er nooit op. Als boekhouder zat hij in de kamer achter het kantoor van de directeuren, maar die deur was altijd dicht. Naast hem was het kantoor van Zoetmulder, dat lag vol gestapeld met motoren, aandrijfassen, tandraderen, membraanschijven, manometers, vloeistoffilters en potjes chemisch spul ter verbetering van de meelkwaliteit.
De film eindigt begin jaren tachtig. Weer nieuwe vrachtwagens, terwijl de firma al jaren het vervoer uitbesteedde. Een nieuw logo dat de watermolen moest vervangen. Een gestileerd rad dat de samenwerking van het personeel voorstelt, maar ook de groei van het bedrijf door de tijd heen.
De film is afgelopen.
`Licht aan!' roept Mels.
Hij pakt de films in. Rot dat niemand in zijn films is geïnteresseerd. Hij rijdt terug naar het café.
`Hier, de foto's.' Koen reikt hem de tas aan. `Zulke voorstellingen hoeven we hier dus niet meer te proberen', zegt hij. `Ik moet het in de toekomst vooral hebben van jongelui, dat is duidelijk.'
Mels mompelt wat en rijdt naar buiten. Hij stopt op de brug, om even bij te komen.
Hij begrijpt dat zijn boek er nooit zal komen. Wat moet hij doen met al die platen die hij van de oude molen heeft uitgetekend? Het molenwerk, het aandrijfwerk, hij heeft het allemaal klaarliggen. Jaren werk voor niets. Tekeningen zoals hij ze zich nog van vroeger voor de geest kan halen, als grootvader Bernhard zijn molenkaarten voor zich op tafel had uitgespreid. Jammer dat die verdwenen zijn. Dat zou hem veel werk hebben bespaard. Nu heeft hij alles moeten terughalen aan de hand van tekeningen van andere gerestaureerde molens.
Ton van Reen: Het diepste blauw (070)
wordt vervolgd
fleursdumal.nl magazine
More in: - Book Stories, - Het diepste blauw, Archive Q-R, Reen, Ton van
---
This beautiful book charts the development of the circus as an art form around the world, from antiquity to the present day.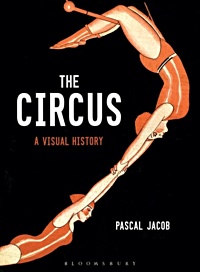 Using over 200 circus related artworks from the French National Library's private collections, celebrated cultural historian Pascal Jacob tells the story of travelling entertainers and their art and trade. From nomadic animal tamers of the Dark Ages to European jugglers and acrobats of the 1800s, from the use of the circus as Soviet propaganda to the 20th-century Chinese performance art renaissance, this is an exhaustive history with a uniquely international scope.
Jacob draws on both rare and famous artworks, including prints dating from the 13th century, and paintings by Picasso and Doré. In doing so he demonstrates the circus to be a visual and physical masterpiece, constantly moving and evolving, and just as exciting an experience for audiences now as it was 1,000 years ago.
Pascal Jacob is a prominent circus arts historian who lectures at the Sorbonne, France. He wrote on Cultural History, History and Theory of Art, Theatre History and Criticism.
The Circus
A Visual History
By: Pascal Jacob
Foreword by Marius Kwint
Published: 09-08-2018
Format: Hardback
Edition: 1st
Extent: 240 p.
ISBN: 9781350043107
Imprint: Bloomsbury Visual Arts
Illustrations: 160 colour and 40 bw illus
Price: £30.00
new books
fleursdumal.nl magazine
More in: # Music Archive, - Book Lovers, - Book Stories, Archive I-J, Art & Literature News, Futurism, The talk of the town, THEATRE
---
Older Entries »
Thank you for reading FLEURSDUMAL.NL - magazine for art & literature