Awards & Prizes
·
Three Poems by Hannah Sullivan – Winner of the T.S. Eliot Prize 2018
·
Gouden Ganzenveer-laureaat 2019: Ian Buruma
·
Nieuwe editie Verzamelde gedichten J. Slauerhoff
·
Milkman by Anna Burns winner of the 50th Man Booker Prize
·
Annet Schaap wint De Gouden Griffel 2018 met haar prozadebuut Lampje
·
Europese Literatuurprijs naar 'Max, Mischa & het Tet-offensief' van de Noorse schrijver Johan Harstad
·
The English Patient by Michael Ondaatje wins the Golden Man Booker Prize
·
Radna Fabias wint C. Buddingh'-prijs 2018
·
The longlist of The Orwell Prize for Books 2018
·
Genomineerd voor E. du Perronprijs 2017: Alex Boogers, Margot Vanderstraeten & Tommy Wieringa
·
The Walter Scott Prize 2018 longlist is out
·
The Man Booker International Prize 2018 longlist
Hannah Sullivan's debut collection is a revelation – three long poems of fresh ambition, intensity, and substance.
Though each poem stands apart, their inventive and looping encounters make for a compelling unity.
"You, Very Young in New York" captures a great American city, in all its alluring detail. It is a wry and tender study of romantic possibility, disappointment, and the obduracy of innocence.
"Repeat until Time" begins with a move to California and unfolds into an essay on repetition and returning home, at once personal and philosophical.
"The Sandpit after Rain" explores the birth of a child and the loss of a father with exacting clarity.
In Three Poems, readers will experience Sullivan's work with the same exhilaration as they might the great modernizing poems of Eliot and Pound, but with the unique perspective of a brilliant new female voice.
Hannah Sullivan lives in London with her husband and two sons and is an Associate Professor of English at New College, Oxford. She received her PhD from Harvard in 2008 and taught in California for four years.
She is currently associate professor of English at New College, Oxford. Her study of modernist writing, The Work of Revision, was published in 2013 and awarded the Rose Mary Crawshay Prize by the British Academy. Her debut poetry collection, Three Poems, was published by Faber in 2018 and was awarded the prestigious TS Eliot Prize.
Three Poems
by Hannah Sullivan
Paperback: 80 pages
Publisher: Faber & Faber; Main edition (18 Jan. 2018)
Language: English
ISBN-10: 9780571337675
ISBN-13: 978-0571337675
ASIN: 0571337678
Product Dimensions: 15.9 x 1.3 x 21 cm
# new poetry
Three Poems
by Hannah Sullivan
• fleursdumal.nl magazine
More in: - Book News, - Bookstores, Archive S-T, Archive S-T, Art & Literature News, Awards & Prizes
---
Ian Buruma, (Den Haag, 1951) is een internationaal befaamd essayist, historicus en Azië-deskundige. Hij schrijft regelmatig voor The New Yorker, The New York Review of Books en in ons eigen land voor NRC Handelsblad, en werkte mee aan documentaires voor de BBC en CNN.

Momenteel is hij hoogleraar Democracy, Human Rights and Journalism aan het Bard College in New York.
In 2008 ontving Buruma de Erasmusprijs voor zijn buitengewone bijdrage aan de Nederlandse cultuur.
Tot zijn bekendste boeken horen Occidentalisme, De spiegel van de zonnegodin, Dood van een gezonde roker, Het loon van de schuld en 1945. Biografie van een jaar en Hun beloofde land. Mijn grootouders in tijden van liefde en oorlog. In 2018 verscheen Tokio mon amour. Japanse avonturen, het portret van een jonge schrijver en van de stad die hem mede vormde.
Op donderdag 25 april a.s. ontvangt Ian Buruma de Gouden Ganzenveer 2019.
• fleursdumal.nl magazine
More in: - Book Lovers, - Book News, Archive A-B, Art & Literature News, Awards & Prizes, PRESS & PUBLISHING
---
Dit najaar verscheen een volledig herziene leeseditie van de Verzamelde gedichten van Slauerhoff (1898-1938), aangevuld met meer dan 100 nieuwe gedichten.
In 1941, vijf jaar na de dood van J. Slauerhoff, verschenen zijn Verzamelde gedichten, samengesteld door de jonge letterkundige Kees Lekkerkerker. Zijn Verzamelde gedichten beleefden bijna tachtig jaar lang, vrijwel onveranderd, herdruk op herdruk – ondanks het feit dat er inmiddels flink wat onbekende gedichten waren opgedoken.
In deze nieuwe editie van de Verzamelde gedichten is alle poëzie van Slauerhoff voor het eerst in de juiste volgorde samengebracht. Alle door hem gebundelde en verspreid gepubliceerde gedichten en alle later in de nalatenschap aangetroffen poëzie zijn aangevuld met circa honderd niet eerder in de Verzamelde gedichten opgenomen verzen, waaronder Slauerhoffs studenten poëzie, vertalingen, en gewraakte spotverzen. Uit Verzamelde gedichten blijkt wederom dat Slauerhoff de grootste dichter van zijn generatie was. (uitgever)
J. Slauerhoff Verzamelde gedichten
Auteur: J. Slauerhoff
Bezorgd door Hein Aalders en Menno Voskuil
Nijgh & Van Ditmar Uitg.
September 2018
1152 pagina's
Hardcover
ISBN 9789038804002
€ 34,99
# new books
J. Slauerhoff Verzamelde gedichten
fleursdumal.nl magazine
More in: #Biography Archives, - Book News, - Bookstores, Archive S-T, Awards & Prizes, Slauerhoff, Jan
---
'None of us has ever read anything like this before. Anna Burns' utterly distinctive voice challenges conventional thinking and form in surprising and immersive prose. It is a story of brutality, sexual encroachment and resistance threaded with mordant humour. Set in a society divided against itself, Milkman explores the insidious forms oppression can take in everyday life.'  Kwame Anthony Appiah, 2018 Chair of Judges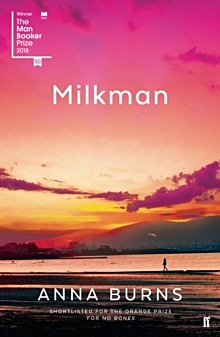 Set in an un-named city but with an astonishing, breath-shorteningly palpable sense of time and place Milkman is a tale of gossip and hearsay, silence and deliberate deafness. The story of inaction with enormous consequences and decisions that are never made, but for which people are judged and punished.
Middle sister is our protagonist. She is busy attempting to keep her mother from discovering her nearly-boyfriend and to keep everyone in the dark about her encounter with milkman (which she herself for the life of her cannot work out how it came about). But when first brother-in-law, who of course had sniffed it out, told his wife, her first sister, to tell her mother to come and have a talk with her, middle sister becomes 'interesting'. The last thing she ever wanted to be. To be interesting is to be noticed and to be noticed is dangerous.
Milkman is a searingly honest novel told in prose that is as precise and unsentimental as it is devastating and brutal. A novel that is at once unlocated and profoundly tethered to place is surely a novel for our times.
Anna Burns was born in Belfast, Northern Ireland. She is the author of two novels, No Bones and Little Constructions, and of the novella, Mostly Hero. No Bones won the Winifred Holtby Memorial Prize and was short-listed for the Orange Prize for Fiction. She lives in East Sussex, England.
Milkman
by Anna Burns
Fiction
Language: English
Publisher: Faber & Faber
Imprint: Faber Fiction
2018
360 pages
Paperback
ISBN-10: 9780571338757
ISBN-13: 978-0571338757
Awards: Man Booker Prize 2018 UK
# new fiction
man booker prize 2018
fleursdumal.nl magazine
More in: - Book Lovers, - Book News, Archive A-B, Art & Literature News, Awards & Prizes, Literary Events
---
De Gouden Griffel is gewonnen door Annet Schaap voor haar prozadebuut Lampje.
De bekendste kinderboekenprijs van Nederland en Vlaanderen is gisteren bekendgemaakt en uitgereikt op het Kinderboekenbal in Amsterdam.
Annet Schaap is geen onbekende in de Nederlandse kinderboekenwereld: velen kennen haar illustraties uit de Hoe overleef ik-reeks van Francine Oomen, de boeken van Janneke Schotveld en Jacques Vriens.
De Gouden Griffel is de derde prijs die zij wint voor Lampje (Querido): al eerder ontving zij de Nienke van Hichtum-prijs en de Woutertje Pieterse Prijs. De overige genomineerden waren Joukje Akveld, Annet Huizing, Pim Lammers, Joke van Leeuwen, Marit Törnqvist, Susanne Wouda, Bette Westera, Tjibbe Veldkamp en Edward van de Vendel.
Annet wilde altijd al tekenaar worden of schrijver of ontdekkingsreizigster. Ze studeerde aan twee kunstacademies en een schrijversschool. Sinds 1991 illustreerde ze bijna 200 kinderboeken en is in Nederland het meest bekend door haar tekeningen in de succesvolle kinderboeken van Francine Oomen, Janneke Schotveld en Jacques Vriens.
kinderboekenweek van 3 t/m 14 oktober 2018
De Gouden Griffel:  Annet Schaap – Lampje
fleursdumal.nl magazine
More in: Archive S-T, Awards & Prizes, Grimm, Andersen e.o.: Fables, Fairy Tales & Stories, Illustrators, Illustration, Kinderboekenweek
---
De jury van de Europese Literatuurprijs 2018 kent de prijs toe aan de Noorse auteur Johan Harstad en zijn Nederlandse vertalers Edith Koenders en Paula Stevens voor de roman Max, Mischa & het Tet-offensief (Podium). Schrijver en vertalers ontvangen de prijs op woensdagavond 31 oktober op het Crossing Border Festival in Den Haag.
De Europese Literatuurprijs bekroont de beste hedendaagse Europese roman die vorig jaar in Nederlandse vertaling is verschenen. De vakjury bestond dit jaar uit voorzitter Anna Enquist, schrijver en recensent Kees 't Hart, boekhandelaren Nienke Willemsen (Literaire Boekhandel Lijnmarkt, Utrecht) en Hein van Kemenade (Boekhandel Van Kemenade & Hollaers, Breda), en literair vertaler Saskia van der Lingen (ELP-laureaat 2017).
Max, Mischa & het Tet-offensief is het verhaal van Max Hansen, die in de jaren zeventig en tachtig opgroeit in het Noorse Stavanger, waar hij uiting geeft aan zijn fascinatie voor de Vietnam-oorlog door met zijn vriendjes het Tet-offensief – de onverwachte aanval van de Vietcong op de Amerikanen – na te spelen. Als tiener verhuist hij (noodgedwongen) met zijn vader naar Amerika, naar New York. Daar probeert hij zin te geven aan zijn nieuwe bestaan samen met zijn beste vriend Mordecai, zijn geliefde Mischa en zijn oom en Vietnam-veteraan Owen, alle drie net als Max ontheemde migranten.
"Een overrompelende roman," aldus de jury, "die de lezer meesleurt in de achtbaan van de recente geschiedenis."
De vertalers hebben met deze duo-vertaling een tour de force geleverd, waarbij de vele verwijzingen van de auteur naar bestaande én fictieve kunstwerken, films en toneelstukken een bijzondere uitdaging vormden.
Ook zijn de juryleden onder de indruk van de kernachtige, met gevoel voor humor geformuleerde zinnen die de essentie van het leven raken, zoals op de laatste pagina van het 1.232 pagina's tellende boek: 'Dat alles beweging is. Stilstand bestaat niet. Er bestaan alleen te veel woorden.'
De jury heeft met deze prijs een roman willen bekronen die zij bewondert om haar briljante stijl en veelomvattendheid, een roman waarin de 'veelheid' als stijlfiguur dient om de onvermijdelijke loop der dingen in het leven voelbaar te maken.
Johan Harstad (Stavanger, 1979) debuteerde in 2001 met een bundel verzameld proza. Zijn debuutroman Buzz Aldrin, waar ben je gebleven? werd opgevolgd door de roman Hässelby, een David Lynch-achtig verhaal over een man die al 42 jaar bij zijn vader woont. In 2011 verscheen zijn young adult sf-roman Darlah. Voorafgaand aan zijn succesvolle roman Buzz Aldrin, waar ben je gebleven? publiceerde de Noorse schrijver Johan Harstad de verhalenbundel Ambulance. De Nederlandse vertaling van deze verhalenbundel verscheen in 2014. In 2017 verscheen zijn nieuwe roman Max, Mischa & het Tet-offensief. Naast zijn schrijverschap werkt Harstad als grafisch ontwerper onder het label LACKTR.
Paula Stevens verzorgde deze Harstad-vertalingen, en vertaalde werk van onder anderen Per Petterson, Roy Jacobsen, Lars Saabye Christensen, Åsne Seierstad en Karl Ove Knausgård.
Edith Koenders vertaalde eerder Deense auteurs als Dorthe Nors, Hans Christian Andersen, Søren Kierkegaard, Peter Høeg en Erling Jepsen. Over de vertaling van de nu bekroonde roman schreven ze voor de website van Athenaeum en het Letterenfonds.
Johan Harstad
Max, Mischa & het Tet-offensief
Vertaler: Edith Koenders & Paula Stevens
Uitgeverij Podium
Omslag: b'IJ Barbara
ISBN: 978 90 5759 849 4
Verschenen 08-05-2017
1232 pagina's
Paperback
€ 29,99
# Meer info op website www.europeseliteratuurprijs.nl
more books
fleursdumal.nl magazine
More in: - Book News, - Book Stories, Archive G-H, Art & Literature News, Awards & Prizes
---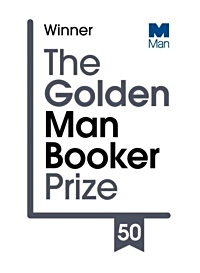 The English Patient by Michael Ondaatje (Bloomsbury) has been crowned the best work of fiction from the last five decades of the Man Booker Prize. The Golden Man Booker winner was revealed at the Man Booker 50 Festival in Royal Festival Hall at Southbank Centre.
The winner of this special one-off award for the Man Booker Prize's 50th anniversary celebrations was chosen by the public.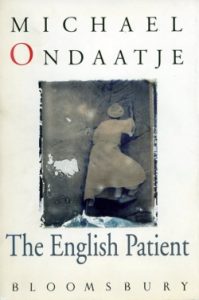 The Golden Man Booker Prize, a special one-off award to celebrate the 50th anniversary in 2018, crowns the best work of fiction from the last five decades of the prize, as chosen by five judges and then voted for by the public.
The English Patient by Michael Ondaatje is set in 1945.
The English Patient explores the lives of four very disparate war torn people, a young woman and three men, who take refuge in a damaged villa north of Florence as the war retreats around them.
In an upstairs room lies the badly burned English patient, alive but unable to move. His extraordinary adventures and turbulent love affair in the North African desert before the war provide the focus around which the vivid tales of his companions revolve.
His very presence will forever change the destiny of those around him.
The Golden Man Booker Prize 2018
fleursdumal.nl magazine
More in: - Book Lovers, - Book News, Archive O-P, Art & Literature News, Awards & Prizes
---
De C. Buddingh'-prijs 2018 is toegekend aan Radna Fabias. De jury riep haar bundel 'Habitus' uit tot beste Nederlandstalige poëziedebuut van het jaar.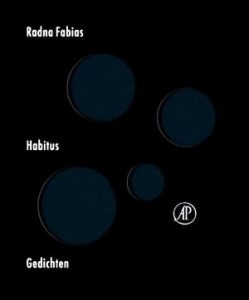 Met de woorden 'Een wonderlijk ongeëvenaard geval, dat de jury vloeibaar maakt, morsend en gehoorzamend aan haar zwaartekracht,' maakte juryvoorzitter Jeroen Dera de winnende bundel bekend tijdens 'De staat van de poëzie', een avond over de laatste ontwikkelingen in de Nederlandstalige poézie op het 49e Poetry International Festival.
'Er gebeurt iets in de Nederlandstalige poëzie', aldus de jury, wat zeker ook te danken is aan de dichters Dean Bowen, Elisabeth Tonnard en Arno Van Vlierberghe die met hun bundels 'Bokman', 'Voor het ideaal, lees de schaal' en 'Vloekschrift' ook kans maakten op de dertigste editie van de debuutprijs. Naast Jeroen Dera zaten Charlotte Van den Broeck en Antoine de Kom in de jury.
Radna Fabias is geboren en getogen op de Nederlandse Antillen en studeerde aan de Hogeschool voor de Kunsten Utrecht.
"ik krijg
vijf trucs om gokkasten te laten betalen
een simpele manier om geld te maken
acht manieren om de man thuis te houden waaronder
vier brouwsels voor een strakkere kut",
schrijft ze in 'Habitus'. 'Met overdonderde kracht sleurt ze de lezer mee in een broeierig tussengebied,' aldus de jury. 'Een subversieve stem die afkomst, bestemming, lichaam en perspectief te lijf gaat en daarbij zichzelf en de ander niet spaart, Deze poëzie is vlezig, goddelijk vunzig soms – en breekt de Hollandse dichtkunst weergaloos open, rekent af met het veilige vers. 'Habitus' zindert.
Het is moeilijk te zeggen wat het meest beklemt in deze bundel: het tropische eiland, het Nederlands waar de ik-figuur naartoe reist, of de categorieën die afkomst en bestemming projecteren op het lyrische ik. Fabias maakt deze beklemming voelbaar en tegelijkertijd gooit ze geijkte opposities als 'wit'-'zwart', 'man'-'vrouw', 'ik'-'ander' open door ingenieus gebruik te maken van een cameramatige, maar uitgesproken lyrische stem die alle perspectieven opentrekt en het niet schuwt om zichzelf en de ander op het spel te zetten.'
Hoewel het aantal van 21 ingezonden debuten kwantitatief niet uitzonderlijk kan worden genoemd gaf de jury uiting aan het gevoel dat dit toch zeker een zeer bijzonder Buddingh'-jaar is.
'Er gebeurt iets in de Nederlandstalige poëzie,' zo meent de jury. In drieën valt op hoe op inhoudelijk vlak de combinatie van experiment en engagement overheerst, hoe de zoektocht naar een expliciet politiek ik centraal staat – een ik dat de verhouding zoekt tot de gemeenschap maar daarbij vooral de notie 'gemeenschap' problematiseert – en hoe de poëzie waarin dit allemaal gebeurt opvallend vaak verschijnt bij kleinere uitgeverijen.
De jury acht de kans groot dat het de uitgeverijen aan de rand van het literaire veld zijn die dit nieuwe geluid in de poëzie mogelijk maken.
Sinds 1988 wordt op initiatief van Poetry International ieder jaar de C. Buddingh'-Prijs uitgereikt aan de schrijver of schrijfster van het beste Nederlandstalige poëziedebuut. Met de prijs beoogt Poetry International meer aandacht te genereren voor talentvolle nieuwe stemmen in de Nederlandstalige poëzie.
Voor menig dichter van naam was de C. Buddingh'-Prijs de eerste belangrijke trofee die in de wacht werd gesleept. Joke van Leeuwen, Tonnus Oosterhoff, Ilja Leonard Pfeijffer en Anna Enquist, of recenter Lieke Marsman, Ellen Deckwitz, Maarten van der Graaff en Marieke Lucas Rijneveld behoren tot de laureaten.
Titel: Habitus
Auteur: Radna Fabias
Uitgever: de Arbeiderspers
Taal: Nederlands
ISBN10 9029523808
ISBN13 9789029523806
Februari 2018
Afmetingen 11x205x169 mm
Verschijningsdatum: 20-02-2018
Paperback
120 pagina's
Prijs: € 19,99
NUR: 306
fleursdumal.nl magazine
More in: - Book News, Archive E-F, Art & Literature News, Awards & Prizes, Buddingh', Cees, Marsman, Lieke, Poetry International, Rijneveld, Marieke Lucas
---
The longlist of The Orwell Prize for Books 2018 features historical writing, fiction and for the first time a graphic novel.
The Islamic Enlightenment: The Modern Struggle Between Faith and Reason, Christopher de Bellaigue (Bodley Head). An absorbing account of the political and social reformations that transformed the lands of Islam in the nineteenth and early twentieth centuries)
Why I'm No Longer Talking to White People about Race, Reni Eddo-Lodge (Bloomsbury). A book on racial inequalities, exploring issues from eradicated black history to the political purpose of white dominance, whitewashed feminism to the inextricable link between class and race
Threads from the Refugee Crisis, Kate Evans (Verso). Combining the techniques of eyewitness reportage with the medium of comic-book storytelling, Evans has produced a compelling view into the life of asylum seekers living in Calais's 'Jungle'.
Testosterone Rex, Cordelia Fine (Icon Books). A book explaining why past and present sex roles are only serving suggestions for the future. It reveals a much more dynamic situation through an entertaining and well-documented exploration of the latest research that draws on evolutionary science, psychology, neuroscience, endocrinology, and philosophy.
The Road to Somewhere – The Populist Revolt and the Future of Politics, David Goodhart (Hurst Publishers). An exposition of how the political elites have failed their societies. This investigation into the new global politics reveals how the Somewhere backlash is a democratic response to the dominance of Anywhere interests, in everything from mass higher education to mass immigration.
What You Did Not Tell, Mark Mazower (Allen Lane). In the centenary of the Russian Revolution, What You Did Not Tell recounts a brand of socialism erased from memory – humanistic, impassioned, and broad-ranging in its sympathies. But it also explores the unexpected happiness that may await history's losers, the power of friendship, and the love of place.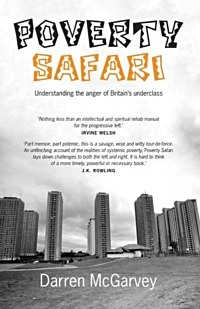 Poverty Safari, Darren McGarvey (Luath Press). People from deprived communities all across Britain feel misunderstood and unheard. Darren McGarvey, aka Loki, gives voice to their feelings and concerns, and anger that is spilling over.
Age of Anger: A History of the Present, Pankaj Mishra (Allen Lane). How can we explain the origins of the great wave of paranoid hatreds that seem inescapable in our close-knit world – from American 'shooters' and ISIS to Trump? Pankaj Mishra answers our bewilderment by casting his gaze back to the eighteenth century, before leading us to the present.
Bitch Doctrine, Laurie Penny (Bloomsbury) Bread for All:The Origins of the Welfare State, Chris Renwick (Allen Lane). This collection of Laurie Penny's writing covers everything from the shock of Donald Trump's election and the victories of the far right, to online harassment and the transgender rights movement. These darkly humorous articles provoke challenging conversations about the definitive social issues of today.
Winter, Ali Smith (Hamish Hamilton). In the second novel in her Seasonal cycle, Smith's shape-shifting quartet of novels casts a merry eye over a bleak post-truth era with a story rooted in history, memory and warmth, its taproot deep in the evergreens: art, love, laughter.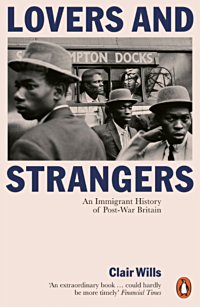 Lovers and Strangers: An Immigrant History of Post-War Britain, Clair Wills (Allen Lane). Clair Wills' book brings to life the incredible diversity and strangeness of the migrant experience. She introduces us to lovers, scroungers, dancers, homeowners, teaches, drinkers, carers and many more to show the opportunities and excitement as much as the humiliation and poverty that could be part of the new arrivals' experience.
The judges for the Orwell Prize for Books are politician, academic and journalist Andrew Adonis (Chair), Literary Journalist and Artistic Director of Words and Literature of the Bath Festival, Alex Clark, author Kit de Waal, and Lorien Kite, Deputy Life & Arts Editor for the Financial Times.
The shortlist for The Orwell Prize for Books will be announced at The Bath Festival on 18th May. The winner of the £3000 prize will be unveiled on 25th June 2018 at The RSA, together with the winner of The Orwell Prize for Journalismand The Orwell Prize for Exposing Britain's Social Evils.
Previous winners of the Orwell Prize for Books include John Bew for his biography of Clement Attlee (2017), Raja Shehadeh (2008), Alan Johnson (2014), and Andrea GiThe judges for the Orwell Prize for Booksllies (2010).
The Orwell Prize 2018 is for work published in the calendar year 2018. For more details and rules of entry please visit www.orwellfoundation.com
orwell-prize 2018
fleursdumal.nl magazine
More in: - Book Lovers, - Book News, Art & Literature News, Awards & Prizes, George Orwell, PRESS & PUBLISHING
---
De schrijvers Alex Boogers, Margot Vanderstraeten en Tommy Wieringa zijn genomineerd voor de E. du Perronprijs 2017.  De jury van de E. du Perronprijs  heeft de volgende drie boeken genomineerd, waarbij het schrijverschap van Du Perron als leidraad en inspiratie heeft gegolden. De uitreiking vindt plaats op woensdagavond 18 april bij bkkc brabants kenniscentrum voor kunst en cultuur in Tilburg. Marja Pruis, schrijver en redacteur van de Groene Amsterdammer, houdt dan de E. du Perronlezing over arrogantie.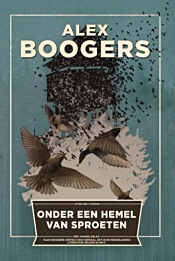 Onder een hemel van sproeten – Alex Boogers
Sproeten of sterren? Geleidelijk wordt de lezer dit verhaal ingetrokken en worden fascinerende personages voorgesteld: de zwarte onaangepaste Harvey, het getormenteerde maar getalenteerde buurmeisje Amy, de oude man Jacob met zijn hond Muis, de stratenmaker Angelo die Harvey van literaire boeken voorziet. Stuk voor stuk eenzame personages die anders zijn dan de mensen om hen heen, en die door Boogers op empathische wijze gepresenteerd worden. Dit is een roman over ongewone vriendschappen, ontwrichting en vergelding.
Mazzel tov. Mijn leven als werkstudente bij een orthodox-joodse familie – Margot Vanderstraeten
Dit boek biedt een fascinerend persoonlijk verslag van het leven als huiswerkbegeleider bij een orthodox-joodse familie in Antwerpen en geeft een unieke longitudinale blik op een besloten gemeenschap. Verschillen worden intelligent en integer besproken, en de lezer is getuige van de wederzijdse verwondering over anders-zijn. De respectvolle subjectieve toon wordt nooit onderbroken. Een empathisch maar ook informatief boek dat toont hoe je van elkaar kunt leren, zonder de scherpe randjes van intermenselijke relaties af te schaven.
De heilige Rita – Tommy Wieringa
Het bekende, provincialistische, kleine van een dorpsgemeenschap wordt op een natuurlijke manier geconfronteerd met het exotische, onbekende, en vreemde. Het fictieve maar onmiskenbaar Twentse Mariënveen is een dorp waar de horeca is overgenomen door Chinezen. Slavische talen klinken in het dorpscafé. Achterhaalde kruidenierswaren (waaronder pakjes Saroma) liggen te verstoffen en verkleuren in de winkel van Pietje Piep. En moederlijke Rita in Club Pancha biedt betaalde troost. Wieringa's roman evoceert hoe Nederland veranderde, juist in een krimpregio aan de grens met Duitsland.
E. du Perronprijs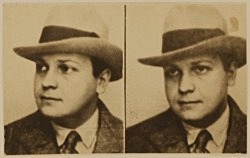 De E. du Perronprijs is een initiatief van de gemeente Tilburg, de School of Humanities and Digital Sciences van Tilburg University en brabants kenniscentrum voor kunst en cultuur (bkkc). De prijs is bedoeld voor personen of instellingen die, net als Du Perron in zijn tijd, grenzen signaleren en doorbreken die wederzijds begrip tussen verschillende bevolkingsgroepen in de weg staan. De prijs bestaat uit een geldbedrag van €2500 euro en een textiel object, ontworpen door studio 'by aaaa' (Moyra Besjes en Natasja Lauwers) en vervaardigd bij het TextielMuseum in Tilburg. Vorig jaar won Stefan Hertmans de prijs voor zijn roman De Bekeerlinge. Andere laureaten waren onder meer Ilja Leonard Pfeijffer (2015), Mohammed Benzakour (2013), Koen Peeters (2012), Ramsey Nasr (2011) en Alice Boot & Rob Woortman (2010).
Marja Pruis houdt de achtste E. du Perronlezing.
De E. du Perronprijs 2017 wordt op woensdagavond 18 april 2018 uitgereikt tijdens de avond dat ook de E. du Perronlezing wordt gehouden bij het brabants kenniscentrum voor kunst en cultuur (bkkc) aan de Spoorlaan 21 i-k. Voor tijden en programma zie www.bkkc.nl/eduperron. Meer informatie over de prijs vindt u op: www.tilburguniversity.edu/duperronprijs.
Voor het bijwonen van de uitreiking kunnen belangstellenden en genodigden zich aanmelden via www.bkkc.nl/eduperron.
fleursdumal.nl magazine
More in: - Book Lovers, Archive A-B, Archive C-D, Archive U-V, Archive W-X, Awards & Prizes, Eddy du Perron, Literary Events
---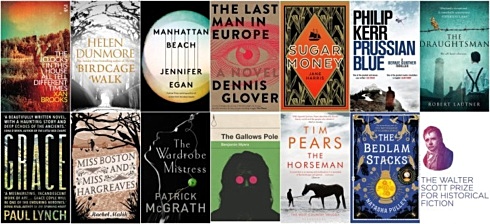 The judges of the Walter Scott Prize 2018 announced a longlist of thirteen books:
The books are:
# The Clocks In This House All Tell Different Times by Xan Brooks
# Birdcage Walk by Helen Dunmore
# Manhattan Beach by Jennifer Egan
# The Last Man In Europe by Dennis Glover
# Sugar Money by Jane Harris
# Prussian Blue by Philip Kerr
# The Draughtsman by Robert Lautner
# Grace by Paul Lynch
# The Wardrobe Mistress by Patrick McGrath
# Miss Boston and Miss Hargreaves by Rachel Malik
# The Gallows Pole by Benjamin Myers
# The Horseman by Tim Pears
# The Bedlam Stacks by Natasha Pulley
The Judges said:
"This year our Prize has attracted a record number of entries, and historical fiction continues to ride a wave of publishing success. As a result, we have been able to make our selection from a body of remarkable and varied novels. In our longlist, we have attempted to represent different styles – from lyrical to experimental, and from epic to intimate.
"All human life is here, from outlaws making a living forging coins in Yorkshire's badlands, to post-war London theatre society. We hope that in representing such a richness of styles and diversity of settings, the Walter Scott Prize can bring to public attention new work, while at the same time rewarding writers at the top of their game. We're looking forward to bringing the best of these forward to shortlist in April."
# end March 2018: Academy Recommends list announced
# April 2018: Shortlist announced
# 14th-17th June 2018: Baillie Gifford Borders Book Festival, Melrose – Winner of Walter Scott Prize 2018 announced and presented
# more information on the website of the Walter Scott Prize
fleursdumal.nl magazine
More in: - Book Lovers, Archive S-T, Art & Literature News, Awards & Prizes, Literary Events, Sir Walter Scott, The Art of Reading
---
The Man Booker International Prize has revealed the 'Man Booker Dozen' of 13 novels in contention for the 2018 prize, which celebrates the finest works of translated fiction from around the world.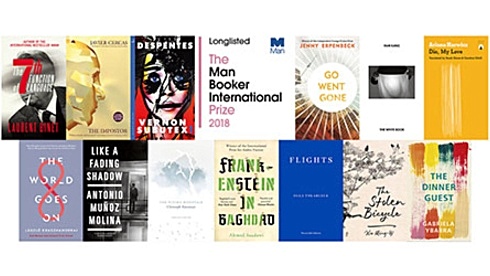 The 2018 longlist:
• Laurent Binet (France), Sam Taylor, The 7th Function of Language (Harvill Secker)
• Javier Cercas (Spain), Frank Wynne, The Impostor (MacLehose Press)
• Virginie Despentes (France), Frank Wynne, Vernon Subutex 1 (MacLehose Press)
• Jenny Erpenbeck (Germany), Susan Bernofsky, Go, Went, Gone (Portobello Books)
• Han Kang (South Korea), Deborah Smith, The White Book (Portobello Books)
• Ariana Harwicz (Argentina), Sarah Moses & Carolina Orloff, Die, My Love (Charco Press)
• László Krasznahorkai (Hungary), John Batki, Ottilie Mulzet & George Szirtes, The World Goes On (Tuskar Rock Press)
• Antonio Muñoz Molina (Spain), Camilo A. Ramirez, Like a Fading Shadow (Tuskar Rock Press)
• Christoph Ransmayr (Austria), Simon Pare, The Flying Mountain (Seagull Books)
• Ahmed Saadawi (Iraq), Jonathan Wright, Frankenstein in Baghdad (Oneworld)
• Olga Tokarczuk (Poland), Jennifer Croft, Flights (Fitzcarraldo Editions)
• Wu Ming-Yi (Taiwan), Darryl Sterk, The Stolen Bicycle (Text Publishing)
• Gabriela Ybarra (Spain), Natasha Wimmer, The Dinner Guest (Harvill Secker)
'The longlist introduces a wealth of talent, a variety of forms and some writers little known in English before. It has great writing and translating energy and we hope readers take as much pleasure in discovering the work as we did.'
Lisa Appignanesi, chair of the 2018 judges
The prize is now awarded every year for a single book, which is translated into English and published in the UK. Both novels and short-story collections are eligible. The work of translators is equally rewarded, with the £50,000 prize divided between the author and the translator of the winning entry. In addition, each shortlisted author and translator will receive £1,000 each. The judges considered 108 books.
The longlist was selected by a panel of five judges, chaired by Lisa Appignanesi OBE, author and cultural commentator, with Michael Hofmann, poet, reviewer and translator from German; Hari Kunzru, author of five novels including The Impressionist and White Tears; Tim Martin, journalist and literary critic, and Helen Oyeyemi, author of novels, plays and short stories including The Icarus Girl.
fleursdumal.nl magazine
More in: - Book News, - Bookstores, Art & Literature News, Awards & Prizes, Literary Events, The Art of Reading
---
Older Entries »
Thank you for reading FLEURSDUMAL.NL - magazine for art & literature