EDITOR'S CHOICE
·
DADA Poëziebal in Schouwburg De Lawei in Drachten met o.a. K. Schippers
·
Jean Genet: The Thief's Journal
·
36ste Nacht van de Poëzie. Het grootste poëziefeest van het jaar
·
Kate Tempest: Running Upon The Wires (new poetry)
·
Mirjam Van Hengel: Een knipperend ogenblik. Biografie Remco Campert
·
K. Schippers: Straks komt het. Roman
·
Kunstenfestival Watou 2018 nog t/m 2 september
·
Girls are Coming Out of the Woods by Tishani Doshi
·
Lisa Gray-Garcia, aka Tiny: Criminal of Poverty. Growing Up Homeless in America
·
The Illegal Age by Ellen Hinsey
·
Useless Magic. Lyrics and Poetry by Florence Welch
·
Voronezh Notebooks by Osip Mandelstam
Op zaterdag 6 oktober organiseert Museum Dr8888 (Drachten) het Dada Poëziebal in Schouwburg De Lawei.
Vanaf 19.30 uur presenteert het museum in de Kleine Zaal een verrassend en onvoorspelbaar programma met poëzie, performances, muziek, beeld en dans.
Optredens worden verzorgd door o.a. K. Schippers, Astrid Lampe, Nyk de Vries, Jan Ketelaar, Meindert Talma en Andries de Jong. Het Poëziebal is onderdeel van het buitenprogramma van Museum Dr8888 en vindt plaats in het kader van Leeuwarden-Friesland 2018.
De avond wordt een beleving op zich en laat zich het best omschrijven als extravagant, intiem, verrassend en een tikkeltje rebels. Het Dada Poëziebal begint om 19.30 uur en vindt plaats in de Kleine Zaal van De Lawei. Het wordt een avondvullend programma met een divers palet aan multidisciplinaire performances waarin tegelijkertijd en op meerdere plekken tegelijk wordt geprogrammeerd. Optredens worden verzorgd door K. Schippers, Astrid Lampe, Jan Ketelaar, Alison Isadora, Jaap Blonk, Tim Schouten, Felicity Provan en Laura Polence, studenten Beeld en Taal van de Gerrit Rietveld Academie, Meindert Talma, Tijdelijke Toon, Bram Zielman, Andries de Jong, Leendert Vooijce, Nyk de Vries, Redactielokaal met Jamila Faber en Arjan Hut, Natasja Hoekstra en dansers en Willie Darktrousers.
Presentator van de avond: Karel Hermans. Regie van de avond is in handen van Janneke de Haan i.s.m. Sanne van Balen.
# Kaarten zijn verkrijgbaar via: www.lawei.nl
Dada Poëziebal met o.a. Jan Ketelaar, K. Schippers en Astrid Lampe in Schouwburg De Lawei in Drachten op zaterdag 6 oktober 2018
more dada
fleursdumal.nl magazine
More in: Antony Kok, Art & Literature News, Dada, DADA, Dadaïsme, De Stijl, Doesburg, Theo van, Evert en Thijs Rinsema, K. Schippers, Kok, Antony, Kurt Schwitters, Kurt Schwitters, Performing arts, Schippers, K., Schwitters, Kurt, THEATRE, Theo van Doesburg, Tzara, Tristan, Visual & Concrete Poetry, Werkman, Hendrik Nicolaas
---
"One of the strongest and most vital accounts of a life ever set down on paper. . . . Genet has dramatized the story of his own life with a power and vision which take the breath away. The Thief's Journal will undoubtedly establish Genet as one of the most daring literary figures of all time." — The New York Post
The Thief's Journal is perhaps Jean Genet's most authentically biographical novel, personifying his quest for spiritual glory through the pursuit of evil. Writing in the intensely lyrical prose style that is his trademark, the man Jean Cocteau dubbed France's "Black Prince of Letters" here reconstructs his early adult years—time he spent as a petty criminal and vagabond, traveling through Spain and Antwerp, occasionally border hopping across the rest of Europe, always one step ahead of the authorities.
The infamous playwright, poet, novelist, and criminal, Jean Genet, was born December 19th, 1910, in France. Genet's mother, who was a young prostitute at the time of his birth, gave him up for adoption to a provincial family. By the age of fifteen, for repeated misdemeanors, Genet was incarcerated for three years, after which he joined the French Foreign Legion. He was dishonorably discharged for "lewd acts", henceforth spending the next several years traveling around Europe, at times as a prostitute. In 1937 he came to Paris, where again he was arrested and imprisoned for vagabondage. It was in prison, though, that Genet personally funded his first novel Our Lady of the Flowers (1944).
After being released from prison, Genet sought out the avant-garde writer, Jean Cocteau, who was impressed by Genet's work, and even petitioned the French president, along with Jean-Paul Sartre, to exonerate Genet, after being faced with a life sentence. Genet became associated with the Theatre of Cruelty, which his most famous pieces became associated with, for example, The Maids (1949), Deathwatch (1949), The Balcony (1956), and The Blacks (1958). Other celebrated works of Genet include the novel, A Thief's Journal (1949), about his experiences in prison, and The Screens (1963), a biting political play about the Algerian War of Independence. Genet died of throat cancer in 1986.
Published in 1964, and again on August 21, 2018: Jean Genet's The Thief's Journal, with a new intro by Patti Smith
The Thief's Journal
by Jean Genet
With a New Introduction by Patti Smith
Translated from French by Bernard Frechtman
Foreword by Jean-Paul Sartre
Imprint Grove Paperback
Grove Press
272 pages
Publication Date August 21, 2018
ISBN-13 978-0-8021-2827-0
Dimensions 5.5″ x 8.25″
US List Price $16.00
new books
fleursdumal.nl magazine
More in: - Book News, Archive G-H, Art & Literature News, Jean Genet, Jean-Paul Sartre, Smith, Patti
---
Het grootste poëziefeest van het jaar kent in 2018, op 29 september, zijn 36ste editie, in de vertrouwde Grote Zaal van TivoliVredenburg in Utrecht. De beste Nederlandstalige dichters, van debutant tot veteraan, bieden het publiek een poëtische marathon die zijn weerga niet kent.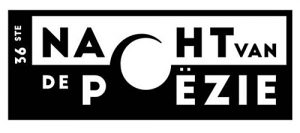 En dan zijn er nog muzikale entr'actes, die de dichters gedurende de avond in razend tempo afwisselen.
De Nacht van de Poëzie betovert haar bezoekers tot diep in de nacht en laat ze met een glimlach huiswaarts keren.
Onder de dichters bevinden zich dit jaar onder meer 'nachtveteraan' Judith Herzberg, P.C. Hooftprijswinnaar Willem Jan Otten en Radna Fabias, die dit jaar de C. Buddingh'-prijs voor het beste debuut in ontvangst mocht nemen. Na ruim duizend optredens, maakt Arthur Japin zijn debuut op De Nacht naar aanleiding van zijn bundel Nachtkaravaan, met liedjes en gedichten. Verder zijn er dichters die schrijven over dwaallichten en vloekschriften, buigt de een zich over het paringsritueel en de ander over de begrafenis van de mannen. Iemand zegt: 'Ik was een hond', een ander begint een oefening in het alleen lopen; er zijn lofzangen op een kapstok en een röntgenfotomodel. 'Zo kan het niet langer,' foetert de een, 'het leven deugt, althans, op onderdelen', besluit de ander. De bundeltitels van de optredende dichters tijdens deze nacht beloven alvast een bonte parade van taalgiganten, fluisterdichters, tongbrekers en woordacrobaten.
De presentatie van de avond is als vanouds in handen van het Nachtduo Piet Piryns & Ester Naomi Perquin. In de aanloop naar De Nacht worden steeds meer dichters en muzikanten bekend gemaakt.
Tip: met een Nacht-de-Luxe-kaart ontloop je de Nachtelijke Volksverhuizing, zoals Ingmar Heytze het ooit noemde, waarbij je nooit zeker weet of je stoel nog vrij is.

Dit seizoen is er ook weer een KinderNacht van de Poëzie! Kinderen kunnen samen met hun ouders, familie en vriendjes luisteren naar grappige gedichten en raadselachtige rijmpjes.
Radna Fabias – Ester Naomi Perquin – Arthur Japin – Arno Van Vlierberghe – The Tallest Man On Earth – Kreek Daey Ouwens – Rodaan Al-Galidi – Moya De Feyter – Ted van Lieshout – Piet Piryns – Tsead Bruinja – Thomas Möhlmann – Anton Korteweg – Anneke Claus – Benno Barnard – Paul Bogaert – Delphine Lecompte – Willem Thies – Vicky Francken – Judith Herzberg
36ste Nacht van de Poëzie
Het grootste poëziefeest van het jaar
zaterdag 29 september 2018
Tijd: 20:00 uur
Poëzie
Nederlands
TivoliVredenburg
Vredenburgkade 11
3511 WC Utrecht
# Meer informatie op website nachtvandepoezie
36ste Nacht van de Poëzie
fleursdumal.nl magazine
More in: # Music Archive, #Archive Concrete & Visual Poetry, #Editors Choice Archiv, Art & Literature News, Nacht van de Poëzie, STREET POETRY, THEATRE
---
Running Upon The Wires is Kate Tempest's first book of free-standing poetry since the acclaimed Hold Your Own.

In a beautifully varied series of formal poems, spoken songs, fragments, vignettes and ballads, Tempest charts the heartbreak at the end of one relationship and the joy at the beginning of a new love; but also tells us what happens in between, when the heart is pulled both ways at once.
Running Upon The Wires is, in a sense, a departure from her previous work, and unashamedly personal and intimate in its address – but will also confirm Tempest's role as one of our most important poetic truth–tellers: it will be no surprise to readers to discover that she's no less a direct and unflinching observer of matters of the heart than she is of social and political change. Running Upon The Wires is a heartbreaking, moving and joyous book about love, in its endings and in its beginnings.
Kate Tempest:
Running Upon The Wires
publisher: Picador
paperback
6 September 2018
ISBN 9781509830022
64 pages
£9.99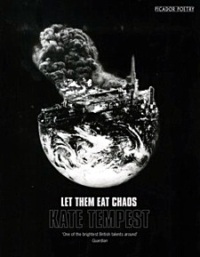 Kate Tempest was born in London in 1985. She works across the shrinking gaps of a steadily converging media industry. Equally at home within the genres of theatre, performance, poetry and music, her name now appears on album covers, poetry books, and billboard hoardings. It is fitting then, that her individual works blend elements of oral, sonic, visual and written culture.
Her 2016 work, Let Them Eat Chaos, was published by Picador, composed for live performance and released as an album of the same name.
Kate Tempest was nominated for the Mercury Music Prize for her debut album, Everybody Down, and received the Ted Hughes Award and a Herald Angel Award for Brand New Ancients. Kate was also named a Next Generation poet in 2014.
Books by Kate Tempest
2016 Let Them Eat Chaos
2016 The Bricks that Built the Houses
2015 Hopelessly Devoted
2014 Hold Your Own
2014 Everybody Down
2013 Wasted
2012 Everything Speaks in its Own Way
Awards
2016 Costa Book Award for Best Poetry Collection (shortlist)
2014 Next Generation Poet
2013 Ted Hughes Award
new poetry
by Kate Tempest
fleursdumal.nl magazine
More in: Archive S-T, Archive S-T, Art & Literature News, Kate Tempest, Tempest, Kate
---
'Eigenlijk wil ik gewoon elke morgen wakker worden en niks weten en gaan schrijven.'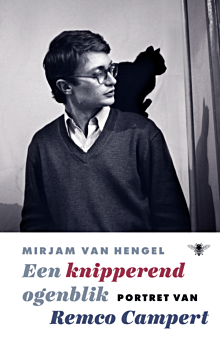 Dat zegt Remco Campert, de virtuoos terloopse dichter die altijd zijn vinger aan de pols van de tijd heeft gehouden.
Het verhaal van zijn leven loopt van de naoorlogse avant-garde via feestende jongeren rond het Vondelpark en toenemende publieke zichtbaarheid naar de stilte van een werkkamer. Er was de afwezige vader, er kwamen en gingen grote liefdes, maar altijd bleef het schrijven, dicht op de eigen huid.
Mirjam van Hengel, die eerder het succesvolle Hoe mooi alles (2014) publiceerde over de liefde tussen Leo en Tineke Vroman, sprak wekelijks met Campert en kreeg inzage in al zijn papieren.
Ze schreef een portret over de man die al meer dan een halve eeuw het Nederlandse literaire landschap kleurt, die even graag alleen is als in gezelschap, even lui als productief, even opgeruimd als melancholiek, even betrokken bij de wereld als onverstoorbaar zichzelf.
Mirjam van Hengel (1967) studeerde Nederlandse letterkunde aan de Universiteit Utrecht. Ze was jarenlang redacteur bij uitgeverij Van Oorschot en uitgeverij Querido en is poëzieprogrammeur bij onder meer De Nieuwe Liefde. In 2014 verscheen haar boek Hoe mooi alles. Leo en Tineke Vroman, een liefde in oorlogstijd, dat lovend werd ontvangen en bewerkt tot theaterstuk.
Remco Campert (1929) is dichter, romancier en columnist. Voor zijn poëzie ontving hij onder meer de Reina Prinsen Geerligsprijs, de Poëzieprijs van de gemeente Amsterdam, de Jan Campertprijs, de P.C. Hooft-prijs en De Gouden Ganzenveer. In 2015 werd hij bekroond met de Prijs der Nederlandse Letteren. De vader van Remco Campert was de dichter Jan Campert, die 'Het Lied der Achttien Dooden' schreef, zijn moeder de actrice Joeki Broedelet. Voorjaar 1950 richt Remco Campert met Rudy Kousbroek het tijdschrift Braak op. In juli van hetzelfde jaar wordt de redactie uitgebreid met Lucebert en Bert Schierbeek. Na het verschijnen van de bloemlezing Atonaal in 1951, onder redactie van Simon Vinkenoog, worden de daarin opgenomen dichters onder wie Gerrit Kouwenaar, Jan G. Elburg en Hugo Claus, aangeduid als de Vijftigers.
Remco Camperts verhalen en romans worden gewaardeerd door een groot publiek en boeken als Het leven is vurrukkulluk (1961) en Tjeempie! of Liesje in luiletterland (1968) staan nog steeds op de leeslijsten.
In 1976 ontvangt hij de P.C. Hooftprijs voor zijn poëzie: 'Het hele poëtische oeuvre van Remco Campert overziend, is de jury onder de indruk gekomen van de persoonlijke kroniek van de jaren 1950-1970 die erin is neergeschreven. De hachelijke en belachelijke feiten van deze levensperiode zijn door de dichter onvergetelijk geboekstaafd.'
Van 1989 tot 1995 leest Campert met Jan Mulder en Bart Chabot in theaters voor uit eigen werk. Van 1996 tot 2006 schrijft Campert samen met Mulder een gezamenlijke column op de voorpagina van de Volkskrant, CaMu. Sinds 2012 heeft hij in deze krant een eigen wekelijkse column en daarnaast zijn 'Somberman', over het gelijknamige personage dat hij voor het eerst opvoerde in Somberman's actie, het Boekenweekgeschenk van 1985. In 2004 verscheen Een liefde in Parijs, zijn eerste roman in meer dan tien jaar, die zeer lovend werd besproken en uitgroeide tot een grote bestseller. Het Parool schreef: 'Hier is de meester aan het werk.' In 2006 volgde Het satijnen hart, een weemoedig portret van een schilder die tot op hoge leeftijd niet kan kiezen tussen liefde en kunst.
De afgelopen vijf jaar verschenen onder meer de roman Hôtel du Nord (2013), de dichtbundels Licht van mijn leven (2014, met litho's van Ysbrant) en Verloop van jaren: 40 poëtische notities (2015). Het fotoboek De ziel krijgt voeten (2013), maakte hij met zijn dochter Cleo Campert. Zijn verzamelde columns voor de Volkskrant zijn te lezen in Het verband tussen de dingen ben ik zelf (2012), Te vroeg in het seizoen (2014), Vandaag ben ik een lege kartonnen doos (2015), Zonder roken bij mij geen poëzie (2016) en Somberman op drift (2016). In 2016 verscheen eveneens Campert & Campert, een bundeling van alle stukken van Remco én zijn vader Jan Campert in Elsevier. Recent verscheen de dichtbundel Open ogen (2018).   (Bron: Bezige Bij)
Titel: Een knipperend ogenblik.
Portret van Remco Campert
Auteur: Mirjam Van Hengel
Biografie
Taal: Nederlands
Uitgever: Bezige Bij, De
Druk: 1e
Aantal pagina's 512
Uitvoering: Gebonden
Verschenen: 23 augustus 2018
Presentatie: 5 september 2018
ISBN 9789403122908
€ 29,99
new books
portret van Remco Campert
fleursdumal.nl magazine
More in: #Biography Archives, - Book News, - Bookstores, Archive C-D, Archive G-H, Art & Literature News, Campert, Remco, Remco Campert
---
De bevrijding door de ogen van de negenjarige K. Schippers – I got rhythm, het kaalscheren van meisjes, het schieten op de Dam.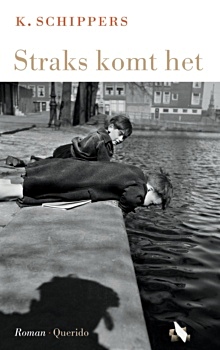 In de bioscoop is hij zo kapot van George Gershwin dat hij hem gaat zoeken in New York, je hoort het vluchten, in elke song. Later volgt hij Kurt Schwitters, op de vlucht voor de nazi's in Noorwegen, je ziet het aan ieder werk.
De reizen vervlecht hij met zijn jeugdherinneringen aan de oorlog en flarden familiegeschiedenis. De routes van zijn jeugd en de routes van zijn idolen, begeleid door de crooners van het American Songbook.
K. Schippers (Amsterdam, 1936) is schrijver, dichter, essayist en kunstcriticus. Hij heeft een omvangrijk oeuvre op zijn naam staan, dat bestaat uit romans, poëzie, essays, verhalen & beschouwingen, en een enkel kinderboek. Al vroeg werd hij bekend door het literaire tijdschrift Barbarber, dat hij in 1958 samen met J. Bernlef en G. Brands oprichtte. Hij introduceerde de readymade als poëzievorm. Van het cultureel tijdschrift Hollands Diep, dat van 1975 tot 1977 bestond, was hij een van de oprichters en eerste redacteuren.
Zijn werk is veel gelauwerd. Voor zijn poëzie ontving hij in 1996 de P.C. Hooftprijs. Een jaar later kreeg hij de Pierre Bayle-Prijs voor zijn kunstkritieken. Zijn roman Poeder en wind (1996) werd genomineerd voor de Generale Bank Literatuurprijs; de roman Waar was je nou (2005) werd bekroond met de Libris Literatuur Prijs en groeide uit tot een bestseller. Hij is de schrijver van Buiten beeld, het Poëziegeschenk van de Poëzieweek 2014.
Auteur: K. Schippers
Titel: Straks komt het
Literaire roman
Uitgeverij: Querido
Publicatiedatum: 28-08-2018
Omvang; 252 pagina's
Bindwijze: Paperback
Taal Nederlands
Met illustraties
Afmetingen: 21,5 x 13,5 x 2,4 cm
Druk: 1e druk
ISBN: 9789021412399
NUR: 301
Prijs: € 20,00
new books
K. Schippers – Straks komt het
fleursdumal.nl magazine
More in: - Book News, - Bookstores, Archive S-T, Art & Literature News, K. Schippers, Schippers, K.
---
Elke zomer opnieuw slaat het Kunstenfestival van Watou haar tenten op in het gelijknamige kunstdorpje aan de Franse grens.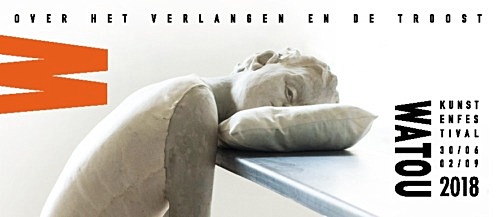 Dichters en beeldend kunstenaars, aanstormend talent en gevestigde waarden, kunstwerken uit binnen- en uit buitenland strijken er neer en vormen een bijzonder kunstenparcours. Het dorp is de setting en biedt een tiental karakteristieke locaties als tentoonstellingsruimte: een voormalig klooster, een oude boerderij of de kelder van een brouwerij. De wisselwerking tussen die verrassende, nostalgische ruimtes met hedendaagse beeldende kunst en poëzie zorgt telkens weer voor een unieke kunstbeleving. Zomeren in Watou is dan ook prikkelen en onthaasten tegelijk. Kleine momenten van gelukzaligheid.
Iedere editie van het Kunstenfestival kadert in een ander thema, waarrond intendant Jan Moeyaert en poëziecurator Willy Tibergien beeld en taal samenbrengen. Schrijvers, dichters en kunstenaars palmen gedurende een zomer het dorp in en bieden de bezoekers een caleidoscoop aan inzichten en perspectieven rond een bepaald onderwerp.
De afgelopen edities van Kunstenfestival Watou groeide er gestaag een nieuwe poëtische lijn in het dorp. Ook dit jaar selecteerde poëziecurator Willy Tibergien gedichten van gevestigde waarden in het Nederlandstalig poëzielandschap om hen een permanente plaats te geven in Watou.
Aan het werk van Eddy van Vliet, Paul Snoek, Remco Campert, Hugues C. Pernath, Jean-Claude Pirotte, Leo Vroman, Miriam Van hee, Stefan Hertmans, Gerrit Kouwenaar en Marc Insingel, Leonard Nolens, Christine D'Haen, Joost Zwagerman, Jotie T'Hooft, Charles Ducal en Luuk Gruwez worden dit jaar gedichten van Anna Enquist, Eva Gerlach en Frans Deschoemaeker toegevoegd.
STRING CARPET – GIDEON KIEFER – KUNSTENAARSGESPREK – ZONZO COMPAGNIE – ELS DEJONGHE – HET VLIEGEND TAPIJT – VRIJDAG VIERT FEEST – KRISTIN VERELLEN – POSTKANTOOR 00/00/00 – LIZE PEDE – BERNARD DEWULF – ALICJA GESCINSKA – DE TROOSTWINKEL – DOWN TIGER DOWN – SIEL EN LARISSA – NELLY AGASSI – IK ZIE MENSEN – POËZIE POËZIE POËZIE – DEREK & RENAUD – WIM CHIELENS – DE PLUIZENTUIN – WALLY DEDONCKER – ANT AND … – IK BEN WEER VELEN – STEPHANIE STRUIJK –  BERNARD DEWULF – MENNO WIGMAN – GRAHAM FAGEN – GERRIT KOUWENAAR – FRANS DESCHOEMAEKER – ANNA ENQUIST – EVA GERLACH – FRAUKE WILKEN – SAM DURANT – SIGRID VON LINTIG – PAUL SNOEK – MAUD BEKAERT -PETER VERHELST- DENIS VERCRUYSSE – MOHAMED EL BAZ – PARSE/ERROR – KATRIN DEKONINCK – ARPAÏS DU BOIS – GRZEGORZ GWIAZDA – SHIMABUKU – PETER DE MEYER – ROBINE CLIGNETT – ELS LESAGE – RADNA FABIAS – RY ROCKLEN – CHAIM VAN LUIT – SYLVIA EVERS – TORI WRÅNES – RONNY DELRUE – PETER MORRENS – HERVÉ MARTIJN – THÉ VANBERGEN – HANNE VAN ROMPAEY – STEFAN HERTMANS – TOM VAN DEEL – DANIELLE VAN ZADELHOFF – ANTON COTTELEER – SU-MEI TSE – POLIEN BOONS – JONAS VANSTEENKISTE – GURT SWANENBERG – ARANTHELL – GEERTJE VANGENECHTEN – MAARTEN VANDEN EYNDE – DOMINIQUE DE GROEN – JANI LEINONEN – JOSÉ COBO – TATJANA GERHARD – NADIA NAVEAU – HESTER KNIBBE – LUK VAN SOOM – JEROEN VAN KAN – CAROL ANN DUFFY – IRINA RATUSHINSKAYA – YEHUDA AMICHAI – NIDAA KHOURY – ZIYA MOHAVED – HANS OP DE BEECK- MASSIMO UBERTI -VAJIKO CHACHKHIANI – MOYA DE FEYTER – SHEILA HICKSEMMA VAN ROEY – BERNARDÍ ROIG -PETER THEUNYNCK – GIDEON KIEFER – EDITH DEKYNDT – THOMAS LEROOY – RANDALL CASAER- CHRISTINA MIGNOLET – GERD KANZ- GREET DESAL – HANNAH VAN BINSBERGEN – MELIK OHANIAN – JOHAN CLARYSSE – SOPHIE BOUVIER AUSLÄNDER – HANS DEFER- LUDOVIC LAFFINEUR – ARNE QUINZE – MARIJE LANGELAAR – TANYA SCHULTZ – ERLEND VAN LANDEGHEM – ROLAND JOORIS – LUKA FINEISEN – MEKHITAR GARABEDIAN – FRANZ SCHMIDT – CLARISSE BRUYNBROECK – FRANCIS PONGE – DAVID DE POOTER – RUTGER KOPLAND – JAN VANRIET – HUGO CLAUS – NELLY AGASSI – K. MICHEL – MICHAL MARTYCHOWIEC – PAUL DEMETS – STEPHAN MUIS – SAMMY BALOJI – TANG NANNAN – ADEL ABDESSEMED – LAURENS HAM – TODD ROBINSON – PANAMARENKO – GILLES BARBIER – HELEN DUNMORE – CASPER BRAAT – SYLVIE MARIE – CHANTAL POLLIER – EZRA VELDHUIS – HARLINDE DE MOL – ELEANOR CROOK – ANNO DIJKSTRA
Kunstenfestival Watou 2018 loopt nog tot en met 2 september
Open: woensdag tot zondag van 11u tot 19u – maandag en dinsdag gesloten, behalve op feestdagen
Adres:
Watouplein 12
8978 Watou
Poperinge (België)
De start van het Kunstenfestival is te vinden in het Festivalhuis (Watouplein 12), op het marktplein naast de Spar. Opg  elet! Voor alle weekend-events zijn de plaatsen beperkt. Een plaats reserveren kan enkel de dag zelf aan de kassa, bij aankoop van uw ticket.
# meer informatie op website kunstenfestival Watou
Kunstenfestival Watou 2018
fleursdumal.nl magazine
More in: # Music Archive, #Editors Choice Archiv, #More Poetry Archives, - Book Lovers, - Book Stories, Art & Literature News, Exhibition Archive, FDM Art Gallery, LITERARY MAGAZINES, PRESS & PUBLISHING, STREET POETRY, THEATRE, Watou Kunstenfestival
---
Tishani Doshi on Girls are Coming Out of the Woods: "I want to give this book to the people I love, and say to them, memorize this, never forget. – Jeet Thayil Each poem promises the sharpness of broken sea-shells, the smell of brine.
In this collection, Tishani Doshi inhabits the different homes: her childhood, the body, cities that were passed through, cycles of rain. There are poems of celebration and homages, as there are poems lamenting human cruelty and dispassion. This is also a book of travel and of homecoming, of familiar decay and startling, haunting discoveries of our oldest themes of love, grief, suffering and anger."
Girls are coming out of the woods,
wrapped in cloaks and hoods,
carrying iron bars and candles
and a multitude of scars, collected
on acres of premature grass and city
buses, in temples and bars. Girls
are coming out of the woods
with panties tied around their lips,
making such a noise, it's impossible
to hear. Is the world speaking too?
Tishani Doshi in Girls are Coming Out of the Woods (fragment)
Tishani Doshi is an award-winning poet and dancer of Welsh-Gujarati descent. She was born in Madras, India, in 1975. She received her masters in writing from the Johns Hopkins University in America and worked in London in advertising before returning to India in 2001 to work with the choreographer Chandralekha, with whom she performed on many international stages. An avid traveller, she has been trekking in the Ethiopian Bale Mountains, visited Antarctica with a group of high-school students, and documented the largest transvestite gathering in Koovakam. She has written about her travels in newspapers such as the Guardian, International Herald Tribune, The Hindu and the Financial Times. She won an Eric Gregory Award for her poetry in 2001. In 2006, she won the All-India Poetry Competition, and her debut collection, Countries of the Body (Aark Arts), won the Forward Prize for Best First Collection. Her first novel, The Pleasure Seekers (Bloomsbury, 2010), was longlisted for the Orange Prize and shortlisted for the Hindu Fiction Award, and has been translated into several languages. Her second poetry collection, Everything Begins Elsewhere, was published by Bloodaxe Books in 2012. Her third, Girls Are Coming Out of the Woods, is due from Bloodaxe in 2018. Tishani Doshi currently lives on a beach between two fishing villages in Tamil Nadu with her husband and three dogs, and sometimes moonlights as a dancer.
Girls are Coming Out of the Woods
by Tishani Doshi
PBS Recommendation Summer 2018
Publisher: Bloodaxe Books Ltd
Publication Date: 10 May 2018
Paperback £9.95
ISBN: 9781780371979
Pages: 96
Size: 234 x 156mm
Engelstalig
new poetry
fleursdumal.nl magazine
More in: #Editors Choice Archiv, - Book News, - Bookstores, Archive C-D, Art & Literature News
---
A daughter's struggle to keep her family alive, through poverty, homelessness and incarceration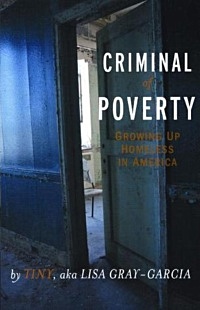 Eleven-year-old Lisa becomes her mother's primary support when they face the prospect of homelessness. As Dee, a single mother, struggles with the demons of her own childhood of neglect and abuse, Lisa has to quickly assume the roles of an adult in an attempt to keep some stability in their lives.
"Dee and Tiny" ultimately become underground celebrities in San Francisco, squatting in storefronts and performing the "art of homelessness." Their story, filled with black humor and incisive analysis, illuminates the roots of poverty, the criminalization of poor families and their struggle for survival.
"Criminal of Poverty lays bare the devastating effects of inheriting a life of poverty, as well the real redemption and power in finding your voice." – Michelle Tea, author of Rose of No Man's Land and Valencia
"Tiny's indomitable spirit comes to life in her amazing story of poverty and homelessness, reaching into and teaching our hearts and minds. With her flawless descriptions of the pain of living in the margins of the richest country in the world, she opens up an important window onto a reality looked upon by many but truly seen by few, augmenting our capacity for empathy and action in an area so in need of social change. Bravo Tiny, for your gift to us all! Punto!!!" – Piri Thomas, author of Down These Mean Streets
Lisa Gray-Garcia  (www.tinygraygarcia.com)
is a journalist, poet and community activist. She is the founder of POOR magazine and the PoorNewsNetwork (PNN), a monthly radio broadcast and an online news service focused on issues of poverty and racism.
(www.poormagazine.org/)
Criminal of Poverty
Growing Up Homeless in America
Lisa Gray-Garcia, aka Tiny
Publisher City Lights Foundation Books
Paperback, 2007
278 pages
ISBN-10 1931404070
ISBN-13 9781931404075
List Price $19.95
books to read before you die
fleursdumal.nl magazine
More in: #Editors Choice Archiv, - Book Stories, Archive G-H, Archive G-H, Art & Literature News, MUSEUM OF PUBLIC PROTEST, The Ideal Woman
---
Ellen Hinsey's new book-length sequence, The Illegal Age, is a powerful investigation into the twentieth-century's dark legacy of totalitarianism and the rise of political illegality.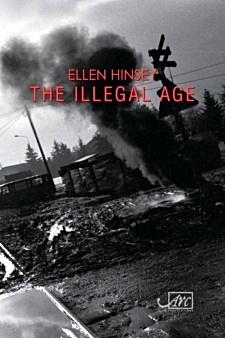 It explores the enduring potential for human beings to set neighbour against neighbour and commit final acts of violence. A book of lyrical reflection and prophesy, The Illegal Age chronicles the arrival of a new, disquieting reality unfolding in our midst.
As Marilyn Hacker has written, "In dialogue with Celan, Szymborska, Milosz… this is a daring text – for its political acuity, and for its demonstration of the power in poetry to recount, remember, move the heart while opening the mind."
Written in parallel with her first-hand research into the rise of authoritarianism carried out over the last decade, Hinsey's volume warns that – rather than an "Age of Anxiety" – we may indeed be facing the start of the "Illegal Age".
Ellen Hinsey was born in 1960 in Boston, Massachusetts. For the last two decades she has lived in Europe. She received a Bachelor of Fine Arts degree from Tufts University and a graduate degree from Université de Paris VII. She has taught at the French graduate school the Ecole Polytechnique and currently teaches at Skidmore College s Paris program. She is the international correspondent for The New England Review.
Hinsey's work is concerned with history, ethics and democracy. Her first-hand accounts and analyses of the impact of the 2012 Russian presidential elections, the 2010 Polish presidential plane crash, Hungarian politics, Václav Havel's ethical legacy and post-1989 German reconstruction have been published in The New England Review. A selection of these essays are included in her book <ik>Mastering the Past: Contemporary Central and Eastern Europe and the Rise of Illiberalism (Telos Press, 2017). Her current work addresses global authoritarianism.
Hinsey's first book, Cities of Memory, draws on her experiences at the Berlin Wall on the weekend of November 9, 1989, as well as in Prague during the Velvet Revolution. The book received the Yale Series Award and was published by Yale University Press in 1996. Her second book, The White Fire of Time (Wesleyan University Press, 2002 / Bloodaxe Books, 2003), written after a family tragedy, is an exploration of ethics and renewal.
Later, you will realize that compromise is the wood that burns
Most brightly in the hour before regret.
But by then, all the doors will have been marked in yellow chalk.
Still, let us not pass each other this final time, without recognition,
Without looking each other in the eye.
Remember: in the ink-light of testimony, a record may still be kept.
Ellen Hinsey (fragment)
The Illegal Age
by Ellen Hinsey (Author)
PBS Autumn Choice 2018
Publisher: Arc Publicationas
July 2018
120 pages
Language: English
ISBN-10: 191146938X
ISBN-13: 978-1911469384
Product Dimensions: 15 x 2.2 x 21 cm
Hardcover £13.99
Paperback £10.99
new books
fleursdumal.nl magazine
More in: - Book News, Archive G-H, Art & Literature News, EDITOR'S CHOICE
---
Lyrics and never-before-seen poetry and sketches from the iconic musician of Florence and the Machine
Songs can be incredibly prophetic, like subconscious warnings or messages to myself, but I often don't know what I'm trying to say till years later.
Or a prediction comes true and I couldn't do anything to stop it, so it seems like a kind of useless magic.
Since forming Florence + The Machine in 2007, Florence Welch has written three albums, Lungs, Ceremonials, and How Big How Blue How Beautiful, all of which have been chart toppers all over the world, and she has been nominated and has won numerous international awards.
Useless Magic
Lyrics and Poetry
By Florence Welch
Hardcover
Publ. Jul 10, 2018
288 Pages
$35.00
Published by Crown Archetype
ISBN 9780525577157
new books
fleursdumal.nl magazine
More in: #Editors Choice Archiv, Archive W-X, Art & Literature News, Florence Welch
---
Osip Mandelstam is one of the greatest of twentieth-century poets and Voronezh Notebooks, a sequence of poems composed between 1935 and 1937 when he was living in internal exile in the Soviet city of Voronezh, is his last and most exploratory work.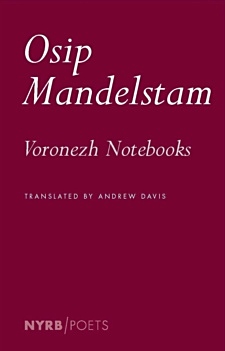 Meditating on death and survival, on power and poetry, on marriage, madness, friendship, and memory, challenging Stalin between lines that are full of the sights and sounds of the steppes, blue sky and black earth, the roads, winter breath, spring with its birds and flowers and bees, the notebooks are a continual improvisation and an unapologetic affirmation of poetry as life.
Russia's greatest poet in this century. — Joseph Brodsky
Mandelstam was a tragic figure. Even while in exile in Voronej, he wrote works of untold beauty and power. And he had no poetic forerunners… In all of world poetry, I know of no other such case. We know the sources of Pushkin and Blok, but who will tell us from where that new, divine harmony, Mandelstam's poetry, came from? — Anna Akhmatova
Voronezh Notebooks by Osip Mandelstam,
translated from the Russian and with an introduction by Andrew Davis
ISBN: 9781590179109
Pages: 128
Publication Date: January 5, 2016
Series: NYRB Poets
The New York Review of Books
Paperback
Books That Everyone Should Read
fleursdumal.nl magazine
More in: - Book Lovers, - Book Stories, Achmatova, Anna, Archive M-N, Brodsky, Joseph, Mandelstam, Osip, REPRESSION OF WRITERS, JOURNALISTS & ARTISTS, TRANSLATION ARCHIVE
---
Older Entries »
Thank you for reading FLEURSDUMAL.NL - magazine for art & literature