EDITOR'S CHOICE
·
Joshua Seigal: I Don't Like Poetry
·
Thomas Eyskens: Toen met een lijst van nu errond. Herman de Coninck biografie
·
De hand van Pierre Kemp. Studies, schetsen, werken op papier
·
Nomineer een pionier voor de Pé Hawinkels Prijs
·
William Brewer: I Know Your Kind. Poems about the American opioid epidemic
·
Pierre L.Th.A. Maréchal: Frans Babylon – herinneringsgewijs
·
When Watched & Veronica Bench, stories & poems by Leopoldine Core
·
Nieuwe uitgave gedichten Gerrit KOUWENAAR
·
Museum De Fundatie: BOB DYLAN – Face value
·
Wim BRANDS: Verzamelde gedichten
·
Jeroen BROUWERS: De laatste deur (nieuwe herziene en uitgebreide editie)
·
Poëzieweek 2017 (26 januari t/m/ 1 februari) en Gedichtendag 2017 (26 januari)
Packed full of silly, funny, or downright hilarious poems (with a few serious ones mixed in) this brilliant collection from exciting young poet, Joshua Seigal is perfect for fans of Michael Rosen and anyone else who needs a giggle.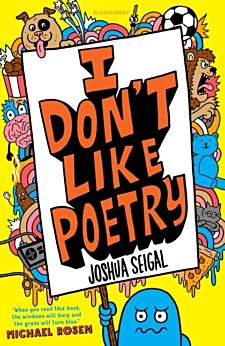 If you like poetry, you'll like this book. And if you don't like poetry you'll LOVE it!
Joshua Seigal is a poet, performer and workshop leader who spends his time visiting schools, libraries and theatres around the country and beyond. He has taken critically-acclaimed poetry shows to the Edinburgh Festival Fringe, but usually ends up performing in front of his mirror, using a hairbrush as a microphone. He has managed to gain the minimal skills required to make his own website – www.joshuaseigal.co.uk.
'When you read this book, the windows will burp and the grass will turn blue. That's how magic these poems are.' Michael Rosen
'If … you still think "I don't like poetry," this might be the collection for you: Joshua Seigal's very imaginative and wonderful collection." Nicolette Jones, The Times
Joshua Seiga writes: Poetry, Poetry 7+, Poetry 8+
Joshua Seiga is author of : Little Lemur Laughing, I Don't Like Poetry
I Don't Like Poetry by Joshua Seigal
Format: Paperback
Edition: 1st
ISBN: 9781472930033
Imprint: Bloomsbury Education
Illustrations: B&W
Dimensions: 198 x 129 mm
£5.99
new books
fleursdumal.nl magazine
More in: - Book Lovers, - Book News, Archive S-T, Archive S-T, Art & Literature News, EDITOR'S CHOICE, LIGHT VERSE
---
Met De lenige liefde (1969) werd Herman de Coninck op slag de populairste dichter van Vlaanderen, 'de man die zijn volk poëzie leerde lezen'.
Ook als leraar, journalist en geëngageerd hoofdredacteur van het Nieuw Wereldtijdschrift was hij van grote betekenis.
Na een leven vol poëzie bezweek hij in 1997 op een literair congres in Lissabon aan een hartaanval.
Nu is er dan eindelijk een biografie van de hand van Thomas Eyskens op basis van vele gesprekken met familie, vrienden en collega's, nooit eerder gepubliceerd fotomateriaal en nagelaten correspondentie. Een rijk portret van 'leven en werken, schrijven en liefhebben'.
Thomas Eyskens
Toen met een lijst van nu errond
Herman de Coninck biografie
Hardcover
ISBN: 9789029511407
Prijs: € 34,99
Publicatiedatum: 03-10-2017
Herman de Coninck biografie
fleursdumal.nl magazine
More in: - Book News, - Book Stories, Archive C-D, Archive C-D, Art & Literature News, BIOGRAPHY, Coninck, Herman de, DEAD POETS CORNER
---
Op 21 juli 2017 was het vijftig jaar geleden dat in Wyck-Maastricht de dichter Pierre Kemp (1886-1967) overleed. Pierre Kemp, bekroond met diverse prijzen voor zijn dichterlijk oeuvre, behoort tot de grootheden van de Nederlandse poëzie uit de twintigste eeuw.
Daarnaast was hij een begenadigd tekenaar en schilder, wiens werk deel uitmaakt van de kerncollectie Limburg van het Bonnefantenmuseum.
Voor het eerst toont het Bonnefantenmuseum nu Kemps werken op papier, merendeel schetsen en studies, die dateren uit de jaren 1905 tot 1913. Een bijzonder onderdeel van de tentoonstelling is het drietal schetsboekjes dat bewaard is gebleven uit 1906–1907. Een van de boekjes wordt als facsimile uitgegeven, met een uitgebreide toelichting door Wiel Kusters, die ook optreedt als gastconservator van de tentoonstelling.
Pierre Kemp, in 1954 bekroond met de Poëzieprijs van de Gemeente Amsterdam, in 1956 met de Constantijn Huygensprijs en twee jaar later met de P.C. Hooftprijs, behoort tot de grootheden van de Nederlandse poëzie uit de twintigste eeuw. Het heeft er in Kemps jonge jaren een tijdlang naar uitgezien dat hij zijn levensvervulling zou zoeken in de schilderkunst.
De hand van Pierre Kemp
Studies, schetsen, werken op papier
22.09.2017 – 07.01.2018
Bonnefantenmuseum
Avenue Céramique 250
6221 KX Maastricht
Ter gelegenheid van Kemps zeventigste verjaardag, in juni van dit jaar, verscheen: Leesjongen. Verzamelde gedichten 1978-2017 (Cossee, 2017).
Ter gelegenheid van Kemps vijftigste sterfdag verschijnt in september 2017 tevens een bloemlezing uit zijn dichterlijke werk: Het regent in de trompetten – De mooiste gedichten van Pierre Kemp, van Wiel Kusters en Ingrid Wijk (Uitgeverij Vantilt, Nijmegen).
Wiel Kusters (1947) is dichter, essayist en honorair hoogleraar aan Universiteit Maastricht. Voor het Bonnefantenmuseum maakte hij in 2001 de tentoonstelling: Huisraad Onraad, oder die Dinge in der Umwelt der Fliege. In 2010 publiceerde hij de biografie Pierre Kemp. Een leven (Vantilt). Tot zijn bekendste werken van de laatste jaren behoort: In en onder het dorp. Mijnwerkersleven in Limburg (Vantilt, 2012).
# Meer informatie op de website Bonnefantenmuseum
Het Bonnefantenmuseum presenteert: De hand van Pierre Kemp – Studies, schetsen, werken op papier tot en met 07.01.2018
fleursdumal.nl magazine
More in: - Book Lovers, - Book News, Art & Literature News, Exhibition Archive, FDM Art Gallery, Kemp, Pierre
---
De Pé Hawinkels Prijs is een nieuwe prijs voor makers en instanties die met creatieve initiatieven de grenzen van de literatuur oprekken.
Hawinkels (1942-1977) was iemand die zich niet in een hokje liet stoppen. Hij zorgde voor verbreding van de literatuur door zich bezig te houden met proza, poëzie, columns, jazzrecensies, vertalingen en zelfs songteksten (voor Herman Brood).
Welke schrijver, dichter, vertaler, journalist, filmmaker, uitgever, boekhandelaar droeg de afgelopen tijd met een bijzonder initiatief bij aan de verbreding van de literatuur? Dit kan zowel inhoudelijk als in vorm zijn, met bijvoorbeeld een app voor lezers, een politiek pamflet, een publiciteitsstunt of een project ten behoeve van verspreiding van boeken.
Vanaf nu kunt u een literair pionier nomineren. DAT KAN VIA DE WEBSITE VAN HET WINTERTUINFESTIVAL. Een vakkundige jury buigt zich over de genomineerden en kiest een winnaar. De prijs wordt op 25 november tijdens het Wintertuinfestival uitgereikt.
De Herfst van Hawinkels
De uitreiking van de Pé Hawinkels Prijs is een onderdeel van De Herfst van Hawinkels. In 2017 is het 40 jaar geleden dat Hawinkels overleed, hij zou anders dit jaar 75 zijn geworden. Dit najaar wordt het leven en werk van Hawinkels gevierd, onder meer met een expositie, een werkconferentie en een programma met jazz en voordrachten.
Wintertuin/De Nieuwe Oost is initiatiefnemer van de Pé Hawinkels Prijs en richt zich als productiehuis nadrukkelijk op ontwikkeling binnen het vakgebied. Met deze prijs wordt vernieuwing in de literatuur beloond en onder de aandacht gebracht.
   # Meer info website wintertuinfestival  
Nomineer een pionier voor de Pé Hawinkels Prijs
fleursdumal.nl magazine
More in: - Book News, Archive G-H, Archive G-H, Art & Literature News, Hawinkels, Pé, TRANSLATION ARCHIVE, Wintertuin Festival
---
Selected for the National Poetry Series by Ada Limón, I Know Your Kind is a haunting, blistering debut collection about the American opioid epidemic and poverty in rural Appalachia.
In West Virginia, fatal overdoses on opioids have spiked to three times the national average. In these poems, William Brewer demonstrates an immersive, devastating empathy for both the lost and the bereaved, the enabled and the enabler, the addict who knocks late at night and the brother who closes the door.
He shows us the high, at once numbing and transcendent: "this warm moment when I forget which part of me / I blamed."
He shows us the overdose, when "the poppies on my arms / bruised red petals." And he shows us the mourner, attending his high school reunion: "I guess we were underdressed: / me in my surf shoes / you in an urn."
Underneath and among this multiplicity of voices runs the Appalachian landscape—a location, like the experience of drug addiction itself, of stark contrasts: beauty and ruin, nature and industry, love and despair.
Uncanny, heartbreaking, and often surreal, I Know Your Kind is an unforgettable elegy for the people and places that have been lost to opioids.
William Brewer is the author of I Know Your Kind, a winner of the 2016 National Poetry Series, as well as the chapbook Oxyana, which was awarded the Poetry Society of America Chapbook Fellowship 30 and Under. He is currently a Stegner Fellow at Stanford University. He was born and raised in West Virginia.
Poetry
I Know Your Kind
By William Brewer
Paperback $16.00
ISBN: 978-1-57131-495-6
Publish Date: Sept. 2017
Pages: 96
Size:5.5 × 8.5 × 0.25 in
Milkweed Books
fleursdumal.nl magazine
More in: - Book News, - Bookstores, Archive A-B, Art & Literature News, EDITOR'S CHOICE, Opium-Eaters
---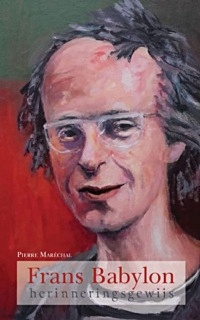 Volgens Pierre Maréchal was de Brabantse dichter Frans Babylon een zieke poète maudit die zowel de poëzie als de kunst stimuleerde te vernieuwen. Brabant liep sterk achter bij de ontwikkelingen.
Uiteindelijk verwierp hij de traditionele dichtstijlen en schreef hij gedichten op gevoel. Met vrienden vormde hij de Bredero-club en stimuleerde hij kunstenaars om zich verder te ontwikkelen. Babylon bevorderde eveneens de ontwikkeling van openbare kunstexposities voor groot publiek.
Naast Brabant en Amsterdam was Frankrijk een geliefde omgeving. Ondanks zijn bipolaire stoornis en dankzij zijn creativiteit bracht Frans Babylon veel tot stand.
Pierre Maréchal werkte onder meer voor de internationale trekvogel-bescherming. Ruim twintig jaar is hij actief bezig met poëzie. Hij schrijft en organiseert maandelijks diverse podia en optredens. De laatste jaren doet hij dit bij de PoëzieClub Eindhoven en de werkgroep 'Boekenkast'. Frans Babylon – herinneringsgewijs is typisch zo'n onderwerp. Het is een project over een bekende en tegelijk een minder bekende dichter, wiens daden van betekenis waren voor de ontwikkeling van de poëzie en de kunsten in het zuiden van ons land.
Pierre L.Th.A. Maréchal
Frans Babylon – herinneringsgewijs
Biografie Frans Babylon,
pseudoniem van Franciscus Gerardus Jozef Obers (1924 – 1968)
ISBN: 978-94-0223-720-7
Paperback 12,5 x 20 cm
186 pag. – 2017
€ 19,99
fleursdumal.nl magazine
More in: *Archive Les Poètes Maudits, - Archive Tombeau de la jeunesse, - Book News, Archive A-B, Archive A-B, Art & Literature News, Babylon, Frans, Brabantia Nostra, Frans Babylon
---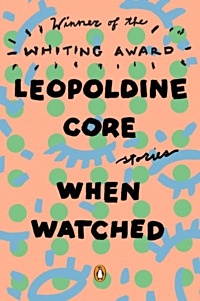 Refreshing, witty, and absolutely close to the heart, Core's twenty stories, set in and around New York City, have an other-worldly quality along with a deep seriousness—even a moral seriousness.
What we know of identity is smashed and in its place, true individuals emerge, each bristling with a unique sexuality, a belief-system all their own. Reminiscent of Jane Bowles, William Burroughs, and Colette, her writing glows with an authenticity that is intoxicating and rare.
When Watched
Stories (2016)
By Leopoldine Core
Paperback
Aug 2016
240 Pages
ISBN10 0143128698
Penguin Books
Literary Awards:
Whiting Award Winner
PEN/Hemingway Award Finalist
Lambda Literary Award Finalist
Longlisted for the PEN/Robert W. Bingham Prize for Debut Fiction & The Story Prize
"Core's stories have a voyeuristic quality, like peering through the windows of a groundfloor apartment as you walk by. . . . Core's narrative voice has earned her comparisons to Mary Gaitskill, Jane Bowles and even William Burroughs, but these references don't do justice to the intimacy and relative gentleness with which the author treats her group of modern, often millennial drifters. . . . Core captures a precious slice of what it is to be human. . . . She reaches moments of extraordinary grace."
—Alexandra Kleeman, The New York Times Book Review
"Core's prose isn't fancy, but it's gemstone smooth, and that's its most important quality: the writing is a seamless, nearly translucent vehicle that connects us to the tangled brushwork of her characters—their sorrows and desires and their so many attempts at striving for human intimacy more profound than strained conversations."
—The Paris Review Daily
Leopoldine Core was born and raised in New York's East Village and graduated from Hunter College. Her fiction and poetry have appeared in The Paris Review Daily, Open City, PEN America and Apology Magazine, among others. She is the recipient of a 2015 Whiting Award for fiction, as well as fellowships from The Center for Fiction and The Fine Arts Work Center. Author of the poetry collection Veronica Bench, Core lives in New York.
(. . .)
I've thought hard about this.
I've dug a dirt hole in my own
bedroom and lived there
rubbing my clit with a penny
under my blanket
there's an old sandwich
and a jewel.
(from poem: ITS NOT SILENCE)
Veronica Bench
Poems (2015)
By Leopoldine Core
"I like that Leopoldine's last name is Core because that is what her poems are: essential (like heaven on earth) and ephemeral (as in apple core). Her talent's in world-making, conjuring dialogic, chimeric moods that dust up an effet-monde only to let it drop casually, a strip-club curtain. Her zen-archery ease with poetry almost lets you forget how hard it really is to write like this: to be 'gutting with text' one's visions—writing not *about* God & sex but simply writing them. Her fluctuating registers and the sweet, cocky, somewhat lapidary sense of space on the page make me think of Han Shan or St. Giraud of the Naomi Poems. Core should write forever." —Ana Božičević
"It's hard to read these poems without falling in love—at least for an afternoon—with Leopoldine. She isn't speaking so much as flying." —Sparrow
# More information on website Penguin Books
fleursdumal.nl magazine
More in: - Book News, Archive C-D, Archive C-D, EDITOR'S CHOICE
---
Het was vriendschap op het eerste gezicht, zo herinnert Anna Enquist zich haar kennismaking met Gerrit Kouwenaar. Ze bleven bijna een kwarteeuw goede vrienden, tot zijn dood in 2014.
Om de aandacht voor zijn poëzie levend te houden selecteerde Anna Enquist de mooiste gedichten van Gerrit Kouwenaar. 'Geen literair-kritisch verantwoorde bloemlezing waarin alle aspecten van het werk aan de orde komen maar een persoonlijke selectie, gedreven door de vraag hoe Gerrit eigenlijk was en wat hij met zijn werk wilde,' schrijft ze in haar inleiding.
Het resultaat, van woorden gemaakt, biedt een blik op zijn oeuvre – door haar ogen.
Gerrit Kouwenaar
Van woorden gemaakt
Geselecteerd en ingeleid door Anna Enquist
Poezie
Uitgeverij: Querido
Paperback 168 pp.
ISBN: 9789021402314
Prijs: € 15,00
Publicatiedatum: 13-06-2017
fleursdumal.nl magazine
More in: - Book News, Archive K-L, Art & Literature News, Kouwenaar, Gerrit
---
From 24 May 2017, Museum de Fundatie in Zwolle will show 12 pastels by Bob Dylan (1941). The 2012 portrait series Face Value, on loan from The Bob and Jenny Ramsey Collection, is the first visual art by Dylan ever to be displayed in the Netherlands.
The drawings are as direct and unpolished as his music. The 'character studies', as Dylan describes them, are portraits of three women and nine men. They look directly at the viewer with a certain impertinence. Dylan uses sharp lines to pin down the personalities, that are an amalgam of characteristics taken from his environment, and memories and interests in people both real and imaginary. The titles of the works combine what Dylan wishes to express (Losing Face, Face Down or In Your Face), followed by the first and family name of the person. There are no clear indications whether he really refers to pianist Sylvia Renard or author Nigel Julian.
Dylan selected the Face Value series for a show in London's National Portrait Gallery in 2013. After London, the works were exhibited in Denmark, the United States and Germany, and can now be enjoyed in the Netherlands. The portraits have a unique place in his oeuvre. Ever since his youth, Dylan has made many sketches and drawings. He started working with oil paint in the sixties, but never before has he created such a comprehensive series of portraits. His use of colours in these pastels is also different: where he usually prefers a lot of expression and contrast, here he opts for four or five soft hues for the faces. Dylan works in layers; he starts by drawing the portraits in thin pencil lines, adds a soft pink or cream layer which he smooths out with his fingers and continues to develop the portrait with black or a dark brown. The drawings, like his songs, are expressions of an inventive imagination.
Dylan introduced his drawing talent to the public with something of a splash with his self-designed 1973 book Writings and Drawings, in which he combines lyrics with full-page ink drawings. He later published Drawn Blank (1989 and 1991-1992), to which he added a series of gouaches and watercolours 10 years ago.
In contrast to Dylan's art, the museum also presents a portrait series of the Craeyvanger family, created more than 350 years earlier. Gerard ter Borch, Zwolle's most internationally recognised artist, portrayed Willem Craeyvanger, Christine van der Wart and their eight children between 1651 and 1658. This comprehensive 17th century series of painted portraits of a single family is unique. Face Value is a continuation of previous exhibitions at Museum de Fundatie that focus on portraiture. The popularity of photo exhibition Dutch Identity (2016) and Look at Man! (finished January 2017) – displaying portraits by Bacon, Brancusi, Dumas and Richter – has proven that the 'old' genre of portraiture is certainly alive and well in the 21st century.
Bob Dylan was born in 1941 as Robert Allen Zimmerman. He signed his first record contract in 1961 and went on to become one of the most original and influential voices in the history of American folk and pop music. The 1963 release of his second album, The Freewheelin' Bob Dylan, ensured his international artistic breakthrough. Subsequent years brought many classic songs such as Blowing In The Wind, The Times They Are A-Changin', Subterranean Homesick Blues, Like A Rolling Stone, Knockin' On Heaven's Door and Hurricane. With an impressive back catalogue and a career spanning more than fifty years, Dylan still regularly tours the world. He was awarded the Nobel Prize for Literature on 13 October 2016, for "having created new poetic expressions within the great American song tradition". He is the first lyricist to be awarded the coveted prize. Bob Dylan will be playing live in AFAS Live in Amsterdam on 16, 17 and 18 April. For more information on this: www.mojo.nl/bobdylan
Bob Dylan: Face Value
Published by National Portrait Gallery
Introduction by John Elderfield
With over 500 songs, 46 albums and an astonishing 110 million record sales to his name, Bob Dylan (born 1941), now in his early seventies, is turning increasingly to another mode of artistic expression; one that has occupied him throughout his life, but for which he is much less well known. Although Dylan has sketched and drawn since childhood and painted since the late 1960s, only relatively recently has he begun to exhibit his artworks. The 12 works collected in this beautifully produced volume represent his latest foray into portraiture. In an illuminating essay and a rare Q&A with Dylan, curator and art historian John Elderfield explores the story behind these works. For Elderfield, Dylan's paintings, like his songs, are "products of the same extraordinary, inventive imagination, the same mind and eye, by the same story-telling artist, for whom showing and telling … are not easily separated."
BOB DYLAN – Face value
From 24 may until 20 august 2017
Museum de Fundatie
Blijmarkt 20
8011 NE Zwolle
  # Meer information on website De Fundatie  

fleursdumal.nl magazine
More in: - Book News, Art & Literature News, Bob Dylan, DICTIONARY OF IDEAS, Dylan, Bob, FDM Art Gallery
---
Wim Brands schreef in 2010 op het blog van Tirade: 'Er werd mij gevraagd of er iemand is die ik me wil blijven herinneren. Ik mocht maar één persoon kiezen. Ik koos mijn grootvader. Aan wie ik wel eens een gedicht heb gewijd dat begon met de regel: "Hij had een bokkenwagen en een kraai."'
Veel van Wim Brands' anekdotes waren aanleiding tot poëzie. In zes bundels en heel veel tijdschriftpublicaties veroverde Brands zijn plek als dichter, naast zijn groeiende statuur als anchorman van VPRO Boeken, of eigenlijk – bij uitbreiding – als de belangrijke televisiepersoonlijkheid die kunst en literatuur hoog in het vaandel had.
Er is dan ook geen betere manier om kennis te nemen van wat en wie Wim Brands allemaal was dan door lezing van deze Verzamelde gedichten. In de geest van Brands zijn we met de keuze overigens soepel omgesprongen. Er staat een stripverhaal in deze bundel, en er zijn blogs en brieven in te vinden. Voor Brands zijn gedichten verhalen, en hij maakt van verhalen poëzie,steeds door heel goed over de vorm na te denken, door in te dikken en te schrappen – want het kon altijd preciezer.
Deze verzameling toont wat een geweldig dichter Wim Brands was. De bundel bestaat uit zijn verschenen bundels plus veel ongepubliceerd materiaal. Thomas Verbogt schreef een nawoord.
Wim Brands (1959-2016) was een Nederlands dichter, journalist en presentator. Hij publiceerde acht dichtbundels, werkte jarenlang voor de VPRO-radio en presenteerde van 2005 tot 2016 het televisieprogramma Boeken.
Wim Brands schreef in 2010: 'Er werd mij gevraagd of er iemand is die ik me wil blijven herinneren. Ik mocht maar één persoon kiezen. Ik koos mijn grootvader. Aan wie ik wel eens een gedicht heb gewijd dat begon met de regel: "Hij had een bokkenwagen en een kraai."'
Veel van Brands' anekdotes waren aanleiding tot poëzie. Met zijn bundels en vele tijdschriftpublicaties veroverde Brands zijn plek als dichter, naast zijn groeiende statuur als anchorman van VPRO Boeken. Er is dan ook geen betere manier om kennis te nemen van wat en wie Wim Brands allemaal was dan door lezing van deze Verzamelde gedichten. In de geest van Brands is er met de keuze soepel omgesprongen; de verzameling bevat zijn bundels, maar ook niet eerder gepubliceerd werk, blogs, brieven en zelfs een stripverhaal.
Over de poëzie van Wim Brands:
'De gedichten zijn romantisch van inhoud en nuchter van toon. Ze openen op een haast vanzelfsprekende manier duistere gebieden en dieptes in de geest.' – De Volkskrant (*****)
'Mooie gedichten, die op een terloopse manier een raadselachtigheid behouden.' – Het Parool
Wim Brands
Verzamelde gedichten
ISBN 9789028261921
Van Oorschot 2017, € 27,50
fleursdumal.nl magazine
More in: - Book News, Archive A-B, Art & Literature News, Brands, Wim, CINEMA, RADIO & TV
---
De laatste deur (nieuwe herziene en zeer uitgebreide editie)
door Jeroen Brouwers
Liefde-literatuur-dood is de thematische drie-eenheid binnen het oeuvre van Jeroen Brouwers. Zijn fascinatie voor zelfmoord dateert van het begin van de jaren zeventig, toen een vriendin zich het leven had benomen. Brouwers' wens om het zelfmoordraadsel te begrijpen resulteerde in het inmiddels legendarische boek De laatste deur.
Dit is de ingrijpend herziene en zeer uitgebreide editie van het dertig jaar geleden verschenen werk, dat handelt over de zelfverkozen dood van Nederlandstalige schrijvers. Vanuit gevoelens van mededogen, begrip en solidariteit met hen die in het verleden en de meer recente tijd de hand aan zichzelf sloegen (van wie hij er enkelen van zeer nabij heeft gekend), poogt Brouwers aan de hand van hun literaire werk een mogelijke verklaring te vinden voor hun ultieme daad.
Brouwers karakteriseert op integere en invoelende wijze uiteenlopende figuren als François Haverschmidt (Piet Paaltjens), Menno ter Braak, Halbo Kool, Jan Emmens, Jan Arends, Dirk de Witte, Jan Emiel Daele, Jotie T'Hooft en tal van anderen. Deze nieuwe editie bevat ook levensgeschiedenissen van overledenen in de laatste jaren: Adriaan Venema, Anil Ramdas, Nanne Tepper, Joost Zwagerman en Wim Brands.
Aan De laatste deur is een supplement toegevoegd (De zwarte zon, De versierde dood en verspreide opstellen) met essays over buitenlandse schrijvers en onderwerpen als zelfmoordverenigingen en –sekten, en geruchten en verzinsels over zelfmoord. Een aantal van deze opstellen is niet eerder in boekvorm verschenen.
Auteur(s) : Jeroen Brouwers
Uitgeverij : Atlas Contact
ISBN : 9789045021089
Taal : Nederlands
Uitvoering : Hardcover
Aantal pagina's : 1400
Verschijningsdatum : 15-03-2017
Afmetingen : 314 x 254 x 27 mm.
Gewicht : 700 gr.
fleursdumal.nl magazine
More in: - Archive Tombeau de la jeunesse, - Book News, Art & Literature News, Babylon, Frans, Brands, Wim, DRUGS & MEDICINE & LITERATURE, Galerie des Morts, Jeroen Brouwers, Zwagerman, Joost
---
 Gedichtendag  2017 (26 januari)
 Poëzieweek 2017 (26 januari t/m/ 1 februari)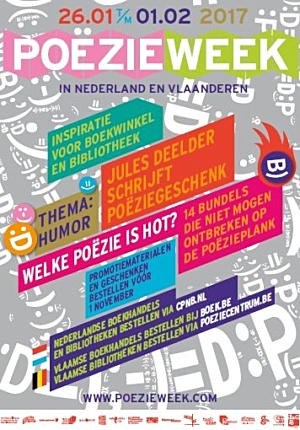 Opening Poëzieweek 2017 (26 januari t/m/ 1 februari)
Met Gedichtendag gaat op de laatste donderdag van januari traditiegetrouw de Poëzieweek van start. Gedichtendag, sinds 2000 georganiseerd door Poetry International Rotterdam, is hét poëziefeest van Nederland en Vlaanderen. Poëzieliefhebbers in Nederland en Vlaanderen organiseren die dag een grote diversiteit aan eigen poëzieactiviteiten en ook de media klinken die dag een stuk poëtischer.
Voor de enorme hoeveelheid optredens, publicaties, poëzieprijzen, -programma's en -activiteiten is één dag simpelweg veel te kort!
Verspreid poëzie op social media
Breng poëzie in uw leven! Laat u inspireren door de foto-gedichten en deel het op social media met #Gedichtendag. Wijs vrienden en contacten op website poezieweek.com
Lees ook poëzie op website: fleursdumal.nl magazine
 Dicht mee!
More in: Art & Literature News, CLASSIC POETRY, CONCRETE & VISUAL POETRY, EDITOR'S CHOICE, EXPERIMENTAL POETRY, LIGHT VERSE, Literary Events, MODERN POETRY, POETRY ARCHIVE, Poëzieweek, PRESS & PUBLISHING, SOUND POETRY, STREET POETRY, The talk of the town
---
Older Entries »
Thank you for reading FLEURSDUMAL.NL - magazine for art & literature