EDITOR'S CHOICE
·
The Unaccompanied. Poems by Simon Armitage
·
Afterland. Poems by Mai Der Vang
·
Biografie Lucebert door Wim Hazeu
·
Dichter Menno Wigman (51) overleden
·
Open ogen: Gedichten van Remco Campert
·
Lecture & rencontre: Kate Tempest à Paris – Écoute la ville tomber
·
Bob Dylan compleet. Het verhaal van de 492 songs – 2e druk
·
The Nobel Lecture Hardcover by Bob Dylan
·
An exploration of nature of creative invention: Devotion by Patti Smith
·
Paul Bezembinder: In memoriam Joseph Brodsky
·
K. Schippers gedichten: Garderobe, kleine zaal
·
Joshua Seigal: I Don't Like Poetry
A powerful new collection of poetry from the National Book Critics Circle Award nominee and recipient of the Forward Poetry Prize.
In The Unaccompanied, Armitage gives voice to the people of Britain with a haunting grace.
We meet characters whose sense of isolation is both emotional and political, both real and metaphorical, from a son made to groom the garden hedge as punishment, to a nurse standing alone at a bus stop as the centuries pass by, to a latter-day Odysseus looking for enlightenment and hope in the shadowy underworld of a cut-price supermarket.
We see the changing shape of England itself, viewed from a satellite "like a shipwreck's carcass raised on a sea-crane's hook, / nothing but keel, beams, spars, down to its bare bones."
In this exquisite collection, Armitage X-rays the weary but ironic soul of his nation, with its "Songs about mills and mines and a great war, / lines about mermaids and solid gold hills, / songs from broken hymnbooks and cheesy films"–in poems that blend the lyrical and the vernacular, with his trademark eye for detail and biting wit.
Simon Armitage was born in West Yorkshire and is Professor of Poetry at the University of Sheffield. A recipient of numerous prizes and awards, he has published eleven collections of poetry, including Seeing Stars, Paper Aeroplane: Selected Poems 1989 – 2014, and his acclaimed translation of Sir Gawain and the Green Knight.
The Shout: Selected Poems, was nominated for the National Book Critics Circle Award and his translation of the medieval poem Pearl received the 2017 PEN Award for Poetry in Translation. He writes extensively for radio and television, has published three best-selling non-fiction titles, and his theatre works include The Last Days of Troy, performed at Shakespeare's Globe in London. He has taught at the University of Iowa's Writers' Workshop, and in 2015 was appointed Professor of Poetry at Oxford University.
Simon Armitage
The Unaccompanied
Poems
Published by Knopf
Hardcover
$27.00
Aug. 2017
96 Pages
ISBN 9781524732424
new poetry
fleursdumal.nl magazine
More in: - Book News, Archive A-B, Archive A-B, Art & Literature News, EDITOR'S CHOICE
---
*Walt Whitman Award Winner 2016
*One of The New Yorker's Poetry I Was Grateful For in 2017, selected by Dan Chiasson
*One of The Brooklyn Rail's Best Books of 2017
"[Afterland] reminds us what a distinctive instrument the human imagination is, no matter what tune it plays. There is a story in this book, and an important one. . . . Vang writes strikingly, often chillingly visual poems, their images projected one at a time, like slides in a lecture, or perhaps in a trial. . . . Afterland works its wonders with an intentionally rationed vocabulary, its counters combined and recombined in poem after poem: stars, water, hair, bones, fire. . . . The style creates an atmosphere of impending marvels, and many of Vang's poems perform, in words, the transformations that they describe . . . . [Afterland] is among the most satisfying débuts by an American poet in some time."  — The New Yorker
"When I make the crossing, you must not be taken no matter what the current gives. When we reach the camp,
there will be thousands like us.?
If I make it onto the plane, you must follow me to the roads and waiting pastures of America.
We will not ride the water today on the shoulders of buffalo as we used to many years ago, nor will we forage?  for the sweetest mangoes.
I am refugee. You are too. Cry, but do not weep."  — from "Transmigration"
"Afterland has haunted me. I keep returning to read these poems aloud, hearing in them a language at once atavistic, contemporary, and profoundly spiritual. Mai Der Vang confronts the Secret War in Laos, the flight of the Hmong people, and their survival as refugees. That a poet could absorb and transform these experiences in a single generation—incising the page with the personal and collective utterances of both the living and the dead, in luminous imagery and a surprising diction that turns both cathedral and widow into verbs, offering both land and body as swidden (slashed and burned)—is nothing short of astonishing.Here is deep attention, prismatic intelligence, and fearless truth."  — Carolyn Forché, judge's statement for the Walt Whitman Award
Mai Der Vang
Afterland. Poems
Pages: 104
Pub Date: April 4, 2017
Poetry
Paperback, $16.00
ISBN: 978-1-55597-770-2
2016 Walt Whitman Award winner
new books
fleursdumal.nl magazine
More in: - Book News, - Book Stories, Archive U-V, Archive U-V, Art & Literature News, EDITOR'S CHOICE
---
Lucebert verscheen als een komeet, zo schreef Gerrit Kouwenaar, en maakte zich binnen vijf jaar als dichter en later als schilder waar. Tot op de dag van vandaag wordt hij gezien als een van de grootste dichters in ons taalgebied.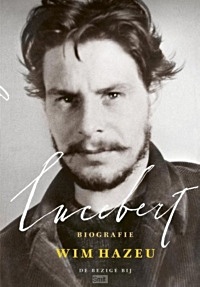 Kouwenaar schreef ook: 'Wij zijn allemaal van de oorlog, het leed en hoge tonen.' Wat dat voor Lucebert (1924-1994) betekende, beschrijft Wim Hazeu in deze meeslepende biografie, die voor een deel gebaseerd is op eerder ontoegankelijke of onbekende bronnen. Lucebert is het levensverhaal van een gepassioneerde dichter en beeldend kunstenaar.

Deze meeslepende en onthullende biografie is ook het schokkende verhaal van een allesbepalende oorlog die daaraan voorafging. Het is het verhaal van worsteling en succes. Het is het verhaal van het naoorlogse artistieke leven, waarin Lucebert verzet aantekent tegen autoriteiten die politiek en kunst bij het oude willen laten.
Het is het verhaal over de dichters en kunstenaars die Lucebert omringden: Bertus Aafjes, Armando, Hans Andreus, Karel Appel en talloze anderen. En het is een verhaal over liefde en geliefden, over avonturen in Amsterdam, Bergen, Berlijn, Frankrijk, Italië en Spanje. Het leven van Lucebert was complex, en dit stelde Wim Hazeu voor vraagstukken die hij als biograaf nog niet eerder had hoeven oplossen.
Wim Hazeu (1940) was na zijn studie Nederlands werkzaam als journalist, radio- en televisieprogrammamaker en uitgever.
Publiceerde naast verschillende romans en dichtbundels omvangrijke biografieën van Achterberg, Slauerhoff (bekroond met de biografieprijs van de Dordtse Academie), M.C. Escher en S. Vestdijk (op deze biografie is hij aan de Groningse Universiteit gepromoveerd).
Ook bezorgde hij de briefwisseling tussen S. Vestdijk en Henriëtte van Eyk, Wij zijn van elkaar (2007). In 2012 verscheen zijn biografie over Marten Toonder waarvoor hij toegang kreeg tot de nalatenschap van Marten en Jan Gerhard Toonder en Toonders vrouw Phiny Dick.
Auteur: Wim Hazeu
Titel: Biografie Lucebert
Aantal pagina's: 976
Uitvoering: Gebonden
ISBN10 9403104708
ISBN13 9789403104706
Taal: Nederlands
Onderwerp: Literaire non-fictie
Uitgever: Uitgeverij De Bezige Bij b.v.
Druk: 1
Verwacht: 7 februari 2018
Prijs: €39,99
new books
fleursdumal.nl magazine
More in: - Book News, - Book Stories, Archive G-H, Archive K-L, Archive K-L, Art & Literature News, Lucebert
---
Menno Wigman (Beverwijk, 10 oktober 1966 – Amsterdam, 1 februari 2018) was een Nederlands dichter, bloemlezer en vertaler. Hij stierf vandaag op 51-jarige leeftijd in het VU medisch centrum in Amsterdam.
Van 1984 tot aan zijn dood publiceerde Wigman 14 dichtbundels. Voor zijn werk ontving Menno Wigman in 2002 de Jan Campert-prijs en in 2015 de A. Roland Holst-Penning. In de jaren 2012-2013 was hij stadsdichter van Amsterdam.
Vandaag schreef zijn uitgever Prometheus in een verklaring: "Wij treuren om het verlies van een van de grootste dichters van ons taalgebied. Menno Wigman was een van die weinige dichters die zowel zijn vakgenoten als het grote, in literatuur geïnteresseerde publiek voor zijn dichtkunst wist te winnen. Zijn dood is een slag voor de Nederlandse poëzie."
Nu lig ik op een zaal, mijn hart, die logge spier,
verlaat me, laf als een gedicht laat het me staan
en voor het eind van deze avond zakt de dood
mijn longen in.
De zon was mij nooit opgevallen als hij niet
steeds onderging. Geen lucht, geen flonkering, geen hoop.
Waarom, mijn lichaam, heb ik nooit in je geloofd?
(uit: Afscheid van mijn lichaam)

#  Link  naar  Menno  Wigman  en  zijn  werk  op website  K. B.
Foto: Menno Wigman op het poëziefestival Het Tuinfeest in Deventer, 6 augustus 2016 (Oskardebot, Wikipedia Commons)
in memoriam
fleursdumal.nl magazine
More in: Archive W-X, Archive W-X, Art & Literature News, EDITOR'S CHOICE, In Memoriam
---
De wereld kwam niet eerder zo hard binnen in de gedichten van Remco Campert.
Ik zag een jongetje zitten
verwezen op een stoeltje
bedekt met bloed
en asgrauw puinstof
onder een huis weggehaald
met bommen bestookt
door Assads moordenaarstroep
dit gedicht helpt hem niet
maar het is genoteerd
Gevoelig voor de tijdgeest raapt Remco Campert de scherven van de wereld op en smelt ze om tot taal. Hij neemt de poëzie mee naar buiten, waar hij met 'regels dikbuikig van woorden de oude foxtrot' danst. Met een open blik bevraagt hij de poëzie, daagt haar uit, onderzoekt haar onbeholpenheid. Zo vernieuwt hij zichzelf. Zijn bevlogen gedichten roepen om vrijheid: 'open die kooi voor het laatst en voorgoed'.
en nu jij die binnenkomt
ik open als een bloem
een oester een deur
word van ik tot wij
Remco Campert (1929) is dichter, romancier en columnist.
Voor zijn poëzie ontving hij onder meer de Reina Prinsen Geerligsprijs, de Poëzieprijs van de gemeente Amsterdam, de Jan Campertprijs, de P.C. Hooft-prijs en De Gouden Ganzenveer. In 2015 werd hij bekroond met de Prijs der Nederlandse Letteren.
De vader van Remco Campert was de dichter Jan Campert, die 'Het Lied der Achttien Dooden' schreef, zijn moeder de actrice Joeki Broedelet.
Voorjaar 1950 richt Remco Campert met Rudy Kousbroek het tijdschrift Braak op. In juli van hetzelfde jaar wordt de redactie uitgebreid met Lucebert en Bert Schierbeek.
Na het verschijnen van de bloemlezing Atonaal in 1951, onder redactie van Simon Vinkenoog, worden de daarin opgenomen dichters onder wie Gerrit Kouwenaar, Jan G. Elburg en Hugo Claus, aangeduid als de Vijftigers.
Remco Camperts verhalen en romans worden gewaardeerd door een groot publiek en boeken als Het leven is vurrukkulluk (1961) en Tjeempie! of Liesje in luiletterland (1968) staan nog steeds op de leeslijsten.
In 1976 ontvangt hij de P.C. Hooftprijs voor zijn poëzie: 'Het hele poëtische oeuvre van Remco Campert overziend, is de jury onder de indruk gekomen van de persoonlijke kroniek van de jaren 1950-1970 die erin is neergeschreven. De hachelijke en belachelijke feiten van deze levensperiode zijn door de dichter onvergetelijk geboekstaafd.'
Van 1989 tot 1995 leest Campert met Jan Mulder en Bart Chabot in theaters voor uit eigen werk. Van 1996 tot 2006 schrijft Campert samen met Mulder een gezamenlijke column op de voorpagina van de Volkskrant, CaMu.
Sinds 2012 heeft hij in deze krant een eigen wekelijkse column en daarnaast zijn 'Somberman', over het gelijknamige personage dat hij voor het eerst opvoerde in Somberman's actie, het Boekenweekgeschenk van 1985.
In 2004 verscheen Een liefde in Parijs, zijn eerste roman in meer dan tien jaar, die zeer lovend werd besproken en uitgroeide tot een grote bestseller. Het Parool schreef: 'Hier is de meester aan het werk.'
In 2006 volgde Het satijnen hart, een weemoedig portret van een schilder die tot op hoge leeftijd niet kan kiezen tussen liefde en kunst. Recent verschenen onder meer de roman Hôtel du Nord (2013), de dichtbundels Licht van mijn leven (2014, met litho's van Ysbrant) en Verloop van jaren: 40 poëtische notities (2015) en De ziel krijgt voeten (2013), het fotoboek dat hij maakte met zijn dochter Cleo Campert.
Zijn verzamelde columns voor de Volkskrant zijn te lezen in Het verband tussen de dingen ben ik zelf (2012), Te vroeg in het seizoen (2014) en Vandaag ben ik een lege kartonnen doos (2015).
Remco Campert houdt nooit op met schrijven, sinds begin 2016 heeft hij ook een column in Elsevier. In de loop van dit jaar zullen de Somberman-verhalen verschijnen onder de titel Somberman op drift en eveneens een nieuwe bundeling van zijn columns.
Auteur: Remco Campert
Titel: Open ogen
Januari 2018
Druk:1
Hardcover
Nederlandstalig
80 pagina's
Uitgever: De Bezige Bij
€ 17,99
ISBN10 9023462831
ISBN13 9789023462835
fleursdumal.nl magazine
More in: Archive C-D, Archive C-D, Art & Literature News, Campert, Remco, Remco Campert
---

Mercr. 17/01-2018 – 20h
Lecture & rencontre
Kate Tempest
Écoute la ville tomber
Rencontre animée par Clémentine Goldszal
Interprète : Marguerite Capelle
tarif : 5 € / adhérent : 0 € RÉSERVER
Maison de la Poésie
Passage Molière
157 rue Saint-Martin
75003 Paris
www.maisondelapoesieparis.com
Becky, Harry, Leon, Pete. Quatre jeunes gens dans le Londres d'aujourd'hui. Ils ont des rêves, des aspirations, que la ville nourrit puis feint d'encourager pour mieux les broyer. Écoute la ville tomber est le roman d'une génération abîmée par le cynisme mais qui refuse d'abandonner l'utopie. Kate Tempest attrape le lecteur à chaque phrase, avec la furieuse envie de montrer le monde tel qu'il est. Sorti en 2016 en Angleterre, le roman est resté plusieurs semaines dans la liste des best-sellers du Sunday Times, atteignant les 100 000 exemplaires.
Poétesse, musicienne et performeuse mêlant rap, slam, rock & spoken word, Kate Tempest est, à 30 ans à peine, une artiste majeure du temps présent. Comparée à Zadie Smith ou à Virginie Despentes, cette jeune prodige surprend et impressionne, elle cristallise toutes les révoltes qui animent nos temps troubles.
À lire – Kate Tempest, Écoute la ville tomber, traduit de l'anglais par Madeleine Nasalik, Rivages, 2018. Les Nouveaux anciens, trad. de l'anglais par D' de Kabal et Louise Bartlett, L'Arche, 2017.
À écouter – Kate Tempest, Let Them Eat Chaos, Fiction Records, 2016.
Les nouveaux anciens
Kate Tempest 
Paru le 18 octobre 2017
Poésie, broché
Editeur Arche
Nombre de pages 72
Traduit de l'anglais par D' de Kabal et Louise Bartlett
ISBN : 978-2-85181-928-4 – €12
Dans ce poème épique urbain, Kate Tempest revisite par les mythes nos vies modernes désenchantées. Selon elle, les dieux de l'Antiquité resurgissent dans le monde contemporain à travers nos actes quotidiens de violence, de bravoure, de sacrifice ou d'amour. Nous sommes toujours mythiques, nous sommes toujours divins. Elle dépeint ainsi une traversée des âges, de la naissance à la mort de l'être humain, sans occulter ses failles, ses erreurs ni ses regrets. Célébrant l'humain trop humain des supermarchés, des rues, des bars et des open-space, elle s'inscrit dans la tradition d'un hip hop old-school, entre poésie, rap et poésie parlée. Une écriture dramatique puissamment cadencée, avec une rythmique très musicale et un « flow » à couper le souffle.
Ecoute la ville tomber
Kate Tempest
Madeleine Nasalik (Traducteur)
Traduit de l'anglais
Collection: Littérature étrangère Rivages
ISBN: 978-2-7436-4199-3
EAN: 9782743641993
Parution: janvier, 2018
400 pages
Format : 14.0 x 20.5
Prix: €22,50
Becky, Harry, Leon. Ils sont jeunes, hésitent entre le cynisme et le besoin éperdu d'utopie. Chacun a des rêves, des aspirations, que la ville nourrit et feint d'encourager pour mieux les broyer. Ce roman résonne des bruits et du rythme de notre époque, dans la prose incandescente de Kate Tempest, star du hip-hop, poétesse et artiste déjà légendaire à 30 ans à peine, admirée par Virginie Despentes, Lola Lafon ou Don DeLillo. Best-seller international, ce livre impose la jeune Anglaise comme une voix majeure de la scène littéraire d'aujourd'hui.
Kate Tempest
Lecture & rencontre
Mercr. 17/01-2018 – 20h
Maison de la Poésie
75003 Paris
fleursdumal.nl magazine
More in: Archive S-T, Archive S-T, Art & Literature News, Kate Tempest, Literary Events, Tempest, Kate, TRANSLATION ARCHIVE
---
Bob Dylan Compleet is een reis van het absolute begin naar het meest recente einde, onderweg stoppend bij albums en outtakes, films en concerten – alles gebaseerd op interviews met de songwriter zelf en de muzikanten, producers en bekenden om hem heen.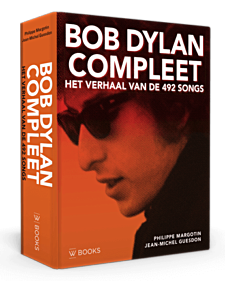 Daarbij is het boek rijk geïllustreerd met zowel iconische als onbekendere foto's van de beste fotografen uit de rockscene. Dit is een bijbel voor alle fans die het waard is om keer op keer uit de kast getrokken te worden bij het beluisteren van de klassieke liedjes.
Het is een uitgebreid en onmisbaar overzicht van een muzikale carrière die dit jaar werd en wordt gevierd met de 75ste verjaardag van Bob Dylan, een nieuw album en een optreden op Coachella (een van de grootste muziekfestivals in Amerika). Daarbij heeft Dylan de Nobelprijs voor de Literatuur in 2016 gewonnen.
704 pagina's, 492 nummers. Bob Dylan Compleet vertelt chronologisch en zonder een detail over te slaan het verhaal van een songwriter en muzikant die niet alleen in de muziek- maar ook in de wereldgeschiedenis een bijzondere plaats in neemt.
Philippe Margotin en Jean-Michel Guesdon schreven eerder de internationale hit The Beatles Compleet.
Jean-Michel Guesdon, Philippe Margotin
Bob Dylan compleet I
Het verhaal van de 492 songs – 2e druk
ISBN 9789462581548
Jaar 2016
2e Druk 2017
€ 59,95
704 pagina's
Taal Nederlands
Gebonden
Formaat 20,5 x 27 cm
Uitgeverij WBOOKS B.V.
fleursdumal.nl magazine
More in: - Book News, - Book Stories, Archive C-D, Art & Literature News, Bob Dylan, Dylan, Bob
---
Published for the first time in a beautiful collectible edition, the essential lecture delivered by the 2016 recipient of the Nobel Prize in Literature, Bob Dylan.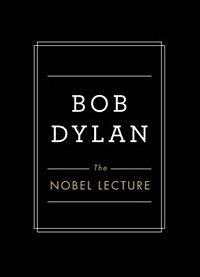 On October 13, 2016, Bob Dylan was awarded the Nobel Prize in Literature, recognizing his countless contributions to music and letters over the last fifty years. Some months later, he delivered an acceptance lecture that is now memorialized in book form for generations to come.
In The Nobel Lecture, Dylan reflects on his life and experience with literature, providing both a rare artistic statement and an intimate look at a uniquely American icon.
From finding inspiration in the music of Buddy Holly and Leadbelly to the works of literature that helped shape his own approach to writing—The Odyssey, Moby-Dick, and All Quiet on the Western Front—this is Dylan like you've never seen him before.
Bob Dylan
The Nobel Lecture Hardcover
32 pages
Hardcover
October 31, 2017
Language: English
ISBN-10: 1501189409
ISBN-13: 978-1501189401
$10.73
Publisher: Simon & Schuster
fleursdumal.nl magazine
More in: - Book News, - Bookstores, Archive C-D, Art & Literature News, Awards & Prizes, Bob Dylan, Dylan, Bob
---
A work of creative brilliance may seem like magic — its source a mystery, its impact unexpectedly stirring.
How does an artist accomplish such an achievement, connecting deeply with an audience never met? In this groundbreaking book, one of our culture's beloved artists offers a detailed account of her own creative process, inspirations, and unexpected connections.
Patti Smith first presents an original and beautifully crafted tale of obsession—a young skater who lives for her art, a possessive collector who ruthlessly seeks his prize, a relationship forged of need both craven and exalted.
She then takes us on a second journey, exploring the sources of her story. We travel through the South of France to Camus's house, and visit the garden of the great publisher Gallimard where the ghosts of Mishima, Nabokov, and Genet mingle.
Smith tracks down Simone Weil's grave in a lonely cemetery, hours from London, and winds through the nameless Paris streets of Patrick Modiano's novels. Whether writing in a café or a train, Smith generously opens her notebooks and lets us glimpse the alchemy of her art and craft in this arresting and original book on writing.
The Why I Write series is based on the Windham-Campbell Lectures, delivered annually to commemorate the awarding of the Donald Windham-Sandy M. Campbell Literature Prizes at Yale University.
From the renowned artist and author Patti Smith, an inspired exploration of the nature of creative invention:
Title Devotion
Author Patti Smith
Publisher Yale University Press
Hardcover
112 pages
ISBN-10 0300218621
ISBN-13 9780300218626
Publication September 2017
$18.00
More Patti Smith titles:
– Collected Lyrics 1970 – 2015
– M Train
– Just Kids
– Auguries of Innocence – Poems
fleursdumal.nl magazine
More in: - Book News, - Book Stories, Archive S-T, Art & Literature News, Literaire sporen, Patti Smith, Smith, Patti
---
In memoriam Joseph Brodsky
Dat het gevoel geïncarneerd te zijn
niet doorbreekt, Iosif, is niet werkelijk
jouw fout. Als abstractie en scholastiek
een uitweg bieden als het ongeluk
verstoppertje spelen wil met de pijn,
so be it. Velen worden geestesziek
nadat het ziektebeeld is vastgesteld.
'Een parasiet.' Er wordt niet bijverteld
wat verder de verwachtingen nog zijn.
Jij overleeft het, Joseph, gaat publiek,
wordt een socialite of sorts en laat
jouw duizelingwekkende acrobatiek
een stug verlangen naar de verte zijn.
En nu jij voorgoed vertrokken bent,
nou missen we jou en je vreselijke
enjambementen, jouw smartelijke
sjamanenstem, je gedichten, je pijn.
Paul Bezembinder
fleursdumal.nl magazine
More in: Archive A-B, Bezembinder, Paul, Brodsky, Joseph, POETRY IN TRANSLATION: BEZEMBINDER
---
Wat waren de laatste plekken van zijn kat?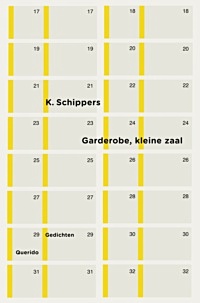 Wat krijg je als een iPad Engels van je Nederlands wil maken? Kun je de druppels in een glas water tellen?
Als jassen uit verschillende werelden bij elkaar in een garderobe, zo gevarieerd zijn de gedichten van K. Schippers.
Van licht naar ernstig, van verhalend naar een enkel woord – opnieuw verrast hij ons met zijn liefde voor de dingen waaraan we gedachteloos voorbijgaan.
K. Schippers
Garderobe, kleine zaal
Gedichten
Uitgeverij: Querido
NUR: 306
Paperback
ISBN: 9789021407388
Prijs: € 17,99
Publicatiedatum: 22-08-2017
K. Schippers Gedichten
fleursdumal.nl magazine
More in: - Book Lovers, - Book News, Archive S-T, Art & Literature News, K. Schippers, Schippers, K.
---
Packed full of silly, funny, or downright hilarious poems (with a few serious ones mixed in) this brilliant collection from exciting young poet, Joshua Seigal is perfect for fans of Michael Rosen and anyone else who needs a giggle.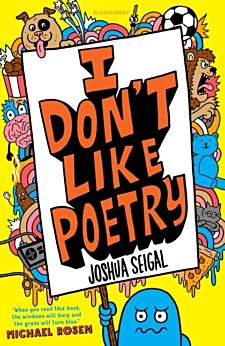 If you like poetry, you'll like this book. And if you don't like poetry you'll LOVE it!
Joshua Seigal is a poet, performer and workshop leader who spends his time visiting schools, libraries and theatres around the country and beyond. He has taken critically-acclaimed poetry shows to the Edinburgh Festival Fringe, but usually ends up performing in front of his mirror, using a hairbrush as a microphone. He has managed to gain the minimal skills required to make his own website – www.joshuaseigal.co.uk.
'When you read this book, the windows will burp and the grass will turn blue. That's how magic these poems are.' Michael Rosen
'If … you still think "I don't like poetry," this might be the collection for you: Joshua Seigal's very imaginative and wonderful collection." Nicolette Jones, The Times
Joshua Seiga writes: Poetry, Poetry 7+, Poetry 8+
Joshua Seiga is author of : Little Lemur Laughing, I Don't Like Poetry
I Don't Like Poetry by Joshua Seigal
Format: Paperback
Edition: 1st
ISBN: 9781472930033
Imprint: Bloomsbury Education
Illustrations: B&W
Dimensions: 198 x 129 mm
£5.99
new books
fleursdumal.nl magazine
More in: - Book Lovers, - Book News, Archive S-T, Archive S-T, Art & Literature News, EDITOR'S CHOICE, LIGHT VERSE
---
Older Entries »
Thank you for reading FLEURSDUMAL.NL - magazine for art & literature