Archive Q-R
·
Time-Stone by Lola Ridge
·
Edmond Rostand: Les Rois Mages
·
The Song by Lola Ridge
·
Jean-Joseph Rabearivelo: Fièvre des îles
·
Edmond Rostand: Fabre Des Insectes
·
Edmond Rostand: Le Petit Chat
·
Helen Leah Reed: Serbia
·
Op 5 november verschijnt: Mijn lieve gunsteling, de nieuwe roman van Marieke Lucas Rijneveld
·
Jean-Joseph Rabearivelo: Le bien vieux
·
Jean-Joseph Rabearivelo: Images lunaires
·
Helen Leah Reed: The Titanic
·
Dutch writer Marieke Lucas Rijneveld is the winner of The 2020 International Booker Prize
Time-Stone
Hallo, Metropolitan –
Ubiquitous windows staring all ways,
Red eye notching the darkness.
No use to ogle that slip of a moon.
This midnight the moon,
Playing virgin after all her encounters,
Will break another date with you.
You fuss an awful lot,
You flight of ledger books,
Overrun with multiple ant-black figures
Dancing on spindle legs
An interminable can-can.
But I'd rather… like the cats in the alley… count time
By the silver whistle of a moonbeam
Falling between my stoop-shouldered walls,
Than all your tally of the sunsets,
Metropolitan, ticking among stars.
Lola Ridge
(1873-1941)
Time-Stone
• fleursdumal.nl magazine
More in: Archive Q-R, Archive Q-R, Ridge, Lola
---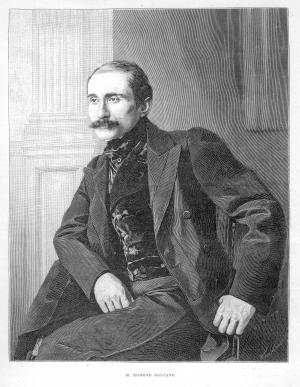 Les Rois Mages
Ils perdirent l'étoile, un soir ; pourquoi perdon
L'étoile ? Pour l'avoir parfois trop regardée,
Les deux rois blancs, étant des savants de Chaldée,
Tracèrent sur le sol des cercles au bâton.
Ils firent des calculs, grattèrent leur menton,
Mais l'étoile avait fuit, comme fuit une idée.
Et ces hommes dont l'âme eût soif d'être guidée
Pleurèrent, en dressant des tentes de coton.
Mais le pauvre Roi noir, méprisé des deux autres,
Se dit 'Pensons aux soifs qui ne sont pas les nôtres,
Il faut donner quand même à boire aux animaux.'
Et, tandis qu'il tenait son seau d'eau par son anse,
Dans l'humble rond de ciel où buvaient les chameaux
Il vit l'étoile d'or, qui dansait en silence.
Edmond Rostand
(1868-1918)
Les Rois Mages
• fleursdumal.nl magazine
More in: Archive Q-R, Archive Q-R, CLASSIC POETRY
---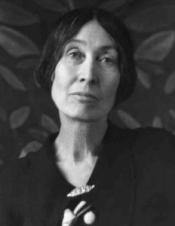 The Song
That day, in the slipping of torsos and straining flanks on the bloodied ooze of fields plowed by the iron,
And the smoke bluish near earth and bronze in the sunshine floating like cotton-down,
And the harsh and terrible screaming,
And that strange vibration at the roots of us…
Desire, fierce, like a song…
And we heard
(Do you remember?)
All the Red Cross bands on Fifth avenue
And bugles in little home towns
And children's harmonicas bleating
America!
And after…
(Do you remember?)
The drollery of the wind on our faces,
And horizons reeling,
And the terror of the plain
Heaving like a gaunt pelvis to the sun…
Under us – threshing and twanging
Torn-up roots of the Song…
Lola Ridge
(1873-1941)
The Song
• fleursdumal.nl magazine
More in: Archive Q-R, Archive Q-R, Ridge, Lola
---
Fièvre des îles
Le soleil s'est-il brisé sur ta tête
pour que tu sentes ses éclats s'enfoncer
dans l'arbre qui soutient ton dos,
puis vriller à sec dans les branches de ton corps ?
Ton crâne est un énorme fruit vert que mûrit
la canicule de tous les Tropiques –
de tous les Tropiques, mais sans la fraîcheur
de leurs palmiers ni de leur brise marine!
Ta gorge est sèche, tes yeux s'enflamment ;
et voici que tu vois, au-delà de ce que voient les hommes,
tous les Tropiques:
voici des makis parés comme des mariés;
leurs quatre mains sont chargées de régimes de bananes,
et chargées de fleurs jamais vues par ceux qui ne sont pas
des gens de forêts;
et, parmi leur voix heureuse de se baigner au soleil,
voici tout le tumulte des cascades.
Mais, simultanément,
est-ce la glace de la terre qui t'appelle
qui déjà t'enveloppe tout entier,
pour que tu sentes ce frisson à travers tout ton être,
et pour que tu sembles vouloir te cacher sous
les nuages du ciel,
et sous toutes les feuilles des sylves insulaires,
et sous toutes leurs lourdes brumes,
et sous les dernières pluies au parfum de lait brûlé.
Scelle fortement tes lèvres afin que n'en sorte
aucune des choses que tu vois,
mais que ne voient pas les autres !
Que te berce cet écho qui s'amplifie
dans tes oreilles,
lesquelles sont devenues deux coquillages jumeaux
où palpite la mer qui t'entoure,
ô jeune enfant des îles!
Jean-Joseph Rabearivelo
(1901? 1903? – 1937)
Fièvre des îles (poème)
• fleursdumal.nl magazine
More in: Archive Q-R, Archive Q-R, Jean-Joseph Rabearivelo
---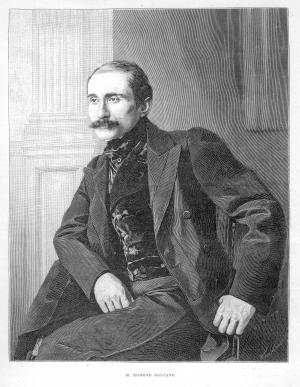 Fabre Des Insectes
I
Sachant que l'humble arpent d'un jardinet claustral
Contient plus de secrets qu'un mortel n'en pénètre,
Il vit seul comme un pâtre et pauvre comme un prêtre,
Et d'un grand feutre noir coiffé comme Mistral.
C'est un homme incliné, modeste et magistral,
Qui plus qu'un monde au loin cherche à ses pieds un être,
Et qui, ne regardant que ce qu'on peut connaître,
Préfère un carré d'herbe à tout le ciel astral.
Pensif, -car dans ses doigts il a tenu des ailes, –
Poursuivant les honneurs moins que les sauterelles,
-Les sommets rêvent-ils d'être des sommités? –
Il nous offre une vie égale aux fiers poèmes,
Et des livres qu'un jour il faudra que ceux mêmes
Feignent de découvrir, qui les ont imités.
II
Une vie admirable. Aucun homme n'a dû
Fréquenter de plus près la maternelle argile.
Son bosquet de lilas lui tient lieu d'Évangile.
D'un Fabre d'Eglantine il semble descendu.
Il guette tout un jour ce qu'il n'a qu'entendu
Il ne peut s'ennuyer, sachant par coeur Virgile.
S'il découvre un insecte éclatant et fragile,
Il lui donne le nom du fils qu'il a perdu.
Quand il rentre, le soir, avec sa découverte,
La Vérité peut-être est dans sa boîte verte,
Car du puits d'un insecte elle peut émerger.
Voilà sa vie. Elle est simple, triste, ravie.
Il n'enlève jamais son chapeau de berger.
Et ses livres se font tout seuls, avec sa vie.
Il a vu, du plus haut problème effleurant l'x,
Jusqu'où l'instinct triomphe et quand il capitule,
Et comment le papier, le coton et le tulle
Sont faits par la Psyché, la Guêpe et le Bombyx.
O peuple merveilleux de métal et d'onyx!
Le Grillon d'Italie est un petit Catulle.
Le Pompile attaquant tout seul la Tarentule
Est grand comme Roland ou Vercingétorix.
Tout l'univers est là… combattants, parasites…
L'un vit de ses exploits, l'autre de ses visites.
Il y a le maçon, le potier, le tailleur.
Tu ravaudes, Clotho; Balanin, tu perfores;
Bousier, tu suis ton nom; toi, Cigale, ton coeur;
Et vous, vous attendez, dans un coin, Nécrophores!
III
Les Insectes Lui Parlent.
«Et nous, nous nous chargeons de ton Apothéose.
Car nous fûmes toujours les amis les meilleurs.
Nous, Tes Insectes, ceux de Vaucluse et d'ailleurs,
Voulons tous dans ta gloire être pour quelque chose.
«La fourmilière sculpte, et la ruche compose.
Une étoile d'argent se tisse entre deux fleurs.
Tu sais que nous savons réussir des splendeurs.
Fabre, le souviens-tu de la chapelle rose?
«Te souviens-tu qu'un jour, en haut du mont Veutoux,
Tu vis un temple obscur et bâti loin de tous
Sur lequel nous étions cent mille coccinelles?
«La chapelle était rose et semblait en corail!
Ainsi, la solitude aura sur son travail
Une gloire vivante et faite avec des ailes.»
Edmond Rostand
(1868-1918)
Fabre Des Insectes
• fleursdumal.nl magazine
More in: Archive Q-R, Archive Q-R, MUSEUM OF NATURAL HISTORY - department of ravens & crows, birds of prey, riding a zebra, Natural history
---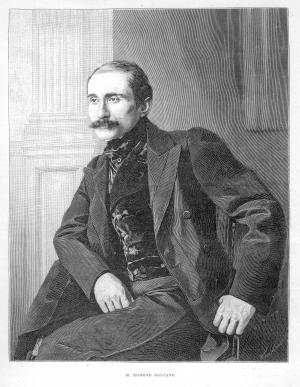 Le Petit Chat
C'est un petit chat noir effronté comme un page,
Je le laisse jouer sur ma table souvent.
Quelquefois il s'assied sans faire de tapage,
On dirait un joli pressepapier vivant.
Rien en lui, pas un poil de son velours ne bouge ;
Longtemps, il reste là, noir sur un feuillet blanc,
A ces minets tirant leur langue de drap rouge,
Qu'on fait pour essuyer les plumes, ressemblant.
Quand il s'amuse, il est extrêmement comique,
Pataud et gracieux, tel un ourson drôlet.
Souvent je m'accroupis pour suivre sa mimique
Quand on met devant lui la soucoupe de lait.
Tout d'abord de son nez délicat il le flaire,
La frôle, puis, à coups de langue très petits,
Il le happe ; et dès lors il est à son affaire
Et l'on entend, pendant qu'il boit, un clapotis.
Il boit, bougeant la queue et sans faire une pause,
Et ne relève enfin son joli museau plat
Que lorsqu'il a passé sa langue rêche et rose
Partout, bien proprement débarbouillé le plat.
Alors il se pourlèche un moment les moustaches,
Avec l'air étonné d'avoir déjà fini.
Et comme il s'aperçoit qu'il s'est fait quelques taches,
Il se lisse à nouveau, lustre son poil terni.
Ses yeux jaunes et bleus sont comme deux agates ;
Il les ferme à demi, parfois, en reniflant,
Se renverse, ayant pris son museau dans ses pattes,
Avec des airs de tigre étendu sur le flanc.
Edmond Rostand
(1868-1918)
Le Petit Chat
• fleursdumal.nl magazine
More in: Archive Q-R, Archive Q-R, Natural history
---
Serbia
Serbia, valiant daughter of the Ages,
Happiness and light should be thy portion!
Yet thy day is dimmed, thine heart is heavy;
Long hast thou endured–a little longer
Bear thy burden, for a fair to-morrow
Soon will gleam upon thy flower-spread valleys,
Soon will brighten all thy shadowy mountains;
Soon will sparkle on thy foaming torrents
Rushing toward the world beyond thy rivers.
Bulgar, Turk and Magyar long assailed thee.
Now the Teuton's cruel hand is on thee
Though he break thy heart and rack thy body,
'Tis not his to crush thy lofty spirit.
Serbia cannot die. She lives immortal,
Serbia–all thy loyal men bring comfort
Fighting, fighting, and thy far-flung banner
Blazons to the world thy high endeavor,
–This thy strife for brotherhood and freedom–
Like an air-free bird unknowing bondage,
Soaring far from carnage, smoke and tumult,
Serbia–thy soul shall live forever!
Serbia, undaunted is, immortal!
Helen Leah Reed
(1864–1926)
Serbia
(Poem)
• fleursdumal.nl magazine
More in: #More Poetry Archives, Archive Q-R, Archive Q-R
---
Mijn lieve gunsteling, de nieuwe roman van Marieke Lucas Rijneveld, verschijnt op 5 november.
Het is het verhaal van de veearts en zijn 'uitverkorene', de dochter van een boer. Tijdens een hete zomer zoeken ze toenadering tot elkaar omdat ze willen ontsnappen aan de grilligheid en de leemten van het plattelandsleven en omdat ze willen ontkomen aan wat er in hen gezaaid is. Gedurende die zomer ontwikkelen ze een obsessieve fascinatie voor elkaar.
De beklemmende bekentenis Mijn lieve gunsteling is een hartverscheurend en tegelijk angstaanjagend verhaal over verlies, verboden liefde, eenzaamheid en identiteit. Het is daarmee een meer dan waardige opvolger van de debuutroman De avond is ongemak waarmee Marieke Lucas Rijneveld als eerste Nederlandse schrijver de International Booker Prize won.
Mijn lieve gunsteling
Marieke Lucas Rijneveld
ISBN 9789025470142
Pagina's: 368
Type: Hardback
Verwacht: november 2020
Prijs: 24,99
# New books
Marieke Lucas Rijneveld
Mijn lieve gunsteling
• fleursdumal.nl magazine
More in: - Book News, - Bookstores, Archive Q-R, Archive Q-R, Art & Literature News, Marieke Lucas Rijneveld, Rijneveld, Marieke Lucas
---
Le bien vieux
J'avais bien vu des vieux et des vieux
avant de placer mes deux mains
dans celles de celui qui sait lire le Sort
dans les paumes,
avant de les lui offrir
pour qu'il y cherchât les monts et les plaines
cultivés par mon étoile.
J'avais vu des vieux et des vieux,
mais pas un comme celui-là.
La nuit de ses cheveux d'antan
était remplacée par la pleine lune
de sa calvitie,
entourée d'un mince buisson blanc ;
et sa bouche qui ne savait plus parler
qu'aux ancêtres qui l'attendaient,
balbutiait comme celle d'un enfant,
bien qu'elle révélât l'Inconnu.
Que pouvaient encore voir ses yeux lourds
des jours vécus ?
Captive y était sa jeunesse !
Captive sans espoir d'évasion !
Et quand il me regarda, quand il explora
les monts et les plaines
dans le creux de mes mains,
quand son regard éteint croisa le mien
et y devina une flamme pacifique,
je crois encore que sa jeunesse s'y débattait,
s'y débattait en pure perte !
Mais non ! la captive put briser ses liens
et fut délivrée :
elle était réincarnée dans la mienne,
selon la croyance du bien vieux
qui se mirait en moi.
Jean-Joseph Rabearivelo
(1901? 1903? – 1937)
Le bien vieux (poème)
• fleursdumal.nl magazine
More in: Archive Q-R, Archive Q-R, Jean-Joseph Rabearivelo
---
Images lunaires
Clair de lune, clair de lune – et après ?
Ne bois pas trop le lait qui fuit
du pis de cette chienne sauvage et borgne
qui aboie dans les ruines du ciel
comme pour appeler du fond du désert de la nuit
son innombrable progéniture
dont s'ouvrent les yeux en myriades d'étoiles.
Clair de lune, clair de lune – et après ?
Le vent lui-même est laiteux
qui ébranle les ombres sculptées
sur le sol
et augmente le nombre des âmes
visibles de toutes les choses
qui semblent fuir l'aboiement silencieux
mais résonnant partout.
Clair de lune, clair de lune – et après ?
Vois-tu ces oiseaux pacifiques
qui grandissent au cœur du paysage fantomatique ?
Ils paissent l'ombre,
ils picorent la nuit.
De quoi donc leur jabot sera-t-il rempli
lorsque deviendront des chants dans le leur
les épis de riz et de maïs
ravis par les coqs ?
Clair de lune, clair de lune – et après ?
Moi, je ne suis plus assez jeune
pour chercher une sœur lunaire dehors
après les rondes enfantines :
je tiendrai mes enfants dans mes bras jusqu'à ce qu'ils
[s'endorment,
et il est des livres que je lirai avec ma femme
jusqu'à ce que la lune change
et devienne pour nous elle-même
en l'attente de l'aube
qui nous surprendra aux rives du sommeil.
Jean-Joseph Rabearivelo
(1901? 1903? – 1937)
Images lunaires (poème)
•fleursdumal.nl magazine
More in: Archive Q-R, Archive Q-R, Jean-Joseph Rabearivelo
---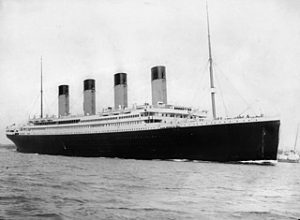 The Titanic
Out of the misty North
A stealthy foeman stole;
Far from the haunted Pole
On the wide sea went he forth,
And he met a giant ship
As he scoured the sea for toll
It cannot reach its goal
Crushed in his icy grip.
"Of every four just three"
This was his deadly dole.
Unseen he called the roll
Ah! a cold grave is the Sea.
Yet the Sea is not the end,
And Life is not the whole.
Over each heroic soul
Shall Eternity extend.
Helen Leah Reed
(1864–1926)
The Titanic
(Poem)
• fleursdumal.nl magazine
More in: #More Poetry Archives, Archive Q-R, Archive Q-R
---
Today, on Wednesday 26 August, The Discomfort of Evening, written by Marieke Lucas Rijneveld and translated from Dutch by Michele Hutchison, is announced as the winner of The 2020 International Booker Prize.
The £50,000 prize will be split between Marieke Lucas Rijneveld and Michele Hutchison, giving both the author and translator equal recognition.
The winner was announced by chair of the judges, Ted Hodgkinson, this evening, at a digital event which was livestreamed across The Booker Prizes Facebook and YouTube pages. The Dutch edition was a bestseller in the Netherlands, where it won the prestigious ANV Debut Prize.
The Discomfort of Evening was chosen from a shortlist of six books during a lengthy and rigorous judging process, by a panel of five judges, chaired by Ted Hodgkinson, Head of Literature and Spoken Word at Southbank Centre. The panel also includes: Lucie Campos, director of the Villa Gillet, France's centre for international writing; Man Booker International Prize-winning translator and writer Jennifer Croft; Booker Prize longlisted author Valeria Luiselli and writer, poet and musician Jeet Thayil, whose novel Narcopolis was shortlisted for the Man Booker Prize in 2012.
Chair of the judges, Ted Hodgkinson says: 'We set ourselves an immense task in selecting a winner from our superb shortlist, filled with fiction bold enough to upend mythic foundations and burst the banks of the novel itself. From this exceptional field, and against an extraordinary backdrop, we were looking for a book that goes beyond echoing our dystopian present and possesses a timeless charge. Combining a disarming new sensibility with a translation of singular sensitivity, The Discomfort of Evening is a tender and visceral evocation of a childhood caught between shame and salvation, and a deeply deserving winner of The 2020 International Booker Prize.'
Born in April 1991 in Nieuwendijk, Netherlands, Marieke Lucas Rijneveld, whose preferred pronouns are they/them, is the youngest author to win The International Booker Prize. The Dutch author grew up in a Reformed farming family in North Brabant before moving to Utrecht and, alongside their writing career, Rijneveld still works on a dairy farm. One of the most exciting new voices in Dutch literature, Rijneveld has already won awards for both their first poetry collection Calfskin and their debut novel The Discomfort of Evening.
Following a stint as an editor, Michele Hutchison became a literary translator from Dutch. Her translations include the bestselling An American Princess by Annejet van der Zijl, Mona in Three Acts by Griet op de Beeck and Seaweed by Miek Zwamborn. She is also co-author of The Happiest Kids in the World.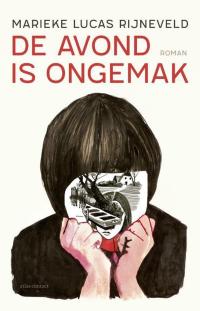 The Discomfort of Evening tells the story of Jas and her devout farming family in a strict Christian community in rural Netherlands. One winter's day, her older brother joins an ice skating trip. Resentful at being left alone, she attempts to bargain with God pitting the life of her pet rabbit against that of her brother; he never returns. As grief overwhelms the farm, Jas succumbs to a vortex of increasingly disturbing fantasies, watching her family disintegrate into a darkness that threatens to derail them all.

The Guardian described The Discomfort of Evening as 'an unflinching  study of a family falling apart in the madness of grief, rendered all the more unnerving for the childishly plain, undramatic way their compulsive behaviours are reported'.
The Financial Times said 'there is a bold beauty to the book… by using Jas's everyday world as a metaphor for loneliness and fear, Rijneveld has created something exceptional.'
Megan Nolan for the New Statesman commented that the character of Jas 'produces a truly haunting and savage loneliness, communicated by Rijneveld with an agile intensity I have rarely encountered.'
The International Booker Prize is awarded every year for a single book that is translated into English and published in the UK or Ireland. It aims to encourage more publishing and reading of quality fiction from all over the world and to promote the work of translators. Both novels and short-story collections are eligible. The contribution of both author and translator is given equal recognition, with the £50,000 prize split between them.

This year the judges considered 124 books, translated from 30 languages.
(Together, the two Booker Prizes reward the best fiction from around the globe that is published in English in the UK and Ireland. The Booker Prizes are sponsored by Crankstart, a charitable foundation.)
# More on website The Booker Prize
     Selfportrait  (Wikimedia)
Marieke Lucas Rijneveld
Dutch writer and poet (1991)

Novels
2018 – De avond is ongemak
2020 – Engels: The Discomfort of Evening, translation Michele Hutchison (Booker International Prize 2020)
Collections of poetry
2015 – Kalfsvlies (C. Buddingh'-prijs 2016) (Ida Gerhardt Poëzieprijs 2020)
2019 – Fantoommerrie
• fleursdumal.nl magazine
More in: - Book News, Archive Q-R, Archive Q-R, AUDIO, CINEMA, RADIO & TV, Awards & Prizes, Marieke Lucas Rijneveld, Rijneveld, Marieke Lucas
---
Older Entries »
Thank you for reading FLEURSDUMAL.NL - magazine for art & literature