FLEURSDUMAL POETRY LIBRARY – classic, modern, experimental & visual & sound poetry, poetry in translation, city poets, poetry archive, pre-raphaelites, editor's choice, etc.
·
Bert Bevers: Kijk maar door me heen (gedicht)
·
Antonin Artaud: Le Navire mystique (Poème)
·
Lord Byron: John Keats Poem
·
Jean Cocteau: Metamorphosis. Expositie en boek
·
Mina Loy's Critical Modernism by Laura Scuriatti
·
Benjamin Balint: Kafka's laatste proces. De strijd om een literaire nalatenschap
·
Useless Magic: Lyrics and Poetry by Florence Welch
·
In de man zit nog een jongen. Willem Wilmink – De biografie door Elsbeth Etty
·
Wilfred Owen: Arms and the Boy (Poem)
·
Victor Hugo: Claire (Poème)
·
Sophie Albrecht: Im Junius 1783 (Gedicht)
·
Robert Desnos: Jack l'Égareur
Kijk maar door me heen
Zie maar dat ik echt ben. Dat ik niet schuil
voor antwoorden die altijd ergens vandaan
kunnen komen, midscheeps. Dat ik niet bang
ben om het zwaaigat te verlaten. Omdat ik
weet dat over water vele verhalen de ronde
doen. Over hoe het was toen schepen nog pal
in het midden voeren, er werd gefluisterd
dat er vogels vlogen naar daar waar licht
ontstoken werd met andere vlammen. Kijk
hoe ik hier eigenlijk stilletjes wil huilen, maar
me ferm houd aan de reling en peins over oude
tijden waarin brave mensen oprecht wuifden
naar mannen omdat die kleren van bevrijders
droegen. Zie gewoon maar door me heen.
Bert Bevers
Gedicht: Kijk maar door me heen
Verschenen in Watermerk, Middelburg, 2014
Bert Bevers is a poet and writer who lives and works in Antwerp (Be)
• fleursdumal.nl magazine
More in: Archive A-B, Archive A-B, Bevers, Bert
---
Le Navire mystique
Il se sera perdu le navire archaïque
Aux mers où baigneront mes rêves éperdus ;
Et ses immenses mâts se seront confondus
Dans les brouillards d'un ciel de bible et de cantiques.
Un air jouera, mais non d'antique bucolique,
Mystérieusement parmi les arbres nus ;
Et le navire saint n'aura jamais vendu
La très rare denrée aux pays exotiques.
Il ne sait pas les feux des havres de la terre.
Il ne connaît que Dieu, et sans fin, solitaire
Il sépare les flots glorieux de l'infini.
Le bout de son beaupré plonge dans le mystère.
Aux pointes de ses mâts tremble toutes les nuits
L'argent mystique et pur de l'étoile polaire.
Antonin Artaud
(1896 — 1948)
Le Navire mystique
Poème
• fleursdumal.nl magazine
More in: Antonin Artaud, Archive A-B, Archive A-B, Artaud, Antonin
---
John Keats Poem
Who killed John Keats?
'I,' says the Quarterly,
So savage and Tartarly;
"Twas one of my feats.'
Who shot the arrow?
'The poet-priest Milman
(So ready to kill man),
Or Southey or Barrow.
George Gordon Byron
(1788 – 1824)
John Keats Poem
• fleursdumal.nl magazine
More in: Archive A-B, Archive A-B, Byron, Lord, Keats, John
---
Jean Cocteau (1889 – 1963) is een kunstenaar die tot de verbeelding spreekt. Hij uitte zich in bijna alle artistieke media: poëzie, literatuur, beeldende kunst, vormgeving, theater en zijn favoriete medium: film.
Meer nog dan om zijn werk was Cocteau bekend om zijn opmerkelijke leven. Hij omgaf zich met beroemdheden als Sergei Diaghilev, Edith Piaf, Pablo Picasso en Coco Chanel, en raakte geregeld in opspraak vanwege zijn homoseksualiteit en drugsgebruik.
Het oeuvre van Cocteau was een voorbode van de multidisciplinaire praktijken van ontwerpers en kunstenaars van nu. Jean Cocteau | Metamorphosis werpt licht op zijn voortdurende zelftransformatie en zijn zoektocht naar een eigen identiteit. In de hedendaagse maatschappij, waarin het emancipatiedebat weer hoogtij viert en waarin de persoonlijke beeld-en identiteitsvorming in hoge mate beïnvloedbaar is, zijn Cocteau's leven en werk opnieuw actueel.
Zoals jonge mensen zich tegenwoordig digitaal een identiteit aanmeten, had Cocteau de gave om zichzelf via diverse media steeds met andere ogen te bezien en te laten zien. Jean Cocteau | Metamorphosis toont veel van die gezichten, in woord en in beeld.
Jean Cocteau
Metamorphosis
door Ioannis Kontaxopoulos
november 2018
ISBN 978-94-6208-470-4
design: Berry van Gerwen
Nederlands, Frans
paperback
17 x 24 cm
320 pag.
geillustreerd (150 kleur)
in samenwerking met: Design Museum den Bosch
NAi Boekverkopers / Booksellers
€ 34,95
De tentoonstelling over Jean Cocteau in het Design Museum Den Bosch, loopt nog tot en met 10 maart 2019.
# New books
Jean Cocteau
Metamorphosis
• fleursdumal.nl magazine
More in: - Book News, - Bookstores, Archive C-D, Archive C-D, Art & Literature News, DANCE, Design, Exhibition Archive, FDM Art Gallery, Jean Cocteau, Maison de la Poésie, Museum of Literary Treasures, Surrealism, SURREALISM, Surrealisme, THEATRE
---
This book provides a fresh assessment of the works of poet and painter Mina Loy (1882 – 1966).

Laura Scuriatti shows how Loy's "eccentric" writing and art celebrate ideas and aesthetics central to the modernist movement while simultaneously critiquing them, resulting in a continually self-reflexive and detached stance that Scuriatti terms "critical modernism."
Drawing on neglected archival material, Scuriatti illuminates the often-overlooked influence of Loy's time spent amid Italian avant-garde culture. In particular, she considers Loy's assessment of the nature of genius and sexual identity as defined by philosopher Otto Weininger and in Lacerba, a magazine founded by Futurist leader Giovanni Papini. She also investigates Loy's reflections on the artistic masterpiece in relation to the world of commodities; explores the dialogic nature of the self in Loy's autobiographical projects; and shows how Loy used her "eccentric" stance as a political position, especially in her later career in the United States.
Offering new insights into Loy's feminism and tracing the writer's lifelong exploration of themes such as authorship, art, identity, genius, and cosmopolitanism, this volume prompts readers to rethink the place, value, and function of key modernist concepts through the critical spaces created by Loy's texts.
Laura Scuriatti, professor of English and comparative literature at Bard College Berlin, is coeditor of The Exhibit in the Text: Museological Practices of Literature.
Mina Loy's Critical Modernism
Laura Scuriatti
Hardcover
320 pages
Literature – European
ISBN 13: 9780813056302
$85.00
Available for pre-order.
This book will be available in July 2019
(Pub Date: 5/7/2019)
# New books
Mina Loy
Critical Modernism
• fleursdumal.nl magazine
More in: - Book News, - Bookstores, Archive K-L, Archive K-L, Archive S-T, Art & Literature News, Futurism, Loy, Mina
---
Het nagelaten werk van Franz Kafka is dankzij zijn vriend Max Brod bewaard gebleven, maar na het overlijden van Brod in 1968 begint een hevige en absurde strijd om het eigendomsrecht.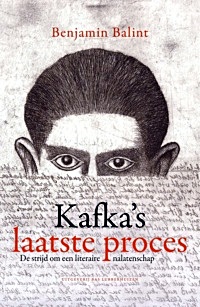 De originele, handgeschreven versies van meesterwerken als Het proces en De gedaanteverwisseling komen achtereenvolgens in handen van Brods secretaresse Esther Hoffe en haar dochter Eva.
Er ontvouwt zich echter een juridisch getouwtrek als zowel Israël als Duitsland het werk claimen.

Duitsland, waar drie zussen van Kafka stierven tijdens de Tweede Wereldoorlog, wil de schrijver recht doen, en Israël meent rechten te hebben als Joodse staat en Kafka's gedroomde land.
Kafka's laatste proces leest als een waargebeurde thriller, maar maakt pijnlijk duidelijk hoe de Joodse schrijver Franz Kafka inzet wordt van zionistische claims. In de verbeten strijd die de twee landen uitvechten, lijken ze vooral de geschiedenis te willen herschrijven.
Benjamin Balint woont in Jeruzalem, waar hij verbonden is aan het Van Leer Institute. Hij schrijft o.a. voor Haaretz en de Wall Street Journal. Over de Joods-Amerikaanse schrijvers die publiceerden in het tijdschrift Commentary, schreef hij Running Commentary (2010).
Benjamin Balint (Auteur)
Kafka's laatste proces.
De strijd om een literaire nalatenschap
Vertaling Frank Lekens
Oorspronkelijke titel:
Kafka's Last Trial.
The Case of a Literary Legacy
Omslagtekening Jirí Slíva
Omslag Bart van den Tooren
Uitg. Bas Lubberhuizen
304 pagina's
15 x 23 cm
Geïllustreerde paperback
ISBN 9789059375284
Verschenen: januari 2019
€ 24,99
# New books
Benjamin Balint
Kafka's Last Trial.
The Case of a Literary Legacy
• fleursdumal.nl magazine
More in: - Book News, - Bookstores, Archive A-B, Archive K-L, Archive K-L, Art & Literature News, Franz Kafka, Kafka, Franz, Kafka, Franz
---
Songs can be incredibly prophetic, like subconscious warnings or messages to myself, but I often don't know what I'm trying to say till years later.
Or a prediction comes true and I couldn't do anything to stop it, so it seems like a kind of useless magic.
The first book from songwriter and Florence + the Machine frontwoman Florence Welch, Useless Magic brings together 288 pages of lyrics, never-before-seen poetry and sketches.
Taken from Welch's own scrapbook-style journals, the book offers an extraordinary chance to see inside the creative alchemy behind some of Florence + The Machine's chart-topping anthems.
It also offers unique personal insights into Welch's own life from her experiences of suffering with an eating disorder to her thoughts on love and what it means to live your life in the glare of the spotlight. .
Useless Magic:
Lyrics and Poetry
by Florence Welch
Publisher Penguin Books Ltd
Imprint Fig Tree
London, 5 July 2018
Number of pages: 288
Language English
ISBN-10: 0241347939
ISBN-13: 978-0241347935
€ 28,95
# New books
Florence Welch
Lyrics and Poetry
• fleursdumal.nl magazine
More in: - Book News, - Bookstores, Archive W-X, Archive W-X, Art & Literature News, Florence Welch
---
Willem Wilmink (1936-2003) is een van de meest geliefde dichters van Nederland.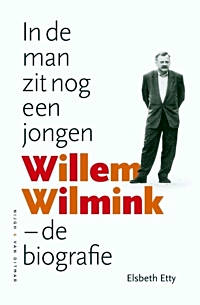 Zijn eenvoudige maar treffende gedichten en liedjes, veelal geschreven voor legendarische tv-programma's als De Stratemakeropzeeshow, J.J. de Bom en De film van Ome Willem, spreken iedereen aan. 'De oude school', 'Deze vuist op deze vuist' en 'Ben Ali Libi' behoren tot de canon van de Nederlandse literatuur. Hetzelfde geldt voor Wilminks hertalingen van Middeleeuwse klassiekers. Hij was een groot kenner van poëzie uit alle tijdvakken en in al haar verschijningsvormen.
Zijn werk is doortrokken van heimwee naar een veilige kinderwereld die nooit heeft bestaan. Naar eigen zeggen is Wilmink altijd elf jaar gebleven, wat aanvankelijk zijn loopbaan en privéleven ernstig frustreerde, maar tegelijkertijd zijn poëtische kapitaal bleek. Met humor en zelfspot maakte hij zijn lange tijd door miskenning en afwijzing getekende leven leefbaar.
Voor In de man zit nog een jongen sprak neerlandicus en journalist Elsbeth Etty met tientallen tijdgenoten en intimi van Wilmink. Het resultaat is een intiem en niets verhullend portret.
Elsbeth Etty (1951) is literair criticus, columnist en voormalig bijzonder hoogleraar literaire kritiek. Ze publiceerde o.a. verschillende essay- en columnbundels. Voor Liefde is heel het leven niet, haar biografie van Henriette Roland Holst, werd ze genomineerd voor de AKO Literatuurprijs en bekroond met de Gouden Uil en de Busken Huetprijs.
In de man zit nog een jongen
Willem Wilmink – De biografie
Auteur: Elsbeth Etty
Uitgeverij: Nijgh & van Ditmar
NUR: 321
Taal Nederlands
Bladzijden 552 pp.
Bindwijze Hardcover
ISBN: 9789038806112
Publicatiedatum: 22-01-2019
Prijs: € 34,99
# New books
Willem Wilmink – De biografie
Auteur: Elsbeth Etty
• fleursdumal.nl magazine
More in: #Biography Archives, - Book News, - Book Stories, - Bookstores, Archive E-F, Archive W-X, Archive W-X, Art & Literature News, Willem Wilmink
---
Arms and the Boy
Let the boy try along this bayonet-blade
How cold steel is, and keen with hunger of blood;
Blue with all malice, like a madman's flash;
And thinly drawn with famishing for flesh.
Lend him to stroke these blind, blunt bullet-leads,
Which long to nuzzle in the hearts of lads,
Or give him cartridges of fine zinc teeth
Sharp with the sharpness of grief and death.
For his teeth seem for laughing round an apple.
There lurk no claws behind his fingers supple;
And God will grow no talons at his heels,
Nor antlers through the thickness of his curls.
Wilfred Owen
(1893 – 1918)
Arms and the Boy (Poem)
• fleursdumal.nl magazine
More in: Archive O-P, Archive O-P, Galerie des Morts, Owen, Wilfred, WAR & PEACE
---
Claire
Quoi donc ! la vôtre aussi ! la vôtre suit la mienne !
O mère au coeur profond, mère, vous avez beau
Laisser la porte ouverte afin qu'elle revienne,
Cette pierre là-bas dans l'herbe est un tombeau !
La mienne disparut dans les flots qui se mêlent ;
Alors, ce fut ton tour, Claire, et tu t'envolas.
Est-ce donc que là-haut dans l'ombre elles s'appellent,
Qu'elles s'en vont ainsi l'une après l'autre, hélas ?
Enfant qui rayonnais, qui chassais la tristesse,
Que ta mère jadis berçait de sa chanson,
Qui d'abord la charmas avec ta petitesse
Et plus tard lui remplis de clarté l'horizon,
Voilà donc que tu dors sous cette pierre grise !
Voilà que tu n'es plus, ayant à peine été !
L'astre attire le lys, et te voilà reprise,
O vierge, par l'azur, cette virginité !
Te voilà remontée au firmament sublime,
Échappée aux grands cieux comme la grive aux bois,
Et, flamme, aile, hymne, odeur, replongée à l'abîme
Des rayons, des amours, des parfums et des voix !
Nous ne t'entendrons plus rire en notre nuit noire.
Nous voyons seulement, comme pour nous bénir,
Errer dans notre ciel et dans notre mémoire
Ta figure, nuage, et ton nom, souvenir !
Pressentais-tu déjà ton sombre épithalame ?
Marchant sur notre monde à pas silencieux,
De tous les idéals tu composais ton âme,
Comme si tu faisais un bouquet pour les cieux !
En te voyant si calme et toute lumineuse,
Les coeurs les plus saignants ne haïssaient plus rien.
Tu passais parmi nous comme Ruth la glaneuse ,
Et, comme Ruth l'épi, tu ramassais le bien.
La nature, ô front pur, versait sur toi sa grâce,
L'aurore sa candeur, et les champs leur bonté ;
Et nous retrouvions, nous sur qui la douleur passe,
Toute cette douceur dans toute ta beauté !
Chaste, elle paraissait ne pas être autre chose
Que la forme qui sort des cieux éblouissants ;
Et de tous les rosiers elle semblait la rose,
Et de tous les amours elle semblait l'encens.
Ceux qui n'ont pas connu cette charmante fille
Ne peuvent pas savoir ce qu'était ce regard
Transparent comme l'eau qui s'égaie et qui brille
Quand l'étoile surgit sur l'océan hagard.
Elle était simple, franche, humble, naïve et bonne ;
Chantant à demi-voix son chant d'illusion,
Ayant je ne sais quoi dans toute sa personne
De vague et de lointain comme la vision.
On sentait qu'elle avait peu de temps sur la terre,
Qu'elle n'apparaissait que pour s'évanouir,
Et qu'elle acceptait peu sa vie involontaire ;
Et la tombe semblait par moments l'éblouir.
Elle a passé dans l'ombre où l'homme se résigne ;
Le vent sombre soufflait ; elle a passé sans bruit,
Belle, candide, ainsi qu'une plume de cygne
Qui reste blanche, même en traversant la nuit !
Elle s'en est allée à l'aube qui se lève,
Lueur dans le matin, vertu dans le ciel bleu,
Bouche qui n'a connu que le baiser du rêve,
Ame qui n'a dormi que dans le lit de Dieu !
Nous voici maintenant en proie aux deuils sans bornes,
Mère, à genoux tous deux sur des cercueils sacrés,
Regardant à jamais dans les ténèbres mornes
La disparition des êtres adorés !
Croire qu'ils resteraient ! quel songe ! Dieu les presse.
Même quand leurs bras blancs sont autour de nos cous,
Un vent du ciel profond fait frissonner sans cesse
Ces fantômes charmants que nous croyons à nous.
Ils sont là, près de nous, jouant sur notre route ;
Ils ne dédaignent pas notre soleil obscur,
Et derrière eux, et sans que leur candeur s'en doute,
Leurs ailes font parfois de l'ombre sur le mur.
Ils viennent sous nos toits ; avec nous ils demeurent ;
Nous leur disons : Ma fille, ou : Mon fils ; ils sont doux,
Riants, joyeux, nous font une caresse, et meurent. –
O mère, ce sont là les anges, voyez-vous !
C'est une volonté du sort, pour nous sévère,
Qu'ils rentrent vite au ciel resté pour eux ouvert ;
Et qu'avant d'avoir mis leur lèvre à notre verre,
Avant d'avoir rien fait et d'avoir rien souffert,
Ils partent radieux ; et qu'ignorant l'envie,
L'erreur, l'orgueil, le mal, la haine, la douleur,
Tous ces êtres bénis s'envolent de la vie
A l'âge où la prunelle innocente est en fleur !
Nous qui sommes démons ou qui sommes apôtres,
Nous devons travailler, attendre, préparer ;
Pensifs, nous expions pour nous-même ou pour d'autres ;
Notre chair doit saigner, nos yeux doivent pleurer.
Eux, ils sont l'air qui fuit, l'oiseau qui ne se pose
Qu'un instant, le soupir qui vole, avril vermeil
Qui brille et passe ; ils sont le parfum de la rose
Qui va rejoindre aux cieux le rayon du soleil !
Ils ont ce grand dégoût mystérieux de l'âme
Pour notre chair coupable et pour notre destin ;
Ils ont, êtres rêveurs qu'un autre azur réclame,
Je ne sais quelle soif de mourir le matin !
Ils sont l'étoile d'or se couchant dans l'aurore,
Mourant pour nous, naissant pour l'autre firmament ;
Car la mort, quand un astre en son sein vient éclore,
Continue, au delà, l'épanouissement !
Oui, mère, ce sont là les élus du mystère,
Les envoyés divins, les ailés, les vainqueurs,
A qui Dieu n'a permis que d'effleurer la terre
Pour faire un peu de joie à quelques pauvres coeurs.
Comme l'ange à Jacob, comme Jésus à Pierre,
Ils viennent jusqu'à nous qui loin d'eux étouffons,
Beaux, purs, et chacun d'eux portant sous sa paupière
La sereine clarté des paradis profonds.
Puis, quand ils ont, pieux, baisé toutes nos plaies,
Pansé notre douleur, azuré nos raisons,
Et fait luire un moment l'aube à travers nos claies,
Et chanté la chanson du ciel dam nos maisons,
Ils retournent là-haut parler à Dieu des hommes,
Et, pour lui faire voir quel est notre chemin,
Tout ce que nous souffrons et tout ce que nous sommes,
S'en vont avec un peu de terre dans la main.
Ils s'en vont ; c'est tantôt l'éclair qui les emporte,
Tantôt un mal plus fort que nos soins superflus.
Alors, nous, pâles, froids, l'oeil fixé sur la porte,
Nous ne savons plus rien, sinon qu'ils ne sont plus.
Nous disons : – A quoi bon l'âtre sans étincelles ?
A quoi bon la maison où ne sont plus leurs pas ?
A quoi bon la ramée où ne sont plus les ailes ?
Qui donc attendons-nous s'ils ne reviendront pas ? –
Ils sont partis, pareils au bruit qui sort des lyres.
Et nous restons là, seuls, près du gouffre où tout fuit,
Tristes ; et la lueur de leurs charmants sourires
Parfois nous apparaît vaguement dans la nuit.
Car ils sont revenus, et c'est là le mystère ;
Nous entendons quelqu'un flotter, un souffle errer,
Des robes effleurer notre seuil solitaire,
Et cela fait alors que nous pouvons pleurer.
Nous sentons frissonner leurs cheveux dans notre ombre ;
Nous sentons, lorsqu'ayant la lassitude en nous,
Nous nous levons après quelque prière sombre,
Leurs blanches mains toucher doucement nos genoux.
Ils nous disent tout bas de leur voix la plus tendre :
« Mon père, encore un peu ! ma mère, encore un jour !
« M'entends-tu ? je suis là, je reste pour t'attendre
« Sur l'échelon d'en bas de l'échelle d'amour.
« Je t'attends pour pouvoir nous en aller ensemble.
« Cette vie est amère, et tu vas en sortir.
« Pauvre coeur, ne crains rien, Dieu vit ! la mort rassemble.
« Tu redeviendras ange ayant été martyr. »
Oh ! quand donc viendrez-vous ? Vous retrouver, c'est naître.
Quand verrons-nous, ainsi qu'un idéal flambeau,
La douce étoile mort, rayonnante, apparaître
A ce noir horizon qu'on nomme le tombeau ?
Quand nous en irons-nous où vous êtes, colombes !
Où sont les enfants morts et les printemps enfuis,
Et tous les chers amours dont nous sommes les tombes,
Et toutes les clartés dont nous sommes les nuits ?
Vers ce grand ciel clément où sont tous les dictames,
Les aimés, les absents, les êtres purs et doux,
Les baisers des esprits et les regards des âmes,
Quand nous en irons-nous ? quand nous en irons-nous ?
Quand nous en irons-nous où sont l'aube et la foudre ?
Quand verrons-nous, déjà libres, hommes encor,
Notre chair ténébreuse en rayons se dissoudre,
Et nos pieds faits de nuit éclore en ailes d'or ?
Quand nous enfuirons-nous dans la joie infinie
Où les hymnes vivants sont des anges voilés,
Où l'on voit, à travers l'azur de l'harmonie,
La strophe bleue errer sur les luths étoilés ?
Quand viendrez-vous chercher notre humble coeur qui sombre ?
Quand nous reprendrez-vous à ce monde charnel,
Pour nous bercer ensemble aux profondeurs de l'ombre,
Sous l'éblouissement du regard éternel ?
Victor Hugo
(1802-1885)
Claire
(Poème)
• fleursdumal.nl magazine
More in: Archive G-H, Archive G-H, Hugo, Victor, Victor Hugo
---
Im Junius 1783
Vergebens steigt der Tag in lichten Farben
Vergebens hüllt in Schimmer sich die Nacht
Mein Herz bleibt kalt, seitdem die Wünsche starben
Die schön dich mir, du Tag und Nacht! gemacht
Obs Winter ist, ob Veilchen um mich blühen
Ob Rabe krächzt, ob Lerche um mich schwirrt
Obs Mondennacht, ob Donnerwolken ziehen
Ist der gleichviel, die ohne Wünsche irrt.
Sophie Albrecht
(1757-1840)
Gedicht
Im Junius 1783
• fleursdumal.nl magazine
More in: Archive A-B, Archive A-B, CLASSIC POETRY, Galerie Deutschland
---
Jack l'Égareur
À Denise
Dans les trémies du ciel
un archange nage, comme il sied, vers une usine.
Faux-monnayeurs que faites-vous de mes ongles ?
J'ai lu dans le journal un roman dont j'étais le héros
toujours à l'aise quand il fait pluie.
Mon cœur bat l'extinction des feux,
Mes yeux sont la nuit.
Je veille mes lendemains avec anxiété.
Au bout d'un an et deux jours…
alors il se fit une journée de pluie et les sept phares merveilleux
du monde…
Escadres souterraines ne vous approchez pas de mon tombeau :
Je suis employé à déclouer les vieux cercueils
pour répartir équitablement les ossements
entre les anciennes sépultures
et les neuves.
Quelle profession ? Profession de foi tu ne figures pas au Bottin.
Les photographes rougiraient si vous les regardiez en pleurant.
Je suis un mort de fraîche date.
Si vous rencontrez un corbillard déchaussez-vous,
Cela fera du bien au mort.
Il se lèvera,
il se sortira,
il chantera,
il chantera la chanson des quadrilles
et dans le futur on verra les nouveau-nés arriver au monde
escortés de squelettes.
Ce ne seront partout que grossesses de géantes,
Il sera de bon ton chez les élégantes
de faire monter en bague
les larmes solides des morts à l'occasion des naissances.
Amour haut parleur, sirène à corps d'oiseau,
je vous quitte.
Je vais goûter le silence cette belle algue où dorment les requins.
Robert Desnos (1900 – 1945)
Jack l'Égareur
À Denise
• fleursdumal.nl magazine
More in: Archive C-D, Desnos, Robert, Surrealism
---
Older Entries »
Thank you for reading FLEURSDUMAL.NL - magazine for art & literature