FLEURSDUMAL POETRY LIBRARY – classic, modern, experimental & visual & sound poetry, poetry in translation, city poets, poetry archive, pre-raphaelites, editor's choice, etc.
·
Song by Aphra Behn
·
Bert Bevers: Jaag zacht
·
John Hay: The Prairie
·
Lecture & rencontre: Kate Tempest à Paris – Écoute la ville tomber
·
Gouden Ganzenveerlaureaat 2018: Antjie Krog
·
Konstantin Sloetsjevski: Zij lag gekleed als Colombine (vertaling Paul Bezembinder)
·
Voyage of the Sable Venus and Other Poems by Robin Coste Lewis
·
Washington by Eliza Cook
·
Paul Bezembinder: Styxoтворение
·
Hugo Ball: Einer Verdammten
·
30+30 Dichtersmarathon 2018 – PERDU Amsterdam op 25 januari 2018
·
John Barbour: Freedom
Song
Love in Phantastique Triumph sat,
Whilst Bleeding hearts about him flow'd,
For whom fresh pays he did create,
And strange Tyrannick pow'r he shew'd;
From thy bright Eyes he took his fires,
Which round about in sport he hurl'd;
But 'twas from mine he took desires,
Enough t'undoe the Amorous world.
From me he took his sighs and tears,
From thee his pride and cruelty;
From me his languishments and fears,
And ev'ry killing Dart from thee:
Thus thou, and I, the God have arm'd,
And set him up a Deity,
But my poor heart alone is harm'd,
Whilst thine the Victor is, and free.
Aphra Behn
(1640-1689)
From Abdelazer, or the Moor's Revenge:
Song
fleursdumal.nl magazine
More in: Archive A-B, Archive A-B, CLASSIC POETRY
---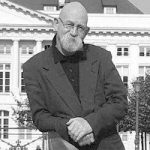 Jaag zacht
Praat niet hardop in het woud.
Dat is voor niets goed. Immers:
de waarheid is als een schuw dier.
Mensen hebben er schrik van.
Bert Bevers
gedicht: Jaag zacht
Verschenen in de Enghuizer Dialogen VIII, Hummelo, mei 2017
Bert Bevers is a poet and writer who lives and works in Antwerp (Be)
fleursdumal.nl magazine
More in: Archive A-B, Archive A-B, Bevers, Bert, Natural history
---

The Prairie
The skies are blue above my head,
The prairie green below,
And flickering o'er the tufted grass
The shifting shadows go,
Vague-sailing, where the feathery clouds
Fleck white the tranquil skies,
Black javelins darting where aloft
The whirring pheasant flies.
A glimmering plain in drowsy trance
The dim horizon bounds,
Where all the air is resonant
With sleepy summer sounds,
The life that sings among the flowers,
The lisping of the breeze,
The hot cicala's sultry cry,
The murmurous dream of bees.
The butterfly a flying flower
Wheels swift in flashing rings,
And flutters round his quiet kin,
With brave flame-mottled wings.
The wild Pinks burst in crimson fire,
The Phlox' bright clusters shine,
And Prairie-Cups are swinging free
To spill their airy wine.
And lavishly beneath the sun,
In liberal splendor rolled,
The Fennel fills the dipping plain
With floods of flowery gold;
And widely weaves the Iron-Weed
A woof of purple dyes
Where Autumn's royal feet may tread
When bankrupt Summer flies.
In verdurous tumult far away
The prairie-billows gleam,
Upon their crests in blessing rests
The noontide's gracious beam.
Low quivering vapors steaming dim
The level splendors break
Where languid Lilies deck the rim
Of some land-circled lake.
Far in the East like low-hung clouds
The waving woodlands lie;
Far in the West the glowing plain
Melts warmly in the sky.
No accent wounds the reverent air,
No footprint dints the sod,-
Lone in the light the prairie lies,
Rapt in a dream of God.
Illinois, 1858
John Hay
(1838-1905)
The Prairie
fleursdumal.nl magazine
More in: * Archive Cowboy Poetry, Archive G-H, Archive G-H, Natural history
---

Mercr. 17/01-2018 – 20h
Lecture & rencontre
Kate Tempest
Écoute la ville tomber
Rencontre animée par Clémentine Goldszal
Interprète : Marguerite Capelle
tarif : 5 € / adhérent : 0 € RÉSERVER
Maison de la Poésie
Passage Molière
157 rue Saint-Martin
75003 Paris
www.maisondelapoesieparis.com
Becky, Harry, Leon, Pete. Quatre jeunes gens dans le Londres d'aujourd'hui. Ils ont des rêves, des aspirations, que la ville nourrit puis feint d'encourager pour mieux les broyer. Écoute la ville tomber est le roman d'une génération abîmée par le cynisme mais qui refuse d'abandonner l'utopie. Kate Tempest attrape le lecteur à chaque phrase, avec la furieuse envie de montrer le monde tel qu'il est. Sorti en 2016 en Angleterre, le roman est resté plusieurs semaines dans la liste des best-sellers du Sunday Times, atteignant les 100 000 exemplaires.
Poétesse, musicienne et performeuse mêlant rap, slam, rock & spoken word, Kate Tempest est, à 30 ans à peine, une artiste majeure du temps présent. Comparée à Zadie Smith ou à Virginie Despentes, cette jeune prodige surprend et impressionne, elle cristallise toutes les révoltes qui animent nos temps troubles.
À lire – Kate Tempest, Écoute la ville tomber, traduit de l'anglais par Madeleine Nasalik, Rivages, 2018. Les Nouveaux anciens, trad. de l'anglais par D' de Kabal et Louise Bartlett, L'Arche, 2017.
À écouter – Kate Tempest, Let Them Eat Chaos, Fiction Records, 2016.
Les nouveaux anciens
Kate Tempest 
Paru le 18 octobre 2017
Poésie, broché
Editeur Arche
Nombre de pages 72
Traduit de l'anglais par D' de Kabal et Louise Bartlett
ISBN : 978-2-85181-928-4 – €12
Dans ce poème épique urbain, Kate Tempest revisite par les mythes nos vies modernes désenchantées. Selon elle, les dieux de l'Antiquité resurgissent dans le monde contemporain à travers nos actes quotidiens de violence, de bravoure, de sacrifice ou d'amour. Nous sommes toujours mythiques, nous sommes toujours divins. Elle dépeint ainsi une traversée des âges, de la naissance à la mort de l'être humain, sans occulter ses failles, ses erreurs ni ses regrets. Célébrant l'humain trop humain des supermarchés, des rues, des bars et des open-space, elle s'inscrit dans la tradition d'un hip hop old-school, entre poésie, rap et poésie parlée. Une écriture dramatique puissamment cadencée, avec une rythmique très musicale et un « flow » à couper le souffle.
Ecoute la ville tomber
Kate Tempest
Madeleine Nasalik (Traducteur)
Traduit de l'anglais
Collection: Littérature étrangère Rivages
ISBN: 978-2-7436-4199-3
EAN: 9782743641993
Parution: janvier, 2018
400 pages
Format : 14.0 x 20.5
Prix: €22,50
Becky, Harry, Leon. Ils sont jeunes, hésitent entre le cynisme et le besoin éperdu d'utopie. Chacun a des rêves, des aspirations, que la ville nourrit et feint d'encourager pour mieux les broyer. Ce roman résonne des bruits et du rythme de notre époque, dans la prose incandescente de Kate Tempest, star du hip-hop, poétesse et artiste déjà légendaire à 30 ans à peine, admirée par Virginie Despentes, Lola Lafon ou Don DeLillo. Best-seller international, ce livre impose la jeune Anglaise comme une voix majeure de la scène littéraire d'aujourd'hui.
Kate Tempest
Lecture & rencontre
Mercr. 17/01-2018 – 20h
Maison de la Poésie
75003 Paris
fleursdumal.nl magazine
More in: Archive S-T, Archive S-T, Art & Literature News, Kate Tempest, Literary Events, Tempest, Kate, TRANSLATION ARCHIVE
---
De Academie De Gouden Ganzenveer kent de Gouden Ganzenveer 2018 toe aan de Zuid-Afrikaanse dichteres Antjie Krog.
Gerdi Verbeet, Academievoorzitter De Gouden Ganzenveer maakte afgelopen zaterdag de laureaat bekend in het radioprogramma De Taalstaat. De Academie De Gouden Ganzenveer eert Krog als een bijzondere en veelzijdige dichteres, als een uitzonderlijk integer schrijfster en journaliste, en als een begenadigd performer van haar eigen werk.
De prijsuitreiking vindt plaats op donderdag 19 april a.s. in Amsterdam. Een weerslag van deze bijeenkomst wordt vastgelegd in een speciale uitgave, die in de loop van het jaar zal verschijnen.
De Academie, een initiatief van het bestuur van stichting De Gouden Ganzenveer, kent jaarlijks deze culturele prijs toe. De leden zijn afkomstig uit de wereld van cultuur, wetenschap, politiek en het bedrijfsleven. Met deze onderscheiding wil de Academie het geschreven en gedrukte woord in het Nederlands taalgebied onder de aandacht brengen.
Voorgaande laureaten zijn Arnon Grunberg, Xandra Schutte, Geert Mak, David Van Reybrouck, Ramsey Nasr, Annejet van der Zijl, Remco Campert, Joke van Leeuwen, Adriaan van Dis, Joost Zwagerman, Tom Lanoye, Peter van Straaten, Maria Goos, Kees van Kooten, Jan Blokker en Michaël Zeeman.
Uitgebreide informatie is te vinden op www.goudenganzenveer.nl
De Zuid-Afrikaanse Antjie Krog (1952) is een gelauwerd dichter, schrijver en academicus. Krog debuteerde in 1970 op achttienjarige leeftijd met de dichtbundel Dogter van Jefta. Inmiddels is ze uitgegroeid tot een van de belangrijkste dichters van Zuid-Afrika.
Haar poëzie is persoonlijk, zintuiglijk en sterk geëngageerd: Krog dicht over het moederschap en het ouder worden, maar ook over de diepe verbondenheid en de worsteling met de ongelijkheid en het racisme in haar land. Krog kreeg bekendheid in Nederland door haar vele optredens bij Poetry International, de Nacht van de Poëzie en het festival Winternachten. Talrijke poëzieliefhebbers raakten in de ban van haar ongewone, ontroerende en klankrijke poëzie.
In 1999 publiceerde uitgeverij Atlas een bloemlezing uit haar werk onder de titel Om te kan asemhaal. Daarna zijn haar dichtbundels bij uitgeverij Podium verschenen. Zij schreef ook proza, bijvoorbeeld Country of my Skull (in het Nederlands: De kleur van je hart, 1998/2000), toneelstukken en non-fictie. De roman Mond vol glas van Henk van Woerden en het toneelstuk Mamma Medea van Tom Lanoye vertaalde zij van het Nederlands naar het Afrikaans.
Antjie Krog is buitengewoon hoogleraar Letteren en Filosofie aan de Universiteit van de Westkaap. Haar werk is veelvuldig bekroond, onder andere met de prestigieuze Hertzogprijs, de Reina Prinsen Geerligsprijs, de Pringle Award, de Alan Paton Award. Op donderdag 19 april a.s. neemt zij de Gouden Ganzenveer 2018 in ontvangst.
Laureaat Gouden Ganzenveer 2018: Antjie Krog
foto: Karina Turok
fleursdumal.nl magazine
More in: Antjie Krog, Archive K-L, Archive K-L, Art & Literature News, Awards & Prizes, Literary Events
---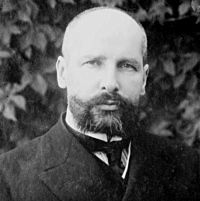 Zij lag gekleed als Colombine
Zij lag gekleed als Colombine
nog vol van leven dood te zijn,
deze speelster-concubine…
half toegedekt met een gordijn,
het masker bij haar op de grond.
Wat heeft zij níet aan tekst gespuid
door die verkleurde, open mond?
Pas nu komt er geen vuil meer uit!
Konstantin Sloetsjevski
(1837 – 1904)
В костюме светлом Коломбины…
gedicht 1883
vertaling Paul Bezembinder 2016.
(Meer over Paul Bezembinder is te vinden op zijn website: www.paulbezembinder.nl)
fleursdumal.nl magazine
More in: Archive S-T, Archive S-T, CLASSIC POETRY, Sloetsjevski
---
Now in paperback, this National Book Award-winning debut poetry collection is a meditation on the black female figure through time.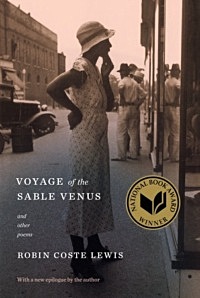 Robin Coste Lewis's electrifying collection is a triptych that begins and ends with lyric poems meditating on the roles desire and race play in the construction of the self.
In the center of the collection is the title poem, "Voyage of the Sable Venus," an amazing narrative made up entirely of titles of artworks from ancient times to the present–titles that feature or in some way comment on the black female figure in Western art.
Bracketed by Lewis's own autobiographical poems, "Voyage" is a tender and shocking meditation on the fragmentary mysteries of stereotype, juxtaposing our names for things with what we actually see and know. A new understanding of biography and the self, this collection questions just where, historically, do ideas about the black female figure truly begin–five hundred years ago, five thousand, or even longer? And what role did art play in this ancient, often heinous story?
Here we meet a poet who adores her culture and the beauty to be found within it. Yet she is also a cultural critic alert to the nuances of race and desire–how they define us all, including her own sometimes painful history.
Lewis's book is a thrilling aesthetic anthem to the complexity of race–a full embrace of its pleasure and horror, in equal parts.
Robin Coste Lewis, the winner of the National Book Award for Voyage of the Sable Venus, is the poet laureate of Los Angeles. She is writer-in-residence at the University of Southern California, as well as a Cave Canem fellow and a fellow of the Los Angeles Institute for the Humanities. She received her BA from Hampshire College, her MFA in poetry from New York University, an MTS in Sanskrit and comparative religious literature from the Divinity School at Harvard University, and a PhD in poetry and visual studies from the University of Southern California. Lewis was born in Compton, California; her family is from New Orleans.
Voyage of the Sable Venus
and Other Poems
By Robin Coste Lewis
Paperback
$19.95
Published by Knopf
Nov. 2017
176 Page
ISBN 9781101911204
new books
fleursdumal.nl magazine
More in: - Book News, - Book Stories, Archive K-L, Archive K-L, Art & Literature News
---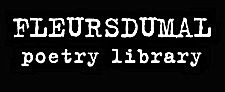 Washington
Land of the West! though passing brief the record of thine age,
Thou hast a name that darkens all on history's wide page!
Let all the blasts of Fame ring out,—thine shall be loudest far;
Let others boast their satellites,—thou hast the planet star.
Thou hast a name whose characters of light shall ne'er depart;
'Tis stamped upon the dullest brain, and warms the coldest heart;
A war-cry fit for any land where Freedom's to be won:
Land of the West! it stands alone—it is thy Washington!
Rome had its Cæsar, great and brave; but stain was on his wreath:
He lived the heartless conqueror, and died the tyrant's death.
France had its Eagle, but his wings, though lofty they might soar,
Were spread in false ambition's flight, and dipped in murder's gore.
Those hero-gods, whose mighty sway would fain have chained the waves-
Who flashed their blades with tiger zeal to make a world of slaves—
Who, though their kindred barred the path, still fiercely waded on.
Oh, where shall be their "glory" by the side of Washington!
He fought, but not with love of strife; he struck but to defend;
And ere he turned a people's foe, he sought to be a friend:
He strove to keep his country's right by Reason's gentle word,
And sighed when fell Injustice threw the challenge—sword to sword.
He stood the firm, the calm, the wise, the patriot and sage;
He showed no deep, avenging hate, no burst of despot rage;
He stood for Liberty and Truth, and daringly led on,
Till shouts of Victory gave forth the name of Washington.
No car of triumph bore him through a city filled with grief;
No groaning captives at the wheels proclaimed him victor-chief:
He broke the gyves of slavery with strong and high disdain;
But cast no sceptre from the links when he had rent the chain.
He saved his land, but did not lay his soldier trappings down,
To change them for a regal vest, and don a kingly crown.
Fame was too earnest in her joy—too proud of such a son—
To let a robe and title mask her noble Washington.
England, my heart is truly thine—my loved, my native earth,—
The land that holds a mother's grave and gave that mother birth!
Oh, keenly sad would be the fate that thrust me from thy shore,
And faltering my breath that sighed "Farewell for evermore!"
But did I meet such adverse lot, I would not seek to dwell
Where olden heroes wrought the deeds for Homer's song to tell.
"Away, thou gallant ship!" I'd cry, "and bear me safely on;
But bear me from my own, fair land to that of Washington."
Eliza Cook
(1818-1889)
Washington
fleursdumal.nl magazine
More in: Archive C-D, Archive C-D, CLASSIC POETRY
---
Styxoтворение
Het was een wat desolate zondagmiddag.
Wij bezochten de dierentuin van Overloon.
Bij het gouden kooitje van het vogelverblijf
beseften wij: poetry, that rare bird, had flown.
Ooit had zij hier haar hoogste vorm gevonden
in een vogellijfje ingepakt in kleurenpracht –
тихотворенье in rumoerig gezelschap
en шумасшествие in de stilte van de nacht.
Zou zij gevlucht zijn of zou zij zijn gevlogen?
Vond het zorgteam haar met haar pootjes omhoog?
Of was ze toch maar paradijsvogel geworden?
Eentje die krijsend naar de onderwereld vloog?
Paul Bezembinder
gedicht: Styxoтворение
Paul Bezembinder studeerde theoretische natuurkunde in Nijmegen. In zijn poëzie zoekt hij in vooral klassieke versvormen en thema's naar de balans tussen serieuze poëzie, pastiche en smartlap. Zijn gedichten (Nederlands) en vertalingen (Russisch-Nederlands) verschenen in verschillende (online) literaire tijdschriften. Voor­beelden van zijn werk zijn te vinden op zijn website, www.paulbezembinder.nl
fleursdumal.nl magazine
More in: Archive A-B, Archive A-B, Art & Literature News, Bezembinder, Paul, POETRY IN TRANSLATION: BEZEMBINDER
---
Einer Verdammten
Ha, wie sie heuchlerisch entrüstet,
Sich hüllen in die Kutten der Moral
Und wie Papa vertraulich flüstert:
»Mama, dies ist ein offener Skandal«.
Die hohe Gattin nickt verständlich
Und vor »Empörung« brennend rot
Ruft sie: »Von Denen ist es schändlich
Uns schützt vor Kindersegen doch der liebe Gott.«
Hugo Ball
(1886 – 1927)
Erstdruck in:
Der Revoluzzer (Zürich),
1. Jg., Nr. 12, Oktober 1915
fleursdumal.nl magazine
More in: Archive A-B, Ball, Hugo, Dada, DADA, Dadaïsme
---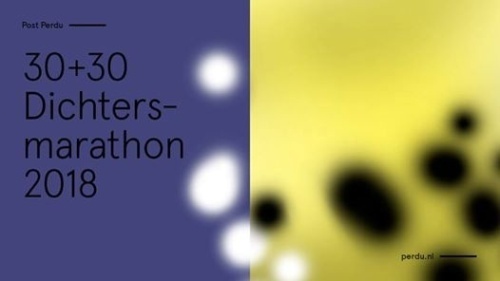 Dat poëzie niet moeilijk hoeft te zijn, bewijst Perdu jaarlijks op Gedichtendag. Niet door zich op die dag te beperken tot de eenvoudigste poëzie, maar juist door de poëzie in al haar diversiteit aan te bieden op een manier die vooral de nieuwsgierigheid prikkelt.
Podiumbeesten en prevelaars, anekdotici en hermetici, vaklui en avonturiers, groentjes en grijsaards: ze staan naast elkaar en door elkaar op deze nieuwe editie van de 30 + 30 Dichtersmarathon. Zestig zeer uiteenlopende dichters komen in ongeveer tweeënhalf uur voorbij.
Het concept is uitermate eenvoudig: dertig Nederlandse dichters lezen elk drie gedichten voor: twee van henzelf en één van een zelfverkozen collega uit het buitenland. Bij het voorlezen wordt de poëzie niet onderbroken door aan- of afkondigingen, bio- of bibliografische informatie of entr'actes en intermezzo's.
Zo kan de aandacht van de luisteraar zich volledig op de poëzie zelf richten, die zich aan hem presenteert als een constante stroom in een onverbiddelijk ritme van ruim tweeënhalf uur.
Wiens aandacht toch even verslapt, haakt zo weer aan bij de eerstvolgende dichter. Een uitstekende gelegenheid om je onder te dompelen in poëzie uit Nederland en de rest van de wereld.
Met Radna Fabias, Peggy Verzett, Samuel Vriezen, Arno van Vlierberghe, Yi Fong Au, Martje Wijers, Peter Prins, Maarten van der Graaff, Kira Wuck, Jonathan Griffioen, Marc van der Holst, Lucie Berjoan, Isabel Verhulst, Roos Vlogman, Mathijs Tratsaert, Esmé van den Boom, Asha Karami, Meliza de Vries, Edna Azulay, Nguyễn Nam Chi, Shida Boukhizou, Michael Tedja, Zaii, Omar El Allali, Flora Woudstra, Raj Mohan, Divya Nadkarni, Mariana Hirschfeld & Anne-Fleur van der Heijden
donderdag 25 jan 2018 19:45
30+30 Dichtersmarathon 2018
Aanvang: 19:45 uur
Deuren open: 19:15 uur
Entree: 10 / 7 euro (korting)
Vanwege verwachte drukte s.v.p. uw ticket(s) tijdig kopen.
#  meer  info  op  website  perdu.nl
dichtersmarathon
fleursdumal.nl magazine
More in: - Book Lovers, Art & Literature News, Literary Events, LITERARY MAGAZINES, MODERN POETRY, POETRY ARCHIVE
---
Freedom
A! Fredome is a noble thing!
Fredome mays man to haiff liking;
Fredome all solace to man giffis,
He levys at ese that frely levys!
A noble hart may haiff nane ese,
Na ellys nocht that may him plese,
Gyff fredome fail; for fre liking
Is yarnyt our all othir thing.
Na he that ay has levyt fre
May nocht knaw weill the propyrte,
The angyr, na the wretchyt dome
That is couplyt to foule thyrldome.
Bot gyff he had assayit it,
Than all perquer he suld it wyt;
And suld think fredome mar to prise
Than all the gold in warld that is.
Thus contrar thingis evirmar
Discoweryngis off the tothir ar.
John Barbour
(c. 1320 -1395)
Freedom
fleursdumal.nl magazine
More in: Archive A-B, Archive A-B, CLASSIC POETRY
---
Older Entries »
Thank you for reading FLEURSDUMAL.NL - magazine for art & literature