TRANSLATION ARCHIVE
·
Jihyun Yun: Some Are Always Hungry
·
The Discomfort of Evening from Marieke Lucas Rijneveld on 2020 International Booker Prize Shortlist
·
Daniil Charms: De dappere egel
·
The Brooklyn Book Festival 2019: September 16 – 23
·
All That Is Evident Is Suspect. Readings from the Oulipo, 1963 – 2018
·
Fernando Pessoa: Een spoor van mezelf. Een keuze uit de orthonieme gedichten
·
Bejan Matur: Ceremoniële gewaden (Gedichten)
·
Alice Zeniter: De kunst van het verliezen
·
Vladimir Majakovski nieuwe uitgave van Verzamelde gedichten
·
Jo Nesbø: Macbeth. Blut wird mit Blut bezahlt (Thriller)
·
Voronezh Notebooks by Osip Mandelstam
·
William Blake: Verzen van Onschuld en van Ervaring – vertaling van Dr. Cornelis W. Schoneveld
Winner of the Prairie Schooner Book Prize in Poetry, Some Are Always Hungry chronicles a family's wartime survival, immigration, and heirloom trauma through the lens of food, or the lack thereof.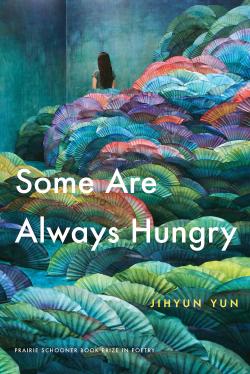 Through the vehicle of recipe, butchery, and dinner table poems, the collection negotiates the myriad ways diasporic communities comfort and name themselves in other nations, as well as the ways cuisine is inextricably linked to occupation, transmission, and survival.
Dwelling on the personal as much as the historical, Some Are Always Hungry traces the lineage of the speaker's place in history and diaspora through mythmaking and cooking, which is to say, conjuring.
Jihyun Yun is a Korean American poet from California who now lives in Ann Arbor, Michigan. A Fulbright research grant recipient, she has received degrees from the University of California–Davis and New York University. Her work has appeared in Narrative Magazine, Poetry Northwest, Adroit Journal, and other publications.
Jihyun Yun
Some Are Always Hungry
Prairie Schooner Book Prize in Poetry
Kwame Dawes, series editor
University of nebraskapress
Poetry
English
September 2020
Paperback
90 pages
ISBN978-1-4962-2218-3
$17.95
# New books
Jihyun Yun
Some Are Always Hungry
• fleursdumal.nl magazine
More in: - Book News, Archive Y-Z, Archive Y-Z, TRANSLATION ARCHIVE
---
The International Booker Prize is awarded annually for a single book, translated into English and published in the UK or Ireland.
The vital work of translators is celebrated, with the prize money divided equally between the author and translator.
The judges of the 2020 International Booker Prize have revealed the six shortlisted books of the International Booker Prize which celebrates the finest translated fiction from around the world.
The 2020 International Booker Prize shortlist is as follows:
◊ The Enlightenment of the Greengage Tree by Shokoofeh Azar (Farsi-Iran), translated by Anonymous, published by Europa Editions
◊ The Adventures of China Iron by Gabriela Cabezón Cámara (Spanish-Argentina), translated by Iona Macintyre and Fiona Mackintosh, published by Charco Press
◊ Tyll by Daniel Kehlmann (Germany-German), translated by Ross Benjamin, published by Quercus
◊ Hurricane Season by Fernanda Melchor (Spanish-Mexico), translated by Sophie Hughes, Published by Fitzcarraldo Editions
◊ The Memory Police by Yoko Ogawa (Japanese-Japan), translated by Stephen Snyder, published by Harvill Secker
◊ The Discomfort of Evening by Marieke Lucas Rijneveld (Dutch-Netherlands), translated by Michele Hutchison, published by Faber & Faber
The shortlist was chosen by a panel of five judges, chaired by Ted Hodgkinson, Head of Literature and Spoken Word at Southbank Centre. The panel also includes: Lucie Campos, director of the Villa Gillet, France's centre for international writing; Man Booker International Prize-winning translator and writer Jennifer Croft; Booker Prize longlisted author Valeria Luiselli and writer, poet and musician Jeet Thayil, whose novel Narcopolis was shortlisted for the Man Booker Prize in 2012.
◊ The Winner will be announced on 19 may 2020
# More information on website Booker Prize
• fleursdumal.nl magazine
More in: - Book Lovers, - Book News, Archive Q-R, Archive Q-R, Awards & Prizes, Rijneveld, Marieke Lucas, TRANSLATION ARCHIVE
---
Daniil Charms die in werkelijkheid Daniil Ivanovic Juvacov heette, werd in 1905 in St. Petersburg geboren, waar hij in 1942 stierf.
In 1926 richtte hij met Aleksandr Vvdenski en Nikolaj Zabolotski de avantgardegroep Oberiu (Objeedinenije realnogo iskoesstva – 'Vereniging van reële kunst') op. Hun doel was een artistieke revolutie door te voeren, parallel aan de politieke revolutie.
Alhoewel ze het woord niet gebruikten pleitten ze voor absurde kunst. De doodsteek kwam toen ze in 1930 beschuldigd werden van protest tegen de dictatuur van het proletariaat. Charms werd in 1931 veroordeeld tot verbanning naar Koersk, waarvandaan hij in 1933 terugkeerde.
Hij legde zich toen, omdat zijn werk voor volwassenen niet-publicabel was geworden, toe op kinderliteratuur.
Uiteindelijk werd hij in 1941, tijdens het beleg van het Leningrad (tot 1924 Petersburg genoemd), weer gearresteerd en krankzinnig verklaard. Charms stierf begin 1942, vermoedelijk uitgehongerd, in de psychiatrische afdeling van de gevangenis Kresty in Leningrad. Hij heeft geen graf.
Na zijn dood werden zijn manuscripten teruggevonden. In de jaren zestig begonnen publicaties van dit onuitgegeven werk te verschijnen, aanvankelijk vooral in het Westen. Op grond hiervan kreeg Charms algauw de reputatie van Ruslands belangrijkste absurdistische auteur.
# meer informatie op website: https://www.uitgeverijvleugels.nl/
daniil charms
De dappere egel
2019
60 pagina's
vertaling: jan paul hinrichs
isbn 978 90 78627 82 1
uitgeverij vleugels
€ 21,80
uitgeverij vleugels
van 't hoffstraat 27
2665 jl bleiswijk
t 06 30 49 77 49
email: info@uitgeverijvleugels.nl
website: https://www.uitgeverijvleugels.nl/
# more books
daniil charms
De dappere egel
• fleursdumal.nl magazine
More in: - Book News, - Bookstores, Archive C-D, Archive C-D, Archive K-L, Kharms (Charms), Daniil, Modernisme, Psychiatric hospitals, REPRESSION OF WRITERS, JOURNALISTS & ARTISTS, TRANSLATION ARCHIVE
---
The Brooklyn Book Festival is one of America's premier book festivals and the largest free literary event in New York City.

Presenting an array of national and international literary stars and emerging authors including Alexander Chee, Ted Chiang, Susan Choi, Edwidge Danticat, Sarah Dessen, Akwaeke Emezi, Jonathan Safran Foer, Jenny Han, Aleksandar Hemon, Mira Jacob, Marlon James, N.K. Jemisin, Lucy Knisley, Laila Lalami, Jessica Lange, DeRay Mckesson, Bill McKibben, Mary Norris, Joyce Carol Oates, Ben Passmore, Matt Taibbi, Mo Willems, Meg Wolitzer, Nell Zink, and hundreds more.
The Festival includes a week of Bookend Events throughout New York City, a lively Children's Day and a celebratory Festival Day with more than 300 authors plus 250 booksellers filling a vibrant outdoor Literary Marketplace. This hip, smart, diverse gathering attracts thousands of book lovers of all ages.
September 16 – 23
Brooklyn Book Festival 2019
Citywide Brooklyn – New York
# more on website brooklynbookfestival
• fleursdumal.nl magazine
More in: - Book Lovers, - Book News, - Book Stories, - Bookstores, Art & Literature News, FDM in New York, FICTION & NONFICTION ARCHIVE, PRESS & PUBLISHING, REPRESSION OF WRITERS, JOURNALISTS & ARTISTS, TRANSLATION ARCHIVE
---
Since its inception in Paris in 1960, the OuLiPo―ouvroir de littérature potentielle, or workshop for potential literature―has continually expanded our sense of what writing can do.
It's produced, among many other marvels, a detective novel without the letter e (and a sequel of sorts without a, i, o, u, or y); an epic poem structured by the Parisian métro system; a story in the form of a tarot reading; a poetry book in the form of a game of go; and a suite of sonnets that would take almost 200 million years to read completely.
Lovers of literature are likely familiar with the novels of the best-known Oulipians―Italo Calvino, Georges Perec, Harry Mathews, Raymond Queneau―and perhaps even the small number of texts available in English on the group, including Warren Motte's Oulipo: A Primer of Potential Literature and Daniel Levin Becker's Many Subtle Channels: In Praise of Potential Literature.
But the actual work of the group in its full, radiant collectivity has never before been showcased in English. ("The State of Constraint," a dossier in issue 22 of McSweeney's Quarterly Concern, comes closest.)
Enter All That is Evident is Suspect: the first collection in English to offer a life-size picture of the group in its historical and contemporary incarnations, and the first in any language to represent all of its members (numbering 41 as of April 2018 ). Combining fiction, poetry, essays and lectures, and never-published internal correspondence―along with the acrobatically constrained writing and complexly structured narratives that have become synonymous with oulipian practice―this volume shows a unique group of thinkers and artists at work and at play, meditating on and subverting the facts of life, love, and the group itself. It's an unprecedentedly intimate and comprehensive glimpse at the breadth and diversity of one of world literature's most vital, adventurous presences.
Sharks as poets and vice versa, the Brisbane pitch drop experiment, novel classifications for real or imaginary libraries, the monumental sadness of difficult loves, the obsolescence of the novel, the symbolic significance of the cup-and-ball game, holiday closures across the Francophone world, what happens at Fahrenheit 452, Warren G. Harding's dark night of the soul, Marcel Duchamp's imperviousness to conventional spacetime laws, bilingual palindromes, cartoon eodermdromes, oscillating poems, métro poems, metric poems, literary madness, straw cultivation.
Ian Monk is an English poet and Scott Moncrieff Award–winning translator who joined the Oulipo in 1998. He is the author of fifteen books of poetry in English and in French, most recently Vers de l'infini (Cambourakis, 2017), and has translated books by Raymond Roussel, Daniel Pennac, Marie Darrieussecq, Georges Perec, and various other Oulipians. He lives in Paris.
Title All That Is Evident Is Suspect
Subtitle Readings from the Oulipo, 1963 – 2018
Edited by Daniel Levin Becker, Ian Monk
Levin Becker, Daniel (Translator)
Marcel Duchamp (Contributor)
& 1 more
Publisher McSweeney's
Title First Published 01 November 2018
Format Hardcover
ISBN-10 1944211527
ISBN-13 9781944211523
Publication Date 01 November 2018
Hardcover
November 13, 2018
$32.00
# new books
All That Is Evident Is Suspect
Readings from the Oulipo, 1963 – 2018
Edited by Daniel Levin Becker, Ian Monk
• fleursdumal.nl magazine
More in: - Book News, - Book Stories, Art & Literature News, Dada, DADA, Dadaïsme, Georges Perec, Jef van Kempen, LITERARY MAGAZINES, Marcel Duchamp, OULIPO (PATAFYSICA), Surrealism, SURREALISM
---
Het Portugese woord pessoa komt van het Latijnse persona, dat zowel 'mens' als 'masker' betekent.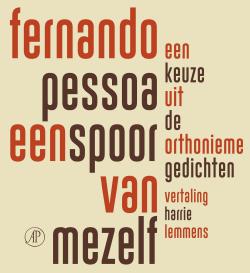 Precies daar moeten we Fernando Pessoa plaatsen, in de wereld van schijn, vermomming, spel, fictie. Hij vergelijkt zichzelf met een podium waarop allerlei acteurs rondlopen.
Zijn bekendste heteroniemen zijn Bernardo Soares (schrijver van het Boek der rusteloosheid) en de dichters Alberto Caeiro, Ricardo Reis en Álvaro de Campos. Pessoa heeft echter ook onder zijn eigen naam gedichten geschreven. Van dat orthonieme werk zag maar weinig het licht tijdens zijn leven.
Pas lang na zijn dood werden alle losse orthonieme gedichten bijeengebracht in drie delen van elk ruim vijfhonderd bladzijden.
Fernando Pessoa (1888-1935) was een groot Portugees dichter. Bij leven publiceerde deze kantoorklerk uit Lissabon slechts enkele werken. Na zijn dood werd op zijn huurkamer een kist aangetroffen met 27 duizend vol gekrabbelde velletjes. Uit die chaos kon een kolossaal oeuvre worden samengesteld. Niet dat van één dichter, maar van zo'n 25 'heteroniemen' – afzonderlijke 'schrijverspersoonlijkheden' met elk een eigen stijl en woordkeus. Pessoa stierf op 47-jarige leeftijd, hij dronk zich dood.
De Arbeiderspers heeft de exclusieve vertaalrechten op zijn oeuvre. August Willemsen (1936-2007) vertaalde het leeuwendeel daarvan en schreef als introductie op de Pessoa-bibliotheek: Het ik als vreemde.
Auteur: Fernando Pessoa
Een spoor van mezelf.
Een keuze uit de orthonieme gedichten
Vertaler: Harrie Lemmens
Nederlands
Uitgeverij: De Arbeiderspers
NUR: 306
Poëzie
Paperback
296 pagina's
ISBN: 9789029526456
Prijs: € 24,99
Publicatiedatum: 04-06-2019
• fleursdumal.nl magazine
More in: - Book News, Archive O-P, Archive O-P, Pessoa, Fernando, TRANSLATION ARCHIVE
---
Bejan Matur behoort tot de bekendste en bij literatuurliefhebbers meest gewaardeerde dichters in Turkije.
Bij de politieke overheid van haar land ligt dat anders. Maar ze heeft intussen internationale faam opgebouwd en leeft in wisselende landen in Europa. In 2002 trad ze op tijdens Poetry International in Rotterdam.
Bejan Matur
Ceremoniële gewaden
Gedichten
Uitgever Kleinood & Grootzeer
Bundel
54 pagina's
gelijmd
21 x 10,5 cm
ISBN/EAN 978-90-76644-89-9
€18,-
Eerste druk 100 genummerde door de auteur en de vertaler gesigneerde exemplaren
Vertaling en nawoord Willem M. Roggeman

Bejan Matur
Bejan Matur behoort tot de bekendste en bij literatuur-liefhebbers meest gewaardeerde dichters in Turkije. Bij de politieke overheid van haar land ligt dat anders. Maar zij heeft intussen ook een internationale faam opgebouwd. Haar poëzie werd in verscheidene talen vertaald en zelf wordt zij geregeld gevraagd als gast op internationale poëziefestivals. Zij publiceerde tot nog toe in Turkije tien werken, negen dichtbundels en een prozaboek dat als literaire journalistiek kan bestempeld worden.
Dit boek, Dagin Ardina Bakmak (Kijken achter de berg), handelt over de Koerdische kwestie en verscheen in februari 2011. Er heerste toen in Turkije een nog rustige periode waarin er een vredesproces aan de gang was. Bejan Matur besloot over de PKK-guerilleros te schrijven. Zij trok hiervoor naar het gebied waar de Koerdische vrijheidsstrijders zich schuilhielden en zij had meerdere gesprekken met hen. Deze gesprekken dienden als basis voor dit nog steeds actuele boek over een volk zonder land. Dit boek werd onmiddellijk een bestseller. Er werden meer dan 50.000 exemplaren van verkocht en nadien werden er nog verscheidene clandestiene uitgaven van gemaakt.
Maar sedert het vredesproces door de Turkse overheid werd opgeblazen kreeg Bejan Matur het bijzonder moeilijk, vooral omwille van deze reportage. Zij werd zelfs opgesloten in de gevangenis en werd er gefolterd om haar bronnen prijs te geven. In 2016 besloot zij dan ook het land te verlaten omdat zij zich bedreigd voelde bij al wat zij schreef. Niet alleen was er de mogelijkheid van een proces, maar er werden ook doodsbedreigingen geuit. Zij koos dan ook voor een vrijwillige ballingschap in Londen. Maar zij miste daar de mediterrane levenswijze. Daarom keerde zij in oktober 2017 toch terug naar Istanbul. Sedertdien verdeelt zij haar tijd tussen Istanbul, Londen, Athene en Verona.
Bejan Matur werd op 14 september 1968 geboren in een Koerdisch-Alevisch gezin in de oude Hitietenstad Kahramanmarash in het zuidoosten van Turkije, Koerdisch gebied. Zij studeerde aan het lyceum in de grotere stad Gaziantep en leefde toen samen met haar zusters ver van haar ouders. Haar vader wenste dat zij advocaat zou worden, of anders journalist.
Aan de universiteit van Ankara studeerde zij rechten, maar zij heeft nooit een advocatenpraktijk uitgeoefend. Zij werd diep getroffen door de onrechtvaardige behandeling van de Koerden en andere etnische minderheden in Turkije, wat steeds gebeurde onder het mom van de toepassing van de wet. Ook kwam zij tot de conclusie dat zij als advocaat alleen zou kunnen optreden als verdediger van de mensenrechten, maar dat zij hiervoor over weinig juridische mogelijkheden beschikte.
Al tientallen jaren heerst er een gewapend conflict tussen de Turkse staat en diverse Koerdische opstandige groeperingen. De Koerden verklaren dat zij vrijheidsstrijders zijn tegen de vreemde bezetters van hun land terwijl de Turkse staat hen bestempeld als terroristen en separatisten. Zelf was Bejan Matur tien jaar toen zij in 1978 getuige was van een pogrom op de Alevis in haar geboortestad. De vraag "Waarom doden zij ons?" heeft deze dichteres sedertdien nooit meer verlaten. Dit werd de beladen thematiek van de poëzie van Bejan Matur. In haar gedichten is vaak sprake van pijn, bloed en leed. Gelukkig laat ze zich nooit verleiden tot het schrijven van politiek geëngageerde gedichten, wat haar poëzie immers tijdgebonden en al gauw verouderd zou maken. Bovendien verafschuwt zij de slachtofferrol en streeft zij daarom eerder naar het scheppen van een ruimte om te dromen, een ruimte voor de artistieke creatie, voor hoop en liefde.
Hoewel zij nooit advocaat werd, brengt Bejan Matur als auteur, zowel in haar gedichten als in artikelen, toch een pleidooi voor de mensenrechten in het algemeen, maar ook voor de rechten van de vrouw en de bescherming van andere bedreigde groepen in de samenleving. Reeds tijdens haar studies publiceerde zij poëzie in diverse tijdschriften. Haar gedichten werden toen als "duister en mystiek" bestempeld. Zij schrijft haar gedichten in het Turks, maar de gevoelswaarde en het ritme van de Koerdische taal zijn erin te herkennen.
Vaak wordt god genoemd in deze gedichten, maar steeds volledig met kleine letters geschreven. Men moet de naam god dan ook niet zo zeer lezen in religieuze zin, maar eerder als een zinnebeeld voor het menselijk hart dat verlangt naar vrede, vrijheid en liefde voor de medemens. Dit wordt vooral duidelijk in het gedicht "Ceremoniële gewaden" waar zij schrijft: Misschien is geschiedenis een vergissing, zegt de dichter. De mens zelf is een vergissing, zegt god.
Haar eerste dichtbundel Rüzgar Dolu Konaklar (De wind huilt tussen de herenhuizen) verscheen in 1996 en stond volledig buiten de heersende trend in de Turkse poëzie. Deze sjamanistische poëzie met haar heidense beelden hoorde eerder bij het verleden dan bij het heden. Precies hierdoor trok hij sterk de aandacht. Voor deze bundel kreeg Bejan Matur zelfs verscheidene prijzen.
Haar tweede bundel, Tanri Görmesin Harflerini (God moet mijn handgeschreven brief niet zien) verscheen in 1999 en werd eveneens gunstig onthaald. In 2002 verschenen tegelijkertijd twee bundels, Ayin Büyüttügü Ogüllar (Zonen opgevoed door de maan) en Onün çölünde (In zijn woestijn).
De poëzie van Bejan Matur werd reeds in meer dan twintig talen vertaald, maar er verscheen nauwelijks iets in het Nederlands. Wel trad zij in juni 2002 op tijdens het internationaal poëziefestival Poetry International in Rotterdam. Naar aanleiding hiervan verschenen twee gedichten in Nederlandse vertaling door Ireneus Spit in de bloemlezing "Hotel Parnassus", uitgegeven door De Arbeiderspers in Amsterdam.
In Engeland verscheen in 2003 de bundel In the Temple of a Patient God en bij de uitgeverij Phi in Luxemburg verscheen een Duitse en een Franse bundel.
Bejan Matur wordt geregeld gevraagd om op te treden in het buitenland. Zo leerde ik haar persoonlijk kennen op het internationaal poëziefestival dat in september 2008 in Tel Aviv werd gehouden.
Haar vijfde dichtbundel Ibrahim'in Beni Terketmesi (Abraham verlaat ons) verscheen in maart 2008 en werd door de critici ontvangen als haar voorlopig beste werk. De beeldvorming in dit werk werd ook weer als mystiek beschreven. De dichteres heeft inderdaad een persoonlijke ontologie gecreëerd, die steunt op de Soefi-traditie, die meer dan duizend jaar oud is. In 2009 verscheen Dogunun Kapisi: Diyarbakir (De Poort van het Oosten: Diyarbakir) en een jaar later publiceerde Bejan Matur Kader Denizi (Zee van Geloof), gedichten bij foto's van Mehmet Günyeli. Deze foto's waren eerder te zien op tentoonstellingen in prestigieuze galerieën in Istanbul en Ankara.
Vanaf 2005 schreef Bejan Matur geregeld artikelen in het Turkse dagblad Zaman, maar in 2012 werd zij ontslagen. Zij werkte af en toe mee aan het Engelstalige dagblad Today's Zaman. Zij schreef hoofdzakelijk artikelen over de situatie van de Koerden, maar ook over het problematisch bestaan van de Armeniërs, over actuele politieke gebeurtenissen, minderheidsgroepen, gevangenis-literatuur en de onderdrukking van de vrouw.
Thans werkt zij aan geen enkele krant meer mee.
In haar laatste twee bundels, Son Dag (De laatste berg, 2015) en Ask Olmayan (Liefdesgedichten, 2016) vindt men de typische Koerdische levenssfeer terug in de talrijke natuurbeschrijvingen en in de weergave van de landschappen van Koerdistan, binnen en buiten de grenzen van Turkije. De bergen, de rivieren, de maan, de zon en de plantengroei komen steeds weer in deze verzen voor en bepalen mee het ritme van haar zeggings-wijze, die echter vooral door de wind wordt gedragen. Het valt dan ook onmiddellijk op dat de wind als symbool een primaire rol speelt in deze gedichten. Met haar talrijke allusies op elementen uit de eeuwenoude Koerdische cultuur neemt Bejan Matur een unieke en heel aparte plaats in de hedendaagse Turkse poëzie in.
Willem M. Roggeman
11 maart 2019
Uitgeverij Kleinood & Grootzeer
Kon. Wilhelminastraat 46
4615 JB Bergen op Zoom NL
T: 0164 24 00 49 (0031 164 24 00 49)
email: uitgeverij@kleinood-en-grootzeer.com
website: http://kleinood-en-grootzeer.com/index.html
• fleursdumal.nl magazine
More in: #Editors Choice Archiv, - Book News, - Book Stories, Archive M-N, Archive M-N, Archive Q-R, Art & Literature News, REPRESSION OF WRITERS, JOURNALISTS & ARTISTS, TRANSLATION ARCHIVE
---
Het land van herkomst van haar familie – Algerije – was voor Naïma lange tijd een gegeven zonder veel belang.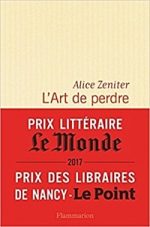 Maar in een tijd waarin identiteitskwesties elk debat domineren lijkt alles haar op haar wortels te willen wijzen. Hoe kan ze een band hebben met een familiegeschiedenis die haar nooit verteld is?
Haar grootvader, een Berber uit de bergen, was al overleden voordat ze hem had kunnen vragen waarom de geschiedenis hem tot een harki (een collaborateur van de Fransen tijdens de Algerijnse Oorlog) had bestempeld.
Sinds haar vader in 1962 in een Frans doorgangskamp arriveerde spreekt hij niet meer over het land van zijn kindertijd. Hoe wek je een doodgezwegen land tot leven? Alice Zeniter doet het in een even vrijgevochten als gedurfd, hartveroverend epos van een familie die generaties lang de gevangene is van een onwrikbaar verleden.
Een grootse grootse roman over de last van een ongekende erfenis.
De kunst van het verliezen
Auteur: Alice Zeniter
Vertaling door Martine Woudt
Originele Titel: L'art de perdre
Taal: Nederlands
Bindwijze: Paperback
Verschijningsdatum: oktober 2018
1e druk – 504 pagina's
ISBN13 9789029525701
Uitgever De Arbeiderspers
Literaire roman –  24,99 euro
# new novel / translation
fleursdumal.nl magazine
More in: - Book News, - Bookstores, Archive Y-Z, Art & Literature News, TRANSLATION ARCHIVE
---
Sinds de vertaling van Marko Fondse van Majakovski's werken uitkwam, vijfentwintig jaar geleden, is diens poëzie niet meer weg te denken uit de Nederlandse boekhandel. De ongeëvenaarde lenigheid van de taal die Fondse wist aan te boren zette de dichter hier voorgoed op de kaart.
Met de ge-update versie van de poëzie van Majakovski zijn zijn beroemde poèma's en andere gedichten nu weer beschikbaar. Het bekende Een wolk in broek en Mens, die dateren van voor de revolutie van 1917, laten de gepassioneerde (liefdes)dichter in optima forma zien. De grote gedichten Ik heb lief en Daarover, van na de revolutie, zijn twee positieve uitzonderingen op de socialistische poëzie waaraan Majakovski zijn dichterschap ten slotte offerde: daarin keert de bravoure van zijn vroege lyriek even terug.
Deze uitgave van Majakovski's poëzie is voor de gelegenheid aangevuld met een grote hoeveelheid gedichten uit zijn enorme oeuvre. Vele daarvan verschenen niet eerder in Nederlandse vertaling. De herziening en uitbreiding zijn in handen van Majakovski-vertaler Yolanda Bloemen.
Alles waarvoor de dichter Vladimir Majakovski (1893–1930) hartstochtelijk leefde en werkte, de revolutie en de opbouw van het socialisme, is een eeuw na zijn geboorte grondig in diskrediet geraakt en ineengestort. Naar Majakovski's socialistische poëzie kijkt bijna geen mens meer om. Wel wordt zijn voorrevolutionaire werk nog gelezen: de gedichten van Een wolk in broek tot en met Mens, een ding, met hun unieke mixtuur van lyrische, epische en dramatische kwaliteiten. Na 1917 wist Majakovski zich nog twee maal van zijn socialistische preoccupaties los te maken in de twee grote poëma's Ik heb lief en Daarover (1921-1923).
Auteur: Vladimir Majakovski
Titel: Verzamelde gedichten
Vertalingen: Marko Fondse, Yolanda Bloemen e.a.
Taal: Nederlands
Uitgever: Uitgeverij van Oorschot
Bindwijze: Paperback
Verschijningsdatum: september 2018
Druk: 1e druk
Afmetingen: 21 x 13 x 2,9 cm
Aantal pagina's: 480
ISBN-13 9789028280915
ISBN-10 902828091X
€ 29,99
# new poetry translations
Vladimir Majakovski
fleursdumal.nl magazine
More in: - Book Lovers, - Book News, Archive M-N, Archive M-N, Art & Literature News, Constructivism, Constuctivisme, Majakovsky, Vladimir, TRANSLATION ARCHIVE
---
Er kennt seine Feinde nur allzu gut. Inspector Macbeth ist der taffste Cop in einer maroden Industriestadt im Norden.
Einen Deal nach dem anderen lässt er hochgehen, die Drogenbosse beißen sich an ihm die Zähne aus. Doch irgendwann wird die Verlockung zu groß: Geld, Respekt, Macht. Schnell aber wird ihm klar, dass einer wie er, der schon in der Gosse war, niemals ganz nach oben kommen wird. Außer – er tötet.
Angestachelt von seiner Geliebten, schafft er sich einen Konkurrenten nach dem anderen vom Hals. In seinem Blutrausch merkt er nicht, dass er längst jenen dunklen Kräften verfallen ist, denen er einst den Kampf angesagt hat.
Jo Nesbø, 1960 geboren, ist Ökonom, Journalist, Musiker und zählt zu den renommiertesten und innovativsten Krimiautoren seiner Generation. Seine Bücher sind in über 50 Sprachen übersetzt, werden verfilmt, und von seinen Harry-Hole-Thrillern wurden allein im deutschsprachigen Raum über 5 Millionen Exemplare verkauft. »Macbeth« ist sein neuester Thriller, der u.a. in Skandinavien, Großbritannien und den USA auf der Bestsellerliste stand. Jo Nesbø lebt in Oslo.
André Mumot (Übersetzer): André Mumot ist promovierter Kulturwissenschaftler, Journalist, Autor und Literaturübersetzer. Seit 2008 übersetzt er Autoren wie Neil Gaiman, Raquel J. Palacio, Nick Harkaway und Aleksandar Hemon. Er lebt in Berlin.
Jo Nesbø
Macbeth
Blut wird mit Blut bezahlt.
Thriller
Internationaler Bestseller
Originaltitel: Macbeth
Originalverlag: Hogarth
Aus dem Englischen von André Mumot
Gebundenes Buch mit Schutzumschlag
624 Seiten
13,5 x 21,5 cm
ISBN: 978-3-328-60017-6
€ 24,00 [D]
Verlag: Penguin
Erscheinungstermin: 27. August 2018
# new novel
Jo Nesbø – Macbeth
fleursdumal.nl magazine
More in: - Book News, - Bookstores, Archive M-N, Art & Literature News, Tales of Mystery & Imagination, Thrillers, TRANSLATION ARCHIVE
---
Osip Mandelstam is one of the greatest of twentieth-century poets and Voronezh Notebooks, a sequence of poems composed between 1935 and 1937 when he was living in internal exile in the Soviet city of Voronezh, is his last and most exploratory work.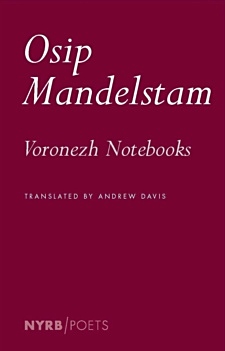 Meditating on death and survival, on power and poetry, on marriage, madness, friendship, and memory, challenging Stalin between lines that are full of the sights and sounds of the steppes, blue sky and black earth, the roads, winter breath, spring with its birds and flowers and bees, the notebooks are a continual improvisation and an unapologetic affirmation of poetry as life.
Russia's greatest poet in this century. — Joseph Brodsky
Mandelstam was a tragic figure. Even while in exile in Voronej, he wrote works of untold beauty and power. And he had no poetic forerunners… In all of world poetry, I know of no other such case. We know the sources of Pushkin and Blok, but who will tell us from where that new, divine harmony, Mandelstam's poetry, came from? — Anna Akhmatova
Voronezh Notebooks by Osip Mandelstam,
translated from the Russian and with an introduction by Andrew Davis
ISBN: 9781590179109
Pages: 128
Publication Date: January 5, 2016
Series: NYRB Poets
The New York Review of Books
Paperback
Books That Everyone Should Read
fleursdumal.nl magazine
More in: - Book Lovers, - Book Stories, Achmatova, Anna, Archive M-N, Brodsky, Joseph, Mandelstam, Osip, REPRESSION OF WRITERS, JOURNALISTS & ARTISTS, TRANSLATION ARCHIVE
---
DE ENGEL
Ik had een Droom, die uitleg vraagt!
'k Was een Prinses en was een maagd,
Door een Engel mild bewaakt:
Dwaas verdriet werd nooit gelaakt!
En ik huilde dag en nacht,
En mijn wee werd steeds verzacht,
En ik huilde nacht en dag
En verborg mijn blijde lach.
Dus hij vluchtte op wieken heen;
Toen de dag met blos verscheen
Stelde ik mij, traan droog, te weer
Duizendvoud met schild en speer.
En mijn Engel keerde weer,
Maar mijn wapen sloeg hem neer;
Want mijn jeugdtijd was voorbij,
En grijs hoofdhaar tooide mij
William Blake
vertaald door: Dr. Cornelis W. Schoneveld
THE ANGEL
I Dreamt a Dream! what can it mean?
And that I was a maiden Queen:
Guarded by an Angel mild;
Witless woe, was neer beguil'd!
And I wept both night and day
And he wip'd my tears away
And I wept both day and night
And hid from him my hearts delight
So he took his wings and fled:
Then the morn blush'd rosy red:
I dried my tears & armd my fears,
With ten thousand shields and spears.
Soon my Angel came again;
I was arm'd, he came in vain:
For the time of youth was fled
And grey hairs were on my head
William Blake (1757 – 1827)
Poem: The Angel
Vertaling uit:
Verzen van Onschuld en van Ervaring
William Blake
vertaald door: Dr. Cornelis W. Schoneveld
paperback
gebrocheerd
€ 20,00
ISBN: 978-90-824288-1-0
geïllustreerd
116 blz.
mei 2017
Uitgeverij De Wilde Tomaat
new translations
fleursdumal.nl magazine
More in: - Book Stories, Archive A-B, Blake, Blake, William, TRANSLATION ARCHIVE
---
Older Entries »
Thank you for reading FLEURSDUMAL.NL - magazine for art & literature