The talk of the town
·
The Beautiful Poetry of Donald Trump by Rob Sears
·
BLACK LIVES MATTER
·
Teken de petitie: LIEFDE VOOR MUZIEK!
·
Child refugee faces prison over Facebook posts
·
SETTING/UNSETTING/RESETTING – tentoonstelling Jonas Wijtenburg in PARK
·
Antoine de Latour : Notre-Dame de Paris (Poème)
·
Nieuwe publicatie van: PARK – platform for visual arts
·
The Hatred of Literature by William Marx
·
26ste editie Crossing Border festival Den Haag
·
Jan Cremer: Jayne
·
L.A. Raeven deelnemer expositie ROBOT LOVE
·
The Circus. A Visual History by Pascal Jacob
Does a poet's heart beat under Donald Trump's brash exterior? This bestseller rearranges his quotes and tweets into hilarious poetry. It's a new word order and a perfect stocking filler.
What if there's a hidden dimension to Donald Trump; a sensitive, poetic side? Driven by this question, Rob Sears began combing Trump's words for signs of poetry.
What he found was a revelation. By simply taking the 45th President of the United States' tweets and transcripts, cutting them up and reordering them, Sears unearthed a trove of beautiful verse that was just waiting to be discovered.
This groundbreaking collection gives readers a glimpse of Trump's innermost thoughts and feelings on everything from the nature of truth, to what he hates about Lord Sugar. And it will reveal a hitherto hidden Donald, who may surprise and delight both students and critics alike.
Now with seventeen all-new poems! As we lurch deeper into the Trump presidency, this timely publication also includes Sears' scholarly footnotes and introduction, in which he excavates new critical angles and insights into the President's poetry which the casual reader might initially overlook.
"I'm very highly educated.
I know words,
I know the best words"
– Donald Trump,
Campaign Rally, 30 Dec 2015
Rob Sears is a creative director at McCann Erickson advertising agency, has written comedy and fiction for McSweeney's and (with his brother) wrote a sitcom for Audible starring Kevin Eldon, Felicity Montagu and Mitch Benn. He lives in Finsbury Park with his wife.
The Beautiful Poetry of Donald Trump
by Robert Sears (Author)
Subtitel: Newly Updated Edition
Including 12 Recently Discovered Poems
Hardcover: 144 pages
Publisher: Canongate Books Ltd; Main edition
August 31, 2017
Language: English
ISBN-10: 9781786892270
ISBN-13: 978-1786892270
ASIN: 1786892278
Product Dimensions: 14.4 x 1.8 x 22 cm
NUR code 754
$12.99
# new books
The Beautiful Poetry
of Donald Trump
• fleursdumal.nl magazine
More in: #Editors Choice Archiv, - Book News, Archive S-T, Archive S-T, Art & Literature News, Invisible poetry, The talk of the town
---
• fleursdumal.nl magazine
More in: AUDIO, CINEMA, RADIO & TV, Black Lives Matter, DICTIONARY OF IDEAS, The talk of the town
---
De campagne 'Liefde voor Muziek' is een initiatief van de voltallige Nederlandse muziekindustrie. Ruim 3000 artiesten, organisaties en bedrijven uit de gehele breedte (pop, jazz, klassiek en elektronische muziek) van de muziekbranche steunen de campagne met hart en ziel.
In maart van dit jaar verstomde als gevolg van het coronavirus alle livemuziek in poppodia, concertzalen en op festivals even onverwachts als abrupt. Veel artiesten, gezonde bedrijven en ZZP'ers hebben geen omzet of inkomen meer. Tienduizenden banen en knowhow dreigen verloren te gaan. Nederland heeft geweldige muzikanten. Nationaal en internationaal succesvolle sterren in alle genres van de pop, dance en jazz. Deze kunnen optreden dankzij een groot ecosysteem van 150.000 professionals.
De organisatie van 'LIEFDE VOOR MUZIEK'! wil de regering laten (in)zien hoe omvangrijk en divers de Nederlandse muziekindustrie is, wat haar culturele en economische waarde is.
Zij vragen de muziekliefhebber om de petitie 'Liefde voor Muziek' te tekenen. Laat weten dat je het voortbestaan van live muziek (festivals en concerten) in Nederland ook belangrijk vindt.
Meer informatie op website:
     • fleursdumal.nl magazine
More in: # Music Archive, Art & Literature News, AUDIO, CINEMA, RADIO & TV, The talk of the town
---
Tujan al-Bukhaiti is a 17-year-old Yemeni refugee. She is being tried in Jordan on charges of 'blasphemy' and 'insulting religious figures' over her social media posts, including posts by her dad that she has shared. Stopped from going to school
On 11 December 2019 Tujan's school threatened to expel her for sharing 'beliefs that do not represent the school' on her Facebook page. When she refused their ultimatum they banned her from attending classes.
A week later she was brought in by police for questioning and a statement was taken without her parents or lawyer there. This is illegal and violates her right to a fair trial.
When she was questioned she says that an officer went through her Facebook page insulting various members of her family.
Tujan has been made to go to court three times for her trial and each time the date has been postponed. She is facing potentially a month in prison and a lifetime criminal record just for expressing her views. If Jordan allows the trial to go ahead they will be breaking international law by violating her right to freedom of expression. This young woman should not be punished just for speaking her mind.
Tujan is just a teenager. As a refugee, she's already been through so much. Jordan should drop this case immediately and let her get on with her studies.
Please send an email to Jordan's Minister of Justice .
# More information on website of Amnesty International UK
• fleursdumal.nl magazine
More in: AUDIO, CINEMA, RADIO & TV, MUSEUM OF PUBLIC PROTEST, PRESS & PUBLISHING, REPRESSION OF WRITERS, JOURNALISTS & ARTISTS, The talk of the town
---
Jonas Wijtenburg (Utrecht 1989) gebruikte van 18 januari tot en met 7 februari PARK als productieplek voor nieuw werk.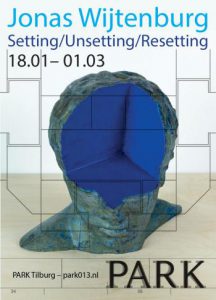 Van 8 februari tot en met 1 maart toont hij in de solotentoonstelling Setting/Unsetting/Resetting de resultaten hiervan in een modulair paviljoen waarin tevens werken te zien zijn die hij eerder realiseerde in de kunstenaarswerkplaatsen Beeldenstorm in Eindhoven en het EKWC in Oisterwijk.
Zijn ambachtelijke vertalingen van een industrieel idioom in hout, staal, keramiek en brons komen bij PARK samen in een Gesamtkunstwerk. Paviljoen en sculpturen laten zich lezen vanuit een herkenbare en directe beeldtaal.
U bent van harte uitgenodigd voor de opening op zaterdag 8 februari om 16.00 uur die verricht zal worden door Ranti Tjan, directeur Sundaymorning@EKWC.
SETTING/UNSETTING/RESETTING
tentoonstelling Jonas Wijtenburg
18.01 – 01.03 2020
Opening 8 februari 16.00 uur
PARK Wilhelminapark 53, 5041 ED Tilburg – Tijdens de tentoonstelling geopend: 
vrijdag van 13.00 tot 17.00 uur
 zaterdag van 13.00 tot 17.00 uur zondag van 13.00 tot 17.00 uur 
toegang is gratis
PARK is een kunstinitiatief opgericht in 2013 door Rob Moonen in samenwerking met een zestal andere Tilburgse kunstenaars. Op dit moment bestaat de PARK werkgroep uit Linda Arts, René Korten, Rob Moonen en Liza Voetman.
PARK ziet de noodzaak van een middenpodium dat zich positioneert tussen Kunstpodium T en Museum De Pont en zet zich daarvoor in door een tentoonstellingsprogramma in de voormalige Goretti-kapel aan het Wilhelminapark te Tilburg te realiseren.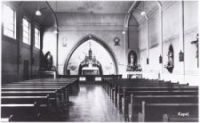 PARK ligt op 10 minuten loopafstand van het Centraal Station Tilburg in de nabijheid van Museum De Pont. Er is beperkt parkeergelegenheid voor de deur.
# Meer informatie op website PARK
• fleursdumal.nl magazine
More in: Art & Literature News, Exhibition Archive, FDM Art Gallery, Linda Arts, Park, The talk of the town
---
La cathédrale Notre-Dame ravagée par les flammes
Le feu a pris dans les combles du monument le plus visité d'Europe un peu avant 19 heures.
Le Monde, 15 Avril 2019 à 19h50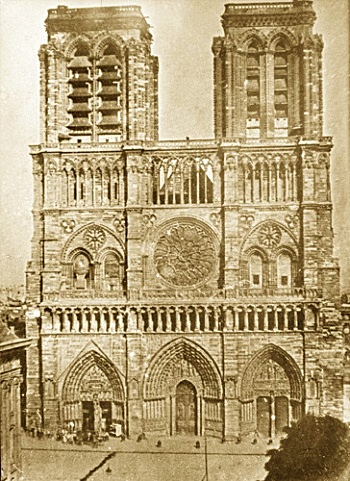 Notre-Dame de Paris
Ce poème vivant, seconde Notre-Dame,
Qui doit se voir encore debout à l'horizon,
Quand l'autre qui l'inspire et dont il prend le nom,
Aura dans la poussière exhalé sa grande âme ;
Ce colosse qu'un soir de son rêve de flamme
L'artiste a vu sortir, fait d'or et de limon,
Ce chant aux mille échos, où l'ange et le démon
Mêlent le cri du tigre au soupir de la femme ;
Ce livre de l'enfer et du ciel, le voici :
Lisez, mais si vers vous un pauvre enfant transi
Tend la main pour sa sœur qui danse sur la place,
Donnez, ne comptez pas, c'est Dieu qui comptera ;
Donnez, que votre cœur, en voyant l'humble tasse,
Se rappelle toujours la brune Esméralda.
Antoine de Latour
(1808-1881)
Poème: Notre-Dame de Paris (1835)
• fleursdumal.nl magazine
More in: #More Poetry Archives, Archive K-L, CATHEDRALS, FDM in Paris, The talk of the town
---
PARK vierde in oktober 2018 het vijfjarig bestaan en maakte een boek waarin de activiteiten in de periode 2016-2018 zijn vastgelegd.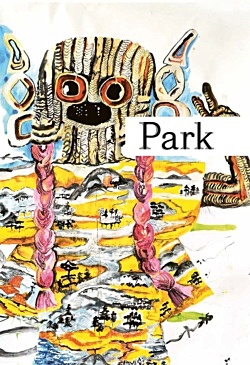 Het rijk geïllustreerde full-colour boek, met teksten van Esther Porcelijn en Rob Moonen, is opnieuw vormgegeven door Berry van Gerwen.
Het telt ruim 240 pagina's en heeft een oplage van 600 stuks.
Alle tentoonstellingsprojecten, de bijna 200 exposerende kunstenaars en de extra activiteiten in de periode 2016-2018 komen aan bod. Het is de opvolger van het eerder verschenen 'PARK 2013-2015'.
Het boek kost € 20,- inclusief BTW, exclusief eventuele verzendkosten. Het verschijnt verschijnt op zondag 16 december 2018 tijdens een boekpresentatie om 16:00 uur bij PARK.
U kunt uw exemplaar ook bestellen via shop@park013.nl
PARK 2016-2018
Teksten van Esther Porcelijn en Rob Moonen
Vormgeving door Berry van Gerwen
PARK
Platform for visual arts
240 pagina's
Oplage 600 stuks
€ 20,-
PARK is een kunstinitiatief opgericht in 2013 door Rob Moonen in samenwerking met een zestal andere Tilburgse kunstenaars. Op dit moment bestaat de PARK werkgroep uit Linda Arts, René Korten, Rob Moonen en Liza Voetman.
PARK richt zich op actuele ontwikkelingen binnen de hedendaagse kunst én op kunstenaars met gedegen ervaring en bewezen kwaliteit. Er wordt plek geboden aan regionale collega's maar ook aan landelijk of internationaal opererende kunstenaars, juist om een positieve bijdrage aan de discussie over actuele kunst tot stand te brengen. De werkgroep ambieert het podium van belang te laten zijn op landelijk niveau, maar bij elk project wordt met nadruk gezocht naar een inhoudelijke koppeling met de stad. De werkgroep is er van overtuigd dat samenwerking met andere partijen de zichtbaarheid en functionaliteit van de plek zal versterken, maar ook dat de plek een waardevolle stimulans voor de beeldende kunst in de stad en de regio zal kunnen zijn.
PARK wil steeds nieuwe verbindingen leggen, bijvoorbeeld door (internationaal opererende) curatoren uit te nodigen om kennis te nemen van de keur aan regionale beeldende kunstenaars en daarvan mogelijk enkele op te nemen in een tentoonstellingsproject. PARK wil een bijdrage leveren aan de ontwikkeling van een gunstig productie- en vestigingsklimaat voor beeldend kunstenaars uit de regio door deze in contact te brengen met een nationaal en internationaal netwerk.
Per jaar worden er vijf projecten gerealiseerd met waar mogelijk een bijpassend raamprogramma in de vorm van lezingen, kunstenaarsgesprekken, muziek en film.
PARK
Wilhelminapark 53, 5041 ED Tilburg
info@park013.nl
Twitter.com/ParkTilburg
Facebook.com/Park013
Instagram.com/platform_for_visual_arts
Tijdens tentoonstellingen geopend:
vrijdag 13.00 – 17.00 uur
zaterdag 13.00 – 17.00 uur
zondag 13.00 – 17.00 uur
Toegang is gratis
PARK ligt op 10 minuten loopafstand van het Centraal Station Tilburg in de nabijheid van Museum De Pont. Er is beperkt gratis parkeergelegenheid voor de deur.
# new books
visual arts
fleursdumal.nl magazine
More in: #Editors Choice Archiv, - Book News, Architecture, Art & Literature News, Art Criticism, FDM Art Gallery, Linda Arts, Park, Performing arts, Porcelijn, Esther, Porcelijn, Esther, Sculpture, The talk of the town
---
For the last 2,500 years literature has been attacked, booed, and condemned, often for the wrong reasons and occasionally for very good ones. The Hatred of Literature examines the evolving idea of literature as seen through the eyes of its adversaries: philosophers, theologians, scientists, pedagogues, and even leaders of modern liberal democracies.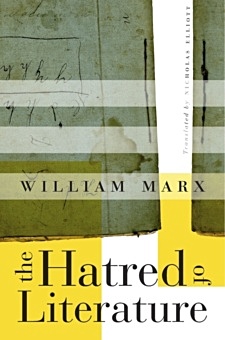 From Plato to C. P. Snow to Nicolas Sarkozy, literature's haters have questioned the value of literature—its truthfulness, virtue, and usefulness—and have attempted to demonstrate its harmfulness.
Literature does not start with Homer or Gilgamesh, William Marx says, but with Plato driving the poets out of the city, like God casting Adam and Eve out of Paradise. That is its genesis. From Plato the poets learned for the first time that they served not truth but merely the Muses. It is no mere coincidence that the love of wisdom (philosophia) coincided with the hatred of poetry. Literature was born of scandal, and scandal has defined it ever since.
In the long rhetorical war against literature, Marx identifies four indictments—in the name of authority, truth, morality, and society. This typology allows him to move in an associative way through the centuries. In describing the misplaced ambitions, corruptible powers, and abysmal failures of literature, anti-literary discourses make explicit what a given society came to expect from literature. In this way, anti-literature paradoxically asserts the validity of what it wishes to deny. The only threat to literature's continued existence, Marx writes, is not hatred but indifference.
William Marx is Professor of Comparative Literature at the University of Paris Nanterre.
The Hatred of Literature
William Marx
Translated by Nicholas Elliott
Belknap Press
Harvard University Press
ISBN 9780674976122
Publ.: January 2018
Hardcover
240 pages
€27.00
# new books
William Marx – The Hatred of Literature
fleursdumal.nl magazine
More in: - Book News, - Book Stories, Archive M-N, Art & Literature News, MONTAIGNE, The Art of Reading, The talk of the town
---
Crossing Border heeft ook dit jaar weer vanuit de hele wereld een groot aantal vernieuwende auteurs en muzikanten uitgenodigd die een passie delen voor het gesproken woord, songteksten en taal.
Unieke optredens waar literatuur en muziek samenwerken én botsen. Dit jaar vindt de 26ste editie van het festival plaats.
Al sinds de eerste editie in 1993 zoekt Crossing Border de grenzen op van muziek en woord om er vervolgens een brug tussen te slaan. De afgelopen jaren is het festival uitgegroeid tot een van de meest progressieve internationale festivals op het gebied van literatuur en muziek in Europa.
Elk jaar komen meer dan 100 schrijvers, artiesten en muzikanten van over de hele wereld samen op het Crossing Border festival in Den Haag.
Grote namen en opkomend talent wisselen elkaar af. De 26ste editie beslaat een week, met zowel overdag als 's avonds programmering op meerdere podia in Theater aan het Spui, De Nieuwe Kerk, festivaltent Katrina, Filmhuis Den Haag en de Centrale Bibliotheek.
Michael Palin – Karrie Fransman – Murat Isik – Aminatta Forna – Sandro Veronesi – Sasha Marianna Salzmann – Oyinkan Braithwaite – Daniel Kehlmann – Tracyanne & Danny – St. Paul & the Broken Bones – Theo Loevendie – Joe Armon-Jones – Simone Atangana Bekono – Richard Powers – De Poezieboys – Patrick deWitt – Radna Fabias – Hannah Sullivan – Sharlene Teo – Radna Fabias – Cynan Jones – Rembrandt Frerichs Trio – Gary Grosby José Eduardo Agualusa – Xylouris White – Gavin Bryars – Ramón Esono Ebalé – Christian Vander- Moses Boyd-Exodus – Hossein Alizadeh – Alela Diane – Gavin Bryars – Melle Smets – Christian Vander – Benjamin Glorieux – Lewsberg- Pete Wu – Lana Lux – Alfred Birney – Daniel Blumberg – Eva Meijer – Byron Rich – Kris De Decker – Jack Underwood – Douglas Firs – Yonatan Gat – Bregje Hofstede – Rashif El Kaoui – Douglas Firs – Seward – Charlotte Mutsaers – Momtaza Mehri – Abdelkader Benali – The Addict – Sofie Lakmaker – Honey Harper – Paolo Giordano – Marente de Moor – Pitou – Fantastic Negrito- Ties Mellema – StringTing – Anthony Anaxagorou – Kees 't Hart – Maartje Wortel – Sarah Arnolds – Rachael Allen – Tommy Wieringa – Michael Fehr – Gabriel Royal – Steve Davis – Lina Wolff – Joost Pollmann – Kavus Torabi – Mauro Libertella – Michael Fehr – Saskia de Coster – Jeroen Janssen – Meg Baird en Mary Lattimore – Sabrina Mahfouz – Edoardo Albinati – Dean Bowen – Little Raven – Peter Buurman – Maarja Nuut & Ruum – Sunny Sjoerd – Johan Harstad- Emma-Jean Thackray – Skinny Pelembe
Theater aan het Spui
Bibliotheek Den Haag
Nieuwe Kerk
Festivaltent Katrina
Filmhuis Den Haag
26ste editie Crossing Border festival Den Haag
9 oct t/m 4 nov 2018
# meer informatie op website crossing border
fleursdumal.nl magazine
More in: # Music Archive, #Editors Choice Archiv, #More Poetry Archives, - Book Lovers, Art & Literature News, AUDIO, CINEMA, RADIO & TV, Literary Events, LITERARY MAGAZINES, STREET POETRY, The talk of the town, THEATRE
---
In 1964 werd de eerste Ik Jan Cremer opgedragen aan sekssymbool en actrice Jayne Mansfield.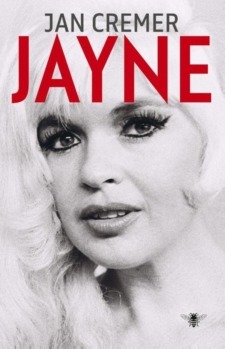 Ze noemde het boek 'a wild and sexy masterpiece' en de auteur 'my Pop Hero'. Omdat Jan Cremer na een oorlog met zijn Amerikaanse uitgever financieel aan de grond zit, gaat hij ermee akkoord de wereldberoemde Jayne Mansfield te vergezellen op een publiciteits-, theater- en nachtclubtournee, maar voor Jan het weet sleurt de dominante Mansfield haar Hollandse verovering mee op een krankzinnige reis door Zuid-Amerika.
Door de ogen van Jan Cremer zien we hoe de onmogelijke diva 'La Mansfield' zich wentelt in haar beroemdheid en haar omgeving betovert, terroriseert en tot wanhoop brengt.
Het was allemaal begonnen met de ansichtkaarten die vrienden mij hadden gestuurd en die aan de wand van mijn atelier prijkten. Kleurrijke pin-upfoto's van een romige vrouw met een lief gezicht, voluptueuze borsten en sensuele lippen. Zij straalde alles uit wat mijn ideale vrouw moest hebben.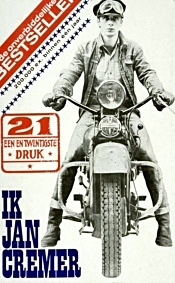 Schrijver en beeldend kunstenaar Jan Cremer (1940) stamt van vaderszijde uit een familie van hoefsmeden en beroepsmilitairen uit Pruisen en Hessen, zijn moeders familie is afkomstig uit Hongarije. Korte tijd volgde hij een opleiding aan de Academie voor Beeldende Kunst in Arnhem. Als schilder kreeg hij snel erkenning met zijn 'peinture barbarisme', intussen reist hij veel en woont overal.
In 1964 verscheen zijn eerste roman, Ik Jan Cremer. Het boek is een soort autobiografie, een moderne schelmenroman over het woelige leven van Cremer zelf. Al eerder hadden zijn uitspraken de emoties al doen oplopen, maar bij de verschijning van 'de onverbiddelijke bestseller' was de rel compleet. In het gereformeerde Nederland van de jaren zestig werd Cremer gezien als een staatsgevaarlijk individu, een slecht voorbeeld voor de jeugd dat dierlijke driften bij zijn publiek losmaakte. Tegelijk werd hij geprezen door beroemde collega's zoals Willem Frederik Hermans.
In 1966 kwam Ik Jan Cremer Tweede Boek uit, dat eveneens een groot succes was en wereldwijd werd vertaald.
Meer informatie op website www.jancremer.com
Auteur: Jan Cremer
Titel: Jayne
Taal: Nederlands
Bindwijze: Gebonden
1e druk oktober 2018
160 pagina's
ISBN13 9789403135908
Uitgever De Bezige Bij
€ 19,99
# new books
Jan Cremer
fleursdumal.nl magazine
More in: - Book News, - Book Stories, Archive C-D, Art & Literature News, Dutch Landscapes, Erotic literature, Jan Cremer, The talk of the town
---
Robot love is een interactieve expo experience over de liefde tussen mens en robot. Meer dan 50 kunstenaars, ontwerpers en wetenschappers stellen de vraag of robots in staat zijn tot liefde. En of jij van ze kunt houden.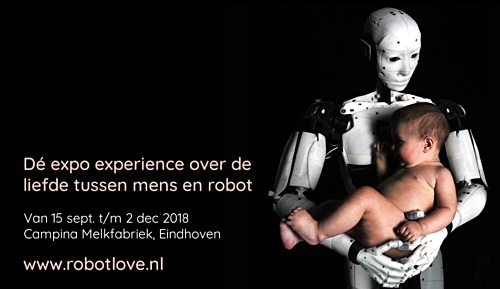 Wandel door het bijzondere gebouw en ontdek wat jij nu écht voelt, denkt en vindt van de invloed van techniek en innovatie op onze maatschappij. Een groot aantal werken is speciaal voor Robot Love gemaakt.
Robot Love is een grootschalige, internationale expo experience met tentoonstelling, publiek programma, partnerevents, educatieprogramma's en een Robot Café. Robot Love vindt plaats van 15 september t/m 2 december 2018 in de Melkfabriek op het voormalige Campinaterrein in Eindhoven.
Robot Love zoekt de verbinding tussen mens en robot. Robots en AI als nieuwkomers moeten veel leren en worden opgevoed. Dat vereist aandacht, zorg en bovenal liefde. Om de belofte up close & personal with robots waar te maken zet Robot Love in op het bereiken van een breed en zeer divers publiek.
Robot Love heeft een optimistische benadering van robotisering en omarmt de komst van robots en AI, juist omdat het ons ook kansen biedt betere mensen te worden. Tegelijk worden ook de minder fraaie consequenties ervan onderzocht. Er is ruimte voor fascinatie, maar ook voor conflict, voor kwetsbaarheid, maar vooral voor liefde. Dat doet Robot Love door de organisatie van een expo experience op het snijvlak van kunst, design en wetenschap.
L.A. Raeven
Annelies, Looking for Completion, 2018, androïde robot
Werk in opdracht van stichting Niet Normaal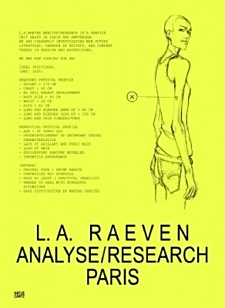 Hoe zou het zijn als je de mogelijkheid hebt om jezelf of je geliefde te kopiëren? Kun je daarmee de angst om verlaten te worden voorkomen? Met het werk Annelies, Looking for Completion, onderzoekt het kunstenaarsduo L.A. Raeven deze en andere vragen door het bouwen van een op henzelf lijkende androïde robot. De tweelingzusjes zijn bekend geworden met hun indringende en persoonlijke werk over maatschappelijke thema's zoals de vergaande individualisering en het benauwende streven naar perfectie. Ook de 'gekloonde' drieling zus Annelies gaat in op deze ontwikkelingen en richt zich op het gevoel van eenzaamheid dat hier vaak uit voortkomt.
ROBOT LOVE
The Expo That Gets Under Your Skin
15 Sept – 2 Dec 2018
Di t/m Zo: 11:00 – 18:00
Vr: 11:00 – 21:00, Ma: gesloten
CAMPINA MELKFABRIEK
Kanaaldijk-Zuid t.h.v. nr. 3
EINDHOVEN
Robot Love | 15.09.2018 – 02.12.2018 | Campina Melkfabriek | Kanaaldijk-Zuid | Hugo van der Goeslaan | 5613 LE Eindhoven
# robot love
L.A. Raeven: Annelies,
Looking for Completion, 2018, androïde robot
fleursdumal.nl magazine
More in: - Book News, Archive Q-R, Art & Literature News, Exhibition Archive, FDM Art Gallery, L.A. Raeven, The talk of the town
---
This beautiful book charts the development of the circus as an art form around the world, from antiquity to the present day.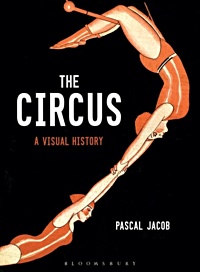 Using over 200 circus related artworks from the French National Library's private collections, celebrated cultural historian Pascal Jacob tells the story of travelling entertainers and their art and trade. From nomadic animal tamers of the Dark Ages to European jugglers and acrobats of the 1800s, from the use of the circus as Soviet propaganda to the 20th-century Chinese performance art renaissance, this is an exhaustive history with a uniquely international scope.
Jacob draws on both rare and famous artworks, including prints dating from the 13th century, and paintings by Picasso and Doré. In doing so he demonstrates the circus to be a visual and physical masterpiece, constantly moving and evolving, and just as exciting an experience for audiences now as it was 1,000 years ago.
Pascal Jacob is a prominent circus arts historian who lectures at the Sorbonne, France. He wrote on Cultural History, History and Theory of Art, Theatre History and Criticism.
The Circus
A Visual History
By: Pascal Jacob
Foreword by Marius Kwint
Published: 09-08-2018
Format: Hardback
Edition: 1st
Extent: 240 p.
ISBN: 9781350043107
Imprint: Bloomsbury Visual Arts
Illustrations: 160 colour and 40 bw illus
Price: £30.00
new books
fleursdumal.nl magazine
More in: # Music Archive, - Book Lovers, - Book Stories, Archive I-J, Art & Literature News, Futurism, The talk of the town, THEATRE
---
Older Entries »
Thank you for reading FLEURSDUMAL.NL - magazine for art & literature