POETRY ARCHIVE
·
Sérgio Monteiro de Almeida – Poema visual: Presentation 5A
·
Paul van Ostaijen gedicht: Aan Cendrars
·
G.K. Chesterton: Lepanto
·
The T. S. Eliot 2017 prize for poetry will be announced on Monday 15th January 2018
·
Vincent Berquez: Klaus Schmidt's discovery
·
Harriet Monroe: The Shadow-Child
·
Pierre-Jean de Béranger: Les souvenirs du peuple
·
Afanasi Fet & Ivan Toergenjev: De sterren (vertaling van Paul Bezembinder)
·
Joachim Ringelnatz: Großer Vogel
·
Bert Bevers: Lammersneeuw
·
Hugo Ball: brulba dori
·
Frank Bidart: Half-light. Collected Poems 1965-2016 # Wins 2017 National Book Award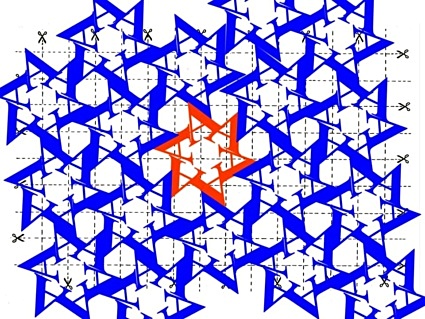 Sérgio Monteiro de Almeida 
Poema visual: Presentation 5A (from the kaleidoscope series)
Sérgio Monteiro de Almeida, Curitiba, Brazil (1964).
Intermedia visual poet and conceptual artist
fleursdumal.nl magazine
More in: *Concrete + Visual Poetry K-O, Archive M-N, Sérgio Monteiro de Almeida
---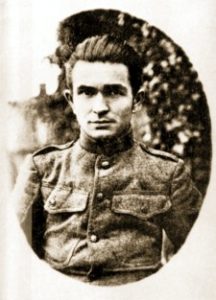 Aan Cendrars
Man              loopt              straat
luide  stem  tussen  huizen
hij               roept
                klinkt  klinker  klaar
Blaise         Blaise      BLAIS –
                                 se
               gij zijt het
               Cendrars
Paul van Ostaijen
(1896 – 1928)
Aan Cendrars
fleursdumal.nl magazine
More in: *Concrete + Visual Poetry K-O, Archive C-D, Archive O-P, Cendrars, Blaise, Ostaijen, Paul van, Paul van Ostaijen, Paul van Ostaijen
---
G.K. Chesterton
Lepanto
White founts falling in the Courts of the sun,
And the Soldan of Byzantium is smiling as they run;
There is laughter like the fountains in that face of all men feared,
It stirs the forest darkness, the darkness of his beard;
It curls the blood-red crescent, the crescent of his lips;
For the inmost sea of all the earth is shaken with his ships.
They have dared the white republics up the capes of Italy,
They have dashed the Adriatic round the Lion of the Sea,
And the Pope has cast his arms abroad for agony and loss,
And called the kings of Christendom for swords about the Cross.
The cold queen of England is looking in the glass;
The shadow of the Valois is yawning at the Mass;
From evening isles fantastical rings faint the Spanish gun,
And the Lord upon the Golden Horn is laughing in the sun.
Dim drums throbbing, in the hills half heard,
Where only on a nameless throne a crownless prince has stirred,
Where, risen from a doubtful seat and half attainted stall,
The last knight of Europe takes weapons from the wall,
The last and lingering troubadour to whom the bird has sung,
That once went singing southward when all the world was young.
In that enormous silence, tiny and unafraid,
Comes up along a winding road the noise of the Crusade.
Strong gongs groaning as the guns boom far,
Don John of Austria is going to the war,
Stiff flags straining in the night-blasts cold
In the gloom black-purple, in the glint old-gold,
Torchlight crimson on the copper kettle-drums,
Then the tuckets, then the trumpets, then the cannon, and he comes.
Don John laughing in the brave beard curled,
Spurning of his stirrups like the thrones of all the world,
Holding his head up for a flag of all the free.
Love-light of Spain–hurrah!
Death-light of Africa!
Don John of Austria
Is riding to the sea.
Mahound is in his paradise above the evening star,Lepanto
(Don John of Austria is going to the war.)
He moves a mighty turban on the timeless houri's knees,
His turban that is woven of the sunsets and the seas.
He shakes the peacock gardens as he rises from his ease,
And he strides among the tree-tops and is taller than the trees;
And his voice through all the garden is a thunder sent to bring
Black Azrael and Ariel and Ammon on the wing.
Giants and the Genii,
Multiplex of wing and eye,
Whose strong obedience broke the sky
When Solomon was king.
They rush in red and purple from the red clouds of the morn,
From the temples where the yellow gods shut up their eyes in scorn;
They rise in green robes roaring from the green hells of the sea
Where fallen skies and evil hues and eyeless creatures be,
On them the sea-valves cluster and the grey sea-forests curl,
Splashed with a splendid sickness, the sickness of the pearl;
They swell in sapphire smoke out of the blue cracks of the ground,–
They gather and they wonder and give worship to Mahound.
And he saith, "Break up the mountains where the hermit-folk can hide,
And sift the red and silver sands lest bone of saint abide,
And chase the Giaours flying night and day, not giving rest,
For that which was our trouble comes again out of the west.
We have set the seal of Solomon on all things under sun,
Of knowledge and of sorrow and endurance of things done.
But a noise is in the mountains, in the mountains, and I know
The voice that shook our palaces–four hundred years ago:
It is he that saith not 'Kismet'; it is he that knows not Fate;
It is Richard, it is Raymond, it is Godfrey at the gate!
It is he whose loss is laughter when he counts the wager worth,
Put down your feet upon him, that our peace be on the earth."
For he heard drums groaning and he heard guns jar,
(Don John of Austria is going to the war.)
Sudden and still–hurrah!
Bolt from Iberia!
Don John of Austria
Is gone by Alcalar.
St. Michaels on his Mountain in the sea-roads of the north
(Don John of Austria is girt and going forth.)
Where the grey seas glitter and the sharp tides shift
And the sea-folk labour and the red sails lift.
He shakes his lance of iron and he claps his wings of stone;
The noise is gone through Normandy; the noise is gone alone;
The North is full of tangled things and texts and aching eyes,
And dead is all the innocence of anger and surprise,
And Christian killeth Christian in a narrow dusty room,
And Christian dreadeth Christ that hath a newer face of doom,
And Christian hateth Mary that God kissed in Galilee,–
But Don John of Austria is riding to the sea.
Don John calling through the blast and the eclipse
Crying with the trumpet, with the trumpet of his lips,
Trumpet that sayeth ha!
Domino gloria!
Don John of Austria
Is shouting to the ships.
King Philip's in his closet with the Fleece about his neck
(Don John of Austria is armed upon the deck.)
The walls are hung with velvet that is black and soft as sin,
And little dwarfs creep out of it and little dwarfs creep in.
He holds a crystal phial that has colours like the moon,
He touches, and it tingles, and he trembles very soon,
And his face is as a fungus of a leprous white and grey
Like plants in the high houses that are shuttered from the day,
And death is in the phial and the end of noble work,
But Don John of Austria has fired upon the Turk.
Don John's hunting, and his hounds have bayed–
Booms away past Italy the rumour of his raid.
Gun upon gun, ha! ha!
Gun upon gun, hurrah!
Don John of Austria
Has loosed the cannonade.
The Pope was in his chapel before day or battle broke,
(Don John of Austria is hidden in the smoke.)
The hidden room in man's house where God sits all the year,
The secret window whence the world looks small and very dear.
He sees as in a mirror on the monstrous twilight sea
The crescent of his cruel ships whose name is mystery;
They fling great shadows foe-wards, making Cross and Castle dark,
They veil the plumèd lions on the galleys of St. Mark;
And above the ships are palaces of brown, black-bearded chiefs,
And below the ships are prisons, where with multitudinous griefs,
Christian captives sick and sunless, all a labouring race repines
Like a race in sunken cities, like a nation in the mines.
They are lost like slaves that sweat, and in the skies of morning hung
The stair-ways of the tallest gods when tyranny was young.
They are countless, voiceless, hopeless as those fallen or fleeing on
Before the high Kings' horses in the granite of Babylon.
And many a one grows witless in his quiet room in hell
Where a yellow face looks inward through the lattice of his cell,
And he finds his God forgotten, and he seeks no more a sign–
(But Don John of Austria has burst the battle-line!)
Don John pounding from the slaughter-painted poop,
Purpling all the ocean like a bloody pirate's sloop,
Scarlet running over on the silvers and the golds,
Breaking of the hatches up and bursting of the holds,
Thronging of the thousands up that labour under sea
White for bliss and blind for sun and stunned for liberty.
Vivat Hispania!
Domino Gloria!
Don John of Austria
Has set his people free!
Cervantes on his galley sets the sword back in the sheath
(Don John of Austria rides homeward with a wreath.)
And he sees across a weary land a straggling road in Spain,
Up which a lean and foolish knight for ever rides in vain,
And he smiles, but not as Sultans smile, and settles back the blade….
(But Don John of Austria rides home from the Crusade.)
G. K. Chesterton (1874 – 1936)
Poetry: Lepanto
fleursdumal.nl magazine
More in: Archive C-D, Chesterton, Gilbert Keith, G.K. Chesterton
---
The T. S. Eliot Prize for Poetry was inaugurated in 1993 to celebrate the Poetry Book Society's 40th birthday and honour its founding poet.
Described as 'the prize most poets want to win' (Sir Andrew Motion, former Poet Laureate) and 'the world's top poetry award' (Independent), it is awarded annually to the author of the best new collection of poetry published in the UK and Ireland.
The T. S. Eliot Prize for Poetry was inaugurated in 1993 to celebrate the Poetry Book Society's 40th birthday and honour its founding poet.
To mark the 25th anniversary of the T. S. Eliot Prize, the T. S. Eliot Foundation has increased the winner's prize money to £25,000. Judges Bill Herbert (Chair), James Lasdun and Helen Mort have chosen the shortlist from a record 154 poetry collections submitted by publishers:
Tara Bergin – The Tragic Death of Eleanor Marx (Carcanet) PBS Autumn Recommendation
Caroline Bird – In these Days of Prohibition (Carcanet)
Douglas Dunn – The Noise of a Fly (Faber & Faber) PBS Autumn Recommendation
Leontia Flynn – The Radio (Cape Poetry)
Roddy Lumsden – So Glad I'm Me (Bloodaxe)
Michael Symmons Roberts – Mancunia (Cape Poetry) PBS Autumn Recommendation
Robert Minhinnick – Diary of the Last Man (Carcanet)
James Sheard – The Abandoned Settlements (Cape Poetry) PBS Spring Choice
Jacqueline Saphra – All My Mad Mothers (Nine Arches Press)
Ocean Vuong – Night Sky with Exit Wounds (Cape Poetry) PBS Summer Recommendation
Chair Bill Herbert said:
"This was a very strong year, and it was a privilege to read so many books that possessed as well as intrigued us; our shortlist explores grief, pleasure, place and history in a formidable variety of ways."
The T. S. Eliot Prize is run by The T. S. Eliot Foundation. This is the richest prize in British poetry, with the winning poet receiving a cheque for £25,000 and the shortlisted poets each receiving £1,500.
The T. S. Eliot Prize Shortlist Readings will take place on Sunday 14th January 2018 in Southbank Centre's Royal Festival Hall. The shortlist readings are the largest annual poetry event in the UK and will be hosted once again by Ian McMillan. Tickets are now on sale from Southbank Centre's ticket office on 0203 879 9555 or via www.southbankcentre.co.uk/literature.
The winner of the 2017 Prize will be announced at the Award Ceremony on Monday 15th January 2018, where the winner and the shortlisted poets will be presented with their cheques. This continues the tradition started by Mrs Valerie Eliot, who provided the prize money from the inception of the Prize.
Last year's winner was Jacob Polley for Jackself (Picador). The judges were Ruth Padel (Chair), Julia Copus and Alan Gillis.
fleursdumal.nl magazine
More in: Archive E-F, Awards & Prizes, Eliot, T. S., Literary Events
---
Klaus Schmidt's discovery
 
His lifetime work discovered him in the dust of Turkey,
the lifeline linked his work from now on until his end.
The wedding night of civilisation is his quoted words.
Carvings muted utter silences and revealed themselves.
Why waste time with this profit unto the wasted land
creeping overall the flickering darkness inhabiting us?
Man's noises removed, the sand drenched and camouflaged
taking away in its grains the self-importance of all before.
But in the over awing wonders of politics and time's line
the superstitious crept in niggling fear of what was not know
and gazed at him wrought in stone in the super-natural;
before the ox pulled wood to cut and plough,
before deserts, before we ourselves knew nothing still.
Numbers and letters farmed us as well
and now we have grown tall and proud in ourselves.
The sand spewed over the circles of carvings and settled.
We seek crumbs of proof if proof is needed of ourselves.
20.04.08
Vincent Berquez
Vincent Berquez is a London–based artist and poet
fleursdumal.nl magazine
More in: Archive A-B, Berquez, Vincent, Vincent Berquez
---
The Shadow-Child
Why do the wheels go whirring round,
Mother, mother?
Oh, mother, are they giants bound,
And will they growl forever?
Yes, fiery giants underground,
Daughter, little daughter,
Forever turn the wheels around,
And rumble-grumble ever.
Why do I pick the threads all day,
Mother, mother,
While sunshine children are at play?
And must I work forever?
Yes, shadow-child; the live-long day,
Daughter, little daughter,
Your hands must pick the threads away,
And feel the sunshine never.
Why do the birds sing in the sun,
Mother, mother,
If all day long I run and run,
Run with the wheels forever?
The birds may sing till day is done,
Daughter, little daughter,
But with the- wheels your feet must run—
Run with the wheels forever.
Why do I feel so tired each night,
Mother, mother?
The wheels are always buzzing bright;
Do they grow sleepy never?
Oh, baby thing, so soft and white,
Daughter, little daughter,
The big wheels grind us in their might,
And they will grind forever.
And is the white thread never spun,
Mother, mother?
And is the white cloth never done,
For you and me done never?
Oh yes, our thread will all be spun,
Daughter, little daughter,
When we lie down out in the sun,
And work no more forever.
And when will come that happy day,
Mother, mother?
Oh, shall we laugh and sing and play
Out in the sun forever?
Nay, shadow-child, we'll rest all day,
Daughter, little daughter,
Where green grass grows and roses gay,
There in the sun forever.
Harriet Monroe
(1860 – 1936)
The Shadow-Child
fleursdumal.nl magazine
More in: Archive M-N, Monroe, Harriet
---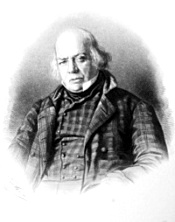 Pierre-Jean de Béranger
Les souvenirs du peuple
On parlera de sa gloire
Sous le chaume bien longtemps.
L'humble toit, dans cinquante ans,
Ne connaîtra plus d'autre histoire.
Là viendront les villageois
Dire alors à quelque vieille
Par des récits d'autrefois,
Mère, abrégez notre veille.
Bien, dit-on, qu'il nous ait nui,
Le peuple encor le révère,
Oui, le révère.
Parlez-nous de lui, grand-mère ;
Parlez-nous de lui. (bis)
Mes enfants, dans ce village,
Suivi de rois, il passa.
Voilà bien longtemps de ça ;
Je venais d'entrer en ménage.
À pied grimpant le coteau
Où pour voir je m'étais mise,
Il avait petit chapeau
Avec redingote grise.
Près de lui je me troublais,
Il me dit :
Bonjour, ma chère,
Bonjour, ma chère.
– Il vous a parlé, grand-mère !
Il vous a parlé !
L'an d'après, moi, pauvre femme,
À Paris étant un jour,
Je le vis avec sa cour
Il se rendait à Notre-Dame.
Tous les coeurs étaient contents ;
On admirait son cortège.
Chacun disait : Quel beau temps !
Le ciel toujours le protège.
Son sourire était bien doux ;
D'un fils Dieu le rendait père,
Le rendait père.
– Quel beau jour pour vous, grand-mère !
Quel beau jour pour vous !
Mais, quand la pauvre Champagne
Fut en proie aux étrangers,
Lui, bravant tous les dangers,
Semblait seul tenir la campagne.
Un soir, tout comme aujourd'hui,
J'entends frapper à la porte ;
J'ouvre, bon Dieu ! c'était lui
Suivi d'une faible escorte.
Il s'assoit où me voilà,
S'écriant : Oh ! quelle guerre !
Oh ! quelle guerre !
– Il s'est assis là, grand-mère !
Il s'est assis là !
J'ai faim, dit-il ; et bien vite
Je sers piquette et pain bis
Puis il sèche ses habits,
Même à dormir le feu l'invite.
Au réveil, voyant mes pleurs,
Il me dit : Bonne espérance !
Je cours de tous ses malheurs
Sous Paris venger la France.
Il part ; et comme un trésor
J'ai depuis gardé son verre,
Gardé son verre.
– Vous l'avez encor, grand-mère !
Vous l'avez encor !
Le voici. Mais à sa perte
Le héros fut entraîné.
Lui, qu'un pape a couronné,
Est mort dans une île déserte.
Longtemps aucun ne l'a cru ;
On disait : Il va paraître.
Par mer il est accouru ;
L'étranger va voir son maître.
Quand d'erreur on nous tira,
Ma douleur fut bien amère !
Fut bien amère !
– Dieu vous bénira, grand-mère ;
Dieu vous bénira. (bis)
Pierre-Jean de Béranger (1780-1857)
Les souvenirs du peuple
Toutes les chansons de Béranger (1843)
fleursdumal.nl magazine
More in: Archive A-B, Béranger, Pierre-Jean de
---
Fet
De sterren
Haast sprakeloos stond ik te kijken,
Wel duizenden sterren zag ik, –
Ik had met die duizenden sterren
Een soort van verbinding, een klik.
Ik dacht… geen idee wat ik dacht toen,
Er klonk geheimzinnig gezang,
De sterren, zij twinkelden zachtjes,
De sterren waar ik naar verlang…
Afanasi Fet, Я долго стоял неподвижно,1843.
Vertaling Paul Bezembinder 2017.
Op dit gedicht bestaat een bekende, aan Ivan Toergenjev toegeschreven parodie; deze werd aangetroffen in zijn nagelaten archieven in Parijs.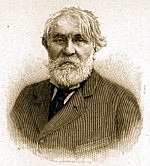 Toergenjev
…
Haast sprakeloos stond ik te kijken,
Ik dacht haast dat ik er in bleef, –
Het waren maar vreemde gedichten,
Die verzen die Fet voor ons schreef.
Ik las… geen idee wat ik las toen,
Iets met geheimzinnig behang,
Het bundeltje viel uit mijn handen,
Het ligt hier nog steeds in de gang…
Ivan Toergenjev, Я долго стоял неподвижно, 1863?
Een parodie op een gelijknamig gedicht van Afanasi Fet.
Vertaling Paul Bezembinder, 2017
Afanasi Fet & Ivan Toergenjev: De sterren (vertaling van Paul Bezembinder)
Afanasi Afanasjevitsj Fet (Russisch: Афанасий Афанасьевич Фет, 1820 – 1892)
Ivan Sergejevitsj Toergenjev (Russisch: Ива́н Серге́евич Турге́нев, 1818 – 1883)
Paul Bezembinder studeerde theoretische natuurkunde in Nijmegen. In zijn poëzie zoekt hij in vooral klassieke versvormen en thema's naar de balans tussen serieuze poëzie, pastiche en smartlap. Zijn gedichten (Nederlands) en vertalingen (Russisch-Nederlands) verschenen in verschillende (online) literaire tijdschriften. Voor­beelden van zijn werk zijn te vinden op zijn website, www.paulbezembinder.nl
fleursdumal.nl magazine
More in: Archive A-B, Archive E-F, Archive S-T, Bezembinder, Paul, Fet, Fet, Afanasi, Toergenjev, Toergenjev, Ivan
---
Joachim Ringelnatz
Großer Vogel
1933
Die Nachtigall ward eingefangen,
Sang nimmer zwischen Käfigstangen.
Man drohte, kitzelte und lockte.
Gall sang nicht. Bis man die Verstockte
In tiefsten Keller ohne Licht
Einsperrte. – Unbelauscht, allein
Dort, ohne Angst vor Widerhall,
Sang sie
Nicht – –,
Starb ganz klein
Als Nachtigall.
Joachim Ringelnatz
(1883 – 1934)
Großer Vogel
fleursdumal.nl magazine
More in: Archive Q-R, Joachim Ringelnatz, Natural history
---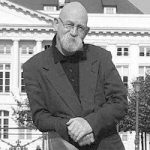 Lammersneeuw
Waarom moet hij die de slagorde van leugens
durft te tarten uw woede velen? Behoorlijk
grof van korrel is uw gevoel voor realiteit, 
mijnheer. Ik stel slechts in vraag en misdoe
niets. Wist u dat in Schotland sneeuw in april
lambing snow wordt genoemd? Te wedden
durf ik van niet. Zie je nou wel? Zinnig slot.
Bert Bevers
Bert Bevers is a poet and writer who lives and works in Antwerp (Be)
fleursdumal.nl magazine
More in: Archive A-B, Archive A-B, Bevers, Bert
---
brulba dori
brulba dori daula dalla
sula lori wauga malla
lori damma fusmalu
Dasche mame came rilla
schursche saga moll vasvilla
suri pauge fuzmalu
Dolli gamba bokamufti
sabel ize spogagufti
palazuma polja gei
mula dampe dori villa
alles virds schavi drestilla
offi lima dozapau
pozadau
Hugo Ball
(1886-1927)
gedicht: brulba dori
fleursdumal.nl magazine
More in: Archive A-B, Ball, Hugo, Dada, DADA, Dadaïsme
---
Gathered together, the poems of Frank Bidart perform one of the most remarkable transmutations of the body into language in contemporary literature.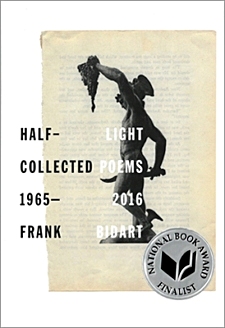 His pages represent the human voice in all its extreme registers, whether it's that of the child murderer Herbert White, the obsessive anorexic Ellen West, the tormented genius Vaslav Nijinsky, or the poet's own. And in that embodiment is a transgressive empathy, one that recognizes our wild appetites, the monsters, the misfits, the misunderstood among us, and inside of us.
Few writers have so willingly ventured to the dark places of the human psyche, and allowed themselves to be stripped bare on the page with such candor and vulnerability. Over the past half century, Bidart has done nothing less than invent a poetics commensurate with the chaos and hunger of our experience.
Frank Bidart is the author of Metaphysical Dog, Watching the Spring Festival, Star Dust, Desire, and In the Western Night: Collected Poems 1965-90. He has won many prizes, including the Wallace Stevens Award, the 2007 Bollingen Prize for American Poetry, and the National Book Critics Circle Award. He teaches at Wellesley College and lives in Cambridge, Massachusetts.
Frank Bidart
Half-light:
Collected Poems 1965-2016
(Farrar, Straus and Giroux –
Macmillan Publishers)
ISBN: 9780374125950
Frank Bidart Wins 2017 National Book Award for Poetry
fleursdumal.nl magazine
More in: - Book News, - Bookstores, Archive A-B, Art & Literature News, Awards & Prizes
---
Older Entries »
Thank you for reading FLEURSDUMAL.NL - magazine for art & literature