WAR POETRY
·
Words and the First World War. Language, Memory, Vocabulary, by: Julian Walker
·
Robert Bridges: To Thos. Floyd
·
Laurence Binyon poetry: Ypres
·
Guillaume APOLLINAIRE: La fumée de la cantine
·
Jessie POPE: The Zeppelin Armada
·
JESSIE POPE: War Girls
·
GUILLAUME APOLLINAIRE: Au lac de tes yeux
·
GUILLAUME APOLLINAIRE: Mon Lou la nuit descend
·
GUILLAUME APOLLINAIRE: IL Y A
·
GUILLAUME APOLLINAIRE: JE T'ADORE MON LOU
·
ISAAC ROSENBERG: BREAK OF DAY IN THE TRENCHES
·
WILDEN – EXPRESSIONISME VAN 'BRÜCKE' EN 'DER BLAUE REITER'
"The experiences could be understood only as being of such extremity that they stood beyond written words; it was not a failure of language, but a view that, for the individual, language, particularly written words, and the enormity of the experience were not matched."
First World War expert Julian Walker looks at how the conflict shaped English and its relationship with other languages. He considers language in relation to mediation and authenticity, as well as the limitations and potential of different kinds of verbal communication.
Walker also examines:
– How language changed, and why changed language was used in communications
– Language used at the Front and how the 'language of the war' was commercially exploited on the Home Front
– The relationship between language, soldiers and class
– The idea of the 'indescribability' of the war and the linguistic codes used to convey the experience
'Languages of the front' became linguistic souvenirs of the war, abandoned by soldiers but taken up by academics, memoir writers and commentators, leaving an indelible mark on the words we use even today.
Julian Walker is a writer, researcher, artist and educator. He is an Honorary Research Associate at University College, London, UK. He is the co-author of Languages and the First World War: Communicating in a Transnational War (2016), the author of The Roar of the Crowd (2016) and Trench Talk (2012) among many others.  His website is www.julianwalker.net
Writes: Lexicology, First World War, Sociolinguistics and Linguistic Anthropology, World History, Heritage
Author of : Words and the First World War, Team Talk, Discovering Words in the Kitchen, Discovering Words
"This is a substantial book, dense but always accessible, covering both time and space. Gratifyingly, it sidesteps an all too common error that entraps books on words, of becoming no more than a padded dictionary." – The Daily Telegraph
Words and the First World War
Language, Memory, Vocabulary
By: Julian Walker
Published: 28-12-2017
Format: Paperback
Edition: 1st
Extent: 416
ISBN: 9781350001923
Imprint: Bloomsbury Academic
Illustrations: 50 bw images
Dimensions: 216 x 138 mm
Prize: £14.99
fleursdumal.nl magazine
More in: *War Poetry Archive, - Book News, - Book Stories, Archive W-X, Art & Literature News, Histoire de France, Historia Belgica, History of Britain
---
To Thos. Floyd
How fares it, friend, since I by Fate annoy'd
Left the old home in need of livelier play
For body and mind? How fare, this many a day,
The stubborn thews and ageless heart of Floyd?
If not too well with country sport employ'd,
Visit my flock, the breezy hill that they
Choose for their fold; and see, for thence you may,
From rising walls all roofless yet and void,
The lovely city, thronging tower and spire,
The mind of the wide landscape, dreaming deep,
Grey-silvery in the vale; a shrine where keep
Memorian hopes their pale celestial fire:
Like man's immortal conscience of desire,
The spirit that watcheth in me ev'n in my sleep.
"While yet we wait for spring, and from the dry"
While yet we wait for spring, and from the dry
And blackening east that so embitters March,
Well-housed must watch grey fields and meadows parch,
And driven dust and withering snowflake fly;
Already in glimpses of the tarnish'd sky
The sun is warm and beckons to the larch,
And where the covert hazels interarch
Their tassell'd twigs, fair beds of primrose lie.
Beneath the crisp and wintry carpet hid
A million buds but stay their blossoming;
And trustful birds have built their nests amid
The shuddering boughs, and only wait to sing
Till one soft shower from the south shall bid,
And hither tempt the pilgrim steps of spring.
"In autumn moonlight, when the white air wan"
In autumn moonlight, when the white air wan
Is fragrant in the wake of summer hence,
'Tis sweet to sit entranced, and muse thereon
In melancholy and godlike indolence:
When the proud spirit, lull'd by mortal prime
To fond pretence of immortality,
Vieweth all moments from the birth of time,
All things whate'er have been or yet shall be.
And like the garden, where the year is spent,
The ruin of old life is full of yearning,
Mingling poetic rapture of lament
With flowers and sunshine of spring's sure returning;
Only in visions of the white air wan
By godlike fancy seized and dwelt upon.
Robert Bridges
(1844-1930)
To Thos. Floyd
fleursdumal.nl magazine
More in: *War Poetry Archive, Archive A-B, Bridges, Robert
---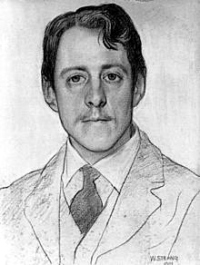 Ypres
She was a city of patience; of proud name,
Dimmed by neglecting Time; of beauty and loss;
Of acquiescence in the creeping moss.
But on a sudden fierce destruction came
Tigerishly pouncing: thunderbolt and flame
Showered on her streets, to shatter them and toss
Her ancient towers to ashes. Riven across,
She rose, dead, into never-dying fame.
White against heavens of storm, a ghost, she is known
To the world's ends. The myriads of the brave
Sleep round her. Desolately glorified,
She, moon-like, draws her own far-moving tide
Of sorrow and memory; toward her, each alone,
Glide the dark dreams that seek an English grave.
Laurence Binyon
(1869 – 1943)
Ypres
fleursdumal.nl magazine
More in: *War Poetry Archive, Archive A-B, WAR & PEACE
---
Guillaume Apollinaire
(1880 – 1918)
La fumée de la cantine
La fumée de la cantine est comme la nuit qui vient
Voix hautes ou graves le vin saigne partout
Je tire ma pipe libre et fier parmi mes camarades
Ils partirons avec moi pour les champs de bataille
Ils dormirons la nuit sous la pluie ou les étoiles
Ils galoperont avec moi portant en croupe des victoires
Ils obéiront avec moi aux mêmes commandements
Ils écouteront attentifs les sublimes fanfares
Ils mourront près de moi et moi peut-être près d'eux
Ils souffriront du froid et du soleil avec moi
Ils sont des hommes ceux-ci qui boivent avec moi
Ils obéissent avec moi aux lois de l'homme
Ils regardent sur les routes les femmes qui passent
Ils les désirent mais moi j'ai des plus hautes amours
Qui règnent sur mon coeur mes sens et mon cerveau
Et qui sont ma patrie ma famille et mon espérance
À moi soldat amoureux soldat de la douce France
Guillaume Apollinaire Poèmes à Lou
fleursdumal.nl magazine
More in: #Archive Concrete & Visual Poetry, *War Poetry Archive, Apollinaire, Guillaume, Archive A-B
---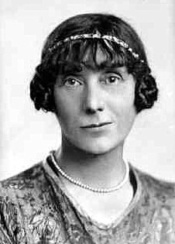 Jessie Pope
(1868 – 1941)
The Zeppelin Armada
'To-Day, since Zeppelins are in the air,
And folks glance skywards as they go their ways,
Let us hark back a bit to an affair
That happened in Queen Bess's sturdy days,
When the Armada, backed by Spanish lust
A fleet that floating palaces resembled
Sailed proudly forth to crush us in the dust,
While all the tremulous in England trembled.
What was the fate of those unwieldy craft ?
Our little frigates made of British oak
Harassed the mighty galleons fore and aft,
Handy to strike and shun the counterstroke.
The Great Invasion ended in defeat.
No more could Philip play the part of mocker,
The rout of the Armada was complete,
And down it went to Davy Jones's locker.
What frigates did in 1558
May be repeated in the air to-day,
When clumsy Zeppelins may meet their fate
From aeroplanes that sting and dart away.
A well-equipped and handy air patrol
Would circumvent an aerial attack.
If London is to be the Zeppes' goal,
It's up to us to see they don't go back!
Jessie Pope
fleursdumal.nl magazine
More in: *War Poetry Archive, Archive O-P, CLASSIC POETRY, WAR & PEACE
---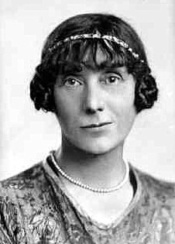 Jessie Pope
(1868 – 1941)
War Girls
'There's the girl who clips your ticket for the train,
And the girl who speeds the lift from floor to floor,
There's the girl who does a milk-round in the rain,
And the girl who calls for orders at your door.
Strong, sensible, and fit,
They're out to show their grit,
And tackle jobs with energy and knack.
No longer caged and penned up,
They're going to keep their end up
'Til the khaki soldier boys come marching back.
There's the motor girl who drives a heavy van,
There's the butcher girl who brings your joint of meat,
There's the girl who calls 'All fares please!' like a man,
And the girl who whistles taxi's up the street.
Beneath each uniform
Beats a heart that's soft and warm,
Though of canny mother-wit they show no lack;
But a solemn statement this is,
They've no time for love and kisses
Till the khaki soldier boys come marching back.
Jessie Pope
fleursdumal.nl magazine
More in: *War Poetry Archive, Archive O-P, CLASSIC POETRY, WAR & PEACE
---
Guillaume Apollinaire
(1880 – 1918)
Au lac de tes yeux
Au lac de tes yeux très profond
Mon pauvre cœur se noie et fond
Là le défont
Dans l'eau d'amour et de folie
Souvenir et Mélancolie
Guillaume Apollinaire Poèmes à Lou
fleursdumal.nl magazine
More in: #Archive Concrete & Visual Poetry, *War Poetry Archive, Apollinaire, Guillaume, Archive A-B
---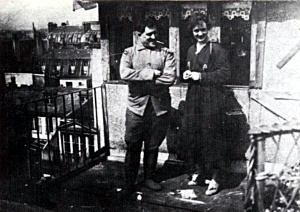 Guillaume Apollinaire
(1880 – 1918)
Mon Lou la nuit descend
Mon Lou la nuit descend tu es à moi je t'aime
Les cyprès ont noirci le ciel a fait de même
Les trompettes chantaient ta beauté mon bonheur
De t'aimer pour toujours ton cœur près de mon cœur
Je suis revenu doucement à la caserne
Les écuries sentaient bon la luzerne
Les croupes des chevaux évoquaient ta force et ta grâce
D'alezane dorée ô ma belle jument de race
La tour Magne tournait sur sa colline laurée
Et dansait lentement lentement s'obombrait
Tandis que des amants descendaient de la colline
La tour dansait lentement comme une sarrasine
Le vent souffle pourtant il ne fait pas du tout froid
Je te verrai dans deux jours et suis heureux comme un roi
Et j'aime de t'y aimer cette Nîmes la Romaine
Où les soldats français remplacent l'armée prétorienne
Beaucoup de vieux soldats qu'on n'a pu habiller
Ils vont comme des bœufs tanguent comme des mariniers
Je pense à tes cheveux qui sont mon or et ma gloire
Ils sont toute ma lumière dans la nuit noire
Et tes yeux sont les fenêtres d'où je veux regarder
La vie et ses bonheurs la mort qui vient aider
Les soldats las les femmes tristes et les enfants malades
Des soldats mangent près d'ici de l'ail dans la salade
L'un a une chemise quadrillée de bleu comme une carte
Je t'adore mon Lou et sans te voir je te regarde
Ça sent l'ail et le vin et aussi l'iodoforme
Je t'adore mon Lou embrasse-moi avant que je ne dorme
Le ciel est plein d'étoiles qui sont les soldats
Morts ils bivouaquent là-haut comme ils bivouaquaient là-bas
Et j'irai conducteur un jour lointain t'y conduire
Lou que de jours de bonheur avant que ce jour ne vienne luire
Aime-moi mon Lou je t'adore Bonsoir
Je t'adore je t'aime adieu mon Lou ma gloire
Guillaume Apollinaire Poèmes à Lou
fleursdumal.nl magazine
More in: #Archive Concrete & Visual Poetry, *War Poetry Archive, Apollinaire, Guillaume, Archive A-B
---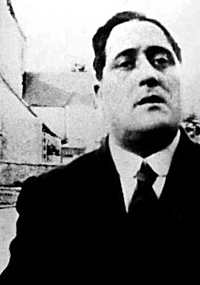 Guillaume Apollinaire
(1880 – 1918)
Il y a
Il y a un vaisseau qui a emporté ma bien-aimée
Il y a dans le ciel six saucisses et la nuit venant on dirait des asticots dont naîtraient les étoiles
Il y a un sous-marin ennemi qui en voulait à mon amour
Il y a mille petits sapins brisés par les éclats d'obus autour de moi
Il y a un fantassin qui passe aveuglé par les gaz asphyxiants
Il y a que nous avons tout haché dans les boyaux de Nietzsche de Goethe et de Cologne
Il y a que je languis après une lettre qui tarde
Il y a dans mon porte-cartes plusieurs photos de mon amour
Il y a les prisonniers qui passent la mine inquiète
Il y a une batterie dont les servants s'agitent autour des pièces
Il y a le vaguemestre qui arrive au trot par le chemin de l'Abre isolé
Il y a dit-on un espion qui rôde par ici invisible comme l'horizon dont il s'est indignement revêtu et avec quoi il se confond
Il y a dressé comme un lys le buste de mon amour
Il y a un capitaine qui attend avec anxiété les communications de la T.S.F. sur l'Atlantique
Il y a à minuit des soldats qui scient des planches pour les cercueils
Il y a des femmes qui demandent du maïs à grands cris devant un Christ sanglant à Mexico
Il y a le Gulf Stream qui est si tiède et si bienfaisant
Il y a un cimetière plein de croix à 5 kilomètres
Il y a des croix partout de-ci de-là
Il y a des figues de barbarie sur ces cactus en Algérie
Il y a les longues mains souples de mon amour
Il y a un encrier que j'avais fait dans une fusée de 15 centimètres et qu'on n'a pas laissé partir
Il y a ma selle exposée à la pluie
Il y a les fleuves qui ne remontent pas leur cours
Il y a l'amour qui m'entraîne avec douceur
Il y avait un prisonnier boche qui portait sa mitrailleuse sur son dos
Il y a des hommes dans le monde qui n'ont jamais été à la guerre
Il y a des Hindous qui regardent avec étonnement les campagnes occidentales
Ils pensent avec mélancolie à ceux dont ils se demandent s'ils les reverront
Car on a poussé très loin durant cette guerre l'art de l'invisibilité
Guillaume Apollinaire poésie
fleursdumal.nl magazine
More in: #Archive Concrete & Visual Poetry, *War Poetry Archive, Apollinaire, Guillaume, Archive A-B
---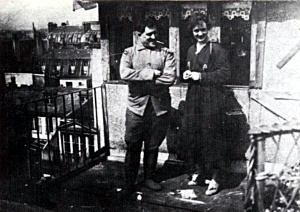 Guillaume Apollinaire
(1880 – 1918)
Je t'adore mon Lou
Je t'adore mon Lou et par moi tout t'adore
Les chevaux que je vois s'ébrouer aux abords
L'appareil des monuments latins qui me contemplent
Les artilleurs vigoureux qui dans leur caserne rentrent
Le soleil qui descend lentement devant moi
Les fantassins bleu pâle qui partent pour le front pensent à toi
Car ô ma chevelue de feu tu es la torche
Qui m'éclaire ce monde et flamme tu es ma force
Dans le ciel les nuages
Figurent ton image
Le mistral en passant
Emporte mes paroles
Tu en perçois le sens
C'est vers toi qu'elles volent
Tout le jour nos regards
Vont des Alpes au Gard
Du Gard à la Marine
Et quand le jour décline
Quand le sommeil nous prend
Dans nos lits différents
Nos songes nous rapprochent
Objets dans la même poche
Et nous vivons confondus
Dans le même rêve éperdu
Mes songes te ressemblent
Les branches remuées ce sont tes yeux qui tremblent
Et je te vois partout toi si belle et si tendre
Les clous de mes souliers brillent comme tes yeux
La vulve des juments est rose comme la tienne
Et nos armes graissées c'est comme quand tu me veux
Ô douceur de ma vie c'est comme quand tu m'aimes
L'hiver est doux le ciel est bleu
Refais-me le refais-me le
Toi ma chère permission
Ma consigne ma faction
Ton amour est mon uniforme
Tes doux baisers sont les boutons
Ils brillent comme l'or et l'ornent
Et tes bras si roses si longs
Sont les plus galants des galons
Un monsieur près de moi mange une glace blanche
Je songe au goût de ta chair et je songe à tes hanches
À gauche lit son journal une jeune dame blonde
Je songe à tes lettres où sont pour moi toutes les nouvelles du monde
Il passe des marins la mer meurt à tes pieds
Je regarde ta photo tu es l'univers entier
J'allume une allumette et vois ta chevelure
Tu es pour moi la vie cependant qu'elle dure
Et tu es l'avenir et mon éternité
Toi mon amour unique et la seule beauté
Guillaume Apollinaire Poèmes à Lou
fleursdumal.nl magazine
More in: #Archive Concrete & Visual Poetry, *War Poetry Archive, Apollinaire, Guillaume, Archive A-B
---
Isaac Rosenberg
(1890 – 1918)
Break of Day in the Trenches
The darkness crumbles away.
It is the same old druid Time as ever,
Only a live thing leaps my hand,
A queer sardonic rat,
As I pull the parapet's poppy
To stick behind my ear.
Droll rat, they would shoot you if they knew
Your cosmopolitan sympathies.
Now you have touched this English hand
You will do the same to a German
Soon, no doubt, if it be your pleasure
To cross the sleeping green between.
It seems you inwardly grin as you pass
Strong eyes, fine limbs, haughty athletes,
Less chanced than you for life,
Bonds to the whims of murder,
Sprawled in the bowels of the earth,
The torn fields of France.
What do you see in our eyes
At the shrieking iron and flame
Hurled through still heavens?
What quaver—what heart aghast?
Poppies whose roots are in man's veins
Drop, and are ever dropping;
But mine in my ear is safe—
Just a little white with the dust.
Isaac Rosenberg poetry of The Geat War
fleursdumal.nl magazine
More in: Archive Q-R, Rosenberg, Isaac, WAR & PEACE
---
Onder de titels Wilden en Nieuwe Wilden presenteren Museum de Fundatie en het Groninger Museum tot en met 18 september 2016 een dubbeltentoonstelling gewijd aan het 20ste-eeuwse expressionisme in Duitsland. In Museum de Fundatie staat het expressionisme uit het begin van de eeuw centraal, het Groninger Museum toont het neo-expressionisme uit de jaren '80. Meer dan een halve eeuw scheidt de beide bewegingen, toch is er bij alle verschillen een duidelijke gemene deler: artistieke vrijheid zonder compromis.
Artistieke conventies en academische regels werden ingeruild voor subjectieve ervaringen. In Duitsland manifesteerde het expressionisme zich aan het begin van de twintigste eeuw in het werk van leden van de kunstenaarsgroeperingen 'Brücke' en 'Der Blaue Reiter'. Met hun compromisloze visie veranderden kunstenaars als Alexej von Jawlensky, Wassily Kandinsky, Emil Nolde, Ernst Ludwig Kirchner, August Macke, Franz Marc en Max Pechstein voorgoed het gezicht van de moderne kunst. De expositie WILDEN – Expressionisme van 'Brücke' & 'Der Blaue Reiter', toont met zo'n 100 werken het eerste grote museale overzicht in Nederland van Duitse expressionistische schilderkunst.
Niet de buitenwereld maar de binnenwereld, daar ging het de expressionisten om. Kunst als uitdrukking van emotie en innerlijke beleving.
De baanbrekende kunst van het expressionisme was de weerslag van sociale en wetenschappelijke veranderingen in de jaren vóór en vlak na de Eerste Wereldoorlog in Duitsland. De oprukkende industrialisering, de explosief groeiende steden, de 'ontgoddelijking' van de samenleving – "God is dood", zei Nietzsche –, de ontdekking van het onderbewuste en de opkomst van de psychoanalyse, alsook de ontwikkeling van de kwantummechanica en relativiteitstheorie zetten het vertrouwde mens- en wereldbeeld op zijn kop. Oude zekerheden vielen weg en een nieuwe, grotendeels (nog) onbekende realiteit diende zich aan. De unieke positie van de mens in de schepping werd betwijfeld. De expressionistische kunstenaars keerden zich tegen het materialistische vooruitgangsdenken, dat vooral zakelijk en rationeel was. Zij richtten zich voortaan op de geestelijke wereld die achter de materie schuilging en wilden de band tussen mens en natuur herstellen.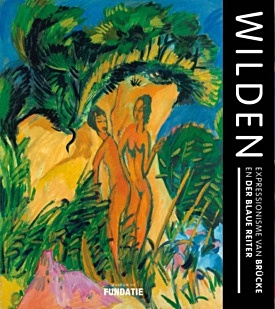 De expressionisten stonden kritisch tegenover het onpersoonlijke stadsleven en verheerlijkten de eenvoud van het platteland. Zogenaamd primitieve volkeren werden als de ware erfgenamen van het verloren paradijs tot voorbeeld genomen, zowel in leven als in kunst. Geen materialisme en burgerlijkheid, maar originaliteit en echt contact. In artistieke zin was het expressionisme een reactie op het inmiddels als gezapig betitelde impressionisme, dat – letterlijk – oppervlakkig werd bevonden door zijn focus op de buitenkant van de wereld. Kunstenaars van 'Brücke' en 'Der Blaue Reiter', opgericht in respectievelijk in 1905 in Dresden en in 1911 in München, hielden zich juist bezig met het innerlijk en met de oorspronkelijke, geestelijke eenheid van mensen, dieren en planten. Zij wilden niet de optische realiteit weergeven, maar de subjectieve ervaring van de mens in zijn natuurlijke omgeving. Bevrijd van de noodzaak zich te houden aan de werkelijkheid zochten de Duitse expressionisten naar alternatieve methoden om hun visie uit te dragen. Ongekend felle kleuren en krachtige vormen werden de dragers van ideeën en emoties. Nolde, Kirchner, Pechstein en andere leden van 'Brücke' bleven bij alle stilering vasthouden aan de herkenbaarheid van hun onderwerpen. Leden van 'Der Blaue Reiter', met name Jawlensky en Kandinsky, voerden hun streven naar vergeestelijking daarentegen zo hoog op dat zij de materiële wereld oplosten in een volledig voorstellingsloos beeld. Zodoende stonden zij mede aan de basis van de abstracte kunst.
Wilden – Expressionisme
van 'Brücke' en 'Der Blaue Reiter'
t/m 18 september 2016
Museum de Fundatie
Blijmarkt 20
8011 NE Zwolle
Telefoon: 0572 388188
info@museumdefundatie.nl
# meer info website museum de fundatie
fleursdumal.nl magazine
More in: *War Poetry Archive, Art & Literature News, Exhibition Archive, EXPERIMENTAL POETRY, Expressionism, Expressionisme, Galerie Deutschland, PRESS & PUBLISHING
---
Older Entries »
Thank you for reading FLEURSDUMAL.NL - magazine for art & literature