POETRY ARCHIVE
«« Previous page
·
Hugo Ball: Bagatelle
·
Gertrud Kolmar: Die Verlassene (An K. J.)
·
Bert Bevers gedicht: In de doorslaap
·
Michelle Witen: James Joyce and Absolute Music
·
Orphic Paris by Henri Cole
·
JACE van de Ven: Met Vaart In Het Hart. Verhalen uit het Brabants Wielercafé
·
Sleeping Late on Judgment Day. Poems by Jane Mayhall
·
Robert Desnos: Le Livre secret pour Youki
·
Faisal Mohyuddin: The Displaced Children Of Displaced Children
·
Robert Burns: Address to Edinburgh
·
Gertrud Kolmar: Krähen
·
Sibylla Schwarz: Alß sie ein Poëtischer Geist tribe
Bagatelle
Vor meinem Fenster,
Im Sonnenschein
Sitzen Engelein.
Eins, zwei, drei Engelein
Und äugeln herein.
Sie hauchen an die Scheiben
Und kichern sich an,
Und schreiben
Deinen Namen hin.
Und kichern sich an
Und verwischen ihn.
Und blinzeln gar boshaft
Und neckisch herein,
Und flattern fort
Die drei Engelein.
Hugo Ball
(1886-1927)
Bagatelle
fleursdumal.nl magazine
More in: Archive A-B, Ball, Hugo, Dada, DADA, Dadaïsme
---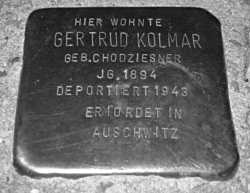 Die Verlassene
An K. J.
Du irrst dich. Glaubst du, daß du fern bist
Und daß ich dürste und dich nicht mehr finden kann?
Ich fasse dich mit meinen Augen an,
Mit diesen Augen, deren jedes finster und ein Stern ist.
Ich zieh dich unter dieses Lid
Und schließ es zu und du bist ganz darinnen.
Wie willst du gehn aus meinen Sinnen,
Dem Jägergarn, dem nie ein Wild entflieht?
Du läßt mich nicht aus deiner Hand mehr fallen
Wie einen welken Strauß,
Der auf die Straße niederweht, vorm Haus
Zertreten und bestäubt von allen.
Ich hab dich liebgehabt. So lieb.
Ich habe so geweint … mit heißen Bitten …
Und liebe dich noch mehr, weil ich um dich gelitten,
Als deine Feder keinen Brief, mir keinen Brief mehr schrieb.
Ich nannte Freund und Herr und Leuchtturmwächter
Auf schmalem Inselstrich,
Den Gärtner meines Früchtegartens dich,
Und waren tausend weiser, keiner war gerechter.
Ich spürte kaum, daß mir der Hafen brach,
Der meine Jugend hielt – und kleine Sonnen,
Daß sie vertropft, in Sand verronnen.
Ich stand und sah dir nach.
Dein Durchgang blieb in meinen Tagen,
Wie Wohlgeruch in einem Kleide hängt,
Den es nicht kennt, nicht rechnet, nur empfängt,
Um immer ihn zu tragen.
Gertrud Kolmar
(1894-1943)
gedicht: Die Verlassene
fleursdumal.nl magazine
More in: Archive K-L, Archive K-L, Kolmar, Gertrud
---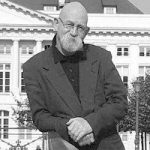 In de doorslaap
Vriendelijk verwant zoals het werkwoord gapen
dat met slapen is liggen wij stilletjes hand in hand.
De hele nacht door sliep je lekker maar tegen
de ochtend werd je steeds weer van een piepje
wakker. Het leek of je keek naar de klei die ik kneed
alsof je weet dat het andere wolken zijn dan van donker:
in de doorslaap kerven zich de klamste dromen.
Bert Bevers
Gedicht: In de doorslaap
Uit Andere taal, Uitgeverij Litera Este, Borgerhout, 2010
Bert Bevers is a poet and writer who lives and works in Antwerp (Be)
fleursdumal.nl magazine
More in: Archive A-B, Archive A-B, Bevers, Bert
---
Drawing on draft manuscripts and other archival material, James Joyce and Absolute Music, explores Joyce's deep engagement with musical structure, and his participation in the growing modernist discourse surrounding 19th-century musical forms.
Michelle Witen examines Joyce's claim of having structured the "Sirens" episode of his masterpiece, Ulysses, as a fuga per canonem, and his changing musical project from his early works, such as Dubliners and A Portrait of the Artist as a Young Man.
Informed by a deep understanding of music theory and history, the book goes on to consider the "pure music" of Joyce's final work, Finnegans Wake.
Demonstrating the importance of music to Joyce, this ground-breaking study reveals new depths to this enduring body of work.
Towards a Modernist Condition of Absolute Music – Joyce's Early Use of Music – Joyce's fuga per canonem: A Case of Structure – Joyce's fuga per canonem: A Case of Effect – Voided Fugue in "Circe" – "It's Pure Music": Finnegans Wake
Michelle Witen is Postdoctoral Teaching and Research Fellow at the University of Basel, Switzerland.
Michelle Witen
James Joyce and Absolute Music
Published: 22-02-2018
Format: Hardback
Edition: 1st
Extent: 320 p.
ISBN: 9781350014220
Imprint: Bloomsbury Academic
Series: Historicizing Modernism
Illustrations: 9 bw illus
Dimensions: 234 x 156 mm
RRP: £85.00
literature and music
fleursdumal.nl magazine
More in: # Music Archive, Archive I-J, Archive I-J, Art & Literature News, Joyce, James, Joyce, James
---
Henri Cole's Orphic Paris combines autobiography, diary, essay, and poetry with photographs to create a new form of elegiac memoir. With Paris as a backdrop, Cole, an award-winning American poet, explores with fresh and penetrating insight the nature of friendship and family, poetry and solitude, the self and freedom.

Cole writes of Paris, "For a time, I lived here, where the call of life is so strong. My soul was colored by it. Instead of worshiping a creator or man, I cared fully for myself, and felt no guilt and confessed nothing, and in this place I wrote, I was nourished, and I grew."
Written under the tutelary spirit of Orpheus—mystic, oracular, entrancing—Orphic Paris is an intimate Paris journal and a literary commonplace book that is a touching, original, brilliant account of the city and of the artists, writers, and luminaries, including Cole himself, who have been moved by it to create.
Henri Cole was born in Fukuoka, Japan, to a French mother and an American father. He has published nine collections of poetry, including Middle Earth, which was a finalist for the Pulitzer Prize. He has received many awards for his work, including the Jackson Prize, the Kingsley Tufts Award, the Rome Prize, the Berlin Prize, the Lenore Marshall Award, and the Medal in Poetry from the American Academy of Arts and Letters. His most recent collection of poetry is Nothing to Declare. He teaches at Claremont McKenna College and lives in Boston.
Orphic Paris
by Henri Cole
$15.95
Series: New York Review Books
ISBN: 9781681372181
Pages: 176
Publication: April 3, 2018
new books
fleursdumal.nl magazine
More in: - Book News, - Book Stories, Archive C-D, Archive C-D, Art & Literature News
---
'Van de Ven is een opvallende verschijning in het peloton van wielerauteurs. Zijn forse postuur en woeste baard hebben hem de bijnaam Raspoetin bezorgd.
Verwacht geen geschoren benen, carbon frames en wetenschappelijk verantwoorde sportdrank,' schreef het magazine for art en literature 'Fleursdumal.nl' over 'Mag ik nog wat wind van achteren?', de vorige bundel wielerverhalen van Jace van de Ven.
En Het is koers.nl noteerde: 'Het zijn persoonlijke beslommeringen opgedaan tijdens vaak meerdaagse fietstochten, die bij mij de juiste snaar raken en uitnodigen om zelf te fietsen, te lachen, te genieten en na te denken.'
Ook Brabants Dagblad en Brabant Cultureel waren enthousiast. Buiten Noord-Brabant is de continue verwondering van Jace van de Ven, eerste stadsdichter van Tilburg, over coureurs en would-be-renners nog te onbekend. Jammer, want niemand schrijft zo hilarisch en tegelijk zo ontroerend over mensen op de fiets, of het nou sterren zijn of stumpers. Dat bewijzen de vijftien verhalen in ' Met vaart in het hart' opnieuw.
Jace van de Ven is oud-redacteur van Brabants Dagblad en eerste stadsdichter van Tilburg. Als auteur van wielerverhalen wordt hij regelmatig uitgenodigd om zijn verhalen voor te lezen voor wielerverenigingen. De vele verzoeken om zijn teksten eens in boekvorm uit te brengen heeft hij nu gehonoreerd in deze handzame bundeling van zijn mooiste verhalen. Geschreven met wind mee…
JACE van de Ven
Met Vaart In Het Hart.
Verhalen uit het Brabants Wielercafé
Geïllustreerd door Ellis Pruijn
Jaar: 2018
Uitgever: Eigen beheer,
Categorie:
Gedicht / Poëzie / Proza
116 pagina's:
Afmeting: 15×21 cm
Wielerboek
€ 14,00
# meer info sportmediashop
new books
fleursdumal.nl magazine
More in: - Book Lovers, - Book Stories, Archive U-V, Archive U-V, Art & Literature News, Ven, Jace van de
---
"My heart is bursting with homage as I / head off to a hostile eternity," writes Jane Mayhall, eighty-five, who wrote most of these poems in an urgent outpouring over the last few years.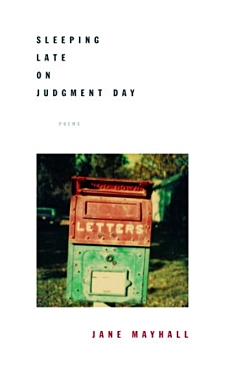 From the decades-outdated subway token in the bottom of her shoulder bag, which calls forth earlier days in New York City, to the violin her father practiced among the pantry's jam jars in her Kentucky childhood, Mayhall plucks small treasures that bespeak her fierce devotion to life, with its clutter of memories and imperfections. In her tightly knotted, beautifully turned short poems, she elegizes a world not quite gone, and brings us into contact with some of her contemporaries, from Lincoln Kirstein to Theodore Roethke.
Chief among her cherished memories is her long bohemian marriage, which she recalls in a series of ravishing love poems to her late husband. In lines saturated with feeling she describes how she accommodates her grief at losing him and, as throughout this exquisite volume, how we must continue to greet life, in all its gorgeous strangeness.
Jane Mayhall was born in Louisville, Kentucky, in 1918 and attended Black Mountain College in North Carolina. She taught at the New School for Social Research, Hofstra University, Morehead State University, and the Summer Writers' Workshop at Hindman Settlement School in Kentucky. Her fiction and poems appeared in The Yale Review, The New Yorker, The Paris Review, and other publications. Mayhall lived in New York City until her death in 2009.
Sleeping Late on Judgment Day
Poems
By Jane Mayhall
Category: Poetry
Paperback
2005
112 Pages
$15.00
Published by Knopf
5-5/8 x 9-1/4
ISBN 9780375710483
more poetry
fleursdumal.nl magazine
More in: - Book Lovers, - Book Stories, Archive M-N, Archive M-N, Art & Literature News
---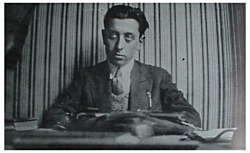 Le Livre secret pour Youki
Ma chérie ma chérie ma Youki
Je n'aime et n'aimerai que toi
Et tu m'aimeras je t'appelle Youki
Reviens ma chérie
Les heures coulent à t'attendre
Je ne pense qu'à toi
Souviens-toi de tes paroles d'espoir Youki
Ne me prépare pas une déception plus
Grande ma chérie
Toi et pas d'autre que toi
Et pas d'autre que moi
N'est-ce pas mon amour
Robert Desnos (1900 – 1945)
– Ma chérie ma chérie ma Youki –
dans Destinée arbitraire
fleursdumal.nl magazine
More in: Archive C-D, Desnos, Robert, Surrealism
---
Poetry. Asian & Asian American Studies. Moving through past, present and future, this is a family history that journeys between America, Pakistan, modern Europe and even into space.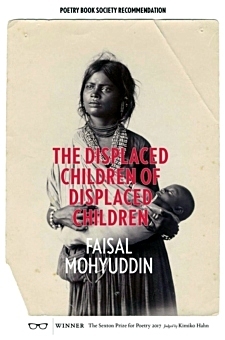 Faisal Mohyuddin delves into the past of his parents and their neighbours in Pakistan and India in a self-consciously impossible attempt to find some way of belonging to a place that is lost. Moving from elegant ghazals of lament to stuttering, disjointed phrases of yearning, Mohyuddin portrays with restrained emotion the complexities of what it is to be displaced, geographically, spiritually, psychologically. With moments of sorrow interspersed with unsettling humour, deep familial love and celebrations of beauty, it is a story recognizable to any who have felt displaced in a new world. If the personal is political, then this is truly poetry for our times.
Faisal Mohyuddin, a child of immigrants from Pakistan, is the author of the chapbook The Riddle of Longing (Backbone Press, 2017). He is the recipient of the 2014 Edward Stanley Award from Prairie Schooner and a 2017 Gwendolyn Brooks Poetry Award. A graduate of Carleton College, Northwestern University, and Columbia College Chicago, he is also an alumnus of the U.S. Department of State's Teachers for Global Classrooms program. He teaches English at Highland Park High School in Illinois, serves as an educator adviser to the global not- for-profit Narrative 4, and lives with his wife and son in Chicago. THE DISPLACED CHILDREN OF DISPLACED CHILDREN is his debut full-length collection.
The Displaced Children Of Displaced Children
by Faisal Mohyuddin (Author)
Paperback
April 2, 2018
88 pages
Publisher: Eyewear Publishing
Language: English
ISBN-10: 1912477068
ISBN-13: 978-1912477067
$14.99
£10.99
new poetry
fleursdumal.nl magazine
More in: - Book Lovers, - Book News, Archive M-N, Art & Literature News
---
Address to Edinburgh
1.
Edina! Scotia's darling seat!
All hail thy palaces and tow'rs,
Where once, beneath a Monarch's feet,
Sat Legislation's sov'reign pow'rs :
From marking wildly-scatt'red flow'rs,
As on the banks of Ayr I stray'd,
And singing, lone, the ling'ring hours,
I shelter in thy honor'd shade.
2.
Here Wealth still swells the golden tide,
As busy Trade his labours plies ;
There Architecture's noble pride
Bids elegance and splendour rise :
Here Justice, from her native skies,
High wields her balance and her rod ;
There Learning, with his eagle eyes,
Seeks Science in her coy abode.
3.
Thy sons, Edina, social, kind,
With open arms the stranger hail ;
Their views enlarg'd, their lib'ral mind,
Above the narrow, rural vale ;
Attentive still to Sorrow's wail,
Or modest Merit's silent claim :
And never may their sources fail!
And never Envy blot their name!
4.
Thy daughters bright thy walks adorn,
Gay as the gilded summer sky,
Sweet as the dewy, milk-white thorn,
Dear as the raptur'd thrill of joy!
Fair Burnet strikes th' adoring eye,
Heav'n's beauties on my fancy shine :
I see the Sire of Love on high,
And own His work indeed divine!
5.
There, watching high the least alarms,
Thy rough, rude fortress gleams afar ;
Like some bold vet'ran, grey in arms,
And mark'd with many a seamy scar :
The pond'rous wall and massy bar,
Grim-rising o'er the rugged rock,
Have oft withstood assailing war,
And oft repell'd th' invader's shock.
6.
With awe-stuck thought and pitying tears,
I view that noble, stately dome,
Where Scotia's kings of other years,
Fam'd heroes! had their royal home :
Alas, how chang'd the times to come!
Their royal name low in the dust!
Their haplesss race wild-wand'ring roam!
Tho' rigid Law cries out: ''Twas just!'
7.
Wild beats my heart to trace your steps,
Whose ancestors, in days of yore,
Thro'hostile ranks and ruin'd gaps
Old Scotia's bloody lion bore:
Ev'n I, who sing in rustic lore,
Haply my sires have left their shed,
And fac'd grim Danger's loudest roar,
Bold-following where your fathers led!
8.
Edine! Scotia's darling seat!
All hail thy palaces and tow'rs ;
Where once, beneath a Monarch's feet,
Sat Legislation's sov'reign pow'rs :
From marking wildly-scatt'red flow'rs,
As on the banks of Ayr I stray'd,
And singing, lone, the ling'ring hours,
I shelter in thy honour'd shade.
Robert Burns (1759 – 1796)
Address to Edinburgh
fleursdumal.nl magazine
More in: Archive A-B, Burns, Robert
---
Krähen
Ich will den Tag verbringen in den Feldern,
Will lächerlich wie jene Scheuche stehn;
Die großen Vögel möchten aus den Wäldern
Auch so auf mein Gewand herniederwehn,
Um Schultern krallen, flüstern in mein Ohr
Aus Mären, die im grünen Buch sie lasen,
Von Hugin und von Munin, Tyr und Thor,
Von Yggrasill dem Weltenbaum der Asen,
Und von der Väter Dienstwerk beim Adepten,
Des Roten Leuen Sud, dem Blumengift,
Der Mauerspalte, drein sie bergend schleppten
Des siechen Herrn geheim erfundne Schrift,
Und anderes Gewinde, blumig kraus,
Altfränkisch duftend wie Levkojenblüten,
Was ihnen nachtrab schrieb und Fledermaus
Und was sie selbst in klugen Häuptlein hüten.
Doch manche würden gleich die Scholle hacken
um meine Füße, die zum Kosten lädt
So wie ein Würzbrot, feucht und frisch vom Backen,
Bereitet mit dem blanken Feldgerät,
An weißen mandeln und dem Zitronat,
An Engerlingen sich und Würmern letzen,
Der Süße endlich satt zu Rast und Rat
Und schweigend sich auf meine Hände setzen.
Und einmal schlügen Schwärme, Riesenwehe,
Den wilden Flug aus Mitternacht mir nah
Mit harten Liedern, die nur ich verstehe,
In ihrem scharfen, ungefügen Krah,
Mit unheilvollem Braus im düstren Kleid
Und mit erzürntem, drohendem Bewegen;
So fielen sie in gotteslose Zeit
Und auf die Länder als ein schwarzer Regen,
Die Welt verstummte. Bis der Weiler stöhnte.
Und weithin klagte heulend eine Stadt
Zerfreßnes Auge, das den Vater höhnte
Und seiner Mutter Herz verstoßen hat.
Gertrud Kolmar
(1894-1943)
gedicht: Krähen
fleursdumal.nl magazine
More in: Archive K-L, Archive K-L, Kolmar, Gertrud
---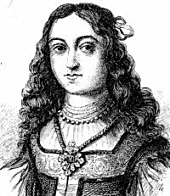 Sibylla Schwarz
Alß sie ein Poëtischer Geist tribe
Ich, der ich sonsten pflag von schlechten Dingen schreiben,
bin gänzlich umgekehrt, nun muß mein Lob wohl bleiben,
und grünen wie ein Zweig, iezt wil ich meinen Sinn,
von dem, das niedrig ist, biß in die Wolcken ziehn.
Die Göttin Fama wil mir selber Flügel geben,
die immer für und für am helle n Himmel kleben,
und wo der Venus Sohn hinfüro schiessen wil
nach mir, so raht ich, daß er in die Wolcken Ziel.
Da soll mein Ball=Plaz seyn, da soll das Glüder fliegen,
wie Spreu das brennen muß, und allzeit unten ligen.
Die Clio bindet mir schon selbst die Lohrbeer=Kron,
die Ewig grünen wird / nun soll die Kunst den Lohn
erlangen, recht; So muß ein freyer Sinn bekleiben;
nuhn, ich will immer auch bey meinen Worten bleiben,
und steigen mit dem Sinn des Himmels Leiter an,
ein jeder sey bereit, daß er mir folgen kan.
Sibylla Schwarz (1621 – 1638)
Gedicht: Alß sie ein Poëtischer Geist tribe
fleursdumal.nl magazine
More in: - Archive Tombeau de la jeunesse, Archive S-T, SIbylla Schwarz
---
Older Entries »
« Newer Entries
Thank you for reading FLEURSDUMAL.NL - magazine for art & literature