POETRY ARCHIVE
«« Previous page
·
Pierre-Jean de Béranger: Le roi d'Yvetot
·
Hart Crane: Interior
·
Zwaartekracht, nieuwe dichtbundel van Joris Denoo
·
Afanasi Fet: Bij de haard
·
Alfred Lord Tennyson: The Deserted House
·
Ton van Reen gedicht: God zij geloofd is er Pepsi
·
Hugo Ball: bfirr
·
Sibylla Schwarz: Am liebsten bey der Liebsten
·
Bert Bevers gedicht: Retour
·
Sérgio Monteiro de Almeida – Poema visual 0
·
Ocean Vuong: Night Sky with Exit Wounds
·
Aja Monet: My Mother Was a Freedom Fighter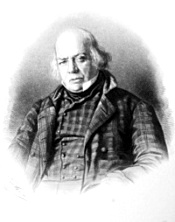 Pierre-Jean de Béranger
Le roi d'Yvetot
Il était un roi d'Yvetot
Peu connu dans l'histoire ;
Se levant tard, se couchant tôt,
Dormant fort bien sans gloire,
Et couronné par Jeanneton
D'un simple bonnet de coton,
Dit-on.
Oh ! oh ! oh ! oh ! ah ! ah ! ah ! ah !
Quel bon petit roi c'était là !
La, la.
Il faisait ses quatre repas
Dans son palais de chaume,
Et sur un âne, pas à pas,
Parcourait son royaume.
Joyeux, simple et croyant le bien,
Pour toute garde il n'avait rien
Qu'un chien.
Oh ! oh ! oh ! oh ! ah ! ah ! ah ! ah
Quel bon petit roi c'était là !
La, la.
Il n'avait de goût onéreux
Qu'une soif un peu vive ;
Mais en rendant son peuple heureux,
Il faut bien qu'un roi vive.
Lui-même, à table et sans suppôt,
Sur chaque muid levait un pot
D'impôt.
Oh ! oh !oh !oh ! ah ! ah ! ah ! ah !
Quel bon petit roi c'était là !
La, la.
Aux filles de bonnes maisons
Comme il avait su plaire,
Ses sujets avaient cent raisons
De le nommer leur père
D'ailleurs il ne levait de ban
Que pour tirer quatre fois l'an
Au blanc.
Oh ! oh ! oh ! oh ! ah ! ah ! ah ! ah !
Quel bon petit roi c'était là !
La, la.
Il n'agrandit point ses états,
Fut un voisin commode,
Et, modèle des potentats,
Prit le plaisir pour code.
Ce n'est que lorsqu'il expira
Que le peuple qui l'enterra
Pleura.
Oh ! oh ! oh ! oh ! ah ! ah ! ah ! ah !
Quel bon petit roi c'était là !
La, la.
On conserve encor le portrait
De ce digne et bon prince ;
C'est l'enseigne d'un cabaret
Fameux dans la province.
Les jours de fête, bien souvent,
La foule s'écrie en buvant
Devant :
Oh ! oh ! oh ! oh ! ah ! ah ! ah ! ah !
Quel bon petit roi c'était là !
La, la.
Chanson écrite en mai 1813.
Pierre-Jean de Béranger (1780-1857)
Le roi d'Yvetot
Toutes les chansons de Béranger (1843)
fleursdumal.nl magazine
More in: Archive A-B, Béranger, Pierre-Jean de, MUSIC
---
Interior
It sheds a shy solemnity,
This lamp in our poor room.
O grey and gold amenity, —
Silence and gentle gloom!
Wide from the world, a stolen hour
We claim, and none may know
How love blooms like a tardy flower
Here in the day's after-glow.
And even should the world break in
With jealous threat and guile,
The world, at last, must bow and win
Our pity and a smile.
Hart Crane (1889 – 1932)
Interior
fleursdumal.nl magazine
More in: Archive C-D, Crane, Hart
---
Met uitzondering van Torhout, vers aan huis, een bundel gedichten over zijn geboortestad die hij in 2010 op uitnodiging publiceerde, is het inmiddels al tien jaar geleden dat Joris Denoo nog iets van zich liet horen in poëtische boekvorm.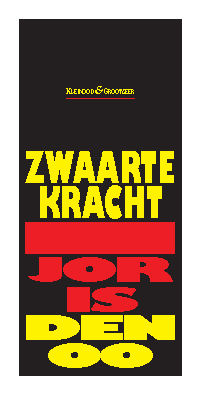 Zwaartekracht bundelt poëzie met een specifiek thema, gebaseerd op persoonlijke ervaringen. De goede lezer zal tussen de regels wel degelijk ontdekken waar het over gaat. Overigens behandelde de auteur deze thematiek ook al in enkele jeugdboeken (Vallen en opstaan, Een blauwe plek).
Diverse gedichten verschenen in de loop der jaren in literaire bladen (o.a. een cyclus in het Nieuw Wereld Tijdschrift) of werden met een nominatie of bekroning onderscheiden.
Joris Denoo (°1953, Torhout) publiceerde naast poëzie ook columns, verhalen, essays, theater-teksten en jeugdboeken. Hij won voor die genres o.a. de Guido Gezelle Poëzie Prijs Brugge, de Toneel Schrijf Prijs van de Koninklijke Academie voor Nederlandse Taal- en letterkunde, Gent en van de provincie West-Vlaanderen, een Essay Prijs van diezelfde Koninklijke Academie, de Jeugdboeken Prijs van de Stad Tielt en diverse prijzen en nominaties voor verhalen, voornamelijk in Nederland.
Denoo schreef ook het scenario voor de volksfilm Tine, een mokkel van haar sokkel en werkte intens mee aan Kameleon, Verrekijker en Kweetet.
In 2017 verscheen Verlichte gedichten, een leerboek voor jongeren en hun opleiders over omgaan met poëzie.
De eerste druk van de dichtbundel verschijnt in een oplage van 100 genummerde en door de auteur gesigneerde exemplaren en is te bestellen voor €16,- + €2,- verpakkings- en verzendkosten.
De nieuwe dichtbundel:
Zwaartekracht van Joris Denoo
Juli 2017
36 pagina's,
gelijmd 21 x 10,5 cm.
ISBN/EAN 978-90-76644-83-7
€16,-
# Te bestellen via website uitgever Kleinood & Grootzeer
fleursdumal.nl magazine
More in: - Book Lovers, - Book News, Archive C-D, Art & Literature News, Historia Belgica
---
Afanasi Fet
(1820 – 1892)
Bij de haard
De kolen gloeien. Haast doorzichtig
Speelt in de haard het donker vuur.
Zo danst om rozen, heel omzichtig,
Van vlindervleugels het lazuur.
Een bontgekleurde reeks figuren
Trekt aan mijn moede oog voorbij,
Onnoembaar veel gezichten turen
Vanuit de grauwe as naar mij.
Dan ziet mijn ziel, al is het even,
Verdriet en vreugde in de gloed,
En liegt zij dat zij best kan leven
Met alles wat zij missen moet.
Afanasi Fet, У камина, 1856
Vertaling Paul Bezembinder, 2017
Paul Bezembinder: zijn gedichten en vertalingen verschenen in verschillende (online) literaire tijdschriften. Zie meer op zijn website: www.paulbezembinder.nl
fleursdumal.nl magazine
More in: Archive E-F, Fet, Fet, Afanasi
---
Alfred Lord Tennyson
(1809 – 1892)
The Deserted House
Life and Thought have gone away
Side by side,
Leaving door and windows wide.
Careless tenants they!
All within is dark as night:
In the windows is no light;
And no murmur at the door,
So frequent on its hinge before.
Close the door; the shutters close;
Or through the windows we shall see
The nakedness and vacancy
Of the dark deserted house.
Come away: no more of mirth
Is here or merry-making sound.
The house was builded of the earth,
And shall fall again to ground.
Come away: for Life and Thought
Here no longer dwell;
But in a city glorious –
A great and distant city -have bought
A mansion incorruptible.
Would they could have stayed with us!
Alfred Lord Tennyson
fleursdumal.nl magazine
More in: Archive S-T, Tennyson, Alfred Lord
---
God zij geloofd is er Pepsi
Welkom in St. Mery Hotel
we hebben pepsi: drie birr
we hebben brood met pepsi: vijf birr
daarom kent iedereen ons in Konso
soms hebben we mirinda
dan kunnen we u brood met mirinda aanbieden
kom terug als we mirinda hebben
maar we hebben altijd pepsi
's ochtends, 's middags en 's avonds
kunnen we u brood met pepsi aanbieden
want we hebben altijd pepsi
kijk maar naar de blauwe letters
op het witte pepsireclamebord
met de rode pepsivlag
en de rood-wit-blauwe pepsibal
iedereen in Konso weet het
iedereen is welkom in St. Mery hotel
voor een maaltijd met pepsi: vijf birr
god zij dank is er pepsi
anders at u bij ons alleen droog brood
maar gelukkig hebben wij brood met pepsi
pepsi is echt een uitkomst voor u
wij zijn er trots op, heel trots
dat wij altijd pepsi in huis hebben
jammer dat we juist vandaag geen pepsi hebben
en gisteren was er ook geen pepsi
en morgen misschien ook niet,
maar volgende week of zeker over twee weken
hebben wij pepsi in huis, heel zeker
kom over een paar weken terug in St. Mery Hotel
want we hebben altijd pepsi
Ton van Reen
Ton van Reen: De naam van het mes. Afrikaanse gedichten. In 2007 verschenen onder de titel: De straat is van de mannen bij BnM Uitgevers in De Contrabas reeks. ISBN 9789077907993 – 56 pagina's – paperback
fleursdumal.nl magazine
More in: Archive Q-R, FDM in Africa, Reen, Ton van, Reen, Ton van, Ton van Reen
---
bfirr
bfirr bfirr
ongog
rorr sss
dumpa
feif dirri
chu gaba
raur
ss
Hugo Ball
(1886-1927)
gedicht

fleursdumal.nl magazine
More in: Archive A-B, Ball, Hugo, Dada, DADA, Dadaïsme
---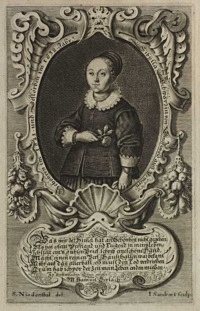 Sibylla Schwarz
Am liebsten bey der Liebsten
(Zu Upatell, auff der Insel Riga gemacht)
Schawt doch, wie lustig Leben
das auff den Dörffern ist?
Ich will die Stadt wohl geben
dem, der sie außerkießt.
Schawt, wie die Bluhmen stehen,
wie lieblich sie doch sind,
und fast im Haus auffgehen,
schawt, wie man Obst hier findt.
Hört, hört doch einmahl singen
die lieben Vögelein,
last ewre Laut erklingen,
und stimmet mit ihn ein.
Fühlt ihr der Sonnen Strahlen
in ewern Häusern nicht?
hier läst sie auff uns fallen
fast doppelt heisses Licht.
Schmeckt kecklich diese Früchte,
die hier beyn Bauren seyn etc.
Seht, wie die Kühe weiden!
und auch der Schaffen Schar,
ich will die Stadt wohl meiden,
so bin ich auß Gefahr.
So schreckt mich die Posaune,
das Spiel der Schwerdter nicht,
die grausame Kartaune
kompt nie mir ins Gesicht.
Ja, alles was ich finde
in Dörffern weit und breit,
der Hirsch, das Schaff, das Rinde,
der Wälder Zierligkeit,
Das ist weit vohrzuziehen
den Sachen in der Stadt,
da man sich muß bemühen
und wirds doch niemahl satt.
Was sag ich? Nach dem allen
frag ich nicht sonders vihl;
mir soll die Stadt gefallen,
dieweil ich gerne will
Die Lust im Grünen lassen,
mein Lieb, mein eigen Ich
ist hier nicht ümbzufassen,
die ich lieb inniglich.
Ist hier auff grühner Awen,
und bey der Schaffen Schaar
kein einig mahl zu schawen,
drümb hat eß hier Gefahr.
Ich will die Stadt nicht meiden,
Ich hab sie außerkiest;
kanst du dein Lieb nicht leiden,
so sey nicht, wo sie ist.
Sibylla Schwarz (1621 – 1638)
Gedicht: Am liebsten bey der Liebsten
fleursdumal.nl magazine
More in: Archive S-T, SIbylla Schwarz
---
Retour
De klokken roepen als vanouds maar er zijn minder oren.
Verduiveld goed nog weet hij hoe de superplie over het
schoon geschoren jongenshalsje schoof. In kalm ritme
vol geloof ging de dag in deze Heilig Hartkerk van start
als alle dagen. Naast de sacristie vertoeft zijn vingerafdruk
nog ergens op de knoppen voor het galmen. Medeplichtig.
Die jonge jaren raken meer en meer beduimeld,
maar tuimelen soms de draad van geheugen even
wichtig op. Dan proeft hij. Hoe vroeger een huis
waar hij nog wel eens langs kuierde thuis was,
langgeleden inzicht met hete huiver stolt
als ei in kokend water. Geen angst voor later.
Bert Bevers
Uit: Onaangepaste tijden,
Zinderend, Bergen op Zoom, 2006
Bert Bevers is a poet and writer who lives and works in Antwerp (Be)
fleursdumal.nl magazine
More in: Archive A-B, Bevers, Bert
---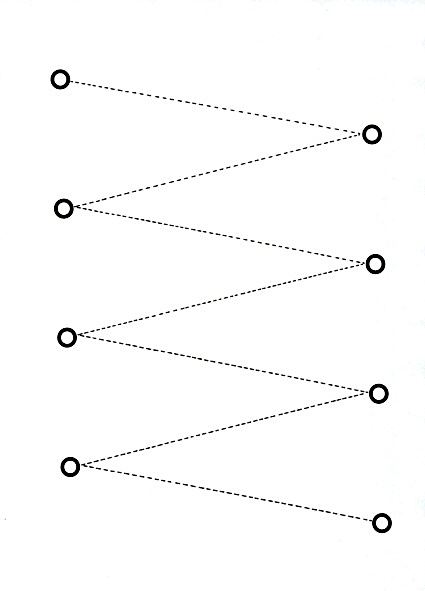 Sérgio Monteiro de Almeida
Poema visual 0
Sérgio Monteiro de Almeida cv:
Curitiba, Brazil (1964). Intermedia visual poet and conceptual artist. – He has published in numerous anthologies and specialized magazines in Brazil and outside; participated in exhibitions of visual poetry as International Biennial of Visual and Alternative Poetry in Mexico (editions from 1987 to 2010); Post-Art International Exhibition of Visual / Experimental Poetry, San Diego State University-USA (1988); 51 and 53 Venice Biennial (2005 and 2009). – He published in 2007 the book Sérgio Monteiro de Almeida with a global vision about his work as a visual artist and poet. – This book was incorporated into the "Artist Books" collection of the New York City Library (USA). – Author of the CD of kinetic visual poems (EU) NI/IN VERSO (still unpublished). – He presented urban interventions in Curitiba, San Diego, Seattle, New York, Paris, Rome. – In 2014 and 2015 visual poems published in the Rampike experimental literature magazine of the University of Windsor, Canada. – He recently had his poems published in Jornal Candido (n. 64) and Relevo (2015 and 2016).
More about his work:
Livro eletrônico http://issuu.com/boek861/docs/sergio_monteiro_libro;
Enciclopédia Itaú Cultural de artes visuais www.itaucultural.com.br;
Videos no Youtube: http://www.youtube.com/user/SergioMAlmeida
Sérgio Monteiro de Almeida
Curitiba – PR – Brazil
email: sergio.ma@ufpr.br
magazine fleursdumal.nl
More in: Archive M-N, Concrete + Visual Poetry K-O, Sérgio Monteiro de Almeida
---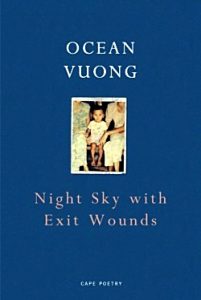 An extraordinary debut from a young Vietnamese American, Night Sky with Exit Wounds is a book of poetry unlike any other. Steeped in war and cultural upheaval and wielding a fresh new language, Vuong writes about the most profound subjects – love and loss, conflict, grief, memory and desire – and attends to them all with lines that feel newly-minted, graceful in their cadences, passionate and hungry in their tender, close attention: '…the chief of police facedown in a pool of Coca-Cola. A palm-sized photo of his father soaking beside his left ear.'
This is an unusual, important book: both gentle and visceral, vulnerable and assured, and its blend of humanity and power make it one of the best first collections of poetry to come out of America in years.
Biography: Ocean Vuong was born in a rice farm outside Saigon in 1988. At the age of two, after a year in a refugee camp, he and his family arrived in the US.
He is the first in his immediate family to learn how to read proficiently, at the age of eleven. With Ben Lerner as his mentor at Brooklyn College, he wrote the poems that would become this first collection.

A Ruth Lilly fellow and winner of a Pushcart Prize, he has received honours and awards from Poets House and the Academy of American Poets. Night Sky with Exit Wounds won the 2016 Whiting Award. Ocean Vuong lives in New York.
'These are poems of exquisite beauty, unashamed of romance, and undaunted by looking directly into the horrors of war, the silences of history. One of the most important debut collections for a generation.' Andrew McMillan
Shortlisted for the 2017 Felix Dennis Prize for Best First Collection
Ocean Vuong
Night Sky with Exit Wounds
Cape Poetry, 2017
96 Pages,
129mm x 197mm x 9mm
fleursdumal.nl magazine
More in: - Book News, Archive U-V, Art & Literature News
---
An ode to mothers, daughters, and sisters—the tiny gods who fight to change the world.
Textured with the sights and sounds of growing up in East New York in the nineties, to school on the South Side of Chicago, all the way to the olive groves of Palestine, these stunning poems tackle racism, sexism, genocide, displacement, heartbreak, and grief, but also love, motherhood, spirituality, and Black joy.
"Aja Monet 's poetry offers us textures of feeling and radical shifts of meaning that expand our capacity to envision and fight for new worlds. From Brooklyn, USA to Hebron, Occupied Palestine, we take a feminist journey through rage and serenity, through violence and love, through ancient times and imagined futures. This stunning volume reminds us that conflict and contradiction can produce hope and that poetry can orient us toward a future we may not yet realize we want." Angela Y. Davis
Aja Monet
My Mother Was a Freedom Fighter
Publisher: Haymarket Books
ISBN: 9781608467679
2017, $16.00
fleursdumal.nl magazine
More in: - Book News, Archive M-N, Art & Literature News
---
Older Entries »
« Newer Entries
Thank you for reading FLEURSDUMAL.NL - magazine for art & literature