POETRY ARCHIVE
«« Previous page
·
Soho: an intimate and vital poetry debut by Richard Scott
·
Gladys Cromwell: Preparation
·
Girls are Coming Out of the Woods by Tishani Doshi
·
Lisa Gray-Garcia, aka Tiny: Criminal of Poverty. Growing Up Homeless in America
·
Ufarassus: Gothic translation of the poem "Overvloed" by Bert Bevers
·
Ulrike Almut Sandig: Thick of It
·
Willa Cather: Arcadian Winter
·
The Selected Poems of Osip Mandelstam
·
Debut collection of poems from Zaffar Kunial
·
Emily Brontë: A Death-scene
·
Gladys Cromwell: Grief
·
John Henry Boner: Poe's cottage at Fordham
In this intimate and vital debut, Richard Scott creates an uncompromising portrait of love and gay shame.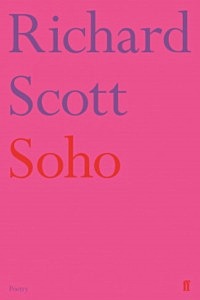 Examining how trauma becomes a part of the language we use, Scott takes us back to our roots: childhood incidents, the violence our scars betray, forgotten forebears and histories. The hungers of sexual encounters are underscored by the risks that threaten when we give ourselves to or accept another. But the poems celebrate joy and tenderness, too, as in a sequence re-imagining the love poetry of Verlaine.
The collection crescendos to Scott's tour de force, 'Oh My Soho!', where a night stroll under the street lamps of Soho Square becomes a search for true lineage, a reclamation of stolen ancestors, hope for healing, and, above all, the finding of our truest selves.
Richard Scott grew up in London and studied at the Royal College of Music and at Goldsmiths College. He has been a winner of the Wasafiri New Writing Prize, a Jerwood/Arvon Poetry mentee, a member of the Aldeburgh 8 and an Open Spaces artist resident at Snape Maltings in Suffolk. His pamphlet Wound (Rialto) won the Michael Marks Poetry Award 2016 and his poem 'crocodile' won the 2017 Poetry London Competition.
Scott was born in London in 1981. His poems have appeared widely in magazines and anthologies including Poetry Review, Poetry London, Swimmers, The Poetry of Sex (Penguin) and Butt Magazine. He has been a winner of the Wasafiri New Writing Prize, a Jerwood/Arvon Poetry Mentee and a member of the Aldeburgh 8. His pamphlet Wound, published by Rialto, won the Michael Marks Poetry Award 2016. His debut collection is forthcoming from Faber & Faber in 2018.
Soho
Richard Scott
£10.99
Paperback
88 pages
Publisher: Faber & Faber
Main edition
5 April 2018
Language: English
ISBN-10: 0571338917
ISBN-13: 978-0571338917
new poetry
fleursdumal.nl magazine
More in: - Book News, - Bookstores, Archive S-T, Art & Literature News
---
Preparation
A time will come when I shall breathe
New melodies to soothe and fold,
Like portions of a mellow sheath,
My sorrow. While my songs withhold
Their tones, I pause before the years;
I gaze on the grey world ; I strive
To clear the mist of doubting tears.
My songs, what music you ll derive
From silence in the time to come!
Gladys Cromwell
(1885-1919)
Preparation
fleursdumal.nl magazine
More in: Archive C-D, Cromwell, Gladys, Gladys Cromwell
---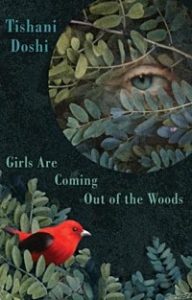 Tishani Doshi on Girls are Coming Out of the Woods: "I want to give this book to the people I love, and say to them, memorize this, never forget. – Jeet Thayil Each poem promises the sharpness of broken sea-shells, the smell of brine.
In this collection, Tishani Doshi inhabits the different homes: her childhood, the body, cities that were passed through, cycles of rain. There are poems of celebration and homages, as there are poems lamenting human cruelty and dispassion. This is also a book of travel and of homecoming, of familiar decay and startling, haunting discoveries of our oldest themes of love, grief, suffering and anger."
Girls are coming out of the woods,
wrapped in cloaks and hoods,
carrying iron bars and candles
and a multitude of scars, collected
on acres of premature grass and city
buses, in temples and bars. Girls
are coming out of the woods
with panties tied around their lips,
making such a noise, it's impossible
to hear. Is the world speaking too?
Tishani Doshi in Girls are Coming Out of the Woods (fragment)
Tishani Doshi is an award-winning poet and dancer of Welsh-Gujarati descent. She was born in Madras, India, in 1975. She received her masters in writing from the Johns Hopkins University in America and worked in London in advertising before returning to India in 2001 to work with the choreographer Chandralekha, with whom she performed on many international stages. An avid traveller, she has been trekking in the Ethiopian Bale Mountains, visited Antarctica with a group of high-school students, and documented the largest transvestite gathering in Koovakam. She has written about her travels in newspapers such as the Guardian, International Herald Tribune, The Hindu and the Financial Times. She won an Eric Gregory Award for her poetry in 2001. In 2006, she won the All-India Poetry Competition, and her debut collection, Countries of the Body (Aark Arts), won the Forward Prize for Best First Collection. Her first novel, The Pleasure Seekers (Bloomsbury, 2010), was longlisted for the Orange Prize and shortlisted for the Hindu Fiction Award, and has been translated into several languages. Her second poetry collection, Everything Begins Elsewhere, was published by Bloodaxe Books in 2012. Her third, Girls Are Coming Out of the Woods, is due from Bloodaxe in 2018. Tishani Doshi currently lives on a beach between two fishing villages in Tamil Nadu with her husband and three dogs, and sometimes moonlights as a dancer.
Girls are Coming Out of the Woods
by Tishani Doshi
PBS Recommendation Summer 2018
Publisher: Bloodaxe Books Ltd
Publication Date: 10 May 2018
Paperback £9.95
ISBN: 9781780371979
Pages: 96
Size: 234 x 156mm
Engelstalig
new poetry
fleursdumal.nl magazine
More in: #Editors Choice Archiv, - Book News, - Bookstores, Archive C-D, Art & Literature News
---
A daughter's struggle to keep her family alive, through poverty, homelessness and incarceration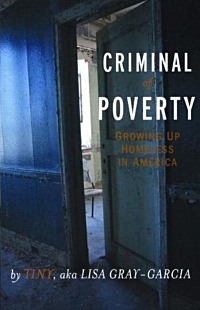 Eleven-year-old Lisa becomes her mother's primary support when they face the prospect of homelessness. As Dee, a single mother, struggles with the demons of her own childhood of neglect and abuse, Lisa has to quickly assume the roles of an adult in an attempt to keep some stability in their lives.
"Dee and Tiny" ultimately become underground celebrities in San Francisco, squatting in storefronts and performing the "art of homelessness." Their story, filled with black humor and incisive analysis, illuminates the roots of poverty, the criminalization of poor families and their struggle for survival.
"Criminal of Poverty lays bare the devastating effects of inheriting a life of poverty, as well the real redemption and power in finding your voice." – Michelle Tea, author of Rose of No Man's Land and Valencia
"Tiny's indomitable spirit comes to life in her amazing story of poverty and homelessness, reaching into and teaching our hearts and minds. With her flawless descriptions of the pain of living in the margins of the richest country in the world, she opens up an important window onto a reality looked upon by many but truly seen by few, augmenting our capacity for empathy and action in an area so in need of social change. Bravo Tiny, for your gift to us all! Punto!!!" – Piri Thomas, author of Down These Mean Streets
Lisa Gray-Garcia  (www.tinygraygarcia.com)
is a journalist, poet and community activist. She is the founder of POOR magazine and the PoorNewsNetwork (PNN), a monthly radio broadcast and an online news service focused on issues of poverty and racism.
(www.poormagazine.org/)
Criminal of Poverty
Growing Up Homeless in America
Lisa Gray-Garcia, aka Tiny
Publisher City Lights Foundation Books
Paperback, 2007
278 pages
ISBN-10 1931404070
ISBN-13 9781931404075
List Price $19.95
books to read before you die
fleursdumal.nl magazine
More in: #Editors Choice Archiv, - Book Stories, Archive G-H, Archive G-H, Art & Literature News, MUSEUM OF PUBLIC PROTEST, The Ideal Woman
---
   Audio-file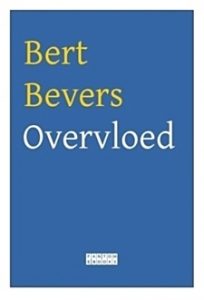 A reading of Ufarassus the Gothic translation of the poem "Overvloed" by Bert Bevers.
Translation by HroÞiland Bairteins, Tom De Herdt and J.G. Quak and recorded by Eric Kingsepp.
# Link to Audio-file of a reading of Ufarassus (Overvloed) by Bert Bevers
BERT BEVERS
OVERVLOED
Tien vertalingen van één gedicht
FANTOM EBOOKS
Art Brut Digital Editions
Series Fantom Ebooks
www.fleursdumal.nl
FANTOM 1
Fantom Ebook 2017
ISBN: 978-90-76326-09-2
NUR 306
1ste PDF-uitgave FANTOM, Augustus 2017
audio-file poem by Bert Bevers
fleursdumal.nl magazine
More in: #Archive A-Z Sound Poetry, - Audiobooks, Archive A-B, AUDIO, CINEMA, RADIO & TV, Overvloed
---
The poems of Ulrike Almut Sandig are at once simple and fantastic.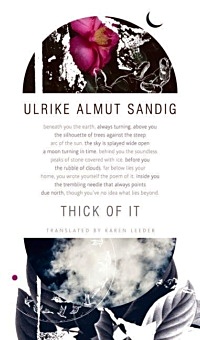 This new collection finds her on her way to imaginary territories. Thick of It charts a journey through two hemispheres to "the center of the world" and navigates a "thicket" that is at once the world, the psyche, and language itself.
The poems explore an urgently urban reality, but that reality is interwoven with references to nightmares, the Bible, fairy tales, and nursery rhymes—all overlaid with a finely tuned longing for a disappearing world. The old names are forgotten, identities fall away; things disappear from the kitchen; everything is sliding away.
Powerful themes emerge, but always mapped onto the local, the fractured individual in "the thick of it" all. This is language at its most crafted and transformative, blisteringly contemporary, but with a kind of austerity, too.
By turns comic, ironic, skeptical, nostalgic, these poems are also profoundly musical, exploiting multiple meanings and stretching syntax, so that the audience is constantly kept guessing, surprised by the next turn in the line.
Titel: Thick of It
Autor: Ulrike Almut Sandig
Sprache: Englisch.
Buch (gebunden)
€ 17,49
YALE UNIVERSITY PRESS ACADEMIC
Distributed for Seagull Books
Translated by Karen Leeder
2018
96 pages
ISBN: 0857425560
EAN: 9780857425560
new poetry
fleursdumal.nl magazine
More in: - Book News, - Bookstores, Archive S-T, Archive S-T, Art & Literature News
---
Arcadian Winter
Woe is me to tell it thee,
Winter winds in Arcady!
Scattered is thy flock and fled
From the glades where once it fed,
And the snow lies drifted white
In the bower of our delight,
Where the beech threw gracious shade
On the cheek of boy and maid:
And the bitter blasts make roar
Through the fleshless sycamore.
White enchantment holds the spring,
Where thou once wert wont to sing,
And the cold hath cut to death
Reeds melodious of thy breath.
He, the rival of thy lyre,
Nightingale with note of fire,
Sings no more; but far away,
From the windy hill-side gray,
Calls the broken note forlorn
Of an aged shepherd's horn.
Still about the fire they tell
How it long ago befell
That a shepherd maid and lad
Met and trembled and were glad;
When the swift spring waters ran,
And the wind to boy or man
Brought the aching of his sires–
Song and love and all desires.
Ere the starry dogwoods fell
They were lovers, so they tell.
Woe is me to tell it thee,
Winter winds in Arcady!
Broken pipes and vows forgot,
Scattered flocks returning not,
Frozen brook and drifted hill,
Ashen sun and song-birds still;
Songs of summer and desire
Crooned about the winter fire;
Shepherd lads with silver hair,
Shepherd maids no longer fair.
Willa Cather
(1873-1947)
poetry
fleursdumal.nl magazine
More in: #More Poetry Archives, Archive C-D, Archive C-D
---
Osip Mandelstam is a central figure not only in modern Russian but in world poetry, the author of some of the most haunting and memorable poems of the twentieth century.
A contemporary of Anna Akhmatova, Marina Tsvetayeva, and Boris Pasternak, a touchstone for later masters such as Paul Celan and Robert Lowell, Mandelstam was a crucial instigator of the "revolution of the word" that took place in St. Petersburg, only to be crushed by the Bolshevik Revolution. Mandelstam's last poems, written in the interval between his exile to the provinces by Stalin and his death in the Gulag, are an extraordinary testament to the endurance of art in the presence of terror.
This book represents a collaboration between the scholar Clarence Brown and W. S. Merwin, one of contemporary America's finest poets and translators. It also includes Mandelstam's "Conversation on Dante," an uncategorizable work of genius containing the poet's deepest reflections on the nature of the poetic process.
Osip Mandelstam (1891–1938) was born and raised in St. Petersburg, where he attended the prestigious Tenishev School, before studying at the universities of St. Petersburg and Heidelberg and at the Sorbonne. Mandelstam first published his poems in Apollyon, an avant-garde magazine, in 1910, then banded together with Anna Akhmatova and Nicholas Gumilev to form the Acmeist group, which advocated an aesthetic of exact description and chiseled form, as suggested by the title of Mandelstam's first book, Stone (1913).
During the Russian Revolution, Mandelstam left Leningrad for the Crimea and Georgia, and he settled in Moscow in 1922, where his second collection of poems, Tristia, appeared. Unpopular with the Soviet authorities, Mandelstam found it increasingly difficult to publish his poetry, though an edition of collected poems did come out in 1928. In 1934, after reading an epigram denouncing Stalin to friends, Mandelstam was arrested and sent into exile. He wrote furiously during these years, and his wife, Nadezhda, memorized his work in case his notebooks were destroyed or lost. (Nadezhda Mandelstam's extraordinary memoirs of life with her husband, Hope Against Hope and Hope Abandoned, published in the 1970s, later helped to bring Mandelstam a worldwide audience.)
Clarence Brown is the author of a prize-winning biography of Mandelstam and is Professor Emeritus of Comparative Literature at Princeton.
W.S. Merwin was born in New York City in 1927 and grew up in Union City, New Jersey, and in Scranton, Pennsylvania. From 1949 to 1951 he worked as a tutor in France, Portugal, and Majorca. He has since lived in many parts of the world, most recently on Maui in the Hawaiian Islands. He is the author of many books of poems, prose, and translations and has received both the Pulitzer and the Bollingen Prizes for poetry, among numerous other awards.
The Selected Poems of Osip Mandelstam
by Osip Mandelstam, translated from the Russian by Clarence Brown and by W.S. Merwin
Paperback
Series: New York Review Books Classics
Pages: 192
Publ. Date: August 31, 2004
Language: English
ISBN-10: 1590170911
ISBN-13: 978-1590170915
Books That Everyone Should Read
fleursdumal.nl magazine
More in: Archive M-N, Mandelstam, Osip, REPRESSION OF WRITERS, JOURNALISTS & ARTISTS
---
Original, touching and much-anticipated first collection from star of the Faber New Poets scheme.
Zaffar Kunial was born in Birmingham and lives in Hebden Bridge.
He published a pamphlet in the Faber New Poets series in 2014 and spent that year as the Wordsworth Trust Poet-in-Residence.
Since his first public reading, of 'Hill Speak' at the 2011 National Poetry Competition awards, he has spoken at various literature festivals and in programmes for BBC radio, and won the Geoffrey Dearmer Prize for his poem 'The Word'.
Us (Faber New Poets)
by Zaffar Kunial (Author)
Paperback
5 Jul 2018
Paperback: 64 pages
Publisher: Faber & Faber
Language: English
ISBN-10: 0571337651
ISBN-13: 978-0571337651
Dimensions: 195 x 135 x 10 mm
Publisher: Faber & Faber
new books
fleursdumal.nl magazine
More in: - Book News, Archive K-L, Archive K-L, Art & Literature News
---
A Death-scene
"O day! he cannot die
When thou so fair art shining!
O Sun, in such a glorious sky,
So tranquilly declining;
He cannot leave thee now,
While fresh west winds are blowing,
And all around his youthful brow
Thy cheerful light is glowing!
Edward, awake, awake–
The golden evening gleams
Warm and bright on Arden's lake–
Arouse thee from thy dreams!
Beside thee, on my knee,
My dearest friend, I pray
That thou, to cross the eternal sea,
Wouldst yet one hour delay:
I hear its billows roar–
I see them foaming high;
But no glimpse of a further shore
Has blest my straining eye.
Believe not what they urge
Of Eden isles beyond;
Turn back, from that tempestuous surge,
To thy own native land.
It is not death, but pain
That struggles in thy breast–
Nay, rally, Edward, rouse again;
I cannot let thee rest!"
One long look, that sore reproved me
For the woe I could not bear–
One mute look of suffering moved me
To repent my useless prayer:
And, with sudden check, the heaving
Of distraction passed away;
Not a sign of further grieving
Stirred my soul that awful day.
Paled, at length, the sweet sun setting;
Sunk to peace the twilight breeze:
Summer dews fell softly, wetting
Glen, and glade, and silent trees.
Then his eyes began to weary,
Weighed beneath a mortal sleep;
And their orbs grew strangely dreary,
Clouded, even as they would weep.
But they wept not, but they changed not,
Never moved, and never closed;
Troubled still, and still they ranged not–
Wandered not, nor yet reposed!
So I knew that he was dying–
Stooped, and raised his languid head;
Felt no breath, and heard no sighing,
So I knew that he was dead.
Emily Brontë
(1818-1848)
poetry
fleursdumal.nl magazine
More in: Archive A-B, Brontë, Anne, Emily & Charlotte, In Memoriam
---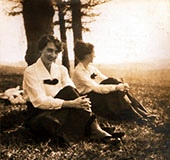 Grief
Exultant whirlwind wrung the branches ;
And the weak leaves were loosed with power.
I heard the pelting dissonances ;
Anguish in the autumn shower.
But living petals now take wing
Like butterflies with dusky flashes;
April flutters her white ashes
Inaudibly, remembering.
Gladys Cromwell
(1885-1919)
Grief
fleursdumal.nl magazine
More in: Archive C-D, Cromwell, Gladys, Gladys Cromwell
---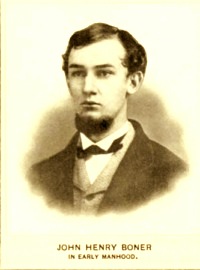 Poe's cottage at Fordham
Here lived the soul enchanted
By melody of song;
Here dwelt the spirit haunted
By a demoniac throng;
Here sang the lips elated;
Here grief and death were sated;
Here loved and here unmated
Was he, so frail, so strong.
Here wintry winds and cheerless
The dying firelight blew,
While he whose song was peerless
Dreamed the drear midnight through,
And from dull embers chilling
Crept shadows darkly filling
The silent place, and thrilling
His fancy as they grew.
Here with brows bared to heaven,
In starry night he stood,
With the lost star of seven
Feeling sad brotherhood.
Here in the sobbing showers
Of dark autumnal hours
He heard suspected powers
Shriek through the stormy wood.
From visions of Apollo
And of Astarte's bliss,
He gazed into the hollow
And hopeless vale of Dis,
And though earth were surrounded
By heaven, it still was mounded
With graves. His soul had sounded
The dolorous abyss.
Poor, mad, but not defiant,
He touched at heaven and hell.
Fate found a rare soul pliant
And wrung her changes well.
Alternately his lyre,
Stranded with strings of fire,
Led earth's most happy choir,
Or flashed with Israfel.
No singer of old story
Luting accustomed lays,
No harper for new glory,
No mendicant for praise,
He struck high chords and splendid,
Wherein were finely blended
Tones that unfinished ended
With his unfinished days.
Here through this lonely portal,
Made sacred by his name,
Unheralded immortal
The mortal went and came.
And fate that then denied him,
And envy that decried him,
And malice that belied him,
Here cenotaphed his fame.
John Henry Boner
(1845-1903)
poetry
fleursdumal.nl magazine
More in: Archive A-B, Edgar Allan Poe, Poe, Edgar Allan
---
Older Entries »
« Newer Entries
Thank you for reading FLEURSDUMAL.NL - magazine for art & literature