POETRY ARCHIVE
«« Previous page
·
Earthly Signs. Moscow Diaries, 1917-1922 by Marina Tsvetaeva
·
Jeremiah Joseph Callanan: The Outlaw of Loch Lene, from the Irish
·
Bullets into Bells. Poets & Citizens Respond to Gun Violence
·
Jan Wagner: Der verschlossene Raum. Beiläufige Prosa
·
Fabienne Courtade: 'corps tranquille étendu'
·
Helen Gray Cone: To-Day
·
Bliss Carman: A Vagabond Song
·
Robert Bridges: To Thos. Floyd
·
Laurence Binyon poetry: Ypres
·
Joachim Ringelnatz: Trüber Tag
·
Harriet Monroe: Titanic Requiem
·
Hugo Ball: O Marietta-Kripistika!
A moving collection of autobiographical essays from a Russian poet and refugee of the Bolshevik Revolution.
Marina Tsvetaeva ranks with Anna Akhmatova, Osip Mandelstam, and Boris Pasternak as one of Russia's greatest twentieth-century poets. Her suicide at the age of forty-eight was the tragic culmination of a life buffeted by political upheaval.
The essays collected in this volume are based on diaries she kept during the turbulent years of the Revolution and Civil War.
In them she records conversations of women in the markets, soldiers and peasants on the train traveling from the Crimea to Moscow in October 1917, fighting in the streets of Moscow, a frantic scramble with co-workers to dig frozen potatoes out of a cellar, and poetry readings organized by a newly minted Soviet bohemia.
Alone in Moscow with two small children, no income, and a missing husband, Tsvetaeva struggled to feed her daughters (one of whom died of malnutrition in an orphanage), find employment in the Soviet bureaucracy, and keep writing poetry. Her keen and ruthless eye observes with compassion and humor—bringing the social, economic, and cultural chaos of the period to life. These autobiographical writings not only give a vivid eyewitness account of Russian history but provide vital insights into the workings of Tsvetaeva's unique poetics.
Includes black and white photographs.
Earthly Signs
Moscow Diaries, 1917-1922
By Marina Tsvetaeva
Translated by Jamey Gambrell
Poetry
Paperback
Dec 05, 2017
288 Pages
Paperback
$17.95
Published by NYRB Classics
ISBN 9781681371627
new books
fleursdumal.nl magazine
More in: - Book News, Achmatova, Anna, Archive S-T, Archive S-T, Art & Literature News, Mandelstam, Osip, Pasternak, Boris, REPRESSION OF WRITERS, JOURNALISTS & ARTISTS, Tsvetaeva, Marina
---
The Outlaw of Loch Lene, from the Irish
O Many a day have I made good ale in the glen,
That came not of stream or malt, like the brewing of men:
My bed was the ground; my roof, the green-wood above;
And the wealth that I sought, one far kind glance from my Love.
Alas! on that night when the horses I drove from the field,
That I was not near from terror my angel to shield!
She stretch'd forth her arms; her mantle she flung to the wind,
And swam o'er Loch Lene, her outlaw'd lover to find.
O would that a freezing sleet-wing'd tempest did sweep,
And I and my love were alone, far off on the deep;
I'd ask not a ship, or a bark, or a pinnace, to save–
With her hand round my waist, I'd fear not the wind or the wave.
'Tis down by the lake where the wild tree fringes its sides,
The maid of my heart, my fair one of Heaven resides:
I think, as at eve she wanders its mazes among,
The birds go to sleep by the sweet wild twist of her song.
Jeremiah Joseph Callanan
(1795-1839)
The Outlaw of Loch Lene, from the Irish
fleursdumal.nl magazine
More in: Archive C-D, Archive C-D, CLASSIC POETRY
---
Bullets into Bells is a powerful call to end American gun violence from celebrated poets and those most impacted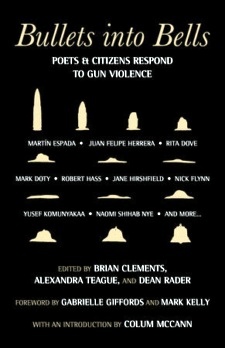 Focused intensively on the crisis of gun violence in America, this volume brings together poems by dozens of our best-known poets, including Billy Collins, Patricia Smith, Natalie Diaz, Ocean Vuong, Danez Smith, Brenda Hillman, Natasha Threthewey, Robert Hass, Naomi Shihab Nye, Juan Felipe Herrera, Mark Doty, Rita Dove, and Yusef Komunyakaa.
Each poem is followed by a response from a gun violence prevention activist, political figure, survivor, or concerned individual, including Nobel Peace Prize laureate Jody Williams; Senator Christopher Murphy; Moms Demand Action founder Shannon Watts; survivors of the Columbine, Sandy Hook, Charleston Emmanuel AME, and Virginia Tech shootings; and Samaria Rice, mother of Tamir, and Lucy McBath, mother of Jordan Davis.
The result is a stunning collection of poems and prose that speaks directly to the heart and a persuasive and moving testament to the urgent need for gun control.
Bullets into Bells
Poets & Citizens Respond to Gun Violence
Foreword by Gabrielle Giffords
Introduction by Colum McCann
Edited by Brian Clements, Alexandra Teague and Dean Rader
Category: Poetry
Paperback
Dec 05, 2017
208 Pages
$15.00
Published by Beacon Press
ISBN 9780807025581
new books
fleursdumal.nl magazine
More in: - Book News, - Book Stories, Art & Literature News, CRIME & PUNISHMENT, MUSEUM OF PUBLIC PROTEST- photos, texts, videos, street poetry, POETRY ARCHIVE
---
Wüsste man nichts von Jan Wagners lyrischem Werk, man würde überhaupt nur noch Essays von ihm lesen wollen.
Ob er über Bibliotheken, Buchhandlungen, Lyrik oder Kunst schreibt, ob er literarische Postkarten aus Rom oder Los Angeles sendet oder die Epiphanie eines Rosmarins im schwäbischen Garten feiert – man glaubt diesem charmanten Geschichtenerzähler alles.
Es bleibt kaum Zeit, die rhetorische Fingerfertigkeit zu bewundern, mit der da zwischen souveräner Gelehrsamkeit unerwartet die nächste Anekdote aus dem Ärmel gezogen wird, und man kann nicht anders als staunen über die Trouvaillen, die Jan Wagner von seinen Entdeckungsreisen quer durch Epochen und Kontinente mitbringt.
Jan Wagner, 1971 in Hamburg geboren, lebt in Berlin. 2001 erschien sein erster Gedichtband Probebohrung im Himmel. Es folgten Guerickes Sperling (2004), Achtzehn Pasteten (2007), Australien (2010), Die Eulenhasser in den Hallenhäusern (2012) und zuletzt der Sammelband Selbstporträt mit Bienenschwarm (2016). Zudem ist er Mitherausgeber der Minnesang-Anthologie Unmögliche Liebe (Die Kunst des Minnesangs in neuen Übertragungen, 2017). Für seine Lyrik wurde Jan Wagner vielfach ausgezeichnet. Mit seinem Gedichtband Regentonnenvariationen (2014) gewann er 2015 den Preis der Leipziger Buchmesse, außerdem wurde er 2017 mit dem Georg-Büchner-Preis ausgezeichnet.
Jan Wagner:
Der verschlossene Raum.
Beiläufige Prosa
EAN: 9783446254756
ISBN: 3446254757
Libri: 2557154
Hanser Berlin
2017 – 268 Seiten
gebunden € 22,00
new books
fleursdumal.nl magazine
More in: - Book News, - Book Stories, Archive W-X, Archive W-X, Art & Literature News
---
Dès l'origine l'écriture de Fabienne Courtade tend au plus extrême dépouillement, par le biais d'une méditation qui n'oublie jamais le monde extérieur, ni le travail matériel propre à la poésie contemporaine.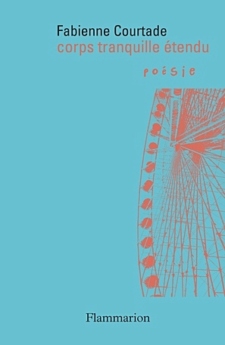 Dans ce nouveau chant contrarié – tourné plutôt vers une impossible lumière – la narration s'est encore resserrée, le lexique et l'anecdote se voient ramenés à l'essentiel. Une femme marche dans la ville et se parle à elle-même ou s'adresse à une ombre, évoquant des instants enfuis, une présence obsédante, des paysages estompés.
Aucune nostalgie néanmoins ni mélancolie dans ces pages : il s'agit au contraire de capter dans le déroulement des gestes, des trajets, des décors les plus ordinaires, une grâce moins apparente que le temps décidément n'abolit pas. Et que le poème parvient à fixer avec ses outils de langage, dans l'évidence et le mystère qui lui sont propres.
Depuis Nous, infiniment risqués (1987) Fabienne Courtade est l'auteur d'une quinzaine d'ouvrages, au carrefour du poème et du récit. Corps tranquille étendu est le quatrième titre qu'elle publie dans la collection Poésie/Flammarion.
Fabienne Courtade
'corps tranquille étendu'
Poésie/Flammarion
Paru le 15/11/2017
Genre : Théâtre
224 pages
Grand format 129 x 199 cm
Broché
EAN : 9782081415508
ISBN : 9782081415508
€ 17.00
new books
fleursdumal.nl magazine
More in: - Book News, - Book Stories, Archive C-D, Archive C-D, Art & Literature News, THEATRE
---
 To-Day
Voice, with what emulous fire thou singest free hearts of old fashion,
English scorners of Spain, sweeping the blue sea-way,
Sing me the daring of life for life, the magnanimous passion
Of man for man in the mean populous streets of To-day!
Hand, with what color and power thou couldst show, in the ring hot-sanded,
Brown Bestiarius holding the lean tawn tiger at bay,
Paint me the wrestle of Toil with the wild-beast Want, bare-handed;
Shadow me forth a soul steadily facing To-day!
Helen Gray Cone
(1859-1934)
To-Day
fleursdumal.nl magazine
More in: Archive C-D, Archive C-D, CLASSIC POETRY
---
 A Vagabond Song
There is something in the autumn
that is native to my blood —
Touch of manner, hint of mood;
And my heart is like a rhyme,
With the yellow and the purple
and the crimson keeping time.
The scarlet of the maples
can shake me like a cry
Of bugles going by.
And my lonely spirit thrills
To see the frosty asters
like a smoke upon the hills.
There is something in October
sets the gypsy blood astir;
We must rise and follow her,
When from every hill of flame
She calls and calls
each vagabond by name.
Bliss Carman
(1861-1929)
A Vagabond Song
fleursdumal.nl magazine
More in: Archive C-D, Archive C-D, CLASSIC POETRY
---
To Thos. Floyd
How fares it, friend, since I by Fate annoy'd
Left the old home in need of livelier play
For body and mind? How fare, this many a day,
The stubborn thews and ageless heart of Floyd?
If not too well with country sport employ'd,
Visit my flock, the breezy hill that they
Choose for their fold; and see, for thence you may,
From rising walls all roofless yet and void,
The lovely city, thronging tower and spire,
The mind of the wide landscape, dreaming deep,
Grey-silvery in the vale; a shrine where keep
Memorian hopes their pale celestial fire:
Like man's immortal conscience of desire,
The spirit that watcheth in me ev'n in my sleep.
"While yet we wait for spring, and from the dry"
While yet we wait for spring, and from the dry
And blackening east that so embitters March,
Well-housed must watch grey fields and meadows parch,
And driven dust and withering snowflake fly;
Already in glimpses of the tarnish'd sky
The sun is warm and beckons to the larch,
And where the covert hazels interarch
Their tassell'd twigs, fair beds of primrose lie.
Beneath the crisp and wintry carpet hid
A million buds but stay their blossoming;
And trustful birds have built their nests amid
The shuddering boughs, and only wait to sing
Till one soft shower from the south shall bid,
And hither tempt the pilgrim steps of spring.
"In autumn moonlight, when the white air wan"
In autumn moonlight, when the white air wan
Is fragrant in the wake of summer hence,
'Tis sweet to sit entranced, and muse thereon
In melancholy and godlike indolence:
When the proud spirit, lull'd by mortal prime
To fond pretence of immortality,
Vieweth all moments from the birth of time,
All things whate'er have been or yet shall be.
And like the garden, where the year is spent,
The ruin of old life is full of yearning,
Mingling poetic rapture of lament
With flowers and sunshine of spring's sure returning;
Only in visions of the white air wan
By godlike fancy seized and dwelt upon.
Robert Bridges
(1844-1930)
To Thos. Floyd
fleursdumal.nl magazine
More in: *War Poetry Archive, Archive A-B, Bridges, Robert
---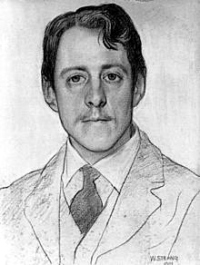 Ypres
She was a city of patience; of proud name,
Dimmed by neglecting Time; of beauty and loss;
Of acquiescence in the creeping moss.
But on a sudden fierce destruction came
Tigerishly pouncing: thunderbolt and flame
Showered on her streets, to shatter them and toss
Her ancient towers to ashes. Riven across,
She rose, dead, into never-dying fame.
White against heavens of storm, a ghost, she is known
To the world's ends. The myriads of the brave
Sleep round her. Desolately glorified,
She, moon-like, draws her own far-moving tide
Of sorrow and memory; toward her, each alone,
Glide the dark dreams that seek an English grave.
Laurence Binyon
(1869 – 1943)
Ypres
fleursdumal.nl magazine
More in: *War Poetry Archive, Archive A-B, WAR & PEACE
---
Joachim Ringelnatz
Trüber Tag
Zu Hause heulten die Frauen:
Das tote Kind sah aus wie Schnee.
Wir gingen, nur mein Bruder und ich, in See.
Dem Wetter war nicht zu trauen.
Wir fischten lauter Tränen aus dem Meer,
Das Netz war leer.
Joachim Ringelnatz
(1883 – 1934)
Trüber Tag
fleursdumal.nl magazine
More in: Archive Q-R, Joachim Ringelnatz
---
Titanic Requiem
Sleep softly in your ocean bed,
You who could grandly die !
Our fathers, who at Shiloh bled,
Accept your company.
O sons of warriors, lightly rest,
Daughters of pioneers!
Heroes freeborn, who chose the best,
No tears for you, but cheers!
Lovers of life, who life could give,
Sleep softly where you lie!
Ours be the vigil—help us live,
Who teach us how to die.
Harriet Monroe
(1860 – 1936)
Titanic Requiem
fleursdumal.nl magazine
More in: Archive M-N, Monroe, Harriet
---
O Marietta-Kripistika!
O Marietta-Kripistika!
Thronkanapee im Serail von Sevilla!
Du bist wertvoller als die juchzende
Säubande von Hosenträgern,
Deren Rüssel
An deinem Bauch
Zu schnuppern
Gewohnt sein pflegt.
Hugo Ball
(1886-1927)
O Marietta-Kripistika!
fleursdumal.nl magazine
More in: Archive A-B, Ball, Hugo, Dada, DADA, Dadaïsme
---
Older Entries »
« Newer Entries
Thank you for reading FLEURSDUMAL.NL - magazine for art & literature