CLASSIC POETRY
·
NOVALIS: Klagen eines Jünglings
·
Lord BYRON: Italy versus England
·
Oscar WILDE: Her Voice
·
Afanasi FET: Kolkende storm . .
·
Aleksandr BLOK: Pieter slaapt
·
Samuel Taylor COLERIDGE: Love
·
Fjodor TJOETTSJEV: De twee zusjes
·
William BLAKE: The Sick Rose
·
Innokenti ANNENSKI: Het afscheid
·
William WORDSWORTH: I wandered lonely as a cloud
·
NOVALIS: Zu Sophiens Geburtstag
·
Emile VERHAEREN: La crypte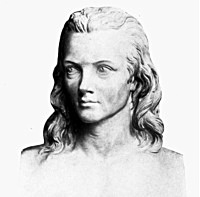 Novalis
Klagen eines Jünglings
Nimmer schwanden undankbar die Freuden
Traumgleich mir in öde Fernen hin;
Jede färbte, lieblicher im Scheiden,
Mit Erinnrung meinen trunknen Sinn;
Mit Erinnrung, die, statt zu ermüden,
Neue, heilge Wonne mir entschloß,
Und mir süßen jugendlichen Frieden
Um die rebengrünen Schläfe goß.
Seit ich mehr aus schöner Wangen Röte
Mehr aus sanften, blauen Augen las,
Oft, wenn schon die scharfe Nachtluft wehte
Im beseeltern Traume mich vergaß;
Meinem Herzen nachbarlicher, wärmer,
Da den Schlag der Nachtigall empfand,
Und entfernt von meinem Klärchen ärmer
Mich als jeder dürftge Pilger fand:
Lachet, ewge Gottheit in dem Blicke,
Mich mein sonnenschönes Leben an,
Amor täuscht mich nicht mit List und Tücke,
Ganymeda nicht mit kurzem Wahn;
Jedes Lüftchen nähert sich mir milder,
Das dort Blüten wild herunter haucht;
Üppig drängen immer frische Bilder
Sich zu mir, in Rosenöl getaucht.
Zypris Tauben warten schon mit Kränzen
Und mit Traubenbechern meiner dort,
Und in leichtverschlungnen Freudentänzen
Reißet Amors Bruderschwarm mich fort.
Von der Grazien und Musen Lippen
Schmachtet mir entgegen mancher Kuß;
Götterwonne kann ich selig nippen,
Schwelgen da im freundlichsten Genuß.
Dennoch lodern öfters Purpurgluten
Mir um meine Wang und meine Stirn,
Wenn sich unter Stürmen, unter Fluten,
Wie des Abends leuchtendes Gestim,
Mir, umstrahlt von echter Freiheit Kranze,
Eines edlen Dulders Seele zeigt,
Den der Himmel nicht in seinem Glanze
Nicht die Höll in ihren Nächten beugt.
Kraftlos fühl ich mich von dem Geschicke
Zum unmännlichern Genuß verdammt;
Vor Gefahren beb ich feig zurücke
Weil nicht Mut in meinem Busen flammt.
Weibisch hat das Schicksal mich erzogen,
Nicht sein Liebling, nur sein Sklav bin ich;
Amor hat mich schmeichlerisch umflogen
Statt der Sorge, die mir stets entwich.
Statt der ernstern, rühmlicheren Lanze
Wieget einen Hirtenstab mein Arm;
Nimmer wurde mir im Waffentanze
Aber oft im bunten Reigen warm:
Alle großen, strahlenden Gefahren
Hat mein Schicksal von mir abgewandt,
Und nur unter frohe Mädchenscharen
Statt in Feindes Haufen mich gesandt.
Parze, hast du jemals deine Spindel
Nach dem Flehn des Erdensohns gedreht,
Dem kein bald entwichner Zauberschwindel,
Um die flammendheißen Schläfe weht:
O! so nimm, was Tausende begehrten,
Was mir üppig deine Milde lieh,
Gib mir Sorgen, Elend und Beschwerden,
Und dafür dem Geiste Energie.
Ungeduldig soll die Flamme lodern
Meines Dankes dann von dem Altar;
Nichts mehr sollen meine Wünsche fordern,
Frei und gnügsam macht mich die Gefahr;
Doch versagest du mir diese Bitte
O! so kürze, wenn du streng nicht bist,
Mindestens geschwind nur meine Schritte
Nimm dies Leben, das nicht Leben ist.
Novalis (1772 – 1801)
Gedicht: Klagen eines Jünglings
fleursdumal.nl magazine
More in: Archive M-N, Novalis, Novalis
---
Lord Byron
Italy versus England
With all its sinful doings, I must say,
That Italy's a pleasant place to me,
Who love to see the sun shine every day,
And vines (not nailed to walls) from tree to tree
Festooned, much like the back scene of a play,
Or melodrame, which people flock to see,
When the first act is ended by a dance
In vineyards copied from the South of France.
I like on autumn evenings to ride out,
Without being forced to bid my groom be sure
My cloak is round his middle strapped about,
Because the skies are not the most secure ;
I know too that, if stopped upon my route,
Where the green alleys windingly allure,
Reeling with grapes red wagons choke the way.—
In England 'twould be dung, dust, or a dray.
I also like to dine on becaficas,
To see the sun set, sure he'll rise to-morrow,
Not through a misty morning twinkling weak as
A drunken man's dead eye in maudlin sorrow,
But with all Heaven to himself ; the day will break as
Beauteous as cloudless, nor be forced to borrow
That sort of farthing candlelight which glimmers
Where reeking London's smoky cauldron simmers.
I love the language, that soft bastard Latin,
Which melts like kisses from a female mouth,
And sounds as if it should be writ on satin,
With syllables which breathe of the sweet South,
And gentle liquids gliding all so pat in,
That not a single accent seems uncouth,
Like our harsh northern whistling, grunting guttural,
Which we're obliged to hiss, and spit, and sputter all.
I like the women too (forgive my folly!),
From the rich peasant cheek of ruddy bronze,
And large black eyes that flash on you a volley
Of rays that say a thousand things at once,
To the high Dama's brow, more melancholy,
But clear, and with a wild and liquid glance,
Heart on her lips, and soul within her eyes,
Soft as her clime, and sunny as her skies.
Eve of the land which still is Paradise !
Italian Beauty ! didst thou not inspire
Raphael, who died in thy embrace, and vies
With all we know of Heaven, or can desire,
In what he had bequeathed us ?—in what guise,
Though flashing from the fervour of the lyre,
Would words described thy past and present glow,
While yet Canova can create below ?
'England ! with all thy faults I love thee still',
I said at Calais, and have not forgot it ;
I like to speak and lucubrate my fill ;
I like the government (but that is not it) ;
I like the freedom of the press and quill ;
I like the Habeas Corpus (when we've got it) ;
I like a Parliamentary debate,
Particularly when 'tis not too late ;
I like the taxes, when they're not too many ;
I like a seacoal fire, when not too dear ;
I like a beef-steak, too, as well as any ;
Have no objection to a pot of beer ;
I like the weather,—when it is not rainy,
That is, I like two months of every year.
And so God save the Regent, Church, and King !
Which means that I like all and every thing.
Our standing army, and disbanded seamen,
Poor's rate, Reform, my own, the nation's debt,
Our little riots just to show we're free men,
Our trifling bankruptcies in the Gazette,
Our cloudy climate, and our chilly women,
All these I can forgive, and those forget,
And greatly venerate our recent glories,
And wish they were not owing to the Tories.
Lord Byron (1788-1824)
Italy versus England
fleursdumal.nl magazine
More in: Archive A-B, Byron, Lord
---
Oscar Wilde
Her Voice
The wild bee reels from bough to bough
With his furry coat and his gauzy wing,
Now in a lily-cup, and now
Setting a jacinth bell a-swing,
In his wandering;
Sit closer love: it was here I trow
I made that vow,
Swore that two lives should be like one
As long as the sea-gull loved the sea,
As long as the sunflower sought the sun,-
It shall be, I said, for eternity
'Twixt you and me!
Dear friend, those times are over and done;
Love's web is spun.
Look upward where the poplar trees
Sway and sway in the summer air,
Here in the valley never a breeze
Scatters the thistledown, but there
Great winds blow fair
From the mighty murmuring mystical seas,
And the wave-lashed leas.
Look upward where the white gull screams,
What does it see that we do not see?
Is that a star? or the lamp that gleams
On some outward voyaging argosy,
Ah! can it be
We have lived our lives in a land of dreams!
How sad it seems.
Sweet, there is nothing left to say
But this, that love is never lost,
Keen winter stabs the breasts of May
Whose crimson roses burst his frost,
Ships tempest-tossed
Will find a harbour in some bay,
And so we may.
And there is nothing left to do
But to kiss once again, and part,
Nay, there is nothing we should rue,
I have my beauty,-you your Art,
Nay, do not start,
One world was not enough for two
Like me and you.
Oscar Wilde (1854 – 1900)
Her Voice
fleursdumal.nl magazine
More in: Archive W-X, Wilde, Oscar, Wilde, Oscar
---
Afanasi Fet
(1820 – 1892)
Kolkende storm . . .
Kolkende storm in de luchtzee,
Kokend van woede het sop;
Kolkende zee van gedachten,
Kokend van woede mijn kop;
Kolkende zee van gedachten,
Stortvloed van drift in de kop;
Donkere wolken op wolken,
Kokend van woede het sop.
Afanasi Fet, Буря на небе вечерный, 1842
Vertaling Paul Bezembinder 2016
Paul Bezembinder studeerde theoretische natuurkunde in Nijmegen. In zijn poëzie zoekt hij in vooral klassieke versvormen en thema's naar de balans tussen serieuze poëzie, pastiche en smartlap. Zijn gedichten (Nederlands) en vertalingen (Russisch-Nederlands) verschenen in verschillende (online) literaire tijdschriften. Voorbeelden van zijn werk zijn te vinden op zijn website: www.paulbezembinder.nl
fleursdumal.nl magazine
More in: Archive E-F, Fet, Fet, Afanasi
---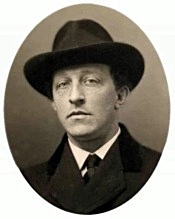 Aleksandr Blok
(1880–1921)
Pieter slaapt
Pieter slaapt, in mist verzonken,
Lamplicht glinstert op de straat,
De Nevá weerspiegelt vonken
Van een verre dageraad.
In die verre gloed van morgen,
In de schijnsels van de nacht,
Houdt zich sluimerend verborgen
Hoeveel treurigheid mij wacht.
Aleksandr Blok, Город спит…, 1899
Vertaling Paul Bezembinder 2017
Paul Bezembinder studeerde theoretische natuurkunde in Nijmegen. In zijn poëzie zoekt hij in vooral klassieke versvormen en thema's naar de balans tussen serieuze poëzie, pastiche en smartlap. Zijn gedichten (Nederlands) en vertalingen (Russisch-Nederlands) verschenen in verschillende (online) literaire tijdschriften. Voor­beelden van zijn werk zijn te vinden op zijn website, www.paulbezembinder.nl
fleursdumal.nl magazine
More in: Archive A-B, Blok, Blok, Aleksandr
---
Samuel Taylor Coleridge
Love
All thoughts, all passions, all delights,
Whatever stirs this mortal frame,
All are but ministers of Love,
And feed his sacred flame.
Oft in my waking dreams do I
Live o'er again that happy hour,
When midway on the mount I lay,
Beside the ruined tower.
The moonshine, stealing o'er the scene
Had blended with the lights of eve:
And she was there, my hope, my joy,
My own dear Genevieve!.
She leant against the arméd man,
The statue of the arméd knight:
She stood and listened to my lay,
Amid the lingering light.
Few sorrows hath she of her own,
My hope ! my joy ! my Genevieve !
She loves me best, whene'er I sing
The songs that make her grieve.
I played a soft and doleful air,
I sang an old and moving story-
An old rude song, that suited well
That ruin wild and hoary.
She listened with a flitting blush,
With downcast eyes and modest grace:
For well she know, I could not choose
But gaze upon her face.
I told her of the Knight that wore
Upon his shield a burning brand:
And that for ten long years he wooed
The Lady of the Land.
I told her how he pined : and ah!
The deep, the low, the pleading tone
With which I sang another's love,
Interpreted my own.
She listened with a flitting blush,
With downcast eyes, and modest grace:
And she forgave me, that I gazed
Too fondly on her face!.
But when I told the cruel scorn
That crazed that bold and lovely Knight,
And that he crossed the mountain-woods,
Nor rested day nor night:
That sometimes from the savage den,
And sometimes from the darksome shade,
And sometimes starting up at once
In green and sunny glade,-
There came and looked him in the face
An angel beautiful and bright:
And that he knew it was a Fiend,
This miserable Knight!.
And that unknowing what he did,
He leaped amid a murderous band,
And saved from outrage worse than death
The Lady of the Land!.
And how she wept, and clasped his knees:
And how she tended him in vain-
And ever strove to expiate
The scorn that crazed his brain ;-
And that she nursed him in a cave:
And how his madness went away,
When on the yellow forest-leaves
A dying man he lay ;-
His dying words -but when I reached
That tenderest strain of all the ditty,
My faultering voice and pausing harp
Disturbed her soul with pity!.
All impulses of soul and sense
Had thrilled my guileless Genevieve:
The music and the doleful tale,
The rich and balmy eve:
And hopes, and fears that kindle hope,
An undistinguishable throng,
And gentle wishes long subdued,
Subdued and cherished long!.
She wept with pity and delight,
She blushed with love, and virgin-shame:
And like the murmur of a dream,
I heard her breathe my name.
Her bosom heaved -she stepped aside,
As conscious of my look she stepped-
The suddenly, with timorous eye
She fled to me and wept.
She half enclosed me with her arms,
She pressed me with a meek embrace:
And bending back her head, looked up,
And gazed upon my face.
'Twas partly love, and partly fear,
And partly 'twas a bashful art,
That I might rather feel, than see,
The swelling of her heart.
I calmed her fears, and she was calm,
And told her love with virgin pride:
And so I won my Genevieve,
My bright and beauteous Bride.
Samuel Taylor Coleridge (1772 – 1834)
Love
fleursdumal.nl magazine
More in: Archive C-D, Coleridge, Coleridge, Samuel Taylor
---
Fjodor Tjoettsjev
(1803-1873)
De twee zusjes
Ik zag jou bij je zusje staan,
In haar herkende ik jou weer,
De blik zo stil, de stem zo puur,
De frisheid van het ochtenduur,
het haar ondeugend als weleer!…
Het was of in een spiegelbeeld
nu alles weer aan mij verscheen:
Van vroeger tijd verdriet en vreugd,
Jouw nu voorgoed verloren jeugd,
Mijn liefde die allengs verdween!. . .
Fjodor Tjoettsjev, Двум сестрам, 1830
Vertaling Paul Bezembinder, 2017
Paul Bezembinder studeerde theoretische natuurkunde in Nijmegen. In zijn poëzie zoekt hij in vooral klassieke versvormen en thema's naar de balans tussen serieuze poëzie, pastiche en smartlap. Zijn gedichten (Nederlands) en vertalingen (Russisch-Nederlands) verschenen in verschillende (online) literaire tijdschriften. Voorbeelden van zijn werk zijn te vinden op zijn website, www.paulbezembinder.nl
fleursdumal.nl magazine
More in: Archive S-T, Tjoettsjev, Tjoettsjev, Fodor
---
William Blake
The Sick Rose
O Rose thou art sick.
The invisible worm.
That flies in the night
In the howling storm:
Has found out thy bed
Of crimson joy:
And his dark secret love
Does thy life destroy.
William Blake (1757 – 1827)
Poem: The Sick Rose
fleursdumal.nl magazine
More in: Archive A-B, Blake, William
---
Innokenti Annenski
(1855–1909)
Het afscheid
Ze hebben opgeruimd. Met zadeldoek
zijn spiegelbeeld en vleugel afgedaan;
de Dood heeft gister na het huisbezoek
de voordeur op een kiertje laten staan.
De scheurkalender kan naar het papier,
het polshorloge loopt nog mooi op tijd;
het zuurstofmasker was op zijn manier,
blauw aanlopend, getuige van de strijd.
Het is vol afschuw dat ik hiernaar kijk…
dit… dit is mijn ik, mijn lichaam niet…
't is of het Zijn de woning van mijn lijk
al door een vreemdeling betrekken liet.
Innokenti Annenski, У гроба, 1904
Vertaling Paul Bezembinder 2017
Paul Bezembinder: zijn gedichten en vertalingen verschenen in verschillende (online) literaire tijdschriften. Zie meer op zijn website: www.paulbezembinder.nl
fleursdumal.nl magazine
More in: Annenski, Annenski, Innokenti, Archive A-B
---
William Wordsworth
I wandered lonely as a cloud
I wandered lonely as a cloud
That floats on high o'er vales and hills,
When all at once I saw a crowd,
A host, of golden daffodils;
Beside the lake, beneath the trees,
Fluttering and dancing in the breeze.
Continuous as the stars that shine
And twinkle on the milky way,
They stretched in never-ending line
Along the margin of a bay:
Ten thousand saw I at a glance,
Tossing their heads in sprightly dance.
The waves beside them danced, but they
Out-did the sparkling leaves in glee;
A poet could not be but gay,
In such a jocund company!
I gazed—and gazed—but little thought
What wealth the show to me had brought:
For oft, when on my couch I lie
In vacant or in pensive mood,
They flash upon that inward eye
Which is the bliss of solitude;
And then my heart with pleasure fills,
And dances with the daffodils.
William Wordsworth (1770 – 1850)
I wandered lonely as a cloud
fleursdumal.nl magazine
More in: Archive W-X, Wordsworth, Wordsworth, William
---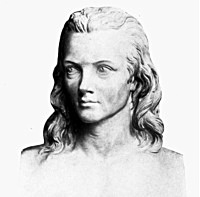 Novalis
Zu Sophiens Geburtstag
Wer ein holdes Weib errungen
Stimme seinen Jubel ein.
Mir ist dieser Wurf gelungen
Töne Jubel – die ist mein.
So hat nie das Herz geschlagen
Nie so hoch und nie so gut.
Künftig neigt vor meinen Tagen
Selbst der Glücklichste den Hut.
Fest umschlingt den Bund der Herzen
Nun der Ring der Ewigkeit,
Und es bricht der Stab der Schmerzen
Am Altar der Einigkeit.
O –! im Himmel ist geschlossen
Unsrer Herzen süßer Bund.
Ist ein beßrer Spruch entflossen
Je des Schicksals weisen Mund?
Dir gehört nun was ich habe,
Was ich denke fühle bin,
Und du nimmst nun jede Gabe
Meines Schicksals für dich hin.
Was ich sucht, hab ich gefunden,
Was ich fand, das fand auch mich,
Und die Geißel meiner Stunden
Zweifelsucht und Leichtsinn wich.
Nimmer soll mein Mund dich loben
Weil mein Herz zu warm dich ehrt.
Tief im Busen aufgehoben
Wohne heimlich mir dein Wert.
Wenn ich wunde Herzen heile
Jede Stunde besser bin
Nie im Guten lässig weile
Dieses Lob nimm dir dann hin.
Liebes Mädchen deiner Liebe
Dank ich Achtung noch und Wert,
Wenn sich unsre Erdenliebe
Schon in Himmelslust verklärt.
Ohne dich wär ich noch lange
Rastlos auf und ab geschwankt,
Und auf meinem Lebensgange
Oft am Überdruß erkrankt.
Wenn nur unsre Mutter wieder
Frisch und ledig bei uns steht
Und im Kreise unsrer Brüder
Stolz die Friedensfahne weht.
Wenn dann noch ein Süßer Trauter
Unsre Lolly fest umschlang –
O –! Dann tönt noch zehnfach lauter
Unsres Jubels Hochgesang.
Wenig still durchhoffte Jahre
Leiten unverwandt zum Ziel,
Wo am glücklichen Altare
Endet unsrer Wünsche Spiel,
Uns, auf ewig Eins, verschwinden,
Wölkchen gleich, des Lebens Mühn
Und um unsre Herzen winden
Kränze sich von Immergrün.
Novalis (1772 – 1801)
Gedicht: Zu Sophiens Geburtstag
fleursdumal.nl magazine
More in: Archive M-N, Novalis, Novalis
---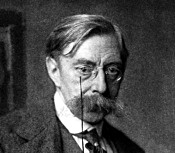 Emile Verhaeren
La crypte
Égarons-nous, mon âme, en ces cryptes funestes,
Où la douleur, par des crimes, se définit,
Où chaque dalle, au long du mur, atteste
Qu'un meurtre noir, à toute éternité,
Est broyé là, sous du granit.
Des pleurs y tombent sur les morts ;
Des pleurs sur des corps morts
Et leurs remords,
Y tombent ;
Des coeurs ensanglantés d'amour
Se sont jadis aimés,
Se sont tués, quoique s'aimant toujours,
Et s'entendent, les nuits, et s'entendent, les jours,
Se taire ou s'appeler, parmi ces tombes.
Le vent qui passe et que l'ombre y respire,
Est moite et lourd et vieux de souvenirs ;
On l'écoute, le soir, l'haleine suspendue ;
Et l'on surprend des effluves voler
Et s'attirer et se frôler.
Oh ! ces caves de marbre en sculpture tordues.
La vie, au-delà de la mort encor vivante,
La vie approfondie en épouvante,
Perdure là, si fort,
Qu'on croit sentir, dans les murailles,
Avec de surhumains efforts,
Battre et s'exalter encor
Tous ces coeurs fous, tous ces coeurs morts,
Qui ont vaincu leurs funérailles.
Reposent là des maîtresses de rois
Dont le caprice et le délire
Ont fait se battre des empires ;
Des conquérants, dont les glaives d'effroi
Se brisèrent, entre des doigts de femme ;
Des poètes fervents et clairs
De leur ivresse et de leur flamme,
Qui périrent, en chantant l'air
Triste ou joyeux qu'aimait leur dame.
Voici les ravageurs et les ardents
Dont le baiser masquait le coup de dents ;
Les fous dont le vertige aimait l'abîme
Qui dépeçaient l'amour en y taillant un crime ;
Les violents et les vaincus du sort
Ivres de l'inconnu que leur offrait la mort ;
Enfin, les princesses, les reines,
Mortes – depuis quels temps et sur quels échafauds ? –
Quand le peuple portait des morts, comme drapeaux,
Devant ses pas rués vers la conquête humaine.
Égarons-nous, mon âme, en ces cryptes de deuil,
Où, sous chaque tombeau, où, dans chaque linceul,
On écoute les morts si terriblement vivre.
Leur désespoir superbe et leur douleur enivrent,
Car, au-delà de l'agonie, ils ont planté
Si fortement et si tragiquement leur volonté
Que leur poussière encore est pleine
Des ferments clairs de leur amour et de leur haine.
Leurs passions, bien qu'aujourd'hui sans voix,
S'entremordent, comme autrefois,
Plus féroces depuis qu'elles se sentent
Libres, dans ce palais de la clarté absente.
Regard d'orgueil, regard de proie,
Fondent l'un sur l'autre, sans qu'on les voie,
Pour se percer et s'abîmer, en des ténèbres.
Autour des vieux granits et des pierres célèbres,
Parfois, un remuement de pas guerriers s'entend
Et tel héros debout dans son orgueil, attend
Que, sur son socle orné de combats rouges,
Soudain le bronze et l'or de la bataille bougent.
Tout drame y vit, les yeux hagards, le poing fermé,
Et traîne, à ses côtés, le désespoir armé ;
L'envie et le soupçon aux carrefours s'abouchent ;
Des mots sont étouffés, par des mains, sur des bouches ;
Des bras se nouent et se dénouent, ardents et las ;
Dans l'ombre, on croirait voir luire un assassinat ;
Mille désirs qui se lèvent et qui avortent,
D'un large élan vaincu, battent toujours les portes ;
L'intermittent reflet de vieux flambeaux d'airain
Passe, le long des murs, en gestes surhumains ;
On sent, autour de soi, les passions bandées,
Sur l'arc silencieux des plus sombres idées ;
Tout est muet et tout est haletant ;
La nuit, la fièvre encore augmente et l'on entend
Un bruit pesant sortir de terre
Et se rompre les plombs et se fendre les bières !
Oh, cette vie aiguë et toute en profondeur,
Si ténébreuse et si trouble, qu'elle fait peur !
Cette vie âpre, où les luttes s'accroissent
A force de volonté,
Jusqu'à donner l'éternité
Pour mesure à son angoisse,
Mon coeur, sens-tu, comme elle est effrénée
En son spasme suprême et sa ferveur damnée ?
Soit par pitié, soit parce qu'elle
Concentre, en son ardeur, toute l'âme rebelle,
Incline-toi, vers son mystère et sa terreur,
Ô toi, qui veux la vie à travers tout, mon coeur !
Pèse sa crainte et suppute ses rages
Et son entêtement, en ces conflits d'orages,
Toujours exaspéré, jusqu'au suprême effort ;
Sens les afflux de joie et les reflux de peine
Passer, dans l'atmosphère, et enfiévrer la mort ;
Songe à tous tes amours, songe à toutes tes haines,
Et plonge-toi, sauvage et outrancier,
Comme un rouge faisceau de lances,
En ce terrible et fourmillant brasier
De violence et de silence.
Emile Verhaeren (1855-1916) poésie
fleursdumal.nl magazine
More in: Archive U-V, Verhaeren, Emile
---
Older Entries »
Thank you for reading FLEURSDUMAL.NL - magazine for art & literature