MODERN POETRY
·
John Leonard: Having no history
·
Vincent Berquez: Sunset Beach
·
Bert Bevers: Zelfportret met schijnbeeld
·
Chinaka Hodge poetry: Dated Emcees
·
Littérature et poésie – Nuit de la Poésie 2017 = 11 – 12 Novembre 2017
·
Festival Paris En Toutes Lettres 2017 du 9 au 20 novembre 2017
·
Ton van Reen – Katapult. Oproer in Amsterdam
·
Presentatie boek 'Dochters' van Ton van Reen in Wereldpaviljoen Steyl
·
Paul Bezembinder: In memoriam Joseph Brodsky
·
Bert Bevers: Belijdenis
·
Vincent Berquez: Silence with Peter Porter
·
Bert Bevers: gedichten zonder titel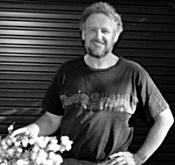 Having no history
Having no history we are
What we do, not who
We have been—so there is no-one
Who is not with us.
Our time is not filled
With imperatives, but passes as it must—
Each year brings content
Of its own kind for us.
Our towns are each in the centre
Of nowhere, and each is its own.
We cannot feel life as apart,
And our days are belonging.
We do not have your 'progress'—
But always try for betterment.
Untruth cannot flourish here,
Because what must be is.
We have never thought we can
Be other than this, we do not live
For what should be, can be,
As what is is plain in view.
John Leonard
John Leonard lives in Canberra, Australia.
More poetry on website: www.jleonard.net
fleursdumal.nl magazine
More in: Archive K-L, Leonard, John
---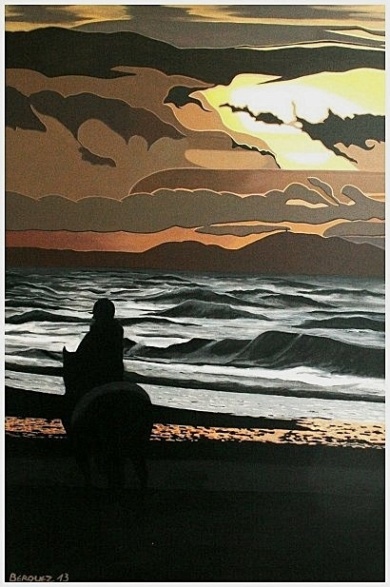 Vincent Berquez©: Sunset Beach
  Vincent Berquez is a London–based artist and poet
   fleursdumal.nl magazine for art & literature
More in: Berquez, Vincent, FDM Art Gallery, Vincent Berquez
---
Zelfportret met schijnbeeld
Vannacht was ik een Bolognezer. Een ieder
die mij op de Piazza Verdi passeerde deelde
ik zebravinkjes uit, ontelbare zebravinkjes.
Wat een geluid maken die vogeltjes. Het lijkt 
het hardste marmer te kunnen doordringen.
Uit alle ramen van de universiteit staken
gezichten met vraagtekens. Ik weende niet. 
Bert Bevers
Bert Bevers is a poet and writer who lives and works in Antwerp (Be)
fleursdumal.nl magazine
More in: Archive A-B, Archive A-B, Bevers, Bert, Natural history
---
Chinaka Hodge came of age along with hip-hop—and its influence on her suitors became inextricable from their personal interactions.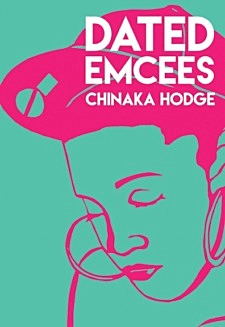 Form blends with content in Dated Emcees as she examines her love life through the lens of hip-hop's best known orators, characters, archetypes and songs, creating a new and inventive narrative about the music that shaped the craggy heart of a young woman poet, just as it also changed the global landscape of pop.
"This is an absolute powerhouse of a book, and a new pinnacle for Chinaka Hodge. There's enough beauty and heartbreak and melancholy and humor and sorrow in here for three collections, or two lifetimes. Hodge's writing is so incredibly specific but somehow universal, so honest and raw but somehow polished to unimproveability. She deserves a wide audience, an attentive audience, an audience that wants to be astounded."––Dave Eggers, author of The Circle
Chinaka Hodge is a poet, educator, playwright and screenwriter. Originally from Oakland, California, she graduated from NYU's Gallatin School of Individualized Study in May of 2006, and was honored to be the student speaker at the 174th Commencement exercise. In 2010, Chinaka received USC's prestigious Annenberg Fellowship to continue her studies at its School of Cinematic Arts. She received her MFA in Writing for Film and TV in 2012. In the fall of that year, she received the SF Foundation's Phelan Literary Award for emerging Bay Area talent. Chinaka was also a 2012 Artist in Residence at The Headlands Center for the Arts in Marin, CA.
In January 2013, Hodge was a Sundance Feature Film lab Fellow for her script, "700th&Int'l." In June of 2013 Chinaka began as a first year fellow at Cave Canem's prestigious summer retreat.
For over a decade, Hodge has worked in various capacities at Youth Speaks/The Living Word Project, the nation's leading literary arts non-profit. During her tenure there, Chinaka served as Program Director, Associate Artistic Director, and worked directly with Youth Speaks' core population as a teaching artist and poet mentor. She has acted in comparable capacities in New York and Los Angeles at Urban Word NYC and Get Lit: Words Ignite. When not educating or writing for the page, Chinaka rocks mics as a founding member of a collaborative hip hop ensemble, The Getback. Her poems, editorials, interviews and prose have been featured in Newsweek, San Francisco Magazine, Believer Magazine, PBS, NPR, CNN, C-Span, and in two seasons of HBO's Def Poetry.
Title: Dated Emcees
Author: Chinaka Hodge
Collection City Lights/Sister Spit
Publisher City Lights Publishers
Published 2016
Paperback
ISBN-10 0872867021
ISBN-13 9780872867024
64 pages
#  More  on  website  Chinaka  Hodge

fleursdumal.nl magazine
More in: - Book News, Archive G-H, Art & Literature News, MODERN POETRY
---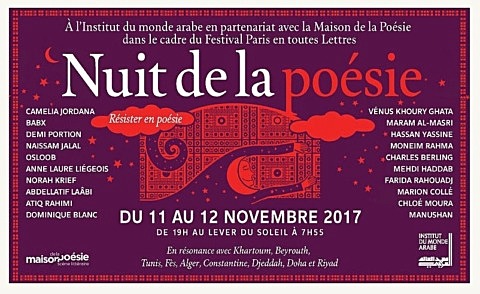 Pour la deuxième année consécutive, l'IMA et la Maison de la Poésie s'unissent pour convoquer, le temps d'une nuit, la poésie et célébrer la beauté du verbe, en mémoire des attentats de Paris en novembre 2015. Cette deuxième édition est aussi celle d'un nouveau partage : la Nuit 2017 résonnera, en même temps, à travers huit villes du monde arabe.
En mémoire des attentats de Paris du 13 novembre 2015, l'initiative a en 2016 rassemblé près d'une cinquantaine d'artistes de disciplines différentes, parlant l'arabe, le français ou l'hébreu. Plus de 3 000 personnes se sont réunies à l'IMA.
Dans la nuit du 11 au 12 novembre 2017, la deuxième édition de la Nuit de la Poésie offrira une nouvelle fois la possibilité de découvrir et d'apprécier la poésie – cette année en arabe, en français et en persan – à travers la lecture, le slam, le rap, le chant ou encore les arts du cirque.
#  la Nuit de la poésie Web IMA

Littérature et poésie
Nuit de la Poésie 2017
11 – 12 Novembre 2017
fleursdumal.nl magazine
More in: Art & Literature News, FDM in Paris, LIGHT VERSE, Literary Events, MODERN POETRY, MUSIC, Nacht van de Poëzie, THEATRE
---
---
Festival littéraire de la ville de Paris, Paris En Toutes Lettres est fondé sur les hybridations entre les genres littéraires et les formes artistiques, ainsi que sur les résonances entre la géographie parisienne et sa vie littéraire. À partir de la Maison de la Poésie-Scène littéraire, il se déploie dans une quinzaine de lieux alentours.
Revisitant l'actualité littéraire, le festival fait aussi la part belle aux créations mettant en regard littérature et musique. Parmi plus de cinquante lectures, rencontres ou concerts littéraires, on trouve également d'insolites conférences et de curieuses performances. À travers ce foisonnement de lieux et de propositions, c'est à un Paris vivant et traversé de littérature que le festival donne voix.
Festival
Paris En Toutes Lettres 2017
Du 9 au 20 novembre 2017
fleursdumal.nl magazine
More in: Art & Literature News, CINEMA, RADIO & TV, FDM in Paris, LIGHT VERSE, Literary Events, MODERN POETRY, MUSIC, STREET POETRY, THEATRE
---
In de tijd waarin de roman Katapult, Oproer in Amsterdam speelt, de jaren zeventig van de vorige eeuw, was er nog hoop, ook al toont het verhaal niet het Amsterdam van de glamour maar het Amsterdam dat aan de rand staat van de verloedering.
Het is het verhaal van een dag uit het leven van een kleine groep mensen, een familie en hun vrienden, die in een grote stad toch in een uiterst kleine kring blijken te leven. Het lijkt dat ze ver staan van de boze en wonderlijke rampen die zich in de stad voltrekken en die ze niet kunnen benoemen, maar feitelijk ondervinden ze alle gebeurtenissen aan hun lijf.
Wat er in Katapult gebeurt, speelt zich alleen af in zwarte sprookjes, maar vaak hebben sprookjes meer met de werkelijkheid gemeen dan de exacte verslagen van gebeurtenissen. Wie denkt dat het onmogelijk is om met een katapult een brandende scherf van de zon te schieten, om zo hotel-restaurant Americain in de fik te zetten, moet dit boek maar niet lezen.
Katapult is vijfenveertig jaar geleden geschreven. Veel in Amsterdam lijkt nu nog hetzelfde, maar dat is schijn. Wie met dit boek door de stad loopt en de sporen zoekt van het Amsterdam van toen, ziet dat de mooie gevels er nog zijn en worden gefotografeerd door hordes toeristen uit de hele wereld, maar ook dat achter de fraaie gevels heel veel is weggehaald.
Nu zijn er supermarkten gevestigd en kantoren van advocaten, multinationals en brievenbusmaatschappijen die de stad en Nederland misbruiken om belasting te ontduiken. De gezinnen zoals die van Albert Meyer zijn grotendeels verdreven naar de Bijlmer, Purmerend en Almere.
Ook café De Engelbewaarder, aan de Kloveniersburgwal is er niet meer. Kastelein Bas, in wie de toenmalige uitbater en boekenliefhebber Bas Lubberhuizen herkend kan worden, leeft nog, maar de redacteuren van Vrij Nederland die er dagelijks hun kelkjes leeg dronken, zoals Martin van Amerongen en Joop van Tijn, zijn al jaren heen.
Net als Ischa Meier die er vaak kwam met zijn vrouwen, minnaressen en favoriete hoertjes en een zak vol boeken waarvan hij de flapteksten las. Ook stamklant Robert Jasper Grootveld, die model stond voor Crazy Horse is er niet meer, net als Simon Vinkenoog, de magiër van het vrije woord. Wel zijn gelijkgestemde filosofen als Roel van Duijn en Luud Schimmelpennink nog onder ons, maar hun ideeën worden nauwelijks nog begrepen.
In de gevoelswereld van schrijver Ton van Reen spelen de zelfgenoegzame leden van de georganiseerde samenleving een uiterst sinistere rol. Wreedheid, vreemdelingenhaat en bloeddorst liggen achter hun oppervlakkige en zo fatsoenlijk lijkende gedrag voortdurend op de loer.
De helden van Ton van Reen behoren zonder uitzondering tot de kwetsbaren en de slachtoffers: eenzame kinderen, hoeren, landlopers, kermisgasten en zonderlingen, mensen die echter een warmer hart hebben dan de directeuren van de Rabobank en de Tweede Kamerleden van de VVD.
Over de boeken van Ton van Reen schreef Aad Nuis in de Haagse Post: 'Hij schrijft eigenlijk steeds sprookjes, waarbij de toon onverhoeds kan omslaan van Andersen op zijn charmantst in Grimm op zijn gruwelijkst.' Reinjan Mulder schreef in NRC-Handelsblad: 'Het proza van Ton van Reen is mooi als poëzie.' En Gerrit Krol schreef in dezelfde krant: 'Ton van Reen schrijft leerboeken voor schrijvers.'
Ton van Reen
Katapult
Oproer in Amsterdam
Roman
Gebrocheerd in omslag met flappen,
148 blz., € 14,50
ISBN 978 90 6265 978 4
oktober 2017
Uitgeverij In de Knipscheer
#  Meer  info  op  website  Uitgeverij  In  de  Knipscheer

fleursdumal.nl magazine
More in: - Book News, - Bookstores, - Katapult, de ondergang van Amsterdam, Archive Q-R, Art & Literature News, David van Reen, David van Reen Photos, PRESS & PUBLISHING, Reen, Ton van, Reen, Ton van
---
Ton van Reen lanceert zijn nieuwste roman Dochters op vrijdag 3 november 2017 in het Wereldpaviljoen te Steyl
Het boek speelt grotendeels in Nederland, Duitsland en Zwitserland, maar het gaat vooral over Afrika.
Op de vlucht voor zijn verleden is de hoofdpersoon er gaan werken als correspondent voor De Volkskrant. Op de reis naar de bruiloft van zijn dochter in Zwitserland raakt hij in gesprek met een jonge vrouw. Voor beiden wordt het een louterende ontmoeting.
Peter Winkels zal Ton van Reen interviewen over zijn nieuwe boek en zijn levenslange band met Afrika. Al in de jaren zeventig was Ton initiatiefnemer en uitgever van de Afrikaanse Bibliotheek. Ook schreef hij talloze artikelen over Afrika in kranten als De Volkskrant. Het boek is ter plekke te koop.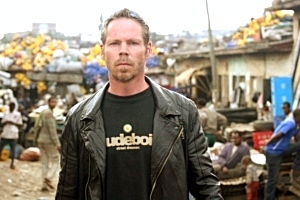 Het boek wordt gepresenteerd op vrijdag 3 november, tijdens een gevarieerde avond van de Stichting Lalibela in het Wereldpaviljoen te Steyl-Tegelen. Tijdens de avond is er aandacht voor de stichting die tal van sociale projecten uitvoert in de gelijknamige plaats. De Stichting Lalibela is negentien jaar geleden opgericht door Ton van Reen en zijn twee jaar geleden overleden zoon David. (David van Reen 1969 – 2015)

Bestuurslid Marc van der Sterren zal vertellen over zijn projecten rond kleinschalige landbouw in Afrika.
De film over het leven en het werk van David in Ethiopië, gemaakt door Marijn Poels voor L1-tv voor het programma Limburg helpt, zal worden vertoond. De presentaties worden omlijst door de muzikale inbreng van de Syrische groep AROA AND FRIENDS.
Vrijdag 3 november 2017
Tijd: 20.00 tot 22.30
Inloop vanaf 19.30. Gratis entree
Wereldpaviljoen
Sint Michaëlstraat 6a
5935 BL Steyl
D O C H T E R S
Lennert Rosenberg, 59 jaar, journalist in Afrika voor de Volkskrant, reist met de nachttrein naar Zwitserland voor de bruiloft van zijn dochter Miriam. Aan het begin van de reis ontmoet hij Nena, een jonge vrouw, op weg naar haar ouders in Zwitserland.
Al vlug blijkt dat ze belangstelling hebben voor dezelfde dingen. Ondanks het grote leeftijdsverschil begrijpen ze elkaar.
Door urenlang oponthoud, er is iemand onder de trein gelopen, verkennen ze het nachtelijke Keulen. Als de trein na middernacht vertrekt, komt hij niet meer op tijd aan in Freiburg voor de aansluitende trein naar Bazel. Omdat ze lang moeten wachten, besluiten ze een dag in Freiburg te blijven, de stad waar de roots van Nena's familie liggen.
Speelde Lennert even met het idee dat een verhouding met haar mogelijk zou zijn, nog net op tijd begrijpt hij dat zij geen minnaar zoekt, maar iemand die haar begrijpt. Doordat hij na zijn scheiding van zijn dochter Miriam is vervreemd, lijkt hij in Nena de dochter te vinden die hij heeft gemist. En zij vindt de vertrouwdheid van de vader die ze kwijt is.
Langzaam ontvouwt zich het levensverhaal van haar familie die in de oorlog naar Zwitserland is gevlucht. En het verhaal van haar vader die zijn best doet zijn Joodse verleden te verhullen en probeert een authentieke Zwitser te zijn.
Door haar verhalen gaan zijn ogen open voor zijn eigen geschiedenis die hij is ontvlucht door zich in Afrika te vestigen.
Hij viel in slaap en droomde dat hij een jongen was die samen met een man een lange weg afliep. Beiden waren ze naakt, maar de man droeg een rugzak.
'Wat zit er in die rugzak?' vroeg hij.
'Mijn herinneringen,' zei de man. 'Later zijn ze voor jou.'
'Kan ik dat dan allemaal onthouden?'
'Je moet wel, zeker als je wilt weten wie je zelf bent. Je weet toch dat ik je vader ben?'
Toen pas herkende hij de man die hij zo vaak op foto's had gezien.
Plotseling liep zijn vader naar de rand van een ravijn, gooide hem de rugzak toe en sprong naar beneden.
'Ik wil hem niet!' riep hij. 'Kom terug!'
Hij durfde de zak niet op te rapen. Er kwam een spelend kind aan. Het opende de zak.
Ton van Reen schreef onder meer romans, kinder- en jeugdboeken en journalistiek werk, vaak over Afrika, in kranten zoals de Volkskrant, de GPD-kranten, en in tijdschriften.
Een aantal verhalen over de cultuurshock in Afrika werden gebundeld in WEENSE WALSEN IN MOMBASA. Ook schreef hij de novelle EEN OCHTEND IN CAIRO, een inleiding bij het werk van de Egyptische Nobelprijswinnaar Naguib Mahfoez.
Presentatie 3 november 2017
Wereldpaviljoen Steyl
Ton van Reen
Dochters
Nederland – Afrika
Roman
Gebrocheerd in omslag met flappen,
340 blz.
€ 19,50
Uitgeverij In de Knipscheer
ISBN 978 90 6265 963 0
#  Meer  info  op  website  Uitgeverij  In  de  Knipscheer

fleursdumal.nl magazine
More in: - Book News, - Bookstores, Archive Q-R, Art & Literature News, David van Reen, David van Reen Photos, PRESS & PUBLISHING, Reen, Ton van, Reen, Ton van, Ton van Reen
---
In memoriam Joseph Brodsky
Dat het gevoel geïncarneerd te zijn
niet doorbreekt, Iosif, is niet werkelijk
jouw fout. Als abstractie en scholastiek
een uitweg bieden als het ongeluk
verstoppertje spelen wil met de pijn,
so be it. Velen worden geestesziek
nadat het ziektebeeld is vastgesteld.
'Een parasiet.' Er wordt niet bijverteld
wat verder de verwachtingen nog zijn.
Jij overleeft het, Joseph, gaat publiek,
wordt een socialite of sorts en laat
jouw duizelingwekkende acrobatiek
een stug verlangen naar de verte zijn.
En nu jij voorgoed vertrokken bent,
nou missen we jou en je vreselijke
enjambementen, jouw smartelijke
sjamanenstem, je gedichten, je pijn.
Paul Bezembinder
fleursdumal.nl magazine
More in: Archive A-B, Bezembinder, Paul, Brodsky, Joseph, POETRY IN TRANSLATION: BEZEMBINDER
---
Belijdenis
Je moet niets verbranden. Zelfs geen mieren
als je denkt dat die een oprukkend leger zijn.
Dat heb ik wel gebiecht ja, dat heb ik toen wel
gebiecht. Ego te absolvo a peccatis tuis in nomine
Patris et Filii et Spiritus Sancti. Amen. Amen.
Ach, die 10 Ave Maria's en 5 Paternosters
waarmee ik mijn zieltje destijds schoon waste.
Het blonk daarna weer als een ansjovisbuikje.
Nooit echt heb ik me onderworpen aan de sluier
van de dwang. Onrustige biechtelingen waren
er genoeg hoor, bang mokkend in hun eigen
schaduw. Vierduizend mijl dik waren voor hen
de muren van de hel. Zij leerden de beschroomde
tere tinten van berouw nooit kennen. Bleven
verhard in wrede gedachten, grauw als gummi.
Bert Bevers
Eerder verschenen in Digther, Diksmuide, november 2013
fleursdumal.nl magazine
More in: Archive A-B, Archive A-B, Bevers, Bert
---
Silence with Peter Porter
We met briefly in an Edwardian hall
but I can't remember which one.
I do remember I recited
and so did you, but you did so
like there was a hush in sound
without the necessary noise
polluting the voice of your words.
London was varnished with rain
and the audience were wet with
guilt at the disappointment
of an unruly climate outside
that pissed all over them.
The stark-birth of your words
were not counted by charismatic bullets,
I thought you a little boring
protected in the flat-jacket
of your reputation, how stupid of me.
I noticed a silence encircling you
and your eyes met mine
and yours couldn't be acquired
by anything or anyone at any cost.
Vincent Berquez
Vincent Berquez is a London–based artist and poet
fleursdumal.nl magazine
More in: Archive A-B, Berquez, Vincent, Vincent Berquez
---
Gedichten
Zonder titel
1
Deze hiërarchie van zichtbaarheid
doemt als een spiegel op uit diepte.
Geen tijd voor afleidingsmanoeuvres:
wie haar kennen moet kent haar.
2

Tot de hoogste macht verheven lijkt
dit vloeien tussen droom en stroom.
De Rijn verwijt niemand ooit iets.
Geen vijand kent water, is de regel.
Bert Bevers
Geschreven voor het poëzieproject in Millingen aan de Rijn, 2014
fleursdumal.nl magazine
More in: Archive A-B, Archive A-B, Bevers, Bert
---
Older Entries »
Thank you for reading FLEURSDUMAL.NL - magazine for art & literature