CLASSIC POETRY
«« Previous page
·
Lord BYRON: Darkness
·
Franz KAFKA: Vom Scheintod
·
D.H. LAWRENCE: Bei Hennef
·
Samuel Taylor COLERIDGE: Youth And Age a poem
·
Innokenti ANNENSKI: Mijn ideaal
·
Oscar WILDE: The Disciple
·
William BLAKE: The Lamb
·
Robert BRIDGES: A Toast to our Native Land
·
Edgar Allan POE: The Tell Tale Heart
·
Emile VERHAEREN: La morte
·
Poems About Sculpture by Robert Pinsky and Murray Dewart
·
NOVALIS: Der Teufel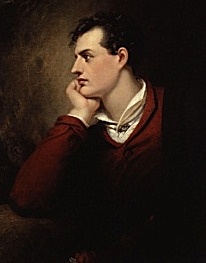 Lord Byron
Darkness
I had a dream, which was not all a dream.
The bright sun was extinguish'd, and the stars
Did wander darkling in the eternal space,
Rayless, and pathless, and the icy earth
Swung blind and blackening in the moonless air;
Morn came, and went and came, and brought no day,
And men forgot their passions in the dread
Of this desolation; and all hearts
Were chill'd into a selfish prayer for light:
And they did live by watchfires – and the thrones,
The palaces of crowned kings, the huts,
The habitations of all things which dwell,
Were burnt for beacons; cities were consumed,
And men were gathered round their blazing homes
To look once more into each other's face;
Happy were those who dwelt within the eye
Of the volcanos, and their mountain-torch:
A fearful hope was all the world contain'd;
Forest were set on fire but hour by hour
They fell and faded and the crackling trunks
Extinguish'd with a crash and all was black.
The brows of men by the despairing light
Wore an unearthly aspect, as by fits
The flashes fell upon them; some lay down
And hid their eyes and wept; and some did rest
Their chins upon their clenched hands, and smiled;
And others hurried to and fro, and fed
Their funeral piles with fuel, and looked up
With mad disquietude on the dull sky,
The pall of a past world; and then again
With curses cast them down upon the dust,
And gnash'd their teeth and howl'd: the wild birds shriek'd,
And, terrified, did flutter on the ground,
And flap their useless wings; the wildest brutes
Came tame and tremolous; and vipers crawl'd
And twined themselves among the multitude,
Hissing, but stingless, they were slain for food:
And War, which for a moment was no more,
Did glut himself again; a meal was bought
With blood, and each sate sullenly apart
Gorging himself in gloom: no love was left;
All earth was but one thought and that was death,
Immediate and inglorious; and the pang
Of famine fed upon all entrails men
Died, and their bones were tombless as their flesh;
The meagre by the meagre were devoured,
Even dogs assail'd their masters, all save one,
And he was faithful to a corpse, and kept
The birds and beasts and famish'd men at bay,
Till hunger clung them, or the dropping dead
Lured their lank jaws; himself sought out no food,
But with a piteous and perpetual moan
And a quick desolate cry, licking the hand
Which answered not with a caress, he died.
The crowd was famish'd by degrees; but two
Of an enormous city did survive,
And they were enemies; They met beside
The dying embers of an altar-place
Where had been heap'd a mass of holy things
For an unholy usage; they raked up,
And shivering scraped with their cold skeleton hands
The feeble ashes, and their feeble breath
Blew for a little life, and made a flame
Wich was a mockery; then they lifted up
Their eyes as it grew lighter, and
Each other's aspects. saw, and shriek'd, and died, beheld
Even of their mutual hideousness they died,
Unknowing who he was upon whose brow
Famine had written Fiend. The world was void,
The populous and the powerful was a lump,
Seasonless, herbless, treeless, manless, lifeless,
A lump of death, a chaos of hard clay.
The rivers, lakes, and ocean stood still,
And nothing stirred within their silent depths;
Ships sailorless lay rotting on the sea,
And their masts fell down piecemeal; as they dropp'd
They slept on the abyss without a surge
The waves were dead; the tides were in their grave,
The moon their mistress had expired before;
The winds were withered in the stagnant air,
And the clouds perish'd; Darkness had no need
Of aid from them. She was the universe.
Lord George Gordon Noel Byron (1788 – 1824)
Poem: Darkness
fleursdumal.nl magazine
More in: Archive A-B, Byron, Lord
---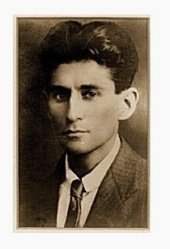 Franz Kafka
Vom Scheintod
Wer einmal scheintot gewesen ist, kann davon Schreckliches erzählen, aber wie es nach dem Tode ist, das kann er nicht sagen, er ist eigentlich nicht einmal dem Tode näher gewesen als ein anderer, er hat im Grunde nur etwas Besonderes ›erlebt‹ und das nicht besondere, das gewöhnliche Leben ist ihm dadurch wertvoller geworden. Ähnlich ist es mit jedem, der etwas Besonderes erlebt hat. Moses zum Beispiel hat auf dem Berge Sinai gewiß etwas ›Besonderes‹ erlebt, aber statt sich diesem Besonderen zu ergeben, etwa wie ein Scheintoter, der sich nicht meldet und im Sarg liegen bleibt, ist er den Berg hinunter geflüchtet und hatte natürlich Wertvolles zu erzählen und liebte die Menschen, zu denen er sich geflüchtet hatte, noch viel mehr als früher und hat dann sein Leben ihnen geopfert, man kann vielleicht sagen, zum Danke. Von beiden aber, vom zurückgekehrten Scheintoten und vom zurückgekehrten Moses kann man viel lernen, aber das Entscheidende kann man von ihnen nicht erfahren, denn sie selber haben [es] nicht erfahren. Und hätten sie es erfahren, so wären sie nicht mehr zurückgekommen. Aber wir wollen es auch gar nicht erfahren. Das läßt sich daran überprüfen, daß wir zum Beispiel gelegentlich den Wunsch haben können, das Erlebnis des Scheintoten oder das Erlebnis des Moses bei Sicherstellung der Rückkehr, ›bei freiem Geleit‹ zu erleben, ja daß wir sogar den Tod uns wünschen, aber nicht einmal in Gedanken wollten wir lebend und im Sarge ohne jede Möglichkeit der Wiederkehr oder auf dem Berge Sinai bleiben…
(Das hat nicht eigentlich etwas mit Todesangst zu tun. . .)
Franz Kafka
(1883-1924)
Vom Scheintod
fleursdumal.nl magazine
More in: Franz Kafka, Kafka, Franz, Kafka, Franz
---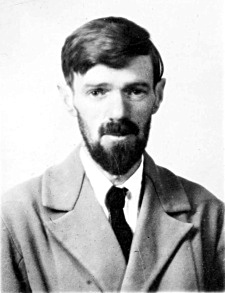 D.H.Lawrence
Bei Hennef
The little river twittering in the twilight,
The wan, wondering look of the pale sky,
This is almost bliss.
And everything shut up and gone to sleep,
All the troubles and anxieties and pain
Gone under the twilight.
Only the twilight now, and the soft "Sh!" of the river
That will last for ever.
And at last I know my love for you is here;
I can see it all, it is whole like the twilight,
It is large, so large, I could not see it before,
Because of the little lights and flickers and interruptions,
Troubles, anxieties and pains.
You are the call and I am the answer,
You are the wish, and I the fulfilment,
You are the night, and I the day.
What else – it is perfect enough.
It is perfectly complete,
You and I,
What more-?
Strange, how we suffer in spite of this.
D.H.Lawrence (1883 – 1930)
Bei Hennef
fleursdumal.nl magazine
More in: Archive K-L, D.H. Lawrence, Lawrence, D.H.
---
Samuel Taylor Coleridge
Youth And Age a poem
Verse, a breeze 'mid blossoms straying,
Where Hope clung feeding, like a bee
Both were mine! Life went a-maying
With Nature, Hope, and Poesy,
When I was young!
When I was young? Ah, woeful When!
Ah! for the change 'twixt Now and Then!
This breathing house not built with hands,
This body that does me grievous wrong,
O'er aery cliffs and glittering sands
How lightly then it flashed along,
Like those trim skiffs, unknown of yore,
On winding lakes and rivers wide,
That ask no aid of sail or oar,
That fear no spite of wind or tide!
Nought cared this body for wind or weather
When Youth and I lived in't together.
Flowers are lovely; Love is flower-like;
Friendship is a sheltering tree;
O the joys! that came down shower-like,
Of Friendship, Love, and Liberty,
Ere I was old!
Ere I was old? Ah woeful Ere,
Which tells me, Youth's no longer here!
O Youth! for years so many and sweet
'Tis known that Thou and I were one,
I'll think it but a fond conceit
It cannot be that Thou art gone!
Thy vesper-bell hath not yet tolled
And thou wert aye a masker bold!
What strange disguise hast now put on,
To make believe that thou art gone?
I see these locks in silvery slips,
This drooping gait, this altered size:
But Springtide blossoms on thy lips,
And tears take sunshine from thine eyes:
Life is but Thought: so think I will
That Youth and I are housemates still.
Dew-drops are the gems of morning,
But the tears of mournful eve!
Where no hope is, life's a warning
That only serves to make us grieve
When we are old:
That only serves to make us grieve
With oft and tedious taking-leave,
Like some poor nigh-related guest
That may not rudely be dismist;
Yet hath out-stayed his welcome while,
And tells the jest without the smile.
Samuel Taylor Coleridge (1772 – 1834)
Poem: Youth And Age
fleursdumal.nl magazine
More in: Archive C-D, Coleridge, Coleridge, Samuel Taylor
---
Innokenti Annenski
(1855–1909)
Mijn ideaal
Het ruisen van ontstoken gaslicht
Boven het grauw en grijs bezoek,
De stille weemoed in het aanzicht
Van een terloops vergeten boek,
En dat ik daar dan, onbewogen,
Als ging het immer wonderwel,
Over vergeeld papier gebogen,
Die irritante zijnsvraag stel.
Innokenti Annenski, Идеал, 1904
Vertaling Paul Bezembinder, 2016
Paul Bezembinder studeerde theoretische natuurkunde in Nijmegen. In zijn poëzie zoekt hij in vooral klassieke versvormen en thema's naar de balans tussen serieuze poëzie, pastiche en smartlap. Zijn gedichten (Nederlands) en vertalingen (Russisch-Nederlands) verschenen in verschillende (online) literaire tijdschriften. Voor­beelden van zijn werk zijn te vinden op zijn website, www.paulbezembinder.nl
fleursdumal.nl magazine
More in: Annenski, Annenski, Innokenti, Archive A-B
---
Oscar Wilde
(1854 – 1900)
The Disciple
When Narcissus died the pool of his pleasure changed from a cup of sweet waters into a cup of salt tears, and the Oreads came weeping through the woodland that they might sing to the pool and give it comfort.
And when they saw that the pool had changed from a cup of sweet waters into a cup of salt tears, they loosened the green tresses of their hair and cried to the pool and said, 'We do not wonder that you should mourn in this manner for Narcissus, so beautiful was he.'
'But was Narcissus beautiful?' said the pool.
'Who should know that better than you?' answered the Oreads. 'Us did he ever pass by, but you he sought for, and would lie on your banks and look down at you, and in the mirror of your waters he would mirror his own beauty.'
And the pool answered, 'But I loved Narcissus because, as he lay on my banks and looked down at me, in the mirror of his eyes I saw ever my own beauty mirrored.'
Oscar Wilde 1894
fleursdumal.nl magazine
More in: Archive W-X, Wilde, Oscar, Wilde, Oscar
---
William Blake
The Lamb
Little Lamb, who made thee
Does thou know who made thee
Gave thee life & bid thee feed.
By the stream & o'er the mead;
Gave thee clothing of delight,
Softest clothing woolly bright;
Gave thee such a tender voice.
Making all the vales rejoice:
Little Lamb who made thee
Does thou know who made thee
Little Lamb I'll tell thee,
Little Lamb I'll tell thee;
He is called by thy name,
For he calls himself a Lamb:
He is meek & he is mild,
He became a little child
I a child & thou a lamb,
We are called by His name,
Little Lamb God bless thee,
Little Lamb God bless thee.
William Blake (1757 – 1827)
Poem: The Lamb
fleursdumal.nl magazine
More in: Archive A-B, Blake, William
---
Robert Bridges
A Toast to our Native Land
Huge and alert, irascible yet strong,
We make our fitful way 'mid right and wrong.
One time we pour out millions to be free,
Then rashly sweep an empire from the sea!
One time we strike the shackles from the slaves,
And then, quiescent, we are ruled by knaves.
Often we rudely break restraining bars,
And confidently reach out toward the stars.
Yet under all there flows a hidden stream
Sprung from the Rock of Freedom, the great dream
Of Washington and Franklin, men of old
Who knew that freedom is not bought with gold.
This is the Land we love, our heritage,
Strange mixture of the gross and fine, yet sage
And full of promise destined to be great.
Drink to Our Native Land! God Bless the State!
Robert Seymour Bridges (1844 – 1930)
A Toast to our Native Land
fleursdumal.nl magazine
More in: Archive A-B, Bridges, Robert
---
Edgar Allan Poe
The Tell Tale Heart
Trua! nervous, very, very dreadfully nervous I had been and am; but why Will you say that I am mad? The disease had sharpened my senses, not destroyed, not dulled them. Above all was the sense of hearing acute. I heard all things in the heaven and in the earth. I heard many things in hell. How then am I mad? Hearken! and observe how healthily, how calmly, I can tell you the whole story.
It is impossible to say how first the idea entered my brain, but, once conceived, it haunted me day and night. Object there was none. Passion there was none. I loved the old man. He had never wronged me. He had never given me insult. For his gold I had no desire. I think it was his eye! Yes, it was this! One of his eyes resembled that of a vulture a pale blue eye with a film over it. Whenever it fell upon me my blood ran cold, and so by degrees, very gradually, I made up my mind to take the life of the old man, and thus rid myself of the eye for ever.
Now this is the point. You fancy me mad. Madmen know nothing. But you should have seen me. You should have seen how wisely I proceeded with what caution with what foresight, with what dissimulation, I went to work! I was never kinder to the old man than during the whole week before I killed him. And every night about midnight I turned the latch of his door and opened it oh, so gently! And then, when I had made an opening sufficient for my head, I put in a dark lantern all closed, closed so that no light shone out, and then I thrust in my head. Oh, you would have laughed to see how cunningly I thrust it in! I moved it slowly, very, very slowly, so that I might not disturb the old man's sleep. It took me an hour to place my whole head within the opening so far that I could see him as he lay upon his bed. Ha! would a madman have been so wise as this? And then when my head was well in the room I undid the lantern cautiously oh, so cautiously cautiously (for the hinges creaked), I undid it just so much that a single thin ray fell upon the vulture eye. And this I did for seven long nights, every night just at midnight, but I found the eye always closed, and so it was impossible to do the work, for it was not the old man who vexed me but his Evil Eye. And every morning, when the day broke, I went boldly into the chamber and spoke courageously to him, calling him by name in a hearty tone, and inquiring how he had passed the night. So you see he would have been a very profound old man, indeed , to suspect that every night, just at twelve, I looked in upon him while he slept.
Upon the eighth night I was more than usually cautious in opening the door. A watch's minute hand moves more quickly than did mine. Never before that night had I felt the extent of my own powers, of my sagacity. I could scarcely contain my feelings of triumph. To think that there I was opening the door little by little, and he not even to dream of my secret deeds or thoughts. I fairly chuckled at the idea, and perhaps he heard me, for he moved on the bed suddenly as if startled. Now you may think that I drew back — but no. His room was as black as pitch with the thick darkness (for the shutters were close fastened through fear of robbers), and so I knew that he could not see the opening of the door, and I kept pushing it on steadily, steadily.
I had my head in, and was about to open the lantern, when my thumb slipped upon the tin fastening , and the old man sprang up in the bed, crying out, "Who's there?"
I kept quite still and said nothing. For a whole hour I did not move a muscle, and in the meantime I did not hear him lie down. He was still sitting up in the bed, listening; just as I have done night after night hearkening to the death watches in the wall.
Presently, I heard a slight groan, and I knew it was the groan of mortal terror. It was not a groan of pain or of grief — oh, no! It was the low stifled sound that arises from the bottom of the soul when overcharged with awe. I knew the sound well. Many a night, just at midnight, when all the world slept, it has welled up from my own bosom, deepening, with its dreadful echo, the terrors that distracted me. I say I knew it well. I knew what the old man felt, and pitied him although I chuckled at heart. I knew that he had been lying awake ever since the first slight noise when he had turned in the bed. His fears had been ever since growing upon him. He had been trying to fancy them causeless, but could not. He had been saying to himself, "It is nothing but the wind in the chimney, it is only a mouse crossing the floor," or, "It is merely a cricket which has made a single chirp." Yes he has been trying to comfort himself with these suppositions ; but he had found all in vain. All in vain, because Death in approaching him had stalked with his black shadow before him and enveloped the victim. And it was the mournful influence of the unperceived shadow that caused him to feel, although he neither saw nor heard, to feel the presence of my head within the room.
When I had waited a long time very patiently without hearing him lie down, I resolved to open a little a very, very little crevice in the lantern. So I opened it you cannot imagine how stealthily, stealthily until at length a single dim ray like the thread of the spider shot out from the crevice and fell upon the vulture eye.
It was open, wide, wide open, and I grew furious as I gazed upon it. I saw it with perfect distinctness all a dull blue with a hideous veil over it that chilled the very marrow in my bones, but I could see nothing else of the old man's face or person, for I had directed the ray as if by instinct precisely upon the damned spot.
And now have I not told you that what you mistake for madness is but over-acuteness of the senses? now, I say, there came to my ears a low, dull, quick sound, such as a watch makes when enveloped in cotton. I knew that sound well too. It was the beating of the old man's heart. It increased my fury as the beating of a drum stimulates the soldier into courage.
But even yet I refrained and kept still. I scarcely breathed. I held the lantern motionless. I tried how steadily I could maintain the ray upon the eye. Meantime the hellish tattoo of the heart increased. It grew quicker and quicker, and louder and louder, every instant. The old man's terror must have been extreme! It grew louder, I say, louder every moment! do you mark me well? I have told you that I am nervous: so I am. And now at the dead hour of the night, amid the dreadful silence of that old house, so strange a noise as this excited me to uncontrollable terror. Yet, for some minutes longer I refrained and stood still. But the beating grew louder, louder! I thought the heart must burst. And now a new anxiety seized me the sound would be heard by a neighbour! The old man's hour had come! With a loud yell, I threw open the lantern and leaped into the room. He shrieked once once only. In an instant I dragged him to the floor, and pulled the heavy bed over him. I then smiled gaily, to find the deed so far done. But for many minutes the heart beat on with a muffled sound. This, however, did not vex me; it would not be heard through the wall. At length it ceased. The old man was dead. I removed the bed and examined the corpse. Yes, he was stone, stone dead. I placed my hand upon the heart and held it there many minutes. There was no pulsation. He was stone dead. His eye would trouble me no more.
If still you think me mad, you will think so no longer when I describe the wise precautions I took for the concealment of the body. The night waned, and I worked hastily, but in silence.
I took up three planks from the flooring of the chamber, and deposited all between the scantlings. I then replaced the boards so cleverly so cunningly, that no human eye not even his could have detected anything wrong. There was nothing to wash out no stain of any kind no blood-spot whatever. I had been too wary for that.
When I had made an end of these labours, it was four o'clock still dark as midnight. As the bell sounded the hour, there came a knocking at the street door. I went down to open it with a light heart, for what had I now to fear? There entered three men, who introduced themselves, with perfect suavity, as officers of the police. A shriek had been heard by a neighbour during the night; suspicion of foul play had been aroused; information had been lodged at the police office, and they (the officers) had been deputed to search the premises.
I smiled, for what had I to fear? I bade the gentlemen welcome. The shriek, I said, was my own in a dream. The old man, I mentioned, was absent in the country. I took my visitors all over the house. I bade them search search well. I led them, at length, to his chamber. I showed them his treasures, secure, undisturbed. In the enthusiasm of my confidence, I brought chairs into the room, and desired them here to rest from their fatigues, while I myself, in the wild audacity of my perfect triumph, placed my own seat upon the very spot beneath which reposed the corpse of the victim.
The officers were satisfied. My manner had convinced them. I was singularly at ease. They sat and while I answered cheerily, they chatted of familiar things. But, ere long, I felt myself getting pale and wished them gone. My head ached, and I fancied a ringing in my ears; but still they sat, and still chatted. The ringing became more distinct : I talked more freely to get rid of the feeling: but it continued and gained definitiveness until, at length, I found that the noise was not within my ears.
No doubt I now grew very pale; but I talked more fluently, and with a heightened voice. Yet the sound increased and what could I do? It was a low dull, quick sound much such a sound as a watch makes when enveloped in cotton. I gasped for breath, and yet the officers heard it not. I talked more quickly, more vehemently but the noise steadily increased. I arose and argued about trifles, in a high key and with violent gesticulations; but the noise steadily increased. Why would they not be gone? I paced the floor to and fro with heavy strides, as if excited to fury by the observations of the men, but the noise steadily increased. O God! what could I do? I foamed I raved I swore! I swung the chair upon which I had been sitting, and grated it upon the boards, but the noise arose over all and continually increased. It grew louder louder louder! And still the men chatted pleasantly , and smiled. Was it possible they heard not? Almighty God! no, no? They heard! they suspected! they knew! they were making a mockery of my horror! this I thought, and this I think. But anything was better than this agony! Anything was more tolerable than this derision! I could bear those hypocritical smiles no longer! I felt that I must scream or die! and now again hark! louder! louder! louder! Louder!
"Villains!" I shrieked, "dissemble no more! I admit the deed! tear up the planks! Here, here! It is the beating of his hideous heart!"
Edgar Allan Poe (1809 – 1849)
The Tell Tale Heart
fleursdumal.nl magazine
More in: Edgar Allan Poe, Poe, Edgar Allan, Poe, Edgar Allan
---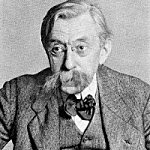 Emile Verhaeren
La morte
En sa robe, couleur de feu et de poison,
Le cadavre de ma raison
Traîne sur la Tamise.
Des ponts de bronze, où les wagons
Entrechoquent d'interminables bruits de gonds
Et des voiles de bâteaux sombres
Laissent sur elle, choir leurs ombres.
Sans qu'une aiguille, à son cadran, ne bouge,
Un grand beffroi masqué de rouge,
La regarde, comme quelqu'un
Immensément de triste et de défunt.
Elle est morte de trop savoir,
De trop vouloir sculpter la cause,
Dans le socle de granit noir,
De chaque être et de chaque chose.
Elle est morte, atrocement,
D'un savant empoisonnement,
Elle est morte aussi d'un délire
Vers un absurde et rouge empire.
Ses nerfs ont éclaté,
Tel soir illuminé de fête,
Qu'elle sentait déjà le triomphe flotter
Comme des aigles, sur sa tête.
Elle est morte n'en pouvant plus,
L'ardeur et les vouloirs moulus,
Et c'est elle qui s'est tuée,
Infiniment exténuée.
Au long des funèbres murailles,
Au long des usines de fer
Dont les marteaux tannent l'éclair,
Elle se traîne aux funérailles.
Ce sont des quais et des casernes,
Des quais toujours et leurs lanternes,
Immobiles et lentes filandières
Des ors obscurs de leurs lumières ;
Ce sont des tristesses de pierres,
Maisons de briques, donjons en noir
Dont les vitres, mornes paupières,
S'ouvrent dans le brouillard du soir ;
Ce sont de grands chantiers d'affolement,
Pleins de barques démantelées
Et de vergues écartelées
Sur un ciel de crucifiement.
En sa robe de joyaux morts, que solennise
L'heure de pourpre à l'horizon,
Le cadavre de ma raison
Traîne sur la Tamise.
Elle s'en va vers les hasards
Au fond de l'ombre et des brouillards,
Au long bruit sourd des tocsins lourds,
Cassant leur aile, au coin des tours.
Derrière elle, laissant inassouvie
La ville immense de la vie ;
Elle s'en va vers l'inconnu noir
Dormir en des tombeaux de soir,
Là-bas, où les vagues lentes et fortes,
Ouvrant leurs trous illimités,
Engloutissent à toute éternité :
Les mortes.
Emile Verhaeren (1855-1916) poésie
fleursdumal.nl magazine
More in: Archive U-V, Verhaeren, Emile
---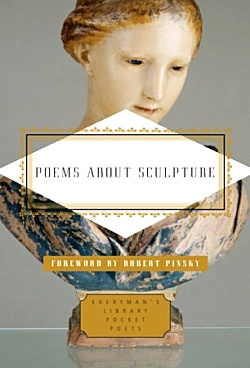 Poems About Sculpture
Foreword by Robert Pinsky & Edited by Murray Dewart
Poems About Sculpture is a unique anthology of poems from around the world and across the ages about our most enduring art form.
About Poems
About Sculpture
Sculpture has the longest memory of the arts: from the Paleolithic era, we find stone carvings and clay figures embedded with human longing. And poets have long been fascinated by the idea of eternity embodied by the monumental temples and fragmented statues of ancient civilizations. From Keats's Grecian urn and Shelley's "Ozymandias" to contemporary verse about Maya Lin's Vietnam Veterans Memorial and Janet Echelman's wind-borne hovering nets, the pieces in this collection convert the physical materials of the plastic arts—clay, wood, glass, marble, granite, bronze, and more—into lapidary lines of poetry. Whether the sculptures celebrated here commemorate love or war, objects or apparitions, forms human or divine, they have called forth evocative responses from a wide range of poets, including Homer, Ovid, Shakespeare, Baudelaire, Rilke, Dickinson, Yeats, Auden, and Plath. A compendium of dazzling examples of one art form reflecting on another, Poems About Sculpture is a treat for art lovers of all kinds.
Dare You See A Soul At The White Heat?

Dare you see a Soul at the White Heat?
Then crouch within the door—
Red—is the Fire's common tint—
But when the vivid Ore
Has vanquished Flame's conditions,
It quivers from the Forge
Without a color, but the light
Of unanointed Blaze.
Least Village has its Blacksmith
Whose Anvil's even ring
Stands symbol for the finer Forge
That soundless tugs—within—
Refining these impatient Ores
With Hammer, and with Blaze
Until the Designated Light
Repudiate the Forge—
Emily Dickinson
(1830 – 1886)
La Beauté
Je suis belle, ô mortels! comme un rêve de pierre,
Et mon sein, où chacun s'est meurtri tour à tour,
Est fait pour inspirer au poète un amour
Eternel et muet ainsi que la matière.
Je trône dans l'azur comme un sphinx incompris;
J'unis un coeur de neige à la blancheur des cygnes;
Je hais le mouvement qui déplace les lignes,
Et jamais je ne pleure et jamais je ne ris.
Les poètes, devant mes grandes attitudes,
Que j'ai l'air d'emprunter aux plus fiers monuments,
Consumeront leurs jours en d'austères études;
Car j'ai, pour fasciner ces dociles amants,
De purs miroirs qui font toutes choses plus belles:
Mes yeux, mes larges yeux aux clartés éternelles!
Charles Baudelaire
(1821 – 1867)
Poems About Sculpture
Foreword by Robert Pinsky
Edited by Murray Dewart
Hardcover, 256 p.
ISBN 9781101907757
Publ. by Everyman's Library, 2016
fleursdumal.nl magazine
More in: - Book News, Art & Literature News, Baudelaire, Charles, Dickinson, Emily, Museum of Literary Treasures, POETRY ARCHIVE
---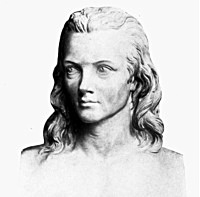 Novalis
Der Teufel
Ein loser Schalk, in dessen Beutel
Es just nicht allzu richtig stand,
Und der den Spruch, daß leider alles eitel
Auf unserm Runde ist, nur zu bestätigt fand,
Zog einst voll Spekulationen
In eine Stadt en migniatur,
Und schlug an jedes Tor und an die Rathaustür
Ein Avertissement mit vielen Worten schier,
Er werde heut in den Drei Kronen
Um fünf Uhr nachmittags den Teufel jedermann
Vom Ratsherrn bis zum Bettelmann
Für zwanzig Kreuzer präsentieren
Und ohne ihn bevor erst herzukommandieren.
Was Beine hatte, lief zum großen Wundermann,
Und überall war eine Weihnachtsfreude;
Der Bürgermeister schrieb mit Kreide
Den Tag an seiner Türe an,
Und jeder Ratsherr kam mit einem Galakleide
Und einer knotigen Perücke angetan,
Und will das Wunder sehn; auch mancher Handwerksmann
Kam hübsch bedächtlich angeschlichen
Und gab die Kreuzer hin, die er den Tag gewann.
Ein Schneider nur ging nicht zum Wundersmann
Und sprach: »Ich seh umsonst den Teufel alle Tage
In meiner jungen Frau zu meiner größten Plage,
Und der ist toller fürwahr als der beim Wundersmann.«
Als endlich männiglichen
Der Held sich mit dem leeren Beutel zeigt
Und erst mit wichtger Miene schweigt
Und dann geheimnisvoll nur wenig Worte saget
Und seine Auditoren fraget,
Ob auch kein Atheist in der Versammlung sei,
Erstieg die Trunkenheit der blöden Phantasei
Den Gipfel, und der Schalk beginnt die Gaukelei.
Nach manchem hocus-pocus ziehet
Der Schalk den Beutel auf und jeglicher bemühet
Sich sehr den Leidigen zu sehn, doch jeder siehet
Nichts auf der Welt –; ein junger Taugenichts,
Der näher stand, ein bel esprit, voll Zweifel
Wie mancher Kandidat, beginnt: »Ich seh ja nichts.«
»Das eben«, rief der Schalk, »das eben ist der Teufel.«
Novalis (1772 – 1801)
Gedicht: Der Teufel
fleursdumal.nl magazine
More in: Archive M-N, Novalis, Novalis
---
Older Entries »
« Newer Entries
Thank you for reading FLEURSDUMAL.NL - magazine for art & literature