CLASSIC POETRY
«« Previous page
·
Robert Burns: Is there for Honest Poverty
·
Lord Byron: Growing Old
·
Pierre-Jean de Béranger: Le roi d'Yvetot
·
Hart Crane: Interior
·
Afanasi Fet: Bij de haard
·
Alfred Lord Tennyson: The Deserted House
·
"Ich gehöre nirgends mehr hin" – Stefan Zweigs Schachnovelle, Ausstellung Berlin
·
Vertaling van 'Elegy Written in a Country Churchyard' van Thomas Gray door Cornelis W. Schoneveld
·
Pierre-Jean de Béranger: Le petit homme gris
·
D.H. Lawrence: Tortoise Shout
·
Oscar WILDE: The Master
·
Fjodor Tjoettsjev: Een skaldenharp
Is there for Honest Poverty
1.
Is there for honest poverty
That hings his head, an' a' that ?
The coward slave, we pass him by—
We dare be poor for a' that!
For a' that, an' a' that,
Our toils obscure, an' a' that,
The rank is but the guinea's stamp,
The man's the gowd for a' that.
2.
What though on hamely fare we dine,
Wear hoddin grey, an' a' that ?
Gie fools their silks, and knaves their wine—
A man's a man for a' that.
For a' that, an' a' that,
Their tinsel show, an' a' that,
The honest man, tho' e'er sae poor,
Is king o' men for a' that.
3.
Ye see yon birkie ca'd 'a lord,'
Wha struts, an' states, an' a' that ?
Tho' hundreds worship at this word,
He's but a cuif for a' that.
For a' that, an' a' that,
His ribband, star, an' a' that,
The man o' independent mind,
He looks an' laughs at a' that
4.
A prince can mak a belted knight,
A marquis, duke, an' a' that!
But an honest man's aboon his might—
Guid faith, he mauna fa' that!
For a' that, an' a' that,
Their dignities, an' a' that,
The pith o' sense an' pride o' worth
Are higher rank than a' that.
5.
Then let us pray that come it may
(As come it will for a' that)
That Sense and Worth o'er ' a' the earth
Shall bear the gree an' a' that!
For a' that, an' a' that,
It's comin yet for a' that,
That man to man the world o'er
Shall brithers be for a' that.
Robert Burns (1759 – 1796)
Is there for Honest Poverty
fleursdumal.nl magazine
More in: Archive A-B, Burns, Robert
---
Growing Old
But now at thirty years my hair is grey—
(I wonder what it will be like at forty ?
I thought of a peruke the other day—)
My heart is not much greener ; and, in short, I
Have squandered my whole summer while 'twas May,
And feel no more the spirit to retort ; I
Have spent my life, both interest and principal,
And deem not, what I deemed, my soul invincible.
No more—no more—Oh ! never more on me
The freshness of the heart can fall like dew,
Which out of all the lovely things we see
Extracts emotions beautiful and new ;
Hived in our bosoms like the bag o' the bee.
Think'st thou the honey with those objects grew ?
Alas ! 'twas not in them, but in thy power
To double even the sweetness of a flower.
No more—no more—Oh! never more my heart,
Canst thou be my sole world, my universe !
Once all in all, but now a thing apart,
Thou canst not be my blessing or my curse :
The illusion's gone for ever, and thou art
Insensible, I trust, but none the worse,
And in thy stead I've got a deal of judgement,
Thou Heaven knows how it ever found a lodgement.
My days of love are over ; me no more
The charms of maid, wife, and still less of widow,
Can make the fool of which they made before,—
In short, I must not lead the life I did do ;
The credulous hope of mutual minds is o'er,
The copious use of claret is forbid too,
So for a good old-gentlemanly vice,
I think I must take up with avarice.
Ambition was my idol, which was broken
Before the shrines of Sorrow, and of Pleasure ;
And the two last have left me many a token
O'er which reflection may be made at leisure :
Now, like Friar Bacon's Brazen Head, I've spoken,
'Time is, Time was, Time's past' : a chymic treasure
Is glittering Youth, which I have spent betimes—
My heart in passion, and my head on rhymes.
What is the end of Fame ? 'tis but to fill
A certain portion of uncertain paper :
Some liken it to climbing up a hill,
Whose summit, like all hills, is lost in vapour ;
For this men write, speak, preach, and heroes kill,
And bards burn what they call their 'midnight taper',
To have, when the original is dust,
A name, a wretched picture and worse bust.
What are the hopes of man ? Old Egypt's King
Cheops erected the first Pyramid
And largest, thinking it was just the thing
To keep his memory whole, and mummy hid ;
But somebody or other rummaging,
Burglariously broke his coffin's lid :
Let not a monument give you or me hopes,
Since not a pinch of dust remains of Cheops.
But I, being fond of true philosophy,
Say very often to myself, 'Alas!
All things that have been born were born to die,
And flesh (which Death mows down to hay) is grass ;
You've passed your youth not so unpleasantly,
And if you had it o'er again—'twould pass—
So thank your stars that matters are no worse,
And read your Bible, sir, and mind your purse.'
Lord Byron (1788-1824)
Growing Old
fleursdumal.nl magazine
More in: Archive A-B, Byron, Lord
---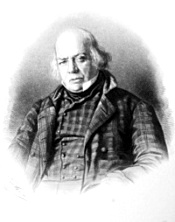 Pierre-Jean de Béranger
Le roi d'Yvetot
Il était un roi d'Yvetot
Peu connu dans l'histoire ;
Se levant tard, se couchant tôt,
Dormant fort bien sans gloire,
Et couronné par Jeanneton
D'un simple bonnet de coton,
Dit-on.
Oh ! oh ! oh ! oh ! ah ! ah ! ah ! ah !
Quel bon petit roi c'était là !
La, la.
Il faisait ses quatre repas
Dans son palais de chaume,
Et sur un âne, pas à pas,
Parcourait son royaume.
Joyeux, simple et croyant le bien,
Pour toute garde il n'avait rien
Qu'un chien.
Oh ! oh ! oh ! oh ! ah ! ah ! ah ! ah
Quel bon petit roi c'était là !
La, la.
Il n'avait de goût onéreux
Qu'une soif un peu vive ;
Mais en rendant son peuple heureux,
Il faut bien qu'un roi vive.
Lui-même, à table et sans suppôt,
Sur chaque muid levait un pot
D'impôt.
Oh ! oh !oh !oh ! ah ! ah ! ah ! ah !
Quel bon petit roi c'était là !
La, la.
Aux filles de bonnes maisons
Comme il avait su plaire,
Ses sujets avaient cent raisons
De le nommer leur père
D'ailleurs il ne levait de ban
Que pour tirer quatre fois l'an
Au blanc.
Oh ! oh ! oh ! oh ! ah ! ah ! ah ! ah !
Quel bon petit roi c'était là !
La, la.
Il n'agrandit point ses états,
Fut un voisin commode,
Et, modèle des potentats,
Prit le plaisir pour code.
Ce n'est que lorsqu'il expira
Que le peuple qui l'enterra
Pleura.
Oh ! oh ! oh ! oh ! ah ! ah ! ah ! ah !
Quel bon petit roi c'était là !
La, la.
On conserve encor le portrait
De ce digne et bon prince ;
C'est l'enseigne d'un cabaret
Fameux dans la province.
Les jours de fête, bien souvent,
La foule s'écrie en buvant
Devant :
Oh ! oh ! oh ! oh ! ah ! ah ! ah ! ah !
Quel bon petit roi c'était là !
La, la.
Chanson écrite en mai 1813.
Pierre-Jean de Béranger (1780-1857)
Le roi d'Yvetot
Toutes les chansons de Béranger (1843)
fleursdumal.nl magazine
More in: Archive A-B, Béranger, Pierre-Jean de, MUSIC
---
Interior
It sheds a shy solemnity,
This lamp in our poor room.
O grey and gold amenity, —
Silence and gentle gloom!
Wide from the world, a stolen hour
We claim, and none may know
How love blooms like a tardy flower
Here in the day's after-glow.
And even should the world break in
With jealous threat and guile,
The world, at last, must bow and win
Our pity and a smile.
Hart Crane (1889 – 1932)
Interior
fleursdumal.nl magazine
More in: Archive C-D, Crane, Hart
---
Afanasi Fet
(1820 – 1892)
Bij de haard
De kolen gloeien. Haast doorzichtig
Speelt in de haard het donker vuur.
Zo danst om rozen, heel omzichtig,
Van vlindervleugels het lazuur.
Een bontgekleurde reeks figuren
Trekt aan mijn moede oog voorbij,
Onnoembaar veel gezichten turen
Vanuit de grauwe as naar mij.
Dan ziet mijn ziel, al is het even,
Verdriet en vreugde in de gloed,
En liegt zij dat zij best kan leven
Met alles wat zij missen moet.
Afanasi Fet, У камина, 1856
Vertaling Paul Bezembinder, 2017
Paul Bezembinder: zijn gedichten en vertalingen verschenen in verschillende (online) literaire tijdschriften. Zie meer op zijn website: www.paulbezembinder.nl
fleursdumal.nl magazine
More in: Archive E-F, Fet, Fet, Afanasi
---
Alfred Lord Tennyson
(1809 – 1892)
The Deserted House
Life and Thought have gone away
Side by side,
Leaving door and windows wide.
Careless tenants they!
All within is dark as night:
In the windows is no light;
And no murmur at the door,
So frequent on its hinge before.
Close the door; the shutters close;
Or through the windows we shall see
The nakedness and vacancy
Of the dark deserted house.
Come away: no more of mirth
Is here or merry-making sound.
The house was builded of the earth,
And shall fall again to ground.
Come away: for Life and Thought
Here no longer dwell;
But in a city glorious –
A great and distant city -have bought
A mansion incorruptible.
Would they could have stayed with us!
Alfred Lord Tennyson
fleursdumal.nl magazine
More in: Archive S-T, Tennyson, Alfred Lord
---
Acht Jahre verbrachte der österreichische Schriftsteller Stefan Zweig (geb. 1881) im Exil. Einen Tag nach der demütigenden Durchsuchung seiner Villa am Salzburger Kapuzinerberg hatte er am 20. Februar 1934 Österreich verlassen und lebte zunächst in London, ab Sommer 1939 zusammen mit seiner zweiten Frau Lotte Altmann (geb. 1908) im englischen Kurort Bath.
Das Provisorium befristeter Certificates of identity endete für beide erst im Frühjahr 1940, als sie Britische Staatsbürger wurden – ihre Pässe enthielten jedoch den Stempel »alien enemy«, was deutlich auf die Herkunft aus einem verfeindeten Staat verwies. Als die Zweigs schließlich Ende Juni 1940 nach New York und weiter nach Rio de Janeiro aufbrachen, hielten deutsche Truppen schon seit 10 Tagen Paris besetzt. Auch für Großbritannien war die Lage bedrohlich geworden: Wegen eines Luftalarms mussten Lotte und Stefan Zweig in der Nacht ihrer Abfahrt zeitweise den Schutzkeller ihres Hotels in Liverpool aufsuchen.
Im Herbst und Winter 1940 bereisten die Zweigs Brasilien. Schon im Sommer 1936 war Zweig dort wie ein Star gefeiert worden und hatte seine Eindrücke voller Dankbarkeit geschildert. Doch seine neue Hommage, »Brasilien. Ein Land der Zukunft«, zog nunmehr kritische Stimmen auf sich: Zweig hatte ausgeblendet, dass der Brasilianische Präsident mittlerweile diktatorisch regierte, Parteien und Gewerkschaften verboten waren, missliebige Journalisten im Gefängnis saßen und die Einwanderung von Juden künftig verhindert werden sollte.
Wenige Wochen vor seinem 60. Geburtstag bezog Zweig zusammen mit seiner Frau ein bescheidenes Haus in der brasilianischen Stadt Petrópolis, landeinwärts von Rio de Janeiro, »ein kleiner Semmering, nur primitiver, so wie anno 1900 das Salzkammergut«. Im provinziellen Abseits überarbeitete Zweig seine Erinnerungen »Die Welt von Gestern« und schrieb »etwas Neues«, die »Schachnovelle«. Als er am 21. Februar 1942 auf dem Postamt von Petrópolis drei Typoskripte der Novelle abschickte, hatte Brasilien die diplomatischen Beziehungen zu Deutschland bereits abgebrochen. Deutsch galt fortan als Feindsprache und durfte in der Öffentlichkeit nicht mehr gesprochen werden, auch das Mitführen deutscher Drucksachen war verboten.
In der Nacht zum 23. Februar nahmen Lotte und Stefan Zweig eine Überdosis Veronal. Entgegen ihrem letzten Willen, auf dem jüdischen Friedhof in Rio de Janeiro beerdigt zu werden, erhielten sie am 24. Februar 1942 ein Staatsbegräbnis in Petrópolis.
Entkräftet vom heimatlosen Wandern im Exil, nimmt Zweig in seinen beiden zuletzt entstandenen Werken Abschied von seiner geistigen Heimat. In seinen autobiographischen Erinnerungen, »Die Welt von Gestern«, beschwört er das alte Europa, die Weltoffenheit und kulturelle Sphäre seiner Heimatstadt Wien. In der »Schachnovelle« hingegen gestaltet er die grauenvollen Geschehnisse jener Barbarei, die den Traum von einem geeinten, zivilisierten Europa radikal zerstörte. Dem Protagonisten der Novelle, dem Anwalt Dr. B., ist zwar die rettende Flucht ins Exil gelungen. Doch bei der Überfahrt von New York nach Argentinien ist von einer Ankunft in einem sicheren Hafen nicht die Rede. Vielmehr wird Dr. B. von seinen traumatischen Wiener Erlebnissen überwältigt.
»Die Welt von Gestern« und die »Schachnovelle« stehen als exemplarische Werke des Exil-Autors Stefan Zweig im Zentrum der Ausstellung, für die zahlreiche Manuskripte, Typoskripte und persönliche Dokumente Zweigs aus amerikanischen und israelischen Archiven einbezogen werden konnten. Auch Teile der Autographensammlung, die Zweig Ende 1937 der Österreichischen Nationalbibliothek übereignete, sind hier erstmals zu sehen. Dankbarkeit Österreichs hat Zweig für seine Großzügigkeit nie erfahren – im Gegenteil: Seine Bücher wurden am 30. April 1938 auf dem Salzburger Residenzplatz vom nationalsozialistischen Mob verbrannt. In der Ausstellung ist dazu ein nach dem Krieg aufgenommenes Radiogespräch mit Zweigs erster Ehefrau Friderike, die später in den USA lebte, zu hören.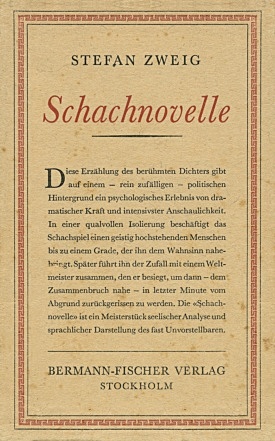 Die »Schachnovelle« ist die einzige Erzählung Zweigs, in der er zeitgenössische politische Verhältnisse darstellt. Mit den Szenen, die im ehemaligen Wiener Grand-Hotel »Métropole« spielen, hat Zweig den Opfern des Nationalsozialismus ein Denkmal gesetzt – in diesem beschlagnahmten Hotel hatte seit Ende März 1938 die Gestapo-Leitstelle Wien ihren Sitz. Ein großes Modell des »Métropole« wird in der Ausstellung gezeigt, und in Film- und Tonausschnitten berichten Rosa Grossmann und Bruno Kreisky stellvertretend für viele andere, die dort gefoltert und gedemütigt wurden, von ihren Erlebnissen.
Neben Ausschnitten aus dem 1960 produzierten Film »Schachnovelle« (mit Curd Jürgens und Mario Adorf) sind auch von Zweig benutzte Schachbücher, Teile der handschriftlich bearbeiteten Typoskripte und die ersten Buchausgaben der Erzählung zu sehen. In einem bewegenden brasilianischen Dokumentarfilm kommen noch Zeitzeugen Zweigs, darunter sein Verleger Abrahão Koogan, zu Wort.
Auch Zweigs Freundschaft mit Sigmund Freud, sein Engagement für die Gründung des europäischen PEN-Clubs in den USA, seine Hilfsbereitschaft für jüdische Flüchtlinge werden in der Ausstellung eindrucksvoll dokumentiert, die anlässlich des 75. Todestages Stefan Zweigs neu konzipiert wurde.
Im Begleitprogramm werden im August und Anfang September dienstags und donnerstags abends besondere Verfilmungen von Werken Stefan Zweigs in den Ausstellungsräumen gezeigt. Ab Mitte September wird das Programm mit Lesungen und Vorträgen fortgesetzt.
Eine Ausstellung des Theatermuseums Wien und des Stefan Zweig Zentrums Salzburg im Literaturhaus Berlin
27.7. bis 24.9.2017
Di – Fr: 14 – 19 Uhr
Sa, So: 11 – 19 Uhr
Kurator: Dr. Klemens Renoldner, Stefan Zweig Zentrum Salzburg
Gestaltung: Peter Karlhuber, Wien
In der Ausstellung erhältlich:
"Ich gehöre nirgends mehr hin" Stefan Zweigs Schachnovelle, 2017
Hardcover, 19×24 cm, 80 S.
ISBN 978-3-900088-80-4
Zahlr. Abb., 17.- Euro
Literaturhaus Berlin
Fasanenstraße 23
10719 Berlin
Tel. 030/887286-0,
e-mail: literaturhaus@literaturhaus-berlin.de
website: http://www.literaturhaus-berlin.de/
fleursdumal.nl magazine
More in: - Book News, - Book Stories, Archive Y-Z, Art & Literature News, DEAD POETS CORNER, FDM in Berlin, Museum of Literary Treasures, Stefan Zweig, Zweig, Stefan
---
De 'Elegy Written in a Country Churchyard' van Thomas Gray (1716-1771), voltooid in 1750, is een van de allerbekendste gedichten uit de Engelse literatuurgeschiedenis.
Typisch voor de 18de eeuw generaliseert en moraliseert de dichter naar hartelust in 'poëtische' taal.
Toch illustreert zijn tekst ook op frappante maar voorzichtige wijze trends die tot de 'allerindividueelste emoties' van de Romantiek zouden leiden.
'Far from the madding crowd' (later geleend door Thomas Hardy als romantitel) stelt de hooggeleerde dichter zich voor eenzaam door het dorpsgebied te zwerven en tenslotte op het dorpskerkhof begraven te liggen.
William Blake (1757-1827), auteur van de beroemde Songs of Innocence and of Experience (1795), sneed in 1797 de tekst van Gray's Elegy uit een uitgave van Gray's poëzie uit 1790, bevestigde die in uitsparingen van aquarelbladen en schilderde zo elf bladen met een illustratie rondom de tekst.
Een bekende uitspraak van Blake is 'wie generaliseert is een idioot', maar in Gray's gedicht zag hij blijkbaar vooral de individuele en romantische kant ervan. Zo ontstond een uniek eenmalig product voor een opdrachtgever, dat pas in 1920 in de publiciteit kwam.
Gray's originele strofen en de naar vorm en inhoud getrouwe Nederlandse vertaling van Cornelis W. Schoneveld staan onder elkaar, naast Blake's esoterische illustraties.
Far from the madding crowd's ignoble strife,
Their sober wishes never learned to stray;
Along the cool sequestered vale of life
They kept the noiseless tenour of their way.
Yet e'en these bones from insult to protect
Some frail memorial still erected nigh,
With uncouth rhymes and shapeless sculpture decked,
Implores the passing tribute of a sigh.
x Their name, their years, spelt by the unlettered Muse,
The place of fame and elegy supply:
And many a holy text around she strews,
That teach the rustic moralist to die.
For who, to dumb forgetfulness a prey,
This pleasing anxious being e'er resigned,
Left the warm precincts of the cheerful day,
Nor cast one longing lingering look behind?
Thomas Gray
Ver van het twistend volk, in dwaas verval,
Zwierven hun sobere wensen nooit van huis;
In 't koele afgescheiden levensdal
Hielden zij koers, zonder het minst geruis.
Ter wering van hun beenderen tegen kwaad
Verzoekt een wrakke zerk, hier opgericht,
In grof reliëf en verzen zwak van maat,
Een zucht van de passant als ereplicht.
x Jaren en naam, door 'n Muze slecht gespeld,
Vervangen lofgezang en rouwgedicht,
En menig heilig woord van Haar vertelt
De vrome landman van zijn dood in zicht.
Want wie zei ooit, vergetelheid ten prooi,
Vaarwel tegen 't bezorgd maar schoon bestaan,
Verliet het dagdomein, zo warm, zo mooi,
Zonder een draalblik talend terug te slaan?
Vertaling Cornelis W. Schoneveld

Thomas Gray
Treurzang geschreven op een dorpskerkhof
Vertaling en voorwoord Cornelis W. Schoneveld
isbn: 978 90 824288 7 2
Uitg. DWT De Wilde Tomaat
2017, 27 pag.

fleursdumal.nl magazine
More in: - Book News, Archive G-H, Blake, William, POETRY IN TRANSLATION: SCHONEVELD
---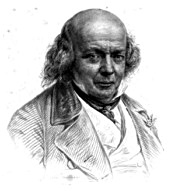 Pierre-Jean de Béranger
Le petit homme gris
Il est un petit homme,
Tout habillé de gris,
Dans Paris ;
Joufflu comme une pomme,
Qui, sans un sou comptant,
Vit content,
Et dit : Moi, je m'en…
Et dit : Moi, je m'en…
Ma foi, moi, je m'en ris !
Oh ! qu'il est gai (bis),
Le petit homme gris !
A courir les fillettes,
A boire sans compter,
A chanter,
Il s'est couvert de dettes ;
Mais quant aux créanciers,
Aux huissiers,
Il dit : Moi, je m'en…
Il dit : Moi, je m'en…
Ma foi, moi, je m'en ris !
Oh ! qu'il est gai [bis),
Le petit homme gris !
Qu'il pleuve dans sa chambre,
Qu'il s'y couche le soir
Sans y voir ;
Qu'il lui faille en décembre
Souffler, faute de bois,
Dans ses doigts ;
Il dit : Moi, je m'en…
Il dit : Moi, je m'en…
Ma foi, moi, je m'en ris !
Oh ! qu'il est gai (bis),
Le petit homme gris !
Sa femme, assez gentille,
Fait payer ses atours
Aux amours :
Aussi plus elle brille,
Plus on le montre du doigt.
Il le voit,
Et dit : Moi, je m'en…
Et dit : Moi, je m'en…
Ma foi, moi, je m'en ris !
Oh ! qu'il est gai (bis),
Le petit homme gris !
Quand la goutte l'accable
Sur un lit délabré,
Le curé,
De la mort et du diable
Parle à ce moribond,
Qui répond :
Ma foi, moi, je m'en…
Ma foi, moi, je m'en…
Ma foi, moi, je m'en ris !
Oh ! qu'il est gai (bis),
Le petit homme gris !
Pierre-Jean de Béranger (1780-1857)
Le petit homme gris
Toutes les chansons de Béranger (1843)
fleursdumal.nl magazine
More in: Archive A-B, Béranger, Pierre-Jean de
---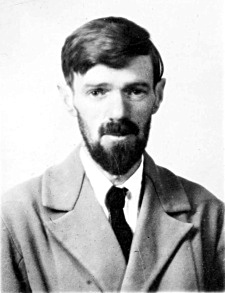 D.H. Lawrence
Tortoise Shout
I thought he was dumb,
I said he was dumb,
Yet I've heard him cry.
First faint scream,
Out of life's unfathomable dawn,
Far off, so far, like a madness, under the horizon's dawning rim,
Far, far off, far scream.
Tortoise in extremis.
Why were we crucified into sex?
Why were we not left rounded off, and finished in ourselves,
As we began,
As he certainly began, so perfectly alone?
A far, was-it-audible scream,
Or did it sound on the plasm direct?
Worse than the cry of the new-born,
A scream,
A yell,
A shout,
A pæan,
A death-agony,
A birth-cry,
A submission,
All tiny, tiny, far away, reptile under the first dawn.
War-cry, triumph, acute-delight, death-scream reptilian,
Why was the veil torn?
The silken shriek of the soul's torn membrane?
The male soul's membrane
Torn with a shriek half music, half horror.
Crucifixion.
Male tortoise, cleaving behind the hovel-wall of that dense female,
Mounted and tense, spread-eagle, out-reaching out of the shell
In tortoise-nakedness,
Long neck, and long vulnerable limbs extruded, spread-eagle over her house-roof,
And the deep, secret, all-penetrating tail curved beneath her walls,
Reaching and gripping tense, more reaching anguish in uttermost tension
Till suddenly, in the spasm of coition, tupping like a jerking leap, and oh!
Opening its clenched face from his outstretched neck
And giving that fragile yell, that scream,
Super-audible,
From his pink, cleft, old-man's mouth,
Giving up the ghost,
Or screaming in Pentecost, receiving the ghost.
His scream, and his moment's subsidence,
The moment of eternal silence,
Yet unreleased, and after the moment, the sudden, startling jerk of coition, and at once
The inexpressible faint yell
And so on, till the last plasm of my body was melted back
To the primeval rudiments of life, and the secret.
So he tups, and screams
Time after time that frail, torn scream
After each jerk, the longish interval,
The tortoise eternity,
Agelong, reptilian persistence,
Heart-throb, slow heart-throb, persistent for the next spasm.
I remember, when I was a boy,
I heard the scream of a frog, which was caught with his foot in the mouth of an up-starting snake;
I remember when I first heard bull-frogs break into sound in the spring;
I remember hearing a wild goose out of the throat of night
Cry loudly, beyond the lake of waters;
I remember the first time, out of a bush in the darkness, a nightingale's piercing cries and gurgles startled the depths of my soul;
I remember the scream of a rabbit as I went through a wood at midnight;
I remember the heifer in her heat, blorting and blorting through the hours, persistent and irrepressible;
I remember my first terror hearing the howl of weird, amorous cats;
I remember the scream of a terrified, injured horse, the sheet-lightning
And running away from the sound of a woman in labor, something like an owl whooing,
And listening inwardly to the first bleat of a lamb,
The first wail of an infant,
And my mother singing to herself,
And the first tenor singing of the passionate throat of a young collier, who has long since drunk himself to death,
The first elements of foreign speech
On wild dark lips.
And more than all these,
And less than all these,
This last,
Strange, faint coition yell
Of the male tortoise at extremity,
Tiny from under the very edge of the farthest far-off horizon of life.
The cross,
The wheel on which our silence first is broken,
Sex, which breaks up our integrity, our single inviolability, our deep silence
Tearing a cry from us.
Sex, which breaks us into voice, sets us calling across the deeps, calling, calling for the complement,
Singing, and calling, and singing again, being answered, having found.
Torn, to become whole again, after long seeking for what is lost,
The same cry from the tortoise as from Christ, the Osiris-cry of abandonment,
That which is whole, torn asunder,
That which is in part, finding its whole again throughout the universe.
D.H.Lawrence (1883 – 1930)
Tortoise Shout
fleursdumal.nl magazine
More in: Archive K-L, D.H. Lawrence, Lawrence, D.H.
---
Oscar Wilde
(1854 – 1900)
The Master
Now when the darkness came over the earth Joseph of Arimathea, having lighted a torch of pinewood, passed down from the hill into the valley. For he had business in his own home.
And kneeling on the flint stones of the Valley of Desolation he saw a young man who was naked and weeping. His hair was the colour of honey, and his body was as a white flower, but he had wounded his body with thorns and on his hair had he set ashes as a crown.
And he who had great possessions said to the young man who was naked and weeping, 'I do not wonder that your sorrow is so great, for surely He was a just man.'
And the young man answered, 'It is not for Him that I am weeping, but for myself. I too have changed water into wine, and I have healed the leper and given sight to the blind. I have walked upon the waters, and from the dwellers in the tombs I have cast out devils. I have fed the hungry in the desert where there was no food, and I have raised the dead from their narrow houses, and at my bidding, and before a great multitude of people, a barren fig-tree withered away. All things that this man has done I have done also. And yet they have not crucified me.
Oscar Wilde, 1894
fleursdumal.nl magazine
More in: Archive W-X, Wilde, Oscar, Wilde, Oscar
---
Fjodor Tjoettsjev
(1803 – 1873)
Een skaldenharp
O skaldenharp, zo ruw terzij gelegd,
in stof, in duisternis kwam jij terecht!
Maar straalde daar de toverende maan
met blauw-azuren schemerlicht jou aan,
dan werd jouw levendige klank gehoord,
een ziel was jij wier stilte werd verstoord.
Wat werd er in zo'n wonderlijke nacht
niet aan verleden aan het licht gebracht!
Klonk niet uit lang vervlogen tijden daar
de zang van een voorbije meisjesschaar,
in tuinen vrolijk bloeiend keer op keer
het trippelen van tienervoetjes teer?
Fjodor Tjoettsjev, Арфа скальда, 1838
Vertaling Paul Bezembinder, 2016
Een skald is een oud-Noorse hofdichter
Paul Bezembinder: zijn gedichten en vertalingen verschenen in verschillende (online) literaire tijdschriften. Zie meer op zijn website: www.paulbezembinder.nl
fleursdumal.nl magazine
More in: Archive S-T, Tjoettsjev, Tjoettsjev, Fodor
---
Older Entries »
« Newer Entries
Thank you for reading FLEURSDUMAL.NL - magazine for art & literature