CLASSIC POETRY
«« Previous page
·
Oscar WILDE: The Master
·
Fjodor Tjoettsjev: Een skaldenharp
·
Rainer Maria RILKE: Schlussstück
·
John DONNE: The Flea
·
Aleksandr BLOK: Wat is het zwaar
·
Leigh HUNT: Deaths of Little Children
·
Fjodor TJOETTSJEV: Een sfinx is de natuur!
·
Robert BURNS: Address to Edinburgh
·
NOVALIS: Klagen eines Jünglings
·
Lord BYRON: Italy versus England
·
Oscar WILDE: Her Voice
·
Afanasi FET: Kolkende storm . .
Oscar Wilde
(1854 – 1900)
The Master
Now when the darkness came over the earth Joseph of Arimathea, having lighted a torch of pinewood, passed down from the hill into the valley. For he had business in his own home.
And kneeling on the flint stones of the Valley of Desolation he saw a young man who was naked and weeping. His hair was the colour of honey, and his body was as a white flower, but he had wounded his body with thorns and on his hair had he set ashes as a crown.
And he who had great possessions said to the young man who was naked and weeping, 'I do not wonder that your sorrow is so great, for surely He was a just man.'
And the young man answered, 'It is not for Him that I am weeping, but for myself. I too have changed water into wine, and I have healed the leper and given sight to the blind. I have walked upon the waters, and from the dwellers in the tombs I have cast out devils. I have fed the hungry in the desert where there was no food, and I have raised the dead from their narrow houses, and at my bidding, and before a great multitude of people, a barren fig-tree withered away. All things that this man has done I have done also. And yet they have not crucified me.
Oscar Wilde, 1894
fleursdumal.nl magazine
More in: Archive W-X, Wilde, Oscar, Wilde, Oscar
---
Fjodor Tjoettsjev
(1803 – 1873)
Een skaldenharp
O skaldenharp, zo ruw terzij gelegd,
in stof, in duisternis kwam jij terecht!
Maar straalde daar de toverende maan
met blauw-azuren schemerlicht jou aan,
dan werd jouw levendige klank gehoord,
een ziel was jij wier stilte werd verstoord.
Wat werd er in zo'n wonderlijke nacht
niet aan verleden aan het licht gebracht!
Klonk niet uit lang vervlogen tijden daar
de zang van een voorbije meisjesschaar,
in tuinen vrolijk bloeiend keer op keer
het trippelen van tienervoetjes teer?
Fjodor Tjoettsjev, Арфа скальда, 1838
Vertaling Paul Bezembinder, 2016
Een skald is een oud-Noorse hofdichter
Paul Bezembinder: zijn gedichten en vertalingen verschenen in verschillende (online) literaire tijdschriften. Zie meer op zijn website: www.paulbezembinder.nl
fleursdumal.nl magazine
More in: Archive S-T, Tjoettsjev, Tjoettsjev, Fodor
---
Rainer Maria Rilke
(1875 – 1926)
Schlußstück
Der Tod ist groß.
Wir sind die Seinen
lachenden Munds.
Wenn wir uns mitten
im Leben meinen,
wagt er zu weinen
mitten in uns.
Rainer Maria Rilke Gedichte
fleursdumal.nl magazine
More in: Archive Q-R, Rilke, Rainer Maria
---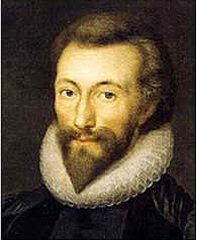 John Donne
The Flea
Mark but this flea, and mark in this,
How little that which thou deny'st me is;
It sucked me first, and now sucks thee,
And in this flea our two bloods mingled be;
Thou know'st that this cannot be said
A sin, nor shame, nor loss of maidenhead;
Yet this enjoys before it woo,
And pampered swells with one blood made of two,
And this, alas, is more than we would do.
Oh stay, three lives in one flea spare,
Where we almost, yea, more than married are.
This flea is you and I, and this
Our marriage bed, and marriage temple is;
Though parents grudge, and you, w'are met,
And cloistered in these living walls of jet.
Though use make you apt to kill me,
Let not to that, self-murder added be,
And sacrilege, three sins in killing three.
Cruel and sudden, hast thou since
Purpled thy nail in blood of innocence?
Wherein could this flea guilty be,
Except in that drop which it sucked from thee?
Yet thou triumph'st and say'st that thou
Find'st not thyself, nor me the weaker now;
'Tis true, then learn how false fears be:
Just so much honor, when thou yield'st to me,
Will waste, as this flea's death took life from thee
John Donne (1572 – 1631)
Poem: The Flea
fleursdumal.nl magazine
More in: Archive C-D, Donne, John
---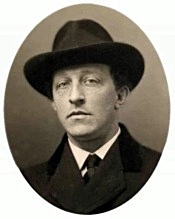 Aleksandr Blok
(1880–1921)
Wat is het zwaar
Ginds is een mens verbrand. (Fet)
Wat is het zwaar om hier op aard te zijn,
te doen alsof je niet al omgekomen bent,
steeds dit tragisch spel van angst en pijn
te zien voor wie het leven nog niet kent,
en steeds in boze dromen, nacht na nacht,
te vragen naar wat vragen niet verdraagt,
opdat hun in der schone kunsten pracht
de weerschijn van een vurig leven daagt!
Aleksandr Blok, Как тяжело ходить среди людей, 1910
Vertaling Paul Bezembinder 2016
Paul Bezembinder: zijn gedichten en vertalingen verschenen in verschillende (online) literaire tijdschriften. Zie meer op zijn website: www.paulbezembinder.nl
fleursdumal.nl magazine
More in: Archive A-B, Blok, Blok, Aleksandr
---
Deaths of Little Children
by Leigh Hunt
A Grecian philosopher being asked why he wept for the death of his son, since the sorrow was in vain, replied, "I weep on that account." And his answer became his wisdom. It is only for sophists to contend that we, whose eyes contain the fountains of tears, need never give way to them. It would be unwise not to do so on some occasions. Sorrow unlocks them in her balmy moods. The first bursts may be bitter and overwhelming; but the soil on which they pour would be worse without them. They refresh the fever of the soul—the dry misery which parches the countenance into furrows, and renders us liable to our most terrible "flesh-quakes."
There are sorrows, it is true, so great, that to give them some of the ordinary vents is to run a hazard of being overthrown. These we must rather strengthen ourselves to resist, or bow quietly and drily down, in order to let them pass over us, as the traveller does the wind of the desert. But where we feel that tears would relieve us, it is false philosophy to deny ourselves at least that first refreshment; and it is always false consolation to tell people that because they cannot help a thing, they are not to mind it. The true way is, to let them grapple with the unavoidable sorrow, and try to win it into gentleness by a reasonable yielding. There are griefs so gentle in their very nature that it would be worse than false heroism to refuse them a tear. Of this kind are the deaths of infants. Particular circumstances may render it more or less advisable to indulge in grief for the loss of a little child; but, in general, parents should be no more advised to repress their first tears on such an occasion, than to repress their smiles towards a child surviving, or to indulge in any other sympathy. It is an appeal to the same gentle tenderness; and such appeals are never made in vain. The end of them is an acquittal from the harsher bonds of affliction—from the typing down of the spirit to one melancholy idea.
It is the nature of tears of this kind, however strongly they may gush forth, to run into quiet waters at last. We cannot easily, for the whole course of our lives, think with pain of any good and kind person whom we have lost. It is the divine nature of their qualities to conquer pain and death itself; to turn the memory of them into pleasure; to survive with a placid aspect in our imaginations. We are writing at this moment just opposite a spot which contains the grave of one inexpressibly dear to us. We see from our window the trees about it, and the church spire. The green fields lie around. The clouds are travelling overhead, alternately taking away the sunshine and restoring it. The vernal winds, piping of the flowery summer-time, are nevertheless calling to mind the far-distant and dangerous ocean, which the heart that lies in that grave had many reasons to think of. And yet the sight of this spot does not give us pain. So far from it, it is the existence of that grave which doubles every charm of the spot; which links the pleasures of our childhood and manhood together; which puts a hushing tenderness in the winds, and a patient joy upon the landscape; which seems to unite heaven and earth, mortality and immortality, the grass of the tomb and the grass of the green field; and gives a more maternal aspect to the whole kindness of nature. It does not hinder gaiety itself. Happiness was what its tenant, through all her troubles, would have diffused. To diffuse happiness, and to enjoy it, is not only carrying on her wishes, but realising her hopes; and gaiety, freed from its only pollutions, malignity and want of sympathy, is but a child playing about the knees of its mother.
The remembered innocence and endearments of a child stand us instead of virtues that have died older. Children have not exercised the voluntary offices of friendship; they have not chosen to be kind and good to us; nor stood by us, from conscious will, in the hour of adversity. But they have shared their pleasures and pains with us as well as they could; the interchange of good offices between us has, of necessity, been less mingled with the troubles of the world; the sorrow arising from their death is the only one which we can associate with their memories. These are happy thoughts that cannot die. Our loss may always render them pensive; but they will not always be painful. It is a part of the benignity of Nature that pain does not survive like pleasure, at any time, much less where the cause of it is an innocent one. The smile will remain reflected by memory, as the moon reflects the light upon us when the sun has gone into heaven.
When writers like ourselves quarrel with earthly pain (we mean writers of the same intentions, without implying, of course, anything about abilities or otherwise), they are misunderstood if they are supposed to quarrel with pains of every sort. This would be idle and effeminate. They do not pretend, indeed, that humanity might not wish, if it could, to be entirely free from pain; for it endeavours, at all times, to turn pain into pleasure: or at least to set off the one with the other, to make the former a zest and the latter a refreshment. The most unaffected dignity of suffering does this, and, if wise, acknowledges it. The greatest benevolence towards others, the most unselfish relish of their pleasures, even at its own expense, does but look to increasing the general stock of happiness, though content, if it could, to have its identity swallowed up in that splendid contemplation. We are far from meaning that this is to be called selfishness. We are far, indeed, from thinking so, or of so confounding words. But neither is it to be called pain when most unselfish, if disinterestedness by truly understood. The pain that is in it softens into pleasure, as the darker hue of the rainbow melts into the brighter. Yet even if a harsher line is to be drawn between the pain and pleasure of the most unselfish mind (and ill-health, for instance, may draw it), we should not quarrel with it if it contributed to the general mass of comfort, and were of a nature which general kindliness could not avoid. Made as we are, there are certain pains without which it would be difficult to conceive certain great and overbalancing pleasures. We may conceive it possible for beings to be made entirely happy; but in our composition something of pain seems to be a necessary ingredient, in order that the materials may turn to as fine account as possible, though our clay, in the course of ages and experience, may be refined more and more. We may get rid of the worst earth, though not of earth itself.
Now the liability to the loss of children—or rather what renders us sensible of it, the occasional loss itself—seems to be one of these necessary bitters thrown into the cup of humanity. We do not mean that every one must lose one of his children in order to enjoy the rest; or that every individual loss afflicts us in the same proportion. We allude to the deaths of infants in general. These might be as few as we could render them. But if none at all ever took place, we should regard every little child as a man or woman secured; and it will easily be conceived what a world of endearing cares and hopes this security would endanger. The very idea of infancy would lose its continuity with us. Girls and boys would be future men and women, not present children. They would have attained their full growth in our imaginations, and might as well have been men and women at once. On the other hand, those who have lost an infant, are never, as it were, without an infant child. They are the only persons who, in one sense, retain it always, and they furnish their neighbours with the same idea. The other children grow up to manhood and womanhood, and suffer all the changes of mortality. This one alone is rendered an immortal child. Death has arrested it with his kindly harshness, and blessed it into an eternal image of youth and innocence.
Of such as these are the pleasantest shapes that visit our fancy and our hopes. They are the ever-smiling emblems of joy; the prettiest pages that wait upon imagination. Lastly, "Of these are the kingdom of heaven." Wherever there is a province of that benevolent and all-accessible empire, whether on earth or elsewhere, such are the gentle spirits that must inhabit it. To such simplicity, or the resemblance of it, must they come. Such must be the ready confidence of their hearts and creativeness of their fancy. And so ignorant must they be of the "knowledge of good and evil," losing their discernment of that self-created trouble, by enjoying the garden before them, and not being ashamed of what is kindly and innocent.
Deaths of Little Children
by Leigh Hunt (1784 – 1859)
fleursdumal.nl magazine
More in: Archive G-H, Archive G-H, Galerie des Morts, Hunt, Leigh
---
Fjodor Tjoettsjev
(1803 – 1873)
Een sfinx is de natuur!
Een sfinx is de natuur! – en juist het meest
Laat zij misschien de mens te gronde gaan
Doordat er, in de grond van haar bestaan,
geen raadsel ís, en ook nooit is geweest.
Fjodor Tjoettsjev, Природа — сфинкс, 1869.
Vertaling Paul Bezembinder, 2017.
Paul Bezembinder: zijn gedichten en vertalingen verschenen in verschillende (online) literaire tijdschriften. Zie meer op zijn website: www.paulbezembinder.nl
fleursdumal.nl magazine
More in: Archive S-T, Tjoettsjev, Tjoettsjev, Fodor
---
Robert Burns
Address to Edinburgh
1.
Edina! Scotia's darling seat!
All hail thy palaces and tow'rs,
Where once, beneath a Monarch's feet,
Sat Legislation's sov'reign pow'rs :
From marking wildly-scatt'red flow'rs,
As on the banks of Ayr I stray'd,
And singing, lone, the ling'ring hours,
I shelter in thy honor'd shade.
2.
Here Wealth still swells the golden tide,
As busy Trade his labours plies ;
There Architecture's noble pride
Bids elegance and splendour rise :
Here Justice, from her native skies,
High wields her balance and her rod ;
There Learning, with his eagle eyes,
Seeks Science in her coy abode.
3.
Thy sons, Edina, social, kind,
With open arms the stranger hail ;
Their views enlarg'd, their lib'ral mind,
Above the narrow, rural vale ;
Attentive still to Sorrow's wail,
Or modest Merit's silent claim :
And never may their sources fail!
And never Envy blot their name!
4.
Thy daughters bright thy walks adorn,
Gay as the gilded summer sky,
Sweet as the dewy, milk-white thorn,
Dear as the raptur'd thrill of joy!
Fair Burnet strikes th' adoring eye,
Heav'n's beauties on my fancy shine :
I see the Sire of Love on high,
And own His work indeed divine!
5.
There, watching high the least alarms,
Thy rough, rude fortress gleams afar ;
Like some bold vet'ran, grey in arms,
And mark'd with many a seamy scar :
The pond'rous wall and massy bar,
Grim-rising o'er the rugged rock,
Have oft withstood assailing war,
And oft repell'd th' invader's shock.
6.
With awe-stuck thought and pitying tears,
I view that noble, stately dome,
Where Scotia's kings of other years,
Fam'd heroes! had their royal home :
Alas, how chang'd the times to come!
Their royal name low in the dust!
Their haplesss race wild-wand'ring roam!
Tho' rigid Law cries out: ''Twas just!'
7.
Wild beats my heart to trace your steps,
Whose ancestors, in days of yore,
Thro'hostile ranks and ruin'd gaps
Old Scotia's bloody lion bore:
Ev'n I, who sing in rustic lore,
Haply my sires have left their shed,
And fac'd grim Danger's loudest roar,
Bold-following where your fathers led!
8.
Edine! Scotia's darling seat!
All hail thy palaces and tow'rs ;
Where once, beneath a Monarch's feet,
Sat Legislation's sov'reign pow'rs :
From marking wildly-scatt'red flow'rs,
As on the banks of Ayr I stray'd,
And singing, lone, the ling'ring hours,
I shelter in thy honour'd shade.
Robert Burns (1759 – 1796)
Address to Edinburgh
fleursdumal.nl magazine
More in: Archive A-B, Burns, Robert
---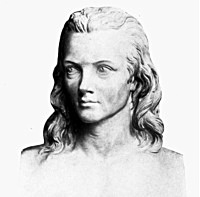 Novalis
Klagen eines Jünglings
Nimmer schwanden undankbar die Freuden
Traumgleich mir in öde Fernen hin;
Jede färbte, lieblicher im Scheiden,
Mit Erinnrung meinen trunknen Sinn;
Mit Erinnrung, die, statt zu ermüden,
Neue, heilge Wonne mir entschloß,
Und mir süßen jugendlichen Frieden
Um die rebengrünen Schläfe goß.
Seit ich mehr aus schöner Wangen Röte
Mehr aus sanften, blauen Augen las,
Oft, wenn schon die scharfe Nachtluft wehte
Im beseeltern Traume mich vergaß;
Meinem Herzen nachbarlicher, wärmer,
Da den Schlag der Nachtigall empfand,
Und entfernt von meinem Klärchen ärmer
Mich als jeder dürftge Pilger fand:
Lachet, ewge Gottheit in dem Blicke,
Mich mein sonnenschönes Leben an,
Amor täuscht mich nicht mit List und Tücke,
Ganymeda nicht mit kurzem Wahn;
Jedes Lüftchen nähert sich mir milder,
Das dort Blüten wild herunter haucht;
Üppig drängen immer frische Bilder
Sich zu mir, in Rosenöl getaucht.
Zypris Tauben warten schon mit Kränzen
Und mit Traubenbechern meiner dort,
Und in leichtverschlungnen Freudentänzen
Reißet Amors Bruderschwarm mich fort.
Von der Grazien und Musen Lippen
Schmachtet mir entgegen mancher Kuß;
Götterwonne kann ich selig nippen,
Schwelgen da im freundlichsten Genuß.
Dennoch lodern öfters Purpurgluten
Mir um meine Wang und meine Stirn,
Wenn sich unter Stürmen, unter Fluten,
Wie des Abends leuchtendes Gestim,
Mir, umstrahlt von echter Freiheit Kranze,
Eines edlen Dulders Seele zeigt,
Den der Himmel nicht in seinem Glanze
Nicht die Höll in ihren Nächten beugt.
Kraftlos fühl ich mich von dem Geschicke
Zum unmännlichern Genuß verdammt;
Vor Gefahren beb ich feig zurücke
Weil nicht Mut in meinem Busen flammt.
Weibisch hat das Schicksal mich erzogen,
Nicht sein Liebling, nur sein Sklav bin ich;
Amor hat mich schmeichlerisch umflogen
Statt der Sorge, die mir stets entwich.
Statt der ernstern, rühmlicheren Lanze
Wieget einen Hirtenstab mein Arm;
Nimmer wurde mir im Waffentanze
Aber oft im bunten Reigen warm:
Alle großen, strahlenden Gefahren
Hat mein Schicksal von mir abgewandt,
Und nur unter frohe Mädchenscharen
Statt in Feindes Haufen mich gesandt.
Parze, hast du jemals deine Spindel
Nach dem Flehn des Erdensohns gedreht,
Dem kein bald entwichner Zauberschwindel,
Um die flammendheißen Schläfe weht:
O! so nimm, was Tausende begehrten,
Was mir üppig deine Milde lieh,
Gib mir Sorgen, Elend und Beschwerden,
Und dafür dem Geiste Energie.
Ungeduldig soll die Flamme lodern
Meines Dankes dann von dem Altar;
Nichts mehr sollen meine Wünsche fordern,
Frei und gnügsam macht mich die Gefahr;
Doch versagest du mir diese Bitte
O! so kürze, wenn du streng nicht bist,
Mindestens geschwind nur meine Schritte
Nimm dies Leben, das nicht Leben ist.
Novalis (1772 – 1801)
Gedicht: Klagen eines Jünglings
fleursdumal.nl magazine
More in: Archive M-N, Novalis, Novalis
---
Lord Byron
Italy versus England
With all its sinful doings, I must say,
That Italy's a pleasant place to me,
Who love to see the sun shine every day,
And vines (not nailed to walls) from tree to tree
Festooned, much like the back scene of a play,
Or melodrame, which people flock to see,
When the first act is ended by a dance
In vineyards copied from the South of France.
I like on autumn evenings to ride out,
Without being forced to bid my groom be sure
My cloak is round his middle strapped about,
Because the skies are not the most secure ;
I know too that, if stopped upon my route,
Where the green alleys windingly allure,
Reeling with grapes red wagons choke the way.—
In England 'twould be dung, dust, or a dray.
I also like to dine on becaficas,
To see the sun set, sure he'll rise to-morrow,
Not through a misty morning twinkling weak as
A drunken man's dead eye in maudlin sorrow,
But with all Heaven to himself ; the day will break as
Beauteous as cloudless, nor be forced to borrow
That sort of farthing candlelight which glimmers
Where reeking London's smoky cauldron simmers.
I love the language, that soft bastard Latin,
Which melts like kisses from a female mouth,
And sounds as if it should be writ on satin,
With syllables which breathe of the sweet South,
And gentle liquids gliding all so pat in,
That not a single accent seems uncouth,
Like our harsh northern whistling, grunting guttural,
Which we're obliged to hiss, and spit, and sputter all.
I like the women too (forgive my folly!),
From the rich peasant cheek of ruddy bronze,
And large black eyes that flash on you a volley
Of rays that say a thousand things at once,
To the high Dama's brow, more melancholy,
But clear, and with a wild and liquid glance,
Heart on her lips, and soul within her eyes,
Soft as her clime, and sunny as her skies.
Eve of the land which still is Paradise !
Italian Beauty ! didst thou not inspire
Raphael, who died in thy embrace, and vies
With all we know of Heaven, or can desire,
In what he had bequeathed us ?—in what guise,
Though flashing from the fervour of the lyre,
Would words described thy past and present glow,
While yet Canova can create below ?
'England ! with all thy faults I love thee still',
I said at Calais, and have not forgot it ;
I like to speak and lucubrate my fill ;
I like the government (but that is not it) ;
I like the freedom of the press and quill ;
I like the Habeas Corpus (when we've got it) ;
I like a Parliamentary debate,
Particularly when 'tis not too late ;
I like the taxes, when they're not too many ;
I like a seacoal fire, when not too dear ;
I like a beef-steak, too, as well as any ;
Have no objection to a pot of beer ;
I like the weather,—when it is not rainy,
That is, I like two months of every year.
And so God save the Regent, Church, and King !
Which means that I like all and every thing.
Our standing army, and disbanded seamen,
Poor's rate, Reform, my own, the nation's debt,
Our little riots just to show we're free men,
Our trifling bankruptcies in the Gazette,
Our cloudy climate, and our chilly women,
All these I can forgive, and those forget,
And greatly venerate our recent glories,
And wish they were not owing to the Tories.
Lord Byron (1788-1824)
Italy versus England
fleursdumal.nl magazine
More in: Archive A-B, Byron, Lord
---
Oscar Wilde
Her Voice
The wild bee reels from bough to bough
With his furry coat and his gauzy wing,
Now in a lily-cup, and now
Setting a jacinth bell a-swing,
In his wandering;
Sit closer love: it was here I trow
I made that vow,
Swore that two lives should be like one
As long as the sea-gull loved the sea,
As long as the sunflower sought the sun,-
It shall be, I said, for eternity
'Twixt you and me!
Dear friend, those times are over and done;
Love's web is spun.
Look upward where the poplar trees
Sway and sway in the summer air,
Here in the valley never a breeze
Scatters the thistledown, but there
Great winds blow fair
From the mighty murmuring mystical seas,
And the wave-lashed leas.
Look upward where the white gull screams,
What does it see that we do not see?
Is that a star? or the lamp that gleams
On some outward voyaging argosy,
Ah! can it be
We have lived our lives in a land of dreams!
How sad it seems.
Sweet, there is nothing left to say
But this, that love is never lost,
Keen winter stabs the breasts of May
Whose crimson roses burst his frost,
Ships tempest-tossed
Will find a harbour in some bay,
And so we may.
And there is nothing left to do
But to kiss once again, and part,
Nay, there is nothing we should rue,
I have my beauty,-you your Art,
Nay, do not start,
One world was not enough for two
Like me and you.
Oscar Wilde (1854 – 1900)
Her Voice
fleursdumal.nl magazine
More in: Archive W-X, Wilde, Oscar, Wilde, Oscar
---
Afanasi Fet
(1820 – 1892)
Kolkende storm . . .
Kolkende storm in de luchtzee,
Kokend van woede het sop;
Kolkende zee van gedachten,
Kokend van woede mijn kop;
Kolkende zee van gedachten,
Stortvloed van drift in de kop;
Donkere wolken op wolken,
Kokend van woede het sop.
Afanasi Fet, Буря на небе вечерный, 1842
Vertaling Paul Bezembinder 2016
Paul Bezembinder studeerde theoretische natuurkunde in Nijmegen. In zijn poëzie zoekt hij in vooral klassieke versvormen en thema's naar de balans tussen serieuze poëzie, pastiche en smartlap. Zijn gedichten (Nederlands) en vertalingen (Russisch-Nederlands) verschenen in verschillende (online) literaire tijdschriften. Voorbeelden van zijn werk zijn te vinden op zijn website: www.paulbezembinder.nl
fleursdumal.nl magazine
More in: Archive E-F, Fet, Fet, Afanasi
---
Older Entries »
« Newer Entries
Thank you for reading FLEURSDUMAL.NL - magazine for art & literature