CLASSIC POETRY
«« Previous page
·
Bert Bevers: Selfie (Gedicht)
·
Karel van de Woestijne: Er komt iemand bij mij (Gedicht)
·
Paul Laurence Dunbar: The Interference Of Patsy Ann. Short Story
·
Victor Hugo: Chanson de grand-père (Poème)
·
Victor Hugo: Il fait froid (Poème)
·
Luigi Pirandello: One, No One, and One Hundred Thousand
·
Karel van de Woestijne: De meiskens uit de taveernen (Gedicht)
·
Emily Dickinson: My Life had stood – a Loaded Gun
·
Lord Byron: My Soul Is Dark (Poem)
·
Old Abe's Conversion by Paul Laurence Dunbar (Short story)
·
Carmen Sylva: Von Liebe (Gedicht)
·
Emily Dickinson: A Day
Selfie
van Gerrit Achterberg
Hoe zal nu in het huis de stilte zijn?
Val ik tezamen met uw lijn?
Mijn ledematen worden van ivoor.
Ik ben bij u gekomen, binnendoor.
Nooit was ik zo geheel en zo bijeen
terechtgekomen, ogen wijd uiteen.
Ontschorste bomen liggen aan de kant.
God heeft een buiten- en een binnenkant.
Bert Bevers
Hoe zal nu in het huis de stilte zijn? is een sample uit Distantie
Val ik tezamen met uw lijn? is een sample uit 13
Mijn ledematen worden van ivoor. is een sample uit Smaragd
Ik ben bij u gekomen, binnendoor. is een sample uit Oculair
Nooit was ik zo geheel en zo bijeen. is een sample uit Tracé
Terechtgekomen, ogen wijd uiteen is een sample uit Lucifer
Ontschorste bomen liggen aan de kant is een bijna-sample uit Station
God heeft een buiten- en een binnenkant. is een sample uit Reflexie
Selfie van Gerrit Achterberg
Verschenen in Je tikt er tegen en het zingt, Demer Uitgeverij, Leusden, 2015
Bert Bevers is a poet and writer who lives and works in Antwerp (Be)
• fleursdumal.nl magazine
More in: Achterberg, Gerrit, Archive A-B, Archive A-B, Bevers, Bert
---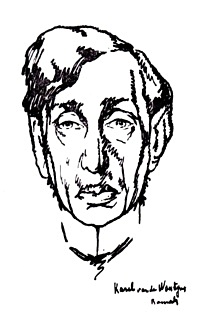 Er komt iemand bij mij
Er komt iemand bij mij, die 'k nimmer zag,
en uit-der-mate vriendlijk, die mij zegt:
'Gij weet, ik berg iemand in mijne woon.
Neen: er verbergt zich iemand in mijn woon.
Ik zie hem niet, maar ben in hem begaan.
Ik ken hem, en hij is mijn liefst bezit…'
– Ik durf niet zeggen dat die vreemdling liegt.
Ik durf niet zeggen dat zijn gast de mijne is. Ach!
ik durf niet zèggen dat hij niet bestaat, misschien.
Want hij bestaat in mij.
Karel van de Woestijne
(1878 – 1929)
Er komt iemand bij mij
Portret: Karel van de Woestijne, Ramah – Journal Het Roode Zeil, 15 April 1920
• fleursdumal.nl magazine
More in: Archive W-X, Archive W-X, Woestijne, Karel van de
---
THE INTERFERENCE OF PATSY ANN
Patsy Ann Meriweather would have told you that her father, or more properly her "pappy," was a "widover," and she would have added in her sad little voice, with her mournful eyes upon you, that her mother had "bin daid fu' nigh onto fou' yeahs." Then you could have wept for Patsy, for her years were only thirteen now, and since the passing away of her mother she had been the little mother for her four younger brothers and sisters, as well as her father's house-keeper.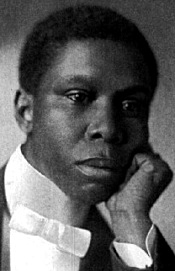 But Patsy Ann never complained; she was quite willing to be all that she had been until such time as Isaac and Dora, Cassie and little John should be old enough to care for themselves, and also to lighten some of her domestic burdens. She had never reckoned upon any other manner of release. In fact her youthful mind was not able to contemplate the possibility of any other manner of change. But the good women of Patsy's neighbourhood were not the ones to let her remain in this deplorable state of ignorance. She was to be enlightened as to other changes that might take place in her condition, and of the unspeakable horrors that would transpire with them.
It was upon the occasion that little John had taken it into his infant head to have the German measles just at the time that Isaac was slowly recovering from the chicken-pox. Patsy Ann's powers had been taxed to the utmost, and Mrs. Caroline Gibson had been called in from next door to superintend the brewing of the saffron tea, and for the general care of the fretful sufferer.
To Patsy Ann, then, in ominous tone, spoke this oracle. "Patsy Ann, how yo' pappy doin' sence Matildy died?" "Matildy" was the deceased wife.
"Oh, he gittin' 'long all right. He was mighty broke up at de fus', but he 'low now dat de house go on de same's ef mammy was a-livin'."
"Oom huh," disdainfully; "Oom huh. Yo' mammy bin daid fou' yeahs, ain't she?"
"Yes'm; mighty nigh."
"Oom huh; fou' yeahs is a mighty long time fu' a colo'd man to wait; but we'n he do wait dat long, hit's all de wuss we'n hit do come."
"Pap bin wo'kin right stiddy at de brick-ya'd," said Patsy, in loyal defence against some vaguely implied accusation, "an' he done put some money in de bank."
"Bad sign, bad sign," and Mrs. Gibson gave her head a fearsome shake.
But just then the shrill voice of little John calling for attention drew her away and left Patsy Ann to herself and her meditations.
What could this mean?
When that lady had finished ministering to the sick child and returned, Patsy Ann asked her, "Mis' Gibson, what you mean by sayin' 'bad sign, bad sign?'"
Again the oracle shook her head sagely. Then she answered, "Chil', you do' know de dev'ment dey is in dis worl'."
"But," retorted the child, "my pappy ain' up to no dev'ment, 'case he got 'uligion an' bin baptised."
"Oom-m," groaned Sistah Gibson, "dat don' mek a bit o' diffunce. Who is any mo' ma'yin' men den de preachahs demse'ves? W'y Brothah 'Lias Scott done tempted matermony six times a'ready, an' 's lookin' roun' fu' de sebent, an' he's a good man, too."
"Ma'yin'," said Patsy breathlessly.
"Yes, honey, ma'yin', an' I's afeared yo' pappy's got notions in his haid, an' w'en a widower git gals in his haid dey ain' no use a-pesterin' wid 'em, 'case dey boun' to have dey way."
"Ma'yin'," said Patsy to herself reflectively. "Ma'yin'." She knew what it meant, but she had never dreamed of the possibility of such a thing in connection with her father. "Ma'yin'," and yet the idea of it did not seem so very unalluring.
She spoke her thoughts aloud.
"But ef pap 'u'd ma'y, Mis' Gibson, den I'd git a chanct to go to school. He allus sayin' he mighty sorry 'bout me not goin'."
"Dah now, dah now," cried the woman, casting a pitying glance at the child, "dat's de las' t'ing. He des a feelin' roun' now. You po', ign'ant, mothahless chil'. You ain' nevah had no step-mothah, an' you don' know what hit means."
"But she'd tek keer o' the chillen," persisted Patsy.
"Sich tekin' keer of 'em ez hit 'u'd be. She'd keer fu' 'em to dey graves. Nobody cain't tell me nuffin 'bout step-mothahs, case I knows 'em. Dey ain' no ooman goin' to tek keer o' nobody else's chile lak she'd tek keer o' huh own," and Patsy felt a choking come into her throat and a tight sensation about her heart while she listened as Mrs. Gibson regaled her with all the choice horrors that are laid at the door of step-mothers.
From that hour on, one settled conviction took shape and possessed Patsy Ann's mind; never, if she could help it, would she run the risk of having a step-mother. Come what may, let her be compelled to do what she might, let the hope of school fade from her sight forever and a day—but no step-mother should ever cast her baneful shadow over Patsy Ann's home.
Experience of life had made her wise for her years, and so for the time she said nothing to her father; but she began to watch him with wary eyes, his goings out and his comings in, and to attach new importance to trifles that had passed unnoticed before by her childish mind.
For instance, if he greased or blacked his boots before going out of an evening her suspicions were immediately aroused and she saw dim visions of her father returning, on his arm the terrible ogress whom she had come to know by the name of step-mother.
Mrs. Gibson's poison had worked well and rapidly. She had thoroughly inoculated the child's mind with the step-mother virus, but she had not at the same time made the parent widow-proof, a hard thing to do at best. So it came to pass that with a mysterious horror growing within her, Patsy Ann saw her father black his boots more and more often and fare forth o' nights and Sunday afternoons.
Finally her little heart could contain its sorrow no longer, and one night when he was later than usual she could not sleep. So she slipped out of bed, turned up the light, and waited for him, determined to have it out, then and there.
He came at last and was all surprise to meet the solemn, round eyes of his little daughter staring at him from across the table.
"W'y, lady gal," he exclaimed, "what you doin' up at 'his time?"
"I sat up fu' you. I got somep'n' to ax you, pappy." Her voice quivered and he snuggled her up in his arms.
"What's troublin' my little lady gal now? Is de chillen bin bad?"
She laid her head close against his big breast, and the tears would come as she answered, "No, suh; de chillen bin ez good az good could be, but oh, pappy, pappy, is you got gal in yo' haid an' a-goin' to bring me a step-mothah?"
He held her away from him almost harshly and gazed at her as he queried, "W'y, you po' baby, you! Who's bin puttin' dis hyeah foolishness in yo' haid?" Then his laugh rang out as he patted her head and drew her close to him again. "Ef yo' pappy do bring a step-mothah into dis house, Gawd knows he'll bring de right kin'."
"Dey ain't no right kin'," answered Patsy.
"You don' know, baby; you don' know. Go to baid an' don' worry."
He sat up a long time watching the candle sputter, then he pulled off his boots and tiptoed to Patsy's bedside. He leaned over her. "Po' little baby," he said; "what do she know about a step-mothah?" And Patsy saw him and heard him, for she was awake then, and far into the night.
In the eyes of the child her father stood convicted. He had "gal in his haid," and was going to bring her a step-mother; but it would never be; her resolution was taken.
She arose early the next morning and after getting her father off to work as usual, she took the children into hand. First she scrubbed them assiduously, burnishing their brown faces until they shone again. Then she tussled with their refractory locks, and after that she dressed them out in all the bravery of their best clothes.
Meanwhile her tears were falling like rain, though her lips were shut tight. The children off her mind, she turned her attention to her own toilet, which she made with scrupulous care. Then taking a small tin-type of her mother from the bureau drawer, she put it in her bosom, and leading her little brood she went out of the house, locking the door behind her and placing the key, as was her wont, under the door-step.
Outside she stood for a moment or two, undecided, and then with one long, backward glance at her home she turned and went up the street. At the first corner she paused again, spat in her hand and struck the watery globule with her finger. In the direction the most of the spittle flew, she turned. Patsy Ann was fleeing from home and a step-mother, and Fate had decided her direction for her, even as Mrs. Gibson's counsels had directed her course.
The child had no idea where she was going. She knew no one to whom she might turn in her distress. Not even with Mrs. Gibson would she be safe from the horror which impended. She had but one impulse in her mind and that was to get beyond the reach of the terrible woman, or was it a monster? who was surely coming after her. On and on she walked through the town with her little band trudging bravely along beside her. People turned to look at the funny group and smiled good-naturedly as they passed, and one man, a little more amused than the rest, shouted after them, "Where you goin', sis, with that orphan's home?"
But Patsy Ann's dignity was impregnable. She walked on with her head in the air, the desire for safety tugging at her heart.
The hours passed and the gentle coolness of morning turned into the fierce heat of noon, and still with frequent rests they trudged on, Patsy ever and anon using her divining hand, unconscious that she was doubling and redoubling on her tracks. When the whistles blew for twelve she got her little brood into the shade of a poplar tree and set them down to the lunch which, thoughtful little mother that she was, she had brought with her. After that they all stretched themselves out on the grass that bordered the sidewalk, for all the children were tired out, and baby John was both sleepy and cross. Even Patsy Ann drowsed and finally dropped into the deep slumber of childhood. They looked too peaceful and serene for passers-by to bother them, and so they slept and slept.
It was past three o'clock when the little guardian awakened with a start, and shook her charges into activity. John wept a little at first, but after a while took up his journey bravely with the rest.
She had just turned into a side street, discouraged and bewildered, when the round face of a coloured woman standing in the doorway of a whitewashed cottage caught her eye and attention. Once more she paused and consulted her watery oracle, then turned to encounter the gaze of the round-faced woman. The oracle had spoken and she turned into the yard.
"Whaih you goin', honey? You sut'ny look lak you plumb tukahed out. Come in an' tell me all 'bout yo'se'f, you po' little t'ing. Dese yo' little brothas an' sistahs?"
"Yes'm," said Patsy Ann.
"W'y, chil', whaih you goin'?"
"I don' know," was the truthful answer.
"You don' know? Whaih you live?"
"Oh, I live down on Douglas Street," said Patsy Ann, "an' I's runnin' away f'om home an' my step-mothah."
The woman looked keenly at her.
"What yo' name?" she said.
"My name's Patsy Ann Meriweather."
"An' is yo' got a step-mothah?"
"No," said Patsy Ann, "I ain' got none now, but I's sut'ny 'spectin' one."
"What you know 'bout step-mothahs, honey?"
"Mis' Gibson tol' me. Dey sho'ly is awful, missus, awful."
"Mis' Gibson ain' tol' you right, honey. You come in hyeah and set down. You ain' nothin' mo' dan a baby yo'se'f, an' you ain' got no right to be trapsein' roun' dis away."
Have you ever eaten muffins? Have you eaten bacon with onions? Have you drunk tea? Have you seen your little brother John taken up on a full bosom and rocked to sleep in the most motherly way, with the sweetness and tenderness that only a mother can give? Well, that was Patsy Ann's case to-night.
And then she laid them along like ten-pins crosswise of her bed and sat for a long time thinking.
To Maria Adams about six o'clock that night came a troubled and disheartened man. It was no less a person than Patsy Ann's father.
"Maria! Maria! What shall I do? Somebody don' stole all my chillen."
Maria, strange to say, was a woman of few words.
"Don' you bothah 'bout de chillen," she said, and she took him by the hand and led him to where the five lay sleeping calmly across the bed.
"Dey was runnin' f'om home an' dey step-mothah," said she.
"Dey run hyeah f'om a step-mothah an' foun' a mothah." It was a tribute and a proposal all in one.
When Patsy Ann awakened, the matter was explained to her, and with penitent tears she confessed her sins.
"But," she said to Maria Adams, "ef you's de kin' of fo'ks dat dey mek step-mothahs out o' I ain' gwine to bothah my haid no mo'."
Paul Laurence Dunbar
(1872 – 1906)
The Interference Of Patsy Ann. Short Story
From The Heart Of Happy Hollow, a collection of short stories reprinted in 1904 by Dodd, Mead and Company, New York.
Short Story
• fleursdumal.nl magazine
More in: Archive C-D, Archive C-D, Dunbar, Paul Laurence, Dunbar, Paul Laurence, Paul Laurence Dunbar
---
Chanson de grand-père
Dansez, les petites filles,
Toutes en rond.
En vous voyant si gentilles,
Les bois riront.
Dansez, les petites reines,
Toutes en rond.
Les amoureux sous les frênes
S'embrasseront.
Dansez, les petites folles,
Toutes en rond.
Les bouquins dans les écoles
Bougonneront.
Dansez, les petites belles,
Toutes en rond.
Les oiseaux avec leurs ailes
Applaudiront.
Dansez, les petites fées,
Toutes en rond.
Dansez, de bleuets coiffées,
L'aurore au front.
Dansez, les petites femmes,
Toutes en rond.
Les messieurs diront aux dames
Ce qu'ils voudront.
Victor Hugo
(1802-1885)
Chanson de grand-père
(Poème)
• fleursdumal.nl magazine
More in: Archive G-H, Archive G-H, Hugo, Victor, Victor Hugo
---
Il fait froid
L'hiver blanchit le dur chemin
Tes jours aux méchants sont en proie.
La bise mord ta douce main ;
La haine souffle sur ta joie.
La neige emplit le noir sillon.
La lumière est diminuée…
Ferme ta porte à l'aquilon !
Ferme ta vitre à la nuée !
Et puis laisse ton coeur ouvert !
Le coeur, c'est la sainte fenêtre.
Le soleil de brume est couvert ;
Mais Dieu va rayonner peut-être !
Doute du bonheur, fruit mortel ;
Doute de l'homme plein d'envie ;
Doute du prêtre et de l'autel ;
Mais crois à l'amour, ô ma vie !
Crois à l'amour, toujours entier,
Toujours brillant sous tous les voiles !
A l'amour, tison du foyer !
A l'amour, rayon des étoiles !
Aime, et ne désespère pas.
Dans ton âme, où parfois je passe,
Où mes vers chuchotent tout bas,
Laisse chaque chose à sa place.
La fidélité sans ennui,
La paix des vertus élevées,
Et l'indulgence pour autrui,
Eponge des fautes lavées.
Dans ta pensée où tout est beau,
Que rien ne tombe ou ne recule.
Fais de ton amour ton flambeau.
On s'éclaire de ce qui brûle.
A ces démons d'inimitié
Oppose ta douceur sereine,
Et reverse leur en pitié
Tout ce qu'ils t'ont vomi de haine.
La haine, c'est l'hiver du coeur.
Plains-les ! mais garde ton courage.
Garde ton sourire vainqueur ;
Bel arc-en-ciel, sors de l'orage !
Garde ton amour éternel.
L'hiver, l'astre éteint-il sa flamme ?
Dieu ne retire rien du ciel ;
Ne retire rien de ton âme !
Victor Hugo
(1802-1885)
Il fait froid
(Poème)
• fleursdumal.nl magazine
More in: Archive G-H, Archive G-H, Hugo, Victor, Victor Hugo
---
Luigi Pirandello's extraordinary final novel begins when Vitangelo Moscarda's wife remarks that Vitangelo's nose tilts to the right.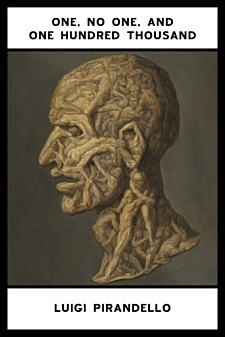 This commonplace interaction spurs the novel's unemployed, wealthy narrator to examine himself, the way he perceives others, and the ways that others perceive him.
At first he only notices small differences in how he sees himself and how others do; but his self-examination quickly becomes relentless, dizzying, leading to often darkly comic results as Vitangelo decides that he must demolish that version of himself that others see.
Pirandello said of his 1926 novel that it "deals with the disintegration of the personality. It arrives at the most extreme conclusions, the farthest consequences." Indeed, its unnerving humor and existential dissection of modern identity find counterparts in Samuel Beckett's Molloy trilogy and the works of Thomas Bernhard and Vladimir Nabokov.
Luigi Pirandello (1867-1936) was an Italian author, who was awarded the Nobel Prize for Literature in 1934 for his "bold and brilliant renovation of the drama and the stage." Pirandello's works include novels, hundreds of short stories, and plays. Pirandello's plays are often seen as forerunners for the theatre of the absurd.
One, No One, and One Hundred Thousand
Luigi Pirandello
Translated by William Weaver
Publisher Spurl Editions
Format Paperback
218 pages
ISBN-10 194367907X
ISBN-13 9781943679072
2018
$18.00
# new books
Title One, No One, and One Hundred Thousand
Author Luigi Pirandello
Translated by William Weaver
• fleursdumal.nl magazine
More in: - Book News, - Book Stories, Archive O-P, Archive O-P, Luigi Pirandello, Pirandello, Luigi, Pirandello, Luigi, Samuel Beckett, Thomas Bernhard, Vladimir Nabokov
---
De meiskens uit de taveernen
De meiskens uit de taveernen,
Zij hebben een malsen schoot.
Zij zien er de jongens geerne.
Zij baren haar kindren dood.
Zij dragen van vurige zijde
een keursken dat spant en splijt.
We ontwaken aan haar zijde
met den houten mond van de spijt.
De ronde zee waar wij zwalken,
die eindeloos wenkt en geeuwt,
en ons doet van begeren balken,
en ons verre vrouwe verweêwt:
wij ankren in de taveernen
waar geniepig een rust ons smijt.
Daar wachten ons rood de deernen.
Daar raken wij 't leven kwijt.
Karel van de Woestijne
(1878 – 1929)
De meiskens uit de taveernen
• fleursdumal.nl magazine
More in: Archive W-X, Archive W-X, Woestijne, Karel van de
---
My Life had stood –
a Loaded Gun
My Life had stood – a Loaded Gun –
In Corners – till a Day
The Owner passed – identified –
And carried Me away –
And now We roam in Sovreign Woods –
And now We hunt the Doe –
And every time I speak for Him
The Mountains straight reply –
And do I smile, such cordial light
Opon the Valley glow –
It is as a Vesuvian face
Had let it's pleasure through –
And when at Night – Our good Day done –
I guard My Master's Head –
'Tis better than the Eider Duck's
Deep Pillow – to have shared –
To foe of His – I'm deadly foe –
None stir the second time –
On whom I lay a Yellow Eye –
Or an emphatic Thumb –
Though I than He – may longer live
He longer must – than I –
For I have but the power to kill,
Without – the power to die –
Emily Dickinson
(1830-1886)
My Life had stood – a Loaded Gun
fleursdumal.nl magazine
More in: Archive C-D, Dickinson, Emily
---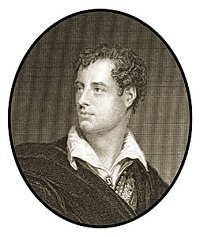 My Soul Is Dark
My soul is dark – Oh! quickly string
The harp I yet can brook to hear;
And let thy gentle fingers fling
Its melting murmurs o'er mine ear.
If in this heart a hope be dear,
That sound shall charm it forth again:
If in these eyes there lurk a tear,
'Twill flow, and cease to burn my brain.
But bid the strain be wild and deep,
Nor let thy notes of joy be first:
I tell thee, minstrel, I must weep,
Or else this heavy heart will burst;
For it hath been by sorrow nursed,
And ached in sleepless silence, long;
And now 'tis doomed to know the worst,
And break at once – or yield to song.
George Gordon Byron
(1788 – 1824)
My Soul Is Dark
(Poem)
• fleursdumal.nl magazine
More in: Archive A-B, Archive A-B, Byron, Lord
---
OLD ABE'S CONVERSION
The Negro population of the little Southern town of Danvers was in a state of excitement such as it seldom reached except at revivals, baptisms, or on Emancipation Day. The cause of the commotion was the anticipated return of the Rev. Abram Dixon's only son, Robert, who, having taken up his father's life-work and graduated at one of the schools, had been called to a city church.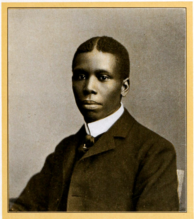 When Robert's ambition to take a college course first became the subject of the village gossip, some said that it was an attempt to force Providence. If Robert were called to preach, they said, he would be endowed with the power from on high, and no intervention of the schools was necessary. Abram Dixon himself had at first rather leaned to this side of the case. He had expressed his firm belief in the theory that if you opened your mouth, the Lord would fill it. As for him, he had no thought of what he should say to his people when he rose to speak. He trusted to the inspiration of the moment, and dashed blindly into speech, coherent or otherwise.
Himself a plantation exhorter of the ancient type, he had known no school except the fields where he had ploughed and sowed, the woods and the overhanging sky. He had sat under no teacher except the birds and the trees and the winds of heaven. If he did not fail utterly, if his labour was not without fruit, it was because he lived close to nature, and so, near to nature's God. With him religion was a matter of emotion, and he relied for his results more upon a command of feeling than upon an appeal to reason. So it was not strange that he should look upon his son's determination to learn to be a preacher as unjustified by the real demands of the ministry.
But as the boy had a will of his own and his father a boundless pride in him, the day came when, despite wagging heads, Robert Dixon went away to be enrolled among the students of a growing college. Since then six years had passed. Robert had spent his school vacations in teaching; and now, for the first time, he was coming home, a full-fledged minister of the gospel.
It was rather a shock to the old man's sensibilities that his son's congregation should give him a vacation, and that the young minister should accept; but he consented to regard it as of the new order of things, and was glad that he was to have his boy with him again, although he murmured to himself, as he read his son's letter through his bone-bowed spectacles: "Vacation, vacation, an' I wonder ef he reckons de devil's goin' to take one at de same time?"
It was a joyous meeting between father and son. The old man held his boy off and looked at him with proud eyes.
"Why, Robbie," he said, "you—you's a man!"
"That's what I'm trying to be, father." The young man's voice was deep, and comported well with his fine chest and broad shoulders.
"You's a bigger man den yo' father ever was!" said his mother admiringly.
"Oh, well, father never had the advantage of playing football."
The father turned on him aghast. "Playin' football!" he exclaimed. "You don't mean to tell me dat dey 'lowed men learnin' to be preachers to play sich games?"
"Oh, yes, they believe in a sound mind in a sound body, and one seems to be as necessary as the other in fighting evil."
Abram Dixon shook his head solemnly. The world was turning upside down for him.
"Football!" he muttered, as they sat down to supper.
Robert was sorry that he had spoken of the game, because he saw that it grieved his father. He had come intending to avoid rather than to combat his parent's prejudices. There was no condescension in his thought of them and their ways. They were different; that was all. He had learned new ways. They had retained the old. Even to himself he did not say, "But my way is the better one."
His father was very full of eager curiosity as to his son's conduct of his church, and the son was equally glad to talk of his work, for his whole soul was in it.
"We do a good deal in the way of charity work among the churchless and almost homeless city children; and, father, it would do your heart good if you could only see the little ones gathered together learning the first principles of decent living."
"Mebbe so," replied the father doubtfully, "but what you doin' in de way of teachin' dem to die decent?"
The son hesitated for a moment, and then he answered gently, "We think that one is the companion of the other, and that the best way to prepare them for the future is to keep them clean and good in the present."
"Do you give 'em good strong doctern, er do you give 'em milk and water?"
"I try to tell them the truth as I see it and believe it. I try to hold up before them the right and the good and the clean and beautiful."
"Humph!" exclaimed the old man, and a look of suspicion flashed across his dusky face. "I want you to preach fer me Sunday."
It was as if he had said, "I have no faith in your style of preaching the gospel. I am going to put you to the test."
Robert faltered. He knew his preaching would not please his father or his people, and he shrank from the ordeal. It seemed like setting them all at defiance and attempting to enforce his ideas over their own. Then a perception of his cowardice struck him, and he threw off the feeling that was possessing him. He looked up to find his father watching him keenly, and he remembered that he had not yet answered.
"I had not thought of preaching here," he said, "but I will relieve you if you wish it."
"De folks will want to hyeah you an' see what you kin do," pursued his father tactlessly. "You know dey was a lot of 'em dat said I oughn't ha' let you go away to school. I hope you'll silence 'em."
Robert thought of the opposition his father's friends had shown to his ambitions, and his face grew hot at the memory. He felt his entire inability to please them now.
"I don't know, father, that I can silence those who opposed my going away or even please those who didn't, but I shall try to please One."
It was now Thursday evening, and he had until Saturday night to prepare his sermon. He knew Danvers, and remembered what a chill fell on its congregations, white or black, when a preacher appeared before them with a manuscript or notes. So, out of concession to their prejudices, he decided not to write his sermon, but to go through it carefully and get it well in hand. His work was often interfered with by the frequent summons to see old friends who stayed long, not talking much, but looking at him with some awe and a good deal of contempt. His trial was a little sorer than he had expected, but he bore it all with the good-natured philosophy which his school life and work in a city had taught him.
The Sunday dawned, a beautiful, Southern summer morning; the lazy hum of the bees and the scent of wild honeysuckle were in the air; the Sabbath was full of the quiet and peace of God; and yet the congregation which filled the little chapel at Danvers came with restless and turbulent hearts, and their faces said plainly: "Rob Dixon, we have not come here to listen to God's word. We have come here to put you on trial. Do you hear? On trial."
And the thought, "On trial," was ringing in the young minister's mind as he rose to speak to them. His sermon was a very quiet, practical one; a sermon that sought to bring religion before them as a matter of every-day life. It was altogether different from the torrent of speech that usually flowed from that pulpit. The people grew restless under this spiritual reserve. They wanted something to sanction, something to shout for, and here was this man talking to them as simply and quietly as if he were not in church.
As Uncle Isham Jones said, "De man never fetched an amen"; and the people resented his ineffectiveness. Even Robert's father sat with his head bowed in his hands, broken and ashamed of his son; and when, without a flourish, the preacher sat down, after talking twenty-two minutes by the clock, a shiver of surprise ran over the whole church. His father had never pounded the desk for less than an hour.
Disappointment, even disgust, was written on every face. The singing was spiritless, and as the people filed out of church and gathered in knots about the door, the old-time head-shaking was resumed, and the comments were many and unfavourable.
"Dat's what his schoolin' done fo' him," said one.
"It wasn't nothin' mo'n a lecter," was another's criticism.
"Put him 'side o' his father," said one of the Rev. Abram Dixon's loyal members, "and bless my soul, de ol' man would preach all roun' him, and he ain't been to no college, neither!"
Robert and his father walked home in silence together. When they were in the house, the old man turned to his son and said:
"Is dat de way dey teach you to preach at college?"
"I followed my instructions as nearly as possible, father."
"Well, Lawd he'p dey preachin', den! Why, befo' I'd ha' been in dat pulpit five minutes, I'd ha' had dem people moanin' an' hollerin' all over de church."
"And would they have lived any more cleanly the next day?"
The old man looked at his son sadly, and shook his head as at one of the unenlightened.
Robert did not preach in his father's church again before his visit came to a close; but before going he said, "I want you to promise me you'll come up and visit me, father. I want you to see the work I am trying to do. I don't say that my way is best or that my work is a higher work, but I do want you to see that I am in earnest."
"I ain't doubtin' you mean well, Robbie," said his father, "but I guess I'd be a good deal out o' place up thaih."
"No, you wouldn't, father. You come up and see me. Promise me."
And the old man promised.
It was not, however, until nearly a year later that the Rev. Abram Dixon went up to visit his son's church. Robert met him at the station, and took him to the little parsonage which the young clergyman's people had provided for him. It was a very simple place, and an aged woman served the young man as cook and caretaker; but Abram Dixon was astonished at what seemed to him both vainglory and extravagance.
"Ain't you livin' kin' o' high fo' yo' raisin', Robbie?" he asked.
The young man laughed. "If you'd see how some of the people live here, father, you'd hardly say so."
Abram looked at the chintz-covered sofa and shook his head at its luxury, but Robert, on coming back after a brief absence, found his father sound asleep upon the comfortable lounge.
On the next day they went out together to see something of the city. By the habit of years, Abram Dixon was an early riser, and his son was like him; so they were abroad somewhat before business was astir in the town. They walked through the commercial portion and down along the wharves and levees. On every side the same sight assailed their eyes: black boys of all ages and sizes, the waifs and strays of the city, lay stretched here and there on the wharves or curled on doorsills, stealing what sleep they could before the relentless day should drive them forth to beg a pittance for subsistence.
"Such as these we try to get into our flock and do something for," said Robert.
His father looked on sympathetically, and yet hardly with full understanding. There was poverty in his own little village, yes, even squalour, but he had never seen anything just like this. At home almost everyone found some open door, and rare was the wanderer who slept out-of-doors except from choice.
At nine o'clock they went to the police court, and the old minister saw many of his race appear as prisoners, receiving brief attention and long sentences. Finally a boy was arraigned for theft. He was a little, wobegone fellow hardly ten years of age. He was charged with stealing cakes from a bakery. The judge was about to deal with him as quickly as with the others, and Abram's heart bled for the child, when he saw a negro call the judge's attention. He turned to find that Robert had left his side. There was a whispered consultation, and then the old preacher heard with joy, "As this is his first offence and a trustworthy person comes forward to take charge of him, sentence upon the prisoner will be suspended."
Robert came back to his father holding the boy by the hand, and together they made their way from the crowded room.
"I'm so glad! I'm so glad!" said the old man brokenly.
"We often have to do this. We try to save them from the first contact with the prison and all that it means. There is no reformatory for black boys here, and they may not go to the institutions for the white; so for the slightest offence they are sent to jail, where they are placed with the most hardened criminals. When released they are branded forever, and their course is usually downward."
He spoke in a low voice, that what he said might not reach the ears of the little ragamuffin who trudged by his side.
Abram looked down on the child with a sympathetic heart.
"What made you steal dem cakes?" he asked kindly.
"I was hongry," was the simple reply.
The old man said no more until he had reached the parsonage, and then when he saw how the little fellow ate and how tenderly his son ministered to him, he murmured to himself, "Feed my lambs"; and then turning to his son, he said, "Robbie, dey's some'p'n in 'dis, dey's some'p'n in it, I tell you."
That night there was a boy's class in the lower room of Robert Dixon's little church. Boys of all sorts and conditions were there, and Abram listened as his son told them the old, sweet stories in the simplest possible manner and talked to them in his cheery, practical way. The old preacher looked into the eyes of the street gamins about him, and he began to wonder. Some of them were fierce, unruly-looking youngsters, inclined to meanness and rowdyism, but one and all, they seemed under the spell of their leader's voice. At last Robert said, "Boys, this is my father. He's a preacher, too. I want you to come up and shake hands with him." Then they crowded round the old man readily and heartily, and when they were outside the church, he heard them pause for a moment, and then three rousing cheers rang out with the vociferated explanation, "Fo' de minister's pap!"
Abram held his son's hand long that night, and looked with tear-dimmed eyes at the boy.
"I didn't understan'," he said. "I didn't understan'."
"You'll preach for me Sunday, father?"
"I wouldn't daih, honey. I wouldn't daih."
"Oh, yes, you will, pap."
He had not used the word for a long time, and at sound of it his father yielded.
It was a strange service that Sunday morning. The son introduced the father, and the father, looking at his son, who seemed so short a time ago unlearned in the ways of the world, gave as his text, "A little child shall lead them."
He spoke of his own conceit and vainglory, the pride of his age and experience, and then he told of the lesson he had learned. "Why, people," he said, "I feels like a new convert!"
It was a gentler gospel than he had ever preached before, and in the congregation there were many eyes as wet as his own.
"Robbie," he said, when the service was over, "I believe I had to come up here to be converted." And Robbie smiled.
Paul Laurence Dunbar
(1872 – 1906)
Old Abe's Conversion
From The Heart Of Happy Hollow, a collection of short stories reprinted in 1904 by Dodd, Mead and Company, New York.
Short Story
• fleursdumal.nl magazine
More in: Archive C-D, Archive C-D, Dunbar, Paul Laurence, Dunbar, Paul Laurence, Paul Laurence Dunbar
---
Von Liebe
Am Abend sprach das Meer und flüsterte:
Ihr schönen Mägdelein, erzählt mir leise,
Ich will die Liebe wissen! Redet mir
So von der Liebe, gleich als sollte ich
Dran sterben, so als müsst' in Ruhe ich
Versinken dran, als könnte sie vorm Sturme
Mich schützen, dass so wütend er nicht mehr
Auf mich sich stürzte! – O! so sprachen da
Die Mägdelein, – Wir wissen wahrlich nicht,
Du armes Meer, ob wir erzählen dürfen;
Denn nimmermehr würdst du in wilder Kraft
Die Schiffe schleudern wollen, und der Felsen
Sorgenumwölbte Stirn mit Schaume peitschen,
Noch wälzen unter jähe, grüne Klippen
Der Sterne Blicken. Glaub' uns Meer, Du wolltest
So mächtig nimmer sein, so scheu und spröde,
In deinen Schoß und in dein Herz nicht mehr
Die schlafumfangnen Menschenherzen saugen.
Du würdest dann gleich uns den Himmel ansehn,
Und ihn nicht sehen, lächeln, wie der Wind
Vorüberweht, und weinen, weil die Sonne
Aufgeht! Nein! wir werden nichts erzählen!
Carmen Sylva
(1843-1916)
Von Liebe
Gedicht
• fleursdumal.nl magazine
More in: Archive S-T, Archive S-T, CLASSIC POETRY
---
A Day
I'll tell you how the sun rose, —
A ribbon at a time.
The steeples swam in amethyst,
The news like squirrels ran.
The hills untied their bonnets,
The bobolinks begun.
Then I said softly to myself,
"That must have been the sun!"
But how he set, I know not.
There seemed a purple stile
Which little yellow boys and girls
Were climbing all the while
Till when they reached the other side,
A dominie in gray
Put gently up the evening bars,
And led the flock away.
Emily Dickinson
(1830-1886)
A Day
• fleursdumal.nl magazine
More in: Archive C-D, Dickinson, Emily
---
Older Entries »
« Newer Entries
Thank you for reading FLEURSDUMAL.NL - magazine for art & literature