En 2018 s'est produit un phénomène que personne n'avait vu venir et qui restera dans l'histoire de la poésie française : un recueil a rencontré à la fois un succès critique et public.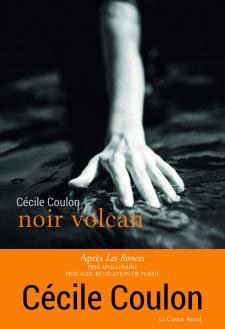 Cécile Coulon avait alors 27 ans, elle était connue comme romancière depuis déjà plusieurs années, et son premier recueil, Les Ronces, suscita un intérêt et un engouement dépassant de loin le cercle « habituel » des lecteurs de poésie.
Son second recueil, Noir volcan, est tout aussi éruptif, celui d'une poésie affranchie, libératrice, terrienne. Il fait partie d'un étonnant renouveau de la poésie constaté par les libraires dont Alexandre Bord : « Des poétesses comme Cécile Coulon et Rupi Kaur, dont les textes ont pu être lus au préalable sur les réseaux sociaux, attirent en librairie des lecteurs qui n'avaient jamais acheté un recueil de poésie. » Il est évident à la lire, que Cécile Coulon ne peut vivre sans poésie.
Cécile Coulon est née en 1990 à Clermont-Ferrand. En quelques années, elle a fait une ascension fulgurante. Elle a publié sept romans dont Trois saisons d'orage (Viviane Hamy), prix des Libraires, et Une bête au paradis (L'Iconoclaste), prix littéraire du Monde. Son premier recueil de poésie, Les Ronces (Le Castor Astral), a reçu le prestigieux prix Apollinaire.
Noir volcan
de Cécile Coulon (Auteur)
Alexandre Bord (Préface)
Broché : 160 pages
Editeur : Le castor astral
6 février 2020
Collection : Poésie
Langue : Français
ISBN-13 : 979-1027802449
ASIN : B07Z76LM7B
Dimensions du produit:
14,1 x 1,5 x 20,5 cm
15,00 EUR
# new books
Cécile Coulon:
Noir volcan
Poésie
• fleursdumal.nl magazine
More in: #Editors Choice Archiv, - Book News, - Bookstores, Archive C-D, Archive C-D, Art & Literature News
The Inevitable
While I was fearing it, it came,
But came with less of fear,
Because that fearing it so long
Had almost made it dear.
There is a fitting a dismay,
A fitting a despair.
'Tis harder knowing it is due,
Than knowing it is here.
The trying on the utmost,
The morning it is new,
Is terribler than wearing it
A whole existence through.
Emily Dickinson
(1830-1886)
The Inevitable (Poem)

• fleursdumal.nl magazine
More in: Archive C-D, Archive C-D, Dickinson, Emily
If two girls are two halves of a deep, lifelong friendship, what does one girl wholly become when the other is gone?
Amy Woolard's debut collection, Neck Of The Woods, sets this question as a hero-quest deep inside the mythos of the American South, wandering through childhood stories in which a girl alone must work to save herself.
These poems take on what happens when you wake up the morning after something happens, and find yourself in a different world, knowing there isn't truly a way back home.
Part-elegy, part-survivor's testimony, Neck Of The Woods maps a path divided into a before and an ever after.
Amy Woolard is a legal aid attorney working on civil rights policy and legislation in Virginia. Her first collection, Neck of the Woods, received the 2018 Alice James Award from Alice James Books. Her poems have appeared in The New Yorker, The Paris Review, Poetry, Boston Review, Ploughshares, and elsewhere, while her essays and reporting have been featured in publications such as Slate, The Guardian, and Virginia Quarterly Review. She has received fellowships from the National Endowment for the Arts, the Vermont Studio Center, and the Breadloaf Writers' Conference. She lives in Charlottesville, Virginia.
Neck of the Woods (Poetry)
Amy Woolard (Author)
Publisher: Alice James Books
Publish Date: April 07, 2020
Pages 100
Dimensions: 5.9 X 0.4 X 8.9 inches
Language: English
Type: Paperback
ISBN: 9781948579070
Price: $16.95
# new poetry
Amy Woolard:
Neck of the Woods
• fleursdumal.nl magazine
More in: #Editors Choice Archiv, - Book News, - Bookstores, Archive W-X, Art & Literature News
The Lonely Dancer
I had no heart to join the dance,
I danced it all so long ago–
Ah! light-winged music out of France,
Let other feet glide to and fro,
Weaving new patterns of romance
For bosoms of new-fallen snow.
But leave me thus where I may hear
The leafy rustle of the waltz,
The shell-like murmur in my ear,
The silken whisper fairy-false
Of unseen rainbows circling near,
And the glad shuddering of the walls.
Another dance the dancers spin,
A shadow-dance of mystic pain,
And other partners enter in
And dance within my lonely brain–
The swaying woodland shod in green,
The ghostly dancers of the rain;
The lonely dancers of the sea,
Foam-footed on the sandy bar,
The wizard dance of wind and tree,
The eddying dance of stream and star;
Yea, all these dancers tread for me
A measure mournful and bizarre:
An echo-dance where ear is eye,
And sound evokes the shapes of things,
Where out of silence and a sigh
The sad world like a picture springs,
As, when some secret bird sweeps by,
We see it in the sound of wings.
Those human feet upon the floor,
That eager pulse of rhythmic breath,–
How sadly to an unknown shore
Each silver footfall hurryeth;
A dance of autumn leaves, no more,
On the fantastic wind of death.
Fire clasped to elemental fire,
'Tis thus the solar atom whirls;
The butterfly in aery gyre,
On autumn mornings, swarms and swirls,
In dance of delicate desire,
No other than these boys and girls.
The same strange music everywhere,
The woven paces just the same,
Dancing from out the viewless air
Into the void from whence they came;
Ah! but they make a gallant flare
Against the dark, each little flame!
And what if all the meaning lies
Just in the music, not in those
Who dance thus with transfigured eyes,
Holding in vain each other close;
Only the music never dies,
The dance goes on,–the dancer goes.
A woman dancing, or a world
Poised on one crystal foot afar,
In shining gulfs of silence whirled,
Like notes of the strange music are;
Small shape against another curled,
Or dancing dust that makes a star.
To him who plays the violin
All one it is who joins the reel,
Drops from the dance, or enters in;
So that the never-ending wheel
Cease not its mystic course to spin,
For weal or woe, for woe or weal.
Richard Le Gallienne
(1866 – 1947)
The Lonely Dancer
From: The lonely Dancer and other Poems, 1913
• fleursdumal.nl magazine
More in: Archive G-H, Archive G-H, Gallienne, Richard Le
Poet, writer, and dancer Tishani Doshi was born in Madras, India, to Welsh and Gujarati parents. She earned a BA from Queens College in North Carolina and an MA from the Writing Seminars from the Johns Hopkins University. After working in the fashion magazine industry in London, Doshi returned to India.
An unexpected meeting with one of Indian dance's leading choreographers, Chandralekha, led Doshi to a career in dance. She currently performs internationally with the Chandralekha group. She is a freelance journalist, and her work has appeared in newspapers and journals such as the Guardian, the National, and the Hindu. She writes a regular column for New Indian Express and was a finalist in the Outlook/Picador India Non-Fiction Competition.
Doshi is widely acclaimed as a creative writer; her first book of poetry, Countries of the Body (2006), won a Forward Prize for Best First Collection. Her other collections include Everything Begins Elsewhere (2013), Dolce Marcescenza (Sweet Decay) (2015), and Girls Are Coming Out of the Woods (2018).
Doshi's first novel, The Pleasure Seekers (2010), was shortlisted for the Hindu Best Fiction Award and has been translated into several languages. She is also the author of Fountainville: New Stories from the Mabinogion (2013), a retelling of the Mabinogion myth, as well as two books about place and home, Madras Then Chennai Now (2013) and The Adulterous Citizen (2015). Her latest novel is Small Days and Nights (W. W. Norton, 2020).
From "The River of Girls" by Tishani Doshi the poem:
i.m. India's missing girls
This is not really myth or secret.
This murmur in the mouth
of the mountain where the sound
of rain is born.
  ( . . . . . )
This is the sound of ten million girls
singing of a time in the universe
when they were born with tigers
breathing between their thighs;
when they set out for battle
with all three eyes on fire,
their golden breasts held high
like weapons to the sky.
Tishani Doshi, "The River of Girls". Copyright © 2013 by Tishani Doshi.
Source: Everything Begins Elsewhere (Copper Canyon Press, 2013)
Her honors and awards include an Eric Gregory Award and an All-India Poetry Prize. She lives in Tamil Nadu, India.
Small Days and Nights
A Novel
by Tishani Doshi (Author)
Hardcover
$25.95
272 pages
Publisher: W. W. Norton & Company
January 21, 2020
Language: English
ISBN-10: 1324005238
ISBN-13: 978-1324005230
# fleursdumal.nl magazine
More in: - Book News, - Book Stories, Archive C-D, Archive C-D, Art & Literature News, REPRESSION OF WRITERS, JOURNALISTS & ARTISTS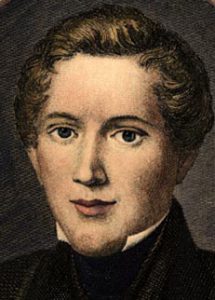 An Emilie
Zum Garten ging ich früh hinaus,
Ob ich vielleicht ein Sträußchen finde?
Nach manchem Blümchen schaut' ich aus,
Ich wollt's für dich zum Angebinde;
Umsonst hatt' ich mich hinbemüht,
Vergebens war mein freudig Hoffen;
Das Veilchen war schon abgeblüht,
Von andern Blümchen keines offen.
Und trauernd späht' ich her und hin,
Da tönte zu mir leise, leise
Ein Flüstern aus der Zweige Grün,
Gesang nach sel'ger Geister Weise;
Und lieblich, wie des Morgens Licht
Des Tales Nebelhüllen scheidet,
Ein Röschen aus der Knospe bricht,
Das seine Blätter schnell verbreitet.
»Du suchst ein Blümchen?« spricht's zu mir,
»So nimm mich hin mit meinen Zweigen,
Bring mich zum Angebinde ihr!
Ich bin der wahren Freude Zeichen.
Ob auch mein Glanz vergänglich sei,
Es treibt aus ihrem treuen Schoße
Die Erde meine Knospen neu,
Drum unvergänglich ist die Rose.
Und wie mein Leben ewig quillt
Und Knosp' um Knospe sich erschließet,
Wenn mich die Sonne sanft und mild
Mit ihrem Feuerkuß begrüßet,
So deine Freundin ewig blüht,
Beseelt vom Geiste ihrer Lieben,
Denn ob der Rose Schmelz verglüht —
Der Rose Leben ist geblieben.«
Wilhelm Hauff
(1802 – 1827)
An Emilie, Gedicht
• fleursdumal.nl magazine

More in: Archive G-H, Hauff, Hauff, Wilhelm, Tales of Mystery & Imagination
Le Poète
ODE
(Couronnée aux jeux floraux)
Des longs ennuis du jour quand le soir me délivre,
Poète aux chants divins, j'ouvre en rêvant ton livre,
Je me recueille en toi, dans l'ombre et loin du bruit ;
De ton monde idéal, j'ose aborder la rive :
Tes chants que je répète, à mon âme attentive
Semblent plus purs la nuit !
Mais qu'il reste caché, ce trouble de mon âme,
De moi rien ne t'émeut, ni louange, ni blâme.
Quelques hivers à peine ont passé sur mon front…
Et qu'importe à ta muse, en tous lieux adorée,
Qu'au sein de ses foyers une femme ignorée
S'attendrisse à ton nom !
Qui te dira qu'aux sons de ta lyre sublime,
À ses accords divins, ma jeune âme s'anime,
Laissant couler ensemble et ses vers et ses pleurs ?
Quand près de moi ta muse un instant s'est posée,
Je chante…. ainsi le ciel, en versant sa rosée,
Entr'ouvre quelques fleurs.
Poètes ! votre sort est bien digne d'envie.
Le Dieu qui nous créa vous fit une autre vie,
L'horizon ne sert point de limite à vos yeux,
D'un univers plus grand vous sondez le mystère,
Et quand, pauvres mortels, nous vivons sur la terre,
Vous vivez dans les cieux !
Et si, vous éloignant des voûtes éternelles,
Vous descendez vers nous pour reposer vos ailes,
Notre monde à vos yeux se dévoile plus pur ;
L'hiver garde des fleurs, les bois un vert feuillage,
La rose son parfum, les oiseaux leur ramage,
Et le ciel son azur.
Si Dieu, vous révélant les maux de l'existence,
Au milieu de vos chants fait naître la souffrance,
Votre âme, en sa douleur poursuivant son essor,
Comme au temps des beaux jours vibre dans ses alarmes ;
Le monde s'aperçoit, quand vous montrez vos larmes,
Que vous chantez encor !
Le malheur se soumet aux formes du génie,
En passant par votre âme, il devient harmonie.
Votre plainte s'exhale en sons mélodieux.
L'ouragan qui, la nuit, rugit et se déchaîne,
S'il rencontre en son cours la harpe éolienne,
Devient harmonieux.
Moi, sur mes jeunes ans j'ai vu gronder l'orage,
Le printemps fut sans fleurs, et l'été, sans ombrage ;
Aucun ange du ciel n'a regardé mes pleurs.
Que ne puis-je, changeant l'absinthe en ambroisie,
Comme vous, aux accords d'un chant de poésie
Endormir mes douleurs !
À notre âme, ici-bas , il n'est rien qui réponde ;
Poètes inspirés, montrez-nous votre monde !
À ce vaste désert, venez nous arracher.
Pour le divin banquet votre table se dresse…
Oh ! laissez, de la coupe où vous puisez l'ivresse,
Mes lèvres s'approcher !
Oui, penchez jusqu'à moi voire main que j'implore ;
Votre coupe est trop loin, baissez, baissez encore !…
Répandez dans mes vers l'encens inspirateur.
Pour monter jusqu'à vous, mon pied tremble et chancelle…
Poètes ! descendez, et portez sur votre aile
Une timide sœur !
Sophie d'Arbouville
(1810-1850)
Le Poète. Ode
Poésies et nouvelles (1840)
•fleursdumal.nl
More in: Arbouville, Sophie d', Archive A-B, Archive A-B
Siebenschön
Es waren einmal in einem Dorfe ein paar arme Leute, die hatten ein kleines Häuschen und nur eine einzige Tochter, die war wunderschön und gut über alle Maßen. Sie arbeitete, fegte, wusch, spann und nähte für sieben, und war so schön wie sieben zusammen, darum ward sie Siebenschön geheißen. Aber weil sie ob ihrer Schönheit immer von den Leuten angestaunt wurde, schämte sie sich, und nahm sonntags, wenn sie in die Kirche ging – denn Siebenschön war auch frömmer wie sieben andre, und das war ihre größte Schönheit – einen Schleier vor ihr Gesicht.
So sah sie einstens der Königssohn, und hatte seine Freude über ihre edle Gestalt, ihren herrlichen Wuchs, so schlank wie eine junge Tanne, aber es war ihm leid, daß er vor dem Schleier nicht auch ihr Gesicht sah, und fragte seiner Diener einen: »Wie kommt es, daß wir Siebenschöns Gesicht nicht sehen?« – »Das kommt daher« – antwortete der Diener: »weil Siebenschön so sittsam ist.« Darauf sagte der Königssohn: »Ist Siebenschön so sittsam zu ihrer Schönheit, so will ich sie lieben mein lebenlang und will sie heiraten. Gehe du hin und bringe ihr diesen goldnen Ring von mir und sage ihr, ich habe mit ihr zu reden, sie solle abends zu der großen Eiche kommen.« Der Diener tat wie ihm befohlen war, und Siebenschön glaubte, der Königssohn wolle ein Stück Arbeit bei ihr bestellen, ging daher zur großen Eiche und da sagte ihr der Prinz, daß er sie lieb habe um ihrer großen Sittsamkeit und Tugend willen, und sie zur Frau nehmen wolle; Siebenschön aber sagte: »Ich bin ein armes Mädchen und du bist ein reicher Prinz, dein Vater würde sehr böse werden, wenn du mich wolltest zur Frau nehmen.
« Der Prinz drang aber noch mehr in sie, und da sagte sie endlich, sie wolle sich's bedenken, er solle ihr ein paar Tage Bedenkzeit gönnen. Der Königssohn konnte aber unmöglich ein paar Tage warten, er schickte schon am folgenden Tage Siebenschön ein Paar silberne Schuhe und ließ sie bitten, noch einmal unter die große Eiche zu kommen. Da sie nun kam, so fragte er schon, ob sie sich besonnen habe? sie aber sagte, sie habe noch keine Zeit gehabt sich zu besinnen, es gebe im Haushalt gar viel zu tun, und sie sei ja doch ein armes Mädchen und er ein reicher Prinz, und sein Vater werde sehr böse werden, wenn er, der Prinz, sie zur Frau nehmen wolle. Aber der Prinz bat von neuem und immermehr, bis Siebenschön versprach, sich gewiß zu bedenken und ihren Eltern zu sagen, was der Prinz im Willen habe. Als der folgende Tag kam, da schickte der Königssohn ihr ein Kleid, das war ganz von Goldstoff, und ließ sie abermals zu der Eiche bitten.
Aber als nun Siebenschön dahin kam, und der Prinz wieder fragte, da mußte sie wieder sagen und klagen, daß sie abermals gar zu viel und den ganzen Tag zu tun gehabt, und keine Zeit zum Bedenken, und daß sie mit ihren Eltern von dieser Sache auch noch nicht habe reden können, und wiederholte auch noch einmal, was sie dem Prinzen schon zweimal gesagt hatte, daß sie arm, er aber reich sei, und daß er seinen Vater nur erzürnen werde. Aber der Prinz sagte ihr, das alles habe nichts auf sich, sie solle nur seine Frau werden, so werde sie später auch Königin, und da sie sah, wie aufrichtig der Prinz es mit ihr meinte, so sagte sie endlich ja, und kam nun jeden Abend zu der Eiche und zu dem Königssohne – auch sollte der König noch nichts davon erfahren. Aber da war am Hofe eine alte häßliche Hofmeisterin, die lauerte dem Königssohn auf, kam hinter sein Geheimnis und sagte es dem Könige an. Der König ergrimmte, sandte Diener aus und ließ das Häuschen, worin Siebenschöns Eltern wohnten, in Brand stecken, damit sie darin anbrenne. Sie tat dies aber nicht, sie sprang als sie das Feuer merkte heraus und alsbald in einen leeren Brunnen hinein, ihre Eltern aber, die armen alten Leute verbrannten in dem Häuschen.
Da saß nun Siebenschön drunten im Brunnen und grämte sich und weinte sehr, konnt's aber zuletzt doch nicht auf die Länge drunten im Brunnen aushalten, krabbelte herauf, fand im Schutt des Häuschens noch etwas Brauchbares, machte es zu Geld und kaufte dafür Mannskleider, ging als ein frischer Bub an des Königs Hof und bot sich zu einem Bedienten an. Der König fragte den jungen Diener nach dem Namen, da erhielt er die Antwort: »Unglück!« und dem König gefiel der junge Diener also wohl, daß er ihn gleich annahm, und auch bald vor allen andern Dienern gut leiden konnte.
Als der Königssohn erfuhr, daß Siebenschöns Häuschen verSiebenschönbrannt war, wurde er sehr traurig, glaubte nicht anders, als Siebenschön sei mit verbrannt, und der König glaubte[180] das auch, und wollte haben, daß sein Sohn nun endlich eine Prinzessin heirate, und mußte dieser nun eines benachbarten Königs Tochter freien. Da mußte auch der ganze Hof und die ganze Dienerschaft mir zur Hochzeit ziehen, und für Unglück war das am traurigsten, es lag ihm wie ein Stein auf dem Herzen. Er ritt auch mit hintennach der Letzte im Zuge, und sang wehklagend mit klarer Stimme:
»Siebenschön war ich genannt,
Unglück ist mir jetzt bekannt.«
Das hörte der Prinz von weitem, und fiel ihm auf und hielt und fragte: »Ei wer singt doch da so schön?« – »Es wird wohl mein Bedienter, der Unglück sein«, antwortete der König, »den ich zum Diener angenommen habe.« Da hörten sie noch einmal den Gesang:
»Siebenschön war ich genannt,
Unglück ist mir jetzt bekannt.«
Da fragte der Prinz noch einmal, ob das wirklich niemand anders sei, als des Königs Diener? und der König sagte er wisse es nicht anders.
Als nun der Zug ganz nahe an das Schloß der neuen Braut kam, erklang noch einmal die schöne klare Stimme:
»Siebenschon war ich genannt,
Unglück ist mir jetzt bekannt.«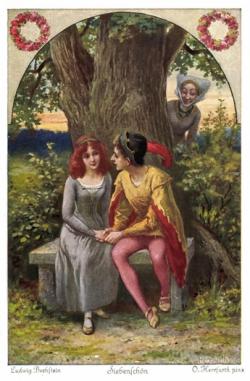 Jetzt wartete der Prinz keinen Augenblick länger, er spornte sein Pferd und ritt wie ein Offizier längs des ganzen Zugs in gestrecktem Galopp hin, bis er an Unglück kam, und Siebenschön erkannte. Da nickte er ihr freundlich zu und jagte wieder an die Spitze des Zuges, und zog in das Schloß ein. Da nun alle Gäste und alles Gefolge im großen Saal versammelt war und die Verlobung vor sich gehen sollte, so sagte der Prinz zu seinem künftigen Schwiegervater: »Herr König, ehe ich mit Eurer Prinzessin Tochter mich feierlich verlobe, wollet mir erst ein kleines Rätsel lösen. Ich besitze einen schönen Schrank, dazu verlor ich vor einiger Zeit den Schlüssel, kaufte mir also einen neuen; bald darauf fand ich den alten wieder, jetzt saget mir Herr König, wessen Schlüssel ich mich bedienen soll?« – »Ei natürlich des alten wieder!« antwortete der König, »das Alte soll man in Ehren halten, und es über Neuem nicht hintansetzen.« – »Ganz wohl Herr König«, antwortete nun der Prinz, »so zürnt mir nicht, wenn ich Eure Prinzessin Tochter nicht freien kann, sie ist der neue Schlüssel, und dort steht der alte.« Und nahm Siebenschön an der Hand und führte sie zu seinem Vater, indem er sagte: »Siehe Vater, das ist meine Braut.« Aber der alte König rief ganz erstaunt und erschrocken aus: »Ach lieber Sohn, das ist ja Unglück, mein Diener!« – Und viele Hofleute schrieen: »Herr Gott, das ist ja ein Unglück!« – »Nein!« sagte der Königssohn, »hier ist gar kein Unglück, sondern hier ist Siebenschön, meine liebe Braut.« Und nahm Urlaub von der Versammlung und führte Siebenschön als Herrin und Frau auf sein schönstes Schloß.
Ludwig Bechstein
(1801 – 1860)
Siebenschön
Sämtliche Märchen
• fleursdumal.nl magazine
More in: Archive A-B, Bechstein, Bechstein, Ludwig, Tales of Mystery & Imagination
Everybody's Joining It
Fellow workers, can't you hear,
There is something in the air.
Everywhere you walk everybody talks
'Bout the I. W. W.
They have got a way to strike
That the master doesn't like —
Everybody sticks,
That's the only trick,
Al are joining now.
CHORUS:
Everybody's joining it, joining what? Joining it!
Everybody's joining it, joining what? Joining it!
One Big Union, that's the workers' choice,
One Big Union, that's the only choice,
One Big Union, that's the only noise,
One Big Union, shout with all your voice;
Make a noise, make a noise, make a noise, boys,
Everybody's joining it, joining what? Joining it!
Everybody's joining it, joining what? Joining it!
Joining in this union grand,
Boys and girls in every land;
All the workers hand in hand —
Everybody's joining it now.
The' Boss is feeling mighty blue,
He don't know just what to do.
We have got his goat, got him by the throat,
Soon he'll work or go starving.
Join I. W. W.
Don't let bosses trouble you,
Come and join with us —
Everybody does —
You've got nothing to lose.
Will the One Big Union Grow?
Mister Bonehead wants to know.
Well! What do you think, of that funny gink,
Asking such foolish questions?
Will it grow? Well! Look a here,
Brand new locals everywhere,
Better take a hunch,
Join the fighting bunch,
Fight for Freedom and Right.
Joe Hill
(1879-1915)
Everybody's Joining It
Song
• fleursdumal.nl magazine
More in: # Music Archive, Archive G-H, Joe Hill, Workers of the World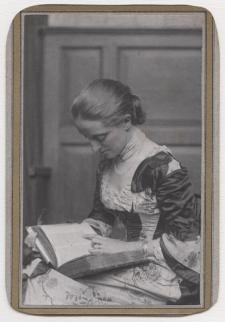 Ah! Would I Could Forget
The whispering water rocks the reeds,
And, murmuring softly, laps the weeds;
And nurses there the falsest bloom
That ever wrought a lover's doom.
Forget me not! Forget me not!
Ah! would I could forget!
But, crying still, "Forget me not,"
Her image haunts me yet.
We wander'd by the river's brim,
The day grew dusk, the pathway dim;
Her eyes like stars dispell'd the gloom,
Her gleaming fingers pluck'd the bloom.
Forget me not! Forget me not!
Ah! would I could forget!
But, crying still, "Forget me not,"
Her image haunts me yet.
The pale moon lit her paler face,
And coldly watch'd our last embrace,
And chill'd her tresses' sunny hue,
And stole that flower's turquoise blue.
Forget me not! Forget me not!
Ah! would I could forget!
But, crying still, "Forget me not,"
Her image haunts me yet.
The fateful flower droop'd to death,
The fair, false maid forswore her faith;
But I obey a broken vow,
And keep those wither'd blossoms now!
Forget me not! Forget me not!
Ah! would I could forget!
But, crying still, "Forget me not,"
Her image haunts me yet.
Sweet lips that pray'd–"Forget me not!"
Sweet eyes that will not be forgot!
Recall your prayer, forego your power,
Which binds me by the fatal flower.
Forget me not! Forget me not!
Ah! would I could forget!
But, crying still, "Forget me not,"
Her image haunts me yet.
Juliana Horatia Ewing
(1841–1885)
Poem
Ah! Would I Could Forget
• fleursdumal.nl magazine
More in: Archive E-F, Archive E-F, Juliana Horatia Ewing, Tales of Mystery & Imagination
Paul Celan, der meistgedeutete deutschsprachige Dichter nach 1945, ist auch der Autor eines eminenten Briefwerks.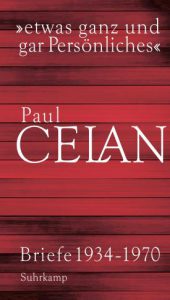 Mit dieser Ausgabe wird es nun erstmals als eigenes Werk sichtbar: in 691 Briefen, davon 330 bisher unpubliziert, an 252 Adressaten. Wer sind die Adressaten? Es sind die Mitglieder der Familie, geliebte Frauen, befreundete Autoren, sehr junge und begeisterte Leser, Übersetzerkollegen, französische Philosophen ebenso wie deutsche Germanisten und die Mitarbeiter vieler Verlage. Aus alledem entsteht in chronologischer Folge über vier Jahrzehnte ein Leben aus Briefen.
In ihnen zeigt sich Celan als herausragender Korrespondenzpartner mit einer enormen stilistischen Bandbreite, ausgeprägt in seiner Fähigkeit, auch auf Unbekannte einzugehen. Die Briefe offenbaren eine Vielzahl bisher verborgener biografischer Fakten, ermöglichen eine Präzisierung seiner Poetologie und zeigen ihn zugleich als Menschen in seinem ganz gewöhnlichen Alltag.
Das Jahr 2020 steht ganz im Zeichen von Paul Celan: Am 20. April jährte sich sein Todestag zum fünfzigsten Mal, und am 23. November 2020 wäre einer der wichtigsten deutschsprachigen Dichter nach 1945 einhundert Jahre alt geworden.
Paul Celan wurde als Paul Antschel am 23. November 1920 als einziger Sohn deutschsprachiger, jüdischer Eltern im damals rumänischen Czernowitz geboren. Nach dem Abitur 1938 begann Celan ein Medizinstudium in Frankreich, kehrte jedoch ein Jahr später nach Rumänien zurück, um dort Romanistik zu studieren. 1942 wurden Paul Celans Eltern deportiert. Im selben Herbst starb sein Vater in einem Lager an Typhus, seine Mutter wurde erschossen. Von 1942 bis 1944 musste Celan in verschiedenen rumänischen Arbeitslagern Zwangsarbeit leisten.
Von 1945 bis 1947 arbeitete er als Lektor und Übersetzer in Bukarest, wo auch erste Gedichte von Celan erschienen. Im Juli 1948 zog er von Wien aus nach Paris, wo der Dichter bis zu seinem Tod lebte. Dort lernte Celan 1951 die Künstlerin Gisèle de Lestrange kennen, die er ein Jahr später heiratete. Ihr gemeinsamer Sohn Eric kam 1955 zur Welt. Im Frühjahr 1970 nahm sich Celan in der Seine das Leben. (Suhrkamp Verlag)
"Dieses aus- und eindrucksvolle Mosaik ist die große Leistung der Herausgeberin Barbara Wiedemann, die schon so viele Publikationen zu Paul Celan verantwortet hat." – Martin Oehlen, Frankfurter Rundschau
Paul Celan
"Etwas ganz und gar Persönliches"
Briefe 1934-1970
Herausgegeben und kommentiert von Barbara Wiedemann
Deutschsprachig
Leinen
Literatur
Suhrkamp Verlag
1286 Seiten
78,00 €
Erschienen: 14.12.2019
ISBN: 978-3-518-42888-7
# new books
Paul Celan
Briefe 1934-1970
• fleursdumal.nl magazine
More in: - Book News, - Bookstores, Archive C-D, Archive C-D, Celan, Paul, Paul Celan
Gettysburg
O Pride of the days in prime of the months
Now trebled in great renown,
When before the ark of our holy cause
Fell Dagon down-
Dagon foredoomed, who, armed and targed,
Never his impious heart enlarged
Beyond that hour; God walled his power,
And there the last invader charged.
He charged, and in that charge condensed
His all of hate and all of fire;
He sought to blast us in his scorn,
And wither us in his ire.
Before him went the shriek of shells-
Aerial screamings, taunts and yells;
Then the three waves in flashed advance
Surged, but were met, and back they set:
Pride was repelled by sterner pride,
And Right is a strong-hold yet.
Before our lines it seemed a beach
Which wild September gales have strown
With havoc on wreck, and dashed therewith
Pale crews unknown-
Men, arms, and steeds. The evening sun
Died on the face of each lifeless one,
And died along the winding marge of fight
And searching-parties lone.
Sloped on the hill the mounds were green,
Our centre held that place of graves,
And some still hold it in their swoon,
And over these a glory waves.
The warrior-monument, crashed in fight,
Shall soar transfigured in loftier light,
A meaning ampler bear;
Soldier and priest with hymn and prayer
Have laid the stone, and every bone
Shall rest in honor there.
Herman Melville
(1819 – 1891)
Gettysburg
• fleursdumal.nl magazine
More in: Archive M-N, Archive M-N, Herman Melville, WAR & PEACE
Thank you for reading FLEURSDUMAL.NL - magazine for art & literature