Simon Vinkenoog (1928 – 2009) was een Nederlands schrijver, dichter, vertaler en samensteller van bloemlezingen. Bovendien een groot liefhebber en kenner van seks, drugs en rock-'n-roll.
Zijn fascinatie voor en kennis van hallucinogene middelen, bracht hem regelmatig in aanraking met justitie.
Een bericht uit Dagblad De Waarheid van zaterdag 21 december 1963.
Simon Vinkenoog
• fleursdumal.nl magazine
More in: Archive U-V, Archive U-V, Art & Literature News, DRUGS & MEDICINE & LITERATURE, Simon Vinkenoog, Simon Vinkenoog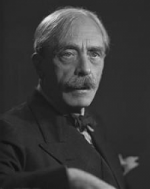 Féerie
La lune mince verse une lueur sacrée,
Toute une jupe d'un tissu d'argent léger,
Sur les bases de marbre où vient l'Ombre songer
Que suit d'un char de perle une gaze nacrée.
Pour les cygnes soyeux qui frôlent les roseaux
De carènes de plume à demi lumineuse,
Elle effeuille infinie une rose neigeuse
Dont les pétales font des cercles sur les eaux . . .
Est-ce vivre ?… Ô désert de volupté pâmée
Où meurt le battement faible de l'eau lamée,
Usant le seuil secret des échos de cristal . . .
La chair confuse des molles roses commence
À frémir, si d'un cri le diamant fatal
Fêle d'un fil de jour toute la fable immense.
Paul Valéry
(1871-1945)
Féerie
Poème
Album de vers anciens
• fleursdumal.nl magazine
More in: Archive U-V, Archive U-V, Valéry, Paul
Ein Gefangener reicht dem Tod die Hand
Erst hörte man den Schrei der armen Kreatur.
Dann poltern Flüche durch die aufgescheuchten Gänge,
Sirenen singen die Alarmgesänge,
In allen Zellen tickt die Totenuhr.
Was trieb dich, Freund, dem Tod die Hand zu reichen?
Das Wimmern der Gepeitschten? Die geschluchzten Hungerklagen?
Die Jahre, die wie Leichenratten unsern Leib zernagen?
Die ruhelosen Schritte, die zu unsern Häuptern schleichen?
Trieb dich der stumme Hohn der leidverfilzten Wände,
Der wie ein Nachtmahr unsre Brust bedrückt?
Wir wissen's nicht. Wir wissen nur, daß Menschenhände
Einander wehe tun. Daß keine Hilfebrücke überbrückt
Die Ströme Ich und Du. Daß wir den Weg verlieren
Im Dunkel dieses Hauses. Daß wir frieren.
Ernst Toller
(1893 – 1939)
Ein Gefangener reicht dem Tod die Hand
• fleursdumal.nl magazine
More in: Archive S-T, Archive S-T, Toller, Ernst
The Realists
Hope that you may understand!
What can books of men that wive
In a dragon-guarded land,
Paintings of the dolphin-drawn
Sea-nymphs in their pearly wagons
Do, but awake a hope to live
That had gone
With the dragons?
William Butler Yeats
(1865-1939)
The Realists
• fleursdumal.nl magazine
More in: Archive Y-Z, Archive Y-Z, Yeats, William Butler
Ich weiß
Ich weiß, daß ich bald sterben muß
Es leuchten doch alle Bäme
Nach langersehtem Julikuß –
Fahl werden meine Träume –
Nie dichtete ich einen trüberen Schluß
In den Büchern meiner Reime.
Eine Blume brichst du mir zum Gruß –
Ich liebte sie schon im Keime.
Doch ich weiß, daß ich bald sterben muß.
Mein Odem schwebt über Gottes Fluß
Ich setze leise meinen Fuß
Auf den Pfad zum ewigen Heime.
Else Lasker-Schüler
(1869 – 1945)
Ich weiß
• fleursdumal.nl magazine
More in: #Editors Choice Archiv, Archive K-L, Archive K-L, Lasker-Schüler, Else
Confronted with a terminal cancer diagnosis, Jay Hopler–author of the National Book Award-finalist The Abridged History of Rainfall–got to work.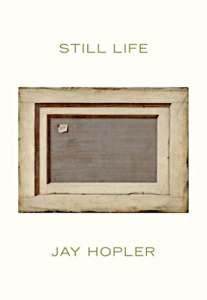 The result of that labor is Still Life, a collection of poems that are heartbreaking, terrifying, and deeply, darkly hilarious.
In an attempt to find meaning in a life ending right before his eyes, Hopler squares off against monsters real and imagined, personal and historical, and tries not to flinch.
This work is no elegy; it's a testament to courage, love, compassion, and the fierceness of the human heart.
It's a violently funny but playfully serious fulfillment of what Arseny Tarkovsky called the fundamental purpose of art: a way to prepare for death, be it far in the future or very near at hand.
Jay Hopler was born in San Juan, Puerto Rico, in 1970. He earned a BA in English and American Literature from New York University, an MA in Creative Writing from the Johns Hopkins University Writing Seminars, an MFA in Creative Writing from the Iowa Writers' Workshop, and a PhD in American Studies from Purdue University. His first collection of poetry, Green Squall (2006), was chosen by Louise Glück as the winner of the Yale Younger Poets Prize; his second collection, The Abridged History of Rainfall (2016), was a finalist for the National Book Award in Poetry.
Hopler's poems take as their starting point a formal virtuosity rooted in idiosyncrasy, passion of vision, and the beautiful (sometimes not-so-beautiful) violence of emotion. They are by turns plainspoken, erudite, opaque, clear, serious, and broodingly funny. Hopler is a dexterous poet, but never dogmatic. His poems make sense but not points; they think and reel and describe the broken world, without a wasted word. What the likes of G.M. Hopkins and Wallace Stevens and Robert Hayden carried out, Jay Hopler continues and expands upon, to gorgeous effect. According to poet Katie Ford, "Hopler's vision and voice [are] both painfully complex because of how much of the world he allows to attach to him, to stake its claim on him." Hopler is also an editor and translator.
His works include The Killing Spirit: An Anthology of Murder for Hire (1998), Before the Door of God: An Anthology of Devotional Poetry (edited with his spouse, poet and Renaissance scholar Kimberly Johnson, 2013), and The Museum of Small Dark Things: 25 Poems by Georg Trakl (2016).
The recipient of numerous honors and awards, including a Fellowship from the Lannan Foundation, a Whiting Award, the Great Lakes Colleges Association New Writers Award, two National "Best Books" Award from USA Book News, two Florida Book Awards, a Foreword Reviews Book-of-the-Year Award, and the Rome Prize in Literature, Hopler directs the program in creative writing at the University of South Florida.
Still Life
Jay Hopler (Author)
Publisher: McSweeney's
Publish Date: June 07, 2022
Dimensions
6.36 X 8.5 X 0.46 inches
Language English
Hardcover
EAN/UPC 9781952119378
Price $18.00
• fleursdumal.nl magazine
More in: #Editors Choice Archiv, - Book News, - Bookstores, Archive G-H, Archive G-H
Nimmer schor is de maan
Zwier de korrels uit de aren, dorsers! Het bier en brood
van morgen moet jullie akkers uit. Op stille tenen verklaart
gelukkig de middag zich geduldig nader. Dat kreupelhout
onwillig is en de spar ontschorst. Dat regen op komst lijkt:
hoge wolken zijn gestreept als de borstveren van een havik.
De wijze weet dat de maan nimmer schor is en heeft een
naam die eigenlijk zachte dieren zouden moeten dragen.
Onderaan de dijk bloeit in pruilende klei de grote bevernel.
Bert Bevers
Nimmer schor is de maan
Gedicht
Verschenen in de catalogus Enghuizer dialogen, Hummelo, 2019
• fleursdumal.nl magazine
More in: #Editors Choice Archiv, Archive A-B, Archive A-B, Bevers, Bert
Wroeging
Hij verzamelde geld. Oud geld, nieuw geld, geld. Zijn huis was van geld, zijn tafel, zijn stoel, zijn tv, zijn vrouw, zijn zoon, zijn baby, zijn 06, zijn laptop, zijn auto, zijn tuin, zijn muren, zijn ramen, zijn huidige geld, zijn toekomstige geld, zijn wereld, alles van geld. In een droom zag hij zichzelf, zijn armen griezelig veranderd in briefjes van tien, zijn ogen zich harden tot munten van twee, zijn hart tot toren van munten verhard, zijn beide handen uit munten gesmeed. Zijn vrouw die op de achtergrond zijn portemonnaie kust. Hij begon te huilen als een kind dat wakker schrikt in het geloof dat zijn pasgedroomde nachtmerrie werkelijkheid is, tot hopelijk een lieve mama deze ontkent en hem geruststelt. Hij huilde steeds harder en harder en harder tot en met de volwassene die ineens voelt, weet dat zijn nachtmerrie zijn ware nachtmerrie blijkt.
Freda Kamphuis
Wroeging
Gedicht
• fleursdumal.nl magazine
More in: #Editors Choice Archiv, Archive K-L, Archive K-L, Kamphuis, Freda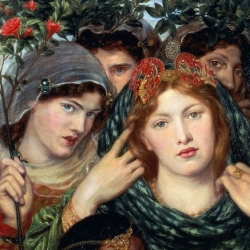 A New-Year's Burden
Along the grass sweet airs are blown
Our way this day in Spring.
Of all the songs that we have known
Now which one shall we sing?
Not that, my love, ah no!—
Not this, my love? why, so!—
Yet both were ours, but hours will come and go.
The grove is all a pale frail mist,
The new year sucks the sun.
Of all the kisses that we kissed
Now which shall be the one?
Not that my love, ah no!—
Not this, my love?—heigh-ho
For all the sweets that all the winds can blow!
The branches cross above our eyes,
The skies are in a net:
And what's the thing beneath the skies
We two would most forget?
Not birth, my love, no, no,—
Not death, my love, no, no,—
The love once ours, but ours long hours ago.
Dante Gabriel Rossetti
(1828 – 1882)
A New-Year's Burden
• fleursdumal.nl magazine
More in: *The Pre-Raphaelites Archive, Archive Q-R, Archive Q-R, Lizzy Siddal, Rossetti, Dante Gabriel
I Dream'd In A Dream
I dream'd in a dream,
I saw a city invincible to the attacks
of the whole of the rest of the earth;
I dream'd that was the new City of Friends;
Nothing was greater there than the quality
of robust love – it led the rest;
It was seen every hour in the actions
of the men of that city,
And in all their looks and words.
Walt Whitman
(1819 – 1892)
I Dream'd In A Dream
• fleursdumal.nl magazine
More in: Archive W-X, Archive W-X, Whitman, Walt
Harvest Lingo is the fourteenth collection of poems by Lionel Fogarty, a Murri man with traditional connections to the Yugambeh people from south of Brisbane and the Kudjela people of north Queensland.

He is a leading Indigenous rights activist, and one of Australia's foremost poets, and this collection displays all of the urgency, energy and linguistic audacity for which Fogarty is known.
At the centre of the collection is a series of poems written in India. Deeply empathetic, these poems are remarkable for the connections they draw between the social problems the poet encounters in this country – poverty, class division, corruption – and those he sees in contemporary Australia, besetting his own people.
Other poems tell of encounters between people and between cultures, address historical and cultural issues and political events, and pay tribute to important Indigenous figures. There are intensely felt lyrics of personal experience, and poems which contemplate Fogarty's own position as a poet and an activist, speaking with and for his community.
Fogarty's poems are bold and fierce, at times challenging and confronting, moved by strong rhythms and a remarkable freedom with language. They are an expression of the 'harvest lingo' which gives the collection its title.
Lionel Fogarty was born on Wakka Wakka land, at Cherbourg Aboriginal Reserve in south-east Queensland in 1957. Throughout the 1970s he worked as an activist for Aboriginal Land Rights, and in the 1990s, after the death of his brother Daniel Yock, protesting against Aboriginal Deaths in Custody. His poetry collections date from the early 1980s; his most recent collections are Connection Requital; Mogwie-Idan: Stories of the Land; Eelahroo (Long Ago) Nyah (Looking) Mobo-Mobo (Future), all with Vagabond Press, and Lionel Fogarty: Selected Poems 1980-2017, published by re.press.
Harvest Lingo
by Lionel Fogarty
Poetry
Giramondo Publishing
112 pages
Paperback, 21 x 14.8 cm
Published June 2022
ISBN 9781925336177
$25,00
• fleursdumal.nl magazine
More in: #Editors Choice Archiv, - Book News, - Bookstores, Archive E-F, Archive E-F, Black Lives Matter, Racism
In this engaging book, the internationally best-selling author and famously private writer Haruki Murakami
shares with readers his thoughts on the role of the novel in our society; his own origins as a writer; and his musings on the sparks of creativity that inspire other writers, artists, and musicians.
Here are the personal details of a life devoted to craft: the initial moment at a Yakult Swallows baseball game, when he suddenly knew he could write a novel; the importance of memory, what he calls a writer's "mental chest of drawers"; the necessity of loneliness, patience, and his daily running routine; the seminal role a carrier pigeon played in his career.
Aspiring writers and readers who have long wondered where the mysterious novelist gets his ideas and what inspires his strangely surreal worlds will be fascinated by this insightful and unique look at the craft of writing and into the mind of a master storyteller.
Haruki Murakami was born in Kyoto in 1949 and now lives near Tokyo. His work has been translated into more than fifty languages, and one of the most recent of his many international honors is the Cino Del Duca World Prize, whose previous recipients include Jorge Luis Borges, Ismail Kadare, Mario Vargas Llosa, and Joyce Carol Oates.
Novelist as a Vocation
The master storyteller on writing and creativity
Haruki Murakami
Philip Gabriel (Translator)
Ted Goossen (Translator)
Published: 08/11/2022
Publisher: ‎Knopf (November 8, 2022)
Language: ‎English
Hardcover:‎ 224 pages
ISBN-10:‎ 0451494644
ISBN-13: ‎ 978-0451494641
$22.99
•fleursdumal.nl magazine

More in: - Book News, - Bookstores, Archive M-N, Haruki Murakami
Thank you for reading FLEURSDUMAL.NL - magazine for art & literature