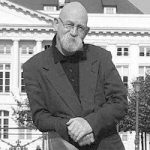 Op café
Aan de toog neuriën treuzelige drinkers gebruikte
melodieën, met de nonchalance van zangers
die onbang zijn als de stem van Björk. Hoor hoe ze
in hun liederen worden van huiverende ontwakers
tot dochterloze vaders, ontwaarde vertalers van
vrijpostige heiligen, gulle grensvrezers in de ochtend.
Bert Bevers
gedicht
Op café
(ongepubliceerd)
• fleursdumal.nl magazine
More in: Archive A-B, Archive A-B, Bevers, Bert
Following the Pulitzer prize-winning collection Stag's Leap, Sharon Olds gives us a stunning book of odes. Opening with the powerful and tender "Ode to the Hymen," Olds addresses and embodies, in this age-old poetic form, many aspects of love and gender and sexual politics in a collection that is centered on the body and its structures and pleasures.
The poems extend parts of her narrative as a daughter, mother, wife, lover, friend, and poet of conscience that will be familiar from earlier collections, each episode and memory burnished by the wisdom and grace and humor of looking back.
In such poems as "Ode to My Sister," "Ode of Broken Loyalty," "Ode to My Whiteness," "Blow Job Ode," and "Ode to the Last Thirty-Eight Trees in New York City Visible from This Window," Olds treats us to an intimate examination that, like all her work, is universal, by turns searing and charming in its honesty.
From the bodily joys and sorrows of childhood to the deaths of those dearest to us, Olds shapes the world in language that is startlingly fresh, profound in its conclusions, and life-giving for the reader.
SHARON OLDS was born in San Francisco and educated at Stanford University and Columbia University. The winner of both the Pulitzer Prize and England's T. S. Eliot Prize for her 2012 collection, Stag's Leap, she is the author of eleven previous books of poetry and the winner of many other honors, including the National Book Critics Circle Award for The Dead and the Living. Olds teaches in the Graduate Creative Writing Program at New York University and helped to found the NYU outreach programs, among them the writing workshop for residents of Goldwater Hospital on Roosevelt Island, and for the veterans of the Iraq and Afghanistan wars. She lives in New York City.
Odes
by Sharon Olds
Published by Knopf
128 Pages
Hardcover
ISBN 9780451493620
$26.95
Paperback
ISBN 9780451493644
$16.95
2016
# new poetry
Sharon Olds:
Odes
• fleursdumal.nl magazine
More in: #Editors Choice Archiv, #More Poetry Archives, Archive O-P, Archive O-P
Mein blaues Klavier
Ich habe zu Hause ein blaues Klavier
Und kenne doch keine Note.
Es steht im Dunkel der Kellertür,
Seitdem die Welt verrohte.
Es spielten Sternenhände vier
-Die Mondfrau sang im Boote-
Nun tanzen die Ratten im Geklirr.
Zerbrochen ist die Klaviatür…..
Ich beweine die blaue Tote.
Ach liebe Engel öffnet mir
-Ich aß vom bitteren Brote-
Mir lebend schon die Himmelstür-
Auch wider dem Verbote.
Else Lasker-Schüler
(1869 – 1945)
Mein blaues Klavier
• fleursdumal.nl magazine
More in: Archive K-L, Archive K-L, Lasker-Schüler, Else
From the Number One Sunday Times bestselling author of milk and honey and the sun and her flowers comes her greatly anticipated third collection of poetry.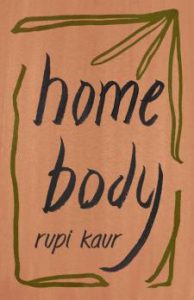 Rupi Kaur constantly embraces growth, and in home body, she walks readers through a reflective and intimate journey visiting the past, the present and the potential of the self. home body is a collection of raw, honest conversations with oneself – reminding readers to fill up on love, acceptance, community, family, and embrace change. illustrated by the author, themes of nature and nurture, light and dark, rest here.
i dive into the well of my body
and end up in another world
everything i need
already exists in me
there's no need
to look anywhere else
– home
rupi kaur is a poet. artist. and performer. as a 21-year-old university student rupi wrote. illustrated. and self-published her first poetry collection milk and honey. next came its artistic sibling the sun and her flowers. these collections have sold over 8 million copies and have been translated into over 40 languages. home body is her third collection of poetry. rupi's work touches on love. loss. trauma. healing. femininity. and migration. she feels most at home when creating art or performing her poetry onstage.
Rupi Kaur
Home Body
Paperback
ISBN : 9781471196720
Publisher: Simon & Schuster UK
November 17, 2020
English Poetry
$13.59
# new poetry
Rupi Kaur
Home Body
• fleursdumal.nl magazine
More in: - Book News, Archive K-L, Archive K-L, Art & Literature News, Kaur, Rupi
A Portrait
A face devoid of love or grace,
A hateful, hard, successful face,
A face with which a stone
Would feel as thoroughly at ease
As were they old acquaintances, —
First time together thrown.
Emily Dickinson
(1830-1886)
A Portrait
• fleursdumal.nl magazine
More in: Archive C-D, Archive C-D, Dickinson, Emily
Gedichten zijn overal: op straat, op gebouwen, in liedjes en films. En ze raken ons en blijven ons soms een leven lang bij, als een troost tijdens duistere nachten of een woordgrapje dat een glimlach oproept.
Toch deinzen mensen achteruit als ze het woord poëzie horen: te moeilijk, niks voor mij. Maar het is wél iets voor jou. Ellen Deckwitz legt uit waarom, biedt een helpende hand en neemt je mee langs de vele ontroerende, dramatische, ronduit hilarische en verbeeldingsrijke paden die de poëzie rijk is.
Poëzie voor dummy's. Een heerlijk boek dat niet alleen over lezen, maar ook over het leven gaat.
Ellen Deckwitz (1982) is een van de belangrijkste hedendaagse jonge dichters. Ze was Nederlands Kampioen Poetry Slam in 2009 en won met De steen vreest mijde C. Buddingh'-prijs voor het beste poëziedebuut. Ze is een geziene gast op festivals als Lowlands, de Nacht van de Poëzie en Saint Amour, ze draagt haar werk regelmatig voor op televisie en schrijft gedichten over het nieuws voor de NRC.
Ellen Deckwitz
Dit gaat niet over grasmaaien
24-09-2020
Nederlands
Paperback
Druk 1
oktober 2020
140 pagina's
Uitgeverij Pluim
EA 9789083095318
EUR 19,99
# more poetry
Ellen Deckwitz
• fleursdumal.nl magazine
More in: #Editors Choice Archiv, - Book News, - Bookstores, Archive C-D, Archive C-D
Gevatter Tod
Es lebte einmal ein sehr armer Mann, hieß Klaus, dem hatte Gott eine Fülle Reichtum beschert, der ihm große Sorge machte, nämlich zwölf Kinder, und über ein kleines so kam noch ein Kleines, das war das dreizehnte Kind. Da wußte der arme Mann seiner Sorge keinen Rat, wo er doch einen Paten hernehmen sollte, denn seine ganze Sipp- und Magschaft hatte ihm schon Kinder aus der Taufe gehoben, und er durfte nicht hoffen, noch unter seinen Freunden eine mitleidige Seele zu finden, die ihm sein jüngstgebornes Kindlein hebe. Gedachte also an den ersten besten wildfremden Menschen sich zu wenden, zumal manche seiner Bekannten ihn in ähnlichen Fällen schon mit vieler Hartherzigkeit abschläglich beschieden hatten.
Der arme Kindesvater ging also auf die Landstraße hinaus, willens, dem ersten ihm Begegnenden die Patenstelle seines Kindleins anzutragen. Und siehe, ihm begegnete bald ein gar freundlicher Mann, stattlichen Aussehens, wohlgestaltet, nicht alt nicht jung, mild und gütig von Angesicht, und da kam es dem Armen vor, als neigten sich vor jenem Manne die Bäume und Blümlein und alle Gras- und Getreidehalme. Da dünkte dem Klaus, das müsse der liebe Gott sein, nahm seine schlechte Mütze ab, faltete die Hände und betete ein Vater Unser. Und es war auch der liebe Gott, der wußte, was Klaus wollte, ehe er noch bat, und sprach: »Du suchst einen Paten für dein Kindlein! Wohlan, ich will es dir heben, ich, der liebe Gott!«
»Du bist allzugütig, lieber Gott!« antwortete Klaus verzagt. »Aber ich danke dir; du gibst denen, welche haben, einem Güter, dem andern Kinder, so fehlt es oft beiden am Besten, und der Reiche schwelgt, der Arme hungert!« Auf diese Rede wandte sich der Herr und ward nicht mehr gesehen. Klaus ging weiter, und wie er eine Strecke gegangen war, kam ein Kerl auf ihn zu, der sah nicht nur aus, wie der Teufel, sondern war's auch, und fragte Klaus, wen er suche? – Er suche einen Paten für sein Kindlein. – »Ei da nimm mich, ich mach es reich!« – »Wer bist du!« fragte Klaus. »Ich bin der Teufel« – »Das wär der Teufel!« rief Klaus, und maß den Mann vom Horn bis zum Pferdefuß. Dann sagte er: »Mit Verlaub, geh heim zu dir und zu deiner Großmutter; dich mag ich nicht zum Gevatter, du bist der Allerböseste! Gott sei bei uns!«
Da drehte sich der Teufel herum, zeigte dem Klaus eine abscheuliche Fratze, füllte die Luft mit Schwefelgestank und fuhr von dannen. Hierauf begegnete dem Kindesvater abermals ein Mann, der war spindeldürr, wie eine Hopfenstange, so dürr, daß er klapperte; der fragte auch: »Wen suchst du?« und bot sich zum Paten des Kindes an. »Wer bist du?« fragte Klaus. »Ich bin der Tod!« sprach jener mit ganz heiserer Summe. – Da war der Klaus zum Tod erschrocken, doch faßte er sich Mut, dachte: bei dem wär mein dreizehntes Söhnlein am besten aufgehoben, und sprach: »du bist der Rechte! Arm oder reich, du machst es gleich. Topp! Du sollst mein Gevattersmann sein! Stell dich nur ein zu rechter Zeit, am Sonntag soll die Taufe sein.«
Und am Sonntag kam richtig der Tod, und ward ein ordentlicher Dot, das ist Taufpat des Kleinen, und der Junge wuchs und gedieh ganz fröhlich. Als er nun zu den Jahren gekommen war, wo der Mensch etwas erlernen muß, daß er künftighin sein Brot erwerbe, kam zu der Zeit der Pate und hieß ihn mit sich gehen in einen finsteren Wald. Da standen allerlei Kräuter, und der Tod sprach: »Jetzt, mein Pat, sollt du dein Patengeschenk von mir empfahen. Du sollt ein Doktor über alle Doktoren werden durch das rechte wahre Heilkraut, das ich dir jetzt in die Hand gebe. Doch merke, was ich dir sage. Wenn man dich zu einem Kranken beruft, so wirst du meine Gestalt jedesmal erblicken.
Stehe ich zu Häupten des Kranken, so darfst du versichern, daß du ihn gesund machen wollest, und ihn von dem Kraute eingeben; wenn er aber Erde kauen muß, so stehe ich zu des Kranken Füßen; dann sage nur: Hier kann kein Arzt der Welt helfen und auch ich nicht. Und brauche ja nicht das Heilkraut gegen meinen mächtigen Willen, so würde es dir übel ergehen!«
Damit ging der Tod von hinnen und der junge Mensch auf die Wanderung und es dauerte gar nicht lange, so ging der Ruf vor ihm her und der Ruhm, dieser sei der größte Arzt auf Erden, denn er sahe es gleich den Kranken an, ob sie leben oder sterben würden. Und so war es auch. Wenn dieser Arzt den Tod zu des Kranken Füßen erblickte, so seufzte er, und sprach ein Gebet für die Seele des Abscheidenden; erblickte er aber des Todes Gestalt zu Häupten, so gab er ihm einige Tropfen, die er aus dem Heilkraut preßte, und die Kranken genasen. Da mehrte sich sein Ruhm von Tage zu Tage.
Nun geschah es, daß der Wunderarzt in ein Land kam, dessen König schwer erkrankt darnieder lag, und die Hofärzte gaben keine Hoffnung mehr seines Aufkommens. Weil aber die Könige am wenigsten gern sterben, so hoffte der alte König noch ein Wunder zu erleben, nämlich daß der Wunderdoktor ihn gesund mache, ließ diesen berufen und versprach ihm den höchsten Lohn. Der König hatte aber eine Tochter, die war so schön und so gut, wie ein Engel.
Als der Arzt in das Gemach des Königs kam, sah er zwei Gestalten an dessen Lager stehen, zu Häupten die schöne weinende Königstochter, und zu Füßen den kalten Tod. Und die Königstochter flehte ihn so rührend an, den geliebten Vater zu retten, aber die Gestalt des finstern Paten wich und wankte nicht. Da sann der Doktor auf eine List. Er ließ von raschen Dienern das Bette des Königs schnell umdrehen, und gab ihm geschwind einen Tropfen vom Heilkraut, also daß der Tod betrogen war, und der König gerettet. Der Tod wich erzürnt von hinnen, erhob aber drohend den langen knöchernen Zeigefinger gegen seinen Paten.
Dieser war in Liebe entbrannt gegen die reizende Königstochter, und sie schenkte ihm ihr Herz aus inniger Dankbarkeit. Aber bald darauf erkrankte sie schwer und heftig, und der König, der sie über alles liebte, ließ bekannt machen, welcher Arzt sie gesund mache, der solle ihr Gemahl und hernach König werden. Da flammte eine hohe Hoffnung durch des Jünglings Herz, und er eilte zu der Kranken – aber zu ihren Füßen stand der Tod. Vergebens warf der Arzt seinem Paten flehende Blicke zu, daß er seine Stelle verändern und ein wenig weiter hinauf, wo möglich bis zu Häupten der Kranken treten möge. Der Tod wich nicht von der Stelle, und die Kranke schien im Verscheiden, doch sah sie den Jüngling um ihr Leben flehend an. Da übte des Todes Pate noch einmal seine List, ließ das Lager der Königstochter schnell umdrehen, und gab ihr geschwind einige Tropfen vom Heilkraut, so daß sie wieder auflebte, und den Geliebten dankbar anlächelte. Aber der Tod warf seinen tödlichen Haß auf den Jüngling, faßte ihn an mit eiserner eiskalter Hand und führte ihn von dannen, in eine weite unterirdische Höhle. In der Höhle da brannten viele tausend Kerzen, große und halbgroße und kleine und ganz kleine; viele verloschen und andere entzündeten sich, und der Tod sprach zu seinem Paten: »Siehe, hier brennt eines jeden Menschen Lebenslicht; die großen sind den Kindern, die halbgroßen sind den Leuten, die in den besten Jahren stehen, die kleinen den Alten und Greisen, aber auch Kinder und Junge haben oft nur ein kleines bald verlöschendes Lebenslicht.«
»Zeige mir doch das meine!« bat der Arzt den Tod, da zeigte dieser auf ein ganz kleines Stümpchen, das bald zu erlöschen drohte. »Ach liebster Pate!« bat der Jüngling: »wolle mir es doch erneuen, damit ich meine schöne Braut, die Königstochter, freien, ihr Gemahl und König werden kann!« – »Das geht nicht« – versetzte kalt der Tod. »Erst muß eins ganz ausbrennen, ehe ein neues auf- und angesteckt wird.« –
»So setze doch gleich das alte auf ein neues!« sprach der Arzt – und der Tod sprach: »Ich will so tun!« Nahm ein langes Licht, tat als wollte er es aufstecken, versah es aber absichtlich und stieß das kleine um, daß es erlosch. In demselben Augenblick sank der Arzt um und war tot.
Ludwig Bechstein
(1801 – 1860)
Gevatter Tod
Sämtliche Märchen
• fleursdumal.nl magazine
More in: Archive A-B, Bechstein, Bechstein, Ludwig, Tales of Mystery & Imagination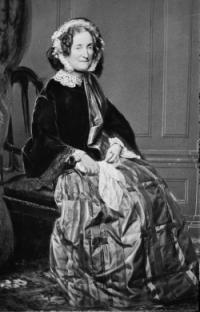 "Laborare est Orare"
To labor is to pray,
As some dear saint has said,
And with this truth for many a day
Have I been comforted.
The Lord has made me bold
When I have labored most,
And with his gifts so manifold,
Has given the Holy Ghost
When I have idle been
Until the sun went down,
Mine eyes, so dim, have never seen
His bright, prophetic crown.
O, praise the Lord for work
Which maketh time so fleet,
In which accusers never lurk,
Whose end is very sweet.
Mrs. Sigourne
(Lydia Huntley Sigourney,
1791 – 1865)
"Laborare est Orare"
• fleursdumal.nl magazine
More in: Archive S-T, Archive S-T, CLASSIC POETRY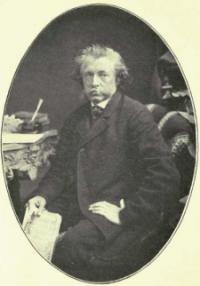 True Love
Her love is like the hardy flower
That blooms amid the Alpine snows;
Deep-rooted in an icy bower,
No blast can chill its sweet repose;
But fresh as is the tropic rose,
Drenched in mellowest sunny beams,
It has as sweet delicious dreams
As any flower that grows.
And though an avalanche came down
And robbed it of the light of day,
That which withstood the tempest's frown
In grief would never pine away.
Hope might withhold her feeblest ray,
Within her bosom's snowy tomb
Love still would wear its everbloom,
The gayest of the gay.
Charles Sangster
(1822 – 1893)
True Love
•fleursdumal.nl magazine
More in: Archive S-T, Archive S-T, CLASSIC POETRY
Na een aantal dichtbundels verscheen onlangs bij Uitgeverij IJzer (Utrecht) de debuutroman, van Nick J. Swarth: '1980 – De plasserparadox'.
Het jaar is 1980, het decor een troosteloze provinciestad, waarin werkeloosheid, armoe en woningnood hoogtij vieren. Het failliet van de textielnijverheid komt met industriële ruïnes en kaalslag in het hart van de stad. Dit bleke toneel biedt in zijn grimmigheid een ideale voedingsbodem voor de jeugdige dadendrang van de no-future generatie.
In '1980 – De plasserparadox' schetst de tijdgeest in verbeten, zelden geziene grauwtinten de staat van de stad X-Burg (Tilburg). Emiel de B. dook onder in de nacht. Dr. Pink bedrijft graffiti. Ratel valt op zijn beste vriend. Liefde en politieke daadkracht binden Chloë en Loumi. Yani is een kiene travestiet.
In caleidoscopische scenes toont de roman de strapatsen van een generatie die in het kielzog van de emancipatie pal staat voor haar geaardheid. Het is de tijd van activisme, kraken en nieuwe muziek, waarin het persoonlijke politiek is en de hoop op een betere wereld groot. Maar dat is gerekend buiten de stad.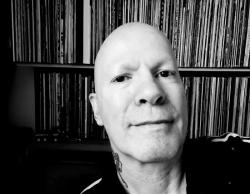 Over de auteur: Nick J. Swarth is als maker actief in diverse disciplines, maar het uitgangspunt is altijd tekst. 'Shabby Art That Falls Apart' is de verzamelnaam voor het beeldend werk, dat bestaat uit tekeningen en assemblages.
Swarth is ook de stem van het noise rock trio Betonfraktion, dat drie platen uitbracht. In 2016 verscheen 'I Changed My Sex'.
Van 2005-2007 was Swarth stadsdichter van Tilburg. Poëzie in het publieke domein krijgt vorm in het project 'On-site poetry' (i.s.m. Sander Neijnens).
Meest recente publicaties: 'Mijn onsterfelijke lever' (gedichten); '¡Mondo Manga!' (gedichten); "Horror Vacui | een docudrama in 14 staties', verslag van een schandaal verwekkend kunstproject (i.s.m. Jeroen de Leijer).
Uitgeverij IJzer Utrecht
Nick J. Swarth:
'1980 – De plasserparadox'
Paperback
Formaat: 15 x 23 cm
Omvang: 432 pagina's
ISBN: 978 90 8684 220 9
Prijs: € 25,-
Bestellen kan ook rechtstreeks bij de uitgeverij:
https://www.uitgeverij-ijzer.nl/boeken/288-1980-de-plasserparadox
Uitgeverij IJzer
Lessinglaan 97
3533 AV Utrecht
Telefoon: 030 – 2521798
e-mail: info@uitgeverij-ijzer.nl
• fleursdumal.nl magazine
More in: - Book News, - Bookstores, Archive S-T, Archive S-T, Art & Literature News, Betonfraction, Nick J. Swarth, Swarth, Nick J.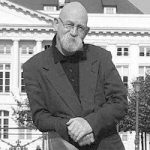 Brexit blues
Voor hetere vuren hadden ze gestaan, met
geloken blikken vol mist op verre zeevaart.
Ze dachten grage menners wel te herkennen,
en hun beduimelde beloften ras te doorzien.
Nu wachten de weglopers ginds achter breed
water bang af wat komt, in hun andere uren.
Bert Bevers
gedicht
Brexit blues
(ongepubliceerd)
• fleursdumal.nl magazine
More in: Archive A-B, Archive A-B, Bevers, Bert, MONTAIGNE
Three and One are One
In the year 1861 Barr Lassiter, a young man of twenty-two, lived with his parents and an elder sister near Carthage, Tennessee. The family were in somewhat humble circumstances, subsisting by cultivation of a small and not very fertile plantation. Owning no slaves, they were not rated among "the best people" of their neighborhood; but they were honest persons of good education, fairly well mannered and as respectable as any family could be if uncredentialed by personal dominion over the sons and daughters of Ham.
The elder Lassiter had that severity of manner that so frequently affirms an uncompromising devotion to duty, and conceals a warm and affectionate disposition. He was of the iron of which martyrs are made, but in the heart of the matrix had lurked a nobler metal, fusible at a milder heat, yet never coloring nor softening the hard exterior. By both heredity and environment something of the man's inflexible character had touched the other members of the family; the Lassiter home, though not devoid of domestic affection, was a veritable citadel of duty, and duty—ah, duty is as cruel as death!
When the war came on it found in the family, as in so many others in that State, a divided sentiment; the young man was loyal to the Union, the others savagely hostile. This unhappy division begot an insupportable domestic bitterness, and when the offending son and brother left home with the avowed purpose of joining the Federal army not a hand was laid in his, not a word of farewell was spoken, not a good wish followed him out into the world whither he went to meet with such spirit as he might whatever fate awaited him.
Making his way to Nashville, already occupied by the Army of General Buell, he enlisted in the first organization that he found, a Kentucky regiment of cavalry, and in due time passed through all the stages of military evolution from raw recruit to experienced trooper. A right good trooper he was, too, although in his oral narrative from which this tale is made there was no mention of that; the fact was learned from his surviving comrades. For Barr Lassiter has answered "Here" to the sergeant whose name is Death.
Two years after he had joined it his regiment passed through the region whence he had come. The country thereabout had suffered severely from the ravages of war, having been occupied alternately (and simultaneously) by the belligerent forces, and a sanguinary struggle had occured in the immediate vicinity of the Lassiter homestead. But of this the young trooper was not aware.
Finding himself in camp near his home, he felt a natural longing to see his parents and sister, hoping that in them, as in him, the unnatural animosities of the period had been softened by time and separation. Obtaining a leave of absence, he set foot in the late summer afternoon, and soon after the rising of the full moon was walking up the gravel path leading to the dwelling in which he had been born.
Soldiers in war age rapidly, and in youth two years are a long time. Barr Lassiter felt himself an old man, and had almost expected to find the place a ruin and a desolation. Nothing, apparently, was changed. At the sight of each dear and familiar object he was profoundly affected. His heart beat audibly, his emotion nearly suffocated him; an ache was in his throat. Unconsciously he quickened his pace until he almost ran, his long shadow making grotesque efforts to keep its place beside him.
The house was unlighted, the door open. As he approached and paused to recover control of himself his father came out and stood bare-headed in the moonlight.
"Father!" cried the young man, springing forward with outstretched hand—"Father!"
The elder man looked him sternly in the face, stood a moment motionless and without a word withdrew into the house. Bitterly disappointed, humiliated, inexpressibly hurt and altogether unnerved, the soldier dropped upon a rustic seat in deep dejection, supporting his head upon his trembling hand. But he would not have it so: he was too good a soldier to accept repulse as defeat. He rose and entered the house, passing directly to the "sitting-room."
It was dimly lighted by an uncurtained east window. On a low stool by the hearthside, the only article of furniture in the place, sat his mother, staring into a fireplace strewn with blackened embers and cold ashes. He spoke to her—tenderly, interrogatively, and with hesitation, but she neither answered, nor moved, nor seemed in any way surprised. True, there had been time for her husband to apprise her of their guilty son's return. He moved nearer and was about to lay his hand upon her arm, when his sister entered from an adjoining room, looked him full in the face, passed him without a sign of recognition and left the room by a door that was partly behind him. He had turned his head to watch her, but when she was gone his eyes again sought his mother. She too had left the place.
Barr Lassiter strode to the door by which he had entered. The moonlight on the lawn was tremulous, as if the sward were a rippling sea. The trees and their black shadows shook as in a breeze. Blended with its borders, the gravel walk seemed unsteady and insecure to step on. This young soldier knew the optical illusions produced by tears. He felt them on his cheek, and saw them sparkle on the breast of his trooper's jacket. He left the house and made his way back to camp.
The next day, with no very definite intention, with no dominant feeling that he could rightly have named, he again sought the spot. Within a half-mile of it he met Bushrod Albro, a former playfellow and schoolmate, who greeted him warmly.
"I am going to visit my home," said the soldier.The other looked at him rather sharply, but said nothing.
"I know," continued Lassister, "that my folks have not changed, but—"
There have been changes," Albro interrupted—"everything changes. I'll go with you if you don't mind. We can talk as we go."
But Albro did not talk.
Instead of a house they found only fire-blackened foundations of stone, enclosing an area of compact ashes pitted by rains.
Lassiter's astonishment was extreme.
"I could not find the right way to tell you," said Albro. "In the fight a year ago your house was burned by a Federal shell."
"And my family—where are they?"
"In Heaven, I hope. All were killed by the shell."
Ambrose Bierce
(1842 – 1913/1914 ?)
Three and One are One
• fleursdumal.nl magazine
More in: Archive A-B, Archive A-B, Bierce, Ambrose, Bierce, Ambrose
Thank you for reading FLEURSDUMAL.NL - magazine for art & literature