De Nederlandse dichter en prozaschrijver Sybren Polet is op 19 juli 2015 Amsterdam overleden.
Polet debuteerde als dichter in 1946 met de bundel Genesis. Hij was jarenlang medewerker en redacteur van het literaire tijdschrift Podium. In 1961 verscheen zijn eerste roman Breekwater.

Het proza van Sybren Polet had een sterk experimenteel en vernieuwend karakter, waarbij hij de grenzen tussen genres en de conventies inzake structuur en chronologie wist te doorbreken. Ondanks een groeiende weerstand tegen het literaire experiment, zou Polet dit genre zijn leven lang blijven beoefenen. Hij koos zelf voor de term Ander proza.
Sybren Polet ontving veel waardering voor zijn literaire werk door middel van diverse literaire prijzen:
1959 – Jan Campert-prijs voor Geboorte-stad
1959 – Poëzieprijs van de gemeente Amsterdam voor Vleselijke stad
1972 – Herman Gorterprijs voor Persoon/onpersoon
1973 – Busken Huetprijs voor Literatuur als werkelijkheid. Maar welke?
2003 – Constantijn Huygens-prijs voor zijn gehele oeuvre
2005 – Dirk Martensprijs voor Een geschreven leven
fleursdumal.nl magazine
More in: Archive O-P, BIOGRAPHY, EXPRESSIONISM, DADA & DE STIJL, SURREALISM, In Memoriam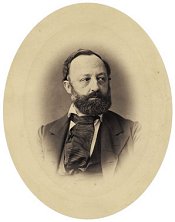 Gottfried Keller
(1819-1890)
Die kleine Passion
Der sonnige Duft, Semptemberluft,
sie wehten ein Mücklein mir aufs Buch.
Das suchte sich die Ruhegruft
und fern vom Wald sein Leichentuch.
Vier Flügelein von Seiden fein
trug's auf dem Rücken zart,
drin man im Regenbogenschein
spielendes Licht gewahrt!
Hellgrün das schlanke Leibchen war,
hellgrün der Füßchen dreifach Paar,
und auf dem Köpfchen wundersam
saß ein Federbüschchen stramm;
die Äuglein wie ein goldnes Erz
glänzten mir in das tiefste Herz.
Dies zierliche und manierliche Wesen
hatt' sich zu Gruft und Leichentuch
das glänzende Papier erlesen,
darin ich las, ein dichterliches Buch;
so ließ den Band ich aufgeschlagen
und sah erstaunt dem Sterben zu,
wie langsam, langsam ohne Klagen
das Tierlein kam zu seiner Ruh.
Drei Tage ging es müd und matt
umher auf dem Papiere;
die Flügelein von Seide fein,
sie glänzten alle viere.
Am vierten Tage stand es still
gerade auf dem Wörtlein "will"!
Gar tapfer stand's auf selbem Raum,
hob je ein Füßchen wie im Traum;
am fünften Tage legt' es sich,
doch noch am sechsten regt' es sich;
am siebten endlich siegt' der Tod,
da war zu Ende seine Not.
Nun ruht im Buch sein leicht Gebein,
mög' uns sein Frieden eigen sein!
Gottfried Keller poetry
fleursdumal.nl magazine
More in: Archive K-L, Keller, Gottfried

En ook de bakker, die alles een tijdlang had aangezien, spande zijn paard voor de broodwagen en ging de boer op. Met zijn zweep bewerkte hij het dier zodanig dat het ervandoor ging met een vaart alsof het op hol sloeg. De geluiden van de ratelende kar veegden de rust die op het plein was ontstaan volledig weg. Zelfs de twee oude bedelwijfjes verdwenen en trokken de steegjes in om er hand ophoudend hun dagelijkse bedelronde te maken.
De jongen leek weer in slaap te vallen, al werd hij daarin gehinderd door de veel misbaar makende kraaien. Ze liepen zelfs de pastoor voor de voeten om van dichtbij en met veel ontzag naar de kruisjes van vettige olie en as te kijken. Tekens die dan toch maar van hogere afkomst waren en die een mens boven zichzelf konden uittillen, hups, de hoge hemel in. Als je de genade der stervenden had gehad en je lijf zat onder de heilige olie, dan kon je niks meer gebeuren op weg naar de eeuwigheid. Misschien ontmoette je het vagevuur nog, maar daar was wel doorheen te komen. Zoals de pastoor het hun wel vaker vanaf zijn preekstoel voorhield, kon het daar nooit veel warmer zijn dan in Solde op het heetst van de zomer. Daar mocht een mens voor tekenen, voor een dood met zoveel moois in het verschiet. Céleste kwam maar nauwelijks verder in de richting van het café. De kraaien keken haar minachtend na. Die meid begreep er niet veel van. Om zo'n kind hoefde je toch niet bedroefd te zijn als het doodging! Dat maakte weer een engel meer voor Gods troon, ook al was deze jongen een rotzak geweest van de ergste soort toen hij nog gezond en wel door het dorp dartelde. Die meid stelde zich aan. Nou ja, in de kroeg deed ze natuurlijk ook elke avond aan toneel. Daar speelde ze de mannen wat voor. Van toneel rinkelde bij haar de kassa. De pastoor veegde zijn vettige olievingers schoon aan de zoom van zijn toog. Hij zette een laatste gebed in, dat erg langdradig verliep en waarop zelfs de kraaien geen antwoord wisten. Maar zwijgen deden ze niet. Het laatste woord wilden ze hebben. Zij en niemand anders. Ze sloofden zich toch niet voor niets voor deze jongen uit! Omdat ze de slotgebeden voor een stervend kind niet uit hun hoofd kenden, besloten ze maar de laatste gebeden voor een stervende oude man te bidden. Die spraken ze wel vaker uit. Tenslotte stierven er meer oude mannen dan kinderen in het dorp. En terwijl de pastoor afdroop in de richting van de kerk, baden de kraaien dat de jongen na een lang en arbeidzaam leven in vrede mocht sterven. Een leven dat gevuld was geweest met haat en liefde, vrolijkheid en droefenis. En al de dingen die God hem moest vergeven of waarover hij verheugd moest zijn. Want ook zijn kinderen bleek de jongen in de leer der kerk opgevoed te hebben. En hij was hun altijd een voorbeeld geweest. En zijn vrouw had hij nooit geslagen, tenminste nooit meer dan nodig was geweest. Zo werd de jongen, die maagdelijk was als water omdat zijn zaad nog nooit was verspild, door de kraaien als een uitgenaaide bok de weg naar de hemel op gedreven. Eenmaal klaar met hun gebeden voelden de kraaien zich zeer voldaan. Beurtelings wasten ze hun verhitte koppen in de pompbak. Opgefrist praatten ze vrolijker dan passend was in deze situatie.
Ton van Reen: Landverbeuren (46)
wordt vervolgd
fleursdumal.nl magazine
More in: - Landverbeuren, Reen, Ton van
Emanuel Geibel
(1815-1884)
Hoffnung
Und dräut der Winter noch so sehr
mit trotzigen Gebärden,
und streut er Eis und Schnee umher,
es muß doch Frühling werden.
Blast nur, ihr Stürme, blast mit Macht,
mir soll darob nicht bangen,
auf leisen Sohlen über Nacht
kommt doch der Lenz gegangen.
Drum still! Und wie es frieren mag,
o Herz, gib dich zufrieden,
es ist ein großer Maientag
der ganzen Welt beschieden.
Und wenn dir oft auch bangt und graut,
als sei die Höll' auf Erden,
nur unverzagt auf Gott vertraut!
Es muß doch Frühling werden.
Emanuel Geibel Gedicht
fleursdumal.nl magazine
More in: Archive G-H, CLASSIC POETRY
Aphra Behn
(1640 – 1689)
The Disappointment
1
One Day the Amarous Lisander,
By an impatient Passion sway'd,
Surpris'd fair Cloris, that lov'd Maid,
Who cou'd defend her self no longer ;
All things did with his Love conspire,
The gilded Planet of the Day,
In his gay Chariot, drawn by Fire,
War now descending to the Sea,
And left no Light to guide the World,
But what from Cloris brighter Eves was hurl'd.
2
In alone Thicket, made for Love,
Silent as yielding Maids Consent,
She with a charming Languishment
Permits his force, yet gently strove ?
Her Hands his Bosom softly meet,
But not to put him back design'd,
Rather to draw him on inclin'd,
Whilst he lay trembling at her feet;
Resistance 'tis to late to shew,
She wants the pow'r to sav — Ah!what do you do?
3
Her bright Eyes sweat, and yet Severe,
Where Love and Shame confus'dly strive,
Fresh Vigor to Lisander give :
And whispring softly in his Ear,
She Cry'd — Cease — cease — your vain desire,
Or I'll call out — What wou'd you do ?
My dearer Honour, ev'n to you,
I cannot — must not give — retire,
Or take that Life whose chiefest part
I gave you with the Conquest of my Heart.
4
But he as much unus'd to fear,
As he was capable of Love,
The blessed Minutes to improve,
Kisses her Lips, her Neck, her Hair !
Each touch her new Desires alarms !
His burning trembling Hand he prest
Upon her melting Snowy Breast,
While she lay panting in his Arms !
All her unguarded Beauties lie
The Spoils and Trophies of the Enemy.
5
And now, without Respect or Fear,
He seeks the Objects of his Vows ;
His Love no Modesty allows :
By swift degrees advancing where
His daring Hand that Alter seiz'd,
Where Gods of Love do Sacrifice ;
That awful Throne, that Paradise,
Where Rage is tam'd, and Anger pleas'd ;
That Living Fountain, from whose Trills
The melted Soul in liquid Drops distils.
6
Her balmy Lips encountring his,
Their Bodies as their Souls are joyn'd,
Where both in Transports were confin'd,
Extend themselves upon the Moss.
Cloris half dead and breathless lay,
Her Eyes appear'd like humid Light,
Such as divides the Day and Night;
Or falling Stars, whose Fires decay ;
And now no signs of Life she shows,
But what in short-breath-sighs returns and goes.
7
He saw how at her length she lay,
He saw her rising Bosom bare,
Her loose thin Robes, through which appear
A Shape design'd for Love and Play;
Abandon'd by her Pride and Shame,
She do's her softest Sweets dispence,
Offring her Virgin-Innocence
A Victim to Loves Sacred Flame ;
Whilst th' or'e ravish'd Shepherd lies,
Unable to perform the Sacrifice.
8
Ready to taste a Thousand Joys,
Thee too transported hapless Swain,
Found the vast Pleasure turn'd to Pain :
Pleasure, which too much Love destroys !
The willing Garments by he laid,
And Heav'n all open to his view ;
Mad to possess, himself he threw
On the defenceless lovely Maid.
But oh ! what envious Gods conspire
To snatch his Pow'r, yet leave him the Desire !
9
Natures support, without whose Aid
She can no humane Being give,
It self now wants the Art to live,
Faintness it slacken'd Nerves invade :
In vain th' enraged Youth assaid
To call his fleeting Vigour back,
No Motion 'twill from Motion take,
Excess of Love his Love betray'd ;
In vain he Toils, in vain Commands,
Th' Insensible fell weeping in his Hands.
10
In this so Am'rous cruel strife,
Where Love and Fate were too severe,
The poor Lisander in Despair,
Renounc'd his Reason with his Life.
Now all the Brisk and Active Fire
That should the Nobler Part inflame,
Unactive Frigid, Dull became,
And left no Spark for new Desire ;
Not all her Naked Charms cou'd move,
Or calm that Rage that had debauch'd his Love.
11
Cloris returning from the Trance
Which Love and soft Desire had bred,
Her tim'rous Hand she gently laid,
Or guided by Design or Chance,
Upon that Fabulous Priapus,
That Potent God (as Poets feign.)
But never did young Shepherdess
(Garth'ring of Fern upon the Plain)
More nimbly draw her Fingers back,
Finding beneath the Verdant Leaves a Snake.
12
Then Cloris her fair Hand withdrew,
Finding that God of her Desires
Disarm'd of all his pow'rful Fires,
And cold as Flow'rs bath'd in the Morning-dew.
Who can the Nymphs Confusion guess ?
The Blood forsook the kinder place,
And strew'd with Blushes all her Face,
Which both Disdain and Shame express ;
And from Lisanders Arms she fled,
Leaving him fainting on the gloomy Bed.
13
Like Lightning through the Grove she hies,
Or Daphne from the Delphick God ;
No Print upon the Grassie Road
She leaves, t' instruct pursuing Eyes.
The Wind that wanton'd in her Hair,
And with her ruffled Garments plaid,
Discover'd in the flying Maid
All that the Gods e're made of Fair.
So Venus, when her Love was Slain,
With fear and haste flew o're the fatal Plain.
14
The Nymphs resentments, none but I
Can well imagin, and Condole ;
But none can guess Lisander's Soul,
But those who sway'd his Destiny :
His silent Griefs, swell up to Storms,
And not one God, his Fury spares,
He Curst his Birth, his Fate, his Stars,
But more the Shepherdesses Charms ;
Whose soft bewitching influence,
Had Damn'd him to the Hell of Impotence.
Aphra Behn poetry
fleursdumal.nl magazine
More in: Archive A-B, CLASSIC POETRY
Ernest Dowson
(1867-1900)
Cease Smiling, Dear! A Little While Be Sad
Dum nos fata sinunt, oculos satiemus Amore
Propertius
Cease smiling, Dear! a little while be sad,
Here in the silence, under the wan moon;
Sweet are thine eyes, but how can I be glad,
Knowing they change so soon?
For Love's sake, Dear, be silent! Cover me
In the deep darkness of thy falling hair:
Fear is upon me and the memory
Of what is all men's share.
O could this moment be perpetuate!
Must we grow old, and leaden-eyed and gray,
And taste no more the wild and passionate
Love sorrows of to-day?
Grown old, and faded, Sweet! and past desire,
Let memory die, lest there be too much ruth,
Remembering the old, extinguished fire
Of our divine, lost youth.
O red pomegranate of thy perfect mouth!
My lips' life-fruitage, might I taste and die
Here in thy garden, where the scented south
Wind chastens agony;
Reap death from thy live lips in one long kiss,
And look my last into thine eyes and rest:
What sweets had life to me sweeter than this
Swift dying on thy breast?
Or, if that may not be, for Love's sake, Dear!
Keep silence still, and dream that we shall lie,
Red mouth to mouth, entwined, and always hear
The south wind's melody,
Here in thy garden, through the sighing boughs,
Beyond the reach of time and chance and change,
And bitter life and death, and broken vows,
That sadden and estrange.
Ernest Dowson poetry
fleursdumal.nl magazine
More in: Archive C-D, Dowson, Ernest
William Ernest Henley
(1849 – 1903)
When you are old
When you are old, and I am passed away—
Passed, and your face, your golden face, is gray—
I think, whate'er the end, this dream of mine,
Comforting you, a friendly star will shine
Down the dim slope where still you stumble and stray.
So may it be: that so dead Yesterday,
No sad-eyed ghost but generous and gay,
May serve you memories like almighty wine,
When you are old!
Dear Heart, it shall be so. Under the sway
Of death the past's enormous disarray
Lies hushed and dark. Yet though there come no sign,
Live on well pleased: immortal and divine
Love shall still tend you, as God's angels may,
When you are old.
William Ernest Henley poetry
fleursdumal.nl magazine
More in: Archive G-H, CLASSIC POETRY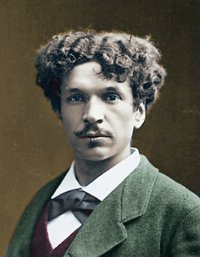 Charles Cros
(1842 – 1888)
Le meuble – Fantaisie
A Madame Mauté de Fleurville.
Il m'a fallu avoir le regard bien rapide, l'oreille bien fine, l'attention bien aiguisée,
Pour découvrir le mystère du meuble, pour pénétrer derrière les perspectives de marqueterie, pour atteindre le monde imaginaire à travers les petites glaces.
Mais j'ai enfin entrevu la fête clandestine, j'ai entendu les menuets minuscules, j'ai surpris les intrigues compliquées qui se trament dans le meuble.
On ouvre les battants, on voit comme un salon pour des insectes, on remarque les carrelages blancs, bruns et noirs en perspective exagérée.
Une glace au milieu, une glace à droite, une glace à gauche, comme les portes dans les comédies symétriques.
En vérité ces glaces sont des portes ouvertes sur l'imaginaire.
Mais une solitude évidemment inaccoutumée, une propreté dont on cherche le but en ce salon où il n'y a personne, un luxe sans raison pour un intérieur où ne régnerait que la nuit.
On est dupe de cela, on se dit « c'est un meuble et voilà tout, » on pense qu'il n'y a rien derrière les glaces que le reflet de ce qui leur est présenté.
Insinuations qui viennent de quelque part, mensonges soufflés à notre raison par une politique voulue, ignorances où nous tiennent certains intérêts que je n'ai pas à définir.
Pourtant je n'y veux plus mettre de prudence, je me moque de ce qui peut en arriver, je n'ai pas souci des rancunes fantastiques.
Quand le meuble est fermé, quand l'oreille des importuns est bouchée par le sommeil ou remplie des bruits extérieurs, quand la pensée des hommes s'appesantit sur quelque objet positif,
Alors d'étranges scènes se passent dans le salon du meuble; quelques personnages de taille et d'aspect insolites sortent des petites glaces; certains groupes, éclairés par des lueurs vagues, s'agitent en ces perspectives exagérées.
Des profondeurs de la marqueterie, de derrière les colonnades simulées, du fond des couloirs postiches ménagés dans le revers des battants,
S'avancent, en toilettes surannées, avec une démarche frétillante et pour une fête d'almanach extraterrestre,
Des élégants d'une époque de rêve, des jeunes filles cherchant un établissement en cette société de reflets et enfin les vieux parents, diplomates ventrus et douairières couperosées.
Sur le mur de bois poli, accrochées on ne sait comment, les girandoles s'allument.
Au milieu de la salle, pendu au plafond qui n'existe pas, resplendit un lustre surchargé de bougies roses, grosses et longues comme des cornes de limaçons.
Dans des cheminées imprévues, des feux flambent comme des vers luisants.
Qui a mis là ces fauteuils, profonds comme des coques de noisettes et disposés en cercle, ces tables surchargées de rafraîchissements immatériels ou d'enjeux microscopiques, ces rideaux somptueux — et lourds comme des toiles d'araignée?
Mais le bal commence.
L'orchestre, qu'on croirait composé de hannetons, jette ses notes, pétillements et sifflements imperceptibles.
Les jeunes gens se donnent la main et se font des révérences.
Peut-être même quelques baisers d'amour fictif s'échangent à la dérobée, des sourires sans idée se dissimulent sous les éventails en ailes de mouche, des fleurs fanées dans les corsages sont demandées et données en signe d'indifférence réciproque.
Combien cela dure-t-il?
Quelles causeries s'élèvent dans ces fêtes?
Où va ce monde sans substance, après la soirée?
On ne sait pas.
Puisque, si l'on ouvre le meuble, les lumières et les feux s'éteignent: les invités, élégants, coquettes et vieux parents disparaissent pêle-mêle, sans souci de leur dignité, dans les glaces, couloirs et colonnades; les fauteuils, les tables et les rideaux s'évaporent.
Et le salon reste vide, silencieux et propre;
Aussi tout le monde le dit « c'est un meuble de marqueterie et voilà tout, » sans se douter qu'aussitôt le regard détourné.
De petits visages narquois se hasardent à sortir des glaces symétriques, de derrière les colonnes incrustées, du fond des couloirs postiches.
Et il faut un œil particulièrement exercé, minutieux et rapide, pour les surprendre quand ils s'éloignent en ces perspectives exagérées, lorsqu'ils se réfugient dans les profondeurs imaginaires des petites glaces, à l'instant où ils rentrent dans les cachettes irréelles du bois poli.
Charles Cros poetry
fleursdumal.nl magazine
More in: Archive M-N, Cros, Charles

Terwijl het gebed naklonk tussen de huizen, zagen de kraaien dat de buizerd doodgemoedereerd op het bed scheet. Ze trokken lijkbleek weg. Hun adem stokte. Het leek of het beest hen met de dood had bedreigd, zo erg namen ze het op dat de buizerd hun manie van kraakheldere lakens aantastte. Maar de buizerd was ook niet van gisteren. Hij wilde nog langer leven dan vandaag en schoot als een pijl omhoog, ongrijpbaar voor het stelletje handen. Alsof er mieren onder hun rokken waren gekropen, zo woedend dansten de kraaien rond het bed.
Ze overlegden nijdig. Waarmee zouden ze de vogelpoep verwijderen? Wie van hen viel de eer te beurt het te doen? Door de plotselinge drukte van de kraaien werd de pastoor helemaal naar de achtergrond gedrongen. Kwamen zijn gebeden nog maar nauwelijks over, nu stond hij helemaal voor joker. Peinzend keek hij naar de cafémeid. Betrapte zich erop dat hij naar haar borsten loerde, die voor een groot deel zichtbaar waren, hoewel hij zich als man Gods toch niet mocht laten verleiden. Hij zag dat de handen van Céleste en van de zieke jongen in elkaar verstrengeld waren. Hun haren lagen verward op het kussen, zo dicht bij elkaar waren ze. Deze tedere aanblik leek een gevoel van ontroering in de dikke kop van de parochieherder teweeg te brengen. Hij slikte herhaaldelijk, alsof hij een brok in zijn keel kreeg. Begreep hij iets van de liefde die de twee verbond? In elk geval liet hij hen nog een ogenblik bij elkaar, voordat hij verderging met het ritueel van de dood. De kraaien kennende wist hij dat de meid en de jongen elkaar niet meer zouden zien als hij zijn rug had gedraaid. Veel geduld had hij echter niet. Toen hij dacht lang genoeg gewacht te hebben gaf hij het meisje een teken. Céleste begreep dat ze de jongen alleen moest laten. Langzaam stond ze op, schuifelde terug, voetje voor voetje. De tranen liepen over haar gezicht. De kraaien, die blij waren dat ze was opgerot, lichtten de dekens van het bed. Met water uit de pompbak wasten ze voorhoofd, handen en voeten van de jongen. Daarna kruisten ze de handen over zijn borst. Zo lag hij mooi en volgens voorschrift bereid om het sacrament der stervenden in al zijn waarde te ontvangen. Als een engel lag hij daar, klaar om op te stijgen naar Gods troon, ook al had hij daar zelf geen weet van. Voor hem stonden er nog zoveel dingen te gebeuren. Hij wíst wat hij voor zich had. Zo jong als hij was, had hij zijn plan al getrokken. Hij droomde van een leven vol dieren. Ergens waar hij rustig met hen kon omgaan. In de rimboe misschien. In elk geval op een plaats waar ze wat meer zijn gelijken zouden zijn.
De pastoor opende de ampullen en sopte zijn duim in de gezegende olie. Onder het prevelen van gebeden tekende hij vette kruisen op voorhoofd, mond, handen en voeten van het kind teneinde alle aanwezige duivels en kwade neigingen uit lijf en ziel te verdrijven. Zo zou de jongen, gereinigd en van alle aardse smetten vrij, de ladder naar de hemel kunnen bestijgen wanneer het moment van het afscheid was aangebroken. Nu lag hij daar, zo mooi en zo sereen. Onder een laag dikke kruisen. Ten teken dat hij aan de Heer was overgeleverd en eigenlijk geen deel meer uitmaakte van deze wereld. Een zieke boom, gemerkt door de houthakker van de eeuwigheid. De kraaien sloegen kruistekens om de uit het kind verdreven duivels niet op hun nek te krijgen. Ze wachtten vol spanning af. Zou de jongen inderdaad doodgaan? Ook de mensen die de winkels bezochten stonden stil. Het moment tussen leven en dood van een ander was iets wat ze mee wilden maken. Dat was iets huiveringwekkends! Dat was zo vreselijk mooi! Daar hadden ze wel vijf minuten voor over. De jongen zelf was gedurende de laatste handelingen aan zijn lijf meer dan rustig. Daarom viel er voor de nieuwsgierigen rond het bed weinig te beleven. Toen hij dan ook nog niet aan de laatste fase van zijn doodsstrijd wilde beginnen, droop het publiek af. Die jongen stelde alweer teleur. Hij zou nog dagen kunnen liggen. Hij was zo taai als leer. Zo lang had hij het al uitgehouden dat menigeen eraan twijfelde of hij wel echt dood zou gaan.
Ton van Reen: Landverbeuren (45)
wordt vervolgd
fleursdumal.nl magazine
More in: - Landverbeuren, Reen, Ton van
Paul Klee
(1879-1940)
Elend
Land ohne Band,
neues Land,
ohne Hauch
der Erinnerung,
mit dem Rauch
von fremdem Herd.
Zügellos!
wo mich trug
keiner Mutter Schoß.
Paul Klee Gedicht, 1914
fleursdumal.nl magazine
More in: Archive K-L, Expressionism, Klee, Paul
Katherine Mansfield
(1888 – 1923)
Sleeping Together
Sleeping together… how tired you were…
How warm our room… how the firelight spread
On walls and ceiling and great white bed!
We spoke in whispers as children do,
And now it was I—and then it was you
Slept a moment, to wake—"My dear,
I'm not at all sleepy," one of us said….
Was it a thousand years ago?
I woke in your arms—you were sound asleep—
And heard the pattering sound of sheep.
Softly I slipped to the floor and crept
To the curtained window, then, while you slept,
I watched the sheep pass by in the snow.
O flock of thoughts with their shepherd Fear
Shivering, desolate, out in the cold,
That entered into my heart to fold!
A thousand years… was it yesterday
When we two children of far away,
Clinging close in the darkness, lay
Sleeping together?… How tired you were….
Katherine Mansfield poetry
fleursdumal.nl magazine
More in: Archive M-N, Katherine Mansfield, Mansfield, Katherine
William Lisle Bowles
(1762 – 1850)
In Age
And art thou he, now "fallen on evil days,"
And changed indeed! Yet what do this sunk cheek,
These thinner locks, and that calm forehead speak!
A spirit reckless of man's blame or praise,–
A spirit, when thine eyes to the noon's blaze
Their dark orbs roll in vain, in suffering meek,
As in the sight of God intent to seek,
Mid solitude or age, or through the ways
Of hard adversity, the approving look
Of its great Master; whilst the conscious pride
Of wisdom, patient and content to brook
All ills to that sole Master's task applied,
Shall show before high heaven the unaltered mind,
Milton, though thou art poor, and old, and blind!
William Lisle Bowles poetry
fleursdumal.nl magazine
More in: Archive A-B, CLASSIC POETRY
Thank you for reading FLEURSDUMAL.NL - magazine for art & literature