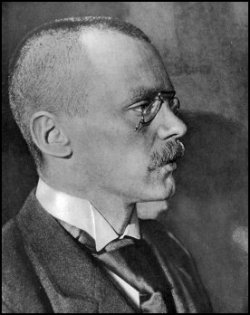 Herman Gorter (1864-1927)

't Is vol van schatten hier
Mijn kamer is der stilte diepste groef,
's morgens om vijf uur, als de eerste haan
nog slaapt. Stil is het vuur van 't lamplicht aan,
dat goudstralend zich in schemer begroef.
't Is vol van schatten hier, en ik behoef
maar even van mijn tafel op te staan,
't hoofd in den schemer, naar een hoek te gaan,
waar ik iets opdelf en blader en proef.
More in: Archive G-H, Gorter, Herman
VROUWEN WAREN ZIJN ZWAKSTE PUNT
Door Jef van Kempen
"De gebroeders Van Haren waren Friese edellieden, geen Hollanders, en desondanks geen boerse landjonkers maar uiterst gecultiveerd," schreef E. du Perron in zijn in 1939 verschenen historische roman "Schandaal in Holland". Du Perron had zich laten inspireren door het publieke schandaal dat het gevolg was van de beschuldigingen tegen Onno Zwier van Haren wegens incest met twee van zijn dochters. Maar ook diens oudere broer Willem kwam in opspraak toen hij, ten onrechte, werd beschuldigd van fraude in zijn functie als ontvanger-generaal van Friesland.
Willem van Haren (1710-1768) was sinds het verschijnen van zijn epos "Friso, koning der Gangariden en Prasiaten" in 1741 een gevierd dichter. Zijn werk werd zelfs bejubeld door de Franse schrijver Voltaire.
Willem had een zwak voor vrouwen. Hij was drie keer getrouwd en had vele buitenechtelijke verhoudingen. Du Perron: "De vrouwen waren van jongsaf Willem van Haren's zwakste punt: hij ging op hen af met de naïeve begerigheid van een kind voor koekjes en zonder veel meer kieskeurigheid." Er wordt beweerd dat hij aan het eind van zijn leven zoveel wettige en onwettige kinderen en kleinkinderen had, dat hij ze niet meer uit elkaar kon houden.
Moe door familietwisten en achtervolgd door meer dan honderd schuldeisers trok Willem van Haren zich in zijn laatste jaren steeds vaker terug in zijn kasteel Henkenshage in Sint-Oedenrode, waar hij was benoemd tot schout en dijkgraaf.
Op 4 juli 1768 pleegde hij daar zelfmoord voor de ogen van zijn hele familie. Toen iedereen aan tafel was gezeten, vroeg hij zijn bediende om een glas wijn en om een poedertje dat in de kast lag. "Met een theelepeltje had hij het rustig in zijn glas omgeroerd en opgedronken. (…) Soms sloot hij zijn ogen even, men dacht dat hij gelukkig, hoewel vermoeid was. Een half uur nadat hij het glas uitgedronken had, viel zijn hoofd op zijn borst; zijn ogen waren nu niet meer gesloten, maar staarden."
In zijn laatste gedicht "Het menschelyk leven" lijkt hij zijn eigen tragische einde te hebben voorspeld: "Helaas! helaas! hoe vlieden onze dagen, / Hoe spoedt zich ieder uur met onzen luister heen! / Hoe flauwe vreugd, hoe bitter plagen, / Hoe min vermaak, hoe veel geween."
(Brabants Dagblad, 22 maart 2005)

kemp=mag poetry magazine
More in: Jef van Kempen, Oude meesters
HEUTE NUR BRANDSMA GESTORBEN
Door Jef van Kempen
"Toen ik Donderdag, na even gewogen te zijn, op mijn cel terug kwam, ging juist de bibliothecaris met zijn wagentje rond." Die had twee boeken achter gelaten: De klop op de deur van Ina Boudier-Bakker en De Bareelsen van Maurits Sabbe. "Hij kwam nog even terug om te vragen of die boeken me aanstonden. Ik moest bekennen dat romans mijn geliefde lectuur niet waren." Liever had Titus Brandsma de twee boeken terug die hij bij zijn arrestatie had weten mee te nemen en die hem in de strafgevangenis van Scheveningen waren afgenomen: Jezus van Cyriel Verschaeve en een nieuwe uitgave van Het leven van de Heilige Theresia. De bibliothecaris zou ze hem terugbezorgen. "Ik heb nu meer de lectuur, die ik deze dagen het liefst heb", noteerde Brandsma in zijn gevangenisdagboek.
Dat Titus Brandsma uitgerekend de Vlaamse priester-dichter Cyriel Verschaeve tot zijn favoriete schrijvers rekende, is opmerkelijk. Verschaeve had in die tijd naast Jezus Christus nog een idool: Adolf Hitler. En juist Brandsma's principieel anti-nationaal-socialisme zou hem noodlottig worden.
De in 1881 in Bolsward geboren Titus Brandsma studeerde filosofie en sociologie. Hij was als priester, leraar en journalist actief in Oss en later gevierd hoogleraar in Nijmegen. Al voor de oorlog had Brandsma zich in artikelen tegen de jodenvervolging in Duitsland gekeerd. Tijdens de bezetting wierp hij zich, als geestelijk adviseur van de R.K. Journalistenvereniging, op als verdediger van de vrijheid van pers. In 1941 maakte hij een rondreis door Nederland om redacties en directies van kranten er van te overtuigen op geen enkele manier met de N.S.B. samen te werken.
Dat was voor de bezetters de druppel die de emmer deed overlopen. Titus Brandsma werd op 20 januari 1942 door de Sicherheitspolizei gearresteerd. Na een verblijf in de gevangenis van Scheveningen werd hij op transport gesteld naar het concentratiekamp Dachau. Op 26 juli 1942 diende een S.S.-kamparts hem een dodelijke injectie toe. "Heute nur Brandsma gestorben", was de cynische conclusie aan het eind van die zondag.
Achter in de Sint Jan in Den Bosch is voor Titus Brandsma, een van de laatste grote katholieke helden van Nederland, een gedachteniskapel ingericht.
(Brabants Dagblad, 18 mei 2004)
kemp=mag poetry magazine
More in: CATHEDRALS, Holocaust, Jef van Kempen, WAR & PEACE
 Joep Eijkens photos:  Strange places
© j eijkens
fleursdumal.nl magazine for art & literature
More in: Joep Eijkens Photos

Wilfred Owen (1893-1918)
Strange Meeting

It seemed that out of battle I escaped
Down some profound dull tunnel, long since scooped
Through granites which titanic wars had groined.
Yet also there encumbered sleepers groaned,
Too fast in thought or death to be bestirred.
Then, as I probed them, one sprang up, and stared
With piteous recognition in fixed eyes,
Lifting distressful hands, as if to bless.
And by his smile, I knew that sullen hall,-
By his dead smile I knew we stood in Hell.
With a thousand pains that vision's face was grained;
Yet no blood reached there from the upper ground,
And no guns thumped, or down the flues made moan.
'Strange friend,' I said, 'here is no cause to mourn.'
'None,' said that other, 'save the undone years,
The hopelessness. Whatever hope is yours,
Was my life also; I went hunting wild
After the wildest beauty in the world,
Which lies not calm in eyes, or braided hair,
But mocks the steady running of the hour,
And if it grieves, grieves richlier than here.
For by my glee might many men have laughed,
And of my weeping something had been left,
Which must die now. I mean the truth untold,
The pity of war, the pity war distilled.
Now men will go content with what we spoiled,
Or, discontent, boil bloody, and be spilled.
They will be swift with swiftness of the tigress.
None will break ranks, though nations trek from progress.
Courage was mine, and I had mystery,
Wisdom was mine, and I had mastery:
To miss the march of this retreating world
Into vain citadels that are not walled.
Then, when much blood had clogged their chariot-wheels,
I would go up and wash them from sweet wells,
Even with truths that lie too deep for taint.
I would have poured my spirit without stint
But not through wounds; not on the cess of war.
Foreheads of men have bled where no wounds were.
'I am the enemy you killed, my friend.
I knew you in this dark: for so you frowned
Yesterday through me as you jabbed and killed.
I parried; but my hands were loath and cold.
Let us sleep now….'

Wilfred Owen

More in: Archive O-P, Owen, Wilfred

Of the danger of superfluity of words
Avoid as far as thou canst the tumult of men; for talk concerning
worldly things, though it be innocently undertaken, is a
hindrance, so quickly are we led captive and defiled by vanity.
Many a time I wish that I had held my peace, and had not gone
amongst men.  But why do we talk and gossip so continually,
seeing that we so rarely resume our silence without some hurt
done to our conscience?  We like talking so much because we hope
by our conversations to gain some mutual comfort, and because we
seek to refresh our wearied spirits by variety of thoughts.  And
we very willingly talk and think of those things which we love or
desire, or else of those which we most dislike.
But alas! it is often to no purpose and in vain.  For this
outward consolation is no small hindrance to the inner comfort
which cometh from God.  Therefore must we watch and pray that
time pass not idly away.  If it be right and desirable for thee
to speak, speak things which are to edification.  Evil custom and
neglect of our real profit tend much to make us heedless of
watching over our lips.  Nevertheless, devout conversation on
spiritual things helpeth not a little to spiritual progress, most
of all where those of kindred mind and spirit find their ground
of fellowship in God.
Thomas a Kempis ca. 1380-1471
(Imitatio Christi, Book 1, chapter X)
More in: MONTAIGNE, Thomas a Kempis
to be continued
fleursdumal.nl magazine
More in: Arthur Conan Doyle, Sherlock Holmes Theatre
Antony Kok 1923
Vlahaisvatka
poème dada
Aan Kurt Schwitters
L U –
siberische appelbloesemtafelpeervla
               reuze neuze
plooi
pluis
      L U I S
                              renepepella
       huis
Kooi
vlooi
            kloosterkluis
                   peerhuis
                                 luisnat –
                   appelboomvat
                   D R
                  A N T O N I
                  K A K L O K
                   klokkenhuisklop
har
        mo
               ni
                      ka
ha
                               d a D A
kemp=mag poetry magazine
© Erven Antony Kok
More in: *Concrete + Visual Poetry K-O, Antony Kok, Dada, Kok, Antony
Ingrid van den Bergh
Zonder titel
Da
Da
DaDa
DADA
Kla
nk
Klank
KLANK
Di
cht
Dicht
DICHT
Di
ng
Ding
DING
DADAKLANKDICHTDING
DADAKLANKDICHTDING
DADADICHTDING
DADADING
Da
Ding
DaDa
Ding
DADADING
© Ingrid van den Bergh
Naar aanleiding van thema Gedichtendag 2008: 'Dingen in gedichten'
More in: Archive A-B
Onzichtbaar
Soms sprak zij van
alle planten van de wereld
die ondergronds verbonden zijn
door middel van onzichtbare draden
en die door chemische stoffen in staat
van seksuele opwinding geraken om daarna
weer snel te bezwijken bij de geringste
tegenslag en dat dit alles een geheim
is dat door god en de heiland en
anderen wordt bewaard.
Zo sprak zij dan.
Ik luisterde.
Jef van Kempen
(Laatste Bedrijf. Gedichten 1966-2006)

kemp=mag poetry magazine
More in: Kempen, Jef van
 
EEN ZOOTJE GEMANKEERDE SCHRIJVERS ZONDER TALENT
Willem Frederik Hermans in Tilburg
Door Jef van Kempen
Het was koud, de avond dat Dominique de Vet en haar broer Joost naar Brussel reden, om schrijver W.F. Hermans thuis op te halen. Ze hadden dat al meer gedaan voor stichting J.H. Leopold, organisator van de "Nacht van het boek" in Tilburg. In een onlangs verschenen boekje over 22 jaar literaire activiteiten van de Leopoldstichting, haalt Dominique herinneringen op aan die autoritten met Reve, Campert, Kouwenaar en Claus. En aan die gedenkwaardige zaterdag 25 maart 1995 toen Hermans voor zou dragen in de Tilburgse schouwburg. Broer en zus vreesden eigenlijk voor Hermans' reputatie, nogal humeurig te kunnen zijn. Maar dat viel heel erg mee. Hermans: "U komt helemaal van Tilburg naar Brussel om mij op te halen. Waarom zou ik onaardig tegen u zijn?"
Hermans bekende dat hij naast typemachines ook touwtjes verzamelde. Dominique: "En hij typte zijn boeken – ik heb het zelf gezien aan het manuscript van Ruisend gruis dat hij in een plastic tasje bij zich had – op de achterkant van afgedankt briefpapier van bedrijven dat hij eigenhandig bij het oud papier had weggehaald."
In de grote zaal vertelde Hermans, in een decor van typemachines uit de verzameling van het museum Scryption, over de dood van Multatuli: "Zijn leven ging als een nachtkaars uit. Na een hoestbui sliep hij voorgoed in. "Op datzelfde moment kreeg Hermans zelf een onbedaarlijke hoestbui. Presentator Michaël Zeeman riep bezorgd: "Voorzichtig, voorzichtig." Het publiek lachte uitgelaten. Niemand wist toen, dat de schrijver van De laatste roker terminale longkanker had.
In de pauze stond ik in een lange rij om Hermans mijn exemplaar van Malle Hugo te laten signeren. Een vrouw voor mij durfde hem zelfs aan te spreken. "Ik ben een bewonderaarster van u," flapte ze er uit.  Haar volgende mededeling was, dat ze zelf ook schreef. "Maar volgens de recensenten bak ik er helemáál niets van." "Niets van aantrekken,"  sprak Hermans tussen twee hoestbuien door. "Het is een zootje gemankeerde schrijvers zonder talent. U moet gewoon rustig doorgaan."
Een maand later was Willem Frederik Hermans dood.
(Brabants Dagblad, 3 oktober 2002)

fleursdumal.nl magazine

More in: Archive K-L, Jef van Kempen, Literaire sporen, WF Hermans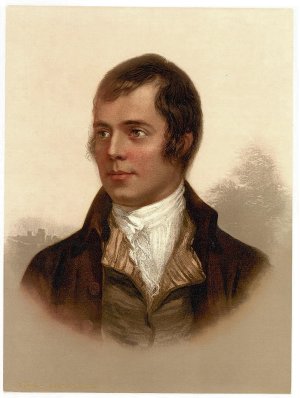 THE LAZY MIST
I
The lazy mist hangs from the brow of the hill,
Concealing the course of the dark winding rill;
How languid the scenes, late so sprightly, appear!
As Autumn to Winter resigns the pale year.
The forests are leafless, the meadows are brown,
And all the gay foppery of summer is flown:
Apart let me wander, apart let me muse,
How quick Time is flying, how keen Fate pursues!
II
How long have I liv'd, but how much liv'd in vain!
How little of life's scanty span may remain!
What aspects, old Time, in his progress, has worn!
What ties cruel Fate in my bosom has torn!
How foolish, or worse, till our summit is gain'd!
And downward, how weaken'd, how darken'd, how pain'd!
Life is not worth having with all it can give—
For something beyond it poor man sure must live.

Robert Burns (1759-1796)
fleursdumal.nl magazine
More in: Archive A-B, Burns, Robert
Thank you for reading FLEURSDUMAL.NL - magazine for art & literature