Karoline von Günderrode
(1780 – 1806)
Liebe
O reiche Armuth! Gebend, seliges Empfangen!
In Zagheit Muth! in Freiheit doch gefangen.
In Stummheit Sprache,
Schüchtern bei Tage
Siegend mit zaghaftem Bangen.
Lebendiger Tod, im Einen sel'ges Leben
Schwelgend in Noth, im Widerstand ergeben,
Genießend schmachtend,
Nie satt betrachten
Leben im Traum und doppelt Leben.
Karoline Günderrode Gedichte
fleursdumal.nl magazine
More in: Archive G-H, Karoline von Günderrode
Leigh Hunt
(1784 – 1859)
Ariadne Waking
The moist and quiet morn was scarcely breaking,
When Ariadne in her bower was waking;
Her eyelids still were closing, and she heard
But indistinctly yet a little bird,
That in the leaves o'erhead, waiting the sun,
Seemed answering another distant one.
She waked, but stirred not, only just to please
Her pillow-nestling cheek; while the full seas,
The birds, the leaves, the lulling love o'ernight
The happy thought of the returning light,
The sweet, self-willed content, conspired to keep
Her senses lingering in the feel of sleep;
And with a little smile she seemed to say,
"I know my love is near me, and 'tis day."
Leigh Hunt poetry
fleursdumal.nl magazine
More in: Archive G-H, Hunt, Leigh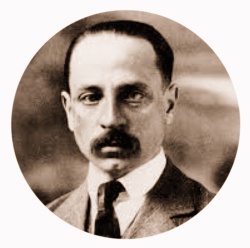 Rainer Maria Rilke
(1875 – 1926)
Der Gefangene
I
Meine Hand hat nur noch eine
Gebärde, mit der sie verscheucht;
auf die alten Steine
fällt es aus Felsen feucht.
Ich höre nur dieses Klopfen
und mein Herz hält Schritt
mit dem Gehen der Tropfen
und vergeht damit.
Tropften sie doch schneller,
käme doch wieder ein Tier.
Irgendwo war es heller -.
Aber was wissen wir.
II
Denk dir, das was jetzt Himmel ist und Wind,
Luft deinem Mund und deinem Auge Helle,
das würde Stein bis um die kleine Stelle
an der dein Herz und deine Hände sind.
Und was jetzt in dir morgen heißt und: dann
und: späterhin und nächstes Jahr und weiter –
das würde wund in dir und voller Eiter
und schwäre nur und bräche nicht mehr an.
Und das was war, das wäre irre und
raste in dir herum, den lieben Mund
der niemals lachte, schäumend von Gelächter.
Und das was Gott war, wäre nur dein Wächter
und stopfte boshaft in das letzte Loch
ein schmutziges Auge. Und du lebtest doch.
Rainer Maria Rilke Gedichte
fleursdumal.nl magazine
More in: Archive Q-R, Rilke, Rainer Maria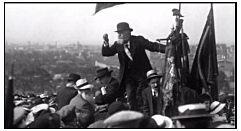 Jean Jaurès
(1859 – 1914)
Dans le bleu
L'effort de la lumière pour percer l'obstacle s'exprime par le
rayon jaune et lui donne un sens ; l'effort de l'ombre pour venir
à nous à travers la lumière, en l'adoucissant et en s'y égayant,
s'exprime par le rayon bleu.
Il serait singulier, en effet, que la lumière bleue se manifes-
tât toujours quand un fond obscur est vu à travers la clarté, et
que ce fait-là n'eût point de signification. Quand un vase d'eau
claire est posé sur un fond noir, l'eau paraît bleuâtre. Dans les
rayonnantes journées d'été, l'ombre portée sur un mur blanc,
vu à distance, semble bleue : les montagnes noires, à mesure
qu'on s'en éloigne par un beau temps, bleuissent ; et lorsque,
au couchant, un nuage sombre, voisin du soleil, au lieu de s'in-
terposer entre lui et nous, reçoit à sa surface les rayons glis-
sants, il apparaît d'un bleu admirable et il se confond avec le
bleu même du ciel ; si bien que, quand le soleil se cache et que
le prestige s'évanouit, l'œil est étonné de trouver un pesant
nuage là où il n'avait cru rencontrer que la pureté profonde de
l'air. Le ciel qui, la nuit, quand il n'est éclairé que par les
étoiles, est noir, vu à travers la lumière du soleil, apparaît bleu.
Ainsi toutes les grandes manifestations de la couleur bleue
sont liées aux mêmes conditions ; est-ce là un fait fortuit ? Le
bleu, comme pour bien marquer son rapport à l'obscur, confine
au noir et au gris par une multitude de degrés. Le soir, une
partie du ciel est déjà noire qu'une autre partie est encore
bleue ; et il semble au regard qui en fait le tour qu'il passe
seulement d'un bleu plus clair à un bleu plus sombre. À mesure
qu'on s'élève en ballon vers les hauteurs du ciel, le bleu est
plus sombre et plus voisin du noir.
Jean Jaurès poésie
fleursdumal.nl magazine
More in: Archive I-J, Jaurès, Jean
William Shakespeare
(1564-1616)
The quality of mercy
The quality of mercy is not strain'd,
It droppeth as the gentle rain from heaven
Upon the place beneath. It is twice blest:
It blesseth him that gives and him that takes.
'T is mightiest in the mightiest: it becomes
The throned monarch better than his crown;
His sceptre shows the force of temporal power,
The attribute to awe and majesty,
Wherein doth sit the dread and fear of kings;
But mercy is above this sceptred sway,
It is enthroned in the hearts of kings,
It is an attribute to God himself;
And earthly power doth then show likest God's,
When mercy seasons justice. Therefore, Jew,
Though justice be thy plea, consider this,
That in the course of justice none of us
Should see salvation: we do pray for mercy;
And that same prayer doth teach us all to render
The deeds of mercy.
William Shakespeare, "The Merchant of Venice", Act 4 scene 1
Shakespeare 400 (1616 – 2016)
fleursdumal.nl magazine
More in: Archive S-T, Shakespeare, William
Guillaume Apollinaire
(1880 – 1918)
Mon Lou la nuit descend
Mon Lou la nuit descend tu es à moi je t'aime
Les cyprès ont noirci le ciel a fait de même
Les trompettes chantaient ta beauté mon bonheur
De t'aimer pour toujours ton cœur près de mon cœur
Je suis revenu doucement à la caserne
Les écuries sentaient bon la luzerne
Les croupes des chevaux évoquaient ta force et ta grâce
D'alezane dorée ô ma belle jument de race
La tour Magne tournait sur sa colline laurée
Et dansait lentement lentement s'obombrait
Tandis que des amants descendaient de la colline
La tour dansait lentement comme une sarrasine
Le vent souffle pourtant il ne fait pas du tout froid
Je te verrai dans deux jours et suis heureux comme un roi
Et j'aime de t'y aimer cette Nîmes la Romaine
Où les soldats français remplacent l'armée prétorienne
Beaucoup de vieux soldats qu'on n'a pu habiller
Ils vont comme des bœufs tanguent comme des mariniers
Je pense à tes cheveux qui sont mon or et ma gloire
Ils sont toute ma lumière dans la nuit noire
Et tes yeux sont les fenêtres d'où je veux regarder
La vie et ses bonheurs la mort qui vient aider
Les soldats las les femmes tristes et les enfants malades
Des soldats mangent près d'ici de l'ail dans la salade
L'un a une chemise quadrillée de bleu comme une carte
Je t'adore mon Lou et sans te voir je te regarde
Ça sent l'ail et le vin et aussi l'iodoforme
Je t'adore mon Lou embrasse-moi avant que je ne dorme
Le ciel est plein d'étoiles qui sont les soldats
Morts ils bivouaquent là-haut comme ils bivouaquaient là-bas
Et j'irai conducteur un jour lointain t'y conduire
Lou que de jours de bonheur avant que ce jour ne vienne luire
Aime-moi mon Lou je t'adore Bonsoir
Je t'adore je t'aime adieu mon Lou ma gloire
Guillaume Apollinaire Poèmes à Lou
fleursdumal.nl magazine
More in: #Archive Concrete & Visual Poetry, *War Poetry Archive, Apollinaire, Guillaume, Archive A-B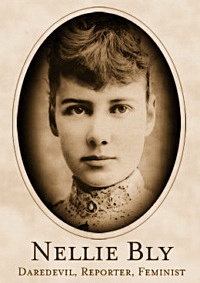 Ten Days in a Mad-House
(Chapter III: In the temporary home)
by Nellie Bly
I was left to begin my career as Nellie Brown, the insane girl. As I walked down the avenue I tried to assume the look which maidens wear in pictures entitled "Dreaming." "Far-away" expressions have a crazy air. I passed through the little paved yard to the entrance of the Home. I pulled the bell, which sounded loud enough for a church chime, and nervously awaited the opening of the door to the Home, which I intended should ere long cast me forth and out upon the charity of the police. The door was thrown back with a vengeance, and a short, yellow-haired girl of some thirteen summers stood before me.
"Is the matron in?" I asked, faintly.
"Yes, she's in; she's busy. Go to the back parlor," answered the girl, in a loud voice, without one change in her peculiarly matured face.
At the temporary home for women.
I followed these not overkind or polite instructions and found myself in a dark, uncomfortable back-parlor. There I awaited the arrival of my hostess. I had been seated some twenty minutes at the least, when a slender woman, clad in a plain, dark dress entered and, stopping before me, ejaculated inquiringly, "Well?"
"Are you the matron?" I asked.
"No," she replied, "the matron is sick; I am her assistant. What do you want?"
"I want to stay here for a few days, if you can accommodate me."
"Well, I have no single rooms, we are so crowded; but if you will occupy a room with another girl, I shall do that much for you."
"I shall be glad of that," I answered. "How much do you charge?" I had brought only about seventy cents along with me, knowing full well that the sooner my funds were exhausted the sooner I should be put out, and to be put out was what I was working for.
"We charge thirty cents a night," was her reply to my question, and with that I paid her for one night's lodging, and she left me on the plea of having something else to look after. Left to amuse myself as best I could, I took a survey of my surroundings.
They were not cheerful, to say the least. A wardrobe, desk, book-case, organ, and several chairs completed the furnishment of the room, into which the daylight barely came.
By the time I had become familiar with my quarters a bell, which rivaled the door-bell in its loudness, began clanging in the basement, and simultaneously
women went trooping down-stairs from all parts of the house. I imagined, from the obvious signs, that dinner was served, but as no one had said anything to me I made no effort to follow in the hungry train. Yet I did wish that some one would invite me down. It always produces such a lonely, homesick feeling to know others are eating, and we haven't a chance, even if we are not hungry. I was glad when the assistant matron came up and asked me if I did not want something to eat. I replied that I did, and then I asked her what her name was. Mrs. Stanard, she said, and I immediately wrote it down in a notebook I had taken with me for the purpose of making memoranda, and in which I had written several pages of utter nonsense for inquisitive scientists.
Thus equipped I awaited developments. But my dinner–well, I followed Mrs. Stanard down the uncarpeted stairs into the basement; where a large number of women were eating. She found room for me at a table with three other women. The short-haired slavey who had opened the door now put in an appearance as waiter. Placing her arms akimbo and staring me out of countenance she said:
"Boiled mutton, boiled beef, beans, potatoes, coffee or tea?"
"Beef, potatoes, coffee and bread," I responded.
"Bread goes in," she explained, as she made her way to the kitchen, which was in the rear. It was not very long before she returned with what I had ordered on a large, badly battered tray, which she banged down before me. I began my simple meal. It was not very enticing, so while making a feint of eating I watched the others.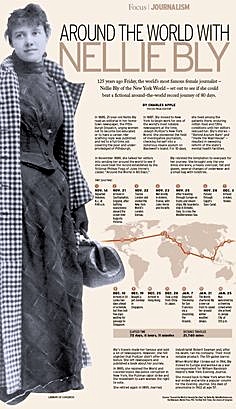 I have often moralized on the repulsive form charity always assumes! Here was a home for deserving women and yet what a mockery the name was. The floor was bare, and the little wooden tables were sublimely ignorant of such modern beautifiers as varnish, polish and table-covers. It is useless to talk about the cheapness of linen and its effect on civilization. Yet these honest workers, the most deserving of women, are asked to call this spot of bareness–home.
When the meal was finished each woman went to the desk in the corner, where Mrs. Stanard sat, and paid her bill. I was given a much-used, and abused, red check, by the original piece of humanity in shape of my waitress. My bill was about thirty cents.
After dinner I went up-stairs and resumed my former place in the back parlor. I was quite cold and uncomfortable, and had fully made up my mind that I could not endure that sort of business long, so the sooner I assumed my insane points the sooner I would be released from enforced idleness. Ah! that was indeed the longest day I had ever lived. I listlessly watched the women in the front parlor, where all sat except myself.
One did nothing but read and scratch her head and occasionally call out mildly, "Georgie," without lifting her eyes from her book. "Georgie" was her over-frisky boy, who had more noise in him than any child I ever saw before. He did everything that was rude and unmannerly, I thought, and the mother never said a word unless she heard some one else yell at him. Another woman always kept going to sleep and waking herself up with her own snoring. I really felt wickedly thankful it was only herself she awakened. The majority of the women sat there doing nothing, but there were a few who made lace and knitted unceasingly. The enormous door-bell seemed to be going all the time, and so did the short-haired girl. The latter was, besides, one of those girls who sing all the time snatches of all the songs and hymns that have been composed for the last fifty years. There is such a thing as martyrdom in these days. The ringing of the bell brought more people who wanted shelter for the night. Excepting one woman, who was from the country on a day's shopping expedition, they were working women, some of them with children.
As it drew toward evening Mrs. Stanard came to me and said:
"What is wrong with you? Have you some sorrow or trouble?"
"No," I said, almost stunned at the suggestion. "Why?"
"Oh, because," she said, womanlike, "I can see it in your face. It tells the story of a great trouble."
"Yes, everything is so sad," I said, in a haphazard way, which I had intended to reflect my craziness.
"But you must not allow that to worry you. We all have our troubles, but we get over them in good time. What kind of work are you trying to get?"
"I do not know; it's all so sad," I replied.
"Would you like to be a nurse for children and wear a nice white cap and apron?" she asked.
I put my handkerchief up to my face to hide a smile, and replied in a muffled tone, "I never worked; I don't know how."
"But you must learn," she urged; "all these women here work."
"Do they?" I said, in a low, thrilling whisper. "Why, they look horrible to me; just like crazy women. I am so afraid of them."
"They don't look very nice," she answered, assentingly, "but they are good, honest working women. We do not keep crazy people here."
I again used my handkerchief to hide a smile, as I thought that before morning she would at least think she had one crazy person among her flock.
"They all look crazy," I asserted again, "and I am afraid of them. There are so many crazy people about, and one can never tell what they will do. Then there
are so many murders committed, and the police never catch the murderers," and I finished with a sob that would have broken up an audience of blase critics. She gave a sudden and convulsive start, and I knew my first stroke had gone home. It was amusing to see what a remarkably short time it took her to get up from her chair and to whisper hurriedly: "I'll come back to talk with you after a while." I knew she would not come back and she did not.
When the supper-bell rang I went along with the others to the basement and partook of the evening meal, which was similar to dinner, except that there was
a smaller bill of fare and more people, the women who are employed outside during the day having returned. After the evening meal we all adjourned to the parlors, where all sat, or stood, as there were not chairs enough to go round.
It was a wretchedly lonely evening, and the light which fell from the solitary gas jet in the parlor, and oil-lamp the hall, helped to envelop us in a dusky
hue and dye our spirits navy blue. I felt it would not require many inundations of this atmosphere to make me a fit subject for the place I was striving to
reach.
I watched two women, who seemed of all the crowd to be the most sociable, and I selected them as the ones to work out my salvation, or, more properly speaking, my condemnation and conviction. Excusing myself and saying that I felt lonely, I asked if I might join their company. They graciously consented, so with my hat and gloves on, which no one had asked me to lay aside, I sat down and listened to the rather wearisome conversation, in which I took no part, merely keeping up my sad look, saying "Yes," or "No," or "I can't say," to their observations. Several times I told them I thought everybody in the house looked crazy, but they were slow to catch on to my very original remark. One said her name was Mrs. King and that she was a Southern woman. Then she said that I had a Southern accent. She asked me bluntly if I did not really come from the South. I said "Yes." The other woman got to talking about the Boston boats and asked me if I knew at what time they left.
For a moment I forgot my role of assumed insanity, and told her the correct hour of departure. She then asked me what work I was going to do, or if I had ever done any. I replied that I thought it very sad that there were so many working people in the world. She said in reply that she had been unfortunate and had come to New York, where she had worked at correcting proofs on a medical dictionary for some time, but that her health had given way under the task, and that she was now going to Boston again. When the maid came to tell us to go to bed I remarked that I was afraid, and again ventured the assertion that all the women in the house seemed to be crazy. The nurse insisted on my going to bed. I asked if I could not sit on the stairs, but she said, decisively: "No; for every one in the house would think you were crazy." Finally I allowed them to take me to a room.
Here I must introduce a new personage by name into my narrative. It is the woman who had been a proofreader, and was about to return to Boston. She was a Mrs. Caine, who was as courageous as she was good-hearted. She came into my room, and sat and talked with me a long time, taking down my hair with gentle ways. She tried to persuade me to undress and go to bed, but I stubbornly refused to do so. During this time a number of the inmates of the house had gathered around us. They expressed themselves in various ways. "Poor loon!" they said. "Why, she's crazy enough!" "I am afraid to stay with such a crazy being in house." "She will murder us all before morning." One woman was for sending for a policeman to take me at once. They were all in a terrible and real state of fright.
No one wanted to be responsible for me, and the woman who was to occupy the room with me declared that she would not stay with that "crazy woman" for all the money of the Vanderbilts. It was then that Mrs. Caine said she would stay with me. I told her I would like to have her do so. So she was left with me. She didn't undress, but lay down on the bed, watchful of my movements. She tried to induce me to lie down, but I was afraid to do this. I knew that if I once gave way I should fall asleep and dream as pleasantly and peacefully as a child. I should, to use a slang expression, be liable to "give myself dead away." So I insisted on sitting on the side of the bed and staring blankly at vacancy. My poor companion was put into a wretched state of unhappiness. Every few moments she would rise up to look at me. She told me that my eyes shone terribly brightly and then began to question me, asking me where I had lived, how long I had been in New York, what I had been doing, and many things besides. To all her questionings I had but one response–I told her that I had forgotten everything, that ever since my headache had come on I could not remember.
Poor soul! How cruelly I tortured her, and what a kind heart she had! But how I tortured all of them! One of them dreamed of me–as a nightmare. After I had been in the room an hour or so, I was myself startled by hearing a woman screaming in the next room. I began to imagine that I was really in an insane asylum.
Mrs. Caine woke up, looked around, frightened, and listened. She then went out and into the next room, and I heard her asking another woman some questions. When she came back she told me that the woman had had a hideous nightmare. She had been dreaming of me. She had seen me, she said, rushing at her with a knife in my hand, with the intention of killing her. In trying to escape me she had fortunately been able to scream, and so to awaken herself and scare off her nightmare. Then Mrs. Caine got into bed again, considerably agitated, but very sleepy.
I was weary, too, but I had braced myself up to the work, and was determined to keep awake all night so as to carry on my work of impersonation to a successful end in the morning. I heard midnight. I had yet six hours to wait for daylight. The time passed with excruciating slowness. Minutes appeared hours. The noises in the house and on the avenue ceased.
Fearing that sleep would coax me into its grasp, I commenced to review my life. How strange it all seems! One incident, if never so trifling, is but a link more to chain us to our unchangeable fate. I began at the beginning, and lived again the story of my life. Old friends were recalled with a pleasurable thrill; old enmities, old heartaches, old joys were once again present. The turned-down pages of my life were turned up, and the past was present.
When it was completed, I turned my thoughts bravely to the future, wondering, first, what the next day would bring forth, then making plans for the carrying out of my project. I wondered if I should be able to pass over the river to the goal of my strange ambition, to become eventually an inmate of the halls inhabited by my mentally wrecked sisters. And then, once in, what would be my experience? And after? How to get out? Bah! I said, they will get me out.
That was the greatest night of my existence. For a few hours I stood face to face with "self!"
I looked out toward the window and hailed with joy the slight shimmer of dawn. The light grew strong and gray, but the silence was strikingly still. My
companion slept. I had still an hour or two to pass over. Fortunately I found some employment for my mental activity. Robert Bruce in his captivity had won confidence in the future, and passed his time as pleasantly as possible under the circumstances, by watching the celebrated spider building his web. I had less noble vermin to interest me. Yet I believe I made some valuable discoveries in natural history. I was about to drop off to sleep in spite of myself when I was suddenly startled to wakefulness. I thought I heard something crawl and fall down upon the counterpane with an almost inaudible thud.
I had the opportunity of studying these interesting animals very thoroughly. They had evidently come for breakfast, and were not a little disappointed to
find that their principal plat was not there. They scampered up and down the pillow, came together, seemed to hold interesting converse, and acted in every way as if they were puzzled by the absence of an appetizing breakfast. After one consultation of some length they finally disappeared, seeking victims elsewhere, and leaving me to pass the long minutes by giving my attention to cockroaches, whose size and agility were something of a surprise to me.
My room companion had been sound asleep for a long time, but she now woke up, and expressed surprise at seeing me still awake and apparently as lively as a cricket. She was as sympathetic as ever. She came to me and took my hands and tried her best to console me, and asked me if I did not want to go home. She kept me up-stairs until nearly everybody was out of the house, and then took me down to the basement for coffee and a bun. After that, partaken in silence, I went back to my room, where I sat down, moping. Mrs. Caine grew more and more anxious. "What is to be done?" she kept exclaiming. "Where are your friends?" "No," I answered, "I have no friends, but I have some trunks. Where are they? I want them." The good woman tried to pacify me, saying that they would be found in good time. She believed that I was insane.
Yet I forgive her. It is only after one is in trouble that one realizes how little sympathy and kindness there are in the world. The women in the Home who
were not afraid of me had wanted to have some amusement at my expense, and so they had bothered me with questions and remarks that had I been insane would have been cruel and inhumane. Only this one woman among the crowd, pretty and delicate Mrs. Caine, displayed true womanly feeling. She compelled the others to cease teasing me and took the bed of the woman who refused to sleep near me. She protested against the suggestion to leave me alone and to have me locked up for the night so that I could harm no one. She insisted on remaining with me in order to administer aid should I need it. She smoothed my hair and bathed my brow and talked as soothingly to me as a mother would do to an ailing child. By every means she tried to have me go to bed and rest, and when it drew toward morning she got up and wrapped a blanket around me for fear I might get cold; then she kissed me on the brow and whispered, compassionately:
"Poor child, poor child!"
How much I admired that little woman's courage and kindness. How I longed to reassure her and whisper that I was not insane, and how I hoped that, if any poor girl should ever be so unfortunate as to be what I was pretending to be, she might meet with one who possessed the same spirit of human kindness possessed by Mrs. Ruth Caine.
Ten Days in a Mad-House
(Chapter III: In the temporary home)
by Nellie Bly (1864 – 1922)
fleursdumal.nl magazine
More in: Archive A-B, Bly, Nellie, Nellie Bly, Psychiatric hospitals
Over ooit
Wij bezitten een stukje van de wereld,
in een stad die wij graag zien. Al met al
gaat het er niet zo krampachtig aan toe
als dorpelingen vrezen. Er stroomt mooi
een rivier langs, niet echt door. Elke avond
lijkt er jong, ieder uur nieuw. Soms denk ik
er minutenlang aan niets, voel ik de rugzak
vol verleden amper. Alles gaat over ooit.
Bert Bevers
fleursdumal.nl magazine
More in: Archive A-B, Bevers, Bert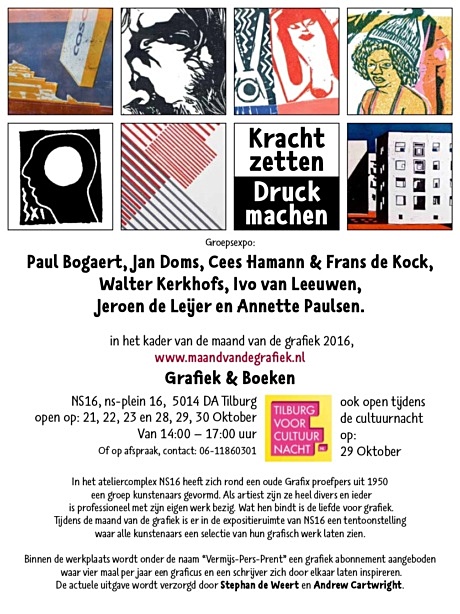 KRACHT ZETTEN – DRUCK MACHEN = GROEPSSEXPO TILBURGSE GRAFICI
Groepsexpo: Paul Bogaert, Jan Doms, Cees Hamann & Frans de Kock, Walter Kerkhofs, Ivo van Leeuwen, Jeroen de Leijer en Annette Paulsen, in het kader van de maand van de grafiek 2016, www.maandvandegrafiek.nl  –  Grafiek & Boeken
NS16, ns-plein 16, 5014 DA Tilburg – open op: 21, 22, 23 en 28, 29, 30 Oktober 2016 – van 14:00 – 17:00 uur ook open tijdens de cultuurnacht op: 29 Oktober.  In het ateliercomplex NS16 heeft zich rond een oude Grafix proefpers uit 1950 een groep kunstenaars gevormd. Als artiest zijn ze heel divers en ieder is professioneel met zijn eigen werk bezig. Wat hen bindt is de liefde voor grafiek. Tijdens de maand van de grafiek is er in de expositieruimte van NS16 een tentoonstelling waar alle kunstenaars een selectie van hun grafisch werk laten zien. Binnen de werkplaats wordt onder de naam "Vermijs-Pers-Prent" een grafiek abonnement aangeboden waar vier maal per jaar een graficus en een schrijver zich door elkaar laten inspireren. De actuele uitgave wordt verzorgd door Stephan de Weert en Andrew Cartwright.
fleursdumal.nl magazine
More in: Art & Literature News, Exhibition Archive, Illustrators, Illustration, Ivo van Leeuwen, Paul Bogaert, PRESS & PUBLISHING
Sweet Ermengarde
Or, The Heart of a Country Girl
By Percy Simple [H. P. Lovecraft]
Chapter I
A Simple Rustic Maid
Ermengarde Stubbs was the beauteous blonde daughter of Hiram Stubbs, a poor but honest farmer-bootlegger of Hogton, Vt. Her name was originally Ethyl Ermengarde, but her father persuaded her to drop the praenomen after the passage of the 18th Amendment, averring that it made him thirsty by reminding him of ethyl alcohol, C2H5OH. His own products contained mostly methyl or wood alcohol, CH3OH. Ermengarde confessed to sixteen summers, and branded as mendacious all reports to the effect that she was thirty. She had large black eyes, a prominent Roman nose, light hair which was never dark at the roots except when the local drug store was short on supplies, and a beautiful but inexpensive complexion. She was about 5ft 5.33…in tall, weighed 115.47 lbs. on her father's copy scales—also off them—and was adjudged most lovely by all the village swains who admired her father's farm and liked his liquid crops.
Ermengarde's hand was sought in matrimony by two ardent lovers. 'Squire Hardman, who had a mortgage on the old home, was very rich and elderly. He was dark and cruelly handsome, and always rode horseback and carried a riding-crop. Long had he sought the radiant Ermengarde, and now his ardour was fanned to fever heat by a secret known to him alone—for upon the humble acres of Farmer Stubbs he had discovered a vein of rich GOLD!! "Aha!" said he, "I will win the maiden ere her parent knows of his unsuspected wealth, and join to my fortune a greater fortune still!" And so he began to call twice a week instead of once as before.
But alas for the sinister designs of a villain—'Squire Hardman was not the only suitor for the fair one. Close by the village dwelt another—the handsome Jack Manly, whose curly yellow hair had won the sweet Ermengarde's affection when both were toddling youngsters at the village school. Jack had long been too bashful to declare his passion, but one day while strolling along a shady lane by the old mill with Ermengarde, he had found courage to utter that which was within his heart.
"O light of my life," said he, "my soul is so overburdened that I must speak! Ermengarde, my ideal [he pronounced it i-deel!], life has become an empty thing without you. Beloved of my spirit, behold a suppliant kneeling in the dust before thee. Ermengarde—oh, Ermengarde, raise me to an heaven of joy and say that you will some day be mine! It is true that I am poor, but have I not youth and strength to fight my way to fame? This I can do only for you, dear Ethyl—pardon me, Ermengarde—my only, my most precious—" but here he paused to wipe his eyes and mop his brow, and the fair responded:
"Jack—my angel—at last—I mean, this is so unexpected and quite unprecedented! I had never dreamed that you entertained sentiments of affection in connexion with one so lowly as Farmer Stubbs' child—for I am still but a child! Such is your natural nobility that I had feared—I mean thought—you would be blind to such slight charms as I possess, and that you would seek your fortune in the great city; there meeting and wedding one of those more comely damsels whose splendour we observe in fashion books.
"But, Jack, since it is really I whom you adore, let us waive all needless circumlocution. Jack—my darling—my heart has long been susceptible to your manly graces. I cherish an affection for thee—consider me thine own and be sure to buy the ring at Perkins' hardware store where they have such nice imitation diamonds in the window."
"Ermengarde, me love!"
"Jack—my precious!"
"My darling!"
"My own!"
"My Gawd!"
[Curtain]
Chapter II
And the Villain Still Pursued Her
But these tender passages, sacred though their fervour, did not pass unobserved by profane eyes; for crouched in the bushes and gritting his teeth was the dastardly 'Squire Hardman! When the lovers had finally strolled away he leapt out into the lane, viciously twirling his moustache and riding-crop, and kicking an unquestionably innocent cat who was also out strolling.
"Curses!" he cried—Hardman, not the cat—"I am foiled in my plot to get the farm and the girl! But Jack Manly shall never succeed! I am a man of power—and we shall see!"
Thereupon he repaired to the humble Stubbs' cottage, where he found the fond father in the still-cellar washing bottles under the supervision of the gentle wife and mother, Hannah Stubbs. Coming directly to the point, the villain spoke:
"Farmer Stubbs, I cherish a tender affection of long standing for your lovely offspring, Ethyl Ermengarde. I am consumed with love, and wish her hand in matrimony. Always a man of few words, I will not descend to euphemism. Give me the girl or I will foreclose the mortgage and take the old home!"
"But, Sir," pleaded the distracted Stubbs while his stricken spouse merely glowered, "I am sure the child's affections are elsewhere placed."
"She must be mine!" sternly snapped the sinister 'squire. "I will make her love me—none shall resist my will! Either she becomes muh wife or the old homestead goes!"
And with a sneer and flick of his riding-crop 'Squire Hardman strode out into the night.
Scarce had he departed, when there entered by the back door the radiant lovers, eager to tell the senior Stubbses of their new-found happiness. Imagine the universal consternation which reigned when all was known! Tears flowed like white ale, till suddenly Jack remembered he was the hero and raised his head, declaiming in appropriately virile accents:
"Never shall the fair Ermengarde be offered up to this beast as a sacrifice while I live! I shall protect her—she is mine, mine, mine—and then some! Fear not, dear father and mother to be—I will defend you all! You shall have the old home still [adverb, not noun—although Jack was by no means out of sympathy with Stubbs' kind of farm produce] and I shall lead to the altar the beauteous Ermengarde, loveliest of her sex! To perdition with the crool 'squire and his ill-gotten gold—the right shall always win, and a hero is always in the right! I will go to the great city and there make a fortune to save you all ere the mortgage fall due! Farewell, my love—I leave you now in tears, but I shall return to pay off the mortgage and claim you as my bride!"
"Jack, my protector!"
"Ermie, my sweet roll!"
"Dearest!"
"Darling!—and don't forget that ring at Perkins'."
"Oh!"
"Ah!"
[Curtain]
Chapter III
A Dastardly Act
But the resourceful 'Squire Hardman was not so easily to be foiled. Close by the village lay a disreputable settlement of unkempt shacks, populated by a shiftless scum who lived by thieving and other odd jobs. Here the devilish villain secured two accomplices—ill-favoured fellows who were very clearly no gentlemen. And in the night the evil three broke into the Stubbs cottage and abducted the fair Ermengarde, taking her to a wretched hovel in the settlement and placing her under the charge of Mother Maria, a hideous old hag. Farmer Stubbs was quite distracted, and would have advertised in the papers if the cost had been less than a cent a word for each insertion. Ermengarde was firm, and never wavered in her refusal to wed the villain.
"Aha, my proud beauty," quoth he, "I have ye in me power, and sooner or later I will break that will of thine! Meanwhile think of your poor old father and mother as turned out of hearth and home and wandering helpless through the meadows!"
"Oh, spare them, spare them!" said the maiden.
"Neverr . . . ha ha ha ha!" leered the brute.
And so the cruel days sped on, while all in ignorance young Jack Manly was seeking fame and fortune in the great city.
Chapter IV
Subtle Villainy
One day as 'Squire Hardman sat in the front parlour of his expensive and palatial home, indulging in his favourite pastime of gnashing his teeth and swishing his riding-crop, a great thought came to him; and he cursed aloud at the statue of Satan on the onyx mantelpiece.
"Fool that I am!" he cried. "Why did I ever waste all this trouble on the girl when I can get the farm by simply foreclosing? I never thought of that! I will let the girl go, take the farm, and be free to wed some fair city maid like the leading lady of that burlesque troupe which played last week at the Town Hall!"
And so he went down to the settlement, apologised to Ermengarde, let her go home, and went home himself to plot new crimes and invent new modes of villainy.
The days wore on, and the Stubbses grew very sad over the coming loss of their home and still but nobody seemed able to do anything about it. One day a party of hunters from the city chanced to stray over the old farm, and one of them found the gold!! Hiding his discovery from his companions, he feigned rattlesnake-bite and went to the Stubbs' cottage for aid of the usual kind. Ermengarde opened the door and saw him. He also saw her, and in that moment resolved to win her and the gold. "For my old mother's sake I must"—he cried loudly to himself. "No sacrifice is too great!"
Chapter V
The City Chap
Algernon Reginald Jones was a polished man of the world from the great city, and in his sophisticated hands our poor little Ermengarde was as a mere child. One could almost believe that sixteen-year-old stuff. Algy was a fast worker, but never crude. He could have taught Hardman a thing or two about finesse in sheiking. Thus only a week after his advent to the Stubbs family circle, where he lurked like the vile serpent that he was, he had persuaded the heroine to elope! It was in the night that she went leaving a note for her parents, sniffing the familiar mash for the last time, and kissing the cat goodbye—touching stuff! On the train Algernon became sleepy and slumped down in his seat, allowing a paper to fall out of his pocket by accident. Ermengarde, taking advantage of her supposed position as a bride-elect, picked up the folded sheet and read its perfumed expanse—when lo! she almost fainted! It was a love letter from another woman!!
"Perfidious deceiver!" she whispered at the sleeping Algernon, "so this is all that your boasted fidelity amounts to! I am done with you for all eternity!"
So saying, she pushed him out the window and settled down for a much needed rest.
Chapter VI
Alone in the Great City
When the noisy train pulled into the dark station at the city, poor helpless Ermengarde was all alone without the money to get back to Hogton. "Oh why," she sighed in innocent regret, "didn't I take his pocketbook before I pushed him out? Oh well, I should worry! He told me all about the city so I can easily earn enough to get home if not to pay off the mortgage!"
But alas for our little heroine—work is not easy for a greenhorn to secure, so for a week she was forced to sleep on park benches and obtain food from the bread-line. Once a wily and wicked person, perceiving her helplessness, offered her a position as dish-washer in a fashionable and depraved cabaret; but our heroine was true to her rustic ideals and refused to work in such a gilded and glittering palace of frivolity—especially since she was offered only $3.00 per week with meals but no board. She tried to look up Jack Manly, her one-time lover, but he was nowhere to be found. Perchance, too, he would not have known her; for in her poverty she had perforce become a brunette again, and Jack had not beheld her in that state since school days. One day she found a neat but costly purse in the park; and after seeing that there was not much in it, took it to the rich lady whose card proclaimed her ownership. Delighted beyond words at the honesty of this forlorn waif, the aristocratic Mrs. Van Itty adopted Ermengarde to replace the little one who had been stolen from her so many years ago. "How like my precious Maude," she sighed, as she watched the fair brunette return to blondeness. And so several weeks passed, with the old folks at home tearing their hair and the wicked 'Squire Hardman chuckling devilishly.
Chapter VII
Happy Ever Afterward
One day the wealthy heiress Ermengarde S. Van Itty hired a new second assistant chauffeur. Struck by something familiar in his face, she looked again and gasped. Lo! it was none other than the perfidious Algernon Reginald Jones, whom she had pushed from a car window on that fateful day! He had survived—this much was almost immediately evident. Also, he had wed the other woman, who had run away with the milkman and all the money in the house. Now wholly humbled, he asked forgiveness of our heroine, and confided to her the whole tale of the gold on her father's farm. Moved beyond words, she raised his salary a dollar a month and resolved to gratify at last that always unquenchable anxiety to relieve the worry of the old folks. So one bright day Ermengarde motored back to Hogton and arrived at the farm just as 'Squire Hardman was foreclosing the mortgage and ordering the old folks out.
"Stay, villain!" she cried, flashing a colossal roll of bills. "You are foiled at last! Here is your money—now go, and never darken our humble door again!"
Then followed a joyous reunion, whilst the 'squire twisted his moustache and riding-crop in bafflement and dismay. But hark! What is this? Footsteps sound on the old gravel walk, and who should appear but our hero, Jack Manly—worn and seedy, but radiant of face. Seeking at once the downcast villain, he said:
"'Squire—lend me a ten-spot, will you? I have just come back from the city with my beauteous bride, the fair Bridget Goldstein, and need something to start things on the old farm." Then turning to the Stubbses, he apologised for his inability to pay off the mortgage as agreed.
"Don't mention it," said Ermengarde, "prosperity has come to us, and I will consider it sufficient payment if you will forget forever the foolish fancies of our childhood."
All this time Mrs. Van Itty had been sitting in the motor waiting for Ermengarde; but as she lazily eyed the sharp-faced Hannah Stubbs a vague memory started from the back of her brain. Then it all came to her, and she shrieked accusingly at the agrestic matron.
"You—you—Hannah Smith—I know you now! Twenty-eight years ago you were my baby Maude's nurse and stole her from the cradle!! Where, oh, where is my child?" Then a thought came as the lightning in a murky sky. "Ermengarde—you say she is your daughter. . . . She is mine! Fate has restored to me my old chee-ild—my tiny Maudie!—Ermengarde—Maude—come to your mother's loving arms!!!"
But Ermengarde was doing some tall thinking. How could she get away with the sixteen-year-old stuff if she had been stolen twenty-eight years ago? And if she was not Stubbs' daughter the gold would never be hers. Mrs. Van Itty was rich, but 'Squire Hardman was richer. So, approaching the dejected villain, she inflicted upon him the last terrible punishment.
"'Squire, dear," she murmured, "I have reconsidered all. I love you and your naive strength. Marry me at once or I will have you prosecuted for that kidnapping last year. Foreclose your mortgage and enjoy with me the gold your cleverness discovered. Come, dear!" And the poor dub did.
THE END
Sweet Ermengarde
Or, The Heart of a Country Girl (1917)
By Percy Simple [H. P. Lovecraft (1890 – 1937)]
fleursdumal.nl magazine
More in: Archive K-L, Lovecraft, H.P., Tales of Mystery & Imagination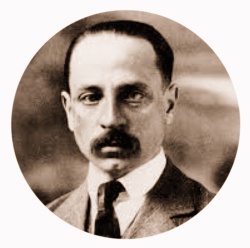 Rainer Maria Rilke
(1875 – 1926)
Die Kurtisane
Venedigs Sonne wird in meinem Haar
ein Gold bereiten: aller Alchemie
erlauchten Ausgang. Meine Brauen, die
den Brücken gleichen, siehst du sie
hinführen ob der lautlosen Gefahr
der Augen, die ein heimlicher Verkehr
an die Kanäle schließt, so daß das Meer
in ihnen steigt und fällt und wechselt. Wer
mich einmal sah, beneidet meinen Hund,
weil sich auf ihm oft in zerstreuter Pause
die Hand, die nie an keiner Glut verkohlt,
die unverwundbare, geschmückt, erholt -.
Und Knaben, Hoffnungen aus altem Hause,
gehen wie an Gift an meinem Mund zugrund.
Rainer Maria Rilke Gedichte
fleursdumal.nl magazine
More in: Archive Q-R, Rilke, Rainer Maria
Leigh Hunt
(1784 – 1859)
Jenny kiss'd Me
Jenny kiss'd me when we met,
Jumping from the chair she sat in;
Time, you thief, who love to get
Sweets into your list, put that in!
Say I'm weary, say I'm sad,
Say that health and wealth have miss'd me,
Say I'm growing old, but add,
Jenny kiss'd me.
Leigh Hunt poetry
fleursdumal.nl magazine
More in: Archive G-H, Hunt, Leigh
Thank you for reading FLEURSDUMAL.NL - magazine for art & literature