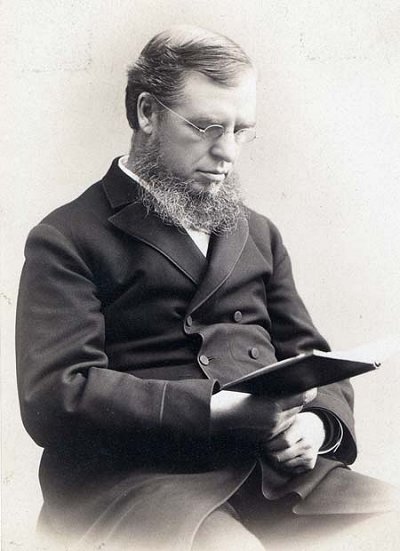 John White Chadwick
(1840-1904)
The hardest lot
O look upon the face of a dead friend
Is hard; but 'tis not more than we can bear
If, haply, we can see peace written there,–
Peace after pain, and welcome so the end,
Whate'er the past, whatever death may send.
Yea, and that face a gracious smile may wear,
If love till death was perfect, sweet, and fair;
But there is woe from which may God defend:
To look upon our friendship lying dead,
While we live on, and eat, and drink, and sleep–
Mere bodies from which all the soul has fled–
And that dead thing year after year to keep
Locked in cold silence in its dreamless bed:–
There must be hell while there is such a deep.
"The Hardest Lot" is reprinted from American Sonnets. Ed. William Sharp. London: Walter Scott, 1889
John White Chadwick poetry
kempis.nl poetry magazine
More in: Archive C-D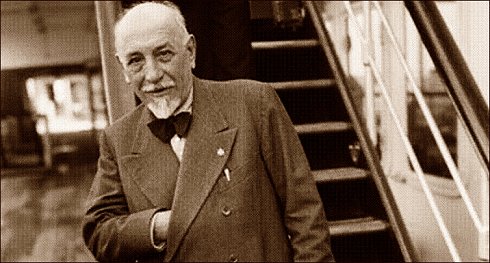 Luigi Pirandello: Shoot! (30)
Shoot! (Si Gira, 1926). The Notebooks of Serafino Gubbio, Cinematograph Operator by Luigi Pirandello. Translated from the Italian by C. K. Scott Moncrieff
BOOK VI
3
The woman, as from the expression on my face she had at once realised my contempt for her, realised also the sense of degradation, the disgust that filled me, and the impulse that followed them.
The first, my contempt, had pleased her, possibly because she intended to make use of it for her own secret ends, submitting to it before my eyes with an air of pained humility. My sense of degradation, my disgust had not displeased her, perhaps because she herself felt them also and even more than I. What she resented was my sudden coldness, was seeing me all at once resume the cloak of my professional impassivity. And she too stiffened; looked at me coldly, and said:
"I expected to see you with Signorina Cavalena."
"I gave her your note to read," I replied. "She was just starting for the Kosmograph. I asked her to come."
"She would not?"
"She did not like to. Perhaps in her capacity as a hostess…"
"Ah!" she threw back her head, "Why," she went on, "that was precisely why I asked her to come, because she was acting as a hostess."
"I pointed that out to her," I said.
"And she did not think that she ought to come?"
I raised my hands.
She remained for a moment in thought; then, almost with a sigh, said:
"I have made a mistake. That day (do you remember?) when we all went together to the Bosco Sacro, she struck me as so charming, and pleased, too, at having my company, I realise that she was not a hostess then. But, surely, you are her guest also?"
She smiled, hoping to hurt me, as she aimed this question at me like a treacherous blow. And indeed, notwithstanding my determination to remain aloof from everything and everyone, I did feel hurt. So much so that I replied:
"But with two guests, as you must know, one may seem more important than the other."
"I thought it was just the opposite," she replied. "You don't like her?"
"I neither like her nor dislike her, Signora."
"Is that really so? Forgive me, I have no right to expect you to be frank with me. But I decided that I would be frank with you to-day."
"And I have come…"
"Because Signorina Cavalena, as you tell me, wished to let it be seen that she attaches more importance to her other guest?"
"No, Signora. Signorina Cavalena said that she wished to remain apart."
"And you too?"
"I have come."
"And I thank you, most cordially. But you have come alone! And that–perhaps I am again mistaken–does not encourage me, not that I suppose for a moment, mind, that you, like Signorina Cavalena, attach more importance to the other guest; on the contrary…."
"You mean?"
"That this other guest is of no importance to you whatever; not only that, but that you would actually be glad if he were to meet with some accident, if only because Signorina Cavalena, by refusing to come with you, has shewn that she placed his interests above yours. Do I make myself clear?"
"Ah, no, Signora, you are mistaken!" I exclaimed sharply.
"It does not annoy you?"
"Not in the least. That is to say… well, to be honest,… it does annoy me, but it no longer affects me personally. I do really feel that I stand apart."
"There, you see?" she interrupted me. "I feared as much, when I saw you come in by yourself. Confess that you would not feel yourself so much apart at this moment if the Signorina had come with you…."
"But if I have come myself!"
"To remain apart."
"No, Signora. Listen, I have done more than you think. I have discussed the whole matter fully with that poor fellow and have tried in every possible way to make it clear to him that he has no right to expect anything after all that has happened, according to his own account at least."
"What has he told you?" asked the Nestoreff, in a tone of determination, her face darkening.
"All sorts of silly things, Signora," I replied. "He is raving. And his state is all the more alarming, believe me, since he is incapable, to my mind, of any really serious and deep feeling. As is already shewn by the fact of his coming here with a certain plan…."
"Of revenge?"
"Not exactly of revenge. He doesn't know himself, even, what he feels. It is partly remorse … a remorse which he does not wish to feel; the irritating sting of which he feels only upon the surface, because, I repeat, he is equally incapable of a true, a sincere repentance which might mature him, make him recover his senses. And so it is partly the irritation of this remorse, which is maddening; partly rage, or rather (rage is too strong a word to apply to him) let us say vexation, a bitter vexation, which he does not admit, at having been tricked."
"By me?"
"No. He will not admit it!"
"But you think so?"
"I think, Signora, that you never took him seriously, that you made use of him to break away from…."
I refused to utter the name: I pointed towards the six canvases. The Nestoroff knitted her brows, lowered her head. I stood gazing at her for a moment and, deciding to go on to the bitter end, pressed the point:
"He speaks of a betrayal. Of his betrayal by Mirelli, who killed himself because of the proof that he wished to give him that it was easy to obtain from you (if you will pardon my saying so) what Mirelli himself had failed to obtain."
"Ah, he says that, does he?" broke from the Nestoroff.
"He says it, but he admits that he never obtained anything from you. He is raving. He wishes to attach himself to you, because if he goes on like this (he says) he will go mad."
The Nestoroff looked at me almost with terror.
"You despise him?" she asked me.
I replied:
"I certainly do not admire him. Sometimes he makes me feel contempt for him, at other times pity."
She sprang to her feet as though urged by an irrepressible impulse:
"I despise," she said, "people who feel pity."
I replied calmly:
"I can quite understand your feeling like that."
"And you despise me!"
"No, Signora, far from it!"
She gazed at me for a while; smiled with a bitter disdain:
"You admire me, then?"
"I admire in you," was my answer, "what may perhaps arouse contempt in other people; the contempt, for that matter, which you yourself wish to arouse in other people, so as not to provoke their pity."
She gazed at me more fixedly; came forward until we stood face to face, and asked me:
"And don't you mean by that, in a sense, that you also feel pity for me?"
"No, Signora. Admiration. Because you know how to punish yourself."
"Indeed? so you understand that?" she said, with a change of colour, and a shudder, as though she had felt a sudden chill.
"For some time past, Signora."
"In spite of everyone's despising me?"
"Perhaps it was Just because everyone despised you."
"I too have been aware of it for some time," she said, holding out her hand and clasping mine tightly. "Thank you! But I can punish other people too, you know!" she at once added, in a threatening tone, withdrawing her hand and raising it in the air with outstretched forefinger. "I can punish other people too, without pity, because I have never sought any pity for myself and seek none now!"
She began to pace up and down the room, repeating:
"Without pity… without pity…."
Then, coming to a halt:
"You see?" she said, with an evil gleam in her eyes. "I do not admire you, for instance, who can overcome contempt with pity."
"In that case, you ought not to admire yourself either," I said with a smile. "Think for a moment, and then tell me why you invited me to
call upon you this morning."
"You think it was out of pity for that… poor fellow, as you call him?"
"For him, or for some one else, or for yourself."
"Nothing of the sort!" her denial was emphatic. "No! No! You are mistaken! Not a scrap of pity for anyone! I wish to be what I am; I intend to remain myself. I asked you to come in order that you might make him understand that I do not feel any pity for him and never shall!"
"Still, you do not wish to do him any injury."
"I do indeed wish to do him an injury, by leaving him where he is and as he is."
"But since you are so pitiless, would you not be doing him a greater injury if you were to call him back to you! Instead of driving him away…."
"That is because I wish, I myself, to remain as I am! I should be doing a greater injury to him, yes; but I should be conferring a benefit on myself, since I should take my revenge upon him instead of taking it upon myself. And what harm do you suppose could come to me from a man like him? I do not wish him any, you understand. Not because I feel any pity for him, but because I prefer not to feel any for myself. I am not interested in his sufferings, nor would it interest me to make him suffer more. He has had enough trouble. Let him go and weep somewhere else! I have no intention of weeping."
"I am afraid," I said, "that he has no longer any intention of weeping either."
"Then what does he intend to do?"
"Well! Being, as I have already told you, incapable of doing anything, in the state of mind in which he is at present, he might unfortunately become capable of anything."
"I am not afraid of him! The point is this, you see. I asked you to come and see me in order to tell you this, to make you understand this, so that you in turn may make him understand. I am not afraid that any harm can come to me from him, not even if he were to kill me, not even if, on his account, I had to go and end my days in prison! I am running that risk as well, you know! Deliberately, I have exposed myself to that risk as well. Because I know the man I have to deal with. And I am not afraid. I have let myself imagine that I was feeling a little afraid; imagining that, I have made an effort to send away from here a man who was threatening me, and everyone, with violence. It is not true. I have acted in cold blood, not out of fear! Any evil, even that, would count for less with me. Another crime, imprisonment, death itself, would be lesser evils to me than what I am now suffering and wish to keep on suffering. So take care not to try and arouse any pity in me for myself or for him. I have none! If you have any for him, you who have so much pity for everyone, make him, make him go away! That is what I want from you, simply because I am not afraid of anything!"
As she made this speech, she shewed in her whole person a desperate rage at not really feeling what she would have liked to feel.
I remained for some time in a state of perplexity in which dismay, anguish and also admiration were mingled; then I threw up my hands, and, so as not to make a vain promise, told her of my plan of going down to the villa by Sorrento.
She stood and listened to me, recoiling upon herself, perhaps to deaden the smart that the memory of that villa and of the two disconsolate women caused her; shut her eyes sorrowfully; shook her head; said:
"You will gain nothing."
"Who knows?" I sighed. "One can at least try."
She pressed my hand:
"Perhaps," she said, "I too shall do something for you."
I gazed at her face, with more consternation than curiosity:
"For me? What can that be?"
She shrugged her shoulders; made an effort to smile:
"I said, 'perhaps'…. Something. You will see."
"I thank you," I added. "But really I do not see what you can possibly do for me. I have always asked so little of life, and I mean now to ask less than ever. Indeed, I ask it for nothing more, Signora."
I said good-bye to her and left the house, my thoughts filled with this mysterious promise.
What does she propose to do? In cold blood, as I supposed at the time, she has sent away Carlo Ferro, with the knowledge, which does not cause her the slightest alarm, either for herself or for him or for the rest of us, that at any moment he may come rushing upon the scene here and commit a crime on his own account. How can she, knowing this, think of doing anything for me? What can she do? Where do I come in, in all this wretched entanglement? Does she intend to involve me in it in some way? With what object? She failed to get anything out of me, beyond an admission of my friendship long ago with Giorgio Mirelli and of a vague sentiment now for Signorina Luisetta. She cannot seize hold of me either by that friendship with a man who is now dead or by this sentiment which is already dying in me.
And yet, one never knows. I cannot set my mind at rest.
Luigi Pirandello: Shoot! (30)
• fleursdumal.nl magazine
More in: -Shoot!, Archive O-P, Pirandello, Luigi
William Shakespeare
Sonnet 143

Lo as a careful huswife runs to catch
One of her feathered creatures broke away,
Sets down her babe and makes all swift dispatch
In pursuit of the thing she would have stay:
Whilst her neglected child holds her in chase,
Cries to catch her whose busy care is bent,
To follow that which flies before her face,
Not prizing her poor infant's discontent;
So run'st thou after that which flies from thee,
Whilst I thy babe chase thee afar behind,
But if thou catch thy hope turn back to me:
And play the mother's part, kiss me, be kind.
So will I pray that thou mayst have thy Will,
If thou turn back and my loud crying still.
Sonnet 143
Zoals bezorgd een huisvrouw rennen gaat
Achter haar pluimvee aan als 't haar ontvlucht,
Zo rap ze kan, en baby achterlaat,
Op zoek naar wat zich vrijvocht uit haar tucht:
Met het verwaarloosd kind achter zich aan,
Dat om haar aandacht krijst, als zij zich wijdt
Aan jacht op wat haar zicht dreigt te ontgaan,
Onaangeroerd door kleuter's zieligheid;
Zo ren jij acherna wat jou ontsnapt,
En ik je peuter houd je lang niet bij:
Kom terug als je die taak hebt opgeknapt:
En speel de moederrol, wees lief, kus mij.
Zo zal ik bidden dat jouw Wil je zint,
Als jij mijn krijten stilt en mij hervindt.
Vertaling: Cornelis W. Schoneveld, sept 2012
kempis.nl poetry magazine
More in: Shakespeare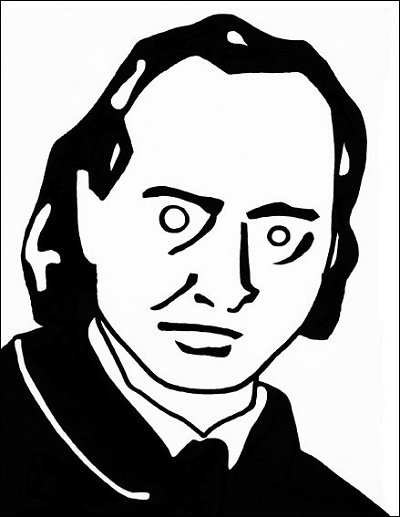 Wouter van Riessen
BOEKUITGAVE HOMMAGE À BAUDELAIRE
Uitgeverij Voetnoot bestaat 25 jaar. Galerie Baudelaire bestaat 10 jaar. Oprichters Henrik Barends en Anneke Pijnappel vonden dit aanleiding genoeg om betrokken schrijvers, dichters, vertalers, fotografen en kunstenaars te vragen een hommage aan Baudelaire te maken.
Waarom een hommage aan Baudelaire? Twee motieven liggen hieraan ten grondslag. Voetnoot ging van start met de Nederlandse vertaling van de Kunstkritieken van Charles Baudelaire (1821 – 1867). In zijn kunstkritische beschouwingen stelde deze Franse dichter, schrijver en kunstcriticus de scheppende verbeelding boven het uitbeelden van de zichtbare werkelijkheid. Deze stelling vormt ook het uitgangspunt van van de fotografie die in Galerie Baudelaire wordt getoond. De verrassende bijdragen zijn bijeengebracht in de bundel Hommage à Baudelaire.
De invulling van het thema Baudelaire is vanzelfsprekend prikkelend, uitgesproken, wakkerschuddend, rauw, soms beneveld, soms juist niet, en door de totaal verschillende invalshoeken ook steeds weer boeiend.
Bijdragen: Anne van Amstel, Henrik Barends, Pierre Bergounioux, Patricia Beysens, Diana Blok, Wineke de Boer, Rommert Boonstra, Bart Brey, Marlo Broekmans, Denis Brun, Maarten van Buuren, Julien Coulommier, Kiki Coumans, Peter Day, Martijn Doolaard, Drs.P, Just Enschedé, Winfred Evers, Jan Eyskens, Paul Fleming, Lionel Fourneaux, René Franken, Philip Freriks, d'Hanis & Lachaert, Martin de Haan, Hardeman & Schilstra, Rokus Hofstede, Jos Houweling, Paul Ilegems, Evelyn Jansen, Freda Kamphuis, Hilde Keteleer, Herman Koch, Bart Koubaa, Arthur Lava, Ingeborg Leijerzapf, Dirk Leyman, Winnifred Limburg, Bart Van Loo, Guus Luijters, Sylvia Marijnissen, Eddie Marsman, Lotte Menkman, Kees Mercks, Pierre Michon, Eric Min, Cornelia Nauta, Paul & Menno de Nooijer, Laurent Olivès, Paul Overdijk, Jef Paepen, Ruudt Peters, Susanne Piët, Anneke Pijnappel, Hans van Pinxteren, Rudo Prekop, Wouter van Riessen, William Ropp, Nora De Rudder, Tineke de Ruiter, Schilte & Portielje, K. Schippers, Désirée Schyns, Carolein Smit, Vasil Stanko, Tono Stano, F. Starik, Rob Steenhorst, Jan Pieter van der Sterre, Miro Svolik, Michel Szulc Krzyzanowski, Henk Tas, Nadine Tasseel, Rob Versluys, Jan Vissers, Oscar Voch, Andrea Voigt, Barbara de Vries, Jacquie Maria Wessels, Ivo de Wijs, Lam de Wolf, John Wood, Willem van Zadelhoff, Vladimir Zidlicky, Aart van Zoest, Peter Zupnik 
Deze jubileumuitgave bevat 340 pagina's, 20 x 15,5 cm, is geïllustreerd, is beschikbaar met vier verschillende omslagen en is niet te koop in de boekhandel. In Nederland exclusief verkrijgbaar in de boekwinkel van Bijzondere Collecties UvA, Turfmarkt 129, Amsterdam en via www.voetnootpublishers.nl. Prijs € 15.
BOEKENSALON + EXPO BARENDS & PIJNAPPEL: 19.9/30.9
Op 19 september droeg grafisch vormgever Henrik Barends (Amsterdam, 1945) zijn archief officieel over aan de Universiteit van Amsterdam, afdeling Bijzondere Collecties. Deze overdracht en het jubileum van Uitgeverij Voetnoot vormden de aanleiding tot een feestelijke boekensalon, die vergezeld gaat van een kleine expositie.  Museumcafé, Oude Turfmarkt 129, Amsterdam. Dinsdag – vrijdag van 10 – 17 uur, zaterdag – zondag van 13 – 17 uur.
GALERIE BAUDELAIRE – VLAAMSEKAAI 28/ANTWERPEN – 9.9/6.10
Groepstentoonstelling Hommage à Baudelaire met de visuele bijdragen van alle bovengenoemde fotografen en kunstenaars. Open zaterdag 14 – 18 uur en op afspraak. www.galeriebaudelaire.be
fleursdumal.nl magazine

More in: Baudelaire, Charles, Freda Kamphuis
Zilveren favorieten
bij het schilderij van Lawrence Alma-Tadema
Water om water. Daartussen vrouwen,
die drie die standbeeld zijn van eigen stilleven,
rustend op marmer alsof zij er zelf van schijnen.
Kruimels hangen stil tussen een hand en mondjes
van vissen die liever dan bekeken
onzichtbaar zouden zwemmen in de open
zee die zij veraf vermoeden en dichter hopen.
Wij weten haar vlakbij. Geen geluid weerklinkt
al zingt in elk hoofd een droom.
Zeer strak staat alles stil en nauwelijks
nog is blauw een kleur te noemen.
De wereld lijkt wel monochroom.
Bert Bevers
(uit Afglans – Gedichten 1972-1997, Uitgeverij WEL, Bergen op Zoom, 1997)
kempis.nl poetry magazine
More in: Archive A-B, Bevers, Bert
 Rees Diepen: Kijkend door een vimdekseltje. Tilburg, 1961
In Memoriam  Rees Diepen, fotografe
Ze zeggen wel eens dat fotografen zelf liever niet op de foto gaan. Je moet die uitspraak met een korreltje zout nemen maar voor Rees Diepen ging ze wel op. Op 14 september overleed de Tilburgse fotografe, 87 jaar oud, en 19 september vond ze haar laatste rustplaats op 'Vredehof', niet ver van de plek waar ze het grootste deel van haar leven gewoond heeft. Op de voorkant van het bidprentje stond een door haar zelf gemaakte zwart-wit foto van een klimop en op de achterkant de tekst: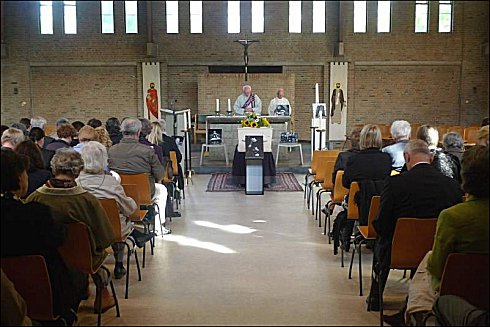 Rees Diepen 1925-2012
Eigenzinnig en integer mens
Begenadigd fotografe
Rees Diepen, dochter van een Tilburgse textielfabrikant, is vooral bekend geworden door haar foto's van jonge kinderen. Een belangrijk deel van haar oeuvre werd gepubliceerd in bladen als Opvoeding en Ouders van nu en in de boeken Argeloos begin (1961) en Dit kind… een confrontatie met ernstige zwakzinnigheid (1966).
Op het omslag van laatstgenoemd boek staat een van haar mooiste foto's, van een klein voorovergebogen, als in zichzelf verzonken meisje van wie we het gezicht niet zien. Het was ook voor de met Martien Coppens bevriende fotografe zelf een van haar meest dierbare foto's. Ze stond prominent op het altaar tijdens de uitvaartmis.
Er waren daar nog meer favoriete foto's als een soort erehaag uitgestald, waaronder die ene prachtige foto van het jongetje dat trots achter een harmonie meeloopt. Ja, de altijd ongetrouwd en kinderloos gebleven fotografe kon zich ongelooflijk goed verplaatsen in kinderen. Ze ging bij het fotograferen ook letterlijk door de knieën om op gelijk niveau met hen te komen. In zeker opzicht bleef ze ook op hoge leeftijd iets van een kind houden. En toen ik die foto's daar zag staan, overviel me de gedachte dat het haar eigen kinderen waren.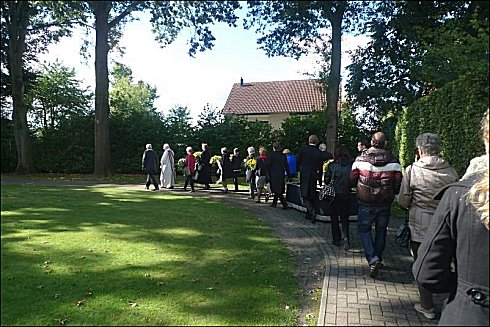 Ik heb Rees Diepen een paar keer geïnterviewd voor het Brabants Dagblad. Ook op andere manieren leerden we elkaar kennen. Ze vroeg me ooit eens mee te helpen bij de verkoop van een deel van haar bibliotheek en gaf me als dank het prachtige fotoboekje 'Mother and Child' van de Amerikaanse fotografe Nell Dorr. We hadden het vaak over fotografie, soms over haar jeugd en familie en zelden over de Spirituele Sociëteit Tilburg, waarvan ze de medeoprichtster was. Ze scheen ook te pendelen.
Af en toe ontmoette ik bij haar Ria, een hartelijke vrouw die, op jonge leeftijd bij Rees begonnen als doka-assistente,  in de loop van een halve eeuw uitgegroeid was tot haar grote steun en toeverlaat. Helaas, een interview met beide vrouwen zat er niet in, laat staan een foto. Ria was het overigens ook die bij de begrafenis de kist met de dierbare overledene in de aarde mocht laten zakken.  
Rees Diepen:  Op het vlot. Tilburg, 1955
In 2004 verscheen het boek Spelenderwijs waarvoor de toen 79-jarige fotografe honderd foto's uit haar archief koos, opnieuw uitsluitend foto's van kleine kinderen. Dat ze ook oude mensen fotografeerde en de natuur, met name strand en zee, is minder bekend. Hopelijk krijgt de beoogde publicatie van een goed overzichtswerk haar beslag. Rees Diepen verdient het.
Joep Eijkens
fleursdumal.nl magazine
More in: In Memoriam, Joep Eijkens Photos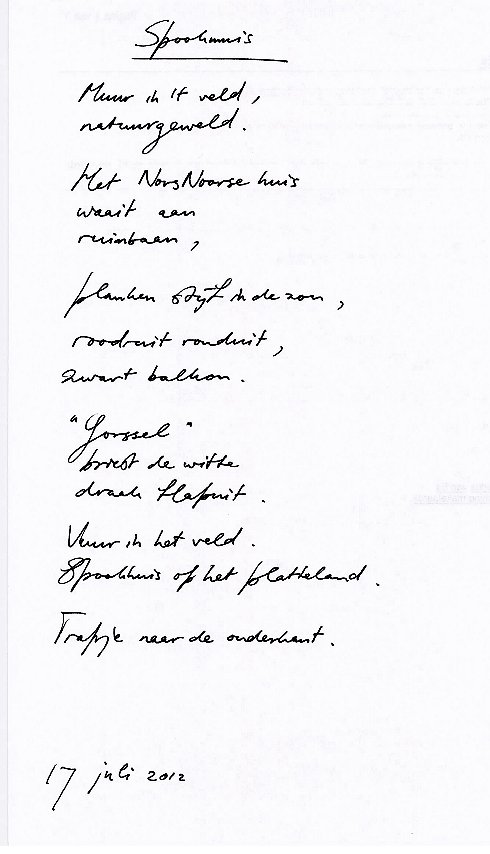 Eelke van Es
Eelke van Es poetry
kempis.nl poetry magazine
More in: Archive E-F, Es, Eelke van
Ton van Reen
DE MOORD IV
Hij heette niet Cherubijn.
Hij heette Jonas Uit De Walvis en was in de oorlog be­schadigd. Later heb ik het hem weleens horen vertellen. Beschadigd in een tank die was getroffen door een anti-tankbrisant­granaat. Hij was door het luikje van de tank naar buiten ge­vlogen. De vijand – dat is nu onze vriend – had hem voor lijk laten liggen. Als ze geweten hadden dat hij toen nog leefde, hadden ze wel de moeite genomen om even een bajonet door zijn lijf te rammen.
Hij was dus Jonas Uit De Walvis en kon van geluk spreken. Wat hij niet deed. Het was hem eender om voort te leven of in de tank het leven gelaten te hebben voor een onbekende vorst en een onduide­lijk vaderland.
Na een minuut zag hij mij. Grimlachte. Heel anders dan mijn ouwe bok Kaïn. Die glimlachte. Cherubijn gaf me een hand en zei: 'Kom.'
We gingen naar zijn woonwagen. Ik kreeg een marmot in mijn armen gedrukt. Daarna gingen we naar de cafés. Cheru­bijn zoop met die van Oeroe en Boeroe mee en liet mij geld verdienen door met de marmot langs de tafels te leuren en treurig te kijken.
Toch was ik niet treurig. Eerder blij. Dit was het echte leven. Nu zou ik mensen zien. Dag aan dag cafés ruiken. En bier drinken uit halfvolle glazen omdat de lui liever een dronken jongetje zagen dan een nuchter marmotje.
Die avond verdiende ik veel geld, vooral dubbel­tjes en kwartjes, maar toen Cherubijn zijn re­kening had be­taald, was er niet veel meer over. Jammer, van het geld had ik de volgende dag eten willen kopen.
Het woonwagentje van Cherubijn was oud en gam­mel. Er was één bed. Dus sliep ik in de mand van de marmot. Er was voor het kleine beest nog ruim­te genoeg om tussen mijn benen te liggen. Wat hem blijkbaar beviel. Ik heb hem nooit kunnen betrap­pen op pogingen om van die plaats weg te komen.
Het stonk in de wagen naar een of ander zuur. Ik nam me voor de volgende dag grote schoonmaak te houden. De vloer te boenen, de stoel, de slaap­mand, het bed en het komfoor. En het grote oog van God dat lichtgevend was, boven de deur hing en de enige versiering in de wagen bleek, zodat het iedereen opviel die binnenkwam. Het bespaarde Cheru­bijn veel last. Wie was er niet bang voor het lichtgevende oog van God?
De eerste uren kon ik niet goed slapen. Het moest nog wennen om in een mand te liggen met een marmot tussen de benen. Ik dacht nog aan Kaïn en Kana die nu in een cel zouden zitten. Voor de zoveelste maal ontluisd en ingepoe­derd met DDT. En geregeld geranseld werden omdat ze on­tucht hadden gepleegd in de vrije natuur. Nota bene in het gezelschap van een kind. De politie kon niet weten dat het mij weinig deed. Ik had alleen afkeer van het vuile lijf van de Gore Kana en van de harde billen van Kaïn.
(wordt vervolgd)
kempis.nl poetry magazine
More in: - De moord
Middeleeuws Iers gedicht
vertaald door Lauran Toorians
Messe ocus Pangur bán,
cechtar nathar fria aindán;
bíth a menma-sam fri seilgg,
mu menma céin im aincheirdd.
Caraim-se fos, ferr cach clú,
oc mu lebrán léir ingnu;
ni foirmtech frimm Pangur bán,
caraid cesin a maccdán.
Ó ru-biam – scél cen scís –
innar tegdais ar n-óendís,
táithiunn – díchríchide clius –
ní fris'tarddam ar n-áthius.
Gnáth-húaraib ar gressaib gal
glenaid luch inna lín-sam;
os mé, do-fuit im lín chéin
dliged ndoraid cu ndronchéill.
Fúachaid-sem fri frega fál
a rosc a nglé-se comlán;
fúachimm chéin fri fégi fis
mu rosc réil, cesu imdis.
Fáelid-sem cu ndéne dul,
hi nglen luch inna gérchrub;
hi tucu cheist ndoraid ndil,
os mé chene am fáelid.
Cía beimmi amin nach ré,
ni derban cách a chéle.
maith la cechtar nár a dán,
subaigthius a óenurán.
Hé fesin as choimsid dáu
in muid du-ngní cach óenláu;
du thabairt doraid du glé
for mu mud céin am messe.
[Mijn] 'witte Pangur' en ik,
wij hebben elk onze eigen vaardigheid.
Zíjn gedachten gaan uit naar de jacht,
en die van mij naar míjn specialiteit.
Ik verkies rust boven roem –
in mijn boekje studerend met vlijt;
de witte Pangur benijdt mij niet,
hij houdt het liever bij jolijt.
Wanneer wij samen – dat is nooit saai –
met zijn tweetjes in ons huisje zijn,
dan hebben wij – in onbeperkt spel –
allebei iets dat ons scherp houdt.
Gewoonlijk na een fel gevecht
blijft er in zijn net een muis,
terwijl ik een duistere regel vang
die maar moeilijk te begrijpen is.
 Hij richt zijn scherpe blik
vol aandacht naar de kale wand.
Zelf richt ik mijn open ogen,
hoewel zwak, op het scherpen van verstand.
Vangt hij met zijn scherpe klauw een muis
dan is hij blij en dartelt heen en weer;
en als ik een lief-lastig probleem bevat,
verheugt mij dat al net zo zeer.
Hoe lang we ook zo zullen zijn,
nooit zijn wij elkaar tot last.
Elk van ons bemint zijn kunst,
en geniet wat hem het beste past.
Hijzelf is een meester in
hetgeen hij elke dag weer doet;
wat moeilijk is tot klaarheid brengen,
doe ik zelf steeds vol goede moed.
Middeleeuwse Ierse gedichten vertaald door Lauran Toorians
kempis.nl poetry magazine
More in: CELTIC LITERATURE, Lauran Toorians
Georges Brassens
(1921-1981)
Les copains d'abord
Non, ce n'était pas le radeau
De la Méduse, ce bateau,
Qu'on se le dis' au fond des ports,
Dis' au fond des ports,
Il naviguait en pèr' peinard
Sur la grand' mare des canards,
Et s'app'lait les Copains d'abord
Les Copains d'abord.
Ses fluctuat nec mergitur
C'était pas d'la litteratur',
N'en déplaise aux jeteurs de sort,
Aux jeteurs de sort,
Son capitaine et ses mat'lots
N'étaient pas des enfants d'salauds,
Mais des amis franco de port,
Des copains d'abord.
C'étaient pas des amis de lux',
Des petits Castor et Pollux,
Des gens de Sodome et Gomorrh',
Sodome et Gomorrh',
C'étaient pas des amis choisis
Par Montaigne et La Boeti',
Sur le ventre ils se tapaient fort,
Les copains d'abord.
C'étaient pas des anges non plus,
L'Évangile, ils l'avaient pas lu,
Mais ils s'aimaient tout's voil's dehors,
Tout's voil's dehors,
Jean, Pierre, Paul et compagnie,
C'était leur seule litanie
Leur Credo, leur Confiteor,
Aux copains d'abord.
Au moindre coup de Trafalgar,
C'est l'amitié qui prenait l'quart,
C'est elle qui leur montrait le nord,
Leur montrait le nord.
Et quand ils étaient en détresse,
Qu'leurs bras lancaient des S.O.S.,
On aurait dit les sémaphores,
Les copains d'abord.
Au rendez-vous des bons copains,
Y'avait pas souvent de lapins,
Quand l'un d'entre eux manquait a bord,
C'est qu'il était mort.
Oui, mais jamais, au grand jamais,
Son trou dans l'eau n'se refermait,
Cent ans après, coquin de sort !
Il manquait encor'.
Des bateaux j'en ai pris beaucoup,
Mais le seul qui ait tenu le coup,
Qui n'ai jamais viré de bord,
Mais viré de bord,
Naviguait en père peinard
Sur la grand' mare des canards,
Et s'app'lait les Copains d'abord
Les Copains d'abord.
Georges Brassens poetry
kempis.nl poetry magazine
More in: Archive A-B
Anne Boleyn?
(1507?-1536)
O Death, Rock Me Asleep
DEATH, rock me asleep,
Bring me to quiet rest,
Let pass my weary guiltless ghost
Out of my careful breast.
Toll on, thou passing bell;
Ring out my doleful knell;
Let thy sound my death tell.
Death doth draw nigh;
There is no remedy.
My pains who can express?
Alas, they are so strong;
My dolour will not suffer strength
My life for to prolong.
Toll on, thou passing bell;
Ring out my doleful knell;
Let thy sound my death tell.
Death doth draw nigh;
There is no remedy.
Alone in prison strong
I wait my destiny.
Woe worth this cruel hap that I
Should taste this misery!
Toll on, thou passing bell;
Ring out my doleful knell;
Let thy sound my death tell.
Death doth draw nigh;
There is no remedy.
Farewell, my pleasures past,
Welcome, my present pain!
I feel my torments so increase
That life cannot remain.
Cease now, thou passing bell;
Rung is my doleful knell;
For the sound my death doth tell.
Death doth draw nigh;
There is no remedy.
Anne Boleyn poetry
fleursdumal.nl magazine
More in: Anne Boleyn, Archive A-B
Esther Porcelijn
Lift
Je mag een gegeven paard niet in de bek kijken. Apparentlie det is un rule.
In de trein op 12 april, de avond van de 3FM Awards in Amsterdam. Dat weet ik omdat de trein vol zit met vertraagde tieners die al uren tussen Amsterdam en Rotterdam aan het reizen waren.
Ik zat ook in die trein vanaf Rotterdam naar Breda, en dan hopelijk naar Tilburg.
Ik pak altijd per ongeluk een te late trein waarvan ik niet zeker weet of die nog echt terecht komt waar ik terecht wil komen. Dus, deze trein gaat maar tot Dordrecht. Echt flut, ken daar niemand.
Dus ik hoor een jongen en een meisje spreken over dat ze naar Tilburg moeten.
Ik zet onmiddellijk mijn aller-leukste hoofd aan en zeg dat ik super-toevalligerwijs ook naar Tilburg moet en of we samen een taxi kunnen nemen.
Zij kijken nogal beduusd maar vinden het prima. Ik klets wat verder en vraag of "Go Back to the Zoo" supervet was en zij Giel Beelen ook zo megacool vinden.
Verder meen ik alles wel oprecht, want ze zijn aardig en ik wil heel erg graag nog in Tilburg komen. Ze gaan niet met de taxi maar de vader van de jongen komt ze in Dordrecht ophalen. Mag ik mee? Ja ik mag mee. Prima.
Ze moeten naar de Reeshof maar ze kunnen mij wel afzetten bij Tilburg-West, o nee, sorry: Universiteit. Fijn.
In Dordrecht op het station loop ik achter ze aan. Het meisje is heel aardig, de jongen is wat stil maar ik klets wel om het gezellig te houden.
We komen aan bij de auto van de vader en de moeder staat ons op te wachten. Ze kijkt de jongen aan en zegt: "Een vreemde.…Neem je een vreemde mee?" De jongen legt uit dat er geen treinen meer rijden en dat ik ook naar Tilburg moet. De moeder zegt: "Oh, en dan neem je gewoon een vreemde mee?" Ondertussen heeft ze mij nog niet één keer echt aangekeken en ik zet mijn allerliefste hoofd aan, als van een kitten in een nestje: "neem mij ah toe neem mij!"
De moeder moet het nog éven met de vader bespreken en ik hoor de man wat mompelen over "liever niet" en "vooruit dan maar."
Ik controleer mijzelf en ik ben toch echt een meisje!? Ik ben geen enorme man van 2 meter met bloed op z'n wife-beater? In ieder geval kan ik mee en ik stap in. Mooi.
Ik zit in het midden van de achterbank en probeer zo goed mogelijk het gesprek op gang te houden. De ouders zeggen geen woord tegen mij. Ik wordt steeds meer verlegen, en raak in een toestand waarin ik niets meer durf te zeggen tegen de volwassenen voorin. Alsof er familieruzie is geweest en we nog helemaal naar Frankrijk moeten op vakantie én het gezellig moeten hebben. De ouders stellen vragen aan de kinderen en de moeder vond het blijkbaar al een idioot idee om he-le-maal van Tilburg naar Amsterdam te gaan met de trein. De jongen zegt dat hij een rijbewijs en auto wil want dat is beter, ik zeg lollig dat je dan in de file staat.
Het grapje wordt niet gewaardeerd. Shit.
Ik kan alleen nog maar zachtjes praten met de jongen en het meisje, ze gaan volgend jaar naar de UvT om te studeren en ik probeer het meisje te overtuigen dat Filosofie megacool is maar dat lukt niet.
Ondertussen zijn we al bijna bij Tilburg en ik zie de afslag van de wijk De Reeshof op ons afkomen, ik hoop nog dat de jongen iets zal zeggen over dat ik naar West moet. Hij zegt niets. Hij is het blijkbaar helemaal zat om te reizen op dit moment en wil gewoon naar huis, ongeacht. Kut.
Ik begin er zelf maar over, heel subtiel: "Oooh, u reist naar de Reeshof.. goh..ja.."
Ik probeer de jongen nog aan te kijken en ik hoop dat hij nog wat zegt. Hij weet immers dat ik naar de stad moet.
De moeder vraagt eindelijk iets aan mij: "Waar moet jij heen dan?" En ik zeg: "Ik woon in het centrum, West kan ook, dan red ik het wel."
De ouders zeggen niets.
Het meisje wordt afgezet ergens diep in de wijk en zij rijden weer terug. Ik krijg niet echt de indruk dat ze naar West aan het rijden zijn.
Ik zie station Reeshof en ik vraag, in de hoop ze op een idee te brengen: "Dus, zou er nog een trein rijden?" De moeder en vader overleggen wat en komen tot de wonderbaarlijke conclusie dat er waarschijnlijk geen trein meer rijdt om half twee 's nachts vanaf station Reeshof.
Wel denken ze dat er misschien nog een bus rijdt. ..Jezus.
Ik durf ondertussen echt niets meer te zeggen en zit in de kramp. Ik kan alleen nog maar lief kijken en proberen mijn meedenkende gezicht aan te zetten.
"Ja," zegt de moeder, "Er rijdt waarschijnlijk nog wel een bus vanaf het station."
"Oja? Goh, nou dan kan ik wel eens kijken dus, ja, hm," zeg ik. ..Godverdomme.
We zijn bij het station, we stoppen en ik stap uit. "Ja, er rijdt misschien nog wel een bus," zegt de moeder. Ik kan gewoonweg niets zeggen, krijg het er niet uit. In mijn hoofd heb ik echt al twintig keer geroepen dat ze mij toch echt bij West moeten afzetten omdat er natuurlijk geen ene moer meer rijdt vanaf een wijkstationnetje om ondertussen kwart voor twee. Maar ik zeg het niet. Ik zeg niets. Ik bedank ze vriendelijk en de deur wordt dichtgeslagen. "En bedankt hè!" Roep ik ze na. Maar ze zijn al weg.
Daar sta ik dan. Een totaal verlaten station met niets. Alleen een snelweg, een grasveld, parkeerplaatsen en in de verte wat huizen.
Het idee om naar de stad te lopen verschrompelt snel aangezien een heel donker wandelbos de wijk West en de Reeshof scheidt.
Ik bel een taxi. Er komt een taxi. De Marokkaanse taxichauffeur vertel ik het hele verhaal uit woede. Hij antwoordt dat dit echte Hollandse gierigheid is, dat hij vroeger ook niets kreeg bij zijn Hollandse vriendjes thuis rond etenstijd, dan was er ineens niet genoeg vlees. Ook vertelt hij over de discussies op zijn achterbank bij het afrekenen: "nee, maar ík heb al de entree betaald, en ik heb alleen maar cola gehad in het restaurant, dus het is 6,45 voor jouw en 3,20 voor mij."
Ik kreeg korting voor de taxirit. Heerlijk.
Mag je een gegeven paard echt niet in de bek kijken? Ook niet als het een hele kleine magere Shetlandpony is? En zijn hier geen regels meer voor? Emancipatie is leuk en alles maar is er echt geen regel meer voor een vrouw alleen in de nacht op een station laten?
Apparentlie det is not un rule.
Esther Porcelijn.  Eerder gepubliceerd in de serie Stadsjutten van het Brabants Dagblad
kempis.nl poetry magazine
More in: Archive O-P, Porcelijn, Esther
Thank you for reading FLEURSDUMAL.NL - magazine for art & literature