Koninklijk Museum voor Schone Kunsten Antwerpen
Goya, Redon, Ensor
Groteske schilderijen en tekeningen
14 maart – 14 juni 2009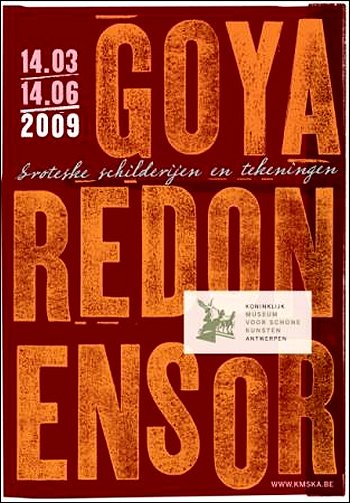 Een unieke collectie groteske schilderijen, tekeningen en prenten van Goya, Redon en Ensor, dat is wat het Koninklijk Museum voor Schone Kunsten Antwerpen u biedt in een uitzonderlijke voorjaarstentoonstelling.
Het overzicht vertrekt zowel vanuit de gelijkenissen als de verschillen tussen deze grootmeesters en bevat werken uit Belgische musea en particuliere collecties, aangevuld met bruiklenen uit o.a. het MoMA in New York, Musée d'Orsay in Parijs, het Museo del Prado in Madrid, de National Gallery in Londen en het Städel Museum in Frankfurt. Het museum beschikt bovendien zelf over een van de belangrijkste Ensorverzamelingen ter wereld en over een zeldzame reeks etsen van Goya.
Francisco Goya y Lucientes (1746–1828) schilderde en tekende heel wat demonen, heksen en dwazen, die hij meewarig, geamuseerd maar evenzeer met afgrijzen bekeek.
De Belgische schilder James Ensor (1860 – 1949), vooral bekend als de schilder van maskers, steekt in zijn werk de draak met alles en iedereen in groteske en akelige voorstellingen. Hij voert cynische karikaturen op, wat leidt tot expressionistische en zelfs hilarische taferelen.
De werken van Odilon Redon (1840 – 1916) lijken ernstig en symbolistisch, maar de man had een voorkeur voor vreemde onderwerpen zoals amoeben met een mensenhoofd, embryo's en grote starende ogen. Bij zijn werk werd hij beïnvloed door de schrijver Edgar Allan Poe. Op het eerste gezicht zijn er veel verschillen tussen de drie artiesten, maar wie dieper kijkt ziet meer en meer gelijkenissen. Ensor keek heimelijk naar Redon, en beiden bewonderden ze het werk van Goya. Alle drie worden ze bovendien beschouwd als pioniers van het modernisme.
fleursdumal.nl magazine – magazine for art & literature
More in: FDM Art Gallery
An die Vögel
Im Winter

Der Winter hüllt das ganze Land
In sein betrübtes Schneegewand,
Und jeder Vogel sehnt im Hain
Sich nach dem lieben Sonnenschein.
O Vögelchen, so sehn' auch ich
Nach einem lieben Mädchen mich;
Seit ich sie kenne, lachte sie
Mir aus dem milden Auge nie.
Doch, was ist euer Kummer? Schon
Ist euer Winter halb entflohn;
Bald lächelt wieder eurem Hain
Der warme Frühlingssonnenschein.
Mir aber wird, solang ich bin,
Kein angenehmer Frühling blühn;
Mir birgt die liebe Sonne sich,
Und steter Winter herrscht um mich.
Johann Martin Miller
(1750-1814)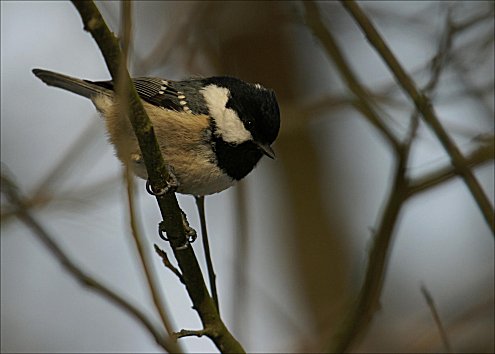 Die Vögel
Vöglein spielen in der Luft,
Blümlein geben süßen Duft,
Schmetterlinge schwebt leise fort,
Kuh und Schäflein weiden dort.
In dem Wald steht Baum und Strauch,
springen Hirsch und Rehlein auch,
Gottes Auge sieht auch sie,
schützt und nähret spät und früh.
Wilhelm Hey
(1789-1854)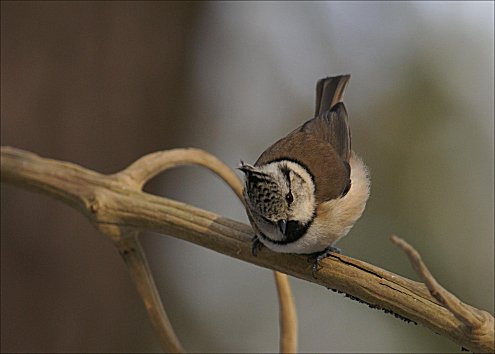 Hans Hermans Photos – Natuurdagboek – March 2009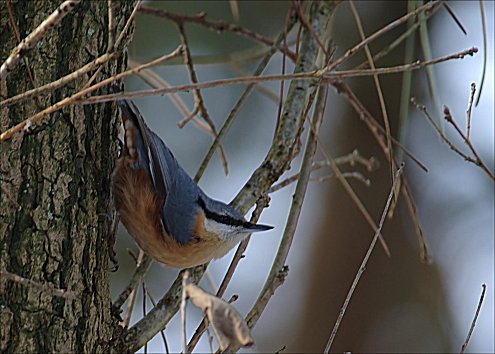 © hans hermans
KEMP=MAG poetry magazine – magazine for art & literature
More in: Hans Hermans Photos, MUSEUM OF NATURAL HISTORY - department of ravens & crows, birds of prey, riding a zebra
Ed Schilders over A. MARJA
Nadat de dichter A. Marja op 10 januari 1964 overleden was aan een hartaanval, 46 jaar jong, geloofde lang niet iedereen het overlijdensbericht. Het kon ook best wel weer zo'n onverkwikkelijke Marja-grap zijn. Want A. Marja, pseudoniem van Arend Theodoor Mooij, was dichter, romancier, criticus, en bloemlezer, maar in alle biografische schetsen wordt daar nog een reputatie aan toegevoegd: 'practical joker'. Daarin staat hij op eenzame hoogte. En vaak doet 'practical joke' hem onvoldoende eer. Hij verstond als geen ander de kunst die door de schilder James Whistler in 1890 gedefinieerd werd als The Gentle Art of Making Enemies.
In 1960 bijvoorbeeld, toen Marja zich geërgerd had aan de wijze waarop de conservator van het Multatuli-museum, Henri Ett, zich bij een Multatuli-herdenking al te opzichtig gemanifesteerd had voor de camera's van de aanwezige fotografen. Marja stuurde Ett een briefkaart met daarop een vers, waarin 'Ettje' rijmde op 'gepubliceerd portretje'. Ett overlegde met enige letterkundigen, en vroeg zich af of Marja vervolgd kon worden wegens smaad. Marja antwoordde met een nieuwe briefkaart en de regels: 'heel het hiernamaals lacht zich slap/ om 't smoel dat Douwes Dekker zet/ nu hij posthuum nog moet ontdekken/ hoe een batavus Henri Ett/ zich aan zijn lijk wist op te trekken!' Ett liep naar de politie. Zonder succes.
Ook N.A. Donkersloot, hoofdredacteur van De Nieuwe stem, waarvan Marja redacteur was, kreeg berijmde oorlogsverklaringen. Marja vond de kwaliteit van het tijdschrift ondermaats, en stuurde Donkersloot briefkaarten met kwatrijnen als het volgende: 'O slappe lul, o zieligste aller zakken:/ van koekdeeg kun je geen kwatrijnen kakken,/ je drukt en drukt, maar 't lukt u zelfs niet meer/ drie regels rijmend aan elkaar te plakken.' En toen moest de 'affaire Stuiveling' nog beginnen. In de landelijke pers was een vervalste brief verschenen met vraagtekens bij de integriteit van de hoogleraar Garmt Stuiveling ten aanzien van joden en communisten. Marja was – je hebt een reputatie of niet – meteen verdachte nummer één.
Maar Marja en zijn werk hebben ook veel vrienden gemaakt. In de tweede helft van de jaren '80 bracht Wim Hazeu met een mini-biografie, A. Marja, dichter en practical joker, een kleine Marja-revival op gang, en de Groningse uitgeverij Kleine uil wil Marja nu een derde leven geven met een bloemlezing uit zijn poëzie, en de heruitgave van zijn enige roman Snippers op de rivier. In een speciale uitgave van het literair tijdschrift Tzum wordt het leven van Marja belicht door interviews met personen die hem gekend, bemind, en soms ook wel gehaat hebben, en een artikel over zijn vriendschap met H.N. Werkman. Tineke Schuur-Kaspers in een van de interviews: 'Die hele Stuivelingzaak heeft veel indruk op hem gemaakt. Heel Nederland stond op z'n kop. Tot nu toe is het ook een geheim geweest wie er wel verantwoordelijk voor was. Ik weet het ook niet. In die tijd is hij wel veel vrienden kwijtgeraakt.'
Vanaf 1936 publiceerde Marja achttien dichtbundels. De samenstellers van de bloemlezing Ergens halverwege zweven hebben een ruime keuze min of meer thematisch geordend, waardoor het autobiografisch gehalte van de poëzie extra benadrukt wordt. In het bijzonder in de gedichten over zijn vader en vroeg gestorven moeder, zijn levenslange worsteling met het christendom, en het dichterschap. De kwaliteit wisselt. In veel gedichten herkennen we tegenwoordig een toonzetting en technieken die bij 'light verse' horen, en Marja had vaak de neiging om hardop te zeggen wat het gedicht eigenlijk zelf had kunnen suggereren. Hij wilde blijkbaar niet misverstaan worden. Wim Hazeu citeert Marja uit een interview dat hij gaf toen hij in het ziekenhuis lag: 'Ik ben geen minor poet, maar dat zult u pas na mijn, overigens spoedig te verwachten dood ontdekken.' Ik stel Marja niet graag teleur, maar 45 jaar later is hij dat toch wel, een 'minor poet'. Maar dat is niks om je postuum voor te schamen.
Ook Snippers op de rivier (1941), zijn enige roman, laat zich nog maar moeilijk lezen zonder dat het leven van de jongeling Marja zich opdringt. Nick ter Wal gaat in zijn nawoord uitgebreid in op die autobiografische elementen. Het is het uiterst gestileerde portret van de jongeling Willy ter Veer op de drempel van volwassenheid. Een kleine 'éducation sentimentale' in het Groningen van voor de oorlog. Het verhaal van een overgangsritueel, waarbij de snippers die van de poëzie zijn.
Snippers op de rivier
A. Marja
Kleine Uil; 128 pagina's; 16,50
ISBN 978 90 774 8769 3
Ergens halverwege zweven – Bloemlezing
A. Marja
Kleine Uil; 128 pagina's; 14,50
ISBN 978 90 774 8766 8
Tzum Special A. Marja
Kleine Uil; 64 pagina's; 6,50
ISSN 1388-1442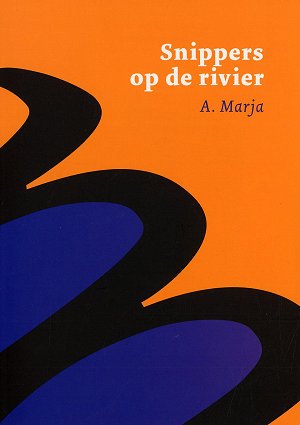 Ed Schilders over A. Marja

Eerder gepubliceerd in de boekenbijlage
Cicero van de Volkskrant
fleursdumal.nl magazine
More in: Archive M-N, Ed Schilders
Clément Pansaers
(1885-1922)
L'APOLOGIE DE LA PARESSE
1917
Chapitre II

KEMP=MAG POETRY MAGAZINE
More in: Pansaers, Clément
E m i l e   V e r h a e r e n
(1855-1916)
Mon village
Une place minime et quelques rues,
Avec un Christ au carrefour ;
Et l'Escaut gris et puis la tour
Qui se mire, parmi les eaux bourrues ;
Et le quartier du Dam, misérable et lépreux,
Jeté comme au hasard vers les prairies ;
Et près du cimetière aux buis nombreux,
La chapelle vouée à la Vierge Marie,
Par un marin qui s'en revint
On ne sait quand
Des Bermudes ou de Ceylan ;
Tel est – je m'en souviens après combien d'années –
Le village de Saint-Amand
Où je suis né.
C'est là que je vécus mon enfance angoissée,
Parmi les gens de peine et de métier,
Corroyeurs, forgerons, calfats et charpentiers,
Avec le fleuve immense au bout de ma pensée…
Toute la Flandre – Les tendresses premières
(1904).
Emile Verhaeren poème: Mon Village

fleursdumal.nl magazine
More in: Archive U-V, Verhaeren, Emile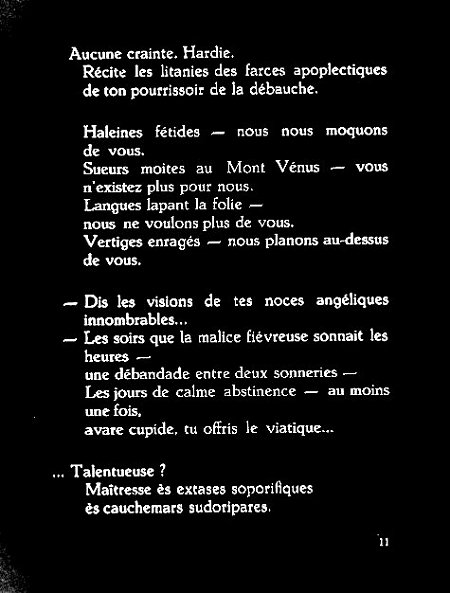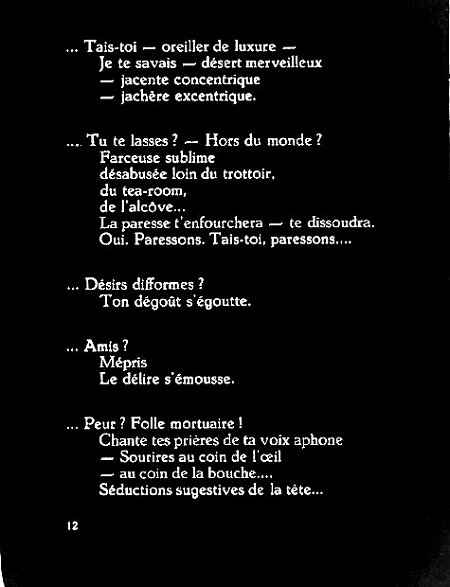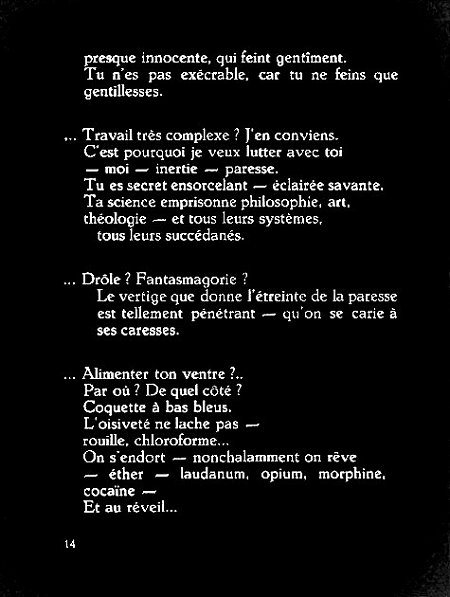 Clément Pansaers
(1885-1922)
L'APOLOGIE DE LA PARESSE
1917
Chapitre I

KEMP=MAG POETRY MAGAZINE
More in: Pansaers, Clément
CLÉMENT PANSAERS
D A D A s o u l è v e T O U T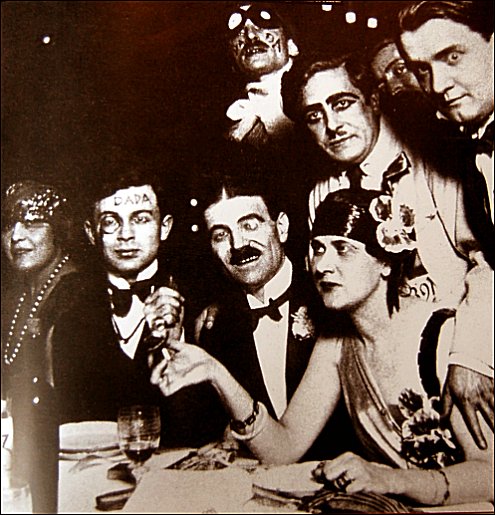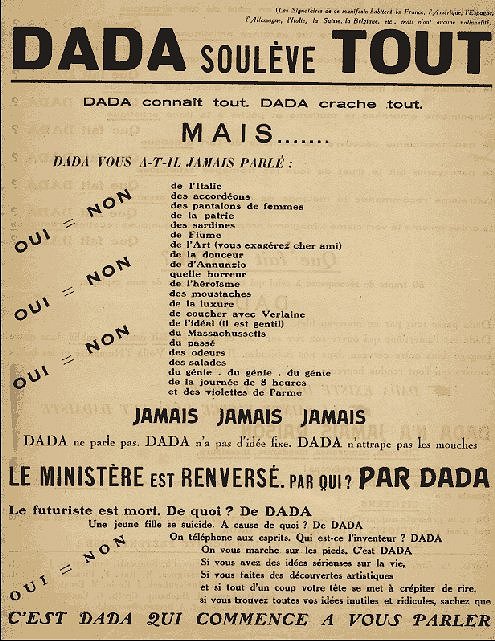 Clément Pansaers (1885-1922)

DADA soulève TOUT

kemp=mag poetry magazine
More in: Pansaers, Clément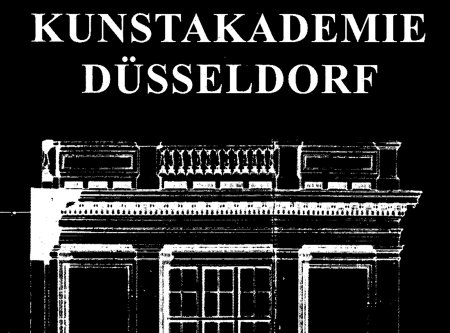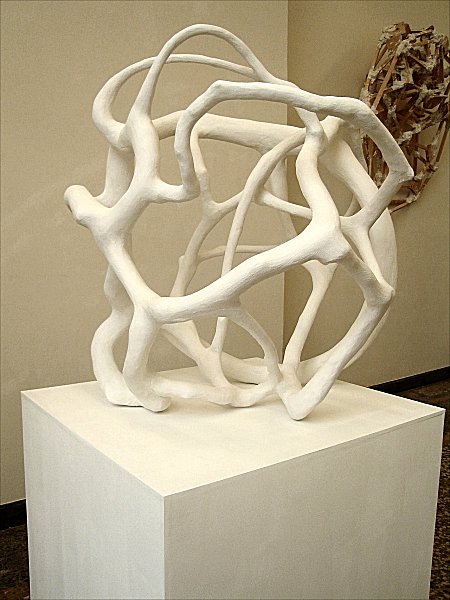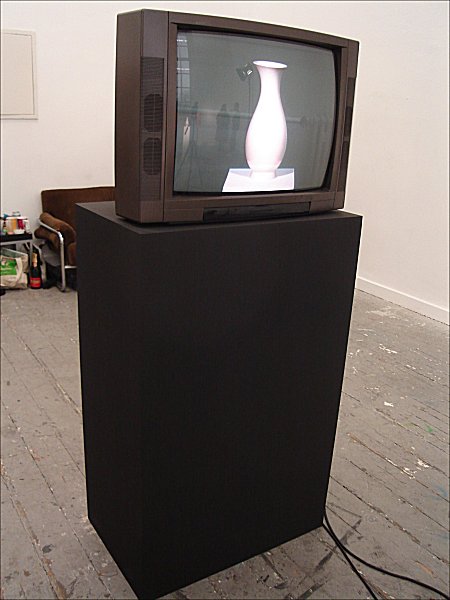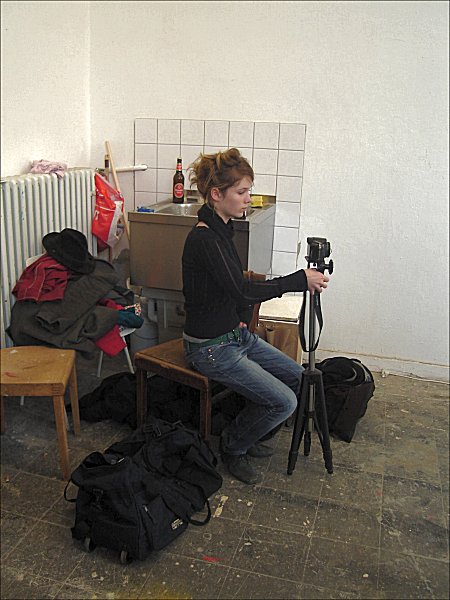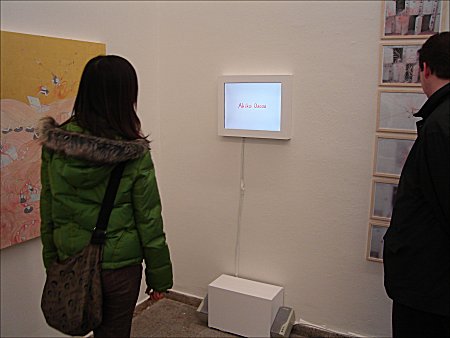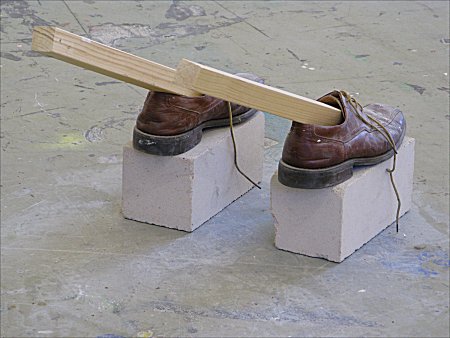 Kunstakademie Düsseldorf
RUNDGANG 2009
Zweiter Teil
photos anton & joseph K.

fleursdumal.nl magazine – magazine for art & literature
to be continued
More in: FDM Art Gallery, Galerie Deutschland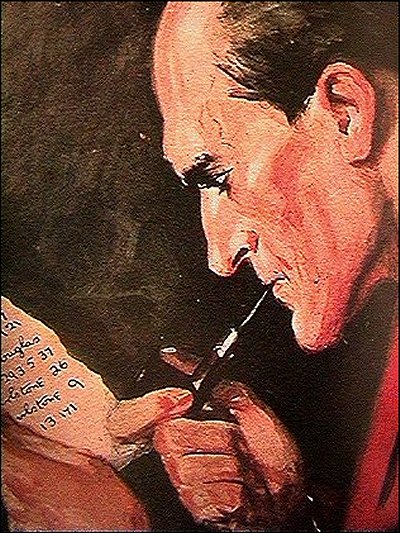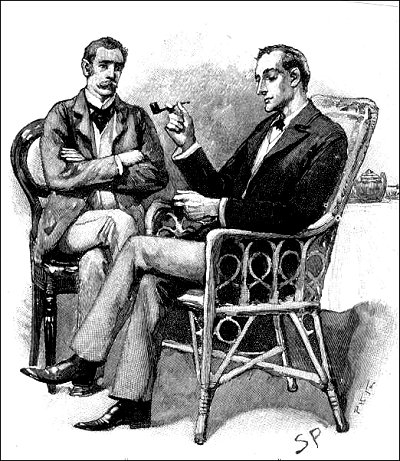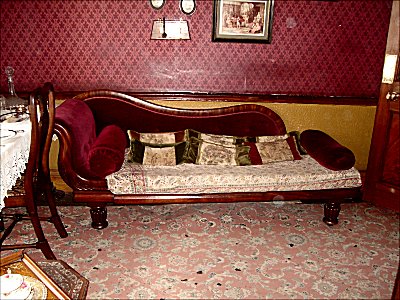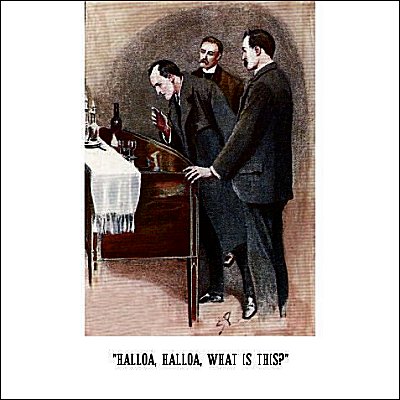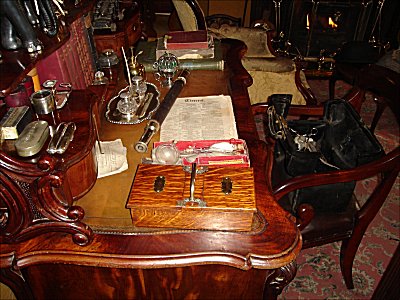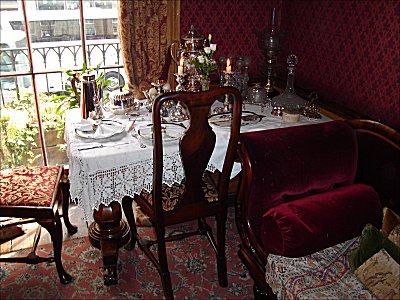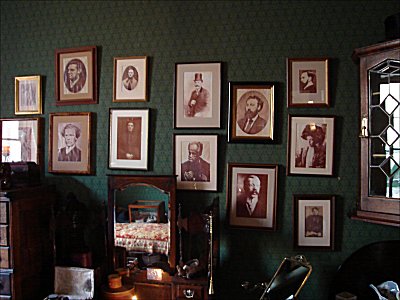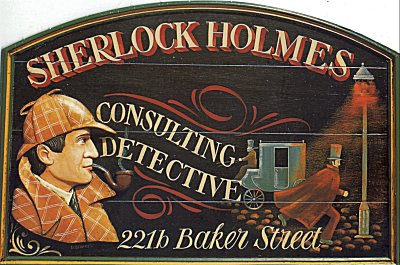 Museum of Literary Treasures
SHERLOCK HOLMES part II
 The Sherlock Holmes Museum
Bakerstreet – LONDON
photos: jefvankempen

Illustrations: Sidney Paget

FLEURSDUMAL.NL MAGAZINE
More in: Arthur Conan Doyle, Museum of Literary Treasures, Sherlock Holmes Theatre
Guillaume  Apollinaire
(1880-1918)

Rhénane d'automne
A Toussaint-Luca
Les enfants des morts vont jouer
Dans le cimetière
Martin Gertrude Hans et Henri
Nul coq n'a chanté aujourd'hui
Kikiriki
Les vieilles femmes
Tout en pleurant cheminent
Et les bons ânes
Braillent hi han et se mettent à brouter les fleurs
Des couronnes mortuaires
C'est le jour des morts et de toutes leurs âmes
Les enfants et les vieilles femmes
Allument des bougies et des cierges
Sur chaque tombe catholique
Les voiles des vieilles
Les nuages du ciel
Sont comme des barbes de biques
L'ait tremble de flammes et de prières
Le cimetière est un beau jardin
Plein de saules gris et de romarins
Il vous vient souvent des amis qu'on enterre
ah! que vous êtes bien dans le beau cimetière
Vous mendiants morts saouls de bière
Vous les aveugles comme le destin
Et vous petits enfants morts en prière
Ah! que vous êtes bien dans le beau cimetière
Vous bourgmestres vous bateliers
Et vous conseillers de régence
Vous aussi tziganes sans papiers
La vie vous pourrit dans la panse
La croix vous pousse entre les pieds
Le vent du Rhin ulule avec tous les hibous
Il éteint les cierges que toujours les enfants rallument
Et les feuilles mortes
Viennent couvrir les morts
Des enfants morts parlent parfois avec leur mère
Et des mortes parfois voudraient bien revenir
Oh! je ne veux pas que tu sortes
L'automne est plein de mains coupées
Non non ce sont des feuilles mortes
Ce sont les mains des chères mortes
Ce sont tes mains coupées
Nous avons tant pleuré aujourd'hui
Avec ces morts leurs enfants et les vieilles femmes
Sous le ciel sans soleil
Au cimetière plein de flammes
Puis dans le vent nous nous en retournâmes
A nos pieds roulaient des châtaignes
Dont les bogues étaient
Comme le coeur blessé de la madone
Dont on doute si elle eut la peau
Couleur des châtaignes d'automne

Guillaume Apollinaire poème: Rhénane d'automne
KEMPIS MAG poetry magazine
More in: Apollinaire, Guillaume, Archive A-B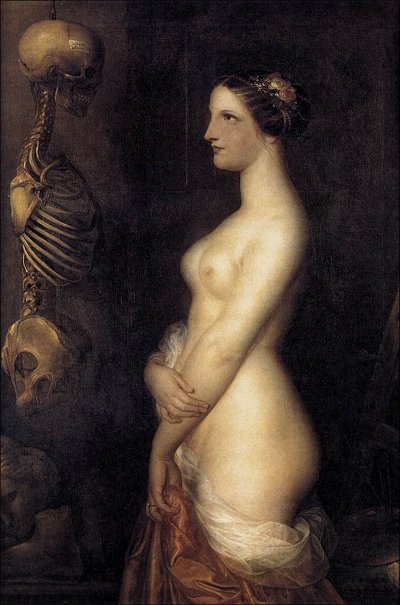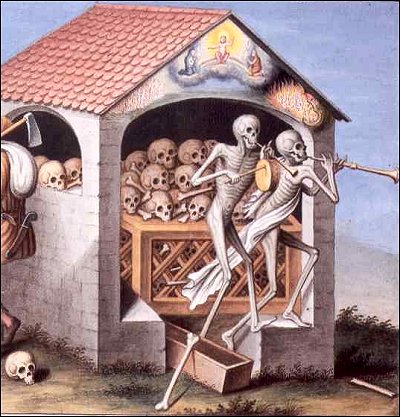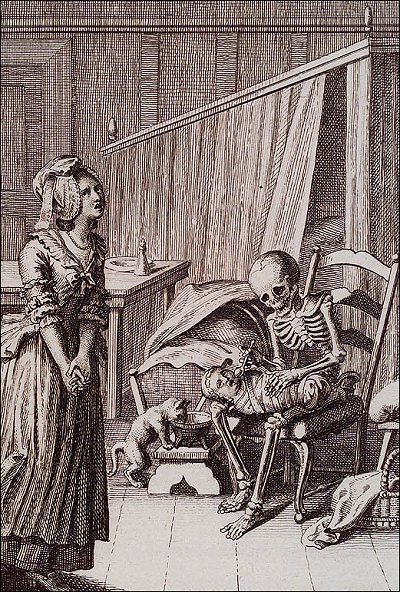 Memento Mori III

Danse macabre
fleursdumal.nl magazine for art & literature
More in: Danse Macabre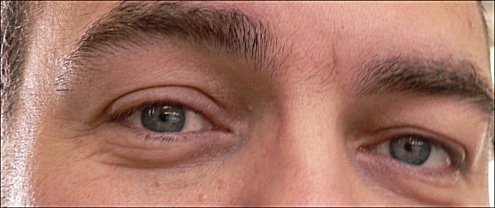 V i n c e n t   B e r q u e z
T w o   P o e m s

P o r c e l a i n

You wait for me patiently
for my events to happen
for my heart to meet yours.

Sliding fingers into fingers
we canter through the busy city

I brush you off gently –
like dusting precious porcelain.

I still want the proposal offered
but slowly, in measured footsteps,
in calm, tame light,
within my heart's capacity.

You wait patiently.
Seeds will be sown as plants push
through the soil, appearing like a miracle.

Porcelain flowers you and I.
T h e   v i t a l   o r e

I have planted my flag deep in your territory
in fantastical realms unknown to me for so long,
in the greater mystery of life my strong sail skitted
and skimmed me towards the shore of your heart.

The clauses within craziness and controlled chaos
that can be this existence often spiralling, imposed
in the blind roots as the route was broken through
and you appeared on a lighter horizon in loving glow.
My flag flies passionately in the hardy swirling air
and sparkles in the whooshing breeze of my vital nature
and in the height of the azure sky, embedded, pushed in
I embellish and decorate my thoughts into the earth,
into the crust of clay, deep into vital ore, and there I find you.

Vincent Berquez: Two Poems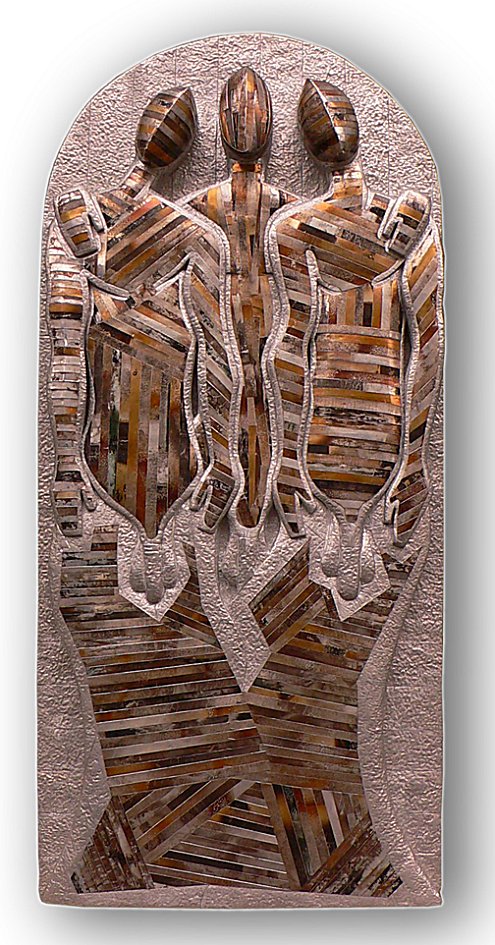 VINCENT BERQUEZ: THE THREE MALE GRACES 2006
27cm x 59cm, wood based, plastered and plated in aluminium

Vincent Berquez: "The Christian equivalent of the Three Graces of antiquity could be said to be Faith, Hope and Charity. These represent the embodiment of womanhood and the better nature of an ideal, always entwined and gathered together in unity. In my work I thought that man could be represented in a similar way and why had he not been in this way in the first place? Was it that the male could only be perceived in strength and the warring attributes? My male Three Graces are also entwined as a unity. They blend and meld within each other. I have envisaged that they represent Courage, Integrity and Honesty. That these virtues in our world are important, that as a man the combination would be the best way we could be with Faith, Hope and Charity, we could make a better, safer world."
KEMP=MAG poetry magazine – magazine for art & literature
© vincent berquez
More in: Berquez, Vincent, Vincent Berquez
Thank you for reading FLEURSDUMAL.NL - magazine for art & literature