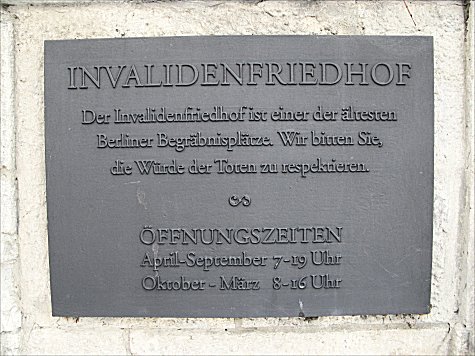 D e r  I n v a l i d e n f r i e d h o f  i n  B e r l i n
Der Invalidenfriedhof ist ein historischer Friedhof und eine Gedenkstätte im Ortsteil Mitte des Berliner Bezirks Mitte. Die Anlage gehört zu den ältesten Friedhöfen in Berlin und wird als Zeugnis der preußischen und deutschen Militärgeschichte wie als Erinnerungsstätte an die deutschen Befreiungskriege der Jahre 1813 bis 1815 angesehen. Zerstörungen gegen Ende des Zweiten Weltkriegs und in der DDR-Zeit, als durch den Friedhof ein Teil der Berliner Mauer lief, haben dazu geführt, dass auf dem 2,54 Hektar großen Gelände nur etwa 230 Gräber erhalten sind.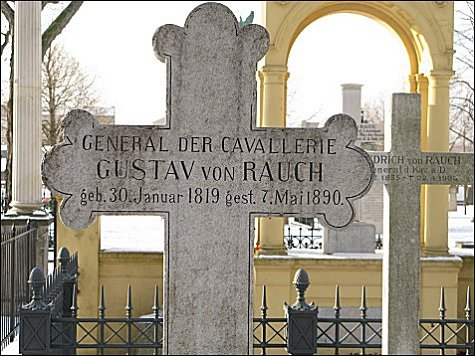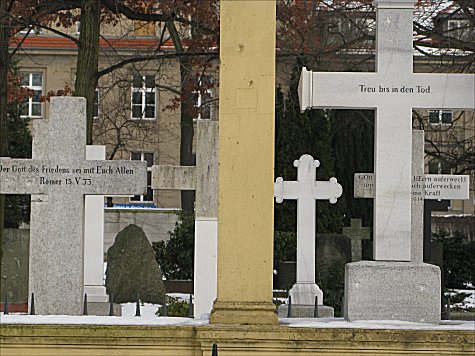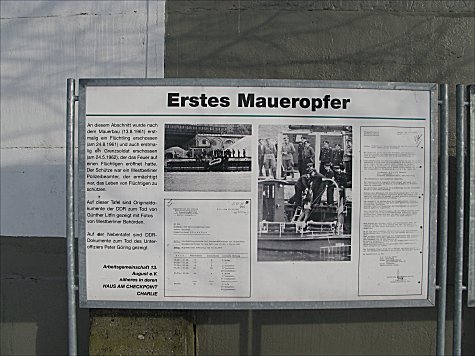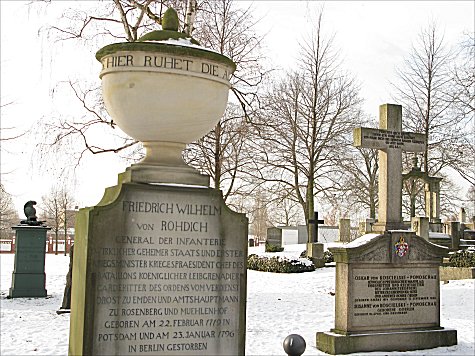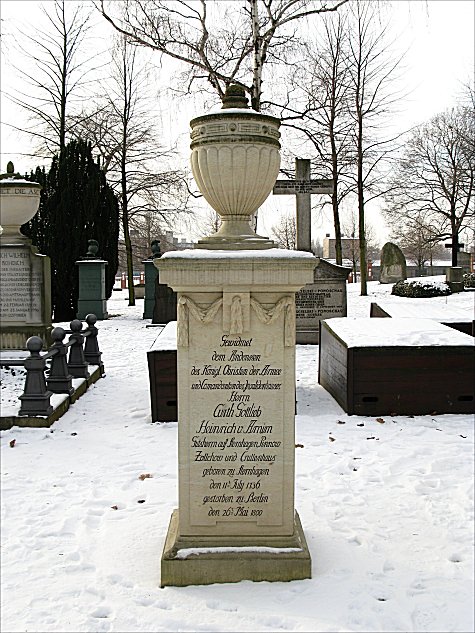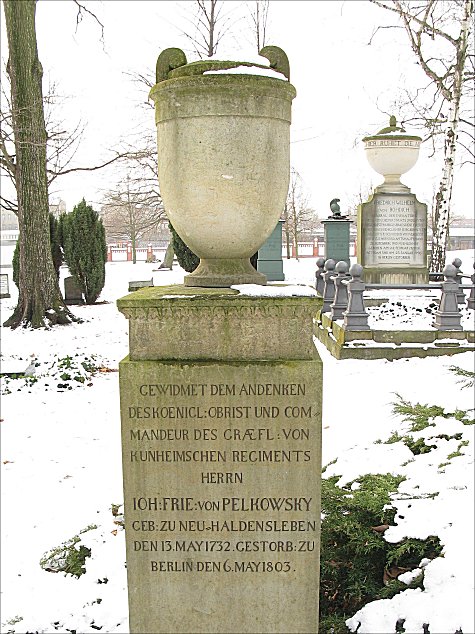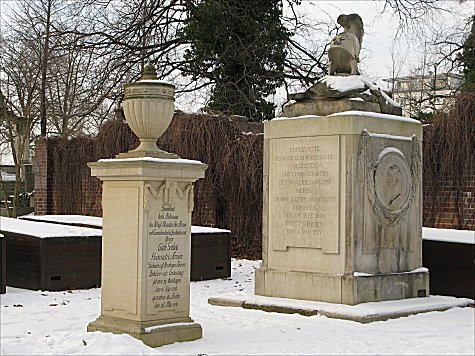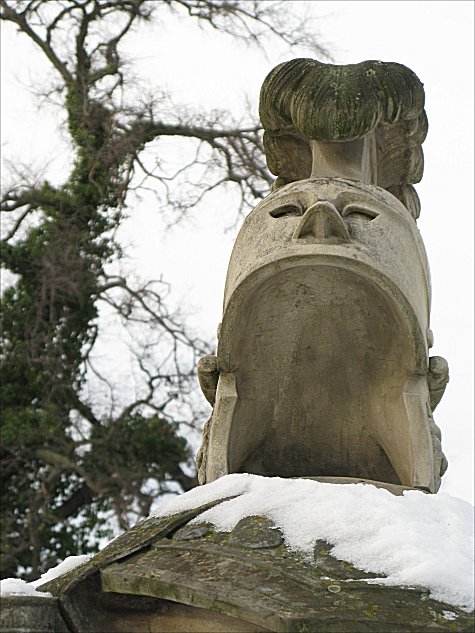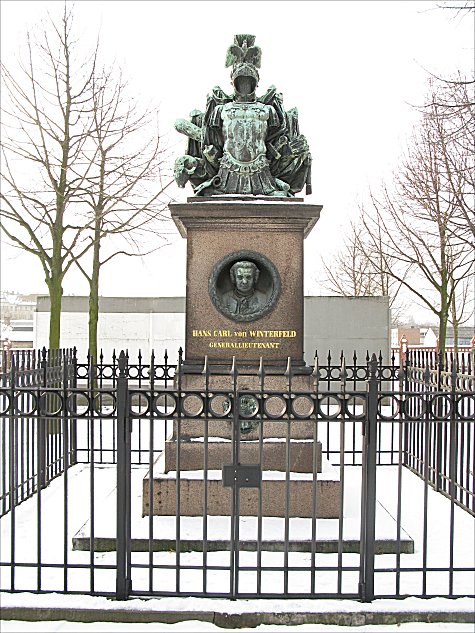 Nachrichten aus Berlin

Unser Korrespondent Anton K. berichtet:  Der Invalidenfriedhof
fleursdumal.nl magazine – magazine for art & literature
© photos: Anton K.
More in: Galerie des Morts, Nachrichten aus Berlin
R o b e r t L o u i s S t e v e n s o n
(1850-1894)
Youth and love I


Once only by the garden gate
Our lips we joined and parted.
I must fulfil an empty fate
And travel the uncharted.

Hail and farewell! I must arise,
Leave here the fatted cattle,
And paint on foreign lands and skies
My Odyssey of battle.

The untented Kosmos my abode,
I pass, a wilful stranger:
My mistress still the open road
And the bright eyes of danger.

Come ill or well, the cross, the crown,
The rainbow or the thunder,
I fling my soul and body down
For God to plough them under.
Youth and love II

To the heart of youth the world is a highwayside.
Passing for ever, he fares; and on either hand,
Deep in the gardens golden pavilions hide,
Nestle in orchard bloom, and far on the level land
Call him with lighted lamp in the eventide.

Thick as the stars at night when the moon is down,
Pleasures assail him. He to his nobler fate
Fares; and but waves a hand as he passes on,
Cries but a wayside word to her at the garden gate,
Sings but a boyish stave and his face is gone.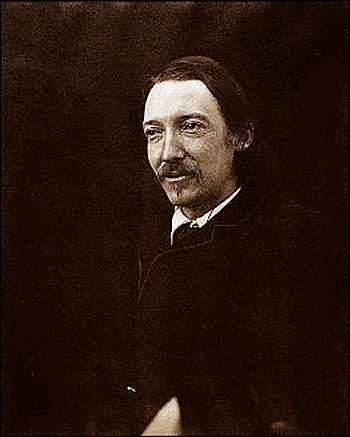 In dreams

In dreams, unhappy, I behold you stand
As heretofore:
The unremembered tokens in your hand
Avail no more.

No more the morning glow, no more the grace,
Enshrines, endears.
Cold beats the light of time upon your face
And shows your tears.

He came and went. Perchance you wept a while
And then forgot.
Ah me! but he that left you
with a smile
Forgets you not.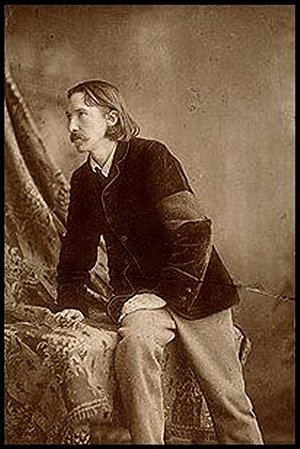 She rested by the Broken Brook
She rested by the Broken Brook,
She drank of Weary Well,
She moved beyond my lingering look,
Ah, whither none can tell!

She came, she went. In other lands,
Perchance in fairer skies,
Her hands shall cling with other hands,
Her eyes to other eyes.

She vanished. In the sounding town,
Will she remember too?
Will she recall the eyes of brown
As I recall the blue?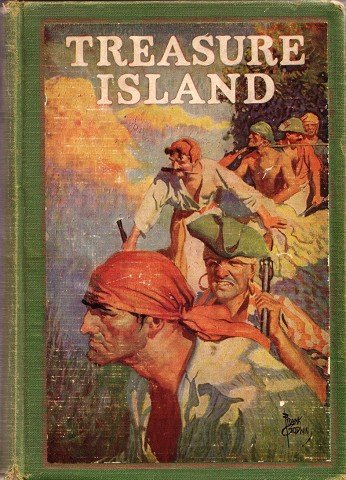 To you

To you, let snow and roses
And golden locks belong.
These are the world's enslavers,
Let these delight the throng.
For her of duskier lustre
Whose favour still I wear,
The snow be in her kirtle,
The rose be in her hair!

The hue of highland rivers
Careering, full and cool,
From sable on to golden,
From rapid on to pool –
The hue of heather-honey,
The hue of honey-bees,
Shall tinge her golden shoulder,
Shall gild her tawny knees.
Let Beauty awake

Let Beauty awake in the morn from beautiful dreams,
Beauty awake from rest!
Let Beauty awake
For Beauty's sake
In the hour when the birds awake in the brake
And the stars are bright in the west!

Let Beauty awake in the eve from the slumber of day,
Awake in the crimson eve!
In the day's dusk end
When the shades ascend,
Let her wake to the kiss of a tender friend
To render again and receive!
Robert Louis Stevenson: Six love poems
KEMP=MAG – kempis poetry magazine
More in: Stevenson, Robert Louis
El Lissitzky: Proun, ca. 1922-1923. Photo Peter Cox
Van Abbemuseum Eindhoven
L I S S I T Z K Y  +
Part 1 – Victory over the Sun
19/09/2009 – 05/09/2010

The Van Abbemuseum hosts one of the world's biggest and most important collections of work by the Russian artist El Lissitzky (1890-1941). He was probably the most dynamic artist of his time. Lissitzky is highly important to the Van Abbemuseum. His work, his ideas and his artistic objectives correspond closely with the museum's own engagement with experimentation, radical creativity and public participation. Lissitzky was not a creator of static, self-contained works. His creativity was dynamic, public, a mass of plans and projects, bristling with life. The museum is keen to make that verve – that vitality – tangible for today's public. The Lissitzky + project is comprised of three exhibitions, each taking a specific theme, which over the coming three years will shed new light on Lissitzky's oeuvre. An entire floor of the museum's new building is being rearranged for these new presentations. Victory over the Sun, the futurist opera that received its premiere in St. Petersburg in 1913, is the focal point of the first exhibition.

'Victory over the Sun'
The Russian artist Kazimir Malevich designed the fantastic costumes and sets for this opera's premiere in 1913. The opera was staged for a second time after the Russian Revolution. This 1920 production was mounted in Vitebsk by members of Unovis (Advocates of new art), a group of artists who were striving after a new and dynamic form of art. Inspired by this performance, Lissitzky thought that it would also be possible to recast the work as an electromechanical show. He designed a number of figurines and a dynamic stage set for these doll-like figures. Besides an edition of the final result, the Figurinnenmappe, a portfolio of lithographs depicting several of the opera's characters, the Van Abbemuseum's collection includes unique sketches for these figurines and a number of printer's proofs.

From two dimensions to three
Designs by Lissitzky will be presented in a threedimensional form throughout the exhibition. For example, in the first room the red and black square from his book The Story of Two Squares will be realised as cubes, with the three-dimensional models based on the Figurinnenmappe displayed inside the red cube. In the introduction to this portfolio, Lissitzky actually provides instructions for anyone who would like to create threedimensional models based on these illustrations. However, nobody has ever done this, and the Van Abbemuseum is seizing the initiative to have several of these models designed and realised. These will be installed in the spatial machinery that Lissitzky conceived, so that visitors can walk around them. The reconstruction of the renowned Proun space from the museum's collection will be presented in the black cube. The designs associated with the work inside the cubes will be displayed in the immediate vicinity of the red and black cubes. In the second room the focus shifts to Lissitzky as a graphic designer, while the third room sheds light on his international activities.
Lissitzky's architectural designs are presented in the fourth room, together with models of several designs by other artists and architects. The presentation in this space includes a towering maquette of his Cloudprop skyscraper. A blown-up version of the design for the New Man figurine is to be mounted on the window in the stairwell, while two enlargements of designs for propaganda posters on trams in Vitebsk will be presented on the walls each year. Room five is devoted to the story of how the Van Abbemuseum acquired its Lissitzky collection, and in the sixth room the public can find complementary information. Outside, a six-metrehigh rendering of one of the figurines, the Gravediggers, specially constructed for this exhibition, is to be installed in the museum lake.

The new, dynamic art
Lissitzky was a painter, a graphic artist and a designer of architecture, furniture, books and posters. He was a writer, a photographer and an indefatigable traveller. He was, moreover, a veritable mediator between the cultures of Soviet Russia and Western Europe. He collaborated closely with Kazimir Malevich, Hans Arp, Kurt Schwitters, László Moholy-Nagy, Theo van Doesburg and many other people, including architects, theatre directors and filmmakers from across Europe. Inspired by innovations in technology and science, in the 1920s these artists were searching for a new, revolutionary visual idiom with which they wanted to represent a utopian reality. Artists employed this visual idiom for the advancement of a new socialist society, most especiallyin Russia. Malevich became the mentor and later colleague of Lissitzky. It was through Malevich that Lissitzky became acquainted with Russian Futurism. The outbreak of the First World War forced the young Lissitzky to leave Germany, where he had been studying architecture. He returned to Russia, first to Moscow and then to Vitebsk (now in Belarus), where he taught at the People's Art School, which Chagall had founded there after the Revolution. Malevich moved to Vitebsk to teach at the academy, and Lissitzky subsequently became a convert to the dynamic, geometrical art that Malevich termed 'Suprematism'. This movement's ambition was to change the world. The past was dead; the only monuments of any significance were 'Monuments of the Future', as Lissitzky called them.
The museum has invited Professor Dr. John Milner of the Courtauld Institute in London, who is an authority on the Russian avant-garde, to devise a series of presentations around the Lissitzky collection. The aim of this series is to show Lissitzky's oeuvre, as well as work by his colleagues and contemporaries, in several different contexts. This three-part series casts new light on Lissitzky's oeuvre and the context in which it was produced, as well as on Lissitzky as a person. Lissitzky could be regarded as an important precursor of the contemporary artists, someone who was aware of his social and political role as well as of the demands that he made of himself and others with regard to artistic innovation.
The second exhibition (September 2010 to September 2011) presents Lissitzky's work alongside the work of several radical female artists with whom he collaborated, while the third exhibition (September 2011 to September 2012) focuses on the dynamic human figure.

Guest curator of the project is John Milner, project leader at the Van Abbemuseum is Willem Jan Renders. 
The Van Abbemuseum in Eindhoven is one of Europe's leading museums for contemporary art. The museum's extensive international collection of around 2700 works of art includes key works by Lissitzky, Picasso, Kokoschka, Chagall, Beuys and McCarthy. The museum has an experimental approach towards the issues of art and society. Openness, hospitality and knowledge exchange are important to the Van Abbemuseum. We stimulate ourselves and our visitors to think about a range of subjects, like the role of the collection as a cultural 'memory' or the museum as a public place. International cooperation and exchange have made the Van Abbemuseum a place for creative cross-fertilisation. A source of surprise, inspiration and imagination.

Van Abbemuseum  Eindhoven
For more details visit  website: www.vanabbemuseum.nl
fleursdumal.nl magazine for art & literature
  Antony Kok Magazine: www.antonykok.nl
More in: EXPRESSIONISM, DADA & DE STIJL, SURREALISM
P o ë z i e p r o g r a m m a
paleis-raadhuis Tilburg

 J o k e  v a n  L e e u w e n


  zondag 30 augustus 2009

 Boeken Rond Het Paleis
 12e editie
 organisatie Stichting Dr PJ Cools
fleursdumal.nl magazine
More in: Archive K-L, Art & Literature News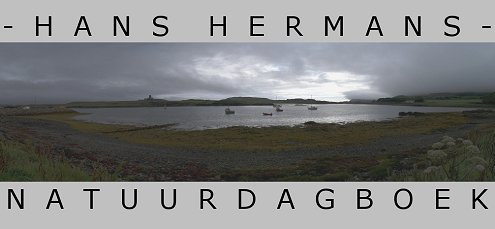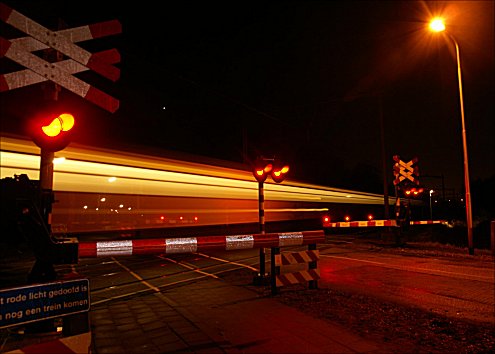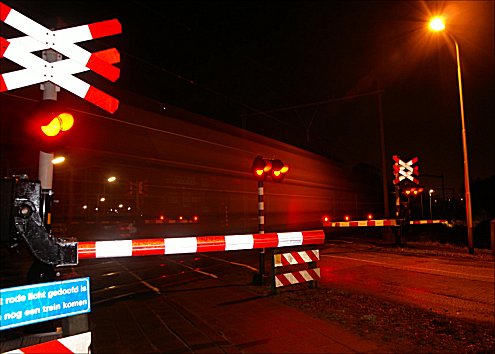 Percy Bysshe Shelley
(1792-1822)

To Night

Swiftly walk o'er the western wave,
Spirit of Night!
Out of the misty eastern cave,
Where, all the long and lone daylight,
Thou wovest dreams of joy and fear,
Which make thee terrible and dear–
Swift be thy flight!
Wrap thy form in a mantle gray,
Star-inwrought!
Blind with thine hair the eyes of day;
Kiss her until she be wearied out,
Then wander o'er city, and sea, and land,
Touching all with thine opiate wand–
Come, long-sought!
When I arose and saw the dawn,
I sighed for thee;
When light rode high, and the dew was gone,
And noon lay heavy on flower and tree,
And the weary day turned to his rest,
Lingering like an unloved guest,
I sighed for thee.
Thy brother Death came, and cried,
Wouldst thou me?
Thy sweet child Sleep, the filmy-eyed,
Murmured like a noontide bee,
Shall I nestle near thy side?
Wouldst thou me?–And I replied,
No, not thee!
Death will come when thou art dead,
Soon, too soon–
Sleep will come when thou art fled;
Of neither would I ask the boon
I ask of thee, beloved Night–
Swift be thine approaching flight,
Come soon, soon!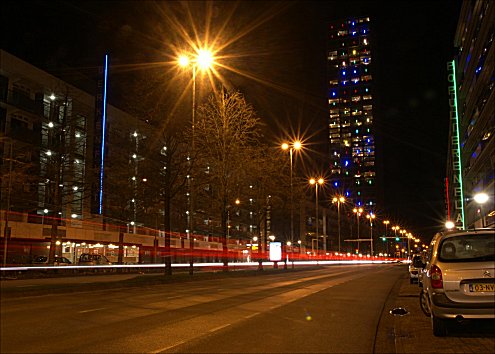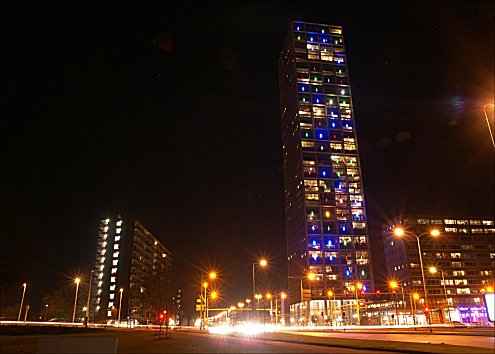 Hans Hermans photos: To Night

Natuurdagboek Juni 2009

kemp=mag poetry magazine – magazine for art & literature
© hans hermans
More in: Hans Hermans Photos, Shelley, Percy Byssche
Joost van den Vondel
(1587 – 1679)

Kinder-lyck

Constantijntje, 't zaligh kijntje,
Cherubijntje, van om hoogh,
D'ydelheden, hier beneden,
Vitlacht met een lodderoogh.
Moeder, zeit hy, waarom schreit ghy?
Waarom greit ghy, op mijn lijck?
Boven leef ick, boven zweef ick,
Engeltje van 't hemelrijck:
En ick blinck 'er, en ik drincker,
't Geen de schincker alles goets
Schenckt de zielen, die daar krielen,
Dertel van veel overvloets.
Leer dan reizen met gepeizen
Naar pallaizen, uit het slick
Dezer werrelt, die zoo dwerrelt.
Eeuwigh gaat voor oogenblick
Uitvaart van mijn dochterken

De felle Doot, die nu geen wit magh zien,
Verschoont de grijze liên
Zy zit om hoogh, en mickt met haren schicht
Op het onnozel wicht,
En lacht, wanneer in 't scheien,
De droeve moeders schreien.
Zy zagh 'er een, dat, wuft en onbestuurt,
De vreught was van de buurt,
En, vlugh te voet, in 't slingertouwtje sprong;
Of zoet Fiane zong,
En huppelde, in het reitje,
Om 't lieve lodderaitje:
Of dreef, gevolght van eenen wackren troep,
Den rinckelenden hoep
De straten door: of schaterde op een schop:
Of speelde met de pop,
Het voorspel van de dagen,
Die d'eerste vreught verjagen:
Of onderhiel, met bickel en boncket,
De kinderlijcke wet,
En rolde en greep, op 't springend elpenbeen,
De beentjes van den steen;
En had dat zoete leven
Om geldt noch goet gegeven:
Maar wat gebeurt? terwijl het zich vermaackt,
Zoo wort het hart geraackt,
(Dat speelzieck hart) van eenen scharpen flits,
Te dootlick en te bits.
De Doot quam op de lippen,
En 't zieltje zelf ging glippen.
Toen stont helaas! de jammerende schaar
Met tranen om de baar,
En kermde noch op 't lijck van haar gespeel,
En wenschte lot en deel
Te hebben met haar kaartje
En doot te zijn als Saertje.
De speelnoot vlocht (toen 't anders niet moght zijn)
Een krans van roosmarijn,
Ter liefde van heur beste kameraat.
O krancke troost! wat baat
De groene en goude lover?
Die staatsi gaat haast over.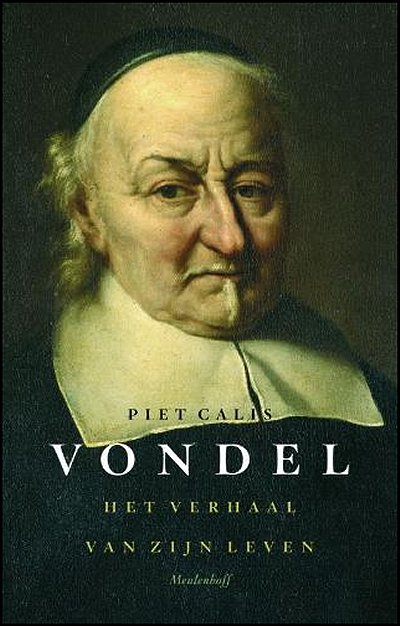 Lyckklaght aan het Vrouwekoor
Over het verlies van mijn Ega
O Heiligh Koor, dat van den mijnen
't Vergaen en onvergaen gebeent
Bewaert, en sachte rust verleent,
Tot dat de son vergeet te schijnen;
Nu groeit 't getal van uwe lijcken
Door een, dat meest mijn geest bedroeft,
En met de lijckschroef't harte schroeft,
Die voor geen jammerklaght sal wijcken.
Nu parst uw harde serck het kermen
En traenen uit het hart en oogh,
Om mijn Kreüse, die om hoogh
Gevaren, smolt in bey mijn armen:
Terwijl ick t'Aquileia streefde
Met Constantijn, den grooten held,
Door swaarden, op de keel gestelt,
Door vlam, die naer de starren sweefde.
Ick wenschte noch om eenigh teecken
Van haar, die als een schim verdween;
Wanneerse my te troosten scheen,
En in den droom dus toe te spreecken:
Mijn lieve bedgenoot, dees saacken
Gebeuren geenssins sonder Godt.
Vernoegh met uw getrocken lot,
En wil uw heldenwerck niet staacken.
Dat ramp noch druck uw dagen korten,
Voor dat ghy siet, naar uwen wensch,
Den vlughtigen tyran Maxens
Bestorven in den Tiber storten.
Dan sal uw siel ten hemel draven,
Wanneer het triomfeerend hoofd
't Gewijde swaard, aen God verlooft,
Ontgord, op der Apostlen graven.
Bestel mijn sterflijck deel ter aerde,
In 't Koor der segenrijcke Maeghd,
Daar sulck een schaar den naam af draagt,
En die mijn naam oock gaf zijn waarde.
'k Verhuis, van 't aardsche juck ontslagen,
Om hoogh, in 't hemelsche gebouw.
Besorgh de panden van ons trouw,
Twee kinders, die ick heb gedragen.
Soo spreeckend weeck sy uit dit leven.
Marie, al laat ghy my alleen,
Vw vriendschap, uw gedienstigheên
Staan eeuwigh in mijn hart geschreven.
Hoe veer dees voeten moghten dwalen,
'k Sal derwaart mijn bedruckt gesicht
Noch slaan, daar voor het rijsend licht
Vw bleecke star ging onderdalen.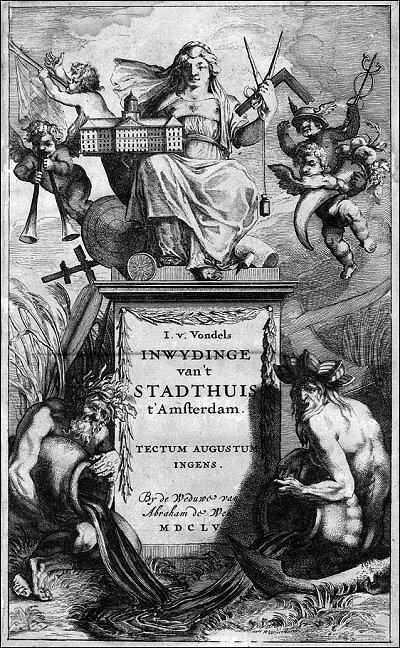 Joost van den Vondel: Drie Lijkdichten
kempis poetry magazine
More in: Vondel, Joost van den

René De Clercq
(1877-1932)
De Leeuwerik
O mijn leeuwerikshart, brandende bron
van trillers en zangen,
of ik op blijdschap opwaarts kon
en sidderend hangen
tussen Aarde mijn moeder, mijn godheid Zon;
vergeten gedrang, pijn, zwaarte,
den nijd, den nood, die beneden houdt,
en, zalig bedwelmd, in juichende klaarte,
streven naar 't eeuwig, 't eenig reine goud.
In Lente reeds, smachtend naar louterende hitte
van zomergepeins
naar heemlen, die vlammen naar 't witte,
wou ik stormen doorzwieren,
voor wind tierelieren,
dat het dansen wordt als ik schijnbaar deins.
Dan, als 't klaart na hagel en regenen,
en mijn geest, een andre rijke, rijpende natuur,
zijn rustige kracht voelt zegenen
met een weelde van zuiver vuur,
stijgen wou ik, in vaste snelheid,
rechtop, als een pijl uit den boog,
maar hoog,
diep hoog,
daar niemand mij ziet,
onvindbaar in de felheid
van mijn aloverschaterend laaiende lied.
Zon spat me uit keel en veder,
sterker nog uit elk oog,
totdat de lucht, die lacht en luistert,
schaduwvouwen laat vallen en duistert
met wit gewolk.
Ongezien, zie ik neder,
en zie mijn dorp, mijn eigen dorp. Daar leeft mijn volk,
midden akkers, bomen, weiden,
die zwellen, weelderig dicht,
wat ik liefhad eens en liefhad steeds, bescheiden
ligt het in 't licht.
Ginds over goudgroen van grassen, olmen en korens,
waar de kimmen
verglimmen
en mistig blaken,
rijzen steden met tint'lende torens,
koepels, donkere schouwen en daken,
en verder zijn bergen, en verder de zee,
en overal mensen, arbeid, wee,
en vreugde, machtiger nog: de zoete lucht,
de geur van Aarde,
door Zon bevrucht.
Zou ik Aarde niet eren, de grooteerwaarde
met zachten schoot?
Mijner moeder moeder, de heilige die met liefde heiligt,
de zorgzame, die 't al beveiligt
bij leven en dood?
Zou ik Aarde niet loven?
Zij draagt, zij spijst, zij koestert en dekt.
Leven is goed en dood is goed.
Ik zelf ben aarde, al stroomt in mijn bloed
iets zuivers van Zon. Zon trekt en Aarde trekt.
Telkens als daarboven
wolkenschoven
heenschuiven en verglijden,
Telkens als, in open jaargetijden,
een nacht voor een rozigen uchtend vliedt,
geen weg weet ik, geen blijf met mijn verblijden,
tenzij in de hoogte van mijn lied.
En moet ik, moede, niet moedeloos, uit het rijk der stralen dalen,
waar ik luid den dag doorkliefde,
met gevouwen vleugels, in eerbied en liefde,
strijk ik neer,
en vind op Aarde mijn verloren vlek schaduw weer.
(Mei 1914)
kemp=mag poetry magazine
More in: Archive C-D

De zalmsprong van Cú Chulainn
door Lauran Toorians
Helden in Oudierse verhalen beheersen vaak 'trucs' of vaardigheden met mysterieuze namen, waarvan wij de betekenis niet meer kunnen achterhalen. Zo somt Emer in een gedicht in Het feestgelag van Bricriu een hele reeks vaardigheden op die haar echtgenoot Cú Chulainn beheerst. In de vertaling die Maartje Draak en Frida de Jong van dit verhaal maakten (Amsterdam 1986) vinden we zo op pagina 24 ondermeer de adem-truc, de appel-truc, de spook-truc en de buig-truc.
Een vaakgenoemde truc van Cú Chulainn, die overigens door Emer in bovengenoemd gedicht niet wordt vermeld, is de 'zalmsprong', of in het Oudiers ích n-erred (de nominatief van het Ierse woord voor zalm is eó). Ook van deze 'truc' is niet bekend wat die inhield. Misschien kan hier echter de moderne folklore helpen, want de term 'zalmsprong' bestaat in de Keltische wereld nog steeds, en wel in de context van de traditionele dans. Ik vond twee beschrijvingen, een van de Arran-eilanden in Galway Bay, een andere van het Eiland Man. Zij lijken zo sterk op elkaar dat een gemeenschappelijke oorsprong voor de hand ligt.
De Ierse 'zalmsprong' wordt door de Ierse auteur John Millington Synge (1871-1909) beschreven in het verslag van de bezoeken die hij in 1898 aan de Aran-eilanden bracht. Synge beschrijft daar hoe hij zich verbaast over de lichamelijke capaciteiten van de eilandbewoners, terwijl zij niet in staat blijken zijn 'gymnastische toeren' die hij hen voordoet, na te doen. Hij vervolgt dan met:
Er was echter één man, de danskampioen van het eiland, die na een poosje opstond en de zalmsprong – hij lag plat op zijn buik en sprong, horizontaal, hoog de lucht in – demonstreerde en nog een aantal bijzonder behendige toeren uithaalde. Maar hij is niet jong meer en we konden hem niet overhalen te dansen.
De beschrijving van de Manxe 'zalmsprong' is te vinden in de verzameling Rinkaghyn Vannin / Dances of Mann (published by Sleigh gyn Thie, z.j.). Deze collectie muziek en dansbeschrijvingen werd grotendeels verzameld door Mona Douglas (1898-1987), een markante dame die zich op politiek en cultureel gebied sterk maakte voor een Manx Man en die gedurende lange tijd de drijvende kracht is geweest achter de Manx Language Society (opgericht in 1899). Van haar hand verschenen ondermeer ook twee verzamelingen liederen van het Eiland Man. Onder haar vrienden telde Mona Douglas zulke beroemde Ieren als Éamonn de Valera, Douglas Hyde en W.B. Yeats.
Lees verder…….
Lees de volledige tekst van Lauran Toorians:
De zalmsprong van Cú Chulainn


Inleidend essay van Lauran Toorians:

De Keltische talen
en hun literaturen

kemp=mag poetry magazine
© Lauran Toorians
More in: CELTIC LITERATURE, Lauran Toorians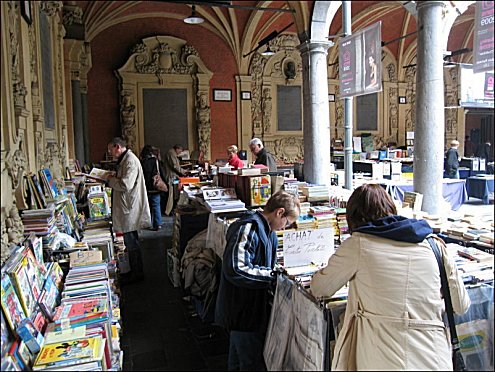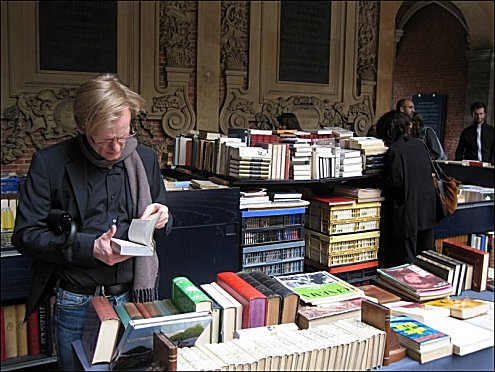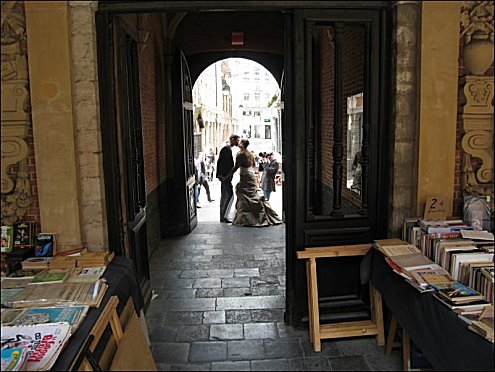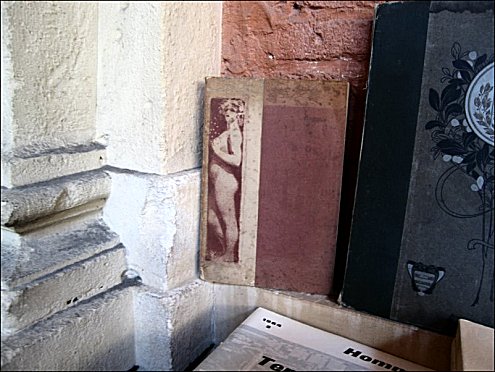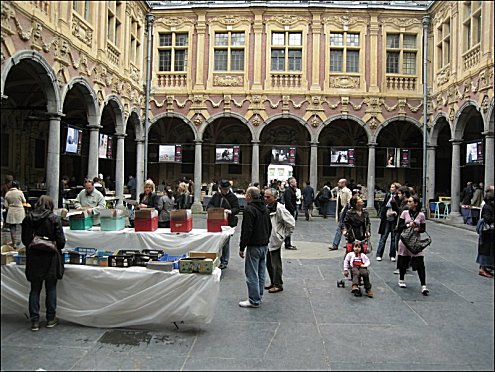 Joep Eijkens photos:

Old books and new life in the 'Vieille Bourse' in Lille

fleursdumal.nl magazine
More in: Histoire de France, Joep Eijkens Photos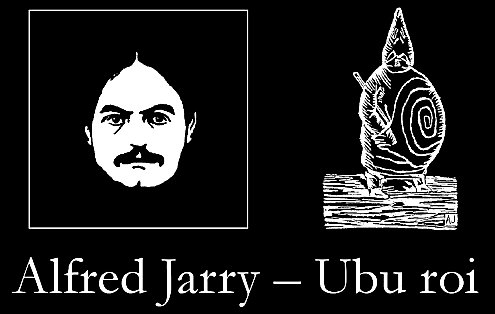 alfred jarry
UBU ROI
Acte V
Scène Première
Il fait nuit. LE PÈRE UBU dort. Entre LA MÈRE UBU sans le voir.
L'obscurité est complète.
Mère Ubu:
–Enfin, me voilà à l'abri. Je fuis seule ici, ce n'est pas dommage,
mais quelle course effrénée: traverser toute la Pologne en quatre
jours! Tous les malheurs m'ont assaillie à la fois. Aussitôt partie
cette grosse bourrique, je vais à la crypte m'enrichir. Bientôt après
je manque d'être lapidée par ce Bougrelas et ces enragés. Je perds mon
cavalier le Palotin Giron qui était si amoureux de mes attraits qu'il
se pâmait d'aise en me voyant, et même, m'a-t-on assuré, en ne me
voyant pas, ce qui est le comble de la tendresse. Il se serait fait
couper en deux pour moi, le pauvre garçon. La preuve, c'est qu'il a
été coupé en quatre par Bougrelas. Pif paf pan! Ah! je pense mourir.
Ensuite donc je prends la fuite poursuivie par la foule en fureur.
Je quitte le palais, j'arrive à la Vistule, tous les ponts étaient
gardés. Je passe le fleuve à la nage, espérant ainsi lasser mes
persécuteurs. De tous côtés la noblesse se rassemble et me poursuit.
Je manque mille fois périr, étouffée dans un cercle de Polonais
acharnés à me perdre. Enfin je trompai leur fureur, et après quatre
jours de courses dans la neige de ce qui fut mon royaume j'arrive me
réfugier ici. Je n'ai ni bu ni mangé ces quatre jours, Bougrelas me
serrait de près… Enfin me voilà sauvée. Ah! je suis morte de fatigue
et de froid. Mais je voudrais bien savoir ce qu'est devenu mon gros
polichinelle, je veux dire mon très respectable époux. Lui en ai-je
pris, de la finance. Lui en ai-je volé, des rixdales. Lui en ai-je
tiré, des carottes. Et son cheval à finances qui mourait de faim:
il ne voyait pas souvent d'avoine, le pauvre diable. Ah! la bonne
histoire. Mais hélas! j'ai perdu mon trésor! Il est à Varsovie, ira
le chercher qui voudra.
Père Ubu (commençant à se réveiller):
–Attrapez la Mère Ubu, coupez les oneilles!
Mère Ubu:
–Ah! Dieu! Où suis-je? Je perds la tête. Ah! non, Seigneur!
Grâce au ciel j'entrevoi
Monsieur le Père Ubu qui dort
auprès de moi.
Faisons la gentille. Eh bien, mon gros bonhomme, as-tu bien dormi?
Père Ubu:
–Fort mal! Il était bien dur cet ours! Combat des voraces contre les
coriaces, mais les voraces ont complètement mangé et dévoré les
coriaces, comme vous le verrez quand il fera jour: entendez-vous, nobles
Palotins!
Mère Ubu:
–Ou'est-ce qu'il bafouille? Il est encore plus bête que quand il est
parti. A qui en a-t-il?
Père Ubu:
–Cotice, Pile, répondez-moi, sac à merdre! Où êtes-vous? Ah! j'ai
peur. Mais enfin on a parlé. Qui a parlé? Ce n'est pas l'ours, je
suppose. Merdre! Où sont mes allumettes? Ah! je les ai perdues à la
bataille.
Mère Ubu (à part):
–Profitons de la situation et de la nuit, simulons une apparition
surnaturelle et faisons-lui promettre de nous pardonner nos larcins.
Père Ubu:
–Mais, par saint Antoine! on parle. Jambedieu! Je veux être pendu!
Mère Ubu (grossissant sa voix):
–Oui, monsieur Ubu, on parle, en effet, et la trompette de l'archange
qui doit tirer les morts de la cendre et de la poussière finale ne
parlerait pas autrement! Ecoutez cette voix sévère. C'est celle de
saint Gabriel qui ne peut donner que de bons conseils.
Père Ubu:
–Oh! ça, en effet!
Mère Ubu:
–-Ne m'interrompez pas ou je me tais et c'en fera fait de votre
giborgne!
Père Ubu:
–Ah! ma gidouille! Je me tais, je ne dis plus mot. Continuez,
madame l'Apparition!
Mère Ubu:
–Nous disions, monsieur Ubu, que vous étiez un gros bonhomme!
Père Ubu:
–Très gros, en effet, ceci est juste.
Mère Ubu:
–Taisez-vous, de par Dieu!
Père Ubu:
–Oh! les anges ne jurent pas!
Mère Ubu (à part):
–Merdre! (Continuant) Vous êtes marié, Monsieur Ubu.
Père Ubu:
–Parfaitement, à la dernière des chipies!
Mère Ubu:
–Vous voulez dire que c'est une femme charmante.
Père Ubu:
–Une horreur. Elle a des griffes partout on ne sait par où la prendre.
Mère Ubu:
–Il faut la prendre par la douceur, sire Ubu, et si vous la prenez
ainsi vous verrez qu'elle est au moins l'égale de la Vénus de Capoue.
Père Ubu:
–Oui dites-vous qui a des poux?
Mère Ubu:
–Vous n'écoutez pas, monsieur Ubu: prêtez-nous une oreille plus
attentive. (A part.) Mais hâtons-nous, le jour va se lever. Monsieur
Ubu, votre femme est adorable et délicieuse, elle n'a pas un seul
défaut.
Père Ubu:
–Vous vous trompez, il n'y a pas un défaut qu'elle ne possède.
Mère Ubu:
–Silence donc! Votre femme ne vous fait pas d'infidélités!
Père Ubu:
–Je voudrais bien voir qui pourrait être amoureux d'elle. C'est une
harpie!
Mère Ubu:
–Elle ne boit pas!
Père Ubu:
–Depuis que j'ai pris la clé de la cave. Avant, à sept heures du
matin elle était ronde et elle se parfumait à l'eau-de-vie. Maintenant
qu'elle se parfume à l'héliotrope elle ne sent pas plus mauvais. Ça
m'est égal, Mais maintenant il n'y a plus que moi à être rond!
Mère Ubu:
–Sot personnage!–Votre femme ne vous prend pas votre or.
Père Ubu:
–Non, c'est drôle!
Mère Ubu:
–Elle ne détourne pas un sou!
Père Ubu:
–Témoin monsieur notre noble et infortuné cheval à Phynances, qui,
n'étant pas nourri depuis trois mois, a dû faire la campagne entière
traîné par la bride à travers l'Ukraine. Aussi est-il mort à la tâche,
la pauvre bête!
Mère Ubu:
–Tout ceci sont des mensonges, votre femme est un modèle et vous quel
monstre vous faites!
Père Ubu:
–Tout ceci sont des vérités. Ma femme est une coquine et vous quelle
andouille vous faites!
Mère Ubu:
–Prenez garde, Père Ubu.
Père Ubu:
–Ah! c'est vrai, j'oubliais à qui je parlais. Non, je n'ai pas dit ça!
Mère Ubu:
–Vous avez tué Venceslas.
Père Ubu:
–Ce n'est pas ma faute, moi, bien sur. C'est la Mère Ubu qui a voulu.
Mère Ubu:
–Vous avez fait mourir Boleslas et Ladislas.
Père Ubu:
–Tant pis pour eux! Ils voulaient me taper!
Mère Ubu:
–Vous n'avez pas tenu votre promesse envers Bordure et plus tard vous
l'avez tué.
Père Ubu:
–J'aime mieux que ce soit moi que lui qui règne en Lithuanie. Pour le
moment ça n'est ni l'un ni l'autre. Ainsi vous voyez que ça n'est pas
moi.
Mère Ubu:
–Vous n'avez qu'une manière de vous faire pardonner tous vos méfaits.
Père Ubu:
–Laquelle? Je suis tout disposé à devenir un saint homme, je veux être
évêque et voir mon nom sur le calendrier.
Mère Ubu:
–Il faut pardonner à la Mère Ubu d'avoir détourné un peu d'argent.
Père Ubu:
–Eh bien, voilà! Je lui pardonnerai quand elle m'aura rendu tout,
qu'elle aura été bien rossée et qu'elle aura ressuscité mon cheval à
finances.
Mère Ubu:
–Il en est toqué de son cheval! Ah! je suis perdue, le jour se lève.
Père Ubu:
–Mais enfin je suis content de savoir maintenant assurément que ma
chère épouse me volait. Je le sais maintenant de source sûre. Omnis a
Deo scientia, ce qui veut dire: Omnis, toute; a Deo science; scientia,
vient de Dieu. Voilà l'explication du phénomène. Mais madame
l'Apparition ne dit plus rien. Que ne puisse lui offrir de quoi se
réconforter. Ce qu'elle disait était très amusant. Tiens, mais il fait
jour! Ah! Seigneur, de par mon cheval à finances, c'est la Mère Ubu!
Mère Ubu (effrontément):
–Ça n'est pas vrai, je vais vous excommunier.
Père Ubu:
–Ah! charogne!
Mère Ubu:
–Quelle impiété.
Père Ubu:
–Ah! c'est trop fort. Je vois bien que c'est toi, sotte chipie!
Pourquoi diable es-tu ici?
Mère Ubu:
–Giron est mort et les Polonais m'ont chassée.
Père Ubu:
–Et moi, ce sont les Russes qui m'ont chassé: les beaux esprits se
rencontrent.
Mère Ubu:
–Dis donc qu'un bel esprit a rencontré une bourrique!
Père Ubu:
–Ah! eh bien, il va rencontrer un palmipède maintenant. (Il lui jette
l'ours.)
Mère Ubu (tombant accablée sous le poids de l'ours.)
–Ah! grand Dieu! Quelle horreur! Ah! je meurs! J'étouffe! il me mord!
Il m'avale! il me digère!
Père Ubu:
–Il est mort! grotesque. Oh! mais, au fait, peut-être que non! Ah!
Seigneur! non, il n'est pas mort, sauvons-nous. (Remontant sur son
rocher.) Pater noster qui es…
Mère Ubu (se débarrassant):
–Tiens! où est-il?
Père Ubu:
–Ah! Seigneur! la voilà encore! Sotte créature, il n'y a donc pas
moyen de se débarrasser d'elle. Est-il mort, cet ours?
Mère Ubu:
–Eh oui, sotte bourrique, il est déjà tout froid. Comment est-il venu
ici?
Père Ubu (confus):
–Je ne sais pas. Ah! si, je sais! Il a voulu manger Pile et Cotice et
moi je l'ai tué d'un coup de Pater Noster.
Mère Ubu:
–Pile, Cotice, Pater Noster. Qu'est-ce que c'est que ça? il est fou,
ma finance!
Père Ubu:
–C'est très exact ce que je dis! Et toi tu es idiote, ma giborgne!
Mère Ubu:
–Raconte-moi ta campagne, Père Ubu.
Père Ubu:
–Oh! dame, non! C'est trop long. Tout ce que je sais, c'est que malgré
mon incontestable vaillance tout le monde m'a battu.
Mère Ubu:
–Comment, même les Polonais?
Père Ubu:
–Ils criaient: Vive Venceslas et Bougrelas. J'ai cru qu'on voulait
m'écarteler. Oh! les enragés! Et puis ils ont tué Rensky!
Mère Ubu:
–Ça m'est bien égal! Tu sais que Bougrelas a tué le Palotin Giron!
Père Ubu:
–Ça m'est bien égal! Et puis ils ont tué le pauvre Lascy!
Mère Ubu:
–Ça m'est bien égal!
Père Ubu:
–Oh! mais tout de même, arrive ici, charogne! Mets-toi à genoux devant
ton maître (il l'empoigne et la jette à genoux), tu vas subir le
dernier supplice.
Mère Ubu:
–Ho, ho, monsieur Ubu!
Père Ubu:
–Oh! oh! oh! après, as-tu fini? Moi je commence: torsion du nez,
arrachement des cheveux, pénétration du petit bout de bois dans les
oneilles, extraction de la cervelle par les talons, lacération du
postérieur, suppression partielle ou même totale de la moelle épinière
(si au moins ça pouvait lui ôter les épines du caractère), sans
oublier l'ouverture de la vessie natatoire et finalement la grande
décollation renouvelée de saint Jean-Baptiste, le tout tiré des très
saintes Ecritures, tant de l'Ancien que du Nouveau Testament, mis en
ordre, corrigé et perfectionné par l'ici présent Maître des Finances!
Ça te va-t-il, andouille?
(Il la déchire.)
Mère Ubu:
–Grâce, monsieur Ubu!
(Grand bruit à l'entrée de la caverne.)
Scène II
LES MÊMES, BOUGRELAS se ruant dans la caverne avec ses SOLDATS.
Bougrelas:
–En avant, mes amis! Vive la Pologne!
Père Ubu:
–Oh! oh! attends un peu, monsieur le Polognard. Attends que j'en aie
fini avec madame ma moitié!
Bougrelas (le frappant):
–Tiens, lâche, gueux, sacripant, mécréant, musulman!
Père Ubu (ripostant):
–Tiens! Polognard, soûlard, bâtard, hussard, tartare, calard, cafard,
mouchard, savoyard, communard!
Mère Ubu (le battant aussi):
–Tiens, capon, cochon, félon, histrion, fripon, souillon, polochon!
(Les Soldats se ruent sur les Ubs, qui se défendent de leur mieux.)
Père Ubu:
–Dieux! quels renfoncements!
Mère Ubu:
–On a des pieds, messieurs les Polonais.
Père Ubu:
–De par ma chandelle verte, ça va-t-il finir, à la fin de la fin?
Encore un! Ah! si j'avais ici mon cheval à phynances!
Bougrelas:
–Tapez, tapez toujours.
Voix au dehors:
–Vive le Père Ubé, notre grand financier!
Père Ubu:
–Ah! les voilà. Hurrah! Voilà les Pères Ubus. En avant, arrivez, on
a besoin de vous, messieurs des Finances!
(Entrent les Palotins, qui se jettent dans la mêlée.)
Cotice:
–A la porte les Polonais!
Pile:
–Hon! nous nous revoyons, Monsieuye des Finances. En avant, poussez
vigoureusement, gagnez la porte, une fois dehors il n'y aura plus
qu'à se sauver.
Père Ubu:
–Oh! ça, c'est mon plus fort. O comme il tape.
Bougrelas:
–Dieu! je suis blessé.
Stanislas Leczinski:
–Ce n'est rien, Sire.
Bougrelas:
–Non, je suis seulement étourdi.
Jean Sobieski:
–Tapez, tapez toujours, ils gagnent la porte, les gueux.
Cotice:
–On approche, suivez le monde. Par conséquent de quoye, je vois le
ciel.
Pile:
–Courage, sire Ubu.
Père Ubu:
–Ah! j'en fais dans ma culotte. En avant, cornegidouille! Tudez,
saignez, écorchez, massacrez, corne d'Ubu! Ah! ça diminue!
Cotice:
–Il n'y en a plus que deux à garder la porte.
Père Ubu (les assommant à coups d'ours):
–Et d'un et de deux! Ouf! me voilà dehors! Sauvons-nous! suivez, les
autres, et vivement!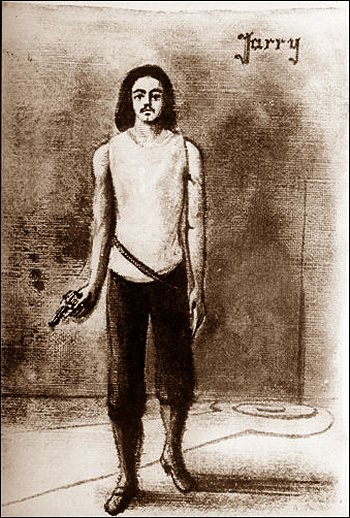 Scène III
La scène représente la province de Livonie couverte de neige.
LES UBS & LEUR SUITE en fuite.
Père Ubu:
–Ah! je crois qu'ils ont renoncé à nous attraper.
Mère Ubu:
–Oui, Bougrelas est allé se faire couronner.
Père Ubu:
–Je ne la lui envie pas, sa couronne.
Mère Ubu:
–Tu as bien raison, Père Ubu.
(Ils disparaissent dans le lointain.)
Scène IV
Le pont d'un navire courant au plus près sur la Baltique. Sur le pont
le PÈRE UBU & toute sa bande.
Le Commandant:
–Ah! quelle belle brise.
Père Ubu:
–Il est de fait que nous filons avec une rapidité qui tient du
prodige. Nous devons faire au moins un million de noeuds à l'heure
et ces noeuds ont ceci de bon qu'une fois faits ils ne se défont
pas. Il est vrai que nous avons vent arrière.
Pile:
–Quel triste imbécile.
(Une risée arrive, le navire couche et blanchit la mer.)
Père Ubu:
–Oh! Ah! Dieu! nous voilà chavirés. Mais il va tout de travers, il va
tomber ton bateau.
Le Commandant:
–Tout le monde sous le vent, bordez la misaine!
Père Ubu:
–Ah! mais non, par exemple! Ne vous mettez pas tous du même côté!
C'est imprudent ça. Et supposez que le vent vienne à changer de côté:
tout le monde irait au fond de l'eau et les poissons nous mangeront.
Le Commandant:
–N'arrivez pas, serrez près et plein!
Père Ubu:
–Si! Si! Arrivez. Je suis pressé, moi! Arrivez, entendez-vous! C'est
ta faute, brute de capitaine, si nous n'arrivons pas. Nous devrions
être arrivés. Oh oh, mais je vais commander, moi, alors! Pare à virer!
A Dieu vat. Mouillez, virez vent devant, virez vent arrière. Hissez les
voiles, serrez les voiles, la barre dessus, la barre dessous, la barre
à côté. Vous voyez, ça va très bien. Venez en travers à la lame et
alors ce sera parfait.
(Tous se tordent, la brise fraîchit.)
Le Commandant:
–Amenez le grand foc, prenez un ris aux huniers!
Père Ubu:
–Ceci n'est pas mal, c'est même bon! Entendez-vous, monsieur
l'Equipage? amenez le grand coq et allez faire un tour dans les
pruniers.
(Plusieurs agonisent de rire. Une lame embarque.)
Père Ubu:
Oh! quel déluge! Ceci est un effet des manoeuvres que nous avons
données.
Mère Ubu & Pile:
–Délicieuse chose que la navigation.
(Deuxième lame embarque.)
Pile (inondé):
–Méfiez-vous de Satan et de ses pompes.
Père Ubu:
–Sire garçon, apportez-nous à boire.
(Tous s'installent à boir.)
Mère Ubu:
Ah! quel délice de revoir bientôt la douce France, nos vieux amis et
notre château de Mondragon!
Père Ubu:
–Eh! nous y serons bientôt. Nous arrivons à l'instant sous le château
d'Elseneur.
Pile:
–Je me sens ragaillardi à l'idée de revoir ma chère Espagne.
Cotice:
–Oui, et nous éblouirons nos compatriotes des récits de nos aventures
merveilleuses.
Père Ubu:
–Oh! ça, évidemment! Et moi je me ferai nommer Maître des Finances
à Paris.
Mère Ubu:
–C'est cela! Ah! quelle secousse!
Cotice:
–Ce n'est rien, nous venons de doubler la pointe d'Elfeneur.
Pile:
–Et maintenant notre noble navire s'élance à toute vitesse sur les
sombres lames de la mer du Nord.
Père Ubu:
–Mer farouche et inhospitalière qui baigne le pays appelé Germanie,
ainsi nommé parce que les habitants de ce pays sont tous cousins
germains.
Mère Ubu:
–Voilà ce que j'appelle de l'érudition. On dit ce pays fort beau.
Père Ubu:
–Ah! messieurs! si beau qu'il soit il ne vaut pas la Pologne. S'il
n'y avait pas de Pologne il n'y aurait pas de Polonais!
FIN
Alfred Jarry
Ubu roi
Acte V

fleursdumal.nl – magazine for art & literature
More in: Archive I-J, Archive I-J, Félix Vallotton, Jarry, Alfred, OULIPO (PATAFYSICA)
FESTIVAL  MUNDIAL  2009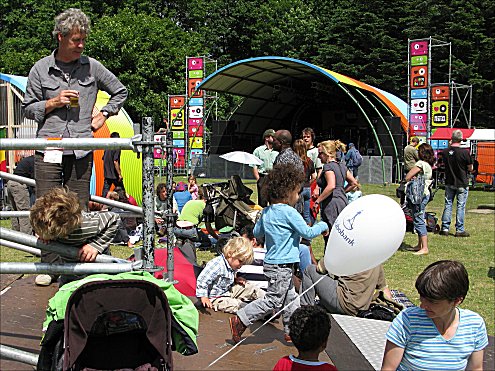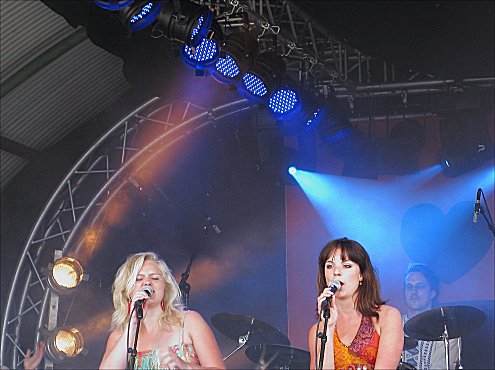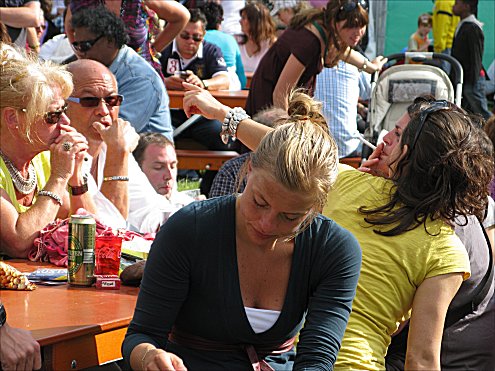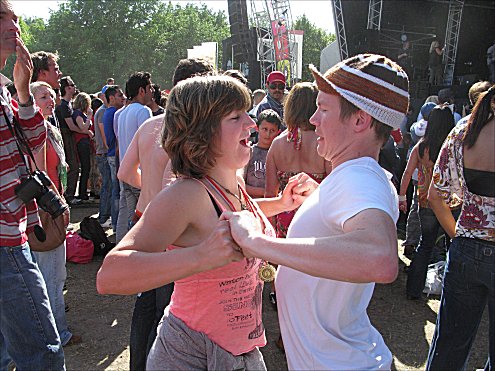 Festival Mundial Tilburg

June 2009

photos: Anton K.

kemp=mag poetry magazine – magazine for art & literature
More in: Anton K. Photos & Observations, Dutch Landscapes
Johann Wolfgang von Goethe
(1749 – 1832)
D e r F i s c h e r

Das Wasser rauscht', das Wasser schwoll,
Ein Fischer saß daran,
Sah nach dem Angel ruhevoll,
Kühl bis ans Herz hinan.
Und wie er sitzt, und wie er lauscht,
Teilt sich die Flut empor;
Aus dem bewegten Wasser rauscht
Ein feuchtes Weib hervor.
Sie sang zu ihm, sie sprach zu ihm:
Was lockst du meine Brut
Mit Menschenwitz und Menschenlist
Hinauf in Todesglut ?
Ach wüßtest du, wie's Fischlein ist
So wohlig auf dem Grund,
Du stiegst herunter, wie du bist,
Und würdest erst gesund.
Labt sich die liebe Sonne nicht,
Der Mond sich nicht im Meer ?
Kehrt wellenatmend ihr Gesicht
Nicht doppelt schöner her ?
Lockt dich der tiefe Himmel nicht,
Das feuchtverklärte Blau ?
Lockt dich dein eigen Angesicht
Nicht her in ew'gen Tau ?
Das Wasser rauscht', das Wasser schwoll,
Netzt' ihm den nackten Fuß;
Sein herz wuchs ihm so sehnsuchtsvoll,
Wie bei der Liebsten Gruß.
Sie sprach zu ihm, sie sang zu ihm;
Da war's um ihn geschehn:
Halb zog sie ihn, halb sank er hin,
Und ward nicht mehr gesehn.
KEMP=MAG poetry magazine
More in: Goethe, Johann Wolfgang von
Thank you for reading FLEURSDUMAL.NL - magazine for art & literature