Overvloed
In de naslaap waad ik langzaam water
in. Dat doe ik nooit. Als ik me druipend
afvraag wat ik hier te doen sta verrijs jij.
Met het jonge slanke lichaam dat ik ken
van oude foto's, gekartelrand en al, maar
met het hoofd dat ik zo zachtjes streelde
toen je bijna aan je laatste adem. Weet je
nog? Je glimlacht. "Wat krijgen we nou?
Jij gaf toch helemaal niets om zwemmen,
jongen?" zeg je. En je drukt me nat tegen
je borst die zo op de mijne lijkt. "Dag pa,"
zeg ik. "Dag papa. Waar ben je al die tijd?"
Bert Bevers
Revărsare
Ȋn somnul de apoi, înaintam cu greu prin
apă. Nu mi se întâmplă niciodată. Eram șiroare tot
și mă ȋntrebam ce caut. Atunci ai ȋnviat.
 
Cu trupul zvelt și tânăr, pe care-l știu
din vechile poze de album, cu zimți –
dar totuși te mângâiam ușor pe cap,
 
ca și cum ai fi fost pe patul de moarte.
Ȋţi amintești? Zȃmbeai. "Ce avem noi aici?
Dar ție nu ȋţi pasă deloc de ȋnot,
 
măi băiete?" Așa ziceai. Și m-ai strȃns la piept,
numai șiroaie, ca și mine. "Bun găsit, tati!"
"Bun găsit, tăticule! Unde ai fost ȋn tot acest timp?"
 
Gedicht Bert Bevers
Vertaald naar het Roemeens Alexandra Raluca Ciobanu Universitatea din București
fleursdumal.nl magazine
More in: Archive A-B, Overvloed, TRANSLATION ARCHIVE
Katherine Mansfield
(1888 – 1923)
A Few Rules for Beginners
Babies must not eat the coal
And they must not make grimaces,
Nor in party dresses roll
And must never black their faces.
They must learn that pointing's rude,
They must sit quite still at table,
And must always eat the food
Put before them—if they're able.
If they fall, they must not cry,
Though it's known how painful this is;
No—there's always Mother by
Who will comfort them with kisses.
Katherine Mansfield poetry
fleursdumal.nl magazine
More in: Katherine Mansfield, Mansfield, Katherine
Ondertussen had het lieveheersbeestje dan toch maar gewonnen. Daarom besloot Angela het diertje te bevrijden uit zijn zilveren boeien. Met de scherpe punt van het mes wikkelde zij het kevertje uit de dunne zijden draad, zette het op de rug van haar hand en blies het in de richting van de hemel. Waar het krachtens zijn naam ook thuishoorde. Even spreidde het zijn vleugels uit. Viel toen als een steen naar beneden. Dood.
Blijkbaar was de vreugde over de bevrijding te groot geweest. Een pyrrusoverwinning. Angela knielde bij het lijkje neer. Met het mes groef ze een holletje in het zand, legde daar het ontzielde lichaampje in en veegde het kuiltje dicht. Ze was bang dat de mieren het beestje zouden vinden en het lijkje niet met rust zouden laten. De hele ceremonie had indruk gemaakt op de kinderen, ook al was het leven van een lieveheersbeestje te fragiel om werkelijk bedroefd over te zijn. Kaffa wilde revanche. Jacob had wel zin in nog een spelletje. Hij nam het mes en tekende twee nieuwe landen. Het spel kon opnieuw beginnen.
Als verliezer was Kaffa het eerst aan de beurt. Net wilde hij het mes in het land van Jacob mikken, toen plotseling vanachter de schuur van Chiles Plaats de ezel, die naar het leek dansen kon, het plein kwam oplopen. Op zijn rug de waarzegger. Elysee had één been stijf verpakt in zwachtels, repen jute van een aardappelzak. Terwijl Jacob twee lucifers in de landen legde, trokken de kinderen Azurri zich uit angst terug tot de onmiddellijke omgeving van hun huis. De kraaien stelden zich op rond het bed. De timmerman, die op het kerkdak bezig was met het vernieuwen van rotte spanten, liet van verbazing zijn hamer door het gat in het dak naar beneden vallen. Het op de vloer vallende gereedschap maakte in de holle kerk een kletterend geluid, als van een valse klok. De pastoor schrok ervan. Bijna had hij de timmerman omlaag gevloekt, als hij er niet op het laatste moment aan had gedacht dat wanneer hij echt ruzie kreeg met de man, hijzelf het dak op zou moeten. Elysee bond zijn dier aan een van de struiken in de caféhof. Hij groette de vier kaarters. Die wilden niets van hem weten en keken langs hem heen. Ze waren wel verbaasd over zoveel lef.
Die waarzegger deed net of er de afgelopen ochtend totaal niets op het plein was gebeurd. Hij liep naar het bed van de jongen. De kraaien schrokken van zoveel bluf en kropen bij elkaar. Mistroostig nam de waarzegger de hand van de jongen op. Hij zag dat hier geen toekomst meer te voorspellen was. Bruusk liet hij de hand op de beddensprei vallen en draaide de jongen de rug toe. Lachend, alsof hij haar iets over de toekomst wilde zeggen, greep hij een kraai bij de arm. De vrouw trok zich schreeuwend los en keek naar haar arm alsof ze zich had gebrand. Even leek Elysee van zijn stuk gebracht. Hij herstelde zich echter vlug en liep naar Kaffa en Jacob. Hij zag hoe de oude Ramesz zijn mes in het land van Kaffa gooide, maar al bij de volgende worp van Kaffa weer een groot deel van zijn land verloor. Jacob, die nauwelijks iets wist terug te winnen, zou al vlug verloren hebben als op dit moment de waarzegger het spel geen andere wending had gegeven door het mes uit Jacobs hand te rukken en het goed gericht en uitdagend ver in het land van Kaffa te gooien. Met een triomfantelijk gebaar sneed hij een groot deel van diens gebied af en gooide het mes opnieuw. Terwijl hij inwendig kookte stond Kaffa op, greep het mes en knipte het dicht. Zeer tot ongenoegen van Elysee, die woedend brulde dat hij wilde spelen en om zich heen begon te slaan. Met zijn rauwe schreeuwen hield hij het hele plein in zijn ban. Geen mens bewoog meer. In afwachting van wat er ging gebeuren, bleef iedereen naar de waarzegger kijken. Kaffa voelde zijn hart hoog in de keel kloppen. Hij kon zich slechts met moeite beheersen.
Ton van Reen: Landverbeuren (53)
wordt vervolgd
fleursdumal.nl magazine
More in: - Landverbeuren, Reen, Ton van
William Lisle Bowles
(1762 – 1850)
Evening
Evening! as slow thy placid shades descend,
Veiling with gentlest hush the landscape still,
The lonely battlement, the farthest hill
And wood, I think of those who have no friend;
Who now, perhaps, by melancholy led,
From the broad blaze of day, where pleasure flaunts,
Retiring, wander to the ring-dove's haunts
Unseen; and watch the tints that o'er thy bed
Hang lovely; oft to musing Fancy's eye
Presenting fairy vales, where the tir'd mind
Might rest beyond the murmurs of mankind,
Nor hear the hourly moans of misery!
Alas for man! that Hope's fair views the while
Should smile like you, and perish as they smile!
William Lisle Bowles poetry
fleursdumal.nl magazine
More in: Archive A-B, CLASSIC POETRY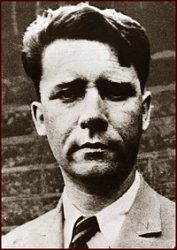 Hendrik Marsman
(1899-1940)
Aan de dood
Dood
neem mij mee.
ik heb hier afgedaan.
ik wil op de rotsen te pletter slaan
en versplintren in open zee…
neem mij mee,
dood.
(Uit: Porta Nigra (1934))
Hendrik Marsman poetry
fleursdumal.nl magazine
More in: Archive M-N, Marsman, Hendrik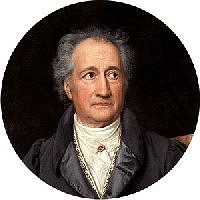 Johann Wolfgang von Goethe
(1749-1832)
Drei Oden
an meinen Freund Behrisch
Erste.
Verpflanze den schönen Baum,
Gärtner! er jammert mich;
Glücklicheres Erdreich
Verdiente der Stamm.
Noch hat seiner Natur Kraft
Der Erde aussaugendem Geize,
Der Luft verderbender Fäulniß,
Ein Gegengift, widerstanden.
Sieh! wie er im Frühling
Lichtgrüne Blätter schlägt;
Ihr Orangenduft
Ist dem Geschmeiße Gift.
Der Raupe tückischer Zahn
Wird stumpf an ihnen,
Es blinkt ihr Silberglanz
Im Sonnenscheine.
Von seinen Zweigen
Wünscht das Mädchen
Im Brautkranze;
Früchte hoffen Jünglinge.
Aber sieh! der Herbst kommt,
Da geht die Raupe,
Klagt der listigen Spinne
Des Baums Unverwelklichkeit.
Schwebend zieht sich
Von ihrer Taxuswohnung
Die Prachtfeindin herüber
Zum wohlthätigen Baum,
Und kann nicht schaden,
Aber die Vielkünstliche
Ueberzieht mit grauem Ekel
Die Silberblätter.
Sieht triumphirend,
Wie das Mädchen schauernd,
Der Jüngling jammernd
Vorübergeht.
Verpflanze den schönen Baum,
Gärtner! er jammert mich.
Baum, danke dem Gärtner,
Der dich verpflanzt!
Zweite.
Du gehst! Ich murre. –
Geh! laß mich murren.
Ehrlicher Mann,
Fliehe dieses Land!
Todte Sümpfe,
Dampfende Octobernebel
Verweben ihre Ausflüsse
Hier unzertrennlich.
Gebärort
Schädlicher Insecten,
Mörderhöhle
Ihrer Bosheit!
Am schilfigten Ufer
Liegt die wollüstige
Flammengezüngte Schlange,
Gestreichelt vom Sonnenstrahl.
Fliehe sanfte Nachtgänge
In der Mondendämmerung,
Dort halten zuckende Kröten
Zusammenkünfte auf Kreuzwegen.
Schaden sie nicht,
Werden sie schrecken. –
Ehrlicher Mann,
Fliehe dieses Land!
Dritte.
Sei gefühllos!
Ein leichtbewegtes Herz
Ist ein elend Gut
Auf der wankenden Erde.
Behrisch! des Frühlings Lächeln
Erheitre deine Stirne nie;
Nie trübt sie dann mit Verdruß
Des Winters stürmischer Ernst.
Lehne dich nie an des Mädchens
Sorgenverwiegende Brust,
Nie auf des Freundes
Elendtragenden Arm.
Schon versammelt,
Von seiner Klippenwarte,
Der Neid auf dich
Den ganzen luchsgleichen Blick,
Dehnt die Klauen,
Stürzt, und schlägt
Hinterlistig sie
Dir in die Schultern.
Stark sind die magern Arme
Wie Pantherarme,
Er schüttelt dich
Und reißt dich los.
Tod ist Trennung!
Dreifacher Tod
Trennung ohne Hoffnung
Wiederzusehn.
Gerne verließest du
Dieses gehaßte Land,
Hielte dich nicht Freundschaft
Mit Blumenfesseln an mir.
Zerreiß sie! Ich klage nicht.
Kein edler Freund
Hält den Mitgefangnen,
Der fliehen kann, zurück.
Der Gedanke
Von des Freundes Freiheit
Ist ihm Freiheit
Im Kerker.
Du gehst, ich bleibe.
Aber schon drehen
Des letzten Jahres Flügelspeichen
Sich um die rauchende Achse.
Ich zähle die Schläge
Des donnernden Rads,
Segne den letzten,
Da springen die Riegel, frei bin ich wie du!
Johann Wolfgang von Goethe poetry
fleursdumal.nl magazine
More in: Archive G-H, Goethe, Johann Wolfgang von
Lucy Maud Montgomery
(1874 – 1942)
You
Only a long, low-lying lane
That follows to the misty sea,
Across a bare and russet plain
Where wild winds whistle vagrantly;
I know that many a fairer path
With lure of song and bloom may woo,
But oh ! I love this lonely strath
Because it is so full of you.
Here we have walked in elder years,
And here your truest memories wait,
This spot is sacred to your tears,
That to your laughter dedicate;
Here, by this turn, you gave to me
A gem of thought that glitters yet,
This tawny slope is graciously
By a remembered smile beset.
Here once you lingered on an hour
When stars were shining in the west,
To gather one pale, scented flower
And place it smiling on your breast;
And since that eve its fragrance blows
For me across the grasses sere,
Far sweeter than the latest rose,
That faded bloom of yesteryear.
For me the sky, the sea, the wold,
Have beckoning visions wild and fair,
The mystery of a tale untold,
The grace of an unuttered prayer.
Let others choose the fairer path
That winds the dimpling valley through,
I gladly seek this lonely strath
Companioned by my dreams of you.
Lucy Maud Montgomery poetry
fleursdumal.nl magazine
More in: Archive M-N, CLASSIC POETRY
Langzaam, als een gans, waggelde Jacob in de richting van Kaffa. Vurig hopend een spelletje mee te mogen doen. Op zijn minst te mogen kijken hoe die gek met het mes werkte. In elk geval niet teruggejaagd te worden. Hij passeerde de kraaien, die moe rond het bed van de jongen hingen. Het kind leek te slapen. Rond zijn mond een lach, of hij zich volkomen tevreden voelde tussen de witte lakens.
Een geluk voor de jongen dat hij nog geen weet had van de dingen die er met hem gingen gebeuren. Zo'n kind had nog geen angst voor de dood. Kaffa zag Jacob op zich afkomen. Hij mikte secuur en gooide het mes in het land van het lieveheersbeestje. In één slag won zijn linkerhand een groot stuk van de rechterhand. Al zijn lef bij elkaar rapend hurkte Jacob bij de landen neer, greep het mes en wierp het krachtig in het land van de libel, waarin het rechtop bleef staan en natrilde. Met de punt van het mes sneed hij een groot stuk van het gebied van de uitgedroogde koning af, ten voordele van het lieveheersbeestje. De koning bleef echter onbedreigd op zijn rug liggen, zijn achttal poten ingekeerd maar krampachtig over zijn borst gevouwen, want het gebied dat Jacob bij zijn volgende worp veroverde, was te klein om van een echte overwinning te spreken. Op zijn beurt won Kaffa een flink stuk terug en voegde dat bij zijn eigen land. Kaffa had weinig moeilijkheden met het spel. Daarom liet hij Jacob maar begaan. In de volgende ronden wist hij zoveel van Jacob te winnen dat diens koning zich nog maar nauwelijks kon handhaven. Voor het lieveheersbeestje zag het er allerberoerdst uit. Het leek te gaan verliezen, hoewel het in de heilzame stralen van de zon lag. En zelfs nog leefde, in tegenstelling tot de libel, die allang dood was.
Plotseling kreeg het lieveheersbeestje hulp van een horde ruiters die, komende vanachter de hak van Kaffa's voet, het land van de libel binnenviel. Het spel lag stil. Vol spanning wachtte men op wat er ging gebeuren. De kinderen Azurri leefden ademloos met het gebeuren mee. Een gevleugelde mierenkoningin richtte haar wapens op de dode koning. De rest van het leger sloot de koning in en liep hem onder de voet. Met hun poten trapten de paarden het lijk van de libel in de richting van het niemandsland. Even later verdween het leger triomfantelijk met de buit achter de hak van Kaffa's rechterschoen. Kaffa's land was stuurloos. Het was of dit Jacob nieuwe kracht gaf. Bij zijn volgende worp wist hij een groot deel van het verspeelde land terug te winnen. Langzaam maar zeker raakte Kaffa het grootste deel van zijn grondgebied kwijt. Verbaasd over het plotselinge herstel van zijn tegenstander raakte Kaffa in de war. Hij aarzelde een moment. Zijn mes viel plat. Jacob sloeg onmiddellijk toe. Op zijn beurt won hij zoveel land van Kaffa dat er geen plaats meer voor diens koning bleef, zo die er nog geweest was. Kaffa had verloren. Door eigen schuld. Een kampioen hoorde zich niet te laten intimideren. Hij had te makkelijk over het spel gedacht nadat het zeker leek dat hij zou winnen.
Ton van Reen: Landverbeuren (52)
wordt vervolgd
fleursdumal.nl magazine
More in: - Landverbeuren, Reen, Ton van
Overvloed
In de naslaap waad ik langzaam water
in. Dat doe ik nooit. Als ik me druipend
afvraag wat ik hier te doen sta verrijs jij.
Met het jonge slanke lichaam dat ik ken
van oude foto's, gekartelrand en al, maar
met het hoofd dat ik zo zachtjes streelde
toen je bijna aan je laatste adem. Weet je
nog? Je glimlacht. "Wat krijgen we nou?
Jij gaf toch helemaal niets om zwemmen,
jongen?" zeg je. En je drukt me nat tegen
je borst die zo op de mijne lijkt. "Dag pa,"
zeg ik. "Dag papa. Waar ben je al die tijd?"
Bert Bevers
Abbondanza
Nel doposogno guado l'acqua lento.
Quello non lo faccio mai. Quando grondante
mi chiedo cosa sto faccendo qui, risorgi tu.
Con quel giovane corpo snello che conosco
da vecchie foto, del tutto orlate da dentelli, ma
con la testa che accarezzavo dolcemente
quando quasi al tuo ultimo respiro. Lo sai
ancora? Sorridi. "Ma cosa ti prende?
Al nuoto non ci tenevi affatto tu,
ragazzo?" dici. E mi stringi bagnato al
tuo petto che tanto assomiglia il mio. "Ciao papa,"
dico. "Ciao papa. Dove sei tutto questo tempo?"
Gedicht Bert Bevers
Vertaald naar het Italiaans door Walter Simons
fleursdumal.nl magazine
More in: Archive A-B, Overvloed, TRANSLATION ARCHIVE
Katharine Tynan
(1859 – 1931)
St. Francis and the Birds
Little sisters, the birds:
We must praise God, you and I­
You, with songs that fill the sky,
I, with halting words.
All things tell His praise,
Woods and waters thereof sing,
Summer, Winter, Autumn, Spring,
And the night and days.
Yea, and cold and heat,
And the sun and stars and moon,
Sea with her monotonous tune,
Rain and hail and sleet,
And the winds of heaven,
And the solemn hills of blue,
And the brown earth and the dew,
And the thunder even,
And the flowers' sweet breath.
All things make one glorious voice;
Life with fleeting pains and joys,
And our brother, Death.
Little flowers of air,
With your feathers soft and sleek,
And your bright brown eyes and meek,
He hath made you fair.
He hath taught to you
Skill to weave in tree and thatch
Nests where happy mothers hatch
Speckled eggs of blue.
And hath children given:
When the soft heads overbrim
The brown nests, then thank ye Him
In the clouds of heaven.
Also in your lives
Live His laws Who loveth you.
Husbands, be ye kind and true;
Be home-keeping, wives:
Love not gossiping;
Stay at home and keep the nest;
Fly not here and there in quest
Of the newest thing.
Live as brethren live:
Love be in each heart and mouth;
Be not envious, be not wroth,
Be not slow to give.
When ye build the nest,
Quarrel not o'er straw or wool;
He who hath be bountiful
To the neediest.
Be not puffed nor vain
Of your beauty or your worth,
Of your children or your birth,
Or the praise ye gain.
Eat not greedily:
Sometimes for sweet mercy's sake,
Worm or insect spare to take;
Let it crawl or fly.
See ye sing not near
To our church on holy day,
Lest the human-folk should stray
From their prayers to hear.
Now depart in peace:
In God's name I bless each one;
May your days be long i' the sun
And your joys increase.
And remember me,
Your poor brother Francis, who
Loves you and gives thanks to you
For this courtesy.
Sometimes when ye sing,
Name my name, that He may take
Pity for the dear song's sake
On my shortcoming.
Katharine Tynan poetry
fleursdumal.nl magazine
More in: Archive S-T, CLASSIC POETRY
Sidney Lanier
(1842 – 1881)
The Mocking-bird
Superb and sole, upon a plumed spray
That o'er the general leafage boldly grew,
He summ'd the woods in song; or typic drew
The watch of hungry hawks, the lone dismay
Of languid doves when long their lovers stray,
And all birds' passion-plays that sprinkle dew
At morn in brake or bosky avenue.
What e'er birds did or dreamed, this bird could say.
Then down he shot, bounced airily along
The sward, twitched in a grasshopper, made song
Midflight, perched, prinked, and to his art again.
Sweet Science, this large riddle read me plain:
How may the death of that dull insect be
The life of yon trim Shakspere on the tree?
1877
Sidney Lanier poetry
fleursdumal.nl magazine
More in: Archive K-L, CLASSIC POETRY
Don Marquis
(1878 – 1937)
A Politician
Leader no more, be judged of us!
Hailed Chief, and loved, of yore—
Youth, and the faith of youth, cry out:
Leader and Chief no more!
We dreamed a Prophet, flushed with faith,
Content to toil in pain
If that his sacrifice might be,
Somehow, his people's gain.
We saw a vision, and our blood
Beat red and hot and strong:
"Lead us (we cried) to war against
Some foul, embattled wrong!"
We dreamed a Warrior whose sword
Was edged for sham and shame;
We dreamed a Statesman far above
The vulgar lust for fame.
We were not cynics, and we dreamed
A Man who made no truce
With lies nor ancient privilege
Nor old, entrenched abuse.
We dreamed . . . we dreamed . . . Youth dreamed
a dream!
And even you forgot
Yourself, one moment, and dreamed, too—
Struck, while your mood was hot!
Struck three or four good blows . . . and then
Turned back to easier things:
The cheap applause, the blatant mob,
The praise of underlings!
Praise . . . praise . . . was ever man so filled,
So avid still, of praise?
So hungry for the crowd's acclaim,
The sycophantic phrase?
O you whom Greatness beckoned to . . .
O swollen Littleness
Who turned from Immortality
To fawn upon Success!
O blind with love of self, who led
Youth's vision to defeat,
Bawling and brawling for rewards,
Loud, in the common street!
O you who were so quick to judge—
Leader, and loved, of yore—
Hear now the judgment of our youth:
Leader and Chief no more!
Don Marquis poetry
fleursdumal.nl magazine
More in: Archive M-N, CLASSIC POETRY
Thank you for reading FLEURSDUMAL.NL - magazine for art & literature