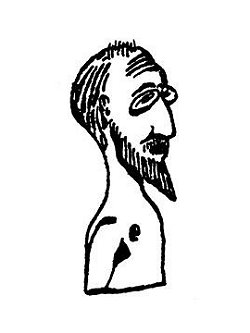 Erik Satie
(1866 – 1925)
Le Réveil de la Mariée
Arrivée du cortège.
Appels.
Levez-vous !
Guitares faites avec de vieux chapeaux.
Un chien danse avec sa fiancée.
16 mai 1914
Erik Satie Le Réveil de la Mariée
fleursdumal.nl magazine
More in: Archive S-T, Erik Satie, Satie, Erik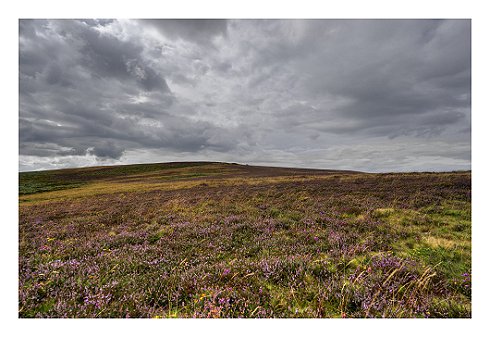 Hans Hermans © photos: History of  Britain ( Exmoor National Park, near Porlock 2014)
fleursdumal.nl magazine
More in: Hans Hermans Photos, History of Britain, Photography

Ze leken die teerhartigheid van hun moeder te hebben geërfd. Die kon ook geen bloed zien. Ze kwam nooit ofte nimmer in de slagerij. Om de meiden te verjagen knipte Azurri de staart van het varken en aaide hen onverwachts met de vette krul door het gezicht. Geschrokken gingen ze ervandoor, woedend om de vuile streek van hun vader. De man lachte vrolijk om de verontwaardigde gezichten van de kleine meisjes. Daarbij trok hij zijn bek breed open, van oor tot oor, alsof zijn mondhoeken waren uitgesneden. De kinderen zochten een plaats bij de pompbak. Hand in hand op de granieten rand gezeten fluisterden ze elkaar steeds gemenere scheldwoorden voor hun vader in het oor.
De aandacht van de meisjes Azurri werd afgeleid door de melkkar die het plein op hobbelde. Ze holden eropaf. Terwijl de kar even stilstond en de voerman de volle melkbussen oplaadde, aaiden de kinderen de sullige paarden van het tweespan over hun bestofte koppen. Ze spraken hen toe, alsof ze hen wilden opbeuren, om hen bestand te doen zijn tegen hun dagelijkse slavenarbeid. Maar de beesten werden koud noch warm van de liefkozingen. Ze hadden alleen donkere dingen in hun kop. Het gewicht van de kar. Het verrekte bit in hun mond. Het grote aantal kilometers dat ze elke dag moesten afleggen tussen de dorpen en de melkfabriek. Het was eigenlijk te veel gevraagd voor de twee versleten hengsten.
Omdat de voerman zijn route binnen een vastgestelde tijd moest rijden, kregen ze dan ook voortdurend ransel. De strepen van de zweep liepen dik over hun magere ruggen. En ze hadden geen tijd om te vreten. Gras kregen ze zelden te zien en van haver mochten ze alleen dromen. Ook Kaffa had met de beesten te doen. Hij kon het leed van de paarden niet aanzien en wendde zijn blik van hen af. Hij wist dat hij niets aan hun toestand kon veranderen. In zichzelf grommend ging hij verder met het spel en wierp het mes met zoveel kracht dat het tot aan het heft in de grond verdween. Vanuit het café zag Céleste Kaffa's woede. Even dacht ze erover naar hem toe te gaan, om hem te kalmeren, maar ze begreep dat het beter voor hem was als hij uit zichzelf tot rust kon komen.
Ze hoorde haar vader de trap af stommelen en het vuur in het fornuis oprakelen. Hij hoestte of hij elk moment de pijp uit kon gaan. Zo hoestte hij elke ochtend en al jarenlang. Je zag hem nooit zonder sigaret. Even verscheen hij in de deur van de keuken, bromde iets onduidelijks en ging verder met het opstoken van het vuur. De keuken was het domein van de kastelein. Hij verbleef er het grootste deel van de dag. Hij had toch niet veel meer te doen dan voor zijn eigen eten zorgen. Hoogst zelden kwam het voor dat hij iets klaar moest maken voor zijn klanten. Meer en meer liet hij het werk in het café over aan zijn dochter, terwijl hijzelf koffie met cognac zoop en het vuur stookte, onverschillig of het zomer of winter was. Vroeger had hij zich met alles en iedereen bemoeid, maar de laatste tijd trok hij zich steeds meer terug. Hij wist dat velen hem niet mochten. Dat was zijn eigen schuld. Hij was er een van het soort voor wie alleen geld telde, de rest kwam er niet zo op aan. Al was hij altijd een goed kastelein geweest, wat schenken betrof, toen hij nog achter de bar stond. Hij kon een glas bier met het schuim precies twee vingers breed op de toog zetten en zijn glazen jenever waren tot de rand toe gevuld, maar hij had de mensen vaker dronken gevoerd dan ze zelf wel wilden. En dikwijls had hij hen te veel laten betalen, al wist hij het achteraf steeds als een vergissing te verkopen als iemand erachter was gekomen. Wat de mensen van hem zeiden, was hem allemaal geen zorg meer.
Ton van Reen: Landverbeuren (15)
wordt vervolgd
fleursdumal.nl magazine
More in: - Landverbeuren, Reen, Ton van
Ben Jonson
(1573-1637)
Come, My Celia
Come, my Celia, let us prove
While we may, the sports of love;
Time will not be ours forever;
He at length our good will sever.
Spend not then his gifts in vain.
Suns that set may rise again;
But if once we lose this light,
'Tis with us perpetual night.
Why should we defer our joys?
Fame and rumor are but toys.
Cannot we delude the eyes
Of a few poor household spies,
Or his easier ears beguile,
So removed by our wile?
'Tis no sin love's fruit to steal;
But the sweet theft to reveal.
To be taken, to be seen,
These have crimes accounted been.
Ben Jonson poetry
fleursdumal.nl magazine
More in: Archive I-J, CLASSIC POETRY
B e r t
B e v e r s
Caleidoscoop
Bij de grafiek van Gerrit Westerveld
Rustig drukker duwt hij zijn vormen
papier op geestdriftig in wachtende kleuren.
Alle lagen zijn hem hiervan even lief.
Hij plet ze zacht totdat het vierkant staat.
Dit werk kent slechts zijn eigen normen,
tolt zich de blik in als draaiende deuren
gelijk open in een waaierend perspectief
en gesloten als een kermis bij dageraad.
Bert Bevers
(uit Onaangepaste tijden, Uitgeverij Zinderend, Bergen op Zoom, 2006)
fleursdumal.nl magazine
More in: Archive A-B, Bevers, Bert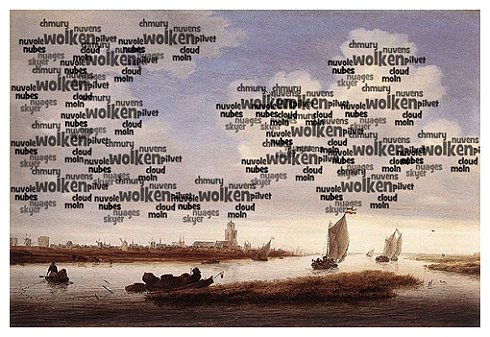 Mathias Jansson: Multi-language cloud-painting after Salomon van Ruisdael, "View of Deventer Seen from the North-West" (1657)
Mathias Jansson is a Swedish art critic and poet. He has contributed with visual poetry to magazines as Lex-ICON, Anatematiskpress, Quarter After #4 and Maintenant 8: A Journal of Contemporary Dada. He has also published a chapbook at this is visual poetry and contributed with erasure poetry to anthologies from Silver Birch Press.
Homepage: http://mathiasjansson72.blogspot.se/ and http://wordshavenoeyes.blogspot.se/
 fleursdumal.nl magazine
More in: *Concrete + Visual Poetry F-J, Jansson, Mathias, Mathias Jansson, Mathias Jansson, Visual & Concrete Poetry
Emma Crebolder's bundel Verzoenen (2014) heeft een ' lekker stoute' ondertoon net als haar bundels Vallen (2010) en Vergeten (2010). Deze drie titels stralen samen een ouderdomsproblematiek uit. Zo 'n thema is echter een te voor de hand liggende gemene deler. Er zit veel meer in deze bundels, want er heerst namelijk een erotische geladenheid die je als lezer niet vanzelfsprekend verwacht. Crebolder vrijt talig bij voorkeur in de zee en met grote ogen gericht op andere levende wezens zoals een aardworm, eekhoorns, naaktslakken en chimpansees.
De verandering van naam zodra een vrouw in het huwelijk treedt is iets waar ook zij zich mee moest verzoenen als vrouw van haar tijd. Een naamsverandering is een talige en soms dramatische ingreep in het privé leven waar mannen zich weinig bij kunnen voorstellen. Crebolder verzoent zich hier heel verleidelijk mee. Ze schrijft op p.27 in Verzoenen:
Door aanhuwen werd ik verdoopt
zoals mijn moeder en haar moeder
andermans naam gingen dragen.
Ik leef met de naam, lig erop, hang
hem over mijn schouders, verleid
hem zich thuis te voelen.
Ook in Vergeten (eerste bundel in deze serie, p.13) schreef ze al:
… Wat we verloren raakten is
geen naam, het zijn bijeengedreven veren.
Er hoort een woord omheen dat zit als
een condoom, strak denk ik. Ruim voorin.
Hoe erotisch, hoe seksueel kan een naam zijn – verzoening met haar eigen naam maar ook het terugvinden van vergeten namen. Verleiding is een merkteken van Crebolder. Waar wil je een betere "pick up line" vinden dan in de volgende regel uit Vergeten (p.45)?:
Wat moet ik je geven om je aan
mij uit te lenen?
In het slot van hetzelfde gedicht zijn de chimpansees een metafoor voor haar en haar gerenommeerde metgezel als ze zich herinnert:
Later zou het vlooien beginnen
en het tuiten van de lippen.
Eerder in Vergeten beschrijft Crebolder de naaktslakken als obscene kronkeltuigen die haar Oost-Indische kers vreten. Even aards gaat het eraan toe in de jongste bundel Verzoenen. Ze schrijft dat ze bij een aardworm wil liggen om goed voor eeuwig te kunnen slapen. In de wereld van de oudjes zag ze dat een kus als een hommel tegen een raam aan vliegt. Ze roept iedereen op hun kikkervisjes te delen. Ze hoort een meerkoet blurb (een van vele neologismen in haar woordenschat), terwijl de wind in de populieren jachtig tekeer gaat. Parende eekhoorns in Vallen worden in haar ogen spookacrobaten waar alleen zij van weet, maar die ze nooit zag. Crebolder beschrijft deze onderbuik activiteiten in de dierenwereld als getuigschriften.
Dezelfde verholen onderbuik gevoelens draagt ze over op de vormen van wolken, een losgeslagen tak en zelfs op de wind in Verzoenen, p.11:
Zoals bij het verholen vrijen
de contouren wijken, dijen
de lijnen uit…
Een van de laatste gedichten in Vergeten op p. 53 is ultiem erotisch. Le petit mort dringt tijdens de climax door tot in de oogballen van het vrijende paar. De ontnuchtering is zo na aan de roes.
… We schuiven als paar in
elkaar tot de oogbol verschiet. Terwijl
het nog zacht nasneeuwt onder ons vel
ligt het juk al klaar. Misleid zijn we wel.
In alle drie de bundels zijn de laatste gedichten op pagina vijf en vijftig. Het slotgedicht in Vallen gaat ook over verleiding en vooral over de onverwachte vormen van verleiding. Dit resoneert door de bundel.
Het wordt niet neervallen
maar paarsgewijs wentelen.
Uiteindelijke is het vooral de stem van de zee die alle taalvermogens waarover Crebolder beschikt, uitdaagt. De zee is er bij eb en de zee is er bij vloed. Zwem- en waterbeelden stromen door deze bundels. In Vergeten (p.41) herinnert ze zich hoe het is om als kind in de zee te zwemmen:
De zee weet niet wat ze met ons deed.
Ze spreidt een waaier van schuim
over ons. We bewegen als kikkers
in haar.
Het is alsof de zee haar alfa en omega is. Cyclussen als getijden, geboorte en dood, dat zijn de ijkpunten van de liefde uit de zee die overgaat op het land in Verzoenen (p. 19):
Zeezout heb ik ingenomen
en watervruchten afgepeld.
In zeewier ben ik verzonken
toen langszij kleine vissen
onverstoorbaar verder zwommen.
Vanuit mijn vooronder kan ik nu
eindelijk het verre bovenlicht begroeten.
En ergens verholen zoekt nog één tentakel na haar verholen schacht. De dood kondigt zich aan op p.49. Misschien als een herinnering aan de oorsprong?
Definitief de zee in lopen
en vervluchtigen in de geliefde.
Dit gedicht doet me denken aan Ingrid Jonker die doodongelukkig in de liefde de zee inliep bij Drieankerbaai. Zij was een talentvolle Afrikaanstalige dichter en stierf voortijdig op 35-jarige leeftijd. Bij Crebolder is het echter geen wanhoopsdaad. Nee. Bij haar wordt de liefde verzoend met het zout; is liefde, is erotiek een vorm van verzilting.
…Mijn uitvaart
stel ik me soms zo voor.
…Aan scherven verwond ik me.
Ik kom. Zijn zout zal me genezen.
Niet alle erotische verwijzingen in haar laatste drie bundels zijn hiermee besproken. De liefdevolle energie en vitaliteit siddert na om haar te voeren naar weer nieuwe getijden met "de oude zee verderop" die nog steeds "in vloeiende zinnen" spreekt. Crebolder opponeert met hartstocht het contrapunt van het leven: niet een "sadder but wiser girl", maar vrolijk 'wiser and wetter'.
Carina van der Walt
 Carina Van der Walt: Erotiek in de poëzie van Emma Crebolder.  Fotoportret van Emma Crebolder door  Carina van der Walt (2014)
fleursdumal.nl magazine
More in: Archive C-D, Archive W-X, Crebolder, Emma, Walt, Carina van der
Jeroen Brouwers (1940), oud- AKO Literatuurprijswinnaar, viert met zijn nieuwste langverwachte roman 'Het hout', zijn vijftig jarige schrijverschap.
Hierin beschrijft hij een door kloosterlingen geleid jongenspensionaat in de jaren vijftig van de vorige eeuw. In het jongenspensionaat vinden sadisme, sexueel misbruik en vernedering plaats.
Jeroen Brouwers
VPRO Boeken
zondag 28 december 2014
NPO 1, 11.20 uur
fleursdumal.nl magazine
More in: - Book News, Archive A-B, Jeroen Brouwers
Amy Lowell
(1874-1925)
Patterns
I walk down the garden-paths,
And all the daffodils
Are blowing, and the bright blue squills.
I walk down the patterned garden-paths
In my stiff, brocaded gown.
With my powdered hair and jeweled fan,
I too am a rare
Pattern. As I wander down
The garden-paths.
My dress is richly figured,
And the train
Makes a pink and silver stain
On the gravel, and the thrift
Of the borders.
Just a plate of current fashion,
Tripping by in high-heeled, ribboned shoes.
Not a softness anywhere about me,
Only whalebone and brocade.
And I sink on a seat in the shade
Of a lime tree. For my passion
Wars against the stiff brocade.
The daffodils and squills
Flutter in the breeze
As they please.
And I weep;
For the lime-tree is in blossom
And one small flower has dropped upon my bosom.
And the splashing of waterdrops
In the marble fountain
Comes down the garden-paths.
The dripping never stops.
Underneath my stiffened gown
Is the softness of a woman bathing in a marble basin,
A basin in the midst of hedges grown
So thick, she cannot see her lover hiding,
But she guesses he is near,
And the sliding of the water
Seems the stroking of a dear
Hand upon her.
What is Summer in a fine brocaded gown!
I should like to see it lying in a heap upon the ground.
All the pink and silver crumpled up on the ground.
I would be the pink and silver as I ran along the paths,
And he would stumble after,
Bewildered by my laughter.
I should see the sun flashing from his sword-hilt and the buckles on his shoes.
I would choose
To lead him in a maze along the patterned paths,
A bright and laughing maze for my heavy-booted lover.
Till he caught me in the shade,
And the buttons of his waistcoat bruised my body as he clasped me,
Aching, melting, unafraid.
With the shadows of the leaves and the sundrops,
And the plopping of the waterdrops,
All about us in the open afternoon–
I am very like to swoon
With the weight of this brocade,
For the sun sifts through the shade.
Underneath the fallen blossom
In my bosom,
Is a letter I have hid.
It was brought to me this morning by a rider from the Duke.
"Madam, we regret to inform you that Lord Hartwell
Died in action Thursday se'nnight."
As I read it in the white, morning sunlight,
The letters squirmed like snakes.
"Any answer, Madam," said my footman.
"No," I told him.
"See that the messenger takes some refreshment.
No, no answer."
And I walked into the garden,
Up and down the patterned paths,
In my stiff, correct brocade.
The blue and yellow flowers stood up proudly in the sun,
Each one.
I stood upright too,
Held rigid to the pattern
By the stiffness of my gown.
Up and down I walked,
Up and down.
In a month he would have been my husband.
In a month, here, underneath this lime,
We would have broke the pattern;
He for me, and I for him,
He as Colonel, I as Lady,
On this shady seat.
He had a whim
That sunlight carried blessing.
And I answered, "It shall be as you have said."
Now he is dead.
In Summer and in Winter I shall walk
Up and down
The patterned garden-paths
In my stiff, brocaded gown.
The squills and daffodils
Will give place to pillared roses, and to asters, and to snow.
I shall go
Up and down
In my gown.
Gorgeously arrayed,
Boned and stayed.
And the softness of my body will be guarded from embrace
By each button, hook, and lace.
For the man who should loose me is dead,
Fighting with the Duke in Flanders,
In a pattern called a war.
Christ! What are patterns for?
Amy Lowell poetry
fleursdumal.nl magazine
More in: CLASSIC POETRY
The Sorrows of Young Werther (73 = The end) by J.W. von Goethe

The house, the neighbourhood, and the whole town were immediately in
commotion. Albert arrived. They had laid Werther on the bed: his head
was bound up, and the paleness of death was upon his face. His limbs
were motionless; but he still breathed, at one time strongly, then
weaker--his death was momently expected.

He had drunk only one glass of the wine. "Emilia Galotti" lay open upon
his bureau.

I shall say nothing of Albert's distress, or of Charlotte's grief.


The old steward hastened to the house immediately upon hearing the news:
he embraced his dying friend amid a flood of tears. His eldest boys
soon followed him on foot. In speechless sorrow they threw themselves on
their knees by the bedside, and kissed his hands and face. The eldest,
who was his favourite, hung over him till he expired; and even then he
was removed by force. At twelve o'clock Werther breathed his last. The
presence of the steward, and the precautions he had adopted, prevented
a disturbance; and that night, at the hour of eleven, he caused the body
to be interred in the place which Werther had selected for himself.

The steward and his sons followed the corpse to the grave. Albert was
unable to accompany them. Charlotte's life was despaired of. The body
was carried by labourers. No priest attended.


THE END

The Sorrows of Young Werther (Die Leiden des jungen Werther) by J.W. von Goethe. 
Translated by R.D. Boylan.
fleursdumal.nl magazine
More in: -Die Leiden des jungen Werther, Goethe, Johann Wolfgang von
Christina Rossetti
(1830-1894)
A Hymn For Christmas Day
The Shepherds watch their flocks by night,
Beneath the moon's unclouded light,
All around is calm and still,
Save the murm'ring of the rill:
When lo! a form of light appears,
And on the awe-struck Shepherds' ears
Are words, of peace and comfort flowing
From lips with love celestial glowing.
Spiritual forms are breaking
Through the gloom, their voices taking
Part in the adoring song
Of the bright angelic throng.
Wondering the Shepherds bend
Their steps to Bethlehem, and wend
To a poor and crowded inn: –
Tremblingly their way they win
To the stable, where they find
The Redeemer of mankind,
Just born into this world of danger,
Lying in an humble manger.
And they spread abroad each word
Which that joyful night they'd heard,
And they glorified the name
Of their gracious God, Who came
Himself to save from endless woe
The offspring of this world below.
Source: The Complete Poems of Christina Rossetti, Vol. 3, p. 122, R. W. Crump, ed. (Penguin, 2001).  Photo Hans Hermans @2010
fleursdumal.nl magazine
More in: Archive Q-R, Rossetti, Christina
Aline (Murray) Kilmer
(1888-1941)
If I Had loved You More
If I had loved you more God would have had pity;
He would never have left me here in this desolate place,
Left me to go on my knees to the door of Heaven
Crying in vain for a little sight of your face.
How could I know that the earth would be dark without you?
For you were always the lover and I the friend.
Now if there were any hope that I might find you
I would go seeking you to the world's end.
"God is a jealous God. You have loved too wildly,
You have loved too well!" one said.
I bowed my head, but my heart in scorn was crying
That you whom I had not loved enough are dead.
I look on my heart and see it is hard and narrow,
That my loves are slight and last but a little space.
But why do I go on my knees to the door of Heaven
Crying for only a little sight of your face?
Aline Kilmer poetry
fleursdumal.nl magazine
More in: Archive M-N, CLASSIC POETRY
Thank you for reading FLEURSDUMAL.NL - magazine for art & literature