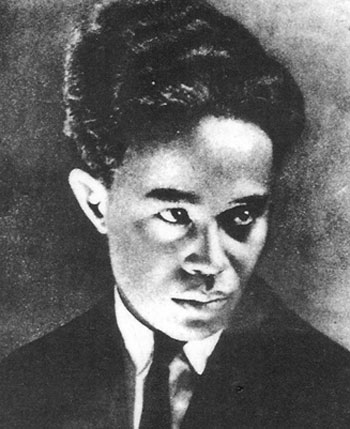 Le poème
Paroles pour chant, dis-tu, paroles pour chant,
ô langue de mes morts,
paroles pour chant, pour désigner
les idées que l'esprit a depuis longtemps conçues
et qui naissent enfin et grandissent
avec des mots pour langes –
des mots lourds encore de l'imprécision de l'alphabet,
et qui ne peuvent pas encore danser avec le vocabulaire,
n'étant pas encore aussi souples que les phrases ordonnées,
mais qui chantent déjà aux lèvres
comme un essaim de libellules bleues au bord d'un fleuve
salue le soir.
Paroles pour chant, dis-tu, paroles pour chant,
paroles pour chant, pour désigner
le frêle écho du chant intérieur
qui s'amplifie et retentit,
tentant de charmer le silence du livre
et les landes de la mémoire,
ou les rives désertes des lèvres
et l'angoisse des cœurs.
Et les paroles deviennent de plus en plus vivantes,
que tu croyais en quête du Chant ;
mais elles deviennent aussi de plus en plus fluides et ténues,
comme cette brise qui vient des palmiers lointains
pour mourir sur les cimes sourcilleuses.
Elles deviennent davantage des chants,
elles deviennent elles-mêmes – ce qu'elles ont toujours été
jusqu'ici, en vérité.
Et je voudrais changer, je voudrais rectifier
et dire :
chants en quête de paroles
pour peupler le silence du livre
et planter les landes de la mémoire,
ou pour semer des fleurs aux rives désertes des lèvres
et délivrer les cœurs,
ô langue de mes morts
qui te modules aux lèvres d'un vivant
comme les lianes qui fleurissent les tombeaux.
Jean-Joseph Rabearivelo
(1901? 1903? – 1937)
Le poème (poème)
• fleursdumal.nl magazine
More in: Archive Q-R, Archive Q-R, Jean-Joseph Rabearivelo
The highly anticipated new biography of Sylvia Plath that focuses on her remarkable literary and intellectual achievements, while restoring the woman behind the long-held myths about her life and art.
With a wealth of never-before-accessed materials–including unpublished letters and manuscripts; court, police, and psychiatric records; and new interviews–Heather Clark brings to life the brilliant daughter of Wellesley, Massachusetts.
Sylvia Plath had poetic ambition from a very young age and was an accomplished, published writer of poems and stories even before she became a star English student at Smith College in the early 1950s. Determined not to read Plath's work as if her every act, from childhood on, was a harbinger of her tragic fate, Clark here evokes a culture in transition, in the shadow of the atom bomb and the Holocaust, as she explores Plath's world: her early relationships and determination not to become a conventional woman and wife; her conflicted ties to her well-meaning, widowed mother; her troubles at the hands of an unenlightened mental-health industry; her Cambridge years and thunderclap meeting with Ted Hughes, a marriage of true minds that would change the course of poetry in English; and much more.
Clark's clear-eyed sympathy for Hughes, his lover Assia Wevill, and the other demonized players in the arena of Plath's suicide promotes a deeper understanding of her final days, with their outpouring of first-rate poems. Along with illuminating readings of the poems themselves, Clark's meticulous, compassionate research brings us closer than ever to the spirited woman and visionary artist who blazed a trail that still lights the way for women poets the world over.
Heather Clark earned her bachelor's degree in English Literature from Harvard University and her doctorate in English from Oxford University. Her awards include a National Endowment for the Humanities Public Scholar Fellowship; a Leon Levy Biography Fellowship at the City University of New York; and a Visiting U.S. Fellowship at the Eccles Centre for American Studies, British Library. A former Visiting Scholar at the Oxford Centre for Life-Writing, she is the author of The Grief of Influence: Sylvia Plath and Ted Hughes and The Ulster Renaissance: Poetry in Belfast 1962-1972. Her work has appeared in publications including Harvard Review and The Times Literary Supplement, and she recently served as a consultant for the BBC documentary Sylvia Plath: Life Inside the Bell Jar. She divides her time between Chappaqua, New York, and Yorkshire, England, where she is Professor of Contemporary Poetry at the University of Huddersfield.
Red Comet
The Short Life and Blazing Art of Sylvia Plath
By Heather Clark
Hardcover
1152 Pages
$40.00
Oct 06, 2020
ISBN 9780307961167
Published by Knopf
$40.00
# new biography
• fleursdumal.nl magazine
More in: #Biography Archives, - Archive Tombeau de la jeunesse, - Book Lovers, - Book News, Archive C-D, Archive G-H, Archive O-P, Archive O-P, Plath, Sylvia
Tussen zijn vijftiende en twintigste droomde Frans Kellendonk (1951-1990), naderhand uitgegroeid tot een van de belangrijkste schrijvers van zijn generatie, niet alleen van literaire roem, hij ambieerde ook een carrière als singer-songwriter. Hij schreef tientallen liedjes, zijn vriend Leonard de Vos maakte er de muziek bij.
Met de begeleidende brieven en fragmenten uit zijn bijdragen aan diverse schoolkranten van het Nijmeegse Dominicuscollege geven Kellendonks liedjes een authentiek beeld van het puberbestaan tijdens de jaren zestig. Het was de periode waarin Bob Dylan furore maakte, de Amerikaanse bemoeienis met Vietnam op wereldwijde protesten stuitte en de anti-autoritaire provobeweging de Hollandse huiskamers danig wist te choqueren.
Jong in de jaren zestig roept de sfeer op van bevlogen jongeren in tijden van sociale en culturele veranderingen.
Jaap Goedegebuure (1947), emeritus hoogleraar en literatuurcriticus, publiceerde in 2018 de positief ontvangen biografie van Frans Kellendonk. Eerder maakte hij met Oek de Jong een uitgave van Frans Kellendonks brieven, en bezorgde hij (met Rick Honings) een uitgebreide editie van Kellendonks Verzameld werk.
Jaap Goedegebuure
Jong in de jaren zestig
De muziek van Frans Kellendonk
Uitgever: Querido
Publicatiedatum: 02-04-2020
ISBN: 9789021421520
NUR: 320
156 pagina's
Paperback
Prijs: € 15,00
# new books
fleursdumal.nl magazine
More in: # Music Archive, - Book News, - Book Stories, Archive G-H, Archive K-L, AUDIO, CINEMA, RADIO & TV, Frans Kellendonk, Jaap Goedegebuure
Courtisane
Mes bras se sont ouverts et se sont refermés,
J'ai bu tous les poisons aux coupes exaltantes,
Et si c'est un péché d'avoir beaucoup aimé,
Je veux le premier rang parmi les pénitentes!
Les plaisirs de la chair, se sont sur moi, posés,
La lèvre m'a meurtrie et la dent m'a blessée,
Je porte avec orgueil la trace des baisers,
Je n'ai rien désiré que d'être caressée.
Je ne regrette pas les beaux soirs innocents,
La calme pureté des coeurs de jeunes filles,
Moi qui ne peux calmer la fièvre de mon sang,
Ni l'éclair de mes yeux, quand la voolupté brille.
De l'amour prodigué le long des jours passés,
Des baisers pénétrants, sur les lèvres que j'aime,
De ces morceaux de fleurs, entre mes doigts froissés,
J'ai fait un pur collier de perles et de gemmes.
Je porte fièrement ce mystique joyau,
Dont l'éternel éclat me brûle jusqu'à l'âme:
Moi; que l'amour aura marquée à mon berceau,
J'entraîne vers sa loi, le cortège des femmes.
Emilienne d'Alençon
(1869-1946)
Courtisane
• fleursdumal.nl magazine
More in: Archive A-B, Archive A-B, d'Alençon, Émilienne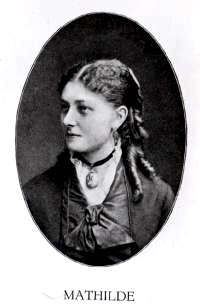 Aan Mathilde
Wanneer de moeder van het licht weêr licht,
En voor heur goud den zwarten mist doet wijken,
Dan laat ze 'er stralen langs de bloemen strijken,
En dankbaar doet elk bloemeke zijn plicht.
Zoodra de bloem de lieve zon ziet prijken,
Dan wolkt ze wierook op in wolken dicht,
En geurenmoeder wordt het moederlicht…
Ik moet, Mathilde, u aan de zon gelijken!
Gij zijt de moeder van deez' liederkrans:
Gij hebt dien met uw zonneblik geschapen
In 't zwarte hart; zoo 't glanst, 't is door úw glans.
Met uwe bloemen krans ik u de slapen,
Uw eigen schepping leg ik om uw hoofd;
Zoo zij uw naam voor eeuwiglijk geloofd! –
Jacques Perk
(1859 – 1881)
Aan Mathilde
• fleursdumal.nl magazine
More in: Archive O-P, CLASSIC POETRY, Jacques Perk
Die junge Magd
1
Oft am Brunnen, wenn es dämmert,
Sieht man sie verzaubert stehen
Wasser schöpfen, wenn es dämmert.
Eimer auf und niedergehen.
In den Buchen Dohlen flattern
Und sie gleichet einem Schatten.
Ihre gelben Haare flattern
Und im Hofe schrein die Ratten.
Und umschmeichelt von Verfalle
Senkt sie die entzundenen Lider.
Dürres Gras neigt im Verfalle
Sich zu ihren Füßen nieder.
2
Stille schafft sie in der Kammer
Und der Hof liegt längst verödet.
Im Hollunder vor der Kammer
Kläglich eine Amsel flötet.
Silbern schaut ihr Bild im Spiegel
Fremd sie an im Zwielichtscheine
Und verdämmert fahl im Spiegel
Und ihr graut vor seiner Reine.
Traumhaft singt ein Knecht im Dunkel
Und sie starrt von Schmerz geschüttelt.
Röte träufelt durch das Dunkel.
Jäh am Tor der Südwind rüttelt.
3
Nächtens übern kahlen Anger
Gaukelt sie in Fieberträumen.
Mürrisch greint der Wind im Anger
Und der Mond lauscht aus den Bäumen.
Balde rings die Sterne bleichen
Und ermattet von Beschwerde
Wächsern ihre Wangen bleichen.
Fäulnis wittert aus der Erde.
Traurig rauscht das Rohr im Tümpel
Und sie friert in sich gekauert.
Fern ein Hahn kräht. Übern Tümpel
Hart und grau der Morgen schauert.
4
In der Schmiede dröhnt der Hammer
Und sie huscht am Tor vorüber.
Glührot schwingt der Knecht den Hammer
Und sie schaut wie tot hinüber.
Wie im Traum trifft sie ein Lachen;
Und sie taumelt in die Schmiede,
Scheu geduckt vor seinem Lachen,
Wie der Hammer hart und rüde.
Hell versprühn im Raum die Funken
Und mit hilfloser Geberde
Hascht sie nach den wilden Funken
Und sie stürzt betäubt zur Erde.
5
Schmächtig hingestreckt im Bette
Wacht sie auf voll süßem Bangen
Und sie sieht ihr schmutzig Bette
Ganz von goldnem Licht verhangen.
Die Reseden dort am Fenster
Und den bläulich hellen Himmel.
Manchmal trägt der Wind ans Fenster
Einer Glocke zag Gebimmel.
Schatten gleiten übers Kissen,
Langsam schlägt die Mittagsstunde
Und sie atmet schwer im Kissen
Und ihr Mund gleicht einer Wunde.
6
Abends schweben blutige Linnen,
Wolken über stummen Wäldern,
Die gehüllt in schwarze Linnen,
Spatzen lärmen auf den Feldern.
Und sie liegt ganz weiß im Dunkel.
Unterm Dach verhaucht ein Girren.
Wie ein Aas in Busch und Dunkel
Fliegen ihren Mund umschwirren.
Traumhaft klingt im braunen Weiler
Nach ein Klang von Tanz und Geigen,
Schwebt ihr Antlitz durch den Weiler,
Weht ihr Haar in kahlen Zweigen.
Georg Trakl
(1887 – 1914)
Die junge Magd
Der Brenner, 3. Jg. (1913)
• fleursdumal.nl magazine
More in: - Archive Tombeau de la jeunesse, Archive S-T, Trakl, Georg, Trakl, Georg, WAR & PEACE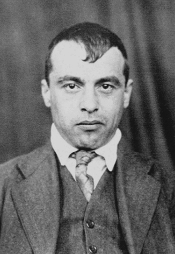 Morgens
Ein starker Wind sprang empor.
Öffnet des eisernen Himmels blutende Tore.
Schlägt an die Türme.
Hellklingend laut geschmeidig über die eherne Ebene der Stadt.
Die Morgensonne rußig. Auf Dämmen donnern Züge.
Durch Wolken pflügen goldne Engelpflüge.
Starker Wind über der bleichen Stadt.
Dampfer und Kräne erwachen am schmutzig fließenden Strom.
Verdrossen klopfen die Glocken am verwitterten Dom.
Viele Weiber siehst du und Mädchen zur Arbeit gehn.
Im bleichen Licht. Wild von der Nacht. Ihre Röcke wehn.
Glieder zur Liebe geschaffen.
Hin zur Maschine und mürrischem Mühn.
Sieh in das zärtliche Licht.
In der Bäume zärtliches Grün.
Horch! Die Spatzen schrein.
Und draußen auf wilderen Feldern
singen Lerchen.
Jakob van Hoddis
(1887 – 1942)
Morgens (Gedicht)
•fleursdumal.nl magazine
More in: Archive G-H, Archive G-H, Hoddis, Jakob van
Wachten op de perenval
Een boerengedicht
Tussen verse klaver en bloeiende netel
roestige val: de dreiging blijft. Aan de voetzolen
poldermodder, smeuïg en zwart.
Uit langse karren bulken ajuinen. Erachter houden
wielrenners zich uit de wind. Boeren klotsen klompen
over de deel. Er zit regen in de lucht.
Bezwangerd land. Fazanten schieten door de greppels.
Hoera: gloeit achter gindse wolk de zon niet weer?
Harken krabben van de tuin de jeuk weg.
Hé Adriaen van Grijpstraten, waar heb je toch mijn
zwingel gelaten? neuriet de knecht. Vergeten is
de landheer die hier dertig jaar geleden op de rozen piste
nog niet gans.
Bert Bevers
Uit: Onaangepaste tijden, Zinderend, Bergen op Zoom, 2006
Bert Bevers is a poet and writer who lives and works in Antwerp (Be)
• fleursdumal.nl magazine
More in: Archive A-B, Archive A-B, Bevers, Bert
Workers of the World,
Awaken
Workers of the world, awaken!
Break your chains. demand your rights.
AII the wealth you make is taken
By exploiting parasites.
Shall you kneel in deep submission
From your cradles to your graves?
ls the height of your ambition
To be good and willing slaves?
CHORUS:
Arise, ye prisoners of starvation!
Fight for your own emancipation;
Arise, ye slaves of every nation.
In One Union grand.
Our little ones for bread are crying,
And millions are from hunger dying;
The end the means is justifying,
'Tis the final stand.
If the workers take a notion,
They can stop all speeding trains;
Every ship upon the ocean
They can tie with mighty chains.
Every wheel in the creation,
Every mine and every mill ,
Fleets and armies of the nation,
Will at their command stand still.
Join the union, fellow workers,
Men and women, side by side;
We will crush the greedy shirkers
Like a sweeping, surging tide;
For united we are standing,
But divided we will fall;
Let this be our understanding —
"All for one and one for all."
Workers of the world, awaken!
Rise in all your splendid might;
Take the wealth that you are making,
It belongs to you by right.
No one will for bread be crying,
We'll have freedom, love and health.
When the grand red flag is flying
In the Workers' Commonwealth.
Joe Hill
(1879-1915)
Workers of the World, Awaken
(song)
• fleursdumal.nl magazine
More in: # Music Archive, Archive G-H, Joe Hill, Workers of the World
April Evening, 1916
O sweet blue eve that seems so loath to die,
Trailing the sunset glory into night,
Within the soft, cool strangeness of thy light,
My heart doth seem to find its sanctuary.
The day doth verge with all its secret care,
The thrush is lilting vespers on the thorn;
In Nature's inner heart seems to be born
A sweet serenity; and over there
Within the shadows of the stealing Night,
Beneath the benison of all her stars
Men, stirr'd to passion by relentless Mars,
Laughing at Death, wage an unceasing fight.
The thunder of the guns, the scream of shells
Now seem to rend the placid evening air:
Yet as the night is lit by many a flare
The thrush his love in one wild lyric tells.
O sweet blue eve! Lingering awhile with thee,
Before the earth with thy sweet dews are wet,
My heart all but thy beauty shall forget
And find itself in thy serenity.
John William (Will) Streets
(1886 –1916)
April Evening, 1916
• fleursdumal.nl magazine
More in: - Archive Tombeau de la jeunesse, Archive S-T, Streets, Will, WAR & PEACE
Weltende
Dem Bürger fliegt vom spitzen Kopf der Hut,
In allen Lüften hallt es wie Geschrei,
Dachdecker stürzen ab und gehn entzwei.
Und an den Küsten – liest man – steigt die Flut.
Der Sturm ist da, die wilden Meere hupfen
An Land, um dicke Dämme zu zerdrücken.
Die meisten Menschen haben einen Schnupfen.
Die Eisenbahnen fallen von den Brücken.
Jakob van Hoddis
(1887 – 1942)
Weltende (Gedicht)
• fleursdumal.nl magazine
More in: Archive G-H, Archive G-H, Hoddis, Jakob van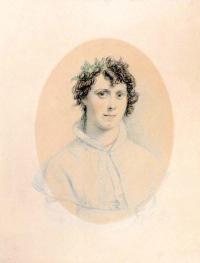 Love
Oh Love! how fondly, tenderly enshrined
In human hearts, how with our being twined!
Immortal principle, in mercy given,
The brightest mirror of the joys of heaven.
Child of Eternity's unclouded clime,
Too fair for earth, too infinite for time:
A seraph watching o'er Death's sullen shroud,
A sunbeam streaming through a stormy cloud;
An angel hovering o'er the paths of life,
But sought in vain amidst its cares and strife;
Claimed by the many–known but to the few
Who keep thy great Original in view;
Who, void of passion's dross, behold in thee
A glorious attribute of Deity!
Susanna Moodie:
Love (Poem)
(1803 – 1885)
• fleursdumal.nl magazine
More in: Archive M-N, Archive M-N, CLASSIC POETRY
Thank you for reading FLEURSDUMAL.NL - magazine for art & literature