De schrijvers Jan Leyers, Ilja Leonard Pfeijffer en Jolande Withuis zijn genomineerd voor de E. du Perronprijs 2018. De prijs wordt toegekend aan schrijvers, kunstenaars of instellingen die met een cultuuruiting in brede zin een bijdrage leveren aan een inclusieve samenleving. De uitreiking vindt plaats op dinsdagavond 16 april in de Glazen Zaal in de LocHal in Tilburg. Dan houdt Gloria Wekker de achtste E. du Perronlezing.
Jan Leyers ‒ Allah in Europa. Het reisverslag van een ongelovige (Uitgeverij Das Mag)
Leyers doet in dit boek verslag van een reis door Europa waarin hij op zoek gaat naar 'een Europese versie van de islam'. Vier maanden lang wordt er gesproken met traditionele gelovigen en nieuwe bekeerlingen. Allah in Europa leest als een spannend verslag van gesprekken waarin verschillende denkbeelden tegen elkaar afgewogen worden. Knap is dat het boek nergens belerend of dwingend wordt, hoewel het overduidelijk een pleidooi is voor een open multicultureel Europa, dat de lezer aanzet tot nadenken.
Ilja Leonard Pfeijffer ‒ Grand Hotel Europa (Uitgeverij De Arbeiderspers)
In deze roman neemt Pfeijffer ons mee naar een hotel ergens in Europa waarin zijn alter ego zich verschanst na een stukgelopen liefde. Het hotel is vergane glorie, oude geschiedenis en een metaforisch beeld voor het continent, waarvan de geschiedenis fenomenaal is, maar het heden op allerlei manier ontspoort: er is te veel consumentisme, geen engagement, er zijn geen nieuwe idealen. Pfeijffer verweeft verschillende verhaallijnen met elkaar, en is op zijn best in de essayistische passages waarin hij kritiek geeft op het hedendaagse Europa en vooral op het massatoerisme.
Jolande Withuis ‒ Raadselvader. Kind in de koude oorlog (Uitgeverij De Bezige Bij)
Withuis schreef een indringende biografie over haar vader Berry Withuis (1920-2009), die tegelijk een autobiografische reflectie biedt. De vader was communist en redacteur van de Waarheid. Haar communistische jeugd en de loyaliteit jegens haar ouders hebben Withuis geleerd dat er verschillende kanten zitten aan een historisch narratief. Noch het ontkennen van de slechte behandeling van communisten in Nederland tijdens de Koude Oorlog, noch het slachtofferisme van de zijde van communisten zelf, is de waarheid. Maar ook leert zij dat via het eigen verhaal de geschiedenis van anderen aanknopingspunten biedt en legt ze uit dat totalitaire overtuigingen mensen verleiden onmenselijke misdaden te begaan en het eigen ethische kompas uit te schakelen.
E. du Perronprijs
De E. du Perronprijs is een initiatief van de gemeente Tilburg, de Tilburg School of Humanities & Digital Sciences en Kunstloc Brabant. De prijs is bedoeld voor personen of instellingen die, net als schrijver Du Perron, grenzen signaleren en doorbreken die wederzijds begrip tussen verschillende bevolkingsgroepen in de weg staan. De prijs bestaat uit een geldbedrag van 2500 euro en een textielobject, ontworpen door studio 'by aaaa' (Moyra Besjes en Natasja Lauwers) en vervaardigd bij het TextielMuseum. In 2017 won Margot Vanderstraeten de prijs voor haar boek Mazzel tov. Andere laureaten waren onder meer Stefan Hertmans (2016), Ilja Leonard Pfeijffer (2015), Warna Oosterbaan & Theo Baart (2014), Mohammed Benzakour (2013), Koen Peeters (2012) en Ramsey Nasr (2011).
E. du Perronlezing
Professor dr. Gloria Wekker is emeritus hoogleraar Gender en Etniciteit aan de faculteit Geesteswetenschappen van de Universiteit Utrecht. Ze houdt, op 16 april, na Antjie Krog, Paul Scheffer, Job Cohen, Sheila Sitalsing, Herman van Rompuy, Arnon Grunberg en Marja Pruis de achtste E. du Perronlezing.
Voor het bijwonen van de uitreiking kunnen belangstellenden en genodigden zich aanmelden via www.kunstlocbrabant.nl/eduperron
Meer informatie over de prijs vindt u op: www.tilburguniversity.edu/duperronprijs
# Literaire prijzen
E. du Perronprijs 2018
Jan Leyers
Ilja Leonard Pfeijffer
Jolande Withuis
• fleursdumal.nl magazine
More in: - Book Lovers, - Book News, - Bookstores, Archive K-L, Archive O-P, Archive W-X, Art & Literature News, Awards & Prizes, Literary Events
In the sequence of poems comprising Annie Guthrie's first book, the quest for the meaning of human consciousness and its tangled subjectivity is drawn as a slow-building narrative of the mystic experience.
The journey enacted is that of the self as character, who encounters insurmountable mysteries in a breaking selfhood.
A dossier of contemplative exploration, THE GOOD DARK chronicles an immersive search in three acts: Unwitting, Chorus, and Body: stations through which the character must pass, and where she is accumulatively confessed, compounded and erased.
the gossip
I don't always want what we have, she is saying.
Outside, dark clouds, fish hopping, tilling waves
back from shore. He is silent.
Sometimes more is happening, he says, finally.
The sun's coming up, she says. Look how the light is kept.
I'd like to keep it up, he says.
Don't make apart when otherwise the same, he says.
She is silent, tilling shore back from shore.
Don't give darkness a face, he says, darkening.
Annie Guthrie is a writer and jeweler living in Tucson. She has a metalsmithing studio at Splinter Brothers Warehouse and can be found through her website, www.annieguthrie.net. She teaches at the University of Arizona Poetry Center and also mentors select students wishing to apprentice in poetry or to further their art projects through her courses in "Oracular Writing."
The Good Dark
by Annie Guthrie
Paperback: 68 pages
Publisher: Tupelo Press, Inc.
2015
Language: English
ISBN-10: 1936797593
ISBN-13: 978-1936797592
Categories: Poetry
$16.95
# more poetry
The Good Dark
by Annie Guthrie
• fleursdumal.nl magazine
More in: - Bookstores, Archive G-H, Archive G-H, Art & Literature News
Mrs. Whitehead
But you like it.
They can't any of them be quite as bad because they learned french but I never did.
He doesn't look dead at all.
The wind might have blown him.
He comes from that direction. That's the way.
They are not knotted. Have you smelt it. What would you suggest, your advice I have come across three or four.
So they are the others.
Separate them.
It does make one come, he is extraordinarily charming and endearing once of twice only twice I think.
He is not staying out that's hard beside that what does he do.
That's long for his mother.
She travelled from this rest. She crocheted from this nest.
She crocheted from this nest. I thought it wasn't ever.
It's one of my favorite ones this.
And yet not this.
Isn't it funny.
It isn't.
Break or breaking, very fair, break or very wanting.
I tried it this way before.
Very difficult to change extra places and yet I can agree. I can agree by that. I rest this piece of it and it's nearly the same climate. I will tell you why they want a real door. They choose it.
They do so and very pure water. They are safe when they take a bath. Oh it is very. Oh it is.
In a way a vest.
I do think you get what you want.
Corrections.
It is eleven weeks from the middle of September. I glance in a way.
It is eleven weeks from the middle of September.
Total recollect others.
I glance at and I can recollect others. I make a division neatly, I close.
What is wrong with not blue. That is right with apples. Apples four. For. Fore.
Before that.
Next stretching.
Next for that leaf stretching.
I do not state leaf.
I like to beg very much stream.
Not exactly in state.
Understate.
All in so.
They expect all the blues to take of all the other families, the whites are extra they are beside all that, they make a little house and through and beside that they live in Paris.
Hardly enough for wood.
Not a color even.
By now a change of grass and wedding rings and all but the rest plan. I don't care I won't look.
I am not sure that yellow is good. I am tall.
Allow that. I don't want any more out in conversation.
I can be careful.
Not within wearing it.
I cannot say to stay.
No please don't get up.
And now that.
Yes I see.
Did you pay him for that whether for a spider and such splendor and indeed quitting. I meant to gather.
I see it I see it.
Please ocean spoke please Helen land please take it away.
I saw a spoken leave leaf and flowers made vegetables and foliage in soil. I saw representative mistakes and glass cups, I saw a whole appearance of respectable refugees, I did not ask actors I asked pearls, I did not choose to ask trains, I was satisfied with celebrated ransoms. I cannot deny Bertie Henschel is coming tomorrow. Saturdays are even. There is a regular principle, if you mention it you mention what happened.
What do you make of it.
You exceed all hope and all praise.
Stein, Gertrude
(1874-1946)
Mrs. Whitehead
fleursdumal.nl magazine
More in: Archive S-T, Archive S-T, Gertrude Stein, Stein, Gertrude
DEATH TO THE FASCIST INSECT is a compilation of the writings and transcribed recordings of the Symbionese Liberation Army (1973–75), a radical left-wing group based in the Bay Area of California. This publication chronicles the militant, if half-baked, political theories that inspired the SLA, as well as the ways that the SLA used violence and manipulation of the media to further the group's goal of provoking armed revolution from the underground.
Founded by escaped convict Donald DeFreeze, aka Field Marshal Cinque, the SLA was mostly composed of young, largely white and middle-class men and women, whose stated aim was to destroy all forms of racism, sexism, and capitalism. One of the SLA's first acts was the murder of the Oakland superintendent of schools; SLA members went on to kidnap newspaper heiress Patricia Hearst, demand millions of dollars from her wealthy family for free food for "people in need," and rob a bank in San Francisco with Hearst. Most of the SLA, including DeFreeze, died in a fire after a gun battle with police in Los Angeles, while Hearst was later pardoned.
This publication features an introduction by editor John Brian King, a chronology of the SLA, the writings and transcribed recordings of the group presented in the context of events at the time, and a fifty-page appendix of notable articles, letters, and other texts related to the SLA.
John Brian King is a writer, photographer, and filmmaker. His works include the nonfiction book Lustmord: The Writings and Artifacts of Murderers (1997), the photography books LAX: Photographs of Los Angeles 1980-84 (2015) and Nude Reagan (2016), and the feature film Redlands (2014).
Death to the Fascist Insect
John Brian King, Editor
Publisher: Spurl Editions
Product Number: 9781943679089
ISBN 978-1-943679-08-9
SKU #: C17B
Binding: Paperback
Pages: 232
Literary Nonfiction
California Interest
African & African American Studies
Political Theory. Crime
Price: $ 18.50
Pub Date: 3/13/2019
# New books
SLA – Symbionese Liberation Army
Death to the Fascist Insect
• fleursdumal.nl magazine
More in: - Book News, - Bookstores, Archive K-L, Art & Literature News, CRIME & PUNISHMENT, MUSEUM OF PUBLIC PROTEST
'Mijn overtuigingen zijn beperkt, maar wel intens. Ik geloof in de mogelijkheden van het speciale koninkrijk. Ik geloof in de liefde,' schreef Michel Houellebecq eens.
De depressieve verteller van Serotonine zou het daar zonder voorbehoud mee eens zijn.
Zijn verhaal vindt plaats in een Frankrijk dat zijn tradities aan het verkwanselen is, zijn steden ontdoet van hun charme en zijn platteland verwoest tot de volksopstand erop volgt.
Hij vertelt over zijn leven als landbouwingenieur, zijn vriendschap met een boer van adel (een onvergetelijk personage – zijn dubbelganger in spiegelbeeld), over het falen van hun jeugdige idealen, de misschien wel dwaze hoop een verloren vrouw terug te vinden.
Deze roman over de puinhopen van een wereld zonder goedheid, zonder solidariteit, met onbeheersbaar geworden veranderingen, is ook een roman over wroeging en spijt. 'Niemand in het Westen zal nog gelukkig zijn.'
Michel Houellebecq (1958) is Frankrijks onbetwiste sterschrijver van dit moment. Hij publiceerde essays en poëzie voordat hij zich in 1994 met de roman De wereld als markt en strijd, die bekroond werd met diverse prijzen, opwierp als belofte van de Franse letteren. Die status bevestigde hij met Elementaire deeltjes (Prix Novembre en Impact Dublin Literary Award), dat hem terecht de faam van groot schrijver bezorgde, en Platform. In 2011 en 2015 verschenen zijn grote romans De kaart en het gebied en Onderworpen. Zijn veelvuldig bekroonde en wereldwijd vertaalde werk is in het Nederlands vertaald door Martin de Haan. Sinds 1998 leeft Michel Houellebecq in zelfverkozen ballingschap in Ierland.
Serotonine
Literaire fictie
Auteur: Michel Houellebecq
Vertaler: Martin de Haan
Uitgeverij: De Arbeiderspers
NUR: 302
ISBN: 9789029529020
Hardcover
Taal: Nederlands
Bladzijden: 352 pp.
Prijs: € 22,50
Publicatiedatum: 21-03-2019
# New fiction
Michel Houellebecq
Serotonine
• fleursdumal.nl magazine
More in: - Book News, - Bookstores, Archive G-H, Art & Literature News, Michel Houellebecq
Anthem for Doomed Youth
What passing-bells for these who die as cattle?
— Only the monstrous anger of the guns.
Only the stuttering rifles' rapid rattle
Can patter out their hasty orisons.
No mockeries now for them; no prayers nor bells;
Nor any voice of mourning save the choirs,—
The shrill, demented choirs of wailing shells;
And bugles calling for them from sad shires.
What candles may be held to speed them all?
Not in the hands of boys, but in their eyes
Shall shine the holy glimmers of goodbyes.
The pallor of girls' brows shall be their pall;
Their flowers the tenderness of patient minds,
And each slow dusk a drawing-down of blinds.
Wilfred Owen
(1893 – 1918)
Anthem for Doomed Youth (Poem)
• fleursdumal.nl magazine
More in: Archive O-P, Archive O-P, Galerie des Morts, Owen, Wilfred, WAR & PEACE
Hij rijdt de winkel in, rechtdoor naar de bloemenhoek die nu op de plek zit waar vroeger de keuken van juffrouw Fijnhout was.
Al een paar dagen na de begrafenis van juffrouw Fijnhout betrok nicht Jozefien, met man en kinderen, het huis.
Haar man begon direct met het uitbreiden van de winkel. Hij verkocht ook verf en behang, kalk en wasbenzine. En hij had een drukpersje voor geboortekaartjes. En wie geboortekaartjes kocht, kocht ook bloemen. Daarom stond een hoek van de winkel altijd vol kleurige bloemen voor geboortefeesten en een andere hoek vol witte ruikers voor bruiloften en begrafenissen.

Nicht Jozefien vlocht ook grafkransen. Ze had wel wat van haar overleden tante. Voor alles kon men bij haar terecht.
In de loop der jaren is de winkel uitgebreid. Mels komt er nog graag. De geuren van de bloemen doen hem goed. En de kleuren. Hij hoort het druppelen van de fonteintjes. Overal staan ze. Het is mode. Fonteintjes van aardewerk, van hard, gekleurd plastic, van glas. En veel spiegels die het wereldje van de winkel uitvergroten tot een ware tuin. Door al die spiegels lijken er meer meisjes in de winkel te zijn, maar er is alleen Christine, de kleindochter van nicht Jozefien.
`Geef die witte aronskelken maar', zegt Mels. Hij is een beetje gek op haar, door de manier waarop ze alles doet, bedachtzaam en vanzelfsprekend. Ze weet precies wat mooi is. Een prinses in een koninklijke tuin. Ze is altijd vriendelijk.
`Jammer dat het kerkhof weggaat, hè', zegt Christine, terwijl ze bezig is met een bloemstuk voor een begrafenis. Ze lijkt als twee druppels water op haar grootmoeder Jozefien. Ze is al de vijfde generatie in de winkel.
`Ik kom er zelf niet meer te liggen', zegt Mels. `Ik dacht bij mijn vriend Tijger begraven te worden, maar als het zover is, brengen ze me naar een plek waar ik nu al niet meer op eigen kracht kan komen.'
`Hoelang is uw vriend al dood?'
`Al bijna vijftig jaar. Hem laten ze gewoon liggen. De huizen worden gewoon op de resterende graven gebouwd.'
`Ik zou daar niet willen wonen.'
`Tijger kan er wel om lachen', zegt Mels.
Christine pakt de aronskelken in en legt ze op zijn schoot. Ze zijn wit en ruiken naar vanille.
Hij ziet zichzelf in de spiegel naast de kassa. Vanaf zijn borst. De bloemen op zijn schoot verbergen zijn onderlijf. Hij ziet er goed uit, met die bloemen op schoot. Bloemen houden van hem. Ze maken hem mooier. Daarom geeft hij ze aan Tijger. Hij weet nog wat zijn moeder zei: je moet altijd de dingen geven waarvan je het meest houdt.
Mels betaalt. De kassa rinkelt. Het is een geluid dat in een winkel hoort.
`Ik voel me hier nog steeds net zo thuis als toen het de kleine winkel van juffrouw Fijnhout was.'
`Juffrouw Fijnhout?'
`De oudtante van je grootmoeder.'
`O, die. Ze had geen kinderen, hè?'
`Jouw grootmoeder leek ook op haar. Net als jouw moeder op haar lijkt. En jij op allemaal.'
`Was ze knap?'
`Wil je weten of jij knap bent?'
`Zeg maar niets', lacht ze.
`Ja, ze was knap. Maar dat besefte ik later pas. Een kind ziet zoiets niet. Maar ik kwam graag bij haar. Dat is wat telt. Of jij knap bent, laat ik over aan de jongemannen.'
`Bonnetje?'
`Welnee', zegt hij, overmoedig door de bloemen op zijn schoot. `Geef mij maar een kus.'
Ze kijkt hem lachend aan en geeft hem dan een kus op zijn wang.
`Ik hoop dat er ook nog iemand aan mij denkt als ík al vijftig jaar dood ben', zegt ze.
`Vast wel', lacht Mels. `Ik gun je veel kleinkinderen.'
Hij rijdt de winkel uit en kijkt nog een keer om. Hij ziet Christine in drie spiegels tegelijk. Van voor en van achter en van opzij. Alle Christines zijn even mooi.
Hij rijdt door naar het kerkhof en stopt bij het graf van grootvader Rudolf. Hij haalt een bloem uit het boeket en legt die bij het kruis waaronder grootvader Rudolf is begraven, boven op zijn veel eerder gestorven vrouw.
`Rudolphus Johannes Cremers', leest hij hardop. `Voormalig hoofd der school.' En daarboven staat: `Katelijne Melanie Jansen', `huisvrouw'. De kruisjes geven aan dat grootmoeder Katelijne in 1944 is overleden en grootvader Rudolf in 1978. Hij is, geboren in 1882, bijna honderd geworden. Grootmoeder Katelijne is geboren in 1906. Ze was dus achttien jaar jonger en pas achtendertig toen ze stierf. Van horen zeggen weet hij dat ze pianospeelde op familiefeestjes.
Wat doen ze nu met hen? Wordt grootvader naar het nieuwe kerkhof verhuisd en blijft grootmoeder hier achter omdat ze hier al meer dan veertig jaar ligt?
Op elk graf van een familielid legt hij een bloem.
Hij rijdt een rondje. Een deel van de graven is al weg. Door al die lege plekken, ziet het er rommelig uit.
Het graf van Tijger ligt tussen de kindergraven. De meeste opschriften op de kinderkruisen zijn onleesbaar geworden. Ook dat van Tijger is afgebladderd. Van zijn voornaam is alleen een a over, maar het kan ook een o zijn. Hij is een vergeten kind. Wie geen nageslacht heeft, houdt op te bestaan.
Hij legt de bloemen op het graf.
`Dank je.' Het is de stem van Tijger. Elke keer als hij bloemen op het graf legt, hoort hij hem. Het kan natuurlijk niet, maar toch.
Hij klopt het stuifmeel van zijn jas.
In de eerste maanden na zijn dood brachten Thija en hij vaak boeketten naar het graf. Bloemen die ze langs de Wijer hadden geplukt. Distels, lelies, judaspenningen, alles wat er in het wild groeide.
Vroeger, met de schoolklas, hebben ze vaak het kerkhof geharkt, het onkruid gewied, het mos van de stenen gekrast. Er was hun respect bijgebracht voor het kerkhof. De plek van de voorouders, die altijd zo hoorde te blijven.
Het graf van vliegenier John Wilkington, dat altijd door Mels' moeder werd onderhouden, is allang weg. Het houten kruis, waarvan de verf verdwenen is, staat in een hoekje van het kerkhof te wachten op mensen die zich het lot van John Wilkington willen aantrekken en de geschiedenis aan hem levend willen houden, maar Mels is een van de weinigen die nog weten wie John Wilkington was. En hij is niet meer in staat het kruis op te knappen om John de eer te geven die hem toekomt.
Bij de poort van het kerkhof staat het beeld van Christoffel met Jezus op zijn schouder. Half tussen de struiken. Langgeleden is het bij de grote kerkbrand van de toren gevallen. Christoffel is een deel van zijn hoofd kwijtgeraakt en mist ook zijn voeten. Jezus heeft de arm verloren die hij om Christoffels schouder had geslagen. Na de restauratie van de kerk is het beeld niet teruggeplaatst op de toren maar vervangen door een haan. Het gehavende beeld is in de tuin gezet en vergeten. Het is een verkeerde plek. Christoffel met op zijn schouder het kind dat over het water wil worden gedragen, had langs de Wijer moeten staan.
De brand van de kerk was de grootste ramp die het dorp ooit getroffen had.
Ton van Reen: Het diepste blauw (094)
wordt vervolgd
• fleursdumal.nl magazine
More in: - Book News, - Het diepste blauw, Archive Q-R, Reen, Ton van
Guerre civile
La foule était tragique et terrible ; on criait :
À mort ! Autour d'un homme altier, point inquiet,
Grave, et qui paraissait lui-même inexorable,
Le peuple se pressait : À mort le misérable !
Et lui, semblait trouver toute simple la mort.
La partie est perdue, on n'est pas le plus fort,
On meurt, soit. Au milieu de la foule accourue,
Les vainqueurs le traînaient de chez lui dans la rue.
— À mort l'homme ! — On l'avait saisi dans son logis ;
Ses vêtements étaient de carnage rougis ;
Cet homme était de ceux qui font l'aveugle guerre
Des rois contre le peuple, et ne distinguent guère
Scévola de Brutus, ni Barbès de Blanqui ;
Il avait tout le jour tué n'importe qui ;
Incapable de craindre, incapable d'absoudre,
Il marchait, laissant voir ses mains noires de poudre ;
Une femme le prit au collet : « À genoux !
C'est un sergent de ville. Il a tiré sur nous !
— C'est vrai, dit l'homme. — À bas ! à mort ! qu'on le fusille !
Dit le peuple. — Ici ! Non ! Plus loin ! À la Bastille !
À l'arsenal ! Allons ! Viens ! Marche ! — Où vous voudrez »,
Dit le prisonnier. Tous, hagards, les rangs serrés,
Chargèrent leurs fusils. « Mort au sergent de ville !
Tuons-le comme un loup ! — Et l'homme dit, tranquille :
— C'est bien, je suis le loup, mais vous êtes les chiens.
— Il nous insulte ! À mort ! » Les pâles citoyens
Croisaient leurs poings crispés sur le captif farouche ;
L'ombre était sur son front et le fiel dans sa bouche ;
Cent voix criaient : « À mort ! À bas ! Plus d'empereur ! »
On voyait dans ses yeux un reste de fureur
Remuer vaguement comme une hydre échouée ;
Il marchait poursuivi par l'énorme huée,
Et, calme, il enjambait, plein d'un superbe ennui,
Des cadavres gisants, peut-être faits par lui.
Le peuple est effrayant lorsqu'il devient tempête ;
L'homme sous plus d'affronts levait plus haut la tête ;
Il était plus que pris, il était envahi.
Dieu ! comme il haïssait ! comme il était haï !
Comme il les eût, vainqueur, fusillés tous ! « Qu'il meure !
Il nous criblait encor de balles tout à l'heure !
À bas cet espion, ce traître, ce maudit !
À mort ! c'est un brigand ! » Soudain on entendit
Une petite voix qui disait : « C'est mon père ! »
Et quelque chose fit l'effet d'une lumière.
Un enfant apparut. Un enfant de six ans.
Ses deux bras se dressaient suppliants, menaçants.
Tous criaient : « Fusillez le mouchard ! Qu'on l'assomme ! »
Et l'enfant se jeta dans les jambes de l'homme,
Et dit, ayant au front le rayon baptismal :
« Père, je ne veux pas qu'on te fasse de mal ! »
Et cet enfant sortait de la même demeure.
Les clameurs grossissaient : « À bas l'homme ! Qu'il meure !
À bas ! finissons-en avec cet assassin !
Mort ! » Au loin le canon répondait au tocsin.
Toute la rue était pleine d'hommes sinistres.
À bas les rois ! À bas les prêtres, les ministres,
Les mouchards ! Tuons tout ! c'est un tas de bandits ! »
Et l'enfant leur cria : « Mais puisque je vous dis
Que c'est mon père ! — Il est joli, dit une femme,
Bel enfant ! » On voyait dans ses yeux bleus une âme ;
Il était tout en pleurs, pâle, point mal vêtu.
Une autre femme dit : « Petit, quel âge as-tu ?
Et l'enfant répondit : — Ne tuez pas mon père ! »
Quelques regards pensifs étaient fixés à terre,
Les poings ne tenaient plus l'homme si durement.
Un de plus furieux, entre tous inclément,
Dit à l'enfant : « Va-t'en ! — Où ? — Chez toi. — Pourquoi faire ?
— Chez ta mère. — Sa mère est morte, dit le père.
— Il n'a donc plus que vous ? — Qu'est-ce que cela fait ? »
Dit le vaincu. Stoïque et calme, il réchauffait
Les deux petites mains dans sa rude poitrine,
Et disait à l'enfant : « Tu sais bien, Catherine ?
— Notre voisine ? — Oui. Va chez elle. — Avec toi ?
— J'irai plus tard. — Sans toi je ne veux pas. — Pourquoi ?
— Parce qu'on te ferait du mal. » Alors le père
Parla tout bas au chef de cette sombre guerre :
« Lâchez-moi le collet. Prenez-moi par la main,
Doucement. Je vais dire à l'enfant : À demain !
Vous me fusillerez au détour de la rue,
Ailleurs, où vous voudrez. — Et, d'une voix bourrue :
— Soit, dit le chef, lâchant le captif à moitié.
Le père dit : — Tu vois. C'est de bonne amitié.
Je me promène avec ces messieurs. Sois bien sage,
Rentre. » Et l'enfant tendit au père son visage,
Et s'en alla content, rassuré, sans effroi.
« Nous sommes à notre aise à présent, tuez-moi,
Dit le père aux vainqueurs ; où voulez-vous que j'aille ? »
Alors, dans cette foule où grondait la bataille,
On entendit passer un immense frisson,
Et le peuple cria : « Rentre dans ta maison ! »
Victor Hugo
(1802-1885)
Guerre civile
(Poème)
La Légende des siècles, 1877
• fleursdumal.nl magazine
More in: Archive G-H, Archive G-H, Hugo, Victor, Victor Hugo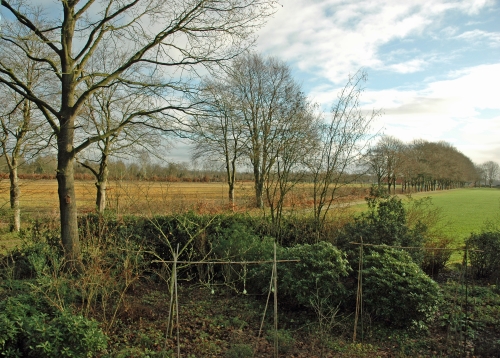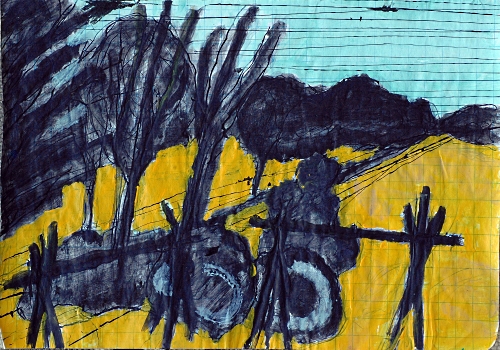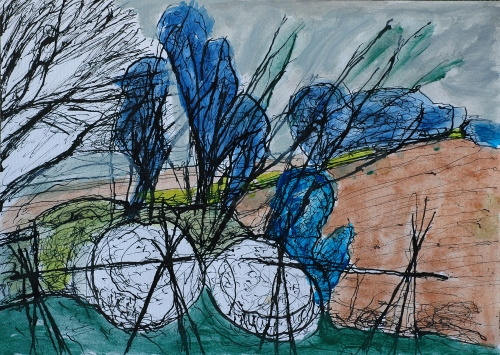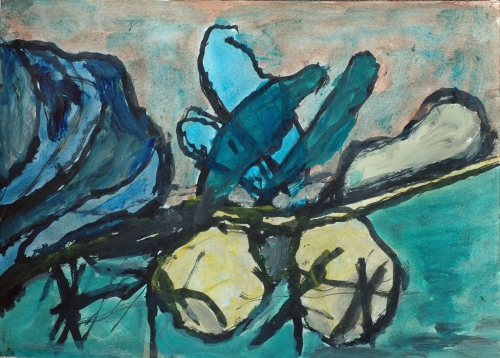 Hans Ebeling Koning
Landscape
Hans Ebeling Koning (1931) received his education at AKI in Enschede where he later became a teacher in drawing and painting. His work is represented in many public and private collections including Museum Henriette Polak in Zutphen, Rijksmuseum Twente and the Museum of Modern Art in Arnhem.
# More work on website Hans Ebeling Koning
Hans Ebeling Koning ©
• fleursdumal.nl magazine
More in: Art & Literature News, Dutch Landscapes, FDM Art Gallery, Hans Ebeling Koning, Natural history
2019 Jubileumjaar Lustwarande
26 mei – 20 oktober
In 2019 jubileert Lustwarande. Delirious is de tiende expositie in park De Oude Warande.
Ook paviljoen Grotto, door Callum Morton voor De Oude Warande ontworpen, bestaat tien jaar.
Lustwarande start het seizoen op 26 mei met de eerste van twee edities van Brief Encounters '19.
2019 Jubileumjaar Lustwarande
Delirious
15 juni – 20 oktober
Delirious presenteert een overzicht van recente ontwikkelingen en focust op materialiteit, de huid van hedendaagse sculptuur.
Met nieuw werk van zesentwintig kunstenaars, onder wie Isabelle Andriessen (NL) – Steven Claydon (UK) – Claudia Comte (CH) – Hadrien Gerenton (FR) – Camille Henrot (FR) – Nicholas Hlobo (SA) – Saskia Noor van Imhoff (NL) – Esther Kläs (DE) – Sarah Lucas (UK) – Justin Matherly (US) – Bettina Pousttchi (DE) – Magali Reus (NL) – Bojan Šarčević (RS) – Filip Vervaet (BE)
curatoren: Chris Driessen & David Jablonowski
2019 Jubileumjaar Lustwarande
Brief Encounters '19
26 mei & 8 september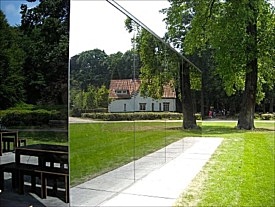 Op 26 mei presenteert Lustwarande de eerste editie van Brief Encounters van dit jaar, met nieuwe performances van Melanie Bonajo (NL), William Hunt (UK) en Grace Schwindt (DE).
Het programma wordt begin mei bekend gemaakt.
Op 8 september vindt de tweede editie plaats, met onder andere nieuw werk van Gosie Vervloessem (BE).
curatoren: Chris Driessen & Lucette ter Borg
Locatie: Lustwarande – park De Oude Warande, Tilburg
# meer info op website fundament/lustwarande
• fleursdumal.nl magazine
More in: - Book News, Art & Literature News, Art Criticism, Exhibition Archive, FDM Art Gallery, Fundament - Lustwarande, Natural history, Performing arts, Sculpture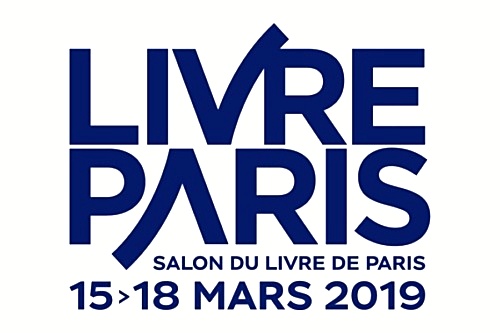 Livre Paris
Salon du Livre de Paris
Porte de Versailles – Paris
15-18 Mars 2019
Literary event of the year
165 000 visitors
3 900 authors
250 conferences and debates
688 school groups
391 stands and 515 brands
• fleursdumal.nl magazine
More in: - Book Lovers, - Book News, - Bookstores, Art & Literature News, AUDIO, CINEMA, RADIO & TV, FDM in Paris, Literary Events
Totentanz 1916
So sterben wir, so sterben wir
Und sterben alle Tage,
Weil es so gemütlich sich sterben lässt.
Morgens noch in Schlaf und Traum,
Mittags schon dahin,
Abends schon zu unterst im Grabe drin.
Die Schlacht ist unser Freudenhaus,
Von Blut ist unsre Sonne,
Tod ist unser Zeichen und Losungswort.
Kind und Weib verlassen wir:
Was gehen sie uns an!
Wenn man sich auf uns nur verlassen kann!
So morden wir, so morden wir
Und morden alle Tage
Unsere Kameraden im Totentanz.
Bruder, reck Dich auf vor mir!
Bruder, Deine Brust!
Bruder, der Du fallen und sterben musst.
Wir murren nicht, wir knurren nicht,
Wir schweigen alle Tage
Bis sich vom Gelenke das Hüftbein dreht.
Hart ist unsre Lagerstatt,
Trocken unser Brot,
Blutig und besudelt der liebe Gott.
Wir danken Dir, wir danken Dir,
Herr Kaiser für die Gnade,
Dass Du uns zum Sterben erkoren hast.
Schlafe Du, schlaf sanft und still,
Bis Dich auferweckt
Unser armer Leib, den der Rasen deckt.
Hugo Ball
(1886-1927)
Totentanz 1916
• fleursdumal.nl magazine
More in: Archive A-B, Ball, Hugo, Dada, DADA, Dadaïsme
Thank you for reading FLEURSDUMAL.NL - magazine for art & literature