Sérgio Monteiro de Almeida
Poema visual: AR_dor (Air_ ache= ardor), for me this is the summary of these pandemic times
Sérgio Monteiro de Almeida, Curitiba, Brazil (1964).
Intermedia visual poet and conceptual artist
Sérgio Monteiro de Almeida cv:
Curitiba, Brazil (1964). Intermedia visual poet and conceptual artist. – He has published in numerous anthologies and specialized magazines in Brazil and outside; participated in exhibitions of visual poetry as International Biennial of Visual and Alternative Poetry in Mexico (editions from 1987 to 2010); Post-Art International Exhibition of Visual / Experimental Poetry, San Diego State University-USA (1988); 51 and 53 Venice Biennial (2005 and 2009). – He published in 2007 the book Sérgio Monteiro de Almeida with a global vision about his work as a visual artist and poet. – This book was incorporated into the "Artist Books" collection of the New York City Library (USA). – Author of the CD of kinetic visual poems (EU) NI/IN VERSO (still unpublished). – He presented urban interventions in Curitiba, San Diego, Seattle, New York, Paris, Rome. – In 2014 and 2015 visual poems published in the Rampike experimental literature magazine of the University of Windsor, Canada. – He recently had his poems published in Jornal Candido (n. 64) and Relevo (2015 and 2016), and in 2017 in: fleursdumal.nl magazine for art & literature (www.fleursdumal.nl).
More about his work:
Livro eletrônico http://issuu.com/boek861/docs/sergio_monteiro_libro;
Enciclopédia Itaú Cultural de artes visuais www.itaucultural.com.br;
Videos no Youtube: http://www.youtube.com/user/SergioMAlmeida
Sérgio Monteiro de Almeida
Curitiba – PR – Brazil
email: sergio.ma@ufpr.br
• fleursdumal.nl magazine
More in: #Archive Concrete & Visual Poetry, *Concrete + Visual Poetry P-T, Archive M-N, EXPERIMENTAL POETRY, Sérgio Monteiro de Almeida
Sankt Peter und der Blaustrumpf
Ein Weiblein klopft an's Himmelsthor,
Sankt Peter öffnet, guckt hervor:
– »Wer bist denn du?« – »Ein Strumpf, o Herr …«
Sie stockt, und milde mahnet er:
»Mein Kind, erkläre dich genauer,
Was für ein Strumpf?« »Vergieb – ein blauer.«
Er aber grollt: »Man trifft die Sorte
Nicht häufig hier an unsrer Pforte.
Seid samt und sonders freie Geister,
Der Teufel ist gar oft nicht dreister,
Geh hin! er dürfte von dir wissen,
Der liebe Herrgott kann dich missen.«
– »Das glaub ich wohl – doch ich nicht Ihn,
O Heilger, wolle noch verziehn!«
Sie wagt es, sein Gewand zu fassen,
Hat auf die Knie sich sinken lassen:
»Du starker Hort, verstoß mich nicht,
Laß blicken mich in's Angesicht
Des Ewgen, den ich stets gesucht.«
– »In welcher Weise, ward gebucht;
Man strebt ihm nach, wie's vorgeschrieben,
Du bist uns fern und fremd geblieben.«
Das Weib blickt flehend zu ihm auf:
»Wär dir bekannt mein Lebenslauf,
Du wüßtest, daß in selgen Stunden
Ich meinen Herrn und Gott gefunden.«
Der Pförtner stutzt: »Allwo? – Sprich klar!«
– »Daselbst, wo ich zu Hause war,
(Mein Handwerk brachte das mit sich)
Im Menschenherzen. Wunderlich
War dort der Höchste wohl umgeben;
Oft blieb von seines Lichtes Weben
Ein glimmend Fünklein übrig nur
Und führte doch auf Gottes Spur.
Ob er sich nun auf dem Altare
Den Frommen reicher offenbare –
Das zu entscheiden ist dein Amt:
Bin ich erlöst? bin ich verdammt?«
Sankt Peter zu derselben Frist
Etwas verlegen worden ist,
Dacht eine gute Weile nach,
Nahm endlich doch das Wort. Er sprach
Und rückt dabei den Heilgenschein:
»Besprich es drin – ich laß dich ein.«
Marie Ebner-Eschenbach
(1830 – 1916)
Sankt Peter und der Blaustrumpf
• fleursdumal.nl magazine
More in: Archive E-F, Archive E-F, CLASSIC POETRY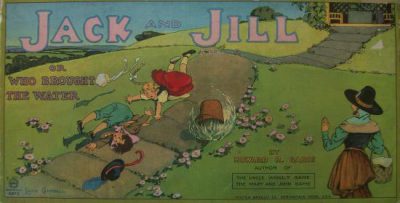 Jack And Jill
Little boys, sit still–
Girls, too, if you will–
And let me tell you of Jack and Jill;
For I think another
Such sister and brother
Were never the children of one mother!
For an idle lad,
As he was, Jack had
No traits, after all, that were very bad.
He, was simply Jack,
With the coat on his back
Patched up in all colors from gray to black.
Both feet were bare;
And I do declare
That he never washed his face; and his hair
Was the color of straw–
You never saw
Such a crop–as long as the moral law!
When he went to school,
It was the rule
(Though 'twas hard to say he was really a fool)
To send him at once,
So thick was his sconce,
To the block that was kept for the greatest dunce.
And Jill! no lass
Scarce ever has
Made bigger tracks on the country grass;
For her only fun
Was to romp and run,
Bare-headed, bare-footed, in wind and sun.
Wherever went Jack,
Close on his track,
With hair unbraided and down her back,
Loud-voiced and shrill,
She followed, until
No one said "Jack" without saying "Jill."
But to succeed
In teaching to read
Such a harum-scarum, was work indeed!
And I'm forced to tell
That her way to spell
Her name was with only a single 'l.'
Yet they were content.
One day they were sent
To the hill for water, and they went.
They did not drown,
But Jack fell down,
With a pail in his hand, and broke his crown!
And Jill, who must go
And always do
Exactly as Jack did, tumbled too!
Just think, if you will,
How they rolled down hill–
Straw-headed Jack and bare-footed Jill!
But up Jack got,
And home did trot,
Nor cared whether Jill was hurt or not;
While his poor bruised knob
Did burn and throb,
Tear falling on tear, sob following sob!
He could run the faster,
So a paper plaster
Had bound up the sight of his disaster
Before Jill came;
And the thoughtful dame,
For a break in her head, had fixed the same.
But Jill came in,
With a saucy grin
At seeing the plight poor Jack was in;
And when she saw
That bundle of straw
(His hair) bound up with a cloth, and his jaw
Tied up in white,
The comical sight
Made her clap her hands and laugh outright!
The dame, perplexed
And dreadfully vexed,
Got a stick and said, "I'll whip her next!"
How many blows fell
I will not tell,
But she did it in earnest, she did it well,
Till the naughty back
Was blue and black,
And Jill needed a plaster as much as Jack!
The next time, though,
Jack has to go
To the hill for water, I almost know
That bothering Jill
Will go up the hill,
And if he falls again, why, of course she will!
Clara Doty Bates
(1838 – 1895)
Jack And Jill
Versified by Mrs. Clara Doty Bates
fleursdumal.nl magazine
More in: Archive A-B, Archive A-B, Children's Poetry, CLASSIC POETRY, Grimm, Andersen e.o.: Fables, Fairy Tales & Stories, Tales of Mystery & Imagination
Judas
By the just vengeance of incensed skies,
Poor Bishop Judas late repenting dies.
The Jews engaged him with a paltry bribe,
Amounting hardly to a crown a-tribe;
Which though his conscience forced him to restore,
(And parsons tell us, no man can do more,)
Yet, through despair, of God and man accurst,
He lost his bishopric, and hang'd or burst.
Those former ages differ'd much from this;
Judas betray'd his master with a kiss:
But some have kiss'd the gospel fifty times,
Whose perjury's the least of all their crimes;
Some who can perjure through a two inch-board,
Yet keep their bishoprics, and 'scape the cord:
Like hemp, which, by a skilful spinster drawn
To slender threads, may sometimes pass for lawn.
As ancient Judas by transgression fell,
And burst asunder ere he went to hell;
So could we see a set of new Iscariots
Come headlong tumbling from their mitred chariots;
Each modern Judas perish like the first,
Drop from the tree with all his bowels burst;
Who could forbear, that view'd each guilty face,
To cry, "Lo! Judas gone to his own place,
His habitation let all men forsake,
And let his bishopric another take!"
Jonathan Swift
(1667 – 1745)
Judas
fleursdumal.nl magazine
More in: Archive S-T, Archive S-T, Swift, Jonathan
Legend of Old California
High on the summit,
Over the waters,
Fronting the sunset
Lingered the maid;
Below, through the flashing
Of blue billows dashing,
Glided the shallop
Storms had delayed I
Ere the white pebbles
On the keel grated,
Leaped the young boatman
Shoreward amain,
And in the blessing
Of love's quick caressing,
Soon were forgotten
Peril and pain.
Bayard Taylor
(1825 – 1878)
Legend of Old California
fleursdumal.nl magazine
More in: Archive S-T, Archive S-T, Western Fiction
Following a run of New Year's concerts at San Francisco's legendary Fillmore, Patti Smith finds herself tramping the coast of Santa Cruz, about to embark on a year of solitary wandering.
Unfettered by logic or time, she draws us into her private wonderland, with no design yet heeding signs, including a talking sign that looms above her, prodding and sparring like the Cheshire Cat.
In February, a surreal lunar year begins, bringing with it unexpected turns, heightened mischief, and inescapable sorrow. In a stranger's words, "Anything is possible: after all, it's the year of the monkey." For Patti Smith – inveterately curious, always exploring, tracking thoughts, writing the year evolves as one of reckoning with the changes in life's gyre: with loss, aging, and a dramatic shift in the political landscape of America.
Smith melds the Western landscape with her own dreamscape. Taking us from Southern California to the Arizona desert; to a Kentucky farm as the amanuensis of a friend in crisis; to the hospital room of a valued mentor; and by turns to remembered and imagined places – this haunting memoir blends fact and fiction with poetic mastery.
The unexpected happens; grief and disillusionment. But as Patti Smith heads toward a new decade in her own life, she offers this balm to the reader: her wisdom, wit, gimlet eye, and above all, a rugged hope of a better world.
Riveting, elegant, often humorous, illustrated by Smith's signature Polaroids, Year of the Monkey is a moving and original work, a touchstone for our turbulent times.
Patti Smith, Author of : Year of the Monkey, Just Kids illustrated, M Train, Patti Smith Collected Lyrics, 1970–2015, Woolgathering, Just Kids. A writer, performer, and visual artist, Patti Smith has exhibited her drawings and photographs internationally, most recently Camera Solo at the Wadsworth Atheneum Museum in Hartford. She has recorded thirteen albums, launched by the seminal Horses in 1975. Her many books include Witt, Babel, The Coral Sea, Auguries of Innocence and Just Kids, which won the National Book Award in 2010. Patti Smith lives in New York City.
Year of the Monkey
by: Patti Smith
The New York Times bestseller
Published: 01-09-2020
Format: Paperback
Edition: 1st
Extent: 224 p.
ISBN: 9781526614766
Imprint: Bloomsbury Publishing
Dimensions: 198 x 129 mm
RRP: £9.99
• fleursdumal.nl magazine
More in: Archive S-T, Archive S-T, Smith, Patti
Attentie
Doorzichtiger is op zondagen het menen, en vaster
de zit. Waarom de winter hapert wenst schijnbaar echt
niemand te begrijpen. Amper hoorbaar nog is daar het
prevelen van delicate arrangementen, zijn daar mensen
op schaal alom. Ze denken allemaal zelf over van alles.
In aanhankelijkheid navigeren ze braaf vederlicht bedrog.
Bert Bevers
gedicht
Attentie
• fleursdumal.nl magazine
More in: Archive A-B, Archive A-B, Bevers, Bert
Poet Ocean Vuong's debut novel is a shattering portrait of a family, a first love, and the redemptive power of storytelling.
On Earth We're Briefly Gorgeous is a letter from a son to a mother who cannot read. Written when the speaker, Little Dog, is in his late twenties, the letter unearths a family's history that began before he was born — a history whose epicenter is rooted in Vietnam — and serves as a doorway into parts of his life his mother has never known, all of it leading to an unforgettable revelation. At once a witness to the fraught yet undeniable love between a single mother and her son, it is also a brutally honest exploration of race, class, and masculinity. Asking questions central to our American moment, immersed as we are in addiction, violence, and trauma, but undergirded by compassion and tenderness, On Earth We're Briefly Gorgeous is as much about the power of telling one's own story as it is about the obliterating silence of not being heard.
With stunning urgency and grace, Ocean Vuong writes of people caught between disparate worlds, and asks how we heal and rescue one another without forsaking who we are. The question of how to survive, and how to make of it a kind of joy, powers the most important debut novel of many years.
Ocean Vuong is the author of the debut novel, On Earth We're Briefly Gorgeous, out from Penguin Press (2019) and forthcoming in 12 other languages worldwide. He is also the author of the critically acclaimed poetry collection, Night Sky with Exit Wounds, a New York Times Top 10 Book of 2016, winner of the T.S. Eliot Prize, the Whiting Award, the Thom Gunn Award, and the Forward Prize for Best First Collection. A Ruth Lilly fellow from the Poetry Foundation, his honors include fellowships from the Lannan Foundation, the Civitella Ranieri Foundation, The Elizabeth George Foundation, The Academy of American Poets, and the Pushcart Prize.
Vuong's writings have been featured in The Atlantic, Harpers, The Nation, New Republic, The New Yorker, The New York Times, The Village Voice, and American Poetry Review, which awarded him the Stanley Kunitz Prize for Younger Poets. Selected by Foreign Policy magazine as a 2016 100 Leading Global Thinker, alongside Hillary Clinton, Ban Ki-Moon and Justin Trudeau, Ocean was also named by BuzzFeed Books as one of "32 Essential Asian American Writers" and has been profiled on NPR's "All Things Considered," PBS NewsHour, Teen Vogue, VICE, The Fantastic Man, and The New Yorker.
Born in Saigon, Vietnam, he lives in Northampton, Massachusetts, where he serves as an Assistant Professor in the MFA Program for Poets and Writers at Umass-Amherst.
On Earth We're Briefly Gorgeous Paperback
by Ocean Vuong
1 Sept. 2020
Hardcover £19.17
Paperback £6.95
256 pages
Language: English
Publisher: Vintage
Dimensions 12.9 x 12.9 x 19.8 cm
ISBN-10 : 1529110688
ISBN-13 : 978-1529110685
• fleursdumal.nl magazine
More in: - Book News, - Book Stories, - Bookstores, Archive U-V, Archive U-V, Ocean Vuong
De Academie De Gouden Ganzenveer kent de Gouden Ganzenveer 2021 toe aan literatuurcriticus en auteur Margot Dijkgraaf. Jet Bussemaker maakte de laureaat bekend in het programma De Taalstaat op NPO Radio 1.
De Academie De Gouden Ganzenveer eert Margot Dijkgraaf vanwege haar grote rol als een sensibele en erudiete 'ambassadeur van de letteren', die verankerd is in Nederland, maar haar blik naar buiten richt. Zij brengt Nederlandstalige auteurs in Frankrijk en in andere Europese landen onder de aandacht en Franstalige – en daarmee ook Arabische en Afrikaanse – literatuur in Nederland. Met haar niet aflatende enthousiasme en ijver voor het ontsluiten van Europese literatuur – bijvoorbeeld blijkend uit haar initiatief voor de Europese Literatuurprijs – maakt ze belangrijke, maar minder bekende auteurs uit andere dan het Angelsaksische taalgebied toegankelijk voor een breed publiek.
De prijsuitreiking vindt plaats op maandag 20 september a.s. in Amsterdam. Een weerslag van deze bijeenkomst wordt vastgelegd in een speciale uitgave, die aan het eind van het jaar zal verschijnen. De Academie, een initiatief van het bestuur van stichting De Gouden Ganzenveer, kent jaarlijks deze culturele prijs toe. De leden zijn afkomstig uit de wereld van cultuur, wetenschap, politiek en het bedrijfsleven. Met deze onderscheiding wil de Academie het geschreven en gedrukte woord in het Nederlands taalgebied onder de aandacht brengen.
Voorgaande laureaten zijn Abdelkader Benali, Ian Buruma, Antjie Krog, Arnon Grunberg, Xandra Schutte, Geert Mak, David Van Reybrouck, Ramsey Nasr, Annejet van der Zijl, Remco Campert, Joke van Leeuwen, Adriaan van Dis, Joost Zwagerman, Tom Lanoye, Peter van Straaten, Maria Goos, Kees van Kooten, Jan Blokker en Michaël Zeeman.
Margot Dijkgraaf (1960) is literatuurcriticus, schrijver, interviewer en curator en schrijft al zo'n dertig jaar over literatuur, voornamelijk voor NRC. Ze publiceerde boeken over Franse en Europese letteren, over Hella S. Haasse en Cees Nooteboom. Haar recentste boek is Met Parijse pen. Literaire omzwervingen (met fotograaf Bart Koetsier, Boom, 2020). Met een scala aan partners in de internationale boekenwereld organiseert ze in binnen- en buitenland literaire activiteiten.  Recent was ze intendant van de campagne Les Phares du Nord van het Nederlands Letterenfonds en de Nederlandse ambassade in Parijs, waarbij Nederlandstalige literatuur eregast was op grote Franse festivals. Binnenkort staat die centraal op het festival Le livre sur les quais in Morges, Zwitserland. Dijkgraaf is de initiatiefnemer van de Europese Literatuurprijs en co-organiseert jaarlijks de European Literature Night en de State of the European Literature, in samenwerking met EUNIC en de UvA/geesteswetenschappen. Ze was onder andere directeur van het Centre Français du livre bij Maison  Descartes, van Academisch-cultureel Centrum SPUI25 en vervult advies-, jury- en bestuursfuncties in het culturele veld. Momenteel werkt ze aan een boek dat de voorlopige titel heeft In de voetsporen van mijn grootvader (Atlas Contact).
De Gouden Ganzenveer
De prijs wordt – zo mogelijk jaarlijks – toegekend aan een persoon of instituut vanwege zijn of haar grote betekenis voor het geschreven en gedrukte woord in de Nederlandse taal. Het bestuur van de stichting heeft de selectie van de kandidaten en de besluitvorming over de laureaat in handen gegeven van Academie De Gouden Ganzenveer. De Academieleden zijn afkomstig uit de wereld van cultuur, politiek, wetenschap en bedrijfsleven.
Ieder van hen heeft blijkt gegeven van betrokkenheid bij de Nederlandstalige cultuur; zij zijn op persoonlijke titel gevraagd. Eenmaal per jaar komen de leden bijeen om een besluit te nemen over de nieuwe laureaat. Deze besloten Academievergadering wordt gehouden in Museum Meermanno | Huis van het Boek, te 's-Gravenhage. De toekenning wordt in januari via de media bekendgemaakt waarna in april de feestelijke uitreiking van de Gouden Ganzenveer in Amsterdam volgt. De prijs bestaat uit een ganzenveer van goud en een jaar buitengewoon lidmaatschap van de Academie. In de loop van het jaar verschijnt een speciale uitgave die de verdiensten van de laureaat boekstaaft.
In 1955, bij het vijfenzeventigjarig bestaan van de Koninklijke Nederlandse Uitgeversbond, werd de Gouden Ganzenveer voor het eerst toegekend. De eerste laureaat was de Koninklijke Nederlandse Akademie van Wetenschappen. Met de prijs willen uitgevers – zo mogelijk jaarlijks – een persoon of instituut lauweren vanwege zijn of haar grote betekenis voor het geschreven en gedrukte woord in de Nederlandse taal. In totaal is de prijs 34 keer uitgereikt. In 2000, na het samengaan van de Koninklijke Nederlandse Uitgeversbond, de Nederlandse Organisatie van Tijdschrift-Uitgevers en de Vereniging De Nederlandse Dagbladpers in het nieuwe Nederlandse Uitgeversverbond (NUV), werd de culturele prijs ondergebracht in een aparte stichting.
Op maandag 20 september a.s. ontvangt Margot Dijkgraaf de Gouden Ganzenveer 2021.
Uitgebreide informatie is te vinden op www.goudenganzenveer.nl
Foto: ©Cyril Marcilhacy
• fleursdumal.nl magazine
More in: #Editors Choice Archiv, - Book News, - Book Stories, Archive C-D, Archive C-D, Art & Literature News, Awards & Prizes, FDM in Paris, Margot Dijkgraaf, TRANSLATION ARCHIVE
yesterday i was the moon centers around themes of love and emotional loss, the catharsis of creating art, and the struggle to find one's voice. Noor's poetry ranges from succinct universal truths to flowery prose exploring her heritage, what it means to find a physical and emotional home, and the intimate and painful dance of self-discovery. Her poetry and art has already inspired thousands of fans on Instagram to engage with her words through visual journal entries and posts of their own, and her fan base only continues to grow.
Noor Unnahar is a young female voice with power and depth. The Pakistani poet's moving, personal work collects and makes sense of the phases of collapsing and rebuilding one's self on the treacherous modern path from teenager to adult. Tinged with the heartbreak of a broken home and the complexity of a rich cultural background, yesterday i was the moon stands out from the Insta-poetry crowd as a collection worth keeping.
"yesterday — i was the moon
today — just an eclipse
something in me travels; some days it's to the dark
some days it's to the light"
yesterday i was the moon
by Noor Unnahar
Category: Poetry
Paperback
$14.99
Publisher : Clarkson Potter (2018)
Language : English
160 pages
ISBN-10 : 9780525576013
ISBN-13 : 978-0525576013
• fleursdumal.nl magazine
More in: #Editors Choice Archiv, Archive U-V
Ironic Poem
about Prostitution
When I was young and had no sense
In far-off Mandalay
I lost my heart to a Burmese girl
As lovely as the day.
Her skin was gold, her hair was jet,
Her teeth were ivory;
I said, "for twenty silver pieces,
Maiden, sleep with me".
She looked at me, so pure, so sad,
The loveliest thing alive,
And in her lisping, virgin voice,
Stood out for twenty-five.
George Orwell
(1903 – 1950)
• fleursdumal.nl magazine
More in: Archive O-P, Archive O-P, George Orwell, Orwell, George
This National Book Award-winning debut poetry collection is a "powerfully evocative" (The New York Review of Books) meditation on the black female figure through time.
Robin Coste Lewis's electrifying collection is a triptych that begins and ends with lyric poems meditating on the roles desire and race play in the construction of the self.
In the center of the collection is the title poem, "Voyage of the Sable Venus," an amazing narrative made up entirely of titles of artworks from ancient times to the present—titles that feature or in some way comment on the black female figure in Western art. Bracketed by Lewis's own autobiographical poems, "Voyage" is a tender and shocking meditation on the fragmentary mysteries of stereotype, juxtaposing our names for things with what we actually see and know.
A new understanding of biography and the self, this collection questions just where, historically, do ideas about the black female figure truly begin—five hundred years ago, five thousand, or even longer? And what role did art play in this ancient, often heinous story? Here we meet a poet who adores her culture and the beauty to be found within it. Yet she is also a cultural critic alert to the nuances of race and desire—how they define us all, including her own sometimes painful history.
Lewis's book is a thrilling aesthetic anthem to the complexity of race—a full embrace of its pleasure and horror, in equal parts.
" To keep you happy, I decorated the bars.
Because you had never been hungry, I knew
I could tell you the black side
of my family owned slaves.
I realize this is perhaps
the one reason why I love you,
( . . . . . )  "
Robin Coste Lewis is the author of Voyage of the Sable Venus (2015), a finalist for the National Book Award. Her work has appeared in various journals and anthologies, including The Massachusetts Review, Callaloo, The Harvard Gay & Lesbian Review, Transition, and VIDA.
Lewis earned her BA from Hampshire College, her MFA from NYU's Creative Writing Program, and an MTS degree in Sanskrit and comparative religious literature from Harvard Divinity School. A Cave Canem fellow, a Los Angeles Institute of the Humanities fellow, Lewis was also awarded a Provost's fellowship in the Creative Writing & Literature PhD Program at USC. Other fellowships and awards include the Caldera Foundation, the Ragdale Foundation, the Headlands Center for the Arts, and the Summer Literary Seminars in Kenya. She was a finalist for the International War Poetry Prize, the National Rita Dove Prize, and semi-finalist for the "Discovery"/Boston Review Prize and the Crab Orchard Series Open Poetry Prize.
Lewis has taught at Wheaton College, Hunter College, Hampshire College and the NYU Low-Residency MFA in Paris. Born in Compton, California, her family is from New Orleans.
Voyage of the Sable Venus
and Other Poems
by Robin Coste Lewis
Category: Poetry
Paperback
$19.95
2017
ISBN 9781101911204
Publisher : Knopf (1st edition 2015)
Language : English
160 pages
ISBN-10 : 1101875437
ISBN-13 : 978-1101875438
• fleursdumal.nl magazine
More in: #Editors Choice Archiv, Archive K-L
Thank you for reading FLEURSDUMAL.NL - magazine for art & literature