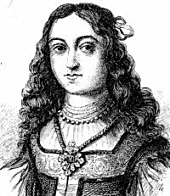 Sibylla Schwarz
Wie kan der Liebe Joch doch süß und lieblich seyn
Wie kan der Liebe Joch doch süß und lieblich seyn,
weil manches Herze pflegt vohn ihren Schmertzen sagen,
und über ihre Last, und tieffe Wunden klagen?
wie ist dan süße das, das allen bringet Pein,
das wie ein starckes Gifft die Hertzen nimmet ein,
das manchen Helden würgt, ihr vihl auch heist verzagen?
wie kan uns das alsdan doch Frewd und Lust erjagen?
Nein, nein, der Liebe Tranck ist bitter Wermuhtwein.
Doch gleichwohl ist sie süß, weil vielen wird gegeben,
durch ihre Süßigkeit, ein angenehmes Leben.
Drüm / schließ ich, ist die Lieb ein angenehmes Leid;
(wiewohl eß selten kompt, daß wiedrig' Eigenschafften
an einem Dinge nuhr zu gleiche können hafften)
die Liebe heisst und ist die süße Bitterkeit.
Sibylla Schwarz (1621 – 1638)
Gedicht: Wie kan der Liebe Joch doch süß und lieblich seyn
fleursdumal.nl magazine
More in: Archive S-T, SIbylla Schwarz
Guillaume Apollinaire
(1880 – 1918)
La fumée de la cantine
La fumée de la cantine est comme la nuit qui vient
Voix hautes ou graves le vin saigne partout
Je tire ma pipe libre et fier parmi mes camarades
Ils partirons avec moi pour les champs de bataille
Ils dormirons la nuit sous la pluie ou les étoiles
Ils galoperont avec moi portant en croupe des victoires
Ils obéiront avec moi aux mêmes commandements
Ils écouteront attentifs les sublimes fanfares
Ils mourront près de moi et moi peut-être près d'eux
Ils souffriront du froid et du soleil avec moi
Ils sont des hommes ceux-ci qui boivent avec moi
Ils obéissent avec moi aux lois de l'homme
Ils regardent sur les routes les femmes qui passent
Ils les désirent mais moi j'ai des plus hautes amours
Qui règnent sur mon coeur mes sens et mon cerveau
Et qui sont ma patrie ma famille et mon espérance
À moi soldat amoureux soldat de la douce France
Guillaume Apollinaire Poèmes à Lou
fleursdumal.nl magazine
More in: *War Poetry Archive, Apollinaire, Guillaume, Archive A-B, Archive Concrete + Visual Poetry - Ready-mades
Hart Crane
(1889 – 1932)
Passage
Where the cedar leaf divides the sky
I heard the sea.
In sapphire arenas of the hills
I was promised an improved infancy.
Sulking, sanctioning the sun,
My memory I left in a ravine,-
Casual louse that tissues the buck-wheat,
Aprons rocks, congregates pears
In moonlit bushels
And wakens alleys with a hidden cough.
Dangerously the summer burned
(I had joined the entrainments of the wind).
The shadows of boulders lengthened my back:
In the bronze gongs of my cheeks
The rain dried without odour.
"It is not long, it is not long;
See where the red and black
Vine-stanchioned valleys-": but the wind
Died speaking through the ages that you know
And bug, chimney-sooted heart of man!
So was I turned about and back, much as your smoke
Compiles a too well-known biography.
The evening was a spear in the ravine
That throve through very oak. And had I walked
The dozen particular decimals of time?
Touching an opening laurel, I found
A thief beneath, my stolen book in hand.
"'Why are you back here-smiling an iron coffin?
" "To argue with the laurel," I replied:
"Am justified in transience, fleeing
Under the constant wonder of your eyes-."
He closed the book. And from the Ptolemies
Sand troughed us in a glittering,, abyss.
A serpent swam a vertex to the sun
-On unpaced beaches leaned its tongue and
drummed.
What fountains did I hear? What icy speeches?
Memory, committed to the page, had broke.
Hart Crane poetry
fleursdumal.nl magazine
More in: Archive C-D, Crane, Hart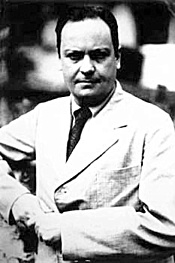 Genomineerden E. du Perronprijs 2016: Rodaan Al Galidi, Stefan Hertmans en Carolijn Visser – Arnon Grunberg houdt bij de prijsuitreiking de E. du Perronlezing donderdagavond 13 april 2017 in Tilburg
De schrijvers Rodaan Al Galidi, Stefan Hertmans en Carolijn Visser zijn genomineerd voor de E. du Perronprijs 2016. De prijs wordt toegekend aan personen of instellingen die met een cultuuruiting in brede zin een bijdrage leveren aan een beter begrip van de multiculturele samenleving. De uitreiking vindt plaats op donderdagavond 13 april 2017 bij het brabants kenniscentrum kunst en cultuur (bkkc) in Tilburg. Dan houdt Arnon Grunberg de E. du Perronlezing met als titel 'Het paradijs'.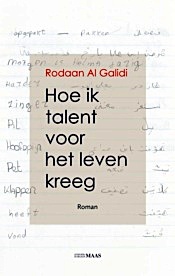 Rodaan Al Galidi – Hoe ik talent voor het leven kreeg (Uitgeverij Jurgen Maas)
Rodaan Al Galidi doet ons verslag van de leerschool die de Nederlandse asielprocedure is. Negen jaar wacht de hoofdpersoon Semmier Kariem op een beschikking in een van de vestigingen van het AZC. Negen jaar tussen aankomst in Nederland op de vlucht voor fysieke bedreiging en definitieve toelating wordt in dit verhaal invoelbaar als een oneindige mentale nekklem. Dat is het leergeld voor vluchtelingen die niet op uitnodiging de landsgrenzen passeren. Leerschool of wachtkamer, het talent van Rodaan Al Galidi is gerijpt. Deze vertellingen in de vorm van brieven aan een geïnteresseerde buitenstaander gericht laten ons alle kanten van hoop, lethargie, opstandigheid, beklag en ironie zien. De bewoners van het AZC leven op een mix van herinneringen, volharding, wanhoop; kortom overlevingsdrift. Het verslag is introspectief, zakelijk, ironisch en soms ronduit Kafkaësk. Met zijn stijl schraagt de verteller zijn bestaan en geeft hij vaart aan een eindeloos vertraagde tijd.
Stefan Hertmans – De bekeerlinge (Uitgeverij De Bezige Bij)
Bekering is een van de meest ingrijpende keuzes die een mens kan maken. Zij rukt het individu uit zijn vertrouwde verband dat bepaald wordt door afstamming en traditie. Toebehoren biedt vertrouwdheid en bescherming. Dit aanbod, deze burcht af te wijzen en te verlaten, te vluchten is een onomkeerbare daad. De bekeerling moet koersen op onbekende instrumenten: een nieuw geloof, een vreemde taal, een onbekend bestaan in een onbekend gebied. Stefan Hertmans voert ons mee in het historische verhaal van Vigdis Adelaïs, die uit liefde besluit een Joodse jongeman te volgen. Het is het einde van de 11e eeuw. Het sentiment van kruistochten hangt in de lucht. Een millennium later volgt Hertmans deze vlucht, fysiek door het landschap met gebruikmaking van bronnen en verbeelding. Verstoting, bedreiging en vlucht zijn van alle tijden. Hertmans is in staat om op heel persoonlijke manier het universele en bijzondere hiervan open te schrijven in een overtuigende roman.
Carolijn Visser – Selma. Aan Hitler ontsnapt, gevangene van Mao (Uitgeverij Augustus)
De titel van deze documentaire vertelling herinnert ons onmiddellijk aan het literaire cliché dat niets zo onwaarschijnlijk is als het leven zelf. Selma, een Joodse overlevende van de Holocaust, besluit met haar Chinese echtgenoot mee te gaan naar China in de jaren vijftig. Wat haar te wachten staat is het lot van intellectuelen en buitenlanders in de periode van de Culturele Revolutie. Het is de verdienste van Carolijn Visser om het onbeschrijfelijke glashelder aan ons te presenteren. Dat doet ze door vaardig te beschrijven wat er aan informatie bewaard is gebleven, maar net zo goed door betekenisvolle leemtes achter te laten. Selma is twee keer slachtoffer geworden van etnische uitsluiting. Ze staat niet voor grotere gehelen, ze was een individu dat voortdurend onder bedreiging van grotere verbanden, ideologieën leefde en uiteindelijk ook vermalen werd. Selma is een monument voor het kwetsbare individu.
E. du Perronprijs
De E. du Perronprijs is een initiatief van de gemeente Tilburg, de School of Humanities van Tilburg University en brabants kenniscentrum kunst en cultuur (bkkc). De prijs is bedoeld voor personen of instellingen die, net als Du Perron in zijn tijd, grenzen signaleren en doorbreken die wederzijds begrip tussen verschillende bevolkingsgroepen in de weg staan. De prijs bestaat uit een geldbedrag van €2500 euro en een textiel object, ontworpen door [NAAM] en vervaardigd bij het TextielMuseum. In 2015 won Ilja Leonard Pfeijffer de prijs voor zijn dichtbundel Idyllen, zijn pamflet Gelukszoekers en zijn columns in NRC Next. Andere laureaten waren onder meer Warna Oosterbaan & Theo Baart (2014), Mohammed Benzakour (2013), Koen Peeters (2012), Ramsey Nasr (2011), Alice Boot & Rob Woortman (2010), Abdelkader Benali (2009) en Adriaan van Dis (2008).
# Meer informatie over de du Perronprijs op website Tilburg University
fleursdumal.nl magazine
More in: - Book Lovers, Archive O-P, Art & Literature News, Eddy du Perron, Literary Events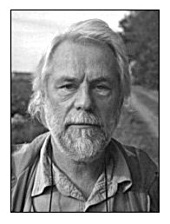 WIT LICHT
Wit licht uit de hutten
wit de witte graanschuren
wit de rode bomen, wit de zwarte dieren
wit de adem van het dorp
die wit boven de hutten van wit riet hangt
Het licht wit het stof van de zwarte straten
wit stof wit de bruine ezels
wit stof wit de zwarte kinderen
zwarte kinderen zijn wit
in wit licht
zwarte kinderen zijn witter dan wit
Het witte stof wit het licht
het witte stof van de witte straat
het witte stof
van de witbestoven ezels
het witte licht van de zwarte kinderen
die wit stof tegen het witte licht blazen
Ton van Reen
Ton van Reen: De naam van het mes. Afrikaanse gedichten
fleursdumal.nl magazine
More in: Archive Q-R, FDM in Africa, Reen, Ton van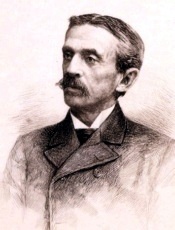 The Griffin and the Minor Canon
by Frank Stockton
Over the great door of an old, old church which stood in a quiet town of a faraway land there was carved in stone the figure of a large griffin. The old-time sculptor had done his work with great care, but the image he had made was not a pleasant one to look at. It had a large head, with enormous open mouth and savage teeth; from its back arose great wings, armed with sharp hooks and prongs; it had stout legs in front, with projecting claws, but there were no legs behind–the body running out into a long and powerful tail, finished off at the end with a barbed point. This tail was coiled up under him, the end sticking up just back of his wings.
The sculptor, or the people who had ordered this stone figure, had evidently been very much pleased with it, for little copies of it, also of stone, had been placed here and there along the sides of the church, not very far from the ground so that people could easily look at them, and ponder on their curious forms. There were a great many other sculptures on the outside of this church–saints, martyrs, grotesque heads of men, beasts, and birds, as well as those of other creatures which cannot be named, because nobody knows exactly what they were; but none were so curious and interesting as the great griffin over the door, and the little griffins on the sides of the church.
A long, long distance from the town, in the midst of dreadful wilds scarcely known to man, there dwelt the Griffin whose image had been put up over the church door. In some way or other, the old-time sculptor had seen him and afterward, to the best of his memory, had copied his figure in stone.
The Griffin had never known this, until, hundreds of years afterward, he heard from a bird, from a wild animal, or in some manner which it is not now easy to find out, that there was a likeness of him on the old church in the distant town.
Now, this Griffin had no idea how he looked. He had never seen a mirror, and the streams where he lived were so turbulent and violent that a quiet piece of water, which would reflect the image of anything looking into it, could not be found. Being, as far as could be ascertained, the very last of his race, he had never seen another griffin. Therefore it was that, when he heard of this stone image of himself, he became very anxious to know what he looked like, and at last he determined to go to the old church, and see for himself what manner of being he was.
So he started off from the dreadful wilds, and flew on and on until he came to the countries inhabited by men, where his appearance in the air created great consternation; but he alighted nowhere, keeping up a steady flight until he reached the suburbs of the town which had his image on its church. Here, late in the afternoon, he lighted in a green meadow by the side of a brook, and stretched himself on the grass to rest. His great wings were tired, for he had not made such a long flight in a century, or more.
The news of his coming spread quickly over the town, and the people, frightened nearly out of their wits by the arrival of so strange a visitor, fled into their houses, and shut themselves up. The Griffin called loudly for someone to come to him but the more he called, the more afraid the people were to show themselves. At length he saw two laborers hurrying to their homes through the fields, and in a terrible voice he commanded them to stop. Not daring to disobey, the men stood, trembling.
"What is the matter with you all?" cried the Griffin. "Is there not a man in your town who is brave enough to speak to me?"
"I think," said one of the laborers, his voice shaking so that his words could hardly be understood, "that-perhaps–the Minor Canon–would come."
"Go, call him, then" said the Griffin; "I want to see him."
The Minor Canon, who was an assistant in the old church, had just finished the afternoon services, and was coming out of a side door, with three aged women who had formed the weekday congregation. He was a young man of a kind disposition, and very anxious to do good to the people of the town. Apart from his duties in the church, where he conducted services every weekday, he visited the sick and the poor, counseled and assisted persons who were in trouble, and taught a school composed entirely of the bad children in the town with whom nobody else would have anything to do. Whenever the people wanted something difficult done for them, they always went to the Minor Canon. Thus it was that the laborer thought of the young priest when he found that someone must come and speak to the Griffin.
The Minor Canon had not heard of the strange event, which was known to the whole town except himself and the three old women and when he was informed of it, and was told that the Griffin had asked to see him, he was greatly amazed and frightened.
"Me!" he exclaimed. "He has never heard of me! What should he want with me?"
"Oh! you must go instantly!" cried the two men. "He is very angry now because he has been kept waiting so long; and nobody knows what may happen if you don't hurry to him."
The poor Minor Canon would rather have had his hand cut off than go out to meet an angry Griffin but he felt that it was his duty to go for it would be a woeful thing if injury should come to the people of the town because he was not brave enough to obey the summons of the Griffin. So, pale and frightened, he started off.
'Well," said the Griffin, as soon as the young man came near, "I am glad to see that there is someone who has the courage to come to me."
The Minor Canon did not feel very brave, but he bowed his head.
'Is this the town," said the Griffin, "where there is a church with a likeness of myself over one of the doors?"
The Minor Canon looked at the frightful creature before him and saw that it was, without doubt, exactly like the stone image on the church. "Yes," he said, "you are right."
"Well, then," said the Griffin, "will you take me to it? I wish very much to see it."
The Minor Canon instantly thought that if the Griffin entered the town without the people's knowing what he came for, some of them would probably be frightened to death, and so he sought to gain time to prepare their minds.
'It is growing dark, now," he said, very much afraid, as he spoke, that his words might enrage the Griffin, "and objects on the front of the church cannot be seen clearly. It will be better to wait until morning, if you wish to get a good view of the stone image of yourself."
"That will suit me very well," said the Griffin. "I see you are a man of good sense. I am tired, and I will take a nap here on this soft grass, while I cool my tail in the little stream that runs near me. The end of my tail gets red-hot when I am angry or excited, and it is quite warm now. So you may go; but be sure and come early tomorrow morning, and show me the way to the church."
The Minor Canon was glad enough to take his leave, and hurried into the town. In front of the church he found a great many people assembled to hear his report of his interview with the Griffin. When they found that he had not come to spread rum, but simply to see his stony likeness on the church, they showed neither relief nor gratification, but began to upbraid the Minor Canon for consenting to conduct the creature into the town.
'What could I do?" cried the young man. "If I should not bring him he would come himself, and, perhaps, end by setting fire to the town with his red-hot tail."
Still the people were not satisfied, and a great many plans were proposed to prevent the Griffin from coming into the town. Some elderly persons urged that the young men should go out and kill him; but the young men scoffed at such a ridiculous idea.
Then someone said that it would be a good thing to destroy the stone image, so that the Griffin would have no excuse for entering the town; and this plan was received with such favor that many of the people ran for hammers, chisels, and crowbars, with which to tear down and break up the stone griffin. But the Minor Canon resisted this plan with all the strength of his mind and body. He assured the people that this action would enrage the Griffin beyond measure, for it would be impossible to conceal from him that his image had been destroyed during the night. But the people were so determined to break up the stone griffin that the Minor Canon saw that there was nothing for him to do but to stay there and protect it. All night he walked up and down in front of the church door, keeping away the men who brought ladders, by which they might mount to the great stone griffin, and knock it to pieces with their hammers and crowbars. After many hours the people were obliged to give up their attempts, and went home to sleep; but the Minor Canon remained at his post till early morning, and then he hurried away to the field where he had left the Griffin.
The monster had just awakened, and rising to his forelegs and shaking himself he said that he was ready to go into the town. The Minor Canon, therefore, walked back, the Griffin flying slowly through the air, at a short distance above the head of his guide. Not a person was to be seen in the streets, and they went directly to the front of the church, where the Minor Canon pointed out the stone griffin.
The real Griffin settled down in the little square before the church and gazed earnestly at his sculptured likeness. For a long time he looked at it. First he put his head on one side, and then he put it on the other; then he shut his right eye and gazed with his left, after which he shut his left eye and gazed with his right. Then he moved a little to one side and looked at the image, then he moved the other way. After a while he said to the Minor Canon, who had been standing by all this time:
"It is, it must be, an excellent likeness! That breadth between the eyes, that expansive forehead, those massive jaws! I feel that it must resemble me. If there is any fault to find with it, it is that the neck seems a little stiff. But that is nothing. It is an admirable likeness–admirable!"
The Griffin sat looking at his image all the morning and all the afternoon. The Minor Canon had been afraid to go away and leave him, and had hoped all through the day that he would soon be satisfied with his inspection and fly away home. But by evening the poor young man was very tired, and felt that he must eat and sleep. He frankly said this to the Griffin, and asked him if he would not like something to eat. He said this because he felt obliged in politeness to do so, but as soon as he had spoken the words, he was seized with dread lest the monster should demand half a dozen babies, or some tempting repast of that kind.
"Oh, no," said the Griffin; 'I never eat between the equinoxes. At the vernal and at the autumnal equinox I take a good meal, and that lasts me for half a year. I am extremely regular in my habits, and do not think it healthful to eat at odd times. But if you need food, go and get it, and I will return to the soft grass where I slept last night and take another nap."
The next day the Griffin came again to the little square before the church, and remained there until evening, steadfastly regarding the stone griffin over the door. The Minor Canon came out once or twice to look at him, and the Griffin seemed very glad to see him; but the young clergyman could not stay as he had done before, for he had many duties to perform. Nobody went to the church, but the people came to the Minor Canon's house, and anxiously asked him how long the Griffin was going to stay.
"I do not know," he answered, "but I think he will soon be satisfied with regarding his stone likeness, and then he will go away."
But the Griffin did not go away. Morning after morning he came to the church; but after a time he did not stay there all day. He seemed to have taken a great fancy to the Minor Canon, and followed him about as he worked. He would wait for him at the side door of the church, for the Minor Canon held services every day, morning and evening, though nobody came now. "If anyone should come," he said to himself, "I must be found at my post." When the young man came out, the Griffin would accompany him in his visits to the sick and the poor, and would often look into the windows of the schoolhouse where the Minor Canon was teaching his unruly scholars. All the other schools were closed, but the parents of the Minor Canon's scholars forced them to go to school, because they were so bad they could not endure them all day at home–Griffin or no Griffin. But it must be said they generally behaved very well when that great monster sat up on his tail and looked in at the schoolroom window.
When it was found that the Griffin showed no sign of going away, all the people who were able to do so left the town. The canons and the higher officers of the church had fled away during the first day of the Griffin's visit, leaving behind only the Minor Canon and some of the men who opened the doors and swept the church. All the citizens who could afford it shut up their houses and traveled to distant parts, and only the working people and the poor were left behind. After some days these ventured to go about and attend to their business, for if they did not work they would starve. They were getting a little used to seeing the Griffin; and having been told that he did not eat between equinoxes, they did not feel so much afraid of him as before.
Day by day the Griffin became more and more attached to the Minor Canon. He kept near him a great part of the time, and often spent the night in front of the little house where the young clergyman lived alone. This strange companionship was often burdensome to the Minor Canon, but, on the other hand, he could not deny that he derived a great deal of benefit and instruction from it. The Griffin had lived for hundreds of years, and had seen much, and he told the Minor Canon many wonderful things.
"It is like reading an old book," said the young clergyman to himself; "but how many books I would have had to read before I would have found out what the Griffin has told me about the earth, the air, the water, about minerals, and metals, and growing things, and all the wonders of the world!"
Thus the summer went on, and drew toward its close. And now the people of the town began to be very much troubled again.
"It will not be long," they said, "before the autumnal equinox is here, and then that monster will want to eat. He will be dreadfully hungry, for he has taken so much exercise since his last meal. He will devour our children. Without doubt, he will eat them all. What is to be done?"
To this question no one could give an answer, but all agreed that the Griffin must not be allowed to remain until the approaching equinox. After talking over the matter a great deal, a crowd of the people went to the Minor Canon at a time when the Griffin was not with him.
'It is all your fault," they said, "that that monster is among us. You brought him here, and you ought to see that he goes away. It is only on your account that he stays here at all; for, although he visits his image every day, he is with you the greater part of the time. If you were not here, he would not stay. It is your duty to go away, and then he will follow you, and we shall be free from the dreadful danger which hangs over us."
"Go away!" cried the Minor Canon, greatly grieved at being spoken to in such a way. "Where shall I go? If I go to some other town, shall I not take this trouble there? Have I a right to do that?"
"No," said the people, "you must not go to any other town. There is no town far enough away. You must go to the dreadful wilds where the Griffin lives, and then he will follow you and stay there."
They did not say whether or not they expected the Minor Canon to stay there also, and he did not ask them anything about it. He bowed his head, and went into his house to think. The more he thought, the more clear it became to his mind that it was his duty to go away, and thus free the town from the presence of the Griffin.
That evening he packed a leathern bag full of bread and meat, and early the next morning he set out or his journey to the dreadful wilds. It was a long, weary, and doleful journey, especially after he had gone beyond the habitations of men; but the Minor Canon kept on bravely, and never faltered.
The way was longer than he had expected, and his provisions soon grew so scanty that he was obliged to eat but a little every day; but he kept up his courage, and pressed on, and, after many days of toilsome travel, he reached the dreadful wilds.
When the Griffin found that the Minor Canon had left the town he seemed sorry, but showed no desire to go and look for him. After a few days had passed he became much annoyed, and asked some of the people where the Minor Canon had gone. But, although the citizens had been so anxious that the young clergyman should go to the dreadful wilds, thinking that the Griffin would immediately follow him, they were now afraid to mention the Minor Canon's destination, for the monster seemed angry already, and if he should suspect their trick he would, doubtless, become very much enraged. So everyone said he did not know, and the Griffin wandered about disconsolate. One morning he looked into the Minor Canon's schoolhouse, which was always empty now, and thought that it was a shame that everything should suffer on account of the young man's absence.
"It does not matter so much about the church," he said, "for nobody went there; but it is a pity about the school. I think I will teach it myself until he returns."
It was the hour for opening the school, and the Griffin went inside and pulled the rope which rang the school bell. Some of the children who heard the bell ran in to see what was the matter, supposing it to be a joke of one of their companions; but when they saw the Griffin they stood astonished and scared.
"Go tell the other scholars," said the monster, "that school is about to open, and that if they are not all here in ten minutes I shall come after them."
In seven minutes every scholar was in place.
Never was seen such an orderly school. Not a boy or girl moved or uttered a whisper. The Griffin climbed into the master's seat, his wide wings spread on each side of him, because he could not lean back in his chair while they stuck out behind, and his great tail coiled around, in front of the desk, the barbed end sticking up, ready to tap any boy or girl who might misbehave.
The Griffin now addressed the scholars, telling them that he intended to teach them while their master was away. In speaking he tried to imitate, as far as possible, the mild and gentle tones of the Minor Canon; but it must be admitted that in this he was not very successful. He had paid a good deal of attention to the studies of the school, and he determined not to try to teach them anything new, but to review them in what they had been studying; so he called up the various classes, and questioned them upon their previous lessons. The children racked their brains to remember what they had learned. They were so afraid of the Griffin's displeasure that they recited as they had never recited before. One of the boys, far down in his class, answered so well that the Griffin was astonished.
'I should think you would be at the head," said he. "I am sure you have never been in the habit of reciting so well. Why is this?"
"Because I did not choose to take the trouble," said the boy, trembling in his boots. He felt obliged to speak the truth, for all the children thought that the great eyes of the Griffin could see right through them, and that he would know when they told a falsehood.
"You ought to be ashamed of yourself," said the Griffin. "Go down to the very tail of the class; and if you are not at the head in two days, I shall know the reason why."
The next afternoon this boy was Number One.
It was astonishing how much these children now learned of what they had been studying. It was as if they had been educated over again. The Griffin used no severity toward them, but there was a look about him which made them unwilling to go to bed until they were sure they knew their lessons for the next day.
The Griffin now thought that he ought to visit the sick and the poor; and he began to go about the town for this purpose. The effect upon the sick was miraculous. All, except those who were very ill indeed, jumped from their beds when they heard he was coming, and declared themselves quite well. To those who could not get up he gave herbs and roots, which none of them had ever before thought of as medicines, but which the Griffin had seen used in various parts of the world; and most of them recovered. But, for all that, they afterward said that, no matter what happened to them, they hoped that they should never again have such a doctor coming to their bedsides, feeling their pulses and looking at their tongues.
As for the poor, they seemed to have utterly disappeared. All those who had depended upon charity for their daily bread were now at work in some way or other; many of them offering to do odd jobs for their neighbors just for the sake of their meals–a thing which before had been seldom heard of in the town. The Griffin could find no one who needed his assistance.
The summer had now passed, and the autumnal equinox was rapidly approaching. The citizens were in a state of great alarm and anxiety. The Griffin showed no signs of going away, but seemed to have settled himself permanently among them. In a short time the day for his semiannual meal would arrive, and then what would happen? The monster would certainly be very hungry, and would devour all their children.
Now they greatly regretted and lamented that they had sent away the Minor Canon; he was the only one on whom they could have depended in this trouble, for he could talk freely with the Griffin, and so find out what could be done. But it would not do to be inactive. Some step must be taken immediately. A meeting of the citizens was called, and two old men were appointed to go and talk to the Griffin. They were instructed to offer to prepare a splendid dinner for him on equinox day-one which would entirely satisfy his hunger. They would offer him the fattest mutton, the most tender beef fish, and game of various sorts, and anything of the kind that he might fancy. If none of these suited, they were to mention that there was an orphan asylum in the next town.
"Anything would be better," said the citizens, "than to have our dear children devoured."
The old men went to the Griffin; but their propositions were not received with favor.
"From what I have seen of the people of this town," said the monster, "I do not think I could relish anything which was prepared by them. They appear to be all cowards and, therefore, mean and selfish. As for eating one of them, old or young, I could not think of it for a moment. In fact, there was only one creature in the whole place for whom I could have had any appetite, and that is the Minor Canon, who has gone away. He was brave, and good, and honest, and I think I should have relished him."
"Ah!" said one of the old men very politely, "in that case I wish we had not sent him to the dreadful wilds!"
"What!" cried the Griffin. "What do you mean? Explain instantly what you are talking about!"
The old man, terribly frightened at what he had said, was obliged to tell how the Minor Canon had been sent away by the people, in the hope that the Griffin might be induced to follow him.
When the monster heard this he became furiously angry. He dashed away from the old men, and, spreading his wings, flew backward and forward over the town. He was so much excited that his tail became red-hot, and glowed like a meteor against the evening sky. When at last he settled down in the little field where he usually rested, and thrust his tail into the brook, the steam arose like a cloud, and the water of the stream ran hot through the town. The citizens were greatly frightened, and bitterly blamed the old man for telling about the Minor Canon.
"It is plain," they said, "that the Griffin intended at last to go and look for him, and we should have been saved. Now who can tell what misery you have brought upon us."
The Griffin did not remain long in the little field. As soon as his tail was cool he flew to the town hall and rang the bell. The citizens knew that they were expected to come there; and although they were afraid to go, they were still more afraid to stay away; and they crowded into the hall. The Griffin was on the platform at one end, flapping his wings and walking up and down, and the end of his tail was still so warm that it slightly scorched the boards as he dragged it after him.
When everybody who was able to come was there, the Griffin stood still and addressed the meeting.
'I have had a very low opinion of you," he said, "ever since I discovered what cowards you are, but I had no idea that you were so ungrateful, selfish, and cruel as I now find you to be. Here was your Minor Canon, who labored day and night for your good, and thought of nothing else but how he might benefit you and make you happy; and as soon as you imagine yourselves threatened with a danger–for well I know you are dreadfully afraid of me–you send him off, caring not whether he returns or perishes, hoping thereby to save yourselves. Now, I had conceived a great liking for that young man, and had intended, in a day or two, to go and look him up. But I have changed my mind about him. I shall go and find him, but I shall send him back here to live among you, and I intend that he shall enjoy the reward of his labor and his sacrifices.
"Go, some of you, to the officers of the church, who so cowardly ran away when I first came here, and tell them never to return to this town under penalty of death. And if, when your Minor Canon comes back to you, you do not bow yourselves before him, put him in the highest place among you, and serve and honor him all his life, beware of my terrible vengeance! There were only two good things in this town: the Minor Canon and the stone image of myself over your church door. One of these you have sent away, and the other I shall carry away myself."
With these words he dismissed the meeting, and it was time, for the end of his tail had become so hot that there was danger of it setting fire to the building.
The next morning the Griffin came to the church, and tearing the stone image of himself from its fastenings over the great door he grasped it with his powerful forelegs and flew up into the air. Then, after hovering over the town for a moment, he gave his tail an angry shake and took up his flight to the dreadful wilds. When he reached this desolate region, he set the stone griffin upon a ledge of a rock which rose in front of the dismal cave he called his home. There the image occupied a position somewhat similar to that it had had over the church door; and the Griffin, panting with the exertion of carrying such an enormous load to so great a distance, lay down upon the ground and regarded it with much satisfaction. When he felt somewhat rested he went to look for the Minor Canon. He found the young man, weak and half starved, lying under the shadow of a rock. After picking him up and carrying him to his cave, the Griffin flew away to a distant marsh, where he procured some roots and herbs which he well knew were strengthening and beneficial to man, though he had never tasted them himself. After eating these the Minor Canon was greatly revived, and sat up and listened while the Griffin told him what had happened in the town.
"Do you know," said the monster, when he had finished, "that I have had, and still have, a great liking for you?"
"I am very glad to hear it," said the Minor Canon, with his usual politeness.
"I am not at all sure that you would be," said the Griffin, "if you thoroughly understood the state of the case; but we will not consider that now. If some things were different, other things would be otherwise. I have been so enraged by discovering the manner in which you have been treated that I have determined that you shall at last enjoy the rewards and honors to which you are entitled. Lie down and have a good sleep, and then I will take you back to the town."
As he heard these words, a look of trouble came over the young man's face.
"You need not give yourself any anxiety," said the Griffin, "about my return to the town. I shall not remain there. Now that I have that admirable likeness of myself in front of my cave, where I can sit at my leisure, and gaze upon its noble features and magnificent proportions, I have no wish to see that abode of cowardly and selfish people."
The Minor Canon, relieved from his fears, lay back, and dropped into a doze; and when he was sound asleep the Griffin took him up, and carried him back to the town. He arrived just before daybreak, and putting the young man gently on the grass in the little field where he himself used to rest, the monster, without having been seen by any of the people, flew back to his home.
When the Minor Canon made his appearance in the morning among the citizens, the enthusiasm and cordiality with which he was received were truly wonderful. He was taken to a house which had been occupied by one of the banished high officers of the place, and everyone was anxious to do all that could be done for his health and comfort. The people crowded into the church when he held services, so that the three old women who used to be his weekday congregation could not get to the best seats, which they had always been in the habit of taking; and the parents of the bad children determined to reform them at home, in order that he might be spared the trouble of keeping up his former school. The Minor Canon was appointed to the highest office of the old church, and before he died, he became a bishop.
During the first years after his return from the dreadful wilds, the people of the town looked up to him as a man to whom they were bound to do honor and reverence; but they often, also, looked up to the sky to see if there were any signs of the Griffin coming back. However, in the course of time, they learned to honor and reverence their former Minor Canon without the fear of being punished if they did not do so.
But they need never have been afraid of the Griffin. The autumnal equinox day came round, and the monster ate nothing. If he could not have the Minor Canon, he did not care for anything. So, lying down, with his eyes fixed upon the great stone griffin, he gradually declined, and died. It was a good thing for some of the people of the town that they did not know this.
If you should ever visit the old town, you would still see the little griffins on the sides of the church; but the great stone griffin that was over the door is gone.
Frank Stockton (1834-1902)
The Griffin and the Minor Canon
fleursdumal.nl magazine
More in: -Short Stories Archive, Archive S-T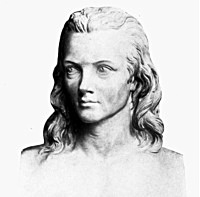 Novalis
Das Gedicht
Himmlisches Leben im blauen Gewande
Stiller Wunsch in blassem Schein –
Flüchtig gräbt in bunten Sande
Sie den Zug des Namens ein –
Unter hohen festen Bogen
Nur von Lampenlicht erhellt
Liegt, seitdem der Geist entflogen
Nun das Heiligste der Welt.
Leise kündet beßre Tage
Ein verlornes Blatt uns an
Und wir sehn der alten Sage
Mächtige Augen aufgetan.
Naht euch stumm dem ernsten Tore,
Harrt auf seinen Flügelschlag
Und vernehmt herab vom Chore
Wo weissagend der Marmor lag.
Flüchtiges Leben und lichte Gestalten
Füllten die weite, leere Nacht
Nur von Scherzen aufgehalten
Wurden unendliche Zeiten verbracht –
Liebe brachte gefüllte Becher
Also perlt in Blumen der Geist
Ewig trinken die kindlichen Zecher
Bis der geheiligte Teppich zerreißt.
Fort durch unabsehliche Reihn
Schwanden die bunten rauschenden Wagen
Endlich von farbigen Käfern getragen
Kam die Blumenfürstin allein[.]
Schleier, wie Wolken zogen
Von der blendenden Stirn zu den Füßen
Wir fielen nieder sie zu grüßen
Wir weinten bald – sie war entflogen.
Novalis (1772 – 1801)
Gedicht: Das Gedicht
fleursdumal.nl magazine
More in: Archive M-N, Novalis, Novalis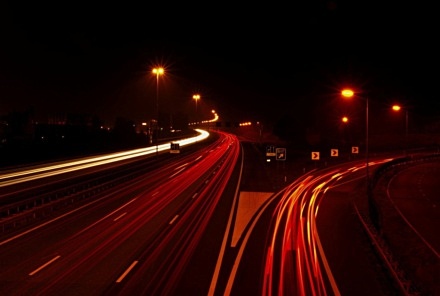 Hans Hermans© photos: Night
# more on website hans hermans
fleursdumal.nl magazine

More in: Hans Hermans Photos, Photography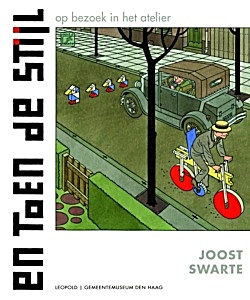 Nieuw kunstprentenboek over De Stijl door Joost Swarte

In 2017 is het honderd jaar geleden dat het tijdschrift De Stijl werd opgericht. Nederland viert dit met het feestjaar Mondriaan tot Dutch design. 100 jaar De Stijl. Met 's werelds grootste Mondriaan-collectie – en tevens een van de grootste De Stijl-collecties – is het Gemeentemuseum Den Haag het middelpunt van dit feestelijke jaar. Op 11 februari trapt het museum dit jaar af met een tentoonstelling over de ontstaansgeschiedenis van een nieuwe kunst die de wereld voorgoed heeft veranderd. Bij Uitgeverij Leopold verschijnt op 11 februari het prentenboek dat Joost Swarte voor dit jubileumjaar maakte: En toen De Stijl.
Joost Swarte is Nederlands bekendste striptekenaar. Zijn werk is vertaald in het Engels, Frans, Spaans, Noors, Italiaans en Duits en zijn illustraties verschenen in toonaangevende magazines met The New Yorker als belangrijkste blikvanger. Naast striptekenaar is Swarte ook illustrator, architect en vormgever.
En toen De Stijl is een hommage aan de kunstenaars, architecten en ontwerpers die bij De Stijl betrokken waren of erdoor werden beïnvloed. Joost Swarte laat een kat een kijkje nemen in hun ateliers. Die zitten vol verwijzingen naar hun ontwikkeling: van de oprichting van De Stijl door Theo van Doesburg, tot de weg naar abstractie die Van der Leck doormaakte, de ultieme abstractie van Mondriaan, de meubels van Gerrit Rietveld, het door Rietveld geïnspireerde houten speelgoed van Ko Verzuu, tot het grafische werk en de bekende Bruynzeelkeuken van Piet Zwart. Een feest van ontdekking voor jong en oud. –
Joost Swarte:
En toen De Stijl.
Op bezoek in het atelier
Pagina's 32
ISBN 978-90-258-7238-0
Prijs € 14,99
Uitg.Leopold
fleursdumal.nl magazine
More in: - Book News, Constructivism, Constuctivisme, De Stijl, Illustrators, Illustration, Piet Mondriaan, Piet Mondriaan, Theo van Doesburg, Theo van Doesburg
Boeken en kunstwerken kunnen om uiteenlopende redenen verboden vruchten worden. Wegens hun scabreuze karakter natuurlijk. Of om politiek ongewenste c.q. verwerpelijk geachte elementen.
In de speciale Parelduiker zoomen we vier keer in op verboden boeken: de als pornografie bestempelde 'realistische romans' van Jan Brandts, de in beslag genomen realistische romans van Hugo Beersman, de als fascistisch gebrandmerkte kunstwerken van de Schotse kunstenaar Ian Hamilton Finlay en het toneelstuk Jan Pietersz. Coen van J. Slauerhoff.
Marco Entrop, Rendez-vous op 't Tulpplein. Een verboden liefdesgeschiedenis
Nederland kon in de wederopbouw geen ondermijnende krachten gebruiken. Een steen des aanstoots was de pornografie. De schrijver Jan Brandts zag zich als een van de eersten geslachtofferd. Zijn in 1947 verschenen roman over de oprechte liefde tussen twee jonge mensen werd in beslag genomen, omdat ze het met elkaar deden.
Bert Sliggers, 'Gretig gleden zijn handen over haar weelderige borsten'. De verboden realistische romans van Hugo Beersman
Hoewel er in 1914 al een Rijksbureau was dat de handel in 'ontuchtige uitgaven' moest tegengaan, duurde het nog tot 1930 voordat de rotte appels binnen de lectuur en literatuur grootscheeps werden opgespoord. Zo kon het gebeuren dat boeken die aan het begin van die eeuw zonder bemoeienis van de politie werden verhandeld en gelezen opeens in beslag werden genomen en de eigenaren bekeurd. Uitgever Jan Hilbingh Mulder, die een boekwinkel in de Amsterdamse Cornelis Schuytstraat dreef en boeken van Hugo Beersman uitgaf, werd door Justitie streng aangepakt.
Marco Daane, Osso? Oh, zo! Een Schotse tuinman, een Duits struikelblok en Franse houthakkers
Boeken en kunstwerken kunnen om uiteenlopende redenen verboden vruchten worden. Wegens hun scabreuze karakter natuurlijk – zie elders in dit nummer. Of om politiek ongewenste c.q. verwerpelijk geachte elementen, vooral antisemitische of nazistische. In de westerse cultuur komt dat eigenlijk niet eens zo vaak voor, maar is niet Hitlers eigen Mein Kampf formeel nog altijd verboden? Ook de Schotse kunstenaar Ian Hamilton Finlay ondervond in 1988 in Frankrijk hoe gevoelig dit thema is. Enkele Nederlanders en Vlamingen werden eveneens door de affaire beroerd.
Hein Aalders, Een 'ploertig stuk' en de openbare orde. De wereldpremière van Slauerhoffs Jan Pietersz. Coen
Uitvoeringen van Slauerhoffs toneelstuk Jan Pietersz. Coen (1931) stuitten keer op keer op bezwaren bij vooral burgemeesters, die opvoering ofwel verboden ofwel sterk ontrieden met een beroep op de openbare orde. Het stuk zou door zijn kritische kijk op de Hollandse koloniaal de Nederlandse politiek ten aanzien van Indonesië en Nieuw-Guinea kunnen verstoren. Uiteindelijk werd Slauerhoffs Jan Pietersz. Coen pas voor het eerst opgevoerd in 1961, door een Amsterdams studentengezelschap, maar slechts eenmalig en tijdens een besloten bijeenkomst.
Hans Olink, Berliner Beobachter: Theun de Vries in de DDR
Jan Paul Hinrichs, Schoon & haaks (over Joeri Olesja, Fritzi Harmsen van Beek, Frans Erens en J.M.A. Biesheuvel)
Paul Arnoldussen, De Laatste Pagina: Hubert van Herreweghen (1920-2016)
De Parelduiker is een uitgave van Uitgeverij Bas Lubberhuizen | Postbus 51140 | 1007 EC Amsterdam | T 020 618 41 32
Parelduikermiddag 25 maart in de Oba
De Parelduiker nodigt zijn abonnees, lezers en andere geïnteresseerden van harte uit voor een feestelijke Parelduikermiddag aan het begin van de Boekenweek, op zaterdag 25 maart van 16 tot 17.30 uur in de Openbare Bibliotheek Amsterdam (oba), Theater van het Woord, 7de etage (adres: Oosterdokskade 143, 1011 dl Amsterdam. Centraal staat: Jan Pietersz. Coen – een verboden toneelstuk van Slauerhoff
Vele malen werd een uitvoering van dit toneeldrama verboden. Pas in 1961 werd een eenmalige opvoering toegestaan. Spelers van toen vertellen erover. Scènes uit het gewraakte stuk worden gelezen en van commentaar voorzien.
M.m.v. Slauerhoff-biograaf Wim Hazeu, Hugo Koolschijn, Celia Nufaar, Ger Thijs, Krijn ter Braak, Paul Rutgers van der Loeff en Boudewijn Chabot. De middag wordt afgesloten door de dichteres Marieke Rijneveld (C. Buddingh'-prijs 2016), die voordraagt uit haar werk. Moderator: Anton de Goede.
De Parelduiker 2017/1
Themanummer: VERBODEN
# Meer informatie op website de parelduiker
fleursdumal.nl magazine
More in: - Book Stories, Art & Literature News, Boekenweek, Literary Events, LITERARY MAGAZINES, Magazines, Marco Entrop, Rijneveld, Marieke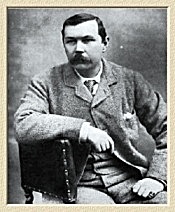 The Los Amigos Fiasco
by Arthur Conan Doyle
I used to be the leading practitioner of Los Amigos. Of course, everyone has heard of the great electrical generating gear there. The town is wide spread, and there are dozens of little townlets and villages all round, which receive their supply from the same centre, so that the works are on a very large scale. The Los Amigos folk say that they are the largest upon earth, but then we claim that for everything in Los Amigos except the gaol and the death-rate. Those are said to be the smallest.
Now, with so fine an electrical supply, it seemed to be a sinful waste of hemp that the Los Amigos criminals should perish in the old-fashioned manner. And then came the news of the eleotrocutions in the East, and how the results had not after all been so instantaneous as had been hoped. The Western Engineers raised their eyebrows when they read of the puny shocks by which these men had perished, and they vowed in Los Amigos that when an irreclaimable came their way he should be dealt handsomely by, and have the run of all the big dynamos. There should be no reserve, said the engineers, but he should have all that they had got. And what the result of that would be none could predict, save that it must be absolutely blasting and deadly. Never before had a man been so charged with electricity as they would charge him. He was to be smitten by the essence of ten thunderbolts. Some prophesied combustion, and some disintegration and disappearance. They were waiting eagerly to settle the question by actual demonstration, and it was just at that moment that Duncan Warner came that way.
Warner had been wanted by the law, and by nobody else, for many years. Desperado, murderer, train robber and road agent, he was a man beyond the pale of human pity. He had deserved a dozen deaths, and the Los Amigos folk grudged him so gaudy a one as that. He seemed to feel himself to be unworthy of it, for he made two frenzied attempts at escape. He was a powerful, muscular man, with a lion head, tangled black locks, and a sweeping beard which covered his broad chest. When he was tried, there was no finer head in all the crowded court. It's no new thing to find the best face looking from the dock. But his good looks could not balance his bad deeds. His advocate did all he knew, but the cards lay against him, and Duncan Warner was handed over to the mercy of the big Los Amigos dynamos.
I was there at the committee meeting when the matter was discussed. The town council had chosen four experts to look after the arrangements. Three of them were admirable. There was Joseph M'Conner, the very man who had designed the dynamos, and there was Joshua Westmacott, the chairman of the Los Amigos Electrical Supply Company, Limited. Then there was myself as the chief medical man, and lastly an old German of the name of Peter Stulpnagel. The Germans were a strong body at Los Amigos, and they all voted for their man. That was how he got on the committee. It was said that he had been a wonderful electrician at home, and he was eternally working with wires and insulators and Leyden jars; but, as he never seemed to get any further, or to have any results worth publishing he came at last to be regarded as a harmless crank, who had made science his hobby. We three practical men smiled when we heard that he had been elected as our colleague, and at the meeting we fixed it all up very nicely among ourselves without much thought of the old fellow who sat with his ears scooped forward in his hands, for he was a trifle hard of hearing, taking no more part in the proceedings than the gentlemen of the press who scribbled their notes on the back benches.
We did not take long to settle it all. In New York a strength of some two thousand volts had been used, and death had not been instantaneous. Evidently their shock had been too weak. Los Amigos should not fall into that error. The charge should be six times greater, and therefore, of course, it would be six times more effective. Nothing could possibly be more logical. The whole concentrated force of the great dynamos should be employed on Duncan Warner.
So we three settled it, and had already risen to break up the meeting, when our silent companion opened his month for the first time.
"Gentlemen," said he, "you appear to me to show an extraordinary ignorance upon the subject of electricity. You have not mastered the first principles of its actions upon a human being."
The committee was about to break into an angry reply to this brusque comment, but the chairman of the Electrical Company tapped his forehead to claim its indulgence for the crankiness of the speaker.
"Pray tell us, sir," said he, with an ironical smile, "what is there in our conclusions with which you find fault?"
"With your assumption that a large dose of electricity will merely increase the effect of a small dose. Do you not think it possible that it might have an entirely different result? Do you know anything, by actual experiment, of the effect of such powerful shocks?"
"We know it by analogy," said the chairman, pompously. "All drugs increase their effect when they increase their dose; for example—for example——"
"Whisky," said Joseph M'Connor.
"Quite so. Whisky. You see it there."
Peter Stulpnagel smiled and shook his head.
"Your argument is not very good," said he. "When I used to take whisky, I used to find that one glass would excite me, but that six would send me to sleep, which is just the opposite. Now, suppose that electricity were to act in just the opposite way also, what then?"
We three practical men burst out laughing. We had known that our colleague was queer, but we never had thought that he would be as queer as this.
"What then?" repeated Philip Stulpnagel.
"We'll take our chances," said the chairman.
"Pray consider," said Peter, "that workmen who have touched the wires, and who have received shocks of only a few hundred volts, have died instantly. The fact is well known. And yet when a much greater force was used upon a criminal at New York, the man struggled for some little time. Do you not clearly see that the smaller dose is the more deadly?"
"I think, gentlemen, that this discussion has been carried on quite long enough," said the chairman, rising again. "The point, I take it, has already been decided by the majority of the committee, and Duncan Warner shall be electrocuted on Tuesday by the full strength of the Los Amigos dynamos. Is it not so?"
"I agree," said Joseph M'Connor.
"I agree," said I.
"And I protest," said Peter Stulpnagel.
"Then the motion is carried, and your protest will be duly entered in the minutes," said the chairman, and so the sitting was dissolved.
The attendance at the electrocution was a very small one. We four members of the committee were, of course, present with the executioner, who was to act under their orders. The others were the United States Marshal, the governor of the gaol, the chaplain, and three members of the press. The room was a small brick chamber, forming an outhouse to the Central Electrical station. It had been used as a laundry, and had an oven and copper at one side, but no other furniture save a single chair for the condemned man. A metal plate for his feet was placed in front of it, to which ran a thick, insulated wire. Above, another wire depended from the ceiling, which could be connected with a small metallic rod projecting from a cap which was to be placed upon his head. When this connection was established Duncan Warner's hour was come.
There was a solemn hush as we waited for the coming of the prisoner. The practical engineers looked a little pale, and fidgeted nervously with the wires. Even the hardened Marshal was ill at ease, for a mere hanging was one thing, and this blasting of flesh and blood a very different one. As to the pressmen, their faces were whiter than the sheets which lay before them. The only man who appeared to feel none of the influence of these preparations was the little German crank, who strolled from one to the other with a smile on his lips and mischief in his eyes. More than once he even went so far as to burst into a shout of laughter, until the chaplain sternly rebuked him for his ill-timed levity.
"How can you so far forget yourself, Mr. Stulpnagel," said he, "as to jest in the presence of death?"
But the German was quite unabashed.
"If I were in the presence of death I should not jest," said he, "but since I am not I may do what I choose."
This flippant reply was about to draw another and a sterner reproof from the chaplain, when the door was swung open and two warders entered leading Duncan Warner between them. He glanced round him with a set face, stepped resolutely forward, and seated himself upon the chair.
"Touch her off!" said he.
It was barbarous to keep him in suspense. The chaplain murmured a few words in his ear, the attendant placed the cap upon his head, and then, while we all held our breath, the wire and the metal were brought in contact.
"Great Scott!" shouted Duncan Warner.
He had bounded in his chair as the frightful shock crashed through his system. But he was not dead. On the contrary, his eyes gleamed far more brightly than they had done before. There was only one change, but it was a singular one. The black had passed from his hair and beard as the shadow passes from a landscape. They were both as white as snow. And yet there was no other sign of decay. His skin was smooth and plump and lustrous as a child's.
The Marshal looked at the committee with a reproachful eye.
"There seems to be some hitch here, gentlemen," said he.
We three practical men looked at each other.
Peter Stulpnagel smiled pensively.
"I think that another one should do it," said I.
Again the connection was made, and again Duncan Warner sprang in his chair and shouted, but, indeed, were it not that he still remained in the chair none of us would have recognised him. His hair and his beard had shredded off in an instant, and the room looked like a barber's shop on a Saturday night. There he sat, his eyes still shining, his skin radiant with the glow of perfect health, but with a scalp as bald as a Dutch cheese, and a chin without so much as a trace of down. He began to revolve one of his arms, slowly and doubtfully at first, but with more confidence as he went on.
"That jint," said he, "has puzzled half the doctors on the Pacific Slope. It's as good as new, and as limber as a hickory twig."
"You are feeling pretty well?" asked the old German.
"Never better in my life," said Duncan Warner cheerily.
The situation was a painful one. The Marshal glared at the committee. Peter Stulpnagel grinned and rubbed his hands. The engineers scratched their heads. The bald-headed prisoner revolved his arm and looked pleased.
"I think that one more shock——" began the chairman.
"No, sir," said the Marshal "we've had foolery enough for one morning. We are here for an execution, and a execution we'll have."
"What do you propose?"
"There's a hook handy upon the ceiling. Fetch in a rope, and we'll soon set this matter straight."
There was another awkward delay while the warders departed for the cord. Peter Stulpnagel bent over Duncan Warner, and whispered something in his ear. The desperado started in surprise.
"You don't say?" he asked.
The German nodded.
"What! Noways?"
Peter shook his head, and the two began to laugh as though they shared some huge joke between them.
The rope was brought, and the Marshal himself slipped the noose over the criminal's neck. Then the two warders, the assistant and he swung their victim into the air. For half an hour he hung—a dreadful sight—from the ceiling. Then in solemn silence they lowered him down, and one of the warders went out to order the shell to be brought round. But as he touched ground again what was our amazement when Duncan Warner put his hands up to his neck, loosened the noose, and took a long, deep breath.
"Paul Jefferson's sale is goin' well," he remarked, "I could see the crowd from up yonder," and he nodded at the hook in the ceiling.
"Up with him again!" shouted the Marshal, "we'll get the life out of him somehow."
In an instant the victim was up at the hook once more.
They kept him there for an hour, but when he came down he was perfectly garrulous.
"Old man Plunket goes too much to the Arcady Saloon," said he. "Three times he's been there in an hour; and him with a family. Old man Plunket would do well to swear off."
It was monstrous and incredible, but there it was. There was no getting round it. The man was there talking when he ought to have been dead. We all sat staring in amazement, but United States Marshal Carpenter was not a man to be euchred so easily. He motioned the others to one side, so that the prisoner was left standing alone.
"Duncan Warner," said he, slowly, "you are here to play your part, and I am here to play mine. Your game is to live if you can, and my game is to carry out the sentence of the law. You've beat us on electricity. I'll give you one there. And you've beat us on hanging, for you seem to thrive on it. But it's my turn to beat you now, for my duty has to be done."
He pulled a six-shooter from his coat as he spoke, and fired all the shots through the body of the prisoner. The room was so filled with smoke that we could see nothing, but when it cleared the prisoner was still standing there, looking down in disgust at the front of his coat.
"Coats must be cheap where you come from," said he. "Thirty dollars it cost me, and look at it now. The six holes in front are bad enough, but four of the balls have passed out, and a pretty state the back must be in."
The Marshal's revolver fell from his hand, and he dropped his arms to his sides, a beaten man.
"Maybe some of you gentlemen can tell me what this means," said he, looking helplessly at the committee.
Peter Stulpnagel took a step forward.
"I'll tell you all about it," said he.
"You seem to be the only person who knows anything."
"I AM the only person who knows anything. I should have warned these gentlemen; but, as they would not listen to me, I have allowed them to learn by experience. What you have done with your electricity is that you have increased this man's vitality until he can defy death for centuries."
"Centuries!"
"Yes, it will take the wear of hundreds of years to exhaust the enormous nervous energy with which you have drenched him. Electricity is life, and you have charged him with it to the utmost. Perhaps in fifty years you might execute him, but I am not sanguine about it."
"Great Scott! What shall I do with him?" cried the unhappy Marshal.
Peter Stulpnagel shrugged his shoulders.
"It seems to me that it does not much matter what you do with him now," said he.
"Maybe we could drain the electricity out of him again. Suppose we hang him up by the heels?"
"No, no, it's out of the question."
"Well, well, he shall do no more mischief in Los Amigos, anyhow," said the Marshal, with decision. "He shall go into the new gaol. The prison will wear him out."
"On the contrary," said Peter Stulpnagel, "I think that it is much more probable that he will wear out the prison."
It was rather a fiasco and for years we didn't talk more about it than we could help, but it's no secret now and I thought you might like to jot down the facts in your case-book.
Sir Arthur Conan Doyle (1859 – 1930)
Round the Red Lamp: Being Facts and Fancies of Medical Life
The Los Amigos Fiasco (#13)
fleursdumal.nl magazine
More in: Doyle, Arthur Conan, Doyle, Arthur Conan, DRUGS & MEDICINE & LITERATURE, Round the Red Lamp
G.K. Chesterton
A Ballade of Suicide
The gallows in my garden, people say,
Is new and neat and adequately tall;
I tie the noose on in a knowing way
As one that knots his necktie for a ball;
But just as all the neighbours on the wall
Are drawing a long breath to shout "Hurray!"
The strangest whim has seized me. . . After all
I think I will not hang myself to-day.
To-morrow is the time I get my pay
My uncle's sword is hanging in the hall
I see a little cloud all pink and grey
Perhaps the rector's mother will NOT call
I fancy that I heard from Mr. Gall
That mushrooms could be cooked another way
I never read the works of Juvenal
I think I will not hang myself to-day.
The world will have another washing-day;
The decadents decay; the pedants pall;
And H.G. Wells has found that children play,
And Bernard Shaw discovered that they squall;
Rationalists are growing rational
And through thick woods one finds a stream astray,
So secret that the very sky seems small
I think I will not hang myself to-day.
ENVOI
Prince, I can hear the trumpet of Germinal,
The tumbrils toiling up the terrible way;
Even to-day your royal head may fall
I think I will not hang myself to-day.
G. K. Chesterton (1874 – 1936)
A Ballade of Suicide
fleursdumal.nl magazine
More in: Archive C-D, Chesterton, Gilbert Keith, G.K. Chesterton
Thank you for reading FLEURSDUMAL.NL - magazine for art & literature