More in: Art & Literature News, Poetry International, TRANSLATION ARCHIVE
More in: CINEMA, RADIO & TV, DANCE, Oerol, STREET POETRY, THEATRE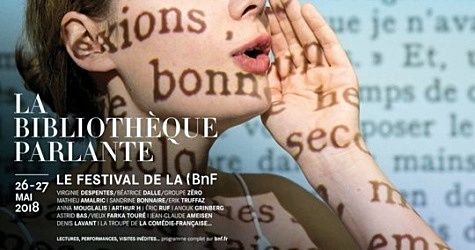 Festival de la BnF 2018 Paris
Les textes de La Bibliothèque parlante dans les collections de la BnF (samedi 26 et dimanche 27 mai 2018 – François-Mitterrand –  BnF Paris)
# Website La Bibliothèque parlante
fleursdumal.nl magazine
More in: - Book News, Art & Literature News, CINEMA, RADIO & TV, FDM in Paris, Libraries in Literature
Drawing on draft manuscripts and other archival material, James Joyce and Absolute Music, explores Joyce's deep engagement with musical structure, and his participation in the growing modernist discourse surrounding 19th-century musical forms.
Michelle Witen examines Joyce's claim of having structured the "Sirens" episode of his masterpiece, Ulysses, as a fuga per canonem, and his changing musical project from his early works, such as Dubliners and A Portrait of the Artist as a Young Man.
Informed by a deep understanding of music theory and history, the book goes on to consider the "pure music" of Joyce's final work, Finnegans Wake.
Demonstrating the importance of music to Joyce, this ground-breaking study reveals new depths to this enduring body of work.
Towards a Modernist Condition of Absolute Music – Joyce's Early Use of Music – Joyce's fuga per canonem: A Case of Structure – Joyce's fuga per canonem: A Case of Effect – Voided Fugue in "Circe" – "It's Pure Music": Finnegans Wake
Michelle Witen is Postdoctoral Teaching and Research Fellow at the University of Basel, Switzerland.
Michelle Witen
James Joyce and Absolute Music
Published: 22-02-2018
Format: Hardback
Edition: 1st
Extent: 320 p.
ISBN: 9781350014220
Imprint: Bloomsbury Academic
Series: Historicizing Modernism
Illustrations: 9 bw illus
Dimensions: 234 x 156 mm
RRP: £85.00
literature and music
fleursdumal.nl magazine
More in: # Music Archive, Archive I-J, Archive I-J, Art & Literature News, Joyce, James, Joyce, James
Een man op een racefiets stopt bij Mels, trekt hem op het pad en jaagt weer verder. Alles zonder woorden, in grote haast, om de verloren tijd goed te maken.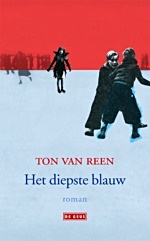 Tegenover de molen staat de villa die directeur Frans-Joseph heeft laten bouwen. Zo groot als het huis is, toont het vooral hoe klein de watermolen is. Het is respectloos tegenover de geschiedenis van de fabriek waarvan de wortels bij de watermolen liggen. Na het vertrek van Frans-Joseph naar Zwitserland heeft het grote huis een paar jaar leeggestaan. Nu wordt het verbouwd. Niemand weet voor wie.
Op de parkeerplaats bij de watermolen staan al auto's. Het huis van grootvader Bernhard is veranderd in een restaurant met dagcafé. Er lopen mensen rond de molen. Ze fotograferen elkaar bij het draaiende waterrad dat gifgroene schoepen heeft gekregen die blikkerig rammelen, alsof er kiezelstenen in rond rollen. Het geluid is zo onecht dat het pijn doet in de oren van iemand die het geluid van de oorspronkelijke molen kent.
De molen lijkt op een sprookjesmolen uit een kinderboek. Het is een museum geworden, met winkel. Er worden pakken meel van verschillende graansoorten verkocht. En koeken, gebakken volgens een recept van de vroegere molenaarsvrouw. Dat staat op het etiket. Maar Mels kan zich geen molenaarsvrouw herinneren, of het moet de weduwe Hubben-Houba zijn, maar ze was al dood voordat hij werd geboren. Van haar weet men nog nauwelijks iets. Op het kantoor hing een vergeelde foto van haar. En hij kent haar handschrift van de rekeningen en loonboekjes.
Hij proeft het stukje koek dat hij, net als iedereen die plaatsneemt op het terras, aangeboden krijgt. Het smaakt naar zoet brood. Maar niet dat van vroeger. Zo zoet, dat bestond toen niet.
Door de openstaande deur ziet hij dat de as die het waterrad koppelt met de overbrenging naar de molensteen is losgemaakt. Achter een kast zit een elektromotor verborgen die de molen aandrijft. Wie niet weet hoe het maalwerk werkt, ziet het niet. Het waterrad draait nutteloos rond. Het maakt Mels kwaad. Zo wordt het publiek dat meel uit grootmoeders tijd koopt, belazerd.
Hij bestelt koffie. Het meisje dat de bestelling noteert, vraagt achteloos of hij ook een pak koeken wil kopen. Hij geeft geen antwoord. Hij windt zich op over het bedrog.
Hij zit vlak bij het keukenraam van grootvader Bernhard. Vroeger was het donkerblauw, nu is het geverfd in een zoetroze kleur. Niets is hier nog echt. Van het werk van grootvader Bernhard, die de molen had teruggebracht in zijn oorspronkelijke staat, is niets over.
Ton van Reen: Het diepste blauw (050)
wordt vervolgd
fleursdumal.nl magazine
More in: - Book Stories, - Het diepste blauw, Archive Q-R, Reen, Ton van
Karl Marx' "Kapital" ist ein Schlüsselwerk der politischen Philosophie. Bis heute wird es kontrovers diskutiert und immer wieder rücken seine Thesen ins Blickfeld einer breiten Öffentlichkeit.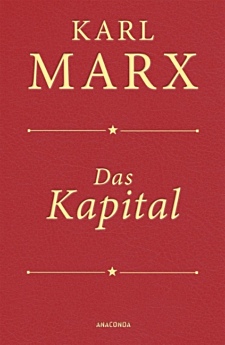 Weitgehend ungelöst scheinen demnach die Fragen, denen sich Marx in seiner scharfsichtigen Analyse widmet: Wie schafft es der Mensch, in einer kapitalistisch organisierten Gesellschaft die Zügel in der Hand zu behalten? Und was ist nötig, damit er hinter ihren offenbar rätselhaften Prozessen nicht gänzlich 'verschwindet'? – Marx' Hauptwerk blieb Fragment.
Der in dieser Ausgabe vollständig enthaltene erste Band, 'Der Produktionsprozess des Kapitals', ist der einzige von vier geplanten Bänden, den Marx in summa selbst verfasst und herausgegeben hat.
In ihm verdichtet sich, nach jahrzehntelangen Studien, seine gesamte politische Ökonomie.
Karl Marx
Das Kapital
Ungekürzte Ausgabe nach der zweiten Auflage von 1872, mit einem Geleitwort von Karl Kosch aus dem Jahre 1932 in feinem Cabra-Leder.
Anaconda Verlag
Gebundene Ausgaben
EAN: 9783730606063
ISBN: 3730606069
Libri: 4204590
Ungekürzte Ausgabe nach der zweiten Auflage von 1872, mit einem Geleitwort von Karl Kosch aus dem Jahre 1932 in feinem Cabra-Leder.
Anaconda Verlag
April 2018
768 Seiten
€ 10,00

new books
fleursdumal.nl magazine
More in: - Book News, Archive M-N, Art & Literature News, Karl Marx, MONTAIGNE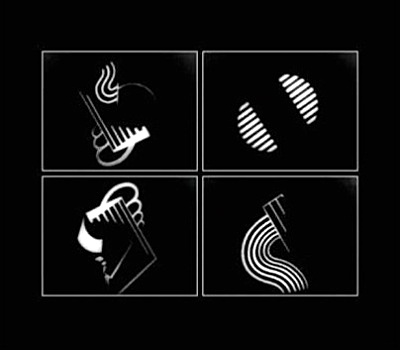 Four frames from "Diagonal-Symphonie"
Film still of "Diagonal Symphonie"
by Viking Eggeling (1880-1925)
fleursdumal.nl magazine
More in: CINEMA, RADIO & TV, Dada, DADA, Dadaïsme, MUSIC, Viking Eggeling
Henri Cole's Orphic Paris combines autobiography, diary, essay, and poetry with photographs to create a new form of elegiac memoir. With Paris as a backdrop, Cole, an award-winning American poet, explores with fresh and penetrating insight the nature of friendship and family, poetry and solitude, the self and freedom.

Cole writes of Paris, "For a time, I lived here, where the call of life is so strong. My soul was colored by it. Instead of worshiping a creator or man, I cared fully for myself, and felt no guilt and confessed nothing, and in this place I wrote, I was nourished, and I grew."
Written under the tutelary spirit of Orpheus—mystic, oracular, entrancing—Orphic Paris is an intimate Paris journal and a literary commonplace book that is a touching, original, brilliant account of the city and of the artists, writers, and luminaries, including Cole himself, who have been moved by it to create.
Henri Cole was born in Fukuoka, Japan, to a French mother and an American father. He has published nine collections of poetry, including Middle Earth, which was a finalist for the Pulitzer Prize. He has received many awards for his work, including the Jackson Prize, the Kingsley Tufts Award, the Rome Prize, the Berlin Prize, the Lenore Marshall Award, and the Medal in Poetry from the American Academy of Arts and Letters. His most recent collection of poetry is Nothing to Declare. He teaches at Claremont McKenna College and lives in Boston.
Orphic Paris
by Henri Cole
$15.95
Series: New York Review Books
ISBN: 9781681372181
Pages: 176
Publication: April 3, 2018
new books
fleursdumal.nl magazine
More in: - Book News, - Book Stories, Archive C-D, Archive C-D, Art & Literature News
Karl Marx (1818 – 1883) hat ein gewaltiges Werk hinterlassen und damit einen außergewöhnlichen Einfluss ausgeübt.
Die Rolle als Heilsbote der Weltgeschichte erhielt er erst posthum und verlor sie 100 Jahre nach seinem Tod auch wieder. Doch die Lektüre lohnt sich nach wie vor.
Das Lesebuch zeigt in ausgewählten Texten einschließlich des ›Kommunistischen Manifests‹ chronologisch die Entwicklung des Marx'schen Denkens. Eine ausführliche Einleitung liefert die historische Einordnung, erläutert die spezifische Begrifflichkeit von Marx und zeigt die Ansatzpunkte der Kritik.
Klaus Körner, geboren 1939, ist Politikwissenschaftler und seit 1976 freier Publizist und Buchautor. Neben der Mitarbeit an zeitgeschichtlichen Ausstellungen zahlreiche Veröffentlichungen zu Karl Marx, zur jüngeren deutschen Geschichte und der politischen Kultur der Bundesrepublik.
Karl Marx
Es kommt darauf an, die Welt zu verändern
Ein Karl-Marx-Lesebuch.
Gebundene Ausgaben
EAN: 9783423281614
ISBN: 3423281618
Libri: 3484955
Ein Karl-Marx-Lesebuch.
Herausgegeben von Klaus Körner
dtv Verlagsgesellschaft
März 2018
464 Seiten
€ 20,00
new books
fleursdumal.nl magazine
More in: - Book News, Archive M-N, Art & Literature News, Karl Marx, MONTAIGNE
De La Rochelle, sa ville natale — où il revint sans cesse — à Paris, de la Côte d'Azur à la Vallée du Loir, de Venise à la Belgique et à la Hollande, de l'Algérie à l'Égypte, la vie romanesque d'un écrivain et peintre — un des plus grands orientalistes — parmi les plus admirés de son temps.
Entre 1820 et 1876, le siècle défile, riche en convulsions politiques, en bouleversements économiques et sociaux, en révolutions artistiques. C'est dans cette France en ébullition — il vécut deux révolutions, un coup d'État signant les débuts du Second Empire, les guerres coloniales, la guerre de 70, la Commune de Paris, enfin l'avènement de la IIIe République — qu'Eugène Fromentin mène son destin d'homme libre et d'homme de foi, aussi fiévreux et amoureux que sage, d'une exigence égale dans ses deux arts.
Auteur de Dominique, encensé par George Sand, Flaubert, Sainte-Beuve et bien d'autres, modèle pionnier de l'« écrivain voyageur », découvreur d'un certain Orient, il s'en fera le chantre par sa plume et son pinceau. Écrivain, son œuvre est entrée dans La Pléiade. Peintre, il est représenté dans le monde entier : au Louvre, à Orsay, La Rochelle, mais aussi Londres, New York, Boston, Philadelphie, Saint-Pétersbourg ou Doha.
C'est une figure unique de l'histoire artistique que ces pages font renaître. D'une plume brillante, quasi fraternelle pour son sujet, Patrick Tudoret brosse ici le roman d'une vie.
Comme Fromentin, Patrick Tudoret a longtemps vécu à La Rochelle où il garde de solides attaches. Il est l'auteur d'une quinzaine d'ouvrages parus notamment aux éditions de La Table Ronde (groupe Gallimard), chez Grasset ou aux Belles Lettres, et de pièces de théâtre jouées à Paris et en province.Docteur en science politique de l'université Paris I Panthéon-Sorbonne, il a aussi étudié la philosophie et l'esthétique. Ses livres lui ont valu plusieurs prix dont le Grand Prix de la Critique, en 2009. Son dernier roman, L'homme qui fuyait le Nobel, paru fin 2015 chez Grasset, a connu un vif succès, obtenanten 2016 le Prix Claude Farrère et le Prix des Grands Espaces.
288 pages
Bibliographie,
1 Illustration N&B,
12 Illustrations couleurs
Livre broché
14 x 21 cm
Parution: 09/03/2018
CLIL : 3662
EAN13 : 9782251448039
Code distributeur: 59879
13,99 euro
Editions Les Belles Lettres
new books
fleursdumal.nl magazine
More in: - Book News, - Book Stories, Archive S-T, Art & Literature News
'Van de Ven is een opvallende verschijning in het peloton van wielerauteurs. Zijn forse postuur en woeste baard hebben hem de bijnaam Raspoetin bezorgd.
Verwacht geen geschoren benen, carbon frames en wetenschappelijk verantwoorde sportdrank,' schreef het magazine for art en literature 'Fleursdumal.nl' over 'Mag ik nog wat wind van achteren?', de vorige bundel wielerverhalen van Jace van de Ven.
En Het is koers.nl noteerde: 'Het zijn persoonlijke beslommeringen opgedaan tijdens vaak meerdaagse fietstochten, die bij mij de juiste snaar raken en uitnodigen om zelf te fietsen, te lachen, te genieten en na te denken.'
Ook Brabants Dagblad en Brabant Cultureel waren enthousiast. Buiten Noord-Brabant is de continue verwondering van Jace van de Ven, eerste stadsdichter van Tilburg, over coureurs en would-be-renners nog te onbekend. Jammer, want niemand schrijft zo hilarisch en tegelijk zo ontroerend over mensen op de fiets, of het nou sterren zijn of stumpers. Dat bewijzen de vijftien verhalen in ' Met vaart in het hart' opnieuw.
Jace van de Ven is oud-redacteur van Brabants Dagblad en eerste stadsdichter van Tilburg. Als auteur van wielerverhalen wordt hij regelmatig uitgenodigd om zijn verhalen voor te lezen voor wielerverenigingen. De vele verzoeken om zijn teksten eens in boekvorm uit te brengen heeft hij nu gehonoreerd in deze handzame bundeling van zijn mooiste verhalen. Geschreven met wind mee…
JACE van de Ven
Met Vaart In Het Hart.
Verhalen uit het Brabants Wielercafé
Geïllustreerd door Ellis Pruijn
Jaar: 2018
Uitgever: Eigen beheer,
Categorie:
Gedicht / Poëzie / Proza
116 pagina's:
Afmeting: 15×21 cm
Wielerboek
€ 14,00
# meer info sportmediashop
new books
fleursdumal.nl magazine
More in: - Book Lovers, - Book Stories, Archive U-V, Archive U-V, Art & Literature News, Ven, Jace van de
"My heart is bursting with homage as I / head off to a hostile eternity," writes Jane Mayhall, eighty-five, who wrote most of these poems in an urgent outpouring over the last few years.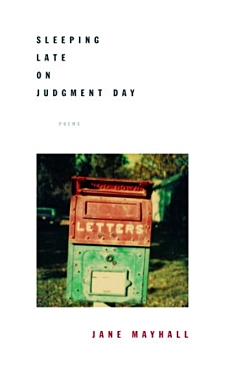 From the decades-outdated subway token in the bottom of her shoulder bag, which calls forth earlier days in New York City, to the violin her father practiced among the pantry's jam jars in her Kentucky childhood, Mayhall plucks small treasures that bespeak her fierce devotion to life, with its clutter of memories and imperfections. In her tightly knotted, beautifully turned short poems, she elegizes a world not quite gone, and brings us into contact with some of her contemporaries, from Lincoln Kirstein to Theodore Roethke.
Chief among her cherished memories is her long bohemian marriage, which she recalls in a series of ravishing love poems to her late husband. In lines saturated with feeling she describes how she accommodates her grief at losing him and, as throughout this exquisite volume, how we must continue to greet life, in all its gorgeous strangeness.
Jane Mayhall was born in Louisville, Kentucky, in 1918 and attended Black Mountain College in North Carolina. She taught at the New School for Social Research, Hofstra University, Morehead State University, and the Summer Writers' Workshop at Hindman Settlement School in Kentucky. Her fiction and poems appeared in The Yale Review, The New Yorker, The Paris Review, and other publications. Mayhall lived in New York City until her death in 2009.
Sleeping Late on Judgment Day
Poems
By Jane Mayhall
Category: Poetry
Paperback
2005
112 Pages
$15.00
Published by Knopf
5-5/8 x 9-1/4
ISBN 9780375710483
more poetry
fleursdumal.nl magazine
More in: - Book Lovers, - Book Stories, Archive M-N, Archive M-N, Art & Literature News
`Koop je veters van me? Knopen? Karamels? Ulevellen?'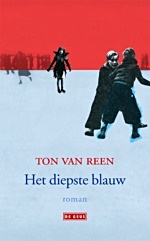 In de schaduw van de linden staat de zigeunerin die soms in het dorp komt venten, aan de ene arm een tas met koopwaar, op de andere arm een kind. Haar man zit op het stoepje voor een huis een sigaret te roken. In zijn karretje liggen dikke rollen touw, voor paarden en schepen. Jammer dat in dit dorp de paarden langzaam maar zeker vervangen worden door vrachtwagens en tractors en dat er buiten een paar roeibootjes op de Wijer geen schepen te vinden zijn.
Alleen grootvader Bernhard werkt nog met touw, voor de hijsinrichting in de watermolen. Hij leert hun hoe ze touw moeten knopen, om sterke verbindingen te maken.
Een jongen van zijn eigen leeftijd zit roerloos onder een boom. Hij kijkt naar Mels als een kat die weet dat ze bespied wordt. Het is Jacob, nu ziet hij het pas.
`Heb je je viool bij je?' vraagt Mels.
`Ik speel niet meer.'
`En je bent zo goed.'
`Wat ik mooi vind, vinden de mensen niet mooi.'
`Toen speelde je "Twee koningskinderen".'
`Weet ik. Ik speelde het vaak. Te vaak. Ik speel het nooit meer.'
`Ik snap hem niet', zegt zijn vader. `Hij verdient tien keer zoveel met zijn viool als ik met de verkoop van touw.'
Pas heeft Mels nog met grootvader over zigeuners gesproken. Zoiets noemt Thija een voorschouw. Dat je praat over iets waar je nog niets van weet maar dat binnenkort gaat gebeuren. Thija heeft dat vaak. Ze is helderziende. Soms weet ze dingen over hen die ze eigenlijk helemaal niet kan weten. Of dingen die hij gedroomd heeft. Sommige kinderen op school zijn bang voor haar, omdat ze met haar lichte ogen door hen heen kan kijken.
De vrouw heeft zwart haar en donkere ogen en draagt een bonte rok met diermotieven die tot op de grond hangt. Vogels, eekhoorns, konijnen, alle dieren van het bos leven met haar mee in de beweging van haar rok.
`Voor een stuiver karamels', zegt Mels.
Ze telt tien karamels af, licht- en donkerbruin in doorzichtige papiertjes. Ze doet er gratis vijf ulevellen bij.
`Dank u wel.'
`Je lijkt op mijn jongen', zegt ze.
`Oh', antwoordt hij verbaasd. Meer weet hij niet te zeggen. Sabbelend loopt hij naar de boot. Hij voelt zich wat ongemakkelijk. Het was net of de zigeunerin hem iets wilde vertellen. Hij had haar ook wat kunnen vragen, nu is het net of het hem niet interesseert.
Hij hoort dat hij gevolgd wordt. Het is de jongen.
Mels springt in de boot.
`Is die boot van jou?'
`Ja.'
`Ik wil ook graag varen.'
`Als je wilt, mag je een stuk mee.'
`Vandaag kan niet. We gaan zo naar huis.'
`Dan een andere keer.'
`Graag. Zit je op school?'
`Ja, natuurlijk. Jij dan niet?'
`Geen tijd voor. Nou, tot gauw.'
`Tot ziens.'
Mels roeit weg.
Ton van Reen: Het diepste blauw (049)
wordt vervolgd
fleursdumal.nl magazine
More in: - Book Stories, - Het diepste blauw, Archive Q-R, Reen, Ton van
Thank you for reading FLEURSDUMAL.NL - magazine for art & literature