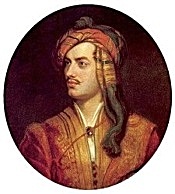 Italy versus England
With all its sinful doings, I must say,
That Italy's a pleasant place to me,
Who love to see the sun shine every day,
And vines (not nailed to walls) from tree to tree
Festooned, much like the back scene of a play,
Or melodrame, which people flock to see,
When the first act is ended by a dance
In vineyards copied from the South of France.
I like on autumn evenings to ride out,
Without being forced to bid my groom be sure
My cloak is round his middle strapped about,
Because the skies are not the most secure ;
I know too that, if stopped upon my route,
Where the green alleys windingly allure,
Reeling with grapes red wagons choke the way.—
In England 'twould be dung, dust, or a dray.
I also like to dine on becaficas,
To see the sun set, sure he'll rise to-morrow,
Not through a misty morning twinkling weak as
A drunken man's dead eye in maudlin sorrow,
But with all Heaven to himself ; the day will break as
Beauteous as cloudless, nor be forced to borrow
That sort of farthing candlelight which glimmers
Where reeking London's smoky cauldron simmers.
I love the language, that soft bastard Latin,
Which melts like kisses from a female mouth,
And sounds as if it should be writ on satin,
With syllables which breathe of the sweet South,
And gentle liquids gliding all so pat in,
That not a single accent seems uncouth,
Like our harsh northern whistling, grunting guttural,
Which we're obliged to hiss, and spit, and sputter all.
I like the women too (forgive my folly!),
From the rich peasant cheek of ruddy bronze,
And large black eyes that flash on you a volley
Of rays that say a thousand things at once,
To the high Dama's brow, more melancholy,
But clear, and with a wild and liquid glance,
Heart on her lips, and soul within her eyes,
Soft as her clime, and sunny as her skies.
Eve of the land which still is Paradise !
Italian Beauty ! didst thou not inspire
Raphael, who died in thy embrace, and vies
With all we know of Heaven, or can desire,
In what he had bequeathed us ?—in what guise,
Though flashing from the fervour of the lyre,
Would words described thy past and present glow,
While yet Canova can create below ?
'England ! with all thy faults I love thee still',
I said at Calais, and have not forgot it ;
I like to speak and lucubrate my fill ;
I like the government (but that is not it) ;
I like the freedom of the press and quill ;
I like the Habeas Corpus (when we've got it) ;
I like a Parliamentary debate,
Particularly when 'tis not too late ;
I like the taxes, when they're not too many ;
I like a seacoal fire, when not too dear ;
I like a beef-steak, too, as well as any ;
Have no objection to a pot of beer ;
I like the weather,—when it is not rainy,
That is, I like two months of every year.
And so God save the Regent, Church, and King !
Which means that I like all and every thing.
Our standing army, and disbanded seamen,
Poor's rate, Reform, my own, the nation's debt,
Our little riots just to show we're free men,
Our trifling bankruptcies in the Gazette,
Our cloudy climate, and our chilly women,
All these I can forgive, and those forget,
And greatly venerate our recent glories,
And wish they were not owing to the Tories.
Lord Byron (1788-1824)
Italy versus England
fleursdumal.nl magazine
More in: Archive A-B, Byron, Lord
Hendrik Nicolaas Werkman (1882-1945) wordt in 1919 lid van de 'Groninger Kunstkring De Ploeg'.

Men waardeert hem vooral als drukker. In 1922, wanneer hij zakelijk een stap terug moet doen, maakt Werkman kennis met het gebruik van typografisch zetmateriaal als vorm van drukkunst. Hij begint de mogelijkheden ervan te onderzoeken.
De eerste proeve van zijn kunnen is de uitgave van The Next Call, een serie van negen achtbladige cahiers bestaande uit teksten en abstracte composities die hij tussen 1923 en 1926 aan vrienden en andere mogelijk geïnteresseerden toestuurt. Talrijk zijn de aanwijzingen dat Werkman zich daarbij heeft laten inspireren door het dadaïstische en constructivistische idioom van de internationale avant-garde. Een modernistisch tijdschrift als een van de vele andere is The Next Call niet. Teksten en druksels laten zien dat het gaat over Werkman zelf, over wat hem in deze cruciale periode van zijn leven wezenlijk beroert
Peter Jordens:
Hendrik Werkman en De Ploeg.
The Next Call en het constructivisme
Dit boek verschijnt in oktober 2017
€ 22,50
ISBN 9789462582286
Formaat: 20 x 26,5 cm
Aantal pagina's 176
In samenwerking met Museum Belvédère
Circa 150 afbeeldingen in kleur
Jaar 2017
Uitvoering: Gebonden
Uitg.: wbooks
new books
fleursdumal.nl magazine
More in: - Book Lovers, - Book News, Archive W-X, Archive W-X, Art & Literature News, Concrete + Visual Poetry U-Z, Constructivism, Constuctivisme, Dada, DADA, Dadaïsme, De Ploeg, PRESS & PUBLISHING, REPRESSION OF WRITERS, JOURNALISTS & ARTISTS, Werkman, Hendrik Nicolaas
Die Buchmesse ist wichtigster internationaler Handelsplatz für Inhalte, das Zentrum der internationalen Medienwelt und kulturelles Großereignis.

An keinem Ort der Welt zeigt sich die Publishing- und Medienbranche vielfältiger, innovativer und internationaler als an diesen fünf Tagen im Oktober. Auf der Buchmesse können Sie neue Bücher und die innovativsten Produkte des "digital publishing" für sich entdecken.
Hier kommen Sie mit Ihren Idolen aus der Literaturwelt in direkten Kontakt – bei unzähligen Autorenlesungen, Diskussionen oder an der Showküche der "Gourmet Gallery". Lernen Sie die Verlagsbranche von ihrer lebendigsten Seite kennen.
69. Frankfurter Buchmesse
11. – 15. Oktober 2017
über 7.150 Aussteller
aus 106 Ländern
140.000 Fachbesucher
mehr als 1.000 Autoren
rund 278.000 Besucher
# website Frankfurter Buchmesse
fleursdumal.nl magazine
More in: - Book Lovers, - Book News, - Bookstores, Art & Literature News, Literary Events, PRESS & PUBLISHING
During the late 1960s, throughout the 1970s, and into the 1980s, New York City poets and musicians played together, published each other, and inspired one another to create groundbreaking art.

In "Do You Have a Band?", Daniel Kane reads deeply across poetry and punk music to capture this compelling exchange and its challenge to the status of the visionary artist, the cultural capital of poetry, and the lines dividing sung lyric from page-bound poem.
Kane reveals how the new sounds of proto-punk and punk music found their way into the poetry of the 1960s and 1970s downtown scene, enabling writers to develop fresh ideas for their own poetics and performance styles. Likewise, groups like The Fugs and the Velvet Underground drew on writers as varied as William Blake and Delmore Schwartz for their lyrics. Drawing on a range of archival materials and oral interviews, Kane also shows how and why punk musicians drew on and resisted French Symbolist writing, the vatic resonance of the Beat chant, and, most surprisingly and complexly, the New York Schools of poetry. In bringing together the music and writing of Richard Hell, Patti Smith, and Jim Carroll with readings of poetry by Anne Waldman, Eileen Myles, Ted Berrigan, John Giorno, and Dennis Cooper, Kane provides a fascinating history of this crucial period in postwar American culture and the cultural life of New York City.
Daniel Kane is reader in English and American literature at the University of Sussex in Brighton. His books include We Saw the Light: Conversations Between the New American Cinema and Poetry (2009) and All Poets Welcome: The Lower East Side Poetry Scene in the 1960s (2003).
Title Do You Have a Band?
Subtitle Poetry and Punk Rock in New York City
Author Daniel Kane
Publisher Columbia University Press
Title First Published 25 July 2017
Format Paperback
ISBN-10 0231162979
ISBN-13 9780231162975
Publication Date 25 July 2017
Main content page count 296
Weight 16 oz.
Paperback – $30.00
296 Pages
Daniel Kane: Do You Have a Band?": Poetry and Punk Rock in New York City
from Columbia University Press
new books
fleursdumal.nl magazine
More in: - Book News, Archive K-L, Art & Literature News, FDM in New York, MUSIC, Patti Smith, STREET POETRY, Urban Art
In Other Words is a revelation. It is at heart a love story of a long and sometimes difficult courtship, and a passion that verges on obsession: that of a writer for another language.
For Jhumpa Lahiri, that love was for Italian, which first captivated and capsized her during a trip to Florence after college. Although Lahiri studied Italian for many years afterwards, true mastery had always eluded her.
Seeking full immersion, she decided to move to Rome with her family, for 'a trial by fire, a sort of baptism' into a new language and world. There, she began to read and to write – initially in her journal – solely in Italian. In Other Words, an autobiographical work written in Italian, investigates the process of learning to express oneself in another language, and describes the journey of a writer seeking a new voice.
Presented in a dual-language format, this is a wholly original book about exile, linguistic and otherwise, written with an intensity and clarity not seen since Vladimir Nabokov: a startling act of self-reflection and a provocative exploration of belonging and reinvention.
"A writer of formidable powers and great depth of feeling" – Observer
Jhumpa Lahiri was born in London and raised in Rhode Island. Her debut collection of stories, Interpreter of Maladies, was awarded the Pulitzer Prize, the PEN/Hemingway Award,The New Yorker Debut of the Year, and an Addison M. Metcalf Award from the American Academy of Arts and Letters. It was an international bestseller, translated into more than thirty languages. Her first novel, The Namesake, was a New York Times Notable Book, a Los Angeles TimesBook Prize finalist, and selected as one of the best books of the year by USA Today and Entertainment Weekly, among other publications. Her second collection, Unaccustomed Earth, was a New York Times Book Review,Washington Post, Los Angeles Times, Time, and People Magazine Best Book of the Year, a finalist for the Story Prize, and winner of the Frank O'Connor International Short Story Award. Her most recent book is her second novel,The Lowland (published September 2013).
A recipient of Guggenheim and National Endowment for the Arts Fellowships, she was inducted into the American Academy of Arts and Letters in 2012. She lives in Brooklyn, New York, with her husband and two children.
Jhumpa Lahiri writes: Essays & Journalism, Biography & Memoir, General Fiction, Short Stories
She is author of : In Other Words, The Clothing of Books, The Lowland, Only Goodness, Unaccustomed Earth
In Other Words
By Jhumpa Lahiri
Translator: Ann Goldstein
Publ.: 09-02-2017
Paperback
Edition: 1st
256 pag.
ISBN: 9781408866139
Imprint: Bloomsbury Paperbacks
Dim.: 198 x 129 mm
new books
fleursdumal.nl magazine
More in: - Book News, - Book Stories, Archive K-L, Art & Literature News
Woon jij in de Tilburgse Kleuren- en Kruidenbuurt? Dan nodigen ContourdeTwern en On-Site Poetry (Nick J. Swarth en Sander Neijnens) jou uit voor een bijzondere bijeenkomst op woensdag 20 september.
Onder de noemer 'We gooien het op het woord' wordt op speelse wijze naar boven gehaald hoe jij als bewoner de wijk ervaart.
Uiteindelijk leidt het tot een verzameling schijnbaar losse teksten, waar Nick J. Swarth een gedicht van maakt. Dat wordt, in een vormgeving van Sander Neijnens, aangebracht in de trappenhal van wijkcentrum Het Kruispunt. Zichtbaar voor alle bezoekers maar ook voor de mensen die voorbijlopen. Later dit jaar wordt het gedicht op feestelijke wijze onthuld.
De bijeenkomst vindt plaats op woensdag 20 september 2017 van 19.00–21.00 uur in het wijkcentrum aan de Sinopelstraat 1. Voor lekkere hapjes en drankjes is ook gezorgd. Je bent van harte welkom. Aanmelden is niet nodig.
Meer informatie kun je krijgen bij Joy's van Lieshout, joysvanlieshout@contourdetwern.nl of bel: 013 4683857
ContourdeTwern en On-Site Poetry Tilburg
'We gooien het op het woord'
fleursdumal.nl magazine
More in: Archive S-T, Art & Literature News, City Poets / Stadsdichters, Concrete + Visual Poetry P-T, Graffity, Nick J. Swarth, Swarth, Nick J., Urban Art
Paul Auster, Emily Fridlund, Mohsin Hamid, Fiona Mozley, George Saunders and Ali Smith are announced as the six shortlisted authors for the 2017 Man Booker Prize for Fiction.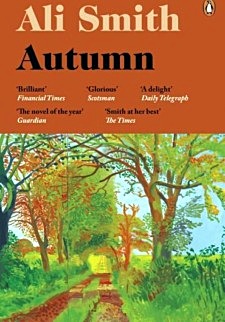 Their names were announced by 2017 Chair of judges, Lola, Baroness Young, at a press conference at the offices of Man Group, the prize sponsor.
The judges remarked that the novels, each in its own way, challenge and subtly shift our preconceptions — about the nature of love, about the experience of time, about questions of identity and even death.
Two novels from independent publishers, Faber & Faber and Bloomsbury, are shortlisted, alongside two from Penguin Random House imprint Hamish Hamilton and two from Hachette imprints, Weidenfeld & Nicolson and JM Originals.
The 2017 shortlist of six novels is:
4321 by Paul Auster (US) (Faber & Faber)
History of Wolves by Emily Fridlund (US) (Weidenfeld & Nicolson)
Exit West by Mohsin Hamid (UK-Pakistan) (Hamish Hamilton)
Elmet by Fiona Mozley (UK) (JM Originals)
Lincoln in the Bardo by George Saunders (US) (Bloomsbury Publishing)
Autumn by Ali Smith (UK) (Hamish Hamilton)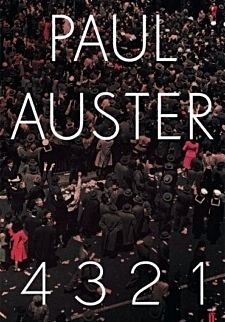 The judging panel, chaired by Lola, Baroness Young, consists of: the literary critic, Lila Azam Zanganeh; the Man Booker Prize shortlisted novelist, Sarah Hall; the artist, Tom Phillips CBE RA; and the travel writer and novelist, Colin Thubron CBE.
The 2017 winner will be announced on Tuesday 17 October in London's Guildhall, at a dinner that brings together the shortlisted authors and many well-known figures from the literary world. The ceremony will be broadcasted by the BBC.
The shortlisted authors will each receive £2,500 and a specially bound edition of their book. The winner will receive a further £50,000 and can expect international recognition.
The Man Booker Prize 2017 shortlist:
4 3 2 1 by Paul Auster (US) (Faber & Faber)
History of Wolves by Emily Fridlund (US) (Weidenfeld & Nicolson)
Exit West by Mohsin Hamid (Pakistan-UK) (Hamish Hamilton)
Elmet by Fiona Mozley (UK) (JM Originals)
Lincoln in the Bardo by George Saunders (US) (Bloomsbury Publishing)
Autumn by Ali Smith (UK) (Hamish Hamilton)
The Man Booker Prize 2017
fleursdumal.nl magazine
More in: - Book Lovers, - Book News, Archive A-B, Archive S-T, Art & Literature News, Literary Events, Paul Auster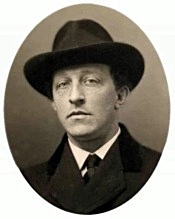 Aleksandr Blok
(1880–1921)
De stad, de straat
De stad, de straat, de lamp, de zaak,
Bevroren is het duister, zinloos licht.
Al overleef je nog zo, nog zo vaak,
Het is zoals het is. De deur zit dicht.
Je sterft, staat op, en doet alsof je lacht,
Je wereldje hervindt zijn stille kramp:
Het vastgevroren water van de nacht,
De stad, de straat, de zaak, de lamp.
Aleksandr Blok, Ночь, улица… , 1912
Vertaling Paul Bezembinder 2016
Paul Bezembinder: zijn gedichten en vertalingen verschenen in verschillende (online) literaire tijdschriften. Zie meer op zijn website: www.paulbezembinder.nl
fleursdumal.nl magazine
More in: Archive A-B, Blok, Blok, Aleksandr
Global Discontents is a compelling set of interviews with Noam Chomsky, who identifies the "dry kindling" of discontent around the world that could soon catch fire.
In wide-ranging interviews with David Barsamian, his longtime interlocutor, Noam Chomsky asks us to consider "the world we are leaving to our grandchildren": one imperiled by the escalation of climate change and the growing potential for nuclear war. If the current system is incapable of dealing with these threats, he argues, it's up to us to radically change it.
These ten interviews, conducted from 2013 to 2016, examine the latest developments around the globe: the devastation of Syria, the reach of state surveillance, growing anger over economic inequality, the place of religion in American political culture, and the bitterly contested 2016 U.S. presidential election. In accompanying personal reflections on his Philadelphia childhood and his eighty-seventh birthday, Chomsky also describes his own intellectual journey and the development of his uncompromising stance as America's premier dissident intellectual.
Noam Chomsky is the author of numerous bestselling political works, including Hegemony or Survival and Failed States. A professor emeritus of linguistics and philosophy at MIT, he is widely credited with having revolutionized modern linguistics. He lives outside Boston, Massachusetts.
David Barsamian, director of the award-winning and widely syndicated Alternative Radio, is a winner of the Lannan Foundation's Cultural Freedom Fellowship and the ACLU's Upton Sinclair Award for independent journalism. He lives in Boulder, Colorado.
Global Discontents
Conversations on the Rising Threats to Democracy
Noam Chomsky: Interviews with David Barsamian
Trade Paperback
$18.00
Metropolitan Books
Henry Holt and Co.
12/05/2017
ISBN: 9781250146182
240 Pages
new books
fleursdumal.nl magazine
More in: - Book News, - Book Stories, Archive A-B, Archive C-D, Art & Literature News, MONTAIGNE, Noam Chomsky
The story of two girls and the wild year that will cost one her life, and define the other's for decades.
Everything about fifteen-year-old Cat's new town in rural Michigan is lonely and off-kilter until she meets her neighbor, the manic, beautiful, pill-popping Marlena. Cat is quickly drawn into Marlena's orbit and as she catalogues a litany of firsts—first drink, first cigarette, first kiss, first pill—Marlena's habits harden and calcify. Within the year, Marlena is dead, drowned in six inches of icy water in the woods nearby. Now, decades later, when a ghost from that pivotal year surfaces unexpectedly, Cat must try again to move on, even as the memory of Marlena calls her back.
Told in a haunting dialogue between past and present, Marlena is an unforgettable story of the friendships that shape us beyond reason and the ways it might be possible to pull oneself back from the brink.
"It's still so early in 2017 that calling something a best debut novel of the year is a dicey thing to try and do.  But if the Lorrie Moore blurb on the front cover doesn't tip you off that Julie Buntin's Marlena is a book you should be paying attention to, the fact that the author created something that could easily be called the millennial Midwestern version of the celebrated Elena Ferrante Neapolitan Novels crossed with Robin Wasserman's great Girls on Fire, should do the trick." –Rolling Stone
Julie Buntin is from northern Michigan. Her work has appeared in The Atlantic, Cosmopolitan, O, The Oprah Magazine, Slate, Electric Literature, and One Teen Story, among other publications. She teaches fiction at Marymount Manhattan College, and is the director of writing programs at Catapult. She lives in Brooklyn, New York. Marlena is her debut novel.
MARLENA
By Julie Buntin
Hardcover
$26.00
Henry Holt and Co.
04/04/2017
ISBN: 9781627797641
288 Pages
Trade Paperback
$16.00
Picador
04/03/2018
ISBN: 9781250160157
288 Pages
book news
fleursdumal.nl magazine
More in: - Book News, Archive A-B, Art & Literature News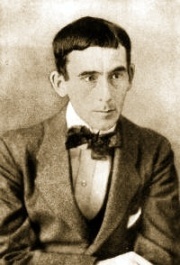 Sieben schizophrene Sonette
1. Der grüne König
Wir, Johann, Amadeus Adelgreif,
Fürst von Saprunt und beiderlei Smeraldis,
Erzkaiser über allen Unterschleif
Und Obersäckelmeister vom Schmalkaldis
Erheben unsern grimmen Löwenschweif
Und dekretieren vor den leeren Saldis:
"Ihr Räuberhorden, eure Zeit ist reif.
Die Hahnenfeder ab, ihr Garibaldis.
Man sammle alle Blätter unserer Wälder
Und stanze Gold daraus, soviel man mag,
Das ausgedehnte Land braucht neue Gelder.
Und eine Hungersnot liegt klar am Tag.
Sofort versehe man die Schatzbehälter
Mit Blattgold aus dem nächsten Buchenschlag."
2. Die Erfindung
Als ich zum ersten Male diesen Narren
Mein neues Totenwäglein vorgeführt,
War alle Welt im Leichenhaus gerührt
Von ihren Selbstportraits und anderen Schmarren.
Sie sagten mir: nun wohl, das sei ein Karren,
Jedoch die Räder seien nicht geschmiert,
Auch sei es innen nicht genug verziert
Und schließlich wollten sie mich selbst verscharren.
Sie haben von der Sache nichts begriffen,
Als daß es wurmig zugeht im Geliege
Und wenn ich mich vor Lachen jetzt noch biege,
So ist es, weil sie drum herum gestanden,
Die Pfeife rauchten und den Mut nicht fanden,
Hineinzusteigen in die schwarze Wiege.
3. Der Dorfdadaist
In Schnabelschuhen und im Schnürkorsett
Hat er den Winter überstanden,
Als Schlangenmensch im Teufelskabinett
Gastierte er bei Vorstadtdilettanten.
Nun sich der Frühling wieder eingestellt
Und Frau Natura kräftig promenierte,
Hat ihn die Lappen- und Attrappenwelt
Verdrossen erst und schließlich degoutieret.
Er hat sich eine Laute aufgezimmert
Aus Kistenholz und langen Schneckenschrauben,
Die Saiten rasseln und die Stimme wimmert,
Doch läßt er sich die Illusion nicht rauben.
Er brüllt und johlt, als hinge er am Spieße.
Er schwenkt jucheiend seinen Brautzylinder.
Als Schellenkönig tanzt er auf der Wiese
Zum Purzelbaum der Narren und der Kinder.
4. Der Schizophrene
Ein Opfer der Zerstückung, ganz besessen
Bin ich – wie nennt ihr's doch? – ein Schizophrene.
Ihr wollt, daß ich verschwinde von der Szene,
Um euren eigenen Anblick zu vergessen.
Ich aber werde eure Worte pressen
In des Sonettes dunkle Kantilene.
Es haben meine ätzenden Arsene
Das Blut euch bis zum Herzen schon durchmessen.
Des Tages Licht und der Gewohnheit Dauer
Behüten euch mit einer sichern Mauer
Vor meinem Aberwitz und grellem Wahne.
Doch plötzlich überfällt auch euch die Trauer.
Es rüttelt euch ein unterirdischer Schauer
Und ihr zergeht im Schwunge meiner Fahne.
5. Das Gespenst
Gewöhnlich kommt es, wenn die Lichter brennen.
Es poltert mit den Tellern und den Tassen.
Auf roten Schuhen schlurrt es in den nassen
Geschwenkten Nächten und man hört sein Flennen.
Von Zeit zu Zeit scheint es umherzurennen
Mit Trumpf, Atout und ausgespielten Assen.
Auf Seil und Räder scheint es aufzupassen
Und ist an seinem Lärmen zu erkennen.
Es ist beschäftigt in der Gängelschwemme
Und hochweis weht dann seine erzene Haube,
Auf seinen Fingern zittern Hahnenkämme,
Mit schrillen Glocken kugelt es im Staube.
Dann reißen plötzlich alle wehen Dämme
Und aus der Kuckucksuhr tritt eine Taube.
6. Der Pasquillant
Auch konnt es unserm Scharfsinn nicht entgehen,
Daß ein Herr Geist uns zu bemäkeln pflegt,
Indem er ein Pasquill zusammenträgt,
Das ihm die Winde um die Ohren säen.
Bald kritzelt er, bald hüpft er aufgeregt
Um uns herum, dann bleibt er zuckend stehen
Und reckt den Schwartenhals, um zu erspähen,
Was sich in unserm Kabinett bewegt.
Den Bleistiftstummel hat er ganz zerbissen,
Die Drillichnaht ist hinten aufgeschlissen,
Doch dünkt er sich ein Diplomatenjäger.
De fakto dient bewußter Schlingenleger
Dem Kastellan als Flur- und Straßenfeger
Und hat das Recht die Kübel auszugießen.
7. Intermezzo
Ich bin der große Gaukler Vauvert.
In hundert Flammen lauf ich einher.
Ich knie vor den Altären aus Sand,
Violette Sterne trägt mein Gewand.
Aus meinem Mund geht die Zeit hervor,
Die Menschen umfaß ich mit Auge und Ohr.
Ich bin aus dem Abgrund der falsche Prophet,
Der hinter den Rädern der Sonne steht.
Aus dem Meere, beschworen von dunkler Trompete,
Flieg ich im Dunste der Lügengebete.
Das Tympanum schlag ich mit großem Schall.
Ich hüte die Leichen im Wasserfall.
Ich bin der Geheimnisse lächelnder Ketzer,
Ein Buchstabenkönig und Alleszerschwätzer.
Hysteria clemens hab ich besungen
In jeder Gestalt ihrer Ausschweifungen.
Ein Spötter, ein Dichter, ein Literat
Streu ich der Worte verfängliche Saat.
Hugo Ball
(1886-1927)
Sieben schizophrene Sonette
fleursdumal.nl magazine
More in: Archive A-B, Ball, Hugo, Dada, DADA, Dadaïsme
Nederland vormde Jan Wolkers, en Jan Wolkers vormde Nederland.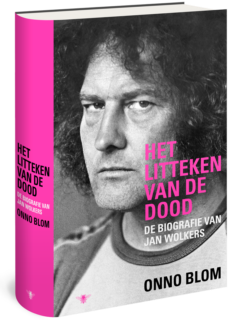 Zijn kunstenaarschap ontstond uit woede tegen de God van zijn gereformeerde vader in Oegstgeest, bloeide op in Amsterdam, en vond harmonie op Texel.
Zijn romans werden verguisd, bejubeld en bekroond. Wereldwijd werden honderdduizenden exemplaren verkocht van Kort Amerikaans, Een roos van vlees en Turks fruit.
Wolkers werd opgeleid als beeldhouwer. Hij maakte vele beelden in brons en glas, en liet een schitterend oeuvre van kleurrijke schilderijen na. Zoals hij beeldhouwde met woorden, zo schreef hij met verf.
Meer dan tien jaar lang werkte Onno Blom aan Wolkers' biografie. Op basis van een schat aan materiaal schetst hij een rebels, obsessief en zinnelijk leven in de greep van liefde en dood. Wolkers had onstuimige relaties met vrouwen en meisjes. De dood van zijn oudste broer en die van zijn tweejarige dochtertje bleven hem tot zijn laatste dag als demonen achtervolgen.
Onno Blom (1969) studeerde in 1994 cum laude af in de Nederlandse taal- en letterkunde en Culturele Studies. Na een aantal jaren te hebben gewerkt als literair redacteur bij dagblad Trouw en korte tijd als hoofdredacteur van Uitgeverij Prometheus Bert Bakker en adjunct-directeur van De Bezige Bij, is hij werkzaam als freelance journalist en literair criticus. Hij maakte voor Teleac een aantal radioprogramma's en treedt op als interviewer en presentator bij literaire bijeenkomsten in het land. Blom is de officiële biograaf van Jan Wolkers.
'Arme Onno. Zweet, bloed en tranen zullen langs zijn rug lopen,' zei Wolkers vlak voor zijn dood in NRC Handelsblad.
Verwacht – 19 oktober 2017 – handelseditie
Het litteken van de dood
Onno Blom
Aantal pagina's 1168
Uitvoering: Gebonden
ISBN 9789023454588
Uitgever De Bezige Bij
Druk vanaf 1e
Taal Nederlands
Bladzijden 1168 pp.
Bindwijze Hardcover
Genre Literaire non-fictie
€39,99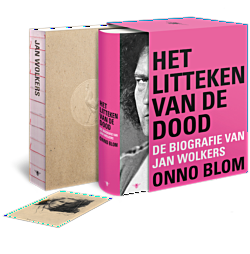 Naast de toegankelijke 'volkseditie' verschijnt een luxe editie in cassette, met daarin de biografie in een gebonden uitgave, een gebonden beeldboek met leven en werk van Jan Wolkers aan de hand van foto's, portretten, kunstwerken en egodocumenten, en een facsimiledruk van een zelfportret van Jan Wolkers uit 1945.
Deze luxe editie verschijnt in een eenmalige oplage van 1500 exemplaren, wordt genummerd en voorzien van de handtekeningstempel van Wolkers.
Verwacht – 19 oktober 2017 – luxe uitgave
Het litteken van de dood
Onno Blom
ISBN 9789023456568
Uitgever De Bezige Bij
Druk vanaf 1e
Taal Nederlands
Bindwijze Hardcover
Genre Biografieën
€129,99
new books
fleursdumal.nl magazine
More in: - Book Lovers, - Book News, Archive W-X, Art & Literature News, BIOGRAPHY, Jan Wolkers
Thank you for reading FLEURSDUMAL.NL - magazine for art & literature