Stip, stip, stap. Iemand komt over de stoep naderbij. Vlug. Hinkelend. Springend. Thija hinkelt altijd. Twee, één, twee. Ze kan nooit gewoon lopen, zeker niet als ze vrolijk is. Ze is altijd vrolijk
.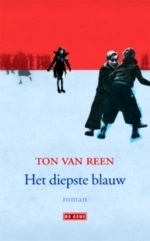 `Kom je?' roept ze door de brievenbus.
Mels holt de trap af, naar de keuken, grist een paar sneden brood van tafel.
`We gaan naar de molen', roept hij met volle mond tegen zijn moeder, die yoghurt zeeft door een dunne doek.
Ze likt haar witte vingers af.
`Als je toch bij grootvader bent, help hem dan met opruimen!'
`Jaaaaah.' Hoe langer ja, hoe meer het nee betekent. Ze moet toch weten dat grootvader Bernhard niet van opruimen houdt en dat hij in een bed slaapt dat hij bijna nooit opmaakt. Het is meer een hol in de dekens waar hij 's ochtends uit en 's avonds weer in kruipt.
Mels holt de deur uit, achter Thija aan, die hinkelend al bijna bij de voordeur van Tijger is. Ze zwaait met haar hoofd, waardoor haar haren uitstaan als een gesteven hoepelrok die omhoogzwiert bij het dansen.
`Kom je?' roept ze door de brievenbus.
`Kom je, kom je', echoot het door de straat.
Een paar tellen later holt Tijger al naar buiten, achtervolgd door zijn moeder die hem nog net een boterham met stroop in de hand kan duwen, stroop uit de emmer van de stroopfabriek, en vlug een luizenkam door zijn haar haalt. Alle moeders zijn bang voor luizen sinds er op school een luizenplaag heeft gewoed. De jongens werden kaalgeschoren en het haar van de meisjes werd kort geknipt.
Maar dat is al twee jaar geleden. Ondertussen hebben sommige meisjes het haar alweer tot op hun schouders. Ook Thija, met haar blauwzwarte engelenhaar dat als zijde aanvoelt. Mels heeft een hekel aan die vlooienkam, die hem het haar uit zijn hoofd trekt. Hij snapt niet dat de moeders hun kinderen er nog elke dag mee pesten.
`Pas goed op de jongens', roept Tijgers moeder tegen Thija. Ze is overbezorgd. Dat komt doordat Tijgers vader vlak na de geboorte van het tweede kind is overleden. In zijn slaap. Hij was nog geen dertig.
`Ik let wel op die kuikens', lacht Thija. Ze trekt een clownsgezicht naar Tijgers kleine zusje dat met grote ogen naar haar staart, lippen en neus platgedrukt tegen het venster.
Tijgers moeder vindt het prima dat Thija er met de jongens op uit trekt. Zo'n meisje zorgt er wel voor dat ze geen gekke dingen doen. Maar het is juist Thija die de gevaarlijkste streken uithaalt. Het is Thija die naar de hoogste eksternesten klimt en door de bomen zwiert om eekhoorns op te jagen. Het is Thija die op het idee kwam om mee te draaien op het rad van de watermolen. Het was Thija die de laffe Kemp op zijn falie gaf omdat hij vanuit zijn slaapkamerraam had geschoten op de lijsters die zaten te zingen op de radioantennes. Zij neemt altijd het initiatief. Net als vandaag. Zij zegt wat ze gaan doen. Elke ochtend, de hele zomer lang. En de jongens leggen zich erbij neer dat ze nooit naar hen luistert.
Ton van Reen: Het diepste blauw (011)
wordt vervolgd
fleursdumal.nl magazine
More in: - Book Stories, - Het diepste blauw, Archive Q-R, Reen, Ton van

Mercr. 17/01-2018 – 20h
Lecture & rencontre
Kate Tempest
Écoute la ville tomber
Rencontre animée par Clémentine Goldszal
Interprète : Marguerite Capelle
tarif : 5 € / adhérent : 0 € RÉSERVER
Maison de la Poésie
Passage Molière
157 rue Saint-Martin
75003 Paris
www.maisondelapoesieparis.com
Becky, Harry, Leon, Pete. Quatre jeunes gens dans le Londres d'aujourd'hui. Ils ont des rêves, des aspirations, que la ville nourrit puis feint d'encourager pour mieux les broyer. Écoute la ville tomber est le roman d'une génération abîmée par le cynisme mais qui refuse d'abandonner l'utopie. Kate Tempest attrape le lecteur à chaque phrase, avec la furieuse envie de montrer le monde tel qu'il est. Sorti en 2016 en Angleterre, le roman est resté plusieurs semaines dans la liste des best-sellers du Sunday Times, atteignant les 100 000 exemplaires.
Poétesse, musicienne et performeuse mêlant rap, slam, rock & spoken word, Kate Tempest est, à 30 ans à peine, une artiste majeure du temps présent. Comparée à Zadie Smith ou à Virginie Despentes, cette jeune prodige surprend et impressionne, elle cristallise toutes les révoltes qui animent nos temps troubles.
À lire – Kate Tempest, Écoute la ville tomber, traduit de l'anglais par Madeleine Nasalik, Rivages, 2018. Les Nouveaux anciens, trad. de l'anglais par D' de Kabal et Louise Bartlett, L'Arche, 2017.
À écouter – Kate Tempest, Let Them Eat Chaos, Fiction Records, 2016.
Les nouveaux anciens
Kate Tempest 
Paru le 18 octobre 2017
Poésie, broché
Editeur Arche
Nombre de pages 72
Traduit de l'anglais par D' de Kabal et Louise Bartlett
ISBN : 978-2-85181-928-4 – €12
Dans ce poème épique urbain, Kate Tempest revisite par les mythes nos vies modernes désenchantées. Selon elle, les dieux de l'Antiquité resurgissent dans le monde contemporain à travers nos actes quotidiens de violence, de bravoure, de sacrifice ou d'amour. Nous sommes toujours mythiques, nous sommes toujours divins. Elle dépeint ainsi une traversée des âges, de la naissance à la mort de l'être humain, sans occulter ses failles, ses erreurs ni ses regrets. Célébrant l'humain trop humain des supermarchés, des rues, des bars et des open-space, elle s'inscrit dans la tradition d'un hip hop old-school, entre poésie, rap et poésie parlée. Une écriture dramatique puissamment cadencée, avec une rythmique très musicale et un « flow » à couper le souffle.
Ecoute la ville tomber
Kate Tempest
Madeleine Nasalik (Traducteur)
Traduit de l'anglais
Collection: Littérature étrangère Rivages
ISBN: 978-2-7436-4199-3
EAN: 9782743641993
Parution: janvier, 2018
400 pages
Format : 14.0 x 20.5
Prix: €22,50
Becky, Harry, Leon. Ils sont jeunes, hésitent entre le cynisme et le besoin éperdu d'utopie. Chacun a des rêves, des aspirations, que la ville nourrit et feint d'encourager pour mieux les broyer. Ce roman résonne des bruits et du rythme de notre époque, dans la prose incandescente de Kate Tempest, star du hip-hop, poétesse et artiste déjà légendaire à 30 ans à peine, admirée par Virginie Despentes, Lola Lafon ou Don DeLillo. Best-seller international, ce livre impose la jeune Anglaise comme une voix majeure de la scène littéraire d'aujourd'hui.
Kate Tempest
Lecture & rencontre
Mercr. 17/01-2018 – 20h
Maison de la Poésie
75003 Paris
fleursdumal.nl magazine
More in: Archive S-T, Archive S-T, Art & Literature News, Kate Tempest, Literary Events, Tempest, Kate, TRANSLATION ARCHIVE
De Academie De Gouden Ganzenveer kent de Gouden Ganzenveer 2018 toe aan de Zuid-Afrikaanse dichteres Antjie Krog.
Gerdi Verbeet, Academievoorzitter De Gouden Ganzenveer maakte afgelopen zaterdag de laureaat bekend in het radioprogramma De Taalstaat. De Academie De Gouden Ganzenveer eert Krog als een bijzondere en veelzijdige dichteres, als een uitzonderlijk integer schrijfster en journaliste, en als een begenadigd performer van haar eigen werk.
De prijsuitreiking vindt plaats op donderdag 19 april a.s. in Amsterdam. Een weerslag van deze bijeenkomst wordt vastgelegd in een speciale uitgave, die in de loop van het jaar zal verschijnen.
De Academie, een initiatief van het bestuur van stichting De Gouden Ganzenveer, kent jaarlijks deze culturele prijs toe. De leden zijn afkomstig uit de wereld van cultuur, wetenschap, politiek en het bedrijfsleven. Met deze onderscheiding wil de Academie het geschreven en gedrukte woord in het Nederlands taalgebied onder de aandacht brengen.
Voorgaande laureaten zijn Arnon Grunberg, Xandra Schutte, Geert Mak, David Van Reybrouck, Ramsey Nasr, Annejet van der Zijl, Remco Campert, Joke van Leeuwen, Adriaan van Dis, Joost Zwagerman, Tom Lanoye, Peter van Straaten, Maria Goos, Kees van Kooten, Jan Blokker en Michaël Zeeman.
Uitgebreide informatie is te vinden op www.goudenganzenveer.nl
De Zuid-Afrikaanse Antjie Krog (1952) is een gelauwerd dichter, schrijver en academicus. Krog debuteerde in 1970 op achttienjarige leeftijd met de dichtbundel Dogter van Jefta. Inmiddels is ze uitgegroeid tot een van de belangrijkste dichters van Zuid-Afrika.
Haar poëzie is persoonlijk, zintuiglijk en sterk geëngageerd: Krog dicht over het moederschap en het ouder worden, maar ook over de diepe verbondenheid en de worsteling met de ongelijkheid en het racisme in haar land. Krog kreeg bekendheid in Nederland door haar vele optredens bij Poetry International, de Nacht van de Poëzie en het festival Winternachten. Talrijke poëzieliefhebbers raakten in de ban van haar ongewone, ontroerende en klankrijke poëzie.
In 1999 publiceerde uitgeverij Atlas een bloemlezing uit haar werk onder de titel Om te kan asemhaal. Daarna zijn haar dichtbundels bij uitgeverij Podium verschenen. Zij schreef ook proza, bijvoorbeeld Country of my Skull (in het Nederlands: De kleur van je hart, 1998/2000), toneelstukken en non-fictie. De roman Mond vol glas van Henk van Woerden en het toneelstuk Mamma Medea van Tom Lanoye vertaalde zij van het Nederlands naar het Afrikaans.
Antjie Krog is buitengewoon hoogleraar Letteren en Filosofie aan de Universiteit van de Westkaap. Haar werk is veelvuldig bekroond, onder andere met de prestigieuze Hertzogprijs, de Reina Prinsen Geerligsprijs, de Pringle Award, de Alan Paton Award. Op donderdag 19 april a.s. neemt zij de Gouden Ganzenveer 2018 in ontvangst.
Laureaat Gouden Ganzenveer 2018: Antjie Krog
foto: Karina Turok
fleursdumal.nl magazine
More in: Antjie Krog, Archive K-L, Archive K-L, Art & Literature News, Awards & Prizes, Literary Events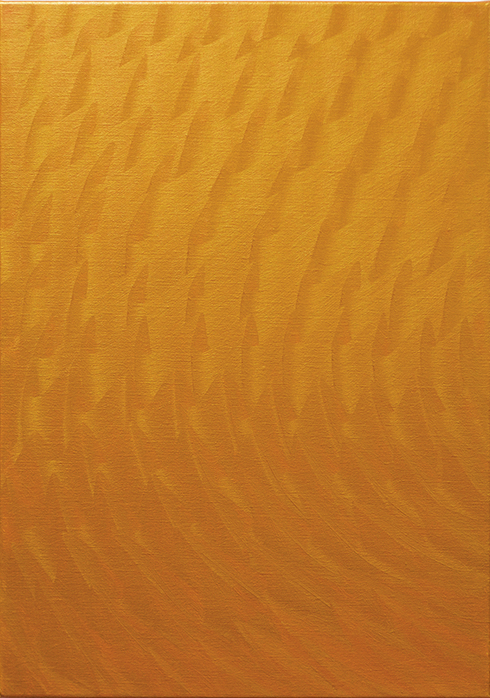 Annemarie Slobbe: "To live is to let go."
In her work, Anne​marie Slobbe (1990) embraces an abstract visual language​ to reflect​ ​the​ ​​nullity​ ​of the ​human condition​.​ The passage of time is a central component in her paintings and drawings, which consist of rhythmic and repetitive patterns.​
​
To emphasize everything's state of impermanence she manipulates her materials to create compositions which are receptive of the changing light of day. The transitory characteristics of the work are also experienced by the spectator when one's viewpoint is altered.
By using these elements she adds a layer of uncontrollability to the work​, as a visual reference to the fact that in our own lives many things lay beyond our control​. She questions the human struggle against the current of life since it brings more inner rest when one decides to find acceptance of their situation and learns to let go.
Annemarie graduated in 2014 at AKV St. Joost Breda. ​At the moment h​er work is represented by Patty Morgan and SBK Amsterdam.
 #  website www.annemarieslobbe.com 
fleursdumal.nl magazine
More in: Anne​marie Slobbe, Art & Literature News, Exhibition Archive, FDM Art Gallery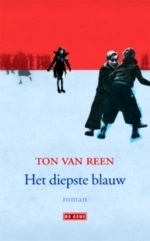 Het werk aan de daken werd altijd goed beloond, met kwartjes en dubbeltjes, met emmers fruit en zakken snoep.
Alles hadden ze altijd gedeeld met Thija. Zoals ook Thija alles met hen deelde. Wanneer haar vader thuiskwam van zijn verre reizen, kreeg ze zakken snoep: ulevellen, karamels, zoete drop.
Dat ze wat te delen had, wist hij vaak al van tevoren. Als hij 's avonds laat, altijd als het al donker was, een auto in de straat hoorde stoppen en een portier hoorde dichtslaan, schoot hij uit bed om een glimp van haar vader op te vangen. Altijd te laat. De voordeur was al dicht voor hij bij het raam was. Zo snel als Thija's vader was niemand.
Ton van Reen: Het diepste blauw (010)
wordt vervolgd
fleursdumal.nl magazine
More in: - Book Stories, - Het diepste blauw, Archive Q-R, Reen, Ton van
Michel Houellebecq ist nicht nur einer der erfolgreichsten Schriftsteller der Gegenwart, er ist vor allem und mit großer Lust eines: ein Provokateur, der regelmäßig Debatten auslöst, die weit über das Literarische hinausgehen.
Mal nennt er den Islam die «bescheuertste Religion der Welt», dann preist er die Prostitution als eheerhaltende Maßnahme – und man kann sich nicht sicher sein, ob er das wirklich so meint.
Julia Encke, Literaturchefin der «Frankfurter Allgemeinen Sonntagszeitung», ist ihm immer wieder begegnet und macht sich nun daran, das Leben und Werk dieses großen Dichters zu entschlüsseln. «Wer ist Michel Houellebecq?» fragt nach der Spannung zwischen dem Menschen Houellebecq und dem öffentlichen Bild des Mannes, der mit seinen Romanen «Elementarteilchen» und «Unterwerfung» wütende Anfeindungen wie begeisterte Zustimmung erntete.
Sie beschreibt die vielen Facetten – den Visionär, den Romantiker, den Künstler – und zeigt, dass kaum jemand die Stimmung unserer Zeit so gut erfasst wie Michel Houellebecq. Er zielt mit seinen Texten mitten ins Herz unserer Gesellschaft – weshalb auch kaum jemand eine so große Gemeinde von Fans und erbitterten Gegnern hat. Pünktlich zum 60. Geburtstag erscheint nun das Porträt, das dem Rätsel Houellebecq auf die Spur zu kommen versucht.
Julia Encke, geboren 1971, studierte Literaturwissenschaft in Freiburg, Toulouse und München und promovierte mit einer vielbeachteten Arbeit über den Ersten Weltkrieg. Von 2001 bis 2005 arbeitete sie im Feuilleton der «Süddeutschen Zeitung» und gehört seit Sommer 2005 dem Feuilleton der «Frankfurter Allgemeinen Sonntagszeitung» in Berlin an. Seit 2015 verantwortet sie dort das Literaturressort. 2005 erschien «Augenblicke der Gefahr. Der Krieg und die Sinne 1914–1934», 2014 «Charisma und Politik. Warum unsere Demokratie mehr Leidenschaft braucht».
Julia Encke:
Wer ist Michel Houellebecq?
Porträt eines Provokateurs
Dec. 2017
256 Seiten
€19,95
Hardcover
ISBN: 978-3-7371-0017-5
Verlag: Rowohlt Berlin
new books
fleursdumal.nl magazine
More in: - Book Lovers, - Book Stories, Archive E-F, Archive G-H, Art & Literature News, Michel Houellebecq, NONFICTION: ESSAYS & STORIES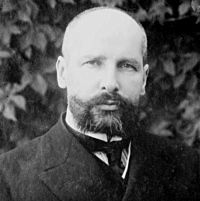 Zij lag gekleed als Colombine
Zij lag gekleed als Colombine
nog vol van leven dood te zijn,
deze speelster-concubine…
half toegedekt met een gordijn,
het masker bij haar op de grond.
Wat heeft zij níet aan tekst gespuid
door die verkleurde, open mond?
Pas nu komt er geen vuil meer uit!
Konstantin Sloetsjevski
(1837 – 1904)
В костюме светлом Коломбины…
gedicht 1883
vertaling Paul Bezembinder 2016.
(Meer over Paul Bezembinder is te vinden op zijn website: www.paulbezembinder.nl)
fleursdumal.nl magazine
More in: Archive S-T, Archive S-T, CLASSIC POETRY, Sloetsjevski
Peu de noms évoquent autant le mystère, la sensualité et l'intrigue que celui de Mata Hari. Son histoire est vraie, mais elle comporte tous les ingrédients d'un grand film d'aventure : ambition, argent, sexe, pouvoir et mort tragique…
Mère de famille, danseuse nue, espionne et femme fatale, Mata Hari a traversé plusieurs vies avant d'accéder au rang de personnage légendaire. Fusillée en 1917, elle a continué de vivre dans l'imaginaire collectif, devenant un mythe dont se sont emparés le cinéma et la publicité.
Première star mondiale, dont le nom sonne comme une marque, elle a inventé le strip-tease, créé un style vestimentaire et inauguré l'ère du renseignement technologique, puisque ce sont les interceptions de la tour Eiffel qui ont Iivré les secrets de l'«agent H 21». Une histoire folle d'une grande modernité.
À partir des archives de la Défense et d'une abondante documentation, Bruno Fuligni révèle la captivante histoire d'une vie faite d'amour, de mensonges et de subterfuges, la vie d'une femme dont le nom est devenu le symbole de l'espionnage au féminin.
Bruno Fuligni
Mata Hari. Les vies insolentes de l'agent H 21
Albums hors série, Gallimard Loisirs
Parution : 12-10-2017
192 pages, ill.,
sous couverture illustrée,
195 x 255 mm, cartonné
Genre : Albums illustrés Thème : histoire
Sous-thème : Temps présent (1914 – XXe s.)
ISBN : 9782742448012
Gencode : 9782742448012
Prix €35,00
new books
fleursdumal.nl magazine
More in: - Book News, - Book Stories, Archive E-F, Art & Literature News, CRIME & PUNISHMENT, FDM in Paris, Mata Hari, WAR & PEACE
Now in paperback, this National Book Award-winning debut poetry collection is a meditation on the black female figure through time.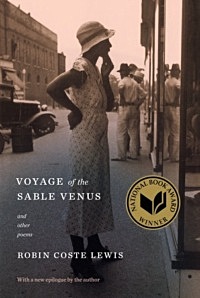 Robin Coste Lewis's electrifying collection is a triptych that begins and ends with lyric poems meditating on the roles desire and race play in the construction of the self.
In the center of the collection is the title poem, "Voyage of the Sable Venus," an amazing narrative made up entirely of titles of artworks from ancient times to the present–titles that feature or in some way comment on the black female figure in Western art.
Bracketed by Lewis's own autobiographical poems, "Voyage" is a tender and shocking meditation on the fragmentary mysteries of stereotype, juxtaposing our names for things with what we actually see and know. A new understanding of biography and the self, this collection questions just where, historically, do ideas about the black female figure truly begin–five hundred years ago, five thousand, or even longer? And what role did art play in this ancient, often heinous story?
Here we meet a poet who adores her culture and the beauty to be found within it. Yet she is also a cultural critic alert to the nuances of race and desire–how they define us all, including her own sometimes painful history.
Lewis's book is a thrilling aesthetic anthem to the complexity of race–a full embrace of its pleasure and horror, in equal parts.
Robin Coste Lewis, the winner of the National Book Award for Voyage of the Sable Venus, is the poet laureate of Los Angeles. She is writer-in-residence at the University of Southern California, as well as a Cave Canem fellow and a fellow of the Los Angeles Institute for the Humanities. She received her BA from Hampshire College, her MFA in poetry from New York University, an MTS in Sanskrit and comparative religious literature from the Divinity School at Harvard University, and a PhD in poetry and visual studies from the University of Southern California. Lewis was born in Compton, California; her family is from New Orleans.
Voyage of the Sable Venus
and Other Poems
By Robin Coste Lewis
Paperback
$19.95
Published by Knopf
Nov. 2017
176 Page
ISBN 9781101911204
new books
fleursdumal.nl magazine
More in: - Book News, - Book Stories, Archive K-L, Archive K-L, Art & Literature News
`Hé, Kemp, kom ook op het dak!' roept Mels, hoewel hij goed weet dat Kemp hoogtevrees heeft. `Je krijgt een kwartje als je bij ons in de goot durft te komen!'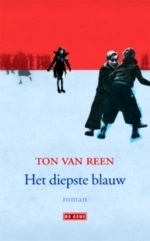 Ze lachen als Kemp met een rooie kop verder loopt. Kemp met zijn witte benen! Kemp met zijn broek die altijd iets te kort is waardoor je de randen van de pijpen van zijn onderbroek kan zien, wat wel heel erg meisjesachtig is.
`Kemp, ben je een jongen of een meisje?' roept Tijger. `Heb je roze pyjama's?' Ze lachen zich een breuk.
Kemp die altijd naar koud vlees ruikt. De hele klas ruikt ernaar. Kemp met zijn bloedeloze gezicht. Kemp die kan fluiten door het spleetje tussen zijn voortanden: dat is dan ook het enige waar hij goed in is. Kemp het onderdeurtje.
Ton van Reen: Het diepste blauw (009)
wordt vervolgd
fleursdumal.nl magazine
More in: - Book Stories, - Het diepste blauw, Archive Q-R, Reen, Ton van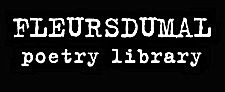 Washington
Land of the West! though passing brief the record of thine age,
Thou hast a name that darkens all on history's wide page!
Let all the blasts of Fame ring out,—thine shall be loudest far;
Let others boast their satellites,—thou hast the planet star.
Thou hast a name whose characters of light shall ne'er depart;
'Tis stamped upon the dullest brain, and warms the coldest heart;
A war-cry fit for any land where Freedom's to be won:
Land of the West! it stands alone—it is thy Washington!
Rome had its Cæsar, great and brave; but stain was on his wreath:
He lived the heartless conqueror, and died the tyrant's death.
France had its Eagle, but his wings, though lofty they might soar,
Were spread in false ambition's flight, and dipped in murder's gore.
Those hero-gods, whose mighty sway would fain have chained the waves-
Who flashed their blades with tiger zeal to make a world of slaves—
Who, though their kindred barred the path, still fiercely waded on.
Oh, where shall be their "glory" by the side of Washington!
He fought, but not with love of strife; he struck but to defend;
And ere he turned a people's foe, he sought to be a friend:
He strove to keep his country's right by Reason's gentle word,
And sighed when fell Injustice threw the challenge—sword to sword.
He stood the firm, the calm, the wise, the patriot and sage;
He showed no deep, avenging hate, no burst of despot rage;
He stood for Liberty and Truth, and daringly led on,
Till shouts of Victory gave forth the name of Washington.
No car of triumph bore him through a city filled with grief;
No groaning captives at the wheels proclaimed him victor-chief:
He broke the gyves of slavery with strong and high disdain;
But cast no sceptre from the links when he had rent the chain.
He saved his land, but did not lay his soldier trappings down,
To change them for a regal vest, and don a kingly crown.
Fame was too earnest in her joy—too proud of such a son—
To let a robe and title mask her noble Washington.
England, my heart is truly thine—my loved, my native earth,—
The land that holds a mother's grave and gave that mother birth!
Oh, keenly sad would be the fate that thrust me from thy shore,
And faltering my breath that sighed "Farewell for evermore!"
But did I meet such adverse lot, I would not seek to dwell
Where olden heroes wrought the deeds for Homer's song to tell.
"Away, thou gallant ship!" I'd cry, "and bear me safely on;
But bear me from my own, fair land to that of Washington."
Eliza Cook
(1818-1889)
Washington
fleursdumal.nl magazine
More in: Archive C-D, Archive C-D, CLASSIC POETRY
An exploration of the world's most famous and challenging song cycle, Schubert's Winter Journey (Winterreise), by a leading interpreter of the work, who teases out the themes—literary, historical, psychological—that weave through the twenty-four songs that make up this legendary masterpiece.
Completed in the last months of the young Schubert's life, Winterreise has come to be considered the single greatest piece of music in the history of Lieder. Deceptively laconic—these twenty-four short poems set to music for voice and piano are performed uninterrupted in little more than an hour—it nonetheless has an emotional depth and power that no music of its kind has ever equaled.
A young man, rejected by his beloved, leaves the house where he has been living and walks out into snow and darkness. As he wanders away from the village and into the empty countryside, he experiences a cascade of emotions—loss, grief, anger, and acute loneliness, shot through with only fleeting moments of hope—until the landscape he inhabits becomes one of alienation and despair.
Originally intended to be sung to an intimate gathering, performances of Winterreise now pack the greatest concert halls around the world.
Drawing equally on his vast experience performing this work (he has sung it more than one hundred times), on his musical knowledge, and on his training as a scholar, Bostridge teases out the enigmas and subtle meanings of each of the twenty-four lyrics to explore for us the world
Schubert inhabited, his biography and psychological makeup, the historical and political pressures within which he became one of the world's greatest composers, and the continuing resonances and affinities that our ears still detect today, making Schubert's wanderer our mirror.
Ian Bostridge performs regularly throughout Europe, North America and the Far East to outstanding critical acclaim. He read Modern History at Oxford and received a D.Phil in 1990. He is the author of Witchcraft and Its Transformations c.1650-c.1750 and A Singer's Notebook. He is Humanitas Professor of Music at the University of Oxford and a regular contributor to The Guardian and the TLS. He is married to the writer and critic Lucasta Miller. They live in London with their two children.
Schubert's Winter Journey
Anatomy of an Obsession
By Ian Bostridge
Paperback
Published on Jan 02, 2018
Published by Vintage
528 Pages
$22.00
ISBN 9780525431800
new books
fleursdumal.nl magazine
More in: # Music Archive, - Book Lovers, - Book News, Archive A-B, Art & Literature News
Thank you for reading FLEURSDUMAL.NL - magazine for art & literature