Samuel Beckett kreeg in 1969 de Nobelprijs voor de Literatuur. De in deze uitgave opge­nomen vertalingen van Anneke Brassinga zijn alle geschreven in het decennium rond dit jaartal.
De teksten, die duidelijk minimalistisch van opzet zijn, kunnen het beste worden gesavou­reerd met de stem – dus hardop gelezen. Daarbij komt de muzikale, repetitieve trant ten volle tot haar recht, evenals het poëtische aspect met veel assonantie en elliptische plastiek.
Beckett heeft al deze teksten nadrukkelijk gekarakteriseerd als verhalend proza, we kunnen er een soort bezweringen in horen van een bewustzijn dat aan zichzelf het eigen (voort)bestaan bewijst als een soort grensgebied tussen autonomie en ontlediging.
Samuel Beckett
Samuel Beckett (Dublin, 1906 – Parijs, 1989) was een Ierse (toneel) schrijver en dichter. Hij studeerde Frans, Italiaans en Engels in Dublin, reisde vervolgens door Europa om zich tenslotte permanent te vestigen in Parijs. Het merendeel van zijn werk schreef hij in het Frans, waarna hij het grotendeels ook weer zelf in het Engels vertaalde. Zijn teksten zijn vaak kaal, minimalistisch en diep pessimistisch over de menselijke natuur en de lotsbestemming van de mens. In 1969 ontving hij de Nobelprijs voor de Literatuur.
Samuel Beckett
Kort proza
Vertaling: Anneke Brassinga
48 pagina's
isbn 978 90 78627 33 3
Uitgeverij Vleugels, 2017
€ 20,85
# meer info website uitgeverij vleugels
fleursdumal.nl magazine
More in: - Book News, Archive A-B, Samuel Beckett
Fjodor Tjoettsjev
(1803 – 1873)
Een skaldenharp
O skaldenharp, zo ruw terzij gelegd,
in stof, in duisternis kwam jij terecht!
Maar straalde daar de toverende maan
met blauw-azuren schemerlicht jou aan,
dan werd jouw levendige klank gehoord,
een ziel was jij wier stilte werd verstoord.
Wat werd er in zo'n wonderlijke nacht
niet aan verleden aan het licht gebracht!
Klonk niet uit lang vervlogen tijden daar
de zang van een voorbije meisjesschaar,
in tuinen vrolijk bloeiend keer op keer
het trippelen van tienervoetjes teer?
Fjodor Tjoettsjev, Арфа скальда, 1838
Vertaling Paul Bezembinder, 2016
Een skald is een oud-Noorse hofdichter
Paul Bezembinder: zijn gedichten en vertalingen verschenen in verschillende (online) literaire tijdschriften. Zie meer op zijn website: www.paulbezembinder.nl
fleursdumal.nl magazine
More in: Archive S-T, Tjoettsjev, Tjoettsjev, Fodor
Sérgio Monteiro de Almeida
Poema visual: Presentation 10 (from the kaleidoscope series)
Sérgio Monteiro de Almeida cv:
Curitiba, Brazil (1964). Intermedia visual poet and conceptual artist. – He has published in numerous anthologies and specialized magazines in Brazil and outside; participated in exhibitions of visual poetry as International Biennial of Visual and Alternative Poetry in Mexico (editions from 1987 to 2010); Post-Art International Exhibition of Visual / Experimental Poetry, San Diego State University-USA (1988); 51 and 53 Venice Biennial (2005 and 2009). – He published in 2007 the book Sérgio Monteiro de Almeida with a global vision about his work as a visual artist and poet. – This book was incorporated into the "Artist Books" collection of the New York City Library (USA). – Author of the CD of kinetic visual poems (EU) NI/IN VERSO (still unpublished). – He presented urban interventions in Curitiba, San Diego, Seattle, New York, Paris, Rome. – In 2014 and 2015 visual poems published in the Rampike experimental literature magazine of the University of Windsor, Canada. – He recently had his poems published in Jornal Candido (n. 64) and Relevo (2015 and 2016).
More about his work:
Livro eletrônico http://issuu.com/boek861/docs/sergio_monteiro_libro;
Enciclopédia Itaú Cultural de artes visuais www.itaucultural.com.br;
Videos no Youtube: http://www.youtube.com/user/SergioMAlmeida
Sérgio Monteiro de Almeida
Curitiba – PR – Brazil
email: sergio.ma@ufpr.br
fleursdumal.nl magazine
More in: Archive M-N, Concrete + Visual Poetry K-O, Sérgio Monteiro de Almeida
Drie dagen lang, in oktober 1974, posteerde Georges Perec zich in het Café de la Mairie in Parijs, dat uitkijkt op de Place Saint-Sulpice. Hij stelde zich tot doel álles te noteren wat hij waarnam. Het resulteerde in Tentative d'épuisement d'un lieu parisien.
'Mijn bedoeling op de volgende pagina's was vooral al het andere te beschrijven: dat wat je gewoonlijk niet opmerkt, wat er niet toe doet: wat er gebeurt wanneer er niets gebeurt, behalve tijd, mensen, auto's en wolken.'
Georges Perec  (1936 – 1982) was een Franse schrijver, essayist en film- en documentairemaker. Hij was een vooraanstaand lid van de Oulipo-groep (Ouvroir de littérature potentielle), een los verband van Franstalige schrijvers en wiskundigen, dat als doel heeft literaire werken te maken die aan bepaalde voorwaarden of beperkingen onderhevig zijn: littérature sous contraintes. Het kan daarbij gaan om beperkingen inzake het gebruik van letters, woorden, klanken, stijlen, enz. Deze beperkingen zijn niet alleen bedoeld als woord- en taalspelletjes, maar ook om de inspiratie en het vakmanschap van de auteurs aan te scherpen.
De vader van Perec stierf vroeg in de Tweede Wereldoorlog, de moeder werd vermoord in de Holocaust. In veel werken van Perec komt dit terug in een thematiek omtrent afwezigheid, verlies en identiteit.
Georges Perec
Pogingen tot uitputtende beschrijving van een plek in Parijs
Vertaling: Kiki Coumans
Uitgeverij Vleugels, 2017
ISBN: 9789078627319
48 pagina's
Prijs: € 19,45
# meer info website uitgeverij vleugels
fleursdumal.nl magazine
More in: - Book News, Archive O-P, Georges Perec, OULIPO (PATAFYSICA)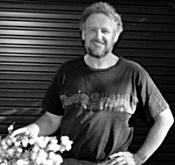 Concreted, Unli/oving
They lack in their memories, their being:
Thesmellofasummereveningwalking
downtotheriverwherefishareleaping
&theairisfullofmayfliesandfluff
fromtallreedsalongtheditches
withthesundazzlingingoldenslant;
Thefeeloficywindblastingacross
floodedlevelsbeforedawnwhenstars
aredimmingandtheeastbeginstobrighten
crunchingthroughfrozenpuddlesfeet
sinkingintothesoftnessofthemudbelow;
Thecoloursofbrowningleavesonbranches
alongtheridgeinhighchalkcountry
thevalleyspreadingoutinfront
withitslinesofhedgeautumncopses
&hereandtherehomesteadsincrystallight;
And because of this lack their every action
Brings a world concreted, unli/oving, one
Ending and not to be grasped in loss.
John Leonard
John Leonard lives in Canberra, Australia.
More poetry on website: www.jleonard.net
fleursdumal.nl magazine
More in: Archive K-L, Leonard, John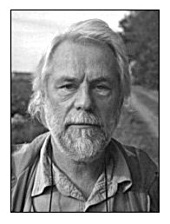 Ton van Reen
Het Oor van de Maaier
Sjuu sjuu, het is de zeis
sjuu sjuu, het is de zeis door het koren
sjuu sjuu, het is de zeis
sjuu sjuu, het is de zeis door het koren
sjuu sjuu, het is de zeis
sjuu sjuu, het is de zeis door het koren
sjuu, het is de zeis
sjuu, het is de zeis door het koren
sjuu, het is de zeis
sjuu sjuu, het is de zeis
sjuu sjuu, het is de zeis door het koren
sjuu sjuu, het is de zeis
Ton van Reen:  Het Oor van de Maaier
Uit: De naam van het mes. Afrikaanse gedichten
In 2007 verschenen onder de titel: De straat is van de mannen bij BnM Uitgevers in De Contrabas reeks. ISBN 9789077907993 – 56 pagina's – paperback
fleursdumal.nl magazine
More in: Archive Q-R, Reen, Ton van, Reen, Ton van, Ton van Reen
Rainer Maria Rilke
(1875 – 1926)
Schlußstück
Der Tod ist groß.
Wir sind die Seinen
lachenden Munds.
Wenn wir uns mitten
im Leben meinen,
wagt er zu weinen
mitten in uns.
Rainer Maria Rilke Gedichte
fleursdumal.nl magazine
More in: Archive Q-R, Rilke, Rainer Maria
Romandebuut van Lieke Marsman:
Het tegenovergestelde van een mens
Waar het op neerkomt is dat de mensheid als geheel ook eenzaam is. We kunnen er niet tegen dat er niemand iets terugzegt, dat we nog altijd geen dieren hebben horen praten – ja, misschien zo nu en dan in de vorm van het schrille gegil dat onze slachthuizen vult, maar niet met woorden, niet met een oplossing voor de dingen waar we al tijden mee zitten. Zelfs de hemel is leeg. En dus zetten we ons af door al die zwijgende natuur om ons heen te vernietigen, als een wanhopige geliefde die maar niet wordt terug ge-sms't en het in het café op een zuipen zet.
Nog nooit verscheen er een roman als Het tegenovergestelde van een mens. Lieke Marsman kantelt onze ideeën over klimaatverandering en identiteit op een manier die duizelig maakt.
Lieke Marsman ('s-Hertogenbosch, 1990) is filosoof en een van de populairste en meest gelauwerde dichters van haar generatie. Ze is een graag geziene gast op podia als Lowlands en De Nacht van de Poëzie en haar gedichten en essays verschenen onder meer in De Gids, Tirade en Vrij Nederland. Voor haar meermaals herdrukte debuutbundel Wat ik mijzelf graag voorhoud ontving Marsman in 2011 onder meer de C. Buddingh'-prijs en de Lucy B. en C.W. van der Hoogtprijs. In 2014 verscheen haar tweede bundel De eerste letter. Met Het tegenovergestelde van een mens maakt Marsman haar debuut als prozaschrijver.
Lieke Marsman
Het tegenovergestelde van een mens
Roman, pag. 176
Gepubliceerd 22-06-2017
Uitgeverij Atlas-Contact
Paperback, 19,99
ISBN 9789025446345
fleursdumal.nl magazine
More in: - Book News, Archive M-N, Art & Literature News, Marsman, Lieke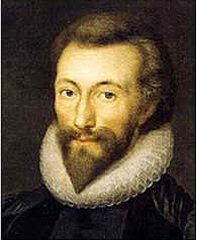 John Donne
The Flea
Mark but this flea, and mark in this,
How little that which thou deny'st me is;
It sucked me first, and now sucks thee,
And in this flea our two bloods mingled be;
Thou know'st that this cannot be said
A sin, nor shame, nor loss of maidenhead;
Yet this enjoys before it woo,
And pampered swells with one blood made of two,
And this, alas, is more than we would do.
Oh stay, three lives in one flea spare,
Where we almost, yea, more than married are.
This flea is you and I, and this
Our marriage bed, and marriage temple is;
Though parents grudge, and you, w'are met,
And cloistered in these living walls of jet.
Though use make you apt to kill me,
Let not to that, self-murder added be,
And sacrilege, three sins in killing three.
Cruel and sudden, hast thou since
Purpled thy nail in blood of innocence?
Wherein could this flea guilty be,
Except in that drop which it sucked from thee?
Yet thou triumph'st and say'st that thou
Find'st not thyself, nor me the weaker now;
'Tis true, then learn how false fears be:
Just so much honor, when thou yield'st to me,
Will waste, as this flea's death took life from thee
John Donne (1572 – 1631)
Poem: The Flea
fleursdumal.nl magazine
More in: Archive C-D, Donne, John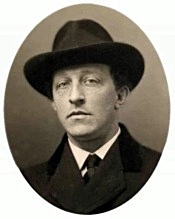 Aleksandr Blok
(1880–1921)
Wat is het zwaar
Ginds is een mens verbrand. (Fet)
Wat is het zwaar om hier op aard te zijn,
te doen alsof je niet al omgekomen bent,
steeds dit tragisch spel van angst en pijn
te zien voor wie het leven nog niet kent,
en steeds in boze dromen, nacht na nacht,
te vragen naar wat vragen niet verdraagt,
opdat hun in der schone kunsten pracht
de weerschijn van een vurig leven daagt!
Aleksandr Blok, Как тяжело ходить среди людей, 1910
Vertaling Paul Bezembinder 2016
Paul Bezembinder: zijn gedichten en vertalingen verschenen in verschillende (online) literaire tijdschriften. Zie meer op zijn website: www.paulbezembinder.nl
fleursdumal.nl magazine
More in: Archive A-B, Blok, Blok, Aleksandr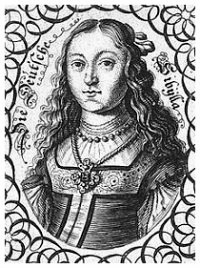 Sibylla Schwarz
Die Lieb ist blind, und gleichwohl kan sie sehen
Die Lieb ist blind, und gleichwohl kan sie sehen,
hat ein Gesicht, und ist doch stahrenblind,
sie nennt sich groß, und ist ein kleines Kind,
ist wohl zu Fuß, und kan dannoch nicht gehen.
Doch diss muß man auff ander' art verstehen:
sie kan nicht sehn, weil ihr Verstand zerrint,
und weil das Aug des Herzens ihr verschwindt,
so siht sie selbst nicht, was ihr ist geschehen.
Das, was sie liebt, hat keinen Mangel nicht,
wie wohl ihm mehr, als andern, offt gebricht.
Das, was sie liebt, kan ohn Gebrechen leben;
doch weil man hier ohn Fehler nichtes find,
so schließ ich fort: Die Lieb ist sehend blind:
sie siht selbst nicht, und kans Gesichte geben.
Sibylla Schwarz (1621 – 1638)
Gedicht: Die Lieb ist blind, und gleichwohl kan sie sehen
fleursdumal.nl magazine
More in: Archive S-T, SIbylla Schwarz
Vincent Berquez©: Drawing Nr. 11
Vincent Berquez is a London–based artist and poet. He has published in Britain, Europe, America and New Zealand. His work is in many anthologies, collections and magazine worldwide. Vincent Berquez was requested to write a Tribute as part of 'Poems to the American People' for the Hastings International Poetry Festival for 9/11, read by the mayor of New York at the podium. He has also been commissioned to write a eulogy by the son of Chief Albert Nwanzi Okoluko, the Ogimma Obi of Ogwashi-Uku to commemorate the death of his father. Berquez has been a judge many times, including for Manifold Magazine and had work read as part of Manifold Voices at Waltham Abbey. He has recited many times, including at The Troubadour and the Pitshanger Poets, in London. In 2006 his name was put forward with the Forward Prize for Literature. He recently was awarded a prize with Decanto Magazine. Berquez is now a member of London Voices who meet monthly in London, United Kingdom.
Vincent Berquez has also been collaborating in 07/08 with a Scottish composer and US film maker to produce a song-cycle of seven of his poems for mezzo-soprano and solo piano. These are being recorded at the Royal College of Music under the directorship of the concert pianist, Julian Jacobson. In 2009 he will be contributing 5 poems for the latest edition of A Generation Defining Itself, as well as 3 poems for Eleftheria Lialios's forthcoming book on wax dolls published in Chicago. He also made poetry films that have been shown at various venues, including a Polish/British festival in London, Jan 07.
As an artist Vincent Berquez has exhibited world wide, winning prizes, such as at the Novum Comum 88' Competition in Como, Italy. He has worked with an art's group, called Eins von Hundert, from Cologne, Germany for over 16 years. He has shown his work at the Institute of Art in Chicago, US, as well as many galleries and institutions worldwide. Berquez recently showed his paintings at the Lambs Conduit Festival, took part in a group show called Gazing on Salvation, reciting his poetry for Lent and exhibiting paintings/collages. In October he had a one-man show at Sacred Spaces Gallery with his Christian collages in 2007. In 2008 Vincent Berquez had a solo show of paintings at The Foundlings Museum and in 2011 an exposition with new work in Langham Gallery London.
fleursdumal.nl magazine for art & literature
More in: Berquez, Vincent, FDM Art Gallery, Vincent Berquez
Thank you for reading FLEURSDUMAL.NL - magazine for art & literature