Visual & Concrete Poetry
·
The Great Nadar. The Man Behind the Camera by Adam Begley
·
DADA Poëziebal in Schouwburg De Lawei in Drachten met o.a. K. Schippers
·
Everything Has Already Been Written: Moscow Conceptualist Poetry and Performance by Gerald Janecek
·
ELO 2018 Mind The Gap!
·
Dražen Grubiic & Olinka Vitica: Das Museum der zerbrochenen Beziehungen
·
IN ALMOST EVERY PICTURE #7 – UPDATED – PHOTOS RIA VAN DIJK
·
WONDERBOX, EEN REIZEND MUSEUM VAN STICHTING LORENZETTI
·
GUERRILLA GIRLS 1985 – NU # IN VAN ABBE MUSEUM
·
THE MUSEUM OF EVERYTHING IN DE KUNSTHAL ROTTERDAM
·
JOEP EIJKENS: VROUWENTONGEN EVEN AAN DE KANT
·
JOEP EIJKENS: AARDAPPELNOOD
·
JOEP EIJKENS: MITZY
A dazzling, stylish biography of a fabled Parisian photographer, adventurer, and pioneer.
A recent French biography begins, Who doesn't know Nadar? In France, that's a rhetorical question. Of all of the legendary figures who thrived in mid-19th-century Paris—a cohort that includes Victor Hugo, Baudelaire, Gustave Courbet, and Alexandre Dumas—Nadar was perhaps the most innovative, the most restless, the most modern.
The first great portrait photographer, a pioneering balloonist, the first person to take an aerial photograph, and the prime mover behind the first airmail service, Nadar was one of the original celebrity artist-entrepreneurs. A kind of 19th-century Andy Warhol, he knew everyone worth knowing and photographed them all, conferring on posterity psychologically compelling portraits of Manet, Sarah Bernhardt, Delacroix, Daumier and countless others—a priceless panorama of Parisian celebrity.
Born Gaspard-Félix Tournachon, he adopted the pseudonym Nadar as a young bohemian, when he was a budding writer and cartoonist. Later he affixed the name Nadar to the façade of his opulent photographic studio in giant script, the illuminated letters ten feet tall, the whole sign fifty feet long, a garish red beacon on the boulevard. Nadar became known to all of Europe and even across the Atlantic when he launched "The Giant," a gas balloon the size of a twelve-story building, the largest of its time. With his daring exploits aboard his humongous balloon (including a catastrophic crash that made headlines around the world), he gave his friend Jules Verne the model for one of his most dynamic heroes.
The Great Nadar is a brilliant, lavishly illustrated biography of a larger-than-life figure, a visionary whose outsized talent and canny self-promotion put him way ahead of his time.
Adam Begley is the author of Updike. He was the books editor of The New York Observer for twelve years. He has been a Guggenheim fellow and a fellow at the Leon Levy Center for Biography. His writing has appeared in The New York Times, The Guardian, The Financial Times, The London Review of Books, and The Times Literary Supplement. He lives with his wife in Cambridgeshire.
"Irresistible. . . . A richly entertaining and thoughtful biography. . . . Begley seems wonderfully at home in the Second Empire, and shifts effortlessly between historical backgrounds, technical explanation, and close-up scenes, brilliantly recreating Nadar at work." —Richard Holmes, The New York Review of Books
The Great Nadar
The Man Behind the Camera
By Adam Begley
Arts & Entertainment
Biographies & Memoirs
History
Paperback
Jul 10, 2018
256 Pages
$16.00
Published by Tim Duggan Books
ISBN 9781101902622
new books
biographie Nadar
fleursdumal.nl magazine
More in: #Biography Archives, - Book News, - Book Stories, - Objets Trouvés (Ready-Mades), Art & Literature News, History of Britain, Photography
---
Op zaterdag 6 oktober organiseert Museum Dr8888 (Drachten) het Dada Poëziebal in Schouwburg De Lawei.
Vanaf 19.30 uur presenteert het museum in de Kleine Zaal een verrassend en onvoorspelbaar programma met poëzie, performances, muziek, beeld en dans.
Optredens worden verzorgd door o.a. K. Schippers, Astrid Lampe, Nyk de Vries, Jan Ketelaar, Meindert Talma en Andries de Jong. Het Poëziebal is onderdeel van het buitenprogramma van Museum Dr8888 en vindt plaats in het kader van Leeuwarden-Friesland 2018.
De avond wordt een beleving op zich en laat zich het best omschrijven als extravagant, intiem, verrassend en een tikkeltje rebels. Het Dada Poëziebal begint om 19.30 uur en vindt plaats in de Kleine Zaal van De Lawei. Het wordt een avondvullend programma met een divers palet aan multidisciplinaire performances waarin tegelijkertijd en op meerdere plekken tegelijk wordt geprogrammeerd. Optredens worden verzorgd door K. Schippers, Astrid Lampe, Jan Ketelaar, Alison Isadora, Jaap Blonk, Tim Schouten, Felicity Provan en Laura Polence, studenten Beeld en Taal van de Gerrit Rietveld Academie, Meindert Talma, Tijdelijke Toon, Bram Zielman, Andries de Jong, Leendert Vooijce, Nyk de Vries, Redactielokaal met Jamila Faber en Arjan Hut, Natasja Hoekstra en dansers en Willie Darktrousers.
Presentator van de avond: Karel Hermans. Regie van de avond is in handen van Janneke de Haan i.s.m. Sanne van Balen.
# Kaarten zijn verkrijgbaar via: www.lawei.nl
Dada Poëziebal met o.a. Jan Ketelaar, K. Schippers en Astrid Lampe in Schouwburg De Lawei in Drachten op zaterdag 6 oktober 2018
more dada
fleursdumal.nl magazine
More in: Antony Kok, Art & Literature News, Dada, DADA, Dadaïsme, De Stijl, Doesburg, Theo van, Evert en Thijs Rinsema, K. Schippers, Kok, Antony, Kurt Schwitters, Kurt Schwitters, Performing arts, Schippers, K., Schwitters, Kurt, THEATRE, Theo van Doesburg, Tzara, Tristan, Visual & Concrete Poetry, Werkman, Hendrik Nicolaas
---
In this book, Gerald Janecek provides a comprehensive account of Moscow Conceptualist poetry and performance, arguably the most important development in the arts of the late Soviet period and yet one underappreciated in the West.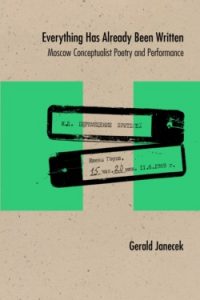 Such innovative poets as Vsevolod Nekrasov, Lev Rubinstein, and Dmitry Prigov are among the most prominent literary figures of Russia in the 1980s and 1990s, yet they are virtually unknown outside Russia. The same is true of the numerous active Russian performance art groups, especially the pioneering Collective Actions group, led by the brilliantly inventive Andrey Monastyrsky.
Everything Has Already Been Written strives to make Moscow Conceptualism more accessible, to break the language barrier and to foster understanding among an international readership by thoroughly discussing a broad range of specific works and theories. Janecek's study is the first comprehensive analysis of Moscow Conceptualist poetry and theory, vital for an understanding of Russian culture in the post-Conceptualist era.
Gerald Janecek is professor emeritus of Russian and Eastern Studies at the University of Kentucky. He is the author of The Look of Russian Literature: Avant-Garde Visual Experiments, 1900-1930; ZAUM: The Transrational Poetry of Russian Futurism; and Sight and Sound Entwined: Studies of the New Russian Poetry.
Gerald Janecek (Author)
Everything Has Already Been Written
Moscow Conceptualist Poetry and Performance
Paper Text – $39.95
ISBN 978-0-8101-3901-5
Cloth Text – $120.00
ISBN 978-0-8101-3902-2
Publication Date: December 2018
Series: Studies in Russian Literature and Theory
Literature & Criticism
Russia Drama & Performance Studies
Page Count 312 pages
Northwestern University Press
new books
fleursdumal.nl magazine
More in: #More Poetry Archives, - Book News, - Bookstores, Archive I-J, Art & Literature News, Conceptual writing, EXPERIMENTAL POETRY, Performing arts, Visual & Concrete Poetry
---
The Electronic Literature Organization (ELO) holds its 2018 Conference and Festival, hosted by the Université du Québec à Montréal from 13 to 17 August 2018.
The Conference, the Festival and Exhibits will be held August 13th to 17th in downtown Montréal, Québec, Canada. Mind the Gap! will be bilingual, with both English and French tracks, showcasing Montreal's important and dynamic local Québécois e-lit/digital arts community and extending a special welcome to e-lit's global francophonie.
The aim of this conference is to think about e-lit in a digital culture. What is its relationship to current cultural practices and trends?
Two directions are proposed: explorations and interventions. The first direction features e-lit's exploratory nature, its formal aspects, its use of technology, its renewal of narrative conventions, and at the same time its impact on literary theories and methodologies to renew themselves.
The second direction considers e-lit's place in the public sphere, its relationship to digital and urban culture, to forms of conservation and presentation, and also to performance.
# more information on website ELO 2018 Mind The Gap!
ELO 2018 Mind The Gap!
13 – 17 August 2018
The Electronic Literature Organization (ELO) announces its 2018 Conference and Festival, hosted by the Université du Québec à Montréal.
fleursdumal.nl magazine
More in: #Archive A-Z Sound Poetry, #Archive Concrete & Visual Poetry, Art & Literature News, AUDIO, CINEMA, RADIO & TV, Literary Events, Visual & Concrete Poetry
---
Das Museum der zerbrochenen Beziehungen: Was von der Liebe übrig bleibt – Geschichten und Bilder.
Olinka und Dražen waren mal ein Paar. Irgendwann waren sie es aber nicht mehr. Zum Liebeskummer gesellte sich bei ihnen eine unangenehme Frage: Wer kriegt was?
Es gab Sachen, die eine Art Souvenir ihrer Beziehung waren, und da wurde es schwierig. Man will ja nichts im Regal haben, das einen jeden Tag an das Scheitern erinnert. Wegschmeißen? Geht nicht. Behalten? Würde das nicht immer wieder wehtun?
Die beiden fanden eine Lösung: Sie machten ein Museum auf.
Das Museum of Broken Relationships in Zagreb ist inzwischen weltbekannt. Mittlerweile zeigt es auch in einer Wanderausstellung rund um den Globus und einer Filiale in Los Angeles Relikte vergangenen Glücks und erzählt die dazugehörigen Geschichten.
Unter den Exponaten sind keine getrockneten Rosen, kaum Briefe. Kein Ring. Was von einer Beziehung übrig Draen Grubiic, Olinka Vitica blieb, ist beispielsweise ein türkisblauer Aschenbecher voller Zigarettenstummel.
Dazu schreibt die Person aus Köln, die ihn abgegeben hat: «Häufig wurde ich nachts wach und er lag nicht neben mir. Mein Ex-Freund fand oft keinen Schlaf, saß er stundenlang im Dunkeln auf dem Balkon, hörte Musik und rauchte. Nach unserer Trennung habe ich es nie geschafft, den Aschenbecher ein letztes Mal zu leeren, geschweige denn, ihn vom Balkon zu verbannen. Ich rauche nicht.» Die Geschichten zu den Exponaten liest man mit dem Gefühl, heimlich in fremden Tagebüchern zu blättern, doch man spürt, wie sich Neugier in Mitgefühl verwandelt. – Ein Geschenkbuch und Coffee-Table-Book der nie dagewesenen Art, mit vierfarbigen Fotos und ganz viel Herz.
Olinka Vištica und Dražen Grubišić, beide geboren im Jahr 1972, sind heute mit neuen Partnern glücklich. Vištica ist Unternehmerin. Sie hat eine eigene Produktionsfirma für Dokumentar- und Animationsfilme. Grubišić ist Grafiker und Produktionsdesigner.
Olinka Vištica, Dražen Grubišic:
Das Museum der zerbrochenen Beziehungen
Was von der Liebe übrig bleibt –
Geschichten und Bilder
Verlag: Rowohlt
Erscheinungstermin: 24.01.2018
128 Seiten
ISBN: 978-3-498-07068-7
Aus dem Englischen von Marcus Gärtner
Die Originalausgabe erschien 2017 unter dem Titel
«The Museum of Broken Relationships» bei
Grand Central Publ. Book/Hachette Book Group Inc., New York.
Deutsche Erstausgabe
1. Auflage Februar 2018
Copyright © 2018 by Rowohlt Verlag GmbH,
Reinbek bei Hamburg
Copyright © 2017 by Olinka Vištica & Dražen Grubišicc
Innengestaltung Daniel Sauthoff
Satz Abril OTF (InDesign) im Verlag und bei
Pinkuin Satz und Datentechnik, Berlin
Lithografie Cleeves Reprotechnik, Hamburg
Druck und Bindung CPI books GmbH, Leck, Germany
Hardcover €15,00
new books
fleursdumal.nl magazine
More in: - Book News, - Book Stories, - Objets Trouvés (Ready-Mades), Archive G-H, Archive U-V, Exhibition Archive, FDM Art Gallery, Spurensicherung
---
Collected & edited
by Erik Kessels
and Joep Eijkens
Thanks to Ria van Dijk
For 80 years Ria has been bang on target. To mark this impressive milestone 'in almost every picture #7' is being re-released this year in the form of a special anniversary edition with eight new shots and an exhibition in Tilburg.
Ria van Dijk shot her first photo at the Tilburg fair in 1936 when she was 16 years old. It started at in Ria's hometown of Tilburg, but throughout the years she followed the fair from town to town. It became a tradition and Ria continued shooting (guns and photos) year after year. And the bullseye is that Ria kept every single photo as if they were her trophies.
In 2008 Erik Kessels and Joep Eijkens collected Ria's photographs in the book 'in almost every picture #7'. In 2016 Ria returns to the fair, she will shoot on July 22nd her 80th photo at the opening of the Tilburgse Kermis. For the occasion, KesselsKramer and City Marketing Tilburg publish this celebratory updated edition of In almost every picture #7.
Colour / black & white,
155 x 200 mm, 136 pages,
soft cover.
ISBN 978-90-704784-5-2
KesselsKramer Publishing,  24,95 Euro

# Website KesselsKramer Publishing
# Website Brabants Licht met foto's en artikel van Joep Eijkens
fleursdumal.nl magazine
More in: - Objets Trouvés (Ready-Mades), Art & Literature News, Joep Eijkens, Joep Eijkens Photos, Photography, PRESS & PUBLISHING, Spurensicherung
---
WONDERBOX is een reizend museum, dat bestaat uit grote kijkdoos-vitrines die gevuld worden met verrassende combinaties van (kunst)voorwerpen uit de veelomvattende collectie van Lorenzetti uit Tilburg: kunst, design, fotografie en natuur.
De boxen van dit 'WONDERBOX Museum' komen als een verspreid mini-museum op allerlei plekken in de stad te staan: in ziekenhuizen en zorginstellingen, in wachtkamers en winkels, bij bedrijven en bibliotheken en mogelijk ook bij particulieren thuis.
Inmiddels hebben zich al een aantal locaties gemeld die belangstelling voor plaatsing tonen.
Naast deze 'WONDERBOX Reizend Museum' maakt de Tilburgse stichting Lorenzetti een variant voor het (basis)onderwijs, 'WONDERBOX Op School'.
Daarbij komt een serie van tien Wonderboxen als een tijdelijk museum een aantal weken op een school te staan. Elke box heeft een thema en de leerlingen kunnen dan met het meegeleverd lespakket allerlei opdrachten doen. Aan deze vorm van 'museum op school' blijkt grote behoefte te zijn.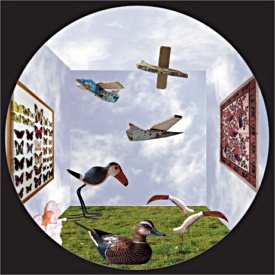 Een derde toepassing van de Wonderboxen gaat 'WONDERBOX voor de Buurt' heten. Hierbij komen Wonderboxen in buurt- en wijkcentra te staan, die door de buurtbewoners zelf gevuld gaan worden.
Cultuurparticipatie in optima forma: WONDERBOX is in alle opzichten uniek: het is zowel artistiek, cultuur-educatief als sociaal een innoverend project. Het is de bedoeling om in totaal een vijftigtal Wonderboxen te maken.
Wie 'WONDERBOX' mee mogelijk wil maken, kijkt op de website http://www.wonderbox.nu waar alle informatie staat, waar voorbeelden zijn te zien en waar je een filmpje kunt bekijken over de Wonderboxen.
# Nog meer informatie op de website van Stichting Lorenzetti
fleursdumal.nl magazine
More in: Art & Literature News, Department of Curious Nature, DICTIONARY OF IDEAS, Exhibition Archive, The talk of the town, THEATRE, Visual & Concrete Poetry
---
tentoonstelling
van abbemuseum eindhoven
09/07/2016 – 15/01/2017
Guerrilla Girls 1985 – nu
Conservatoren: Christiane Berndes, Nina Svenson
kunst, feminisme en institutionale kritiek
De tentoonstelling Guerrilla Girls 1985-nu presenteert de ontstaansgeschiedenis van de activistische kunstenaarsgroep Guerrilla Girls en laat hun relevantie zien door de jaren heen en vandaag de dag.
Het uitgangspunt is de oprichting van de Guerrilla Girls in 1985. Dit gebeurde als reactie op een tentoonstelling An International Survey of Recent Painting and Sculpture die in 1984 plaatsvond in het MoMA. Deze tentoonstelling, samengesteld door curator Kynaston McShine, presenteerde werk van 169 kunstenaars. Slechts 13 hiervan waren vrouwelijk. De tentoonstelling pretendeerde een overzicht van de hedendaagse kunst te laten zien, maar liet vrouwelijke kunstenaars grotendeels buiten beschouwing. In reactie hierop volgde protest en de oprichting van de Guerrilla Girls. De Guerrilla Girls begonnen hun zogenaamde "weenie counts"; in de grote musea in New York telden ze het aantal mannelijke en vrouwelijke kunstenaars. Zo ontstonden hun posters die met data de representatie van vrouwen binnen de kunstwereld weergeven.  
In het eerste jaar richtten de Guerrilla Girls zich vooral op het aankaarten van de man-vrouw verhoudingen binnen de kunstwereld. In 1986 echter begonnen ze al zaken van raciale aard in hun werk te incorporeren. Later zien we dat zich dit ook uitbreidt naar 'queer'-gerelateerde issues. De Guerrilla Girls brengen hun boodschap in hun posters vaak op een humoristische wijze. De meest bekende poster van de Guerrilla Girls is gemaakt in 1989 en stelt de vraag "Do women have to be naked to get into U.S. museums? Only 3 % of the artists in the Met. Museum are women, but 83 % of the nudes are female".
De posters zijn uitgegeven in een portfolio die is aangekocht door het Van Abbemuseum.
Verbinding met De collectie nu en De jaren 80. Begin van het nu?
De presentatie is onderdeel van de tentoonstelling De collectie nu en is te zien op de eerste verdieping van de nieuwbouw waar kunst uit de jaren 1965-1985 wordt getoond. De oprichting van de Guerrilla Girls is een belangrijk onderdeel van de geschiedenis van kunst, feminisme en institutionele kritiek. De presentatie haakt qua tijdbestek aan bij De Jaren 80. Begin van het nu?, te zien in de oudbouw van het museum.
Van Abbemuseum
Bilderdijklaan 10
5611 NH Eindhoven
Nederland
T: +31 40 238 1000
info@vanabbemuseum.nl
www.vanabbemuseum.nl
Openingstijden:
di t/m zo van 11:00 tot 17:00 uur, donderdag: 11:00 tot 21:00 uur.
Op dinsdag van 15:00 – 17:00 uur is het museum gratis te bezoeken.
fleursdumal.nl magazine
More in: Art & Literature News, AUDIO, CINEMA, RADIO & TV, DICTIONARY OF IDEAS, Exhibition Archive, FDM Art Gallery, MUSEUM OF PUBLIC PROTEST, Sculpture, Urban Art, Visual & Concrete Poetry
---
The Museum of Everything
5 maart 2016 – 22 mei 2016
The Museum of Everything presenteert een groots en toonaangevend overzicht van meer dan honderd onafhankelijke en niet-academische kunstenaars uit de 19e, 20e en 21e eeuw van over de hele wereld. The Museum of Everything is befaamd om zijn krachtige en imposante installaties, waarin het werk wordt gepresenteerd van kunstenaars die opereren buiten het domein van de academische kunst, de officiële kunstgeschiedenis en haar logica en taal.
Ontdek de machtige sprookjespanorama's van de conciërge Henry Darger uit Chicago, het droomuniversum van de Indiase wegenbouwer Nek Chand Saini, de torenhoge visioenen van de Chinese fabrieksarbeidster Guo Fengyi, en de grafische vertolkingen van de Afro-Amerikaanse Sam Doyle die een bron van inspiratie vormden voor Jean-Michel Basquiat.
De tentoonstelling omvat ook enkele van de al meer gevestigde namen die bekend werden door de kunstenaar Jean Dubuffet, zoals Augustin Lesage, mijnwerker en spiritist, en de anonieme sculpturen die we kennen als Les Barbus Müller. Meer recente ontdekkingen zijn de Roemeense straatcollages van Ion Bîrlădeanu en de Japanse worstelfanaat Tomoyuki Shinki. Ook Nederlandse kunstenaars komen aan bod, van de obsessieve biografische illustrator Willem van Genk tot opkomende persoonlijkheden als Marianne Schipaanboord en Paulus de Groot.
Bij een deel van de werken zijn korte films te zien en essays van internationaal bekende kunstenaars zoals John Baldessari, David Byrne, Marlene Dumas, Grayson Perry, Ed Ruscha en vele anderen. Het magazine Kunstschrift plaatst in een speciale thema-editie het fenomeen van de niet-academische kunst in een bredere historische context.
The Museum of Everything biedt geen alledaagse kennismaking met kunst. De indrukwekkende installaties van het reizende Museum, gecreëerd in samenwerking met de Oscargenomineerde productiedesigner Eve Stewart (o.a. Les Misérables) voeren de bezoeker mee in de persoonlijke wereld van onconventionele creatieve makers. Een wereld waar de gangbare regels van kunst worden vervangen door de beeldtaal van dromen, rituelen en details.
Gelijke rechten voor alle kunstenaars
De termen outsider art, art brut, naïeve – of primitieve kunst worden vaak gebruikt om het werk te beschrijven van kunstenaars die buiten het conventionele kunstcircuit creëren. The Museum of Everything hanteert geen van deze etiketten. Het geeft er de voorkeur aan deze individuele, niet academische kunstenaars te beschrijven als onontdekte, onbedoelde, ongetrainde, en niet geclassificeerde kunstenaars van de moderne tijd. Want het Museum of Everything is veel meer dan een rondreizende tentoonstelling. Het vormt de neerslag van een filosofisch pleidooi voor culturele gelijkheid. De Engelse oprichter van The Museum of Everything James Brett: "Het is onze taak om deze kunstenaars binnen de context van de kunst te plaatsen en ze niet buiten te sluiten als outsiders. Wij strijden voor het universele recht op vrije beeldende expressie… niet voor een kleine groep van uitverkorenen, maar voor iedereen!"
Voor het eerst te zien in Nederland
De laatste decennia toont de kunstwereld in Nederland toenemende belangstelling voor de buitengewone kunstenaars die onafhankelijk van het conventionele kunstcircuit opereren. Na baanbrekende tentoonstellingen in Parijs, Moskou, Venetië en Londen kan nu ook een breed publiek in de Kunsthal Rotterdam kennismaken met The Museum of Everything. De tentoonstelling kan zich meten met de meest belangwekkende shows van deze kunst in Europa, en is de eerste die dit werk op deze schaal toont in Nederland.
Een van de ruimtes is geheel gewijd aan het levenswerk van Henry Darger, de beroemdste onder de autodidactische ontdekkingen. Zijn monumentale illustraties worden voor het eerst gepresenteerd in de oorspronkelijke reeksen, een visuele verhaallijn die was vernietigd door het in delen verkopen van zijn boeken uit winstbejag.
Een tweede ruimte wordt gewijd aan een torenhoge corridor van geschilderde rollen door de Chinese fabrieksarbeidster Guo Fengyi. Deze visionaire kunstenaar zette haar creatieve energie in ter bestrijding van de slopende ziekte waaraan zij uiteindelijk bezweek. Maar haar legende leeft voort. In recente jaren is haar imposante oeuvre getoond in onder meer de Londense Hayward Gallery, de Carnegie International in Pittsburg en de Biennale van Venetië in 2013.
The Symposium of Everything
Op 16 en 17 april 2016 organiseert de Kunsthal Rotterdam 'The Weekend of Everything', met workshops, lezingen, rondleidingen, films, muziek en een open podium voor Do It Yourself kunst voor iedereen.
The Artists of Everything
The Museum of Everything presenteert werk van de kunstenaars Ion Bîrlădeanu, Morton Bartlett, James Castle, Henry Darger, Sam Doyle, William Edmondson, Guo Fengyi, Willem van Genk, Paulus de Groot, Paul Laffoley, Augustin Lesage, Aleksander Lobanov, Martín Ramírez, Vasilij Romanenkov, Nek Chand Saini, Marianne Schipaanboord, Tomoyuki Shinki, Marcel Storr, George Widener, Scottie Wilson en vele anderen.
Hoofdbegunstiger van The Museum of Everything: Dankzij de substantiële bijdrage van het Gieskes-Strijbis Fonds wordt middels 'The Museum of Everything' aandacht gegenereerd voor kunst die net buiten de radar van de kunstwereld valt. Hiermee bevordert en ondersteunt het fonds kunst en cultuur.
The Museum of Everything
www.musevery.com
The Movies of Everything
www.movevery.com
The Salon of Everything
www.salonevery.com
The Shop of Everything
www.shopevery.com
De Kunsthal
Museumpark
Westzeedijk 341
3015 AA Rotterdam
# meer info op website De Kunsthal Rotterdam
fleursdumal.nl magazine
More in: Art & Literature News, Art Brut, Exhibition Archive, MUSEUM OF LOST CONCEPTS - invisible poetry, conceptual writing, spurensicherung, Outsider Art, Primitive Art, Sculpture, Visual & Concrete Poetry
---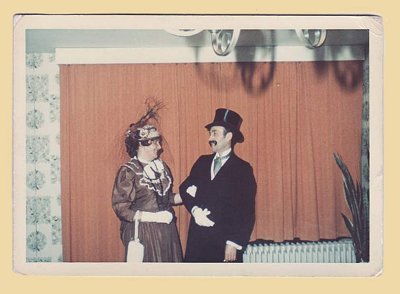 Vrouwentongen even aan de kant
Je kunt er donder op zeggen dat deze foto in België gemaakt is. Kijk maar eens naar de rechterkant, naar de spitse bladeren van de Sanseveria, beter bekend als Vrouwentongen. Vraag me niet waarom zoveel Vrouwentongen onderdak krijgen bij onze zuiderburen. De tamelijk naargeestige planten zullen op zeker moment wel in de mode zijn geraakt en zijn nog altijd in tel.
Maar hier op de foto zijn ze kennelijk tijdelijk opzij gezet om plaats te maken voor een toneelstukje. Het gordijn boven de verwarming mocht blijven hangen, het paste eigenlijk heel mooi, zo'n effen achtergrond. En je sloot meteen nieuwsgierige blikken buiten. Dit stukje was alleen maar voor de gasten van het feest, op de eerste plaats natuurlijk de jarige. En je zou het zo niet zeggen, maar er werd veel gelachen, ome Jef en tante Clémentine hadden succes. "Maar allee, het zijn ook schoon kleedjes die ge gemaakt hebt", vond Peetje. "En waar hedde dan die hoge hoed vandaan?"
Die hoge hoed deed later op de avond nog dienst tijdens een goochelact. Maar tegen die tijd was de fotograaf van het gezelschap allang door zijn filmrolletjes heen, helaas. En trouwens ook niet meer zo bekwaam om z'n toestel recht te houden.
Joep Eijkens
fleursdumal.nl digital magazine
More in: - Fotoalbum Joep Eijkens, - Objets Trouvés (Ready-Mades), Photography
---
Aardappelnood
Tilburger Kees Koster – ondermeer bekend van zijn pentekeningen van historische gebouwen en schilderachtige plekjes in Brabant en Zeeland. – zag in 1920 het eerste levenslicht in Rotterdam. Zijn vader verdiende de kost als koetsier van rijkelui in Wassenaar en werd de eerste chauffeur van de Rotterdamse reder Philippus van Ommeren. In die hoedanigheid was vader Koster soms dagen, zo niet weken lang van huis als zijn werkgever op reis ging.
Kees heeft nog diverse ansichtkaarten uit de jaren twintig bewaard die zijn vader dan naar zijn moeder schreef. Eén van die kaarten zien we hierboven. Hoe het met die twee hier gefotografeerde lieden zit, blijft vooralsnog de vraag. Of zou het komische tafereeltje – gezien de tekst – iets te maken hebben met minder vrolijk stemmende problemen van voedselgebrek en inflatie? Daar zal de heer Van Ommeren geen last van gehad hebben. En ook zijn chauffeur kreeg op tijd zijn natje en droogje. Die gebruikte de kaart enkel om zijn vrouw te melden dat ze weer gewisseld waren van hotel…
Joep Eijkens
PS Voor wie de tekst niet kan lezen, die luidt als volgt:
Zeg man, indien je nog hecht aan je leven,
Dan moet je me gauw je aardappeltjes geven.
In deez' tijden heeft geld voor ons geen waarde
Wij vragen nog slechts naar de vruchten der aarde.
(eerder gepubliceerd op www.cubra.nl)
fleursdumal.nl magazine
More in: - Fotoalbum Joep Eijkens, - Objets Trouvés (Ready-Mades), Photography
---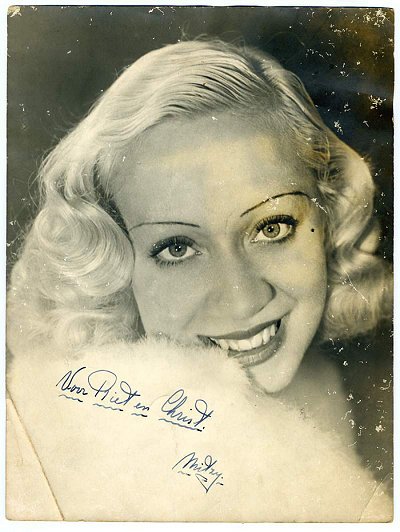 Mitzy
Opeens keken me twee heldere ogen aan. Vanaf de bodem van een kartonnen doos.
Mitzy heette ze. En ze was in het gezelschap van een oude opa, een stuurs kijkend echtpaar en een communicantje. Allemaal ingelijste portretten. Alleen Mitzy moest het zonder lijst en glas stellen. Misschien dat ze daarom een wat vuilige vlek bij haar linkeroog had gekregen. Ze keek er niet minder vrolijk om. 'Voor Riet en Christ' had ze op haar foto geschreven. En daaronder even vlot haar naam.
Maar wie was Mitzy? Zeker, een artieste. Maar verder? Zou het Mitzy Tieland kunnen zijn? Die naam kom ik tegen in de levensloop van de uit Tilburg afkomstige Louis Dusée (1930-1999). Met ene Mitzy Tieland vormde Dusée ooit een duo voordat hij in 1962 bij Sleeswijk's Snip en Snap Revue terecht kwam.
Maar was deze Mitzy niet al actief toen Louis nog in een korte broek rondliep? Haar haren en getekende wenkbrauwen doen in elk geval aan de jaren dertig denken. Of werd dat na de oorlog nog steeds mooi gevonden? In elk geval staat op de achterkant van de foto: Groningen October 1948.
Kunt u zich voorstellen dat ik Mitzy niet kon laten liggen in die kartonnen doos op de Tilburgse Meimarkt?
Joep Eijkens
PS De heer Mari Kant (www.theaterarchief.nl) meldde me nog dat Mitzy, in elk geval niet Mitzy Tieland is. 'Mitzy Tieland is toevallig een vriendin van mij en ook komt ze veel voor in de archieven van ons Theaterarchief', zo schreef hij. 'Ik denk dat het Mitzy Smeenks is, maar pin me er niet op vast'.
(eerder gepubliceerd op www.cubra.nl)
fleursdumal.nl magazine
More in: - Fotoalbum Joep Eijkens, - Objets Trouvés (Ready-Mades), Photography
---
Older Entries »
Thank you for reading FLEURSDUMAL.NL - magazine for art & literature