Photography
·
Carina van der Walt: LocHal (gedicht)
·
David Lynch: Someone is in my House. Retrospectief in Bonnefantenmuseum
·
Hans Hermans: Landscape (104)
·
Paris Photo 2018 from 8 – 11 november in Grand Palais Paris
·
Dennis Whitehead: SHELL SHOCK. Twin Sisters Struck Down by the Horrors of World War I
·
Hans Hermans: Landscape (103)
·
Hans Hermans: Landscape (102)
·
The Great Nadar. The Man Behind the Camera by Adam Begley
·
Hans Hermans: Landscape (101)
·
Rick Warner: Godard and the Essay Film. A Form That Thinks
·
Designed in the USSR: 1950 -1989
·
Mijnheer Cros: Charles Cros
LocHal
(naar Majakovski)
planten druipen
gordijnen vallen
gewoven in vislijn
zilveren ringen
zilveren haken
vissen mensen van het beton
vangen ze op uit het café à la kroeg
schrapen ze van de dansvloer af
hijsen ze langs de trappen op
mens! ga toch lezen
zoek een woord op
luister naar een lezing
door een oververhit brein
blaas een kubus van glas
kennis is zacht als hout
kennis is hard als staal
BARST
door je eigen glazen plafond
Carina van der Walt
Gedicht: LocHal (naar Majakovski)
# new poetry
Carina van der Walt is a South-African born
poet and writer. Since many years she
lives and works in Tilburg NL.
LocHal is a historical Locomotive Shelter in Tilburg
that has been rebuild into a public library.
photo: cvdw2019
• fleursdumal.nl magazine
More in: Archive W-X, Archive W-X, Art & Literature News, Carina van der Walt, Majakovsky, Vladimir, Photography, Walt, Carina van der
---
Vanaf 30 november 2018 tot 28 april 2019 presenteert het Bonnefantenmuseum het omvangrijke retrospectief Someone is in my House van de Amerikaanse kunstenaar David Lynch.
Hoewel David Lynch onmiskenbaar een spilfiguur is in de internationale film- en tv-wereld, is zijn werk als beeldend kunstenaar veel minder bekend. Dat is op zijn minst vreemd, aangezien Lynch zelf altijd heeft bena­drukt dat hij zichzelf vóór alles ziet als beeldend kunste­naar.
Een beeldend kunstenaar die tijdens zijn studie aan de kunstacademie toevallig in aanraking kwam met het medium film, waarmee de basis gelegd werd voor zijn carrière als filmregisseur.
Naast zijn werk als regisseur is Lynch altijd actief gebleven als beeldend kunstenaar en heeft hij in de afgelopen decennia een grenzeloos oeuvre gecreëerd van onder andere schilderijen, tekeningen, litho's, foto's, lampsculpturen, muziek en installaties.
Een oeuvre dat tot nu toe nog maar zelden is belicht en in musea werd getoond. Met ruim 500 werken brengt het Bonnefantenmuseum niet alleen de eerste Nederlandse museumpresentatie van Lynch' beeldend oeuvre, maar ook de grootste overzichtstentoonstelling ooit.
David Lynch: Someone is in my House
30.11.2018 – 28.04.2019
David Lynch, beeldend kunstenaar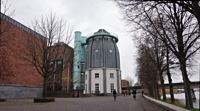 Anders dan het werk van Lynch (1946, Missoula, Montana, VS), vol duister geweld en seksua­liteit, doet vermoeden, is de kindertijd van de kunstenaar en filmmaker ge­lukkig en liefdevol.
Lynch groeit op met reislustige ouders en leidt op jonge leeftijd een nomadenbestaan, een voor hem idyllische en veilige omgeving. Van jongs af aan aangemoedigd om zich creatief te ontplooien – kleurboeken waren uit den boze, eigen verbeelding gebruiken was het credo – komt hij uiteindelijk op de Pennsylvania Academy of the Fine Arts in Philadelphia terecht om schilderkunst te studeren.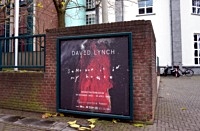 Hier ontwikkelt Lynch zijn artistieke vocabulaire en thema's die blijvend aanwezig zullen zijn in zijn werk. En hier ligt de voedingsbodem voor zijn eerste mixed-media installatie met stop-motion film Six Men Getting Sick (Six Times) (1967), die een opmaat vormde naar zijn eerste speelfilm, Eraserhead (1977). De rest is (film)geschiedenis en inmiddels zijn Lynch' films moderne klassiekers.
Lynch' kunstenaarschap loopt als een rode draad door zijn leven en films. Hij is gedurende zijn vijftigjarige carrière altijd blijven tekenen en schilde­ren, ook als er vanwege zijn werk als filmregisseur weinig tijd was om in het atelier door te brengen.
"I miss painting when I'm not painting", zegt Lynch zelf in de recente biografie Room to Dream. * David Lynch en Kristine McKenna. Room to Dream. Edinburgh, Canongate Books, 2018, p. 301
In samenwerking met David Lynch toont het Bonnefanten een indrukwekkend artistiek overzicht van het veelzijdige kunstenaarschap van Lynch.
De tentoonstelling omvat schilderijen, foto's, tekeningen, litho's en aquarellen uit de jaren 60 tot heden, unieke tekeningen op luciferboekjes uit de jaren 70, schetsboektekeningen uit de jaren 60/70/80, zwart-wit foto's uit verschillende periodes, waaronder de befaamde Snow Men-fotoserie (1993), cartoons uit de serie The Angriest Dog in the World (1982-1993), audiowerken én een aantal kortfilms uit 1968-2015.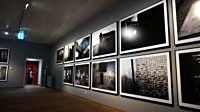 Voor het eerst sinds het ontstaan in 1967, zal ook het allesbepalende academiewerk Six Men Getting Sick (Six Times) in een museumtentoonstelling te zien zijn.
Publicatie
Bij de tentoonstelling verschijnt een rijk geïllustreerde monografie met tekstbijdragen van curator Stijn Huijts (artistiek directeur Bonnefantenmuseum), Kristine McKenna (journalist en curator, Verenigde Staten), Petra Giloy-Hirtz (schrijver en curator, Duitsland) en Michael Chabon (schrijver, Verenigde Staten). De publicatie is verkrijgbaar in het Nederlands, Engels en Frans en wordt uitgegeven door Uitgeverij Hannibal in samenwerking met Prestel.
Tentoonstellingsteaser
In aanloop naar zijn omvangrijke retrospectief Someone is in my House, maakte Lynch speciaal voor het Bonnefanten een unieke tentoonstellingsteaser. In deze typisch Lynchiaanse kortfilm, met in de hoofdrol naast Lynch zelf de 'White Monkey' – een personage dat eerder opdook in Lynch' Weird daily weather report – nodigt hij de kijker uit om naar het Bonnefanten te komen.
Flankerend programma
Parallel aan de tentoonstelling is er in samenwerking met Lumière Cinema in Maastricht een compleet filmretrospectief gewijd aan de films en het leven van David Lynch met filmvertoningen, documentaires en lezingen over de filmmaker.
Daarnaast brengt EYE filmmuseum drie digitaal gerestaureerde films opnieuw uit in de filmtheaters in heel het land. Voor meer informatie: https://www.eyefilm.nl/themas/gerestaureerde-david-lynch-klassiekers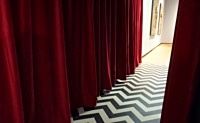 De philharmonie zuidnederland werkte met de Poolse componist Marek Zebrowski aan een compositie en uitvoering van Music for David, een strijkkwartet dat Zebrowski in 2015 componeerde als een hommage aan Lynch, die op zijn beurt de korte animatie film Pożar (Fire) maakte bij Zebrowski's compositie. Het muziekstuk zal een aantal keren live (op zaal) bij de film ten gehore worden gebracht.
# meer informatie op website Bonnefantenmuseum
# Expositie & publicatie
David Lynch: Someone is in my House
30.11.2018 – 28.04.2019

• photos: jef van kempen
• fleursdumal.nl magazine
More in: #Archive A-Z Sound Poetry, *Concrete + Visual Poetry K-O, - Book News, - Bookstores, Archive K-L, Art & Literature News, AUDIO, CINEMA, RADIO & TV, David Lynch, Exhibition Archive, FDM Art Gallery, Jef van Kempen Photos & Drawings, Museum of Literary Treasures, Photography, Tales of Mystery & Imagination, THEATRE
---
Hans Hermans© photos: landscape
(104 – norway NO)
  # more  on  website  hans  hermans  photos  
fleursdumal.nl magazine
More in: FDM Art Gallery, Hans Hermans Photos, Photography
---
Paris Photo is the largest international art fair dedicated to the photographic medium and is held each November at the historic Grand Palais in Paris. Since 1997, the Fair's mission is to promote and nurture photographic creation and the galleries, publishers and artists at its source.
Paris Photo brings together up to 200 exhibitors from across the world, offering collectors and enthusiasts the most diverse and qualitative presentation of photography-driven projects today.
Leading galleries showcase historical and contemporary artworks from modern masters to young talents. Specialized publishers and art book dealers present unique and rare editions, as well as book launches and signature sessions with many of today's most renowned artists.
Paris Photo also provides visitors with first-hand insights and access to the art world. Programming includes curated exhibitions with renowned public and private institutions, awards, conversation cycles with curators, artists, collectors, and critics, and special events exploring the unique history of the medium; varying visions, practices and emerging trends.
In addition, the Fair's "In Paris during Paris Photo" programme reunites a dense network of cultural institutions throughout Paris comprising some of the most historically rich photographic collections in the world.
The 22nd edition of Paris Photo will take place Thursday, November 8 through Sunday, November 11 with a preview day on Wednesday, November 7 (by invitation only).
Grand Palais
Avenue Winston Churchill
75008 Paris
  #  more info on website Paris Photo 2018  
fleursdumal.nl magazine
More in: Art & Literature News, FDM Art Gallery, FDM in Paris, Photography
---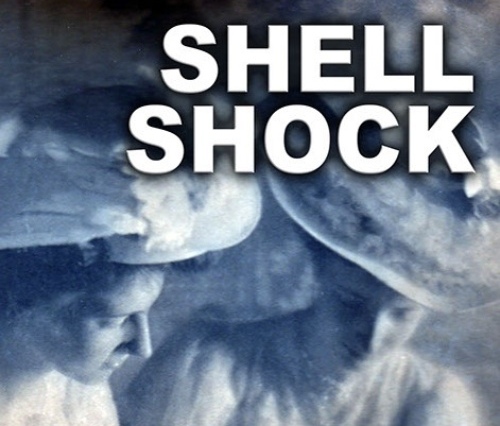 The true story of twin sisters, Dorothea and Gladys Cromwell, born into New York's Gilded Age, living lives of wealth and privilege, as told by Dennis Whitehead.

Amid the fervor of America's entry into the First World War, the sisters volunteered for service with the American Red Cross in France, a country they knew and loved. To French soldiers seeking refreshment and solace in the Red Cross canteen, the identical twins were known as anges jumeaux, the twin angels.
Witnessing the non-stop horrors in the worst fighting in the war, the sisters were utterly exhaustion, both mentally and physically, when they boarded the SS La Lorraine for the return journey home. They had wished to continue their service to the people of France after the fighting stopped but were convinced to return to New York by their brother.
What happened on that ship, on that frigid January 1919 evening, almost one-hundred years ago, is one of the great untold stories of World War I, and the impact that modern warfare had upon not just the men in the trenches, but upon its women and other non-combatants, as well as civilians, that remained unrecognized until the Vietnam War.
Dennis Whitehead: A native of Cincinnati and a graduate of Ohio University, Dennis Whitehead is a writer, photographer, and media producer in Arlington, Virginia.
Shell Shock: Twin Sisters Born Into New York's Gilded Age Struck Down by the Horrors of War
by Dennis Whitehead
Kindle Edition
$2,99
Available for download
Language: English
File Size: 27502 KB
Print Length: 52 pages
Publisher: MMImedia LLC (July 18, 2018)
Publication Date: July 18, 2018
Amazon Digital
# More information and link with Amazon Kindle Edition
Shell Shock is the story of the twin Cromwell sisters who served with the American Red Cross in World War I France. Witnessing the unrelenting horrors of war, the Cromwell sisters illustrate the unrecognized trauma wrought upon non-combatants in the First World War. Gladys Cromwell (1885-1919) was a very talented poet.
# Digital biography
American writers
Gladys Cromwell
fleursdumal.nl magazine
More in: #Biography Archives, *War Poetry Archive, - Book Stories, Archive C-D, Archive W-X, AUDIO, CINEMA, RADIO & TV, Gladys Cromwell, Photography, WAR & PEACE
---
Hans Hermans© photos: landscape
(103 – normandy F)
# more on website hans hermans photos
fleursdumal.nl magazine
More in: FDM Art Gallery, Hans Hermans Photos, Photography
---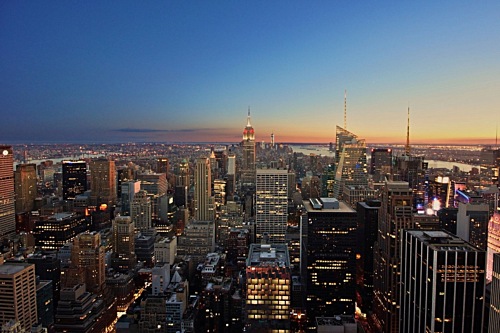 Hans Hermans© photos: landscape
(102 – new york usa)
# more on website hans hermans photos
fleursdumal.nl magazine
More in: FDM Art Gallery, Hans Hermans Photos, Photography
---
A dazzling, stylish biography of a fabled Parisian photographer, adventurer, and pioneer.
A recent French biography begins, Who doesn't know Nadar? In France, that's a rhetorical question. Of all of the legendary figures who thrived in mid-19th-century Paris—a cohort that includes Victor Hugo, Baudelaire, Gustave Courbet, and Alexandre Dumas—Nadar was perhaps the most innovative, the most restless, the most modern.
The first great portrait photographer, a pioneering balloonist, the first person to take an aerial photograph, and the prime mover behind the first airmail service, Nadar was one of the original celebrity artist-entrepreneurs. A kind of 19th-century Andy Warhol, he knew everyone worth knowing and photographed them all, conferring on posterity psychologically compelling portraits of Manet, Sarah Bernhardt, Delacroix, Daumier and countless others—a priceless panorama of Parisian celebrity.
Born Gaspard-Félix Tournachon, he adopted the pseudonym Nadar as a young bohemian, when he was a budding writer and cartoonist. Later he affixed the name Nadar to the façade of his opulent photographic studio in giant script, the illuminated letters ten feet tall, the whole sign fifty feet long, a garish red beacon on the boulevard. Nadar became known to all of Europe and even across the Atlantic when he launched "The Giant," a gas balloon the size of a twelve-story building, the largest of its time. With his daring exploits aboard his humongous balloon (including a catastrophic crash that made headlines around the world), he gave his friend Jules Verne the model for one of his most dynamic heroes.
The Great Nadar is a brilliant, lavishly illustrated biography of a larger-than-life figure, a visionary whose outsized talent and canny self-promotion put him way ahead of his time.
Adam Begley is the author of Updike. He was the books editor of The New York Observer for twelve years. He has been a Guggenheim fellow and a fellow at the Leon Levy Center for Biography. His writing has appeared in The New York Times, The Guardian, The Financial Times, The London Review of Books, and The Times Literary Supplement. He lives with his wife in Cambridgeshire.
"Irresistible. . . . A richly entertaining and thoughtful biography. . . . Begley seems wonderfully at home in the Second Empire, and shifts effortlessly between historical backgrounds, technical explanation, and close-up scenes, brilliantly recreating Nadar at work." —Richard Holmes, The New York Review of Books
The Great Nadar
The Man Behind the Camera
By Adam Begley
Arts & Entertainment
Biographies & Memoirs
History
Paperback
Jul 10, 2018
256 Pages
$16.00
Published by Tim Duggan Books
ISBN 9781101902622
new books
biographie Nadar
fleursdumal.nl magazine
More in: #Biography Archives, - Book News, - Book Stories, - Objets Trouvés (Ready-Mades), Art & Literature News, History of Britain, Photography
---
Hans Hermans© photos: landscape
(101 – lac du der F)
# more on website hans hermans photos
fleursdumal.nl magazine
More in: FDM Art Gallery, Hans Hermans Photos, Photography
---
Godard and the Essay Film offers a history and analysis of the essay film, one of the most significant forms of intellectual filmmaking since the end of World War II. Warner incisively reconsiders the defining traits and legacies of this still-evolving genre through a groundbreaking examination of the vast and formidable oeuvre of Jean-Luc Godard.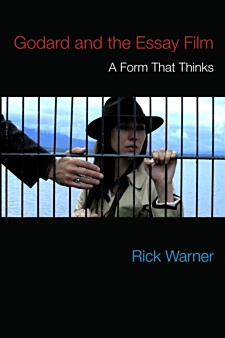 The essay film has often been understood by scholars as an eccentric development within documentary, but Warner shows how an essayistic process of thinking can materialize just as potently within narrative fiction films, through self-critical investigations into the aesthetic, political, and philosophical resources of the medium.
Studying examples by Godard and other directors, such as Orson Welles, Chris Marker, Agnès Varda, and Harun Farocki, Warner elaborates a fresh account of essayistic reflection that turns on the imaginative, constructive role of the viewer.
Through fine-grained analyses, this book contributes the most nuanced description yet of the relational interface between viewer and screen in the context of the essay film. Shedding new light on Godard's work, from the 1960s to the 2010s, in film, television, video, and digital stereoscopy, Warner distills an understanding of essayistic cinema as a shared exercise of critical rumination and perceptual discovery.
Rick Warner is an assistant professor of film in the Department of English and Comparative Literature at the University of North Carolina, Chapel Hill.
Godard and the Essay Film
A Form That Thinks
Rick Warner
Publication Date: July 2018
Categories: Film
Page Count: 288 pages
Size 6 x 9
Northwestern University Press
Cloth Text – $99.95
ISBN 978-0-8101-3738-7
Paper Text – $34.95
ISBN 978-0-8101-3737-0
new books
fleursdumal.nl magazine
More in: - Book News, - Bookstores, Archive G-H, Art & Literature News, AUDIO, CINEMA, RADIO & TV, Photography
---
A fascinating glimpse into design behind the Iron Curtain, revealed through the products and graphics of everyday Soviet life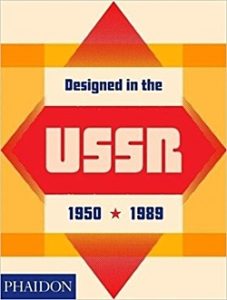 This captivating survey of Soviet design from 1950 to 1989 features more than 350 items from the Moscow Design Museum's unique collection.
From children's toys, homewares, and fashion to posters, electronics, and space-race ephemera, each object reveals something of life in a planned economy during a fascinating time in Russia's history.
Organized into three chapters – Citizen, State, and World – the book is a micro-to-macro tour of the functional, kitsch, politicized, and often avant-garde designs from this largely undocumented period.
Designed in the USSR: 1950-1989
Moscow Design Museum
Publisher: Phaidon Press
April 2018
Editions: Hardback
Language: English
Price: €34.95
Format: Hardback
Size: 270 x 205 mm
Pages: 240 pp
Illustrations: 350 illustrations
ISBN-10: 0714875570
ISBN-13: 978-0714875576
new books
fleursdumal.nl magazine
More in: - Book News, - Bookstores, Art & Literature News, Design, Illustrators, Illustration, Photography
---
Mijnheer Cros gaat op een bijzondere manier in op het leven van Charles Cros (1842-1888).

Deze literaire ingenieur (Liesbeth van Nes) en boeiende buitenstaander (Bernlef) kan worden genoemd als de literaire voorloper op Dada, het surrealisme en het absurdisme, maar ook als de commercieel weinig gewiekste uitvinder van de fonograaf, de kleurenfotografie en (met een knipoog) de communicatie met andere planeten.
Een bescheiden selectie van zijn poëzie en monologen vormt in samenhang met zijn hinkende privéleven, de springplank voor losjes op zijn leven geïnspireerde schetsen, in proza, poëzie en beeld van Harry van Doveren, Kreek Daey Ouwens, Theo Rikken en Ineke van Doorn.
Charles Cros (1842-1888) was een Frans dichter. Hij mag worden gezien als een van de literaire voorlopers van het dadaïsme, het surrealisme en het absurdisme. Daarnaast was hij uitvinder van de fonograaf en de kleurenfotografie. Het lukte hem echter niet deze uitvindingen te gelde te maken.
Mijnheer Cros
Cros, Charles
Rikken, Theo – Doveren, Harry van – Doorn, Ineke van – Daey Ouwens, Kreek
ISBN 978-90-8684-162-2
Formaat: 12.5 x 20 cm.
Omvang: 128 pag.
€17,50
2018
Uitgeverij IJzer
new books
fleursdumal.nl magazine
More in: - Book News, Archive C-D, Art & Literature News, Cros, Charles, DADA, Ouwens, Kreek Daey, Photography, SURREALISM
---
Older Entries »
Thank you for reading FLEURSDUMAL.NL - magazine for art & literature