Paul Bogaert
·
KRACHT ZETTEN – DRUCK MACHEN – GROEPSSEXPO TILBURGSE GRAFICI
·
Paul Bogaert: kleine kabinetten en handdrukken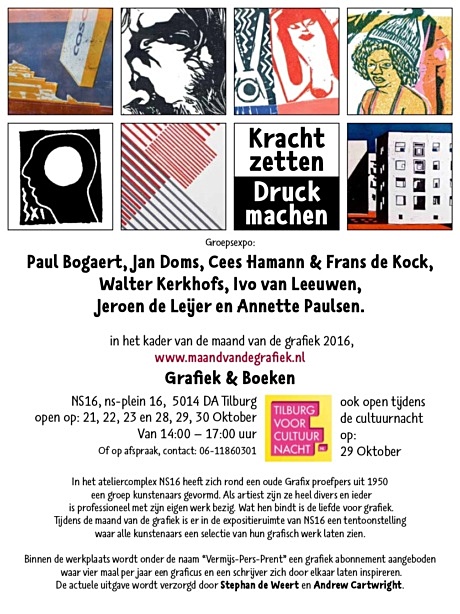 KRACHT ZETTEN – DRUCK MACHEN = GROEPSSEXPO TILBURGSE GRAFICI
Groepsexpo: Paul Bogaert, Jan Doms, Cees Hamann & Frans de Kock, Walter Kerkhofs, Ivo van Leeuwen, Jeroen de Leijer en Annette Paulsen, in het kader van de maand van de grafiek 2016, www.maandvandegrafiek.nl  –  Grafiek & Boeken
NS16, ns-plein 16, 5014 DA Tilburg – open op: 21, 22, 23 en 28, 29, 30 Oktober 2016 – van 14:00 – 17:00 uur ook open tijdens de cultuurnacht op: 29 Oktober.  In het ateliercomplex NS16 heeft zich rond een oude Grafix proefpers uit 1950 een groep kunstenaars gevormd. Als artiest zijn ze heel divers en ieder is professioneel met zijn eigen werk bezig. Wat hen bindt is de liefde voor grafiek. Tijdens de maand van de grafiek is er in de expositieruimte van NS16 een tentoonstelling waar alle kunstenaars een selectie van hun grafisch werk laten zien. Binnen de werkplaats wordt onder de naam "Vermijs-Pers-Prent" een grafiek abonnement aangeboden waar vier maal per jaar een graficus en een schrijver zich door elkaar laten inspireren. De actuele uitgave wordt verzorgd door Stephan de Weert en Andrew Cartwright.
fleursdumal.nl magazine
More in: Art & Literature News, Exhibition Archive, Illustrators, Illustration, Ivo van Leeuwen, Paul Bogaert, PRESS & PUBLISHING
---
paul bogaert
5 09 2014 tm 5 10 2014
kleine kabinetten en handdrukken
Hoewel Paul Bogaert bekend staat om zijn meestal in zwart-wit uitgevoerde lino's waarin hij zijn met humor gelardeerde commentaar op de wereld in woord en beeld tot uitdrukking brengt, richt hij zijn pijlen recentelijk ook op andere technieken. Zo vervaardigt hij 3d collages waar hij kleine kijkkastjes omheen bouwt. Door hun gelaagdheid kunnen deze minikabinetten op meerdere niveaus bekeken en gewaardeerd worden. Ze doen in ieder geval een beroep op het associatievermogen van de kijker en op zijn of haar (kunst)historische kennis. Door het combineren van bestaande materialen, variërend van waxinelichthouders, eierdopjes, speelgoedautootjes of oude foto's, creëert Bogaert een nieuw, soms absurdistisch universum, waarin dada nooit ver weg is. Tevens is een selectie van zijn linoleumsnedes te zien.
Ook Paul van Rijswijk toont een aantal recente beelden. Aanleiding is zijn gelijktijdige tentoonstelling in de Hilvaria Studio's (07-09 tm 09-11) in Hilvarenbeek.In oktober neemt Van Rijswijk deel aan 'Tilburg Ontwerp Design Eindhoven' in het Designhuis Eindhoven (18-10 tm 26-10), gecureerd door Jan Doms.
Luycks Gallery
Nieuwlandstraat 31
5038 SL Tilburg
# website luycks gallery
fleursdumal.nl magazine
More in: Art & Literature News, Exhibition Archive, Paul Bogaert
---
Thank you for reading FLEURSDUMAL.NL - magazine for art & literature