Exhibition Archive
·
Jean Cocteau – Metamorphosis in Den Bosch NL
·
L.A. Raeven deelnemer expositie ROBOT LOVE
·
Centre Pompidou: Le Cubisme
·
Frida Kahlo: Making Her Self Up in Victoria & Albert Museum London
·
Bruges Triennial 2018: Liquid City
·
René Daniëls: Fragments from an Unfinished Novel
·
Hans Ebeling Koning: Appelboom
·
"Ad Fundum", een hommage aan meester-graficus en tekenaar Ad Willemen in Luycks Gallery
·
Forum of Live Art Amsterdam 2018 in Arti et Amicitiae
·
Hybrids 2018 – Lustwarande Tilburg
·
Kunstenfestival Watou 2018 nog t/m 2 september
·
Paul Kempers: 'Het gaat om heel eenvoudige dingen'. Jean Leering en de kunst
Jean Cocteau (1889-1963) is een tot de verbeelding sprekend kunstenaar.
Hij uitte zich in bijna alle artistieke media: van poëzie en literatuur, beeldende kunst en vormgeving tot theater en zijn favoriete medium: film.
Maar meer nog dan om zijn werk was Cocteau bekend om zijn opmerkelijke leven. Hij omgaf zich met beroemdheden als Sergei Diaghilev, Edith Piaf, Pablo Picasso en Coco Chanel en raakte geregeld in opspraak vanwege zijn homoseksualiteit en drugsgebruik. Design Museum Den Bosch presenteert de eerste grote overzichtstentoonstelling van Jean Cocteau in Nederland.
Jean Cocteau – Metamorphosis werpt licht op Cocteau's voortdurende zelftransformatie en zijn zoektocht naar een eigen identiteit. Zoals jonge mensen zich tegenwoordig digitaal een identiteit aanmeten, had Cocteau de gave om zich via diverse media steeds met andere ogen te bezien en te laten zien.
De tentoonstelling Jean Cocteau – Metamorphosis toont vele van deze gezichten, in tekeningen en schilderijen, wandtapijten en affiches, in foto en film. Een veelheid aan artistieke uitingsvormen die Cocteau alle als een zelfportret beschouwde
Al sinds de jaren negentig bevinden zich keramiek en sieraden van Cocteau in de collectie van het Design Museum Den Bosch.
Het werk van Jean Cocteau wijst vooruit naar de multidisciplinaire praktijk van ontwerpers en kunstenaars vvan vandaag. In onze tijd beperken Nederlandse ontwerpers als Bart Hess, Ted Noten en Studio Drift zich al evenmin tot één discipline maar verkennen de grenzen van kunst, design en digitale media.
De overzichtstentoonstelling Jean Cocteau – Metamorphosis bestaat uit meer dan 250 werken.
Vele belangrijke bruiklenen zijn verschaft door het Musée Jean Cocteau collection Séverin Wunderman uit Menton, Frankrijk, het enige aan Cocteau gewijde museum ter wereld, en door de verzameling Kontaxopoulos | Prokopchuk te Brussel, de grootste internationale privéverzameling van het werk van Cocteau.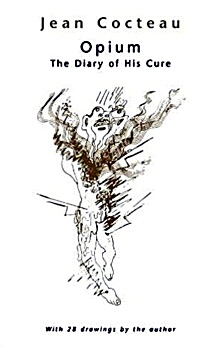 Daarnaast zijn er bruiklenen van o.m. Collection Cartier, Stedelijk Museum Amsterdam en de Koninklijke Verzamelingen.
Belangrijke werken uit de bruiklenen zijn o.a. het wandkleed Judith et Holoferne uit Menton, het kunstenaarsboek Le Mystère de Jean l'Oiseleur uit Brussel, het zwaard Epée d'Académicien van Collection Cartier en het manuscript-gedicht Hommage à Igor Strawinsky uit de Koninklijke Verzamelingen, door president Mitterrand geschonken aan prins Claus tijdens een staatsbezoek in Parijs.
Documentaire: Nicolas Patrzynski (www.patrzynski.com) heeft een documentaire gemaakt van Jean Cocteau. Het leven en werk van Cocteau vloeien in dit werk prachtig in elkaar over. De documentaire maakt onderdeel uit van de tentoonstelling.
De tentoonstelling wordt mede mogelijk gemaakt door Mondriaan Fonds, Prins Bernhard Cultuurfonds en Turing Foundation.
Te zien van 10 november 2018 t/m 10 maart 2019
Jean Cocteau – Metamorphosis
Design Museum Den Bosch
De Mortel 4
5211 HV Den Bosch
Dinsdag t/m zondag 11 – 17 uur
Maandag gesloten
  # more information Design Museum Den Bosch

fleursdumal.nl magazine
More in: Archive C-D, Art & Literature News, AUDIO, CINEMA, RADIO & TV, Exhibition Archive, Jean Cocteau, Surrealism, SURREALISM, Surrealisme
---
Robot love is een interactieve expo experience over de liefde tussen mens en robot. Meer dan 50 kunstenaars, ontwerpers en wetenschappers stellen de vraag of robots in staat zijn tot liefde. En of jij van ze kunt houden.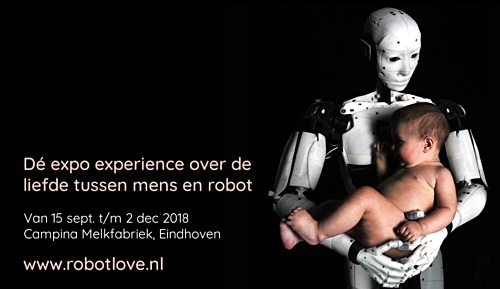 Wandel door het bijzondere gebouw en ontdek wat jij nu écht voelt, denkt en vindt van de invloed van techniek en innovatie op onze maatschappij. Een groot aantal werken is speciaal voor Robot Love gemaakt.
Robot Love is een grootschalige, internationale expo experience met tentoonstelling, publiek programma, partnerevents, educatieprogramma's en een Robot Café. Robot Love vindt plaats van 15 september t/m 2 december 2018 in de Melkfabriek op het voormalige Campinaterrein in Eindhoven.
Robot Love zoekt de verbinding tussen mens en robot. Robots en AI als nieuwkomers moeten veel leren en worden opgevoed. Dat vereist aandacht, zorg en bovenal liefde. Om de belofte up close & personal with robots waar te maken zet Robot Love in op het bereiken van een breed en zeer divers publiek.
Robot Love heeft een optimistische benadering van robotisering en omarmt de komst van robots en AI, juist omdat het ons ook kansen biedt betere mensen te worden. Tegelijk worden ook de minder fraaie consequenties ervan onderzocht. Er is ruimte voor fascinatie, maar ook voor conflict, voor kwetsbaarheid, maar vooral voor liefde. Dat doet Robot Love door de organisatie van een expo experience op het snijvlak van kunst, design en wetenschap.
L.A. Raeven
Annelies, Looking for Completion, 2018, androïde robot
Werk in opdracht van stichting Niet Normaal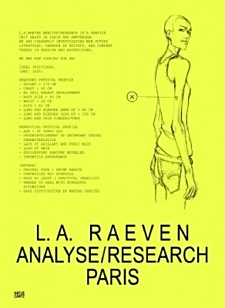 Hoe zou het zijn als je de mogelijkheid hebt om jezelf of je geliefde te kopiëren? Kun je daarmee de angst om verlaten te worden voorkomen? Met het werk Annelies, Looking for Completion, onderzoekt het kunstenaarsduo L.A. Raeven deze en andere vragen door het bouwen van een op henzelf lijkende androïde robot. De tweelingzusjes zijn bekend geworden met hun indringende en persoonlijke werk over maatschappelijke thema's zoals de vergaande individualisering en het benauwende streven naar perfectie. Ook de 'gekloonde' drieling zus Annelies gaat in op deze ontwikkelingen en richt zich op het gevoel van eenzaamheid dat hier vaak uit voortkomt.
ROBOT LOVE
The Expo That Gets Under Your Skin
15 Sept – 2 Dec 2018
Di t/m Zo: 11:00 – 18:00
Vr: 11:00 – 21:00, Ma: gesloten
CAMPINA MELKFABRIEK
Kanaaldijk-Zuid t.h.v. nr. 3
EINDHOVEN
Robot Love | 15.09.2018 – 02.12.2018 | Campina Melkfabriek | Kanaaldijk-Zuid | Hugo van der Goeslaan | 5613 LE Eindhoven
# robot love
L.A. Raeven: Annelies,
Looking for Completion, 2018, androïde robot
fleursdumal.nl magazine
More in: - Book News, Archive Q-R, Art & Literature News, Exhibition Archive, FDM Art Gallery, L.A. Raeven, The talk of the town
---
Pour la première fois en France depuis 1953, le Centre Pompidou consacre une exposition au cubisme au travers d'un vaste panorama de l'histoire du mouvement à Paris entre 1907 et 1917.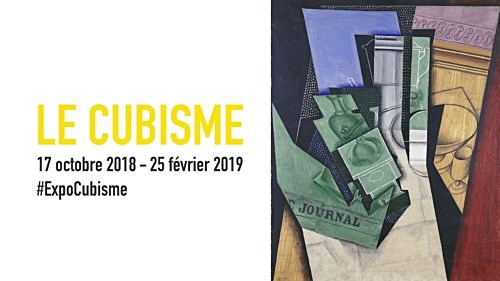 L'originalité du projet consiste à élargir la vision traditionnellement concentrée sur les grands noms du mouvement, Georges Braque, Juan Gris, Fernand Léger et Pablo Picasso, aux cubistes secondaires, comme Gleizes et Metzinger, ou différents tels Robert et Sonia Delaunay, Marcel Duchamp ou Francis Picabia, qui exposaient dans les salons officiels parisiens   lorsque les pionniers réservaient leurs créations expérimentales à un seul jeune marchand inconnu, Daniel-Henry Kahnweiler.
Riche de trois cents œuvres et de documents significatifs de son rayonnement, la présentation s'articule chronologiquement en quatorze chapitres où se détachent des chefs-d'œuvre comme le Portrait de Gertrude Stein (1905-1906) ou ceux d'Ambroise Vollard (1909) et de Daniel-Henry Kahnweiler (1910) par Picasso et des ensembles de peintures et de sculptures, jamais réunies. Elles mettent en valeur l'évolution à rebondissements du cubisme, remontant aux sources primitivistes (avec des sculptures tribales collectionnées par les artistes), et à la fascination des cubistes pour Gauguin et Cézanne. Elles reflètent la progression formelle du mouvement, d'une première étape cézannienne (avec la présence de l'exceptionnelle nature morte de Picasso, Pains et compotier sur une table, 1909) vers une transcription analytique hermétique (1910-1912) transformée en version plus synthétique (1913-1917), qui marque le retour de la représentation et de la couleur.
La part la plus révolutionnaire du cubisme – l'invention des papiers collés, des collages et des constructions de Braque, Picasso, Gris et Henri Laurens – est représentée par des grandes icônes de l'art du 20e siècle, comme la Nature morte à la chaise cannée de Picasso (1912) ou sa Guitare en tôle et fils de fer (1914). D'autres aspects illustrent l'importance et le prestige de la constellation cubiste : les liens avec la littérature sont retracés dans une salle dédiée aux critiques et aux poètes, incarnés par les portraits les plus marquants de Max Jacob ou d'Apollinaire, par le Douanier Rousseau et Marie Laurencin, les éditions Kahnweiler de livres cubistes, la collaboration entre les Delaunay et Blaise Cendrars autour de La Prose du Transsibérien en 1913, etc. La tragédie de la Grande Guerre (1914-1918) qui mobilise ou exile les artistes et leurs soutiens est retracée par des œuvres des artistes du front (Raymond Duchamp-Villon, Fernand Léger) ou de l'arrière parce qu'étrangers (Pablo Picasso, Cartes à jouer, verres, bouteille de rhum, « Vive la France », 1914-1915) qui témoignent de l'inévitable stérilisation du mouvement frappé par l'histoire (Marc Chagall, Les Portes du cimetière, 1917). La fin du parcours témoigne à la fois de la renaissance des rescapés comme Braque (La Musicienne, 1917-1918) et de l'influence exercée par le cubisme sur ses contemporains, comme Henri Matisse (Porte-fenêtre à Collioure, 1914) et ses héritiers abstraits (Piet Mondrian, Composition n°IV, 1914), Kasimir Malévitch, Croix noire, 1915 ou contestataires (Marcel Duchamp, Roue de bicyclette, 1913/1964), tous tributaires de la révolution cubiste.
Avec le soutien exceptionnel du Musée national Picasso-Paris
L'exposition est coproduite avec le Kunstmuseum de Bâle
Expositions
Le cubisme
17 oct. 2018 – 25 févr. 2019 de 11h à 21h
Galerie 1 – Centre Pompidou, Paris
Centre Pompidou
Place Georges Pompidou, 75004 Paris
# Le Cubisme
Exposition Centre Pompidou
fleursdumal.nl magazine
More in: Art & Literature News, Art Criticism, Exhibition Archive, Gertrude Stein, Kubisme, Marcel Duchamp, Pablo Picasso, Piet Mondriaan, Sculpture
---
Exhibition On now until Sunday, 4 November 2018
Frida Kahlo: Making Her Self Up
Experience a fresh perspective on Kahlo's compelling life story through her most intimate personal belongings
This exhibition presents an extraordinary collection of personal artefacts and clothing belonging to the iconic Mexican artist Frida Kahlo. Locked away for 50 years after her death, this collection has never before been exhibited outside Mexico.
Frida Kahlo: Making Her Self Up offers a fresh perspective on the life story of this extraordinary artist, whose charisma and powerful sense of style continue to captivate. Never before seen, specially commissioned photography, shot at the Casa Azul in Mexico City show her distinctive Mexican outfits along with her self-portraits, an unprecedented pairing that is enriched by iconic images of the artist.
Book: Frida Kahlo – Making Her Self Up – offers a fresh perspective on the life story of this extraordinary artist, whose charisma and powerful sense of style continue to captivate. Never before seen, specially commissioned photography, shot at the Casa Azul in Mexico City show her distinctive Mexican outfits along with her self-portraits, an unprecedented pairing that is enriched by iconic images of the artist.
♦Includes six inset booklets, containing photographs of Kahlo's most intimate possessions
♦16 page section showcasing Kahlo's wardrobe, specially conserved and mounted
♦Spectacular details of embellishments and textiles
About the authors C. Wilcox and C. Henestrosa
Claire Wilcox is Senior Curator of Fashion at the V&A and Professor in Fashion Curation at the London College of Fashion, University of the Arts London. She curated the exhibitions Vivienne Westwood (V&A, 2004), The Golden Age of Couture: Paris and London 1947–1957 (V&A, 2007) and Alexander McQueen: Savage Beauty (2015), and edited the accompanying catalogues. Circe Henestrosa is an independent curator and Head of the School of Fashion at LASALLE College of the Arts, Singapore. She curated the exhibition Appearances Can Be Deceiving: The Dresses of Frida Kahlo (Museo Frida Kahlo, Mexico City, 2012).
Format: Hardcover
ISBN 9781851779604
Dimensions 270 x 216 mm
Author: C.Wilcox and C.Henestrosa
Product code 153329
£30.00
Victoria and Albert Museum
Cromwell Road, London, SW7 2RL
# exhibition and publication
Frida Kahlo: Making Her Self Up
in Victoria and Albert Museum London
fleursdumal.nl magazine
More in: - Book News, - Book Stories, Art & Literature News, Exhibition Archive, FDM Art Gallery, FDM in London, Frida Kahlo, Galerie des Morts
---
From May 5 until September 16, 2018, Bruges will be the setting for the second edition of the Triennial, an art route in the heart of the historic city.
With the central theme 'Liquid City', the Triennial wants to investigate the role of a city like Bruges in a globalized and changing world. With the artistic and architectural installations, the participants of Triennale Brugge 2018 | Liquid City create welcoming public spaces in the city center. Those temporary interventions on little known and iconic places in Bruges offer great opportunities for encounter, wonder and dialogue.
Triennial Bruges 2018 will feature works by Jarosław Kozakiewicz (PL), Wesley Meuris (BE), Renato Nicolodi (BE), NLÉ – Kunlé Adeyemi (NG-NL), OBBA (KR), Roxy Paine (US), John Powers (USA), raumlabor (DE), Rotor (BE), Ruimteveldwerk (BE), Tomás Saraceno (AR), Jose Selgas & Lucia Cano (ES), Monir Shahroudy Farmanfarmaian (IR), StudioKCA (US), Peter Van Driessche – Atelier4 (BE).
The Bruges Triennial 2018, themed Liquid City reaches back to 2015 edition, which was a reflection on the city as a megapolis: "What if the 5 million visitors to the city decided to stay?"
This edition takes a step further: how flexible, liquid and resilient can a historic city like Bruges be in an age when nothing seems to be certain any longer? None other than Zygmunt Bauman, prophet of the permanent crisis in the West, devoted his final book to this phenomenon, a year before his death in January 2017.
In Retrotopia, Bauman invites the reader to question the dynamics of our society, as well as the metaphor "liquid" itself, the contemporary era as a time of transition, which today stands in stark contrast with the institutional framework that once formed a safe environment for our (grand)parents. Each institution in turn, whether the government, the church, political parties, insurance companies or banks, have lost the public's trust. This renders society particularly vulnerable to fear-mongers.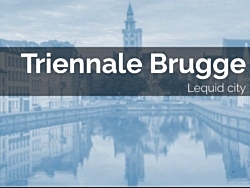 This world is changing rapidly. Established ways of thinking and forms of life are under pressure. What does the future hold?
The Bruges Triennial 2018 co-curators Tilll-Holger Borchert and Michel Dewilde invited international artists and architects to think about these issues. Many of them sought inspiration in the city that is literally crisscrossed and surrounded by water.
The waterways that once earned Bruges its international renown, become a metaphor for Liquid City. Works of art, installations and meeting places have been put up in the city centre.
They form a free hospitable route that brings people together in unexpected spots. That is one of the main objectives of the Bruges Triennial 2018: generating encounters, challenging people not only to view the artworks but also to experience them and to become part of the creative process.
Participating internationally renowned architects include Kunlé Adeyemi, (Nigeria/Netherlands, NLÉ Architects), who designed the third version of MFS – Minne Floating School for Bruges, selgascano (Spain) who created the new swimming pavilion for Brugians and visitors alike on the city canal, and OBBA (Korea) who worked together with Bruges-based Architectuuratelier Dertien12 to construct The Floating Island, a meandering walkway on the water. Climate change and environmental issues are addressed through the installation of the Bruges Whale by StudioKCA (US), INFINITI designed by Peter Van Driessche of Aterlier4 (Belgium) suggests tiny housing situated on the water whereas the Aerocene project by Tomás Saraceno (Argentina) invites us to look to the sky. A very different approach is offered by Brussels-based collective Rotor who presents a museum dedicated to the Chinese Mitten Crab in the Poortersloge and an exotic eatery at the beach in Zeebrugge. raumlabor (Germany) has been working with local youths on their House of Time, a continuous project of building, experimenting and hands-on experience and the Belgian collective Ruimteveldwerk have persuaded the inhabitants of one of the historic almshouse complexes to help create their G.O.D. project. Further installations along the arts trail are created by artists such as Wesley Meuris (Belgium), Renato Nicolodi (Belgium), John Powers (US), Jarosław Kozakiewicz (Poland) and Monir Shahroudy Farmanfarmaian (Iran).
Additional art works, designs, models and documentary materials of all the participants are presented in the free Liquid City exhibition in the Poortersloge, the central information point of the Bruges Triennial 2018.
A further exhibition is located in the Church of the Great Seminary. Architectures Liquides, curated by Abdelkader Damani, is a selection of impressive visionary architectural models from the FRAC-Centre collection in Orléans (France).
The bilingual catalogue (Dutch/English) with contributions by Till-Holger Borchert, Michel Dewilde, Abdelkader Damani, Tom Trevor, Anna Lowenhaupt Tsing, Marc Van den Bossche ea. and photography by Iwan Baan is available at the Triennial information points, arts bookshops and online.
Triënnale Brugge 2018
Liquid City / Vloeibare Stad
Till-Holger Borchert, Michel Dewilde
Photogr.: Misc.
Format: 27 x 20
Pages 160
Hardcover
Dutch, English
ISBN 9789058565990
€ 29,95
# more information on website Bruges Triennial 2018
Bruges Triennial 2018: Liquid City – Contemporary art and architecture trail in the historic heart of Bruges – is open daily until September 16. Opening hours for the exhibitions and some installations: 12–6pm – Free of charge
Triënnale Brugge 2018
fleursdumal.nl magazine
More in: - Book News, Architecture, Art & Literature News, Art Criticism, Design, Exhibition Archive, FDM Art Gallery, Historia Belgica, Land Art, Sculpture, Street Art, Urban Art
---
September at WIELS will be marked by the pictorial work and the poetic imagination of René Daniëls.
Come to discover over 75 paintings – several of which have never been exhibited and have been specially restored for the occasion – in addition to hundred drawings by the artist who has made his mark on the history of painting.
René Daniëls occupies a prominent place in the history of contemporary art from the latter half of the 20th century, despite the fact that his career was abruptly interrupted in 1987 after he suffered a stroke.
Emerging in the late 1970s, when figurative and expressive painting once again became popular, Daniëls soon developed an original, personal language. Although he enjoyed early recognition, Daniëls had no qualms about experimenting with different pictorial styles.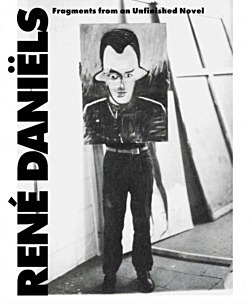 Nevertheless, certain motifs recur under constantly changing forms, following an associative, dream-like logic. Not unlike a composer, Daniëls devises variations on a theme. From 1984 onwards, one motif was to play a dominant role: that of an exhibition room seen in perspective. This form, resembling a bow tie, is reproduced in compositions in which he plays with mirroring effects, overlapping layers, or changes of direction.
Inspired by the title of one of the rare texts written by Daniëls, the exhibition Fragments from an Unfinished Novel explores the phenomenon of déjà vu and the relation between perception and memory, which lie at the heart of his practice.
Including historic paintings and several works never previously exhibited, the exhibition recounts the development of Daniëls' visual language by exploring the effects of repetition and variation inherent in his work. A wide selection of drawings completes the presentation, offering a closer understanding of the evolution of his vocabulary.
René Daniëls:
Fragments from an Unfinished Novel
07.09.2018 – 06.01.2019
WIELS
Kunst · Brussel (stad)
Contemporary Art Centre
Avenue Van Volxemlaan 354
1190 Brussels
# more on exhibition rené daniëls
rené daniëls exhibition
fleursdumal.nl magazine
More in: - Book Stories, Art & Literature News, Exhibition Archive, FDM Art Gallery, René Daniëls
---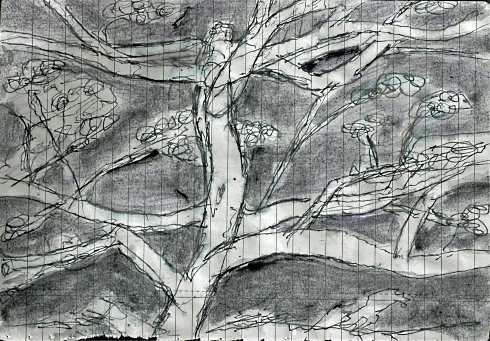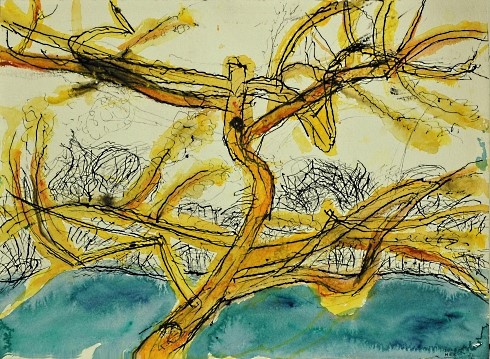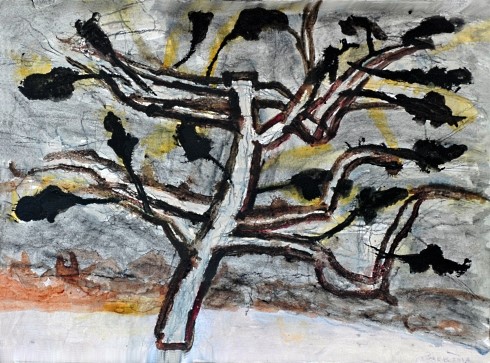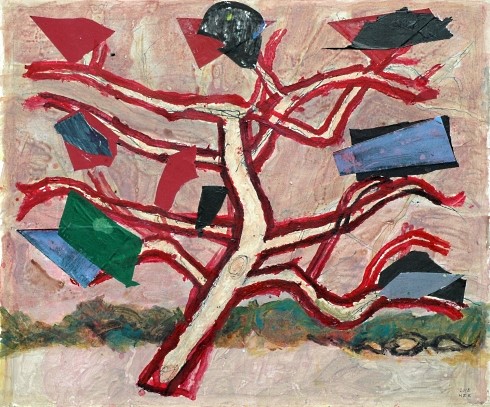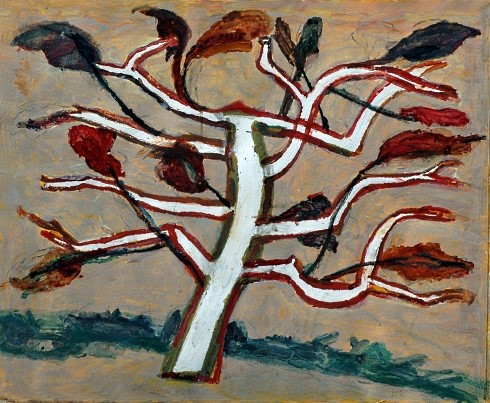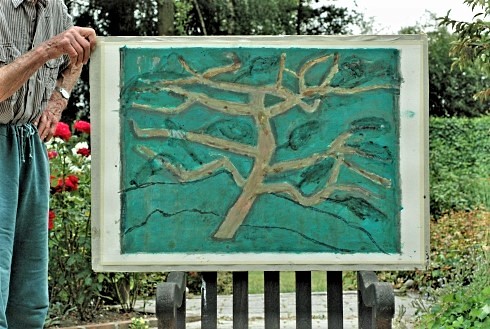 Hans Ebeling Koning
Appelboom (Apple tree)

Hans Ebeling Koning (1931) received his education at AKI in Enschede where he later became a teacher in drawing and painting. His work is represented in many public and private collections including Museum Henriette Polak in Zutphen, Rijksmuseum Twente and the Museum of Modern Art in Arnhem.
Hans Ebeling Koning © 2018

fleursdumal.nl magazine
More in: Art & Literature News, Exhibition Archive, FDM Art Gallery, Hans Ebeling Koning
---
Van 9 september tot en met 7 oktober organiseert Luycks Gallery in Tilburg: "Ad Fundum", een hommage aan meester-graficus en tekenaar Ad Willemen.

Het is dit jaar vijf jaar geleden dat deze markante kunstenaar overleed. Zowel in Luycks Gallery als in het nabijgelegen voormalig atelier van Willemen wordt een keuze getoond uit zijn artistieke nalatenschap.

Willemens grote muze was het vrouwelijk naakt. In zijn grafisch werk citeerde hij veelvuldig en bevlogen uit de kunstgeschiedenis. Zijn fantasie werd geprikkeld door werk van onder meer Cranach, Rafael, Piero di Cosimo en Harunobu.

Begin jaren '90 kwam hij voor het eerst naar buiten met zijn 'apocriefe' oeuvre: erotische tekeningen naar levend model. Met een 'Lust zu Zeichnen', zette hij tientallen vrouwen op even virtuoze als fijnzinnige wijze op papier. Zijn waarnemingen wist Willemen om te zetten in een eigen idioom, prikkelend, suggestief en provocerend met een subtiel oog voor kleur en detail. Zijn werk geniet grote nationale en internationale bekendheid en is opgenomen in tal van particuliere en overheidscollecties.
Op 21 september is er in Cinecitta bij wijze van hommage een filmavond rondom Willemen. Aanvang 20:00 uur, toegang gratis. Meer informatie www.luycksgallery.com en www.cinecitta.nl
De openingstijden van het atelier zijn gelijk aan die van de galerie. Adres: Bisschop Zwijsenstraat 23, Tilburg.
Luycks Gallery
Nieuwlandstraat 31
5038 SL Tilburg
tel: + 31 6 22 800 638
e-mail: info@luycksgallery.com
Ad Willemen in Luycks Gallery
fleursdumal.nl magazine
More in: Ad Willemen, Art & Literature News, Art Criticism, Exhibition Archive, FDM Art Gallery
---
FLAM (Forum of Live Art Amsterdam) 2018 is een jaarlijks terugkerende tentoonstelling in Arti et Amicitiae, waarin de grote verscheidenheid aan uitingen binnen de hedendaagse performancekunst ruimte krijgt.
FLAM VIII
Look at me, then look at me again
FLAM LIVE: 4 – 7 SEPTEMBER
FLAM ENCOUNTER: 12 – 30 SEPTEMBER
De achtste editie vangt aan met FLAM Live: een intensieve week van live-kunst, waarin het lichaam met diens vele betekenissen het medium is. Deze editie wordt uitgebreid met FLAM Encounter: een tentoonstelling met installaties die op verschillende manieren hun oorsprong vinden in een performance. Middels deze transformatie biedt FLAM VIII een podium voor zowel de efemere als de materiële kant van diverse artistieke praktijken.
Om verschillende perspectieven op de werken te activeren hanteert FLAM VIII een metaforisch kader. De performances in de live-week worden opgevat als elementen van een wilde tuin; de toeschouwers worden uitgenodigd door de wilde tuin te dwalen, en samen met anderen de live-ervaring te delen.
De tentoonstelling wordt opgevat als een cruise-tuin, waarin objecten een beweging aansporen. FLAM Encounter nodigt het publiek uit om met een cruisende attitude de tentoonstellingszalen te betrekken, verschillende gezichtspunten in te nemen en een persoonlijke relatie aan te gaan met de objecten en andere lichamen in de ruimte. Het programma is ontworpen om onverwachte kruisbestuivingen te genereren tussen de kunstenaars, hun werk en het publiek.
Richard John Jones, Matthew Day, Richard John Jones, Maison JaJa, Dionisios Argyropoulos Ioannou, Sara Giannini, Pauline Jardin Curnier, Clementine Edwards, Tirza Kater, Wilfried Tomescu, Giorgos Tsiongas, Rabea Ridlhammer, Lukas Hoffmann, Clara Saito – Christopher Tym, Kurt Dickriot, Lady Dada, Natasha Papadopoulou, keyon gaskin, Rose Akras, Titus Nouwens, Olivia Reschofsky, Alice Pons, Emilia Thorin, Alina Lupu, Jan-Pieter 't Hart, Bea Correa, Katja Vercouteren, Alex Bailey, Roland Rauschmeier, Rebecca Chaillon, Tomislav Feller, Andrea Folache Zavala, Astrit Ismaili, Mami Kang, Maria Metsalu, Dora Longo Bahia, Harold Offeh, Marijn Ottenhof, Vincent Riebeek, Nicolas Roses, Mathias Ringgenberg, Antonia Steffens, Julian Weber, Philipp Gufler, Maria Metsalu, Hannah Perry, Sarah van Lamsweerde, Erin Hill
FLAM
Forum of Live Art
dinsdag 4 september 2018 t/m zondag 30 september 2018
Arti et Amicitiae
Rokin 112, 1012 LB Amsterdam
E-mailadres: arti@arti.nl
Telefoonnummer: 020-6245134
 # meer info op website Arti et Amicitiae 
Forum of Live Art Amsterdam 2018 in Arti et Amicitiae
fleursdumal.nl magazine
More in: # Music Archive, AUDIO, CINEMA, RADIO & TV, Dada, Dadaïsme, DANCE, Exhibition Archive, Performing arts, STREET POETRY, THEATRE
---
Hybrids borduurt voort op de thematiek van de exposities Luster en Disruption, die Lustwarande in 2016 en 2017 presenteerde, het Antropocene perspectief. De expositie sluit de triptiek af maar benadert de thematiek vanuit een geheel ander uitgangspunt, dat van de zogeheten post-internet generatie. Post-internet verwijst naar de generatie die van kinds af aan met digitalisering en internet is opgegroeid.
Hybrids focust op een generatie jonge kunstenaars, vaak aangeduid als post-internet, die de allesomvattende, digitale en beeldverzadigde wereld als uitgangspunt voor hun werk nemen. Deze generatie kunstenaars wordt gekenmerkt door een onderzoekende houding ten opzichte van de hedendaagse wereld. Voortschrijdende technologische ontwikkelingen en ecologische, economische en sociaal-culturele ontwikkelingen zijn belangrijke thema's in hun werk. Maar vooral het idee dat we in een hyperrealiteit leven, waarbij media-beelden steeds meer de realiteit vervangen, staat centraal. In feite is er geen onderscheid meer tussen deze hyperrealiteit en de fysieke werkelijkheid. Deze samensmelting wordt aangeduid de term mixed realities. Post-internet kunstenaars erkennen deze mixed realities en negeren elke vermeende hiërarchie tussen beelden, of die nu plat 0f 3D zijn. Alle media, stijlen, technieken, vormen en materialen worden grenzeloos gecombineerd, wat resulteert in een erg hybride beeldtaal.
Daarbij bevragen ze veelvuldig de authenticiteit van het kunstwerk, een kwestie die Walter Benjamin in 1935 al aan de orde stelde in zijn invloedrijke essay Das Kunstwerk im Zeitalter seiner technischen Reproduzierbarkeit. Met de intrede van het digitale tijdperk is deze reproduceerbaarheid eindeloos geworden. Kopieën van kopieën behoren aan niemand meer toe en het origineel is niet meer aanwijsbaar of bestaat eenvoudigweg niet meer. Distributie van deze veelvoudig gekopieerde beelden gaat razendsnel via internet en wordt geleidelijk onderdeel van de wereldwijde share en like-cultuur.
Hybrids vindt plaats in de parkomgeving van Lustwarande, waarbij verwacht werd dat het contrast tussen de 'natuurlijke elementen' en de kunstwerken bijna niet groter leek te kunnen zijn. Ondanks hybride productieprocessen, waarbij digitale en analoge technieken in allerlei combinaties vermengd zijn, en het gebruik van sterk contrasterende materialen en vormen, waarbij industrieel tegenover organisch geplaatst wordt, vakmanschap tegenover DIY, lijkt de openbare ruimte van de parkomgeving de beschouwing en duiding van de werken te dwingen in de richting van klassieke sculptuur. De sculpturen en installaties zijn fysieke entiteiten, die wonderwel samengaan met de context waarin ze gepresenteerd worden. Tegelijkertijd wordt de relatie die de werken met deze omgeving hebben benadrukt: de Antropocene wereld, waarin natuur en cultuur, organisch en industrieel, digitaal en analoog één entiteit vormen. Locatie en werken verlenen elkaar hierdoor uiteindelijk extra zeggingskracht.
Hybrids – Lustwarande Tilburg
nog t/m 23 september 2018
Hybrids
23 juni – 23 september
tien post-internet kunstenaars
Neïl Beloufa (FR)
Giulia Cenci (IT)
Simon Denny (NZ)
Oliver Laric (AU)
Sarah Pichlkostner (AU)
Timur Si-Qin (DE)
Evita Vasiljeva (LV)
Raphaela Vogel (DE)
Anne de Vries (NL)
Dan Walwin (GB)
Brief Encounters '18
16 september
drie event sculptures op één dag
Davide Balula (FR)
Thorsten Brinkmann (DL)
Lilibeth Cuenca Rasmussen (PH)
Educatie
Lustwarande brengt met zijn educatieve producten hedendaagse kunst op een aantrekkelijke manier onder de aandacht van leerlingen in het voortgezet onderwijs en primair onderwijs. De beeldende kunstprojecten van Lustwarande spelen in op de tijdsgeest. Het didactische concept van de educatieve producten wordt hierop afgestemd.
# Meer info op website fundament foundations
Hybrids – Lustwarande Tilburg
fleursdumal.nl magazine
More in: Art & Literature News, Dutch Landscapes, Exhibition Archive, Fundament - Lustwarande
---
Elke zomer opnieuw slaat het Kunstenfestival van Watou haar tenten op in het gelijknamige kunstdorpje aan de Franse grens.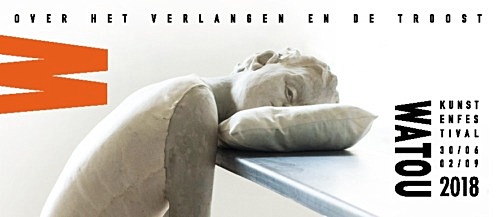 Dichters en beeldend kunstenaars, aanstormend talent en gevestigde waarden, kunstwerken uit binnen- en uit buitenland strijken er neer en vormen een bijzonder kunstenparcours. Het dorp is de setting en biedt een tiental karakteristieke locaties als tentoonstellingsruimte: een voormalig klooster, een oude boerderij of de kelder van een brouwerij. De wisselwerking tussen die verrassende, nostalgische ruimtes met hedendaagse beeldende kunst en poëzie zorgt telkens weer voor een unieke kunstbeleving. Zomeren in Watou is dan ook prikkelen en onthaasten tegelijk. Kleine momenten van gelukzaligheid.
Iedere editie van het Kunstenfestival kadert in een ander thema, waarrond intendant Jan Moeyaert en poëziecurator Willy Tibergien beeld en taal samenbrengen. Schrijvers, dichters en kunstenaars palmen gedurende een zomer het dorp in en bieden de bezoekers een caleidoscoop aan inzichten en perspectieven rond een bepaald onderwerp.
De afgelopen edities van Kunstenfestival Watou groeide er gestaag een nieuwe poëtische lijn in het dorp. Ook dit jaar selecteerde poëziecurator Willy Tibergien gedichten van gevestigde waarden in het Nederlandstalig poëzielandschap om hen een permanente plaats te geven in Watou.
Aan het werk van Eddy van Vliet, Paul Snoek, Remco Campert, Hugues C. Pernath, Jean-Claude Pirotte, Leo Vroman, Miriam Van hee, Stefan Hertmans, Gerrit Kouwenaar en Marc Insingel, Leonard Nolens, Christine D'Haen, Joost Zwagerman, Jotie T'Hooft, Charles Ducal en Luuk Gruwez worden dit jaar gedichten van Anna Enquist, Eva Gerlach en Frans Deschoemaeker toegevoegd.
STRING CARPET – GIDEON KIEFER – KUNSTENAARSGESPREK – ZONZO COMPAGNIE – ELS DEJONGHE – HET VLIEGEND TAPIJT – VRIJDAG VIERT FEEST – KRISTIN VERELLEN – POSTKANTOOR 00/00/00 – LIZE PEDE – BERNARD DEWULF – ALICJA GESCINSKA – DE TROOSTWINKEL – DOWN TIGER DOWN – SIEL EN LARISSA – NELLY AGASSI – IK ZIE MENSEN – POËZIE POËZIE POËZIE – DEREK & RENAUD – WIM CHIELENS – DE PLUIZENTUIN – WALLY DEDONCKER – ANT AND … – IK BEN WEER VELEN – STEPHANIE STRUIJK –  BERNARD DEWULF – MENNO WIGMAN – GRAHAM FAGEN – GERRIT KOUWENAAR – FRANS DESCHOEMAEKER – ANNA ENQUIST – EVA GERLACH – FRAUKE WILKEN – SAM DURANT – SIGRID VON LINTIG – PAUL SNOEK – MAUD BEKAERT -PETER VERHELST- DENIS VERCRUYSSE – MOHAMED EL BAZ – PARSE/ERROR – KATRIN DEKONINCK – ARPAÏS DU BOIS – GRZEGORZ GWIAZDA – SHIMABUKU – PETER DE MEYER – ROBINE CLIGNETT – ELS LESAGE – RADNA FABIAS – RY ROCKLEN – CHAIM VAN LUIT – SYLVIA EVERS – TORI WRÅNES – RONNY DELRUE – PETER MORRENS – HERVÉ MARTIJN – THÉ VANBERGEN – HANNE VAN ROMPAEY – STEFAN HERTMANS – TOM VAN DEEL – DANIELLE VAN ZADELHOFF – ANTON COTTELEER – SU-MEI TSE – POLIEN BOONS – JONAS VANSTEENKISTE – GURT SWANENBERG – ARANTHELL – GEERTJE VANGENECHTEN – MAARTEN VANDEN EYNDE – DOMINIQUE DE GROEN – JANI LEINONEN – JOSÉ COBO – TATJANA GERHARD – NADIA NAVEAU – HESTER KNIBBE – LUK VAN SOOM – JEROEN VAN KAN – CAROL ANN DUFFY – IRINA RATUSHINSKAYA – YEHUDA AMICHAI – NIDAA KHOURY – ZIYA MOHAVED – HANS OP DE BEECK- MASSIMO UBERTI -VAJIKO CHACHKHIANI – MOYA DE FEYTER – SHEILA HICKSEMMA VAN ROEY – BERNARDÍ ROIG -PETER THEUNYNCK – GIDEON KIEFER – EDITH DEKYNDT – THOMAS LEROOY – RANDALL CASAER- CHRISTINA MIGNOLET – GERD KANZ- GREET DESAL – HANNAH VAN BINSBERGEN – MELIK OHANIAN – JOHAN CLARYSSE – SOPHIE BOUVIER AUSLÄNDER – HANS DEFER- LUDOVIC LAFFINEUR – ARNE QUINZE – MARIJE LANGELAAR – TANYA SCHULTZ – ERLEND VAN LANDEGHEM – ROLAND JOORIS – LUKA FINEISEN – MEKHITAR GARABEDIAN – FRANZ SCHMIDT – CLARISSE BRUYNBROECK – FRANCIS PONGE – DAVID DE POOTER – RUTGER KOPLAND – JAN VANRIET – HUGO CLAUS – NELLY AGASSI – K. MICHEL – MICHAL MARTYCHOWIEC – PAUL DEMETS – STEPHAN MUIS – SAMMY BALOJI – TANG NANNAN – ADEL ABDESSEMED – LAURENS HAM – TODD ROBINSON – PANAMARENKO – GILLES BARBIER – HELEN DUNMORE – CASPER BRAAT – SYLVIE MARIE – CHANTAL POLLIER – EZRA VELDHUIS – HARLINDE DE MOL – ELEANOR CROOK – ANNO DIJKSTRA
Kunstenfestival Watou 2018 loopt nog tot en met 2 september
Open: woensdag tot zondag van 11u tot 19u – maandag en dinsdag gesloten, behalve op feestdagen
Adres:
Watouplein 12
8978 Watou
Poperinge (België)
De start van het Kunstenfestival is te vinden in het Festivalhuis (Watouplein 12), op het marktplein naast de Spar. Opg  elet! Voor alle weekend-events zijn de plaatsen beperkt. Een plaats reserveren kan enkel de dag zelf aan de kassa, bij aankoop van uw ticket.
# meer informatie op website kunstenfestival Watou
Kunstenfestival Watou 2018
fleursdumal.nl magazine
More in: # Music Archive, #Editors Choice Archiv, #More Poetry Archives, - Book Lovers, - Book Stories, Art & Literature News, Exhibition Archive, FDM Art Gallery, LITERARY MAGAZINES, PRESS & PUBLISHING, STREET POETRY, THEATRE, Watou Kunstenfestival
---
Amper dertig jaar was Jean Leering (1934-2005) toen hij benoemd werd tot directeur van het Van Abbemuseum. De opvolger van Edy de Wilde maakte van het Van Abbe een spraakmakend museum, waar de erfenis van Theo van Doesburg, László Moholy-Nagy en El Lissitzky werd verknoopt met de nieuwste kunst van de jaren zestig en zeventig.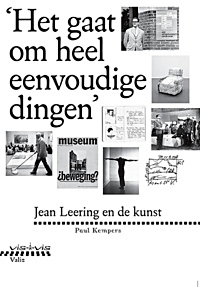 Als eerste haalde Leering kunstenaars als Robert Morris, Donald Judd, Christo, Bruce Nauman en Joseph Beuys naar Nederland. Hij organiseerde exposities over minimal art, seriële kunst en lichtkunst die internationaal de aandacht trokken.
De bewonderde tentoonstellingmaker – opgeleid als bouwkundig ingenieur – schrok niet terug voor ferme uitspraken. Het museum? Dat was onderdeel van de preventieve geestelijke gezondheidszorg, een instrument voor emancipatie, een kritisch beeldinstituut dat kon bijdragen aan de vorming van de publieke opinie. Met geëngageerde tentoonstellingen als 'De Straat', 'Cityplan Eindhoven' en 'Bouwen '20-'40' zou het van Abbe de toon zetten voor een generatie jonge curatoren in de eenentwintigste eeuw.
Leering was een activist van de geest wiens ideeën soms op felle tegenstand stuitten. Met zijn vaste vormgever Jan van Toorn zette hij vraagtekens bij de status van het museum als onbetwiste autoriteit. De vraagtekens werden uitroeptekens toen Leering ontslag nam om leiding te geven aan de nieuwe koers van het Tropenmuseum (1973-1975) in Amsterdam.
Tentoonstellingen, vond Leering, dienden inzicht te geven in hoe de wereld in elkaar stak. Hoe de wereld verkeerd in elkaar stak, soms. En wat daar aan gedaan kon worden. Want een museum dat zijn werkzaamheid alleen tot het netvlies wilde beperken, was een half museum.
Over hoe dat museum eruit had kunnen zien, gaat dit boek. Over de kijker tegenover het kunstwerk en de band tussen kunst en samenleving. Met Heidegger, Merleau-Ponty en Foucault waakzaam in de coulissen.
Biografie Jean Leering
'Het gaat om heel eenvoudige dingen':
Jean Leering en de kunst
Auteur: Paul Kempers
Ontwerp: Sam de Groot
Serie: vis-à-vis
2018, Valiz
paperback
336 blz.
23,5 x 16,5 cm (staand)
Nederlands
ISBN 978-94-92095-07-7
new books
fleursdumal.nl magazine
More in: - Book News, - Bookstores, Antony Kok, Archive K-L, Art & Literature News, Art Criticism, César Domela, De Stijl, Exhibition Archive, Gerrit Rietveld, Piet Mondriaan, Theo van Doesburg
---
Older Entries »
Thank you for reading FLEURSDUMAL.NL - magazine for art & literature