Exhibition Archive
·
Kunstenfestival Watou 2018 nog t/m 2 september
·
Paul Kempers: 'Het gaat om heel eenvoudige dingen'. Jean Leering en de kunst
·
Chinese Authorities Razing Ai Weiwei's Studio Part of Larger Attack on Artistic Expression
·
41ste editie Uitmarkt van 24 tot 26 augustus 2018 in Amsterdam
·
Hybrids 2018. Een expositie van Lustwarande Tilburg
·
M.C. Escher in Fries Museum
·
Josefin Arnell winner Theodora Niemeijer prize 2018
·
Boekpresentatie: Nicht verloren laufen met lino's van Walter Kerkhofs en Ivo van Leeuwen
·
EN ROUTE ELLEN RIJK – Een tentoonstelling over onderweg
·
The story of the Protests of May 1968
·
Hans Ebeling Koning: De Kast
·
Glam Jail: Franco-Brazilian tale by Pol Kurucz
Elke zomer opnieuw slaat het Kunstenfestival van Watou haar tenten op in het gelijknamige kunstdorpje aan de Franse grens.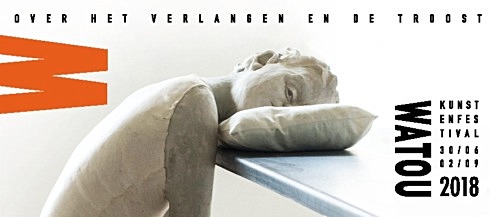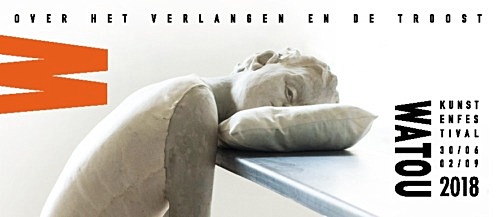 Dichters en beeldend kunstenaars, aanstormend talent en gevestigde waarden, kunstwerken uit binnen- en uit buitenland strijken er neer en vormen een bijzonder kunstenparcours. Het dorp is de setting en biedt een tiental karakteristieke locaties als tentoonstellingsruimte: een voormalig klooster, een oude boerderij of de kelder van een brouwerij. De wisselwerking tussen die verrassende, nostalgische ruimtes met hedendaagse beeldende kunst en poëzie zorgt telkens weer voor een unieke kunstbeleving. Zomeren in Watou is dan ook prikkelen en onthaasten tegelijk. Kleine momenten van gelukzaligheid.
Iedere editie van het Kunstenfestival kadert in een ander thema, waarrond intendant Jan Moeyaert en poëziecurator Willy Tibergien beeld en taal samenbrengen. Schrijvers, dichters en kunstenaars palmen gedurende een zomer het dorp in en bieden de bezoekers een caleidoscoop aan inzichten en perspectieven rond een bepaald onderwerp.
De afgelopen edities van Kunstenfestival Watou groeide er gestaag een nieuwe poëtische lijn in het dorp. Ook dit jaar selecteerde poëziecurator Willy Tibergien gedichten van gevestigde waarden in het Nederlandstalig poëzielandschap om hen een permanente plaats te geven in Watou.
Aan het werk van Eddy van Vliet, Paul Snoek, Remco Campert, Hugues C. Pernath, Jean-Claude Pirotte, Leo Vroman, Miriam Van hee, Stefan Hertmans, Gerrit Kouwenaar en Marc Insingel, Leonard Nolens, Christine D'Haen, Joost Zwagerman, Jotie T'Hooft, Charles Ducal en Luuk Gruwez worden dit jaar gedichten van Anna Enquist, Eva Gerlach en Frans Deschoemaeker toegevoegd.
STRING CARPET – GIDEON KIEFER – KUNSTENAARSGESPREK – ZONZO COMPAGNIE – ELS DEJONGHE – HET VLIEGEND TAPIJT – VRIJDAG VIERT FEEST – KRISTIN VERELLEN – POSTKANTOOR 00/00/00 – LIZE PEDE – BERNARD DEWULF – ALICJA GESCINSKA – DE TROOSTWINKEL – DOWN TIGER DOWN – SIEL EN LARISSA – NELLY AGASSI – IK ZIE MENSEN – POËZIE POËZIE POËZIE – DEREK & RENAUD – WIM CHIELENS – DE PLUIZENTUIN – WALLY DEDONCKER – ANT AND … – IK BEN WEER VELEN – STEPHANIE STRUIJK –  BERNARD DEWULF – MENNO WIGMAN – GRAHAM FAGEN – GERRIT KOUWENAAR – FRANS DESCHOEMAEKER – ANNA ENQUIST – EVA GERLACH – FRAUKE WILKEN – SAM DURANT – SIGRID VON LINTIG – PAUL SNOEK – MAUD BEKAERT -PETER VERHELST- DENIS VERCRUYSSE – MOHAMED EL BAZ – PARSE/ERROR – KATRIN DEKONINCK – ARPAÏS DU BOIS – GRZEGORZ GWIAZDA – SHIMABUKU – PETER DE MEYER – ROBINE CLIGNETT – ELS LESAGE – RADNA FABIAS – RY ROCKLEN – CHAIM VAN LUIT – SYLVIA EVERS – TORI WRÅNES – RONNY DELRUE – PETER MORRENS – HERVÉ MARTIJN – THÉ VANBERGEN – HANNE VAN ROMPAEY – STEFAN HERTMANS – TOM VAN DEEL – DANIELLE VAN ZADELHOFF – ANTON COTTELEER – SU-MEI TSE – POLIEN BOONS – JONAS VANSTEENKISTE – GURT SWANENBERG – ARANTHELL – GEERTJE VANGENECHTEN – MAARTEN VANDEN EYNDE – DOMINIQUE DE GROEN – JANI LEINONEN – JOSÉ COBO – TATJANA GERHARD – NADIA NAVEAU – HESTER KNIBBE – LUK VAN SOOM – JEROEN VAN KAN – CAROL ANN DUFFY – IRINA RATUSHINSKAYA – YEHUDA AMICHAI – NIDAA KHOURY – ZIYA MOHAVED – HANS OP DE BEECK- MASSIMO UBERTI -VAJIKO CHACHKHIANI – MOYA DE FEYTER – SHEILA HICKSEMMA VAN ROEY – BERNARDÍ ROIG -PETER THEUNYNCK – GIDEON KIEFER – EDITH DEKYNDT – THOMAS LEROOY – RANDALL CASAER- CHRISTINA MIGNOLET – GERD KANZ- GREET DESAL – HANNAH VAN BINSBERGEN – MELIK OHANIAN – JOHAN CLARYSSE – SOPHIE BOUVIER AUSLÄNDER – HANS DEFER- LUDOVIC LAFFINEUR – ARNE QUINZE – MARIJE LANGELAAR – TANYA SCHULTZ – ERLEND VAN LANDEGHEM – ROLAND JOORIS – LUKA FINEISEN – MEKHITAR GARABEDIAN – FRANZ SCHMIDT – CLARISSE BRUYNBROECK – FRANCIS PONGE – DAVID DE POOTER – RUTGER KOPLAND – JAN VANRIET – HUGO CLAUS – NELLY AGASSI – K. MICHEL – MICHAL MARTYCHOWIEC – PAUL DEMETS – STEPHAN MUIS – SAMMY BALOJI – TANG NANNAN – ADEL ABDESSEMED – LAURENS HAM – TODD ROBINSON – PANAMARENKO – GILLES BARBIER – HELEN DUNMORE – CASPER BRAAT – SYLVIE MARIE – CHANTAL POLLIER – EZRA VELDHUIS – HARLINDE DE MOL – ELEANOR CROOK – ANNO DIJKSTRA

Kunstenfestival Watou 2018 loopt nog tot en met 2 september
Open: woensdag tot zondag van 11u tot 19u – maandag en dinsdag gesloten, behalve op feestdagen
Adres:
Watouplein 12
8978 Watou
Poperinge (België)
De start van het Kunstenfestival is te vinden in het Festivalhuis (Watouplein 12), op het marktplein naast de Spar. Opg  elet! Voor alle weekend-events zijn de plaatsen beperkt. Een plaats reserveren kan enkel de dag zelf aan de kassa, bij aankoop van uw ticket.
# meer informatie op website kunstenfestival Watou
Kunstenfestival Watou 2018
fleursdumal.nl magazine
More in: # Music Archive, #Editors Choice Archiv, #More Poetry Archives, - Book Lovers, - Book Stories, Art & Literature News, Exhibition Archive, FDM Art Gallery, LITERARY MAGAZINES, PRESS & PUBLISHING, STREET POETRY, THEATRE, Watou Kunstenfestival
---
Amper dertig jaar was Jean Leering (1934-2005) toen hij benoemd werd tot directeur van het Van Abbemuseum. De opvolger van Edy de Wilde maakte van het Van Abbe een spraakmakend museum, waar de erfenis van Theo van Doesburg, László Moholy-Nagy en El Lissitzky werd verknoopt met de nieuwste kunst van de jaren zestig en zeventig.
Als eerste haalde Leering kunstenaars als Robert Morris, Donald Judd, Christo, Bruce Nauman en Joseph Beuys naar Nederland. Hij organiseerde exposities over minimal art, seriële kunst en lichtkunst die internationaal de aandacht trokken.
De bewonderde tentoonstellingmaker – opgeleid als bouwkundig ingenieur – schrok niet terug voor ferme uitspraken. Het museum? Dat was onderdeel van de preventieve geestelijke gezondheidszorg, een instrument voor emancipatie, een kritisch beeldinstituut dat kon bijdragen aan de vorming van de publieke opinie. Met geëngageerde tentoonstellingen als 'De Straat', 'Cityplan Eindhoven' en 'Bouwen '20-'40' zou het van Abbe de toon zetten voor een generatie jonge curatoren in de eenentwintigste eeuw.
Leering was een activist van de geest wiens ideeën soms op felle tegenstand stuitten. Met zijn vaste vormgever Jan van Toorn zette hij vraagtekens bij de status van het museum als onbetwiste autoriteit. De vraagtekens werden uitroeptekens toen Leering ontslag nam om leiding te geven aan de nieuwe koers van het Tropenmuseum (1973-1975) in Amsterdam.
Tentoonstellingen, vond Leering, dienden inzicht te geven in hoe de wereld in elkaar stak. Hoe de wereld verkeerd in elkaar stak, soms. En wat daar aan gedaan kon worden. Want een museum dat zijn werkzaamheid alleen tot het netvlies wilde beperken, was een half museum.
Over hoe dat museum eruit had kunnen zien, gaat dit boek. Over de kijker tegenover het kunstwerk en de band tussen kunst en samenleving. Met Heidegger, Merleau-Ponty en Foucault waakzaam in de coulissen.
Biografie Jean Leering
'Het gaat om heel eenvoudige dingen':
Jean Leering en de kunst
Auteur: Paul Kempers
Ontwerp: Sam de Groot
Serie: vis-à-vis
2018, Valiz
paperback
336 blz.
23,5 x 16,5 cm (staand)
Nederlands
ISBN 978-94-92095-07-7
new books
fleursdumal.nl magazine
More in: - Book News, - Bookstores, Antony Kok, Archive K-L, Art & Literature News, Art Criticism, César Domela, De Stijl, Exhibition Archive, Gerrit Rietveld, Piet Mondriaan, Theo van Doesburg
---
_____________________________________________________________________________
August 7, 2018
NEW YORK – The unannounced demolition of Chinese artist Ai Weiwei's studio in Beijing is symptomatic of a larger attack on human rights and artistic expression in China, said PEN America today.
On August 6, Artist and activist Ai Weiwei announced on social media that authorities had demolished his Beijing artist studio. Ai stated that he had received no advance notice prior to the demolition. Although several of his works were damaged in the studio's demolition, the artist explained that he is more preoccupied with the effects of China's "urban development" projects on artists and migrant populations, saying: "Since last year, a policy was enacted to clear out migrant workers from Beijing . . . Those who do not belong to the establishment, including artists, are always the first to be discriminated against and sacrificed."
Within the past few years, artist colonies including Songzhuang and Caochangdi—the latter an arts district that Ai helped develop—have been targeted for eviction and demolition. Artists have cited both runaway economic development and political disfavor as rationales for authorities' hostile attitudes. More broadly, an urban development policy conceived last year to push migrant workers out of Beijing has empowered local authorities to take unannounced action to demolish property, a policy that has led to thousands of migrant workers losing their homes.
"Regardless of the government's motives, the unannounced demolition of an artist's studio is a demonstration of a lack of appreciation or even acknowledgment for the role of the artist in society," said Julie Trébault, Director of PEN America's Artists at Risk Connection. "Around the world, artist studios and communes are spaces to be cherished, not discarded."
PEN America leads the Artists at Risk Connection (ARC), a program dedicated to assisting imperiled artists and strengthening the network of organizations that support them. If you or someone you know is an artist at risk, contact ARC here.
PEN America stands at the intersection of literature and human rights to protect open expression in the United States and worldwide. They champion the freedom to write, recognizing the power of the word to transform the world. Their mission is to unite writers and their allies to celebrate creative expression and defend the liberties that make it possible.
www.pen.org
the freedom to write
fleursdumal.nl magazine
More in: Ai Weiwei, Art & Literature News, AUDIO, CINEMA, RADIO & TV, Exhibition Archive, FDM Art Gallery, MUSEUM OF PUBLIC PROTEST, REPRESSION OF WRITERS, JOURNALISTS & ARTISTS
---
De Uitmarkt vindt evenals vorig jaar plaats rond het Oosterdok en het Marineterrein Amsterdam. Traditiegetrouw in het laatste weekend van augustus, dit jaar van vrijdag 24 tot en met zondag 26 augustus. Gedurende deze drie dagen zijn er op zo'n 25 podia circa 300 optredens te bewonderen, met op zondagavond de populaire Musical Sing a Long als afsluiter.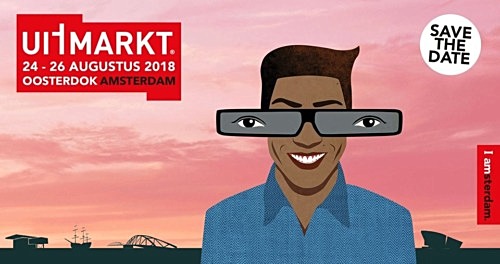 De Uitmarkt vormt de start van het culturele seizoen. Het laat bezoekers proeven van het diverse culturele aanbod dat Nederland te bieden heeft. Door het succes van de afgelopen editie heeft Stichting Uitmarkt ervoor gekozen om de Uitmarkt 2018 wederom op en rond het Oosterdok te laten plaatsvinden. Met toegang tot onder andere het Scheepvaartmuseum, NEMO Science Museum en het Marineterrein Amsterdam heeft deze locatie de bezoeker veel variatie te bieden.
Meer nog dan vorig jaar, door de uitbreiding met een extra stuk terrein. Het Scheepvaartmuseum vormt opnieuw het prachtige decor van het hoofdpodium.
'Bezoekers hebben vorig jaar enthousiast gereageerd op de nieuwe locatie. Dit in combinatie met de goede infrastructurele voorzieningen, was voor ons reden genoeg om dit gebied opnieuw in te richten voor de 41 ste editie van de Uitmarkt', zegt Jan de Rooij, voorzitter Stichting Uitmarkt.
Bezoekers van de Uitmarkt krijgen een gratis voorproefje van wat er in het seizoen 2018-2019 in de theaters, musea en concertzalen te beleven is. Artiesten vanuit het hele land en van verschillende genres zijn aanwezig. Naast de gevestigde orde is er ook volop ruimte voor nieuwkomers. Bijvoorbeeld in de Remix Area waar urban talent uit de verschillende Amsterdamse stadsdelen zich presenteren of de jonge theatermakers op het Fringe podium.
# Meer informatie over het programma op website www.uitmarkt.nl
41ste editie van de Uitmarkt – hét startsein van het Nederlandse culturele seizoen – vindt plaats rond het Oosterdok en op het Marineterrein Amsterdam van 24 tot 26 augustus 2018.
fleursdumal.nl magazine
More in: - Book News, - Bookstores, Art & Literature News, AUDIO, CINEMA, RADIO & TV, DANCE, Exhibition Archive, LITERARY MAGAZINES, MUSIC, STREET POETRY, THEATRE
---
Programma 2018 Lustwarande
26 mei – 23 september
In 2018 presenteert Lustwarande het volgende programma:
Hybrids, een expositie over de zogeheten post-internet generatie, die een artistiek vocabulaire ontwikkelt dat zeer hybride van aard is, en Brief Encounters '18, momenten van event sculpture die op twee middagen plaatsvinden, in mei en in september.
Voor 2018 staat ook de publicatie Sculpture in the Anthropocene gepland, die de exposities Luster (2016), Disruption (2017) en Hybrids bundelt en contextualiseert.
Hybrids focust op een generatie jonge kunstenaars, vaak aangeduid als post-internet, die de allesomvattende, digitale en beeldverzadigde wereld als uitgangspunt voor hun werk nemen. Dit resulteert in een beeldtaal die zeer hybride is.
H y b r i d s
23 juni – 23 september 2018
tien post-internet kunstenaars
Neïl Beloufa (FR)
Giulia Cenci (IT)
Simon Denny (NZ)
Oliver Laric (AU)
Sarah Pichlkostner (AU)
Timur Si-Qin (DE)
Evita Vasiljeva (LV)
Raphaela Vogel (DE)
Anne de Vries (NL)
Dan Walwin (GB)
Curatoren: Chris Driessen en David Jablonowski
B r i e f   E n c o u n t e r s
26 mei & 16 september 2018

Onder de titel Brief Encounters vinden er jaarlijks een aantal event sculptures plaats, vormen van sculptuur die in tijd begrensd zijn. De duur van een werk kan variëren van een paar minuten tot enkele maanden. Deze focus op event sculpture vloeit voort uit de toenemende aandacht voor in tijd begrensde kunst.
# Meer info op website fundament foundations
Lustwarande 2018
park De Oude Warande
Bredaseweg 441 – Tilburg
expo
fleursdumal.nl magazine
More in: Art & Literature News, Dutch Landscapes, Exhibition Archive, Fundament - Lustwarande, Land Art
---
Het Fries Museum haalt M.C. Escher terug naar zijn geboortestad Leeuwarden. In Escher op reis (28 april t/m 28 oktober 2018) volg je zijn ontwikkeling van grafisch talent tot wereldberoemd kunstenaar.
Met meer dan tachtig originele prenten, circa twintig tekeningen en diverse foto's en voorwerpen treed je in de voetsporen van de reislustige graficus, die in Italië, Zwitserland en Spanje inspiratie vond voor zijn bekendste werken.
De reis begint in het grauwe platte Nederland en voert je mee naar de zon en de bergen van de Méditerranée. Eschers reislust blijkt bepalend voor zijn artistieke ontwikkeling. De schetsen die hij onderweg maakte, zijn de inspiratie voor de topstukken waarin hij jaren later de werkelijkheid naar zijn hand zette. De tentoonstelling eindigt met deze iconische werken die Escher zo bekend en geliefd maken.
Maurits Cornelis Escher (1898-1972) werd geboren in het stadspaleis van Leeuwarden, waar tegenwoordig Keramiekmuseum Princessehof gevestigd is. Na zijn studie trok Escher de wijde wereld in.
Hij verhuisde naar Italië, waar hij gelukkige en productieve jaren beleefde. Op een ezel trok hij de bergen in om charmante dorpjes en karakteristieke vergezichten vast te leggen. Zodra het donker werd bond hij een zaklampje aan zijn knoopsgat en schetste hij de aanblik van Rome bij nacht.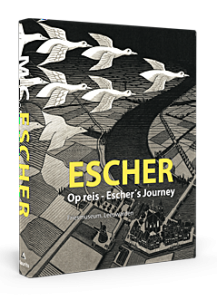 De prenten uit deze periode verraden Eschers fascinatie voor opvallende perspectieven en beeldcompilaties. Na omzwervingen langs Zwitserland en België belandde hij uiteindelijk in Baarn. Daar verwerkte Escher zijn mediterraanse indrukken tot complexe beelden en onmogelijke werelden. Aan het einde van Eschers reis laat hij met topstukken als Belvédère (1958) en Metamorphose II (1939-1940) niet alleen zijn technische kunnen en wiskundige trucjes zien; wie goed kijkt ontdekt ook zijn voorliefde voor het Italiaanse landschap.
Het jaar dat Leeuwarden Culturele Hoofdstad van Europa is, staat het Fries Museum in het teken van Escher. Naast Escher op reis, presenteert het museum het hele jaar de tentoonstelling Phantom Limb: art beyond Escher. Met indrukwekkende installaties zetten hedendaagse (inter)nationale kunstenaars je op het verkeerde been. Ze scheppen een wereld waarin niets is wat het lijkt, net zoals Escher dat deed. Bovendien daagt het museum mensen uit om zich te laten inspireren door de wereldberoemde graficus. De uiteenlopende projecten worden samengebracht op  # website planeetescher.nl
m.c. escher
escher op reis
Nog t/m 28 oktober 2018
Fries Museum – leeuwarden
publicatie bij 'escher op reis'
fries museum brengt rijk geïllustreerd escherboek uit
Bij de grootschalige tentoonstelling Escher op reis verschijnt een tweetalige publicatie in het Nederlands en Engels. Net als in de tentoonstelling volg je in het boek de reizen van de wereldberoemde graficus M.C. Escher, die een bepalende invloed hadden op zijn persoonlijke en artistieke ontwikkeling. De catalogus bevat alle prenten die te zien zijn in Escher op reis en kost 29,95 euro. Het boek wordt uitgegeven door het Fries Museum in samenwerking met de M.C. Escher Stichting, Maurits S.r.l. en WBOOKS.
Escher op reis – Escher's Journey
Federico Giudiceandrea
In samenwerking met het Fries Museum
Tentoonstelling t/m 28 oktober 2018
ISBN 978 94 625 8275 0
Aantal pagina's 186
Formaat 20 x 25 cm
Illustraties ca. 100 afbeeldingen kleur
Uitvoering Hardback
WBooks –  2018
Taal Engels, Nederlands
Wbooks – € 29,95
Exhibition M.C. Escher in Fries Museum
new books
fleursdumal.nl magazine
More in: - Book News, Archive E-F, Art & Literature News, Exhibition Archive, Illustrators, Illustration, M.C. Escher
---
The Theodora Niemeijer prize 2018 is awarded to Josefin Arnell. This was announced last Saturday during a ceremony in the auditorium of the Van Abbemuseum. Arnell will develop the project THE TICK in Het Oog (The Eye) in the Van Abbemuseum for half a year, starting end of September 2018, and in addition receives prize money of €10.000.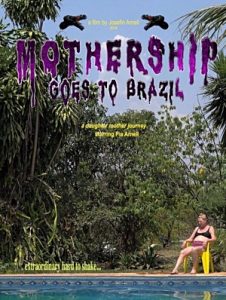 The jury felt inspired by the ambiguous world Josefin tries to create. What first appears as a sugar coated dreamy cartoonlike world in which millennial girls like to dwell, can suddenly turn into a horror scenario and back.
The second place is for Joy Mariama Smith, the third place for Isabelle Andriessen; they will receive €2.500 and €1.500 respectively. During this fourth edition of the Theodora Niemeijer prize, the jury had to select from nearly 100 project proposals.
The Theodora Niemeijer prize was introduced in 2012 by the Stichting Niemeijer Fonds and the Van Abbemuseum because women are still a minority in exhibitions and museum collections.
The prize is awarded once every two years to an artist living and working in the Netherlands who graduated at most five years ago. It is the only Dutch prize for visual arts dedicated specifically to women artists. Previous winners were Sissel Marie Tonn in 2016, Sachi Myachi in 2014 and Sarah van Sonsbeeck in 2012.
This years jury: Andrea Davina, board member Stichting Niemeijer Fonds; Diana Franssen, curator and head of research Van Abbemuseum; Juliette Jongma, director Galerie Juliette Jongma; Iris Kensmil, artist; Gabriëlle Schleijpen, artistic director Dutch Art Institute.
Josefin Arnell winner Theodora Niemeijer prize 2018
THE TICK presented in the Van Abbemuseum starting end of september 2018
THE TICK is a proposal by Josefin Arnell in which she would like to develop a sculpture in the shape of a monstrous giant tick that you can climb on. The sculpture will work as a playground in Het Oog for the viewer to discover in a playful way a mutated scary tick. Arnell would like to develop a sensor that sends signals when climbing or sitting on the sculpture, which fills the air with sound.
# more information on website Van Abbemuseum
fleursdumal.nl magazine
More in: Art & Literature News, AUDIO, CINEMA, RADIO & TV, Exhibition Archive, Performing arts
---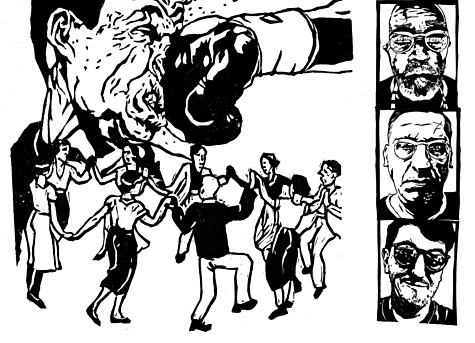 Nicht verloren laufen
Een boek met lino's van Walter Kerkhofs en Ivo van Leeuwen.
Handgedrukt, oplage 70.
Gebonden door Liesbeth Huyben
Grafiek expositie met werk van Walter Kerkhofs en Ivo van Leeuwen. Verder is naast grafiek van boven genoemde kunstenaars, ook werk te zien van de Hamburgse kunstenaar: Dragan Prgomelja.
Tijdens de presentatie worden drie muziekstukken uitgevoerd, die werden gecomponeerd door Frans Kerkhofs op gedichten van Nabokov.

Uitvoerenden: Lizette van Beek, mezzo-sopraan en Doré van Deijk, piano.
Nicht verloren laufen
16 juni 2018 op 16.00 uur
NS-Plein 16, Tilburg
Expositie open 17/23/14 juni van 12.00 tot 17.00
new art work
fleursdumal.nl magazine
More in: # Music Archive, - Book Lovers, - Book News, Art & Literature News, Exhibition Archive, Ivo van Leeuwen, PRESS & PUBLISHING
---
In de tentoonstelling EN ROUTE brengt beeldend kunstenaar Ellen Rijk een aantal recente grotere werken samen rond de thematiek van de 'reis', het onderweg zijn, waar ga je naar toe en waar ben je thuis. Met titels als Schuilboot of Troostvloot en Horizon nodigt zij de kijker uit tot bezinning, los van de waan van de dag, maar niet los van een wereld die volop in beweging is en vol verschillende identiteiten.

Zij toont haar schepen om te reizen, om te vluchten, gedwongen of gewoon meegevoerd in een tocht als over de Styx of om in te schuilen als in een kleine kapel of een kerk. Kaarten, foto's en getijden om een reis of een thuis vast te leggen.
In de volksmond heet zij de Vredeskerk: O.L. Vrouw Koningin van de Vrede aan de Ringbaan West.De kerk, gebouwd in 1953, geopend in 1954, geldt als een van de hoogtepunten van de Tilburgse wederopbouwarchitectuur en is ontworpen door N.H. Pontzen, architect te Tilburg.
Sinds 2015 is zij buiten gebruik. Het gebouw is in het kader van de ontwijding 'gestript'. Door de versobering komen de superieure verhoudingen sterk tot hun recht en nodigt de ruimte nog meer uit tot contemplatie, tot stilte en bezinning. Het lijkt de ideale entourage voor EN ROUTE ELLEN RIJK.
Ellen Rijk (Ossendrecht 1955) volgde na de Academie voor Beeldende Vorming in Tilburg de Academie voor Kunst en Vormgeving te Den Bosch, afdeling keramiek.  Haar werk was recentelijk te zien in o.a.: Tilburg, Luycks Gallery, Fort de Vaux; Den Bosch, Boschparade, Tilburg, Beyond Borders; Diessen, Landart Diessen; Bedburg-Hau (Duitsland), Artoll Kunstlabor; Akhalkalaki, Kaspi, (Georgië) Art Villa Garikula; Tilburg, voormalige Franciscanessenkapel; Schijndel, KEG; Parijs (Frankrijk) Theatre de Vanves; Bourges (Frankrijk), Biennale d'Art Contemporaine; Zagreb (Kroatie), Galerija Klovecevi dvori, Kiev (Oekraïne), SpringWindFestival; Maastricht, Festival Cement; Maagdenburg (Duitsland), IVde International Kunstfestival
Kunstfestival Vredeskerk
OL Vrouw Koningin van de Vrede
Ringbaan West 94
Tilburg
03 mei t/m 21 mei 2018
Openingstijden:
Donderdag t/m zondag + 21 mei van 14.00 – 19.00 uur en op afspraak
Beeldende kunst: Ellen Rijk i.s.m. Ad Roefs en Sergei Sabakar
Ondersteuning: Jacki Dodementova, Pietjan Dusee, Mahbooba Yousuf, Mostafa Betaree / Spotlight
Het project wordt ondersteund door Makersfonds gemeente Tilburg – RK Parochie Peerke Donders

EXTRA programma in het kader van EN ROUTE ELLEN RIJK, een tentoonstelling over onderweg:  Donderdag 3 mei 19.00 uur FEESTELIJKE OPENING van de tentoonstelling door Isidoor Wens, beeldend kunstenaar, coördinator Artots (Den Bosch) en Art Center Botopasi (Suriname) met bijdragen van performer Adriaan van Iersel, theatermaker Boy Jonkergouw en schrijver Pietjan Dusee.
Vrijdag 4 mei 17.00 – 18.45 uur SPEECHES SPECIAL + PLUS THEATER VOOR DE DAM
Normaal niet meer weg te denken in de programmering van De NWE Vorst maar deze keer een speciale editie van speeches in de Vredeskerk. Zes genodigden betreden de kansel om een korte speech te geven. Met toesprekers uit allerlei gelederen, soms ervaren podiumbeesten, soms verlegen binnenvetters. Zij delen hun persoonlijke verhaal met u en prikkelen uw geest, treffen doel, geven een grimas, laten u niet onberoerd. Volgens traditie te beginnen met een filmpje van Leonard Bedaux Cinema.
Na een korte pauze speelt actrice Monique Hendriks haar korte poëtische monoloog "We kunnen er toch ook allemaal niks aan doen", die de menselijke kant van de vluchtelingenproblematiek blootlegt en vertonen we het documentaire meesterwerk 'Planet Sarajevo' van de Bosnische cineast Sahin Sisic. Een groots kleinood over het leven van alledag in een stad in oorlog.
Zondag 6 mei 15.00 – 18.00 uur EN ROUTE MEETING THE WORLD I
Een reeks artistieke interventies
Zondag 13 mei 15.00 – 18.00 uur EN ROUTE MEETING THE WORLD II
Een reeks artistieke interventies
Zondag 20 mei 15.00 – 18.00 uur EN ROUTE MEETING THE WORLD III
Een reeks artistieke interventies
Aan EN ROUTE MEETING THE WORLD werken o.a. mee: Mahmamod Al Asady – Taim Alhajali – Tia Alhajali – Jol Alholo – Bakr Al_jaber – Hasan Alkhatib – Mohammad Karim Amin – – Mohamed Almaslawe – Mohammed Alsamna – Hanadi Alsharqawi – Andit & Friends – Mohamad B – Ferran Bach – Ana Barreto – Amjad Bitari -Frido van der Blij – Sjon Brands – Huda Diban – Doré van Dijck – Ulrike Doszmann – MoveToMeet Katja Grässli – Shaza Hayek – Adriaan van Iersel – Mohammad Khan – Vincent Koevoets – Razan Lababidy – Batoul Lakmoush – Dorith van der Lee – Huner Mirani – Ali Mosleh – Sarah Prescimone – Eleni Ploumi – Diana Qadd – Mohammad Saleh – Mamoda Sh – Eyad Shawi – Paul Speckens – Jens Wierckx
EN ROUTE MEETING wordt georganiseerd door SPOTLIGHT / Mostafa Betaree
# meer informatie op website: www.ellenrijk.nl
news & events
fleursdumal.nl magazine
More in: Art & Literature News, AUDIO, CINEMA, RADIO & TV, Dutch Landscapes, Exhibition Archive, FDM Art Gallery, Land Art, Performing arts, THEATRE
---
Fifty years ago, the demonstrations of May 68 turned the streets of Paris and Nanterre upside down, and shook France to its very core. Linked with a vast international protest movement, it brought about profound changes in French society and abroad.
Fifty years on, various cultural institutions explore the history and legacy of May – June 1968 through get-togethers, exhibitions, newly-opened archives, participatory workshops, theatre, music, debates and talks casting fresh light on the events.
 #  more information on website soixantehuit.fr and fleursdumal.nl
More in: Exhibition Archive, Histoire de France, PRESS & PUBLISHING, Protests of MAY 1968
---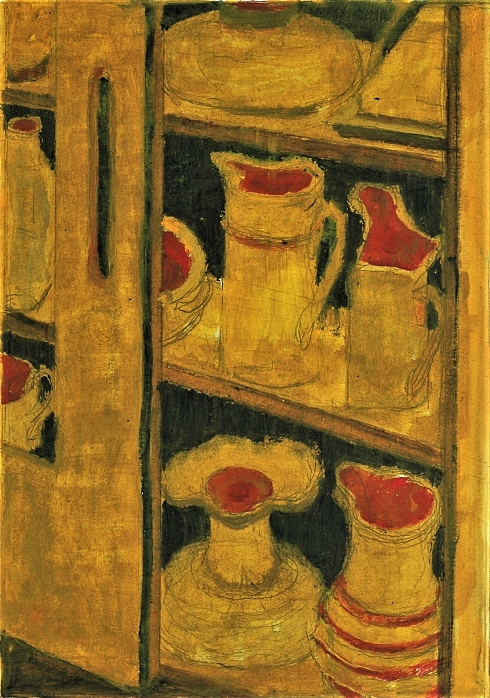 Hans Ebeling Koning
De Kast
Hans Ebeling Koning (1931) received his education at AKI in Enschede where he later became a teacher in drawing and painting. His work is represented in many public and private collections including Museum Henriette Polak in Zutphen, Rijksmuseum Twente and the Museum of Modern Art in Arnhem.
Hans Ebeling Koning ©
fleursdumal.nl magazine
More in: Art & Literature News, Exhibition Archive, FDM Art Gallery, Hans Ebeling Koning
---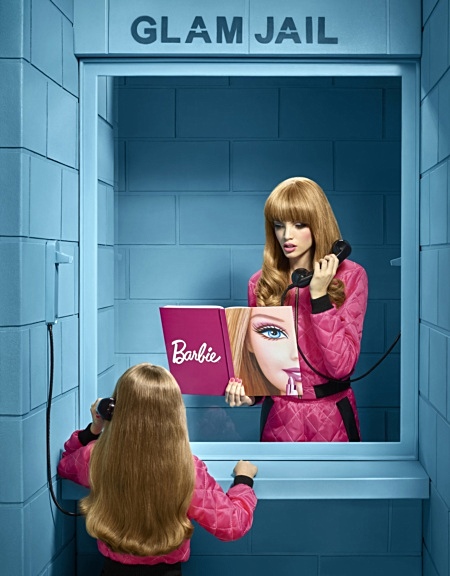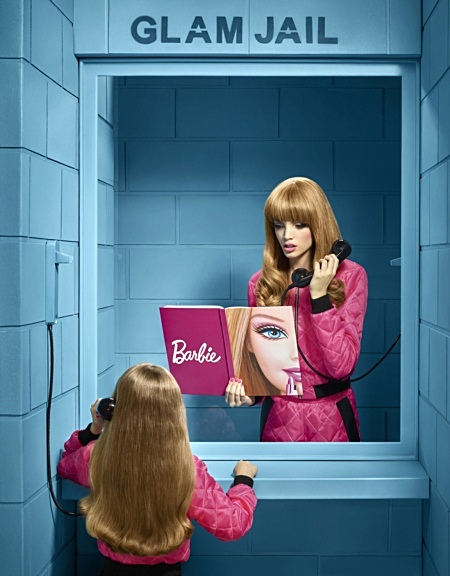 Glam Jail is a Franco-Brazilian tale by photographer Pol Kurucz about 11 eccentric inmates transforming a prison visitor's booth into a colorful fashion haven.
Through visual allegories and pop aesthetics the photographer challenges social and racial norms symbolized by the carceral universe. The shootings took place in the Offen Studio in Sao Paulo in August 2017. The series features local models, celebrities and dresses exclusively from local fashion brands.
Pol Kurucz was born with two different names to a French mother in a Hungarian hospital. His childhood hyperactivity was treated with theater, and theater was later treated with finance. By 27 he was a CEO by day and a stage director by night.
He then went on consecutive journeys to Bahrain and Brazil, to corporate islands and favelas. He has sailed on the shores of the adult industry and of militant feminism and launched a mainstream moneymaking restaurant loss making in its absurdity.
Pol was reborn in 2015 and merged his two names and his contradictory lives into one where absurdity makes sense. Today he works on eccentric fashion and fine art projects from his Sao Paulo studio.
His photos have been featured in over a hundred publications including: Vogue, ELLE, Glamour, The Guardian (Arts), Adobe Create, Hunger TV, Sleek and Nylon.
Credits
Photography and Art Direction: Pol Kurucz
Styling: Carolyna Mello
Set design: Nina Simao
Lighting and Tech.: Guilherme Griebler
Assistants: Lara Ferro, Mary Cruz, Claus Pinheiros, Monica Rodrigues
# Look for more photos & information on website pol kurucz
Glam Jail: a Franco-Brazilian tale by Pol Kurucz
fleursdumal.nl magazine
More in: AUDIO, CINEMA, RADIO & TV, Exhibition Archive, Magazines, Photography, Pol Kurucz, THEATRE
---
Older Entries »
Thank you for reading FLEURSDUMAL.NL - magazine for art & literature