Tales of Mystery & Imagination
·
Clara Doty Bates: Jack And The Bean-Stalk
·
Karl Leberecht Immermann: Münchhausen. Eine geschichte in arabesken
·
Leonieke Baerwaldt: Hier komen wij vandaan
·
Clara Doty Bates: Little Red Riding-Hood
·
Bayard Taylor: A Funeral Thought
·
Clara Doty Bates: Cinderella
·
The Sleeping Princess by Clara Doty Bates
·
Jack And Jill by Clara Doty Bates
·
William Blake: To Tirzah
·
Wilhelm Hauff: Grabgesang, Gedicht
·
Natalie Portman's Fables by Natalie Portman (Author) & Janna Mattia (Illustrator)
·
Ludwig Bechstein: Gevatter Tod (Märchen)
Jack And The Bean-Stalk
A lazy and careless boy was Jack,–
He would not work, and he would not play;
And so poor, that the jacket on his back
Hung in a ragged fringe alway;
But 'twas shilly-shally, dilly-dally,
From day to day.
At last his mother was almost wild,
And to get them food she knew not how;
And she told her good-for-nothing child
To drive to market the brindle cow.
So he strolled along, with whistle and song,
And drove the cow.
A man was under the wayside trees,
Who carried some beans in his hand–all white.
He said, "My boy, I'll give you these
For the brindle cow." Jack said, "All right."
And, without any gold for the cow he had sold,
Went home at night.
Bitter tears did the mother weep;
Out of the window the beans were thrown,
And Jack went supperless to sleep;
But, when the morning sunlight shone,
High, and high, to the very sky,
The beans had grown.
They made a ladder all green and bright,
They twined and crossed and twisted so;
And Jack sprang up it with all his might,
And called to his mother down below:
"Hitchity-hatchet, my little red jacket,
And up I go!"
High as a tree, then high as a steeple,
Then high as a kite, and high as the moon,
Far out of sight of cities and people,
He toiled and tugged and climbed till noon;
And began to pant: "I guess I shan't
Get down very soon!"
At last he came to a path that led
To a house he had never seen before;
And he begged of a woman there some bread;
But she heard her husband, the Giant, roar,
And she gave him a shove in the old brick oven,
And shut the door.
And the Giant sniffed, and beat his breast,
And grumbled low, "Fe, fi, fo, fum!"
His poor wife prayed he would sit and rest,–
"I smell fresh meat! I will have some!"
He cried the louder, "Fe, fi, fo, fum!
I will have some."
He ate as much as would feed ten men,
And drank a barrel of beer to the dregs;
Then he called for his little favorite hen,
As under the table he stretched his legs,–
And he roared "Ho! ho!"–like a buffalo–
"Lay your gold eggs!"
She laid a beautiful egg of gold;
And at last the Giant began to snore;
Jack waited a minute, then, growing bold,
He crept from the oven along the floor,
And caught the hen in his arms, and then
Fled through the door.
But the Giant heard him leave the house,
And followed him out, and bellowed "Oh-oh!"
But Jack was as nimble as a mouse,
And sang as he rapidly slipped below:
"Hitchity-hatchet, my little red jacket,
And down I go!"
And the Giant howled, and gnashed his teeth.
Jack got down first, and, in a flash,
Cut the ladder from underneath;
And Giant and Bean-stalk, in one dash,–
No shilly-shally, no dilly-dally,–
Fell with a crash.
This brought Jack fame, and riches, too;
For the little gold-egg hen would lay
An egg whenever he told her to,
If he asked one fifty times a day.
And he and his mother lived with each other
In peace alway.
Clara Doty Bates
(1838 – 1895)
Jack And The Bean-Stalk
Versified by Mrs. Clara Doty Bates
fleursdumal.nl magazine
More in: Archive A-B, Archive A-B, Children's Poetry, CLASSIC POETRY, Grimm, Andersen e.o.: Fables, Fairy Tales & Stories, Tales of Mystery & Imagination
---
Die »Münchhausiade« von Karl Leberecht Immermann steht in einer langen Tradition: Sie ist die groteske Variante der Ur-Münchhausen-Legende aus dem 18. Jahrhundert, die von den Kriegs-, Jagd- und Reiseabenteuern des volkstümlichen Freiherrn von Münchhausen auf Bodenwerder fabuliert.
Immermann verwandelt die phantastischen Legenden des berühmten »Lügenbarons« zu einer in der deutschen Literatur bis dahin unbekannten Form des Romans: zeithistorisch, gesellschaftskritisch, komisch und scharf-satirisch, eine anspielungsreiche, schillernde Verbindung aus Zeit- und Kulturkritik. Immermanns Münchhausen erneuert den Roman seiner Zeit und ist eines der bedeutendsten epischen Werke der deutschen Literatur.
Karl Leberecht Immermann, heute fast vergessen, nimmt Abschied vom Bildungs- und Erziehungsroman der klassischen und romantischen Literatur. 1838/39 erschienen und nicht nur von Heinrich Heine bewundert, ist sein origineller Münchhausen eine virtuos verschlungene »Geschichte in Arabesken«.
Bei Immermann ist Münchhausen ein »Erzwindbeutel«, ein »Cäsar der Lügen« und ein »Don Juan der Erfindung « – einer, der in seinem Tun und Erzählen die Wahrheit beansprucht und den Leser, angesprochen und immer wieder ins Geschehen einbezogen, zur Wahrheitsfindung auffordert. Laurence Sternes komischer Roman Tristram Shandy ist dabei das große, vom Erzähler herbeizitierte Vorbild.
Münchhausen ist zugleich ein Doppelroman, der auch vom »Oberhof«, einem reichen westfälischen Gutshof, und vom Kosmos der damaligen ländlichen Lebenswelt erzählt; im Zentrum der »Hofschulze« und ein »Jäger Oswald« – die Gegenwelt zur verfallenden Welt des Adels, in der der Münchhausen-Enkel und sein Diener Karl Buttervogel vor dem Herrn von »Schloss Schnick-Schnack-Schnurr«, vor Tochter und Dorfschulmeister schwadronieren. Eingebunden wird das ausschweifende Geschehen in eine Ehe- und Liebesgeschichte, erzählt werden die ineinander verschlungenen Welten in einem Zeitraum von wenigen Wochen.
Und was bedeutet es, wenn Immermann von einer »Geschichte in Arabesken« spricht? »… wer dabei den Verstand behalten will, der muss einen weniger geordneten Kopf haben, als ich leider besitze. Herr von Münchhausen beginnen zu erzählen; dann fangen wieder andere Personen an, in diesen Erzählungen zu erzählen; wenn man nicht schleunigst Einhalt tut, so geraten wir wahrhaftig in eine Untiefe des Erzählens hinein, worin unser Verstand notwendig Schiffbruch leiden muss. Bei den Frauen, die mit Schachteln handeln, stecken oft vierundzwanzig ineinander …«
Karl Leberecht Immermann (1796–1840) studierte Rechtswissenschaft, pflegte literarische Interessen, nahm an den napoleonischen Kriegen teil und wurde 1818 Gerichtsreferendar in Magdeburg. In dieser Zeit schreibt er seine ersten Dramen, es folgen ein Roman, Gedichte und Trauerspiele. Als Landgerichtsrat geht er nach Düsseldorf und übernimmt die Leitung des Düsseldorfer Theaters. 1836 erscheinen Die Epigonen. Familienmemoiren in neun Büchern und 1838/39 Münchhausen. Eine Geschichte in Arabesken.
Karl Leberecht Immermann
Münchhausen.
Eine Geschichte in Arabesken
2021
Seitenanzahl: 852
Originalausgaben
Bandnummer: 435
Mit ausführlichen Anmerkungen und einem Nachwort von Tilman Spreckelsen. Originalausgabe, nummeriert und limitiert, Sondernummer zum Sonderpreis. Fadenheftung mit Lesebändchen, Dünndruckpapier. Umschlaggestaltung: Ute Henkel, Berlin
ISBN: 9783847704355
52,00 EUR
• fleursdumal.nl magazine
More in: - Book Lovers, - Book Stories, Archive I-J, Münchhausen, Tales of Mystery & Imagination
---
Een vader is een man die kinderen verwekt,' antwoordde je toen ik er eens naar vroeg.
'Wie heeft mij dan verwekt?' wilde ik weten. Je pakte me bij mijn kin en keek me indringend aan.
'We zijn niet op zoek naar een vader,' zei je. 'We zijn op zoek naar een prins.'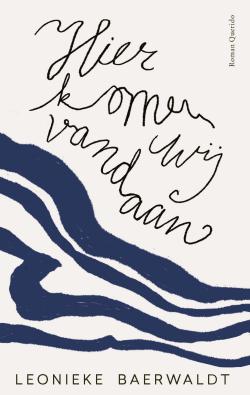 Hier komen wij vandaan –
Leonieke Baerwaldt
Een moeder en dochter leiden een zwervend bestaan, een fabrieksarbeider droomt erover een tropische-vissenwinkel te beginnen, twee geliefden besluiten samen een huis te bouwen en de kleine zeemeermin wordt geconfronteerd met de harde werkelijkheid.
In dit verhaal over diermensen en mensdieren vinden de sprookjes van Andersen en Grimm hun eigentijdse weerklank. Hier komen wij vandaan is een intens en bijzonder debuut van een verrassende nieuwe stem in de literatuur.
Auteur: Leonieke Baerwaldt
Titel: Hier komen wij vandaan
Vorm Paperback
Uitgever Querido
Druk 1e
Verschenen 24-08-2021
Taal Nederlands
Pagina's 224 pp.
Genre Literaire fictie
NUR: 301
ISBN 9789021421278
Prijs: € 20,00
• fleursdumal.nl magazine
More in: - Book News, - Book Stories, Archive A-B, Grimm, Andersen e.o.: Fables, Fairy Tales & Stories, Tales of Mystery & Imagination
---
Little Red Riding-Hood
If you listen, children, I will tell
The story of little Red Riding-hood:
Such wonderful, wonderful things befell
Her and her grandmother, old and good
(So old she was never very well),
Who lived in a cottage in a wood.
Little Red Riding-hood, every day,
Whatever the weather, shine or storm,
To see her grandmother tripped away,
With a scarlet hood to keep her warm,
And a little mantle, soft and gay,
And a basket of goodies on her arm.
A pat of butter, and cakes of cheese,
Were stored in the napkin, nice and neat;
As she danced along beneath the trees,
As light as a shadow were her feet;
And she hummed such tunes as the bumble-bees
Hum when the clover-tops are sweet.
But an ugly wolf by chance espied
The child, and marked her for his prize.
"What are you carrying there?" he cried;
"Is it some fresh-baked cakes and pies?"
And he walked along close by her side,
And sniffed and rolled his hungry eyes.
"A basket of things for granny, it is,"
She answered brightly, without fear.
"Oh, I know her very well, sweet miss!
Two roads branch towards her cottage here;
You go that way, and I'll go this.
See which will get there first, my dear!"
He fled to the cottage, swift and sly;
Rapped softly, with a dreadful grin.
"Who's there?" asked granny. "Only I!"
Piping his voice up high and thin.
"Pull the string, and the latch will fly!"
Old granny said; and he went in.
He glared her over from foot to head;
In a second more the thing was done!
He gobbled her up, and merely said,
"She wasn't a very tender one!"
And then he jumped into the bed,
And put her sack and night-cap on.
And he heard soft footsteps presently,
And then on the door a timid rap;
He knew Red Riding-hood was shy,
So he answered faintly to the tap:
"Pull the string and the latch will fly!"
She did: and granny, in her night-cap,
Lay covered almost up to her nose.
"Oh, granny dear!" she cried, "are you worse?"
"I'm all of a shiver, even to my toes!
Please won't you be my little nurse,
And snug up tight here under the clothes?"
Red Riding-hood answered, "Yes," of course.
Her innocent head on the pillow laid,
She spied great pricked-up, hairy ears,
And a fierce great mouth, wide open spread,
And green eyes, filled with wicked leers;
And all of a sudden she grew afraid;
Yet she softly asked, in spite of her fears:
"Oh, granny! what makes your ears so big?"
"To hear you with! to hear you with!"
"Oh, granny! what make your eyes so big?"
"To see you with! to see you with!"
"Oh, granny! what makes your teeth so big?"
"To eat you with! to eat you with!"
And he sprang to swallow her up alive;
But it chanced a woodman from the wood,
Hearing her shriek, rushed, with his knife,
And drenched the wolf in his own blood.
And in that way he saved the life
Of pretty little Red Riding-hood.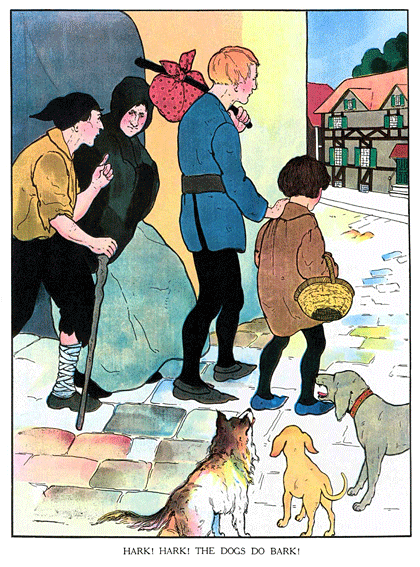 Hark, hark
The dogs do bark
Beggars are coming to town;
Some in jags,
Some in rags,
And some in velvet gowns.
Clara Doty Bates
(1838 – 1895)
Little Red Riding-Hood
Versified by Mrs. Clara Doty Bates
fleursdumal.nl magazine
More in: Archive A-B, Archive A-B, Children's Poetry, Grimm, Andersen e.o.: Fables, Fairy Tales & Stories, Tales of Mystery & Imagination
---
A Funeral Thought
I
When the stern Genius, to whose hollow tramp
Echo the startled chambers of the soul.
Waves his inverted torch o'er that pale camp
Where the archangel's final trumpets roll,
I would not meet him in the chamber dim,
Hushed, and pervaded with a name-less fear,
When the breath flutters and the senses swim,
And the dread hour is near.
II
Though Love's dear arms might clasp me fondly then
As if to keep the Summoner at bay,
And woman's woe and the calm grief of men
Hallow at last the chill, unbreathing clay —
These are Earth's fetters, and the soul would shrink,
Thus bound, from Darkness and the dread Unknown,
Stretching its arms from Death's eternal brink,
Which it must dare alone.
III
But in the awful silence of the sky,
Upon some mountain summit, yet untrod,
Through the blue ether would I climb, to die
Afar from mortals and alone with God!
To the pure keeping of the stainless air
Would I resign my faint and fluttering breath,
And with the rapture of an answered prayer
Receive the kiss of Death.
IV
Then to the elements my frame would turn;
No worms should riot on my coffined clay,
But the cold limbs, from that sepulchral urn,
In the slow storms of ages waste away.
Loud winds and thunder's diapason high
Should be my requiem through the coming time,
And the white summit, fading in the sky,
My monument sublime.
Bayard Taylor
(1825 – 1878)
A Funeral Thought
• fleursdumal.nl magazine
More in: Archive S-T, Archive S-T, Het graf van de lezer, Tales of Mystery & Imagination, Western Fiction
---
Cinderella
Poor, pretty little thing she was,
The sweetest-faced of girls,
With eyes as blue as larkspurs,
And a mass of tossing curls;
But her step-mother had for her
Only blows and bitter words,
While she thought her own two ugly crows,
The whitest of all birds.
She was the little household drudge,
And wore a cotton gown,
While the sisters, clad in silk and satin,
Flaunted through the town.
When her work was done, her only place
Was the chimney-corner bench.
For which one called her "Cinderella,"
The other, "Cinder-wench."
But years went on, and Cinderella
Bloomed like a wild-wood rose,
In spite of all her kitchen-work,
And her common, dingy clothes;
While the two step-sisters, year by year,
Grew scrawnier and plainer;
Two peacocks, with their tails outspread,
Were never any vainer.
One day they got a note, a pink,
Sweet-scented, crested one,
Which was an invitation
To a ball, from the king's son.
Oh, then poor Cinderella
Had to starch, and iron, and plait,
And run of errands, frill and crimp,
And ruffle, early and late.
And when the ball-night came at last,
She helped to paint their faces,
To lace their satin shoes, and deck
Them up with flowers and laces;
Then watched their coach roll grandly
Out of sight; and, after that,
She sat down by the chimney,
In the cinders, with the cat,
And sobbed as if her heart would break.
Hot tears were on her lashes,
Her little hands got black with soot,
Her feet begrimed with ashes,
When right before her, on the hearth,
She knew not how nor why,
A little odd old woman stood,
And said, "Why do you cry?"
"It is so very lonely here,"
Poor Cinderella said,
And sobbed again. The little odd
Old woman bobbed her head,
And laughed a merry kind of laugh,
And whispered, "Is that all?
Wouldn't my little Cinderella
Like to go to the ball?
"Run to the garden, then, and fetch
A pumpkin, large and nice;
Go to the pantry shelf, and from
The mouse-traps get the mice;
Rats you will find in the rat-trap;
And, from the watering-pot,
Or from under the big, flat garden stone,
Six lizards must be got."
Nimble as crickets in the grass
She ran, till it was done,
And then God-mother stretched her wand
And touched them every one.
The pumpkin changed into a coach,
Which glittered as it rolled,
And the mice became six horses,
With harnesses of gold.
One rat a herald was, to blow
A trumpet in advance,
And the first blast that he sounded
Made the horses plunge and prance;
And the lizards were made footmen,
Because they were so spry;
And the old rat-coachman on the box
Wore jeweled livery.
And then on Cinderella's dress
The magic wand was laid,
And straight the dingy gown became
A glistening gold brocade.
The gems that shone upon her fingers
Nothing could surpass;
And on her dainty little feet
Were slippers made of glass.
"Be sure you get back here, my dear,
At twelve o'clock at night,"
Godmother said, and in a twinkling
She was out of sight.
When Cinderella reached the ball,
And entered at the door,
So beautiful a lady
None had ever seen before.
The Prince his admiration showed
In every word and glance;
He led her out to supper,
And he chose her for the dance;
But she kept in mind the warning
That her Godmother had given,
And left the ball, with all its charm.
At just half after eleven.
Next night there was another ball;
She helped her sisters twain
To pinch their waists, and curl their hair,
And paint their cheeks again.
Then came the fairy Godmother,
And, with her wand, once more
Arrayed her out in greater splendor
Even than before.
The coach and six, with gay outriders,
Bore her through the street,
And a crowd was gathered round to look,
The lady was so sweet,–
So light of heart, and face, and mien,
As happy children are;
And when her foot stepped down,
Her slipper twinkled like a star.
Again the Prince chose only her
For waltz or tete-a-tete;
So swift the minutes flew she did not
Dream it could be late,
But all at once, remembering
What her Godmother had said,
And hearing twelve begin to strike
Upon the clock, she fled.
Swift as a swallow on the wing
She darted, but, alas!
Dropped from one flying foot the tiny
Slipper made of glass;
But she got away, and well it was
She did, for in a trice
Her coach changed to a pumpkin,
And her horses became mice;
And back into the cinder dress
Was changed the gold brocade!
The prince secured the slipper,
And this proclamation made:
That the country should be searched,
And any lady, far or wide,
Who could get the slipper on her foot,
Should straightway be his bride.
So every lady tried it,
With her "Mys!" and "Ahs!" and "Ohs!"
And Cinderella's sisters pared
Their heels, and pared their toes,–
But all in vain! Nobody's foot
Was small enough for it,
Till Cinderella tried it,
And it was a perfect fit.
Then the royal heralds hardly
Knew what it was best to do,
When from out her tattered pocket
Forth she drew the other shoe,
While the eyelids on the larkspur eyes
Dropped down a snowy vail,
And the sisters turned from pale to red,
And then from red to pale,
And in hateful anger cried, and stormed,
And scolded, and all that,
And a courtier, without thinking,
Tittered out behind his hat.
For here was all the evidence
The Prince had asked, complete,
Two little slippers made of glass,
Fitting two little feet.
So the Prince, with all his retinue,
Came there to claim his wife;
And he promised he would love her
With devotion all his life.
At the marriage there was splendid
Music, dancing, wedding cake;
And he kept the slipper as a treasure
Ever, for her sake.
Clara Doty Bates
(1838 – 1895)
Cinderella
Versified by Mrs. Clara Doty Bates
fleursdumal.nl magazine
More in: Archive A-B, Archive A-B, Children's Poetry, CLASSIC POETRY, Grimm, Andersen e.o.: Fables, Fairy Tales & Stories, Tales of Mystery & Imagination
---
The Sleeping Princess
The ringing bells and the booming cannon
Proclaimed on a summer morn
That in the good king's royal palace
A Princess had been born.
The towers flung out their brightest banners,
The ships their streamers gay,
And every one, from lord to peasant,
Made joyful holiday.
Great plans for feasting and merry-making
Were made by the happy king;
And, to bring good fortune, seven fairies
Were bid to the christening.
And for them the king had seven dishes
Made out of the best red gold,
Set thickly round on the sides and covers
With jewels of price untold.
When the day of the christening came, the bugles
Blew forth their shrillest notes;
Drums throbbed, and endless lines of soldiers
Filed past in scarlet coats.
And the fairies were there the king had bidden,
Bearing their gifts of good–
But right in the midst a strange old woman
Surly and scowling stood.
They knew her to be the old, old fairy,
All nose and eyes and ears,
Who had not peeped, till now, from her dungeon
For more than fifty years.
Angry she was to have been forgotten
Where others were guests, and to find
That neither a seat nor a dish at the banquet
To her had been assigned.
Now came the hour for the gift-bestowing;
And the fairy first in place
Touched with her wand the child and gave her
"Beauty of form and face!"
Fairy the second bade, "Be witty!"
The third said, "Never fail!"
The fourth, "Dance well!" and the fifth, "O Princess,
Sing like the nightingale!"
The sixth gave, "Joy in the heart forever!"
But before the seventh could speak,
The crooked, black old Dame came forward,
And, tapping the baby's cheek,
"You shall prick your finger upon a spindle,
And die of it!" she cried.
All trembling were the lords and ladies,
And the king and queen beside.
But the seventh fairy interrupted,
"Do not tremble nor weep!
That cruel curse I can change and soften,
And instead of death give sleep!
"But the sleep, though I do my best and kindest,
Must last for an hundred years!"
On the king's stern face was a dreadful pallor,
In the eyes of the queen were tears.
"Yet after the hundred years are vanished,"–
The fairy added beside,–
"A Prince of a noble line shall find her,
And take her for his bride."
But the king, with a hope to change the future,
Proclaimed this law to be:
That, if in all the land there was kept one spindle,
Sure death was the penalty.
The Princess grew, from her very cradle
Lovely and witty and good;
And at last, in the course of years, had blossomed
Into full sweet maidenhood.
And one day, in her father's summer palace,
As blithe as the very air,
She climbed to the top of the highest turret,
Over an old worn stair
And there in the dusky cobwebbed garret,
Where dimly the daylight shone,
A little, doleful, hunch-backed woman
Sat spinning all alone.
"O Goody," she cried, "what are you doing?"
"Why, spinning, you little dunce!"
The Princess laughed: "'Tis so very funny,
Pray let me try it once!"
With a careless touch, from the hand of Goody
She caught the half-spun thread,
And the fatal spindle pricked her finger!
Down fell she as if dead!
And Goody shrieking, the frightened courtiers
Climbed up the old worn stair
Only to find, in heavy slumber,
The Princess lying there.
They bore her down to a lofty chamber,
They robed her in her best,
And on a couch of gold and purple
They laid her for her rest,
The roses upon her cheek still blooming,
And the red still on her lips,
While the lids of her eyes, like night-shut lilies,
Were closed in white eclipse.
Then the fairy who strove her fate to alter
From the dismal doom of death,
Now that the vital hour impended,
Came hurrying in a breath.
And then about the slumbering palace
The fairy made up-spring
A wood so heavy and dense that never
Could enter a living thing.
And there for a century the Princess
Lay in a trance so deep
That neither the roar of winds nor thunder
Could rouse her from her sleep.
Then at last one day, past the long-enchanted
Old wood, rode a new king's son,
Who, catching a glimpse of a royal turret
Above the forest dun
Felt in his heart a strange wish for exploring
The thorny and briery place,
And, lo, a path through the deepest thicket
Opened before his face!
On, on he went, till he spied a terrace,
And further a sleeping guard,
And rows of soldiers upon their carbines
Leaning, and snoring hard.
Up the broad steps! The doors swung backward!
The wide halls heard no tread!
But a lofty chamber, opening, showed him
A gold and purple bed.
And there in her beauty, warm and glowing,
The enchanted Princess lay!
While only a word from his lips was needed
To drive her sleep away.
He spoke the word, and the spell was scattered,
The enchantment broken through!
The lady woke. "Dear Prince," she murmured,
"How long I have waited for you!"
Then at once the whole great slumbering palace
Was wakened and all astir;
Yet the Prince, in joy at the Sleeping Beauty,
Could only look at her.
She was the bride who for years an hundred
Had waited for him to come,
And now that the hour was here to claim her,
Should eyes or tongue be dumb?
The Princess blushed at his royal wooing,
Bowed "yes" with her lovely head,
And the chaplain, yawning, but very lively,
Came in and they were wed!
But about the dress of the happy Princess,
I have my woman's fears–
It must have grown somewhat old-fashioned
In the course of so many years!
Clara Doty Bates
(1838 – 1895)
The Sleeping Princess
Versified by Mrs. Clara Doty Bates
fleursdumal.nl magazine
More in: Archive A-B, Archive A-B, Children's Poetry, CLASSIC POETRY, Grimm, Andersen e.o.: Fables, Fairy Tales & Stories, Tales of Mystery & Imagination
---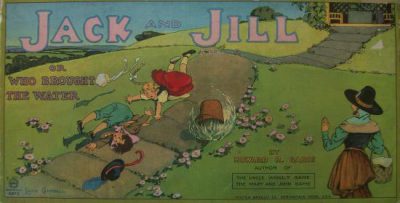 Jack And Jill
Little boys, sit still–
Girls, too, if you will–
And let me tell you of Jack and Jill;
For I think another
Such sister and brother
Were never the children of one mother!
For an idle lad,
As he was, Jack had
No traits, after all, that were very bad.
He, was simply Jack,
With the coat on his back
Patched up in all colors from gray to black.
Both feet were bare;
And I do declare
That he never washed his face; and his hair
Was the color of straw–
You never saw
Such a crop–as long as the moral law!
When he went to school,
It was the rule
(Though 'twas hard to say he was really a fool)
To send him at once,
So thick was his sconce,
To the block that was kept for the greatest dunce.
And Jill! no lass
Scarce ever has
Made bigger tracks on the country grass;
For her only fun
Was to romp and run,
Bare-headed, bare-footed, in wind and sun.
Wherever went Jack,
Close on his track,
With hair unbraided and down her back,
Loud-voiced and shrill,
She followed, until
No one said "Jack" without saying "Jill."
But to succeed
In teaching to read
Such a harum-scarum, was work indeed!
And I'm forced to tell
That her way to spell
Her name was with only a single 'l.'
Yet they were content.
One day they were sent
To the hill for water, and they went.
They did not drown,
But Jack fell down,
With a pail in his hand, and broke his crown!
And Jill, who must go
And always do
Exactly as Jack did, tumbled too!
Just think, if you will,
How they rolled down hill–
Straw-headed Jack and bare-footed Jill!
But up Jack got,
And home did trot,
Nor cared whether Jill was hurt or not;
While his poor bruised knob
Did burn and throb,
Tear falling on tear, sob following sob!
He could run the faster,
So a paper plaster
Had bound up the sight of his disaster
Before Jill came;
And the thoughtful dame,
For a break in her head, had fixed the same.
But Jill came in,
With a saucy grin
At seeing the plight poor Jack was in;
And when she saw
That bundle of straw
(His hair) bound up with a cloth, and his jaw
Tied up in white,
The comical sight
Made her clap her hands and laugh outright!
The dame, perplexed
And dreadfully vexed,
Got a stick and said, "I'll whip her next!"
How many blows fell
I will not tell,
But she did it in earnest, she did it well,
Till the naughty back
Was blue and black,
And Jill needed a plaster as much as Jack!
The next time, though,
Jack has to go
To the hill for water, I almost know
That bothering Jill
Will go up the hill,
And if he falls again, why, of course she will!
Clara Doty Bates
(1838 – 1895)
Jack And Jill
Versified by Mrs. Clara Doty Bates
fleursdumal.nl magazine
More in: Archive A-B, Archive A-B, Children's Poetry, CLASSIC POETRY, Grimm, Andersen e.o.: Fables, Fairy Tales & Stories, Tales of Mystery & Imagination
---
To Tirzah
Whate'er is born of mortal birth
Must be consumed with the earth,
To rise from generation free:
Then what have I to do with thee?
The sexes sprang from shame and pride,
Blown in the morn, in evening died;
But mercy changed death into sleep;
The sexes rose to work and weep.
Thou, mother of my mortal part,
With cruelty didst mould my heart,
And with false self-deceiving tears
Didst bind my nostrils, eyes, and ears,
Didst close my tongue in senseless clay,
And me to mortal life betray.
The death of Jesus set me free:
Then what have I to do with thee?
William Blake
(1757 – 1827)
To Tirzah
• fleursdumal.nl magazine
More in: Archive A-B, Archive A-B, Blake, William, Tales of Mystery & Imagination
---
Grabgesang
Vor des Friedhofs dunkler Pforte
Bleiben Leid und Schmerzen stehn,
Dringen nicht zum heil'gen Orte,
Wo die sel'gen Geister gehn,
Wo nach heißer Tage Glut
Unser Freund in Frieden ruht.
Zu des Himmels Wolkentoren
Schwang die Seele sich hinan,
Fern von Schmerzen, neu geboren,
Geht sie auf — die Sternenbahn;
Auch vor jenen heil'gen Höhn
Bleiben Leid und Schmerzen stehn.
Sehnsucht gießet ihre Zähren
Auf den Hügel, wo er ruht;
Doch ein Hauch aus jenen Sphären
Füllt das Herz mit neuem Mut;
Nicht zur Gruft hinab — hinan,
Aufwärts ging des Freundes Bahn.
Drum auf des Gesanges Schwingen
Steigen wir zu ihm empor,
Unsre Trauertöne dringen
Aufwärts zu der Sel'gen Chor,
Tragen ihm in stille Ruh'
Unsre letzten Grüße zu.
Wilhelm Hauff
(1802 – 1827)
Grabgesang, Gedicht
• fleursdumal.nl magazine
More in: Archive G-H, Archive G-H, Galerie des Morts, Hauff, Hauff, Wilhelm, Tales of Mystery & Imagination
---
Academy Award-winning actress, director, producer, and activist Natalie Portman retells three classic fables and imbues them with wit and wisdom.
From realizing that there is no "right" way to live to respecting our planet and learning what really makes someone a winner, the messages at the heart of Natalie Portman's Fables are modern takes on timeless life lessons.
Told with a playful, kid-friendly voice and perfectly paired with Janna Mattia's charming artwork, Portman's insightful retellings of The Tortoise and the Hare, The Three Little Pigs, and Country Mouse and City Mouse are ideal for reading aloud and are sure to become beloved additions to family libraries.
Natalie Portman is an Academy Award-winning actress, director, producer, and activist whose credits include Leon: The Professional, Cold Mountain, Closer, V for Vendetta, the Star Wars franchise prequels, A Tale of Love and Darkness, Jackie, and Thor: Love and Thunder. Born in Jerusalem, Israel, she is a graduate of Harvard University, and now lives with her family in Los Angeles. Natalie Portman's Fables is her debut picture book.
Janna Mattia was born and raised in San Diego. She received a degree in Illustration for Entertainment from Laguna College of Art and Design, and now works on concept and character art for film, illustration for licensing, and private commissions. Natalie Portman's Fables is her picture book debut.
Natalie Portman's Fables
Natalie Portman (Author)
Janna Mattia (Illustrator)
Age Range: 4 – 6 years
Hardcover: 64 pages
Publisher: Feiwel & Friends (October 20, 2020)
Language: English
ISBN-10: 1250246865
ISBN-13: 978-1250246868
$17.99
# new books
Natalie Portman's Fables
• fleursdumal.nl magazine
More in: - Book Lovers, - Book News, - Bookstores, Archive O-P, AUDIO, CINEMA, RADIO & TV, Tales of Mystery & Imagination
---
Gevatter Tod
Es lebte einmal ein sehr armer Mann, hieß Klaus, dem hatte Gott eine Fülle Reichtum beschert, der ihm große Sorge machte, nämlich zwölf Kinder, und über ein kleines so kam noch ein Kleines, das war das dreizehnte Kind. Da wußte der arme Mann seiner Sorge keinen Rat, wo er doch einen Paten hernehmen sollte, denn seine ganze Sipp- und Magschaft hatte ihm schon Kinder aus der Taufe gehoben, und er durfte nicht hoffen, noch unter seinen Freunden eine mitleidige Seele zu finden, die ihm sein jüngstgebornes Kindlein hebe. Gedachte also an den ersten besten wildfremden Menschen sich zu wenden, zumal manche seiner Bekannten ihn in ähnlichen Fällen schon mit vieler Hartherzigkeit abschläglich beschieden hatten.
Der arme Kindesvater ging also auf die Landstraße hinaus, willens, dem ersten ihm Begegnenden die Patenstelle seines Kindleins anzutragen. Und siehe, ihm begegnete bald ein gar freundlicher Mann, stattlichen Aussehens, wohlgestaltet, nicht alt nicht jung, mild und gütig von Angesicht, und da kam es dem Armen vor, als neigten sich vor jenem Manne die Bäume und Blümlein und alle Gras- und Getreidehalme. Da dünkte dem Klaus, das müsse der liebe Gott sein, nahm seine schlechte Mütze ab, faltete die Hände und betete ein Vater Unser. Und es war auch der liebe Gott, der wußte, was Klaus wollte, ehe er noch bat, und sprach: »Du suchst einen Paten für dein Kindlein! Wohlan, ich will es dir heben, ich, der liebe Gott!«
»Du bist allzugütig, lieber Gott!« antwortete Klaus verzagt. »Aber ich danke dir; du gibst denen, welche haben, einem Güter, dem andern Kinder, so fehlt es oft beiden am Besten, und der Reiche schwelgt, der Arme hungert!« Auf diese Rede wandte sich der Herr und ward nicht mehr gesehen. Klaus ging weiter, und wie er eine Strecke gegangen war, kam ein Kerl auf ihn zu, der sah nicht nur aus, wie der Teufel, sondern war's auch, und fragte Klaus, wen er suche? – Er suche einen Paten für sein Kindlein. – »Ei da nimm mich, ich mach es reich!« – »Wer bist du!« fragte Klaus. »Ich bin der Teufel« – »Das wär der Teufel!« rief Klaus, und maß den Mann vom Horn bis zum Pferdefuß. Dann sagte er: »Mit Verlaub, geh heim zu dir und zu deiner Großmutter; dich mag ich nicht zum Gevatter, du bist der Allerböseste! Gott sei bei uns!«
Da drehte sich der Teufel herum, zeigte dem Klaus eine abscheuliche Fratze, füllte die Luft mit Schwefelgestank und fuhr von dannen. Hierauf begegnete dem Kindesvater abermals ein Mann, der war spindeldürr, wie eine Hopfenstange, so dürr, daß er klapperte; der fragte auch: »Wen suchst du?« und bot sich zum Paten des Kindes an. »Wer bist du?« fragte Klaus. »Ich bin der Tod!« sprach jener mit ganz heiserer Summe. – Da war der Klaus zum Tod erschrocken, doch faßte er sich Mut, dachte: bei dem wär mein dreizehntes Söhnlein am besten aufgehoben, und sprach: »du bist der Rechte! Arm oder reich, du machst es gleich. Topp! Du sollst mein Gevattersmann sein! Stell dich nur ein zu rechter Zeit, am Sonntag soll die Taufe sein.«
Und am Sonntag kam richtig der Tod, und ward ein ordentlicher Dot, das ist Taufpat des Kleinen, und der Junge wuchs und gedieh ganz fröhlich. Als er nun zu den Jahren gekommen war, wo der Mensch etwas erlernen muß, daß er künftighin sein Brot erwerbe, kam zu der Zeit der Pate und hieß ihn mit sich gehen in einen finsteren Wald. Da standen allerlei Kräuter, und der Tod sprach: »Jetzt, mein Pat, sollt du dein Patengeschenk von mir empfahen. Du sollt ein Doktor über alle Doktoren werden durch das rechte wahre Heilkraut, das ich dir jetzt in die Hand gebe. Doch merke, was ich dir sage. Wenn man dich zu einem Kranken beruft, so wirst du meine Gestalt jedesmal erblicken.
Stehe ich zu Häupten des Kranken, so darfst du versichern, daß du ihn gesund machen wollest, und ihn von dem Kraute eingeben; wenn er aber Erde kauen muß, so stehe ich zu des Kranken Füßen; dann sage nur: Hier kann kein Arzt der Welt helfen und auch ich nicht. Und brauche ja nicht das Heilkraut gegen meinen mächtigen Willen, so würde es dir übel ergehen!«
Damit ging der Tod von hinnen und der junge Mensch auf die Wanderung und es dauerte gar nicht lange, so ging der Ruf vor ihm her und der Ruhm, dieser sei der größte Arzt auf Erden, denn er sahe es gleich den Kranken an, ob sie leben oder sterben würden. Und so war es auch. Wenn dieser Arzt den Tod zu des Kranken Füßen erblickte, so seufzte er, und sprach ein Gebet für die Seele des Abscheidenden; erblickte er aber des Todes Gestalt zu Häupten, so gab er ihm einige Tropfen, die er aus dem Heilkraut preßte, und die Kranken genasen. Da mehrte sich sein Ruhm von Tage zu Tage.
Nun geschah es, daß der Wunderarzt in ein Land kam, dessen König schwer erkrankt darnieder lag, und die Hofärzte gaben keine Hoffnung mehr seines Aufkommens. Weil aber die Könige am wenigsten gern sterben, so hoffte der alte König noch ein Wunder zu erleben, nämlich daß der Wunderdoktor ihn gesund mache, ließ diesen berufen und versprach ihm den höchsten Lohn. Der König hatte aber eine Tochter, die war so schön und so gut, wie ein Engel.
Als der Arzt in das Gemach des Königs kam, sah er zwei Gestalten an dessen Lager stehen, zu Häupten die schöne weinende Königstochter, und zu Füßen den kalten Tod. Und die Königstochter flehte ihn so rührend an, den geliebten Vater zu retten, aber die Gestalt des finstern Paten wich und wankte nicht. Da sann der Doktor auf eine List. Er ließ von raschen Dienern das Bette des Königs schnell umdrehen, und gab ihm geschwind einen Tropfen vom Heilkraut, also daß der Tod betrogen war, und der König gerettet. Der Tod wich erzürnt von hinnen, erhob aber drohend den langen knöchernen Zeigefinger gegen seinen Paten.
Dieser war in Liebe entbrannt gegen die reizende Königstochter, und sie schenkte ihm ihr Herz aus inniger Dankbarkeit. Aber bald darauf erkrankte sie schwer und heftig, und der König, der sie über alles liebte, ließ bekannt machen, welcher Arzt sie gesund mache, der solle ihr Gemahl und hernach König werden. Da flammte eine hohe Hoffnung durch des Jünglings Herz, und er eilte zu der Kranken – aber zu ihren Füßen stand der Tod. Vergebens warf der Arzt seinem Paten flehende Blicke zu, daß er seine Stelle verändern und ein wenig weiter hinauf, wo möglich bis zu Häupten der Kranken treten möge. Der Tod wich nicht von der Stelle, und die Kranke schien im Verscheiden, doch sah sie den Jüngling um ihr Leben flehend an. Da übte des Todes Pate noch einmal seine List, ließ das Lager der Königstochter schnell umdrehen, und gab ihr geschwind einige Tropfen vom Heilkraut, so daß sie wieder auflebte, und den Geliebten dankbar anlächelte. Aber der Tod warf seinen tödlichen Haß auf den Jüngling, faßte ihn an mit eiserner eiskalter Hand und führte ihn von dannen, in eine weite unterirdische Höhle. In der Höhle da brannten viele tausend Kerzen, große und halbgroße und kleine und ganz kleine; viele verloschen und andere entzündeten sich, und der Tod sprach zu seinem Paten: »Siehe, hier brennt eines jeden Menschen Lebenslicht; die großen sind den Kindern, die halbgroßen sind den Leuten, die in den besten Jahren stehen, die kleinen den Alten und Greisen, aber auch Kinder und Junge haben oft nur ein kleines bald verlöschendes Lebenslicht.«
»Zeige mir doch das meine!« bat der Arzt den Tod, da zeigte dieser auf ein ganz kleines Stümpchen, das bald zu erlöschen drohte. »Ach liebster Pate!« bat der Jüngling: »wolle mir es doch erneuen, damit ich meine schöne Braut, die Königstochter, freien, ihr Gemahl und König werden kann!« – »Das geht nicht« – versetzte kalt der Tod. »Erst muß eins ganz ausbrennen, ehe ein neues auf- und angesteckt wird.« –
»So setze doch gleich das alte auf ein neues!« sprach der Arzt – und der Tod sprach: »Ich will so tun!« Nahm ein langes Licht, tat als wollte er es aufstecken, versah es aber absichtlich und stieß das kleine um, daß es erlosch. In demselben Augenblick sank der Arzt um und war tot.
Ludwig Bechstein
(1801 – 1860)
Gevatter Tod
Sämtliche Märchen
• fleursdumal.nl magazine
More in: Archive A-B, Bechstein, Bechstein, Ludwig, Tales of Mystery & Imagination
---
Older Entries »
Thank you for reading FLEURSDUMAL.NL - magazine for art & literature