Tales of Mystery & Imagination
·
David Lynch: Someone is in my House. Retrospectief in Bonnefantenmuseum
·
The Unknown Poe. An Anthology of Fugitive Writings by Edgar Allan Poe
·
Frankenstein: The 1818 Text by Mary Shelley
·
Nadine Akkerman: Invisible Agents Women and Espionage in Seventeenth-Century Britain
·
The War of the Worlds by H.G. Wells
·
Jo Nesbø: Macbeth. Blut wird mit Blut bezahlt (Thriller)
·
Frankenstein: Annotated for Scientists, Engineers, and Creators of All Kinds
·
Rachel Feder: Harvester of Hearts. Motherhood under the Sign of Frankenstein
·
Tori Telfer: Lady Killers. Deadly Women Throughout History
·
Stephen King: The Outsider. A Novel
·
Edgar Allan Poe: The Cask of Amontillado
·
My Name Is Venus Black. A Novel by Heather Lloyd
Vanaf 30 november 2018 tot 28 april 2019 presenteert het Bonnefantenmuseum het omvangrijke retrospectief Someone is in my House van de Amerikaanse kunstenaar David Lynch.
Hoewel David Lynch onmiskenbaar een spilfiguur is in de internationale film- en tv-wereld, is zijn werk als beeldend kunstenaar veel minder bekend. Dat is op zijn minst vreemd, aangezien Lynch zelf altijd heeft bena­drukt dat hij zichzelf vóór alles ziet als beeldend kunste­naar.
Een beeldend kunstenaar die tijdens zijn studie aan de kunstacademie toevallig in aanraking kwam met het medium film, waarmee de basis gelegd werd voor zijn carrière als filmregisseur.
Naast zijn werk als regisseur is Lynch altijd actief gebleven als beeldend kunstenaar en heeft hij in de afgelopen decennia een grenzeloos oeuvre gecreëerd van onder andere schilderijen, tekeningen, litho's, foto's, lampsculpturen, muziek en installaties.
Een oeuvre dat tot nu toe nog maar zelden is belicht en in musea werd getoond. Met ruim 500 werken brengt het Bonnefantenmuseum niet alleen de eerste Nederlandse museumpresentatie van Lynch' beeldend oeuvre, maar ook de grootste overzichtstentoonstelling ooit.
David Lynch: Someone is in my House
30.11.2018 – 28.04.2019
David Lynch, beeldend kunstenaar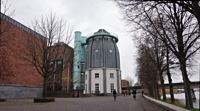 Anders dan het werk van Lynch (1946, Missoula, Montana, VS), vol duister geweld en seksua­liteit, doet vermoeden, is de kindertijd van de kunstenaar en filmmaker ge­lukkig en liefdevol.
Lynch groeit op met reislustige ouders en leidt op jonge leeftijd een nomadenbestaan, een voor hem idyllische en veilige omgeving. Van jongs af aan aangemoedigd om zich creatief te ontplooien – kleurboeken waren uit den boze, eigen verbeelding gebruiken was het credo – komt hij uiteindelijk op de Pennsylvania Academy of the Fine Arts in Philadelphia terecht om schilderkunst te studeren.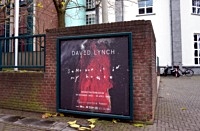 Hier ontwikkelt Lynch zijn artistieke vocabulaire en thema's die blijvend aanwezig zullen zijn in zijn werk. En hier ligt de voedingsbodem voor zijn eerste mixed-media installatie met stop-motion film Six Men Getting Sick (Six Times) (1967), die een opmaat vormde naar zijn eerste speelfilm, Eraserhead (1977). De rest is (film)geschiedenis en inmiddels zijn Lynch' films moderne klassiekers.
Lynch' kunstenaarschap loopt als een rode draad door zijn leven en films. Hij is gedurende zijn vijftigjarige carrière altijd blijven tekenen en schilde­ren, ook als er vanwege zijn werk als filmregisseur weinig tijd was om in het atelier door te brengen.
"I miss painting when I'm not painting", zegt Lynch zelf in de recente biografie Room to Dream. * David Lynch en Kristine McKenna. Room to Dream. Edinburgh, Canongate Books, 2018, p. 301
In samenwerking met David Lynch toont het Bonnefanten een indrukwekkend artistiek overzicht van het veelzijdige kunstenaarschap van Lynch.
De tentoonstelling omvat schilderijen, foto's, tekeningen, litho's en aquarellen uit de jaren 60 tot heden, unieke tekeningen op luciferboekjes uit de jaren 70, schetsboektekeningen uit de jaren 60/70/80, zwart-wit foto's uit verschillende periodes, waaronder de befaamde Snow Men-fotoserie (1993), cartoons uit de serie The Angriest Dog in the World (1982-1993), audiowerken én een aantal kortfilms uit 1968-2015.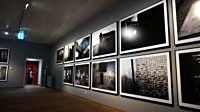 Voor het eerst sinds het ontstaan in 1967, zal ook het allesbepalende academiewerk Six Men Getting Sick (Six Times) in een museumtentoonstelling te zien zijn.
Publicatie
Bij de tentoonstelling verschijnt een rijk geïllustreerde monografie met tekstbijdragen van curator Stijn Huijts (artistiek directeur Bonnefantenmuseum), Kristine McKenna (journalist en curator, Verenigde Staten), Petra Giloy-Hirtz (schrijver en curator, Duitsland) en Michael Chabon (schrijver, Verenigde Staten). De publicatie is verkrijgbaar in het Nederlands, Engels en Frans en wordt uitgegeven door Uitgeverij Hannibal in samenwerking met Prestel.
Tentoonstellingsteaser
In aanloop naar zijn omvangrijke retrospectief Someone is in my House, maakte Lynch speciaal voor het Bonnefanten een unieke tentoonstellingsteaser. In deze typisch Lynchiaanse kortfilm, met in de hoofdrol naast Lynch zelf de 'White Monkey' – een personage dat eerder opdook in Lynch' Weird daily weather report – nodigt hij de kijker uit om naar het Bonnefanten te komen.
Flankerend programma
Parallel aan de tentoonstelling is er in samenwerking met Lumière Cinema in Maastricht een compleet filmretrospectief gewijd aan de films en het leven van David Lynch met filmvertoningen, documentaires en lezingen over de filmmaker.
Daarnaast brengt EYE filmmuseum drie digitaal gerestaureerde films opnieuw uit in de filmtheaters in heel het land. Voor meer informatie: https://www.eyefilm.nl/themas/gerestaureerde-david-lynch-klassiekers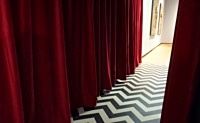 De philharmonie zuidnederland werkte met de Poolse componist Marek Zebrowski aan een compositie en uitvoering van Music for David, een strijkkwartet dat Zebrowski in 2015 componeerde als een hommage aan Lynch, die op zijn beurt de korte animatie film Pożar (Fire) maakte bij Zebrowski's compositie. Het muziekstuk zal een aantal keren live (op zaal) bij de film ten gehore worden gebracht.
# meer informatie op website Bonnefantenmuseum
# Expositie & publicatie
David Lynch: Someone is in my House
30.11.2018 – 28.04.2019

• photos: jef van kempen
• fleursdumal.nl magazine
More in: #Archive A-Z Sound Poetry, *Concrete + Visual Poetry K-O, - Book News, - Bookstores, Archive K-L, Art & Literature News, AUDIO, CINEMA, RADIO & TV, David Lynch, Exhibition Archive, FDM Art Gallery, Jef van Kempen Photos & Drawings, Museum of Literary Treasures, Photography, Tales of Mystery & Imagination, THEATRE
---
An indispensable anthology of brilliant hard-to-find writings by Poe on poetry, the imagination, humor, and the sublime which adds a new dimension to his stature as a speculative thinker and philosopher. Essays (in translation) by Charles Baudelaire, Stéphane Mallarmé, Paul Valéry, & André Breton shed light on Poe's relevance within European literary tradition.
These are the arcana of Edgar Allan Poe: writings on wit, humor, dreams, drunkenness, genius, madness, and apocalypse. Here is the mind of Poe at its most colorful, its most incisive, and its most exceptional.
Edgar Allan Poe's dark, melodic poems and tales of terror and detection are known to readers everywhere, but few are familiar with his cogent literary criticism, or his speculative thinking in science, psychology or philosophy. This book is an attempt to present his lesser known, out of print, or hard to find writings in a single volume, with emphasis on the theoretical and esoteric. The second part, "The Friend View," includes seminal essays by Poe's famous admirers in France, clarifying his international literary importance.
America has never seen such a personage as Edgar Allan Poe. He is a figure who appears once an epoch, before passing into myth. American critics from Henry James to T. S. Eliot have disparaged and attempted to explain away his influence to no end, save to perpetuate his fame. Even the disdainful Eliot once conceded, "and yet one cannot be sure that one's own writing has not been influence by Poe."
Edgar Allan Poe (1809-1849), born in Boston, Massachusetts, was an American poet, writer, editor, and literary critic. He is well known for his haunting poetry and mysterious short stories. Regarded as being a central figure of Romanticism, he is also considered the inventor of detective fiction and the growing science fiction genre. Some of his most famous works include poems such as The Raven, Annabel Lee, and A Dream Within a Dream; tales such as The Cask of Amontillado, The Masque of Red Death, and The Tell-Tale Heart.
Title: The Unknown Poe
Subtitle: An Anthology of Fugitive Writings
Author: Edgar Allan Poe
Edited by Raymond Foye
Publisher: City Lights Publishers
Format: Paperback
124 pages
1980
ISBN-10 0872861104
ISBN-13 9780872861107
List Price $11.95
# American writers
Edgar Allan Poe
fleursdumal.nl magazine
More in: - Book Lovers, - Book Stories, Archive O-P, Archive O-P, Art & Literature News, Edgar Allan Poe, Poe, Edgar Allan, Poe, Edgar Allan, Tales of Mystery & Imagination
---
For the bicentennial of its first publication, Mary Shelley's original 1818 text, introduced by National Book Critics Circle award-winner Charlotte Gordon. Nominated as one of America's best-loved novels by PBS's The Great American Read.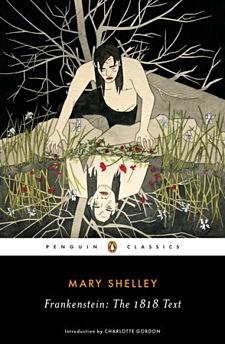 2018 marks the bicentennial of Mary Shelley's seminal novel. For the first time, Penguin Classics will publish the original 1818 text, which preserves the hard-hitting and politically-charged aspects of Shelley's original writing, as well as her unflinching wit and strong female voice. This edition also emphasizes Shelley's relationship with her mother—trailblazing feminist Mary Wollstonecraft, who penned A Vindication of the Rights of Woman—and demonstrates her commitment to carrying forward her mother's ideals, placing her in the context of a feminist legacy rather than the sole female in the company of male poets, including Percy Shelley and Lord Byron.
This edition includes a new introduction and suggestions for further reading by National Book Critics Circle award-winner and Shelley expert Charlotte Gordon, literary excerpts and reviews selected by Gordon, and a chronology and essay by preeminent Shelley scholar Charles E. Robinson.
Mary Shelley: The daughter of Mary Wollestonecraft, the ardent feminist and author of A Vindication on the Right of Women, and William Godwin, the radical-anarchist philosopher and author of Lives of the Necromancers, Mary Goodwin was born into a freethinking, revolutionary household in London on August 30,1797. Educated mainly by her intellectual surroundings, she had little formal schooling and at 16 eloped with the young poet Percy Bysshe Shelley; they eventually married in 1816. Mary Shelley's life had many tragic elements. Her mother died giving birth to Mary; her half-sister committed suicide; Harriet Shelley (Percy's wife) drowned herself and her unborn child after he ran off with Mary. William Godwin disowned Mary and Shelley after their elopement, but—heavily in debt—recanted and came to them for money; Mary's first child died soon after its birth; and in 1822 Percy Shelley drowned in the Gulf of La Spezia—when Mary was not quite 25. Mary Shelley recalled that her husband was "forever inciting" her to "obtain literary reputation." But she did not begin to write seriously until the summer of 1816, when she and Shelley were in Switzerland, neighbor to Lord Byron. One night following a contest to compose ghost stories, Mary conceived her masterpiece, Frankenstein. After Shelley's death she continued to write Valperga (1823), The Last Man (1826), Ladore (1835), and Faulkner (1837), in addition to editing her husband's works. In 1838 she began to work on his biography, but owing to poor health she completed only a fragment. Although she received marriage proposals from Trelawney, John Howard Payne, and perhaps Washington Irving, Mary Shelley never remarried. "I want to be Mary Shelley on my tombstone," she is reported to have said. She died on February 1, 1851, survived by her son, Percy Florence.
For more than seventy years, Penguin has been the leading publisher of classic literature in the English-speaking world. With more than 1,800 titles, Penguin Classics represents a global bookshelf of the best works throughout history and across genres and disciplines. Readers trust the series to provide authoritative texts enhanced by introductions and notes by distinguished scholars and contemporary authors, as well as up-to-date translations by award-winning translators.
Frankenstein: The 1818 Text
By Mary Shelley
Introduction by Charlotte Gordon
Contribution by Charlotte Gordon
Fiction Classics
Paperback
Penguin Random House
Published by Penguin Classics
Jan 16, 2018
288 Pages
ISBN 9780143131847
$10.00
# new books
Frankenstein – Mary Shelley
fleursdumal.nl magazine
More in: - Book Lovers, - Book News, Archive S-T, Art & Literature News, Mary Shelley, Shelley, Mary, Tales of Mystery & Imagination
---
A compelling history of women in seventeenth century espionage, telling the forgotten tales of women from all walks of life who acted as spies in early modern Britain.
Nadine Akkerman has immersed herself in archives and letter collections, acting as a modern-day Spymistress to unearth plots and conspiracies that have long been hidden by history.
It would be easy for the modern reader to conclude that women had no place in the world of early modern espionage, with a few seventeenth-century women spies identified and then relegated to the footnotes of history.
If even the espionage carried out by Susan Hyde, sister of Edward Hyde, Earl of Clarendon, during the turbulent decades of civil strife in Britain can escape the historiographer's gaze, then how many more like her lurk in the archives?
Nadine Akkerman's search for an answer to this question has led to the writing of Invisible Agents, the very first study to analyse the role of early modern women spies, demonstrating that the allegedly-male world of the spy was more than merely infiltrated by women.
This compelling and ground-breaking contribution to the history of espionage details a series of case studies in which women – from playwright to postmistress, from lady-in-waiting to laundry woman – acted as spies, sourcing and passing on confidential information on account of political and religious convictions or to obtain money or power.
The struggle of the She-Intelligencers to construct credibility in their own time is mirrored in their invisibility in modern historiography.
Akkerman has immersed herself in archives, libraries, and private collections, transcribing hundreds of letters, breaking cipher codes and their keys, studying invisible inks, and interpreting riddles, acting as a modern-day Spymistress to unearth plots and conspiracies that have long remained hidden by history.
Nadine Akkerman is Reader in early modern English Literature at Leiden University and Visiting Fellow at All Souls College, Oxford. She is author of the critically acclaimed Invisible Agents: Women and Espionage in Seventeenth-Century Britain (OUP), and of The Correspondence of Elizabeth Stuart, Queen of Bohemia (OUP), the third and final volume of which will be published in 2020, and is currently writing the definitive biography of Elizabeth Stuart. She has also published extensively on women's history, diplomacy, and masques, and curated several exhibitions, including the popular Courtly Rivals at the Haags Historisch Museum. In 2017 she was elected to The Young Academy of the Royal Netherlands Academy of Arts and Sciences, and received a Special Recognition Award from the World Cultural Council.
Invisible Agents
Women and Espionage in Seventeenth-Century Britain
Nadine Akkerman
Language: English
Oxford University Press
Hardcover
288 pages
Published: 12 July 2018
8 colour plates & 12 black and white images
234x156mm
ISBN-10: 0198823010
ISBN-13: 978-0198823018
£20.00
# new books
Nadine Akkerman:
Invisible Agents
fleursdumal.nl magazine
More in: #Biography Archives, *War Poetry Archive, - Book News, - Book Stories, Archive A-B, CRIME & PUNISHMENT, History of Britain, Tales of Mystery & Imagination, WAR & PEACE
---
H. G. Wells was born Herbert George in Bromley, Kent, England, on September 21, 1866. His father was a professional cricketer and sometimes shopkeeper, his mother a former lady's maid.
Although "Bertie" left school at fourteen to become a draper's apprentice (a life he detested), he later won a scholarship to the Normal School of Science in London, where he studied with the famous Thomas Henry Huxley. He began to sell articles and short stories regularly in 1893.
In 1895, his immediately successful novel rescued him from a life of penury on a schoolteacher's salary. His other "scientific romances"—The Island of Dr. Moreau (1896), The Invisible Man (1897), The War of the Worlds (1898), The First Men in the Moon (1901), and The War in the Air (1908)—won him the distinction as the father of science fiction.
Henry James saw in Wells the most gifted writer of the age, but Wells, having coined the phrase "the war that will end war" to describe World War I, became increasingly disillusioned and focused his attention on educating mankind with his bestselling Outline of History (1920) and his later utopian works. Living until 1946, Wells witnessed a world more terrible than any of his imaginative visions, and he bitterly observed: "Reality has taken a leaf from my book and set itself to supercede me."
The War of the Worlds (1898) conjures a terrifying, tentacled race of Martians who devastate the Earth and feed on their human victims while their voracious vegetation, the red weed, spreads over the ruined planet. After the novel's hero finds himself trapped in what is left of London, despairing at the destruction of human civilization, he discovers that life on Earth is more resilient than he had imagined. Adapted by Orson Welles for his notorious 1938 radio drama and subsequently by many filmmakers, H. G. Wells's timeless story shows no sign of losing its grip on readers' imaginations.
The War of the Worlds
By H.G. Wells
Category: Science Fiction
Paperback
Nov 06, 2018
192 Pages
$8.00
Published by Vintage
ISBN 9780525564164
# Books That Everyone Should Read
fleursdumal.nl magazine
More in: - Book Lovers, - Book News, Archive W-X, AUDIO, CINEMA, RADIO & TV, H.G. Wells, Tales of Mystery & Imagination, Wells, H.G.
---
Er kennt seine Feinde nur allzu gut. Inspector Macbeth ist der taffste Cop in einer maroden Industriestadt im Norden.
Einen Deal nach dem anderen lässt er hochgehen, die Drogenbosse beißen sich an ihm die Zähne aus. Doch irgendwann wird die Verlockung zu groß: Geld, Respekt, Macht. Schnell aber wird ihm klar, dass einer wie er, der schon in der Gosse war, niemals ganz nach oben kommen wird. Außer – er tötet.
Angestachelt von seiner Geliebten, schafft er sich einen Konkurrenten nach dem anderen vom Hals. In seinem Blutrausch merkt er nicht, dass er längst jenen dunklen Kräften verfallen ist, denen er einst den Kampf angesagt hat.
Jo Nesbø, 1960 geboren, ist Ökonom, Journalist, Musiker und zählt zu den renommiertesten und innovativsten Krimiautoren seiner Generation. Seine Bücher sind in über 50 Sprachen übersetzt, werden verfilmt, und von seinen Harry-Hole-Thrillern wurden allein im deutschsprachigen Raum über 5 Millionen Exemplare verkauft. »Macbeth« ist sein neuester Thriller, der u.a. in Skandinavien, Großbritannien und den USA auf der Bestsellerliste stand. Jo Nesbø lebt in Oslo.
André Mumot (Übersetzer): André Mumot ist promovierter Kulturwissenschaftler, Journalist, Autor und Literaturübersetzer. Seit 2008 übersetzt er Autoren wie Neil Gaiman, Raquel J. Palacio, Nick Harkaway und Aleksandar Hemon. Er lebt in Berlin.
Jo Nesbø
Macbeth
Blut wird mit Blut bezahlt.
Thriller
Internationaler Bestseller
Originaltitel: Macbeth
Originalverlag: Hogarth
Aus dem Englischen von André Mumot
Gebundenes Buch mit Schutzumschlag
624 Seiten
13,5 x 21,5 cm
ISBN: 978-3-328-60017-6
€ 24,00 [D]
Verlag: Penguin
Erscheinungstermin: 27. August 2018
# new novel
Jo Nesbø – Macbeth
fleursdumal.nl magazine
More in: - Book News, - Bookstores, Archive M-N, Art & Literature News, Tales of Mystery & Imagination, Thrillers, TRANSLATION ARCHIVE
---
Mary Shelley's Frankenstein has endured in the popular imagination for two hundred years.
Begun as a ghost story by an intellectually and socially precocious eighteen-year-old author during a cold and rainy summer on the shores of Lake Geneva, the dramatic tale of Victor Frankenstein and his stitched-together creature can be read as the ultimate parable of scientific hubris. Victor, "the modern Prometheus," tried to do what he perhaps should have left to Nature: create life.
Although the novel is most often discussed in literary-historical terms―as a seminal example of romanticism or as a groundbreaking early work of science fiction―Mary Shelley was keenly aware of contemporary scientific developments and incorporated them into her story. In our era of synthetic biology, artificial intelligence, robotics, and climate engineering, this edition of Frankenstein will resonate forcefully for readers with a background or interest in science and engineering, and anyone intrigued by the fundamental questions of creativity and responsibility.
This edition of Frankenstein pairs the original 1818 version of the manuscript―meticulously line-edited and amended by Charles E. Robinson, one of the world's preeminent authorities on the text―with annotations and essays by leading scholars exploring the social and ethical aspects of scientific creativity raised by this remarkable story.
The result is a unique and accessible edition of one of the most thought-provoking and influential novels ever written.
Essays by Elizabeth Bear, Cory Doctorow, Heather E. Douglas, Josephine Johnston, Kate MacCord, Jane Maienschein, Anne K. Mellor, Alfred Nordmann
Frankenstein: Annotated for Scientists, Engineers, and Creators of All Kinds
by Mary Shelley (Author), David H. Guston (Editor), Ed Finn (Editor), Jason Scott Robert (Editor), & Charles E. Robinson (Introduction)
Paperback
320 pages
Publisher: The MIT Press;
Annotated edition
2017
Language: English
ISBN-10: 0262533286
ISBN-13: 978-0262533287
new books
fleursdumal.nl magazine
More in: - Book Lovers, - Book Stories, Archive S-T, Art & Literature News, Mary Shelley, Museum of Literary Treasures, Shelley, Mary, Tales of Mystery & Imagination
---
In the period between 1815 and 1820, Mary Shelley wrote her most famous novel, Frankenstein; or, The Modern Prometheus, as well as its companion piece, Mathilda, a tragic incest narrative that was confiscated by her father, William Godwin, and left unpublished until 1959. She also gave birth to four—and lost three—children.
In this hybrid text, Rachel Feder interprets Frankenstein and Mathilda within a series of provocative frameworks including Shelley's experiences of motherhood and maternal loss, twentieth-century feminists' interests in and attachments to Mary Shelley, and the critic's own experiences of pregnancy, childbirth, and motherhood.
Harvester of Hearts explores how Mary Shelley's exchanges with her children—in utero, in birth, in life, and in death—infuse her literary creations. Drawing on the archives of feminist scholarship, Feder theorizes "elective affinities," a term she borrows from Goethe to interrogate how the personal attachments of literary critics shape our sense of literary history.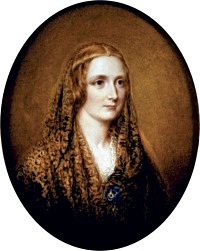 Feder blurs the distinctions between intellectual, bodily, literary, and personal history, reanimating the classical feminist discourse on Frankenstein by stepping into the frame.
The result—at once an experimental book of literary criticism, a performative foray into feminist praxis, and a deeply personal lyric essay—not only locates Mary Shelley's monsters within the folds of maternal identity but also illuminates the connections between the literary and the quotidian.
Rachel Feder is an assistant professor of English and literary arts at the University of Denver. Her scholarly and creative work has appeared in a range of publications including ELH, Studies in Romanticism, and a poetry chapbook from dancing girl press.
Rachel Feder (Author)
Harvester of Hearts
Motherhood under the Sign of Frankenstein
Cloth Text – $99.95
ISBN 978-0-8101-3753-0
Paper Text – $34.95
ISBN 978-0-8101-3752-3
August 2018
Women's Studies
Literary Criticism
152 pages
Northwestern University Press
new books
fleursdumal.nl magazine
More in: - Book News, - Book Stories, Archive E-F, Archive S-T, Art & Literature News, Mary Shelley, Shelley, Mary, Shelley, Percy Byssche, Tales of Mystery & Imagination
---
Author Tori Telfer's "Lady Killers," a thrilling and entertaining compendium, investigates female serial killers and their crimes through the ages.
When you think of serial killers throughout history, the names that come to mind are ones like Jack the Ripper, John Wayne Gacy, and Ted Bundy. But what about Tillie Klimek, Moulay Hassan, Kate Bender?
The narrative we're comfortable with is the one where women are the victims of violent crime, not the perpetrators. In fact, serial killers are thought to be so universally, overwhelmingly male that in 1998, FBI profiler Roy Hazelwood infamously declared in a homicide conference, "There are no female serial killers."
Lady Killers, based on the popular online series that appeared on Jezebel and The Hairpin, disputes that claim and offers fourteen gruesome examples as evidence.
Though largely forgotten by history, female serial killers such as Erzsébet Báthory, Nannie Doss, Mary Ann Cotton, and Darya Nikolayevna Saltykova rival their male counterparts in cunning, cruelty, and appetite for destruction.
Lady Killers
Deadly Women Throughout History
by Tori Telfer
2017
ISBN: 9780062433732
ISBN 10: 0062433733
Imprint: Harper Perennial
Pages: 352
List Price: 15.99 USD
TRUE CRIME – Murder- Serial Killers -History – Women
Illustrations by Dame Darcy
new books
fleursdumal.nl magazine
More in: - Book News, - Book Stories, Archive S-T, Art & Literature News, CRIME & PUNISHMENT, Tales of Mystery & Imagination, The Ideal Woman
---
An unspeakable crime. A confounding investigation. At a time when the King brand has never been stronger, he has delivered one of his most unsettling and compulsively readable stories.
An eleven-year-old boy's violated corpse is found in a town park. Eyewitnesses and fingerprints point unmistakably to one of Flint City's most popular citizens. He is Terry Maitland, Little League coach, English teacher, husband, and father of two girls. Detective Ralph Anderson, whose son Maitland once coached, orders a quick and very public arrest. Maitland has an alibi, but Anderson and the district attorney soon add DNA evidence to go with the fingerprints and witnesses. Their case seems ironclad.
As the investigation expands and horrifying answers begin to emerge, King's propulsive story kicks into high gear, generating strong tension and almost unbearable suspense. Terry Maitland seems like a nice guy, but is he wearing another face? When the answer comes, it will shock you as only Stephen King can.
Stephen King is the author of more than fifty books, all of them worldwide bestsellers. His recent work includes The Bill Hodges Trilogy, Revival, and Doctor Sleep. His novel 11/22/63 was named a top ten book of 2011 by The New York Times Book Review and won the Los Angeles Times Book Prize for Mystery/Thriller as well as the Best Hardcover Book Award from the International Thriller Writers Association. He is the recipient of the 2003 National Book Foundation Medal for Distinguished Contribution to American Letters. He lives in Bangor, Maine, with his wife, novelist Tabitha King.
The Outsider
A Novel
By Stephen King (Author)
Language: English
Genre Horror, Crime fiction
Published: May 22, 2018
Publisher: Scribner
Media type Print (hardcover)
Pages 576
ISBN-10: 1501180983
ISBN 978-1501180989
Price $18.90
new books
fleursdumal.nl magazine
More in: - Book News, Archive K-L, Art & Literature News, Stephen King, Tales of Mystery & Imagination, Thrillers
---
Edgar Allan Poe
The Cask of Amontillado
The thousand injuries of Fortunato I had borne as I best could, but when he ventured upon insult I vowed revenge. You, who so well know the nature of my soul, will not suppose, however, that gave utterance to a threat. At length I would be avenged; this was a point definitely, settled but the very definitiveness with which it was resolved precluded the idea of risk. I must not only punish but punish with impunity. A wrong is unredressed when retribution overtakes its redresser. It is equally unredressed when the avenger fails to make himself felt as such to him who has done the wrong.
It must be understood that neither by word nor deed had I given Fortunato cause to doubt my good will. I continued, as was my in to smile in his face, and he did not perceive that my to smile now was at the thought of his immolation.
He had a weak point this Fortunato although in other regards he was a man to be respected and even feared. He prided himself on his connoisseurship in wine. Few Italians have the true virtuoso spirit. For the most part their enthusiasm is adopted to suit the time and opportunity, to practise imposture upon the British and Austrian millionaires. In painting and gemmary, Fortunato, like his countrymen, was a quack, but in the matter of old wines he was sincere. In this respect I did not differ from him materially; I was skilful in the Italian vintages myself, and bought largely whenever I could.
It was about dusk, one evening during the supreme madness of the carnival season, that I encountered my friend. He accosted me with excessive warmth, for he had been drinking much. The man wore motley. He had on a tight-fitting parti-striped dress, and his head was surmounted by the conical cap and bells. I was so pleased to see him that I thought I should never have done wringing his hand.
I said to him "My dear Fortunato, you are luckily met. How remarkably well you are looking to-day. But I have received a pipe of what passes for Amontillado, and I have my doubts."
"How?" said he. "Amontillado, A pipe? Impossible! And in the middle of the carnival!"
"I have my doubts," I replied; "and I was silly enough to pay the full Amontillado price without consulting you in the matter. You were not to be found, and I was fearful of losing a bargain."
"Amontillado!"
"I have my doubts."
"Amontillado!"
"And I must satisfy them."
"Amontillado!"
"As you are engaged, I am on my way to Luchresi. If any one has a critical turn it is he. He will tell me "
"Luchresi cannot tell Amontillado from Sherry."
"And yet some fools will have it that his taste is a match for your own.
"Come, let us go."
"Whither?"
"To your vaults."
"My friend, no; I will not impose upon your good nature. I perceive you have an engagement. Luchresi"
"I have no engagement; come."
"My friend, no. It is not the engagement, but the severe cold with which I perceive you are afflicted. The vaults are insufferably damp. They are encrusted with nitre."
"Let us go, nevertheless. The cold is merely nothing. Amontillado! You have been imposed upon. And as for Luchresi, he cannot distinguish Sherry from Amontillado."
Thus speaking, Fortunato possessed himself of my arm; and putting on a mask of black silk and drawing a roquelaire closely about my person, I suffered him to hurry me to my palazzo.
There were no attendants at home; they had absconded to make merry in honour of the time. I had told them that I should not return until the morning, and had given them explicit orders not to stir from the house. These orders were sufficient, I well knew, to insure their immediate disappearance, one and all, as soon as my back was turned.
I took from their sconces two flambeaux, and giving one to Fortunato, bowed him through several suites of rooms to the archway that led into the vaults. I passed down a long and winding staircase, requesting him to be cautious as he followed. We came at length to the foot of the descent, and stood together upon the damp ground of the catacombs of the Montresors.
The gait of my friend was unsteady, and the bells upon his cap jingled as he strode.
"The pipe," he said.
"It is farther on," said I; "but observe the white web-work which gleams from these cavern walls."
He turned towards me, and looked into my eves with two filmy orbs that distilled the rheum of intoxication.
"Nitre?" he asked, at length.
"Nitre," I replied. "How long have you had that cough?"
"Ugh! ugh! ugh! ugh! ugh! ugh! ugh! ugh! ugh! ugh! ugh! ugh! ugh! ugh! ugh!"
My poor friend found it impossible to reply for many minutes.
"It is nothing," he said, at last.
"Come," I said, with decision, "we will go back; your health is precious. You are rich, respected, admired, beloved; you are happy, as once I was. You are a man to be missed. For me it is no matter. We will go back; you will be ill, and I cannot be responsible. Besides, there is Luchresi "
"Enough," he said; "the cough's a mere nothing; it will not kill me. I shall not die of a cough."
"True true," I replied; "and, indeed, I had no intention of alarming you unnecessarily but you should use all proper caution. A draught of this Medoc will defend us from the damps.
Here I knocked off the neck of a bottle which I drew from a long row of its fellows that lay upon the mould.
"Drink," I said, presenting him the wine.
He raised it to his lips with a leer. He paused and nodded to me familiarly, while his bells jingled.
"I drink," he said, "to the buried that repose around us."
"And I to your long life."
He again took my arm, and we proceeded.
"These vaults," he said, "are extensive."
"The Montresors," I replied, "were a great and numerous family."
"I forget your arms."
"A huge human foot d'or, in a field azure; the foot crushes a serpent rampant whose fangs are imbedded in the heel."
"And the motto?"
"Nemo me impune lacessit."
"Good!" he said.
The wine sparkled in his eyes and the bells jingled. My own fancy grew warm with the Medoc. We had passed through long walls of piled skeletons, with casks and puncheons intermingling, into the inmost recesses of the catacombs. I paused again, and this time I made bold to seize Fortunato by an arm above the elbow.
"The nitre!" I said; "see, it increases. It hangs like moss upon the vaults. We are below the river's bed. The drops of moisture trickle among the bones. Come, we will go back ere it is too late. Your cough "
"It is nothing," he said; "let us go on. But first, another draught of the Medoc." I broke and reached him a flagon of De Grave. He emptied it at a breath. His eyes flashed with a fierce light. He laughed and threw the bottle upwards with a gesticulation I did not understand.  I looked at him in surprise. He repeated the movement a grotesque one.
"You do not comprehend?" he said.
"Not I," I replied.
"Then you are not of the brotherhood."
"How?"
"You are not of the masons."
"Yes, yes," I said; "yes, yes."
"You? Impossible! A mason?"
"A mason," I replied.
"A sign," he said, "a sign."
"It is this," I answered, producing from beneath the
folds of my roquelaire a trowel.
"You jest," he exclaimed, recoiling a few paces.
"But let us proceed to the Amontillado."
"Be it so," I said, replacing the tool beneath the cloak and again offering him my arm. He leaned upon it heavily. We continued our route in search of the Amontillado. We passed through a range of low arches, descended, passed on, and descending again, arrived at a deep crypt, in which the foulness of the air caused our flambeaux rather to glow than flame.
At the most remote end of the crypt there appeared another less spacious. Its walls had been lined with human remains, piled to the vault overhead, in the fashion of the great catacombs of Paris. Three sides of this interior crypt were still ornamented in this manner. From the fourth side the bones had been thrown down, and lay promiscuously upon the earth, forming at one point a mound of some size. Within the wall thus exposed by the displacing of the bones, we perceived a still interior crypt or recess, in depth about four feet, in width three, in height six or seven. It seemed to have been constructed for no especial use within itself, but formed merely the interval between two of the colossal supports of the roof of the catacombs, and was backed by one of their circumscribing walls of solid granite.
It was in vain that Fortunato, uplifting his dull torch, endeavoured to pry into the depth of the recess. Its termination the feeble light did not enable us to see.
"Proceed," I said; "herein is the Amontillado. As for Luchresi "
"He is an ignoramus," interrupted my friend, as he stepped unsteadily forward, while I followed immediately at his heels. In niche, and finding an instant he had reached the extremity of the niche, and finding his progress arrested by the rock, stood stupidly bewildered. A moment more and I had fettered him to the granite. In its surface were two iron staples, distant from each other about two feet, horizontally. From one of these depended a short chain, from the other a padlock. Throwing the links about his waist, it was but the work of a few seconds to secure it. He was too much astounded to resist. Withdrawing the key I stepped back from the recess.
"Pass your hand," I said, "over the wall; you cannot help feeling the nitre. Indeed, it is very damp. Once more let me implore you to return. No? Then I must positively leave you. But I must first render you all the little attentions in my power."
"The Amontillado!" ejaculated my friend, not yet recovered from his astonishment.
"True," I replied; "the Amontillado."
As I said these words I busied myself among the pile of bones of which I have before spoken. Throwing them aside, I soon uncovered a quantity of building stone and mortar. With these materials and with the aid of my trowel, I began vigorously to wall up the entrance of the niche.
I had scarcely laid the first tier of the masonry when I discovered that the intoxication of Fortunato had in a great measure worn off. The earliest indication I had of this was a low moaning cry from the depth of the recess. It was not the cry of a drunken man. There was then a long and obstinate silence. I laid the second tier, and the third, and the fourth; and then I heard the furious vibrations of the chain. The noise lasted for several minutes, during which, that I might hearken to it with the more satisfaction, I ceased my labours and sat down upon the bones. When at last the clanking subsided, I resumed the trowel, and finished without interruption the fifth, the sixth, and the seventh tier. The wall was now nearly upon a level with my breast. I again paused, and holding the flambeaux over the mason-work, threw a few feeble rays upon the figure within.
A succession of loud and shrill screams, bursting suddenly from the throat of the chained form, seemed to thrust me violently back. For a brief moment I hesitated, I trembled. Unsheathing my rapier, I began to grope with it about the recess; but the thought of an instant reassured me. I placed my hand upon the solid fabric of the catacombs, and felt satisfied. I reapproached the wall; I replied to the yells of him who clamoured. I re-echoed, I aided, I surpassed them in volume and in strength.
I did this, and the clamourer grew still. It was now midnight, and my task was drawing to a close. I had completed the eighth, the ninth and the tenth tier. I had finished a portion of the last and the eleventh; there remained but a single stone to be fitted and plastered in. I struggled with its weight; I placed it partially in its destined position. But now there came from out the niche a low laugh that erected the hairs upon my head. It was succeeded by a sad voice, which I had difficulty in recognizing as that of the noble Fortunato.
The voice said–
"Ha! ha! ha! he! he! he! a very good joke, indeed an excellent jest. We will have many a rich laugh about it at the palazzo he! he! he! over our wine he! he! he!"
"The Amontillado!" I said.
"He! he! he! he! he! he! yes, the Amontillado. But is it not getting late? Will not they be awaiting us at the palazzo, the Lady Fortunato and the rest? Let us be gone."
"Yes," I said, "let us be gone."
"For the love of God, Montresor!"
"Yes," I said, "for the love of God!"
But to these words I hearkened in vain for a reply.
I grew impatient. I called aloud
"Fortunato!"
No answer. I called again
"Fortunato!"
No answer still. I thrust a torch through the remaining aperture and let it fall within. There came forth in return only a jingling of the bells. My heart grew sick; it was the dampness of the catacombs that made it so. I hastened to make an end of my labour. I forced the last stone into its position; I plastered it up. Against the new masonry I re-erected the old rampart of bones. For the half of a century no mortal has disturbed them.
In pace requiescat!
Edgar Allan Poe (1809 – 1849)
The Cask of Amontillado
fleursdumal.nl magazine
More in: Edgar Allan Poe, Poe, Edgar Allan, Poe, Edgar Allan, Tales of Mystery & Imagination
---
In this riveting, heartfelt debut, a young woman assumes a new name to escape her dark past and find the redemption she desperately seeks.
"A terrific debut, told gently, honestly, and with a generous amount of hope."—New York Times bestselling author Jamie Ford
Venus Black is a straitlaced A student fascinated by the study of astronomy—until the night she commits a shocking crime that tears her family apart and ignites a media firestorm. Venus refuses to talk about what happened or why, except to blame her mother. Adding to the mystery, Venus's developmentally challenged younger brother, Leo, goes missing.
More than five years later, Venus is released from prison with a suitcase of used clothes, a fake identity, and a determination to escape her painful past. Estranged from her mother, and with her beloved brother still missing, she sets out to make a fresh start in Seattle, skittish and alone. But as new people enter her orbit—including a romantic interest and a young girl who seems like a mirror image of her former lost self—old wounds resurface, and Venus realizes that she can't find a future while she's running from her past.
In this gripping story, debut novelist Heather Lloyd brilliantly captures ordinary lives thrust into extraordinary circumstances. Told through a constellation of captivating voices, My Name Is Venus Black explores the fluidity of right and wrong, the pain of betrayal, and the meaning of love and family.
Heather Lloyd, who has spent many years working as an editor and writing coach, lives with her husband in New York City. My Name Is Venus Black is her first novel.
My Name Is Venus Black
A Novel
By Heather Lloyd
Category: Crime Mysteries
Hardcover : $27.00
Publ.: Feb 27, 2018
368 Pages
ISBN 9780399592188
Publ. by The Dial Press
new books
fleursdumal.nl magazine
More in: - Book News, Archive K-L, Art & Literature News, BIOGRAPHY, CRIME & PUNISHMENT, Tales of Mystery & Imagination
---
Older Entries »
Thank you for reading FLEURSDUMAL.NL - magazine for art & literature