EXPRESSIONISM, DADA & DE STIJL, SURREALISM
·
40ste editie van het Kunstenfestival Watou: 'Watou 2021'
·
Paul van Ostaijen: Gulden Sporen Negentienhonderd Zestien
·
Ulrike Draesner: Schwitters in the Lakes
·
Else Lasker-Schüler: George Grosz
·
TENTOONSTELLING: 'TUIN DER TEDERHEID'
·
Agnita Feis: De eer (gedicht)
·
Sjon Brands & Nico de Wit: Homo Ludens (absurdistische assemblages & bronstransformaties)
·
Agnita Feis: De pijl uit de aero (gedicht)
·
August Stramm: Begegnung (Gedicht)
·
Agnita Feis: De verminkte (gedicht)
·
New Kings of the World: Dispatches from Bollywood, Dizi, and K-Pop by Fatima Bhutto
·
Agnita Feis: Het land is stom (gedicht)
Elke zomer slaat het Kunstenfestival Watou haar tenten op in het gelijknamige kunstdorpje net voorbij Poperinge, tegen de Franse grens aan.
Dichters en beeldend kunstenaars, aanstormend talent en gevestigde waarden, uit binnen- en uit buitenland zorgen telkens weer voor een wonderlijke ervaring in karaktervolle tentoonstellingsplekken: een verlaten herenhuis, de kelder van een brouwerij, … Een unieke kunstbeleving ontstaat uit het samengaan van beeldende kunst en poëzie in verrassende, karaktervolle ruimtes
De 40ste editie van het Kunstenfestival Watou staat voor beweging, meerstemmigheid, menselijkheid en intensiteit. 'Watou 2021' nodigt het publiek uit om te kijken, te lezen, te voelen, te reflecteren en te verbinden. Met de kunst, de poëzie, de natuur en met elkaar. Bezoekers bewegen zich tussen de drie hoeken van het parcours: Watou, het kunstdorp zelf, de Gasthuiskapel in het centrum van Poperinge en de nieuwe locatie, het Kasteel De Lovie, daartussen.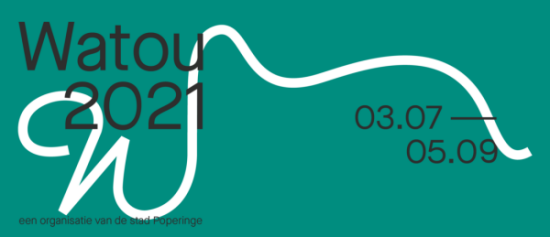 Kunst en poëzie dringen volgens de curatoren altijd meervoudige perspectieven op: "Heel wat vormen en inhoudelijke visies bestaan gelijktijdig en zonder hiërarchie. Er is geen groot gelijk, er is geen waarheid, er is alleen meerstemmigheid en die meerstemmigheid is een rijkdom."
'Watou 2021' presenteert werk van 40 kunstenaars uit binnen- en buitenland, van verschillende generaties en met diverse achtergronden. De focus ligt op creaties, verrassende samenwerkingen en werk dat nooit eerder in Vlaanderen te zien was. De selectie poëzie weerspiegelt eenzelfde meerstemmigheid. Er is werk te lezen én te horen van 40 dichters: van overleden dichters tot gevestigde namen en jonge dichters en debutanten. Een aantal gedichten wordt ingelezen door ondermeer Wannes Cappelle, Zwangere Guy, Charlotte Adigéry en Lander Gyselinck.
Het programma bevat onder andere optredens en performances van Esther Kläs & Gustavo Gomes, Stefan Hertmans, Catharina van Eetvelde en Claron McFadden, IKRAAAN, CHVE / Colin H van Eeckhout, Fulco, Les Âmes Perdues, Marieke Lucas Rijneveld én Wannes Cappelle en Nicolas Callot en Koen Vanmechelen, curator van het experimentele traject Patchwork.
Als de wereld onder onze ogen aan het veranderen is en we nog niet kunnen benoemen wat we zien. Als alles wat we al decennia denken en voor waar aannemen onder druk staat. Als we ons, beroofd van onze zekerheden, onveilig voelen. Als de wereld complex is geworden, dan is er één plek waar al die onzekerheden, al dat geweld, al die onrust, al die complexiteit, en ook al die schoonheid en al dat verlangen samenkomen: de kunst. Daar is het dat we intens leven, tijdens het maken van kunst, het ervaren van kunst, en het herinneren van kunst. 'Watou 2021' is een uitnodiging om poëzie en beeldende kunst te ervaren met hersenen, zintuigen en gevoelens. Om vervuld te worden van die complexiteit, van die meerlagigheid.
'Watou 2021' vertrekt vanuit de mens zelf. Wat is onze rol en positie in deze wereld? Wat is de impact van de recente transformaties op ons menszijn? Door de aanwas van technologie en artificiële intelligentie, maar ook door de crisis die we meemaken, leunen we niet alleen op onze rationele, maar ook op onze emotionele, spirituele, intuïtieve en biologische intelligentie.
Het vertrouwde werd vervangen door het confronterende en het oncomfortabele. Het daagt ons uit om onze blik open en dynamisch te houden. Met beweging als constante. Naar de ander en het andere.
Kunst en poëzie dringen altijd meervoudige perspectieven op: heel wat vormen en inhoudelijke visies bestaan gelijktijdig en zonder hiërarchie. Er is geen groot gelijk, er is geen waarheid, er is alleen meerstemmigheid en die meerstemmigheid is een rijkdom.
W A T O U  2 0 2 1
Kunstenaars
Arocha & Schraenen – Sarah & Charles – Leyla Aydoslu – Blauwhaus – Melanie Bonajo – Peter Buggenhout – N. Dash – Michael Dean – Lieven De Boeck – Ella de Burca – Anouk De Clercq – Edith Dekyndt – Bram Demunter – Tracey Emin – Bendt Eyckermans – Mekhitar Garabedian – Gijs Van Vaerenbergh – Nadia Guerroui – Esther Kläs – Margaret Lee – Bart Lodewijks & Jan Kempenaers – Ariane Loze – Ives Maes – Mark Manders – Neo Matloga – Vincent Meessen – Lucy Skaer – Socle – Joris Van de Moortel – Catharina Van Eetvelde – Luca Vanello – Johan Van Geluwe – Eva Vermandel – Leon Vranken – Ugo Rondinone – Zhang Yunyao
Dichters
Anellie David – Anna Enquist – Anne Vegter – Armando – Bernke Klein Zandvoort – Cees Nooteboom – Charlotte Van den Broeck – Chris Lomans – Dean Bowen – Dominique De Groen – Erwin Mortier – Estelle Boelsma – Geert Buelens – Gerrit Kouwenaar – Gertrude Starink – Hester Knibbe – J.V. Neylen – Jan Arends – Jan de Roek – Jos De Haes – Lamia Makaddam – Lara Taveirne – Laurine Verweijen – Levina van Winden – M. Vasalis – Marieke Lucas Rijneveld – Mattijs Deraedt – Miriam Van Hee – Nele Buyst – Paul Van Ostaijen Piet Gerbrandy – Poli Roumeliotis – René Van Gijsegem – Roelof ten Napel – Sanne Kabalt – Sasja Janssen – Stefan Hertmans – Thomas Möhlmann – Tonnus Oosterhoff – Yousra Benfquih
M E E R   I N F O R M AT I E
en tickets
www.kunstenfestivalwatou.be
KUNSTENFESTIVAL WATOU
een organisatie van de stad POPERINGE
Grote Markt 1, 8970 Poperinge (BE)
kunstenfestival@poperinge.be
• fleursdumal.nl magazine
More in: #More Poetry Archives, - Book Lovers, AUDIO, CINEMA, RADIO & TV, Bergh, Carl, Gerrit Kouwenaar, Historia Belgica, Literary Events, Marieke Lucas Rijneveld, Paul van Ostaijen, Paul van Ostaijen, Performing arts, Photography, Street Art, STREET POETRY, Street Poetry, Vasalis, M., Watou Kunstenfestival
---
Gulden Sporen
Negentienhonderd Zestien
In dertienhonderd en twee
beken naar de stroom, stromen naar de zee,
zó de verdedigers van het vlaamse-gemeente-sisteem, sterk in de strijd,
wal, tegen de aanval van de franse leenroerigheid;
zee-wal, pal, als de Rode Zee ten tijde van de Eksode
was, tocht van godsvolk naar Kanaäan, tocht der Joden.
Maar negentienhonderd zestien
zal, zij aan zij,
pal, rij op rij,
het aktieve leger groeien zien,
tot een wil en tot een daad,
gekromd de rug en vuist gebald, die de vijand slaat
en de nacht; breekt de dag door dageraad.
Negentienhonderd zestien, jaar dat woord werd,
woord dat vlees werd,
leger van ons land,
wachtersdaad bij wachterswoord en -hand.
Vastberaân, wij staan
in kamp. Wij staan.
… Ik en de stad …
Paul van Ostaijen
(1896 – 1928)
Gulden Sporen
Negentienhonderd Zestien
• fleursdumal.nl magazine
More in: Archive O-P, Archive O-P, Ostaijen, Paul van, Paul van Ostaijen
---
How do you begin a future that has essentially already ended, separated from your home, your language and yourself by a stretch of water? Kurt Schwitters is forty-nine years old when the Nazis force him to flee Germany. His success, work, possessions, parents, and wife Helma stay behind – and art gives way to the art of survival.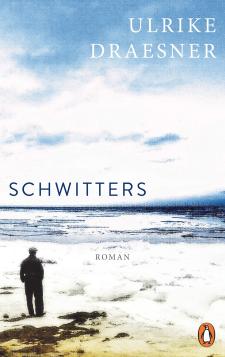 Schwitters's second life in a foreign language begins in Norway, then takes him to London and finally to the Lake District. Wantee, the new woman at his side, keeps him on course and his head above water, even when the word artist falls silent. With his Merzbau installation, Schwitters has discovered a new way to capture sky and serenity, shimmering meadows and transparent air. He is ludicrously disciplined, to the point of exhaustion. As we watch him at work, we learn that art doesn't interpret the world: It translates it into forms that move us.
In Schwitters in the Lakes, Ulrike Draesner follows the writer and artist Kurt Schwitters into exile, giving voice to Kurt, his wife, his son and his lover. Through a virtuoso blend of fact and fiction, she has created a panorama of a time when the struggle for freedom and art was renewed in the face of a world on fire.
A profound yet witty novel about the power of art in dark times.
Ulrike Draesner, born in 1962, is a lyricist, novelist and essayist. She studied English, German and philosophy and has worked as an academic, translator and editor. She has published poetry collections, short stories, and novels, and held posts at several renowned universities such as the Swiss Literature Institute in Biel. She was a Visiting Fellow at New College, Oxford and at the Oxford Research Centre in the Humanities and is professor for German Literature and Creative Writing at the Deutsche Literaturinstitut Leipzig. Ulrike Draesner has received numerous awards.
Ulrike Draesner
Schwitters in the Lakes
Hardcover with jacket
480 pages
13.5 x 21.5 cm
Publishing House: Penguin
ISBN: 978-3-328-60126-5
Date of publication: August 24, 2020
€ 25.00
# new novel
Schwitters in the Lakes
Kurt Schwitters (1887 – 1948)

• fleursdumal.nl magazine
More in: - Book News, Archive C-D, Archive S-T, DADA, Kurt Schwitters, Kurt Schwitters, Schwitters, Kurt
---
George Grosz
Manchmal spielen bunte Tränen
In seinen äschernen Augen.
Aber immer begegnen ihm Totenwagen,
Die verscheuchen seine Libellen.
Er ist aberglaubig–
–Ward unter einem großen Stern geboren–
Seine Schrift regnet,
Seine Zeichnung: Trüber Buchstabe.
Wie lange im Fluß gelegen,
Blähen seine Menschen sich auf.
Mysteriöse Verlorene mit Quappenmmäulern
Und verfaulten Seelen.
Fünf träumende Totenfahrer
Sind seine silbernen Finger.
Aber nirgendwo ein Licht im verirrten Märchen
Und doch ist er ein Kind,
Der Held aus dem Lederstrumpf
Mit dem Indianerstamm auf Duzfuß.
Sonst haßt er alle Menschen,
Sie bringen ihm Unglück.
Aber Georg Grosz liebt sein Mißgeschick
Wie einen anhänglichen Feind.
Und seine Traurigkeit ist dionysisch,
Schwarzer Champagner seine Klage.
Er ist ein Meer mit verhängtem Mond,
Sein Gott ist nur scheintot.
Else Lasker-Schüler
(1869 – 1945)
George Grosz
aus: Die Kuppel. Paul Cassirer, Berlin 1920
• fleursdumal.nl magazine
More in: Archive K-L, Archive K-L, Expressionism, Expressionisme, FDM in Berlin, Lasker-Schüler, Else
---
'Jardin de Tendresse' (Tuin der Tederheid) in het 'Metropolitan Museum Tilburg'
De raamtentoonstellingen aan de Stedekestraat ('Metropolitan Museum Tilburg') laten deze zomer een 'tuin der tederheid' zien, waarmee het museum wederom reageert op deze donkere tijden van corona. Te zien vanaf vrijdagavond 12 juni 2020, Stedekestraat 15 te Tilburg.
De 'anderhalvemetersamenleving', ze is er dan toch van gekomen. Afstand als nieuwe normaal. Wie had dat ooit kunnen denken? Geen hand meer reiken om de ander vriendelijk te begroeten? Geen spontane omhelzingen meer met vrienden en vriendinnen? Geen knuffels meer aan kinderen en kleinkinderen? Niet meer zoenen op het zebrapad? Nooit meer vrijen op het strand? Waar leven we nog voor? Veiligheid voor alles? Echt waar? Gelamineerd door het leven en virtuele gemeenschap?
"Alles van waarde is weerloos," schreef de dichter Lucebert, meteen gevolgd door de magistrale regel: "wordt van aanraakbaarheid rijk en aan alles gelijk!" Aanraking, hoe lang kan een mens zonder? Zonder af te glijden naar een troosteloos robottenbestaan? Waar gaan we heen?
Vandaar een tentoonstelling. Heeft kunst tenminste nog enige zin in deze donkere dagen. En dus nodigen wij u met alle plezier uit voor de expositie 'Jardin de Tendresse' ('Tuin der Tederheid') van Sjon Brands. Een speelse 'exposition dansante', uitgevoerd in bewegende assemblages van alledaagse gebruiksvoorwerpen en speelgoed. Een onbevangen feest van aanraking, tederheid en kwetsbaarheid, te zien in het 'Metropolitan Museum Tilburg'. Welkom! Komt dat zien! Dag en nacht, zeven dagen in de week! Reserveren niet nodig.
◊  Dorith van der Lee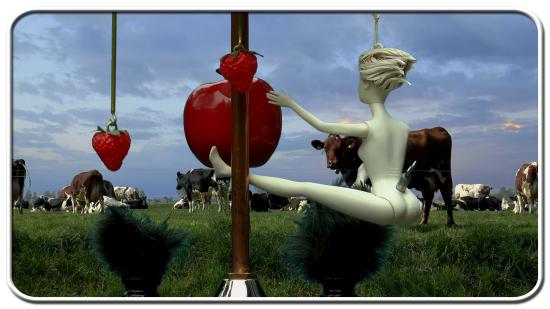 Raamtentoonstelling Sjon Brands:
  'Jardin de Tendresse' ('Tuin der Tederheid')
  vrijdag 12 juni t/m 15 september 2020
  dagelijks, dag en nacht, toegang vrij
  'Metropolitan Museum Tilburg'
  Stedekestraat 15, 5041DM Tilburg
  website: www.metropolitanmuseum.nl
  • fleursdumal.nl magazine
More in: - Objets Trouvés (Ready-Mades), Art & Literature News, Brands, Sjon, Exhibition Archive, Metropolitan Museum Tilburg, Sculpture, Sjon Brands, Surrealism, SURREALISM, Surrealisme, Theater van de Verloren Tijd
---
De eer.
t Is een
kanon.
't Is een
geweer….
Men schiet.
Men moordt:
Maar 't is
voor d'eer!
Men steekt
elkaar
een mes
in 't hart,
En zie
zoo'n daad
is wit,
niet zwart.
Want 't is
voor d'eer!
Men steelt.
Men brandt.
En zie
't is goed,
want 't is
voor 't land!
Vervloekt
die eer!
Vervloekt
dat land!
Vervloekt
de mensch!
Vervloekt
de hand,
die grijpt
naar 't zwaard,
die grijpt
naar d'eer,
die grijpt
in bloed.
Steeds meer.
Steeds weer.
Weg met
die eer!
Z'is voos!
Z'is rot!
Wat maakt
zij van
den mensch?
Een zot!
Agnita Feis
(1881 – 1944)
Uit: Oorlog. Verzen in Staccato (1916).
De eer
• fleursdumal.nl magazine
More in: *War Poetry Archive, Agnita Feis, Antony Kok, Archive E-F, De Stijl, Doesburg, Theo van, Feis, Agnita, Theo van Doesburg, Theo van Doesburg (I.K. Bonset), WAR & PEACE
---
Tilburg is bij uitstek een stad van samenwerking. Aan de basis van het bloeiende culturele klimaat in deze stad bewegen zich talloze kunstenaars uit allerlei richtingen die met elkaar samenwerken, elkaar motiveren en inspireren. Hard nodig in deze tijd, waarin het voor nogal wat kunstenaars een kwestie van overleven is.
Ondanks uiteenlopende verschillen in hun werk hebben Niko de Wit en Sjon Brands elkaar gevonden. De Wit's beelden zijn abstracter en doortrokken van elementaire vormen, Brands' werk is herkenbaar aan onderdelen en eerder surrealistisch als geheel. Desondanks hebben zij elkaar getroffen in eenzelfde speelse gezindheid bij het maken van beelden.
De tentoonstelling 'Homo Ludens' draait om de spelende mens, spelen als noodzakelijke voorwaarde voor beschaving, cultuur en kunst. Johan Huizinga's magistrale werk 'Homo Ludens', onderscheidde de spelende mens als tegenhanger van de denkende mens (homo sapiens) en de werkende mens (homo faber).
Hij benoemde spelen als fundament ván onze cultuur, als een ode aan vrijheid, alleen in vrijheid kan spel zich ontplooien en cultuur zich ontwikkelen. Spelen vereist, volgens Huizinga, concentratie, doelgerichte aandacht en vrijheid van beslommeringen. Onze hedendaagse samenleving met zijn massamedia verwart en versnippert daarentegen denken en activiteit, is niet meer in staat voor zichzelf een grote vorm of een leidend ideaal te vinden. Voor beide kunstenaars in deze expositie is spelen derhalve een 'conditio sine qua non' voor onderzoeken, ontdekken, oorspronkelijkheid, èn plezier.
Niko de Wit
Beeldhouwer Niko de Wit (Bergen op Zoom, 1948) viert dit jaar zijn vijftigjarig jubileum als beeldhouwer en is vooral bekend van zijn architecturale en monumentale werken. In Tilburg de 'Dansende Schilpadden' in de Muzentuin en de 'Poort' op Carré. Hoewel deze werken soms wat ernstig ogen, kenmerkt Niko's ontwerpproces boven­genoemde grondhouding: spelen. Hij combineert inhoudelijk niet bij elkaar horende artefacten tot nieuwe, wat vervreemding oproepende, beelden. Via spelen met vormen, omkeren en experimenteren met gietprocessen. Als hij vertelt over zijn nieuwe oeuvre aan kleinschalige verrassende beelden in brons danst het plezier in zijn ogen.
Sjon Brands
Sjon Brands (Tilburg, 1948) is beeldend kunstenaar en maakt beelden uit gebruiksvoorwerpen en speelgoed, zoals dadaïstisiche paradijsvogels, grote flamboyante luchtschepen, ready-mades en satirische installaties van (protesterende) Barbie's. Hij werkt niet vanuit vooraf bedachte concepten, zijn werk ontstaat uit het spelen met (onderdelen van) objecten die hij in de loop van de tijd heeft gevonden, verzameld of gekregen, uit het eindeloos combineren van verschillende vormen, omkeren, anders proberen, heel veel kijken en ook toeval. Spelen dus.
'H O M O L U D E N S'
(de spelende mens)
tentoonstelling 'LocHal' Tilburg
1 maart t/m 31 augustus 2020
SJON BRANDS & NIKO DE WIT
absurdistische assemblages & bronstransformaties
plaats: 'LocHal', vitrines begane grond,
Burgemeester Brokxlaan 1000, 5041SG Tilburg
(achterzijde NS-station Tilburg-Centrum)
tijden: 1 maart t/m 31 augustus 2020,
open: ma/vr 8-22h, za 9-17h, zo 12-17h
• fleursdumal.nl magazine
More in: Art & Literature News, AUDIO, CINEMA, RADIO & TV, Exhibition Archive, FDM Art Gallery, Sjon Brands, Surrealism, Surrealisme, Theater van de Verloren Tijd
---
De pijl uit de aero.
Daar gaat
er een.
Pas op
span goed.
Straks zien
we weer
dat rood,
dat bloed.
Hoera!
Mik goed.
Het hart
doorboord.
Of neen
hem niet
direct
vermoord!
'k Heb spijt
dat staal
niet brandt
niet pijnt.
Eén steek:
't Is uit:
De dood
verschijnt.
Alweer
een dood!
Geen kik,
geen kreet.
Dat is
niet schoon!
Geen pijn!
Geen leed!
Daal neer!
Ik doe
't niet meer:
't Is flauw!
Bloed, bloed!
'k Verkies
het zwaard!
De houw!
Agnita Feis
(1881 – 1944)
Uit: Oorlog. Verzen in Staccato (1916).
De pijl uit de aero
Portret: Theo van Doesburg
• fleursdumal.nl magazine
More in: *War Poetry Archive, Agnita Feis, Antony Kok, Archive E-F, De Stijl, Doesburg, Theo van, Feis, Agnita, Kok, Antony, Theo van Doesburg, WAR & PEACE
---
Begegnung
Dein Gehen lächelt in mich über
Und
Reißt das Herz.
Das Nicken hakt und spannt.
Im Schatten deines Rocks
Verhaspelt
Schlingern
Schleudert
Klatscht!
Du wiegst und wiegst.
Mein Greifen haschet blind.
Die Sonne lacht!
Und
Blödes Zagen lahmet fort
Beraubt beraubt!
August Stramm
(1874-1915)
Begegnung, 1914
• fleursdumal.nl magazine
More in: *War Poetry Archive, Archive S-T, Expressionism, Stramm, August
---
De verminkte.
De borst
verscheurd.
Het been
in gruis.
Hoera!
Lang leev'
het krijgs-
gedruisch!
Dat hinkt.
Dat kermt.
Dat stuipt.
Dat bloedt.
Hoera!
Hoera!
Die moord
is goed!
Agnita Feis
(1881 – 1944)
Uit: Oorlog. Verzen in Staccato (1916).
De verminkte
• fleursdumal.nl magazine
More in: *War Poetry Archive, Agnita Feis, Antony Kok, Archive E-F, De Stijl, Feis, Agnita, Theo van Doesburg, WAR & PEACE
---
A vast cultural movement is emerging from outside the Western world. Truly global in its range and allure, it is the biggest challenge yet to Hollywood, McDonald's, blue jeans, and other aspects of American mass-produced popular culture. This is a book about the new arbiters of mass culture ―India's Bollywood films, Turkey's soap operas, or dizi, and South Korea's pop music.

Carefully packaging not always secular modernity, combined with traditional values, in urbanized settings, they have created a new global pop culture that strikes a deeper chord than the American version, especially with the many millions who are only just arriving in the modern world and still negotiating its overwhelming changes.
Fatima Bhutto, an indefatigable reporter and vivid writer, profiles Shah Rukh Khan, by many measures the most popular star in the world; goes behind the scenes of Magnificent Century, Turkey's biggest dizi, watched by more than 200 million people across 43 countries; and travels to South Korea to see how K-Pop started. Bhutto's book is an important dispatch from a new, multipolar order that is taking form before our eyes.
Fatima Bhutto was born in Kabul, Afghanistan and grew up between Syria and Pakistan. She is the author of five previous books of fiction and nonfiction. Her debut novel, The Shadow of the Crescent Moon, was long listed for the Bailey's Women's Prize for Fiction and the memoir about her father's life and assassination, Songs of Blood and Sword, was published to acclaim. Her most recent book is The Runaways, a novel.
She graduated from Barnard with a degree in Middle Eastern Languages and Cultures and has a masters in South Asian Government and politics from SOAS.
New Kings of the World: Dispatches from Bollywood, Dizi, and K-Pop
by Fatima Bhutto
Product details
Paperback: 206 pages
Publisher: Columbia Global Reports
Language: English
ISBN-10: 1733623701
ISBN-13: 978-1733623704
Product Dimensions: 5.2 x 0.8 x 7.8 inches
#68 in Communication & Media Studies
#110 in Popular Culture in Social Sciences
#132 in Pop Culture Art
Price: $15.99
E-Book price: $15.99
E-book ISBN: 978-1-7336237-1-1
On Sale: September 24, 2019
Pages: 207
# more books
Fatima Bhutto:
New Kings of the World: Dispatches from Bollywood, Dizi, and K-Pop
• fleursdumal.nl magazine
More in: - Book News, - Book Stories, Archive A-B, AUDIO, CINEMA, RADIO & TV, BEAT GENERATION, EXPRESSIONISM, DADA & DE STIJL, SURREALISM, Fatima Bhutto, LITERARY MAGAZINES
---
Het land is stom
Geen kleur.
Geen klank.
Het land
is stom.
Slechts oog
en oor
voor zwaard
en trom.
O mensch
verhef
uw stem
dan toch!
Gil, krijsch,
huil, brul!
't Is tijd,
nu nog.
Maar straks
niet meer……….
Het vuur
brandt voort.
't Verteert.
't Verkoolt……….
't Blijft stil.
Geen woord.
Geen kleur.
Geen klank:
Het land
is stom.
Slechts oog
en oor
voor zwaard
en trom.
Agnita Feis
(1881 – 1944)
Uit: Oorlog. Verzen in Staccato (1916).
Het land is stom
•fleursdumal.nl magazine
More in: *War Poetry Archive, Antony Kok, Archive E-F, De Stijl, Doesburg, Theo van, Feis, Agnita, Kok, Antony, Theo van Doesburg, WAR & PEACE
---
Older Entries »
Thank you for reading FLEURSDUMAL.NL - magazine for art & literature