EXPRESSIONISM, DADA & DE STIJL, SURREALISM
·
Hugo Ball: Totentanz 1916
·
August Stramm: Erfüllung (Gedicht)
·
The Salt Companion to Mina Loy
·
Poetic Salvage. Reading Mina Loy by Tara Prescott
·
Thanks for the View, Mr. Mies: Lafayette Park, Detroit
·
Jean Cocteau: Metamorphosis. Expositie en boek
·
Mina Loy's Critical Modernism by Laura Scuriatti
·
Robert Desnos: Jack l'Égareur
·
August Stramm: Ich (Gedicht)
·
August Stramm: Weltwehe (Gedicht)
·
August Stramm: Feuertaufe (Gedicht)
·
Hugo Ball: Der Henker
Totentanz 1916
So sterben wir, so sterben wir
Und sterben alle Tage,
Weil es so gemütlich sich sterben lässt.
Morgens noch in Schlaf und Traum,
Mittags schon dahin,
Abends schon zu unterst im Grabe drin.
Die Schlacht ist unser Freudenhaus,
Von Blut ist unsre Sonne,
Tod ist unser Zeichen und Losungswort.
Kind und Weib verlassen wir:
Was gehen sie uns an!
Wenn man sich auf uns nur verlassen kann!
So morden wir, so morden wir
Und morden alle Tage
Unsere Kameraden im Totentanz.
Bruder, reck Dich auf vor mir!
Bruder, Deine Brust!
Bruder, der Du fallen und sterben musst.
Wir murren nicht, wir knurren nicht,
Wir schweigen alle Tage
Bis sich vom Gelenke das Hüftbein dreht.
Hart ist unsre Lagerstatt,
Trocken unser Brot,
Blutig und besudelt der liebe Gott.
Wir danken Dir, wir danken Dir,
Herr Kaiser für die Gnade,
Dass Du uns zum Sterben erkoren hast.
Schlafe Du, schlaf sanft und still,
Bis Dich auferweckt
Unser armer Leib, den der Rasen deckt.
Hugo Ball
(1886-1927)
Totentanz 1916
• fleursdumal.nl magazine
More in: Archive A-B, Ball, Hugo, Dada, DADA, Dadaïsme
---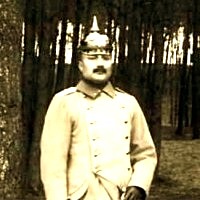 Erfüllung
Meine Sporen frechzen deine Spitzen!
Bläulich kichern die Aederchen fort
In Sicherheit höhnisch
Im
Schimmrigen Weich
Bebige Hügel wiegen Verlangen
Köpfchen rosen empor und steilen Gewähr.
Die Lippe zerfrißt sich!
Golden ringeln Würger hinunter
Und schnüren den Hals zu
Nach meinen Fingern tastet dein Blut
Und siedet den Kampf.
Die Seelen ringen und kollern abseit!
Hoch schlagen die Röcke den Blick auf
Goldhellrot
Rotweichrot
Flamme zischt in das Hirn
Und sticht mir das Schaun aus!
Sinken Sinken
Schweben und Sinken
Schwingen im Sturme
Im Sturm
Im schreikrollen Meer!
Ziegelrot
Ueber uns segnet der Tod
Säender Tod!
August Stramm
(1874-1915)
Erfüllung, 1914
• fleursdumal.nl magazine
More in: *War Poetry Archive, Archive S-T, Expressionism, Stramm, August
---
Mina Loy (1882-1966) formed part of the new generation of poets who revolutionised writing in the early twentieth century.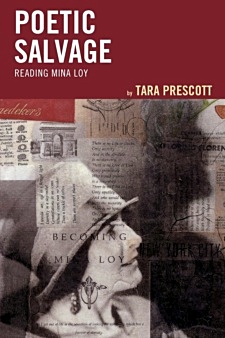 She had personal and artistic links to Italian Futurism and Parisian Surrealism, as well as to individuals such as James Joyce, Ezra Pound, Wyndham Lewis, Djuna Barnes and Gertrude Stein. Working with reference to, but also often against the ideas of these fellow writers, her experimental, witty and inconoclastic poems were both distinctive and arresting.
Since the republication of her poems in 1996-7, Loy has gained in stature and importance both in the UK and the US: her writing is now seen as central to literary innovations in the 1910s and 1920s, and she is often a set author on undergraduate and MA courses. Apart from the collection of essays Mina Loy: Woman and Poet published twelve years ago, there is currently no single book on Loy's work in print. The Companion will be an invaluable new resource for students and readers of modernism. It provides new perspectives and cutting-edge research on Loy's work and is distinctive in its consideration of her prosodic and linguistic experiments alongside a discussion of the literary and historical contexts in which she worked.
The contributors include influential and emerging experts in modernist studies. They are Peter Nicholls, Tim Armstrong, Geoff Gilbert, David Ayers, Andrew Robertson, John Wilkinson, Suzanne Hobson, Rachel Potter, Alan Marshall, Rowan Harris and Sandeep Parmar.
The Salt Companion to Mina Loy
Edited by Dr Rachel Potter ,
Associate editor Suzanne Hobson
The Salt Companion to Mina Loy comprises ten essays by leading scholars and writers on the work of modernist poet Mina Loy.
Format Paperback
Language English
288 pages
228 x 152mm
Publication date 17 May 2010
Publisher Salt Publishing
Publication City/Country Applecross, WA, Australia |
ISBN10 1876857722
ISBN13 9781876857721
£19.99
# More books
The Salt Companion to Mina Loy
Literary studies
• fleursdumal.nl magazine
More in: - Book Lovers, - Book Stories, Archive K-L, Archive K-L, Futurism, Loy, Mina
---
Mina Loy (1882 – 1966)—poet, artist, exile, and luminary—was a prominent and admired figure in the art and literary circles of Paris, Florence, and New York in the early years of the twentieth century.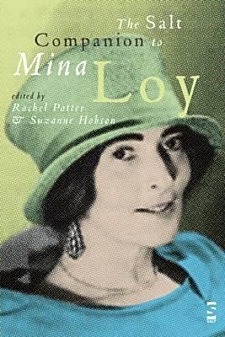 But over time, she gradually receded from public consciousness and her poetry went out of print.
As part of the movement to introduce the work of this cryptic poet to modern audiences, Poetic Salvage: Reading Mina Loy provides new and detailed explications of Loy's most redolent poems.
This book helps readers gain a better understanding of the body of Loy's work as a whole by offering compelling close readings that uncover the source materials that inspired Loy's poetry, including modern artwork, Baedeker travel guides, and even long-forgotten cultural venues.
Helpfully keyed to the contents of Loy's Lost Lunar Baedeker, edited by Roger Conover, this book is an essential aid for new readers and scholars alike. Mina Loy forged a legacy worthy of serious consideration—through a practice best understood as salvage work, of reclaiming what has been so long obscured.
Poetic Salvage: Reading Mina Loy dives deep to bring hidden treasures to the surface.
Tara Prescott is a lecturer in writing programs at the University of California, Los Angeles.
Poetic Salvage.
Reading Mina Loy
by Tara Prescott
Hardcover
292 pages
Publisher: Bucknell University Press
Language: English
Literature & Fiction
ISBN-10: 1611488125
ISBN-13: 978-1611488128
2016
$76.80
# New books
Poetic Salvage
Reading Mina Loy
Tara Prescott
• fleursdumal.nl magazine
More in: - Book Lovers, - Book Stories, Archive K-L, Archive K-L, Futurism, Loy, Mina
---
"See glossy photos of bathroom doorknobs and mail slots, learn more about early community newsletters, whistle with the neighborhood bagpiper. In two words: be amazed." –Sebastian Hofer, The Detroit News
Lafayette Park, a middle-class residential area in downtown Detroit, is home to the largest collection of buildings designed by Ludwig Mies van der Rohe in the world.
Throughout the 1990s and 2000s, it remained one of Detroit's most racially integrated and economically stable neighborhoods, although it was surrounded by evidence of a city in financial distress.
Through interviews with and essays by residents, reproductions of archival material: new photographs by Karin Jobst, Vasco Roma and Corine Vermeulen, and previously unpublished photographs by documentary filmmaker Janine Debanné.
Thanks for the View, Mr. Mies examines the way that Lafayette Park residents confront and interact with this unique modernist environment.
This book is a reaction against the way that iconic modernist architecture is often represented. Whereas other writers may focus on the design intentions of the architect, authors Aubert, Cavar and Chandani seek to show the organic and idiosyncratic ways in which the people who live in Lafayette Park actually use the architecture and how this experience, in turn, affects their everyday lives.
Thanks for the View, Mr. Mies was originally published in 2012, two years before the city of Detroit entered into the largest municipal bankruptcy in the country.
The 2019 edition of Thanks for the View, Mr. Mies includes a revised introduction and two new texts by Lafayette Park residents, and authors, Marsha Music and Matthew Piper.
Music and Piper reflect on the changes the neighborhood underwent between 2012 and 2018, when the city went through and emerged from bankruptcy and entered into a new phase, as a desirable place for real estate investment.
Thanks for the View, Mr. Mies
Lafayette Park, Detroit
Edited by Danielle Aubert, Lana Cavar, Natasha Chandani. Text by Danielle Aubert, Lana Cavar, Natasha Chandani, Marsha Music, Matthew Piper.
URBAN STUDIES AND THEORY
Publisher Metropolis Books
Forthcoming | 4/23/2019
Paperback, 6.5 x 9.5 in.
304 pgs
Illustrated throughout
ISBN 9781942884408
$29.95
# New books
Thanks for the View, Mr. Mies
Lafayette Park, Detroit
URBAN STUDIES AND THEORY

• fleursdumal.nl magazine
More in: - Book News, - Bookstores, Architecture, Archive Q-R, Art & Literature News, Bauhaus, Bauhaus, De Stijl, Modernisme
---
Jean Cocteau (1889 – 1963) is een kunstenaar die tot de verbeelding spreekt. Hij uitte zich in bijna alle artistieke media: poëzie, literatuur, beeldende kunst, vormgeving, theater en zijn favoriete medium: film.
Meer nog dan om zijn werk was Cocteau bekend om zijn opmerkelijke leven. Hij omgaf zich met beroemdheden als Sergei Diaghilev, Edith Piaf, Pablo Picasso en Coco Chanel, en raakte geregeld in opspraak vanwege zijn homoseksualiteit en drugsgebruik.
Het oeuvre van Cocteau was een voorbode van de multidisciplinaire praktijken van ontwerpers en kunstenaars van nu. Jean Cocteau | Metamorphosis werpt licht op zijn voortdurende zelftransformatie en zijn zoektocht naar een eigen identiteit. In de hedendaagse maatschappij, waarin het emancipatiedebat weer hoogtij viert en waarin de persoonlijke beeld-en identiteitsvorming in hoge mate beïnvloedbaar is, zijn Cocteau's leven en werk opnieuw actueel.
Zoals jonge mensen zich tegenwoordig digitaal een identiteit aanmeten, had Cocteau de gave om zichzelf via diverse media steeds met andere ogen te bezien en te laten zien. Jean Cocteau | Metamorphosis toont veel van die gezichten, in woord en in beeld.
Jean Cocteau
Metamorphosis
door Ioannis Kontaxopoulos
november 2018
ISBN 978-94-6208-470-4
design: Berry van Gerwen
Nederlands, Frans
paperback
17 x 24 cm
320 pag.
geillustreerd (150 kleur)
in samenwerking met: Design Museum den Bosch
NAi Boekverkopers / Booksellers
€ 34,95
De tentoonstelling over Jean Cocteau in het Design Museum Den Bosch, loopt nog tot en met 10 maart 2019.
# New books
Jean Cocteau
Metamorphosis
• fleursdumal.nl magazine
More in: - Book News, - Bookstores, Archive C-D, Archive C-D, Art & Literature News, DANCE, Design, Exhibition Archive, FDM Art Gallery, Jean Cocteau, Maison de la Poésie, Museum of Literary Treasures, Surrealism, SURREALISM, Surrealisme, THEATRE
---
This book provides a fresh assessment of the works of poet and painter Mina Loy (1882 – 1966).

Laura Scuriatti shows how Loy's "eccentric" writing and art celebrate ideas and aesthetics central to the modernist movement while simultaneously critiquing them, resulting in a continually self-reflexive and detached stance that Scuriatti terms "critical modernism."
Drawing on neglected archival material, Scuriatti illuminates the often-overlooked influence of Loy's time spent amid Italian avant-garde culture. In particular, she considers Loy's assessment of the nature of genius and sexual identity as defined by philosopher Otto Weininger and in Lacerba, a magazine founded by Futurist leader Giovanni Papini. She also investigates Loy's reflections on the artistic masterpiece in relation to the world of commodities; explores the dialogic nature of the self in Loy's autobiographical projects; and shows how Loy used her "eccentric" stance as a political position, especially in her later career in the United States.
Offering new insights into Loy's feminism and tracing the writer's lifelong exploration of themes such as authorship, art, identity, genius, and cosmopolitanism, this volume prompts readers to rethink the place, value, and function of key modernist concepts through the critical spaces created by Loy's texts.
Laura Scuriatti, professor of English and comparative literature at Bard College Berlin, is coeditor of The Exhibit in the Text: Museological Practices of Literature.
Mina Loy's Critical Modernism
Laura Scuriatti
Hardcover
320 pages
Literature – European
ISBN 13: 9780813056302
$85.00
Available for pre-order.
This book will be available in July 2019
(Pub Date: 5/7/2019)
# New books
Mina Loy
Critical Modernism
• fleursdumal.nl magazine
More in: - Book News, - Bookstores, Archive K-L, Archive K-L, Archive S-T, Art & Literature News, Futurism, Loy, Mina
---
Jack l'Égareur
À Denise
Dans les trémies du ciel
un archange nage, comme il sied, vers une usine.
Faux-monnayeurs que faites-vous de mes ongles ?
J'ai lu dans le journal un roman dont j'étais le héros
toujours à l'aise quand il fait pluie.
Mon cœur bat l'extinction des feux,
Mes yeux sont la nuit.
Je veille mes lendemains avec anxiété.
Au bout d'un an et deux jours…
alors il se fit une journée de pluie et les sept phares merveilleux
du monde…
Escadres souterraines ne vous approchez pas de mon tombeau :
Je suis employé à déclouer les vieux cercueils
pour répartir équitablement les ossements
entre les anciennes sépultures
et les neuves.
Quelle profession ? Profession de foi tu ne figures pas au Bottin.
Les photographes rougiraient si vous les regardiez en pleurant.
Je suis un mort de fraîche date.
Si vous rencontrez un corbillard déchaussez-vous,
Cela fera du bien au mort.
Il se lèvera,
il se sortira,
il chantera,
il chantera la chanson des quadrilles
et dans le futur on verra les nouveau-nés arriver au monde
escortés de squelettes.
Ce ne seront partout que grossesses de géantes,
Il sera de bon ton chez les élégantes
de faire monter en bague
les larmes solides des morts à l'occasion des naissances.
Amour haut parleur, sirène à corps d'oiseau,
je vous quitte.
Je vais goûter le silence cette belle algue où dorment les requins.
Robert Desnos (1900 – 1945)
Jack l'Égareur
À Denise
• fleursdumal.nl magazine
More in: Archive C-D, Desnos, Robert, Surrealism
---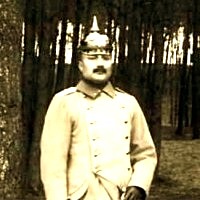 Ich
Du steht! Du steht!
Und ich
Und ich
Ich winge
Raumlos zeitlos wäglos!
Du steht! Du steht!
Und
Rasen bäret mich
Ich
Bär mich selber!
Du!
Du!
Du bannt die Zeit
Du bogt der Kreis
Du seelt der Geist
Du blickt der Blick
Du
Kreist die Welt
Die Welt
Welt!
Ich
Kreis das All!
Und du
Und du
Du
Stehst
Das Ich
Das
Ich!
August Stramm
(1874-1915)
Ich, 1914
• fleursdumal.nl magazine
More in: *War Poetry Archive, Archive S-T, Expressionism, Stramm, August
---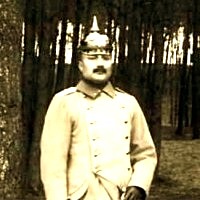 Weltwehe
Nichts Nichts Nichts
Haucht
Nichts
Hauchen
Nichts
Hauch
Wägen
Wägen wegen
Wegen regen
Stauen
Lauen
Weben schweben wallen ballen
Warmen
Biegen bogen
Wärmen
Drehen drehen
Dunsten
Streifen glimmen
Fachen
Hitzen
Glühen
Wellen
Sieden brodeln rauschen brausen
Züngeln springen
Flammen spritzen
Platzen
Knattern knallen krachen
Tausend
Null Null Null
Tausend
Null
Milliarden
Null Null Null
Weißen
Lichten
Kreisen kreisen
Bahnen
Fliegen
Kreisen kreisen
Rollen
Kugeln
Kugeln kugeln
Glatten
Kugeln
Platten
Kugeln
Kreisen
Kugeln
Dichten schichten wichten walzen wälzen
Festen
Kreisen
Pressen
Kugeln
Schmieden
Kreisen
Kernen
Kugeln
Kern.
Halten fassen kraften schwingen
Ruhen reißen sprengen
Heben senken falten
Schieben wogen
Starren
Heißen
Beben
Schweißen
Beben
Leben
Atmen
Leben
Leben leben
Zeugen
Bären
Leben leben
Blühen
Wachsen
Leben leben
Brennen
Starken
Marken
Rollen rollen
Leuchten trocknen feuchten lichten
Streben ranken
Tönen
Ringen
Kämpfen
Ringen
Ringen
Können
Wollen
Können
Schwanken
Können
Wollen
Blühen
Wollen
Rollen
Können
Kranken
Placken racken ächzen
Rollen
Wollen
Lallen
Wollen wollen
Ranken
Wollen wollen
Rollen
Drehen wehen rollen
Wollen wollen
Stürmen wollen
Drehen
Matten
Wollen
Matten
Rollen drehen
Wehen wehen
Wollen
Kreisen
Engen
Kreisen
Engen
Schwanken
Wanken
Zittern
Schwingen
Wiegen kreisen engen lockern
Trudeln krudeln
Trudeln
Schlacken
Lockern
Schlacken
Bröckeln
Aschen
Trollen trollen
Aschen
Trollen trollen
Sollen
Wollen
Stocken reißen
Sacken rasen
Rasen
Sprengen
Platzen
Schmettern
Stäuben stäuben stäuben
Schweben
Weben
Wallen
Weben
Fallen
Wegen
Reigen
Wolken
Schleichen
Flaken
Weiten
Flaken
Wachten
Steinen
Nachten
Nebeln
Nachten
Weiten
Nachten nachten
Losen
Nachten nachten
Lösen
Nachten nachten
Raumen
Nachten nachten
Zeiten
Nachten
Weiten raumen zeiten
Nachten
Zeiten zeiten
Nachten
Zeiten
Nachten
Weiten
Weiten
Nichts Nichts Nichts
Nichts.
August Stramm
(1874-1915)
Weltwehe, 1914
• fleursdumal.nl magazine
More in: *War Poetry Archive, Archive S-T, Expressionism, Stramm, August
---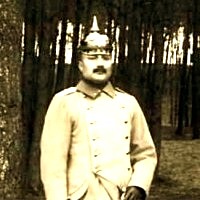 Feuertaufe
Der Körper schrumpft den weiten Rock
Der Kopf verkriecht die Beine
Erschrecken
Würgt die Flinte
Ängste
Knattern
Knattern schrillen
Knattern hieben
Knattern stolpern
Knattern
Übertaumeln
Gelle
Wut.
Der Blick
Spitzt
Zisch
Die Hände spannen Klaren.
Das Trotzen ladet.
Wollen äugt
Und
Stahler Blick
Schnellt
Streck
Das
Schicksal.
August Stramm
(1874-1915)
Feuertaufe, 1914
• fleursdumal.nl magazine
More in: *War Poetry Archive, Archive S-T, Expressionism, Stramm, August
---
Der Henker
Ich kugle Dich auf Deiner roten Decke.
Ich bin am Werk: blank wie ein Metzgermeister.
Tische und Bänke stehen wie blitzende Messer
der Syphiliszwerg stochert in Töpfen voll Gallert und Kleister.
Dein Leib ist gekrümmt und blendend und glänzt wie der gelbe Mond
deine Augen sind kleine lüsterne Monde
dein Mund ist geborsten in Wollust und in der Jüdinnen Not
deine Hand eine Schnecke, die in den blutroten Gärten voll Weintrauben und Rosen wohnte.
Hilf, heilige Maria! Dir sprang die Frucht aus dem Leibe
sei gebenedeit! Mir rinnt geiler Brand an den Beinen herunter.
Mein Haar ein Sturm, mein Gehirn ein Zunder
meine Finger zehn gierige Zimmermannsnägel
die schlage ich in der Christenheit Götzenplunder.
Als dein Wehgeschrei dir die Zähne aus den Kiefern sprengte
da brach auch ein Goldprasseln durch die Himmelssparren nieder.
Eine gigantische Hostie gerann und blieb zwischen Rosabergen stehen
ein Hallelujah gurgelte durch Apostel- und Hirtenglieder.
Da tanzten nackichte Männer und Huren in verrückter Ekstase
Heiden, Türken, Kaffern und Muhammedaner zumal
Da stoben die Engel den Erdkreis hinunter
Und brachten auf feurigem Teller die Finsternis und die Qual.
Da war keine Mutterknospe, kein Auge mehr blutunterlaufen und ohne Hoffen
Jede Seele stand für die Kindheit und für das Wunder offen.
Hugo Ball
(1886-1927)
Der Henker
fleursdumal.nl magazine
More in: Archive A-B, Ball, Hugo, Dada, DADA, Dadaïsme
---
Older Entries »
Thank you for reading FLEURSDUMAL.NL - magazine for art & literature