Archive I-J
·
David Bowie. The Oral History by Dylan Jones
·
The Circus. A Visual History by Pascal Jacob
·
James Joyce: Be Not Sad
·
James Joyce: The Twilight Turns
·
Everything Has Already Been Written: Moscow Conceptualist Poetry and Performance by Gerald Janecek
·
James Joyce: Lean Out of the Window
·
Michelle Witen: James Joyce and Absolute Music
·
James Joyce: I Would in That Sweet Bosom Be
·
Roel Janssen: 1968. You Say You Want a Revolution
·
James Joyce: Alone
·
James Joyce: Love Came to Us
·
Robert Lowell, Setting the River on Fire. A Study of Genius, Mania, and Character by Kay Redfield Jamison
Dylan Jones's engrossing, magisterial biography of David Bowie is unlike any Bowie story ever written.
Drawn from over 180 interviews with friends, rivals, lovers, and collaborators, some of whom have never before spoken about their relationship with Bowie, this oral history weaves a hypnotic spell as it unfolds the story of a remarkable rise to stardom and an unparalleled artistic path.
Tracing Bowie's life from the English suburbs to London to New York to Los Angeles, Berlin, and beyond, its collective voices describe a man profoundly shaped by his relationship with his schizophrenic half-brother Terry; an intuitive artist who could absorb influences through intense relationships and yet drop people cold when they were no longer of use; and a social creature equally comfortable partying with John Lennon and dining with Frank Sinatra.
By turns insightful and deliciously gossipy, David Bowie is as intimate a portrait as may ever be drawn. It sparks with admiration and grievances, lust and envy, as the speakers bring you into studios and bedrooms they shared with Bowie, and onto stages and film sets, opening corners of his mind and experience that transform our understanding of both artist and art.
Including illuminating, never-before-seen material from Bowie himself, drawn from a series of Jones's interviews with him across two decades, David Bowie is an epic, unforgettable cocktail-party conversation about a man whose enigmatic shapeshifting and irrepressible creativity produced one of the most sprawling, fascinating lives of our time.
Dylan Jones is the multi-award winning editor of GQ magazine. He has been an editor at i-D magazine, The Face, Arena, the Observer and the Sunday Times. He writes for the Mail on Sunday, is a Vice President of the Hay Festival and a board member of the Norman Mailer Foundation. He has written ten books and is currently working with U2 on a book celebrating their record-breaking 360° tour.
David Bowie
The Oral History
By Dylan Jones
Category: Arts & Entertainment – Biographies & Memoirs – Music
Paperback
Sep 11, 2018
576 Pages
Publisher Three Rivers Press
ISBN 9780451497840
$18.00
# new books
biography david bowie
fleursdumal.nl magazine
More in: #Biography Archives, - Book News, - Book Stories, Archive I-J, Art & Literature News, AUDIO, CINEMA, RADIO & TV, David Bowie
---
This beautiful book charts the development of the circus as an art form around the world, from antiquity to the present day.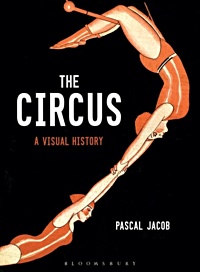 Using over 200 circus related artworks from the French National Library's private collections, celebrated cultural historian Pascal Jacob tells the story of travelling entertainers and their art and trade. From nomadic animal tamers of the Dark Ages to European jugglers and acrobats of the 1800s, from the use of the circus as Soviet propaganda to the 20th-century Chinese performance art renaissance, this is an exhaustive history with a uniquely international scope.
Jacob draws on both rare and famous artworks, including prints dating from the 13th century, and paintings by Picasso and Doré. In doing so he demonstrates the circus to be a visual and physical masterpiece, constantly moving and evolving, and just as exciting an experience for audiences now as it was 1,000 years ago.
Pascal Jacob is a prominent circus arts historian who lectures at the Sorbonne, France. He wrote on Cultural History, History and Theory of Art, Theatre History and Criticism.
The Circus
A Visual History
By: Pascal Jacob
Foreword by Marius Kwint
Published: 09-08-2018
Format: Hardback
Edition: 1st
Extent: 240 p.
ISBN: 9781350043107
Imprint: Bloomsbury Visual Arts
Illustrations: 160 colour and 40 bw illus
Price: £30.00
new books
fleursdumal.nl magazine
More in: # Music Archive, - Book Lovers, - Book Stories, Archive I-J, Art & Literature News, Futurism, The talk of the town, THEATRE
---
Be Not Sad
Be not sad because all men
Prefer a lying clamour before you:
Sweetheart, be at peace again — –
Can they dishonour you?
They are sadder than all tears;
Their lives ascend as a continual sigh.
Proudly answer to their tears:
As they deny, deny.
James Joyce
(1882-1941)
Be Not Sad
fleursdumal.nl magazine
More in: Archive I-J, Archive I-J, Joyce, James, Joyce, James
---
The Twilight Turns
The twilight turns from amethyst
To deep and deeper blue,
The lamp fills with a pale green glow
The trees of the avenue.
The old piano plays an air,
Sedate and slow and gay;
She bends upon the yellow keys,
Her head inclines this way.
Shy thought and grave wide eyes and hands
That wander as they list — –
The twilight turns to darker blue
With lights of amethyst.
James Joyce
(1882-1941)
The Twilight Turns
fleursdumal.nl magazine
More in: Archive I-J, Archive I-J, Joyce, James, Joyce, James
---
In this book, Gerald Janecek provides a comprehensive account of Moscow Conceptualist poetry and performance, arguably the most important development in the arts of the late Soviet period and yet one underappreciated in the West.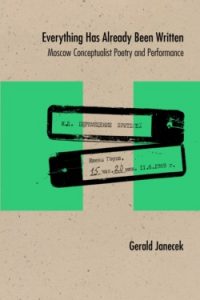 Such innovative poets as Vsevolod Nekrasov, Lev Rubinstein, and Dmitry Prigov are among the most prominent literary figures of Russia in the 1980s and 1990s, yet they are virtually unknown outside Russia. The same is true of the numerous active Russian performance art groups, especially the pioneering Collective Actions group, led by the brilliantly inventive Andrey Monastyrsky.
Everything Has Already Been Written strives to make Moscow Conceptualism more accessible, to break the language barrier and to foster understanding among an international readership by thoroughly discussing a broad range of specific works and theories. Janecek's study is the first comprehensive analysis of Moscow Conceptualist poetry and theory, vital for an understanding of Russian culture in the post-Conceptualist era.
Gerald Janecek is professor emeritus of Russian and Eastern Studies at the University of Kentucky. He is the author of The Look of Russian Literature: Avant-Garde Visual Experiments, 1900-1930; ZAUM: The Transrational Poetry of Russian Futurism; and Sight and Sound Entwined: Studies of the New Russian Poetry.
Gerald Janecek (Author)
Everything Has Already Been Written
Moscow Conceptualist Poetry and Performance
Paper Text – $39.95
ISBN 978-0-8101-3901-5
Cloth Text – $120.00
ISBN 978-0-8101-3902-2
Publication Date: December 2018
Series: Studies in Russian Literature and Theory
Literature & Criticism
Russia Drama & Performance Studies
Page Count 312 pages
Northwestern University Press
new books
fleursdumal.nl magazine
More in: #More Poetry Archives, - Book News, - Bookstores, Archive I-J, Art & Literature News, Conceptual writing, EXPERIMENTAL POETRY, Performing arts, Visual & Concrete Poetry
---
Lean Out of the Window
Lean out of the window,
Goldenhair,
I hear you singing
A merry air.
My book was closed,
I read no more,
Watching the fire dance
On the floor.
I have left my book,
I have left my room,
For I heard you singing
Through the gloom.
Singing and singing
A merry air,
Lean out of the window,
Goldenhair.
James Joyce
(1882-1941)
Lean Out of the Window
fleursdumal.nl magazine
More in: Archive I-J, Archive I-J, Joyce, James, Joyce, James
---
Drawing on draft manuscripts and other archival material, James Joyce and Absolute Music, explores Joyce's deep engagement with musical structure, and his participation in the growing modernist discourse surrounding 19th-century musical forms.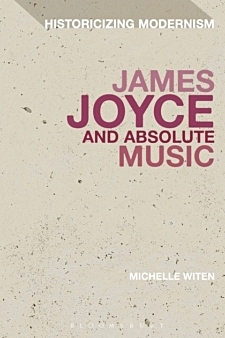 Michelle Witen examines Joyce's claim of having structured the "Sirens" episode of his masterpiece, Ulysses, as a fuga per canonem, and his changing musical project from his early works, such as Dubliners and A Portrait of the Artist as a Young Man.
Informed by a deep understanding of music theory and history, the book goes on to consider the "pure music" of Joyce's final work, Finnegans Wake.
Demonstrating the importance of music to Joyce, this ground-breaking study reveals new depths to this enduring body of work.
Towards a Modernist Condition of Absolute Music – Joyce's Early Use of Music – Joyce's fuga per canonem: A Case of Structure – Joyce's fuga per canonem: A Case of Effect – Voided Fugue in "Circe" – "It's Pure Music": Finnegans Wake
Michelle Witen is Postdoctoral Teaching and Research Fellow at the University of Basel, Switzerland.
Michelle Witen
James Joyce and Absolute Music
Published: 22-02-2018
Format: Hardback
Edition: 1st
Extent: 320 p.
ISBN: 9781350014220
Imprint: Bloomsbury Academic
Series: Historicizing Modernism
Illustrations: 9 bw illus
Dimensions: 234 x 156 mm
RRP: £85.00
literature and music
fleursdumal.nl magazine
More in: # Music Archive, Archive I-J, Archive I-J, Art & Literature News, Joyce, James, Joyce, James
---
I Would in That Sweet Bosom Be
I would in that sweet bosom be
(O sweet it is and fair it is!)
Where no rude wind might visit me.
Because of sad austerities
I would in that sweet bosom be.
I would be ever in that heart
(O soft I knock and soft entreat her!)
Where only peace might be my part.
Austerities were all the sweeter
So I were ever in that heart.
James Joyce
(1882-1941)
I Would in That Sweet Bosom Be
fleursdumal.nl magazine
More in: Archive I-J, Archive I-J, Joyce, James, Joyce, James
---
Het jaar 1968 behoort tot de iconische jaren van de twintigste eeuw. Het is een kanteljaar, waarin alles mogelijk lijkt. 1968 is het jaar van de Meirevolutie in Parijs, de Praagse Lente, het verzet tegen de oorlog in Vietnam, het bloedbad van My Lai, de moorden op Martin Luther King en Robert Kennedy, de Yippies bij de Democratische conventie in Chicago, de zwarte handschoenen bij de Olympische Spelen in Mexico en Amsterdam als 'magies centrum'.
Over de hele wereld komen jongeren in opstand tegen de gevestigde orde. De protesten worden gevoed door het ideaal van een andere samenleving en het geloof in de nieuwe mens. Ze gaan gepaard met psychedelische experimenten, harde strijd en emancipatiebewegingen van zwarten en vrouwen. Bevrijding is het sleutelwoord.
Maar 1968 eindigt als een jaar van restauratie: de bestendiging van de regering van president De Gaulle in Frankrijk, de Sovjetinval in Tsjecho-Slowakije en de verkiezing van Richard Nixon in de Verenigde Staten. Desondanks hebben de culturele,maatschappelijke en politieke invloeden van 1968 nu, een halve eeuw later, niets aan betekenis ingeboet.
In dit enerverende, kleurrijke boek neemt Roel Janssen, die in mei 1968 naar Parijs trok om getuige te zijn van de studentenrevolte, de lezer mee op een wereldreis door het revolutiejaar. Het is een gedreven journalistiek verslag dat de gebeurtenissen van vijftig jaar geleden in perspectief plaatst en de herinneringen aan dat veelbewogen jaar levend houdt. 'You say you want a revolution', een verwijzing naar de hit van the Beatles in 1968, onderscheidt zich door een spannende verteltrant vol smakelijke details en oog voor de zelfoverschatting van de generatie van '68.
Auteur: Roel Janssen
1968. You Say You Want a Revolution
Uitgeverij : Balans, Uitgeverij
ISBN : 9789460035586
Taal : Nederlands
Uitvoering : Paperback
Aantal pagina's : 256
Verschijningsdatum : 22-01-2018
Afmetingen : 215 x 135 x 25 mm.
Gewicht : 381 gr.
20,00 euro
new books
fleursdumal.nl magazine
More in: - Book News, - Book Stories, Archive I-J, Art & Literature News, Protests of MAY 1968
---
Alone
The noon's greygolden meshes make
All night a veil,
The shorelamps in the sleeping lake
Laburnum tendrils trail.
The sly reeds whisper to the night
A name– her name-
And all my soul is a delight,
A swoon of shame.
James Joyce
(1882-1941)
Alone
fleursdumal.nl magazine
More in: Archive I-J, Archive I-J, Joyce, James, Joyce, James
---
Love Came to Us
Love came to us in time gone by
When one at twilight shyly played
And one in fear was standing nigh — –
For Love at first is all afraid.
We were grave lovers. Love is past
That had his sweet hours many a one;
Welcome to us now at the last
The ways that we shall go upon.
James Joyce
(1882-1941)
Love Came to Us
fleursdumal.nl magazine
More in: Archive I-J, Archive I-J, Joyce, James, Joyce, James
---
In this magisterial study of the relationship between illness and art, the best-selling author of An Unquiet Mind, Kay Redfield Jamison, brings an entirely fresh understanding to the work and life of Robert Lowell (1917-1977), whose intense, complex, and personal verse left a lasting mark on the English language and changed the public discourse about private matters.
In his Pulitzer Prize-winning poetry, Robert Lowell put his manic-depressive illness (now known as bipolar disorder) into the public domain, creating a language for madness that was new and arresting. As Dr. Jamison brings her expertise in mood disorders to bear on Lowell's story, she illuminates not only the relationships among mania, depression, and creativity but also the details of Lowell's treatment and how illness and treatment influenced the great work that he produced (and often became its subject).
Lowell's New England roots, early breakdowns, marriages to three eminent writers, friendships with other poets such as Elizabeth Bishop, his many hospitalizations, his vivid presence as both a teacher and a maker of poems—Jamison gives us the poet's life through a lens that focuses our understanding of his intense discipline, courage, and commitment to his art. Jamison had unprecedented access to Lowell's medical records, as well as to previously unpublished drafts and fragments of poems, and she is the first biographer to have spoken with his daughter, Harriet Lowell. With this new material and a psychologist's deep insight, Jamison delivers a bold, sympathetic account of a poet who was—both despite and because of mental illness—a passionate, original observer of the human condition.
Kay Redfield Jamison is the Dalio Family Professor in Mood Disorders and a professor of psychiatry at the Johns Hopkins University School of Medicine, as well as an honorary professor of English at the University of St. Andrews in Scotland. She is the author of the national best sellers An Unquiet Mind, Night Falls Fast, and Touched with Fire, and is the coauthor of the standard medical text on bipolar disorder, Manic-Depressive Illness: Bipolar Disorders and Recurrent Depression. Dr. Jamison is a Fellow of the American Academy of Arts and Sciences and the Royal Society of Edinburgh and is a recipient of the Lewis Thomas Prize, the Sarnat International Prize in Mental Health from the National Academy of Medicine, and a John D. and Catherine T. MacArthur Fellowship. She is married to Thomas Traill, a cardiologist at the Johns Hopkins School of Medicine.
Robert Lowell, Setting the River on Fire
A Study of Genius, Mania, and Character
By Kay Redfield Jamison
Literary Figure Biographies & Memoirs
Paperback
Feb 06, 2018
560 Pages
$18.95
Published by Vintage
ISBN 9780307744616
new books
fleursdumal.nl magazine
More in: - Book News, Archive I-J, Archive K-L, Archive K-L, BIOGRAPHY, DRUGS & MEDICINE & LITERATURE, Robert Lowell
---
Older Entries »
Thank you for reading FLEURSDUMAL.NL - magazine for art & literature