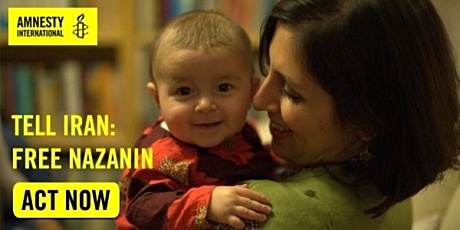 Nazanin Zaghari-Ratcliffe has been imprisoned in Iran for nearly two years on bogus charges. She hasn't committed any crime.
Nazanin has been told that she could be charged again and face another trial imminently, which may result in an even longer prison sentence.
Nazanin Zaghari-Ratcliffe is a 39-year-old British-Iranian woman, who ordinarily lives with her husband and young daughter in London.  She works for the Thomson Reuters Foundation, a UK-based media charity. This has been used against her as evidence of 'membership of an illegal group', the charge that Nazanin was found guilty of at an unfair trial which saw her sentenced to five years in prison
She was arrested on 3 April 2016 at a Tehran airport, when she was about to board a plane home to the UK with her then one-year-old daughter, Gabriella. They had been on holiday in Iran visiting Nazanin's parents – a trip Nazanin had made many times before, without incident.
At the airport, they were stopped by Iran's Revolutionary Guard. Nazanin was taken into custody, without being told why, and Gabriella was given to her grandparents, who had accompanied them to the airport. Gabriella's UK passport was confiscated at the airport (she does not have an Iranian passport), though it has since been returned.
When Nazanin was first detained, she wasn't told why. She was put in solitary confinement. She was held in solitary for 45 days, and could not speak to her family or a lawyer. Her family were not told the reasons for her imprisonment.
Nazanin did not have a fair trial. She was only allowed access to a lawyer three days before her trial. In September 2016, Nazanin was sentenced to five years in prison for 'membership of an illegal group'.
Nazanin's physical and mental health is suffering. She suffers from severe arm, neck and back pain as a result of her prison conditions, and her hair is falling out. Nazanin's husband has most recently said that she is worried about lumps on her breast.
Her family say that Nazanin has been extremely distressed and depressed during her imprisonment and separation from Gabriella. Last November, Nazanin wrote a suicidal letter to her family. A year has passed and her mental health has continued to decline.
The Iranian authorities have a track record of not allowing prisoners the healthcare they need – especially for people imprisoned on political charges – and this is sadly the case for Nazanin too.
◊ Amnesty International UK asks to take action. We (FDM mag.) support their work.

◊ Help get Nazanin Zaghari-Ratcliffe home.
◊ Call on Iran to free Nazanin Zaghari-Ratcliffe.
# More information on website Amnesty International UK
free prisoner of conscience: Nazanin Zaghari-Ratcliffe
fleursdumal.nl magazine
More in: CINEMA, RADIO & TV, PRESS & PUBLISHING, REPRESSION OF WRITERS, JOURNALISTS & ARTISTS
No Platonic Love
Tell me no more of minds embracing minds,
And hearts exchang'd for hearts;
That spirits spirits meet, as winds do winds,
And mix their subt'lest parts;
That two unbodied essences may kiss,
And then like Angels, twist and feel one Bliss.
I was that silly thing that once was wrought
To practise this thin love;
I climb'd from sex to soul, from soul to thought;
But thinking there to move,
Headlong I rolled from thought to soul, and then
From soul I lighted at the sex again.
As some strict down-looked men pretend to fast,
Who yet in closets eat;
So lovers who profess they spririts taste,
Feed yet on grosser meat;
I know they boast they souls to souls convey,
Howe'r they meet, the body is the way.
Come, I will undeceive thee, they that tread
Those vain aerial ways
Are like young heirs and alchemists misled
To waste their wealth and days,
For searching thus to be for ever rich,
They only find a med'cine for the itch.
William Cartwright
(1611-1643)
No Platonic Love
fleursdumal.nl magazine
More in: Archive C-D, Archive C-D, CLASSIC POETRY
Mels bestudeert zijn gezicht in de spiegel. Altijd heeft hij gezocht naar overeenkomsten met hem en zijn vader en zijn grootvader Rudolf. Maar hij heeft nooit iets van hen in zijn eigen gezicht herkend. Hij heeft de rimpels van iemand die zijn hele leven met veel vragen zit, maar er geen antwoorden op kan vinden.
`Je ontbijt is klaar!' Hij weet precies hoe Lizet daar staat, onder aan de trap.
`Ik kom.' Vlug poetst hij zijn tanden en gooit de plaid over zijn benen. Hij rolt naar de deur, maar stopt bij de boekenkast. Even strelen zijn vingers de boeken die hij over China heeft verzameld. Hij heeft ze vaak herlezen. Vooral de oude boeken. Toen China nog een sprookjeswereld was en de Chinezen nog niet met zo veel waren en allemaal verschillend. Vóór de tijd dat ze in die rare pyjamapakken liepen. Nieuwe boeken over China wil hij niet. De nieuwe Chinezen, die hetzelfde proberen te zijn als Amerikanen of Europeanen, laten hem koud.
Hij bladert even door een map. Rangschikt een paar foto's. Hij moet alles meenemen naar de lezing die hij straks zal geven.
Hij rolt door naar de lift bij de trap en klikt zijn rolstoel vast. Hij kan het ding zelf bedienen. Het is een uitkomst. Voordat de lift werd geïnstalleerd, had hij twee jaar vastgezeten op de bovenverdieping. Hij had het contact met de mensen bijna verloren. Toevallig dat iemand die hij had leren kennen in de verpleegkliniek hem over die lift had geschreven.
Langzaam zakt de lift langs de trap naar beneden en stopt precies voor de twee uitvergrote foto's van de Wijer aan de wand in het halletje. De Wijer in de zomer, fluisterend tussen bloemtapijten. De Wijer in de winter, glinsterend donkerblauw ijs tussen witte velden. Het diepste blauw. Hij heeft de foto's zelf genomen en ze op plaatsen gehangen waar vroeger de schilderstukjes van Hubert Graus hingen. Die heeft hij op de zolder gezet. Zelf gemaakt leek altijd beter, al zou hij nu de schilderijen graag weer van de zolder halen. Het waren gedroomde plaatjes. Romantisch. Met meer licht dan er ooit was geweest en in kleuren die feller waren dan in het echt. Ze drukten uit hoe mooi ook Graus de Wijer vond.
Hij rijdt naar de keuken die vol is van het lawaai van de afzuigkap. Sinds ze zelf geen koffie meer drinkt, heeft Lizet een hekel aan de geur.
Ze schenkt een kop in en legt de krant voor hem op tafel. Ze loopt nog steeds in nachtjapon en ochtendjas, ook al weet ze dat hij daar niet van houdt.
`Er was vannacht wat te doen bij de meelfabriek', zegt ze, over het lawaai van de afzuigkap heen. `Ik heb politie gezien. Er stond groot licht op de silo. Het leek wel film.'
`Ik heb een vliegtuig gehoord.'
`Dieven hebben bouwmateriaal gestolen.'
`Ze bouwen appartementen in de silo', zegt Mels.
`Wie bedenkt zoiets? Net of het iets moois is.'
`Het is een monument. Het enige opvallende gebouw dat het dorp heeft, naast de watermolen.'
`Het dorp zou mooier zijn zonder dat kreng', zegt ze. `Straks krijg je nog toeristen. De dieven gaan hun al vooruit.'
`In mijn boek …'
`Hou daar toch mee op. Je schrijft dingen die je niet meent. Je moet aardig blijven voor iedereen. Ook voor de directeuren. Het wordt niks. Het staat vol leugens.'
`Heb je erin gelezen?'
`Je verzwijgt dat jij het was die de mensen hun ontslag moest geven.'
`Dat deed ik niet uit mezelf!'
`Dadelijk, als je die presentatie houdt, zullen ze je er misschien naar vragen. Ik heb het altijd rot gevonden. Die directeuren zitten ver weg. Jij bent er nog. Jou kijken ze erop aan.'
Het doet hem pijn, maar ze heeft gelijk. De jaren dat er gebrek was aan werk, omdat meel uit Amerika werd verkocht onder de kostprijs van het meel van de fabriek, beleefde hij de slechtste momenten uit zijn bestaan. De bazen lieten hem het vuile werk opknappen. Hij moest de mensen op straat zetten, in een tijd dat ook elders weinig werk te vinden was. De arbeiders hadden hem kwalijk genomen dat hij onder één hoedje speelde met de directeuren. Hij had die judasrol moeten weigeren, maar hij was bang geweest voor zijn eigen baan.
Hij eet een snee brood, met jam, heel dun. Geen boter, vanwege zijn buik.
Marjan komt binnen, om hem aan te kleden.
`Ben je klaar?'
`Ik ben net beneden.'
`Ik heb haast.' Sinds de verpleegster van het Groene Kruis niet meer komt, helpt zijn dochter hem elke ochtend. Voor Lizet is hij te zwaar. Uitkleden kan ze hem wel, maar aankleden niet meer.
Haastig neemt hij een slok van de hete koffie, rolt terug naar de lift en zoemt naar boven.
Marjan heeft zijn kleren al op bed gelegd. Hij doet zijn kamerjas uit. Ze trekt zijn pyjama en bezwete ondergoed uit. Haar koude handen ergeren hem.
`Je ruikt naar pillen.'
`Ik kan het niet helpen dat je die dingen ruikt.'
`Ik zeg niet dat je stinkt.'
`Je zegt het elke dag.'
`Je ruikt naar een apotheek. Ik zeg toch niet dat een apotheek stinkt.'
`In China verkopen ze darmen van apen en vleermuizen als medicijn.'
`Dan lopen ze daar behoorlijk achter.'
Ze wast hem. Routineus doet ze hem schoon ondergoed aan, een overhemd, een wijde trainingsbroek, sokken, pantoffels.
`Jij met je China. Wat weet je over ons?'
`Alles.'
`Laat maar. Je bent net een klein kind, dat is ook altijd alleen met zichzelf bezig. Dat vindt het ook gewoon dat het verzorgd wordt.' Ze kijkt hem geïrriteerd aan. Elke week verwijt ze hem wel een keer dat hij ondankbaar is, dat hij zich aanstelt, dat hij geen rekening houdt met haar en met haar moeder.
`Ik had vandaag willen uitslapen. Herman is thuis. Maar ik moest eruit voor jou. Is het niet voor de baby, dan is het voor jou.'
Hij moet op zijn tanden bijten. Hij wil niet schreeuwen, maar hij schreeuwt het opeens uit.
`Laat me dan barsten! Duw me maar door het raam naar buiten! Duw me de brug af, dan kun je elke dag uitslapen!'
Ze rolt hem naar de spiegel.
`Schreeuw maar. Kijk naar jezelf. Hoe je eruitziet als je schreeuwt! Zie je die kop!'
Ze loopt de kamer uit. Verslagen blijft hij achter. Te klein om voor zichzelf te kunnen zorgen. Niet groot genoeg om zichzelf in bedwang te houden.
Terwijl hij met nijdige bewegingen zijn haar kamt en zichzelf in de spiegel bekijkt, hoort hij haar naar beneden lopen. Het driftige tikken van haar hakken over de tegels in de keuken. De dichtvallende keukendeur. De slaande voordeur. Haar wegstervende voetstappen op straat. Het lijkt wel of ze rent. Hij blijft ernaar luisteren, tot hij andere passen hoort die dichterbij komen. Een kind loopt hinkelend over het trottoir. Stip, stip, stap. Stip, stip.
Ton van Reen: Het diepste blauw (036)
wordt vervolgd
fleursdumal.nl magazine
More in: - Book Stories, - Het diepste blauw, Archive Q-R, Reen, Ton van
Out now:
Kerouac on Record ◊ A Literary Soundtrack
Edited by Simon Warner and Jim Sampas

Co-edited by Jack Kerouac's nephew, including pieces written by Kerouac himself as well as interviews from major literary and musical figures including Allen Ginsberg, Lee Konitz and David Amram, Kerouac on Record gives a unique insight into how Kerouac brought his passion for jazz to his full creative output.
Kerouac on Record is the touchstone for the music of Kerouac – Kerouac's love for music, the depth of its influence on his work, and the influence that his work continues to extend to waves of contemporary musicians, from David Bowie and Janis Joplin to Sonic Youth. It is a book rife with the work of cultural icons, essential for any fan of the Beat Generation and popular music alike.
About Kerouac on Record
He was the leading light of the Beat Generation writers and the most dynamic author of his time, but Jack Kerouac also had a lifelong passion for music, particularly the mid-century jazz of New York City, the development of which he witnessed first-hand during the 1940s with Charlie Parker, Dizzy Gillespie and Thelonious Monk to the fore.
The novelist, most famous for his 1957 book On the Road, admired the sounds of bebop and attempted to bring something of their original energy to his own writing, a torrent of semi-autobiographical stories he published between 1950 and his early death in 1969.
Yet he was also drawn to American popular music of all kinds – from the blues to Broadway ballads – and when he came to record albums under his own name, he married his unique spoken word style with some of the most talented musicians on the scene.
Kerouac's musical legacy goes well beyond the studio recordings he made himself: his influence infused generations of music makers who followed in his work – from singer-songwriters to rock bands.
Some of the greatest transatlantic names – Bob Dylan and the Grateful Dead, Van Morrison and David Bowie, Janis Joplin and Tom Waits, Sonic Youth and Death Cab for Cutie, and many more – credited Kerouac's impact on their output.
In Kerouac on Record, we consider how the writer brought his passion for jazz to his prose and poetry, his own record releases, the ways his legacy has been sustained by numerous more recent talents, those rock tributes that have kept his memory alive and some of the scores that have featured in Hollywood adaptations of the adventures he brought to the printed page.
1. Jack Kerouac's Jazz Scene Jim Burns – 2. 2nd Chorus: Blues: Jack Kerouac Larry Beckett – 3. Duet for Saxophone and Pen: Lee Konitz and the Direct Influence of Jazz on the Development of Jack Kerouac's 'Spontaneous Prose' Style Marian Jago Interview 1: Lee Konitz Marian Jago – 4. Jack Kerouac Goes Vinyl: A Sonic Journey into Kerouac's Three LPs: Poetry for the Beat Generation; Blues and Haikus; and Readings by Jack Kerouac on the Beat Generation Jonah Raskin  – 5. Art Music: Listening to Kerouac's 'Mexico City Blues' A. Robert Lee Interview 2: David Amram Pat Thomas – 6. Beat Refrains: Music, Milieu and Identity in Jack Kerouac's The Subterraneans, the Metro-Goldwyn-Mayer Film Adaptation Michael Prince – 7. Bob Dylan's Beat Visions (Sonic Poetry) Michael Goldberg – 8. Carrying a Torch for Ti Jean Paul Marion Interview 3: Richard Meltzer Michael Goldberg – 9. The Grateful Dead: Jack Manifested as Music Brian Hassett – 10. Driver Mark Bliesener – 11. Jim Morrison/Angel of Fire Jay Jeff Jones – 12. Light is Faster than Sound: Texans, the Beats and the San Francisco Counterculture Holly George-Warren – 13. Hit the Road, Jack: Van Morrison and On the Road Peter Mills – 14. Detecting Jack Kerouac and Joni Mitchell: A Literary/Legal (Not Musicological) Investigation into the Search for Influence Nancy Grace – 15. Kerouac and Country Music Matt Theado – 16. 'Straight from the Mind to the Voice': Spectral Persistence in Jack Kerouac and Tom Waits Douglas Field Interview 4: Barney Hoskyns Simon Warner – 17. From Beat Bop Prosody to Punk Rock Poetry: Patti Smith and Jack Kerouac; Literature, Lineage, Legacy Ronna Johnson Poems: Marc Zegans  Interview 6: Allen Ginsberg Pat Thomas – 18. Tramps Like Them: Jack and Bruce and the Myth of the American Road Simon Morrison Interview 5: Graham Parker Pat Thomas – 19. Punk and New Wave James Sullivan – Interview 7: Jim DeRogatis on Lester Bangs James Sullivan – 20. The Tribute Recordings Jim Sampas and Simon Warner  –  Jack Kerouac Biography –  Jack Kerouac Discography Dave Moore  –  Tribute Discography –  Kerouac/Cassady Song List Dave Moore/Horst Spandler
Simon Warner
is a journalist, lecturer and broadcaster who teaches Popular Music Studies at the University of Leeds in the UK. He has, over a number of years, written live reviews and counterculture obituaries for The Guardian and The Independent, and has a particular interest in the relationship between the Beat Generation writers–Jack Kerouac, Allen Ginsberg, William Burroughs and others–and rock culture. His previous books include Rockspeak: The Language of Rock and Pop (1996) and Howl for Now: A Celebration of Allen Ginsberg's epic protest poem (2005). – Writes: Popular Music, North American Literature – Author of : Kerouac on Record, Text and Drugs and Rock 'n' Roll
Jim Sampas
is a music and film producer. His musical works often focuses on major cultural figures such Jack Kerouac (who is his Uncle), The Beatles, Bruce Springsteen, The Smiths, Bob Dylan, and The Rolling Stones. He has persuaded a galaxy of stars to partake of a unique aesthetic marriage, as vintage works are resurrected in contemporary arrangements in projects covered by such major news outlets as People Magazine, NPR, The New York Times, Entertainment Weekly, Rolling Stone, and many others. – Writes: Popular Music, North American Literature – Author of: Kerouac on Record
Following Text and Drugs and Rock 'n' Roll: The Beats and Rock Culture (2013), Simon Warner partners with Literary Executor of the Estate of Jack Kerouac, Jim Sampas, to go deeper into his exploration of the connections between the great figures of the Beat generation and the music of the so-called 'rock era.' Interspersed with exclusive interviews of the likes of Lee Konitz, Graham Parker, Lester Bangs, and Allen Ginsberg, the twenty chapters are signed by an impressive array of journalists, music industry professionals, rock critics, writers, film makers and academics from all over the world. Addressing such issues as the influence of jazz on Kerouac's 'spontaneous prose' style, the lineage between his 'Beat bop prosody' and Patti Smith's 'punk rock poetry,' or his inspiring 'the myth of the American road' in Bruce Springsteen's lyrics, they shed light on what appears to be a two-way relationship between popular music and the work of the author of On the Road. As Warner puts it: 'if, for Kerouac, it was jazz that would have the principal impact, then it was rock on which the writer would have the main effect.'" – Olivier Julien, Lecturer in the History and Musicology of Popular Music, Paris-Sorbonne University, France
Kerouac on Record
A Literary Soundtrack
By: Simon Warner, Jim Sampas
Published: 08-03-2018
Format: Hardback
Edition: 1st
Extent: 480
ISBN: 9781501323348
Imprint: Bloomsbury Academic
Dimensions: 229 x 152 mm
RRP: £28.00
Kerouac on Record
A Literary Soundtrack
fleursdumal.nl magazine
More in: # Music Archive, #Beat Generation Archives, - Book Stories, Archive G-H, Archive G-H, Archive K-L, Archive K-L, Art & Literature News, Bob Dylan, CINEMA, RADIO & TV, Dylan, Bob, Ginsberg, Allen, Joni Mitchell, Kerouac, Jack, Patti Smith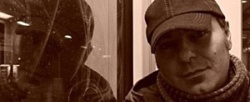 Sibelius
Sibelius symphony number eight
On his lips he sounded natures
cry, natures sinewy sigh
and gripped in encapsulation
its voices in dots and dashes.
His work swept the oceans
searching for ringing melodies,
the cosmos dancing in rhythm
through its internal magnetism.
Sounds from the milky way
readily formed within him,
carbon from the core twinkling,
vibrating, the many strings flying
in rich tones, in its resurrection
when death looked imminent
awoke when barely conscious.
He took the new and ancient
and slanted the nucleus
of his vivid expression
into the pool of swirling
existence.
And when the structure
was created,
when the monument was built,
the music gasping for
the air of existence,
for the universe to burst
he burnt the lot
and fell inward, into silence,
where his voice lived only
for his wife and children.
He sat down quietly
and never again lifted
his psyche to varnish sound
with brilliant shimmers.
21.09.07
Vincent Berquez
Poem: Sibelius
Vincent Berquez is a London–based artist and poet
fleursdumal.nl magazine
More in: Archive A-B, Berquez, Vincent, MUSIC, Vincent Berquez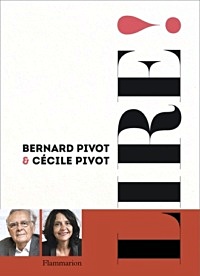 Bernard Pivot, lecteur professionnel ("Apostrophes", Lire, JDD) et sa fille Cécile, ardente lectrice amateur, confrontent leurs raisons, plaisirs et manières de lire, leur usage des livres, dans des textes très personnels, joliment illustrés, où le public des librairies et des bibliothèques retrouvera ses émotions, et celui qui n'ose pas en pousser les portes découvrira stimulations et conseils.
Un tonique et savoureux éloge des écrivains, des livres et de la lecture.
Bernard Pivot, Cécile Pivot
Lire !
Paru le 14/03/2018
Genre : Essais littéraires
192 pages
174 x 239 mm Couleur
Broché
EAN: 9782081416307
ISBN : 9782081416307
€25,00
Ed. Flammarion
new books on reading
fleursdumal.nl magazine
More in: - Book Stories, Archive O-P, Art & Literature News, Libraries in Literature, The Art of Reading
`Wat kijk je me toch aan?' vraagt grootvader Rudolf.
`Ze zeggen dat ik op niemand lijk.'
`Wie zegt dat?'
`Nou ja, Tijger. Hij lijkt op zijn vader én op zijn moeder.'
`Jouw neefje Tijger lijkt op Bernhard toen hij jong was. Hij moet maar oppassen, anders groeit hij ook op voor galg en rad. Wat wil jij later worden?'
`Zeeman.'
`Jij hebt ook bloed van Bernhard.'
`Wij gaan samen naar China. Tijger, Thija en ik.'
`Jullie zijn een gek stel.' Grootvader Rudolf schudt zijn hoofd. `Die Thija is geschift. Hoe oud zijn jullie nu?'
`Twaalf.'
`Dan moet een meid verstand hebben.'
`Ze is de beste op school.'
`Dat bedoel ik niet. Ik bedoel wijsheid. Wijsheid is de voerman van je verstand. Met verstand word je directeur van de bank. Met wijsheid word je …' Hij aarzelt.
`Directeur van de school?'
`Zoiets. Of pastoor. Misschien wel paus.'
`Ik wil geen paus worden.'
`Dat kun je ook niet worden, jongen. Voor dat ambt word je geroepen vanwege je onmetelijke wijsheid. Zo wijs kunnen er maar weinig zijn.' Grootvader trekt diepe rimpels in zijn voorhoofd.
`Bent u zo wijs?'
`Wie wijs is, zal nooit over zijn eigen wijsheid spreken. Maar toch, ik zeg het je eerlijk, eigenlijk had ik best paus kunnen zijn.'
Ton van Reen: Het diepste blauw (035)
wordt vervolgd
fleursdumal.nl magazine
More in: - Book Stories, - Het diepste blauw, Archive Q-R, Reen, Ton van
To the President of Magdalen College, Oxford
Since now from woodland mist and flooded clay
I am fled beside the steep Devonian shore,
Nor stand for welcome at your gothic door,
'Neath the fair tower of Magdalen and May,
Such tribute, Warren, as fond poets pay
For generous esteem, I write, not more
Enhearten'd than my need is, reckoning o'er
My life-long wanderings on the heavenly way:
But well-befriended we become good friends,
Well-honour'd honourable; and all attain
Somewhat by fathering what fortune sends.
I bid your presidency a long reign,
True friend; and may your praise to greater ends
Aid better men than I, nor me in vain.
Robert Bridges
(1844-1930)
To the President of Magdalen College, Oxford
fleursdumal.nl magazine
More in: *War Poetry Archive, Archive A-B, Bridges, Robert, WAR & PEACE
'En toch is alles wat we doen natuur' bevat de mooiste natuurgedichten van dichter-tekenaar-bioloog Leo Vroman.
Vroman was gefascineerd door het leven in en rondom ons, dat hij tot in de wonderbaarlijkste details observeerde en beschreef.
Tientallen bundels speelse poëzie schreef hij, een onuitputtelijke stroom gedichten van 1946 tot 2014, het jaar van zijn overlijden.
Mirjam van Hengel (auteur van het succesvolle Hoe mooi alles, over Leo en Tineke Vroman) maakte een nieuwe, ruime selectie uit de gedichten die Vroman schreef over de natuur – die van mensen, die van gras, bloemen en bomen, van orkanen en organen en van alle mogelijke dieren.
Leo Vroman (1915-2014) was dichter, prozaïst, essayist, illustrator en hematoloog. Hij studeerde biologie in Utrecht en vluchtte in 1940 naar Nederlands-Indië. In 1945 werd hij uit Japanse gevangenschap bevrijd en vestigde zich in Verenigde Staten, samen met zijn vrouw Tineke. Vroman debuteerde in 1946 met de bundel Gedichten. Vroman ontving in de loop van zijn leven zowat alle belangrijke literaire prijzen die er zijn. In 2006 verscheen het dagboek Misschien tot morgen.
En toch is alles wat we doen natuur
De mooiste gedichten over het leven in en rondom ons
Auteur: Leo Vroman
Redactie: Mirjam van Hengel
Uitgeverij: Querido
Hardcover
Taal: Nederlands
Afmetingen: 31x223x142 mm
Gewicht:481,00 gram
Verschijningsdatum: 6 maart 2018
Druk 1
ISBN10 902140902X
ISBN13 9789021409023
Prijs: € 24,99
# Voor meer informatie ga naar de website: www.vromanfoundation.com
new books
fleursdumal.nl magazine
More in: Archive U-V, Archive U-V, Art & Literature News, Natural history, Vroman, Leo
Le dimanche qui suivit, différents signes annoncèrent que quelque chose allait se produire.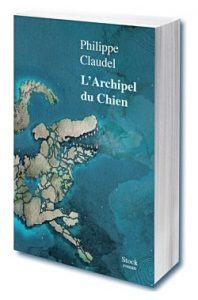 Ce fut déjà et cela dès l'aube une chaleur oppressante, sans brise aucune. L'air semblait s'être solidifié autour de l'île, dans une transparence compacte et gélatineuse qui déformait ça et là l'horizon quand il ne l'effaçait pas : l'île flottait au milieu de nulle part. Le Brau luisait de reflets de meringue.
Les laves noires à nu en haut des vignes et des vergers frémissaient comme si soudain elles redevenaient liquides. Les maisons très vite se trouvèrent gorgées d'une haleine éreintante qui épuisa les corps comme les esprits.
On ne pouvait y jouir d'aucune fraîcheur.
Puis il y eut une odeur, presque imperceptible au début, à propos de laquelle on aurait pu se dire qu'on l'avait rêvée, ou qu'elle émanait des êtres, de leur peau, de leur bouche, de leurs vêtements ou de leurs intérieurs. Mais d'heure en heure l'odeur s'affirma. Elle s'installa d'une façon discrète, pour tout dire clandestine. »
Écrivain traduit dans le monde entier, Philippe Claudel est aussi cinéaste et dramaturge. Il a notamment publié aux éditions Stock Les Âmes grises, La Petite Fille de Monsieur Linh, Le Rapport de Brodeck et L'Arbre du pays Toraja. Membre de l'académie Goncourt, il réside en Lorraine où il est né en 1962.
Philippe Claudel
L'Archipel du Chien
Auteur Philippe Claudel
Editeur Stock
Date de parution 14/03/2018
Collection Bleue
Format 13cm x 21cm
EAN 978-2234085954
ISBN 2234085950
Nombre de pages 288
Format 14 x 22
Prix: 19.50€
new books
fleursdumal.nl magazine
More in: Archive C-D, Art & Literature News, CINEMA, RADIO & TV
Love Came to Us
Love came to us in time gone by
When one at twilight shyly played
And one in fear was standing nigh — –
For Love at first is all afraid.
We were grave lovers. Love is past
That had his sweet hours many a one;
Welcome to us now at the last
The ways that we shall go upon.
James Joyce
(1882-1941)
Love Came to Us
fleursdumal.nl magazine
More in: Archive I-J, Archive I-J, Joyce, James, Joyce, James
From the beginning of 1914 until his death in 1944, Mondrian wrote more than a hundred essays on the subject of art and society.
He wrote in Dutch, French and English, his choice of language often depending on his place of residence.
All of Mondrian's writings proclaim his conviction that art paves the way to a better society.
Many of his texts have been published, but the original versions were often translated, edited, and polished.
This book aims to present the painter's words as he wrote them, going back to the original sources of all of Mondrian's manuscripts, typescripts, and personal papers.
Piet Mondrian
The Complete Writings
Louis Veen Ed.
Publisher Primavera Pers
ISBN 9789059972384
640 p,
ills colour & bw,
18 x 25 cm, hb,
Dutch/French/English
€49.50
Piet Mondrian / Mondriaan
new books
fleursdumal.nl magazine
More in: - Book News, - Bookstores, Archive M-N, Art & Literature News, Constuctivisme, Dadaïsme, De Stijl, Piet Mondriaan, Piet Mondriaan
Thank you for reading FLEURSDUMAL.NL - magazine for art & literature