Soms hoort hij de Engelse piloot zuchten. Onderscheidt hij fragmenten van woorden. Dan luistert hij zo scherp dat zijn oren ervan gaan suizen en hij ten slotte alleen nog zijn eigen lijf hoort. Het ruisen van zijn bloed. Dan is het alsof de ziel van John Wilkington in hem is opgenomen.
Hij vertelt Thija en Tijger erover.
Voor Tijger is dood, dood. Maar Thija zegt dat de ziel het eeuwige leven heeft en dat die piloot daar best kan blijven wonen en dat hij niet beter weet dan dat het kleine zolderkamertje de hemel is. Maar dat het ook mogelijk is dat hij bezit neemt van Mels. Hij is niet voor niets in hetzelfde huis geboren. Thija heeft een boek over India, waar mensen leven die in reïncarnatie geloven. Hun ziel gaat over in een nieuw leven. Soms in een nieuw geboren mens, of in een dier. Ze zegt dat elke nieuwe vorm van leven hoort bij de cyclus van leven die elke ziel te gaan heeft voordat hij volmaakt is en in het nirwana kan worden opgenomen. Dat is de eeuwige staat van volmaaktheid en geluk.
`Kan ik in een rups veranderen?' vraagt Tijger.
`Dat kan', zegt Thija.
`Dan word ik een rups', zegt Tijger. `Dan heb ik nog een tweede leven extra, als vlinder.'
`Zoals wij tellen, tellen ze in het hiernamaals niet', zegt Thija.
Hoe vaker ze erover praten, hoe meer Mels gelooft dat hij is voorbestemd om het afgebroken leven van John Wilkington te vervolgen. Dat hij de opdrachten moet uitvoeren die Wilkington voor zijn leven had meegekregen maar niet meer kon uitvoeren. Het komt hem ook goed uit. Hoe meer John Wilkington bezit van hem neemt, hoe boeiender hij voor Thija wordt. Dat ze beiden in het voortbestaan van de ziel geloven, geeft hem een voorsprong op Tijger.
Omdat hij geen foto van John heeft, bestudeert hij de gezichten van diens kinderen en vergelijkt ze met foto's van zichzelf. Het is alsof de meisjes op hem lijken, vooral op de foto die gemaakt is op de dag dat hij zijn eerste communie deed. Dezelfde donkere blik. Dezelfde neus. Hetzelfde kuiltje in de wang, bij hem zit het links, maar bij de meisjes zit het rechts, maar dat komt misschien omdat het meisjes zijn.
Komt het door de ziel van John Wilkington dat hij zich zo vaak in zijn dromen te pletter vliegt tegen de silo? Stuurt John Wilkington zelfs zijn dromen?
Om te testen hoeveel hij John Wilkington is, moet hij contact zien te krijgen met de meisjes op de foto. Minutenlang staart hij in hun ogen. Tot hij voelt dat ze terugkijken. Vooral met Mary, de oudste, heeft hij contact. Als hij haar aanstaart, weet hij zeker dat zij op dat moment ook aan hem denkt. Moet hij haar een brief sturen over de ziel van haar vader die in hem huist? Ongeveer negentien jaar moet ze nu zijn. Misschien vindt ze het belachelijk om zoiets te horen van een jongen van twaalf.
Ton van Reen: Het diepste blauw (007)
wordt vervolgd
fleursdumal.nl magazine
More in: - Book Stories, - Het diepste blauw, Archive Q-R, Reen, Ton van
Le Quartier est une petite ville de banlieue où se croisent les destins de quatre femmes. Mariette, recluse dans son appartement, qui ressasse sa vie gâchée en buvant du vin rouge.

Aline, l'infirmière à domicile, qui la soigne et l'écoute. Suzanne, la petite Blanche, amante éplorée d'un caïd assassiné. Mame Baby, idole des femmes du Quartier, dont la mort est auréolée de mystère.
À travers la voix d'Aline, de retour dans le Quartier qu'elle a fui sept ans auparavant, les liens secrets qui unissent les quatre héroïnes se dessinent…
La fin de Mame Baby raconte avant tout, avec finesse, grâce et passion, l'art qu'ont les femmes de prendre soin les unes des autres, de se haïr et de s'aimer.
Gaël Octavia
La fin de Mame Baby
Collection Continents Noirs, Gallimard
Parution : 31-08-2017
176 pages
140 x 205 mm
Genre : Romans
Pays : Martinique
Époque : XXIe siècle
ISBN : 9782072737015
Gencode : 9782072737015
Prix € 16,00
new books
fleursdumal.nl magazine
More in: - Book News, Archive O-P, Art & Literature News
A moving collection of autobiographical essays from a Russian poet and refugee of the Bolshevik Revolution.
Marina Tsvetaeva ranks with Anna Akhmatova, Osip Mandelstam, and Boris Pasternak as one of Russia's greatest twentieth-century poets. Her suicide at the age of forty-eight was the tragic culmination of a life buffeted by political upheaval.
The essays collected in this volume are based on diaries she kept during the turbulent years of the Revolution and Civil War.
In them she records conversations of women in the markets, soldiers and peasants on the train traveling from the Crimea to Moscow in October 1917, fighting in the streets of Moscow, a frantic scramble with co-workers to dig frozen potatoes out of a cellar, and poetry readings organized by a newly minted Soviet bohemia.
Alone in Moscow with two small children, no income, and a missing husband, Tsvetaeva struggled to feed her daughters (one of whom died of malnutrition in an orphanage), find employment in the Soviet bureaucracy, and keep writing poetry. Her keen and ruthless eye observes with compassion and humor—bringing the social, economic, and cultural chaos of the period to life. These autobiographical writings not only give a vivid eyewitness account of Russian history but provide vital insights into the workings of Tsvetaeva's unique poetics.
Includes black and white photographs.
Earthly Signs
Moscow Diaries, 1917-1922
By Marina Tsvetaeva
Translated by Jamey Gambrell
Poetry
Paperback
Dec 05, 2017
288 Pages
Paperback
$17.95
Published by NYRB Classics
ISBN 9781681371627
new books
fleursdumal.nl magazine
More in: - Book News, Achmatova, Anna, Archive S-T, Archive S-T, Art & Literature News, Mandelstam, Osip, Pasternak, Boris, REPRESSION OF WRITERS, JOURNALISTS & ARTISTS, Tsvetaeva, Marina
The Outlaw of Loch Lene, from the Irish
O Many a day have I made good ale in the glen,
That came not of stream or malt, like the brewing of men:
My bed was the ground; my roof, the green-wood above;
And the wealth that I sought, one far kind glance from my Love.
Alas! on that night when the horses I drove from the field,
That I was not near from terror my angel to shield!
She stretch'd forth her arms; her mantle she flung to the wind,
And swam o'er Loch Lene, her outlaw'd lover to find.
O would that a freezing sleet-wing'd tempest did sweep,
And I and my love were alone, far off on the deep;
I'd ask not a ship, or a bark, or a pinnace, to save–
With her hand round my waist, I'd fear not the wind or the wave.
'Tis down by the lake where the wild tree fringes its sides,
The maid of my heart, my fair one of Heaven resides:
I think, as at eve she wanders its mazes among,
The birds go to sleep by the sweet wild twist of her song.
Jeremiah Joseph Callanan
(1795-1839)
The Outlaw of Loch Lene, from the Irish
fleursdumal.nl magazine
More in: Archive C-D, Archive C-D, CLASSIC POETRY
Christian Boltanski creëert een nieuwe compositie in de Oude Kerk. Boltanski plaatst verschillende monumentale installaties om te speculeren over de vraag wat er gebeurt nadat ons leven ten einde is gekomen (NA).

Op de zerkenvloer ontwierp de kunstenaar een landschap van tombes die vanaf de graven verrijzen. Dit werk creëert een nieuw perspectief en maakt een architectonische laag zichtbaar die onze aandacht op onze voorgangers vestigt. Zelf kun je ook bijdragen aan de tentoonstelling.

In een eigentijdse biechtstoel fluister je een aantal namen van mensen die in de Oude Kerk begraven liggen. Een opname van het gefluister wordt in de weken die volgen afgespeeld in het koor. Na verloop van tijd vormt al het gefluister bij elkaar een uitgebreid muzikaal panorama dat blijft bestaan als een immateriëel onderdeel van de Oude Kerk.

Boltanski is van mening dat zijn werk herhaalbaar is en, net als muzikale composities, keer op keer kan worden uitgevoerd, ook wanneer de componist er niet meer is.
Gefascineerd door collectieve herinneringen, vergankelijkheid en het verstrijken van tijd, ontwikkelde Christian Boltanski (Parijs, 1944) een indrukwekkend oeuvre van sculpturen, films en installaties die deze onderwerpen direct of indirect aan de orde stellen.
NA – Christian Boltanski
Curator: Jacqueline Grandjean
24 november 2017 t/m 29 april 2018
Oude kerk, Oudekerksplein (wallen), Amsterdam
Prijs: 10 euro (museumkaart, vrienden van de oude kerk, icom card, I Amsterdam city card, stadspas vrij entree)
Openingstijden: dagelijks 10 – 18 uur m.u.v. zondag 13 – 17:30 uur
Oude Kerk
Oudekerksplein 23
Amsterdam
020 625 8284
#  Meer  info  op  website  oude  kerk  amsterdam
art exposition
fleursdumal.nl magazine
More in: Art & Literature News, Exhibition Archive, FDM Art Gallery, Spurensicherung
Bullets into Bells is a powerful call to end American gun violence from celebrated poets and those most impacted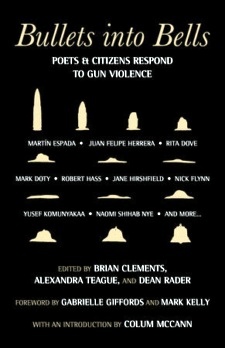 Focused intensively on the crisis of gun violence in America, this volume brings together poems by dozens of our best-known poets, including Billy Collins, Patricia Smith, Natalie Diaz, Ocean Vuong, Danez Smith, Brenda Hillman, Natasha Threthewey, Robert Hass, Naomi Shihab Nye, Juan Felipe Herrera, Mark Doty, Rita Dove, and Yusef Komunyakaa.
Each poem is followed by a response from a gun violence prevention activist, political figure, survivor, or concerned individual, including Nobel Peace Prize laureate Jody Williams; Senator Christopher Murphy; Moms Demand Action founder Shannon Watts; survivors of the Columbine, Sandy Hook, Charleston Emmanuel AME, and Virginia Tech shootings; and Samaria Rice, mother of Tamir, and Lucy McBath, mother of Jordan Davis.
The result is a stunning collection of poems and prose that speaks directly to the heart and a persuasive and moving testament to the urgent need for gun control.
Bullets into Bells
Poets & Citizens Respond to Gun Violence
Foreword by Gabrielle Giffords
Introduction by Colum McCann
Edited by Brian Clements, Alexandra Teague and Dean Rader
Category: Poetry
Paperback
Dec 05, 2017
208 Pages
$15.00
Published by Beacon Press
ISBN 9780807025581
new books
fleursdumal.nl magazine
More in: - Book News, - Book Stories, Art & Literature News, CRIME & PUNISHMENT, MUSEUM OF PUBLIC PROTEST- photos, texts, videos, street poetry, POETRY ARCHIVE
Hij luistert naar het getrippel van de muizen onder de pannen. Ze rennen over het plafond, dat bestaat uit platen van gips dat gemengd is met stro.
Er wonen niet alleen muizen op zolder, er huist ook de ziel van een Engelse piloot die daar in de oorlog verborgen werd gehouden. Zijn vliegtuig had de silo van de meelfabriek geschampt en was verderop aan de rand van het dorp neergestort. Hij was gewond. Een paar maanden heeft hij onder de pannen geleefd, wachtend op de mannen die hem zouden komen ophalen. Er kwam niemand. Op een ochtend vond Mels' moeder de piloot, toen ze hem het ontbijt ging brengen, dood op zijn strobed.
John Wilkington heette hij. Mels' moeder heeft het vaak verteld. Het was een knappe kerel, die steeds over zijn thuis had gesproken. Na de oorlog had ze een brief gestuurd naar het adres dat ze in zijn zakboekje had gevonden. Er was een brief teruggekomen van de weduwe van Wilkington, met een foto. Wilkingtons vrouw, met twee kinderen. Meisjes van zeven en vijf met strikken in het haar. Mary en Maud. Ze zaten in rieten stoelen aan de rand van een vijver. De weduwe had geschreven dat ze de foto eigenlijk voor John had laten maken, met de bedoeling die naar hem op te sturen, maar voor het zover was, hadden ze het bericht van zijn dood ontvangen. Nu was de foto voor de mensen die John in zijn laatste dagen hadden verzorgd.
Moeder had de foto ingelijst en in de kamer op de schouw gezet, tussen de portretten van overleden familieleden. Mels had het altijd vreemd gevonden dat ze wél een portret hadden van Wilkingtons vrouw en kinderen maar geen van de man zelf, hoewel hij toch, omdat hij hier in huis was gestorven, gezien werd als iemand van de familie.
Ton van Reen: Het diepste blauw (006)
wordt vervolgd
fleursdumal.nl magazine
More in: - Book Stories, - Het diepste blauw, Archive Q-R, Reen, Ton van
Wüsste man nichts von Jan Wagners lyrischem Werk, man würde überhaupt nur noch Essays von ihm lesen wollen.
Ob er über Bibliotheken, Buchhandlungen, Lyrik oder Kunst schreibt, ob er literarische Postkarten aus Rom oder Los Angeles sendet oder die Epiphanie eines Rosmarins im schwäbischen Garten feiert – man glaubt diesem charmanten Geschichtenerzähler alles.
Es bleibt kaum Zeit, die rhetorische Fingerfertigkeit zu bewundern, mit der da zwischen souveräner Gelehrsamkeit unerwartet die nächste Anekdote aus dem Ärmel gezogen wird, und man kann nicht anders als staunen über die Trouvaillen, die Jan Wagner von seinen Entdeckungsreisen quer durch Epochen und Kontinente mitbringt.
Jan Wagner, 1971 in Hamburg geboren, lebt in Berlin. 2001 erschien sein erster Gedichtband Probebohrung im Himmel. Es folgten Guerickes Sperling (2004), Achtzehn Pasteten (2007), Australien (2010), Die Eulenhasser in den Hallenhäusern (2012) und zuletzt der Sammelband Selbstporträt mit Bienenschwarm (2016). Zudem ist er Mitherausgeber der Minnesang-Anthologie Unmögliche Liebe (Die Kunst des Minnesangs in neuen Übertragungen, 2017). Für seine Lyrik wurde Jan Wagner vielfach ausgezeichnet. Mit seinem Gedichtband Regentonnenvariationen (2014) gewann er 2015 den Preis der Leipziger Buchmesse, außerdem wurde er 2017 mit dem Georg-Büchner-Preis ausgezeichnet.
Jan Wagner:
Der verschlossene Raum.
Beiläufige Prosa
EAN: 9783446254756
ISBN: 3446254757
Libri: 2557154
Hanser Berlin
2017 – 268 Seiten
gebunden € 22,00
new books
fleursdumal.nl magazine
More in: - Book News, - Book Stories, Archive W-X, Archive W-X, Art & Literature News
Dès l'origine l'écriture de Fabienne Courtade tend au plus extrême dépouillement, par le biais d'une méditation qui n'oublie jamais le monde extérieur, ni le travail matériel propre à la poésie contemporaine.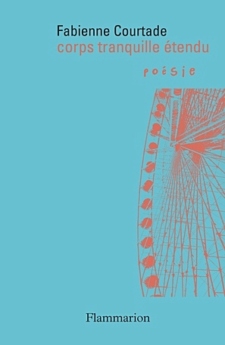 Dans ce nouveau chant contrarié – tourné plutôt vers une impossible lumière – la narration s'est encore resserrée, le lexique et l'anecdote se voient ramenés à l'essentiel. Une femme marche dans la ville et se parle à elle-même ou s'adresse à une ombre, évoquant des instants enfuis, une présence obsédante, des paysages estompés.
Aucune nostalgie néanmoins ni mélancolie dans ces pages : il s'agit au contraire de capter dans le déroulement des gestes, des trajets, des décors les plus ordinaires, une grâce moins apparente que le temps décidément n'abolit pas. Et que le poème parvient à fixer avec ses outils de langage, dans l'évidence et le mystère qui lui sont propres.
Depuis Nous, infiniment risqués (1987) Fabienne Courtade est l'auteur d'une quinzaine d'ouvrages, au carrefour du poème et du récit. Corps tranquille étendu est le quatrième titre qu'elle publie dans la collection Poésie/Flammarion.
Fabienne Courtade
'corps tranquille étendu'
Poésie/Flammarion
Paru le 15/11/2017
Genre : Théâtre
224 pages
Grand format 129 x 199 cm
Broché
EAN : 9782081415508
ISBN : 9782081415508
€ 17.00
new books
fleursdumal.nl magazine
More in: - Book News, - Book Stories, Archive C-D, Archive C-D, Art & Literature News, THEATRE
 To-Day
Voice, with what emulous fire thou singest free hearts of old fashion,
English scorners of Spain, sweeping the blue sea-way,
Sing me the daring of life for life, the magnanimous passion
Of man for man in the mean populous streets of To-day!
Hand, with what color and power thou couldst show, in the ring hot-sanded,
Brown Bestiarius holding the lean tawn tiger at bay,
Paint me the wrestle of Toil with the wild-beast Want, bare-handed;
Shadow me forth a soul steadily facing To-day!
Helen Gray Cone
(1859-1934)
To-Day
fleursdumal.nl magazine
More in: Archive C-D, Archive C-D, CLASSIC POETRY
Hij houdt zijn oor tegen het gat in de plint. De muur maakt geluiden. Geknars. Hoe steviger hij zijn oor ertegenaan drukt, hoe meer lawaai hij hoort. Muizen rennen ongestoord door de spouwen in de muur. Daarbinnen kunnen ze ongegeneerd piepen en rotzooi maken.
Hij voelt dat hij bekeken wordt. Er is niemand, hij weet het zeker, maar als hij opkijkt, ziet hij de felle ogen van de opgezette uil op het dressoir. Hij schrikt ervan. Hij heeft het geheim van de uil ontdekt: de muizen. Hij houdt een vinger tegen zijn lippen: ik zeg niets tegen moeder. Dat is zijn afspraak met de uil. Anders zet zijn moeder zeker vallen en raakt de uil zijn speeltjes kwijt.
Als hij zijn hoofd een beetje van de muur afhoudt, is het stil. Dit is het geheim van hem en van de uil, die uit woede om zijn doodse machteloosheid zulke felle gele haatogen heeft. Ogen met valse korengele pupillen. Maar goed dat hij dood is. Mels gunt de muizen hun stiekeme leven. Levens horen geheim te zijn, ook de levens van de kleine ritseldieren die 's nachts over zijn bed trippelen en gewoon op zijn kussen gaan zitten, vlak bij zijn oor. Ze zijn niet bang. Voor een muis is hij net zo'n groot raadsel als de muis dat is voor hem. Alle leven is geheimzinnig, hoe klein ook. Het leven bestaat uit kluwens geheimen. Hoe meer, hoe spannender.
Zelfs voor zijn vrienden heeft hij geheimen. En zij voor hem. Soms, als ze een wedstrijd houden en vanaf het kerkplein naar de brug over de Wijer racen, schrikt hij van de gloed in Tijgers ogen. Een blik om bang van te worden. Steenhard. Net zo hard als die van de dode uil. Terwijl Tijger toch zijn vriend is. Zo is het ook met Thija. Ze zijn hartsvrienden, maar soms begrijpt hij niets van haar gedrag. Dan is ze in haar hoofd ergens anders. Ze hoort niets, ze ziet niets. Dan heeft ze die blik van een paspop. Het hele kluwen van geheimen dat rond haar hangt, maakt haar zo interessant.
En hijzelf? Hoe kijken ze naar hem? Hij flapt er te veel uit. Om interessanter voor Thija te zijn, moet hij meer geheimen voor zichzelf houden, net als Tijger, die nooit het achterste van zijn tong laat zien. Zijn kennis over de wereld van de muizen in de spouw, zijn kleine samenzwering met de uil, waarover hij de anderen nooit iets zal vertellen, zullen hem helpen. Ze moeten aan hem zien dat er dingen zijn waarvan zij geen weet hebben.
Ton van Reen: Het diepste blauw (005)
wordt vervolgd
fleursdumal.nl magazine
More in: - Book Stories, - Het diepste blauw, Archive Q-R, Reen, Ton van
"The experiences could be understood only as being of such extremity that they stood beyond written words; it was not a failure of language, but a view that, for the individual, language, particularly written words, and the enormity of the experience were not matched."
First World War expert Julian Walker looks at how the conflict shaped English and its relationship with other languages. He considers language in relation to mediation and authenticity, as well as the limitations and potential of different kinds of verbal communication.
Walker also examines:
– How language changed, and why changed language was used in communications
– Language used at the Front and how the 'language of the war' was commercially exploited on the Home Front
– The relationship between language, soldiers and class
– The idea of the 'indescribability' of the war and the linguistic codes used to convey the experience
'Languages of the front' became linguistic souvenirs of the war, abandoned by soldiers but taken up by academics, memoir writers and commentators, leaving an indelible mark on the words we use even today.
Julian Walker is a writer, researcher, artist and educator. He is an Honorary Research Associate at University College, London, UK. He is the co-author of Languages and the First World War: Communicating in a Transnational War (2016), the author of The Roar of the Crowd (2016) and Trench Talk (2012) among many others.  His website is www.julianwalker.net
Writes: Lexicology, First World War, Sociolinguistics and Linguistic Anthropology, World History, Heritage
Author of : Words and the First World War, Team Talk, Discovering Words in the Kitchen, Discovering Words
"This is a substantial book, dense but always accessible, covering both time and space. Gratifyingly, it sidesteps an all too common error that entraps books on words, of becoming no more than a padded dictionary." – The Daily Telegraph
Words and the First World War
Language, Memory, Vocabulary
By: Julian Walker
Published: 28-12-2017
Format: Paperback
Edition: 1st
Extent: 416
ISBN: 9781350001923
Imprint: Bloomsbury Academic
Illustrations: 50 bw images
Dimensions: 216 x 138 mm
Prize: £14.99
fleursdumal.nl magazine
More in: *War Poetry Archive, - Book News, - Book Stories, Archive W-X, Art & Literature News, Histoire de France, Historia Belgica, History of Britain
Thank you for reading FLEURSDUMAL.NL - magazine for art & literature