FDM Art Gallery
·
Hans Hermans: Landscape (102)
·
Frida Kahlo: Making Her Self Up in Victoria & Albert Museum London
·
Bruges Triennial 2018: Liquid City
·
René Daniëls: Fragments from an Unfinished Novel
·
Hans Hermans: Landscape (101)
·
Hans Ebeling Koning: Appelboom
·
"Ad Fundum", een hommage aan meester-graficus en tekenaar Ad Willemen in Luycks Gallery
·
Kunstenfestival Watou 2018 nog t/m 2 september
·
Chinese Authorities Razing Ai Weiwei's Studio Part of Larger Attack on Artistic Expression
·
Vincent Berquez: Drawing Nr. 37
·
Vincent Berquez: Japanese river
·
Vincent Berquez: Drawing Nr. 18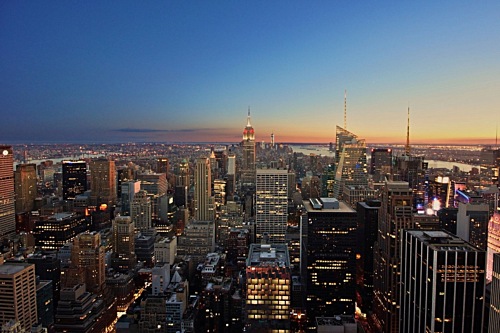 Hans Hermans© photos: landscape
(102 – new york usa)
# more on website hans hermans photos
fleursdumal.nl magazine
More in: FDM Art Gallery, Hans Hermans Photos, Photography
---
Exhibition On now until Sunday, 4 November 2018
Frida Kahlo: Making Her Self Up
Experience a fresh perspective on Kahlo's compelling life story through her most intimate personal belongings
This exhibition presents an extraordinary collection of personal artefacts and clothing belonging to the iconic Mexican artist Frida Kahlo. Locked away for 50 years after her death, this collection has never before been exhibited outside Mexico.
Frida Kahlo: Making Her Self Up offers a fresh perspective on the life story of this extraordinary artist, whose charisma and powerful sense of style continue to captivate. Never before seen, specially commissioned photography, shot at the Casa Azul in Mexico City show her distinctive Mexican outfits along with her self-portraits, an unprecedented pairing that is enriched by iconic images of the artist.
Book: Frida Kahlo – Making Her Self Up – offers a fresh perspective on the life story of this extraordinary artist, whose charisma and powerful sense of style continue to captivate. Never before seen, specially commissioned photography, shot at the Casa Azul in Mexico City show her distinctive Mexican outfits along with her self-portraits, an unprecedented pairing that is enriched by iconic images of the artist.
♦Includes six inset booklets, containing photographs of Kahlo's most intimate possessions
♦16 page section showcasing Kahlo's wardrobe, specially conserved and mounted
♦Spectacular details of embellishments and textiles
About the authors C. Wilcox and C. Henestrosa
Claire Wilcox is Senior Curator of Fashion at the V&A and Professor in Fashion Curation at the London College of Fashion, University of the Arts London. She curated the exhibitions Vivienne Westwood (V&A, 2004), The Golden Age of Couture: Paris and London 1947–1957 (V&A, 2007) and Alexander McQueen: Savage Beauty (2015), and edited the accompanying catalogues. Circe Henestrosa is an independent curator and Head of the School of Fashion at LASALLE College of the Arts, Singapore. She curated the exhibition Appearances Can Be Deceiving: The Dresses of Frida Kahlo (Museo Frida Kahlo, Mexico City, 2012).
Format: Hardcover
ISBN 9781851779604
Dimensions 270 x 216 mm
Author: C.Wilcox and C.Henestrosa
Product code 153329
£30.00
Victoria and Albert Museum
Cromwell Road, London, SW7 2RL
# exhibition and publication
Frida Kahlo: Making Her Self Up
in Victoria and Albert Museum London
fleursdumal.nl magazine
More in: - Book News, - Book Stories, Art & Literature News, Exhibition Archive, FDM Art Gallery, FDM in London, Frida Kahlo, Galerie des Morts
---
From May 5 until September 16, 2018, Bruges will be the setting for the second edition of the Triennial, an art route in the heart of the historic city.
With the central theme 'Liquid City', the Triennial wants to investigate the role of a city like Bruges in a globalized and changing world. With the artistic and architectural installations, the participants of Triennale Brugge 2018 | Liquid City create welcoming public spaces in the city center. Those temporary interventions on little known and iconic places in Bruges offer great opportunities for encounter, wonder and dialogue.
Triennial Bruges 2018 will feature works by Jarosław Kozakiewicz (PL), Wesley Meuris (BE), Renato Nicolodi (BE), NLÉ – Kunlé Adeyemi (NG-NL), OBBA (KR), Roxy Paine (US), John Powers (USA), raumlabor (DE), Rotor (BE), Ruimteveldwerk (BE), Tomás Saraceno (AR), Jose Selgas & Lucia Cano (ES), Monir Shahroudy Farmanfarmaian (IR), StudioKCA (US), Peter Van Driessche – Atelier4 (BE).
The Bruges Triennial 2018, themed Liquid City reaches back to 2015 edition, which was a reflection on the city as a megapolis: "What if the 5 million visitors to the city decided to stay?"
This edition takes a step further: how flexible, liquid and resilient can a historic city like Bruges be in an age when nothing seems to be certain any longer? None other than Zygmunt Bauman, prophet of the permanent crisis in the West, devoted his final book to this phenomenon, a year before his death in January 2017.
In Retrotopia, Bauman invites the reader to question the dynamics of our society, as well as the metaphor "liquid" itself, the contemporary era as a time of transition, which today stands in stark contrast with the institutional framework that once formed a safe environment for our (grand)parents. Each institution in turn, whether the government, the church, political parties, insurance companies or banks, have lost the public's trust. This renders society particularly vulnerable to fear-mongers.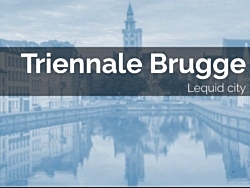 This world is changing rapidly. Established ways of thinking and forms of life are under pressure. What does the future hold?
The Bruges Triennial 2018 co-curators Tilll-Holger Borchert and Michel Dewilde invited international artists and architects to think about these issues. Many of them sought inspiration in the city that is literally crisscrossed and surrounded by water.
The waterways that once earned Bruges its international renown, become a metaphor for Liquid City. Works of art, installations and meeting places have been put up in the city centre.
They form a free hospitable route that brings people together in unexpected spots. That is one of the main objectives of the Bruges Triennial 2018: generating encounters, challenging people not only to view the artworks but also to experience them and to become part of the creative process.
Participating internationally renowned architects include Kunlé Adeyemi, (Nigeria/Netherlands, NLÉ Architects), who designed the third version of MFS – Minne Floating School for Bruges, selgascano (Spain) who created the new swimming pavilion for Brugians and visitors alike on the city canal, and OBBA (Korea) who worked together with Bruges-based Architectuuratelier Dertien12 to construct The Floating Island, a meandering walkway on the water. Climate change and environmental issues are addressed through the installation of the Bruges Whale by StudioKCA (US), INFINITI designed by Peter Van Driessche of Aterlier4 (Belgium) suggests tiny housing situated on the water whereas the Aerocene project by Tomás Saraceno (Argentina) invites us to look to the sky. A very different approach is offered by Brussels-based collective Rotor who presents a museum dedicated to the Chinese Mitten Crab in the Poortersloge and an exotic eatery at the beach in Zeebrugge. raumlabor (Germany) has been working with local youths on their House of Time, a continuous project of building, experimenting and hands-on experience and the Belgian collective Ruimteveldwerk have persuaded the inhabitants of one of the historic almshouse complexes to help create their G.O.D. project. Further installations along the arts trail are created by artists such as Wesley Meuris (Belgium), Renato Nicolodi (Belgium), John Powers (US), Jarosław Kozakiewicz (Poland) and Monir Shahroudy Farmanfarmaian (Iran).
Additional art works, designs, models and documentary materials of all the participants are presented in the free Liquid City exhibition in the Poortersloge, the central information point of the Bruges Triennial 2018.
A further exhibition is located in the Church of the Great Seminary. Architectures Liquides, curated by Abdelkader Damani, is a selection of impressive visionary architectural models from the FRAC-Centre collection in Orléans (France).
The bilingual catalogue (Dutch/English) with contributions by Till-Holger Borchert, Michel Dewilde, Abdelkader Damani, Tom Trevor, Anna Lowenhaupt Tsing, Marc Van den Bossche ea. and photography by Iwan Baan is available at the Triennial information points, arts bookshops and online.
Triënnale Brugge 2018
Liquid City / Vloeibare Stad
Till-Holger Borchert, Michel Dewilde
Photogr.: Misc.
Format: 27 x 20
Pages 160
Hardcover
Dutch, English
ISBN 9789058565990
€ 29,95
# more information on website Bruges Triennial 2018
Bruges Triennial 2018: Liquid City – Contemporary art and architecture trail in the historic heart of Bruges – is open daily until September 16. Opening hours for the exhibitions and some installations: 12–6pm – Free of charge
Triënnale Brugge 2018
fleursdumal.nl magazine
More in: - Book News, Architecture, Art & Literature News, Art Criticism, Design, Exhibition Archive, FDM Art Gallery, Historia Belgica, Land Art, Sculpture, Street Art, Urban Art
---
September at WIELS will be marked by the pictorial work and the poetic imagination of René Daniëls.
Come to discover over 75 paintings – several of which have never been exhibited and have been specially restored for the occasion – in addition to hundred drawings by the artist who has made his mark on the history of painting.
René Daniëls occupies a prominent place in the history of contemporary art from the latter half of the 20th century, despite the fact that his career was abruptly interrupted in 1987 after he suffered a stroke.
Emerging in the late 1970s, when figurative and expressive painting once again became popular, Daniëls soon developed an original, personal language. Although he enjoyed early recognition, Daniëls had no qualms about experimenting with different pictorial styles.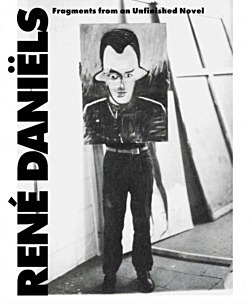 Nevertheless, certain motifs recur under constantly changing forms, following an associative, dream-like logic. Not unlike a composer, Daniëls devises variations on a theme. From 1984 onwards, one motif was to play a dominant role: that of an exhibition room seen in perspective. This form, resembling a bow tie, is reproduced in compositions in which he plays with mirroring effects, overlapping layers, or changes of direction.
Inspired by the title of one of the rare texts written by Daniëls, the exhibition Fragments from an Unfinished Novel explores the phenomenon of déjà vu and the relation between perception and memory, which lie at the heart of his practice.
Including historic paintings and several works never previously exhibited, the exhibition recounts the development of Daniëls' visual language by exploring the effects of repetition and variation inherent in his work. A wide selection of drawings completes the presentation, offering a closer understanding of the evolution of his vocabulary.
René Daniëls:
Fragments from an Unfinished Novel
07.09.2018 – 06.01.2019
WIELS
Kunst · Brussel (stad)
Contemporary Art Centre
Avenue Van Volxemlaan 354
1190 Brussels
# more on exhibition rené daniëls
rené daniëls exhibition
fleursdumal.nl magazine
More in: - Book Stories, Art & Literature News, Exhibition Archive, FDM Art Gallery, René Daniëls
---
Hans Hermans© photos: landscape
(101 – lac du der F)
# more on website hans hermans photos
fleursdumal.nl magazine
More in: FDM Art Gallery, Hans Hermans Photos, Photography
---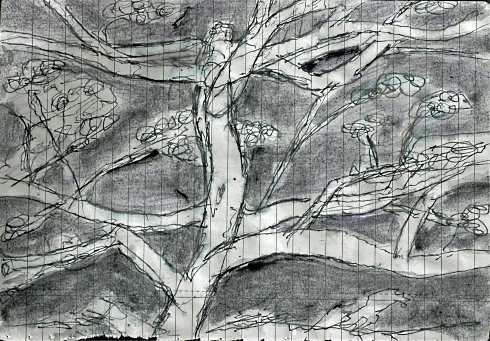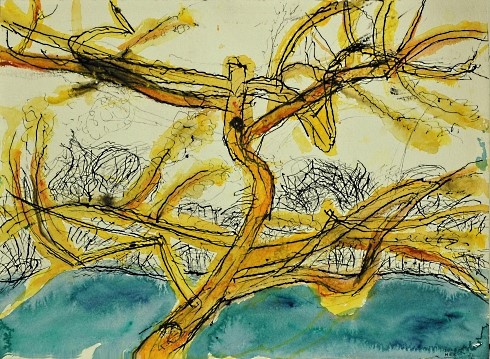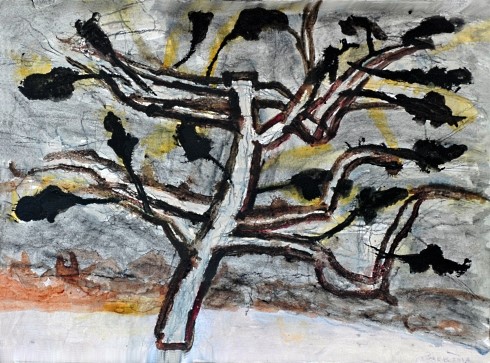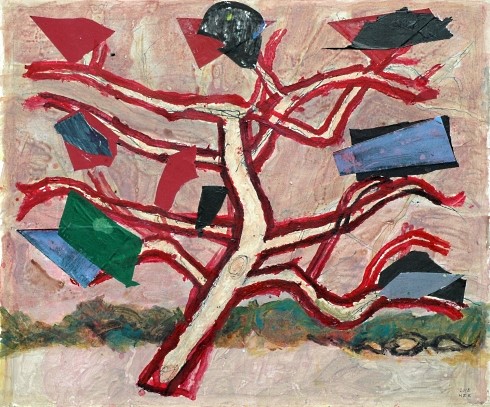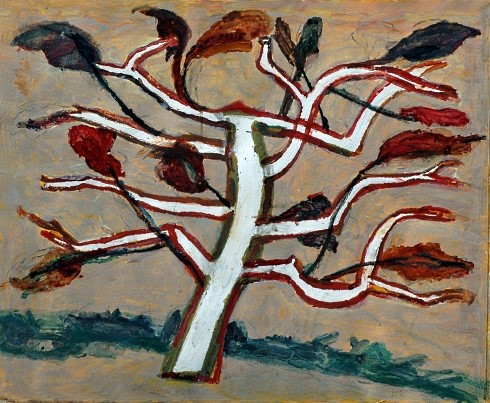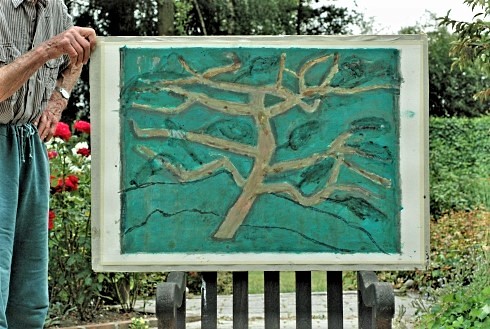 Hans Ebeling Koning
Appelboom (Apple tree)

Hans Ebeling Koning (1931) received his education at AKI in Enschede where he later became a teacher in drawing and painting. His work is represented in many public and private collections including Museum Henriette Polak in Zutphen, Rijksmuseum Twente and the Museum of Modern Art in Arnhem.
Hans Ebeling Koning © 2018

fleursdumal.nl magazine
More in: Art & Literature News, Exhibition Archive, FDM Art Gallery, Hans Ebeling Koning
---
Van 9 september tot en met 7 oktober organiseert Luycks Gallery in Tilburg: "Ad Fundum", een hommage aan meester-graficus en tekenaar Ad Willemen.

Het is dit jaar vijf jaar geleden dat deze markante kunstenaar overleed. Zowel in Luycks Gallery als in het nabijgelegen voormalig atelier van Willemen wordt een keuze getoond uit zijn artistieke nalatenschap.

Willemens grote muze was het vrouwelijk naakt. In zijn grafisch werk citeerde hij veelvuldig en bevlogen uit de kunstgeschiedenis. Zijn fantasie werd geprikkeld door werk van onder meer Cranach, Rafael, Piero di Cosimo en Harunobu.

Begin jaren '90 kwam hij voor het eerst naar buiten met zijn 'apocriefe' oeuvre: erotische tekeningen naar levend model. Met een 'Lust zu Zeichnen', zette hij tientallen vrouwen op even virtuoze als fijnzinnige wijze op papier. Zijn waarnemingen wist Willemen om te zetten in een eigen idioom, prikkelend, suggestief en provocerend met een subtiel oog voor kleur en detail. Zijn werk geniet grote nationale en internationale bekendheid en is opgenomen in tal van particuliere en overheidscollecties.
Op 21 september is er in Cinecitta bij wijze van hommage een filmavond rondom Willemen. Aanvang 20:00 uur, toegang gratis. Meer informatie www.luycksgallery.com en www.cinecitta.nl
De openingstijden van het atelier zijn gelijk aan die van de galerie. Adres: Bisschop Zwijsenstraat 23, Tilburg.
Luycks Gallery
Nieuwlandstraat 31
5038 SL Tilburg
tel: + 31 6 22 800 638
e-mail: info@luycksgallery.com
Ad Willemen in Luycks Gallery
fleursdumal.nl magazine
More in: Ad Willemen, Art & Literature News, Art Criticism, Exhibition Archive, FDM Art Gallery
---
Elke zomer opnieuw slaat het Kunstenfestival van Watou haar tenten op in het gelijknamige kunstdorpje aan de Franse grens.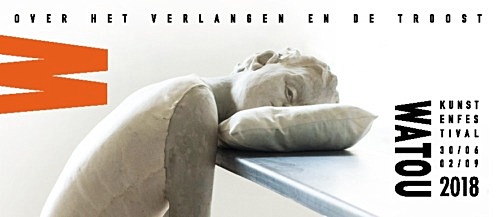 Dichters en beeldend kunstenaars, aanstormend talent en gevestigde waarden, kunstwerken uit binnen- en uit buitenland strijken er neer en vormen een bijzonder kunstenparcours. Het dorp is de setting en biedt een tiental karakteristieke locaties als tentoonstellingsruimte: een voormalig klooster, een oude boerderij of de kelder van een brouwerij. De wisselwerking tussen die verrassende, nostalgische ruimtes met hedendaagse beeldende kunst en poëzie zorgt telkens weer voor een unieke kunstbeleving. Zomeren in Watou is dan ook prikkelen en onthaasten tegelijk. Kleine momenten van gelukzaligheid.
Iedere editie van het Kunstenfestival kadert in een ander thema, waarrond intendant Jan Moeyaert en poëziecurator Willy Tibergien beeld en taal samenbrengen. Schrijvers, dichters en kunstenaars palmen gedurende een zomer het dorp in en bieden de bezoekers een caleidoscoop aan inzichten en perspectieven rond een bepaald onderwerp.
De afgelopen edities van Kunstenfestival Watou groeide er gestaag een nieuwe poëtische lijn in het dorp. Ook dit jaar selecteerde poëziecurator Willy Tibergien gedichten van gevestigde waarden in het Nederlandstalig poëzielandschap om hen een permanente plaats te geven in Watou.
Aan het werk van Eddy van Vliet, Paul Snoek, Remco Campert, Hugues C. Pernath, Jean-Claude Pirotte, Leo Vroman, Miriam Van hee, Stefan Hertmans, Gerrit Kouwenaar en Marc Insingel, Leonard Nolens, Christine D'Haen, Joost Zwagerman, Jotie T'Hooft, Charles Ducal en Luuk Gruwez worden dit jaar gedichten van Anna Enquist, Eva Gerlach en Frans Deschoemaeker toegevoegd.
STRING CARPET – GIDEON KIEFER – KUNSTENAARSGESPREK – ZONZO COMPAGNIE – ELS DEJONGHE – HET VLIEGEND TAPIJT – VRIJDAG VIERT FEEST – KRISTIN VERELLEN – POSTKANTOOR 00/00/00 – LIZE PEDE – BERNARD DEWULF – ALICJA GESCINSKA – DE TROOSTWINKEL – DOWN TIGER DOWN – SIEL EN LARISSA – NELLY AGASSI – IK ZIE MENSEN – POËZIE POËZIE POËZIE – DEREK & RENAUD – WIM CHIELENS – DE PLUIZENTUIN – WALLY DEDONCKER – ANT AND … – IK BEN WEER VELEN – STEPHANIE STRUIJK –  BERNARD DEWULF – MENNO WIGMAN – GRAHAM FAGEN – GERRIT KOUWENAAR – FRANS DESCHOEMAEKER – ANNA ENQUIST – EVA GERLACH – FRAUKE WILKEN – SAM DURANT – SIGRID VON LINTIG – PAUL SNOEK – MAUD BEKAERT -PETER VERHELST- DENIS VERCRUYSSE – MOHAMED EL BAZ – PARSE/ERROR – KATRIN DEKONINCK – ARPAÏS DU BOIS – GRZEGORZ GWIAZDA – SHIMABUKU – PETER DE MEYER – ROBINE CLIGNETT – ELS LESAGE – RADNA FABIAS – RY ROCKLEN – CHAIM VAN LUIT – SYLVIA EVERS – TORI WRÅNES – RONNY DELRUE – PETER MORRENS – HERVÉ MARTIJN – THÉ VANBERGEN – HANNE VAN ROMPAEY – STEFAN HERTMANS – TOM VAN DEEL – DANIELLE VAN ZADELHOFF – ANTON COTTELEER – SU-MEI TSE – POLIEN BOONS – JONAS VANSTEENKISTE – GURT SWANENBERG – ARANTHELL – GEERTJE VANGENECHTEN – MAARTEN VANDEN EYNDE – DOMINIQUE DE GROEN – JANI LEINONEN – JOSÉ COBO – TATJANA GERHARD – NADIA NAVEAU – HESTER KNIBBE – LUK VAN SOOM – JEROEN VAN KAN – CAROL ANN DUFFY – IRINA RATUSHINSKAYA – YEHUDA AMICHAI – NIDAA KHOURY – ZIYA MOHAVED – HANS OP DE BEECK- MASSIMO UBERTI -VAJIKO CHACHKHIANI – MOYA DE FEYTER – SHEILA HICKSEMMA VAN ROEY – BERNARDÍ ROIG -PETER THEUNYNCK – GIDEON KIEFER – EDITH DEKYNDT – THOMAS LEROOY – RANDALL CASAER- CHRISTINA MIGNOLET – GERD KANZ- GREET DESAL – HANNAH VAN BINSBERGEN – MELIK OHANIAN – JOHAN CLARYSSE – SOPHIE BOUVIER AUSLÄNDER – HANS DEFER- LUDOVIC LAFFINEUR – ARNE QUINZE – MARIJE LANGELAAR – TANYA SCHULTZ – ERLEND VAN LANDEGHEM – ROLAND JOORIS – LUKA FINEISEN – MEKHITAR GARABEDIAN – FRANZ SCHMIDT – CLARISSE BRUYNBROECK – FRANCIS PONGE – DAVID DE POOTER – RUTGER KOPLAND – JAN VANRIET – HUGO CLAUS – NELLY AGASSI – K. MICHEL – MICHAL MARTYCHOWIEC – PAUL DEMETS – STEPHAN MUIS – SAMMY BALOJI – TANG NANNAN – ADEL ABDESSEMED – LAURENS HAM – TODD ROBINSON – PANAMARENKO – GILLES BARBIER – HELEN DUNMORE – CASPER BRAAT – SYLVIE MARIE – CHANTAL POLLIER – EZRA VELDHUIS – HARLINDE DE MOL – ELEANOR CROOK – ANNO DIJKSTRA
Kunstenfestival Watou 2018 loopt nog tot en met 2 september
Open: woensdag tot zondag van 11u tot 19u – maandag en dinsdag gesloten, behalve op feestdagen
Adres:
Watouplein 12
8978 Watou
Poperinge (België)
De start van het Kunstenfestival is te vinden in het Festivalhuis (Watouplein 12), op het marktplein naast de Spar. Opg  elet! Voor alle weekend-events zijn de plaatsen beperkt. Een plaats reserveren kan enkel de dag zelf aan de kassa, bij aankoop van uw ticket.
# meer informatie op website kunstenfestival Watou
Kunstenfestival Watou 2018
fleursdumal.nl magazine
More in: # Music Archive, #Editors Choice Archiv, #More Poetry Archives, - Book Lovers, - Book Stories, Art & Literature News, Exhibition Archive, FDM Art Gallery, LITERARY MAGAZINES, PRESS & PUBLISHING, STREET POETRY, THEATRE, Watou Kunstenfestival
---
_____________________________________________________________________________
August 7, 2018
NEW YORK – The unannounced demolition of Chinese artist Ai Weiwei's studio in Beijing is symptomatic of a larger attack on human rights and artistic expression in China, said PEN America today.
On August 6, Artist and activist Ai Weiwei announced on social media that authorities had demolished his Beijing artist studio. Ai stated that he had received no advance notice prior to the demolition. Although several of his works were damaged in the studio's demolition, the artist explained that he is more preoccupied with the effects of China's "urban development" projects on artists and migrant populations, saying: "Since last year, a policy was enacted to clear out migrant workers from Beijing . . . Those who do not belong to the establishment, including artists, are always the first to be discriminated against and sacrificed."
Within the past few years, artist colonies including Songzhuang and Caochangdi—the latter an arts district that Ai helped develop—have been targeted for eviction and demolition. Artists have cited both runaway economic development and political disfavor as rationales for authorities' hostile attitudes. More broadly, an urban development policy conceived last year to push migrant workers out of Beijing has empowered local authorities to take unannounced action to demolish property, a policy that has led to thousands of migrant workers losing their homes.
"Regardless of the government's motives, the unannounced demolition of an artist's studio is a demonstration of a lack of appreciation or even acknowledgment for the role of the artist in society," said Julie Trébault, Director of PEN America's Artists at Risk Connection. "Around the world, artist studios and communes are spaces to be cherished, not discarded."
PEN America leads the Artists at Risk Connection (ARC), a program dedicated to assisting imperiled artists and strengthening the network of organizations that support them. If you or someone you know is an artist at risk, contact ARC here.
PEN America stands at the intersection of literature and human rights to protect open expression in the United States and worldwide. They champion the freedom to write, recognizing the power of the word to transform the world. Their mission is to unite writers and their allies to celebrate creative expression and defend the liberties that make it possible.
www.pen.org
the freedom to write
fleursdumal.nl magazine
More in: Ai Weiwei, Art & Literature News, AUDIO, CINEMA, RADIO & TV, Exhibition Archive, FDM Art Gallery, MUSEUM OF PUBLIC PROTEST, REPRESSION OF WRITERS, JOURNALISTS & ARTISTS
---
 Vincent Berquez©:  Nr. 37
Vincent Berquez is a London–based artist and poet
fleursdumal.nl magazine for art & literature
More in: Berquez, Vincent, FDM Art Gallery, Vincent Berquez
---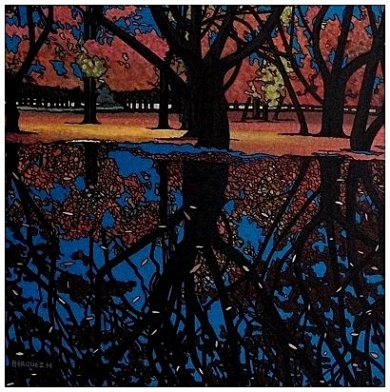 Vincent Berquez painting ©: Japanese River
   Vincent Berquez is a London–based artist and poet
    fleursdumal.nl magazine for art & literature
More in: Berquez, Vincent, FDM Art Gallery, Vincent Berquez
---
  Vincent Berquez©:  Drawing Nr. 18
Vincent Berquez is a London–based artist and poet. He has published in Britain, Europe, America and New Zealand. His work is in many anthologies, collections and magazine worldwide. Vincent Berquez was requested to write a Tribute as part of 'Poems to the American People' for the Hastings International Poetry Festival for 9/11, read by the mayor of New York at the podium. He has also been commissioned to write a eulogy by the son of Chief Albert Nwanzi Okoluko, the Ogimma Obi of Ogwashi-Uku to commemorate the death of his father. Berquez has been a judge many times, including for Manifold Magazine and had work read as part of Manifold Voices at Waltham Abbey. He has recited many times, including at The Troubadour and the Pitshanger Poets, in London. In 2006 his name was put forward with the Forward Prize for Literature. He recently was awarded a prize with Decanto Magazine. Berquez is now a member of London Voices who meet monthly in London, United Kingdom.
Vincent Berquez has also been collaborating in 07/08 with a Scottish composer and US film maker to produce a song-cycle of seven of his poems for mezzo-soprano and solo piano. These are being recorded at the Royal College of Music under the directorship of the concert pianist, Julian Jacobson. In 2009 he will be contributing 5 poems for the latest edition of A Generation Defining Itself, as well as 3 poems for Eleftheria Lialios's forthcoming book on wax dolls published in Chicago. He also made poetry films that have been shown at various venues, including a Polish/British festival in London, Jan 07.
As an artist Vincent Berquez has exhibited world wide, winning prizes, such as at the Novum Comum 88' Competition in Como, Italy. He has worked with an art's group, called Eins von Hundert, from Cologne, Germany for over 16 years. He has shown his work at the Institute of Art in Chicago, US, as well as many galleries and institutions worldwide. Berquez recently showed his paintings at the Lambs Conduit Festival, took part in a group show called Gazing on Salvation, reciting his poetry for Lent and exhibiting paintings/collages. In October he had a one-man show at Sacred Spaces Gallery with his Christian collages in 2007. In 2008 Vincent Berquez had a solo show of paintings at The Foundlings Museum and in 2011 an exposition with new work in Langham Gallery London.
fleursdumal.nl magazine for art & literature
More in: Berquez, Vincent, FDM Art Gallery, Vincent Berquez
---
Older Entries »
Thank you for reading FLEURSDUMAL.NL - magazine for art & literature