BIOGRAPHY
·
Clovis Goux: La Disparition de Karen Carpenter
·
An exploration of nature of creative invention: Devotion by Patti Smith
·
Thomas Eyskens: Toen met een lijst van nu errond. Herman de Coninck biografie
·
Onno Blom: Het litteken van de dood (Biografie Jan Wolkers)
·
David S. Brown: Paradise Lost. A Life of F. Scott Fitzgerald
·
Willem Kloos: O God, waarom schynt de zon nog! (Biografie & Verzen)
·
Maria Callas biografie door Arianna Huffington
·
Evelyne Bloch-Dano: Une jeunesse de Marcel Proust
·
Pierre L.Th.A. Maréchal: Frans Babylon – herinneringsgewijs
·
Geschiedenis van een biografie – Over Antony Kok – Door Jef en Hanneke van Kempen
·
Peter BROOKS: Flaubert in the Ruins of Paris. The Story of a Friendship, a Novel, and a Terrible Year
·
DE STIJL in Tilburg: voorpublicatie biografie Antony Kok
Durant les années 1970, The Carpenters est le groupe le plus populaire aux États-Unis.
Un immense succès (100 millions de disques vendus) qui s'explique par l'alchimie unique entre ses deux membres fondateurs, Richard et Karen Carpenter, un frère et une sœur. Ces deux enfants de la classe moyenne imposent un retour à l'ordre musical après la révolution psychédélique, avec des hits aussi romantiques que réactionnaires, tels Close to you, We've Only Just Begun ou Rainy Days and Mondays. Mais derrière cette success story se cache une tragédie.
La Disparition de Karen Carpenter raconte cette histoire, nous amenant à porter un regard de côté sur les grands phénomènes socio-culturels qui marquèrent l'Amérique de l'époque.
Clovis Goux est journaliste indépendant et cofondateur du label Dirty.
Clovis Goux
La Disparition de Karen Carpenter
Simon Liberati – Préfacier
Actes Sud Rocks
Septembre, 2017
132 pages
ISBN 978-2-330-08129-4
prix indicatif: €15,00
Genre: Essais, Documents
---
Clovis Goux: La Disparition de Karen Carpenter
fleursdumal.nl magazine
More in: - Book News, - Bookstores, Archive G-H, Art & Literature News, BIOGRAPHY, Karen Carpenter, Karen Carpenter
---
A work of creative brilliance may seem like magic — its source a mystery, its impact unexpectedly stirring.
How does an artist accomplish such an achievement, connecting deeply with an audience never met? In this groundbreaking book, one of our culture's beloved artists offers a detailed account of her own creative process, inspirations, and unexpected connections.
Patti Smith first presents an original and beautifully crafted tale of obsession—a young skater who lives for her art, a possessive collector who ruthlessly seeks his prize, a relationship forged of need both craven and exalted.
She then takes us on a second journey, exploring the sources of her story. We travel through the South of France to Camus's house, and visit the garden of the great publisher Gallimard where the ghosts of Mishima, Nabokov, and Genet mingle.
Smith tracks down Simone Weil's grave in a lonely cemetery, hours from London, and winds through the nameless Paris streets of Patrick Modiano's novels. Whether writing in a café or a train, Smith generously opens her notebooks and lets us glimpse the alchemy of her art and craft in this arresting and original book on writing.
The Why I Write series is based on the Windham-Campbell Lectures, delivered annually to commemorate the awarding of the Donald Windham-Sandy M. Campbell Literature Prizes at Yale University.
From the renowned artist and author Patti Smith, an inspired exploration of the nature of creative invention:
Title Devotion
Author Patti Smith
Publisher Yale University Press
Hardcover
112 pages
ISBN-10 0300218621
ISBN-13 9780300218626
Publication September 2017
$18.00
More Patti Smith titles:
– Collected Lyrics 1970 – 2015
– M Train
– Just Kids
– Auguries of Innocence – Poems
fleursdumal.nl magazine
More in: - Book News, - Book Stories, Archive S-T, Art & Literature News, Literaire sporen, Patti Smith, Smith, Patti
---
Met De lenige liefde (1969) werd Herman de Coninck op slag de populairste dichter van Vlaanderen, 'de man die zijn volk poëzie leerde lezen'.
Ook als leraar, journalist en geëngageerd hoofdredacteur van het Nieuw Wereldtijdschrift was hij van grote betekenis.
Na een leven vol poëzie bezweek hij in 1997 op een literair congres in Lissabon aan een hartaanval.
Nu is er dan eindelijk een biografie van de hand van Thomas Eyskens op basis van vele gesprekken met familie, vrienden en collega's, nooit eerder gepubliceerd fotomateriaal en nagelaten correspondentie. Een rijk portret van 'leven en werken, schrijven en liefhebben'.
Thomas Eyskens
Toen met een lijst van nu errond
Herman de Coninck biografie
Hardcover
ISBN: 9789029511407
Prijs: € 34,99
Publicatiedatum: 03-10-2017
Herman de Coninck biografie
fleursdumal.nl magazine
More in: - Book News, - Book Stories, Archive C-D, Archive C-D, Art & Literature News, BIOGRAPHY, Coninck, Herman de, DEAD POETS CORNER
---
Nederland vormde Jan Wolkers, en Jan Wolkers vormde Nederland.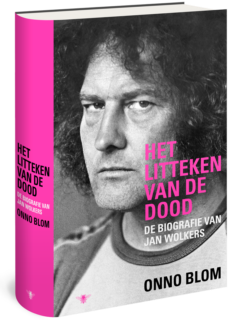 Zijn kunstenaarschap ontstond uit woede tegen de God van zijn gereformeerde vader in Oegstgeest, bloeide op in Amsterdam, en vond harmonie op Texel.
Zijn romans werden verguisd, bejubeld en bekroond. Wereldwijd werden honderdduizenden exemplaren verkocht van Kort Amerikaans, Een roos van vlees en Turks fruit.
Wolkers werd opgeleid als beeldhouwer. Hij maakte vele beelden in brons en glas, en liet een schitterend oeuvre van kleurrijke schilderijen na. Zoals hij beeldhouwde met woorden, zo schreef hij met verf.
Meer dan tien jaar lang werkte Onno Blom aan Wolkers' biografie. Op basis van een schat aan materiaal schetst hij een rebels, obsessief en zinnelijk leven in de greep van liefde en dood. Wolkers had onstuimige relaties met vrouwen en meisjes. De dood van zijn oudste broer en die van zijn tweejarige dochtertje bleven hem tot zijn laatste dag als demonen achtervolgen.
Onno Blom (1969) studeerde in 1994 cum laude af in de Nederlandse taal- en letterkunde en Culturele Studies. Na een aantal jaren te hebben gewerkt als literair redacteur bij dagblad Trouw en korte tijd als hoofdredacteur van Uitgeverij Prometheus Bert Bakker en adjunct-directeur van De Bezige Bij, is hij werkzaam als freelance journalist en literair criticus. Hij maakte voor Teleac een aantal radioprogramma's en treedt op als interviewer en presentator bij literaire bijeenkomsten in het land. Blom is de officiële biograaf van Jan Wolkers.
'Arme Onno. Zweet, bloed en tranen zullen langs zijn rug lopen,' zei Wolkers vlak voor zijn dood in NRC Handelsblad.
Verwacht – 19 oktober 2017 – handelseditie
Het litteken van de dood
Onno Blom
Aantal pagina's 1168
Uitvoering: Gebonden
ISBN 9789023454588
Uitgever De Bezige Bij
Druk vanaf 1e
Taal Nederlands
Bladzijden 1168 pp.
Bindwijze Hardcover
Genre Literaire non-fictie
€39,99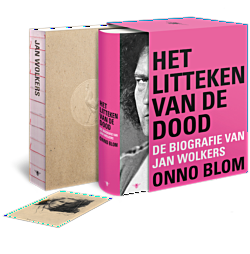 Naast de toegankelijke 'volkseditie' verschijnt een luxe editie in cassette, met daarin de biografie in een gebonden uitgave, een gebonden beeldboek met leven en werk van Jan Wolkers aan de hand van foto's, portretten, kunstwerken en egodocumenten, en een facsimiledruk van een zelfportret van Jan Wolkers uit 1945.
Deze luxe editie verschijnt in een eenmalige oplage van 1500 exemplaren, wordt genummerd en voorzien van de handtekeningstempel van Wolkers.
Verwacht – 19 oktober 2017 – luxe uitgave
Het litteken van de dood
Onno Blom
ISBN 9789023456568
Uitgever De Bezige Bij
Druk vanaf 1e
Taal Nederlands
Bindwijze Hardcover
Genre Biografieën
€129,99
new books
fleursdumal.nl magazine
More in: - Book Lovers, - Book News, Archive W-X, Art & Literature News, BIOGRAPHY, Jan Wolkers
---
Pigeonholed in popular memory as a Jazz Age epicurean, a playboy, and an emblem of the Lost Generation, F. Scott Fitzgerald was at heart a moralist struck by the nation's shifting mood and manners after World War I.

In Paradise Lost, David Brown contends that Fitzgerald's deepest allegiances were to a fading antebellum world he associated with his father's Chesapeake Bay roots. Yet as a midwesterner, an Irish Catholic, and a perpetually in-debt author, he felt like an outsider in the haute bourgeoisie haunts of Lake Forest, Princeton, and Hollywood—places that left an indelible mark on his worldview.
In this comprehensive biography, Brown reexamines Fitzgerald's childhood, first loves, and difficult marriage to Zelda Sayre. He looks at Fitzgerald's friendship with Hemingway, the golden years that culminated with Gatsby, and his increasing alcohol abuse and declining fortunes which coincided with Zelda's institutionalization and the nation's economic collapse.
Placing Fitzgerald in the company of Progressive intellectuals such as Charles Beard, Randolph Bourne, and Thorstein Veblen, Brown reveals Fitzgerald as a writer with an encompassing historical imagination not suggested by his reputation as "the chronicler of the Jazz Age." His best novels, stories, and essays take the measure of both the immediate moment and the more distant rhythms of capital accumulation, immigration, and sexual politics that were moving America further away from its Protestant agrarian moorings. Fitzgerald wrote powerfully about change in America, Brown shows, because he saw it as the dominant theme in his own family history and life.
David S. Brown is Raffensperger Professor of History at Elizabethtown College.
"[An] incisive biography."—The New Yorker
"Paradise Lost accomplishes much in its aim to contextualize Fitzgerald within both American historical and literary historical parameters. This new biography manages to get past the trappings of Fitzgerald's boozy flapper-era persona and to credit his talent for taking the pulse of the America in which he lived."—Christina Hunt Mahoney, The Irish Times
Paradise Lost
A Life of F. Scott Fitzgerald
David S. Brown
424 pag. – 2017
Harvard University Press
Belknap Press
Isbn 9780674504820
fleursdumal.nl magazine
More in: - Book News, - Book Stories, Archive A-B, Art & Literature News, BIOGRAPHY, Fitzgerald, F. Scott
---
Willem Kloos was een briljant dichter, een scherp criticus en de onbetwiste leidsman van de Tachtigers. Tot in de jaren dertig werd hij aanbeden én verguisd – nu leeft hij voort in een aantal klassieke gedichten.
Kloos bracht het tijdschrift De Nieuwe Gids naar grote hoogtes en diepe dalen, verkeerde in een permanente staat van armoede en drankzucht, en dreef zijn kring van vrienden tot wanhoop. Later werd hij verzorgd door zijn vrouw en schoonzuster, met als enig houvast het tijdschrift, dat na zijn dood in de handen van fascisten roemloos ten onder ging.
In Willem Kloos (1859-1938). O God, waarom schynt de zon nog! beschrijven Peter Janzen en Frans Oerlemans het turbulente en vaak tragische leven aan de hand van talloze nieuwe feiten en vele, dikwijls niet eerder gepubliceerde foto's. Ze rekenen af met de hardnekkige mythe dat Kloos de ontwerper was van zijn eigen grootheid en werpen een nieuw licht op zijn obsessieve verlatingsangst. Ook schenken ze uitgebreid aandacht aan zijn aftakeling in de jaren negentig en zijn opname in een psychiatrische kliniek, waar hij werd onderworpen aan elektrotherapie.
Historicus Peter Janzen en neerlandicus Frans Oerlemans publiceerden veelvuldig over de Beweging van Tachtig, onder andere in De Parelduiker. Zij promoveerden beiden op leven en werk van Willem Kloos.
Willem Kloos (1859-1938)
O God, waarom schynt de zon nog!
Auteur(s): Peter Janzen & Frans Oerlemans
Vormgever: Brigitte Slangen
ISBN 9789460043222,
gebonden, 16 x 24 cm,
rijk geïllustreerd, deels in kleur,
408 pagina's, 2017
Uitgeverij Vantilt
€ 29,50
Samen met de biografie verschijnt een heruitgave van Kloos' iconische Verzen uit 1894.
Deze zachtsgezegd opmerkelijke bundel begint met een lofzang op de liefde en eindigt met de beruchte scheldsonnetten, waarin Kloos zijn vrienden van het eerste uur tot op het bot fileert.
Verzen werd op slag voor een hele generatie een bijna heilig boek. Deze heruitgave van de eerste druk biedt de mogelijkheid om kennis te nemen van klassieke sonnetten waarvan de eerste regels deel uitmaken van ons collectief bewustzijn: 'Ik ben een God in 't diepst van mijn gedachten', 'De Zee, de Zee klotst voort in eindelooze deining', 'De boomen dorren in het laat seizoen' en natuurlijk 'Ik ween om bloemen in den knop gebroken'.
Willem Kloos
Verzen
Vormgever: Marc Vleugels
168 pagina's
paperback – 2017
ISBN 978 94 6004 323 9
Uitgeverij Vantilt
€ 19.95
'Het is de verfrissende afwezigheid van ironie, relativering en gelatenheid die ze nu nog authentiek maakt. Mooi uitgegeven, ook.' Aleid Truijens, de Volkskrant
fleursdumal.nl magazine
More in: - Book News, - Book Stories, Archive K-L, Art & Literature News, BIOGRAPHY, DEAD POETS CORNER, Kloos, Willem, LITERARY MAGAZINES
---
Maria Callas was zonder twijfel de meest getalenteerde zangeres van de twintigste eeuw. Ze was een stijlicoon, maar bovenal een vrouw met een dramatisch leven vol uitersten.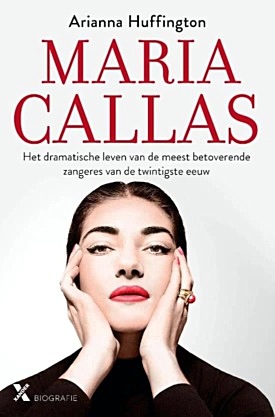 Deze biografie brengt Callas briljant tot leven en toont haar transformatie van mollig, verlegen meisje tot de prachtige, gevierde sopraan met een larger-than-life-imago.
Met behulp van een schat aan materiaal en tal van interviews documenteert Arianna Huffington de eindeloze onenigheid tussen Callas en haar moeder, de geleidelijke ondergang van haar eerste huwelijk, haar gepassioneerde liefdesrelatie met Aristoteles Onassis, de pijn en vernedering toen hij haar verliet en haar geheime abortus.
Het resultaat is een overtuigend en ontroerend portret.
Arianna Stassinopoulos Huffington (1950) is een Grieks-Amerikaanse journalist, bestsellerauteur, columnist, actrice en medeoprichter van The Huffington Post.
Maria Callas
Arianna Huffington
€19,99
ISBN: 9789401607377
Uitg. Xander Amsterdam
fleursdumal.nl magazine
More in: - Book News, - Book Stories, Archive G-H, Art & Literature News, BIOGRAPHY, Maria Callas, THEATRE
---
Who hasn't heard of Proust's famous questionnaire? The writer's answers have travelled across time and all around the world, but people have forgotten that they came from an album called Confessions that belonged to Antoinette Faure, daughter of the future French President.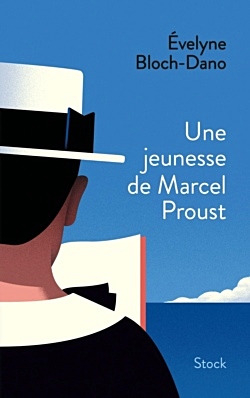 Marcel Proust didn't realize that, by taking part in what was a fashionable parlour game, he would be revealing clues about his teenage self. His answers have elicited commentaries but have never been contextualised or compared, never dated accurately.
Where and when did he answer this questionnaire? What sort of boy was he at the time? And most significantly, how much of that period and those friendships fed into his future work? What traces are left of Gilberte on the Champs-Élysées, Albertine's little group and the "young girls in flower"?
Évelyne Bloch-Dano conducted this enquiry over many years. Using sometimes tiny clues, she managed to identify Antoinette's other friends, some of whom may have known Proust.
A whole world came to life, revolving around the daughters of the late nineteenth-century bourgeoisie, many of them with connections to Le Havre like the Faure family. Some boys appear too. Through their ideas, their books, their customs, what they study and what they dream of, the portrait of a whole generation emerges.
Marcel Proust's generation. Young people born to the defeat at Sedan in 1870, in a vengeful republican France. The generation of General Boulanger, of political scandal and the Dreyfus Affair, but also of schools for girls, electricity, Great Exhibitions and the Belle époque. And later the First World War.
The biographer and essayist Évelyne Bloch-Dano is the author of several prize-winning and widely translated books, including most notably biographies of Madame Zola (1997, Grand Prix of Elle readers), Madame Proust (2004, Prix Renaudot for an essay), Le Dernier Amour de George Sand (2010), but also Jardins de papier (2015), and the more personal La Biographe (2007) and Porte de Champerret (2013).
Evelyne Bloch-Dano: Une jeunesse de Marcel Proust
(Marcel Proust as a young man by Évelyne Bloch-Dano)
Collection: La Bleue
Éditions Stock Paris
Parution: 20/09/2017
304 pages
Format: 135 x 215 mm
EAN: 9782234075696
Prix: €19.50
fleursdumal.nl magazine
More in: Archive A-B, Art & Literature News, BIOGRAPHY, FDM in Paris, Marcel Proust, Proust, Marcel
---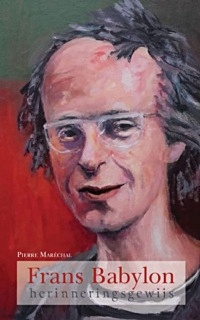 Volgens Pierre Maréchal was de Brabantse dichter Frans Babylon een zieke poète maudit die zowel de poëzie als de kunst stimuleerde te vernieuwen. Brabant liep sterk achter bij de ontwikkelingen.
Uiteindelijk verwierp hij de traditionele dichtstijlen en schreef hij gedichten op gevoel. Met vrienden vormde hij de Bredero-club en stimuleerde hij kunstenaars om zich verder te ontwikkelen. Babylon bevorderde eveneens de ontwikkeling van openbare kunstexposities voor groot publiek.
Naast Brabant en Amsterdam was Frankrijk een geliefde omgeving. Ondanks zijn bipolaire stoornis en dankzij zijn creativiteit bracht Frans Babylon veel tot stand.
Pierre Maréchal werkte onder meer voor de internationale trekvogel-bescherming. Ruim twintig jaar is hij actief bezig met poëzie. Hij schrijft en organiseert maandelijks diverse podia en optredens. De laatste jaren doet hij dit bij de PoëzieClub Eindhoven en de werkgroep 'Boekenkast'. Frans Babylon – herinneringsgewijs is typisch zo'n onderwerp. Het is een project over een bekende en tegelijk een minder bekende dichter, wiens daden van betekenis waren voor de ontwikkeling van de poëzie en de kunsten in het zuiden van ons land.
Pierre L.Th.A. Maréchal
Frans Babylon – herinneringsgewijs
Biografie Frans Babylon,
pseudoniem van Franciscus Gerardus Jozef Obers (1924 – 1968)
ISBN: 978-94-0223-720-7
Paperback 12,5 x 20 cm
186 pag. – 2017
€ 19,99
fleursdumal.nl magazine
More in: *Archive Les Poètes Maudits, - Archive Tombeau de la jeunesse, - Book News, Archive A-B, Archive A-B, Art & Literature News, Babylon, Frans, Brabantia Nostra, Frans Babylon
---
Foto Antony Kok – Archief JVK Tilburg
GESCHIEDENIS VAN EEN BIOGRAFIE
Over Antony Kok
Door Jef en Hanneke van Kempen
'De wereld van heden raast door in Dada's voetspoor' is een veel geciteerd aforisme van de dichter Antony Kok, dat hij schreef toen hij al oud was. Maar was Kok ook de Dada-dichter die auteur K. Schippers in hem zag, in zijn lezing ter gelegenheid van de opening van de grote Kok-tentoonstelling in de Stadsschouwburg / Kultureel Sentrum van Tilburg begin 1985? Bedoelde Kok, zoals K. Schippers zei, dat Dada niet behoorde tot een tijd of een plaats? Dat Dada niet gebonden was aan een beweging. Dat Antony Kok met zijn aforisme moet hebben bedoeld, dat Dada stond voor een mentaliteit, die van alle tijden was en van de hele wereld? 1)
Of was Antony Kok de man die alleen door toeval, door het feit dat hij beste vrienden zou worden met enkele van de grootste kunstenaars van de 20ste Eeuw, Theo van Doesburg( (1883 – 1931) en Kurt Schwitters, en in navolging van hen Dada-dichter werd, zoals J.A. Dautzenberg (1944 – 2009) in 1985 – in een paginagroot artikel- in De Volkskrant schreef: Een Dada-dichter die op latere leeftijd verstrikt zou raken in mystiek. 2)
Of is het allebei waar? Wat helpt het de biograaf die al 35 jaar probeert het leven van een ander te ontrafelen? Is het niet zo dat zowel Hugo Bal als Theo van Doesburg aan het eind van hun leven Rooms-katholiek zijn geworden? Daar hoor je nooit veel over.
Ottevanger haalt in haar zeer degelijke, maar weinig empathische brievenboek, zelfs meer dan eens dichter Til Brugman aan, die Antony Kok omschreef als een : 'Een wezensvreemde man, die hij altijd al geweest was'. Is dat echt zo? 3)
Zoveel schrijvers, zoveel meningen. Kok is de afgelopen jaren gekenschetst als een wereldvreemde, een absurdist, een socialist, een pacifist, een religieus fanaat, een middeleeuwer, een dadaïst en nog zoveel meer.
#   LEES HIER VERDER GeschiedenisVanEenBiografie  PDF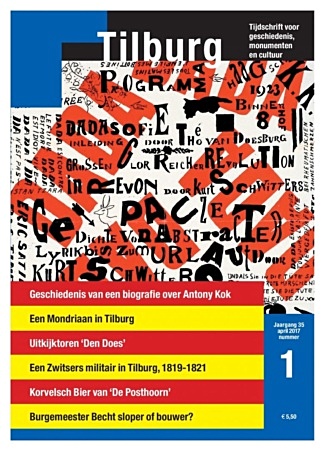 Jaargang 35 – 2017 – nummer 1
Tijdschrift Tilburg
Jef van Kempen en Hanneke van Kempen:
Geschiedenis van een biografie. Over Antony Kok
En verder o.a.
Petra Robben:  Mijmering over een Mondriaan in Tilburg. Internationale Tentoonstelling van Nijverheid, Handel en Kunst, 1913
Niko de Wit:  'Den Does', een uitkijktoren voor Tilburg. Een hommage aan Theo van Doesburg
fleursdumal.nl magazine
More in: - Book News, Antony Kok, Art & Literature News, Bauhaus, BIOGRAPHY, Dada, De Stijl, Doesburg, Theo van, Hanneke van Kempen, Jef van Kempen, Kok, Antony, Kurt Schwitters, Piet Mondriaan, Piet Mondriaan, Schwitters, Kurt, Theo van Doesburg, Theo van Doesburg
---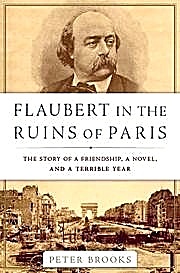 From the summer of 1870 through the spring of 1871, France suffered a humiliating defeat in its war against Prussia and witnessed bloody class warfare that culminated in the crushing of the Paris Commune. In Flaubert in the Ruins of Paris, Peter Brooks examines why Flaubert thought his recently published novel, Sentimental Education, was prophetic of the upheavals in France during this "terrible year," and how Flaubert's life and that of his compatriots were changed forever.
Brooks uses letters between Flaubert and his novelist friend and confidante George Sand to tell the story of Flaubert and his work, exploring his political commitments and his understanding of war, occupation, insurrection, and bloody political repression. Interweaving history, art history, and literary criticism—from Flaubert's magnificent novel of historical despair, to the building of the reactionary monument the Sacré-Coeur on Paris's highest summit, to the emergence of photography as historical witness—Brooks sheds new light on the pivotal moment when France redefined herself for the modern world.
Peter Brooks is Sterling Professor Emeritus of Comparative Literature at Yale University. The author of several award-winning books, Brooks currently teaches at Princeton University and lives in Alexandria, Virginia.
Flaubert in the Ruins of Paris
The Story of a Friendship, a Novel, and a Terrible Year
by Peter Brooks
Basic Books,
hardcover, 288p.,
9780465096022
Publ. date:  April 4th, 2017
Basic Books is an imprint of Perseus Books, a Hachette Book Group company.
fleursdumal.nl magazine
More in: - Book News, FDM in Paris, Gustave Flaubert, Literaire sporen
---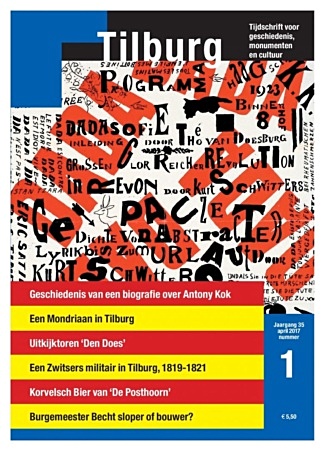 Op woensdag 5 april verschijnt het eerste nummer van 2017 van 'Tilburg. Tijdschrift voor geschiedenis, monumenten en cultuur' met daarin uitgebreid aandacht voor Antony Kok, Theo van Doesburg, Piet Mondriaan en De Stijl.
Jef van Kempen en Hanneke van Kempen schrijven een 'Geschiedenis van een biografie' over hun op handen zijnde biografie van Antony Kok. Zij doen verslag van 35 jaar onderzoek naar het leven van Antony Kok, de dichter en spoorwegbeambte uit Tilburg die aan het begin van de Eerste Wereldoorlog vriendschap sloot met de Amsterdamse schrijver en schilder Theo van Doesburg. De omvangrijke briefwisseling tussen Van Doesburg en Kok is een van de belangrijkste bronnen met betrekking tot de geschiedenis van de beweging rond het tijdschrift De Stijl, dat een grote invloed had op de Nederlandse en internationale kunst.
Petra Robben gaat in haar artikel 'Mijmering over een Mondriaan in Tilburg' in op de Internationale Tentoonstelling van Nijverheid, Handel en Kunst in 1913. Niko de Wit vertelt over 'Den Does', een uitkijktoren voor Tilburg en een hommage aan Theo van Doesburg.
Losse nummers van Tijdschrift Tilburg zijn verkrijgbaar in de Tilburgse boekhandels Gianotten-Mutsaers en Livius de Zevensprong in Tilburg en bij boekhandel Buitelaar in Goirle.
'Tilburg. Tijdschrift voor geschiedenis, monumenten en cultuur' verschijnt drie keer per jaar en kost € 5,50

DE STIJL in Tilburg: voorpublicatie biografie Antony Kok
# Zie ook: website tijdschrift Tilburg
fleursdumal.nl magazine
More in: - Book News, Antony Kok, Art & Literature News, BIOGRAPHY, Constuctivisme, Dada, Dadaïsme, De Stijl, Doesburg, Theo van, Essays about Van Doesburg, Kok, Mondriaan, Schwitters, Milius & Van Moorsel, Hanneke van Kempen, Jef van Kempen, Kok, Antony, Kurt Schwitters, Piet Mondriaan, Piet Mondriaan, Schwitters, Kurt, Theo van Doesburg, Theo van Doesburg
---
Older Entries »
Thank you for reading FLEURSDUMAL.NL - magazine for art & literature