BIOGRAPHY
·
Conan Doyle for the defense. The True Story of a Sensational British Murder, a Quest for Justice, and the World's Most Famous Detective Writer by Margalit Fox
·
R. Crumb's Dream Diary
·
Bettina Röhl: "Die RAF hat euch lieb". Die Bundesrepublik im Rausch von 68 – Eine Familie im Zentrum der Bewegung
·
David Lynch & Kristine McKenna: Room to Dream
·
Patti Smith: The New Jerusalem – Bilingual edition – Nexus Library
·
David Hajdu: Positively 4th Street
·
Robert Lowell, Setting the River on Fire. A Study of Genius, Mania, and Character by Kay Redfield Jamison
·
My Name Is Venus Black. A Novel by Heather Lloyd
·
A Surprised Queenhood in the New Black Sun. The Life & Legacy of Gwendolyn Brooks by Angela Jackson
·
Biografie Lucebert door Wim Hazeu
·
Reckless Daughter. A Portrait of Joni Mitchell by David Yaffe
·
Clovis Goux: La Disparition de Karen Carpenter
For all the scores of biographies of Arthur Conan Doyle, creator of the most famous detective in the world, there is no recent book that tells this remarkable story—in which Conan Doyle becomes a real-life detective on an actual murder case.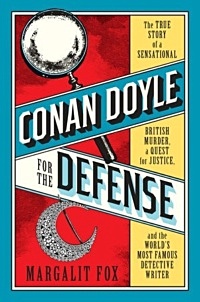 In Conan Doyle for the Defense, Margalit Fox takes us step by step inside Conan Doyle's investigative process and illuminates a murder mystery that is also a morality play for our time—a story of ethnic, religious, and anti-immigrant bias.
In 1908, a wealthy woman was brutally murdered in her Glasgow home. The police found a convenient suspect in Oscar Slater—an immigrant Jewish cardsharp—who, despite his obvious innocence, was tried, convicted, and consigned to life at hard labor in a brutal Scottish prison.
Conan Doyle, already world famous as the creator of Sherlock Holmes, was outraged by this injustice and became obsessed with the case. Using the methods of his most famous character, he scoured trial transcripts, newspaper accounts, and eyewitness statements, meticulously noting myriad holes, inconsistencies, and outright fabrications by police and prosecutors. Finally, in 1927, his work won Slater's freedom.
Margalit Fox, a celebrated longtime writer for The New York Times, has "a nose for interesting facts, the ability to construct a taut narrative arc, and a Dickens-level gift for concisely conveying personality" (Kathryn Schulz, New York). In Conan Doyle for the Defense, she immerses readers in the science of Edwardian crime detection and illuminates a watershed moment in the history of forensics, when reflexive prejudice began to be replaced by reason and the scientific method.
A senior writer at The New York Times, Margalit Fox is considered one of the foremost explanatory writers and literary stylists in American journalism. As a member of the newspaper's celebrated obituary news department, she has written front-page send-offs of some of the leading cultural figures of our age. (Conan Doyle for the Defense is in many ways a fond belated obituary for the long-overlooked Oscar Slater, an immigrant everyman treated inexcusably by history.) Fox's previous book, The Riddle of the Labyrinth, won the William Saroyan International Prize for Writing. She lives in Manhattan with her husband, the writer and critic George Robinson.
Conan Doyle for the Defense
The True Story of a Sensational British Murder, a Quest for Justice, and the World's Most Famous Detective Writer
By Margalit Fox
Illustrated
Hardcover
Published by Random House
Random House
$27.00
Jun 26, 2018
352 Pages
ISBN 9780399589454
new books
fleursdumal.nl magazine
More in: #Biography Archives, - Book News, - Bookstores, Archive E-F, Art & Literature News, Arthur Conan Doyle, CRIME & PUNISHMENT, Sherlock Holmes Theatre
---
For more than 40 years, legendary American artist Robert Crumb has documented his nightly dreams in a meticulously kept private journal.
This material has stood as a guarded secret in a career defined by an impish compulsion to publically self-disclose. All of the artist's well-documented preoccupations are present and accounted for—rampant egomania, insatiable lust, profound self-disgust, the sad beauty of old America, the moral bankruptcy of new America and the fool's errand quest for spiritual enlightenment—but here they are entirely untamed, springing forth from forces beyond even his control.
Published for the first time, the complete Dream Diaries offer readers a deep, dark look under the hood of one of America's most aggressively dynamic comedic voices.
Widely considered the greatest cartoonist of the 20th century, Robert Crumb (born 1943) drew comics from a very young age. After a brief career in greeting-card design in Cleveland, in 1965 the young artist discovered LSD, and headed for San Francisco, where he published Zap Comix 1, reinventing the comics medium. In 1994 he was the subject of an acclaimed documentary film by Terry Zwigoff. His adaptation of The Book of Genesis was published in 2009 and the original art for the project was exhibited internationally, most notably at the Hammer Museum, Los Angeles, in 2009, and as part of the 55th Venice Biennale in 2013. His most recent books include Bible of Filth, Art & Beauty Magazine and (with Aline Kominsky-Crumb) Drawn Together. Crumb lives and works in Southern France.
R. Crumb's
Dream Diary
Edited by Ronald Bronstein & Sammy Harkham
Elara Press
Compiles forty years of never-before-published somnambulant mindspray from one of the most unique thinkers in comics.
The first and only book on Crumb's writings
containing 15 illustrations.
US $25.00
Hardcover
500 pgs
Publication: Sep 25 2018
Language: English
ISBN-10: 1942884338
ISBN-13: 978-1942884330
new books
fleursdumal.nl magazine
More in: #Biography Archives, - Book News, - Bookstores, Archive C-D, Art & Literature News, Illustrators, Illustration
---
Bettina Röhl über ihre letzten gemeinsamen Jahre mit ihrer Mutter Ulrike Meinhof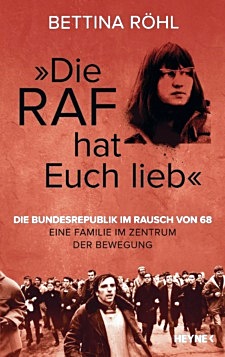 Brauchte die Bundesrepublik die Revolte von 68? Ist 68 gar das Jahr einer "Neugründung" der heutigen Bundesrepublik? Die APO-Bewegung – und ihre "Speerspitze", die RAF – ist das wohl meist beschriebene Thema der neueren politischen Geschichte des Landes. Mit bisher unbekannten Fakten und den Stimmen neuer Zeitzeugen unterlegt, liefert Bettina Röhl, die als Kind die Gründung der RAF hautnah miterlebte, eine spannende Analyse und erzählt die scheinbar bekannte Geschichte neu. Bei ihren Recherchen fand Bettina Röhl zahlreiche bisher unveröffentlichte Briefe, Dokumente und Fotos, die den Leser die damalige Zeit hautnah miterleben und nachvollziehen lassen.
Bettina Röhl wurde 1962 in Hamburg geboren, wo sie 1982 Abitur machte. 1986 begann sie neben ihrem Studium der Geschichte und Germanistik ihr Volontariat bei der Zeitschrift TEMPO. Sie arbeitete für Spiegel TV, Welt online, Cicero, Wirtschaftswoche und viele andere Medien und veröffentlichte zahlreiche Buchbeiträge. 2001 wurde sie mit ihren Veröffentlichungen zu Joschka Fischers Gewaltvergangenheit in stern und BILD bekannt. Nach "So macht Kommunismus Spaß" ist "Die RAF hat euch lieb" ihr zweites historisch-biographisches Buch über die linke Geschichte der Bundesrepublik.
Bettina Röhl
"Die RAF hat euch lieb"
Die Bundesrepublik im Rausch von 68
Eine Familie im Zentrum der Bewegung
Gebundenes Buch mit Schutzumschlag,
640 Seiten,
13,5 x 21,5 cm mit 16 S. Bildteil
ISBN: 978-3-453-20150-7
€ 24,00
Verlag: Heyne Verlag
Erschienen: 10.04.2018
Sprache: Deutsch
new books
fleursdumal.nl magazine
More in: - Book News, - Book Stories, Archive Q-R, Art & Literature News, BIOGRAPHY, Galerie Deutschland, Protests of MAY 1968, Spurensicherung
---
David Lynch – co-creator of Twin Peaks and writer and director of groundbreaking films such as Eraserhead, The Elephant Man, Blue Velvet and Mulholland Drive – opens up about a lifetime of extraordinary creativity, the friendships he has made along the way and the struggles he has faced – sometimes successful, sometimes not – to bring his projects to fruition.
Part-memoir, part-biography, Room to Dream interweaves Lynch's own reflections on his life with the story of those times, as told by Kristine McKenna, drawing from extensive and explosive interviews with ninety of Lynch's friends, family members, actors, agents, musicians and collaborators. Lynch responds to each recollection and reveals the inner story of the life behind the art.
David Lynch advanced to the front ranks of international cinema in 1977 with the release of his first film, the startlingly original Eraserhead. Since then, Lynch has been nominated for three Best Director Academy Awards for The Elephant Man, Blue Velvet and Mulholland Drive, was awarded the Palme d'Or for Wild at Heart and has established himself as an artist of tremendous range and wit. In 1990, Twin Peaks mania swept the world when his groundbreaking television series premiered on ABC. A new season of Twin Peaks aired in May 2017 to widespread acclaim.
Kristine McKenna is a widely published critic and journalist who wrote for the Los Angeles Times from 1977 to 1998. Her profiles and criticism have appeared in Artforum, The New York Times, Artnews, Vanity Fair, The Washington Post and Rolling Stone Magazine.
"Everybody has theories about what the show is about, which is great, and it wouldn't matter if I explained my theory. Things have harmonics, and if you're true to an idea as much as you can be, then the harmonics will be there and they'll be truthful even though they may be abstract" David Lynch in the New York Times on his new book, Room to Dream.
Room to Dream
David Lynch & Kristine McKenna
Hardcover
592 pages
Publisher: Canongate Books;
Main edition (19 Jun. 2018)
Language: English
ISBN-10: 1782118381
ISBN-13: 978-1782118381
Product Dimensions: 16.2 x 4.8 x 24 cm
new books
fleursdumal.nl magazine
More in: #Biography Archives, - Book News, - Book Stories, Archive K-L, Art & Literature News, AUDIO, CINEMA, RADIO & TV, David Lynch
---
The New Jerusalem, the latest book by Patti Smith – poet, punk legend and author of the bestsellers Just Kids and M Train – is now available for order. A stunning long prose poem in the tradition of St. John and William Blake, The New Jerusalem presents a prophetic vision of art and humanity, faith and freedom; a vision of escape from the rituals of power and the mechanisms of social control.
Illustrated with colour photographs and art work by Patti Smith, this beautiful hardbound volume is a true collector's item and will be irresistible to bibliophiles. With an introduction by Rob Riemen exploring the connection between art and spirituality in Patti Smith's poem and in art more broadly, The New Jerusalem can serve as a reminder of the prophetic power of poetry and a guide to all who need it in these times of resistance.
The New Jerusalem was presented at the Nexus Symposium with Patti Smith 'An Education in Counterculture', 26 May 2018 in Amsterdam.
The New Jerusalem, the new book by poet and punk legend Patti Smith. This long prose poem in the tradition of John's Revelation and the poetry of William Blake shows a prophetic vision of art and humanity, faith and freedom; an image of the escape from the rituals of power and the mechanisms of social control.
This beautiful bilingual (English & Dutch), bound edition features color illustrations and photos by Patti Smith and is irresistible to the real bibliophile. The introduction by Rob Riemen discusses the relationship between art and spirituality in the poem by Patti Smith and in art in a general sense.
Patti Smith
United States, 1946
Patti Smith is a singer and poet. As the 'Godmother of Punk', she protested against social conventions, mindless factory labour and the commercialised world with her powerful and controversial music. She grew up with the music of Bob Dylan, lived together with photographer Robert Mapplethorpe and became a familiar face in the turbulent art scene of New York City. In 1974 Smith started performing with guitarist Lenny Kaye, forming the core of The Patti Smith Group. Her debut album Horses (1975) is considered to be one of the most influential albums in the history of rock music. With Bruce Springsteen she wrote Because the Night, her biggest hit. In addition to many albums, Smith also published poetry and books, including Just Kids (2010), her award-winning autobiography on life in New York in the seventies and her relation with Mapplethorpe.
Rob Riemen
The Netherlands, 1962
Rob Riemen is the founder and president of the Nexus Institute, established in 1994. He has also been editor-in-chief of the journal Nexus since its creation in 1991. In Nexus, prominent and original thinkers and writers reflect on important contemporary issues in essays on art, culture, politics and society. Riemen is the author of Nobility of Spirit. A Forgotten Ideal (2008), on the ideals of European humanism, translated into eighteen languages, and To Fight Against this Age (2018), with essays on the eternal return of fascism and on the European spirit.
The New Jerusalem – Bilingual edition – Nexus Library
ISBN: 9789090309798
Publisher: Nexus Institute
Publication Date: May 26th, 2018
Pages: 76
By Patti Smith, Rob Riemen (Introduction By), Onno Kosters (Translator)
Bilingual English-Dutch, hardbound, illustrated colour edition
Translation Onno Kosters (The New Jerusalem), Liz Waters (introduction)
The New Jerusalem is available for sale in the United States at:
McNally Jackson, New York City
Book Culture, New York City
Strand Bookstore, New York City
Rizzoli Bookstore, New York City
Mast Books, New York City
Greenlight Bookstore, Brooklyn
# more information on website Nexus Institute
fleursdumal.nl magazine
More in: #Biography Archives, #Editors Choice Archiv, - Book News, - Bookstores, Archive S-T, Archive S-T, Art & Literature News, Nexus Instituut, Patti Smith, Smith, Patti
---
The story of how four young bohemians on the make – Bob Dylan, Joan Baez, Mimi Baez, and Richard Farina – converged in Greenwich Village, fell into love, and invented a sound and a style that are one of the most lasting legacies of the 1960s
When Bob Dylan, age twenty-five, wrecked his motorcycle on the side of a road near Woodstock in 1966 and dropped out of the public eye, he was recognized as a genius, a youth idol, and the authentic voice of the counterculture: and Greenwich Village, where he first made his mark as a protest singer with an acid wit and a barbwire throat, was unquestionably the center of youth culture.
So embedded are Dylan and the Village in the legend of the Sixties–one of the most powerful legends we have these days–that it is easy to forget how it all came about. In Positively Fourth Street, David Hajdu, whose 1995 biography of jazz composer Billy Strayhorn was the best and most popular music book in many seasons, tells the story of the emergence of folk music from cult practice to popular and enduring art form as the story of a colorful foursome: not only Dylan but his part-time lover Joan Baez – the first voice of the new generation; her sister Mimi – beautiful, haunted, and an artist in her own right; and her husband Richard Farina, a comic novelist (Been Down So Long It Looks Like Up To Me) who invented the worldliwise bohemian persona that Dylan adopted–some say stole–and made as his own.
David Hajdu
Positively 4th Street
The Lives and Times of Joan Baez, Bob Dylan, Mimi Baez Farina, and Richard Farina
illustrated
English
24x209x141 mm
2011
ISBN10 0312680694
ISBN13 9780312680695
Picador USA
328 pages
paperback
fleursdumal.nl magazine
More in: #Beat Generation Archives, #Biography Archives, - Book Lovers, - Book Stories, Archive G-H, Bob Dylan
---
In this magisterial study of the relationship between illness and art, the best-selling author of An Unquiet Mind, Kay Redfield Jamison, brings an entirely fresh understanding to the work and life of Robert Lowell (1917-1977), whose intense, complex, and personal verse left a lasting mark on the English language and changed the public discourse about private matters.
In his Pulitzer Prize-winning poetry, Robert Lowell put his manic-depressive illness (now known as bipolar disorder) into the public domain, creating a language for madness that was new and arresting. As Dr. Jamison brings her expertise in mood disorders to bear on Lowell's story, she illuminates not only the relationships among mania, depression, and creativity but also the details of Lowell's treatment and how illness and treatment influenced the great work that he produced (and often became its subject).
Lowell's New England roots, early breakdowns, marriages to three eminent writers, friendships with other poets such as Elizabeth Bishop, his many hospitalizations, his vivid presence as both a teacher and a maker of poems—Jamison gives us the poet's life through a lens that focuses our understanding of his intense discipline, courage, and commitment to his art. Jamison had unprecedented access to Lowell's medical records, as well as to previously unpublished drafts and fragments of poems, and she is the first biographer to have spoken with his daughter, Harriet Lowell. With this new material and a psychologist's deep insight, Jamison delivers a bold, sympathetic account of a poet who was—both despite and because of mental illness—a passionate, original observer of the human condition.
Kay Redfield Jamison is the Dalio Family Professor in Mood Disorders and a professor of psychiatry at the Johns Hopkins University School of Medicine, as well as an honorary professor of English at the University of St. Andrews in Scotland. She is the author of the national best sellers An Unquiet Mind, Night Falls Fast, and Touched with Fire, and is the coauthor of the standard medical text on bipolar disorder, Manic-Depressive Illness: Bipolar Disorders and Recurrent Depression. Dr. Jamison is a Fellow of the American Academy of Arts and Sciences and the Royal Society of Edinburgh and is a recipient of the Lewis Thomas Prize, the Sarnat International Prize in Mental Health from the National Academy of Medicine, and a John D. and Catherine T. MacArthur Fellowship. She is married to Thomas Traill, a cardiologist at the Johns Hopkins School of Medicine.
Robert Lowell, Setting the River on Fire
A Study of Genius, Mania, and Character
By Kay Redfield Jamison
Literary Figure Biographies & Memoirs
Paperback
Feb 06, 2018
560 Pages
$18.95
Published by Vintage
ISBN 9780307744616
new books
fleursdumal.nl magazine
More in: - Book News, Archive I-J, Archive K-L, Archive K-L, BIOGRAPHY, DRUGS & MEDICINE & LITERATURE, Robert Lowell
---
In this riveting, heartfelt debut, a young woman assumes a new name to escape her dark past and find the redemption she desperately seeks.
"A terrific debut, told gently, honestly, and with a generous amount of hope."—New York Times bestselling author Jamie Ford
Venus Black is a straitlaced A student fascinated by the study of astronomy—until the night she commits a shocking crime that tears her family apart and ignites a media firestorm. Venus refuses to talk about what happened or why, except to blame her mother. Adding to the mystery, Venus's developmentally challenged younger brother, Leo, goes missing.
More than five years later, Venus is released from prison with a suitcase of used clothes, a fake identity, and a determination to escape her painful past. Estranged from her mother, and with her beloved brother still missing, she sets out to make a fresh start in Seattle, skittish and alone. But as new people enter her orbit—including a romantic interest and a young girl who seems like a mirror image of her former lost self—old wounds resurface, and Venus realizes that she can't find a future while she's running from her past.
In this gripping story, debut novelist Heather Lloyd brilliantly captures ordinary lives thrust into extraordinary circumstances. Told through a constellation of captivating voices, My Name Is Venus Black explores the fluidity of right and wrong, the pain of betrayal, and the meaning of love and family.
Heather Lloyd, who has spent many years working as an editor and writing coach, lives with her husband in New York City. My Name Is Venus Black is her first novel.
My Name Is Venus Black
A Novel
By Heather Lloyd
Category: Crime Mysteries
Hardcover : $27.00
Publ.: Feb 27, 2018
368 Pages
ISBN 9780399592188
Publ. by The Dial Press
new books
fleursdumal.nl magazine
More in: - Book News, Archive K-L, Art & Literature News, BIOGRAPHY, CRIME & PUNISHMENT, Tales of Mystery & Imagination
---
A look back at the cultural and political force of Pulitzer Prize–winning poet Gwendolyn Brooks, in celebration of her hundredth birthday
Pulitzer-Prize winning poet Gwendolyn Brooks is one of the great American literary icons of the twentieth century, a protégé of Langston Hughes and mentor to a generation of poets, including Sonia Sanchez, Nikki Giovanni, and Elizabeth Alexander.
Her poetry took inspiration from the complex portraits of black American life she observed growing up on Chicago's Southside—a world of kitchenette apartments and vibrant streets. From the desk in her bedroom, as a child she filled countless notebooks with poetry, encouraged by the likes of Hughes and affirmed by Richard Wright, who called her work "raw and real."
Over the next sixty years, Brooks's poetry served as witness to the stark realities of urban life: the evils of lynching, the murders of Emmett Till and Malcolm X, the revolutionary effects of the civil rights movement, and the burgeoning power of the Black Arts Movement. Critical acclaim and the distinction in 1950 as the first black person ever awarded a Pulitzer Prize helped solidify Brooks as a unique and powerful voice.
Now, in A Surprised Queenhood in the New Black Sun, fellow Chicagoan and award-winning writer Angela Jackson delves deep into the rich fabric of Brooks's work and world. Granted unprecedented access to Brooks's family, personal papers, and writing community, Jackson traces the literary arc of this artist's long career and gives context for the world in which Brooks wrote and published her work. It is a powerfully intimate look at a once-in-a-lifetime talent up close, using forty-three of Brooks's most soul-stirring poems as a guide.
From trying to fit in at school ("Forgive and Forget"), to loving her physical self ("To Those of My Sisters Who Kept Their Naturals"), to marriage and motherhood ("Maud Martha"), to young men on her block ("We Real Cool"), to breaking history ("Medgar Evers"), to newfound acceptance from her community and her elevation to a "surprising queenhood" ("The Wall"), Brooks lived life through her work.
Jackson deftly unpacks it all for both longtime admirers of Brooks and newcomers curious about her interior life. A Surprised Queenhood in the New Black Sun is a commemoration of a writer who negotiated black womanhood and incomparable brilliance with a changing, restless world—an artistic maverick way ahead of her time.
What shall I give my children? who are poor,
Who are adjudged the leastwise of the land,
Who are my sweetest lepers, who demand
No velvet and no velvety velour;
But who have begged me for a brisk contour,
Crying that they are quasi, contraband
Because unfinished, graven by a hand
Less than angelic, admirable or sure.
from 'The Children of the Poor'
Angela Jackson is an award-winning poet, playwright, and novelist. She is the author of numerous collections of poetry, including the National Book Award–nominated And All These Roads Be Luminous: Poems Selected and New. Her novel Where I Must Go won the American Book Award in 2009. Its sequel, Roads, Where There Are No Roads, was published in 2017. Additionally, Jackson was longlisted for the Pulitzer Prize and a longlist finalist for the PEN Open Book Award for her 2015 poetry collection, It Seems Like a Mighty Long Time. Other honors include a Pushcart Prize, Academy of American Poets Prize, TriQuarterly's Daniel Curley Award, and the Poetry Society of America's Shelley Memorial Award. Jackson lives in Chicago.
A Surprised Queenhood in the New Black Sun
The Life & Legacy of Gwendolyn Brooks
By Angela Jackson
Paperback – $18.00
ISBN 9780807059128
Published by Beacon Press
208 Pages
May 29, 2018
new books
fleursdumal.nl magazine
More in: - Book News, Archive A-B, Archive A-B, Archive I-J, Archive I-J, BIOGRAPHY, REPRESSION OF WRITERS, JOURNALISTS & ARTISTS
---
Lucebert verscheen als een komeet, zo schreef Gerrit Kouwenaar, en maakte zich binnen vijf jaar als dichter en later als schilder waar. Tot op de dag van vandaag wordt hij gezien als een van de grootste dichters in ons taalgebied.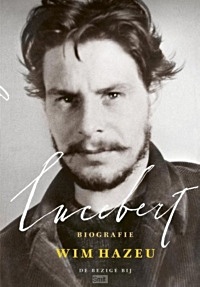 Kouwenaar schreef ook: 'Wij zijn allemaal van de oorlog, het leed en hoge tonen.' Wat dat voor Lucebert (1924-1994) betekende, beschrijft Wim Hazeu in deze meeslepende biografie, die voor een deel gebaseerd is op eerder ontoegankelijke of onbekende bronnen. Lucebert is het levensverhaal van een gepassioneerde dichter en beeldend kunstenaar.

Deze meeslepende en onthullende biografie is ook het schokkende verhaal van een allesbepalende oorlog die daaraan voorafging. Het is het verhaal van worsteling en succes. Het is het verhaal van het naoorlogse artistieke leven, waarin Lucebert verzet aantekent tegen autoriteiten die politiek en kunst bij het oude willen laten.
Het is het verhaal over de dichters en kunstenaars die Lucebert omringden: Bertus Aafjes, Armando, Hans Andreus, Karel Appel en talloze anderen. En het is een verhaal over liefde en geliefden, over avonturen in Amsterdam, Bergen, Berlijn, Frankrijk, Italië en Spanje. Het leven van Lucebert was complex, en dit stelde Wim Hazeu voor vraagstukken die hij als biograaf nog niet eerder had hoeven oplossen.
Wim Hazeu (1940) was na zijn studie Nederlands werkzaam als journalist, radio- en televisieprogrammamaker en uitgever.
Publiceerde naast verschillende romans en dichtbundels omvangrijke biografieën van Achterberg, Slauerhoff (bekroond met de biografieprijs van de Dordtse Academie), M.C. Escher en S. Vestdijk (op deze biografie is hij aan de Groningse Universiteit gepromoveerd).
Ook bezorgde hij de briefwisseling tussen S. Vestdijk en Henriëtte van Eyk, Wij zijn van elkaar (2007). In 2012 verscheen zijn biografie over Marten Toonder waarvoor hij toegang kreeg tot de nalatenschap van Marten en Jan Gerhard Toonder en Toonders vrouw Phiny Dick.
Auteur: Wim Hazeu
Titel: Biografie Lucebert
Aantal pagina's: 976
Uitvoering: Gebonden
ISBN10 9403104708
ISBN13 9789403104706
Taal: Nederlands
Onderwerp: Literaire non-fictie
Uitgever: Uitgeverij De Bezige Bij b.v.
Druk: 1
Verwacht: 7 februari 2018
Prijs: €39,99
new books
fleursdumal.nl magazine
More in: #Biography Archives, #Editors Choice Archiv, - Book News, - Book Stories, Archive G-H, Archive K-L, Archive K-L, Art & Literature News, Lucebert
---
Joni Mitchell is a cultural touchstone for generations of Canadians.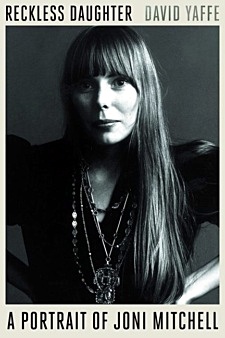 In her heyday she released ten experimental, challenging, and revealing albums; her lyrics captivated people with the beauty of their language and the rawness of their emotions, both deeply personal to Mitchell and universally relatable to her audience. In this intimate biography, composed of dozens of in-person interviews with Mitchell.
David Yaffe reveals the backstory behind the famous songs from her youth on the Canadian prairie, her pre-vaccine bout with polio at age nine, and her early marriage and the child she gave up for adoption, up through the quintessential albums and love affairs, and all the way to the present?and shows us why Mitchell has so enthralled her listeners, her lovers, and her friends.
Yaffe has had unprecedented access both to Mitchell and to those who know her, drawing on interviews with childhood friends and the cast of famous characters (Joan Baez, Judy Collins, Leonard Cohen, David Crosby, and more) with whom she has crossed paths and influenced, as well as insightful analyses of her famous lyrics, their imagery and style, and what they say about the woman herself.
Reckless Daughter tells the story of Mitchell and also of the fertile, exciting musical time of which she was an integral part, one that had a profound effect that can still be felt today on American music and the industry.
David Yaffe was born in Dallas, Texas, in 1973. He has written on numerous subjects (music, film, theater, dance, higher education) forThe Nation, New York, Slate, The New York Times, The New Republic, Harper's Magazine, and other publications. He is currently a professor of Humanities at Syracuse University, and is the author of Fascinating Rhythm: Reading Jazz in American Writing and Bob Dylan: Like a Complete Unknown.
Reckless Daughter.
A Portrait of Joni Mitchell
by David Yaffe
On Sale: 10/10/2017
Format: Hardcover
ISBN: 9781443444811
ISBN 10: 1443444812
HarperCollins Publishers
Pages: 448
new books
fleursdumal.nl magazine
More in: #Biography Archives, - Book News, - Book Stories, Archive M-N, Art & Literature News, Joni Mitchell
---
Durant les années 1970, The Carpenters est le groupe le plus populaire aux États-Unis.
Un immense succès (100 millions de disques vendus) qui s'explique par l'alchimie unique entre ses deux membres fondateurs, Richard et Karen Carpenter, un frère et une sœur. Ces deux enfants de la classe moyenne imposent un retour à l'ordre musical après la révolution psychédélique, avec des hits aussi romantiques que réactionnaires, tels Close to you, We've Only Just Begun ou Rainy Days and Mondays. Mais derrière cette success story se cache une tragédie.
La Disparition de Karen Carpenter raconte cette histoire, nous amenant à porter un regard de côté sur les grands phénomènes socio-culturels qui marquèrent l'Amérique de l'époque.
Clovis Goux est journaliste indépendant et cofondateur du label Dirty.
Clovis Goux
La Disparition de Karen Carpenter
Simon Liberati – Préfacier
Actes Sud Rocks
Septembre, 2017
132 pages
ISBN 978-2-330-08129-4
prix indicatif: €15,00
Genre: Essais, Documents
---
Clovis Goux: La Disparition de Karen Carpenter
fleursdumal.nl magazine
More in: - Book News, - Bookstores, Archive G-H, Art & Literature News, BIOGRAPHY, Karen Carpenter, Karen Carpenter
---
Older Entries »
Thank you for reading FLEURSDUMAL.NL - magazine for art & literature