BIOGRAPHY
·
Lawrence Weschler: En hoe gaat het met u, dokter Sacks?
·
Joris-Karl Huysmans: Aan de vrouw
·
Antony Kok – dichter en medeoprichter kunsttijdschrift De Stijl – 50 jaar geleden overleden
·
Sontag. Her Life and Work by Benjamin Moser
·
Cahiers de prison : février-octobre 1946 de Louis-Ferdinand Céline
·
Crosby, Stills, Nash and Young. The Wild, Definitive Saga of Rock's Greatest Supergroup by David Browne
·
In de man zit nog een jongen. Willem Wilmink – De biografie door Elsbeth Etty
·
Winternachten festival van 17 tot en met 20 januari 2019 in Den Haag
·
Jacques Vaché: Lettres de guerre (1914-1918)
·
Russian Absurd. Selected Writings of Daniil Kharms
·
Nadine Akkerman: Invisible Agents Women and Espionage in Seventeenth-Century Britain
·
Antonin Artaud – Le Visionnaire Hurlant par Laurent Vignat
Begin jaren tachtig ontmoette Lawrence Weschler de toen nog hard aan de weg timmerende Oliver Sacks in New York.

Het was een onzekere periode voor de jonge neuroloog: Sacks' eerste boek Ontwaken in verbijstering was tien jaar eerder al verschenen, maar hij had het grote publiek nog niet bereikt.
Met de jaren groeide Sacks' bekendheid en werd de vriendschap tussen hem en Weschler hechter. Op zijn sterfbed vroeg Sacks zijn goede vriend of hij zijn verhaal zou willen optekenen. Dit boek is het resultaat van dat verzoek.

In En hoe gaat het met u, dokter Sacks? brengt Weschler Sacks' extravagante persoonlijkheid prachtig tot leven. We worden teruggevoerd naar Sacks' jongere jaren vol drugs en turbulentie, volgen hem in zijn werk als neuroloog en schrijver, zien hem patiënten helpen en vrienden vermoeien, en we volgen zijn strijd met medische en wetenschappelijke instellingen om aandacht te krijgen voor zijn belangrijkste bekommernis als neuroloog: de individuele menselijke ziel.
Weschler is erin geslaagd om Sacks' belangrijkste vraag voor zijn patiënten – Hoe gaat het met u? – terug te kaatsen naar de beroemde neuroloog zelf.
Lawrence Weschler (1952) schreef meer dan twintig jaar voor The New Yorker. Daarnaast gaf hij les aan prominente Amerikaanse universiteiten waaronder Princeton, Columbia, Brown en New York University. Aan de laatstgenoemde universiteit was hij tot 2013 directeur van het New York Institute for the Humanities. Weschlers oeuvre bestaat uit veelgeprezen literaire non-fictie over allerlei politieke en culturele onderwerpen.
En hoe gaat het met u, dokter Sacks?
Lawrence Weschler
Oorspronkelijke titel: And How AreYou, Dr. Sacks?
Paperback
De Bezige Bij 2019
Aantal pagina's 496
Paperback: 34,99
# new books
And How AreYou, Dr. Sacks?
Lawrence Weschler
• fleursdumal.nl magazine
More in: #Biography Archives, - Book News, - Book Stories, Archive S-T, Archive W-X, In Memoriam, Oliver Sacks, Psychiatric hospitals
---
Na een avond uit met zijn beste vriend Cyprien betrapt André zijn vrouw Berthe op overspel. Vernederd, woedend en verdrietig verlaat hij de echtelijke woning.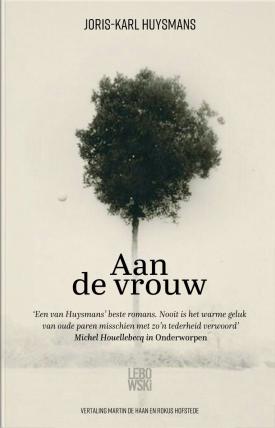 Wat te doen? Met Cyprien praat hij veelvuldig over de beslommeringen van het huwelijk en het leven van alleenstaanden in een grote stad. Moet André zijn huwelijk proberen te redden, misschien zelf een buitenechtelijke relatie aangaan, of de voorkeur geven aan eenzaamheid?
In de klassieker Aan de vrouw uit 1881 portretteert Huysmans het huiselijke, kleinburgerlijke leven met veel ironie en zwarte humor, evenals het verarmde kunstenaarsmilieu waarin de schrijver André en de schilder Cyprien zich bewegen. Een verrassend tijdloos verhaal over de eeuwige strijd tussen de seksen, over de sleur van een huwelijk, relaties en seksualiteit. Verkiezen André en Cyprien uiteindelijk het burgerlijk bestaan boven hun artistieke ambities en vrijheid?
Met een nawoord door vertalers Martin de Haan & Rokus Hofstede en een voorwoord door fin-de-siècle-expert Sander Bink.
Joris-Karl Huysmans (1848-1907) was een Franse auteur. Hij schreef Aan de vrouw (En ménage) in 1881, drie jaar voor zijn bekendste werk verscheen: Tegen de keer (À rebours, 1884). Joris-Karl Huysmans is een van de favoriete auteurs van Michel Houellebecq.
Aan de vrouw
Joris-Karl Huysmans
Oorspronkelijke titel: En ménage
Vertaling: Rokus Hofstede
Uitgever: Lebowski
ISBN: 9789048841936
Verschenen: 05-09-2019
Paperback
304 blz.
€ 21.99
# new books
Joris-Karl Huysmans
Aan de vrouw
En ménage
• fleursdumal.nl magazine
More in: - Book Lovers, - Book News, - Book Stories, Archive G-H, Archive G-H, Huysmans, J.-K., Huysmans, Joris-Karl, J.-K. Huysmans, Joris-Karl Huysmans
---
Antony Kok
schrijver en experimenteel dichter
door Jef van Kempen
Antony Kok werd op 18 april 1882 in Rotterdam geboren, als zoon van Pieter Kok en Sophia Hagen. Zijn vader was adjunct-commies bij de Staatsspoorwegen. Antony Kok overleed op 29 oktober 1969 te Haarlem.
Het grootste deel van zijn jeugd woonde Antony Kok in het Limburgse Maasbree. Na zijn middelbare schooltijd trad hij in het voetspoor van zijn vader door in 1899 ook bij de Staatsspoorwegen te gaan werken. Na eerst in 's-Hertogenbosch en Oisterwijk als klerk-telegrafist te hebben gewerkt kwam hij in 1908 naar Tilburg, waar hij het na verloop van tijd tot chef-commies zou brengen.
De eerste tien jaar woonde Kok, die zijn hele leven ongehuwd bleef, op kamers boven slagerij De Brouwer in de Tuinstraat. Hij zou in Tilburg later nog vier maal verhuizen.
In 1914 raakte Antony Kok bevriend met de Amsterdamse schrijver en schilder Theo van Doesburg, die tijdens de mobilisatie in de omgeving van Tilburg was gelegerd. Samen organiseerden zij in 1915 tweemaal een Soiree Intime, waarbij Van Doesburg gedichten voordroeg en Kok piano speelde. Onder invloed van Van Doesburg experimenteerde Kok dat jaar, als een van de eersten in Nederland, met het schrijven van klankpoëzie.
In die tijd ontstonden ook plannen voor het oprichten van een eigen tijdschrift, waarin zij hun opvattingen over de moderne beeldende kunst en literatuur zouden kunnen ventileren. Dat tijdschrift werd De Stijl, dat van 1917 tot 1932 verscheen en ook internationaal gezien een van de belangrijkste organen zou blijken voor de vernieuwing van met name beeldende kunst en architectuur. Behalve Van Doesburg en Kok behoorden tot de oprichters ook de schilders Huszàr, Van der Leck en Mondriaan, en de architecten Oud en Wils. Zij wilden de beeldende kunst ontdoen van alle overbodige versieringen en zich beperken tot het gebruik van de rechte lijn en de primaire kleuren.
Antony Kok debuteerde in 1917 met zijn gedicht Excelsior in het tijdschrift Eenheid. In hetzelfde tijdschrift publiceerde hij later nog de gedichten De Rozelaar (1917) en Gods Licht (1918). Verder werd in 1917 Koks experimentele gedicht De Wisselwachter in het tijdschrift Holland Express afgedrukt.
In het eerste nummer van De Stijl van oktober 1917 nam Van Doesburg een beschouwing van zijn Tilburgse vriend op met de titel: De moderne schilderij in het interieur.
Antony Kok zou in de loop van de tijd meer beschouwend proza in De Stijl publiceren, zoals Scheppen (1918), Denkextracten. Over organische schoonheid en Kunst en ontroering. Synthetische analyse (1919).
Hij was ook een van de ondertekenaars van de door Stijl-medewerkers gepubliceerde manifesten over beeldende kunst (1918) en literatuur (1920). Van Kok werden in het tijdschrift De Stijl maar twee gedichten opgenomen: in 1921 Stilte + stem (Vers in W) en in 1923 het acht jaar eerder geschreven Nachtkroeg. De beide gedichten, die voor het grootste deel bestonden uit klanknabootsende woorden, werden niet alleen door Theo van Doesburg, maar ook door Piet Mondriaan en Kurt Schwitters beschouwd als een belangrijke bijdrage tot de vernieuwing van de dichtkunst.
Schwitters nam het gedicht Stilte + stem (Vers in W) ook op in zijn eigen tijdschrift Merz. Geïnspireerd door Schwitters schreef Kok in 1923 een aantal dadaïstische gedichten, die echter pas na zijn dood werden gepubliceerd. Het overlijden van Theo van Doesburg in 1931 betekende het einde van het tijdschrift De Stijl.
In 1932 zou er nog een laatste aflevering verschijnen met daarin een In memoriam van de hand van Kok; dat zou tevens zijn laatste publicatie zijn. De omvangrijke briefwisseling tussen Van Doesburg en Kok is een van de belangrijkste bronnen met betrekking tot de geschiedenis van de beweging rond het tijdschrift De Stijl.
Antony Kok stond bekend als een bedachtzaam en vrijgevig man. Hij was een groot kunstminnaar en een mecenas, niet alleen voor bijvoorbeeld Piet Mondriaan maar ook voor regionale kunstenaars. In de jaren na het overlijden van zijn vriend Theo van Doesburg schreef hij nog zelden gedichten, maar legde zich geheel toe op het schrijven van aforismen.Tot aan zijn dood zou hij er vele duizenden schrijven, die hijzelf echter nooit heeft gepubliceerd.
In 1942 ging Antony Kok met pensioen bij de spoorwegen. De jaren daarna zou hij zijn belangstelling voor het spiritisme en de filosofie verder cultiveren en zich in 1946 aansluiten bij de beweging van De Rozenkruisers. Ter wille van die beweging verhuisde hij in 1952 naar Haarlem. In deze stad maakte Kok kennis met de schilder Kees Verweij, die ruim veertig portretten van hem maakte. De tekeningen, die door Kok van een titel waren voorzien, werden tentoongesteld, onder andere in het Stedelijk Museum Amsterdam en het Van Abbemuseum in Eindhoven (1954-1955).
Op 29 oktober 1969 overleed Antony Kok op 87-jarige leeftijd. De meeste publicaties van en over zijn werk kwamen na zijn dood tot stand. Als gevolg van de toegenomen belangstelling voor zijn werk en zijn persoon, werd begin 1985 in de Stadsschouwburg/Kultureel Sentrum van Tilburg nog een grote tentoonstelling aan de 'Dichter bij De Stijl' gewijd.
Meer informatie over Antony Kok op website: www.antonykok.nl
Dit artikel verscheen eerder in: J. van Oudheusden, e.a. (red.), Brabantse biografieën. Levensbeschrijvingen van bekende en onbekende Noordbrabanders. Deel 1, Amsterdam/Meppel, 1992.
Verder gepubliceerd op 14 september 2017 op de website Brabants Erfgoed: https://www.brabantserfgoed.nl/
Op 29 oktober 2019 is het precies 50 jaar geleden dat Antony Kok, schrijver en experimenteel dichter, overleed in een Haarlems ziekenhuisbed.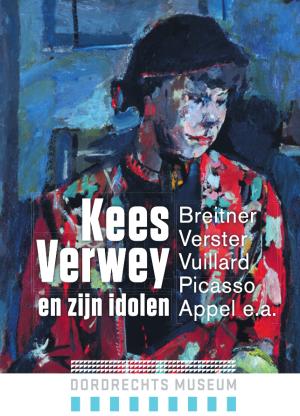 Tot en met 5 januari 2020 is er een expositie te zien in het Dordrechts Museum over de Haarlemse kunstschilder Kees Verwey, onder de titel: Kees Verwey en zijn idolen. Hier zijn ook 30 portretten te zien van Antony Kok (gemaakt door Verwey) uit de collectie van het Rijksmuseum.
Bij deze expositie in Museum Dordrecht, verscheen de publicatie: Kees Verwey en zijn idolen.
Één van de hoofdstukken heeft als titel: 'Antony Kok had me te pakken' en is geschreven door de Antony Kok biografen Hanneke van Kempen en Jef van Kempen.
Kees Verwey en zijn idolen
Dordrechts Museum
2019
ISBN 978-90-71722-30-1
Redactie: Laura van den Hout, Judith Spijksma, Linda Janssen
'Antony Kok had me te pakken' door Hanneke van Kempen en Jef van Kempen geeft een beeld van de gang van zaken rond de vriendschap van Antony Kok en de Haarlemse schilder Kees Verwey en is geïllustreerd.
https://www.dordrechtsmuseum.nl/
antonykok.nl magazine
fleursdumal.nl magazine
29 oktober 2019

More in: Agnita Feis, Antony Kok, Archive K-L, DADA, De Stijl, Essays about Van Doesburg, Kok, Mondriaan, Schwitters, Milius & Van Moorsel, Evert en Thijs Rinsema, Hanneke van Kempen, Jef van Kempen, Kurt Schwitters, Kurt Schwitters, Literaire sporen, Piet Mondriaan, Theo van Doesburg, Theo van Doesburg
---
Susan Sontag
The definitive portrait
The definitive portrait of one of the American Century's most towering intellectuals: her writing and her radical thought, her public activism and her hidden private face
N
o writer is as emblematic of the American twentieth century as Susan Sontag. Mythologized and misunderstood, lauded and loathed, a girl from the suburbs who became a proud symbol of cosmopolitanism, Sontag left a legacy of writing on art and politics, feminism and homosexuality, celebrity and style, medicine and drugs, radicalism and Fascism and Freudianism and Communism and Americanism, that forms an indispensable key to modern culture.
She was there when the Cuban Revolution began, and when the Berlin Wall came down; in Vietnam under American bombardment, in wartime Israel, in besieged Sarajevo. She was in New York when artists tried to resist the tug of money—and when many gave in. No writer negotiated as many worlds; no serious writer had as many glamorous lovers.
Sontag tells these stories and examines the work upon which her reputation was based. It explores the agonizing insecurity behind the formidable public face: the broken relationships, the struggles with her sexuality, that animated—and undermined—her writing. And it shows her attempts to respond to the cruelties and absurdities of a country that had lost its way, and her conviction that fidelity to high culture was an activism of its own.
Utilizing hundreds of interviews conducted from Maui to Stockholm and from London to Sarajevo—and featuring nearly one hundred images—Sontag is the first book based on the writer's restricted archives, and on access to many people who have never before spoken about Sontag, including Annie Leibovitz. It is a definitive portrait—a great American novel in the form of a biography.
Benjamin Moser was born in Houston. He is the author of Why This World: A Biography of Clarice Lispector, a finalist for the National Book Critics' Circle Award and a New York Times Notable Book. For his work bringing Clarice Lispector to international prominence, he received Brazil's first State Prize for Cultural Diplomacy. He has published translations from French, Spanish, Portuguese, and Dutch. A former books columnist for Harper's Magazine and The New York Times Book Review, he has also written for The New Yorker, Conde Nast Traveler, and The New York Review of Books.
Sontag
Her Life and Work
By Benjamin Moser
Hardcover: 832 pages
Illustrated
Language: English
Ecco/HarperCollins Publishers
September 17, 2019
ISBN-10: 0062896393
ISBN-13: 978-0062896391
$39.99.
Benjamin Moser:
Sontag – Haar leven en werk.
Uit het Engels vertaald door
Koos Mebius en Lidwien Biekmann.
De Arbeiderspers;
816 pagina's;
€ 49,99.
# more books
Susan Sontag
Biography
• fleursdumal.nl magazine
More in: #Biography Archives, - Book News, - Bookstores, Archive S-T, Art & Literature News, Susan Sontag
---
En décembre 1945, Louis-Ferdinand Céline est arrêté à Copenhague, où il s'était réfugié avec Lucette et son chat Bébert et tentait d'écrire la suite de Guignol's band.

L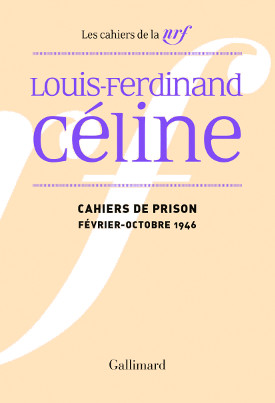 e dénommé Destouches, immédiatement incarcéré à la prison de l'Ouest, réclame de quoi écrire. L'administration pénitentiaire lui fournit dix cahiers d'écolier de 32 pages avec des règles à respecter : « On ne doit pas écrire sur l'affaire dont on est justiciable ni sur la détention. Tout propos licencieux et malséant est également interdit. »
À partir de février 1946, le prisonnier note d'emblée des éléments de défense pour empêcher son extradition dans la France de l'épuration, et s'en prend à l'ambassadeur Charbonnières qui le persécute. Mais Céline est repris par l'écriture et les Cahiers de prison dévoilent sa vie après son arrivée au Danemark, sa relation avec Lucette, des souvenirs de Londres ou de Montmartre, et surtout montrent de manière inédite le Céline lecteur. Isolé dans la cellule 609 de la section K., Céline s'entoure de livres apportés par sa femme et cite abondamment Chateaubriand, Hugo, Chamfort, Voltaire, etc., en se comparant avec les « grands écrivains exilés emprisonnés ». Les Cahiers illustrent aussi la transition littéraire vers sa « seconde révolution narrative et stylistique », note Jean Paul Louis, avec la mise en chantier de Féerie pour une autre fois, et des passages que l'on retrouvera dans D'un château l'autre, Nord et Rigodon.
Ce volume des Cahiers de la NRF constitue la première édition originale et intégrale des Cahiers de prison de Céline. Avec un nouveau travail d'établissement du texte et des notes, ainsi qu'un index centré sur les noms d'auteurs et les titres d'oeuvres, Céline nous apparaît tel qu'en lui-même, obsédé par la littérature et sa condition d'écrivain : « C'est moi maintenant le traître, le monstre, c'est moi qu'on s'apprête à lyncher. »
Louis-Ferdinand Céline
Cahiers de prison (Février – octobre 1946)
Édition de Jean Paul Louis
Collection Les Cahiers de la NRF,
Série Céline (n° 13), Gallimard
Parution : 23-05-2019
240 pages
sous couverture décorée, 140 x 205 mm
Achevé d'imprimer : 01-05-2019
Genre : Mémoires et autobiographies
Thème : littérature
Catégorie – Sous-catégorie :
Littérature française
Mémoires et autobiographies
Époque : XXe siècle
ISBN : 9782072852695
Gencode : 9782072852695
Code distributeur : G03149
Broché
EUR 20,00
# more books
Louis-Ferdinand Céline
Cahiers de prison
• fleursdumal.nl magazine
More in: #Biography Archives, - Book Lovers, - Book News, Archive C-D, CRIME & PUNISHMENT, Louis-Ferdinand Céline, WAR & PEACE
---
The first and most complete narrative biography of Crosby, Stills, Nash and Young, by acclaimed music journalist and Rolling Stone senior writer David Browne.
Even in the larger-than-life world of rock and roll, it was hard to imagine four more different men.

David Crosby, the opinionated hippie guru. Stephen Stills, the perpetually driven musician. Graham Nash, the tactful pop craftsman. Neil Young, the creatively restless loner.

But together, few groups were as in sync with their times as Crosby, Stills, Nash and Young. Starting with the original trio's landmark 1969 debut album, the group embodied much about its era: communal musicmaking, protest songs that took on the establishment and Richard Nixon, and liberal attitudes toward partners and lifestyles. Their group or individual songs–"Wooden Ships," "Suite: Judy Blue Eyes," "After the Gold Rush," "For What It's Worth" (with Stills and Young's Buffalo Springfield), "Love the One You're With," "Long Time Gone," "Just a Song Before I Go," "Southern Cross"–became the soundtrack of a generation.
But their story would rarely be as harmonious as their legendary and influential vocal blend. In the years that followed, these four volatile men would continually break up, reunite, and disband again–all against a backdrop of social and musical change, recurring disagreements and jealousies, and self-destructive tendencies that threatened to cripple them both as a group and as individuals.
In Crosby, Stills, Nash and Young: The Wild, Definitive Saga of Rock's Greatest Supergroup, longtime music journalist and Rolling Stone writer David Browne presents the ultimate deep dive into rock and roll's most musical and turbulent brotherhood on the occasion of its 50th anniversary. Featuring exclusive interviews with David Crosby and Graham Nash along with band members, colleagues, fellow superstars, former managers, employees, and lovers-and with access to unreleased music and documents–Browne takes readers backstage and onstage, into the musicians' homes, recording studios, and psyches, to chronicle the creative and psychological ties that have bound these men together–and sometimes torn them apart.

This is the sweeping story of rock's longest-running, most dysfunctional, yet pre-eminent musical family, delivered with the epic feel their story rightly deserves.
Crosby, Stills, Nash and Young:
The Wild, Definitive Saga of Rock's Greatest Supergroup
by David Browne (Author)
Hardcover: 480 pages
Publisher: Da Capo Press;
1st Edition edition April 2, 2019
Language: English
ISBN-10: 0306903288
ISBN-13: 978-0306903281
April 2, 2019
Hardcover
$20.23
# more books
Crosby, Stills, Nash and Young:
The Wild, Definitive Saga of Rock's Greatest Supergroup
• fleursdumal.nl magazine
More in: # Music Archive, #Biography Archives, - Book News, - Book Stories, Archive A-B, AUDIO, CINEMA, RADIO & TV, Crosby, Stills, Nash and Young, Opium-Eaters
---
Willem Wilmink (1936-2003) is een van de meest geliefde dichters van Nederland.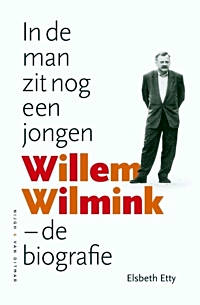 Zijn eenvoudige maar treffende gedichten en liedjes, veelal geschreven voor legendarische tv-programma's als De Stratemakeropzeeshow, J.J. de Bom en De film van Ome Willem, spreken iedereen aan. 'De oude school', 'Deze vuist op deze vuist' en 'Ben Ali Libi' behoren tot de canon van de Nederlandse literatuur. Hetzelfde geldt voor Wilminks hertalingen van Middeleeuwse klassiekers. Hij was een groot kenner van poëzie uit alle tijdvakken en in al haar verschijningsvormen.
Zijn werk is doortrokken van heimwee naar een veilige kinderwereld die nooit heeft bestaan. Naar eigen zeggen is Wilmink altijd elf jaar gebleven, wat aanvankelijk zijn loopbaan en privéleven ernstig frustreerde, maar tegelijkertijd zijn poëtische kapitaal bleek. Met humor en zelfspot maakte hij zijn lange tijd door miskenning en afwijzing getekende leven leefbaar.
Voor In de man zit nog een jongen sprak neerlandicus en journalist Elsbeth Etty met tientallen tijdgenoten en intimi van Wilmink. Het resultaat is een intiem en niets verhullend portret.
Elsbeth Etty (1951) is literair criticus, columnist en voormalig bijzonder hoogleraar literaire kritiek. Ze publiceerde o.a. verschillende essay- en columnbundels. Voor Liefde is heel het leven niet, haar biografie van Henriette Roland Holst, werd ze genomineerd voor de AKO Literatuurprijs en bekroond met de Gouden Uil en de Busken Huetprijs.
In de man zit nog een jongen
Willem Wilmink – De biografie
Auteur: Elsbeth Etty
Uitgeverij: Nijgh & van Ditmar
NUR: 321
Taal Nederlands
Bladzijden 552 pp.
Bindwijze Hardcover
ISBN: 9789038806112
Publicatiedatum: 22-01-2019
Prijs: € 34,99
# New books
Willem Wilmink – De biografie
Auteur: Elsbeth Etty
• fleursdumal.nl magazine
More in: #Biography Archives, - Book News, - Book Stories, - Bookstores, Archive E-F, Archive W-X, Archive W-X, Art & Literature News, Willem Wilmink
---
Winternachten festival geeft het woord aan schrijvers en dichters over brandende kwesties van nu.
Van 17 tot en met 20 januari 2019 presenteert het internationale literatuurfestival gesprekken, proza, poëzie, spoken word en films op twaalf Haagse podia. Ruim 80 binnen- en buitenlandse auteurs komen naar Den Haag. De 24e festivaleditie staat onder het motto Who Wants to Live Forever? in het teken van onze toekomst.
Winternachten internationaal literatuurfestival Den Haag inspireert met vertellen, lezen, luisteren en denken. Tijdens vier sfeervolle winterse dagen nodigen gesprekken, voordrachten en films uit tot nadenken over de grote vragen van onze tijd.
Sinds de start in 1995 is het festival uitgegroeid tot het belangrijkste internationale literaire evenement van Nederland waar schrijvers en dichters zich uitspreken over actuele thema's. Ook bezoekers – onder hen veel wijkbewoners, studenten en scholieren – dragen actief bij met eigen verhalen of gedichten.
'Who Wants to Live Forever?'
Ieder Winternachten festival krijgt een actueel thema mee. Deze 24e editie staat in het teken van het oeroude verlangen van de mens naar eeuwig leven in het licht van de technologie van nu. Onder het motto Who Wants to Live Forever? spreken auteurs onder meer over de relatie tussen mens en robot, over de impact van technologische innovatie en over hoop en vrees rond de politieke toekomst.
De 24e editie van het festival Winternachten staat met het motto 'Who Wants to Live Forever' in het teken van onze toekomst.
Gesprekken, voordachten, muziek en film over de verhouding tussen mens en robot, over nieuwe maakbaarheid door technologische innovatie, over hoop en vrees voor de politieke toekomst en over het terugkerend verlangen naar eeuwig leven.
Het festival verwelkomt uit het buitenland onder anderen schrijvers Jennifer Nansubuga Makumbi uit Oeganda, Leni Zumas uit de VS, Basma Abdelaziz uit Egypte, Jennifer Clement uit Mexico, Ayelet Gundar-Goshen uit Israël, Mark O'Connell uit Ierland, David Van Reybrouck uit België, Ramayana-expert Arshia Sattar uit India en de Zuid-Afrikaanse rapper, spoken word-artiest en schrijver HemelBesem, Adam Zagajewski (Polen), Jennifer Nansubuga Makumbi (Oeganda), Mark O'Connell (Ierland), Leni Zumas (VS) en Basma Abdelaziz (Egypte).
Uit Nederland nemen tientallen schrijvers, dichters, denkers en performers deel, zoals Akwasi, Elfie Tromp, Youp van 't Hek, Ian Buruma, Nelleke Noordervliet, Radna Fabias, Dimitri Verhulst, Aafke Romeijn, Damiaan Denys, Derek Otte, Luuk van Middelaar, Auke Hulst, Hanna Bervoets, Simone van Saarloos, Rodaan Al Galidi, ASKO/Schönberg, Lounar en Vamba Sherif.
De grote festivalavonden Friday Night Unlimited (vrijdag 18 januari) en Saturday Night Unlimited (zaterdag 19 januari) vormen de kern van het festival. De bezoeker kiest per avond uit vijfentwintig programma's op zes podia in Theater aan het Spui en Filmhuis Den Haag. Dit jaar is in samenwerking met Filmhuis Den Haag het filmprogramma uitgebreid.
Nieuw is ook de Winternachten-editie van het spoken-word programma 'Woorden worden Zinnen' in het popcentrum Paard. Daarnaast zijn er festivalprogramma's in Theater Dakota, de Speakers' Corner in de Haagse Hogeschool, de bibliotheken Schilderswijk en Nieuw Waldeck en het International Institute of Social Studies.
Graag tot ziens in Theater aan het Spui, Filmhuis Den Haag, Paard, Theater Dakota, International Institute of Social Studies en de andere festivallocaties van dit jaar!
   #  more informatie op website writersunlimited.nl   

Winternachten festival
17 tot en met 20 januari 2019
Den Haag
# fleursdumal.nl magazine
More in: # Music Archive, #Biography Archives, #More Poetry Archives, - Book Lovers, - Bookstores, Art & Literature News, AUDIO, CINEMA, RADIO & TV, LITERARY MAGAZINES, PRESS & PUBLISHING, STREET POETRY, THEATRE, Winternachten
---
Mort d'une surdose d'opium en 1919 à l'âge de vingt-trois ans, alors qu'il est encore sous l'uniforme, Jacques Vaché est reconnu comme celui par qui le surréalisme est arrivé.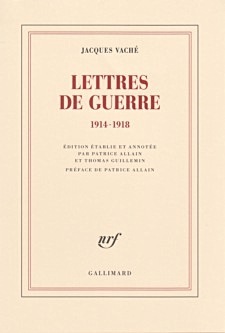 Du premier Manifeste à ses derniers Entretiens, André Breton aura toujours célébré celui qu'il appelait «l'homme que j'ai le plus aimé au monde».
Et quinze Lettres de guerre, envoyées depuis le front à son ami poète ainsi qu'à Théodore Fraenkel et Louis Aragon, auront suffi pour que Vaché devienne l'arme secrète de plusieurs générations.
Breton révélait en 1919 son «Umour» sans H, surgi au milieu des combats, l'expression poétique la plus pure de l'humour noir et de la «désertion intérieure».
Présenter pour la première fois l'intégralité des lettres écrites par Jacques Vaché à sa famille et à ses amis pendant la guerre (158 dont 23 totalement inédites) permet de marquer le point de départ d'une aventure moderne et de mettre en lumière le soldat en action, la vocation prometteuse du dessinateur et la singularité du «dandy des tranchées».
Jacques Vaché:
Lettres de guerre (1914-1918)
Édition de Patrice Allain et Thomas Guillemin.
Préface de Patrice Allain
Collection Blanche, Gallimard
Parution: 08-11-2018
480 pages,
ill.,
140 x 205 mm
Achevé d'imprimer: 01-10-2018
Genre : Correspondances
Prix: 24,00 €
# new books
Jacques Vaché:
Lettres de guerre (1914-1918)
fleursdumal.nl magazine
More in: #Biography Archives, *War Poetry Archive, - Book News, - Bookstores, Archive U-V, Archive U-V, Art & Literature News, Jacques Vaché, Opium-Eaters, Vaché, Jacques
---
A writer who defies categorization, Daniil Kharms has come to be regarded as an essential artist of the modernist avant-garde.
His writing, which partakes of performance, narrative, poetry, and visual elements, was largely suppressed during his lifetime, which ended in a psychiatric ward where he starved to death during the siege of Leningrad.
His work, which survived mostly in notebooks, can now be seen as one of the pillars of absurdist literature, most explicitly manifested in the 1920s and '30s Soviet Union by the OBERIU group, which inherited the mantle of Russian futurism from such poets as Vladimir Mayakovsky and Velimir Khlebnikov.
This selection of prose and poetry provides the most comprehensive portrait of the writer in English translation to date, revealing the arc of his career and including a particularly generous selection of his later work.
DANIIL KHARMS (1905–1942) was a major figure in twentieth-century Russian and Soviet literature. An enigmatic and genre-bending artist, he was among the most significant voices in what came to be known as the literature of Russian absurdism.
ALEX CIGALE was awarded an NEA Literary Translation Fellowship in 2015. His translations from Russian and his original poetry in English have appeared in such journals as the New England Review, PEN America, TriQuarterly, and World Literature Today.
"…lively and funny… a profound and subtle testament to Kharms." —Times Literary Supplement
Daniil Kharms:
Russian Absurd.
Selected Writings
Translated from the Russian by Alex Cigale
Northwestern World Classics
Poetry
February 2017
ISBN 978-0-8101-3457-7
280 pages
Trade Paper
$24.95
# new books
Russian Absurd
Selected Writings
Daniil Kharms;
Translated from the Russian by Alex Cigale
fleursdumal.nl magazine
More in: #Biography Archives, - Book News, Archive K-L, Archive K-L, Art & Literature News, Constructivism, Futurisme, Kharms (Charms), Daniil
---
A compelling history of women in seventeenth century espionage, telling the forgotten tales of women from all walks of life who acted as spies in early modern Britain.
Nadine Akkerman has immersed herself in archives and letter collections, acting as a modern-day Spymistress to unearth plots and conspiracies that have long been hidden by history.
It would be easy for the modern reader to conclude that women had no place in the world of early modern espionage, with a few seventeenth-century women spies identified and then relegated to the footnotes of history.
If even the espionage carried out by Susan Hyde, sister of Edward Hyde, Earl of Clarendon, during the turbulent decades of civil strife in Britain can escape the historiographer's gaze, then how many more like her lurk in the archives?
Nadine Akkerman's search for an answer to this question has led to the writing of Invisible Agents, the very first study to analyse the role of early modern women spies, demonstrating that the allegedly-male world of the spy was more than merely infiltrated by women.
This compelling and ground-breaking contribution to the history of espionage details a series of case studies in which women – from playwright to postmistress, from lady-in-waiting to laundry woman – acted as spies, sourcing and passing on confidential information on account of political and religious convictions or to obtain money or power.
The struggle of the She-Intelligencers to construct credibility in their own time is mirrored in their invisibility in modern historiography.
Akkerman has immersed herself in archives, libraries, and private collections, transcribing hundreds of letters, breaking cipher codes and their keys, studying invisible inks, and interpreting riddles, acting as a modern-day Spymistress to unearth plots and conspiracies that have long remained hidden by history.
Nadine Akkerman is Reader in early modern English Literature at Leiden University and Visiting Fellow at All Souls College, Oxford. She is author of the critically acclaimed Invisible Agents: Women and Espionage in Seventeenth-Century Britain (OUP), and of The Correspondence of Elizabeth Stuart, Queen of Bohemia (OUP), the third and final volume of which will be published in 2020, and is currently writing the definitive biography of Elizabeth Stuart. She has also published extensively on women's history, diplomacy, and masques, and curated several exhibitions, including the popular Courtly Rivals at the Haags Historisch Museum. In 2017 she was elected to The Young Academy of the Royal Netherlands Academy of Arts and Sciences, and received a Special Recognition Award from the World Cultural Council.
Invisible Agents
Women and Espionage in Seventeenth-Century Britain
Nadine Akkerman
Language: English
Oxford University Press
Hardcover
288 pages
Published: 12 July 2018
8 colour plates & 12 black and white images
234x156mm
ISBN-10: 0198823010
ISBN-13: 978-0198823018
£20.00
# new books
Nadine Akkerman:
Invisible Agents
fleursdumal.nl magazine
More in: #Biography Archives, *War Poetry Archive, - Book News, - Book Stories, Archive A-B, CRIME & PUNISHMENT, History of Britain, Tales of Mystery & Imagination, WAR & PEACE
---
Breton, Eluard, Aragon, Cocteau, Picasso, Chanel, Abel Gance, Anaïs Nin, Colette, Diego Rivera, Lacan, Desnos, Van Gogh, Sartre et Beauvoir, plus tard Jim Morrison et Patti Smith…
Ces noms jalonnent la trajectoire d'Antonin Artaud, comète colérique qui a irrigué l'avant-garde artistique et littéraire de l'entre-deux-guerres et irrigue encore notre époque.
Par-delà le cliché de l'aliéné, du mythe du poète fou auteur d'une oeuvre monumentale, cette biographie s'attache à souligner le caractère novateur, toujours d'actualité, de son message : Artaud a imaginé le cinéma en relief, oeuvré à un profond renouvellement de l'art théâtral, rejeté le colonialisme européen, remis en cause les idéologies mortifères du XXe siècle, dénoncé le capitalisme et ses impératifs productivistes, esquissé l'altermondialisme.
Après neuf ans d'internement, il est aussi celui qui a fait vaciller la psychiatrie, ses catégories et sa thérapeutique des électrochocs. Plus que jamais, dans notre époque incertaine, Antonin Artaud est une voix à faire entendre. Une biographie à lire comme un roman.
Né en 1970, Laurent Vignat poursuit des études de lettres à la Sorbonne et devient professeur de français. Il publie son premier roman en 2006, après quelques textes épars publiés dans des revues.
Sur des carnets, il saisit les bizarreries d'une société qu'il juge de plus en plus folle, ses contemporains, des sourires, des tics de langage et des bribes de vie qui deviennent, à force de travail et d'obstination, des histoires.
Quand il n'écrit pas, il fait la classe ; il pédale en côte chalonnaise ; il lit ; il observe ; il regarde ses enfants grandir ; il écoute son épouse ; il suit les doigts graciles de son fils lorsqu'ils filent une impro sur le piano du salon ; il prépare un osso bucco, il s'endort avec Bach ou Jarrett dans les oreilles…
Auteur: Laurent Vignat
Antonin Artaud.
Le visionnaire hurlant
Editeur : Editions Du Jasmin
Collection: Signes de vie
Parution : 27/02/2018
Nombre de pages : 251
Dimensions: 15×19
ISBN: 978-2-35284-177-7
€ 16,00
# new books
Antonin Artaud
fleursdumal.nl magazine
More in: #Biography Archives, - Book News, Antonin Artaud, Archive A-B, Archive A-B, Archive U-V, Art & Literature News, Art Criticism, Artaud, Antonin, AUDIO, CINEMA, RADIO & TV, THEATRE
---
Older Entries »
Thank you for reading FLEURSDUMAL.NL - magazine for art & literature