Henry, O.
·
O. HENRY: The Memento
·
O. HENRY: The World and the Door
·
O. HENRY: The Head-hunter
·
O. HENRY: LET ME FEEL YOUR PULSE
·
O. HENRY: AN UNFINISHED STORY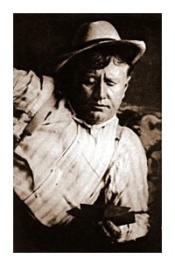 The Memento
by O. Henry
Miss Lynnette D'Armande turned her back on Broadway. This was but tit for tat, because Broadway had often done the same thing to Miss D'Armande. Still, the "tats" seemed to have it, for the ex-leading lady of the "Reaping the Whirlwind" Company had everything to ask of Broadway, while there was no vice versa.
So Miss Lynnette D'Armande turned the back of her chair to her window that overlooked Broadway, and sat down to stitch in time the lisle-thread heel of a black silk stocking. The tumult and glitter of the roaring Broadway beneath her window had no charm for her; what she greatly desired was the stifling air of a dressing-room on that fairyland street and the roar of an audience gathered in that capricious quarter. In the meantime, those stockings must not be neglected. Silk does wear out so, but—after all, isn't it just the only goods there is?
The Hotel Thalia looks on Broadway as Marathon looks on the sea. It stands like a gloomy cliff above the whirlpool where the tides of two great thoroughfares clash. Here the player-bands gather at the end of their wanderings, to loosen the buskin and dust the sock. Thick in the streets around it are booking- offices, theatres, agents, schools, and the lobster-palaces to which those thorny paths lead.
Wandering through the eccentric halls of the dim and fusty Thalia, you seem to have found yourself in some great ark or caravan about to sail, or fly, or roll away on wheels. About the house lingers a sense of unrest, of expectation, of transientness, even of anxiety and apprehension. The halls are a labyrinth. Without a guide you wander like a lost soul in a Sam Loyd puzzle.
Turning any corner, a dressing-sack or a cul-de-sac may bring you up short. You meet alarming tragedians stalking in bath-robes in search of rumoured bath-rooms. From hundreds of rooms come the buzz of talk, scraps of new and old songs, and the ready laughter of the convened players.
Summer has come; their companies have disbanded, and they take their rest in their favourite caravansary, while they besiege the managers for engagements for the coming season.
At this hour of the afternoon the day's work of tramping the rounds of the agents' offices is over. Past you, as you ramble distractedly through the mossy halls, flit audible visions of houris, with veiled, starry eyes, flying tag-ends of things, and a swish of silk, bequeathing to the dull hallways an odour of gaiety and a memory of frangipanni. Serious young comedians, with versatile Adam's apples, gather in doorways and talk of Booth. Far-reaching from somewhere comes the smell of ham and red cabbage, and the crash of dishes on the American plan.
The indeterminate hum of life in the Thalia is enlivened by the discreet popping—at reasonable and salubrious intervals—of beer-bottle corks. Thus punctuated, life in the genial hostel scans easily—the comma being the favourite mark, semicolons frowned upon, and periods barred.
Miss D'Armande's room was a small one. There was room for her rocker between the dresser and the wash-stand if it were placed longitudinally. On the dresser were its usual accoutrements, plus the ex- leading lady's collected souvenirs of road engagements and photographs of her dearest and best professional friends.
At one of these photographs she looked twice or thrice as she darned, and smiled friendlily.
"I'd like to know where Lee is just this minute," she said, half-aloud.
If you had been privileged to view the photograph thus flattered, you would have thought at the first glance that you saw the picture of a many-petalled, white flower, blown through the air by a storm. But the floral kingdom was not responsible for that swirl of petalous whiteness.
You saw the filmy, brief skirt of Miss Rosalie Ray as she made a complete heels-over-head turn in her wistaria-entwined swing, far out from the stage, high above the heads of the audience. You saw the
O. Henry
(1862 – 1910)
The Memento
fleursdumal.nl magazine
More in: Archive G-H, Henry, O.
---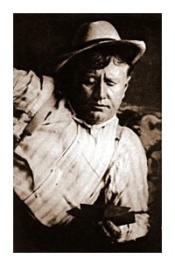 The World and the Door
by O. Henry
A favourite dodge to get your story read by the public is to assert that it is true, and then add that Truth is stranger than Fiction. I do not know if the yarn I am anxious for you to read is true; but the Spanish purser of the fruit steamer El Carrero swore to me by the shrine of Santa Guadalupe that he had the facts from the U.S. vice-consul at La Paz—a person who could not possibly have been congnizant of half of them.
As for the adage quoted above, I take pleasure in puncturing it by affirming that I read in a purely fictional story the other day the line: " 'Be it so,' said the policeman." Nothing so strange has yet cropped out in Truth.
When H. Ferguson Hedges, millionaire promoter, investor and man-about-New-York, turned his thoughts upon matters convivial, and word of it went "down the line," bouncers took a precautionary turn at the Indian clubs, waiters put ironstone china on his favourite tables, cab drivers crowded close to the curbstone in front of all-night cafés, and careful cashiers in his regular haunts charged up a few bottles to his account by way of preface and introduction.
As a money power a one-millionaire is of small account in a city where the man who cuts your slice of beef behind the free-lunch counter rides to work in his own automobile. But Hedges spent his money as lavishly, loudly and showily as though he were only a clerk squandering a week's wages. And, after all, the bartender takes no interest in your reserve fund. He would rather look you up on his cash register than in Bradstreet.
On the evening that the material allegation of facts begins, Hedges was bidding dull care begone on the company of five or six good fellows— acquaintances and friends who had gathered in his wake.
Among them were two younger men—Ralph Merriam, a broker, and Wade, his friend.
Two deep-sea cabmen were chartered. At Columbus Circle they hove to long enough to revile the statue of the great navigator, unpatriotically rebuking him for having voyaged in search of land instead of liquids. Midnight overtook the party marooned in the rear of a cheap café far uptown.
Hedges was arrogant, overriding and quarrelsome. He was burly and tough, iron-gray but vigorous, "good" for the rest of the night. There was a dispute—about nothing that matters—and the five-fingered words were passed—the words that represent the glove cast into the lists. Merriam played the rôle of the verbal Hotspur.
Hedges rose quickly, seized his chair, swung it once and smashed wildly down at Merriam's head. Merriam dodged, drew a small revolver and shot Hedges in the chest. The leading roysterer stumbled, fell in a wry heap, and lay still.
Wade, a commuter, had formed that habit of promptness. He juggled Merriam out a side door, walked him to the corner, ran him a block and caught a hansom. They rode five minutes and then got out on a dark corner and dismissed the cab. Across the street the lights of a small saloon betrayed its hectic hospitality.
"Go in the back room of that saloon," said Wade, "and wait. I'll go find out what's doing and let you know. You may take two drinks while I am gone—no more."
At ten minutes to one o'clock Wade returned.
"Brace up, old chap," he said. "The ambulance got there just as I did. The doctor says he's dead. You may have one more drink. You let me run this thing for you. You've got to skip. I don't believe a chair is legally a deadly weapon. You've got to make tracks, that's all there is to it."
O. Henry
(1862 – 1910)
The World and the Door
fleursdumal.nl magazine
More in: Archive G-H, Henry, O.
---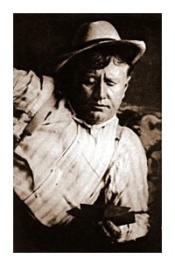 The Head-Hunter
by O. Henry
When the war between Spain and George Dewey was over, I went to the Philippine Islands. There I remained as bush-whacker correspondent for my paper until its managing editor notified me that an eight-hundred-word cablegram describing the grief of a pet carabao over the death of an infant Moro was not considered by the office to be war news. So I resigned, and came home.
On board the trading-vessel that brought me back I pondered much upon the strange things I had sensed in the weird archipelago of the yellow-brown people. The manœuvres and skirmishings of the petty war interested me not: I was spell-bound by the outlandish and unreadable countenance of that race that had turned its expressionless gaze upon us out of an unguessable past.
Particularly during my stay in Mindanao had I been fascinated and attracted by that delightfully original tribe of heathen known as the head-hunters. Those grim, flinty, relentless little men, never seen, but chilling the warmest noonday by the subtle terror of their concealed presence, paralleling the trail of their prey through unmapped forests, across perilous mountain-tops, adown bottomless chasms, into uninhabitable jungles, always near with the invisible hand of death uplifted, betraying their pursuit only by such signs as a beast or a bird or a gliding serpent might make—a twig crackling in the awful sweat- soaked night, a drench of dew showering from the screening foliage of a giant tree, a whisper at even from the rushes of a water-level—a hint of death for every mile and every hour—they amused me greatly, those little fellows of one idea.
When you think of it, their method is beautifully and almost hilariously effective and simple.
You have your hut in which you live and carry out the destiny that was decreed for you. Spiked to the jamb of your bamboo doorway is a basket made of green withies, plaited. From time to time as vanity or ennui or love or jealousy or ambition may move you, you creep forth with your snickersnee and take up the silent trail. Back from it you come, triumphant, bearing the severed, gory head of your victim, which you deposit with pardonable pride in the basket at the side of your door. It may be the head of your enemy, your friend, or a stranger, according as competition, jealousy, or simple sportiveness has been your incentive to labour.
In any case, your reward is certain. The village men, in passing, stop to congratulate you, as your neighbour on weaker planes of life stops to admire and praise the begonias in your front yard. Your particular brown maid lingers, with fluttering bosom, casting soft tiger's eyes at the evidence of your love for her. You chew betel-nut and listen, content, to the intermittent soft drip from the ends of the severed neck arteries. And you show your teeth and grunt like a water-buffalo—which is as near as you can come to laughing—at the thought that the cold, acephalous body of your door ornament is being spotted by wheeling vultures in the Mindanaoan wilds.
Truly, the life of the merry head-hunter captivated me. He had reduced art and philosophy to a simple code. To take your adversary's head, to basket it at the portal of your castle, to see it lying there, a dead thing, with its cunning and stratagems and power gone—Is there a better way to foil his plots, to refute his arguments, to establish your superiority over his skill and wisdom?
The ship that brought me home was captained by an erratic Swede, who changed his course and deposited me, with genuine compassion, in a small town on the Pacific coast of one of the Central American republics, a few hundred miles south of the port to which he had engaged to convey me. But I was wearied of movement and exotic fancies; so I leaped contentedly upon the firm sands of the village of Mojada, telling myself I should be sure to find there the rest that I craved. After all, far better to linger there (I thought), lulled by the sedative plash of the waves and the rustling of palm-fronds, than to sit upon the horsehair sofa of my parental home in the East, and there, cast down by currant wine and cake, and scourged by fatuous relatives, drivel into the ears of gaping neighbours sad stories of the death of colonial governors.
When I first saw Chloe Greene she was standing, all in white, in the doorway of her father's tile-roofed dobe house. She was polishing a silver cup with a cloth, and she looked like a pearl laid against black
O. Henry
(1862 – 1910)
The Head-Hunter
fleursdumal.nl magazine
More in: Archive G-H, Henry, O.
---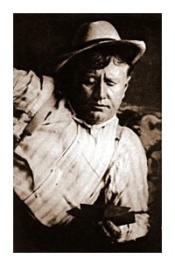 Let Me Feel Your Pulse
by O. Henry
So I went to a doctor.
"How long has it been since you took any alcohol into your system?" he asked.
Turning my head sideways, I answered, "Oh, quite a while."
He was a young doctor, somewhere between twenty and forty. He wore heliotrope socks, but he looked like Napoleon. I liked him immensely.
"Now," said he, "I am going to show you the effect of alcohol upon your circulation." I think it was "circulation" he said; though it may have been "advertising."
He bared my left arm to the elbow, brought out a bottle of whisky, and gave me a drink. He began to look more like Napoleon. I began to like him better.
Then he put a tight compress on my upper arm, stopped my pulse with the fingers, and squeezed a rubber bulb connected with an apparatus on a stand that looked like a thermometer. The mercury jumped up and down without seeming to stop anywhere; but the doctor said it registered two hundred and thirty- seven or one hundred and sixty-five or some such number.
"Now," said he, "you see what alcohol does to the blood-pressure."
"It's marvellous," said I, "but do you think it a sufficient test? Have one on me, and let's try the other arm." But, no!
Then he grasped my hand. I thought I was doomed and he was saying good-bye. But all he wanted to do was to jab a needle into the end of a finger and compare the red drop with a lot of fifty-cent. Poker chips that he had fastened to a card.
"It's the hæmoglobin test," he explained. "The colour of your blood is wrong."
"Well," said I, "I know it should be blue; but this is a country of mix-ups. Some of my ancestors were cavaliers; but they got thick with some people on Nantucket Island, so—"
"I mean," said the doctor, "that the shade of red is too light."
"Oh," said I, "it's a case of matching instead of matches."
The doctor then pounded me severely in the region of the chest. When he did that I don't know whether he reminded me most of Napoleon or Battling or Lord Nelson. Then he looked grave and mentioned a string of grievances that the flesh is heir to—most ending in "itis." I immediately paid him fifteen dollars on account.
"Is or are it or some or any of them necessarily fatal?" I asked. I thought my connection with the matter justified my manifesting a certain amount of interest.
"All of them," he answered cheerfully. "But their progress may be arrested. With care and proper continuous treatment you may live to be eighty-five or ninety."
I began to think of the doctor's bill. "Eighty-five would be sufficient, I am sure," was my comment. I paid him ten dollars more on account.
"The first thing to do," he said, with renewed animation, "is to find a sanatorium where you will get a complete rest for awhile, and allow your nerves to get into a better condition. I myself will go with you and select a suitable one."
O. Henry
(1862 – 1910)
Let Me Feel Your Pulse
fleursdumal.nl magazine
More in: Archive G-H, Henry, O.
---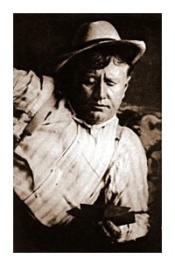 An Unfinished Story
by O. Henry
We no longer groan and heap ashes upon our heads when the flames of Tophet are mentioned. For, even the preachers have begun to tell us that God is radium, or ether or some scientific compound, and that the worst we wicked ones may expect is a chemical reaction. This is a pleasing hypothesis; but there lingers yet some of the old, goodly terror of orthodoxy.
There are but two subjects upon which one may discourse with a free imagination, and without the possibility of being controverted. You may talk of your dreams; and you may tell what you heard a parrot say. Both Morpheus and the bird are incompetent witnesses; and your listener dare not attack your recital. The baseless fabric of a vision, then, shall furnish my theme—chosen with apologies and regrets instead of the more limited field of Pretty Polly's small talk.
I had a dream that was so far removed from the higher criticism that it had to do with the ancient, respectable, and lamented bar-of-judgment theory.
Gabriel had played his trump; and those of us who could not follow suit were arraigned for examination. I noticed at one side a gathering of professional bondsmen in solemn black and collars that buttoned behind; but it seemed there was some trouble about their real estate titles; and they did not appear to be getting any of us out.
A fly cop—an angel policeman—flew over to me and took me by the left wing. Near at hand was a group of very prosperous-looking spirits arraigned for judgment.
"Do you belong with that bunch?" the policeman asked.
"Who are they?" was my answer.
"Why," said he, "they are—"
But this irrelevant stuff is taking up space that the story should occupy.
Dulcie worked in a department store. She sold Hamburg edging, or stuffed peppers, or automobiles, or other little trinkets such as they keep in department stores. Of what she earned, Dulcie received six dollars per week. The remainder was credited to her and debited to somebody else's account in the ledger kept by G—Oh, primal energy, you say, Reverend Doctor—Well then, in the Ledger of Primal Energy.
During her first year in the store, Dulcie was paid five dollars per week. It would be instructive to know how she lived on that amount. Don't care? Very well; probably you are interested in larger amounts. Six dollars is a larger amount. I will tell you how she lived on six dollars per week.
One afternoon at six, when Dulcie was sticking her hat-pin within an eighth of an inch of her medulla oblongata, she said to her chum, Sadie—the girl that waits on you with her left side:
"Say, Sade, I made a date for dinner this evening with Piggy."
"You never did!" exclaimed Sadie admiringly. "Well, ain't you the lucky one? Piggy's an awful swell; and he always takes a girl to swell places. He took Blanche up to the Hoffman House one evening, where they have swell music, and you see a lot of swells. You'll have a swell time, Dulcie."
Dulcie hurried off homeward. Her eyes were shining, and her cheeks showed the delicate pink of life's—real life's—approaching dawn. It was Friday; and she had fifty cents of her last week's wages.
The streets were filled with the rush-hour floods of people. The electric lights of Broadway were glowing—calling moths from miles, from leagues, from hundreds of leagues out of darkness around to come in and attend the singeing school. Men in accurate clothes, with faces like those carved on cherry-stones.
O. Henry
(1862 – 1910)
An Unfinished Story
fleursdumal.nl magazine
More in: Archive G-H, Henry, O.
---
Thank you for reading FLEURSDUMAL.NL - magazine for art & literature