Walter Benjamin
·
Walter Benjamin: Deutsche Menschen – Eine Folge von Briefen
·
Stéphane Symons: More Than Life. Georg Simmel and Walter Benjamin on Art
Von Ehre ohne Ruhm, von Grösse ohne Glanz, von Würde ohne Sold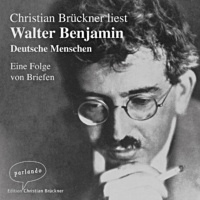 Die 1936 in einem Schweizer Verlag erschienene Briefsammlung "Deutsche Menschen" ist Walter Benjamins letzte Veröffentlichung zu Lebzeiten.
Siebenundzwanzig Briefe von Kant bis Goethe, von Droste-Hülshoff bis Büchner aus den Jahren zwischen 1767 und 1883 hat er zusammengestellt und kommentiert, um seinen Landsleuten das bessere Beispiel eines aufgeklärten und humanistischen Bürgertums vorzuhalten.
Das Private und das Objektive der Briefe sind durch den Abstand des Betrachters nicht mehr Gegensätze: Beides vermischt sich, gleicht sich an. Die Personen mit ihren Bedürfnissen gehen auf in ihrer Epoche, ihre Freuden und Schmerzen zeigen sich als Zeichen ihrer Zeit und Herkunft.
Walter Benjamin
Deutsche Menschen
Eine Folge von Briefen
(Ungekürzte Lesung)
MP3 Hörbuch Download
€13,95
Laufzeit ca. 223 Minuten.
Vorgelesen von Christian Brückner
Argon Verlag GmbH
Oktober 2017
Format: MP3
Kopierschutz: Adobe
new audio books
fleursdumal.nl magazine
More in: - Audiobooks, Archive A-B, Art & Literature News, AUDIO, CINEMA, RADIO & TV, Walter Benjamin
---
More Than Life: Georg Simmel and Walter Benjamin on Art is the first book to trace the philosophical relation between Georg Simmel and his one-time student Walter Benjamin, two of the most influential German thinkers of the twentieth century.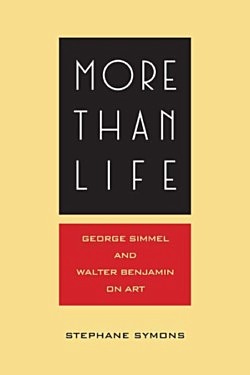 Reading Simmel's work, particularly his essays on Michelangelo, Rembrandt, and Rodin, alongside Benjamin's concept of Unscheinbarkeit (inconspicuousness) and his writings on Charlie Chaplin, More Than Life demonstrates that both Simmel and Benjamin conceive of art as the creation of something entirely new rather than as a mimetic reproduction of a given. The two thinkers diverge in that Simmel emphasizes the presence of a continuous movement of life, whereas Benjamin highlights the priority of discontinuous, interruptive moments.
With the aim of further elucidating Simmel and Benjamin's ideas on art, Stéphane Symons presents a number of in-depth analyses of specific artworks that were not discussed by these authors. Through an insightful examination of both the conceptual affinities and the philosophical differences between Simmel and Benjamin , Symons reconstructs a crucial episode in twentieth-century debates on art and aesthetics.
Stéphane Symons is an associate professor at the Institute of Philosophy, KU Leuven, in Leuven, Belgium.
Contributors:
Stéphane Symons (Author)
More Than Life.
Georg Simmel and Walter Benjamin on Art
Paper Text – $34.95
ISBN 978-0-8101-3577-2
Publication Date:
September 2017
Page Count: 240 pages
Northwestern University Press
fleursdumal.nl magazine
More in: - Book News, - Bookstores, Archive A-B, Archive S-T, Walter Benjamin
---
Thank you for reading FLEURSDUMAL.NL - magazine for art & literature