Marquis de Sade
·
BOEKENWEEK 2017 van 25 maart t/m 2 april
·
Exposition Sade. 'Attaquer le soleil' au musée d'Orsay
Boekenweekgeschenk van Herman Koch
Cadeau van uw boekhandel bij besteding van € 12,50 aan Nederlandstalige boeken
Synopsis Makkelijk leven
Tom Sanders is een gevierd schrijver van zelfhulpboeken en hij leidt een gelukkig leven met Julia en twee volwassen zonen, van wie de jongste, Stefan, zijn oogappel is. Tijdens een verjaardagsfeestje voor Julia staat hun schoondochter Hanna – op wie Tom en Julia niet dol zijn – opeens voor de deur. Snikkend vertelt ze dat ze door Stefan is geslagen en dat dat niet de eerste keer is. Moet Tom zijn lievelingszoon Stefan aanspreken op zijn gedrag? Of loont het misschien meer om de adviezen uit zijn zelfhulpboeken in praktijk te brengen, zoals zijn bekende richtlijn 'Probeer problemen niet altijd op te lossen door eraan te denken; vaak worden ze eerder opgelost door er niet aan te denken'?
Thema Verboden vruchten
De mens is genotzuchtig. Maar toegeven aan genot levert soms strijd op, met ons geweten, onze levensovertuiging, onze omgeving en onze fysieke dan wel geestelijke grenzen. Wel willen, niet mogen, toch doen: verboden vruchten, zowel in het leven als in de letteren. Wie kent ze niet: de drank- en drugsverslaafden in Meriswin (Hafid Bouazza), Hallo Muur (Erik Jan Harmens), Angst en walging in Las Vegas (Hunter S. Thomson) en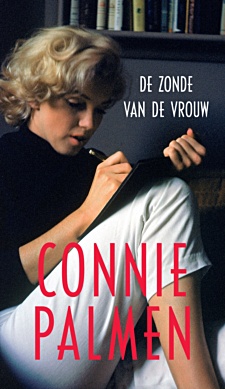 Naamloos (Pepijn Lanen), de gokkers in Alles of niets (Khalid Boudou), de seksjunks in De 120 dagen van Sodom (Marquis de Sade), Mieke Maaike's obscene jeugd (Louis Paul Boon) en Lolita (Nabokov), de troosteters in Chocolat (Joanne Harris), de vreetzakken in de Romeinse klassieker Satyricon (passage Het feestmaal bij Trimalchio) en de kannabalist in De maagd Marino (Yves Petry). En natuurlijk de overspeligen zoals beschreven in De buitenvrouw (Joost Zwagerman), Godin, held (Gustaaf Peek), Komt een vrouw bij de dokter(Kluun) en Mélodie d'Amour (Margriet de Moor).
Boekenweekessay bij het thema Verboden vruchten
Voor maar € 3,50 in uw boekwinkel
Libris Literatuur Prijswinnares Connie Palmen (Prometheus) schreef het Boekenweekessay 2017 bij het thema van de Boekenweek 2017: Verboden vruchten. Titel: De zonde van de vrouw.
In de bibliotheek
De Boekenweek is het literaire hoogtepunt van het jaar. De Openbare Bibliotheken grijpen dit evenement jaarlijks aan om de mooiste boeken te presenteren die zij in huis hebben. Uiteraard heeft de bibliotheek ook veel boeken bij het thema van de Boekenweek 2017: Verboden vruchten. (lees op deze pagina meer over het thema).
Boekenweekmagazine: haal gratis bij de bibliotheek
BOEKENWEEK 2017 van 25 maart tot en met 2 april
fleursdumal.nl magazine
More in: - Book Lovers, - Bookstores, Boekenweek, FICTION & NONFICTION ARCHIVE, Illustrators, Illustration, Joost Zwagerman, Literary Events, Louis Paul Boon, Marquis de Sade
---
Exposition
Sade. Attaquer le soleil
au musée d'Orsay
du 14 octobre 2014 au 25 janvier 2015
A l'occasion du bicentenaire de la mort d'Alphonse Donatien de Sade (1740-1814), le musée d'Orsay consacre à l'auteur une exposition qui met en lumière la révolution de la représentation ouverte par ses textes. Participez à notre tirage au sort et gagnez peut-être deux invitations !
Alphonse Donatien de Sade (1740-1814) a bouleversé l'histoire de la littérature comme celle des arts, de manière clandestine d'abord puis en devenant un véritable mythe. L'œuvre du «Divin Marquis» remet en cause de manière radicale les questions de limite, proportion, débordement, les notions de beauté, de laideur, de sublime et l'image du corps. Il débarrasse de manière radicale le regard de tous ses présupposés religieux, idéologiques, moraux, sociaux.
Suivant l'analyse d'Annie Le Brun, spécialiste de Sade et commissaire invitée, l'exposition met en lumière la révolution de la représentation ouverte par les textes de l'écrivain. Seront abordés les thèmes de la férocité et de la singularité du désir, de l'écart, de l'extrême, du bizarre et du monstrueux, du désir comme principe d'excès et de recomposition imaginaire du monde, à travers des oeuvres de Goya, Géricault, Ingres, Rops, Rodin, Picasso…
Autour de cette exposition, le musée d'Orsay organise également :
une conférence inaugurale, avec Annie Le Brun, écrivain, et Laurence des Cars, directrice du musée de l'Orangerie. Le 17 octobre à 12h.
des lectures-spectacles «Les voix de Sade», mises en scène par Benjamin Lazar, le 6 novembre à 20h et le 14 décembre à 16h.
un café littéraire «Après Sade : de Flaubert à Apollinaire », le 9 novembre à 16h.
Sade au cinéma : une série de projections, du 14 au 30 novembre 2014.
des journées de visites-conférences «Les métamorphoses du désir, de Watteau à Picasso» (Musée du Louvre/Musée d'Orsay).
enfin, en partenariat avec les Éditions Gallimard et le Cercle de la Pléiade, une table ronde, «Éditer Sade : de l'enfer à la Pléiade», une évocation des épisodes marquants d'une diffusion sous le manteau des écrits du marquis de Sade et des nombreuses éditions établies dans la clandestinité, de son interdiction au XIXe siècle à sa sortie dans la collection de La Pléiade en 1990, en passant par l'édition qu'en fit en 1947 Jean-Jacques Pauvert, à qui cette soirée rendra hommage. Avec Antoine Gallimard, Michel Delon, Annie Le Brun et Frédéric Martin, le 11 décembre à 19h.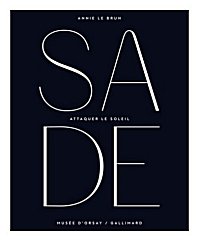 Sade. Attacking the Sun
Donatien Alphonse François de Sade (1740–1814) completely transformed the history of both literature and the arts, first as an underground writer, and later by becoming a veritable legend in his lifetime.
The Divin Marquis's work is a radical questioning of issues of limits, proportion, excess, notions of beauty, ugliness, the sublime and the body image. He takes the way we look at things and sweeps away all our religious, ideological, moral and social presuppositions.
Following the analysis of the writer Annie Le Brun, a specialist of Sade, the exhibition will be focusing on the revolution of representation opened up by the author's writings. Topics addressed will be the ferocity and singularity of desire, deviation, extremes, the weird and the monstrous, desire as a principle of excess and imaginary recomposition of the world, through works by Goya, Gericault, Ingres, Rops, Rodin, Picasso…
The violent nature of some of the works and documents may shock some visitors.
# More information on website musée d'Orsay
fleursdumal.nl magazine for art & literature
More in: - Book Lovers, Art & Literature News, Marquis de Sade
---
Thank you for reading FLEURSDUMAL.NL - magazine for art & literature