The Italian Invert. A Gay Man's Intimate Confessions to Émile Zola
In the late 1880s, a dashing young Italian aristocrat made an astonishing confession to the novelist Émile Zola.
In a series of revealing letters, he frankly described his sexual experiences with other men—including his seduction as a teenager by one of his father's friends and his first love affair, with a sergeant during his military service—as well as his "extraordinary" personality.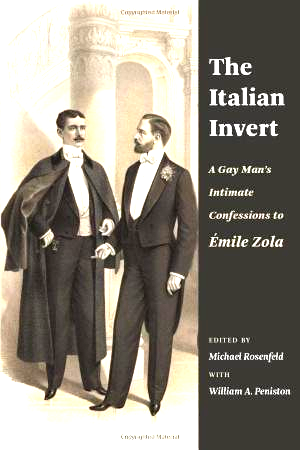 Judging it too controversial, Zola gave it to a young doctor, who in 1896 published a censored version in a medical study on sexual inversion, as homosexuality was then known. When the Italian came across this book, he was shocked to discover how his life story had been distorted. In protest, he wrote a long, daring, and unapologetic letter to the doctor defending his right to love and to live as he wished.
This book is the first complete, unexpurgated version in English of this remarkable queer autobiography.
Its text is based on the recently discovered manuscript of the Italian's letter to the doctor.
It also features an introduction tracing the textual history of the documents, analytical essays, and additional materials that help place the work in its historical context.
Offering a striking glimpse of gay life in Europe in the late nineteenth century, The Italian Invert brings to light the powerful voice of a young man who forthrightly expressed his desires and eloquently affirmed his right to pleasure.
Whether you persist in reading it as a proto-naturalist novel (despite the opinions of the editors of this volume) or treat it as a sociological document, The Italian Invert is a classic text of nineteenth-century sexology the interest of which is by no means limited to French (or Italian) studies. (Melanie Hawthorne, Texas A&M University)
Michael Rosenfeld holds two doctorates, one in French literature and civilization from the Université Sorbonne Nouvelle–Paris 3 and one in French language and literature from the Catholic University of Louvain in Belgium.
William A. Peniston is the librarian and archivist emeritus at the Newark Museum of Art, as well as a historian of France. His books include Pederasts and Others: Urban Culture and Sexual Identity in Nineteenth-Century Paris (2004).
Nancy Erber is professor emerita of modern languages and literature at the City University of New York. With Peniston, she edited and translated Queer Lives: Men's Autobiographies from Nineteenth-Century France (2007).
The Italian Invert
A Gay Man's Intimate Confessions to Émile Zola
Edited by Michael Rosenfeld with William A. Peniston.
Translated by Nancy Erber and William A. Peniston.
Pub. Date: 5 July 2022
272 Pages
Format: Paperback
Publisher:‎ Columbia University Press
Language: ‎English
Paperback: ‎272 pages
ISBN-10: ‎0231204892
ISBN-13: ‎978-0231204897
List Price: £25.00
• fleursdumal.nl magazine
More in: #Biography Archives, - Book Lovers, - Book News, - Book Stories, Archive Y-Z, Émile Zola